Do you know what's a dime a dozen?
Articles on AR-15 forends, AK-47 forends…even MP5 forends.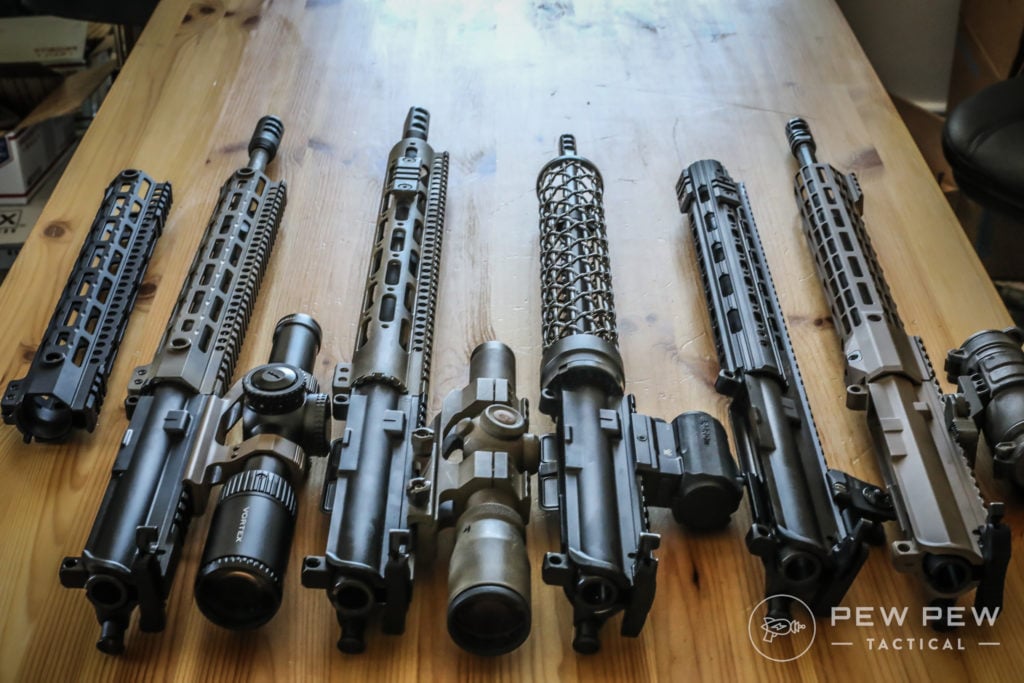 Do you know what you don't see very often?
An article on shotgun forends.
There are a few reasons why.
It's kind of tough to do, or at least do well.
More options exist for the things like ARs and AKs than shotguns. To be honest, shotguns have declined a bit in popularity.
(But they are making a comeback!)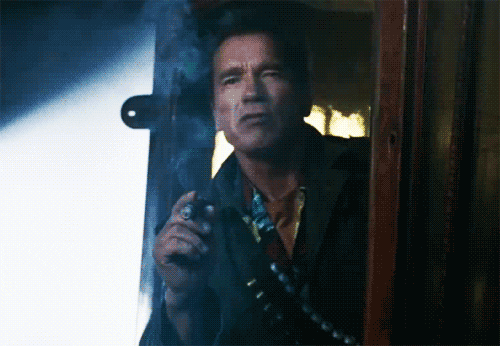 Also, shotguns have no universal patterns.
An AR from Daniel Defense and an AR from Palmetto State are both ARs. As such, they can both fit a STNGR rail.
But you can't purchase a Magpul pump and expect it to fit a Benelli M4, a Remington 870, a Stevens 320, or any other shotgun that it's not specifically designed for.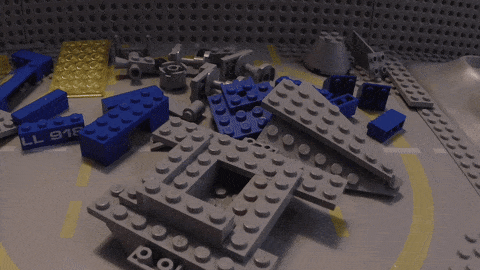 This brings me to a caveat to this article.
If you own something outside of a popular shotgun, you are going to find it difficult to find a new pump, forend, handguard, or whatever else you want to call the portion you grip with the offhand.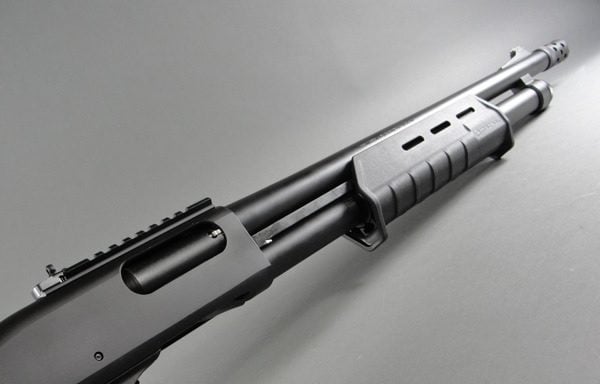 So what are the most popular shotguns? You know, the ones with the most aftermarket parts?
Well, my friends, that would consist of the Mossberg 500/590, the Remington 870, and the Benelli M4.
If it has police or military contracts, it's going to be popular…which is a shame because lots of good guns get ignored.

With all that explained, I've gathered a few of my favorite forends for those various platforms.
I'd love to give Beretta 1301, Stevens 320, and Mossberg 930 owners options, but alas, those options just aren't out there.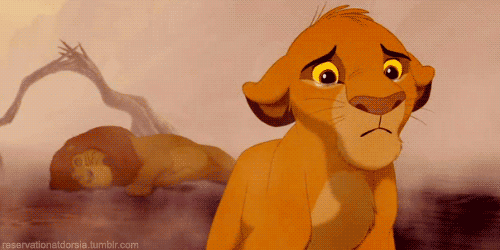 Table of Contents
Loading...
Best Shotgun Forends With Lights 
Attaching a light to a shotgun can be tricky, but several options allow the integration of a light into the handguard.
This gives you a big powerful weapon light with effortless ergonomics and light manipulation controls…all without losing your firing grip.
1. Streamlight TL Racker
The Streamlight TL Racker is one of the most affordable light integrated pump-action systems out there.
It packs 1,000 lumens and 20,000 candela to produce the most powerful dedicated shotgun forend on the market.
This massive level of power cuts through the darkness with ease.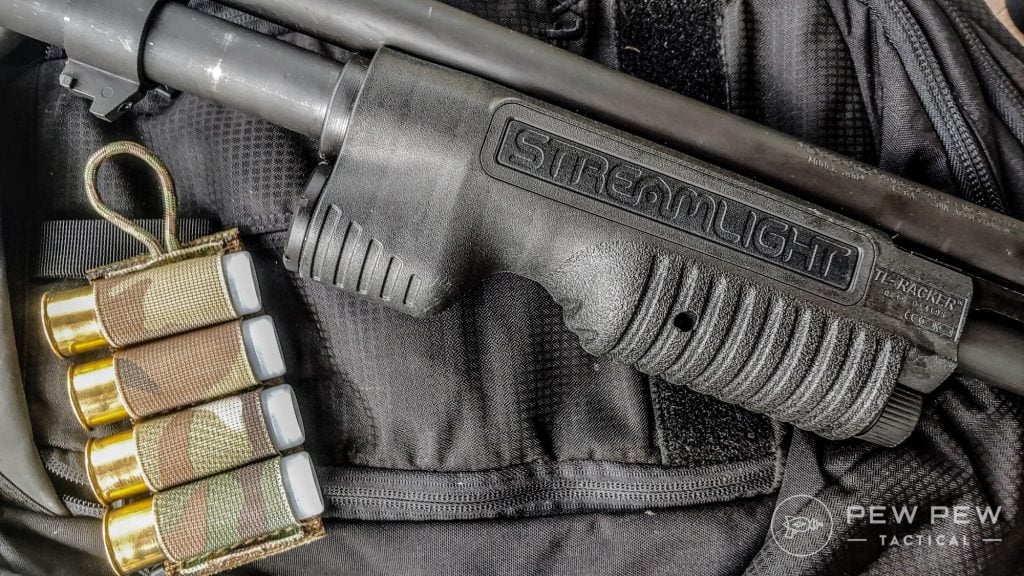 I wish it made the WOMMM noise like a lightsaber, but alas, it's a silent night.
It blinds, confuses, and makes sure you know the bad guy from a bump in the dark.
The TL Racker springs to life with the press of one of the two massive ambidextrous buttons placed on either side of the forend.
One of my must-haves for a pump is good traction.
I use a push-pull method of recoil mitigation, and I don't need my hand slipping while pushing forward on the forend.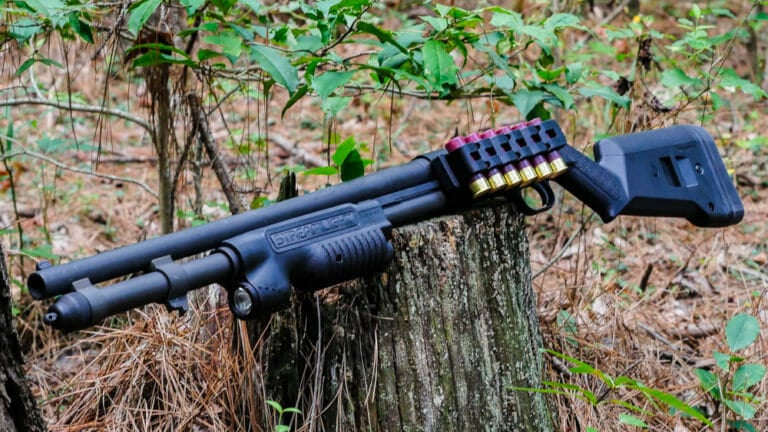 You'll have a no-slip grip due to Streamlight's placement of aggressive checkering.
Weight is also important when you place something beyond the center of gravity for a gun. Too much weight will make the gun off-balance.
Luckily, the TL Racker keeps things balanced and comfortable, fighting in the featherweight division at only 12-ounces.
135
at Amazon
Prices accurate at time of writing
Prices accurate at time of writing
2. Surefire DSF
The Surefire DSF was the original gangster integrated shotgun weapon lights.
They've been around for decades, ever since 60 lumens was a lot of light.
The latest Surefire DSF series has modernized over time, and the current crop of DSF lights are tough to beat.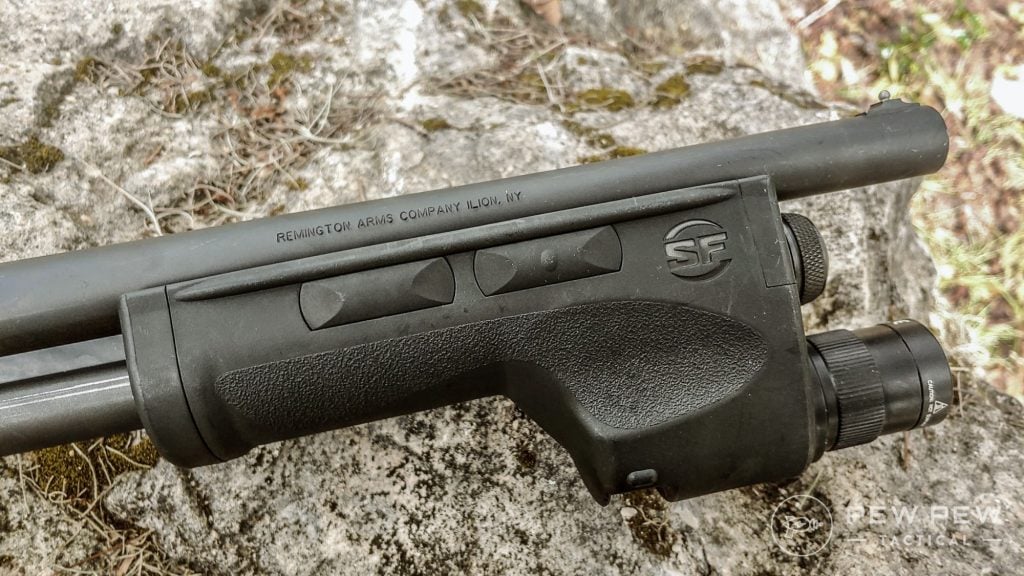 This series blasts the darkness away with either a low 200-lumen setting or a high 600 lumens.
The beam spreads and fills your peripheral vision with light. This light shines through a room, an alley, or a dark field with sheer unbridled intensity.
DSF controls consist of seven different buttons.
That sounds like a lot, but six of the buttons are designed to be ambidextrous controls.
The seventh is a universal kill switch to keep the light from accidentally turning on. You'll be grateful for that.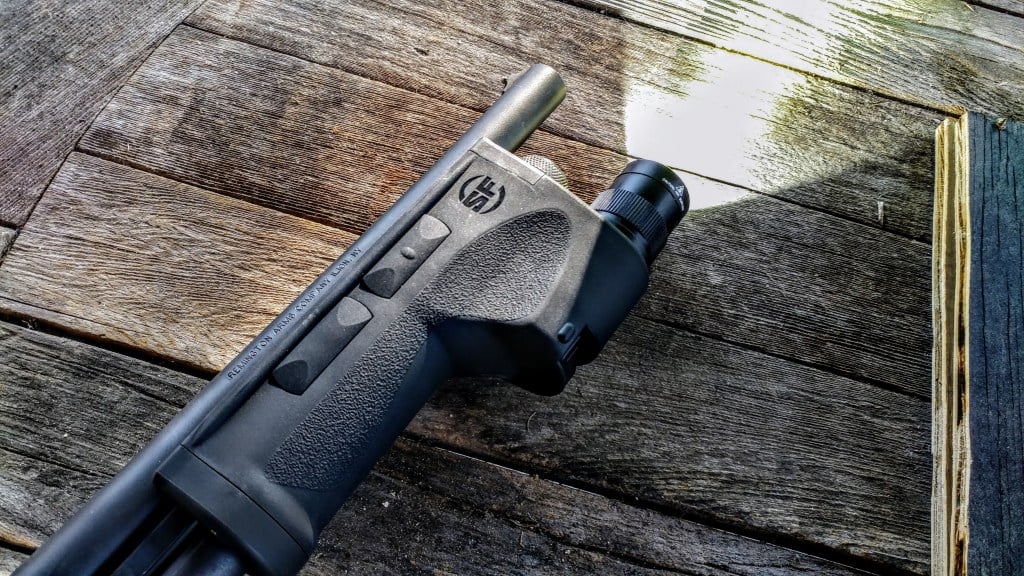 Anyways, there are three left and three right controls that allow you to access a momentary mode, a constant mode, and a button to swap the setting from high to low.
These massive controls take only a light touch to activate and deliver tactile feedback.
The DSF configuration sees the light situated as a big hump in the pump. And this hump keeps your hand from moving forward in a push/pull technique.
I like that, and any shotgunner worth their salt should agree.
The downside is the 18.2-ounce weight. This makes a hefty difference that can unbalance a gun.
350
at Optics Planet
Prices accurate at time of writing
Prices accurate at time of writing
3. Adaptive Tactical EX Performance Light Forend
Mostly known for creating a magazine conversion for pump-action shotguns, Adaptive Tactical dug deep into the shotgun furniture industry with stocks and forends like the EX Performance.
This is the only light integrated forend that allows you to easily remove the light.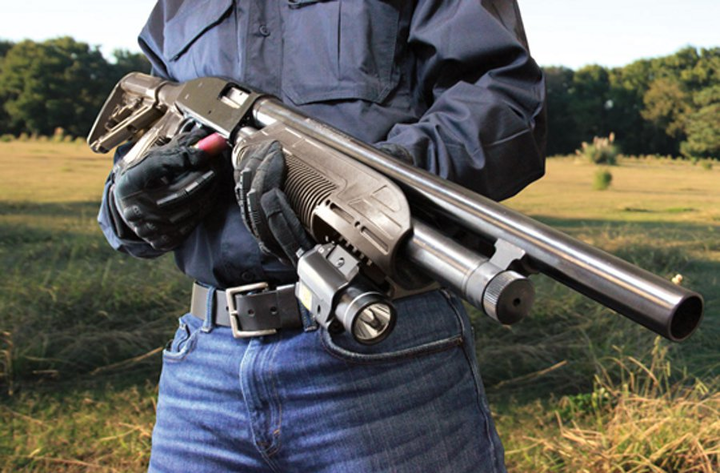 Wanna trim weight?
Pop the light off for daytime use or if you want a handheld light. It's attached with only a Picatinny rail.
The system keeps the 300-lumen light tucked into the pump with a dedicated shelf.
You have three different ways to shine on with a constant, a momentary, and a strobing option.
The smaller light also keeps your gun nice and light.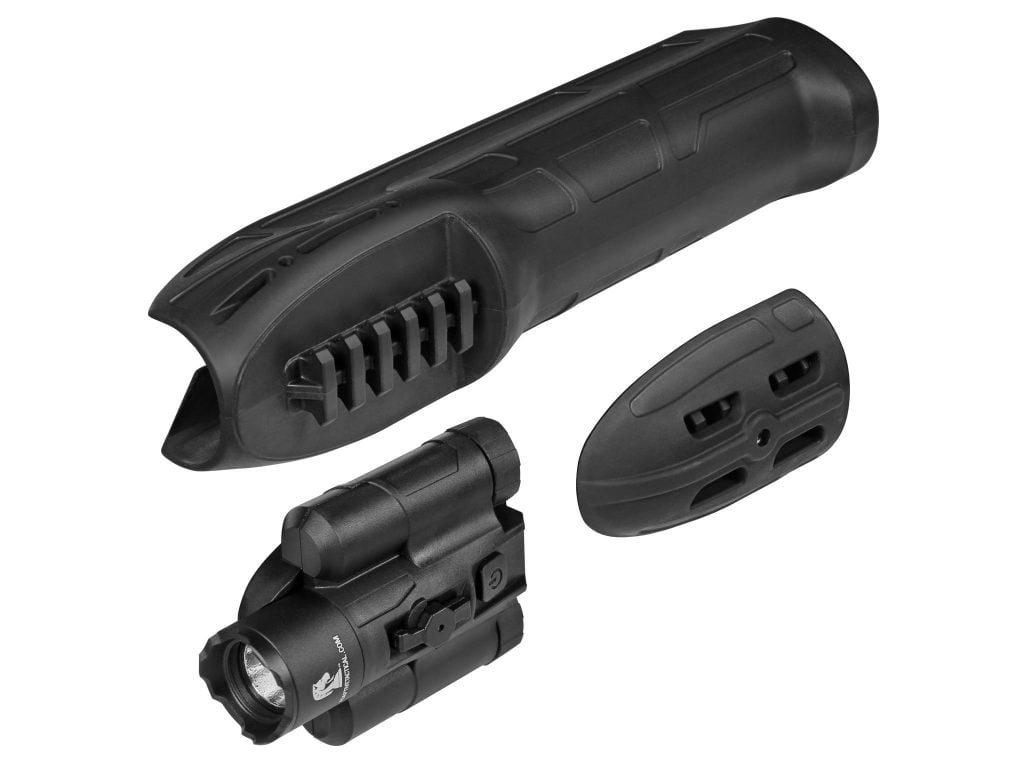 Admittedly, the light doesn't register as the most powerful option. It's also not the most ergonomic.
The single button is best described as petite but at least it's ambidextrous.
Adaptive Tactical Ex Performance manufactures its lights in America but sells them for a good bit less than other integrated light options.
This light made the list because the price is tough to beat, retailing less than $100 around the internet.
102
at Optics Planet
Prices accurate at time of writing
Prices accurate at time of writing
Tried the Adaptive Tactical EX Light? Give it a rating below!
Best Shotgun M-LOK Options 
Who doesn't love M-LOK?
M-LOK changed the game, making rails, handguards, and forends adaptable and modular.
Railed shotgun pumps kind of suck. The cheese grater effect combined with 12 gauge recoil is not exactly comfortable.
M-LOK lets you place what you want, where you want.
1. Magpul M-LOK Forend
Magpul makes a product, and it becomes the industry standard in about five minutes.
They did it with magazines, rifle stocks, and now shotgun furniture.
The Magpul SGA stock and forend are prime examples of Magpul's genius at play.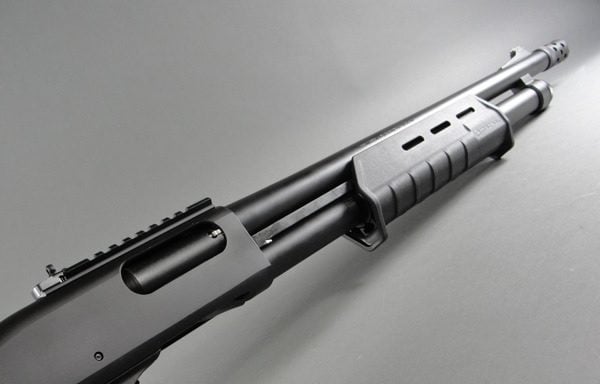 Remington and Mossberg both offer Magpul variants of their guns, and it's hard to beat the plastic fantastic that Magpul offers.
The Magpul M-LOK forend gives users nine M-LOK slots — three on the right, three on the left, and three on the bottom of the pump.
This makes prime real estate for mounting accessories of all kinds, from lights to cup holders.
You can get a real grip on the Magpul forend via the built-in ribbing. The front and rear of the forend offer small shields to keep your hand in place when things get rough.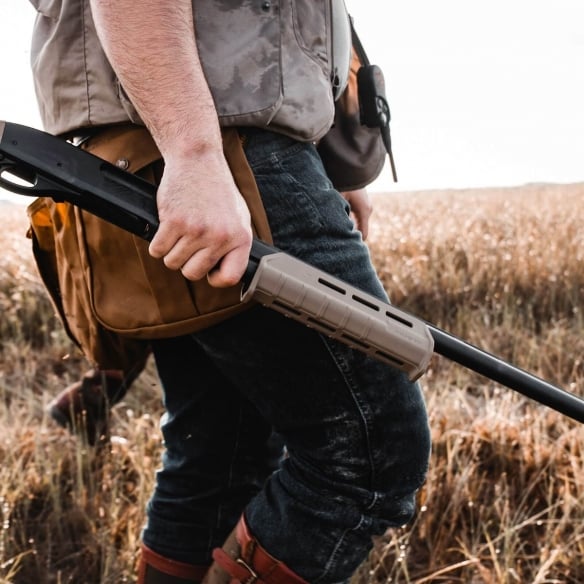 Once you start working the pump, you won't need to worry about a slipped hand.
The rear of the pump measures longer than most, and this provides more traction for short-armed shooters.
At the same time, it won't interfere with a mounted side-saddle.
All in all, Magpul's forend offers a lightweight, adaptable, and easy to grip design. What more could you ask for?
28
at Brownells
Prices accurate at time of writing
Prices accurate at time of writing
2. Ergo
Let's say you aren't sold on the idea of plastic fantastics just yet.
You prefer metal. Metal is heavy, heavy is reliable, right? I mean, Conan wasn't swinging a plastic sword when he drove away that snake queen.
If that's the case, then Ergo has the pump for you.
This all-aluminum minimalist design incorporates 12 M-LOK slots for the full-length variant. For the Mossberg SBS model, you get nine slots.
Plenty of room for lights, foregrips, and the aforementioned cup holder!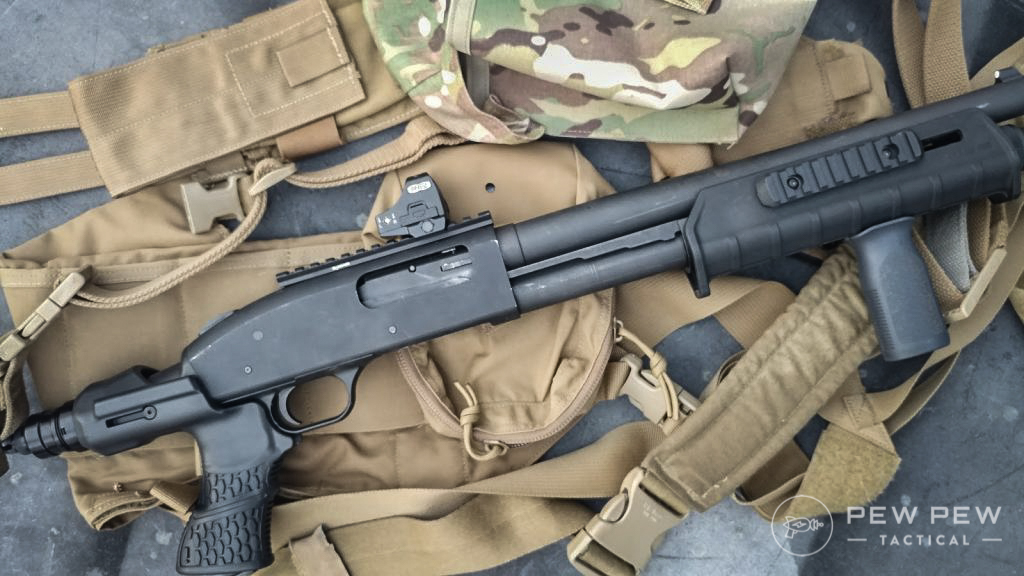 The Ergo appears very small for a shotgun pump and looks more square-shaped than round. This presents a surprisingly comfortable choice.
While it brings built-in traction, the pump offers lots of slots for adding your own grip accessories.
Keeping it low profile is the Ergo rail's business and it excels at offering M-LOK slots at the 3-, 6-, and 9-o'clock positions.
The Ergo is as minimalist as it gets.
If your goal is a superbly light shotgun, then the Ergo rail is the route to go.
87
at Optics Planet
Prices accurate at time of writing
Prices accurate at time of writing
Strike Industries VOA
Coming in with another all-metal option for you shotgunners…the Strike Industries VOA shotgun forends.
Strike Industries is known for being a little extra when they design things, and the VOA proves no different.
Minimalist? Not here.
The Strike Industries VOA goes further rearward for a better grip for those cursed with T-Rex arms.
The sides of the VOA go further upward, offering more protection for a hot barrel, and M-LOK rails for lights, lasers, etc.
With 10 M-LOK slots, it also accommodates plenty of customization options.
This design encourages accessory placement that fits you and your hands. From top to bottom, the forend blesses users with a smoothly laid-out design.
Talk about user-driven ergonomics.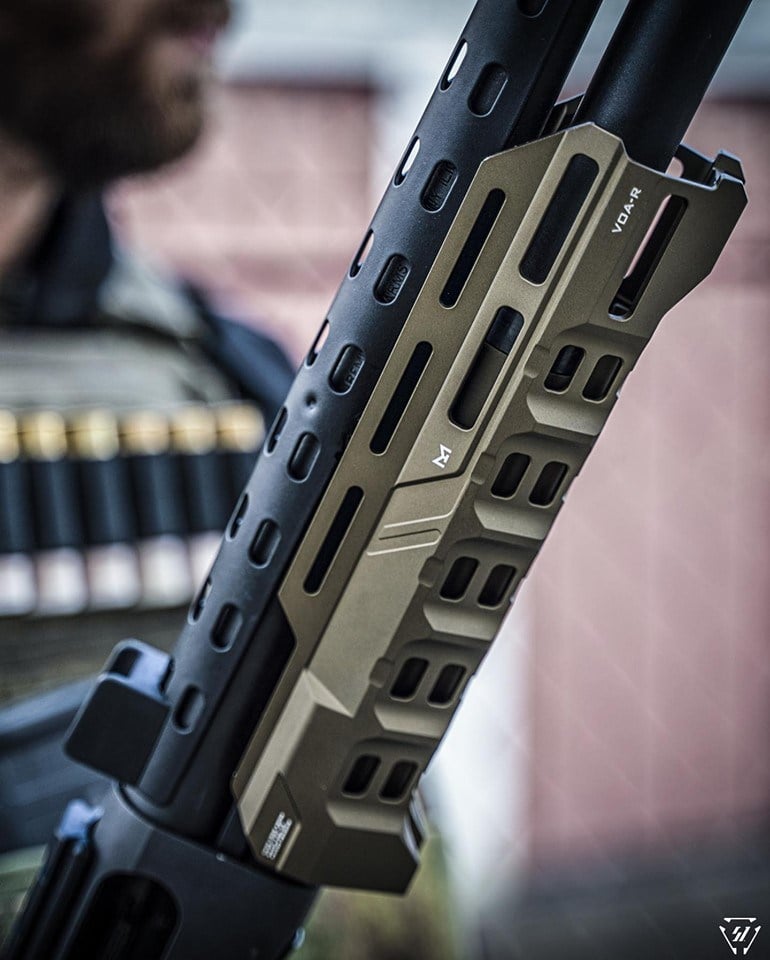 Wanna run the handguard hard and fast?
Good! Strike Industries' VOA forend comes textured with finger grooves to allow for an unbeatable grip.
The front and rear of the pump have integrated hand shields to keep from slippin' and slidin' as you work.
The VOA is an excellent example of what CNC machining and 6061 aluminum can do for your shotgun.
It's a rock-solid metal option if humility and minimalism ain't your thing.
95
at Brownells
Prices accurate at time of writing
Prices accurate at time of writing
Mesa Truckee M4 Handguard
The Mesa Truckee handguard is made exclusively for the Benelli M4. As a Benelli M4 fanboy, I was a little excited to get my hands on one.
The Truckee forend comes in a standard 8.5-inch model as a drop-in replacement for the plastic handguard and the extended 11-inch model.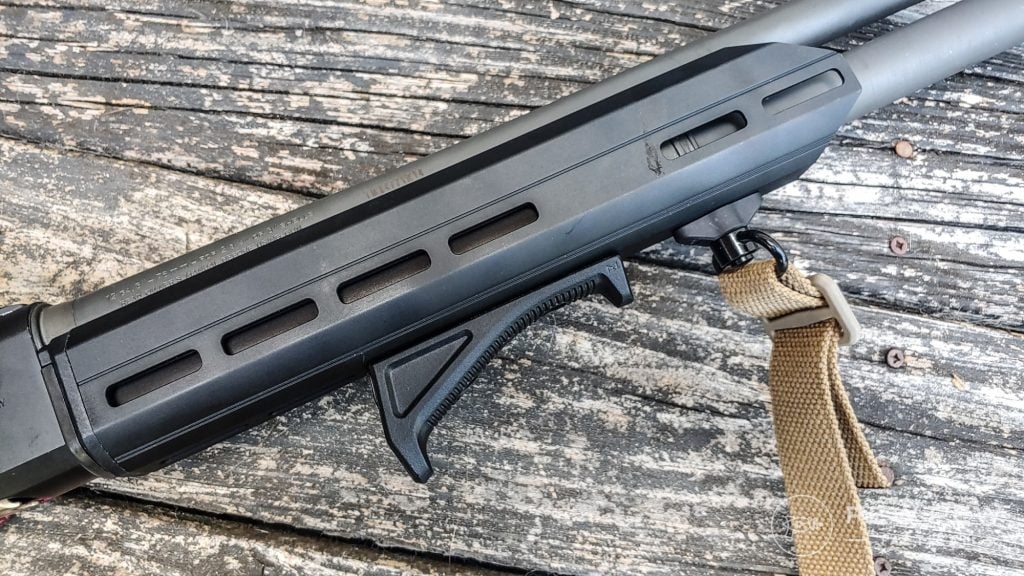 The Truckee handguards — must-have replacement and addition to your Benelli M4.
The all-aluminum handguard is made to the same demanding quality specifications the spaghetti blasting Benelli M4 is built to.
The aluminum handguard comes squared off with melted edges that allow for a firm grip on the gun.
While not textured heavily, the grip is a no-slip design, and the M-LOK slots that adorn the forend allow you to pick and choose any variety of grips to attach.
As could be expected, the M-LOK slots run on the 3-, 6-, and 9-o'clock positions.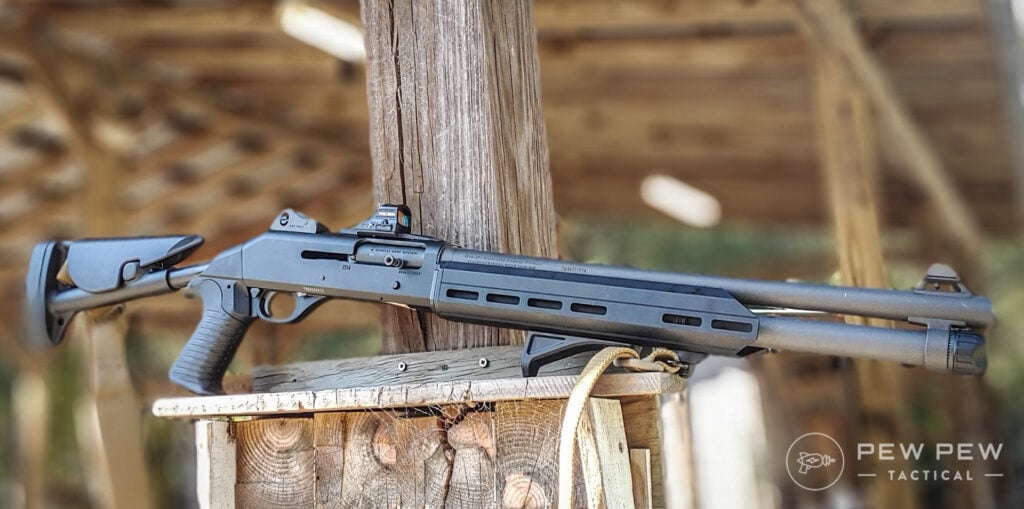 The slots are placed well, especially the forward slots at the 3- and 9-o'clock positions. These are perfect for attaching a light and reducing barrel shadow as much as possible.
The 11-inch model offers the most M-LOK slots, but you won't be let down by the 8.5-inch model.
The Mesa Truckee forend is an excellent example of forward-thinking. I truly hope Mesa brings a Truckee for the Mossberg 930 SPX and the Beretta 1301 Tactical.
115
at Brownells
Prices accurate at time of writing
Prices accurate at time of writing
Agency Arms Benelli M2 Handguard
The Benelli M2 is, without a doubt, the most popular semi-auto shotgun, and because of that, you get plenty of forend options.
The Agency Arms M-LOK handguard isn't just the best handguard for the M2, but my favorite period.
It's superbly lightweight with a minimalist design.
More M-LOK slot than handguard, you can adorn the Agency Arms M2 handguard with anything in near any position.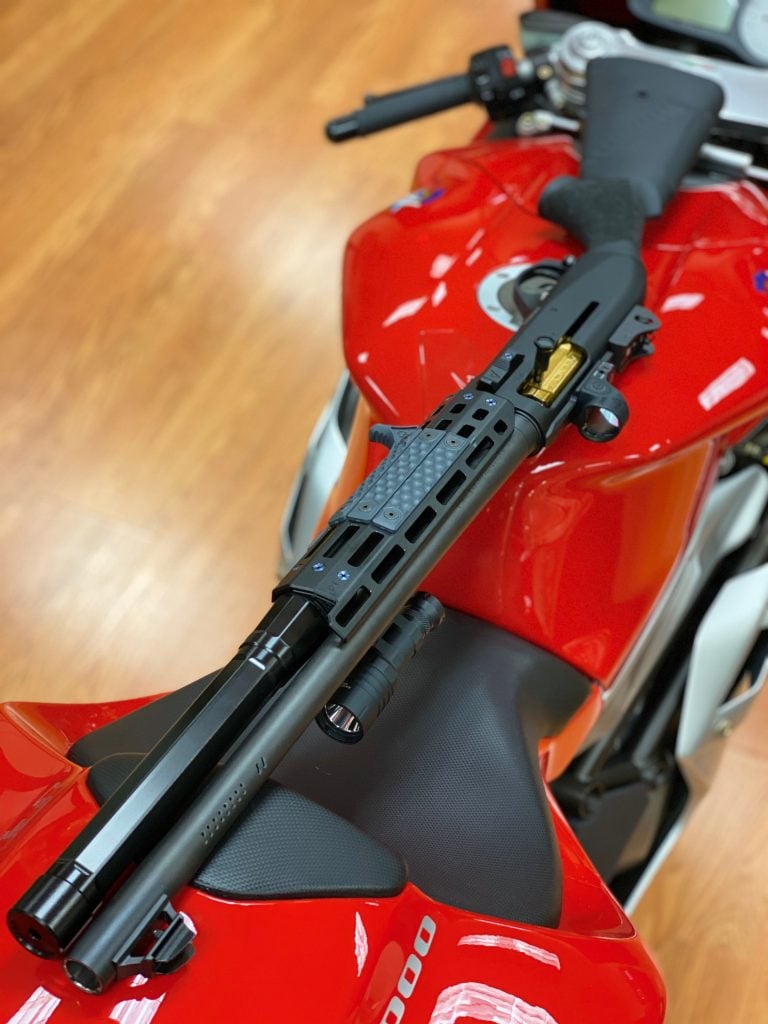 There are 38 complete M-LOK slots and nine partial slots.
Insane — that's the best way to describe your options. Put anything anywhere and run with it!
The Agency Arms handguard weighs only 8.8-ounces, making it a Bantamweight fighter.
This little lightweight handguard is machined from 6063 aluminum and complete with a Mil-Spec hard-anodized finish. It's super light, well made, and gives you an unmatched level of customization.
It clings high on price, admittedly, but most Benelli owners are accustomed to big price tags.
250
at OpticsPlanet
Prices accurate at time of writing
Prices accurate at time of writing
Honorable Mentions
Before we bailout, I want to include one wild card.
That one wild card is for the classy shotgunner… the one who owns many leather-bound books and has an office that smells of rich mahogany.
If that's the case, none of the above shotgun forends appeal to you.
What will appeal to you is the numerous options from Boyds Gunstocks.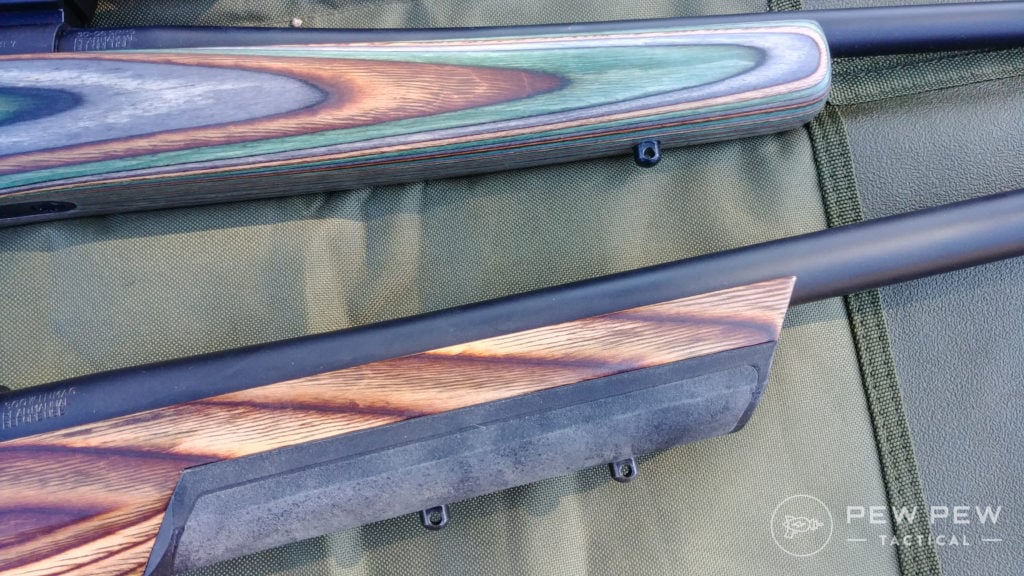 Boyds makes tons and tons of different shotgun forends, all made from fantastic wood in various finishes.
This fine wood furniture comes in numerous cuts and designs that are truly unbeatable.
They include fine checkering for a sure grip, a tough sealant to keep moisture out, and they provide some truly beautiful options for those looking for a more retro look.
These are gorgeous works of art!
If you want to be all class and no tactical, then Boyd Gunstocks is the way to go.
99
at Boyds Stocks
Prices accurate at time of writing
Prices accurate at time of writing
Conclusion
Shotgun forends are a small part of your total system, but they play a huge part in how the gun functions and handles. Not to mention, they really impact ergonomics and accessories.
With a good forend, you can set your shotgun up for success from the first shot to the last.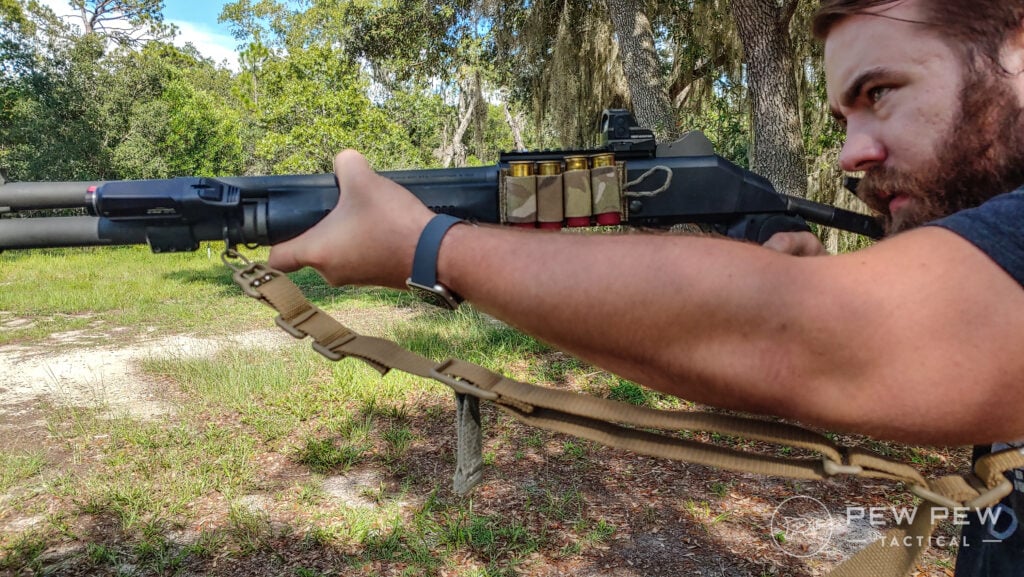 Shotguns are powerful and capable weapons.
I love when I can wax poetically on how much I adore them. I love tinkering, too, and making an everyday scattergun into a modern blaster with the help of a new forend.
What's your favorite shotgun forend? Let us know in the comments below. Looking to slap a light on that bad boy? Check out the Best Shotgun Lights for a list of recommendations. For more shotgun related reviews and articles, check out our Shotgun Reviews: Everything Scatterguns.