The old Glock versus 1911 argument is one of the big ones. It's up there with 9mm vs. 45 ACP and AR vs. AK…
In 2006, a company called Alchemy Arms set out to solve the debate by producing a gun called the Spectre…smashing a Glock and 1911 together to mix the best features of both.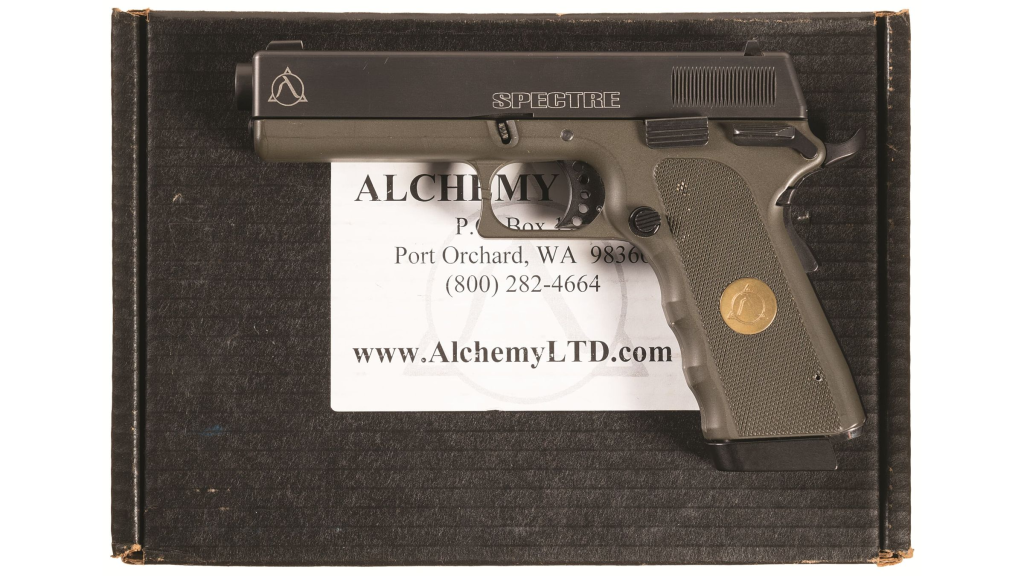 But what happened to this unique design, and where did things go wrong?
Keep reading to find out…
Table of Contents
Loading...
What is the Spectre?
John Browning got it right when designing the M1911 frame — good ergonomics go a long way.
Glocks work, but they aren't necessarily known for being anything but blocky in the grip.
The Spectre smushed the two together, offering, more or less, a Glock slide atop a 1911 Frame.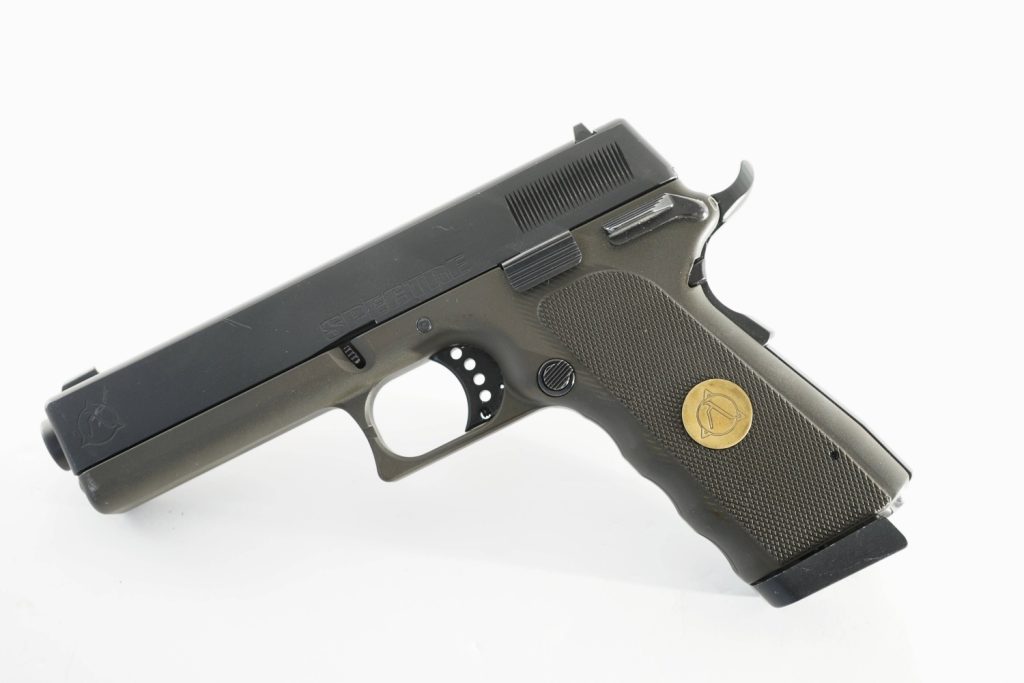 A huge beavertail allowed for a high grip, but the weapon used a double stack magazine, making it a little wider than most 1911s.
There were slight finger grooves built into the frame, and much like the 1911, the Spectre was all metal.
Also, like a traditional 1911, the Spectre chambered the .45 ACP cartridge. Alchemy Arms planned to produce 9mm and .40 S&W variants as well.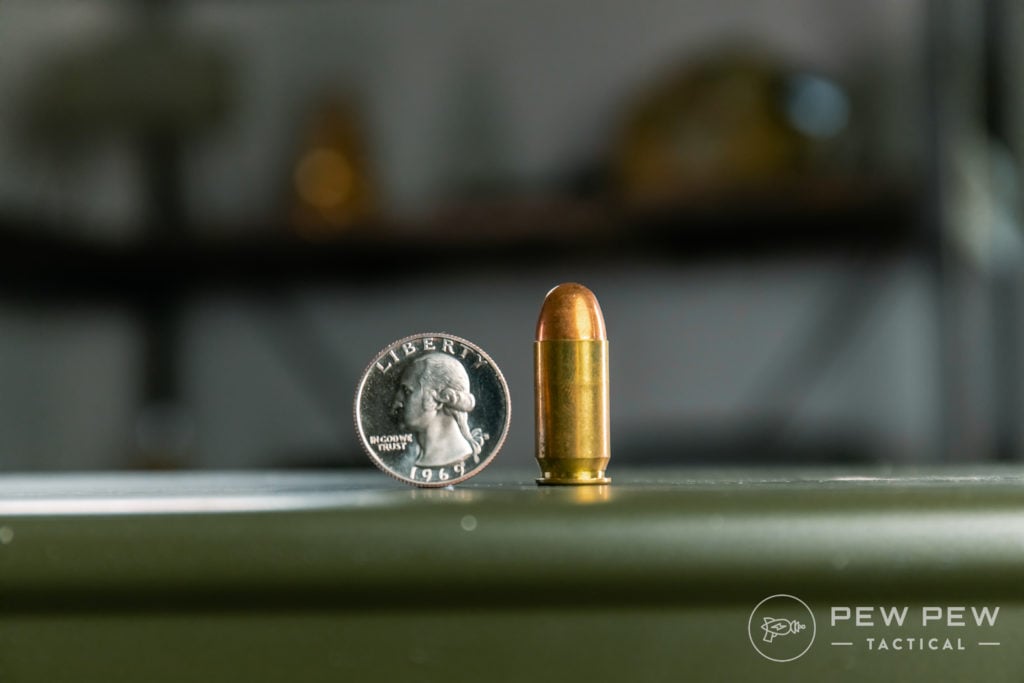 Alchemy Arms went with a striker-fired design with the Spectre, and the slide is very Glock-like.
Using a double-stack magazine is also very Glock-like, and the weapon used proprietary magazines. These magazines were based on the EEA Witness line but used an additional cut. You could theoretically modify an EAA magazine to work in the Spectre.
These magazines held 10 rounds and were developed during the assault weapon ban. This locked them into that 10-round magazine capacity.
Alchemy Arms was big on advertising that this was the safest pistol ever. They mentioned the internal safeties like the drop safety and firing pin block. The gun also had a grip safety and a 1911-style manual safety.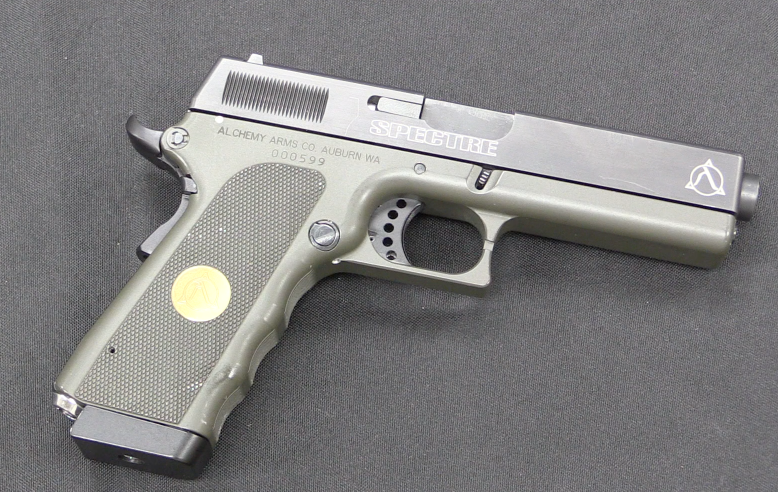 And it had a lock-out feature. A key slid into the bottom of the grip and could completely lock the gun. This locked the slide and trigger and prevented you from removing the magazine.
Alchemy Arms announced the Spectre in 2000 and produced the gun until 2006. After that, the gun disappeared, and few people seemed to miss the Spectre.
So why aren't we all packing Spectres and putting Glock and 1911 companies out of business?
What Happened to the Spectre?
Out of the gate, the gun had some quality control and reliability issues.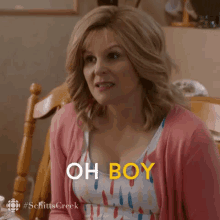 Several were unreliable, with reports that certain ammo types and loads worked better than others. Sometimes the gun shipped with only one magazine instead of two or no magazine at all.
Magazines were also fairly tough to get. Shooters could modify their own, but that is often less than desirable.
Alchemy Arms priced the Spectre at $799, much more expensive than a standard Glock.
539
at GrabAGun
Prices accurate at time of writing
Prices accurate at time of writing
On top of that, 1911s and Glocks are known for their fairly short and light triggers. With the Spectre, shooters got a heavy and rather long striker-fired trigger. Impressive, it was not.
Production was slow, and they couldn't churn out guns fast enough to keep up with interest.
While Glocks and 1911s are both popular, the Spectre seemed like a middle child. It didn't have enough Glockish features to draw in Glock owners and didn't have enough 1911 features to capture 1911 fans.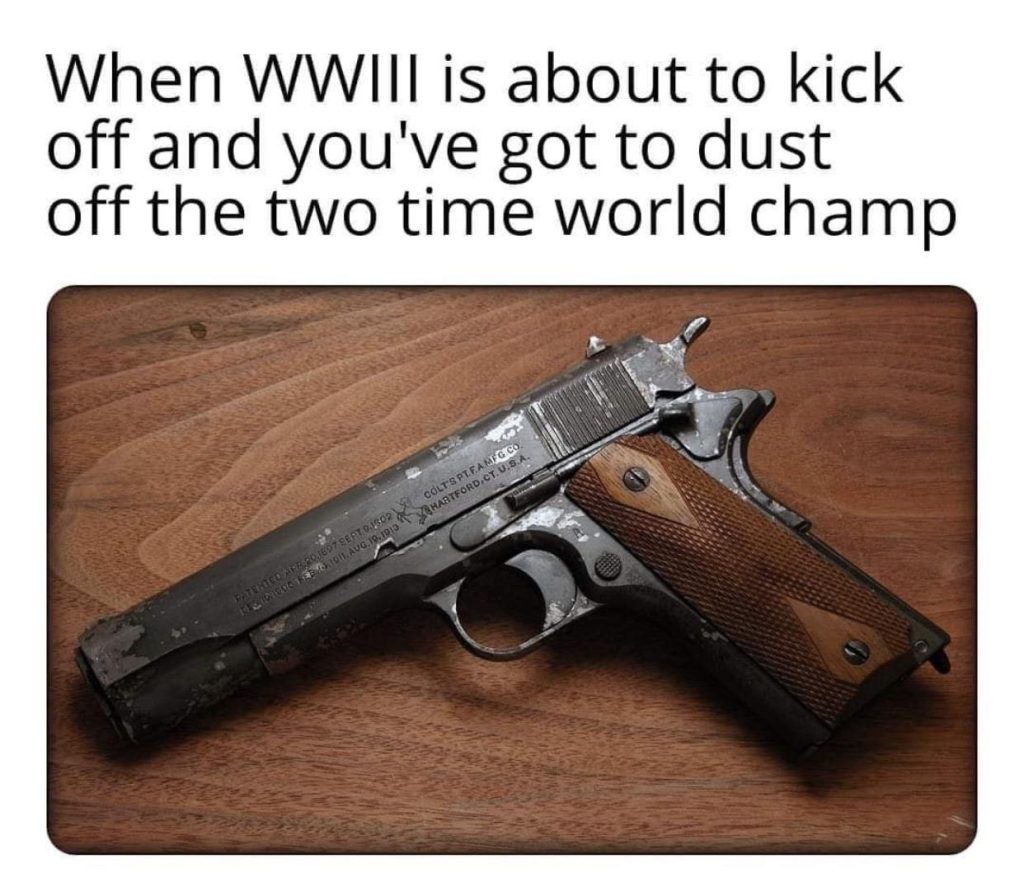 Alchemy Arms never produced the 9mm model, and apparently, a few .40 S&W variants were reproduced, but these might not have moved passed the prototype stage.
However, the Wayback Machine shows a page for the .40 S&W variants.
There are rumors stating the military tested it. Why, by who, or when is not known, and I can't confirm the United States military ever tested it.
Final Thoughts
It's worth mentioning the owner of Alchemy Arms was also working in the aerospace field, and the Spectre seemed like a passionate product.
It likely became more trouble than it was worth, and Alchemy Arms closed its doors when the owner got an opportunity overseas in the aerospace world.
It seems that anywhere from 100 to 200 were produced, but the guns simply faded away. Most sales were more or less custom orders.
Although they pop up here and there and at auction, they seem to go for well over $1,000.
What are your thoughts on the Alchemy Arms Spectre? Let us know in the comments below! Interested in Glocks or 1911s? Check out our Guide to Best Glocks or the Best 1911s for the Money.