There's tons of types of guns…it really depends how specific you want to get.
For us, we consider the three main ones — pistol, rifle, & shotgun. We'll walk through the main characteristics of each and start to break down sub-categories.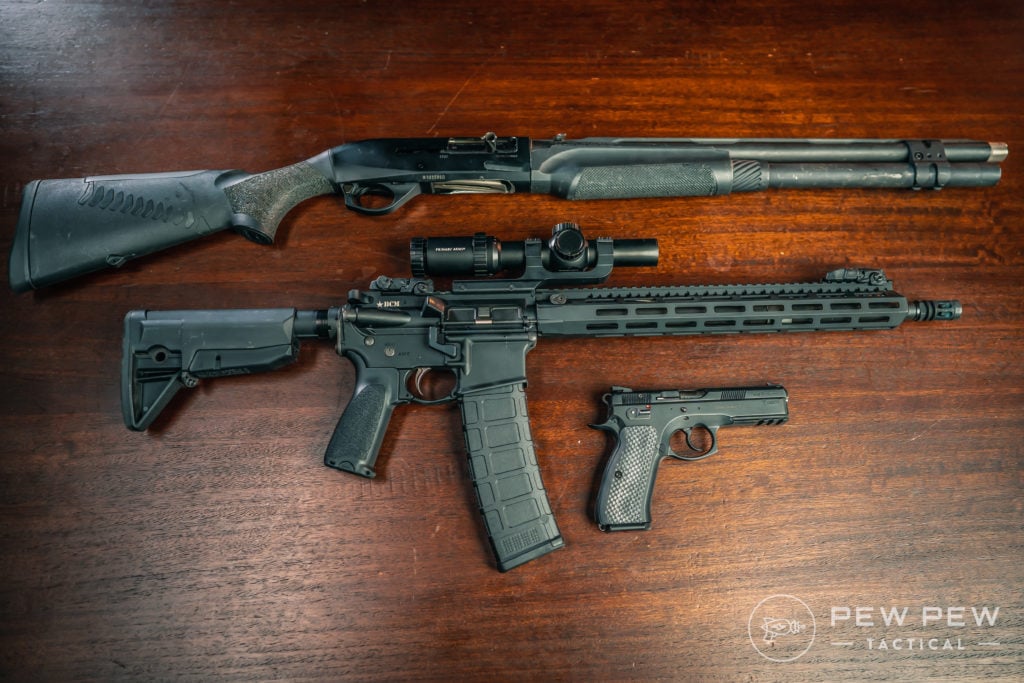 Please be sure to check your specific state laws regarding the following definitions.
Looking for something more substantial? How about our full video Handgun Course that takes you from beginner to gunslinger in no time.
Pistol
We will be using "pistol" and "handgun" to mean the same thing. When you start combining federal and general state law, a handgun has the following characteristics:
Fired from one hand
No support from the shoulder
Barrel length of under 16 inches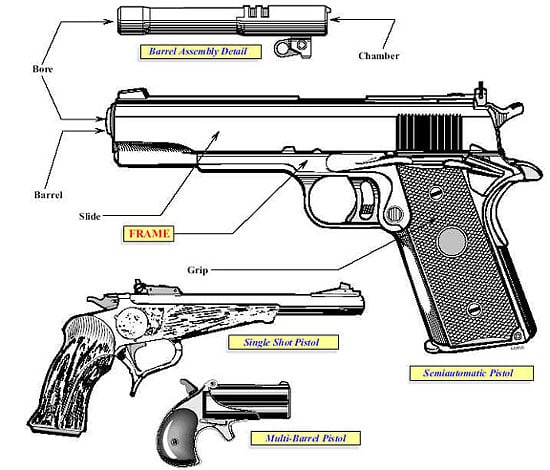 Subsets of pistols include revolvers and semi-automatic pistols. Below is a good representation of handguns with the one on the right being a revolver while the rest are semi-autos.
Learn more about How to Shoot Pistols as well as some of our favorite 9mm Handguns and Best Concealed Carry Guns.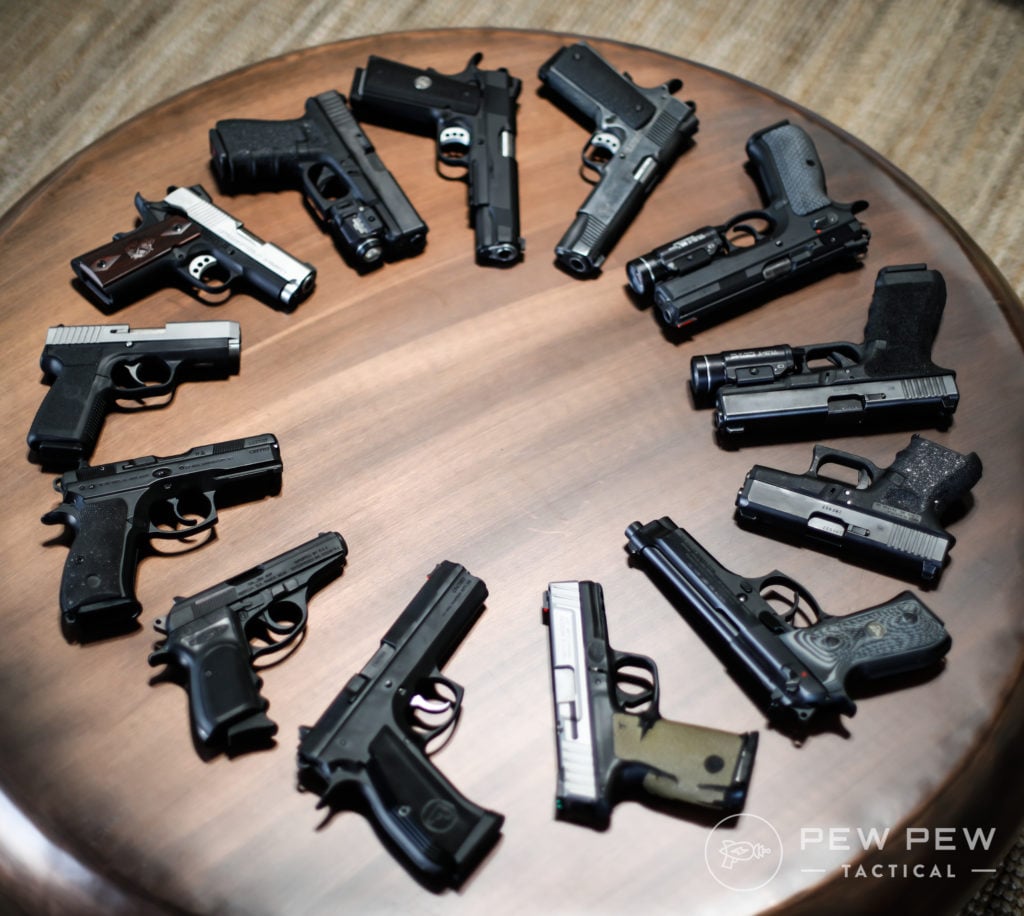 Rifle
A rifle usually has the following characteristics:
Fired with two hands
Braced against the shoulder
Fires only one projectile with each pull of the trigger
Barrel has rifling which helps spin and stabilize the bullet
Barrel length of over 16 inches
Here's a better close up of the "rifling" where rifles get their name.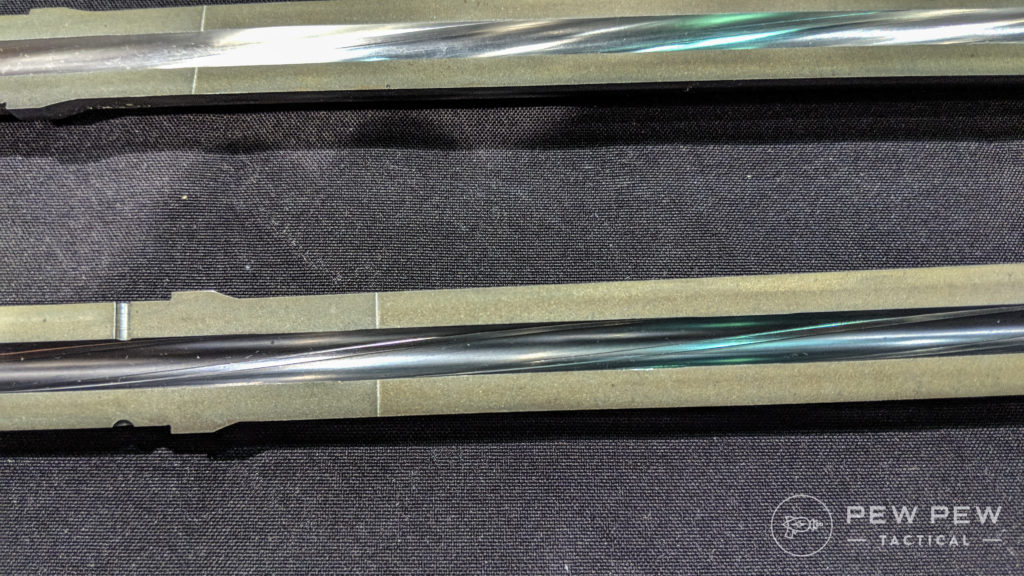 We'll be breaking down rifles into two subsets—bolt action and semi-automatic.
Popular bolt actions include the Remington 700 series, while the two most popular semi's are the AR-15 and AK-47.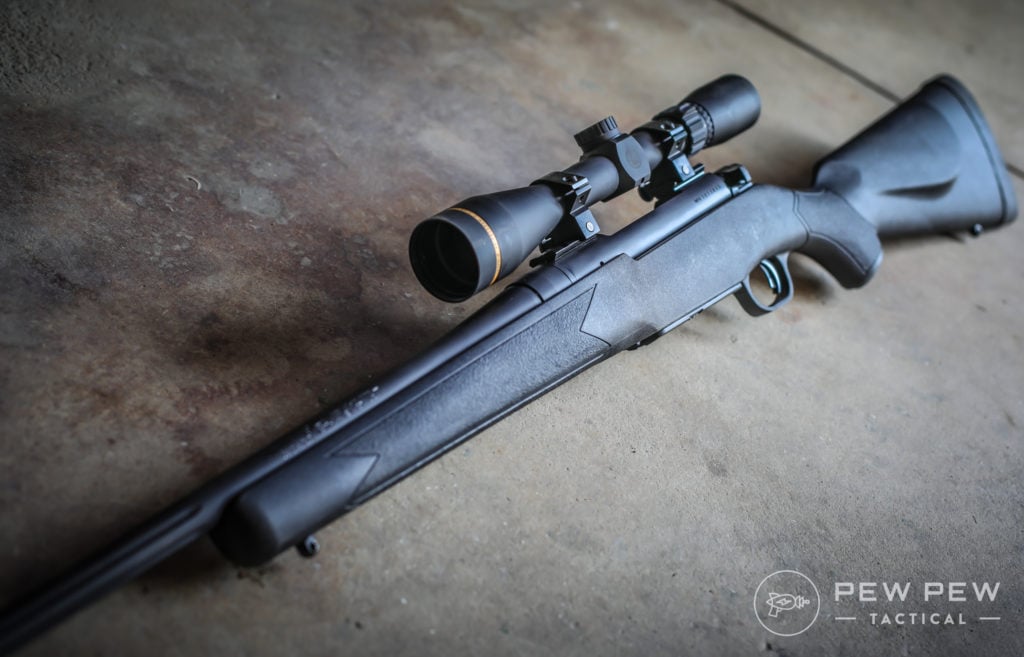 And why are they called bolt actions? Easy…check out me manipulating the bolt!
Semi-auto variants go bang with each press of the trigger. Popular variants include the AR-15.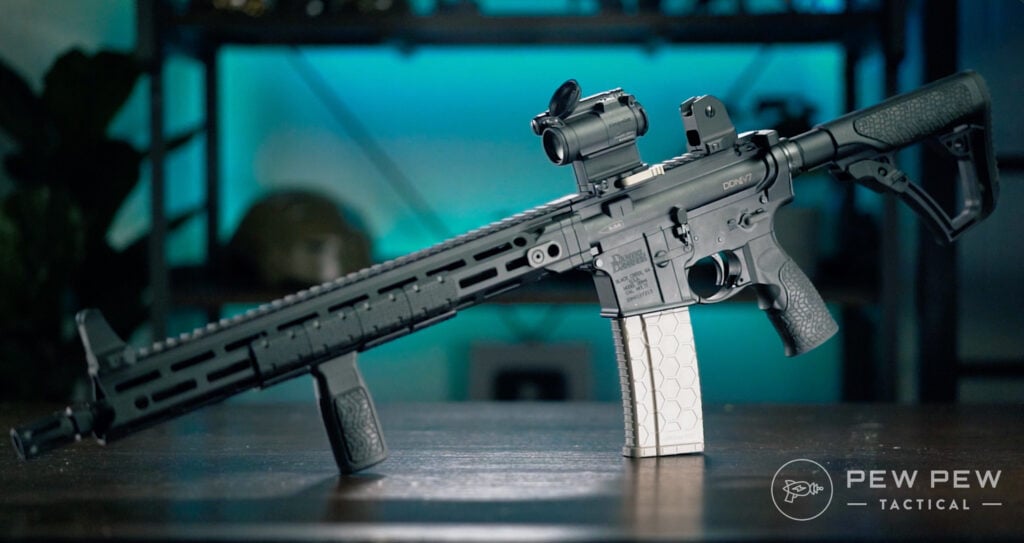 Check out some of our favorites in our Best AR-15s Buyer's Guide.
How about AK-47s?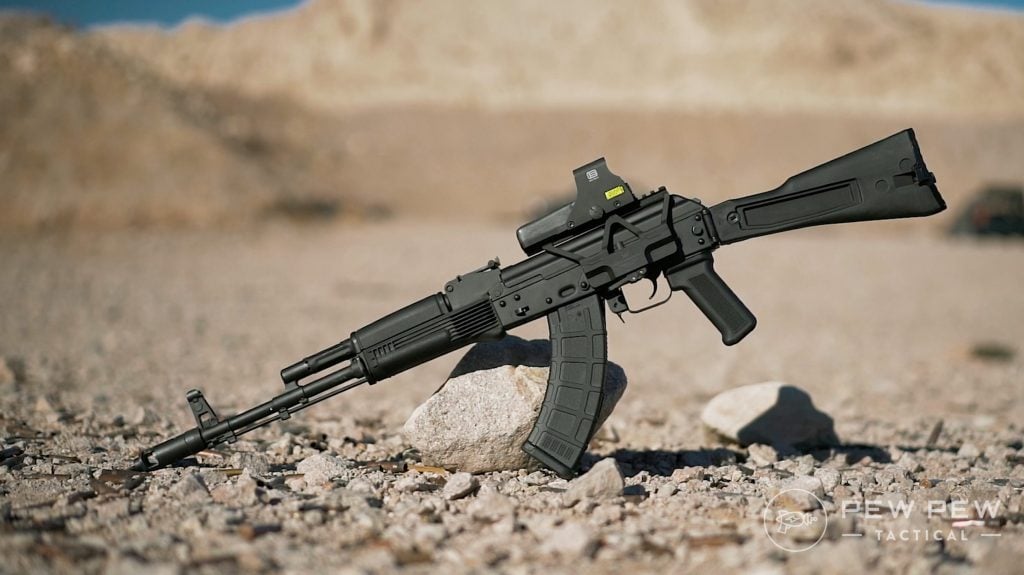 Remember semi-auto equals one shot per trigger pull.
Looking for an AK? Check out our Best AK-47s article.
Shotgun
Shotguns have smooth barrels to fire a variety of different ammunition. The most common ammo involves lots of metal pellets that spread out.
Smaller pellets are known as bird shot while bigger ones are buck shot. Single huge projectiles are known as slugs.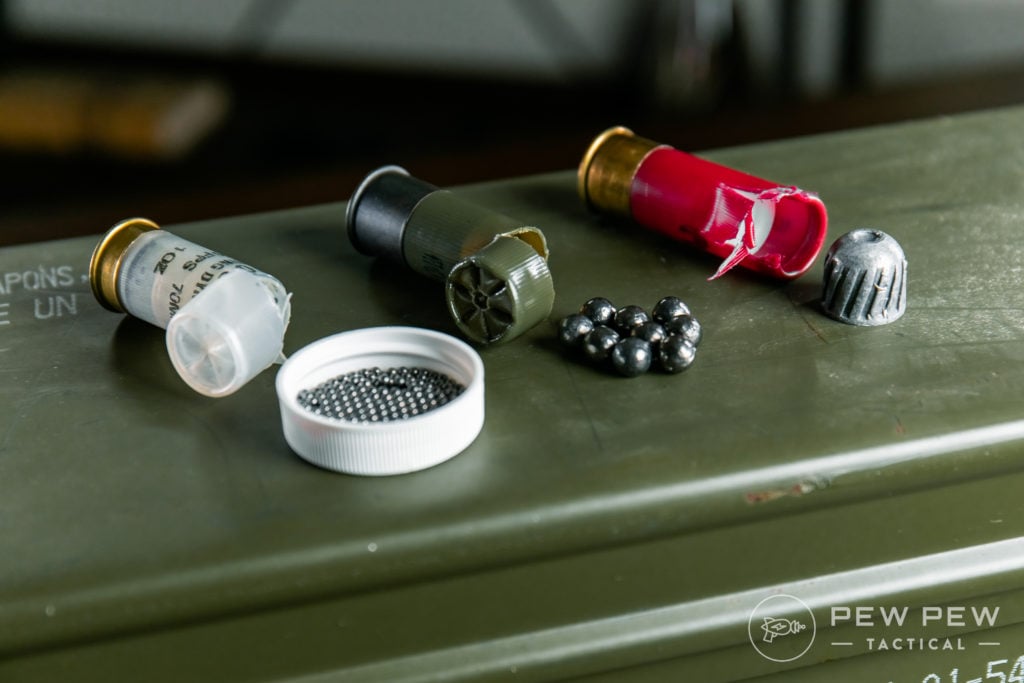 The mishmash of federal and state laws show shotguns to have:
Fired with two hands while braced against the shoulder
Fires once per pull of the trigger
Smooth barrel
Barrel length of over 18 inches
We'll consider two main subsets of shotguns with the pump action & semi-automatic.
Pump actions require you to physically move the pump handle to chamber fresh shells and remove spent shells.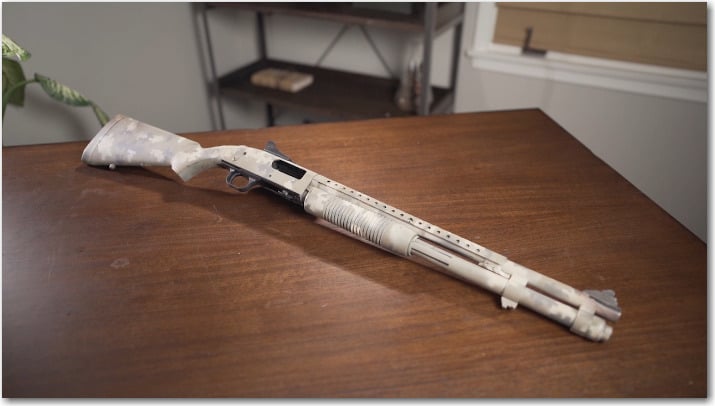 They have the characteristic chung-chung sound you always hear in movies.
Semi-automatics usually utilize gas or recoil to move the shells.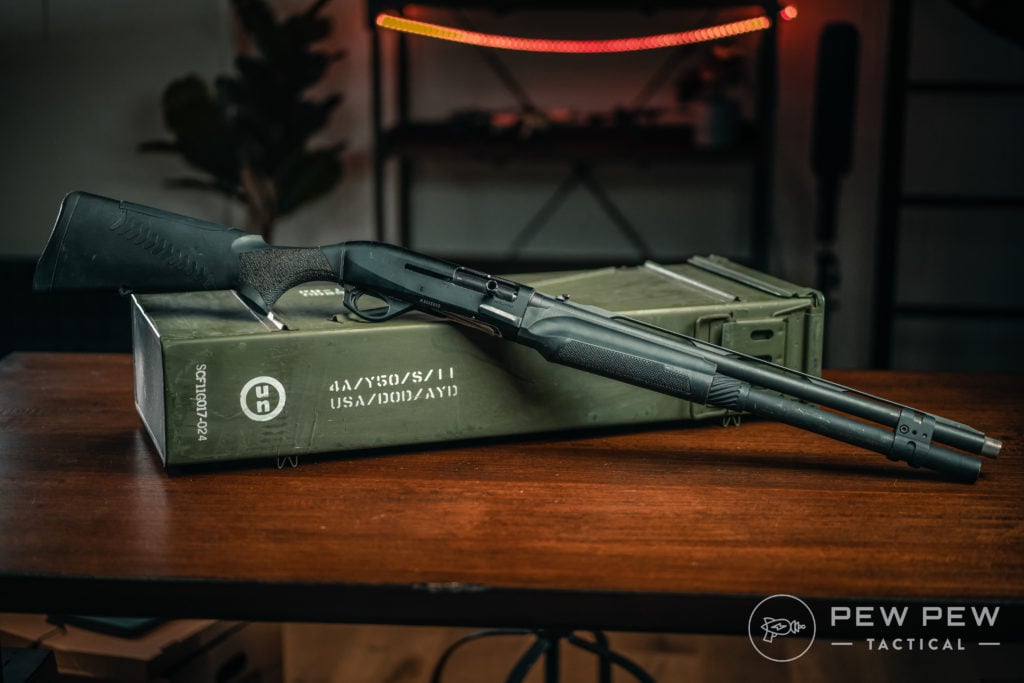 No pumping needed.
Looking for some shotties? Check out our Best Tactical Shotguns and also Best Semi-Auto Shotguns.
Conclusion
There you have it…a quick primer on pistols, rifles, and shotguns.
We also made a quick video from our Beginner Handgun video course.
Looking to choose what's the best for home defense? Check out our Best Home Defense Gun: Pistol vs Rifle vs Shotgun article.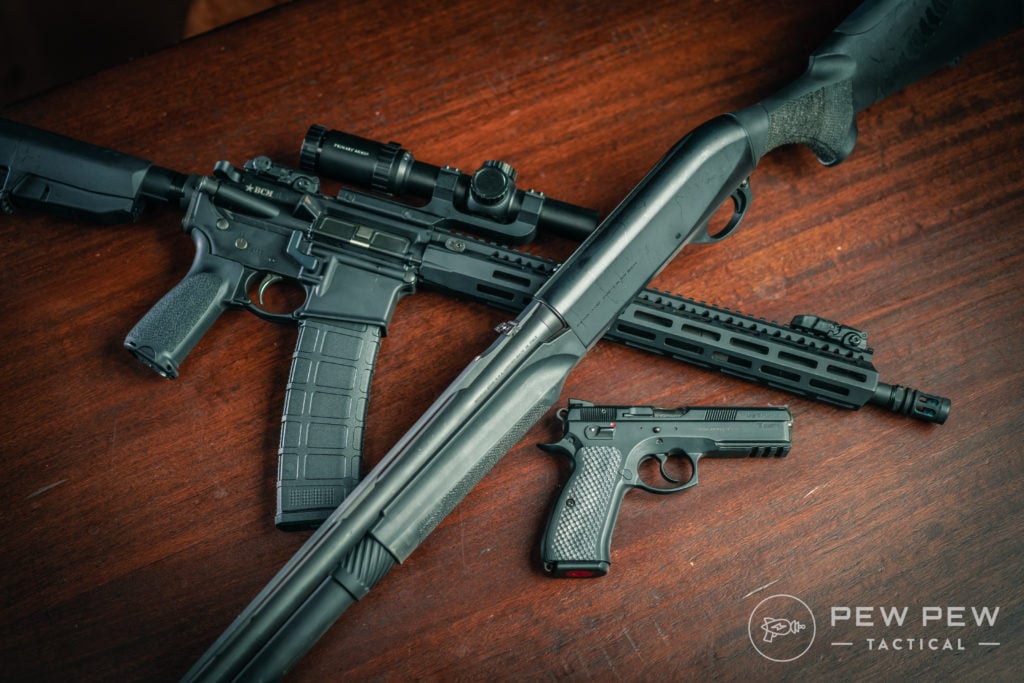 Here's an infographic you can save or pin!
Share this Image On Your Site