How can technology improve our ability to utilize firearms?
Firearms development as a whole has stalled a bit, and there doesn't seem to be much more the industry can do to move forward with the ammunition and weapon types we currently have.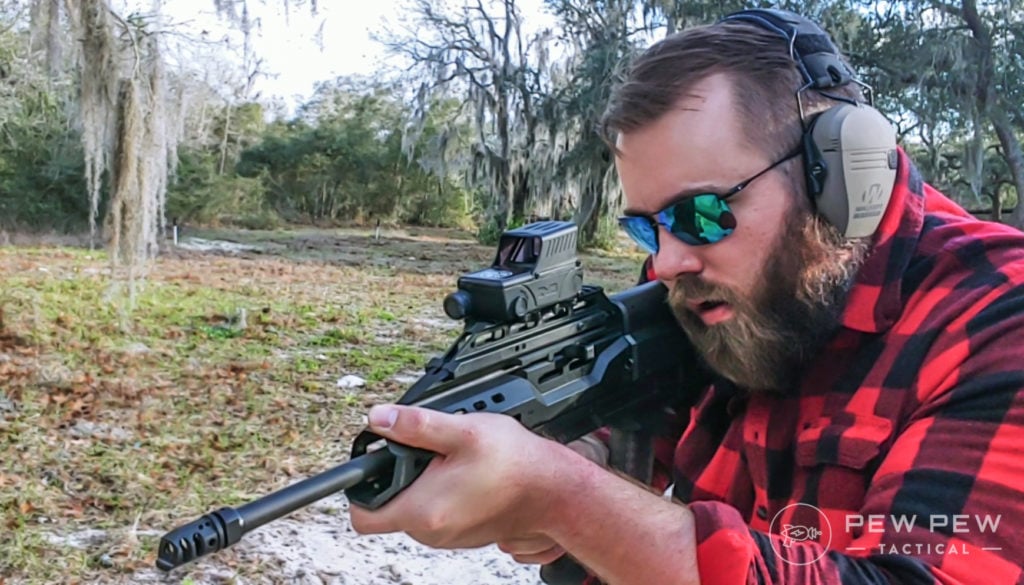 To me, the next step would be making them easier to use, more intuitive, and reducing human error in using these firearms.
Looking towards the future means embracing technology; some of that tech is already here. Let's look at some sci-fi-worthy guns and gear on the market (or almost on the market).
Best Futuristic Guns & Gear
1. Radetec Ammo Counters
Radetec USA makes some fascinating handgun attachments.
These attachments are designed to give the user real-time feedback on the amount of ammunition in the handgun's magazine. They come in numerous configurations for a variety of guns and function in several different ways.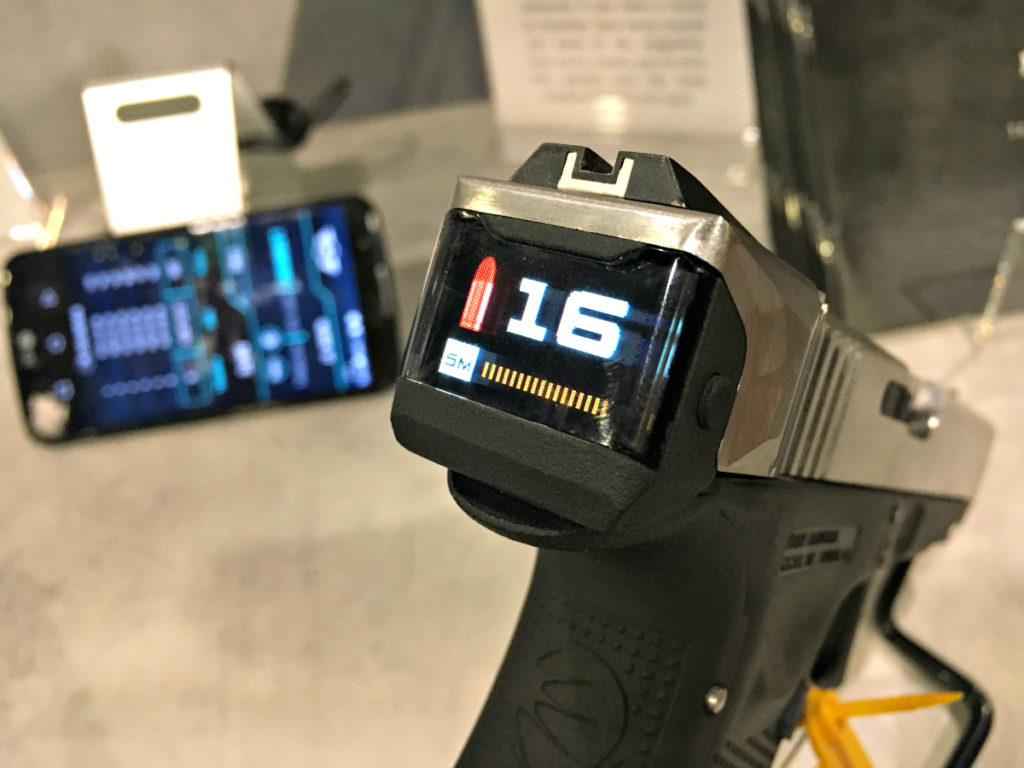 The Digital Counter is their most precise model, which uses grips that attach to either your M1911 or Beretta 92FS to provide an exact ammo count.
Another simpler option is the LED Advisor. Shooters get feedback from different colored LEDs.
As you get low, your LED will flash blue when you get lower, say the last few rounds, it goes green. When you get below that, it's red for critical and will flash rapidly on the last round.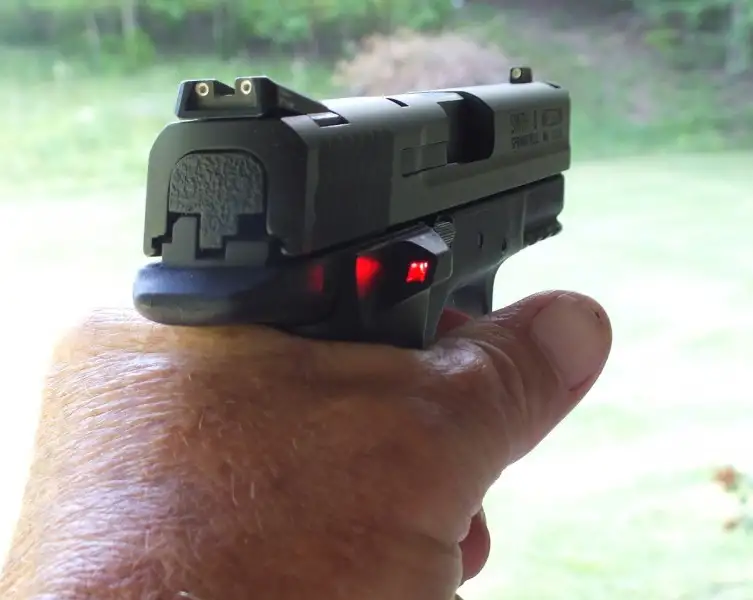 The RISC has an ammo counter that attaches to a Glock slide and keeps up with the ammo, either counting up or counting down.
All of these devices are simple, well-made, and very lightweight and use a counter in conjunction with a special follower that communicates to the counter.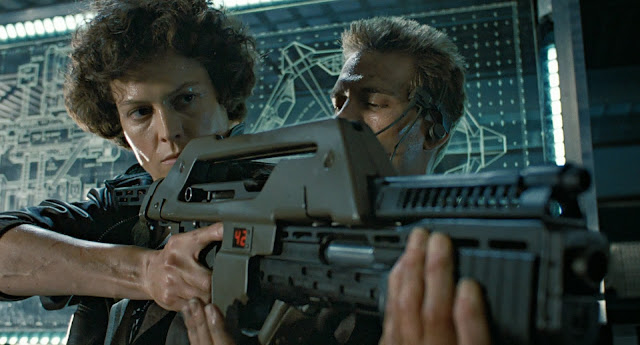 It's such a neat system and provides real-time information on something that can be critical depending on the situation.
Plus, it's one of the more affordable options on this list.
2. B&T BWC
Brugger and Thomet make some of the best submachine guns, PCCs, and rifles out there. The Swiss company produces a variety of firearms, and one new system they recently revealed is the B&T BWC.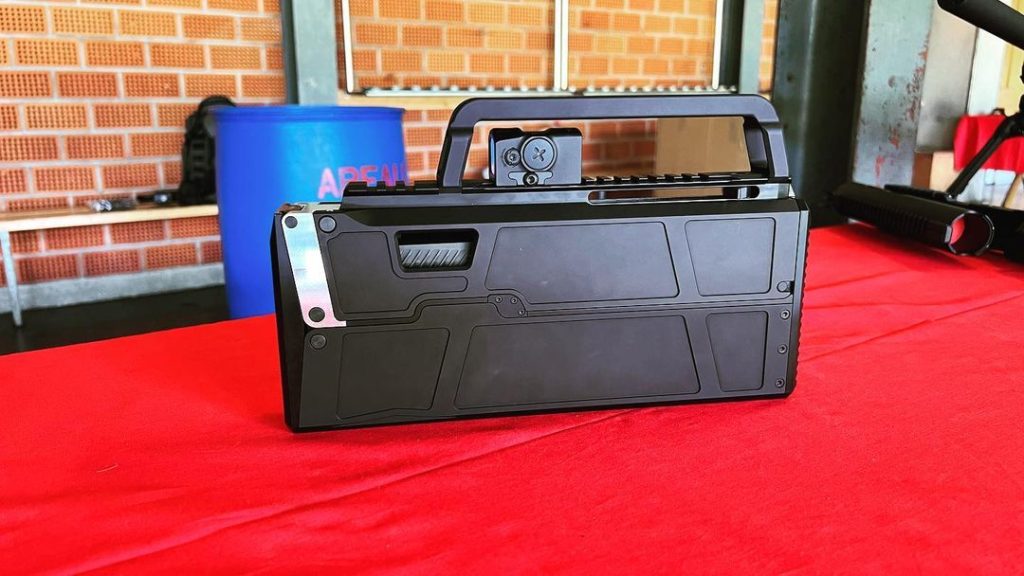 BWC stands for Because We Can.
It's not necessarily a firearm but a chassis that takes a Sig P320 fire control unit. It's all in one and isn't a Micro-Roni-like system.
Because the FCU is the firearm, technically, the BWC is not. You will have to form 1 the gun since it features a stock and lacks a pistol-only version.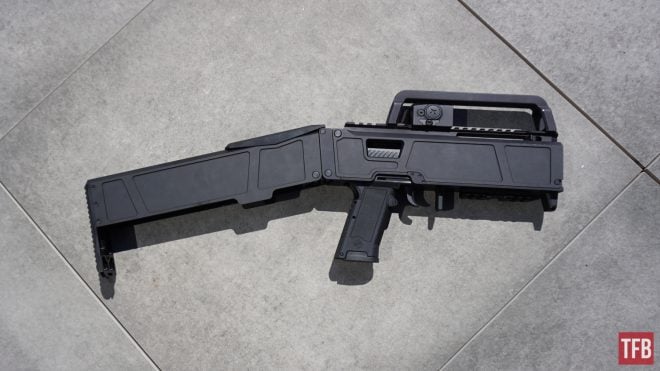 Much like the FMG-9 Magpul revealed decades ago, the gun folds into what looks like a very non-gun object.
B&T are masters of the subgun and PCC, and I have high hopes that the BWC will be ergonomic, easy to use, and accurate. One feature that has been revealed is that the weapon will be optic-ready.
The BWC looks like it'd be at home in a TV show like Firefly or The Expanse, wielded by some secretive commandos.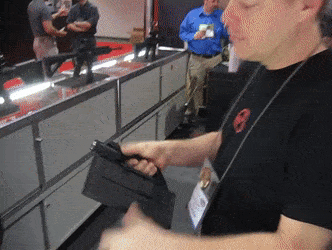 But guess what? You don't have to wait several hundred years to get the BWC, as it is primed for Q1 2023 full release.
3. Meprolight Foresight
I've seen lots of cool stuff at SHOT Show, but rarely have I seen something that stops me and makes me go back to a booth more than once.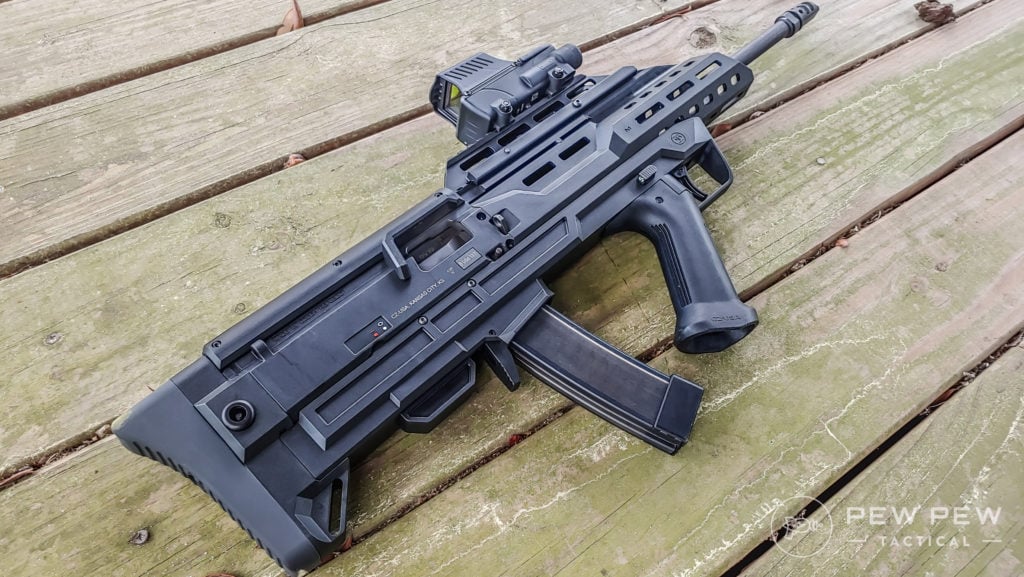 The Meprolight Foresight was one of those things.
I now own one, and it's a rock-solid optic. It's the first optic I'd call smart. The device uses an app that connects to your iOS or Android device, and you can do a ton through the app.
This includes creating up to 10 different profiles with 10 different zeroes, names, and more, whether for ten different guns or multiple profiles for one gun.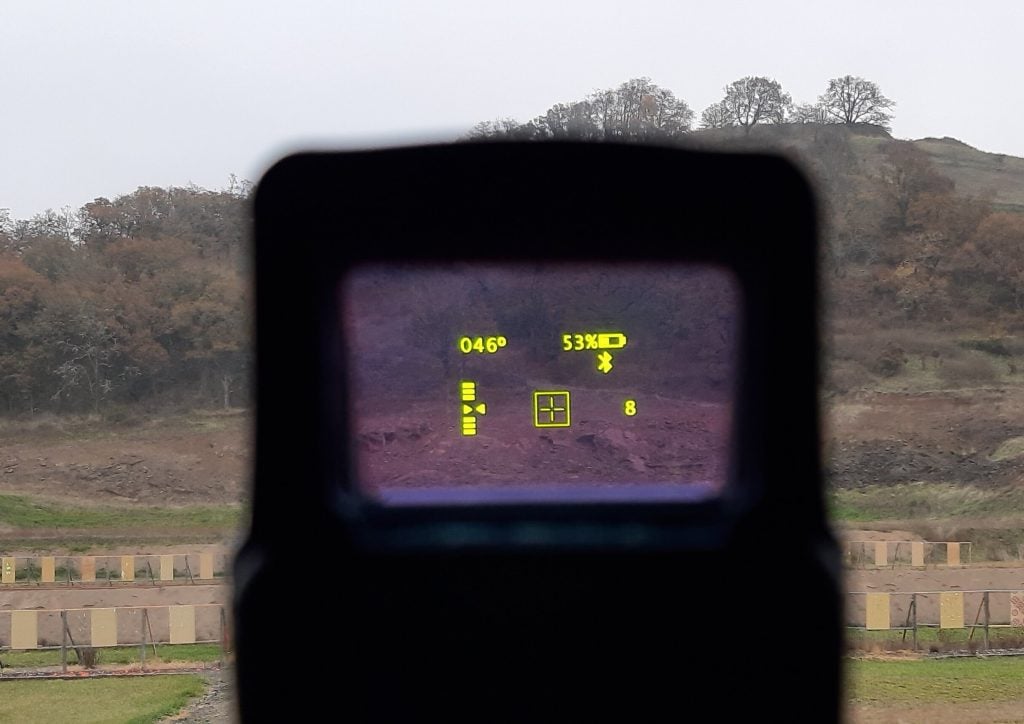 If it's on a shotgun, you can have profiles for slugs and buckshot. Toss it on a .300 Blackout and create profiles for supersonic and subsonic ammo. Your imagination is the only thing that can stop you.
On top of profiles, you can use the app to zero the optic and adjust windage and elevation, making zeroing easy and precise. You can also pick your favorite reticles from more than two dozen options.
The optic provides a heads-up display with direction in degrees, a level, and battery life. It's simple, with a green reticle that is bright, clear, and very easy to use.
599
at Amazon
Prices accurate at time of writing
Prices accurate at time of writing
In the future, Meprolight promises the release a shot counter to allow you to monitor the ammo in your magazine, which seems like an exciting update.
4. Aimshot Wireless Light and Laser
For whatever reason, Crimson Trace discontinued their Linq line of lights and lasers and ceased further development of the system.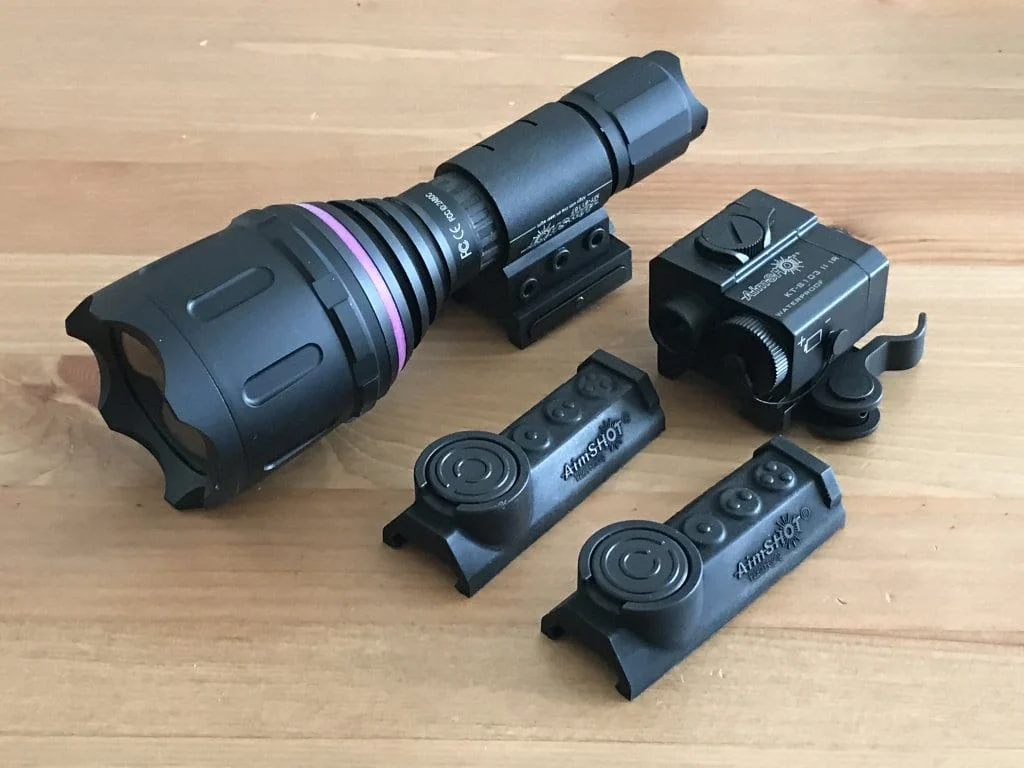 Luckily a small company called AimShot seems to be taking up the slack. They produce both a wireless white light and a wireless laser system for rifles and shotguns.
The TZ980 provides 400 lumens of white light with a remote wireless switch to activate the light on demand — no need for cable management. The light also comes in an IR Model if that's your gig.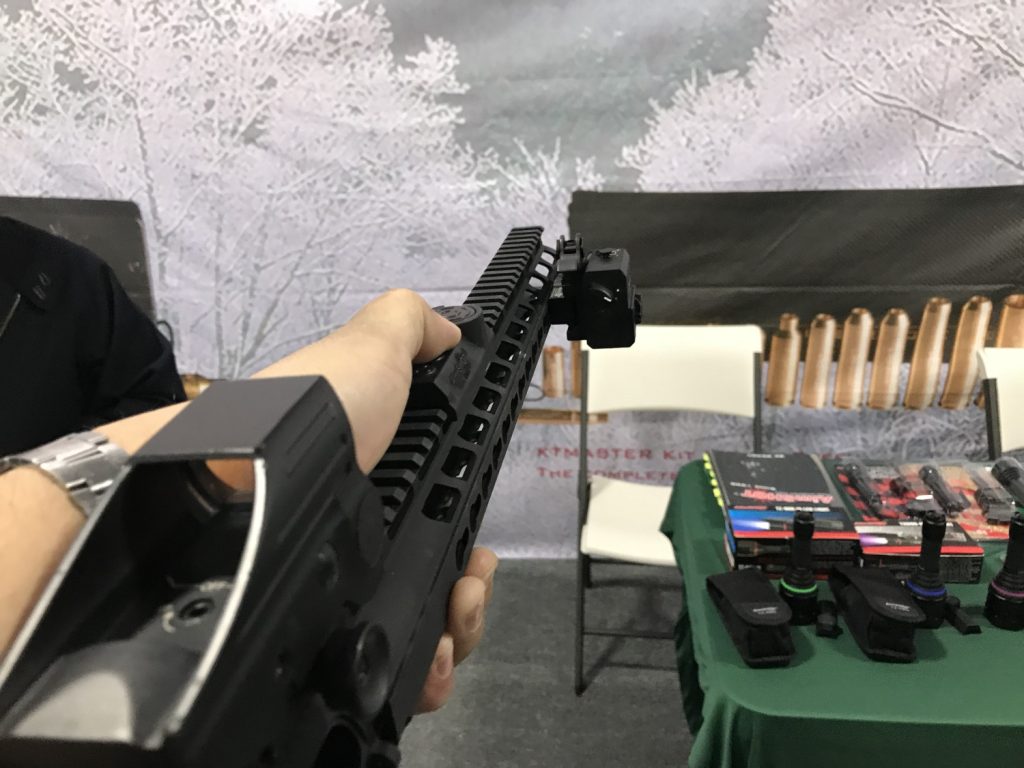 You can even easily adjust the output from 5 to 100% on demand. On top of the light is a micro-sized rifle laser available as either a visible green laser or an IR laser. It's wireless as well and easy and quick to activate.
Admittedly the light is a little large and a little underpowered, but it's also affordable, given its novel design.
I would love to adapt my Streamlight to a wireless configuration and think that might be the future more than dedicated wireless lights.
159
at Amazon
Prices accurate at time of writing
Prices accurate at time of writing
While this technology is still in its infancy, I'm glad someone is trying to develop and push it further.
5. Flux Raider
The National Firearms Act restricts the usage of certain types of firearms, effectively stagnating the development of several weapon types. Stocked pistols have been particularly affected by this.
Luckily some forward-thinking companies are around to help push development along, especially with the advent of pistol braces. Flux Defense is one such company.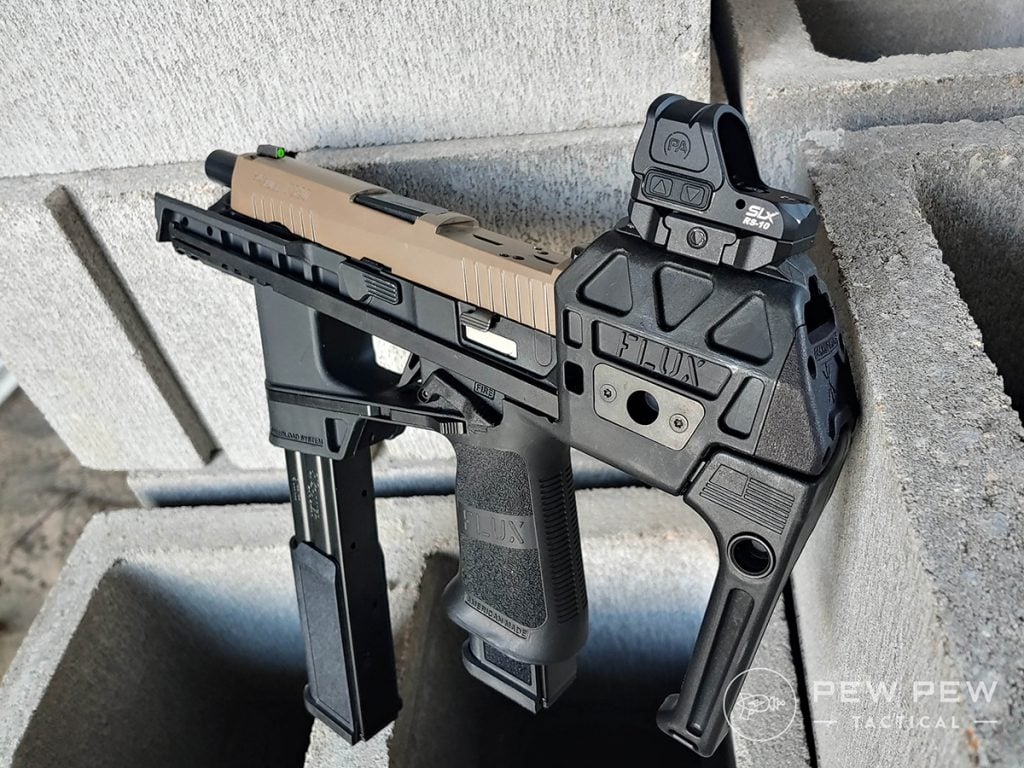 The Flux Raider is a P320 chassis system that uses the Fire Control Unit as the firearm and requires a complete P320 slide. It comes in both SBR and braced models.
Utilizing a chassis helps to transform a duty pistol into something much more capable. Unlike the Roni, the Raider is much more compact and low-key. It can even be easily holstered and carried in a duty-style rig.
It can be fired as a standard two-handed pistol, but with the press of a small lever, a stock or brace can deploy to make the weapon more effective at longer ranges.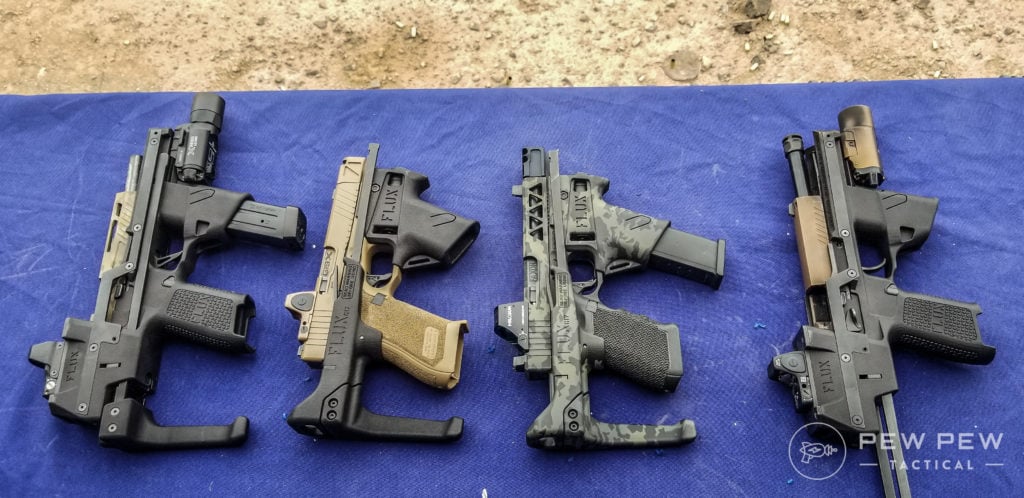 A forward mag holder and rails to mount optics and lights are present.
The Raider system is truly fascinating and would be at home in any sci-fi flick. The Raider is a ton of fun and worth the price of admission, as far as I'm concerned.
6. AR-15 DigiTrigger
You can do nearly anything to an AR-15, including swapping the trigger. There are many options out there, but the DigiTrigger does things differently.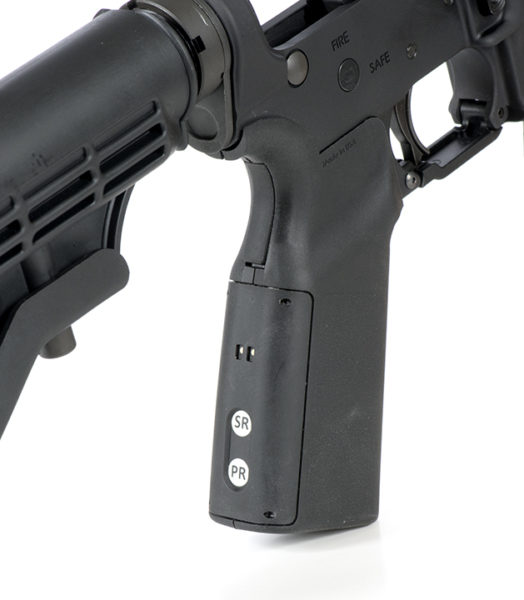 Not only is it a mechanical trigger, but it's a digital trigger as well. As a digital trigger, the DigiTrigger can reduce the weight of the trigger pull to 1 pound with no mechanical feedback.
The DigiTrigger has two modes: a standard pull and fire and a binary option that fires when pulled and released.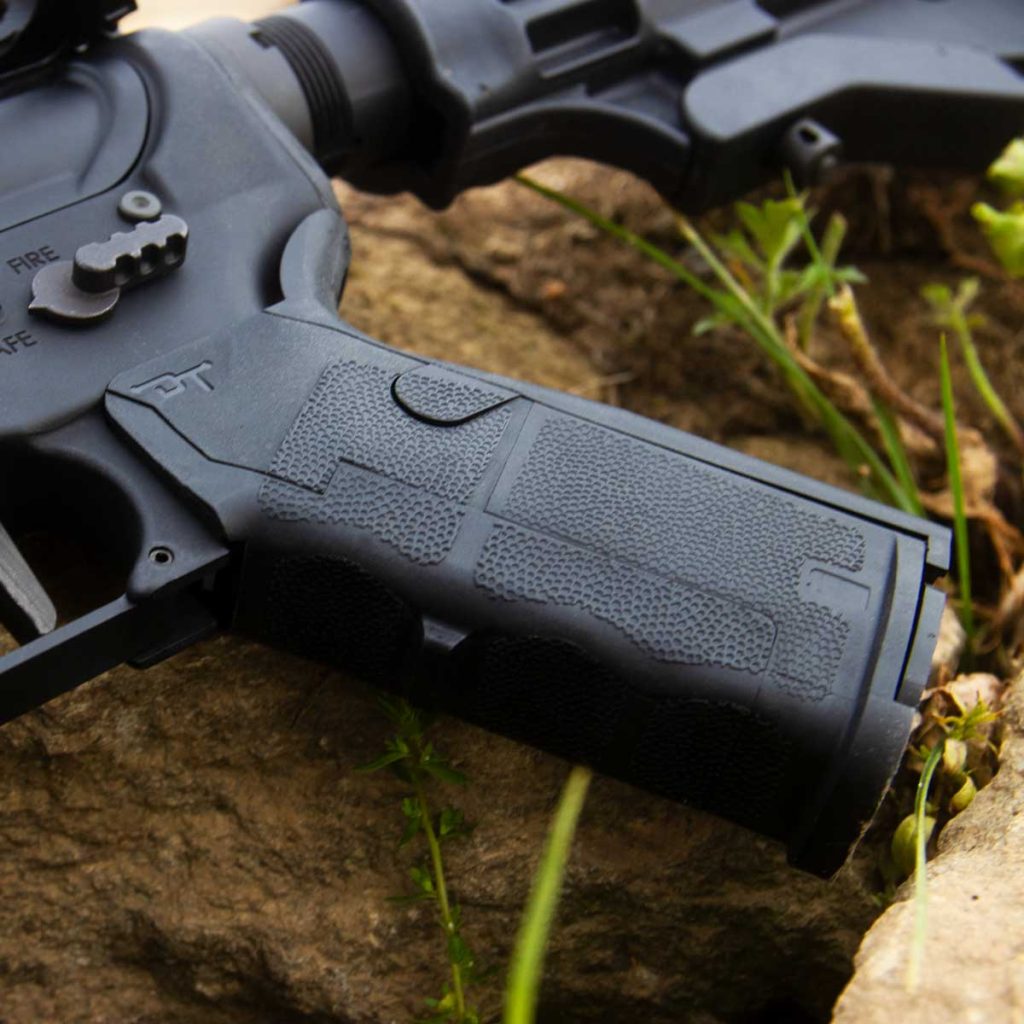 Obviously, digital means batteries, so what happens when the batteries die? Well, it simply switches to standard mechanical mode. You can still fire your weapon without issue and get an approximately 5.5-pound single-stage mil-spec trigger.
This one is fairly expensive but is also a novel option for your AR-15. As these triggers keep evolving, it will be fascinating to see where the technology goes.
619
at OpticsPlanet
Prices accurate at time of writing
Prices accurate at time of writing
7. Magpul Maztech X4 System
My wildcard choice is the Magpul Maztech X4 system. It's the wild card option because it's not on the market yet, but it seems promising.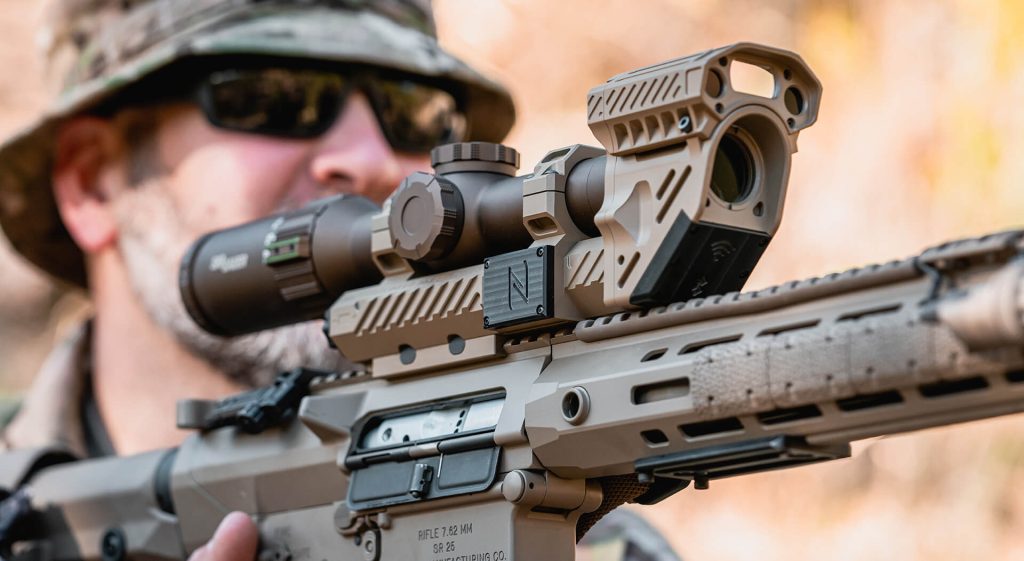 There has been a lot of talk about the NGSW this year and these fancy optics we call fire control systems.
Magpul is creating a commercially available fire control system that allows the average Joe to turn their AR-15 into a futuristic, highly mobile, extremely accurate platform.
The Maztech X4 is a multi-component system that allows you to attach a fire control system to your favorite LPVO.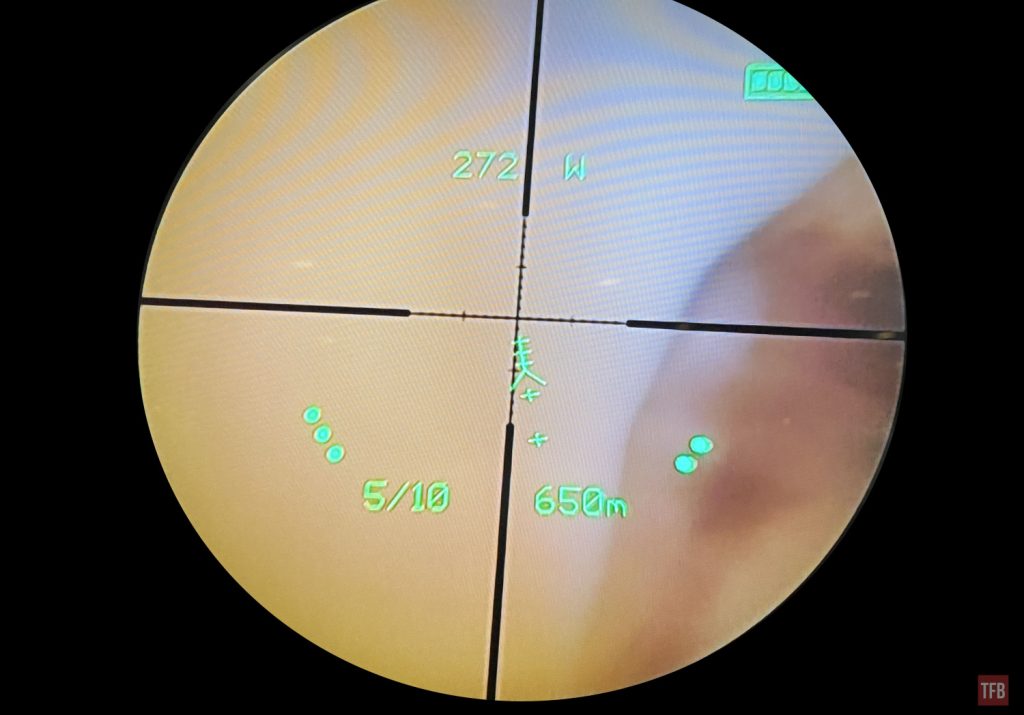 It provides an accurate range finder paired with ballistic data to grant precise drop points for hitting targets at various ranges without doing the required math.
On top of that, the heads-up display gives you a compass in both standard directions and degrees. Multiple components allow the shooter to feed in data like magazine capacity and shots fired. You can also loop other people into your display.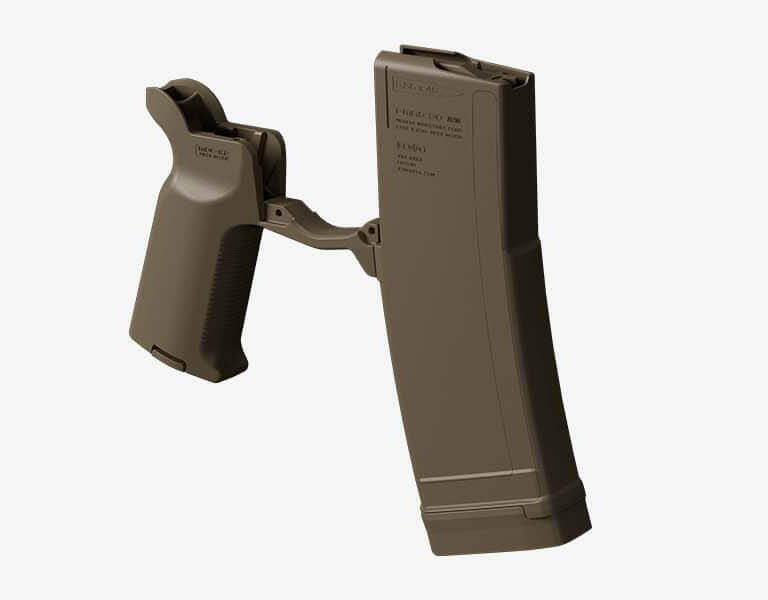 To keep up with the ammo count, you'll need a Magpul grip and magazine. The magazine holds a battery, but the system can work without power.
With power, you get an exact number of rounds left. Without it, you get a rough estimation of full, medium, or low.
These are the systems we've seen, but it looks like the future will have more attachments to increase the system's functionality, including goggles and various rail attachments.
Final Thoughts
It's fascinating to see the advancements in the gun world are not all polymer frame, striker-fired handguns, and AR-15s. If you dig in deep, you can find some wonderful advancements that often don't make the front pages.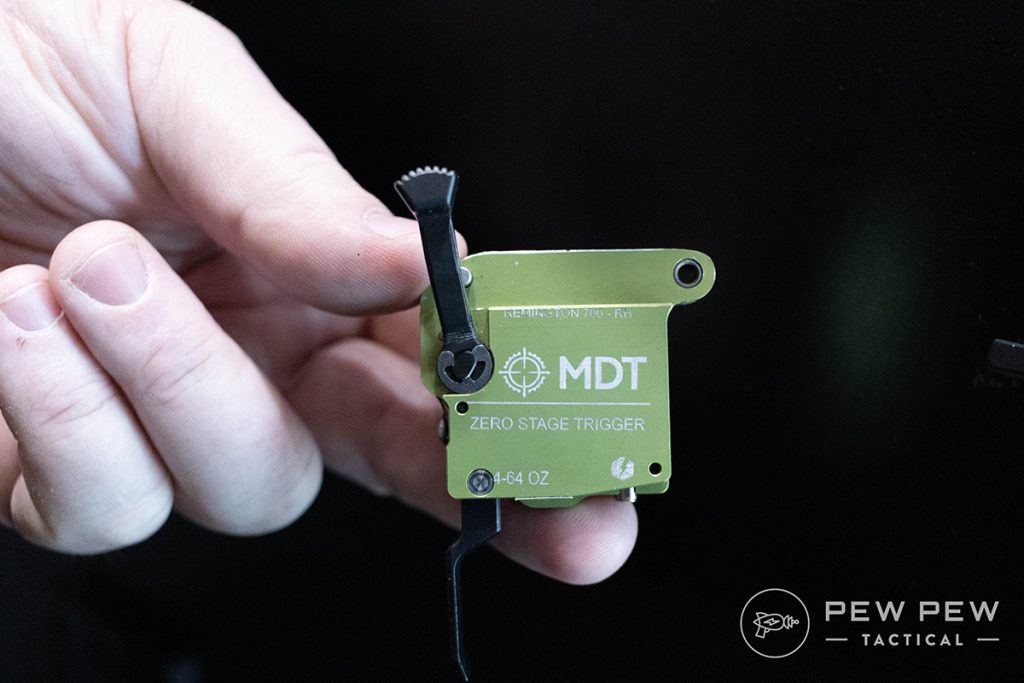 The firearms community as a whole is often suspicious of new things, especially digital involvement, with firearms.
But I say we should open up, embrace the future and see what the market can do to push the envelope of technology.
What do you think of these products? Let us know in the comments below! Are you interested in other new and coming-soon products? Check out our article on the Best Gear of SHOT Show 2023!