---
When Ruger released the Precision Rifle in 2015 it was an absolute hit.
Just a few years later, the American icon remixed those components to create the Precision Rimfire.
To some, this might have seemed like a lot of fuss over 40-grain projectiles. But many have come to appreciate wringing more accuracy out of such a venerable round.
We can agree accuracy is important when it comes to firearms, but the question in our minds was whether Ruger had taken .22 LR accuracy to the next level.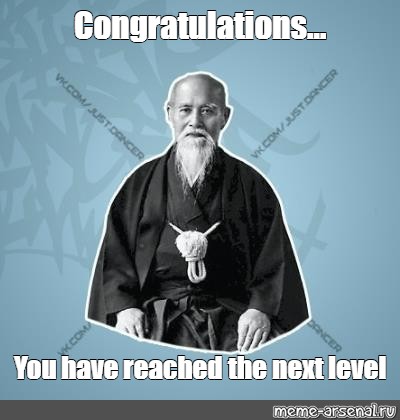 Once again, we headed out to the range to find our for ourselves.
So follow along as we look at the specs and features and analyze some range results.
Table of Contents
Loading...
Ruger Precision Rimfire At a Glance
Pros
Very accurate
Extremely customizable
Sturdy
Cons
The Bottom Line
After a day at the range, shooting from multiple positions, and using an array of ammunition over varied distances, we found the Precision Rimfire to be an awesome little rifle. Above all else, the time we spent testing it out was a whole lot of fun.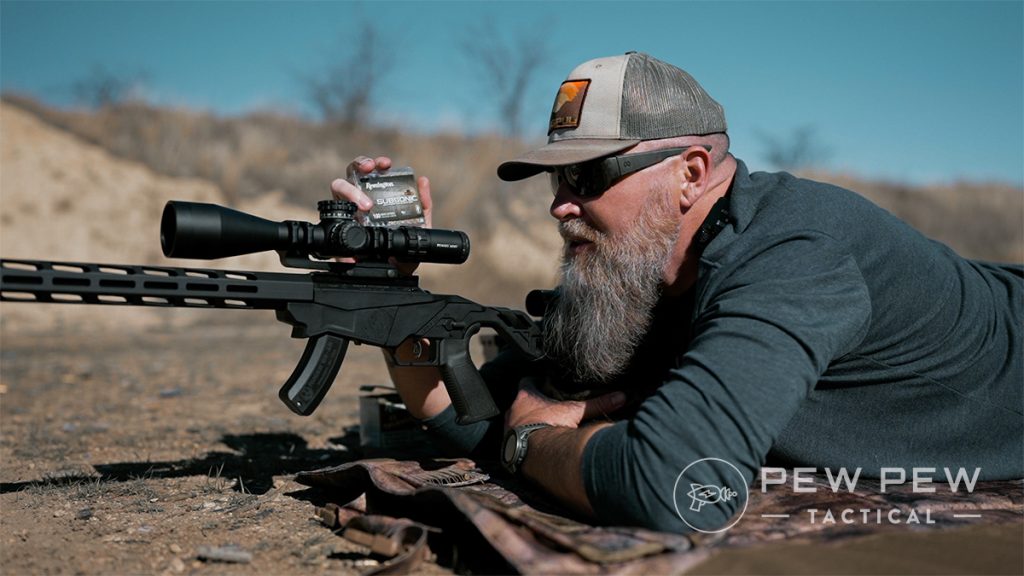 Specs & Features
Specs
Caliber: .22 LR
Capacity: 15 (varies by magazine)
Action: Bolt
Length: 35.13″ – 38.63″
Barrel Length: 18″
Height: 7.13″
Width: 1.58″
Weight: 6.8 lbs.
Comes With: 15-round magazine, manual, lock, cardboard box
Features
One-piece chassis
Adjustable stock
Adjustable bolt
Source: Precision Rimfire
442
at GrabAGun
Prices accurate at time of writing
Prices accurate at time of writing
Background
In 2015 Ruger released the Precision Rifle, which really opened up the market of precision shooting to a wider audience. The gun was extremely well executed and provided impressive value for the money.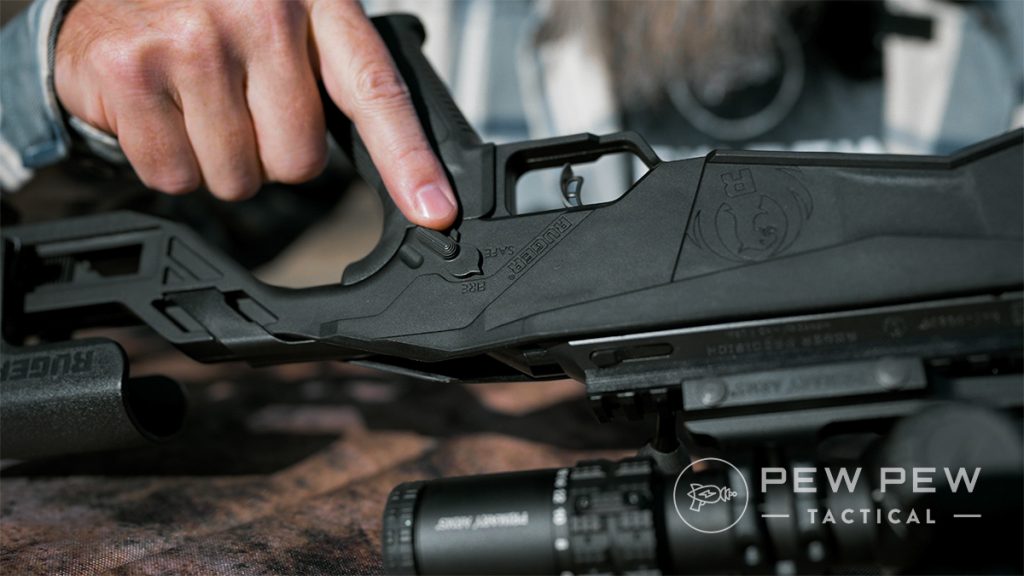 Fast forward a few years, and Ruger, wisely trying to recapture the lightning in the bottle, released the Precision Rimfire.
The gun has all the hallmarks of its predecessor while mixing in some other areas of expertise from Ruger.
Who Is It For?
In short, this rifle is for anyone who enjoys precision shooting. However, there are many components that make the Precision Rimfire appeal to a much broader base than other platforms.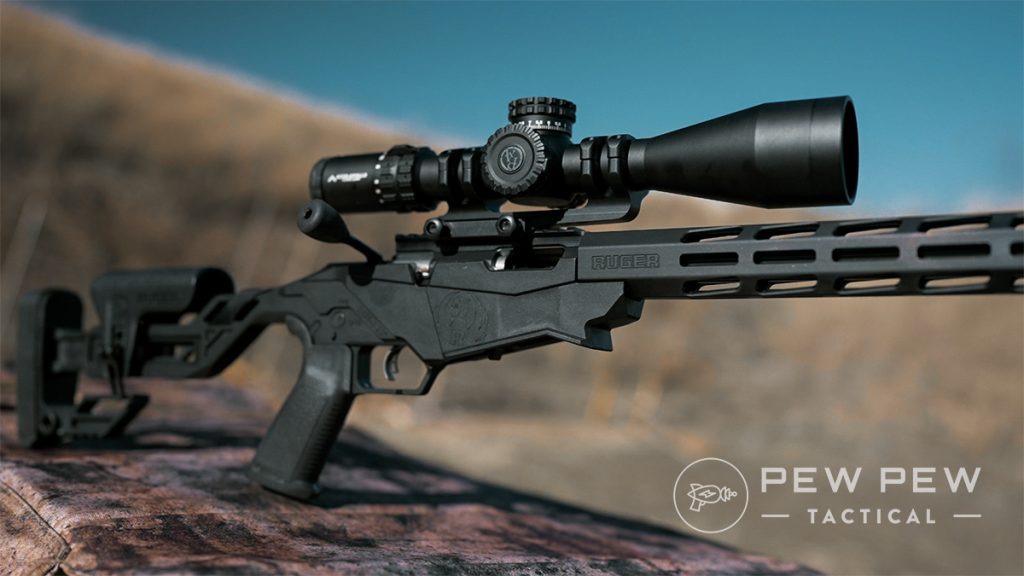 With .22 LR feeding the gun, there is no punishing recoil or loud report to contend with. In addition, your wallet will thank you when purchasing even higher-end rimfire rounds compared to the larger calibers.
In addition, the rifle makes an excellent trainer for those who may want to move on to larger calibers since shooters can practice positioning and marksmanship.
Fit & Feel
Ruger did a marvelous job with the Precision Rimfire, incorporating many of the winning features of the Precision Rifle. It is slightly heavy when kitted out with glass and bipod, but the weight assists with accuracy when the rifle is well grounded.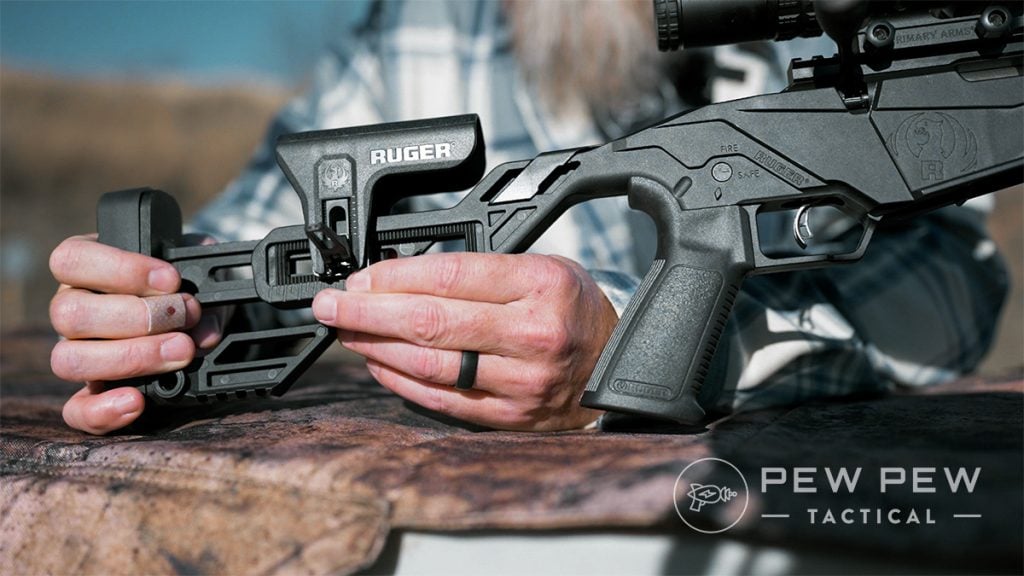 The buttstock is outstanding, with length of pull and comb height adjustable through the use of a simple toggle. Through a few adjustments, the settings locked in and stayed in place during testing.
The grip was standard fare AR-15 style, hollow, with a fairly smooth texture. The angle was traditional, closer to 45 degrees.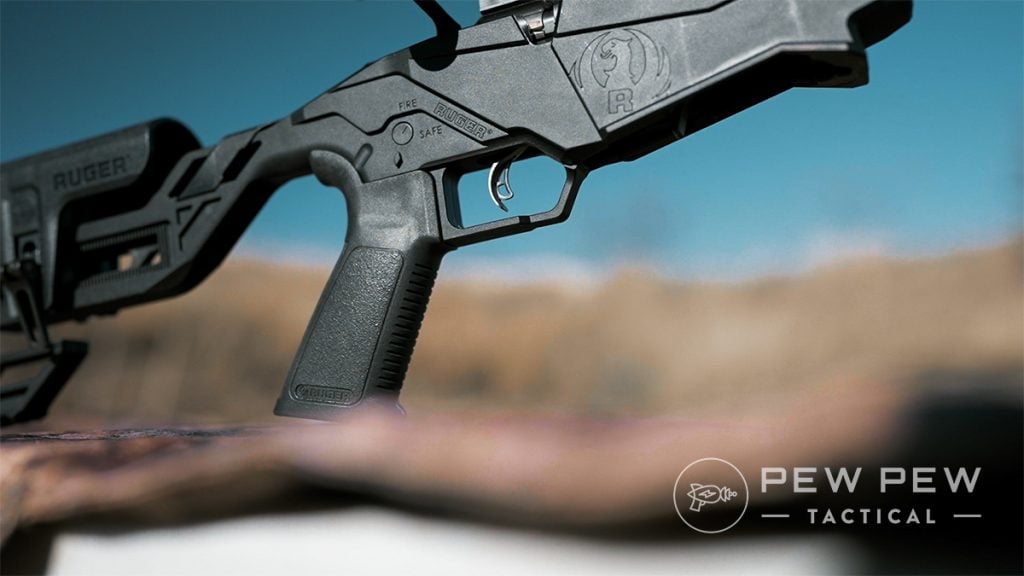 The Precision Rimfire is fed with 10/22 magazines, and this was a stroke of genius. Why not use a well-established platform to support a new one?
With accuracy applications, I had high expectations for the trigger, and it did not disappoint. Breaking at an average of 2 pounds, 9 ounces on my gauge, it was just what I'd hoped for.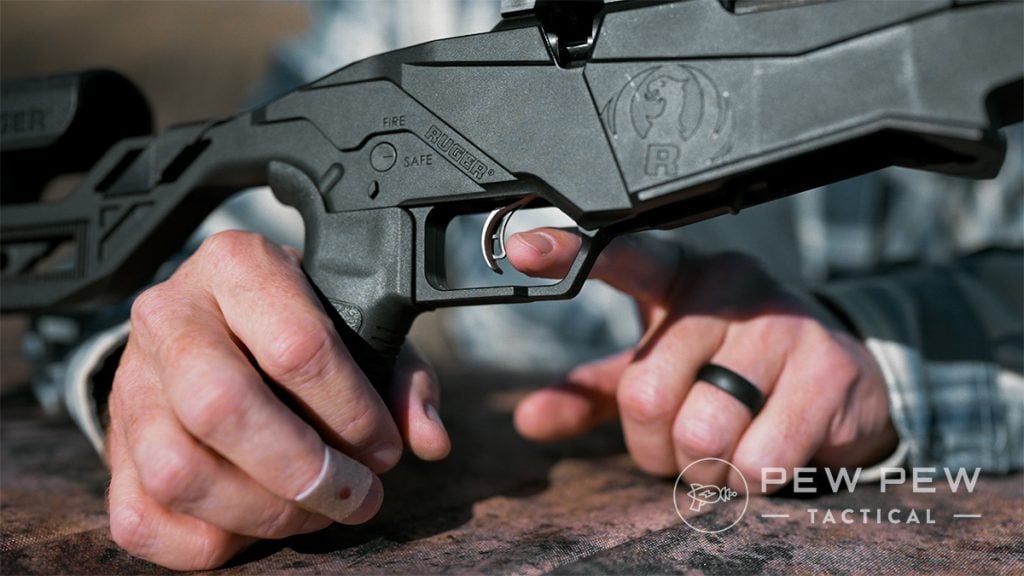 The trigger is also adjustable by the user in a range from 2.25 pounds all the way up to 5 pounds. Ruger included a wrench for this purpose, stored in a cavity on the buttstock.
One of the cooler features is the adjustable bolt. Shooters used to centerfire bolt throws may be disturbed by the short travel required to move .22 LR.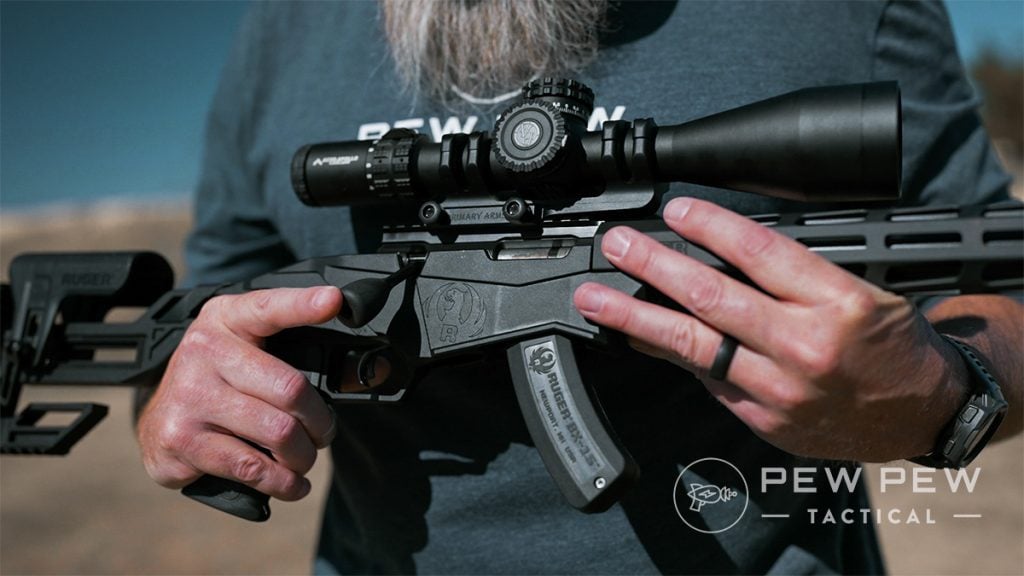 Ruger designed the bolt so you can keep it at a 1.5-inch throw or run it at a full 3 inches if you are concerned about short stroking.
The overall finish was that of a black, anodized, hard coat covering the chassis and free-floated handguard, which had M-LOK slots at the 12, 3, 6, and 9 positions.
How Does It Shoot?
We found the Precision Rimfire shot extremely well. At a base, the standard accuracy you can expect from this gun is elevated — but much depends on the ammo you feed it.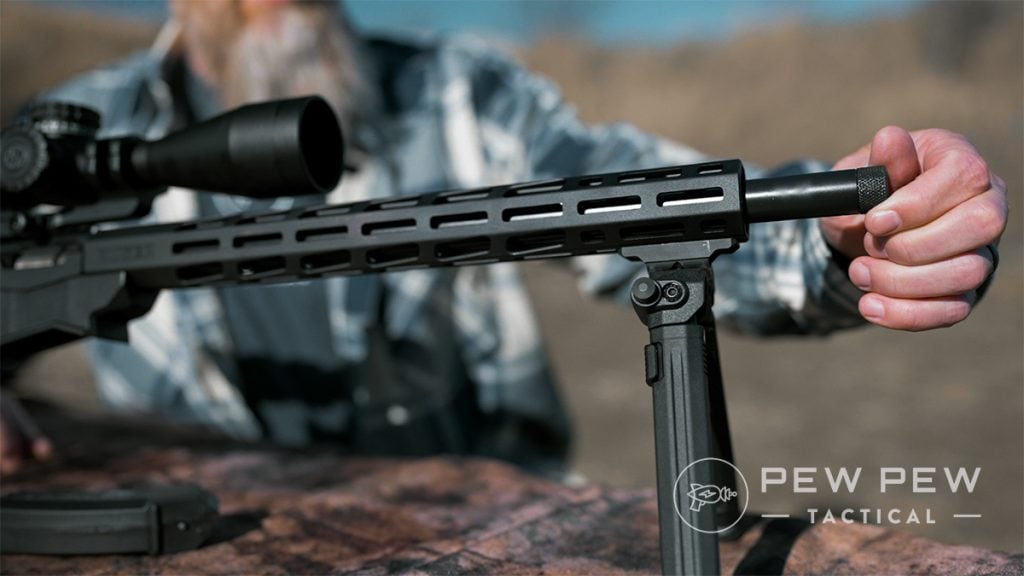 After adding a Gemtech GM-22 to the ½ by 28 threads, we started with some Remington 40-grain subs to see how they would group at 50 yards. The results were an impressive 5-shot group at just under 1 inch.
319
at GrabAGun
Prices accurate at time of writing
Prices accurate at time of writing
Next, we used Remington Thunderbolt, a classic value brand, to see if the Precision Rimfire could tame it. The group was just over 2 inches.
Norma Match created our best group with five rounds coming in just over a half inch, but SK Pistol Match was a close second. Four rounds were touching at under a half inch, but one was over an inch away.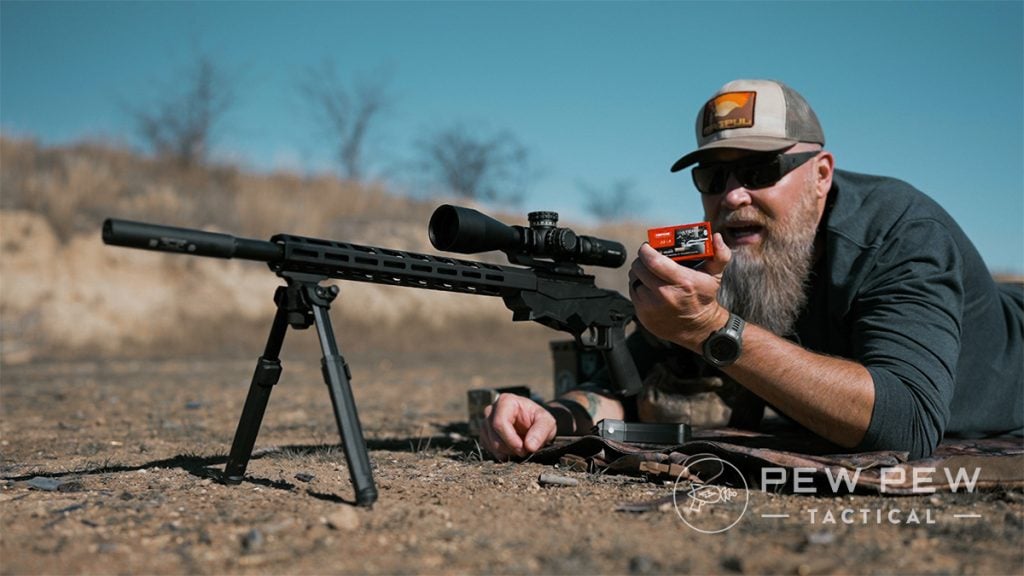 We pushed back to 100 yards and rang steel targets easily, shooting from various positions.
At first, I found the bolt throw a bit choppy, but I don't know if it was the mechanics or just my lack of familiarity. By the end of testing, everything had smoothed out marvelously.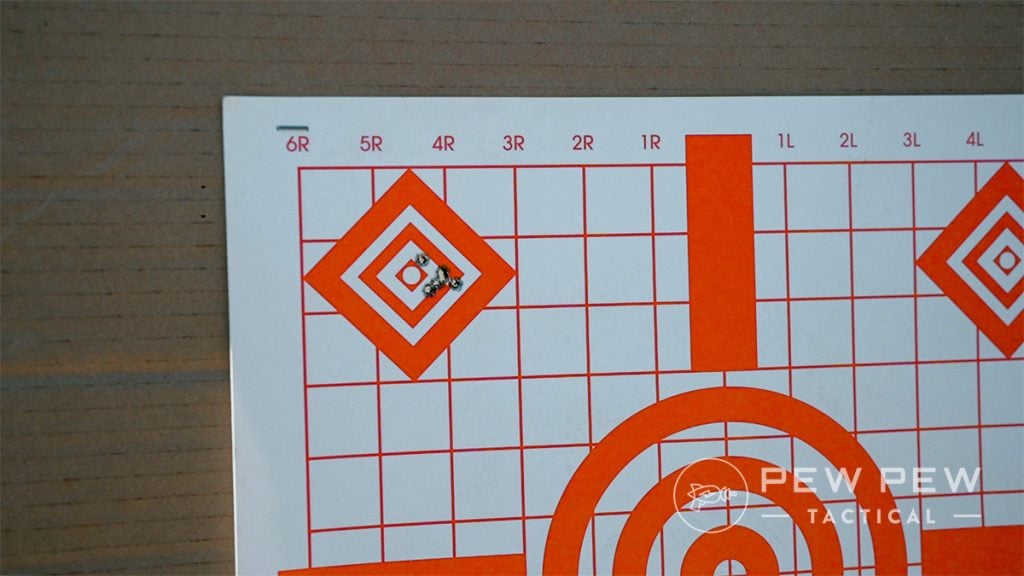 The combination of great features and the impressive performance had me really enjoying my time on the rifle.
What Sets it Apart?
Bolt-action .22 LR is just a good time and lends itself to greater overall precision. However, the Precision Rimfire is a thoroughbred in this category.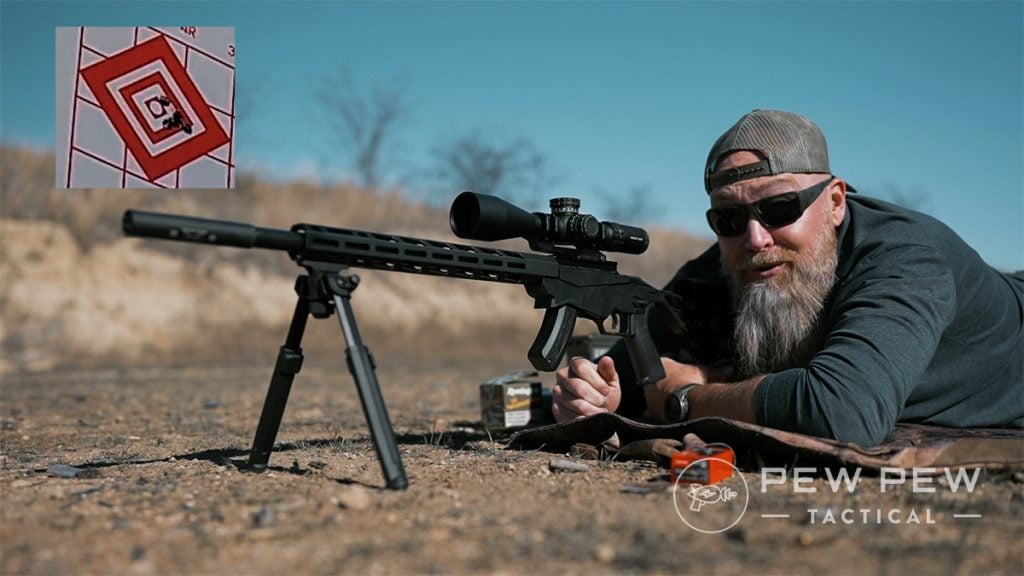 This is not a multipurpose rifle. You could certainly use it for hunting or other shooting purposes, but it was born to feats of accuracy.
By the Numbers
It's hard to foul up a bolt-action rifle. Provided shooters cycle the bolt properly, there will be no problems with feeding and ejecting.
The adjustability of this gun is impressive. Trigger weight, length of pull, and cheek height are all readily changed to suit the user's preferences.
Accuracy:5/5
The barrel on the Precision Rimfire is a target grade, not match. But the gun still put together some impressive groups.
Customization: 4/5
Ruger put together a nice package that already allows you to customize the gun to your needs. However, you can replace other parts too.
Match barrels are now available, and plenty of people have replaced the grips and bolt handles on their rifles. Largely thanks to the popularity of NRL22 matches, there are several options to upgrade your Precision Rimfire.
The MSRP on Ruger's website for our tested model (#8400) is $599.00. Web prices range between $450 and $500.
Overall: 4.5/5
442
at GrabAGun
Prices accurate at time of writing
Prices accurate at time of writing
Upgrades for Ruger Precision Rimfire
We mounted a Primary Arms GLx 4-16×50 FFP for testing purposes.
749
at Primary Arms
Prices accurate at time of writing
Prices accurate at time of writing
This might seem like overkill, but I appreciated the magnification, clear glass, and being able to see my groups at 50 yards.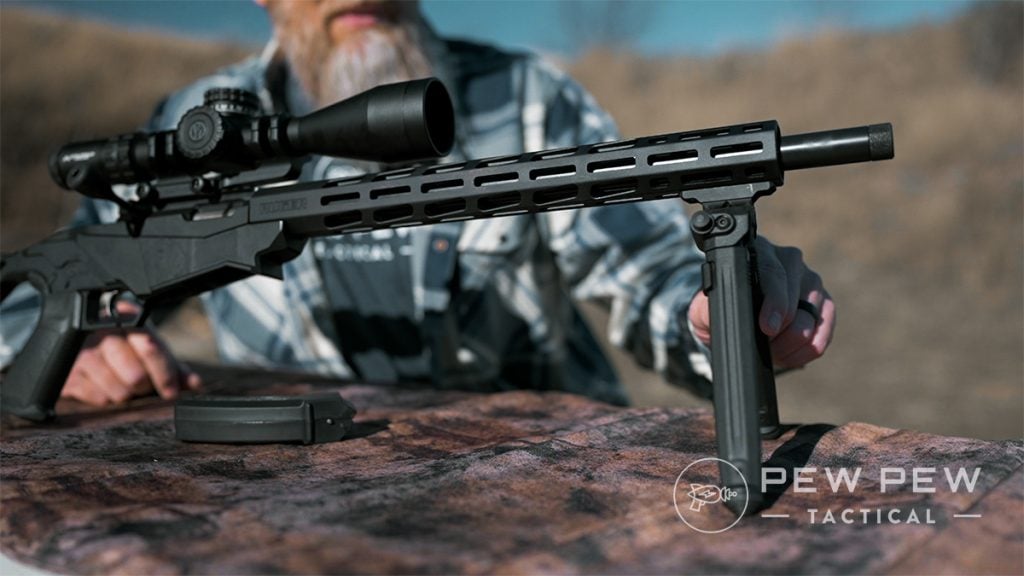 In addition, we used a Magpul bipod.
I found the adjustability to be extremely useful when shooting prone and off barricades, and the lightweight was much appreciated.
85
at Brownells
Prices accurate at time of writing
Prices accurate at time of writing
Final Verdict
Some folks will think this is a lot to spend on a rimfire rifle, but they would be missing the point. Even as I write this review, I have a smile on my face thinking about the fun I had with this gun.
My hearing wasn't damaged, my shoulder wasn't sore, and I didn't have to take out a second mortgage to feed the gun.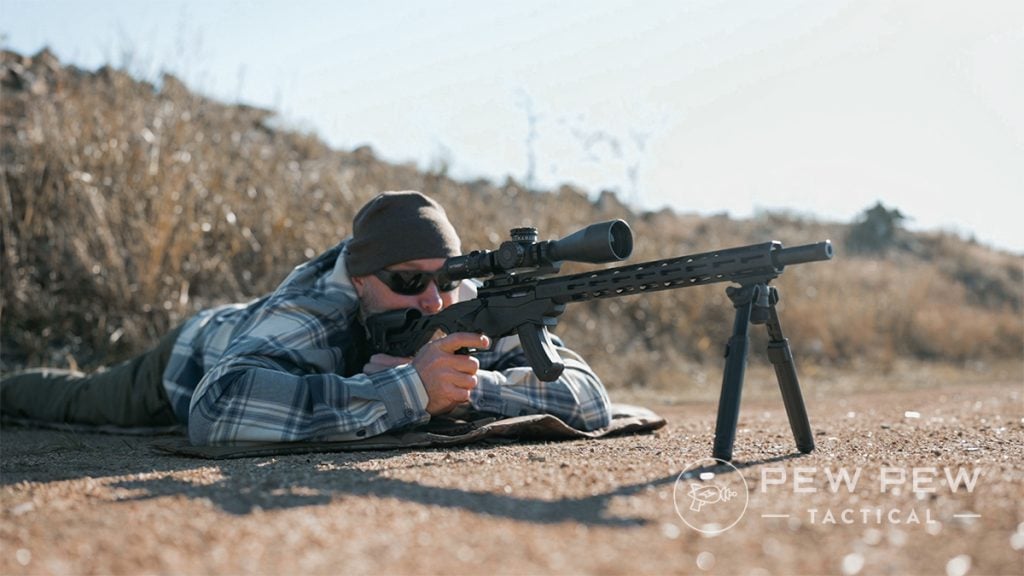 You don't have to shoot NRL22 to appreciate the accuracy you can achieve with a rifle like this, and everyone in the family can share in the fun.
Will you be picking up a Precision Rimfire? Let us know in the comments below and for more precision .22 LR fun, be sure to check out Best .22 LR Precision Rifles for Competition & Precision Shooting.