Love it or hate it, the 1911 is here to stay.
But sometimes, the ones you find on the shelf need a little more oomph. So, we're here to help you elevate your pistol with the best 1911 upgrades to make it perfect.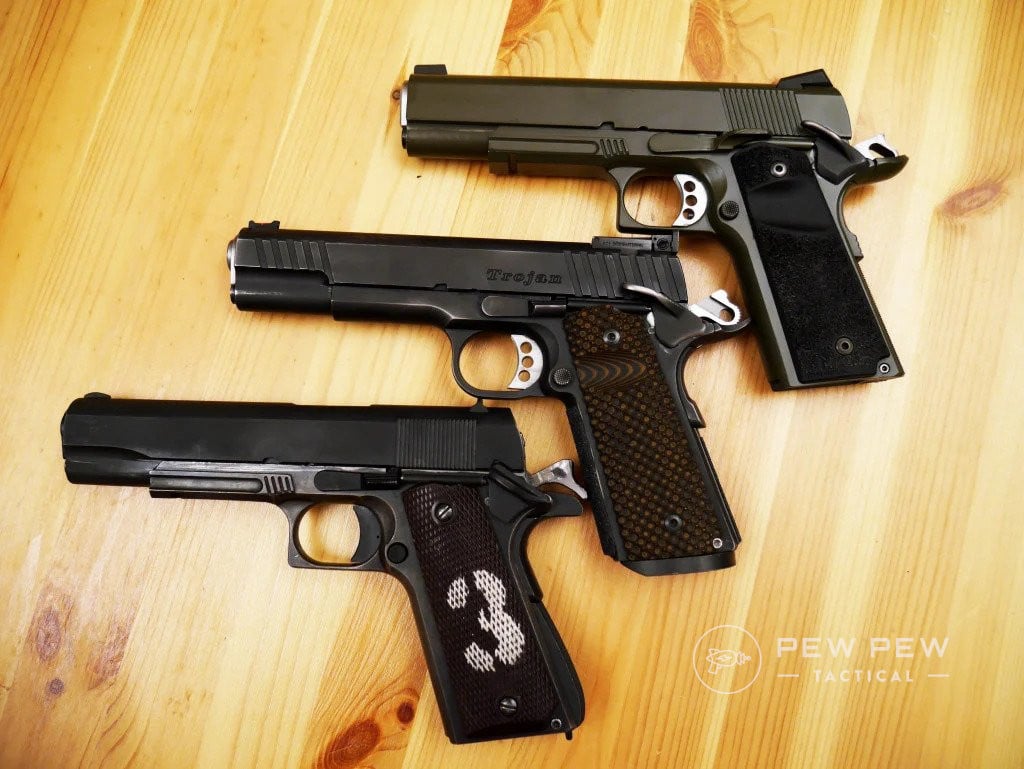 We're breaking it down into easy DIY mods, gunsmith required upgrades, and recommended products.
So let's dive in!
Best 1911 Upgrades
In this article, we're not diving into pushing the boundaries of performance and reliability for competition. Just some effective upgrades that can make your 1911 more suitable for your needs.
Lessons learned from upgrading several of our guns and even building one from the ground up. Also some links from our favorite vendors so you can find the best price at the moment.
1. Grips
All it takes is a few turns of a screwdriver to put in new grips that will give your gun a new look and feel. There are waaaay too many options here and it's mostly personal preference.
For me…I always like extra grip over everything else.
I'm also a fan of the thumb groove that lets you hit the magazine release easier. Make sure to choose the correct size based on your 1911…most likely either Government (full-size) or Officers.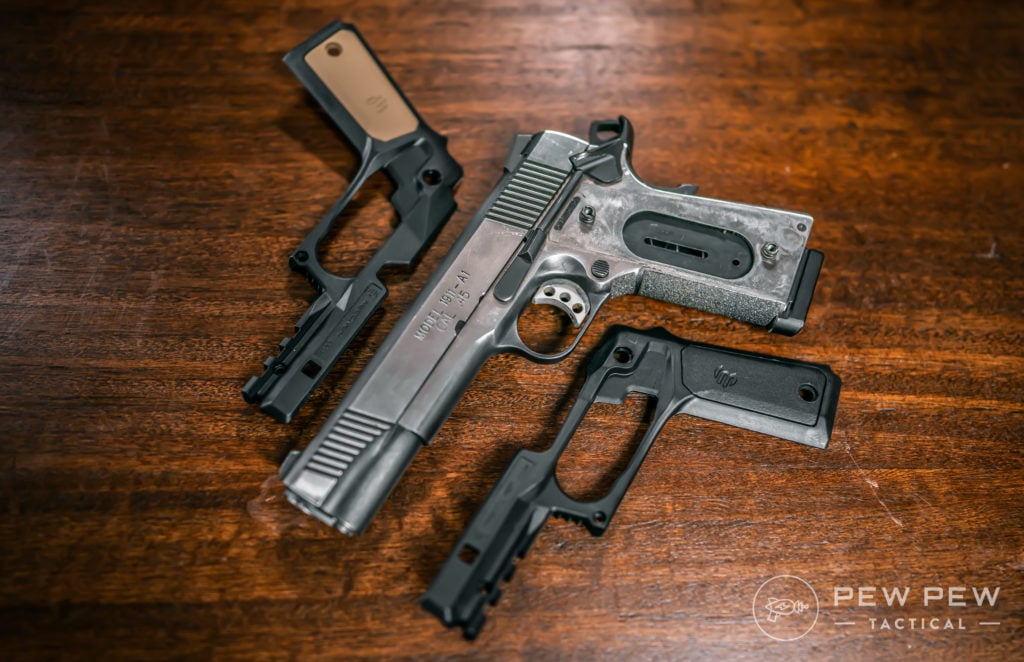 Cheap with moderate grip. What I have in the top-most 1911 above. Except I went above and beyond and also stippled it for extra grip.
One of the most well known and respected grip manufacturers of G10 material grips that are virtually indestructible.
My go-to race gun uses the Simonich Gunner Grips which are known to be the grippiest ones they have.
Warning though…you're going to build up some tough hands after a long range session. Operator II's and Alien's are grippy but not painful.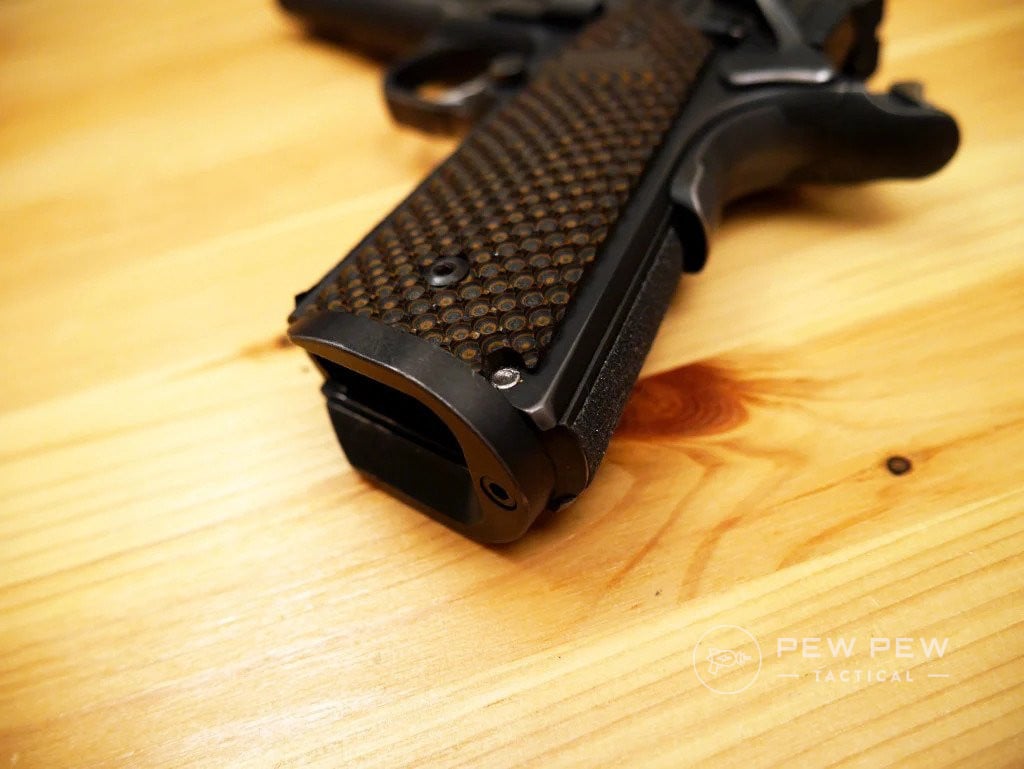 No grip list is complete without Hogue grips. Here is the popular wraparound version which gives you finger grooves along with their trademark grippy rubber surface.
Forget wood, polymer, and G10…Alumagrips goes with precision milled aluminum for a light and snug-fitting grip.
I really like their "Grater" model which gives a Goldilocks amount of grip.
2. Magazine Catch
If you're having problems reaching the magazine release easily you can swap out the magazine catch for an extended version. The hardest thing you might have to do is light sandpapering to fit it into your frame.
Extended version from the trusted Wilson Tactical brand.
My preferred extended magazine release since in addition to making it easier to hit, it raises loose-fitting magazines a little higher into the magwell to make feeding more reliable.
I was having problems with feeding the first round of a new magazine and switching out the release to this one cured my race gun.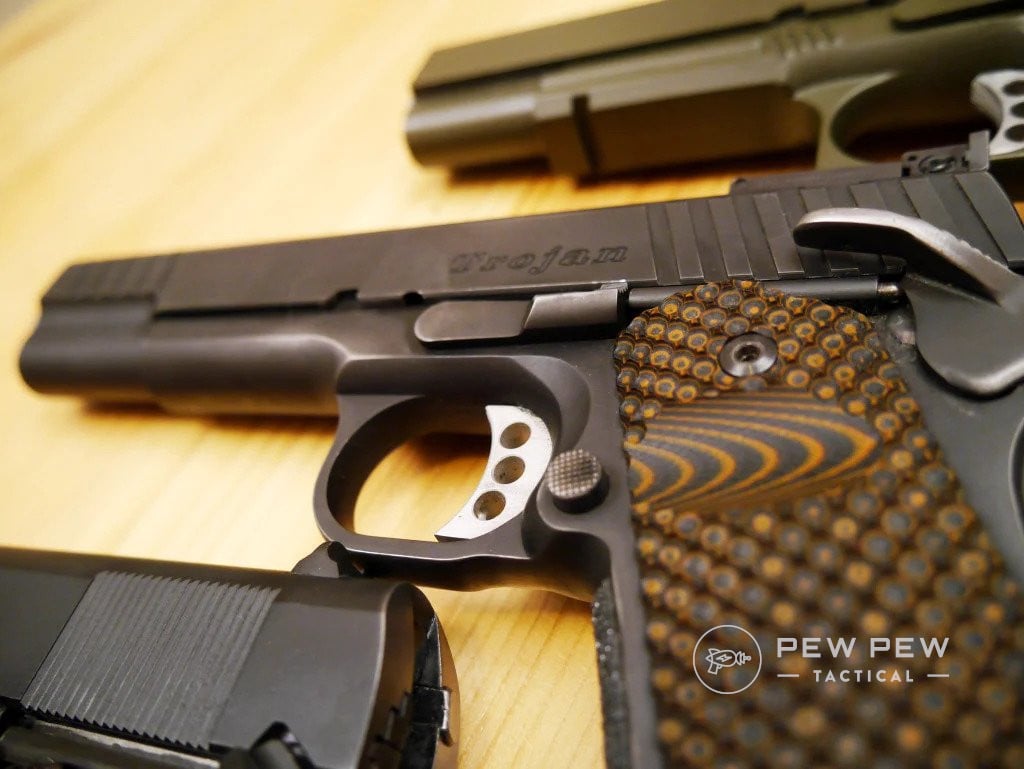 3. Mainspring Housing + Magwell
Chances are your mainspring housing that came with your gun is fine.
However, you can choose to swap it out for a different checkering pattern (more or less aggressive), if you want a palm swell or not, or if you want to have a combo extended magwell.
Too many to count…choose one based on your criteria of pattern, palm swell, and even material.
My preferred mainspring housing incorporated an extended magazine well for easier magazine changes. The regular magazine well of the 1911 is pretty small and I find the Maxi Well makes it so much easier under stress.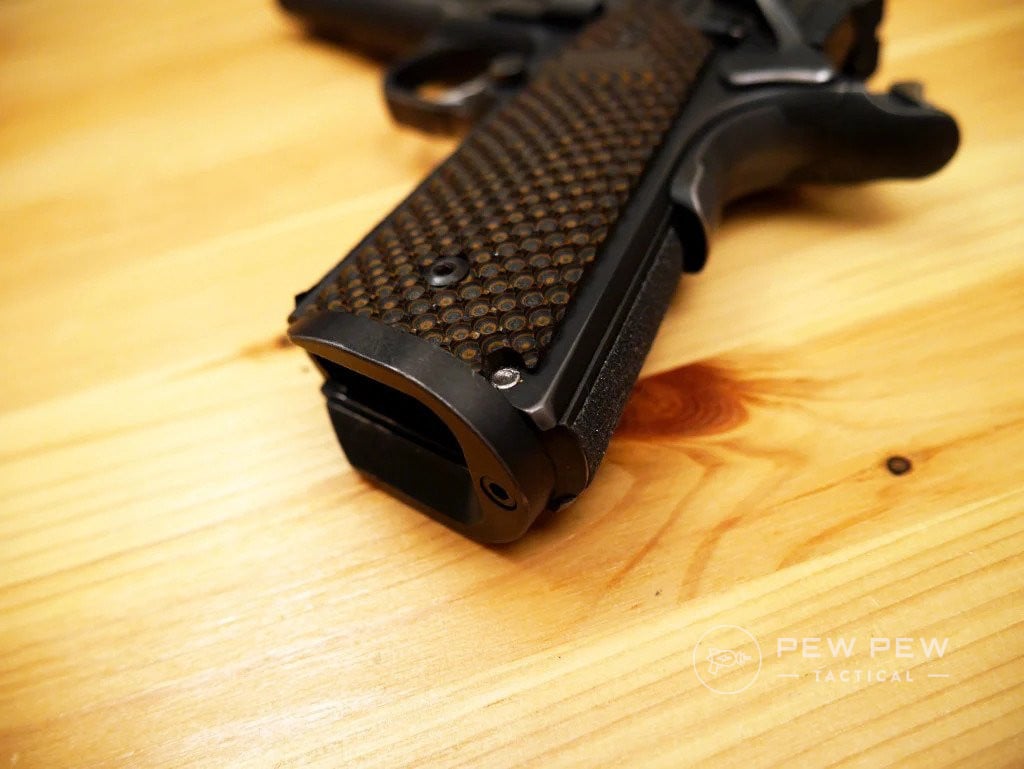 4. Full-Length Guide Rod
Beating a dead horse topic on forums…
I prefer to go with a full-length guide rod because it adds some weight to the front which reduces muzzle flip and it minimizes the recoil spring from potentially binding on the short guide rod. 
I can deal with the slightly more difficult assembly/disassembly process. Plus if you hate it, you're only out a few bucks.
Blue or Stainless options. You decide!
5. Extended Slide Release
Another quick and easy part swap for some decent gains if you're having trouble hitting the slide lock during reload.
What I chose in my build project and works great. Comes in blue or stainless.
6. Magazines
If you're having feeding issues, it's almost always your magazines. The ones that came with your gun are probably not great. 
And for the 1911, there are two names that are regarded as the best magazines.
If you want to really dive deep in this though, we have a dedicated article for the Best 1911 Magazines — 45 ACP and 9mm!
7- or 8 round-capacity.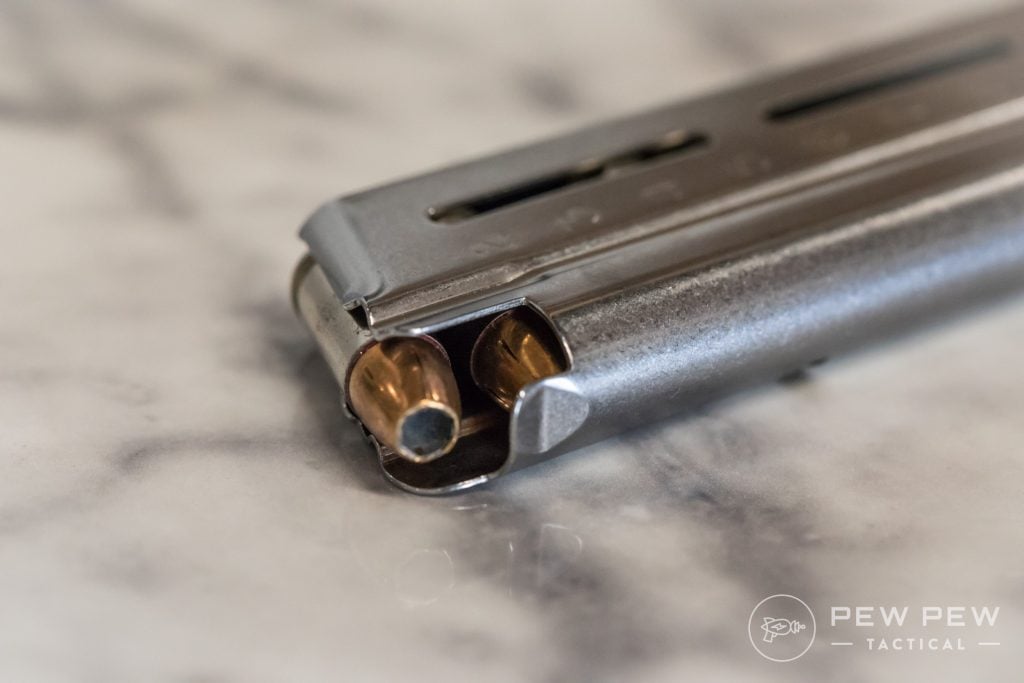 8 round capacity.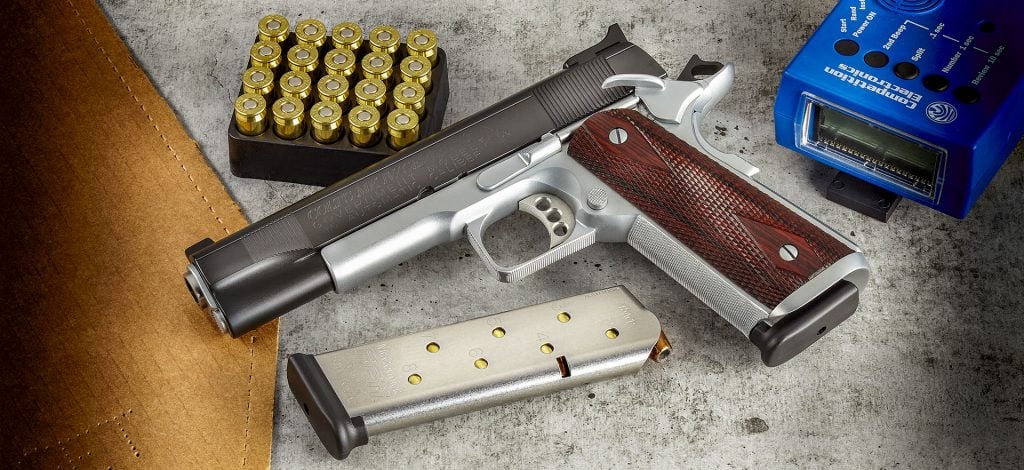 7. Best 1911 Sights
Probably the most important upgrade if your 1911 came with stock crappy sights. You can install them yourself but I've found 1911 sights require some fitting and sanding that is probably better left to the pros.
As for what sights are the best…it's personal preference.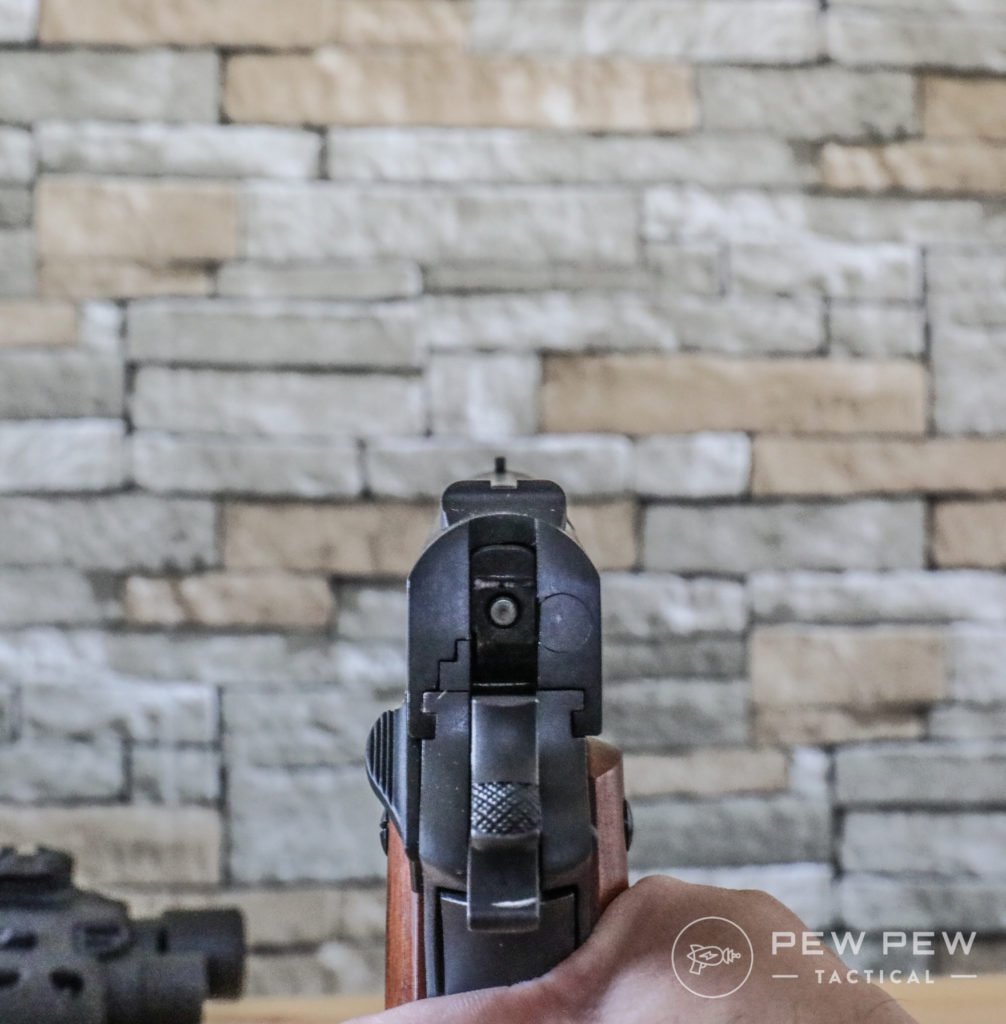 You will also have to figure out if your current sights are Novak or Bomar cut on the frame, and then choose a new sight accordingly.
Sometimes you will have to have a gunsmith mill the frame if you're on a GI frame or looking to switch cuts.
A necessity if you are using your 1911 for self-defense purposes where most encounters happen at night.
Will probably be two-dot rear sight with one dot front sight. Cannot go wrong with Trijicon, Meprolight, or Truglo. More options.
Another favorite for quick target acquisition since it's just lighting up the rear "V" with the big front night sight.
Really visible during the day and a small sight for more accurate shots. You can pair it up with a fiber optic rear site as well. I like running an rear adjustable sight with it. More options.
Pairs nicely with a really visible front sight such as a fiber optic. Adjustability allows you to really hone in your accuracy for a set distance and/or ammo.
Different choices of rear such as pure black or two dot sight. I run the black STI on my race gun.
Honorable mentions: Heinie Sights and 10-8 Performance. I haven't personally tried them but I've heard rave reviews from competitors
8. Trigger
You could probably install it yourself with our guide, but it does require some custom fitting and tweaking. The end result is going to blow your current stock trigger away.
Several lengths and curves. I run two of the long, skeletonized, and with a curve.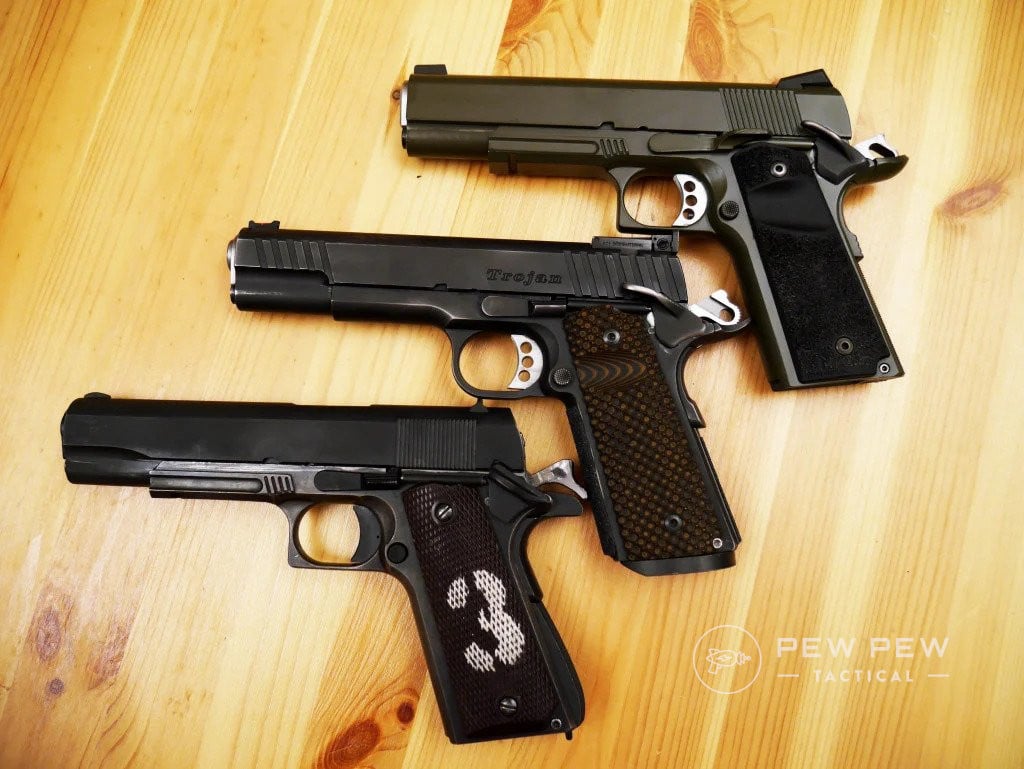 Lots of other triggers out there with different looks, I recommend getting one that has overtravel and pretravel tweakability.
What's your take on fixing up your 1911 trigger until it's super light and super smooth?
9. Trigger Job + Springs
This is how people mess up their 1911s. We have a tuning guide if you're up to it…but I would suggest leaving it to the pros if you're not super confident in your skills.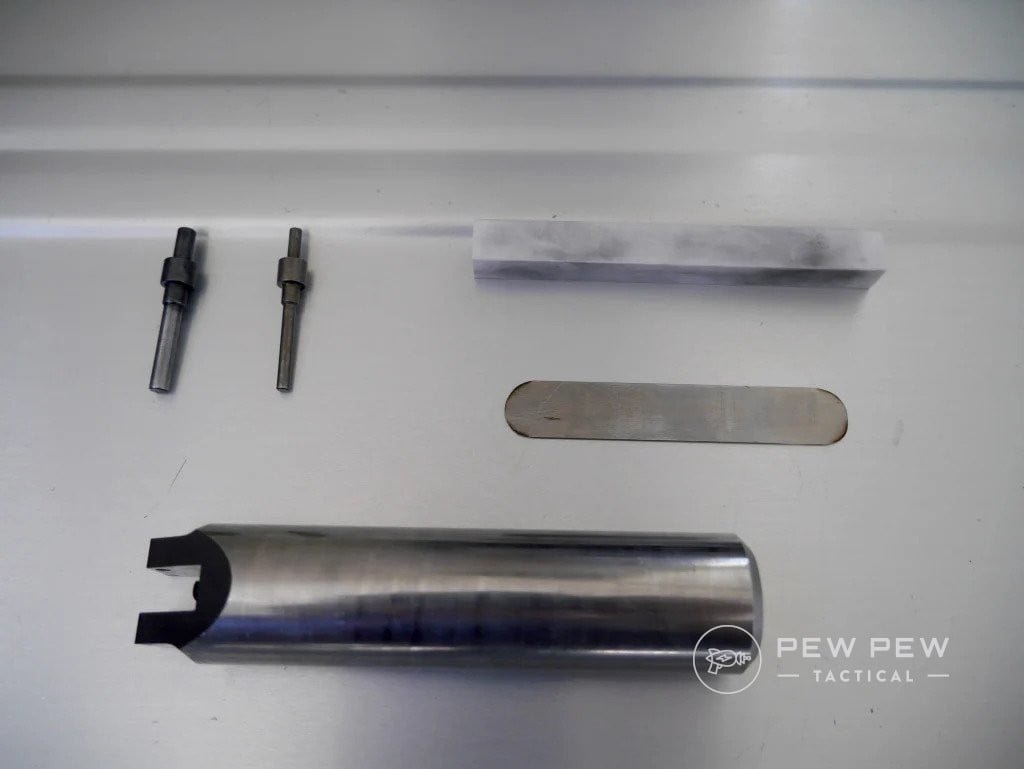 And spring changing is how you end up making your 1911 unreliable. I should know…I have a box of different spring weights before I gave up and just went with stock springs.
10. Add a Rail
Do you have a 1911 without an accessory rail? Check out the Grip and Rail System from Recover Tactical.
This rail installs in just minutes with the supplied hardware and allows you to mount up modern accessories to your 1911.
Conclusion
This should get you started on getting your 1911 a modern facelift! Be careful in how you go about your upgrades and always save the old parts, you never know when you'll want to revert something down the road.
What upgrades have you added? Got any "must-haves" that we missed? Let us know in the comments! Don't forget to take a look at the Best Pistol Weapon Lights and the Best Pistol Mounted Red Dots to take your 1911 to the next level.