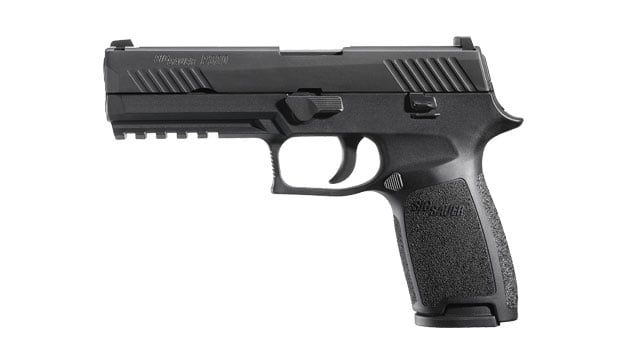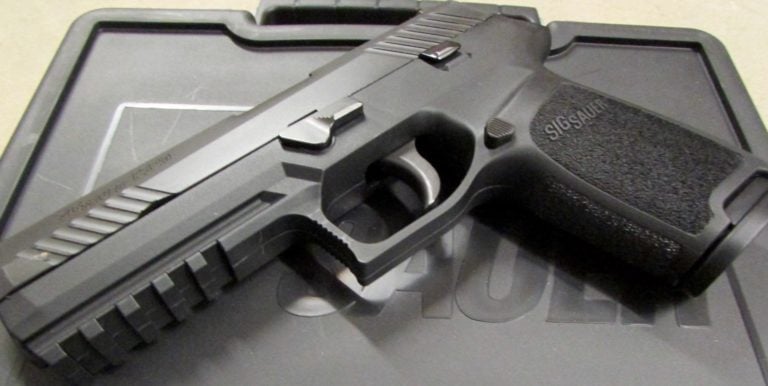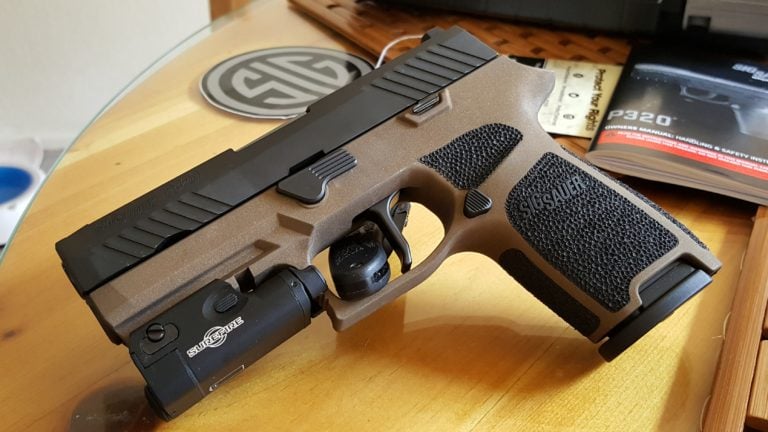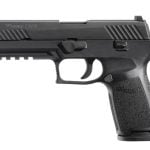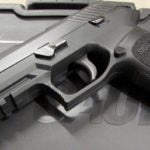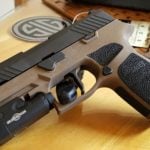 Very reliable

Change kits available

Comes with integrated red dot
Wide trigger blade

Awful finish
Editor's Note:
The Sig P320 is a great pistol and an alternative for Glock, XD, M&P.  For a Sig, it's an entry-level gun and quite subpar compared to Sig's legacy P-series. That said, this gun is reliable, accurate, and modular.
Read full review
Product Details
Action
Double Action Only / Semi-Auto
Barrel Length
4.7in / 5in
Product Features

Single piece trigger

Steel fire control unit

Unserialized grip frame and slide

Caliber X-Change kits (purchased separately)

Integrated red dot
Sig Sauer P320 For Sale - Compare Prices
By The Numbers
Accuracy
Ran great with different kinds of ammo
Reliability
"More so than a Glock, this pistol's main competitor but won't keep up with a race-gun 1911."
Customization
"This is an excellent gun to customize, as long as sig makes what you like. The pistol is still lagging in aftermarket parts, especially mags, but SIg makes plenty of parts to change out and it's the easiest gun by far to have stippled."
Ergonomics
"Can feel a bit like holding onto a finely shaved 2×4. It also takes a hit for the trigger blade, not the feeling of the trigger, the literal part of the trigger you touch, it's huge."
Overall
Hands-On Reviews & Related Post
Sig Sauer P320 Variations & Comparables
final verdict
"Sig Sauer's striker-fired P320 is the Army's newest sidearm and plenty of people's carry gun for good reason. It's reliable, accurate, and modular. There's plenty of different models to suit your desires but ergonomics might be an issue for some hand sizes.
If you're in the market for your first handgun, this is a good bet.  If you're a collector and just likes this gun, then get at it!  And I feel the Army made a pretty good decision too.
However, if you're the type that already has a Glock or M&P and are happy with it, this gun is different, but not an upgrade….
Regardless of what flavor of P320, know that Sig has a winner on their hands, but there are a few quirks they need to work out."
– McKinley Downing
Community reviews
There are no reviews for this product yet.
Add your own rating and help other Pew Pew users pick the right guns