What's the most modular pistol on the market right now?
There are a lot of contenders out there for that title, but one shines slightly above all others–the Sig Sauer P320.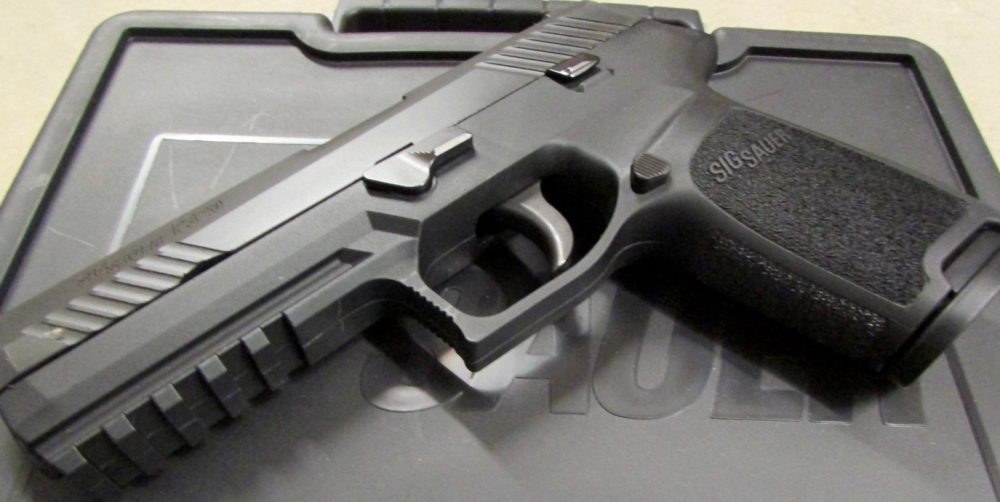 At its core, the P320 is a fire control unit–basically an AR lower receiver.
With this in mind, you can remove the FCU and change it to and from a variety of different size grip modules, slides, barrels, calibers, and more. It's like Legos for grown-ups!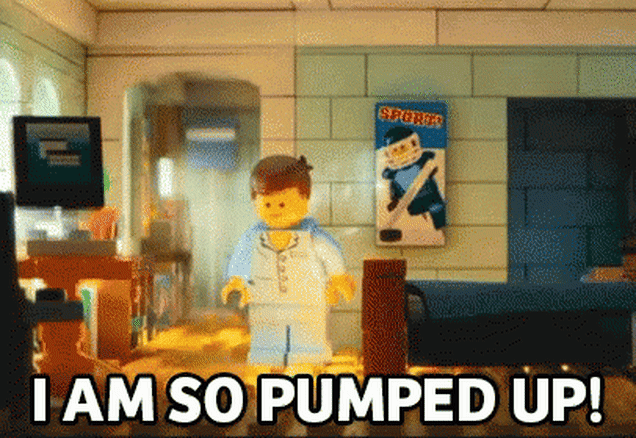 The Sig Sauer P320 can be any gun you need it to be. This firearm's modular nature has, of course, given us a massive market for upgrading and tuning this gun… which can be dizzying.
Worry not!
We gathered a few of our favorite upgrades–well, my favorite upgrades–and hit the ground running.
Let's talk about the best upgrades for your P320!
Why Upgrade?
Why not? We live in America, right?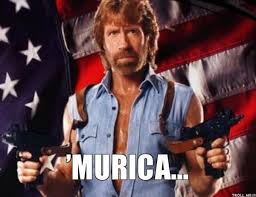 We like to push things forward. Cars, tech, guns–all of it can always be better, and that includes the P320.
You can take this baby and make it all your own with custom upgrades. Why not upgrade a weapon to what you want it to be?
Best Upgrades for the Sig Sauer P320
You want the best upgrades? We got 'em!
Let's take a look at our personally recommended upgrades and what components you oughta change out.
1. Grip Modules
One of the best features of the Sig Sauer P320 is the fact the actual firearm portion is the internal chassis system, which is removable from the gun's frame. The frame, or grip module, is not considered a firearm.
The result is you can order entirely new grip modules without the need for an FFL.
You can change the size of the gun by changing the grip module–you can also change the entire look of your weapon. A few companies are buying frames and Cerakote-ing them to give you a custom look.
Companies like 313 Tactical offer you a variety of different color modules like grey, green, bronze, and more.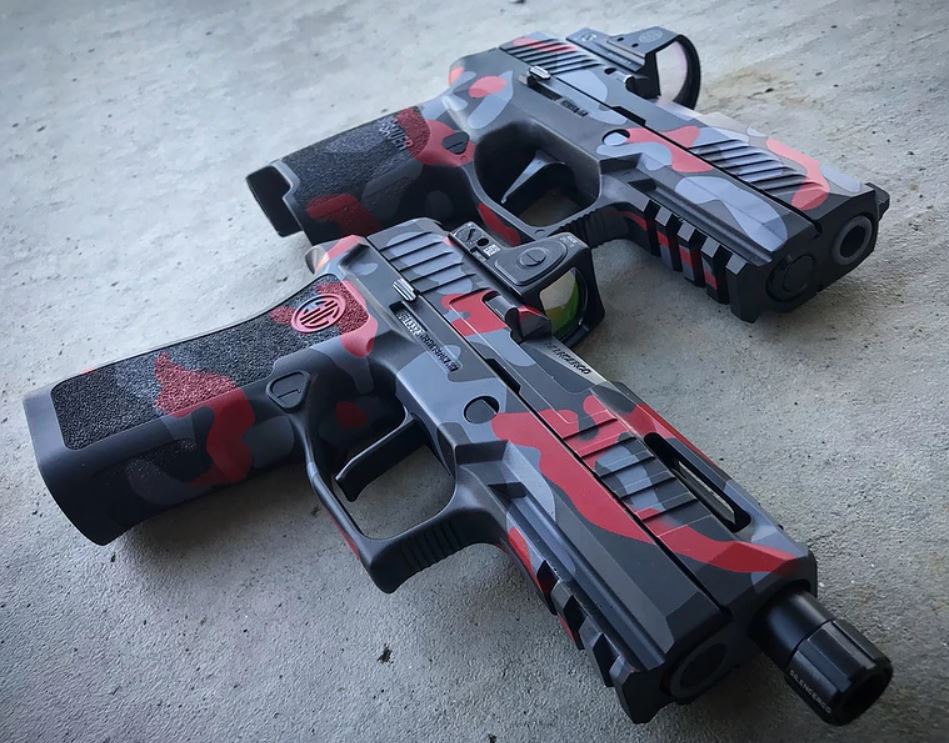 Better than that, you can go completely custom with modules with the American flag if you are feeling patriotic, or the Rebel Alliance, or better yet–the Galactic Empire. They can also do custom colors and patterns at your request.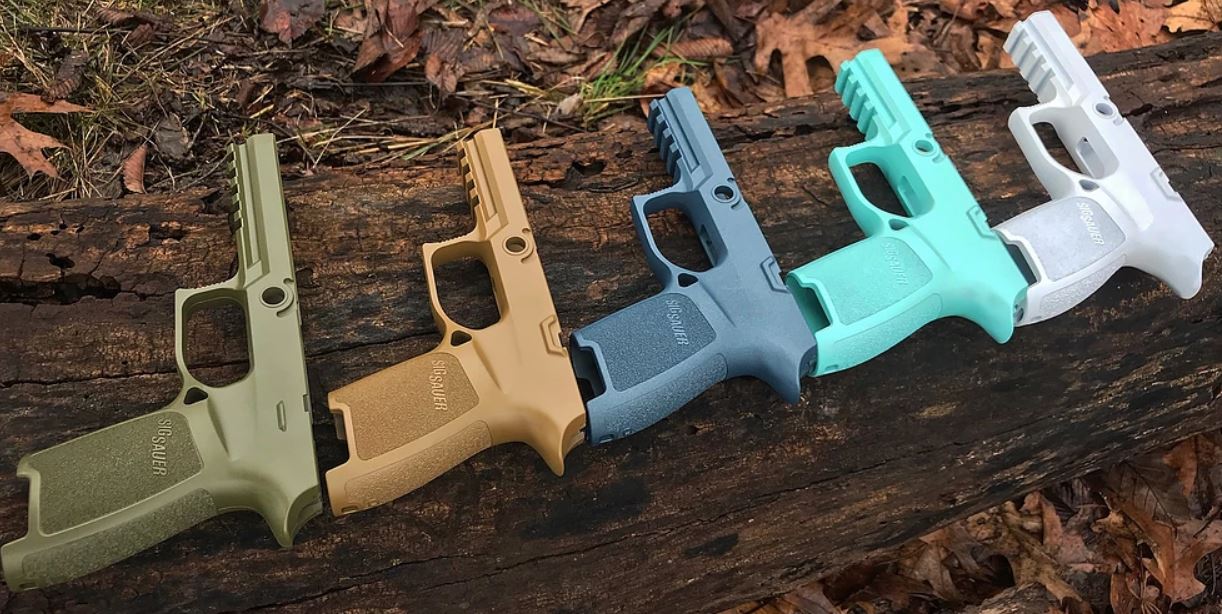 313 Tactical keeps a number of grip modules in stock and do custom orders as well. The modules range from a wide variety of different sized SIGs. The Grip Modules are amazing, and they feature a few for the new P365 as well.
They aren't the only company jumping into the custom grip frame module game.
GrayGuns do module stippling, Alpha Mods can do stippling and cutwork, and Strike Industries is apparently going to be producing their own custom frames sooner or later.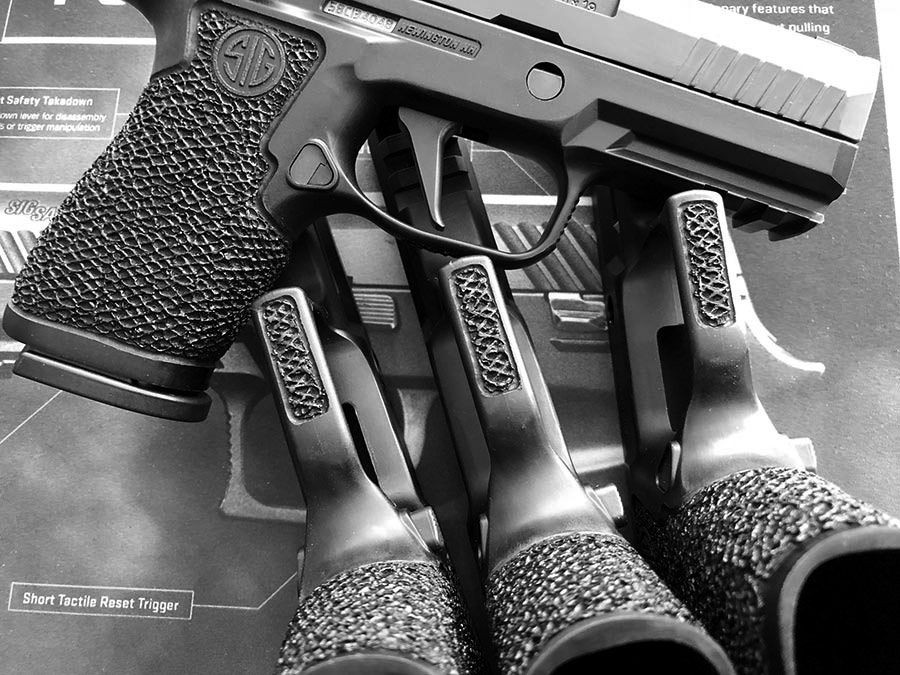 Let's not pretend the gun community doesn't appreciate aesthetics or crazy custom work. One of the perks of this gun is the true modularity of the platform, and we shouldn't ignore it.
Also, stock grip modules are cheap so you can buy them and practice any number of custom grip mods from stippling to undercuts and beyond.
Faxon Firearms makes some slick gear and fascinating guns. They also produce some outstanding barrels, and if you are going to sink money in a better barrel, I'd buy the best.
Faxon has a multitude of different barrel options for the P320.
Of course, you have different lengths, but also a multitude of different finish options. This includes TiN coated, Rainbow coated, and of course black.
Best P320 Barrel Upgrade
185
at Rainier Arms
Prices accurate at time of writing
Prices accurate at time of writing
The barrels also fluted in what Faxon calls their flame fluted pattern. It gives the barrel a beautiful look overall.
They also have threaded options as well. Best of all, the threads are a standard ½ x 28. SIG's threaded barrels are some funky left-hand twist which necessitates an adapter, or a specially made muzzle device.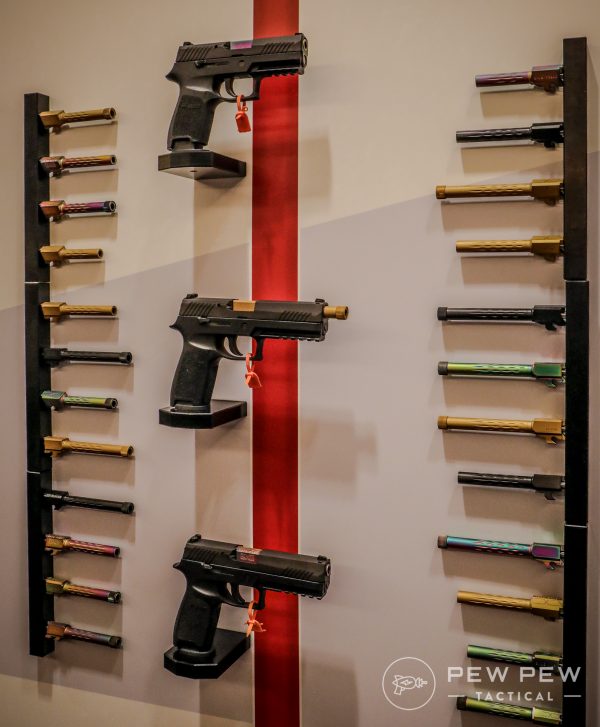 ½ x 28 is the most common threading for 9mm weapons, and this makes it a lot easier to add a suppressor or even a compensator.
Faxon barrels are made from 416-R stainless steel and have an 11-degree target crown, which ensures equitable gas relief and will add that hair of perfection to your gun's precision.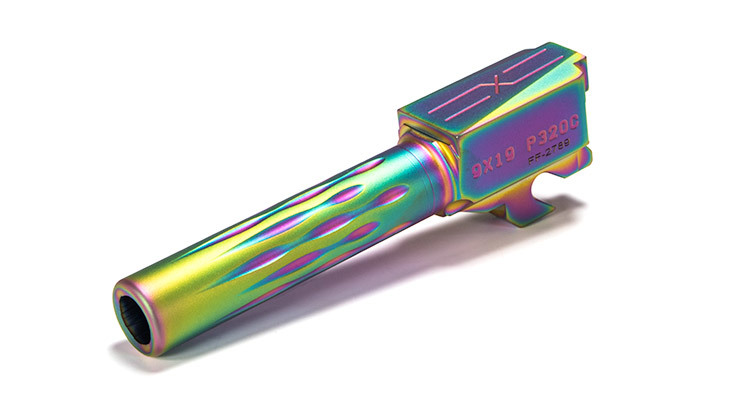 The inside finish of these barrels is a strong salt bath nitride finish, and the outside is TiN, of course, as well as salt bath nitride.
These barrels are rock solid, well made, and a perfect upgrade for your SIG P320, especially if you want to add a muzzle device. I mean seriously, SIG, you know we use ½ x 28 here.
Speaking of muzzle devices, why not a comp?
A lot of people criticize the use of comps on a 9mm handgun, and I used to be one of them. It's pretty easy to dive into the comments sections and say, "Aw, is 9mm too much for your little wrists?"
Then I fired the Nighthawk Firehawk in 9mm.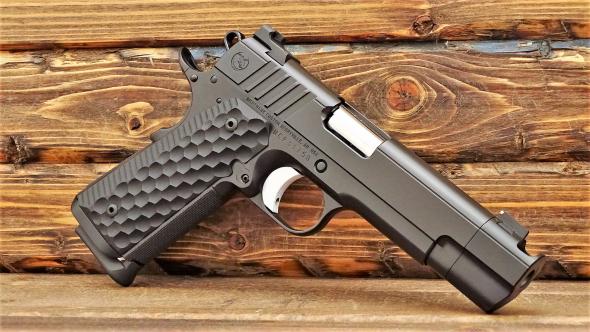 It's a ported 9mm 1911, and I suddenly realized just how awesome it is, and how easy handling a comped 9mm is.
If you want to upgrade your SIG with a comp, there are a few options out there, but I suggest the Spring Precision model for a few reasons.
First, they produce compensators from for that goofy SIG M 13.5 x 1 LH thread twist. They also provide a standard SIG Compensator for the ½ x 28 threads.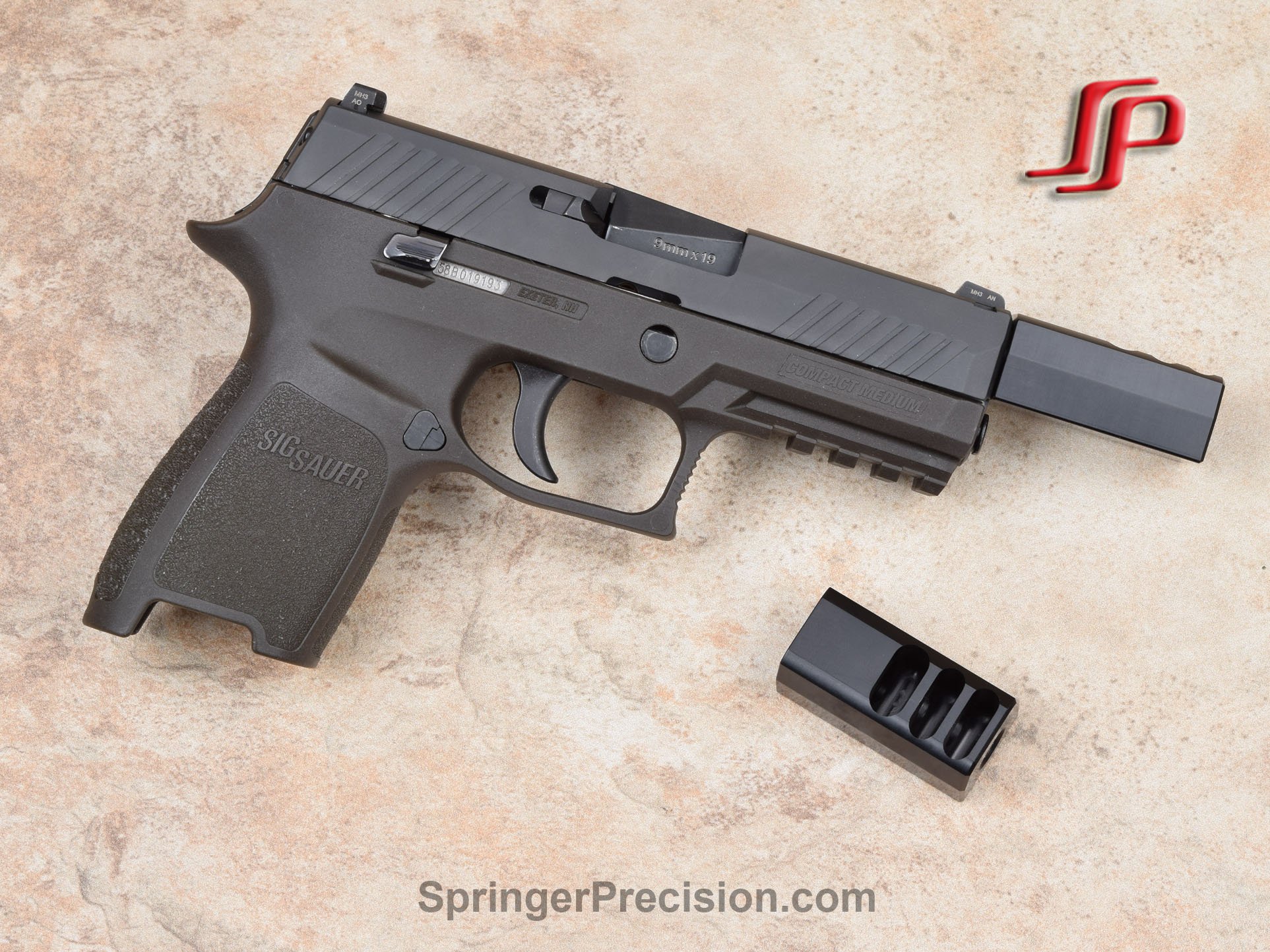 This way if you already spent that extra money for a SIG with a threaded barrel you have that option.
I'm going to suggest two different Spring Compensators for two different uses. The Springer Precision Open Compensator and the Springer Precision Shorty Compensator.
The Springer Precision Open Compensator has three ports that allow for a significant level of muzzle rise reduction. It's also rated for 9mm +P and 9mm Major loads.
95
at Rainier Arms
Prices accurate at time of writing
Prices accurate at time of writing
If you want to toss those powerhouse loads through your gun, you can, and the comp can take them.
This compensator is pretty long and isn't going to work great for any kind of concealed carry. It's made for competition guns, and that's where it is best suited.
It's also great if you want to have fun with your SIG P320 and experience very minimal recoil.
The Shorty is a single top port and two side ports. It's designed for standard 9mm ammunition and is better suited for a street carry gun.
85
at Rainier Arms
Prices accurate at time of writing
Prices accurate at time of writing
The comp weighs only .852 ounces, and will help reduce muzzle rise to make it easier to get stay target, round after round.
This tiny guy is plenty effective and is affordable for most owners. Again, this compensator is made for both SIG's thread pitch and the standard ½ x 28 threading.
A comped gun is a lot of fun, and if you haven't tried it I'd at least give it a spin once. It opened up my eyes and showed me how easy it is to control a comped handgun.
Apex Tactical is kind of the big name in aftermarket triggers. Currently, there are tons and tons of companies out there producing aftermarket triggers, and the majority of them focus on Glock triggers.
Apex dives in deep with a wide variety of different guns, including SIG P320 triggers.
When we say trigger we are talking about several different parts. The parts we need to focus on are the actual trigger and the trigger bar. Upgrading these two parts will reduce up to 30% of the trigger's weight.
Apex produces flat faced, curved, and semi-flat triggers for what you prefer. I'm a big fan of the flat triggers, and I find it a lot easier to reach and pull consistently.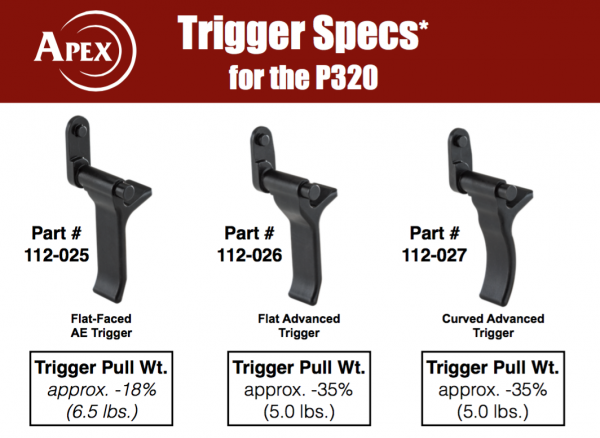 Something about these triggers makes me feel like I am more in control.
When you upgrade your trigger bar and trigger you'll get different effects with different triggers. The flat trigger will reduce trigger travel by 40%, but the weight was only cut by 20%.
The other two triggers will have a 30% reduction in trigger travel, but a 30% reduction in trigger weight.
A new, more controllable, more consistent trigger will help shoot straighter and shoot faster. On top of that, you'll be able to combine the two and fire faster, and straighter.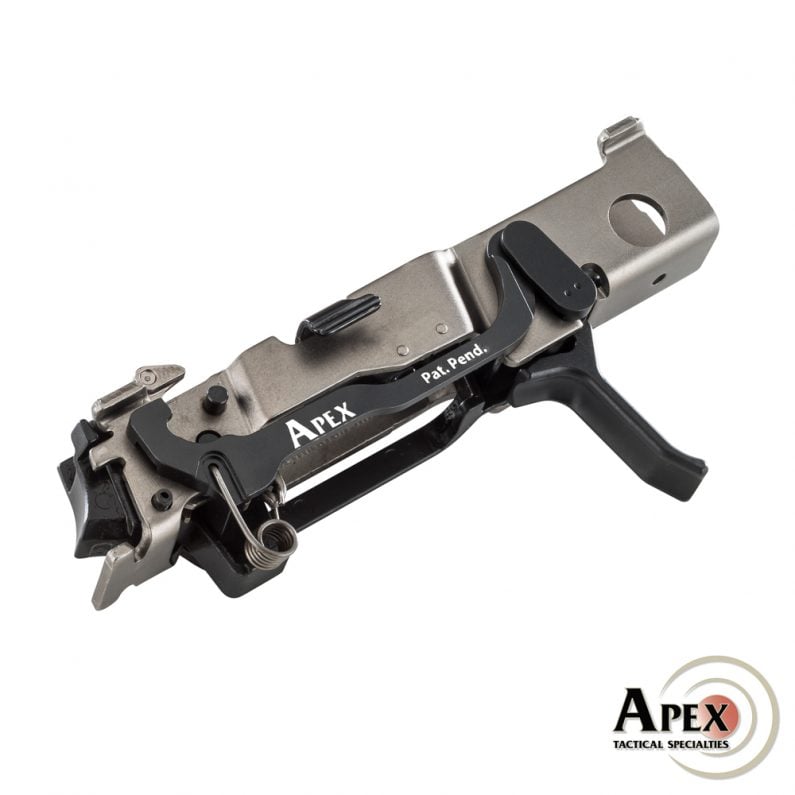 The Apex trigger systems are fantastic, and they do work with the SIG voluntary upgrades.
Best P320 Trigger Upgrade
124
at Brownells
Prices accurate at time of writing
Prices accurate at time of writing
The Apex system is straightforward to install, and you can do it at home with ease. It's also an affordable option for those on a budget.
You can buy the set combined with a trigger and trigger bar, but you can also purchase the parts separately.
It's an excellent option for any P320.
What's your take?
What About Those Sights?
I will say SIG's brand SIG LITE sights are very lovely sights. They outdo companies like Glock by a mile when it comes to stock sights. They are great sights on great guns, but they might not fit every SIG P320's need.
There are more than a couple of options out there for the dedicated P320 owner.
Designed for the competition shooter. That being said, the sights could be used for a few different uses. If you want speed and precision, then these sights will work for you.
79
at Amazon
Prices accurate at time of writing
Prices accurate at time of writing
The Perfect Impact sights feature two CNC machined sights that have a mil-spec hard finish. The front sight can be red high viz fiber optic, blacked out, or a tritium front sight.
The rear sight is blacked out and thick and tall. It's also serrated to reduce glare.
Perfect Impact sights are quick and easy to use, easy to install, and the number one chosen sight system for competition shooters. These sights are simple but ensure speed and simplicity.
A lot of SIG P320s come with their slides already cut for the Romeo 1 optic and this makes it a smooth transition.
324
at Amazon
Prices accurate at time of writing
Prices accurate at time of writing
If your P320 isn't cut, you can add a rear sight replacement that allows you to run a red dot instead of your rear sight.
One portion that replaces the rear sight has two screw holes, and then a plate fits over that portion. Two screws go through the optic and into the rear sight portion.
30
at Amazon
Prices accurate at time of writing
Prices accurate at time of writing
Boom–now you have a red dot sight mounted without needing to mill your slide.
The SIG Romeo 1 sight is an affordable miniature red dot sight that uses all the features that makes SIG optics stand out.
First is the MOTAC system–that stands for motion activated illumination system. This means the optic powers up when it's moved and powers down when it's left stationary. MOTAC allows it to be always ready and capable at all times. Grab it and go.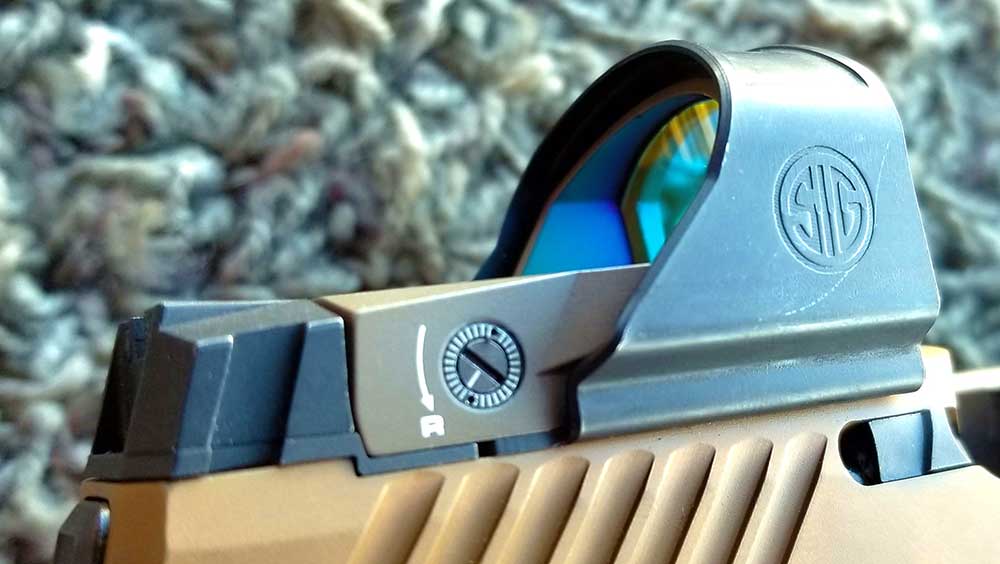 The SIG Romeo 1 mini reflex sight is waterproof for up to 1 meter and is fog rated. Shooting with a mini red dot on a handgun is an exciting endeavor.
It takes some practice and training to get it right, but once you do it opens you up. You can shoot further with ease. The red dot doesn't obscure the target so you can see the target and your reticle.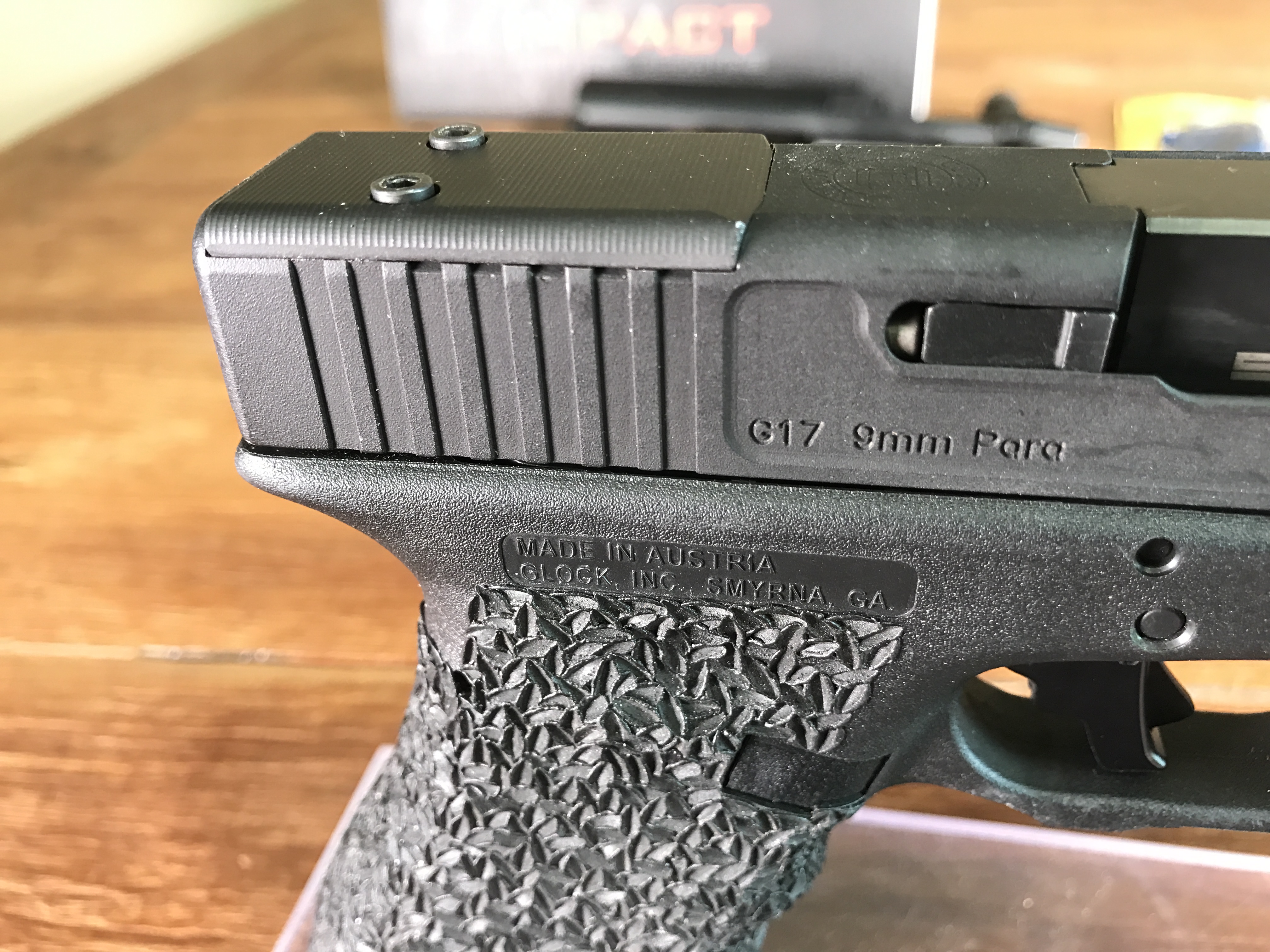 Additionally, once you've trained with it, the red dot is much faster.
No need to line up your sights, or remember to focus on the front sight. Put the dot on the target, pull the trigger, and go. It's faster to get on target, faster to transition, and ultimately more straightforward to use.
Holsters
Choosing a holster is an important consideration. I prefer OWB, and this is my list, so deal with it. In general, the P320 is a big gun anyway, and it's excellent for OWB carry. There are plenty of options out there for the P320, but I have two I like.
Bravo Concealment makes one of the most concealable holsters for OWB carry there is. This Kydex holster is designed for close body concealed carry.
38
at Amazon
Prices accurate at time of writing
Prices accurate at time of writing
The OWB model features a slight forward cant to increase concealment, and the belt loops can be adjusted for a high ride for more concealment.
This Bravo Concealment holster can use 1.5, or 1.75-inch belt loops or Bravo also makes a paddle system, if you prefer that. Bravo has rounded off the edges of the holster, and this allows you to carry the gun comfortably without anything being pressed into you.
The holster uses a passive retention system that locks around the trigger guard. There is a very satisfying click as the weapon is holstered. This retention also allows you to draw unimpeded without worrying about the gun falling out.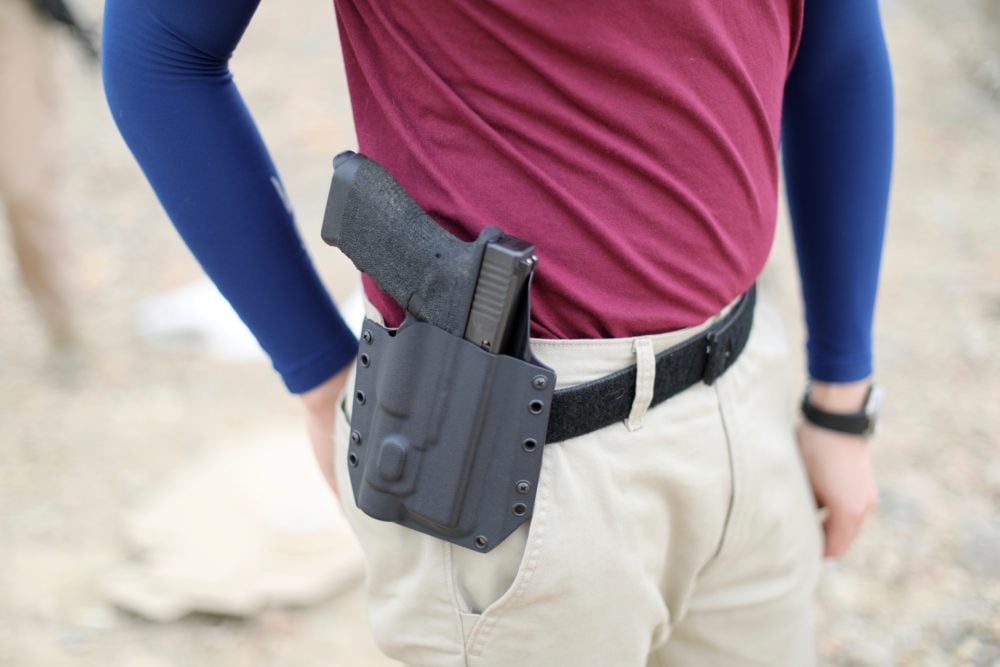 Bravo Concealment holsters will accommodate a threaded barrel and tall sights. These holsters are designed with concealment in mind and make concealing a full sized firearm easy. Well, as easy as it can be.
The Safariland 7360 gets chosen because it is the holster selected by the US Army for the MHS system. It will be the holster issued with the XM17 and 18 series of handguns. This is a duty holster and would be terrible for concealment.
130
at Amazon
Prices accurate at time of writing
Prices accurate at time of writing
This holster also features active retention to ensure no one can take your weapon when it's holstered. After all, this level of retention is needed for duty use, especially when it comes to military use.
If your SIG P320 is the XM17 variant, then this is a must-have holster to complete the ultimate XM17 experience.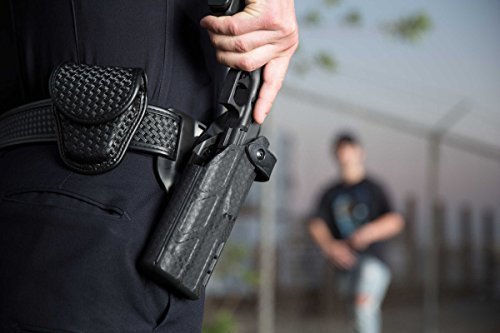 The Safariland 7360 is all polymer and compatible with a wide variety of attachment systems to carry the holster in a variety of ways, including thigh rigs, as well as low ride rigs, belt rigs, and even MOLLE setups.
Safariland is a very well known duty holster designer, and they produce tons of excellent holsters. The 7360 isn't the most remarkable name for a holster, but the holster works, and it's an excellent option for those looking for a tactical rig.
Light Up Your World
A weapon light is an absolute must have this day in age–at least, it is if your handgun serves a purpose beyond concealed carry. Your light can be used for home defense and should be. Without proper identification of a threat, you should never take a shot.
The two companies that rule the weapon light world is Surefire and Streamlight. Both are used widely across the gun world. I have a suggestion from each company, for different SIG P320s.
The X300 light is the gold standard for duty guns. It's incredibly well made, insanely bright, and built for serious duty use. I've seen these things beat to hell and back and still keep working. On and on and on.
Best Pistol Light
235
at Amazon
Prices accurate at time of writing
Prices accurate at time of writing
The X300 lights come in a variety of lumen counts, and this one goes up to 1,000 lumens. The light comes with a constant on, a momentary, and strobe is also available. For durability without the weight, these are made out of aluminum.
The light uses a TIR lens which shoots a bright and clear light that's concentrated for extended ranges.
It's a big light and adds some bulk to your gun. For duty or home defense, it isn't an issue. For concealed carry, be prepared to get a holster and a good belt.
The TLR-7 is an ultra-compact weapon light that sits flush with the rail and the barrel of Glock 19-sized guns. The TLR-7 is ultra lightweight, easy to use, and perfect for concealed carry. Toss it on a SIG P320C, and you are ready for shooting 24/7.
102
at Amazon
Prices accurate at time of writing
Prices accurate at time of writing
The TLR-7 is a 500 lumen light with a 1.5-hour runtime. It has ambidextrous on buttons that are easy to reach. The light is made from aluminum and is IPX7 rated for full submersion in one meter for 30 minutes.
It's a neat little light that is a welcome upgrade from Streamlight's older TLR-3 compact light.
Still a pistol, but better
You guys have likely seen a great many different kits dedicated to turning the Glock series into a rifle–or a big, braced, SMG-sized pistol. We have Roni, KPOS, grip stock adapters, and so much more.
However, there are two options for P320 users.
First is the sleek and sexy X01 PDW kit. This system uses the internal mechanism fire control unit of your SIG P320 and the slide. You install it to the kit, and you now have an SMG sized pistol with a PDW style brace.
439
at Optics Planet
Prices accurate at time of writing
Prices accurate at time of writing
This improves your overall control, allows you to install more powerful optics, as well as lights and any additional accessories you can dream of. You can use the same trigger you have in the P320 and a very natural grip angle.
This is an ultra little addition to your P320, and it looks superbly futuristic. It's quite compact, and it makes good use of the fire control group in a unique and interesting way.
Our second choice is the IWI Kidon. I own one of these, and I like it as a system. The IWI Kidon is a multi-fit kit that fits dozens of different guns. To suit different weapons you make adjustments to the gun and replace the backplate. Each weapon has its own backplate.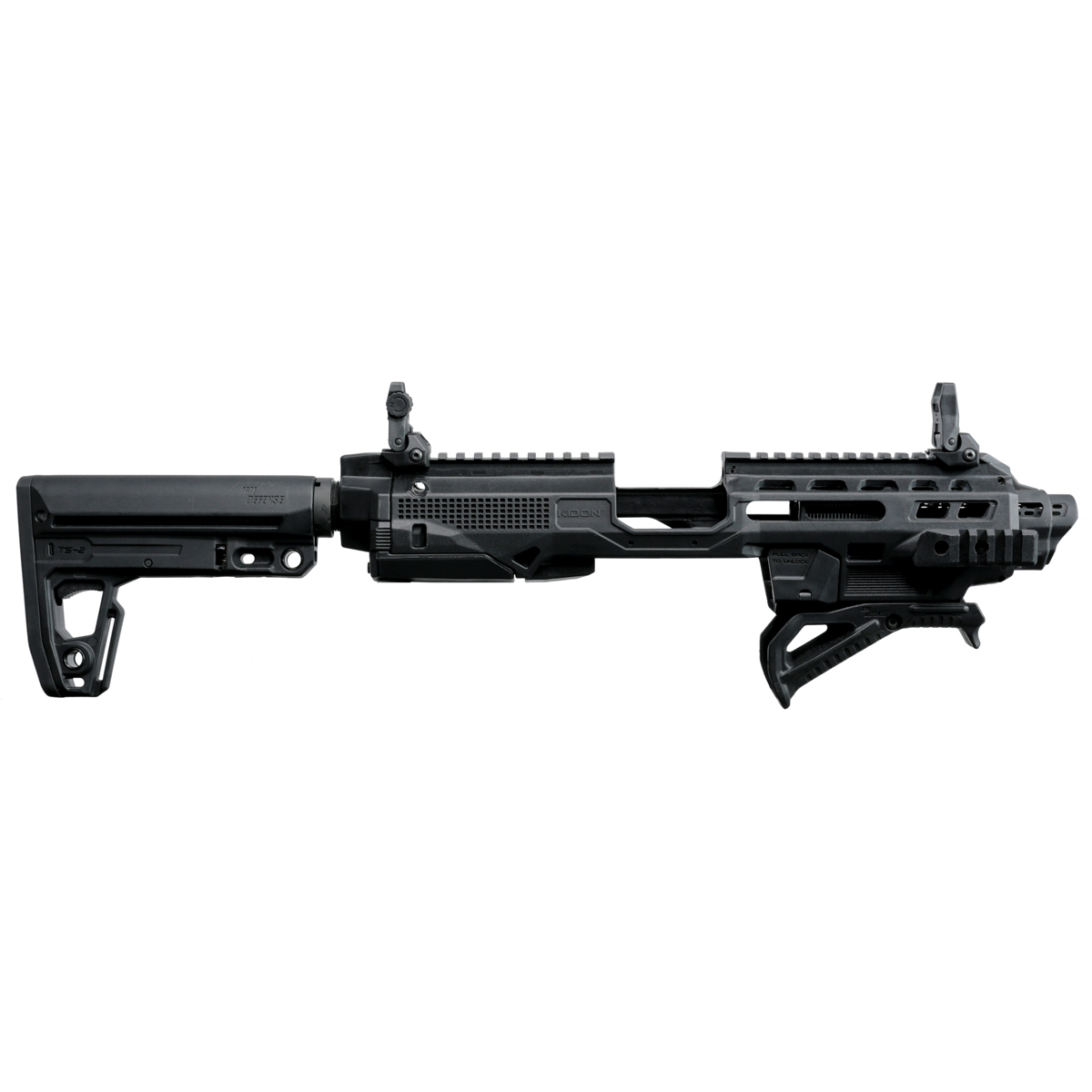 Mine has the plates for a 1911, Glock, CZ P09, etc. It's a cool system. It comes with a stock, or you can buy stockless. The good news is that it fits a standard AR-15 buffer tube, including pistol models.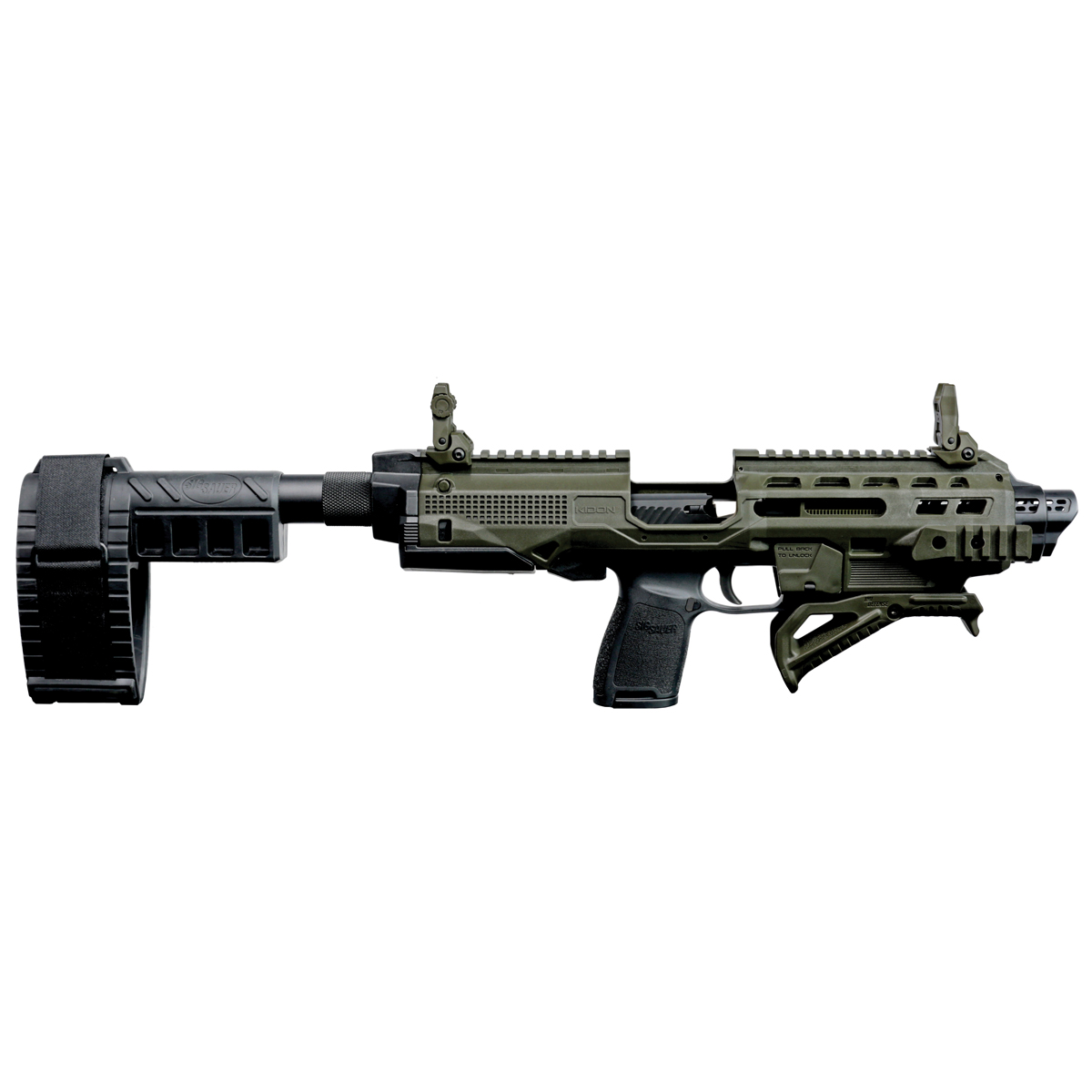 The Kidon kit has plenty of rail space to add lights, optics, and more. It's exceptionally well made, and a lot of fun when equipped with a brace. You'll find that it's a robust, modern design that is a bit better if you want to toss in multiple guns.
Modularity to the Extreme
The Sig Sauer P320 is one of the most modular firearms in the world. The ability to swap calibers, frame sizes, and more makes this a fantastic little gun.
Its versatility, as well as its adoption by multiple police forces and the United States military, are going to continue to drive a massive aftermarket.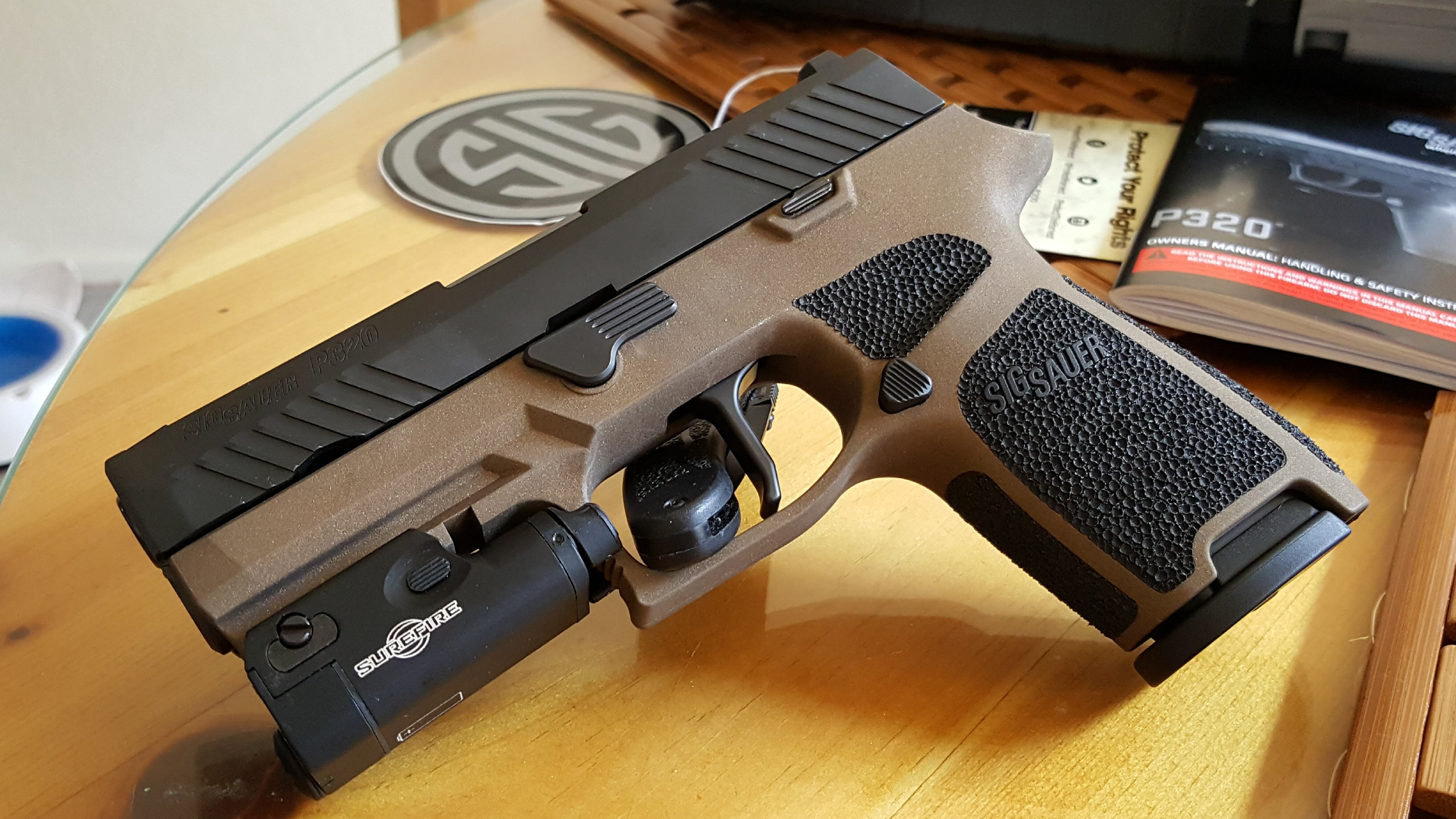 This is just a taste of what's available now, and what will be available in the future is unpredictable.
What have you guys done to your P320s? Let us know below. Interested in learning more about these handguns? Check out our complete review of the Sig Sauer P32o.