What's it take to become a successful handgun in this day and age?
You have to offer something different for one.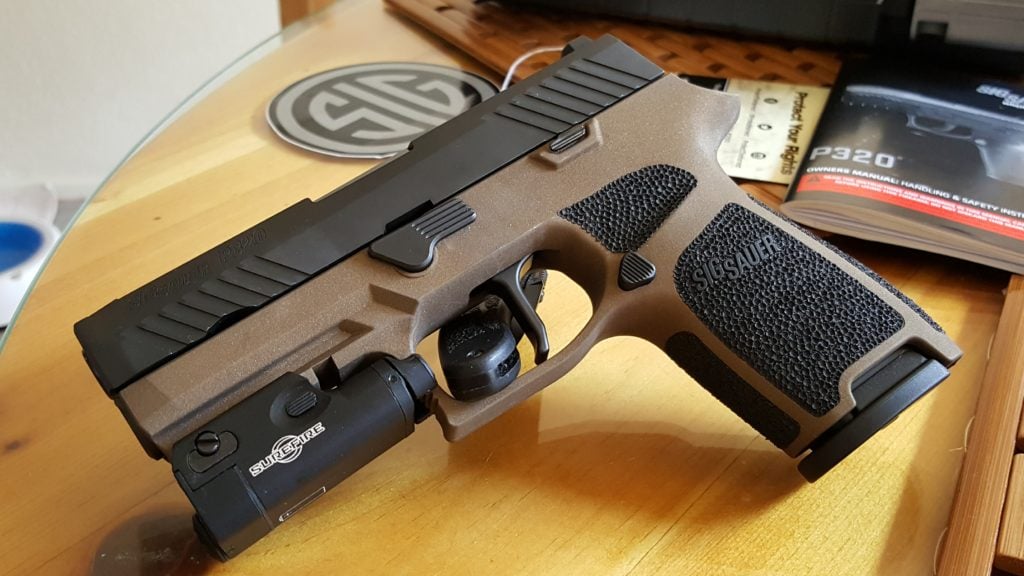 We are awash in a sea of striker-fired double-stack handguns. It's a sea of guns that hardly stand out. You need to do something different and innovative, and you need to capture an audience.
In a nutshell that's what SIG did with the P320. They released what appears to be the most modular pistol ever created and it's been a major hit in both the Government and Civilian sides of the aisle.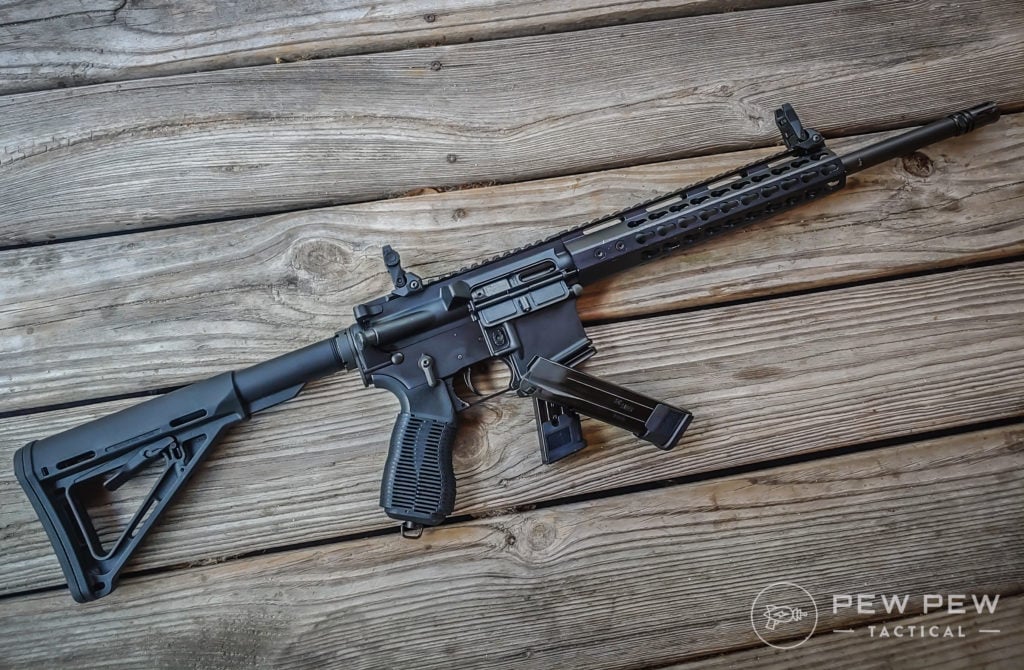 Table of Contents
Loading...
Does it Take ___ Mags?
The old joke of "Does it take Glock mags?" often applies to Pistol Caliber Carbines of all types. With the P320 being so popular is there a chance someone will ever ask "Does it take P320 mags?"
Maybe, and if you are a P320 owner you may be asking that now. Thanks to Matador Arms the next time you look at an AR you can answer in the affirmative.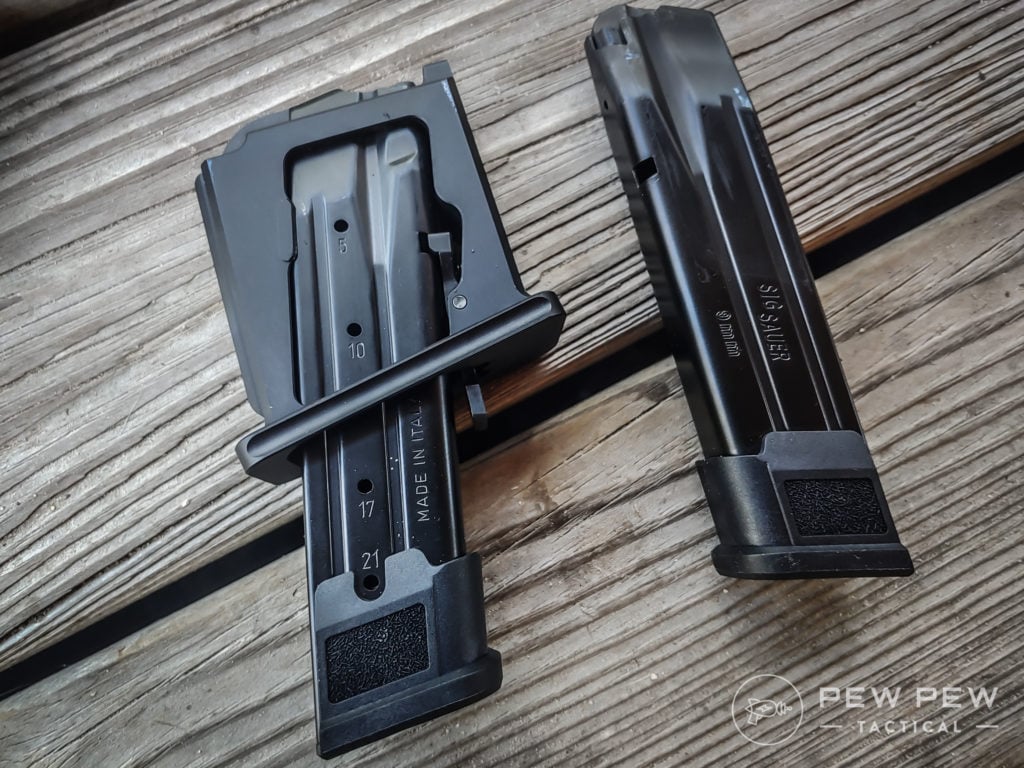 They produced an adapter known as the MAG X that allows any Mil-spec AR 15 lower receiver to utilize P320 magazines. This adapter installs in the magazine well of any standard magazine well.
I built an entire rifle around this adapter. I had some things lying around, and others I purchased. I built this gun for as cheap as I possibly could, and I think it turned out surprisingly well.
Why A P320 AR?
The P320 has become quite the popular pistol and seems to be aiming to completely take over the pistol market.
We've done a full review AND video on the P320 and really like it, you should check it out!
Of course, they have had their setbacks, but the weapon has largely overcome any bump in the road. Its adoption by multiple police forces is one thing, but the fact that it's also now in the process of being adopted by 4 military branches is a massive move forward.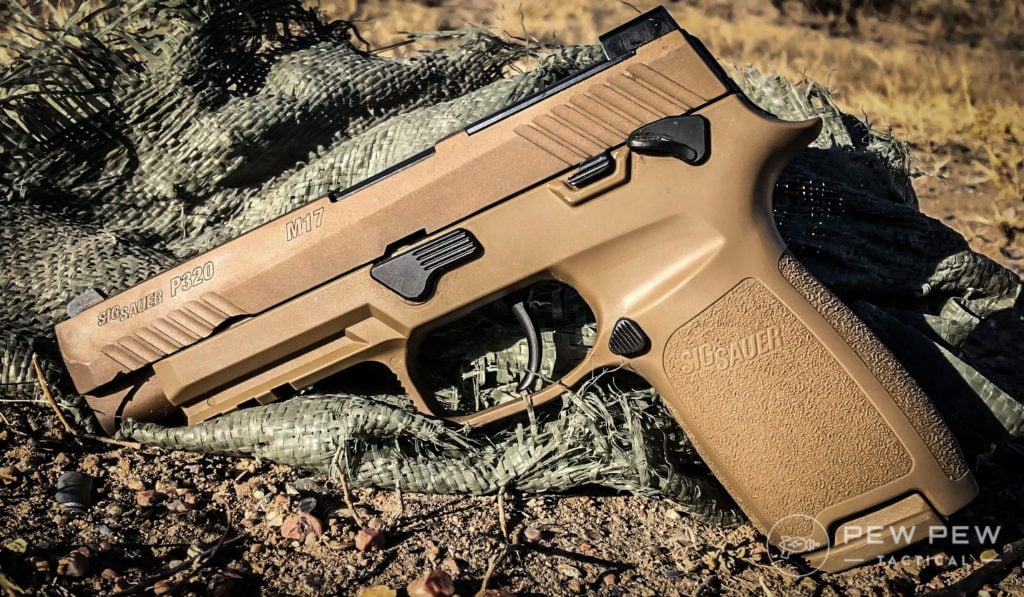 The P320 is a successful gun that's also been a hit in the civilian market. The P320's modular nature and the fact that SIG seems to be placing a ton of support behind the gun has certainly helped its success. There are numerous models like the X Five series, the X Carry and Compact models, and now a Legion variant.
This level of popularity is certainly bringing the P320 and its magazines to the forefront. If you already own a P320, or plan to, having an AR that matches allows you to share what are relatively expensive magazines.
Speaking of, as guns get more popular the aftermarket tends to grow and prices tend to drop. Call it the Glock effect if you will. ETS is already planning to make P320 magazines at a much lower price than SIG OEM models.
40
at GunMag Warehouse
Prices accurate at time of writing
Prices accurate at time of writing
The market will continue to grow, and we'll likely see more companies pumping out P320 magazines and driving the price down substantially.
As it stands now P320 magazines are wonderfully reliable and well-made as is and they would be an awesome and reliable AR magazine. The main appeal, for now, is for P320 owners, but as the magazines become more affordable I imagine we'll see more than a few platforms adopt the P320 magazine.
How The MAG X P320 Works
The Matador Arms Mag X adapter is made to work with any Mil-Spec Multi-Caliber AR 15 lower. You can grab any standard AR lower and install this adapter and it'll work wonders. Unlike other magazine blocks, you do not need to remove parts to install it.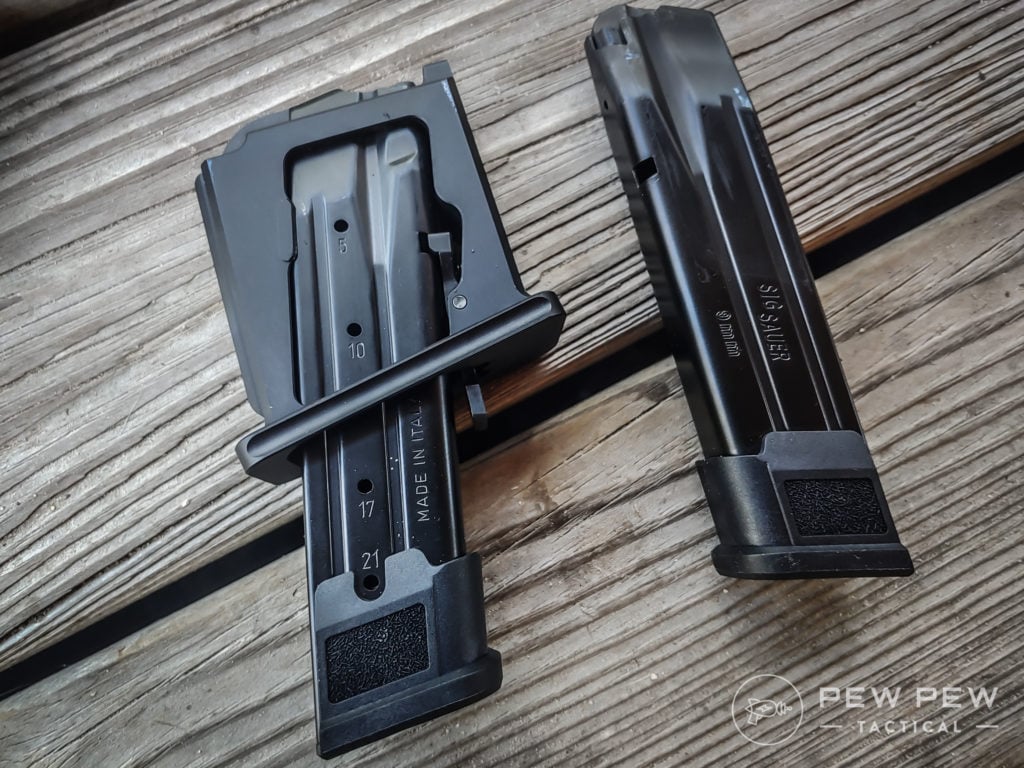 It slides into the magazine well like any other magazine and locks in place via the magazine release. I know what you are thinking when you hit the magazine release the adapter pops outright?
Yep, which would be terrible because most AR 15 users are pretty used to hitting the standard magazine release to drop a magazine. Luckily, the Mag X adapter has a screw positioned at the top of the adapter.
All you need to too is screw it down and the magazine release will not release the MAG X adapter.
Of course, that means you have a new magazine release for your P320 magazines. The P320 MAG X adapter has the magazine release positioned in front of the magazine.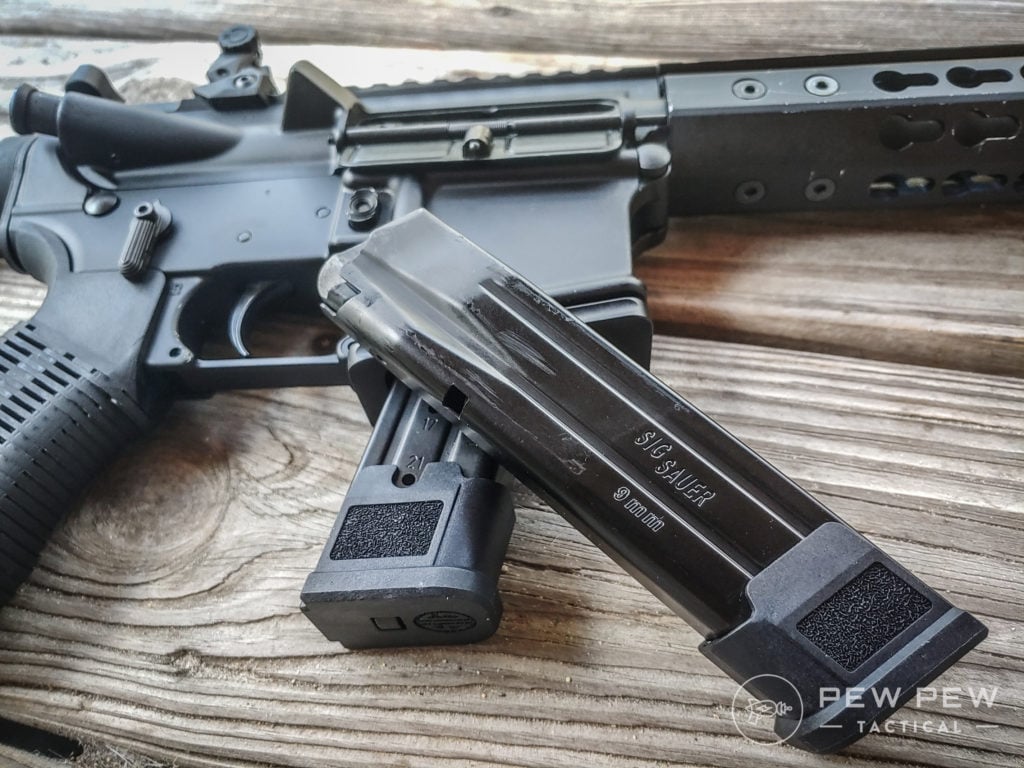 You pull it rearward and the magazine drops, it works great because it's positioned to easily allow you to remove the magazine and retain it.
The MAG X only works with Glock cut bolts, and the bolt does not lock back to the rear after the last round is fired. The MAG X P320 is the core of the system and its extremely reliable.
What's The Use For This Rifle?
Well, it's a rifle I can shoot at almost all ranges, even those that ban traditional rifles and rifle rounds.
The rifle can be used for USPSA for sure, and shooters can mix their rifles mags with their pistol mags.
Past that, the rifle could be used for home defense but is a bit bulky for what it is. Let's not forget it's a cheap plinker.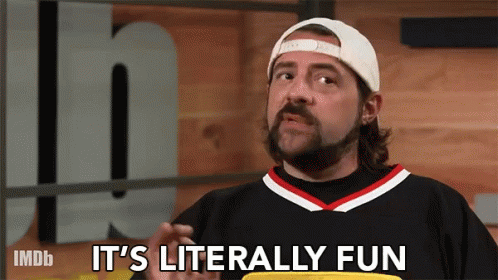 This also makes one of the best training rifles out there when it's time to move a shooter past rimfire rifles. It's light, reliable, and low recoiling.
Barrel
This was a cheap barrel that turned out to be very well made and quite light. The Foxtrot Mike FM-9 barrel is 16 inches in length, but pistol variants are also available if you want to go shorter. I went with a rifle length because my lower was already a rifle lower.
85
at Brownells
Prices accurate at time of writing
Prices accurate at time of writing
It's a lightweight and simple barrel with ½ -36 threads. It has the standard salt bath nitride QPQ finish and seems to last just about forever. I topped it off with a standard flash suppressor I had lying around.
Outside of a can I couldn't think of a muzzle device that would make a difference with a 9mm coming out of 16-inch barrel so again price was the deciding factor.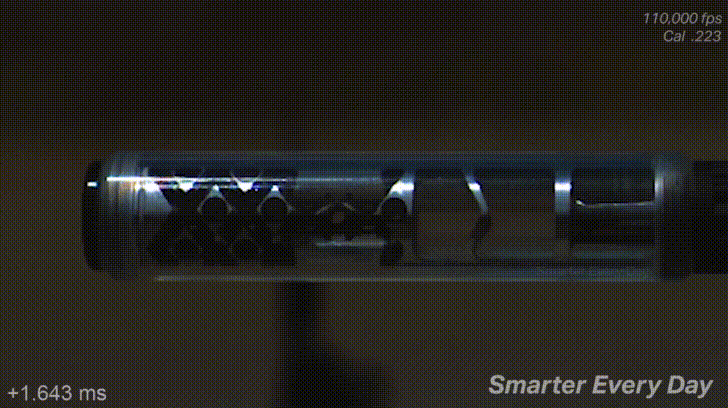 16-inch barrels for 9mm are a bit long and provide no ballistic advantage at all. It does allow for a rifle build as well as a USPSA PCC division gun if you want to compete. A pistol may make a bit more sense.
Upper
The entire upper came from a Florida company called Daytona Tactical. Daytona Tactical appears to be a small company, and they are likely resellers but the products they sell haven't given me issues.
The setup is very simple and slightly outdated and honestly a little weird. The handguard is a 10-inch Keymod model, but man was it affordable.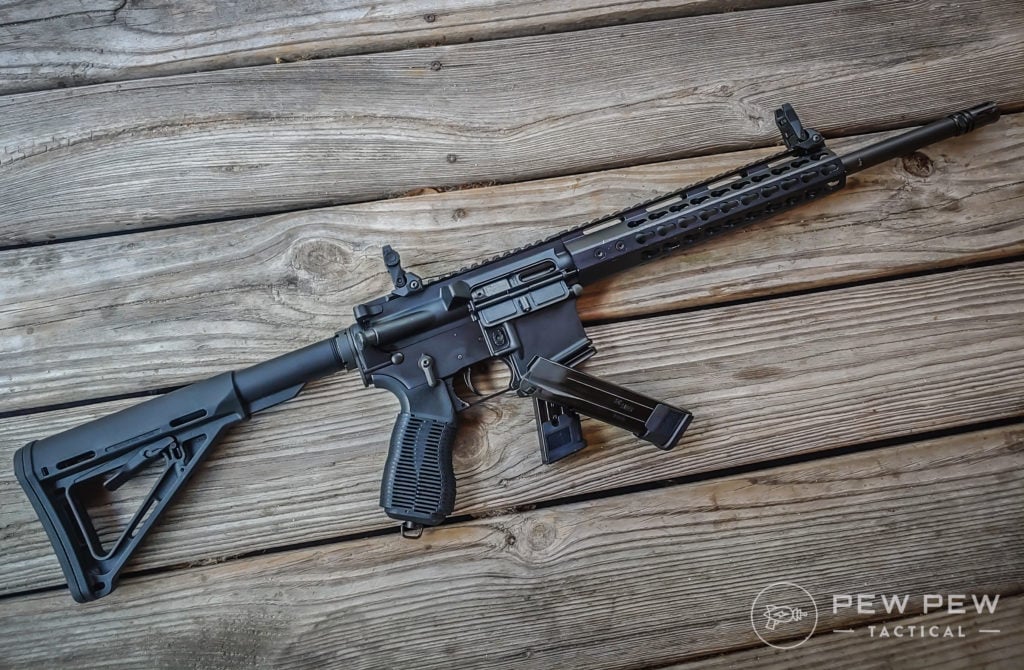 10 inch is an odd handguard length for a rifle, but it does keep the gun light and handy. It provides enough handguard for me to grip the gun and that's all I need it to do. Keymod handguards may not be in style but they've never let me down.
I'm not a JSOC operator and this is a fun gun, so I don't feel the need to switch handguards. It's a handguard, and it keeps my hand from touching the barrel as long as it does that we are good to go.
The Upper is just a standard forged upper that everyone makes, a PSA, Aero Precision or any other company will work.
85
at Brownells
Prices accurate at time of writing
Prices accurate at time of writing
I added IWI polymer sights. Although on my other 9mm AR I run a SIG Romeo 5 and love it.
BCG
For the MAG X P320 to work you'll need to run a Glock BCG. Luckily, those are the most common type out there. On the affordable side, the Foxtrot Mike makes a great Glock BCG who I'd roll with. It's made from a single piece of steel alloy and is tough enough to take all that blowback.
99
at Brownells
Prices accurate at time of writing
Prices accurate at time of writing
Also keep in mind searching for just a 9mm Bolt Carrier Group is not a good idea. Colt SMG models, for example, are not functional with this particular magazine adapter. So, ensure it's a Glock compatible bolt carrier group.
JP Enterprise, Faxon, and PSA all make Glock 9mm compatible bolt carrier groups as well.
99
at Palmetto State Armory
Prices accurate at time of writing
Prices accurate at time of writing
Lower
The magic of the MAG X adapter allows you to use any lower receiver you choose. I went cheap with an old Anderson. This was a build I did on the cheap and Anderson is pretty much the cheapest MIL-SPEC lower you can find.
Most Affordable
38
at Kygunco
Prices accurate at time of writing
Prices accurate at time of writing
When creating your own P320 AR and using the MAG X you should utilize a MIL-SPEC lower. Something different may not accommodate the MAG X adapter or fit properly. For example, the ATI Omni MAx poly lowers may not work with the adapter.
I also went with a standard lower parts kit, well standard except that I added an ambidextrous safety. I wanted a solid and reliable kit that would ensure ignition of even the cheapest pistol ammo and MIL-SPEC kits tend to ensure you get a strong hammer strike.
Pistol Grip
Oh, the pistol grip is an oddly expensive choice, but again it was one I had laying around. It's the Unique AR pistol grip. It unlocks and allows you to squeeze a custom grip into a massive number of spacers.
This getup allows you to get a custom grip with just a squeeze. It's a cool design and while it seems a bit much for a 9mm rifle it is a comfortable grip that fills my massive hands.
Buffer, Buffer Tube, and Stock
The buffer tube doesn't really matter. A quality carbine tube will work, and I just went with a standard 6 position model. The stock is the standard and always awesome Magpul CTR stock.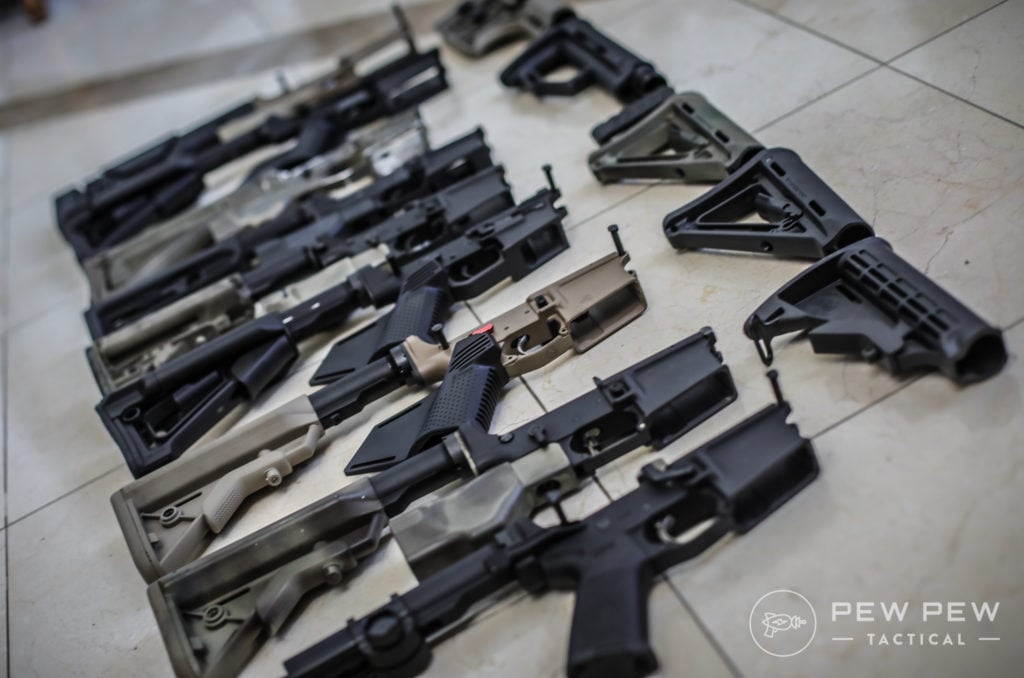 It's a simple, but reliable stock. It's glides along a 6-position buffer tube and I find it to be one of the most affordable, but high-quality stock options on the market.
There are numerous sling points located around the stock to accommodate different sling options.
Also, the CTR stock features a friction locking system that eliminates play. Have you ever used a MIL-SPEC stock? It tends to move and bounce quite a bit, but the CTR locks down tight and rock solid.
49
at Optics Planet
Prices accurate at time of writing
Prices accurate at time of writing
I wanted a reliable buffer because I've heard that 9mm ARs can be picky when it comes to reliability and its tied to the buffer and spring kit.
Angstadt Arms offers a complete 9mm buffer kit that's very affordable. It was a kit I could purchase and be confident that it would work with whatever 9mm I'd toss downrange.
55
at Brownells
Prices accurate at time of writing
Prices accurate at time of writing
How It All Spins Together
I like Matador Arms, and while a lot of their business is Canadian based they do cool stuff. The MAG X, for example, is one of the first systems I've seen that allows for quick and easy 9mm conversions.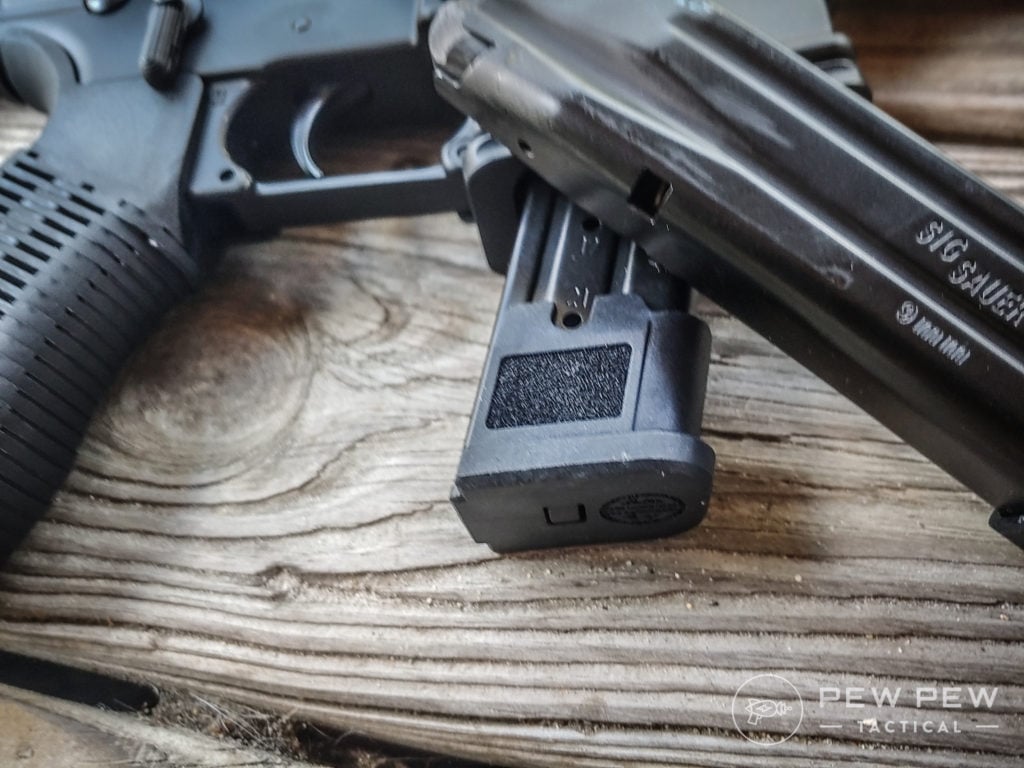 The SIG P320 magazines allow the use of this block without any modifications to the magazines. Similar devices have been created for the Glock magazines, but they require you to modify the magazine.
Once the rifle was all put together it worked without issue. I was most surprised by the adapter. It worked brilliantly. I like Matador Arms, but I was a little pessimistic. I was glad to be wrong.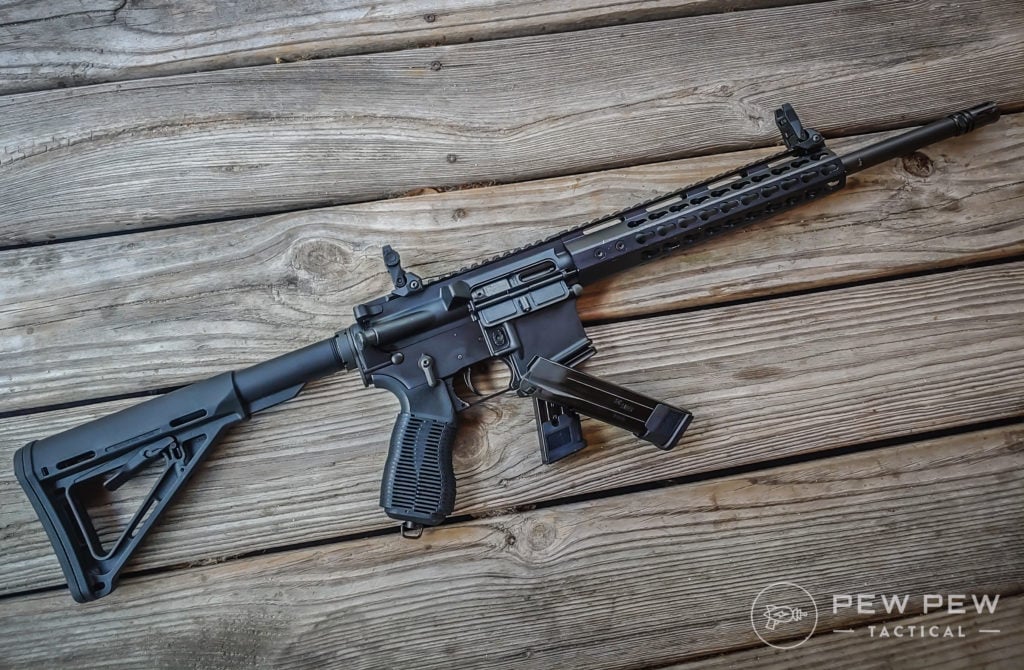 The P320 mags and the rifle ran smoothly without malfunction. I will say there is more resistance than normal to rack the weapon when a fully loaded P320 mag is inserted. It takes a little more oomph to rack a round into the chamber compared to a regular magazine.
That being said it's not difficult, or crazy stiff.
Overall the rifle runs.
It's an oddball, a bit of a mutt without a central theme or design philosophy. In fact, all I wanted to do was build a 9mm AR as cheaply as possible and luckily the current market makes that easy to do.
Parting Shots
The result of this little project is a reliable weapon that is incredibly soft shooting. It's one of the easiest to rifles to shoot I've ever experienced.
This is my P320 build, let me know what you guys think below. I know it's random, but I think it has its own dorky charm.
Do you run a conversion kit? What kind? Let us know in the comments! For more awesome PCC action, take a look at the Best Pistol-Caliber Carbines!