Do you know what's impressive in the gun world?
When a gun becomes so popular, you can build one without using a single part from the company that designed it.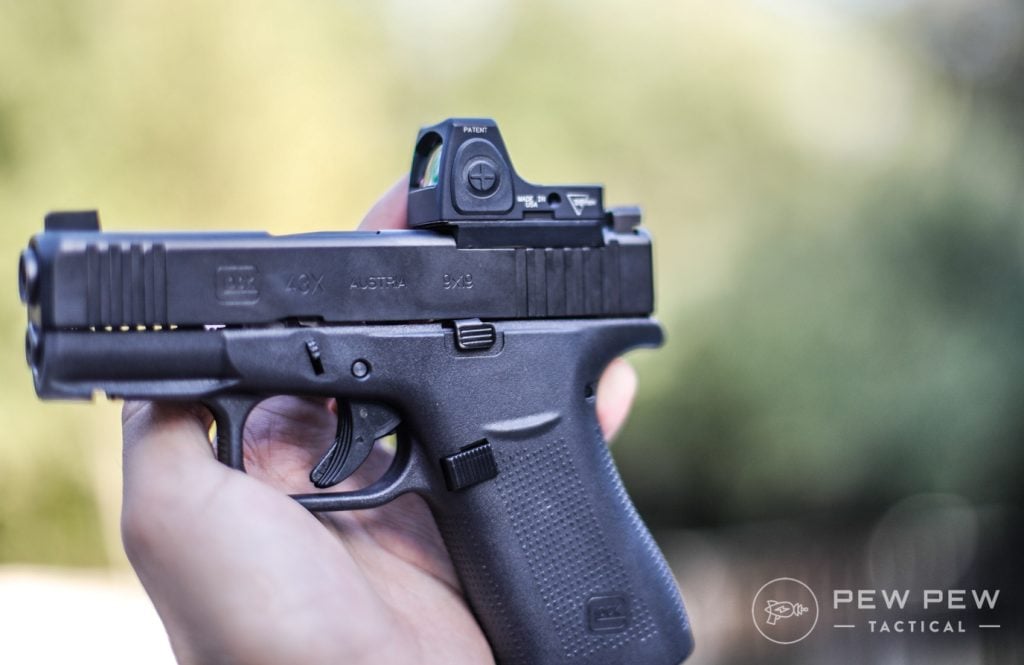 ARs reached that status, and for decades now, you haven't needed a single Armalite or Colt part to build one.
Glock has recently reached those heights with various companies producing guns that are Glocks without Glock parts.
That's where Polymer80 comes in…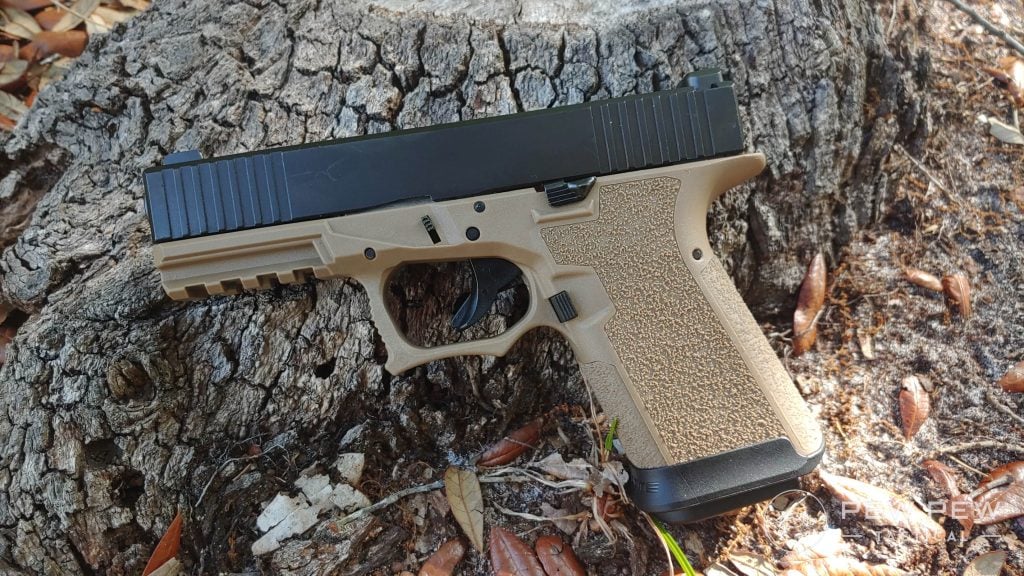 I recently got my hands on the company's PFC9 — a complete 9mm Glock 19-sized-not-a-Glock.
And today, we're taking Polymer80's PFC9 for a spin and seeing how it stacks up against the modern world of Glock pistols. We'll look at specs and features, pros and cons, and even get it out to the range.
So if you've been itching for a Glock clone…keep reading!
Table of Contents
Loading...
Pros & Cons of the PFC9
Pros
Awesome grip ergonomics
Aggressive grip stippling
Fractionally longer grip
Glock like reliability
Cons
Not compatible with all Glock parts and accessories
The Bottom Line
Polymer80's PFC9 offers you a Glock alternative that brings that Glock-like reliability and a large catalog of parts, pieces, and upgrades compatible with the Glock platform.
With that said, it's stuck in the 3rd Gen and won't work with all upgrades. A frame change goes a long way to improving the platform's ergonomics.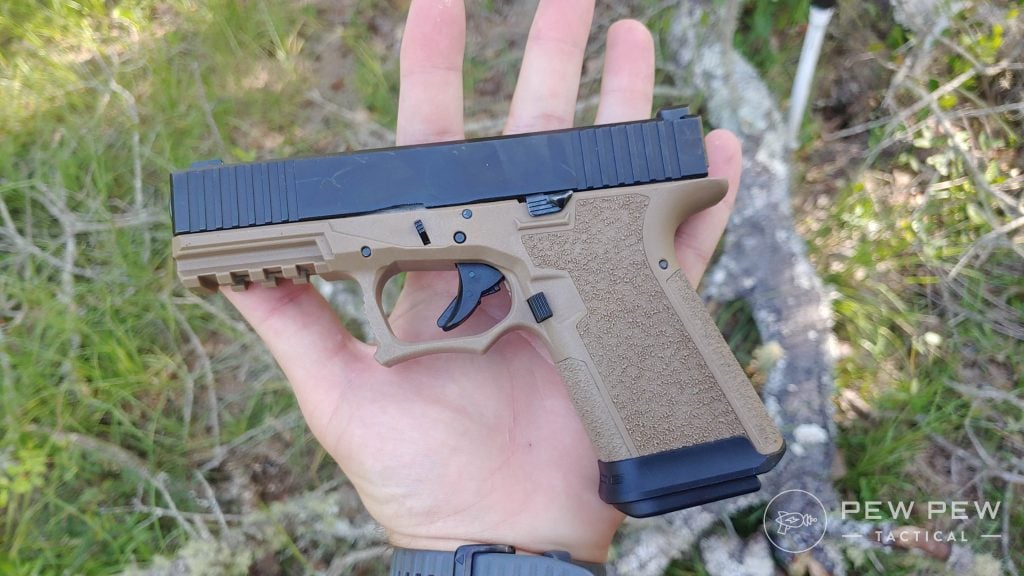 Specs & Features
Specs
Caliber: 9mm
Capacity: 15 to 50
Length: 6.85"
Barrel Length: 4.02"
Weight: 21.16oz
Features
Metal sights
Flat trigger
19-degree grip angle
Standard Picatinny rail
Source: Polymer80
539
at Palmetto State Armory
Prices accurate at time of writing
Prices accurate at time of writing
Background
Adams Arms, Lone Wolf, Zev, and many more have conquered the Glock platform. In fact, Glocks are so popular that they even make 80% frames so you can truly build your own.
And that's where Polymer80 gained its fame…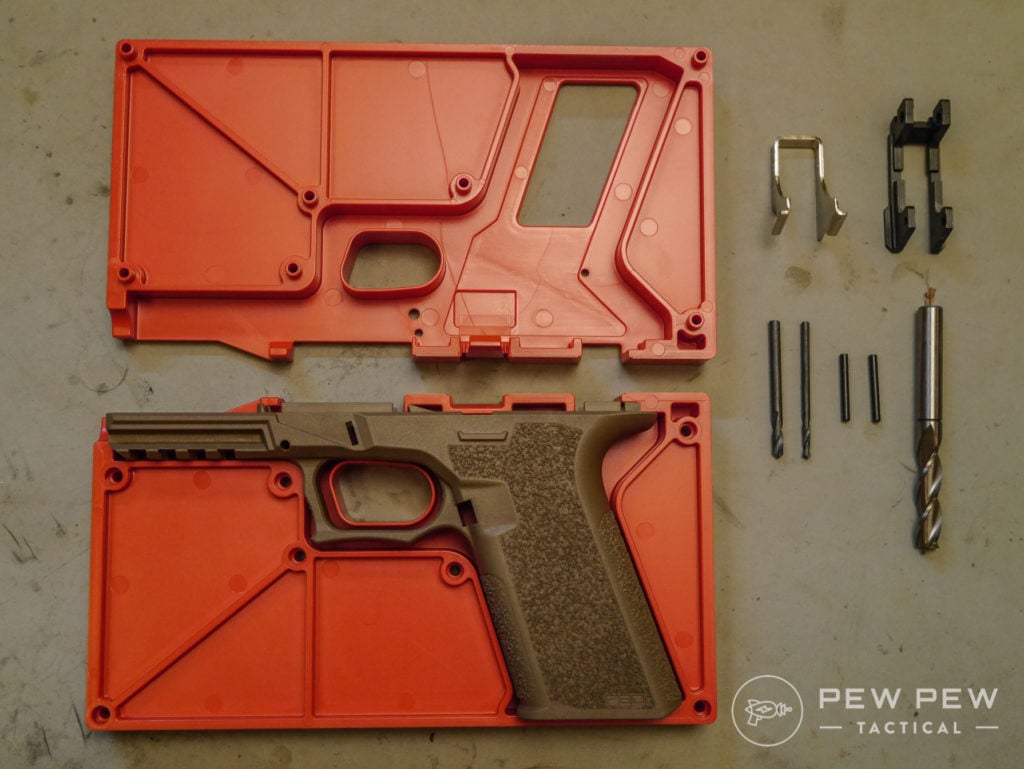 They became known around the gun world for producing 80% Glock frames that allowed you to finish the frame and make your own Glock. I've done two Polymer80 build kits, which are a lot of fun.
Polymer80, and their frames, became popular enough that they expanded into building their line of complete guns.
To be clear, they also produce just complete frames that you can toss in the frame parts kit and slide of choice.
Best 80% Glock Frame
149
at Brownells
Prices accurate at time of writing
Prices accurate at time of writing
Polymer80 likely never thought they'd be making complete guns. They have 80 in the name and have long been in the 80% business. Yet, the insane popularity of their Glock frames certainly created a market for Polymer80 to just make their own guns entirely.
Since then, Polymer80 has made grips for various custom Glock companies, and their frames are often chosen for their enhanced ergonomics.
The market for polymer frame, striker-fired pistols is massive, and it would be silly for a company already producing 80% of a frame not to embrace a successful design.
Who Is It For?
If you like to complain about Glock ergonomics, then the Polymer80 PFC9 is for you.
It doesn't matter if your complaints are valid or just to be contrarian. The Polymer80 has you covered. Its enhanced ergonomics are solid and tough to beat.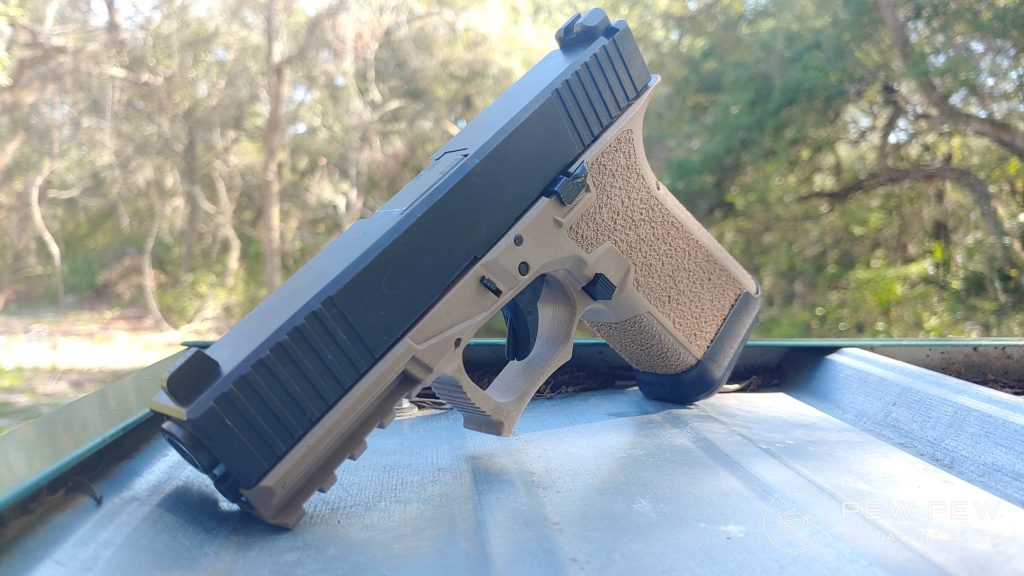 On the flip side, it's also a little cheaper — not quite a budget gun, but a more affordable option that keeps up with the Glock.
Beyond being a better, more ergonomic variant of the Glock, it satisfies all your needs for a compact firearm. It's that do-it-all size that makes compacts so versatile.
Concealing the PFC9 doesn't create much of a challenge, and it's still big enough to easily control. If you need a gun that could be used as a great CCW and home defense gun, you'd be hard-pressed to find a better size.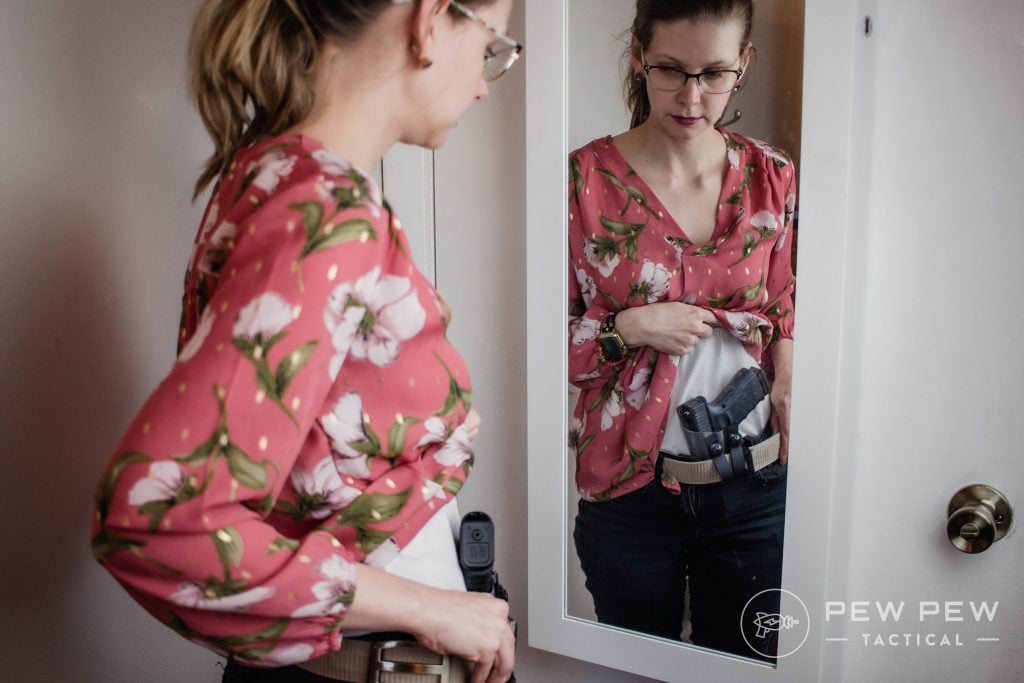 Since the PFC9 takes Glock mags and features a rail, it's easy to add a 33-round magazine and light for home defense and strip it down to a 15-round mag and slick for concealed carry.
Fit & Feel
We've talked about those enhanced ergonomics, but let's dive in deep and explore exactly what that means.
Polymer80 changes up a lot…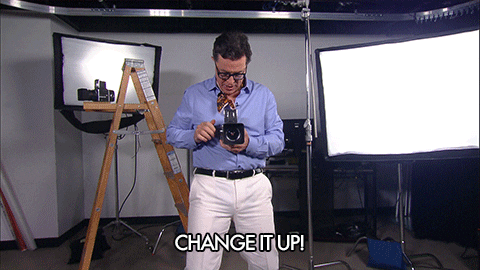 First, the biggest difference is the grip angle. Glock's use a 22-degree grip angle, and Polymer80 mimicked the 1911 with a 19-degree grip angle.
I don't think anything is wrong with the 22-degree grip angle, but if you have preferences, you should have options.
On top of that, the trigger guard has a nice undercut that keeps you from getting Glock knuckle after a long day at the range. That undercut is a double undercut to allow for your support hand to also remain comfy.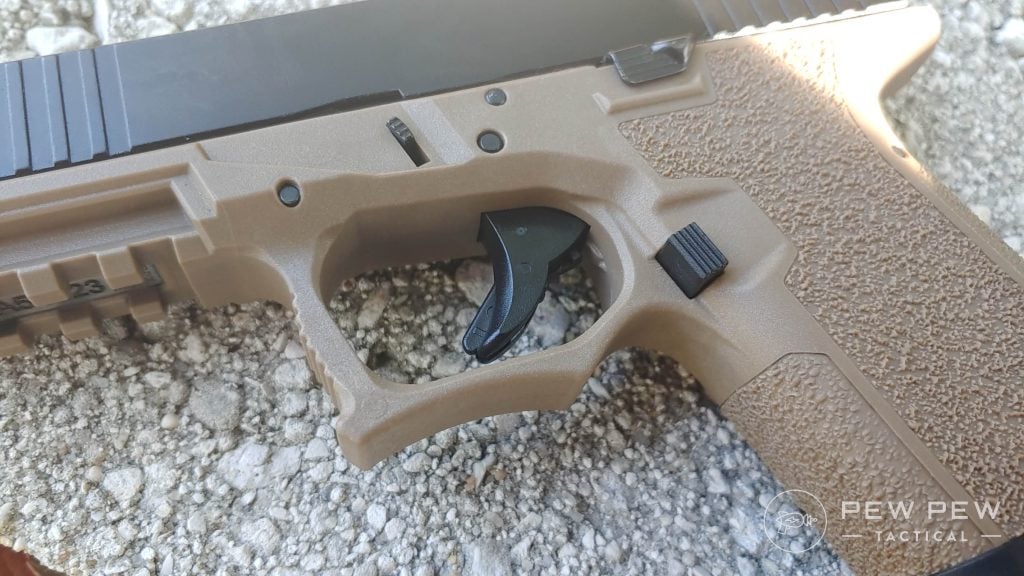 At the rear end, Polymer80 implemented a little beavertail to protect your hand. This became a popular feature that Glock eventually implemented on their Gen 5 pistols.
Polymer80 extended that grip length just enough to make it so my big hands don't sit on the base plate of the magazine and pin it in place when I reload. Comparing this to my stock Glock 19 Gen 3, the PFC9 reloads faster and easier.
With the stock Glock 19, I flare my pinky like I'm dandy drinking tea.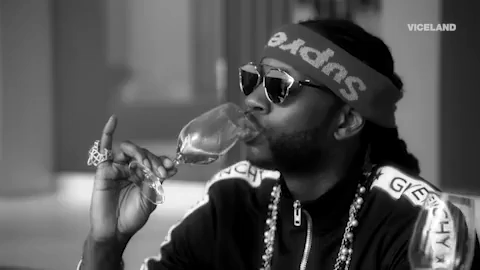 With the PFC9, I never move my firing grip.
I find that the PFC9 outperforms stock Glocks ergonomically but still falls into the same Glock trap regarding thickness. It's still brick-like in your hand and doesn't give you that CZ-svelteness.
The price point puts it pretty even with most Glock-brand Glocks.
Polymer80 also opts for a polymer trigger shoe, but it's a flat trigger, and a flat trigger feels a heckuva lot more comfortable than the stock Glock design. You get two magazines, so you don't lose out there.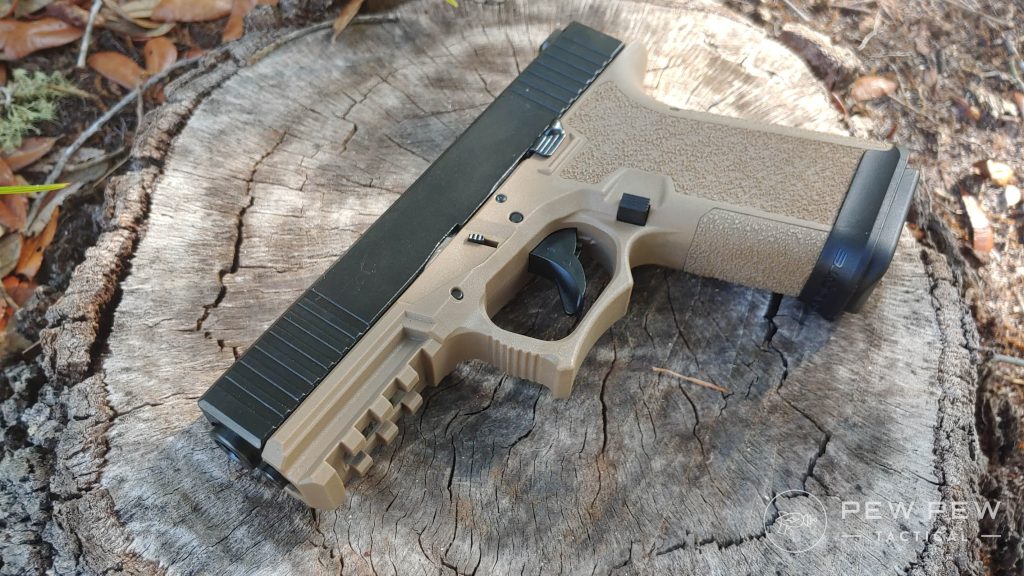 While I have the two-tone FDE and Black slide, that's far from the only color options. Polymer80 makes the frame in various colors, giving users plenty of options.
On top of that, Polymer80 produces other variants of the gun.
This includes optic's ready models with suppressor height sights for shooters who prefer that route. The PFC9 is the compact variant, and they also produce a full-sized PFS9.
How Does It Shoot?
A set of bright sights are easy to see and easy in all lighting conditions is nice to have.
Aligning those three dots and focusing on that front sight is smooth, and I can score accurate shots trigger pull after trigger pull. I started doing some basic 15-yard slow fire to see what kind of groups I could pin down with the PFC9.
At 15 yards, I got 2.25-inch groups in the standing position, firing as faster as I could adequately recover. If I tossed a red dot on it would likely tighten up.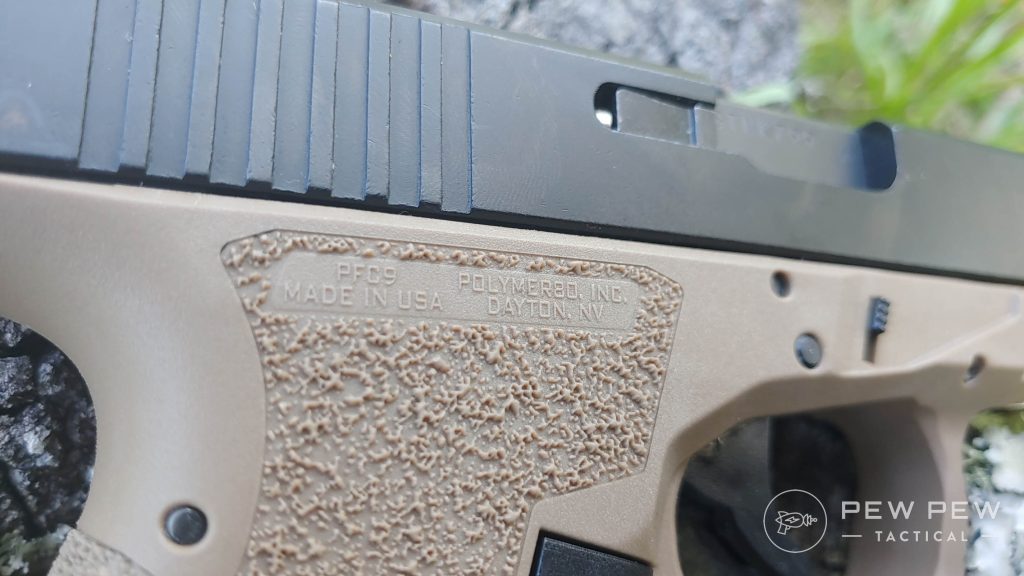 The sights are big, and that makes precise shooting a little harder.
I've been doing the NRA Marksmanship Qualification Program with my son, and bench resting a pistol is part of the first Pro-Marksman Pistol qual, so I tried that at 15 yards.
Groups averaged out to 1.75 inches. That's pretty freaking tight, and the B8 target was shaking in its boots.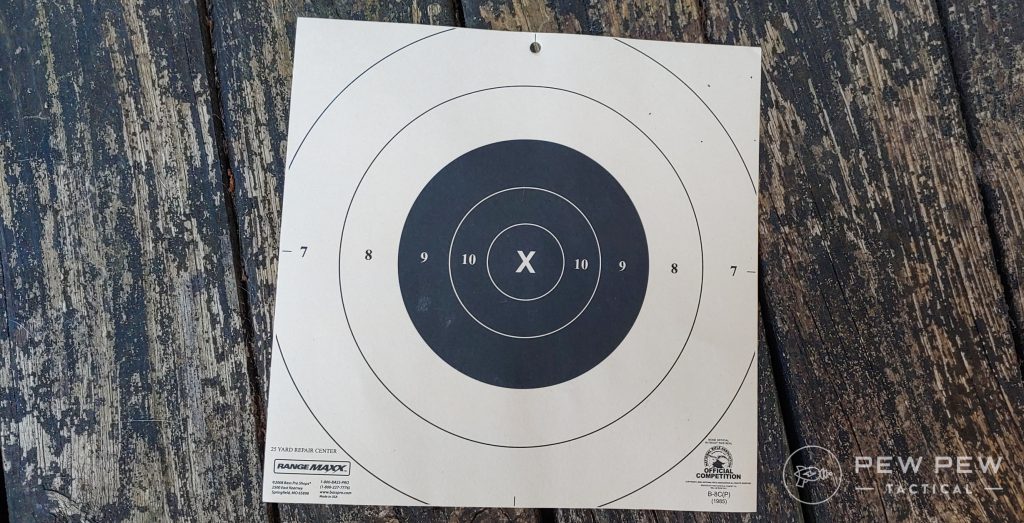 I got bored measuring groups on paper and shooting slowly, so I sped things up with a few failure drills and box drills.
Here is where the big sights shine. Getting the front sight on the target and ready for those first two fast shots to the torso was easy. Slowing down and getting that headshot with proper sight alignment didn't present a challenge.
The classic 10-10-10 drill is my beginner's yardstick for shooting drills, and it's fairly simple. It's 10 rounds fired at 10 yards in 10 seconds at a B8 target. Passing scores vary between philosophies, but I aim to keep them all in the black.
21
at Amazon
Prices accurate at time of writing
Prices accurate at time of writing
From the low ready, I got a perfect all-black 10-10-10 drill the first time. Not all landed in the 10 rings, but it got fairly close. I felt pretty proud, repeated the drill a few more times, and didn't have issues keeping it in the black.
This drill isn't just for accuracy but for speed and control, and the PFC9 provides plenty of that.
I stepped back to 25 yards and switched my target to a 10-inch gong. With slow fire, I hit it every time. If I got a little cocky, I hit it most of the time.
Slap a red dot on, and I bet being cocky wouldn't be a factor.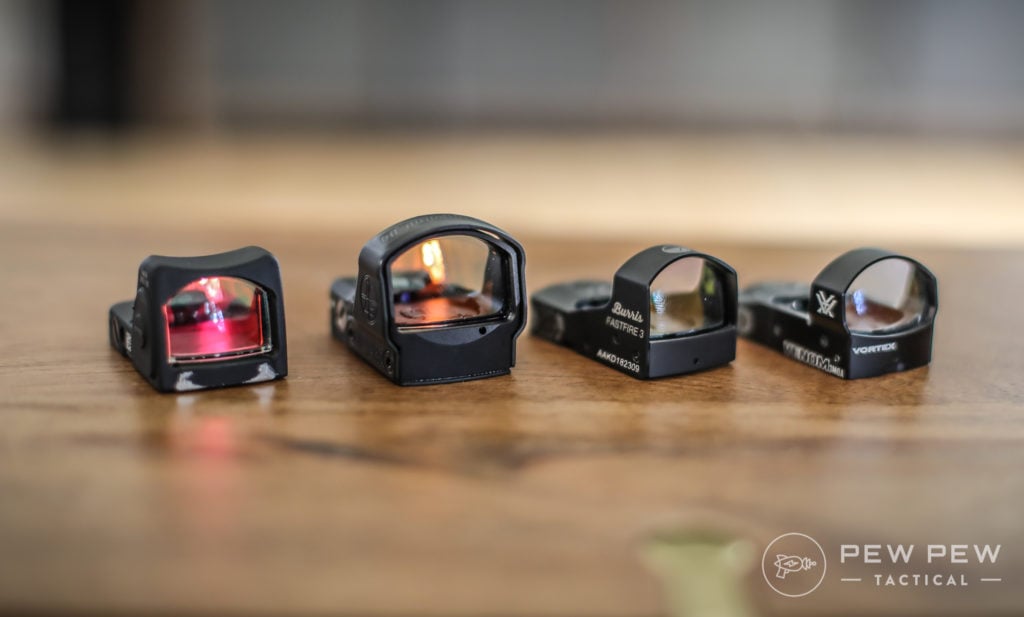 What Sets It Apart?
Tough to say. It's easy to see the comparison with other modern, compact, polymer frame, striker-fired pistols.
What stands out most is the effort and calculation to create a more ergonomic grip.
People often send out their polymer frame pistols to get grip work done, but Polymer80 delivers that work right to your door without the wait and cost associated with custom grip work.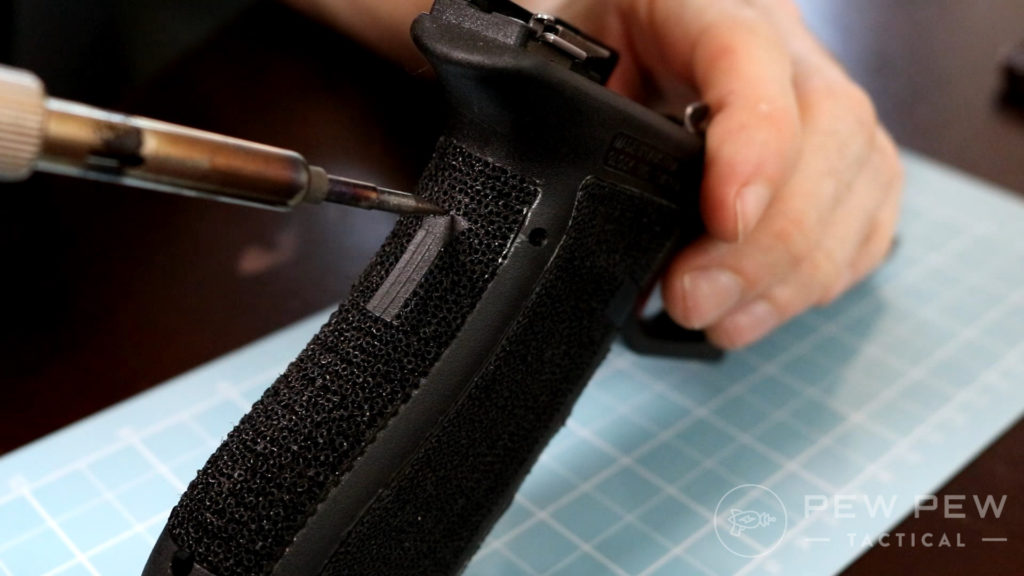 Ultimately there is some reason to fly the bargain flag just in the features that Polymer80 includes. But the main reason someone would choose the PFC9 over the Glock 19 would be the frame. It aims to cure a lot of the complaints shooters have with Glock.
There is nothing problematic about Glock's frames, but they don't appeal to all shooters, and Polymer80 provides another option.
By the Numbers
Ergonomic: 4.5/5
The PFC9 does a ton to make the grip just perfect for shooters with nice trigger guard undercuts, a hand-protecting beavertail, and a slightly longer-than-average grip. Its big downside is the block-like shape of the grip.
Reliability: 5/5
It goes bang with everything from new production Remington JHPs to ammo I left in my trunk for way too long. It's not picky, and it keeps that Glock-like reliability.
Looks: 3/5
Sure, it lacks imagination, but it looks better than most polymer frame striker-fired guns.
Customization: 4/5
You can upgrade this thing with all manner of new internals from the Glock Gen 3 series, but externals and holsters might be limited due to the different grip shape.
Value: 4.5/5
It's not a budget-grade gun, but it packs several features that make it affordable while high quality. It might not be budget grade, but it's a bargain.
Overall: 4.5/5
539
at Palmetto State Armory
Prices accurate at time of writing
Prices accurate at time of writing
Upgrading the PF9
TLR-1 HL Weapon Light
The TLR 1 is Streamlight's flagship WML and is perfect for the standard Pic rail on the PFC9. It's well suited for home defense and super bright. It's backed by ambidextrous paddles and is fairly affordable for such an awesome light.
164
at OpticsPlanet
Prices accurate at time of writing
Prices accurate at time of writing
PHLster Floodlight
If you want to carry the P80-made PFC9 and can't find holsters, then PHLster has you covered with the Floodlight. You'll need that TLR 1 (or Surefirex300U or modlite PL350) because the holster indexes on the light. The Floodlight is a godsend for concealed carry with odd firearms.
119
at Brownells
Prices accurate at time of writing
Prices accurate at time of writing
Final Verdict
Polymer80 made a dang fine Glock competitor with the PFC9. It's just as compact but with better ergonomics, features, and a slightly lower price tag.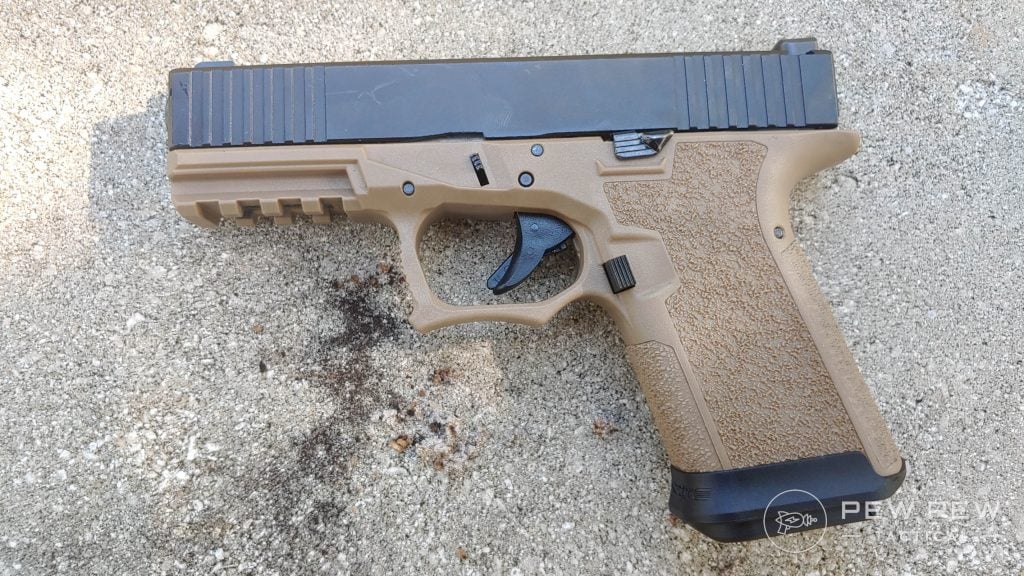 Plus, if you're a contrarian who can't stand Glock but still kinda wants to experience what all the hype is about, here is a great leaping-off point.
What do you think of the PFC9? Let us know in the comments below. For other Glock clones, check out our guide!