Full-Sized and All Steel!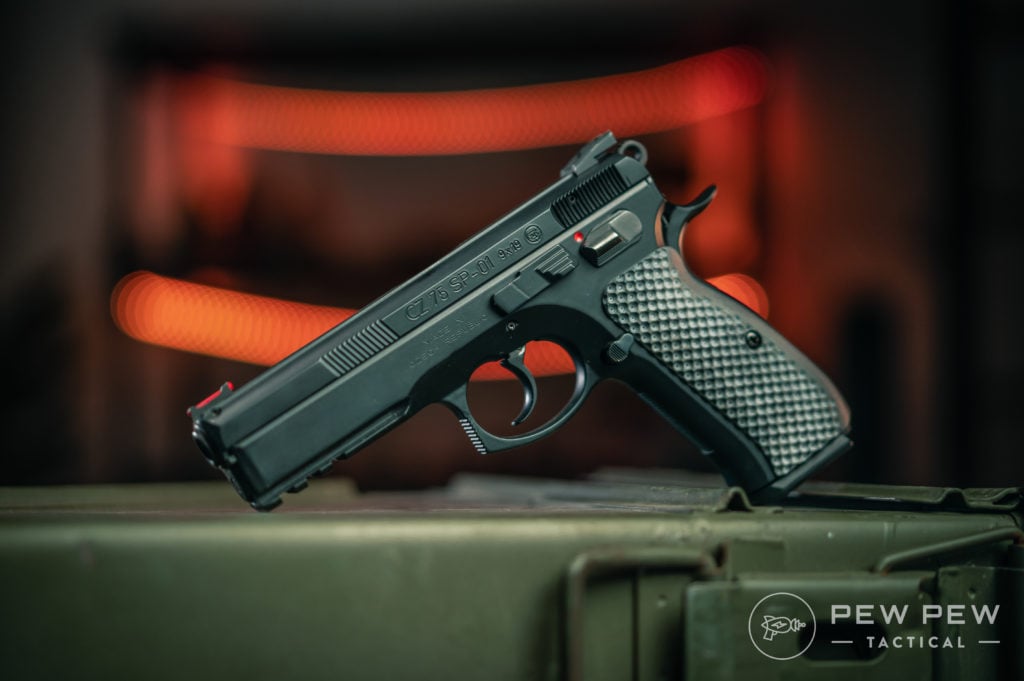 That's right I'm talking about the 9mm CZ 75 SP-01. This has been my go-to production pistol since day 1. Here is why:
There are a LOT of handguns out there if you're looking for your first gun or even your 10th gun – it can be a madhouse. The CZ 75 SP-01 might be the pot of gold you've been seeking, be it competition or duty carry, USPSA match or home defense, the CZ is a contender in every respect.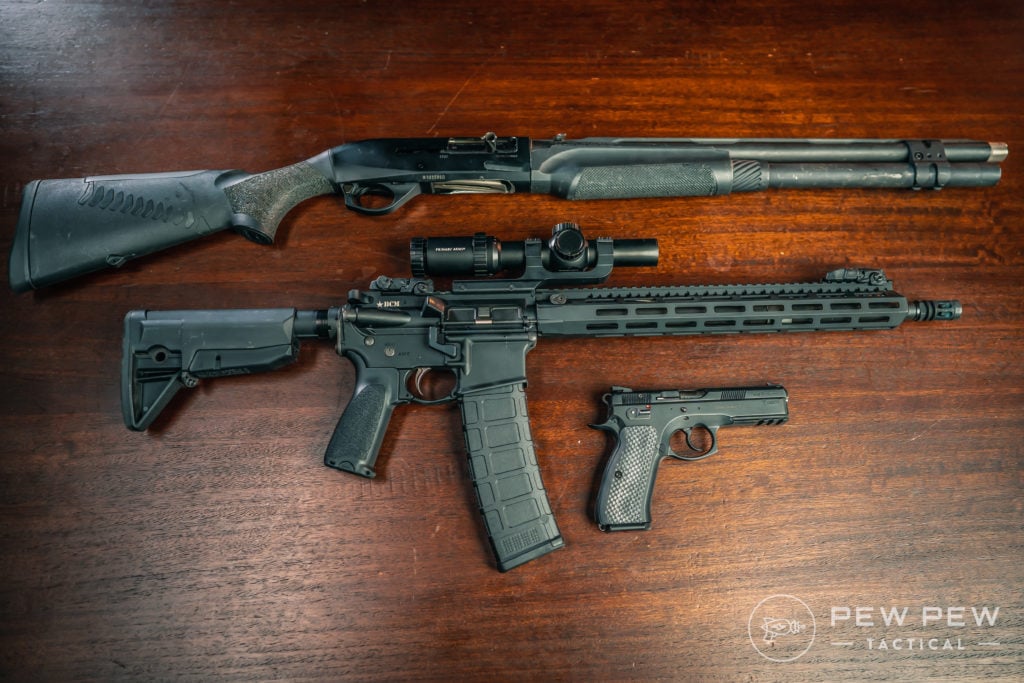 My perspective is from a competitive shooters point of view and will provide you with an overview of my experience and opinion on the CZ in that environment. But make no mistake the CZ 75 SP-01 is still worthy of defensive shooting!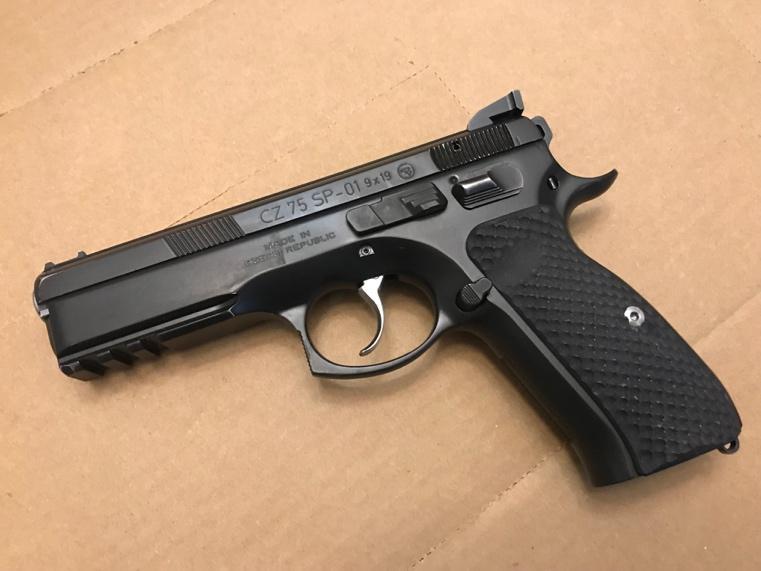 Oh yea…and our editor Eric loves his SP-01 too…here he is shooting one in the desert:
Now let's get on with this review!
Table of Contents
Loading...
Why Me?
Allow me to introduce myself:
I have been shooting competitively for about 9 years now and for the past 6 years, I've been teaching competitive shooting. Know the saying "practice makes perfect"? Well, I practice. A lot. At least 3,000 to 5,000 rounds a month split between training, shooting local matches and just function firing all types of firearms.
There are some great production guns out there, the ones I test drove were:
Further research is important (and lots of fun) and after shooting all 4 of them it was clear to me that I wanted a full-sized, all steel gun and went with the CZ. From balance to ergonomics, it was perfect. There is nothing wrong with the other guns I tested, but the CZ just fit me like a glove.
Best for Production Competition
786
at Kygunco
Prices accurate at time of writing
Prices accurate at time of writing
Upgrades…Lots of upgrades!
Since my goal was shooting in competitions, I knew upgrades were required to give me an edge, but there are limitations set by USPSA rules. More research was needed to find what exactly was allowed in my new CZ.
There are 2 major vendors that cater to the CZ pistols: Cajun Gunworks in West Monroe, LA. and CZ Customs in Mesa, AZ.
The Cajun Gunworks Production Legal kit was the first step on my list. This set basically includes everything you need and can upgrade in the production division. Trigger, recoil spring, competition hammer, mainspring, firing pin and more! Man, thinking about this all over again is making me giggle like a little kid.
Installing upgrades is almost as much fun as shooting, and it turns your gun into a personal prized possession. After installing the kit from Cajun Gunworks, the Double Action pull (also known as DA) dropped from about 8 lbs. down to around 4.5 lbs. with the single action pull going from approximately 5 lbs. down to 2.5 lbs.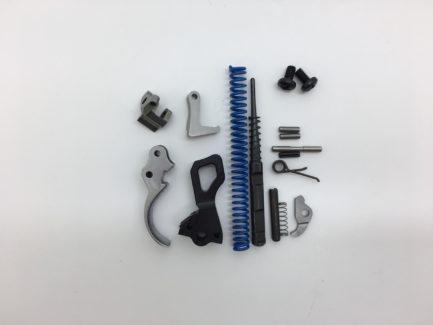 The front and rear sights I ordered from CZ Customs out in Arizona. I chose the All Black Serrated Competition rear sight and for the front sight, I went with the Fiber Optic version because it was easier on my eyes and much faster to pick up a sight picture.
Options for grips are endless and will depend on the shooter's hands, I decided to go with the LOK CZ 75 Palm Swell G10 Bogie grips. My gorilla sized hands need a grip that would fill the palms of my hands – the LOK G10 Bogie grips did the trick!
The palm swell design does exactly what it is designed to do – fit the curvature of your hands and fill every nook and cranny possible. And the best part is that the grips come stippled, not so aggressively as to be uncomfortable, but rather perfectly to deliver remarkable grip.
Feed the Beast
For a competition, I load my own 9mm ammo.
Why?
Well, the short story to this is that you can cater your ammunition to the correct amount of softness (since you're generally not worried about things like penetration or tissue damage with competition ammo) giving you the perfect amount of recoil control. Ammo choice and reloading is a huge topic, we cover the basics in our Ammo and Reloading Guide.
These are the components that I use:
Variety of "once fired" brass.
There are many, many, MANY different formulas for reloading and if you reload, you'll want to choose the right one for you. Start off with a known, safe formula from a reputable reloading handbook, such as the Lyman Reloading Manual.
Or if you're just starting out and not ready to reload…check our Best 9mm Ammo Guide.
The Whole Enchilada
The final product with all the bells and whistles! The pictures you're about to see show a well-loved and broken in CZ. Approximately 50,000 rounds have been put through this pistol and it runs like a well-oiled machine!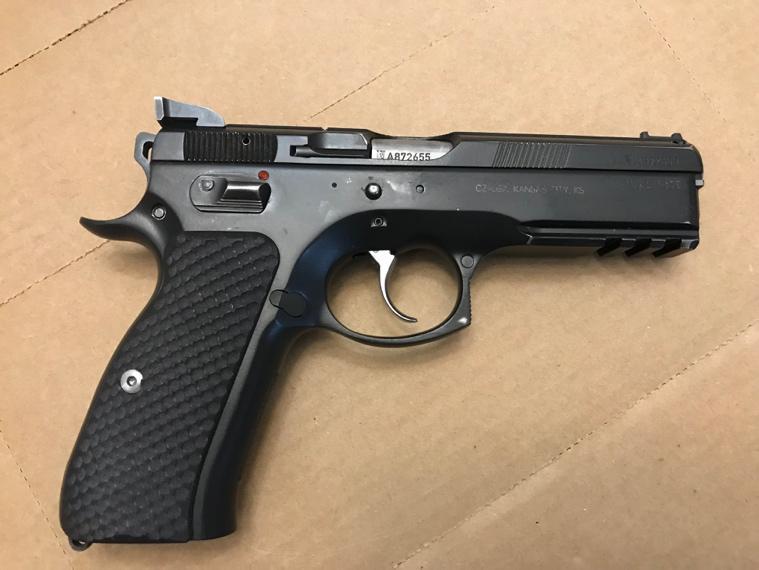 Note the extended mag release protrudes very nicely, with the original mag release I used to have to flip the gun in my hand just to be able to hit the button to eject the magazine but that issue is solved with this beauty.
Set Your Sights on Target
The All black serrated rear sight along with the fiber optic front sight.
My reasoning for the all black rear sight is so that when acquiring a sight picture the all black rear sight allows for you to pick it up quicker sight picture and contrasts with the fiber optic front sight making it really pop out at you, perfect for improving speed and accuracy in a match. I also chose a thin front sight because I wanted to be able to have what I call air around my front sight.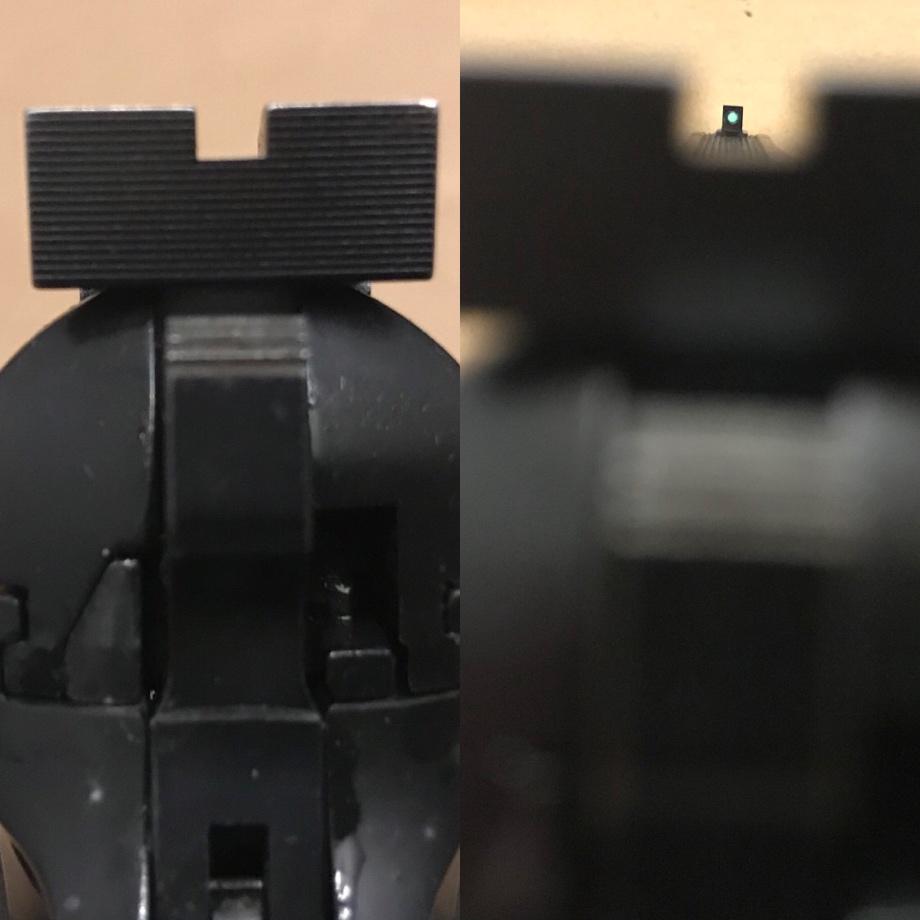 Air around the front sight? What is that, you ask.
Well, when your front sight is too wide this causes you to have a hard time seeing smaller targets or targets at a distance. This happens because the front pretty much takes up most of your target down range and what ends up happening is that you're stuck hoping and praying that when you squeeze off a round it ends up hitting what you thought you were aiming at.
By the way, I did not have to make any shot alignment adjustments when I installed the sights. Right out of the box what I aimed at, I hit.
Hammer Time
The biggest difference between this hammer and the stock hammer (other than looks) is the competition hammer has a shorter throw and improves the DA pull as the hammer does not have to come as far back before it makes its journey forward to light off a round. This will result in quicker splits in between shots.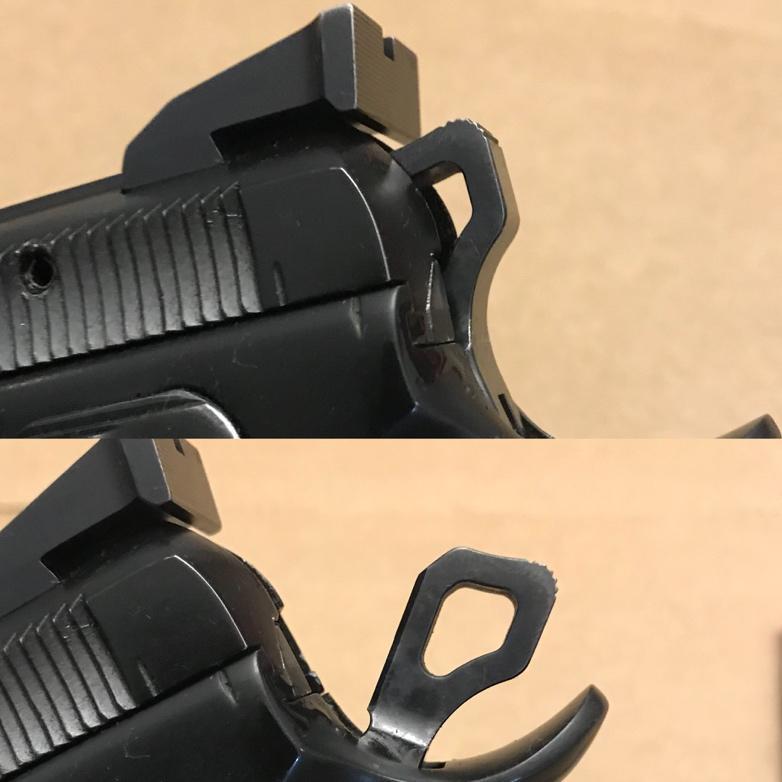 Hold on Tight
Next up with have the LOK G10 Bogie grips.
In the picture below, you can see the palm swell. This again is perfect when it comes to people who have large hands and want to get a good grip on this pistol for recoil control.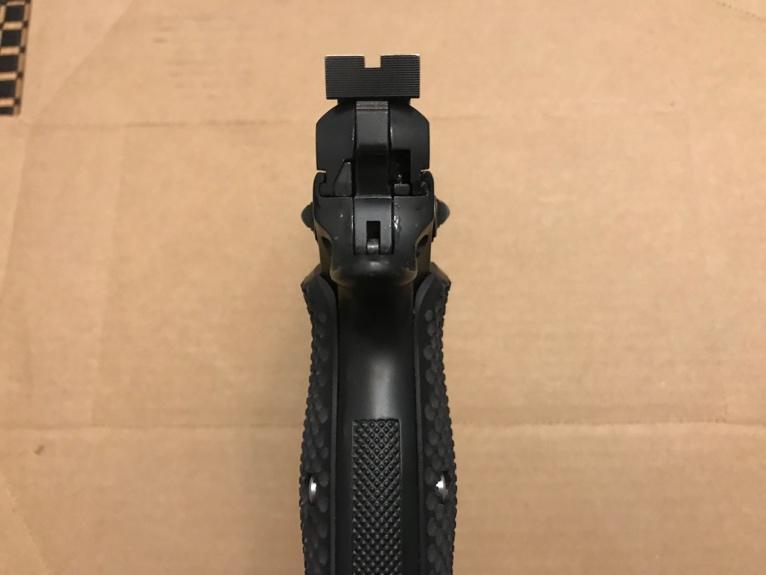 Reliability is Key
50,000 rounds through a pistol is a lot, so I think I can speak to its reliability. It is generally known that the slide stop on this model is known to crack at around 50k+ rounds, and that was the first to go for me as well. Shortly after that, I had to replace the firing pin retaining pin.
42
at GunMag Warehouse
Prices accurate at time of writing
Prices accurate at time of writing
But everything else has held up, and the CZ has never really given me any major issues.
Bottom Line
When I first purchased my CZ years back, I was able to get it for $425 out the door. Since then its been such a hot item the CZ 75 SP-01 is now going for anywhere between $675 to upwards of $800. I've seen plenty gun stores order the CZ and even before they can put them on the shelves have sold out of them.
Here's a video of me in action with the CZ at a local match. Great gun, great match!
Reliability 5/5
After 50k plus rounds, I've only had to replace my slide stop and firing pin retaining pin. That is in a word: amazing.
Accuracy 5/5
9 out of 10 times when loading my ammunition, the CZ hit what I was aiming at. The obvious situation is that whenever you use different ammo, you should always sight in first to ensure your sights match up with the new ammo. I've honestly only had one slight alignment adjustment where I had to aim at the 6 o'clock because I was hitting high.
Ergonomics 5/5
Even though the original rubber grips only come with a bit of a palm swell, they were still good to go. I just like that I can get grips that fill up my palms even more. The balance is great for a pistol right out of the box.
Looks 5/5
It's a sexy looking gun right out of the box. With the all the upgrades it just gets even sexier!
Bang for the Buck 4/5
Seeing how the CZ is such a hot item right now, some retailers are taking advantage of that. If you can find it at $650 or cheaper go for it! You will not regret it…. I repeat… YOU WILL NOT REGRET IT!
Overall Rating 5/5
Field-stripping is also easy…although a full breakdown is not for the faint of heart.
Extras
Maybe this won't be a competition gun for you, while it is amazing for the competition world – it's still a great plinker, defense gun, and trainer.
If you want to use it for an HD weapon, you'll NEED a weapon-mounted light. You can't shoot what you can't hit and when something goes bump in the night, you'll need a light!
120
at Amazon
Prices accurate at time of writing
Prices accurate at time of writing
Likewise, if you plan on carrying the SP-01, you might want a holster!
89
at Amazon
Prices accurate at time of writing
Prices accurate at time of writing
No matter what you want to do with your new gun, you'll need ammo. While competition normally uses handloads, there is nothing wrong with using mass-production factory ammo for plinking and training.
Best 9mm Range Ammo
20
at Palmetto State Armory
Prices accurate at time of writing
Prices accurate at time of writing
Field Strip & Reassembly
Not so fun to fully disassemble…but for regular cleaning and maintenance it's pretty easy.
Conclusion
The CZ 75 SP-01 is great for self-defense, duty carry, or competition shooting. It's all-steel construction weighs it down but soaks up recoil and keeps your sights on target. It's also utterly reliable, with ours running past 50,000 rounds with only a broken retaining pin. Plus there's tons of upgrades to make it your own.
Hopefully, I've given you enough knowledge and insight on the CZ 75 SP-01 for you to make a great choice in going with it. If you're looking for upgrades, I strongly recommend Cajun Gunworks and CZ Customs. You can even send them your pistols, so they can install your upgrades and even tune your pistol when needed.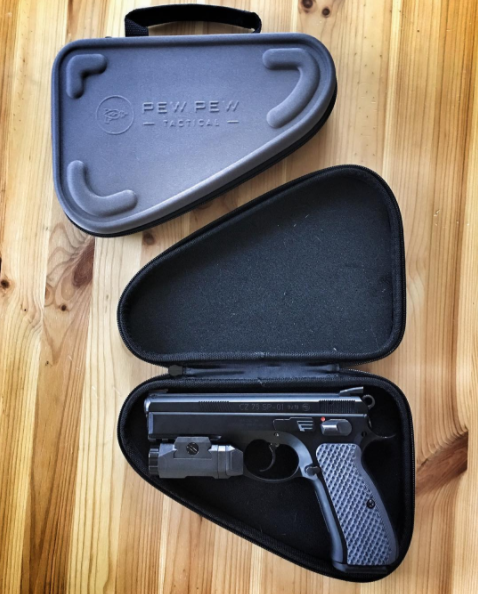 If you're looking for a great place to shoot or training events to attend, stop by our Guns and Gear Review!
The CZ 75 SP-01: YOU WON'T REGRET IT.