Has there ever been a better time to shop for a handgun?
I mean, sure, we could dip back in time to purchase Singer 1911s, but what I mean is, has there ever been such a varied selection of handguns for sale?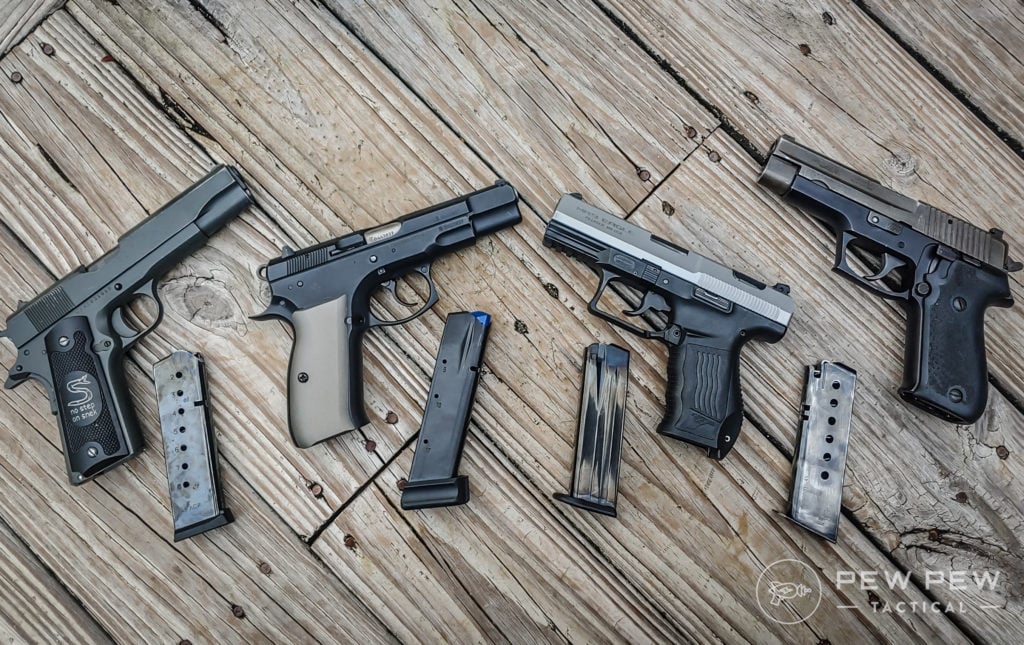 Our selection of handguns is absolutely massive these days, with options for anything you could ever want — various configurations, calibers, and of course, sizes.
As such, it can be tough to take in.
Today, we plan to lend you a guiding hand in navigating the various handguns on the market.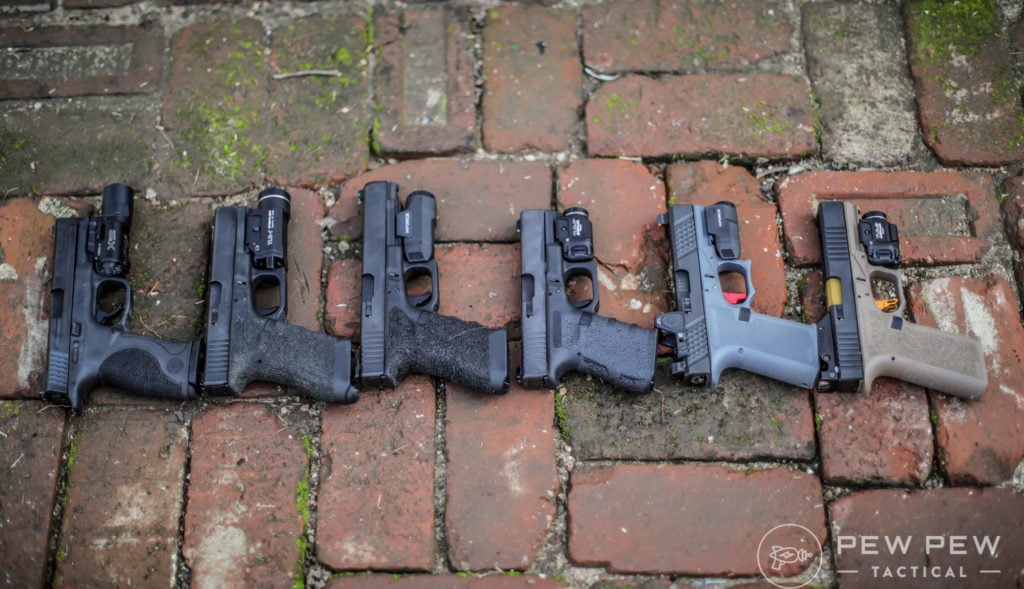 Specifically, we are going to talk about handgun size and which one works for what function.
We will break down full-sized, mid-sized, and compact handguns and go over the ole pros and cons list.
If you've ever wanted to know what sets a full-sized apart from a mid…now's the time to learn!
Table of Contents
Loading...
Full-Sized Handguns: The Big Bois
Say hello to the big boys of our group.
Companies design full-sized guns mostly for the duty market, which consists of the police and military forces.
But full-sized guns occupy the world of competition and home defense as well.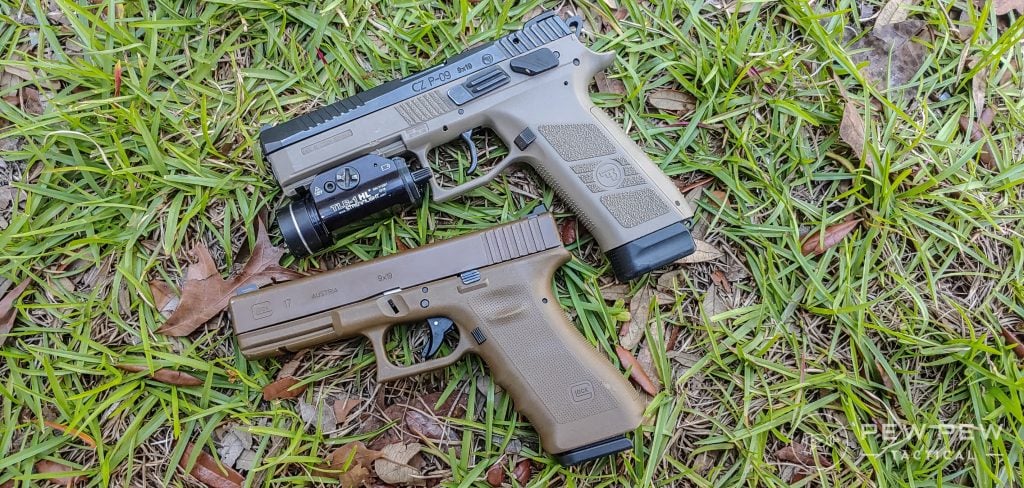 Only the hardcore concealed carrier packs a full-sized pistol.
Carrying a full-sized gun in a concealed manner is not easy. I'm a big guy, and I even have a hard time effectively carrying a full-sized firearm.
Believe me, I've tried with my CZ P-09, and while it's possible, it's rarely fun.
A lot of times, it requires some form of large coat or overshirt to provide proper concealment unless you appendix carry.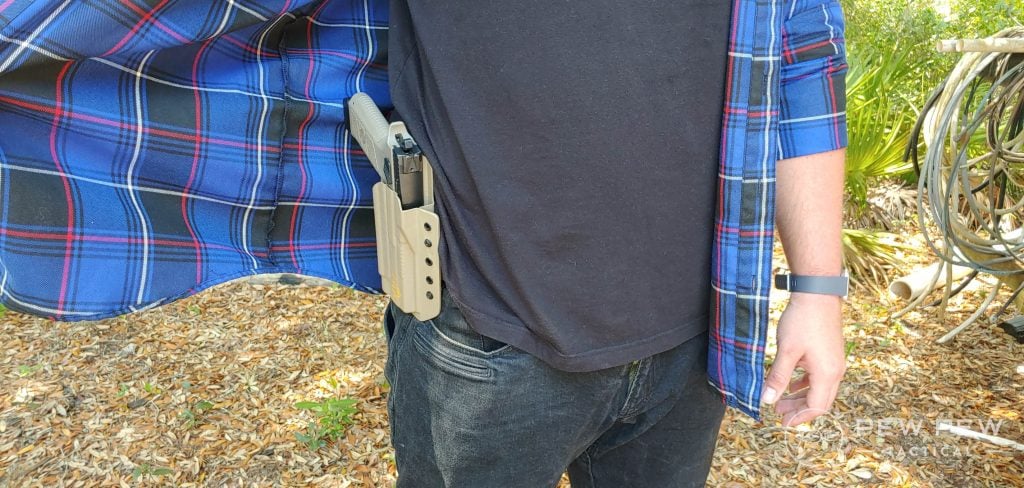 This style of carry allows you to pack a full-sized firearm a good bit easier.
Modern polymer frame full-sized handguns often weigh over 2-pounds fully loaded.
Lengthwise they force concealed carriers to try and hide anywhere from 8- to 9-inches of firearm.
I wouldn't suggest a full-sized firearm for concealed carry for most people. But for those willing to invest in a high-quality holster and belt combination, it's an accomplishable feat.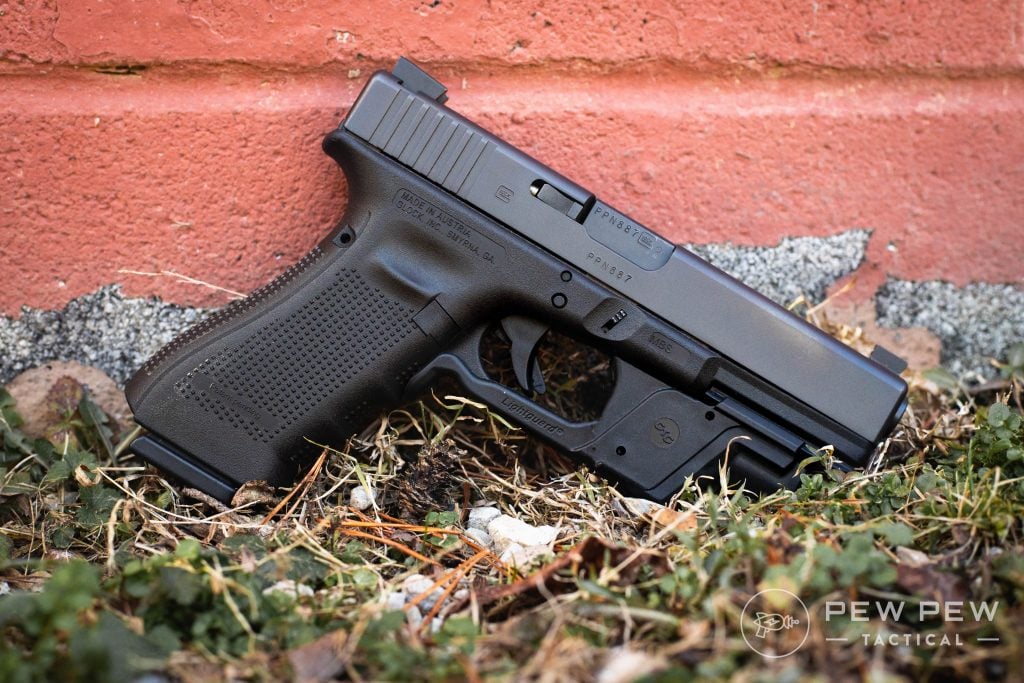 While full-sized handguns suck for concealed carry, they are often the easiest guns to shoot.
That full-sized grips make it easy to handle, and the higher weight gives the gun some built-in recoil resistance.
Part of that weight is the 17 to 20 rounds of ammunition a modern firearm packs, and that kind of capacity is an advantage all on its own.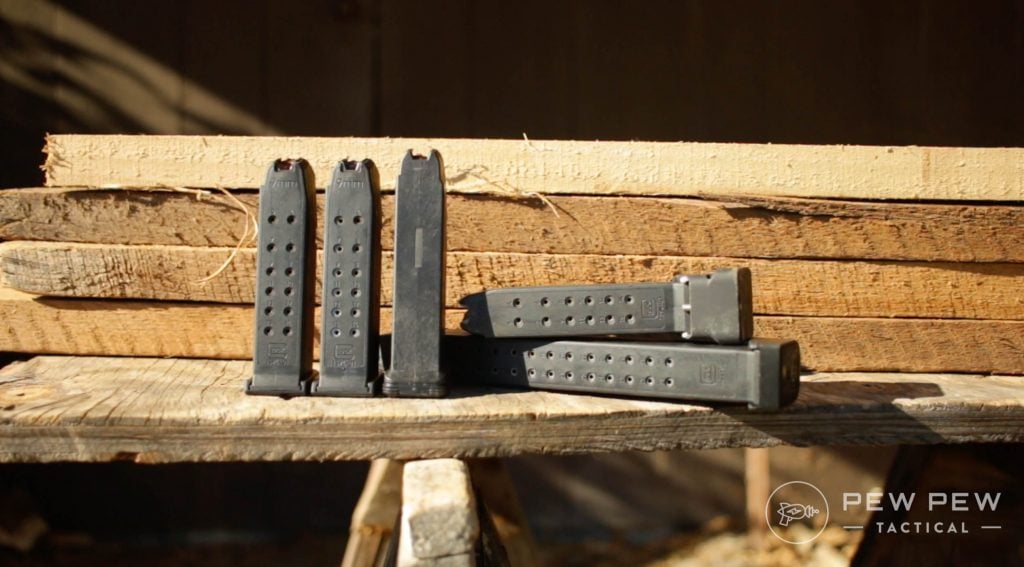 Plus, the full-sized slide provides you with a nice sight radius, making it easier to shoot accurately over various ranges.
They're almost always faster to shoot and more accurate. So they're a solid fighting handgun option.
Throw a weapon light on it and call it a home defense gun because full-size is perfect for the nightstand.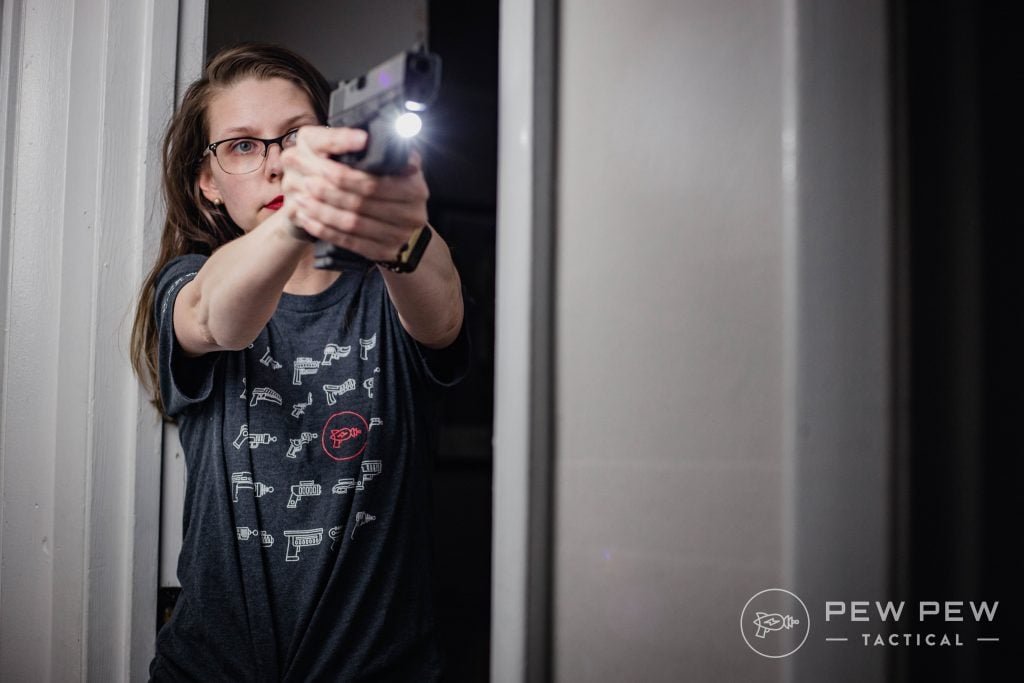 If you want a caliber more powerful than 9mm, the full-sized gun easily handles 10mm, .357 Sig, and .40 S&W, way easier than its smaller counterparts.
Notable examples include the 1911 Government, CZ 75B, Glock G17, and the Sig Sauer P320.
Pros
Easy to shoot fast and accurately
High Capacity
Can accommodate full-sized weapon light
Cons
Mid-Sized Handguns: Meet Me in the Middle
The industry often uses the term compact to describe mid-size firearms.
Don't ask me why anyone thinks a P229 is compact, but nevertheless, these handguns are noticeably more trim than full-sized handguns.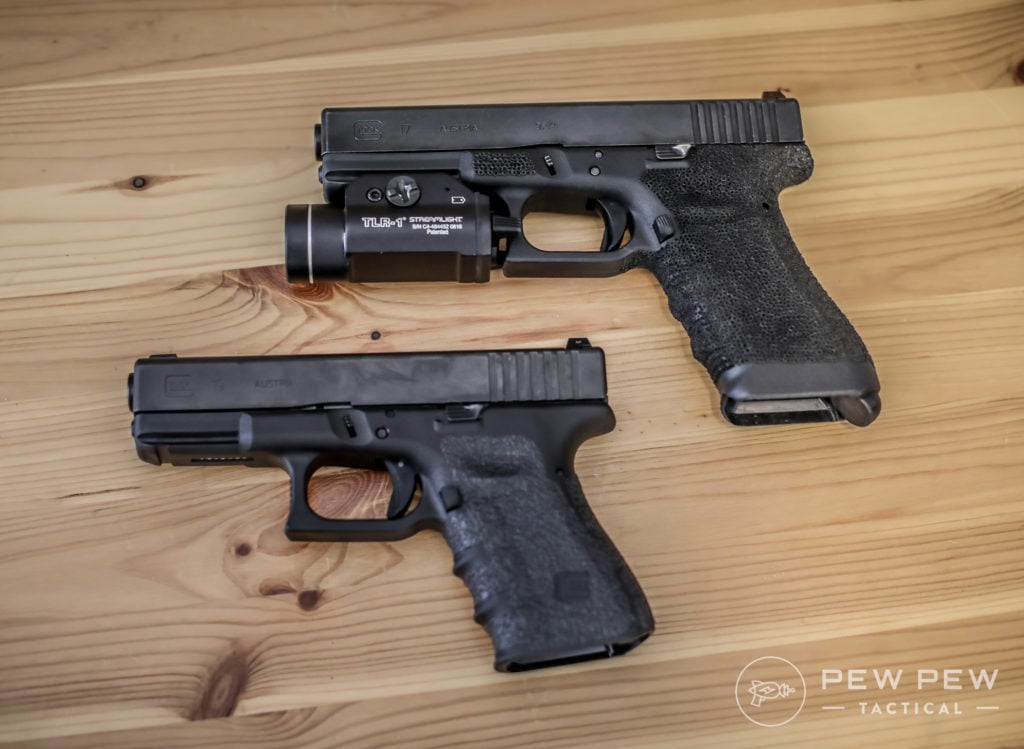 Used for police and military use as well as home defense, these can even accommodate a concealed carry setup.
In fact, this is where your traditional concealed carry pistol starts size-wise.
Mid-size pistols trim about an inch of the overall length and about a quarter pound from a full-sized pistol.
When paired with a good holster and belt, concealed carrying a mid-sized handgun in street clothes isn't too hard to do.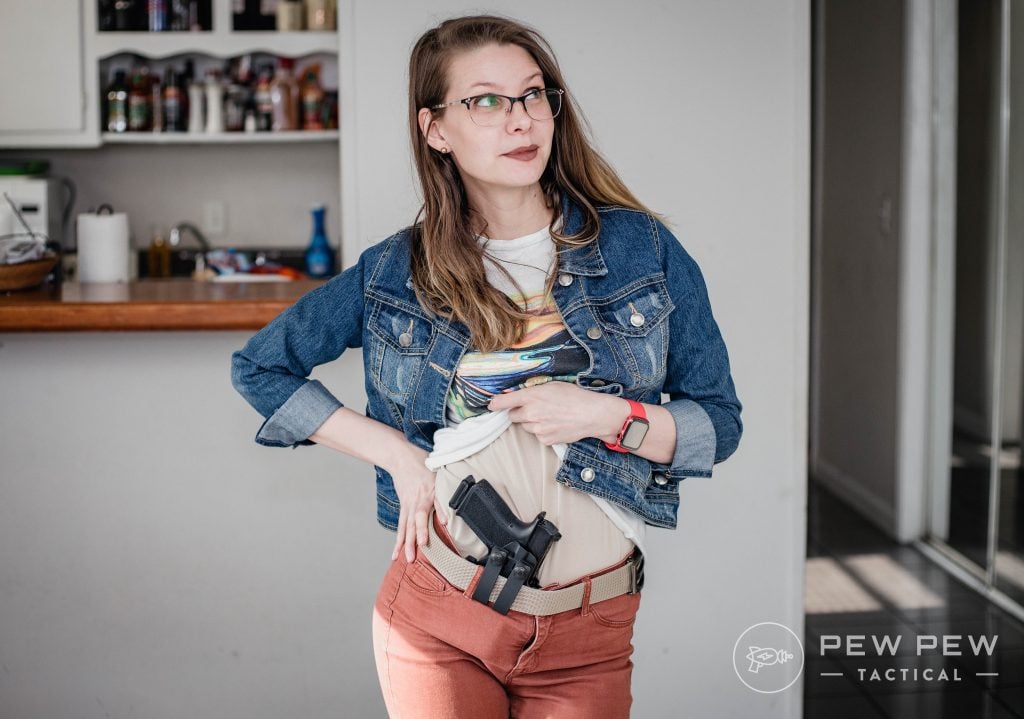 These guns usually feel pretty comfortable to conceal with half-decent holsters and a t-shirt.
Let's be real; the difference between full-sized handguns and mid-sized guns doesn't seem like much until you strap it on your waist.
Then the difference seems considerable.
Carrying a mid-size pistol in formal clothes, dresses, and athletic wear is often not feasible.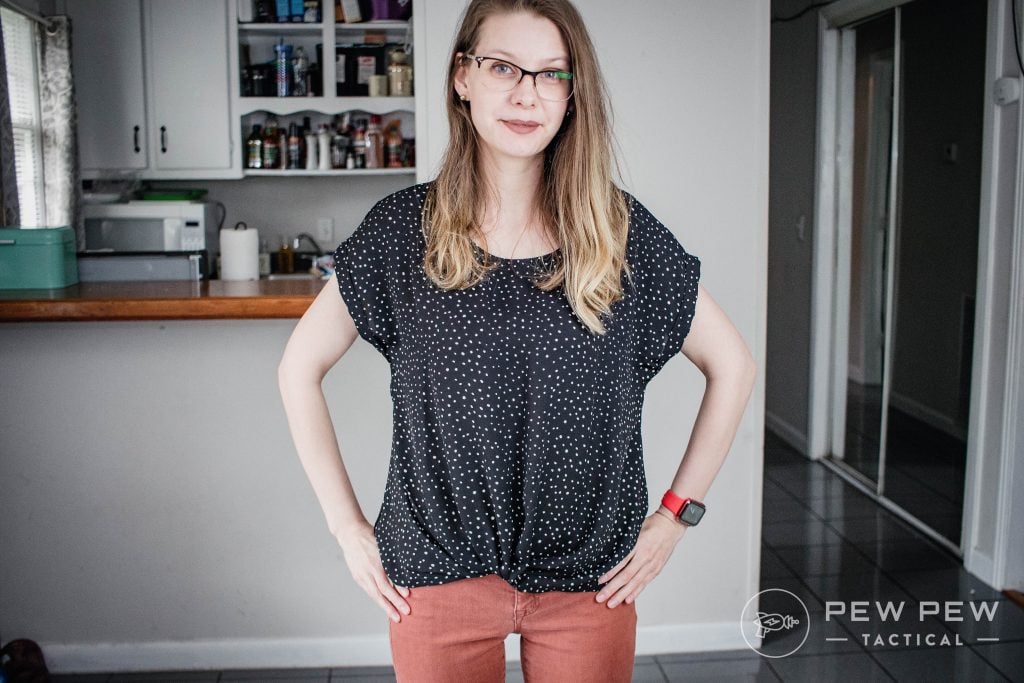 Carrying a mid-size pistol in these configurations requires something like the new PHLster Enigma. But, even then, some clothing makes it challenging.
What it lacks in some concealability, the mid-size handgun makes up for in shooting. In addition, it mitigates recoil pretty well.
Grip length allows it to fill the hand. And a full grip lends excellent control to a firearm.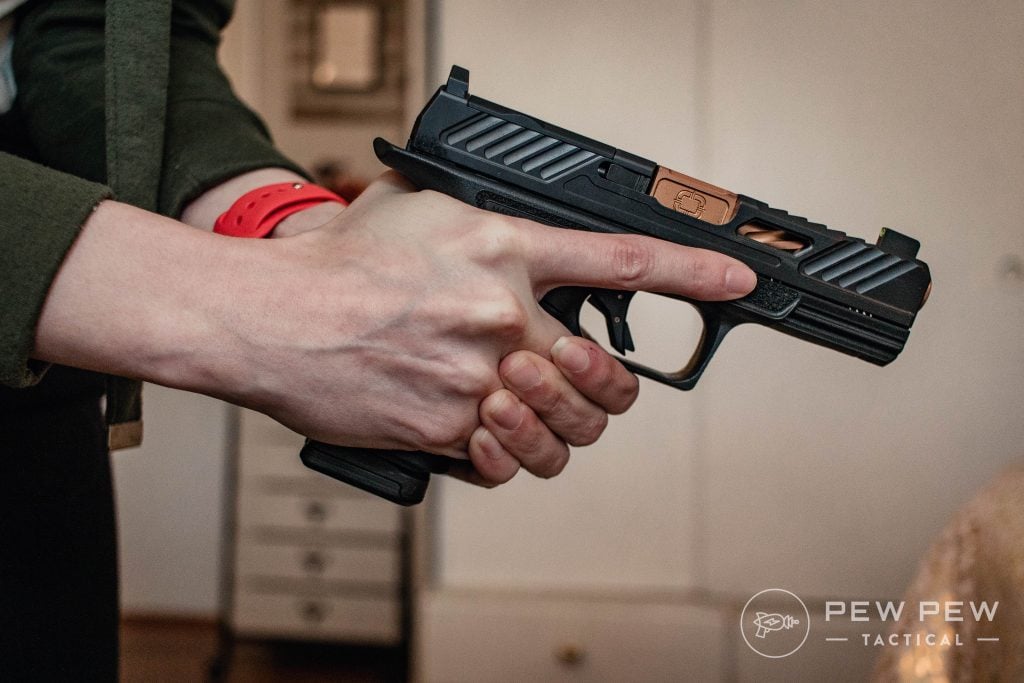 A slightly shorter sight radius and barrel cut some of the ability to shoot fast and straight, but again it's a minimal difference.
Ultimately, these handguns do an excellent job of mixing shootability with concealability – the just-right porridge of the handgun world.
They often wear a rail so a light can be added. And, to address that capacity issue, they often work with magazines from larger handguns to increase capacity in a home defense role.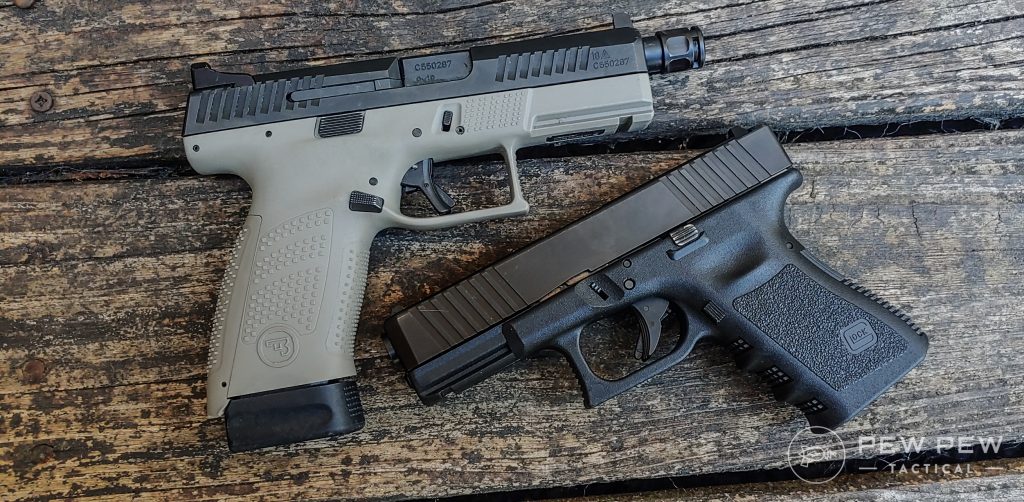 Firing powerful calibers through these guns can be a challenge, though.
Mid-size .357 Sig chambered pistols are somewhat popular but still require a lot of practice to effectively control.
Notable examples of mid-sized handguns include the Glock G19, the CZ P-10C, and Sig Sauer P229.
Pros
Excellent compromise between concealment and shootability
Well suited for CCW and home defense
Decent capacity
Cons
Excels at no particular role
Compact Handguns: The Teeny-Tiny Crew
Truly compact, or subcompact, pistols are the little fellas — ranging from true double stacks to micro 9mms.
Larger than pocket pistols and mouse guns, these guys measure much smaller than compact and full-sized options.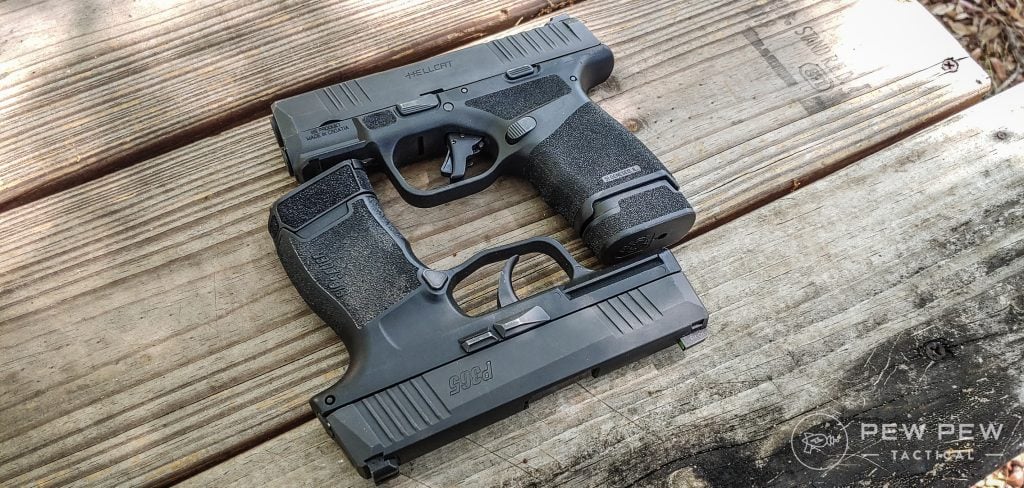 These guns are primarily designed as back-ups and concealed carry firearms.
Seriously, these things tuck away under a shirt, in formal wear, in a dress or skirt with absolute ease.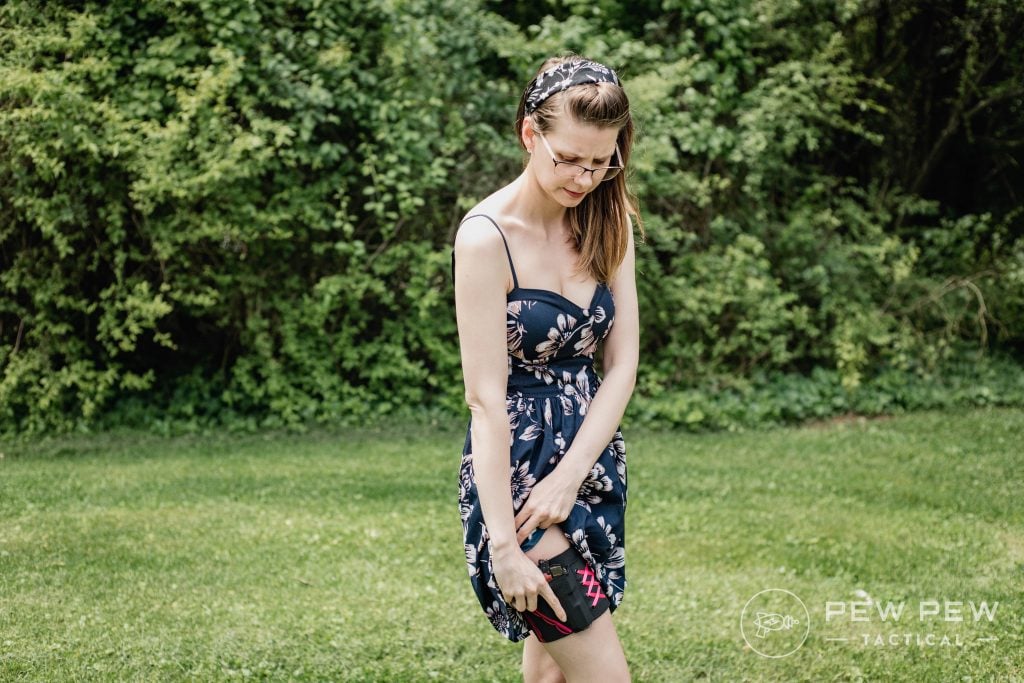 The small size and very light weight make them a natural when it comes to hiding beneath clothing.
If you want to pack a handgun in an outside the waistband holster, then compact is the way to go.
When I go for a run, I'm not trying to carry a Glock 19. Nope, I'm packing a Sig Sauer P365 – so easy to do!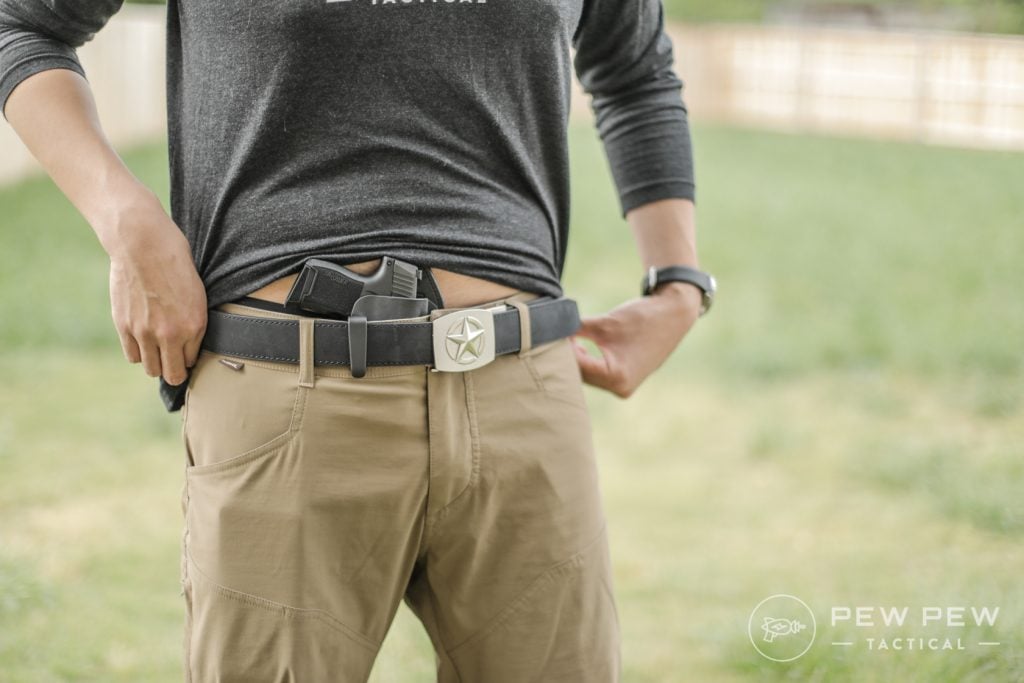 Usually, these handguns measure around 6-inches in length — sometimes shorter and sometimes longer.
Width is often the main measurement people look at with these compact pistols, ranging from 0.9- to 1.2-inches.
Grip length varies, often leaving a hanging pinky unless the magazine comes with a pinky rest baseplate.
Typically, these tips the scale at less than 2-pounds when fully loaded.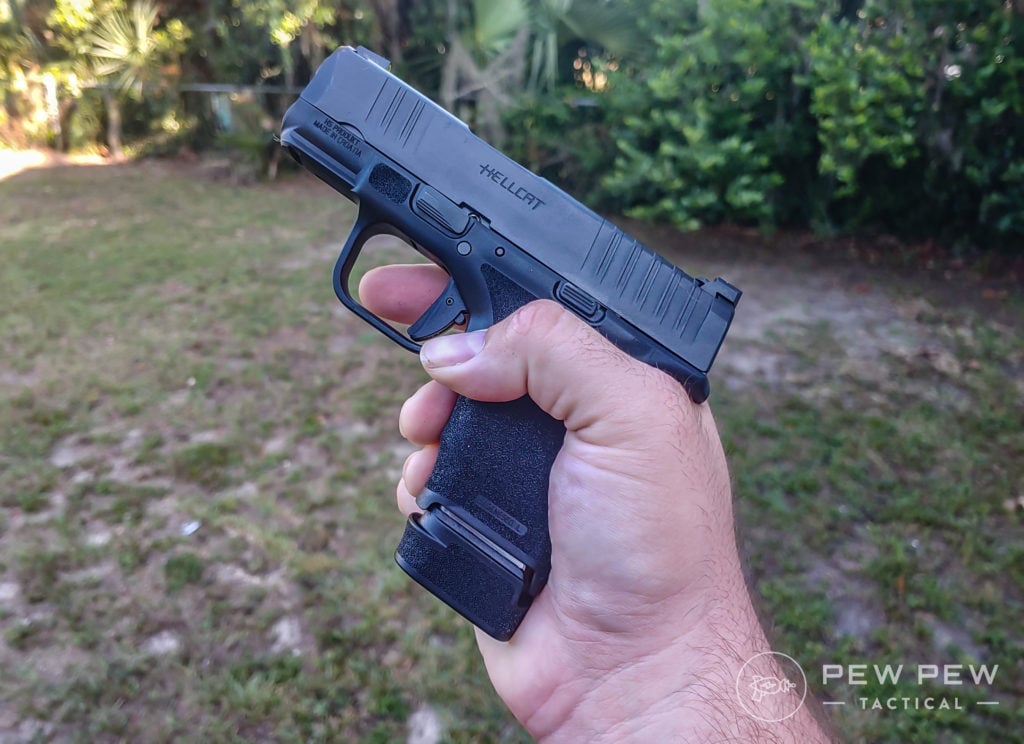 When it comes time for lead to meet steel, or paper, or whatever…that's where we see some of the downsides.
Those small, thin grips combined with the short sight radius and barrel length equal up to a platform that proves challenging to shoot.
You'll notice increased recoil and muzzle rise when compared to full and mid-size firearms.
For concealed carry, this isn't a big issue as the ranges in which civilian defense occurs are often short.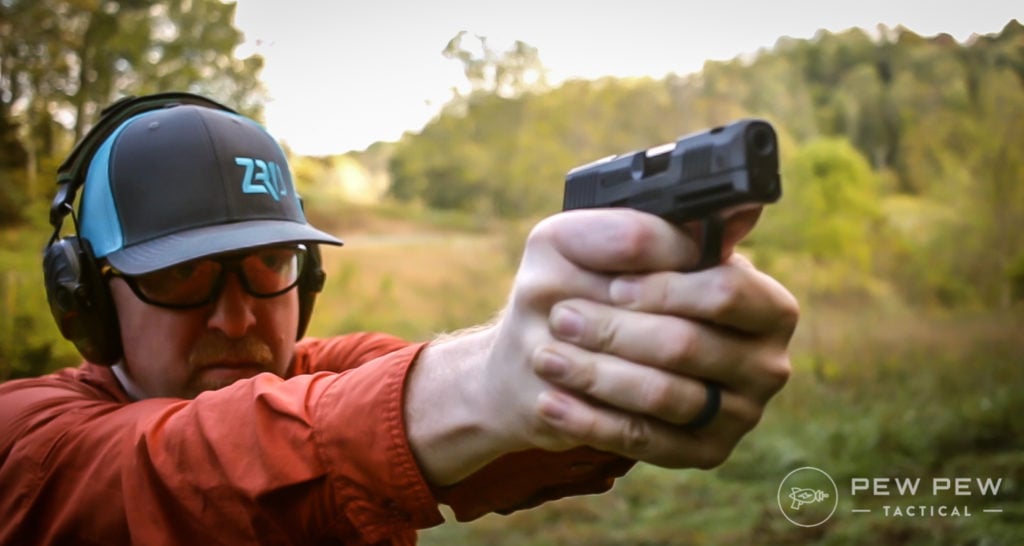 And that's a good thing because, beyond 15-yards, your average shooter may have issues keeping tiny guns on target.
For home defense, these little guns kind of suck.
They offer limited capacity, rarely can attach lights, and tend to be tough to control.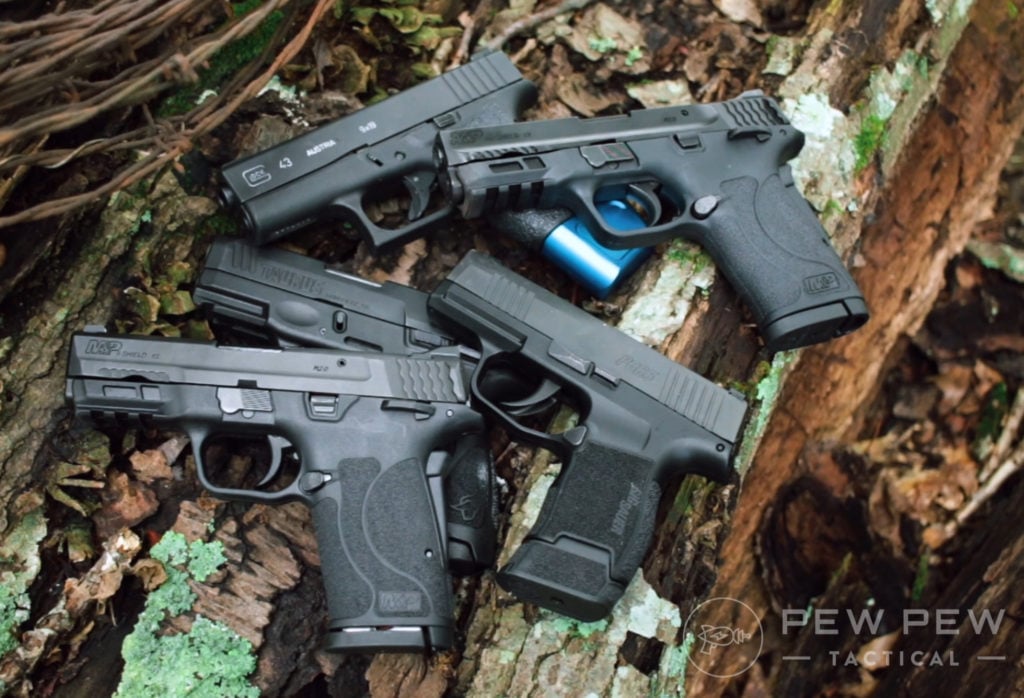 Really, the sole purpose comes down to concealed carry.
As such, a shooter armed with a compact pistol should regularly train in its use and become proficient with their little gun.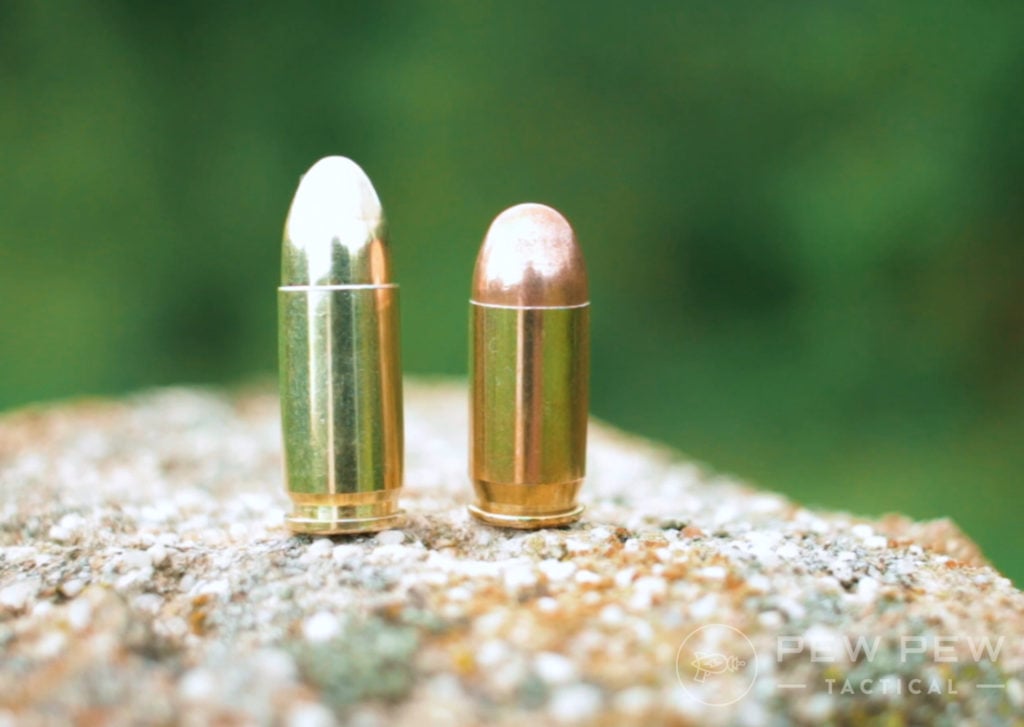 For compact, you'd do well to stick with 9mm and .380 ACP. Anything more powerful becomes too much to handle.
Notable examples of compact handguns include the Glock G26, the Walther PPS M1/M2, and the Sig Sauer P365.
Pros
Easy and comfortable to conceal
Can work in high activity CCW situations
Cons
Harder to control and shoot accurately
Bottom Line When Playing the Size Game
When choosing a firearm, it's wise to remember a few rules of thumb.
First, the bigger the gun, the easier it is to control. But the trade-off is concealment.
Second, the smaller the gun, the easier it is to conceal but harder to control.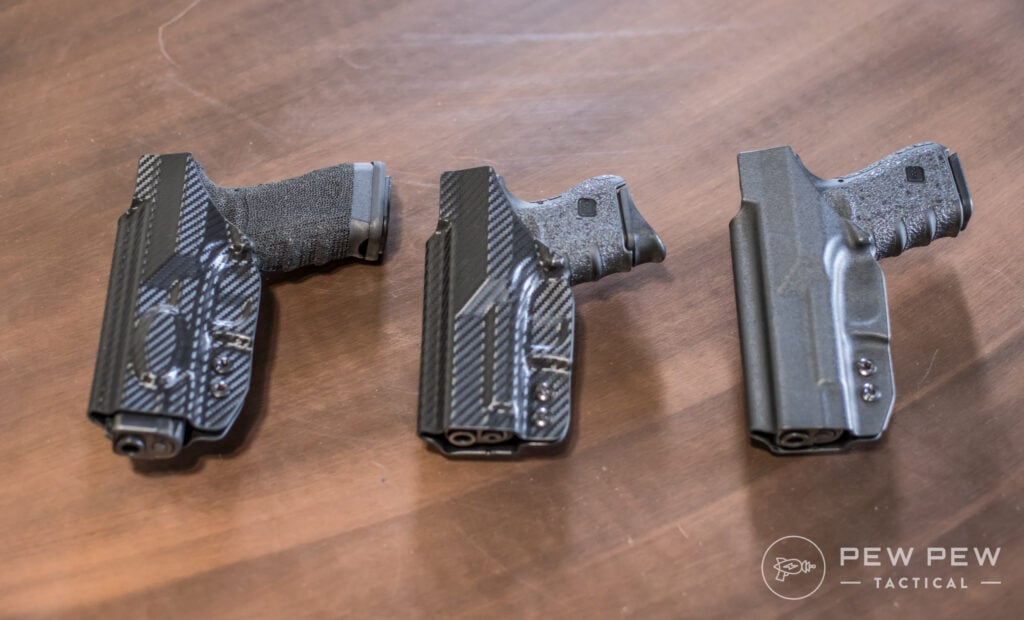 Everything is a compromise between size and controllability. When you factor in various calibers with various recoil signatures, that difference can increase substantially.
There is no perfect option I can suggest that will work for everyone. Sorry.
The best advice I can offer is to find a firearm that fits you, your typical style of dress, and your activity level.
Conclusion
While you get some nice shooting out of a full-size, amazing concealment out of a compact, and something in the middle with mid-size, nothing is fool-proof.
Handguns largely depend on you, the shooter, and your needs and wants.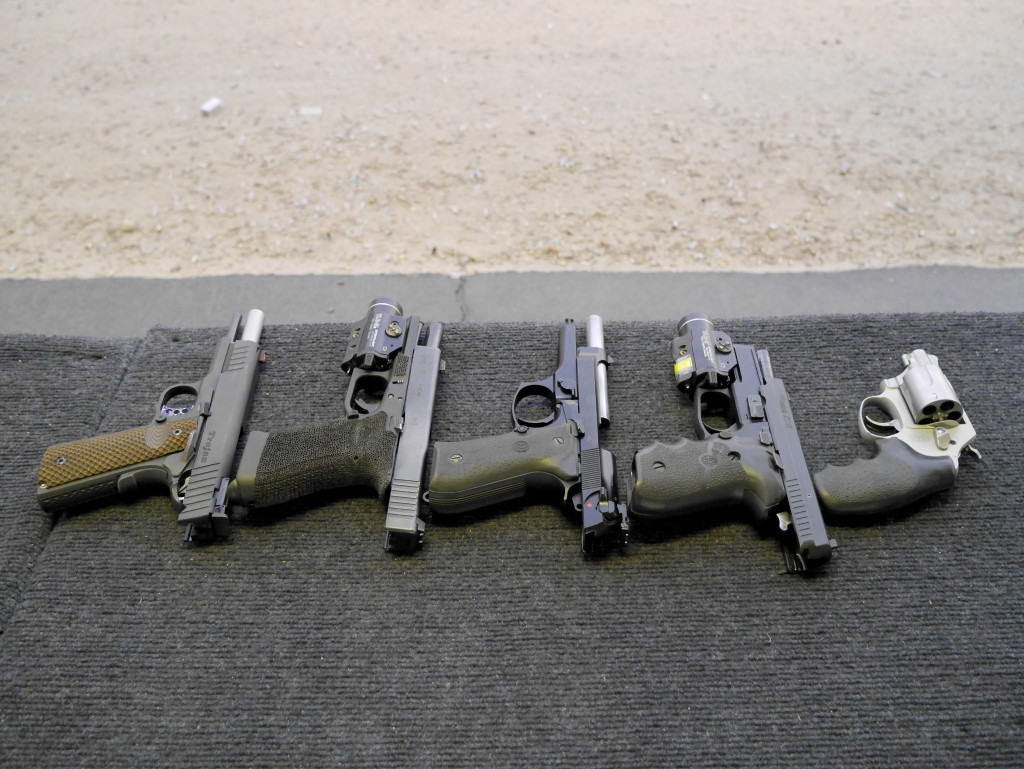 Rarely can one gun do it all, so I'd suggest purchasing more than one!
Why be trapped in the pros and cons of one gun when you can have several?
Let's turn it over to the comment section. What size firearm do you carry? Let us know below. Ready to do some concealed carry shopping? Head over to our list of the Best Concealed Carry Handguns.