Smith and Wesson have been kicking and screaming since 1852. They've produced guns in the millions and are a varied company.
The company produces revolvers, automatics, rifles, and even shotguns. However, today we are looking at the best S&Ws for concealed carry.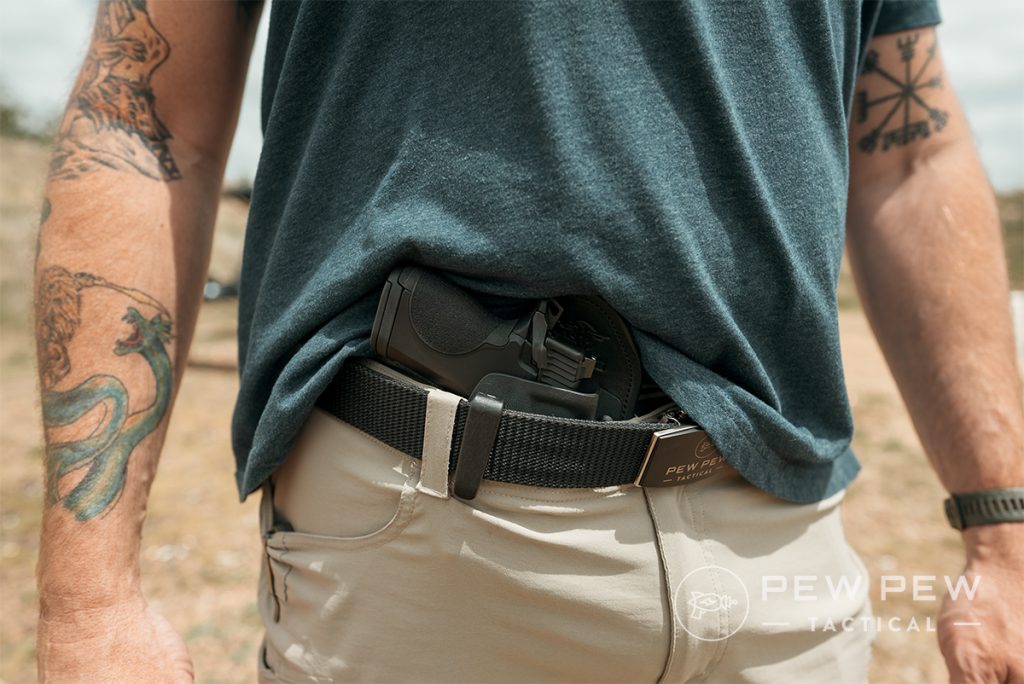 We've talked about the best Glocks, but with S&W, I get to dive into revolvers, and Lord knows I love a good revolver.
S&W's varied catalog makes this a fun and diverse collection of unbeatable firearms for concealed carry.
Let's jump into the best S&W handguns for concealed carry.
Summary of Our Top Picks
Best Smith & Wesson Handguns for Concealed Carry
1. M&P Shield EZ
The M&P Shield EZ series are semi-automatic pistols designed for shooters with weaker hands who want an easy-handling pistol.
S&W built these guns from the ground up to be easy to control in all manner of handling. You can choose between three potent calibers with .380 ACP, 9mm, and .30 Super Carry as an option.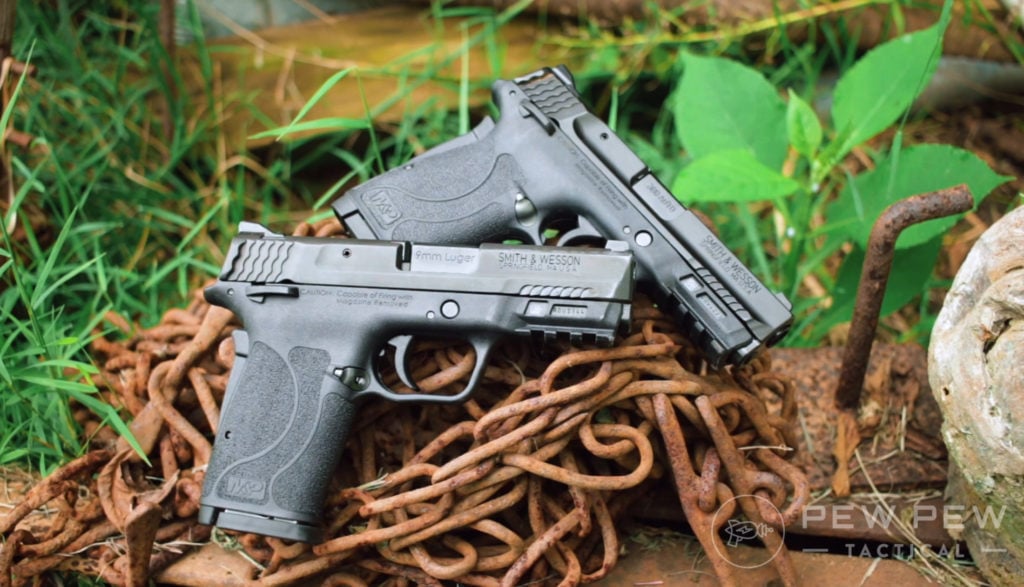 The gun uses an internal hammer, which allows S&W to tune the weight needed to cock the hammer. This yields a slide that's very easy to rack for those with weaker hands.
S&W also installed a very aggressive set of slide serrations to ensure your grip stays steady.
The M&P Shield EZ models also come with single-stack magazines that are very easy to load. A set of tabs on the side allows a second hand to pull the follower downward and relieve spring pressure to make loading easy.
Easiest to Rack
399
at Palmetto State Armory
Prices accurate at time of writing
Prices accurate at time of writing
The 9mm and .380 versions hold eight rounds, and the .30 Super Carry packs 10 rounds.
Recoil is fairly light, and these guns are not superbly small by any means. They are compact in nature, though, and plenty easy to concealed carry.
The EZ series is thin, lightweight, and tucks away with ease.
449
at Palmetto State Armory
Prices accurate at time of writing
Prices accurate at time of writing
Their size-to-capacity ratio is a bit inefficient when compared to something like the P365 or even the Shield Plus. However, you can't have an easy-to-control firearm that's also the size of the P365.
That little extra girth and width make it easier to control, which matters a fair bit.
I'm glad S&W offers a solid, defensive handgun option for shooters with hand strength on the weaker side.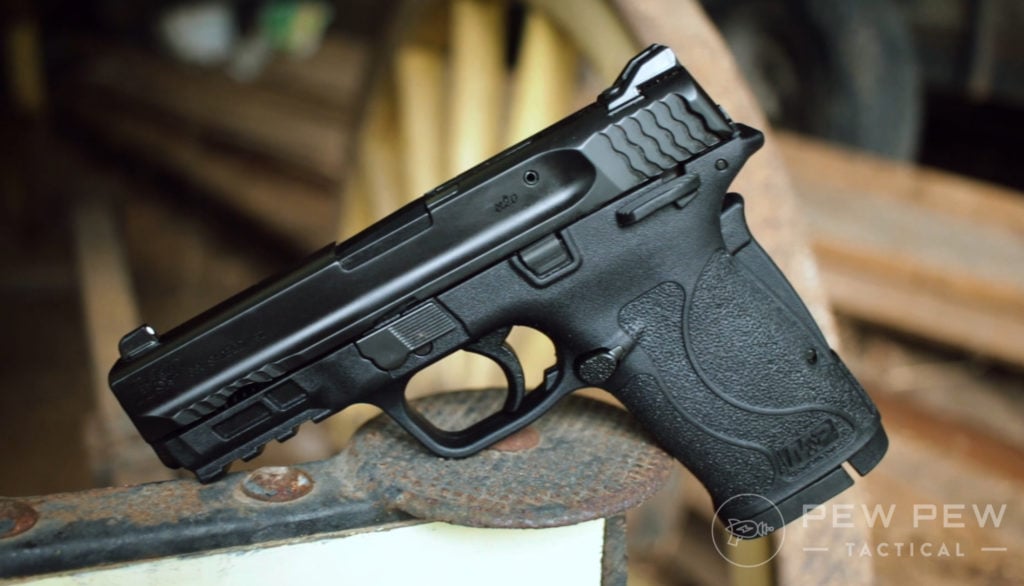 Johnny B did a full review on the Shield EZ series. Check out the video review below or read the review here.
2. M&P 2.0 Compact
The S&W M&P series revitalized the automatic pistol genre for S&W. They've continued to evolve the platform, and the S&W 2.0 Compact model fulfills that Glock 19-sized do-it-all role.
It's small enough to conceal but still capable of a home defense role.
S&W made the 2.0 series to be a bit more modern and made some needed improvements.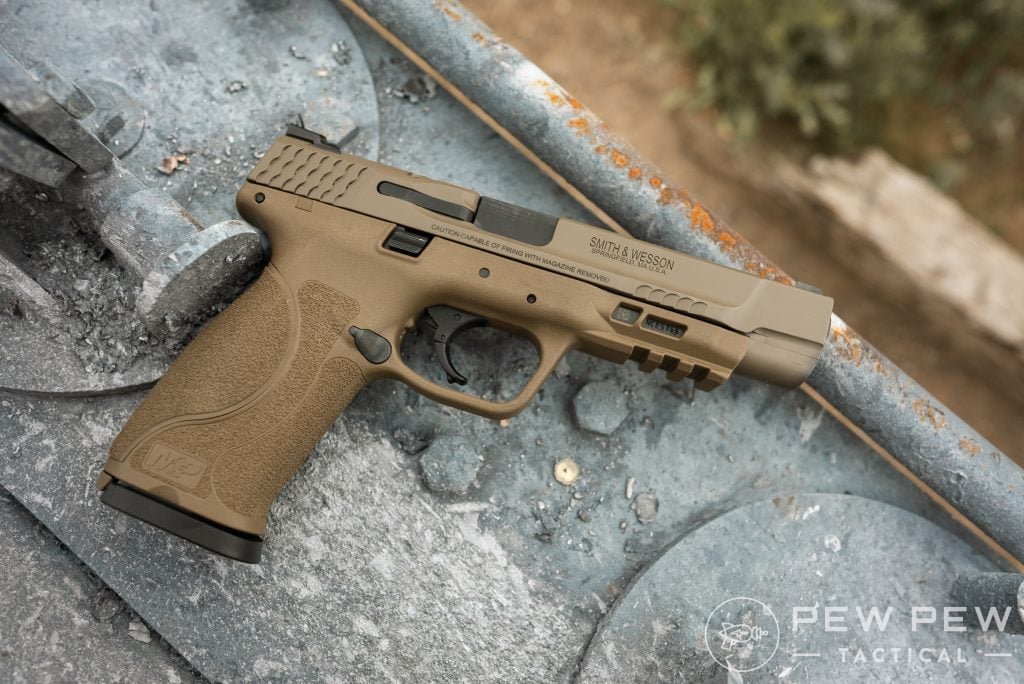 The new trigger system was one of the best upgrades, but it's not all. A slight ergonomic change here and there as well as making optic cuts common and available took the 2.0 to the highest levels of modernity.
Size-wise, the gun isn't a pocket carry piece, but you can make it disappear with a good IWB holster.
The 4-inch barrel and 15-round capacity keep it firmly in that realm we call compact. Since it comes with a rail adding a light seems like a natural next step.
Best Midsize
528
at GrabAGun
Prices accurate at time of writing
Prices accurate at time of writing
Beyond the light rail, S&W makes optics-ready options with suppressor height sights. A red dot is a worthwhile upgrade to improve potential performance.
Add in the tremendously improved trigger system, and we get a capable gun.
The M&P series has always shown brightly in regard to ergonomics, and the 2.0 series is no different. It drops in your hand perfectly, and the grip texture clings aggressively to your hand. Grip it, rip it, and go.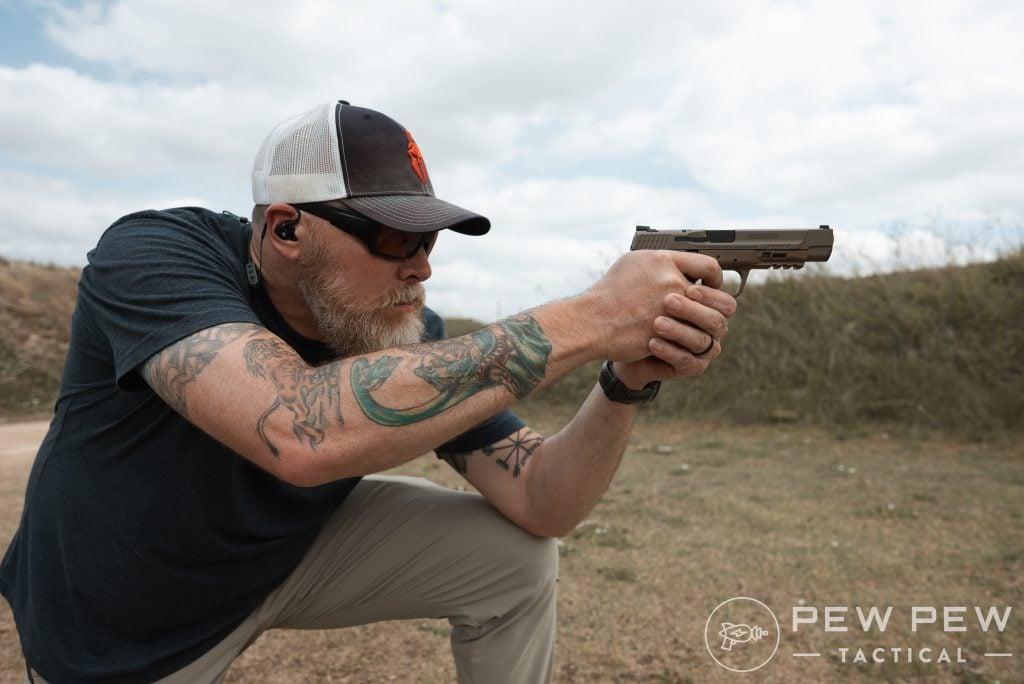 This won't be the best gun for everyone, but if you don't mind the little extra size, you'll have a very capable weapon for concealed carry and home defense.
Why we don't have one in .30 Super Carry is beyond me.
We have a review on the full-size M&P 2.0, so head over to that to learn more.
3. Equalizer
The Equalizer is a newer pistol from S&W that makes racking the slide a little easier.
It's a 9mm semi-auto with a length of 6.75 inches and a weight of 22.9 ounces. It sports a 3.675-inch barrel and a capacity of 15+1.
While we found its trigger to be meh, at best, where it shines is in its ability to be inclusive towards shooters who might struggle when racking a slide and/or other shooting fundamentals.
Whether you're someone with arthritis whose grip isn't quite what it used to be or you have some recoil sensitivity, the Equalizer presents a pleasant shooting experience.
Best for Beginners
443
at Kygunco
Prices accurate at time of writing
Prices accurate at time of writing
This pistol definitely gives off some M&P vibes, and you can see those design cues on this handgun. Its grip angle is very comfortable, and the texture is well-balanced. It's not overly aggressive where it tears your hands up, but it provides enough tack to hold onto.
It comes with slide serrations that help when manipulating the slide and some sturdy steel sights. Despite using an internal hammer, its trigger feels more on par with a striker-fired gun.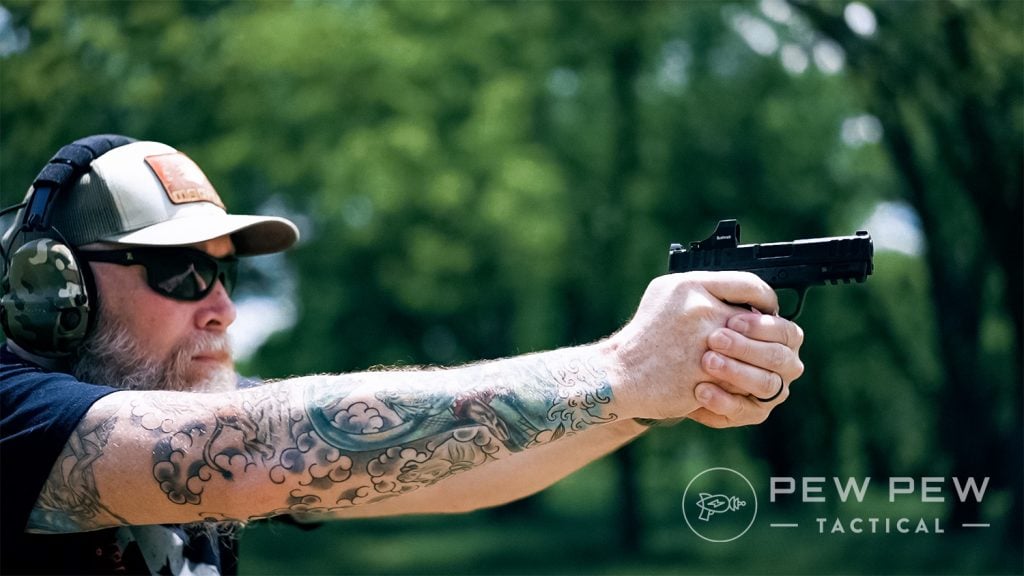 While we're on the topic of the trigger, we were hoping for one similar to the M&P 2.0 series but this one doesn't quite measure up. If you've spent some time behind the M&P 2.0 series, you will likely be disappointed in the Equalizer's trigger.
But if you can get over that, everything else is good. Reliability was flawless, recoil was minimal, and it was a nice, easy gun to shoot. All in all, this is a perfect match for shooters who need a little help.
Check out our video review below or the full written review for more details.
4. CSX
The CSX or Chief's Special X breaks the mold for micro compacts. Sure, we have the 10-round magazine in a teeny tiny weapon, but it's more than that.
S&W made the CSX a quasi-1911-like design, complete with a 10-round 9mm magazine.
We get a single action-only design, a metal frame with polymer inserts, and thumb-mounted frame safety. Yet, it's so dang small and easy to conceal.
If you're sick and tired of striker-fired guns but want that super-efficient size-to-magazine capacity ratio, then the CSX has your back. The single-action only trigger delivers a short, light trigger pull that resets hard and loud!
Best Micro Compact
579
at Brownells
Prices accurate at time of writing
Prices accurate at time of writing
S&W installed a huge set of sights on the gun that is easy to see and engage with. Spotting that big front sight, putting it on target, and following it up with rounds is simple and easy.
Those polymer grip inserts are very textured and stick to the hand well.
This little fella weighs 19.5 ounces, is 6.1 inches long, 1.12 inches wide, and 4.6 inches tall. It's a hair thicker than most, but that extra thickness really comes from the frame safety. The rest of the gun keeps it about an inch thick.
My only complaint is, why didn't they make the guns optics ready with an ultra-compact red dot? It seems like an opportunity wasted for the CSX. Maybe next year. Also, why not introduce it in .30 Super Carry?
Those are minimal complaints for what might be my favorite take on the micro-compact pistol.
Want to learn more? Check out our full review of the CSX.
5. The Shield & Shield Plus
The S&W M&P Shield changed the game. It wasn't the first single-stack 9mm, but it was the first one people flocked to. I remember it being impossible to get circa 2012, and when you found one, it sold for well above MSRP.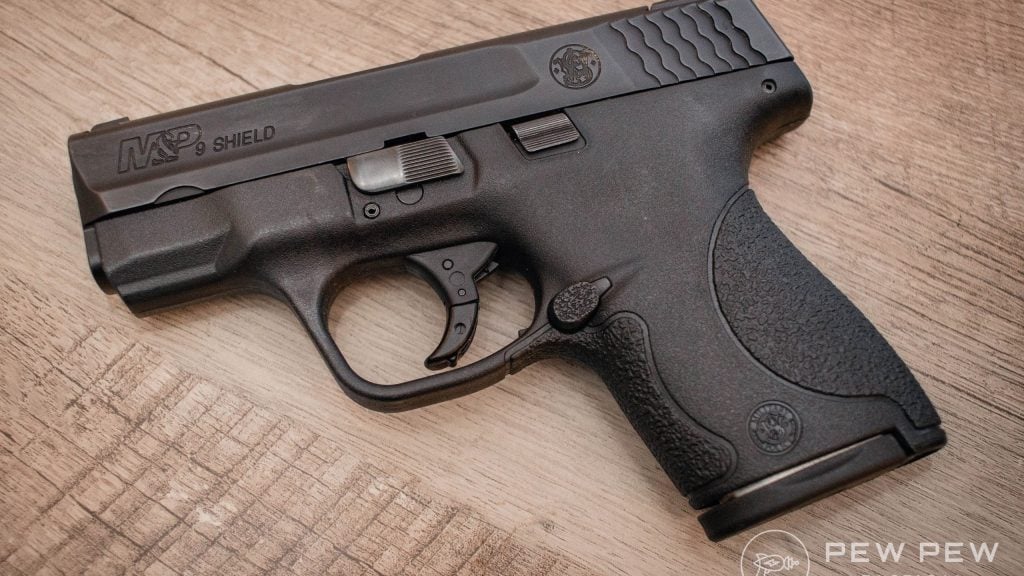 S&W evolved the Shield into the Shield Plus. With the Shield Plus, we get that Micro Compact design with the 10-round, flush-fitting magazine.
You can go with either the Shield or Shield Plus and have an outstanding pistol.
Great Value (Sub-Compact)
319
at GrabAGun
Prices accurate at time of writing
Prices accurate at time of writing
While the Shield Plus packs more rounds, the standard Shield is one of the best budget guns. It's made to last and work and is one of the most proven concealed carry firearms on the market.
One notable difference with the Shield Plus is that it also comes in .30 Super Carry.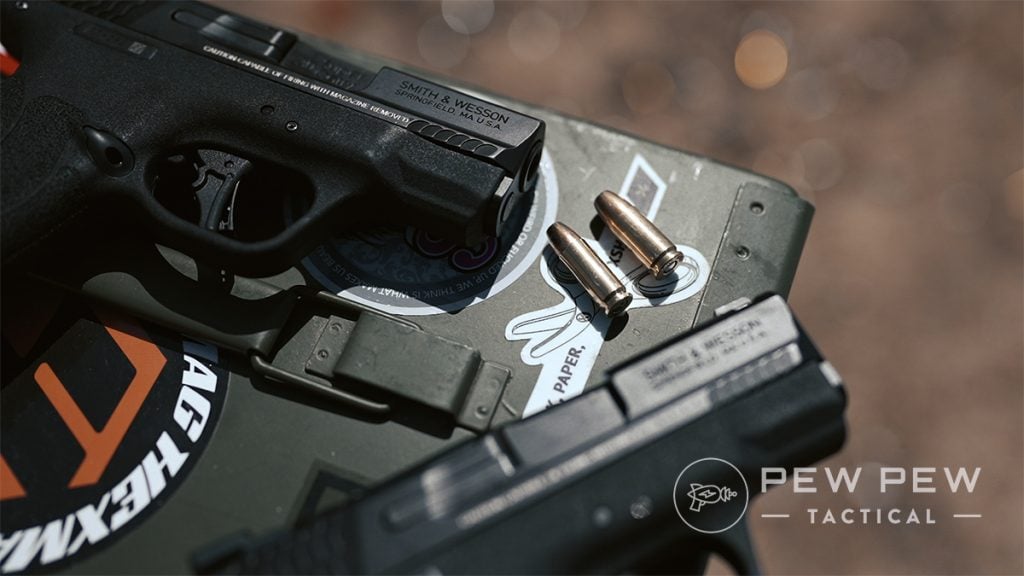 With the standard Shield, you can still find .40 S&W models if you can't break up with the short and weak.
The Plus offers a more modern design with options for optic compatibility.
In terms of magazine capacity, it sports either 10 rounds of 9mm or 13 rounds of .30 Super Carry with flush-fitting magazines or 13 rounds with 9mm and a stunning 16 with the new Super Carry load and extended mags.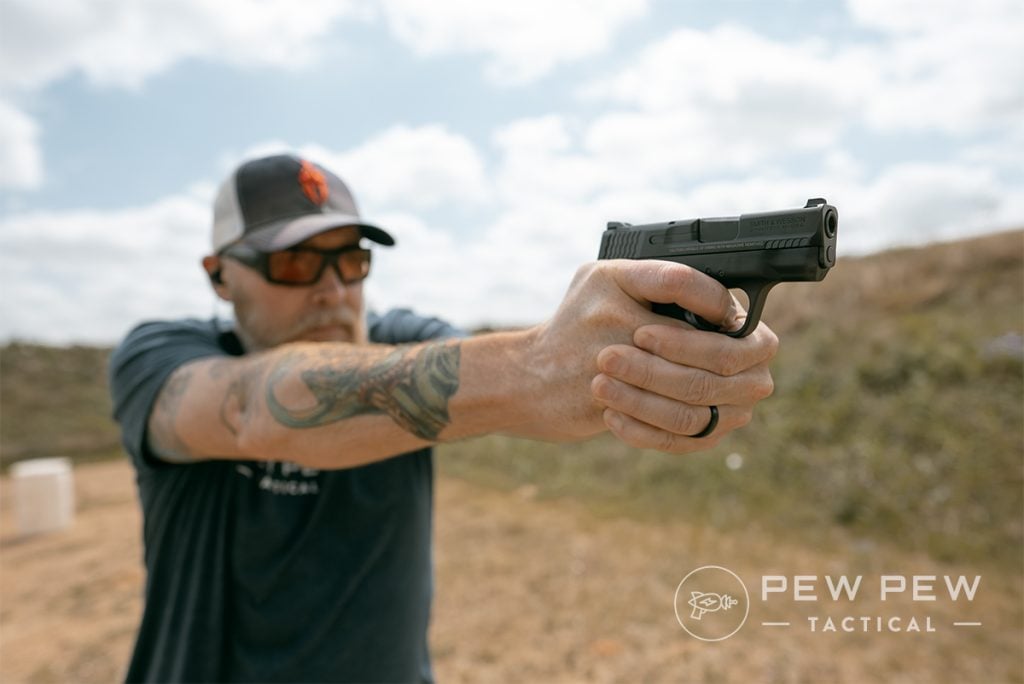 One thing that's always stood out about the Shield designs with me is the meaty grip. It never feels svelte or too thin.
You can get a great purchase on the gun, and with purchase, you get an extreme amount of control – and you want that control if your goal is to shoot fast and accurately.
Most Modern
334
at BattleHawk Armory
Prices accurate at time of writing
Prices accurate at time of writing
You guessed it…we've reviewed the Shield Plus. Check out the written review or watch the video review below.
6. SW99C
My wild card comes in the form of the SW99C, and it's a wildcard because S&W discontinued it years ago. Still, they are fairly easy to find and quite affordable.
Don't let the C trick you into thinking it's a standard Glock 19-sized compact, but it's a subcompact.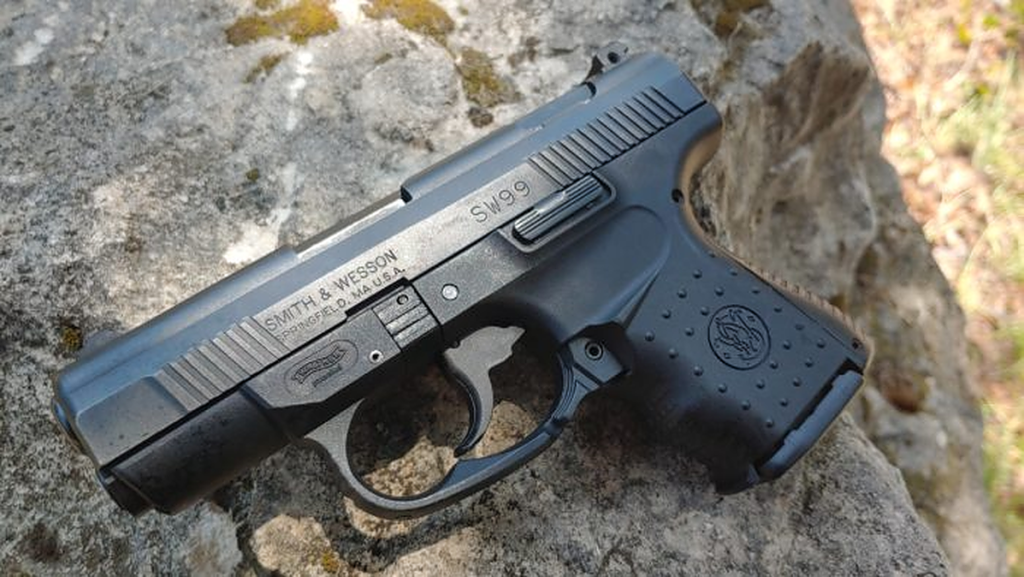 The SW99C comes from a partnership set by Walther and S&W (essentially the P99C). It was the first non-Sigma polymer pistol in S&W's lineup.
Not to mention, it's also a fantastic pistol equipped with a DA/SA trigger system that's relatively rare for a striker-fired gun.
If you want a smooth double-action, it doesn't get any better than this. It's a long pull, but it's ultra-smooth. You get something ultra-light and very crisp in terms of the single-action trigger.
500
at Guns.com
Prices accurate at time of writing
Prices accurate at time of writing
At the top of the slide sits a decocker allowing you to manually decock the gun back to double action if necessary.
Shooters get a very reliable pistol that offers one of the best stock trigger options in the world.
Finding one might be harder than going to your favorite online gun store, but it's well worth the chase.
It's also much easier to find an SW99C than a P99, so you have that going for you.
What do you think of the SW99C? Rate it below!
7. S&W 340PD
Picking one Smith & Wesson revolver was tough, so I picked two, and even that was hard.
I personally would want the Model 19 with its 2.5-inch barrel, but that's not everyone's cup of tea.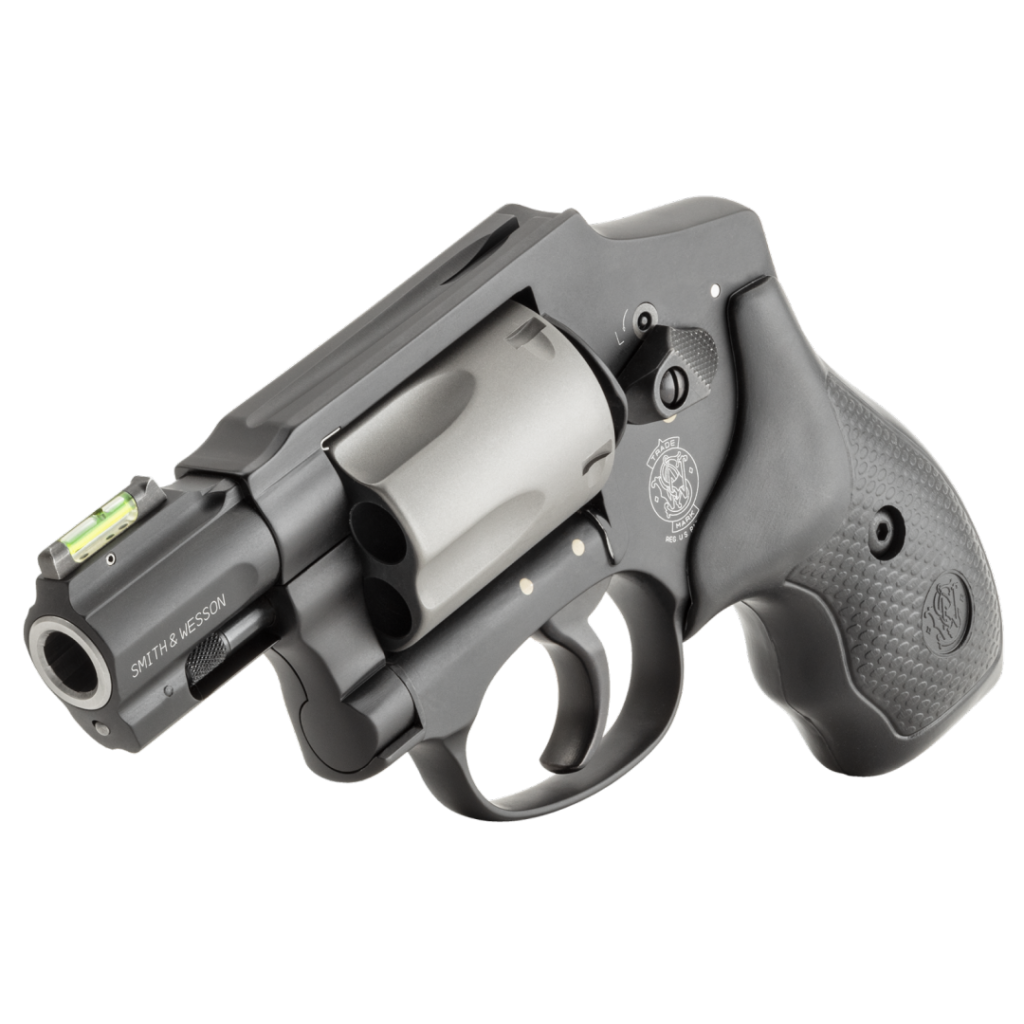 With the 340PD, we get an ultralightweight revolver designed specifically for deep carry, with a decent trigger and a solid performance record.
The 340PD is a J-frame, five-shot, snub-nose revolver that chambers the mighty .357 Magnum load. As you'd expect, it can also eat up your various .38 Special loads.
The 340PD is also S&W's lightest centerfire revolver, weighing a mere 11.4 ounces. At less than a pound fully loaded, the 340PD dominates in size-to-weight ratio.
1099
at Kygunco
Prices accurate at time of writing
Prices accurate at time of writing
The frame is made from scandium, enhanced aluminum, with a titanium alloy cylinder and a steel barrel liner to drive down the weight.
It's an odd mix, but you get these ultra-low weights when you do odd things. Sometimes taking a risk is rewarding.
The hammer sits concealed for a snag-free design, and the DAO trigger pull isn't too bad. It's not Ruger LCR good, but it sits well above average.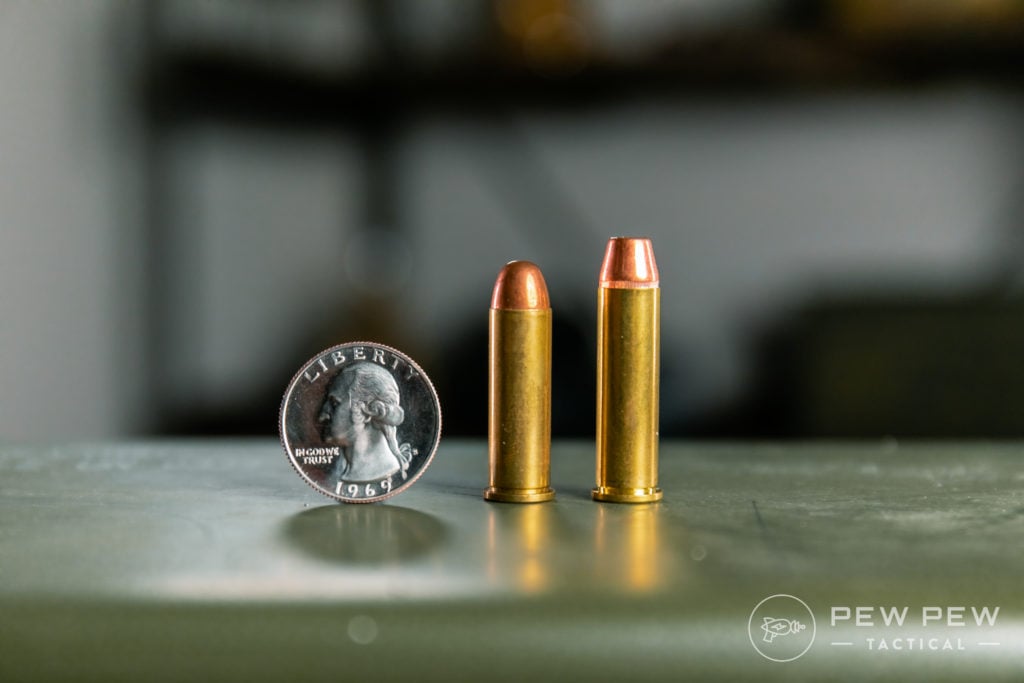 While .357 Magnum is an option, I would likely stick with .38 Special +P. That weight and the 1.875-inch barrel make .357 Magnums a rough ride with lots of recoil, flash, and concussion. Additionally, projectiles that weigh less than 120 grains can cause frame erosion due to the powder that remains burning behind the light projectile.
If you need a deep concealment revolver, the 340PD is the gun to beat. It's small, light, and snag-free, and it might be too powerful for its own good.
Still, it's just one more option for a specific niche of users.
8. S&W 317 Kit Gun
A Kit Gun? Really? I include the S&W 317 Kit Gun on the list because some shooters can't handle anything beyond a .22 LR.
So, if you can only handle a .22 LR, then I think the S&W 317 Kit Gun is the best choice.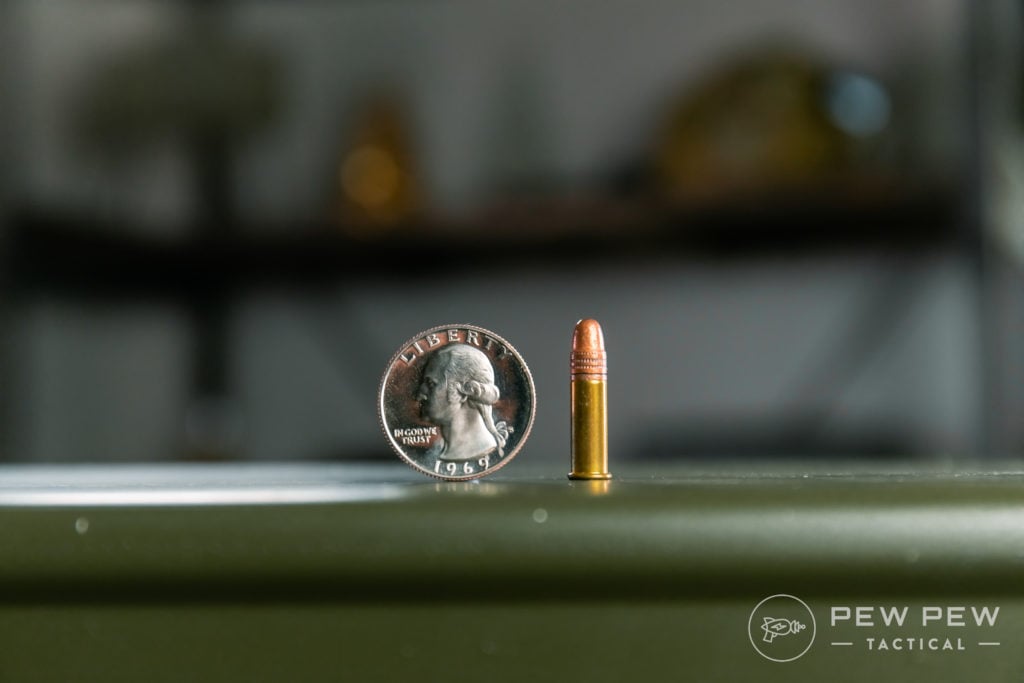 This addresses a number of concerns with carrying .22 LR for self-defense and concealed carry. At the same time, it's lightweight, compact, accurate, and easy to shoot.
A big problem with using .22 LR for self-defense is reliability due to the rimfire design. In a revolver, all you need to do is pull the trigger if a round fails to ignite.
Shooters with weak hands could have trouble with a double-action trigger, but the exposed hammer does allow the shooter to manually cock the hammer.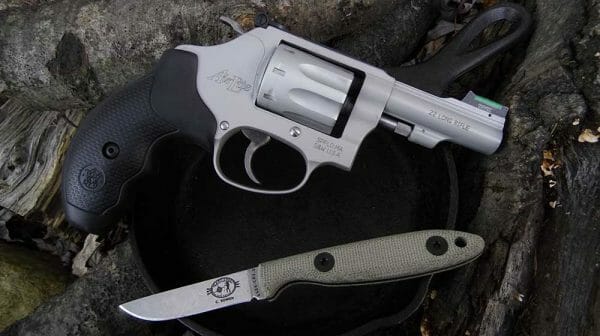 The 3-inch barrel and high visibility front sight is super simple to see and are very easy to get on target.
Weight-wise, the gun is only 11.7 ounces, making it a hair heavier than the 340PD. It's a bit longer but still easy enough to conceal.
We get eight rounds of .22 LR, and when you choose the right ammo, you get eight rounds capable of penetrating and expanding reasonably well.
Best Revolver
770
at Sportsman's Warehouse
Prices accurate at time of writing
Prices accurate at time of writing
The biggest downside is that .22 LR can be tricky in the penetration department, and you need to be super picky about your ammo choices.
Conversely, .22 LR is cheap, so you can get a lot of practice and become a good shot.
Get lots of practice with the gun because you'll need it. It might be an odd choice, but it's still a choice.
9. M&P9 M2.0 Metal
Ok, so technically, this one is a tad big for regular carry, but it would work well in an OWB rig or during the winter months when you might be sporting heavier coats, sweaters, and sweatshirts.
The main reason we wanted to mention the Metal is because it rocks. Fine, bad pun, but still, our time with this gun was super enjoyable.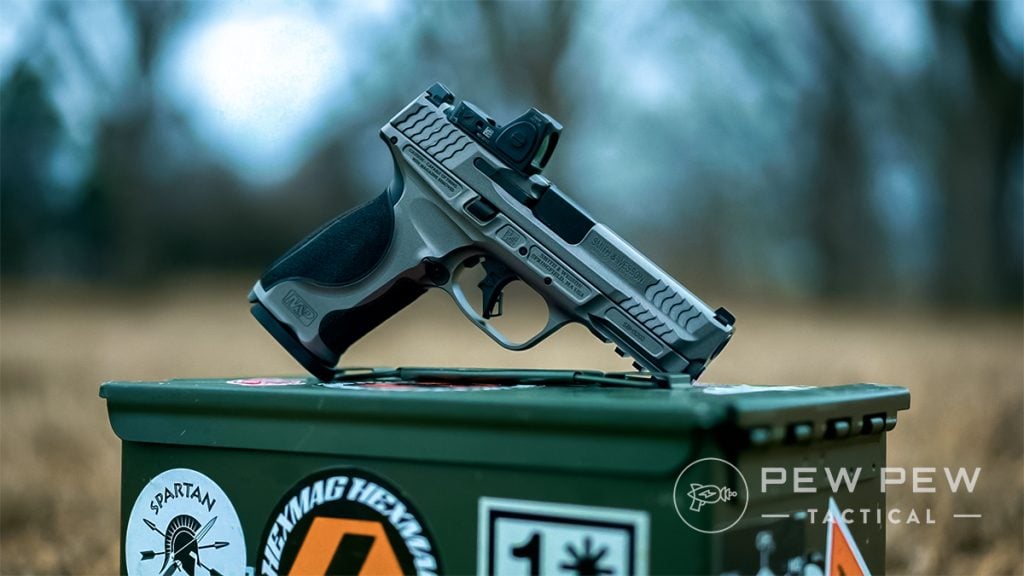 This firearm blends some bad-ass looks with actual performance – "a great combo of show and go," our resident video producer Sean says.
The 9mm striker-fired pistol offers a length of 7.25 inches, a barrel length of 4.25 inches, and a weight of 28 ounces.
It's worth mentioning the Metal uses a T6 aluminum frame which does make it heavier than your standard polymer pistol, but that extra weight does help with recoil. So it's a decent trade.
Best Full-Size
749
at GrabAGun
Prices accurate at time of writing
Prices accurate at time of writing
Some notable features include a 17+1 capacity, flat-face trigger, four grip panels, and six optics plates and screws. We love an optic on a defensive gun, so we dig the fact this gun is ready to accept a red dot.
During testing, we were able to get some really nice, tight groups. We were impressed, to say the least.
As far as downsides, this is a full-size gun, so if you want something smaller for CCW, look elsewhere. Also, it's on the pricier side. That aluminum frame drives the cost up, so if a budget gun is more your speed, you might want to opt for another gun on this list.
Other than that, we highly recommend the Metal if you're on the hunt for a home defense weapon or something to use during those cold winter months.
Watch the review below to see it in action, or read more in our written review.
Final Thoughts
Smith & Wesson offers a ton of models that work for concealed carry.
Whether you want a revolver, pistol, or something easy to rack, you can probably find it.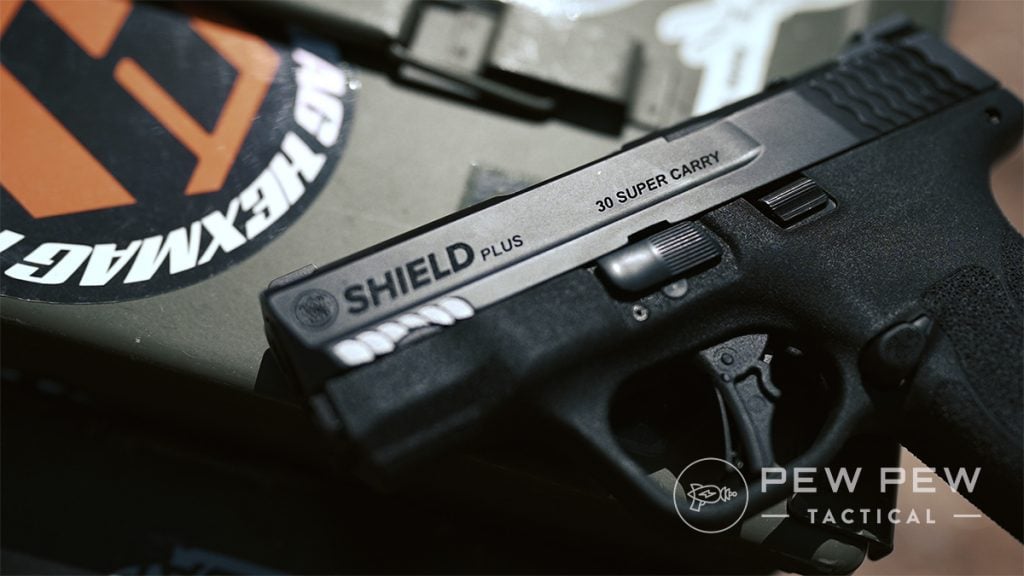 What's your favorite S&W model? Let us know in the comments below. For more options when it comes to concealed carry, check out our guide to the 12 Best Concealed Carry Pistols.