In January of 2022, Smith & Wesson released the CSX, a hammer-fired, single-action, 9mm in the micro compact category.
With a 12+1 capacity in such a small platform, the gun caused a bit of a stir.
We can agree concealment is much easier the smaller a pistol is. But at what point do you start to lose functionality in favor of concealability?
We'll answer that question and give you all our findings after a couple of trips to the range, testing the CSX out. So read on!
Table of Contents
Loading...
Smith & Wesson CSX Pros & Cons
Pros
Highly concealable
Reliable
Ambidextrous controls (safety, slide release, reversible mag release)
Lots of extra details
Cons
Difficult takedown
No included takedown tool
Challenging for big hands
The Bottom Line
The CSX is a great little shooter that hits the bottom range of what is a good blend between concealability and functionality. Shooters with average to smaller hands will love this gun.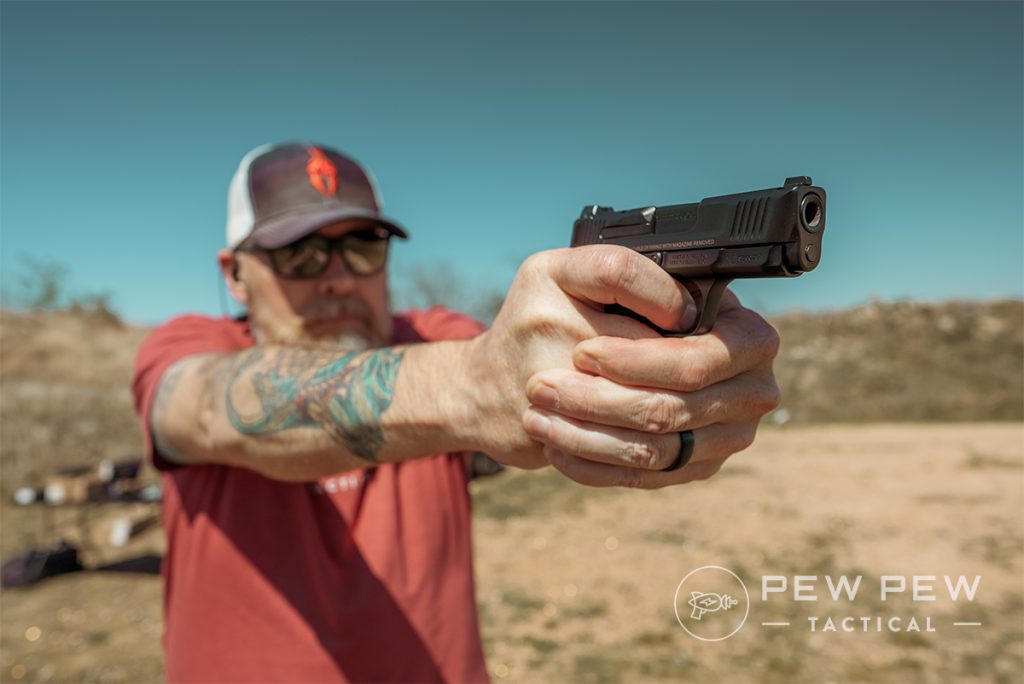 It performed admirably during testing though notably, people with larger meat hooks may experience some challenges obtaining that performance based on the gun's size.
Smith & Wesson CSX Specs & Features
Specs
Caliber: 9mm
Width: 1.12″
Length: 6.1″
Barrel Length: 3.1″
Height: 4.6″
Weight: 19.5 oz
Capacity: 12+1
Features
Aluminum alloy frame
12-round capacity
Front and rear slide serrations
Source: Smith & Wesson
579
at Brownells
Prices accurate at time of writing
Prices accurate at time of writing
Background
S&W has continued to offer a widening array of options for its semi-auto handgun customers and the CSX is an interesting offering in the micro-compact market.
Those familiar with the Chief's Special model revolvers from the legendary gun maker may recognize the nod in the acronym "CSX."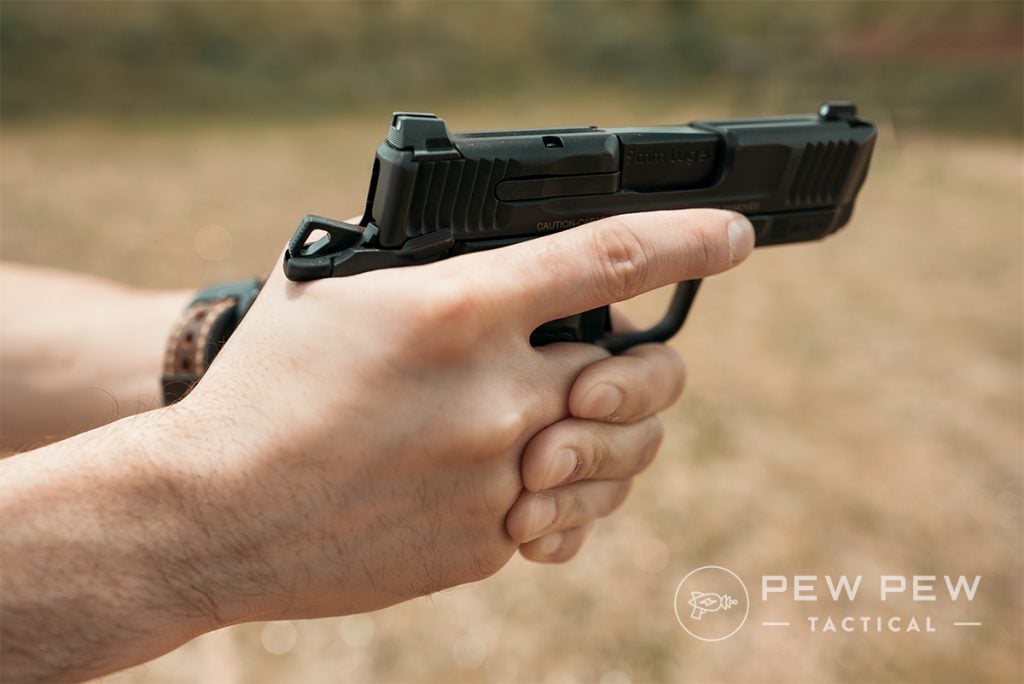 The size alone creates a lot of opportunities for all walks of life to carry this pistol. It takes up roughly the same space as an iPhone but is thicker.
Fit & Feel
This gun is mostly metal but features polymer inserts on the front strap and back strap. The polymer has a pretty aggressive texture to help maintain grip.
The top of the slide includes glare-reducing serrations. I'm not sure this is a problem I've encountered but upon testing, they definitely work and are a nice touch.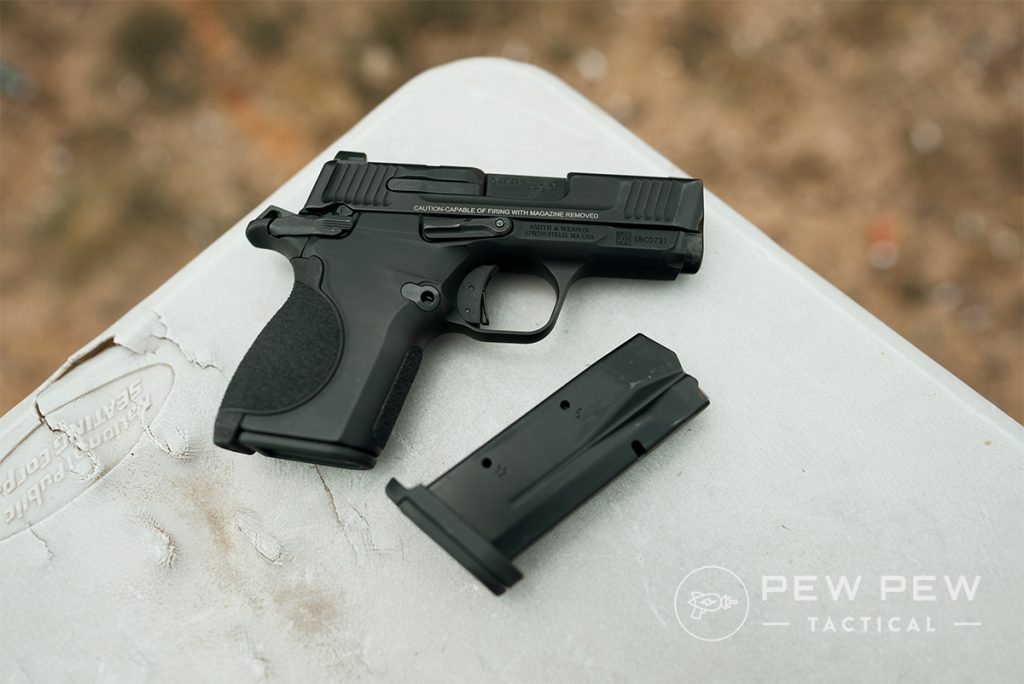 The beavertail is a good size but was not big enough to completely save my 2X hand from slide bite. However, most shooters should be fine with it.
How Does It Shoot?
Likely one of the most interesting aspects of this gun is the trigger. As a single action, hammer-fired gun, the trigger is short.
This was measured at just over 5 pounds consistently on my Lyman digital gauge. Reset was audible and tactile, though there was an intermediate stage during the return trip.
This too could be felt and initially lured me into thinking reset was complete. However, pressing the trigger from here will not fire the gun.
With practice, I got used to the trigger needing to come further out for reset to occur. Because the trigger was so short, my accuracy was decent for such a small gun.
Shooting from 7 yards I was able to create 3-shot groups averaging around 1.5 inches. The best group was roughly 1 inch.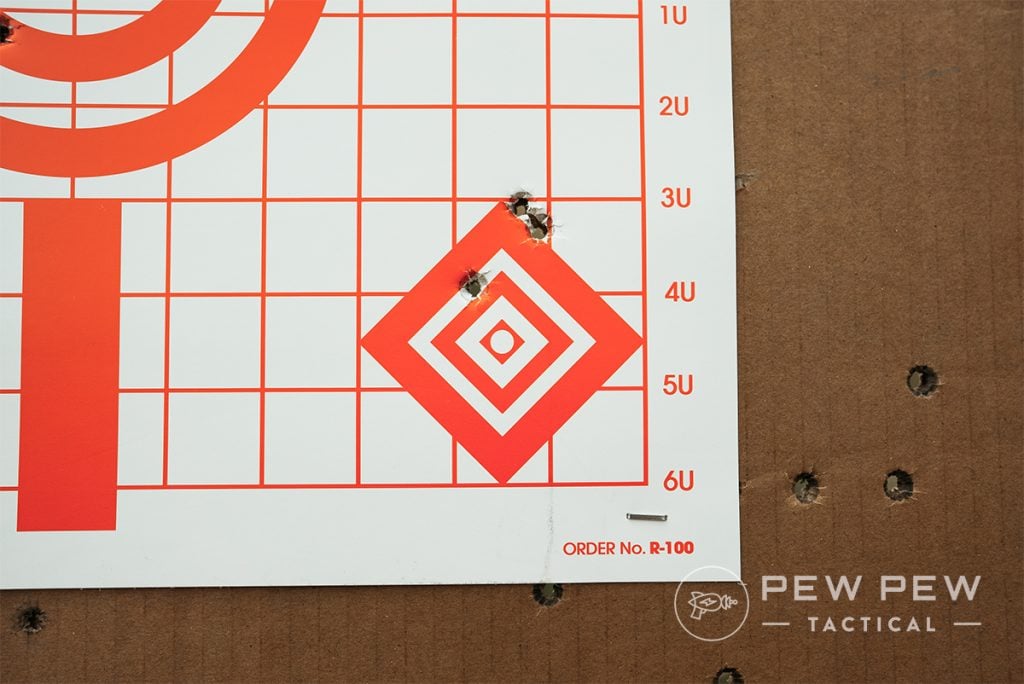 While the weight and grip texture help with recoil, management was much easier for me with the 12-round magazine. The 10-round magazine provided a smaller profile but was a little tougher to hold onto since my pinky was left floating.
I also noted having to move my grip during reloads in order to get the magazines to drop. Again, this is a hand size issue and most shooters would not have this problem.
While not related strictly to shooting, the field strip of the CSX was tough, particularly at first. Additionally, Smith does not include a takedown tool with the gun.
Shooters will have to pull back the slide a bit and hold it lined up while drifting out a pin from the other side. This does appear to get easier with time and rounds downrange.
What Sets it Apart?
Smith & Wesson went all-in on the CSX, adding refinements not usually seen in such a small pistol. At 12+1 capacity, the CSX is competitive in this category though the standout has to be the overall approach.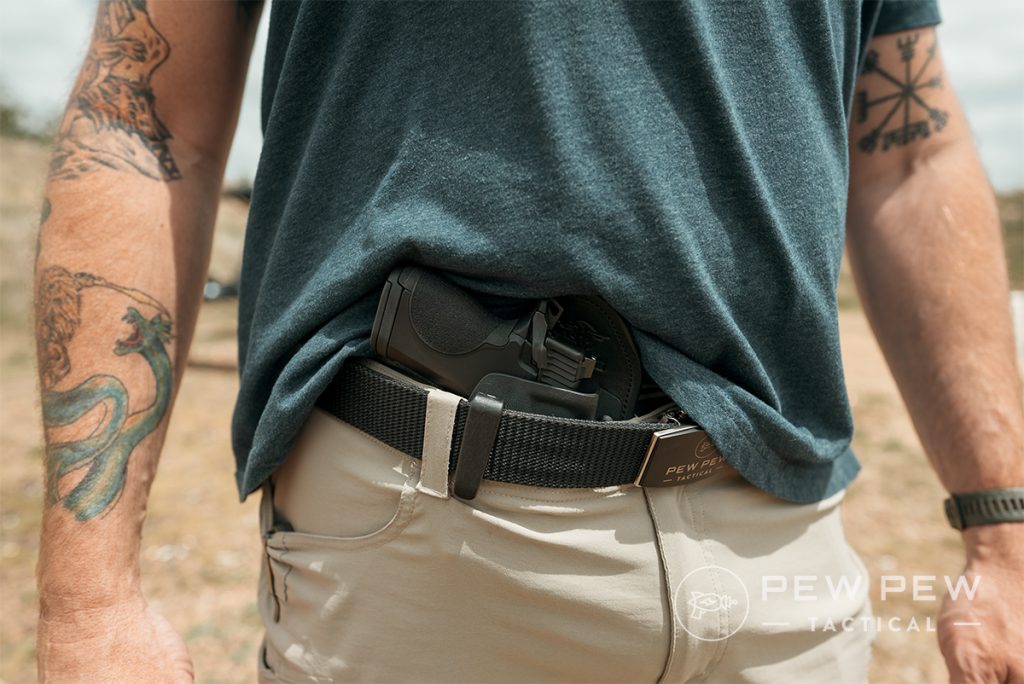 As a mostly metal, hammer-fired, single-action, gun, it makes quite a departure from a world otherwise filled with striker-fired, polymer options.
By The Numbers
Reliability: 5/5
Over a course of 500 rounds, the CSX had zero malfunctions. I mostly used Remington UMC 115-grain but also used some 147-grain defensive rounds as well.
Ergonomics: 4/5
Most shooters are going to find the CSX a great fit with an ambidextrous safety, slide release, and reversible magazine release. The beavertail does a good job in most instances. Smith included a left-handed mag release as well as a smaller backstrap for those with smaller hands.
Accuracy: 4/5
The short trigger allowed me to eventually work out some pretty respectable accuracy after I got used to it. The sights, as tested, were a simple 3-dot white setup.
Customization: 2/5
As of this review, there are not too many options on the market for customizing the CSX. There are a plethora of holster makers and you can definitely upgrade your sights to something better, but that's about it. The CSX does not include an accessory rail but that doesn't mean a light can't be added later as we've seen with various iterations of the Streamlight TLR-6.
Value: 4/5
MSRP for the CSX is $609 and prices seem to be hovering in that range or are even higher depending on availability. The appeal of this gun is its capacity and reliability in such a concealable package.
Overall: 4/5
579
at Brownells
Prices accurate at time of writing
Prices accurate at time of writing
Upgrades for the CSX
As mentioned, there currently is not a lot of aftermarket support for the CSX though I suspect that will change with time.
Right now, you can upgrade your sights but it's likely more options for accessories will develop.
That said, holsters are starting to appear, like the Hidden Hybrid Appendix Carry setup.
89
at Hidden Hybrid Holsters
Prices accurate at time of writing
Prices accurate at time of writing
Field Strip & Reassembly
We mentioned that the CSX is slightly harder to takedown…so we made a quick video:
Final Verdict
The size, weight, reliability, capacity, and feel of the CSX make it a really good option for concealed carry.
And while the trigger takes a bit of getting used to, the accuracy it provides is a juice worth the squeeze.
The ergonomics are great, particularly for left-handed shooters, though those with Sasquatchian-sized hands will find a better fit with Smith & Wesson's 9 Shield Plus.
What do you think of the Smith & Wesson CSX? Let us know in the comments below! Also, be sure to check out our 12 Best Concealed Carry Guns for even more options.