Updated 9.22.23: Removed P320 and added in the Sig Rose as an honorable mention.
Sig might have the best slogan for their brand — "complete systems provider."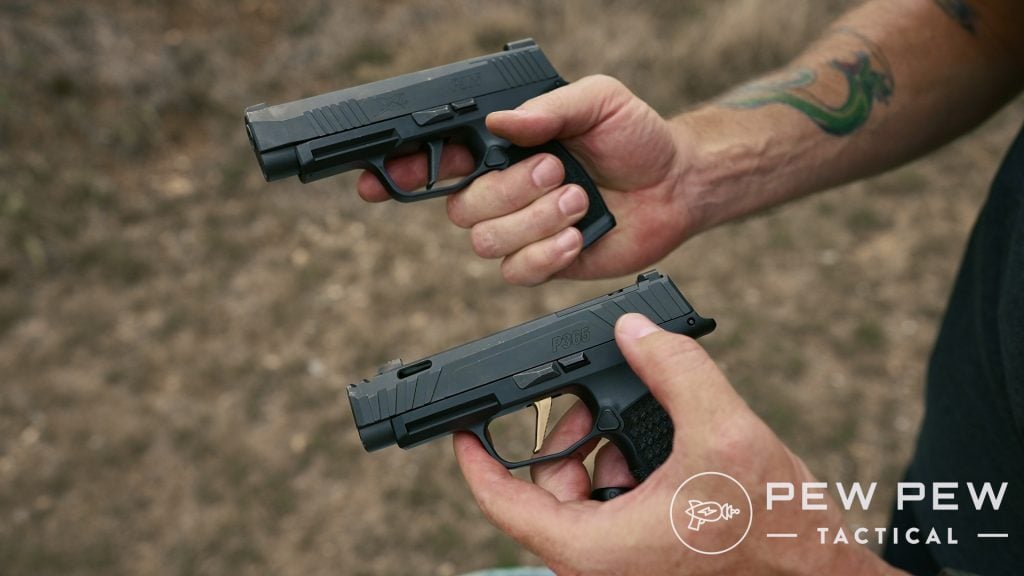 Their moniker is accurate — they make machine guns, optics, suppressors, rifles, handguns, and so much more. Not bad for a Swiss-German conglomerate that made its name producing high-quality handguns.
Today we are going back to the roots of Sig and examining their handguns, specifically the best guns they make for concealed carry.
So follow along as we walk you through our favorite models for carry!
Summary of Our Top Picks
Table of Contents
Loading...
Why You Should Trust Us
We here at Pew Pew Tactical believe in bringing you the best information based on testing we've done.
Every model we recommend is based on hours of research, range testing, and concealed carry with various models of Sig pistols.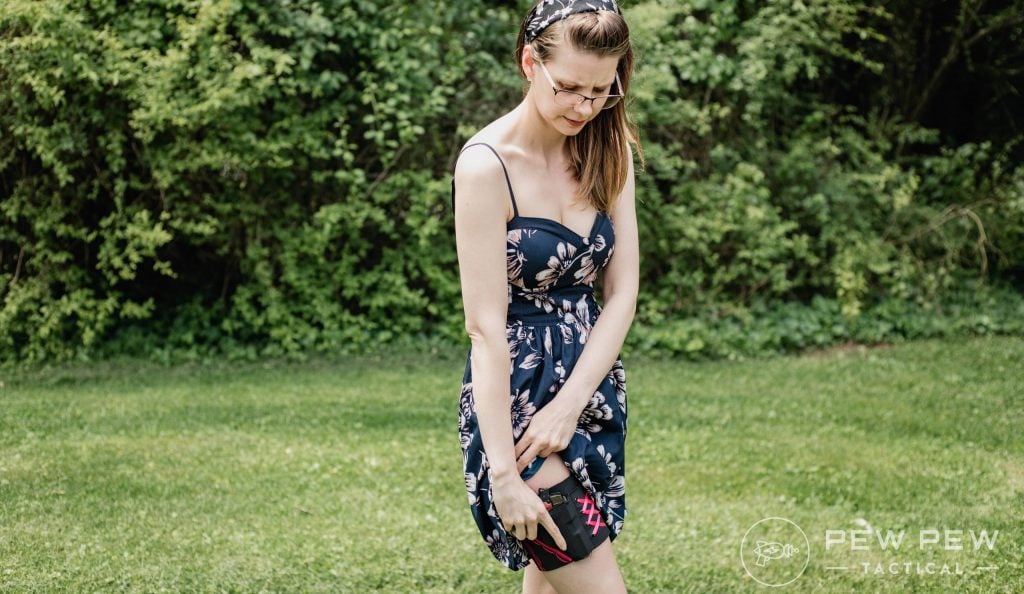 We spend hands-on time with each to make sure that it can withstand the rigors of daily carry. Most of these models are ones are staff actually carries with or has carried with at some point in their life.
Best Sig Sauer Pistols for CCW
1. P229
We aren't totally ditching heavy metal pistols for this list. That'd be a sin against Sig.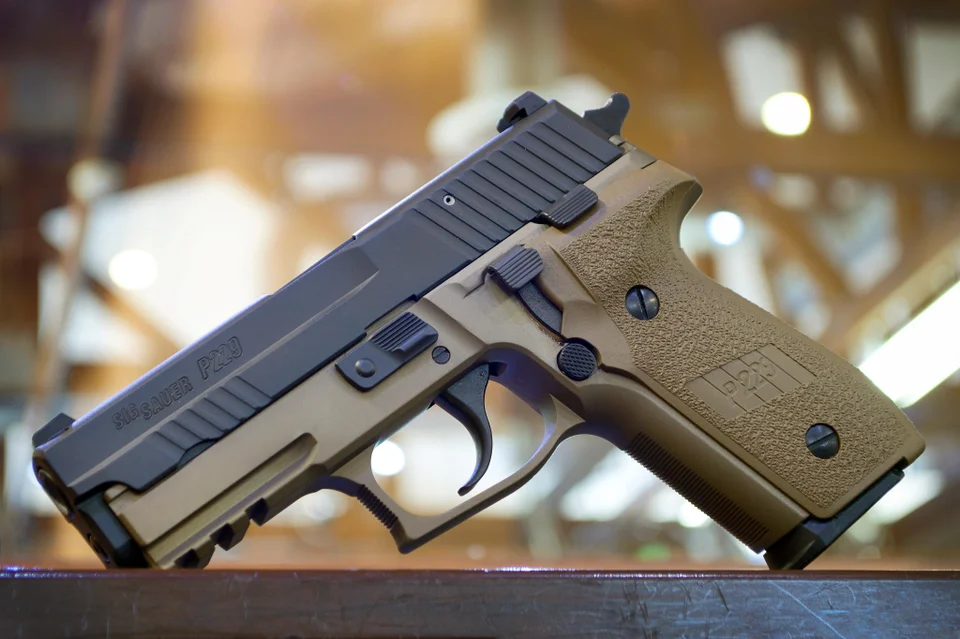 The Sig P229 is a natural choice for those looking for something a little bigger than average. Sometimes big is good, and the P229 gives you the compact variant of the P226.
Sig's P229 has a 3.9-inch barrel, an overall length of 7.1 inches, and a hefty weight of 34.4 ounces. It's for the carrier who doesn't mind a little bulk either, with a width of 1.5 inches.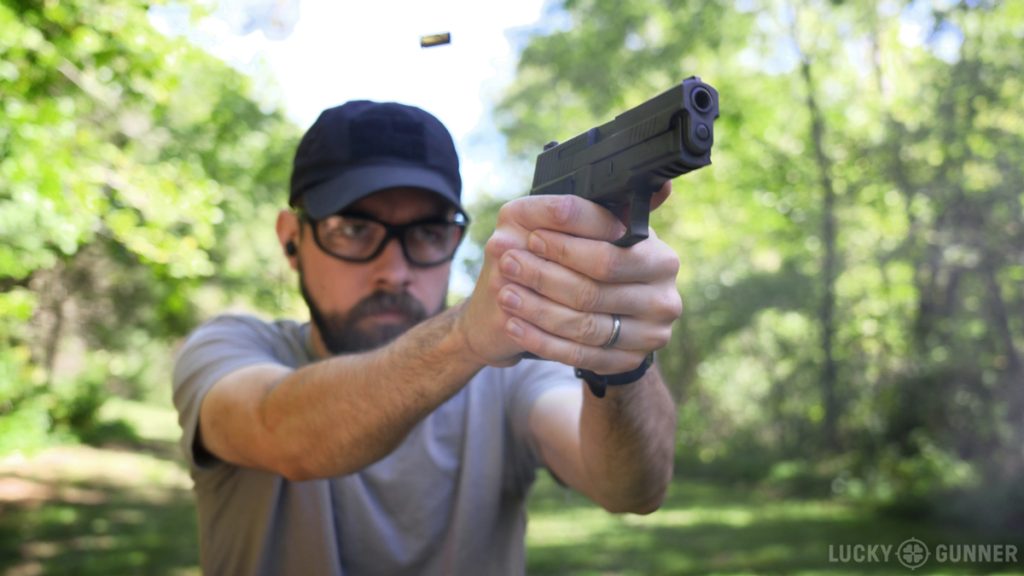 When it comes to recoil and control, the P229 is a sewing machine.
Recoil and muzzle rise is barely a thing, at least in 9mm. The gun barely bucks between shots and is easy to control, even with a single hand. Its metal frame ergos are tough to beat, and they have one of the best decocker setups on the market.
Sig also does a fantastic job with the P-series triggers. In the double action, you get a nice, smooth, but long pull that rolls rearward.
The single-action is almost 1911-like greatness. A slight pull delivers a clean break and a crisp reset.
Best Dual-Purpose Carry
999
at GrabAGun
Prices accurate at time of writing
Prices accurate at time of writing
The big downside here is the gun's weight when sitting on your belt. At 34.4 ounces unloaded, it is a lot of weight. Another mark against it is price; the metal frame P series are not budget-friendly guns.
Still, the P229 is the gun for the discerning shooter. Sure, it's heavy, but it's comfy to shoot, easy to handle, has excellent ergonomics, and has a great trigger.
2. P210 Carry
When Sig first announced the P210 Carry, I was confused. Who wants to carry a gun designed in 1949? But then I remember the 1911 cult still exists….kidding, I'm just kidding.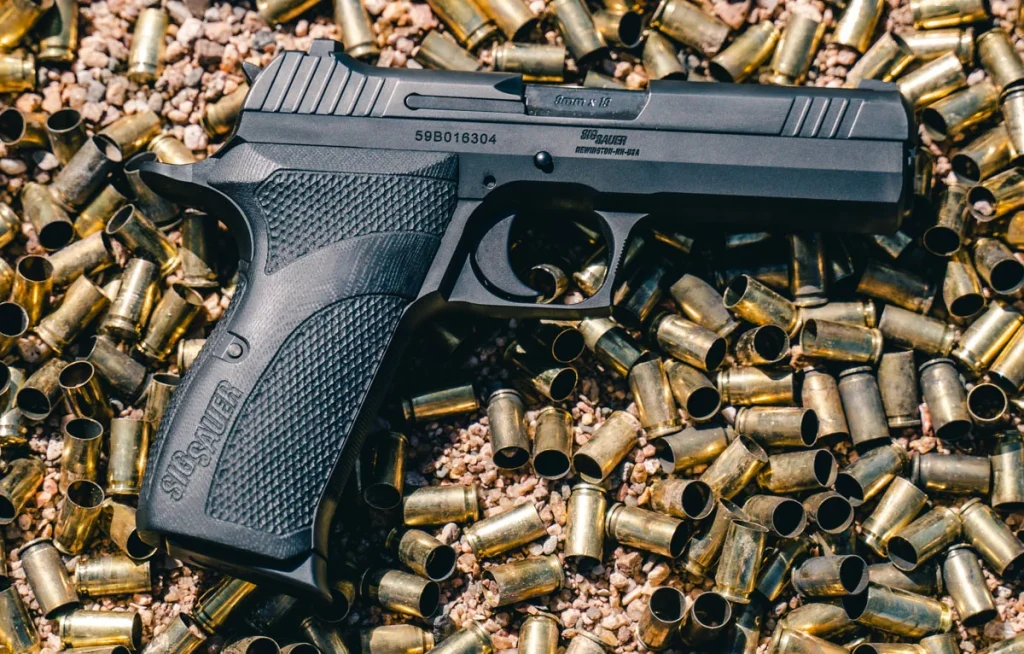 However, some hands-on time with the P210 Carry really changed my perspective on the gun.
Sig's revival of the P210 was a big deal.
The Carry model is an evolution of the original design, trimming the barrel down to 4.1-inches. The grip is still the full-sized P210 style and houses an 8-round single stack magazine.

Sig replaced the adjustable target sights with SIGLITE night sights, and ultra-aggressive black G10 grips replaced the wood grips. A huge beavertail allows you to get a nice high grip on the gun and the manual safety and slide lock are both large and easy to engage.
1911 fans love to brag about their triggers, but the P210 blows most of them out of the water.
It's light, super smooth, and crisp with a short reset that's tactile and oh-so-satisfying. After letting off a few rounds resulting in a single ragged hole, I was a believer.
Best High-End Option
1399
at Kygunco
Prices accurate at time of writing
Prices accurate at time of writing
The P210 Carry is not the most modern carry gun by any means. Compared to most, heck compared to Sig's P365, it's oversized, inefficient, and heavy.
However, you get superb ergonomics, excellent controls, and a trigger that makes me say "brilliant!" in a British accent.
It's more classy than practical — but sometimes you need a tuxedo gun.
3. SP2022
Sig's first polymer pistol was the SP2022, but it never got a lot of love.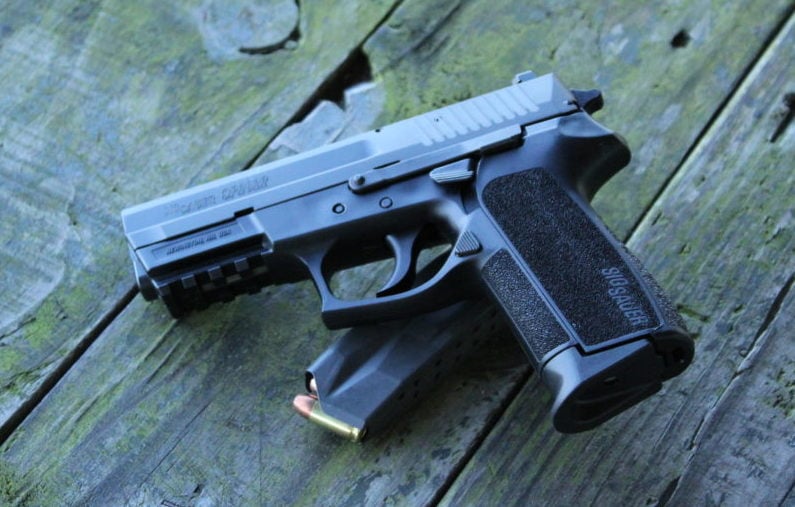 The SP2022 retained Sig's traditional DA/SA action with the standard decocker but tossed it onto a compact frame design.
Sig originally marketed the gun as a more affordable alternative to the metal-framed P-Series.
The SP2022 is roughly the same size as the P229, with a 3.9-inch barrel, an overall length of 7.4 inches, and a 1.4-inch width. However, the polymer frame trims almost 5 ounces, making it a 29-ounce gun.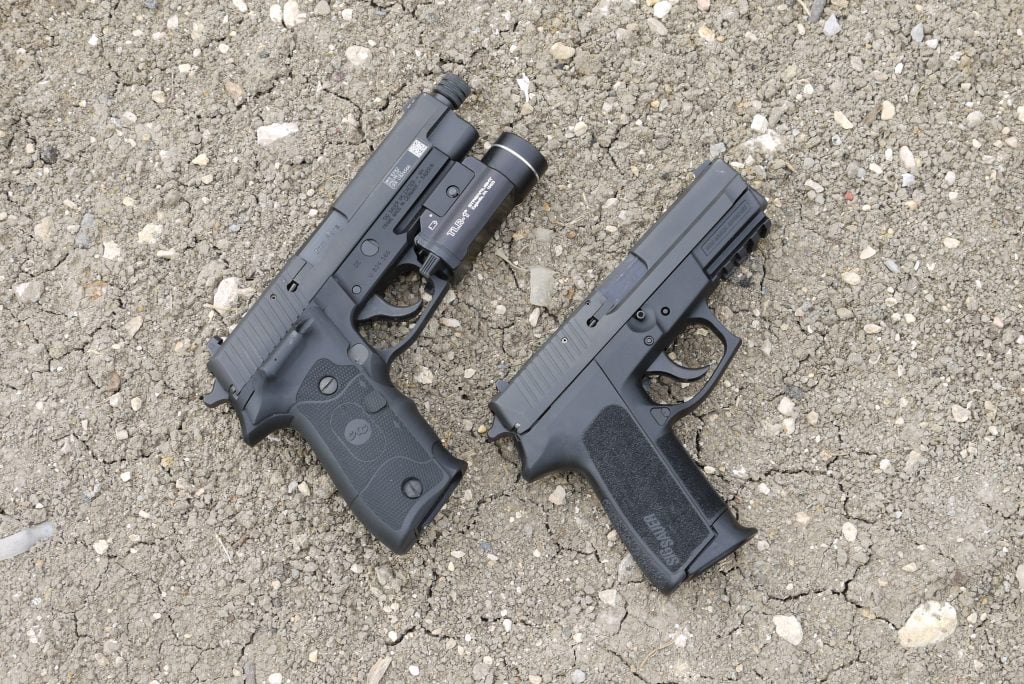 It's relatively compact and strikes a nice balance of size and weight.
Almost everything about the gun mimics the P-series pistols. The grip angle and general controls are virtually identical, and that's a good thing.
One area the SP2022 falls short in is its trigger. It's not bad by any means, but it isn't as smooth or nice as the P-series triggers. It's a little spongier and has that plastic-on-plastic feel.
488
at GrabAGun
Prices accurate at time of writing
Prices accurate at time of writing
Despite that, the SP2022 is a very underrated firearm that deserves more respect than it gets.
It is a great option for those looking for an affordable pistol that can be used for both concealed carry and home defense.
4. P365XL
The P365XL was the second released variant of the wildly popular P365, and to many, it's the perfect carry gun.
This model satisfies the needs of shooters looking for a smaller gun but still wanting a good capacity.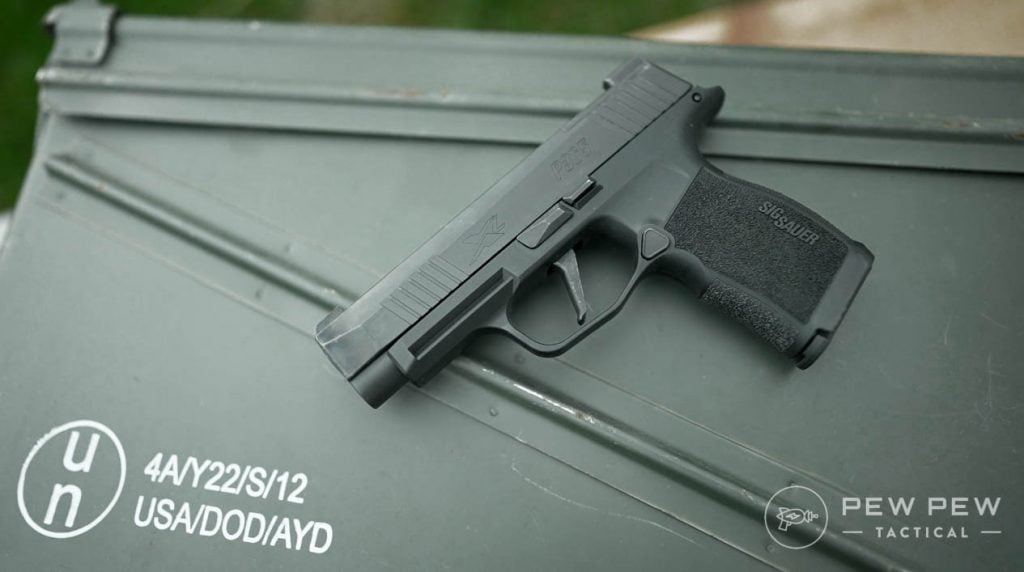 Sig extended the frame, slide, and barrel of the P365 to create the XL. The barrel is 3.7 inches long, the overall length is 6.6 inches, and the width is only 1.1 inches.
It's roughly the same length as the P320C but much thinner.
Capacity-wise, the gun comes with 12-round flush-fitting magazines, but it can also use extended 15-round mags as well.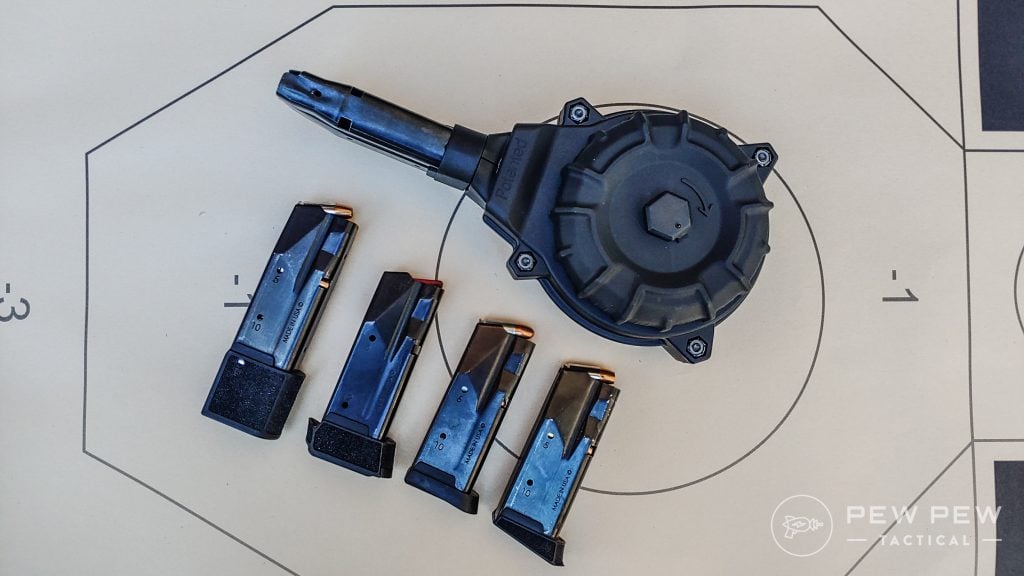 Sig also wisely decided to cut the slide for optics, and you can use optics with Shield RMSc footprints, including Sig's own RomeoZero series and the Holosun K series optics.
It also comes with excellent XRAY3 night sights that work well in all lighting conditions.
The XL offers a nice hand-filling grip module that allows for easy control of the gun while still being concealable.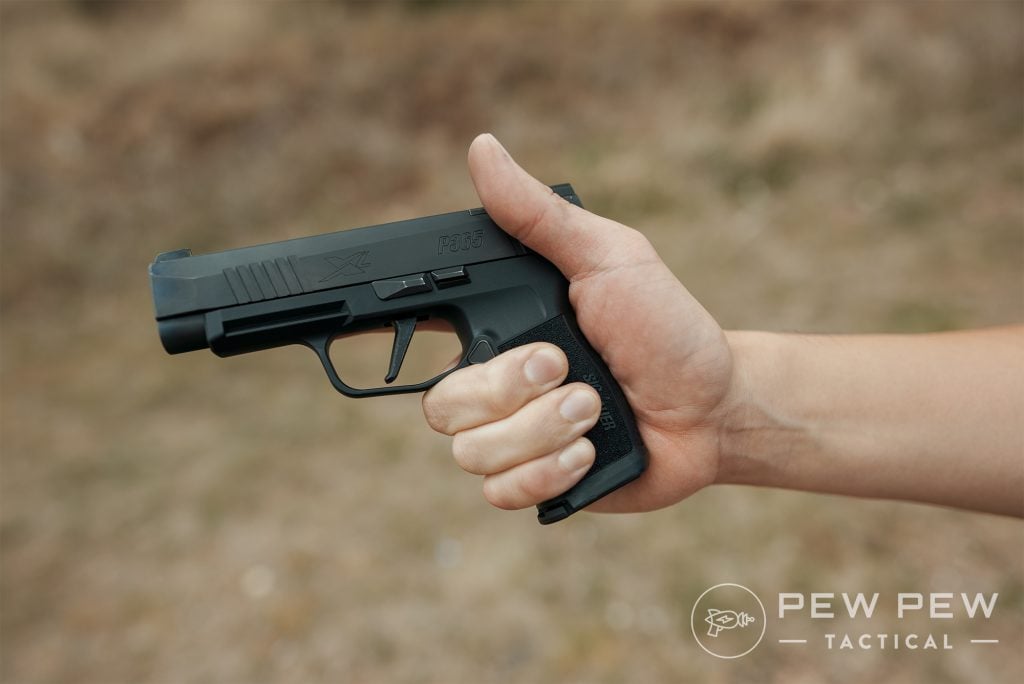 It's a smart design that gives you a great compromise between size and concealment.
599
at GrabAGun
Prices accurate at time of writing
Prices accurate at time of writing
There isn't much bad to say about the P365XL. If it's too big, you can go the standard P365 route.
Overall, the P365XL is an excellent option for those who want to try and find a happy medium between size, capability, capacity, and the ability to accessorize with lights and optics.
It's tough to find a better middle ground.
Check out our full review of the P365XL.
5. P238
When it comes to pocket .380 ACPs, you are often stuck with a direct-blowback gun that bites and slaps your hand with every shot.
The Sig P238 is an exception to that.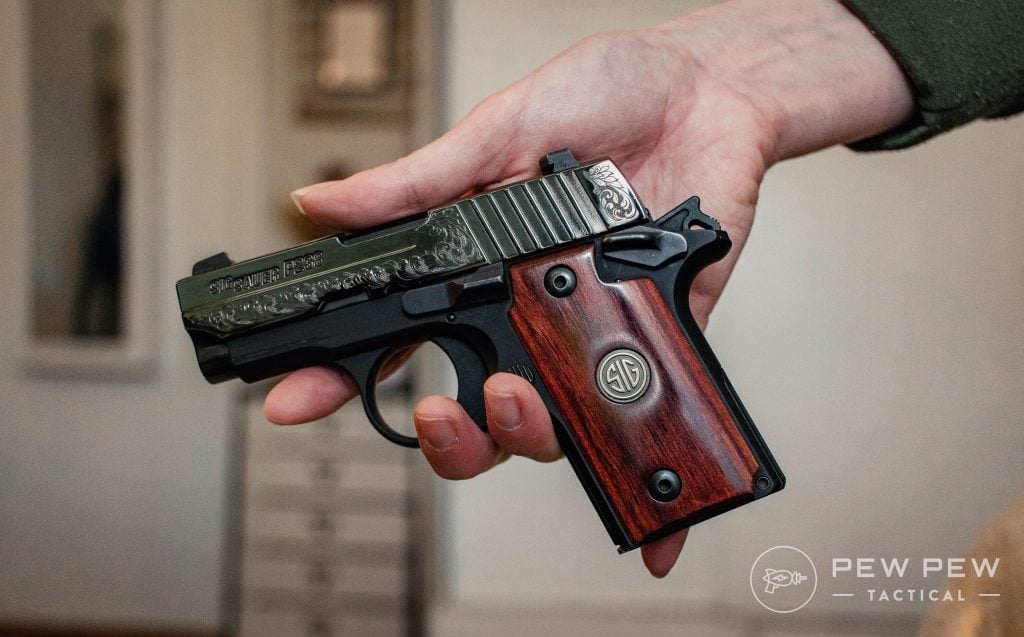 The all-metal P238 takes on a 1911-inspired layout with a single-action trigger, a single-stack magazine, and a manual frame-mounted safety.
Sig kept things small with a 2.7-inch barrel, a 5.5-inch overall length, and a 1.1-inch wide design. Plus, it only weighs 15.2 ounces.
Sure there are smaller guns, but the Sig P238 stands out as one of the more comfy pocket-sized guns. I fully expected the slap and pow of a pocket .380 ACP, but to my surprise, the gun proved easy to handle and pain-free.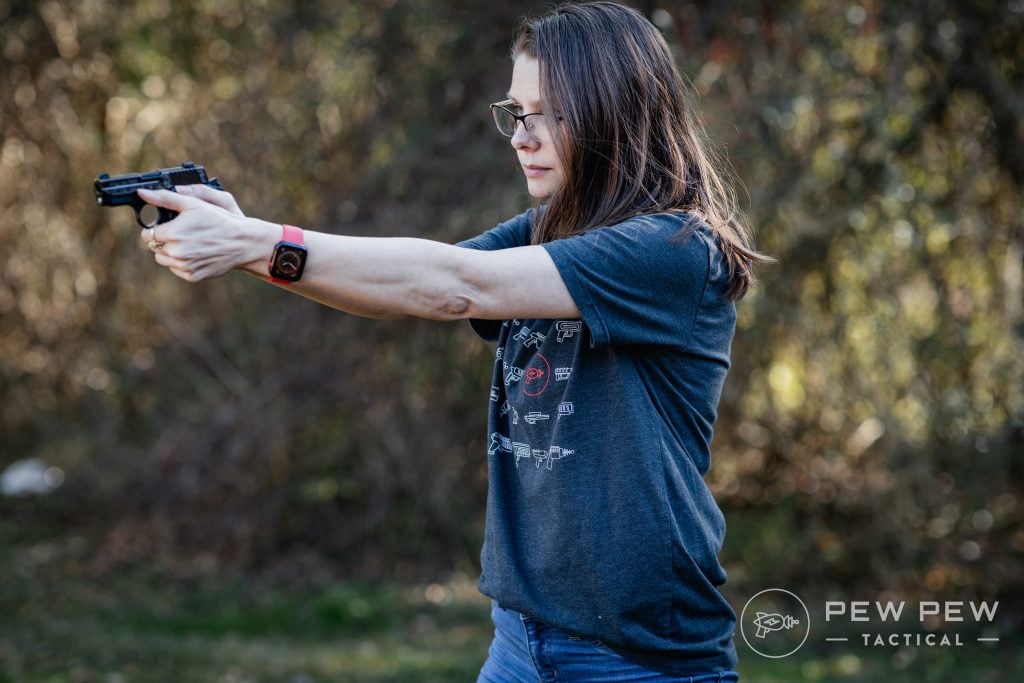 This is partly due to P238 using a Browning-style tilting barrel system rather than the harsher direct-blowback operation of many similarly sized .380s.
While the gun's fastest portion is 1.1 inches wide, that extra width is from the safety. Overall the gun is mostly thinner than an inch. A good beavertail also protects your hand from slide bite.
Actuating the safety isn't difficult, and shooters shouldn't have an issue making it a natural part of their draw stroke. Sig tops the gun with either SIGLITE night sights or nice 3-dot sights that are more than the standard nub you expect from a pocket pistol.
Best Pocket-Sized Carry
649
at Palmetto State Armory
Prices accurate at time of writing
Prices accurate at time of writing
The light trigger combined with the sights makes it fairly easy to shoot accurately — another nice departure from your typical pocket .380. Overall, the P238 is small, comfortable, and pleasant to shoot.
You can read more about the P238 in our review here!
6. P365
Sig's best-concealed carry pistol is, by a large margin, the P365. The standard P365 checks all the boxes for a great carry gun.
With over 2 million sold, the world seems to agree.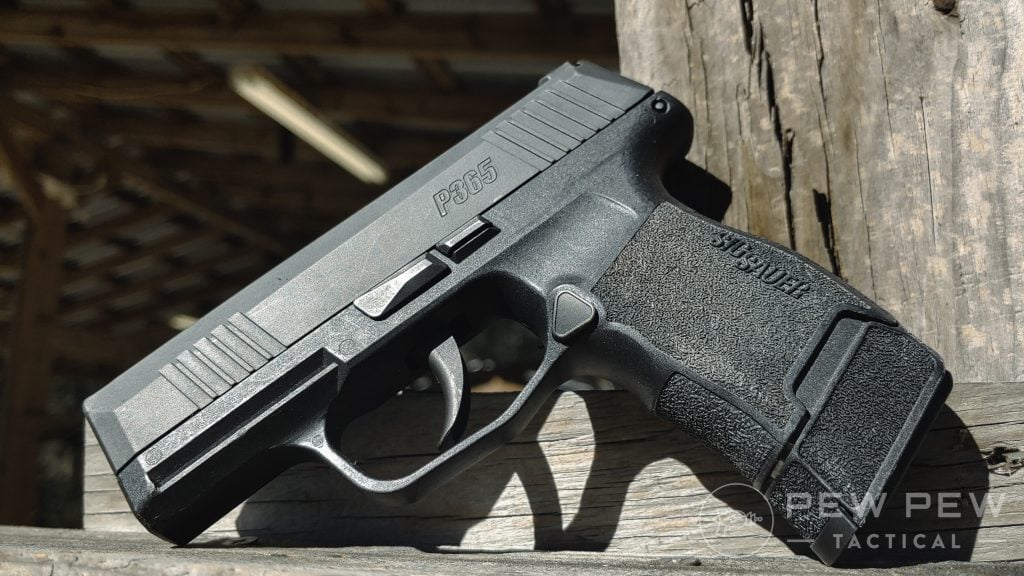 The P365 was released in 2018 to great acclaim. At the time, the Glock 43 was the gun to beat when it came to concealed carry, and the Sig P365 was roughly the same size but packed four extra rounds.
Beyond capacity, we got a removable chassis system allowing unbeatable customization and modularity.
Sig didn't just toss us a couple of gimmicks but provided a reliable gun with fantastic sights and a great trigger for a striker-fired gun.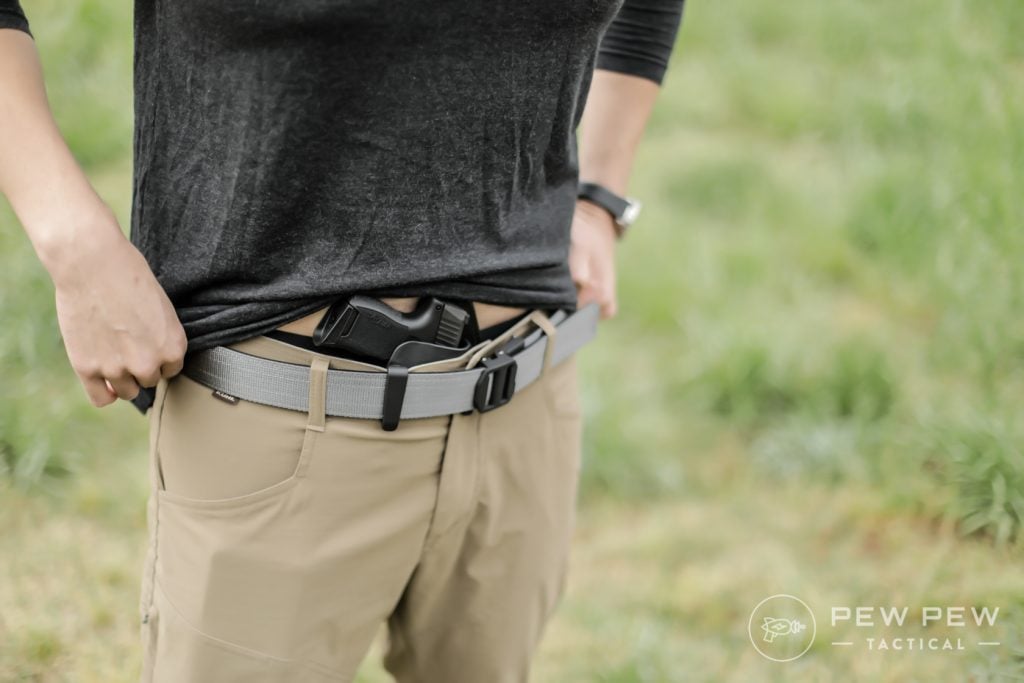 Plus, the gun didn't cost an arm and a leg, and it was readily available and easy to find upon release.
The P365 started life with 10-round magazines, but along the way, they produced a slightly extended 12-round magazine and a larger 15-round magazine to fill your capacity needs.
Best Overall Concealed Carry Option
499
at Kygunco
Prices accurate at time of writing
Prices accurate at time of writing
This model redefined carry guns, and it's been my personal choice for years now. I've had no serious issues over several thousand rounds downrange.
It is the number one gun I suggest to concealed carriers. It's pleasant to shoot, accurate, and crazy efficient.
Bonus: if you want something that offers a complete package with a rose tinted vibe, then check out the Sig Rose.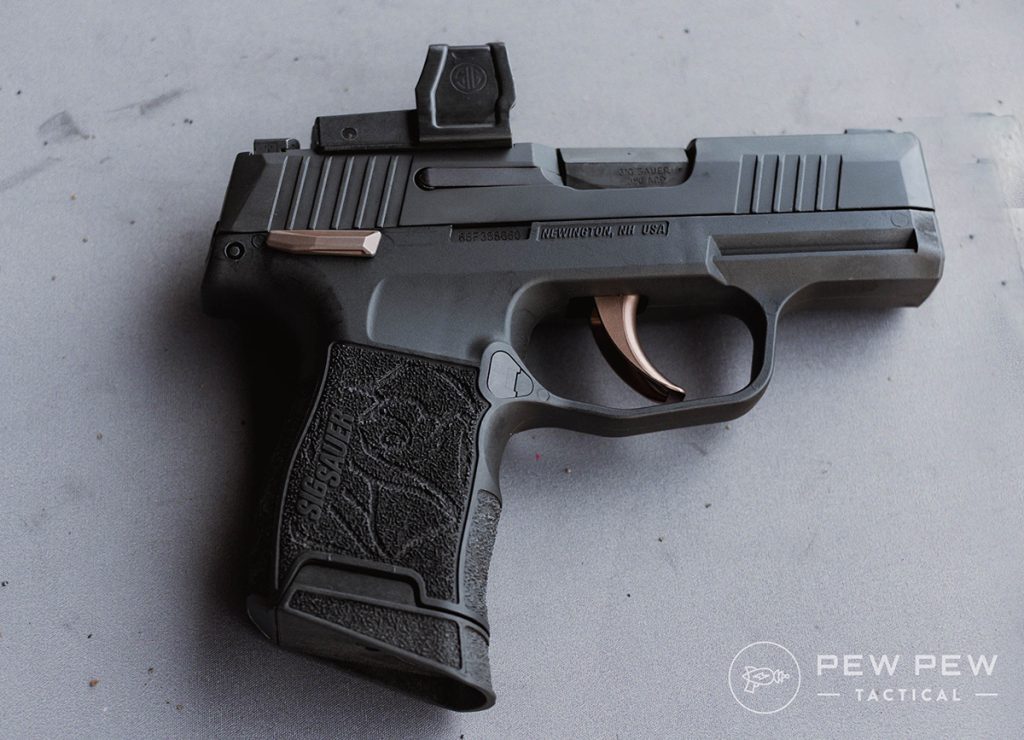 It's a P365 with some nice rose features, and it ships with a small pistol safe and snap caps for training. Highly recommend it for the new gun owner in your life. (PPT review coming soon!)
749
at GrabAGun
Prices accurate at time of writing
Prices accurate at time of writing
Want to learn more? Check out our full review on the P365.
The Market Evolution
Sig Sauer and concealed carry aren't necessarily new friends, but the company's most famous handguns are their big heavy all-metal P series pistols.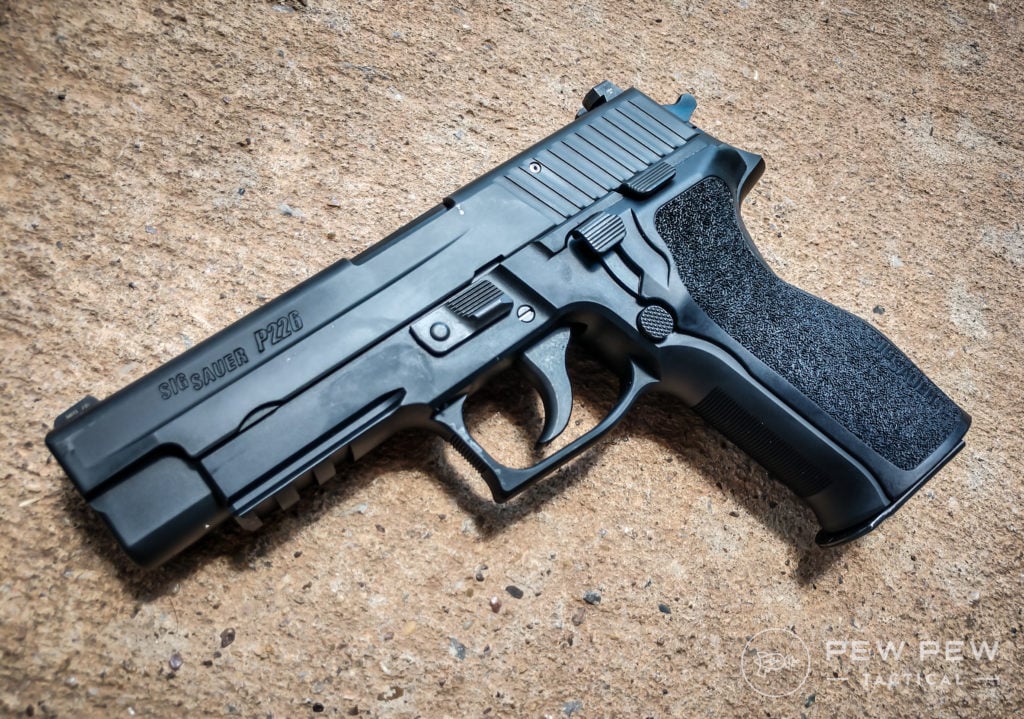 That doesn't mean Sig hasn't produced some great carry-friendly pistols.
The Sig P228, the P239, and the P230 are all legendary handguns in the concealed carry world. Those are still heavy metal pistols, though.
In recent years they've embraced the polymer market and began producing some of the best concealed carry pistols on the market. In fact, I'd hazard to guess they produce the best current pistol in that category with their P365.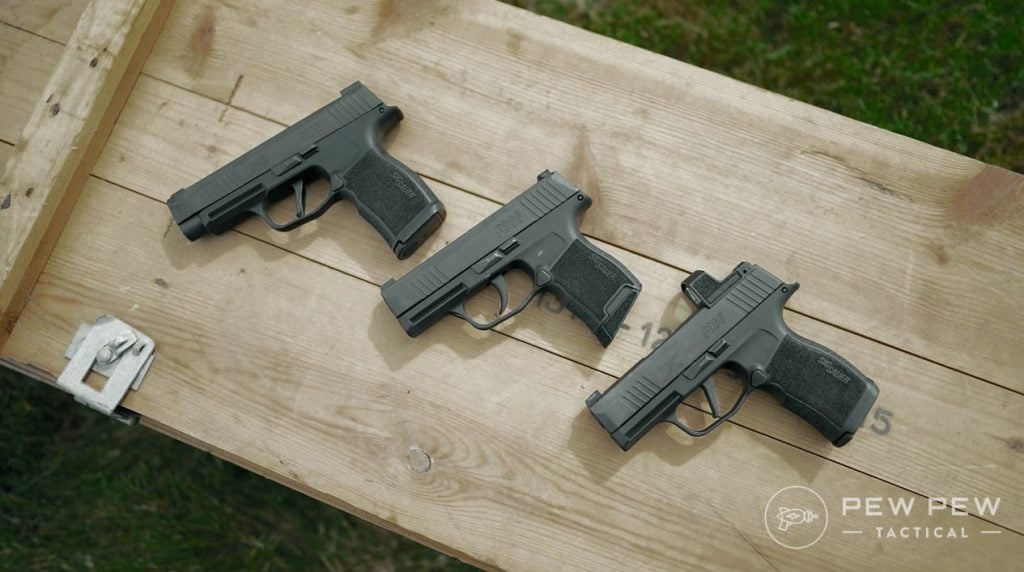 This list could be nothing but P365s, to be honest. However, to make this more practical, I'm not going to include special editions, custom shop variations, or Legion guns.
Those are fine for concealed carry but expensive, produced in limited numbers, and not what the average person would pick for concealed carry.
Final Thoughts
Sig Sauer isn't a new company, and throughout their life span, they've had some great guns come and go, but the best always seem to stick around.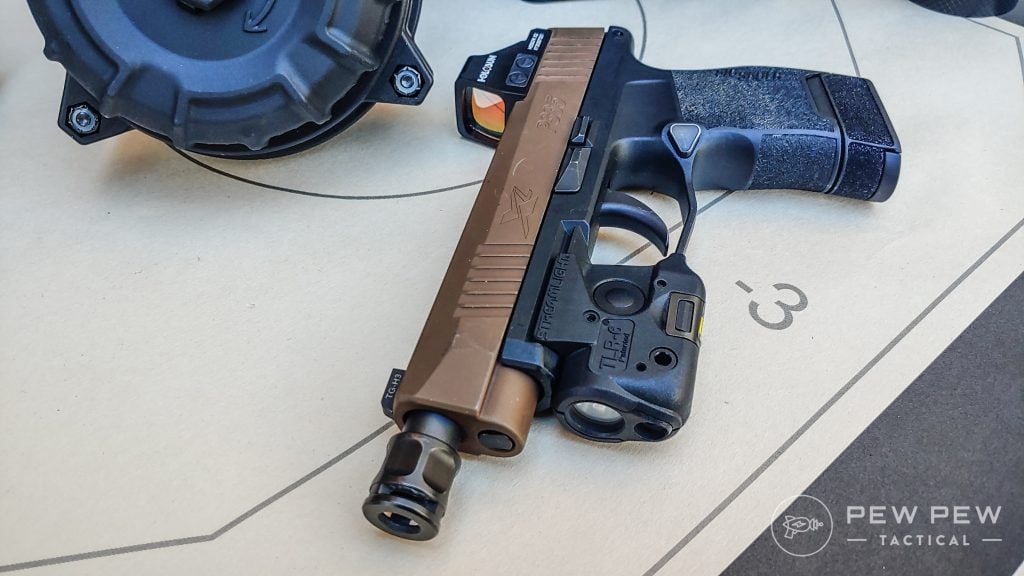 I'm a big Sig fan, and I like seeing what comes next, be it the NGSW Spear or the latest iteration of carry guns.
What's your favorite Sig Sauer pistol for carry? Let us know in the comments below. If the P365 has caught your eye, check out our article on the P365's History, Models, and Evolution!
FAQ
Is the P365 good for concealed carry?
The P365 is a fantastic concealed carry pistol with a lot of versatility and the ability to hide well under clothes.
What is the most popular Sig pistol for concealed carry?
The Sig Sauer P365 is the most popular handgun for concealed carry on the market right now.
Is Glock or Sig better for CCW?
That really depends on what you're after. If you want a platform that is the same across all models, Glock wins that. If you want something that's concealable and offers the most capacity, that's the Sig P365.