It's been proven over and over that .45 ACP and 9mm are solid for self-defense, but that doesn't mean they are the only players in town…
There are just as many people saying pocket .380's perfectly fine for self-defense as there are people saying it's terrible.
As I've mentioned before, ANY bullet size is better than no bullets at all.  In the end, shot placement > bullet size in every case.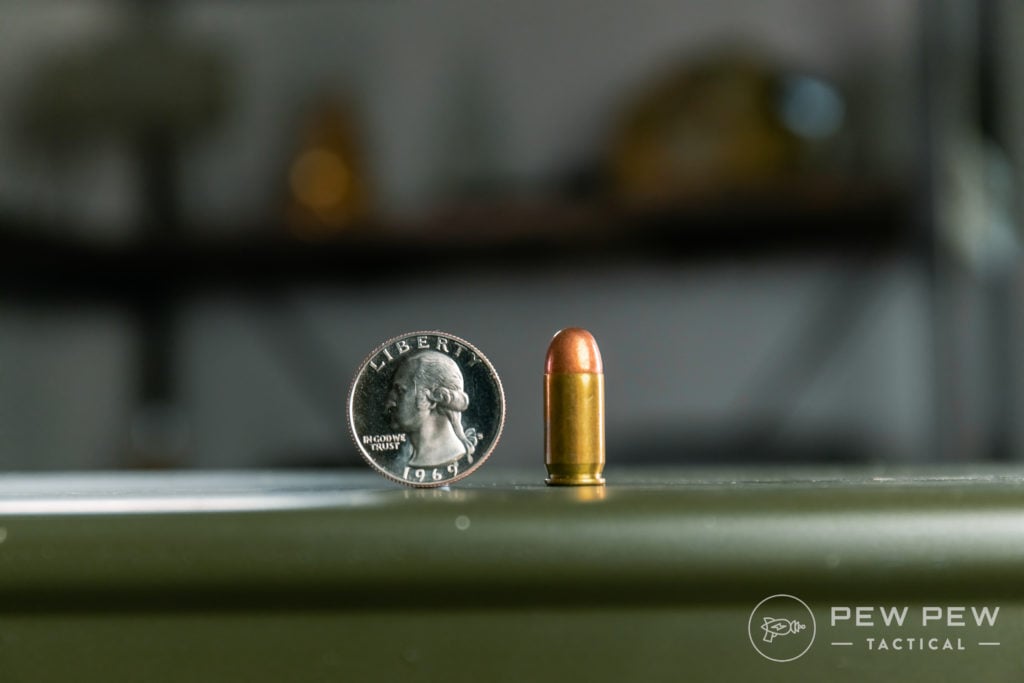 But now it's time to talk about the Sig Sauer P238.
The Sig Sauer P238
There is this gun you might have heard about called the "1911."
585
at Cabela's
Prices accurate at time of writing
Prices accurate at time of writing
A little company named "Colt" released it a few years ago.  A little over 100 years ago to be exact.  It shot the big .45 caliber mamma jammas and looked rather pretty while doing it.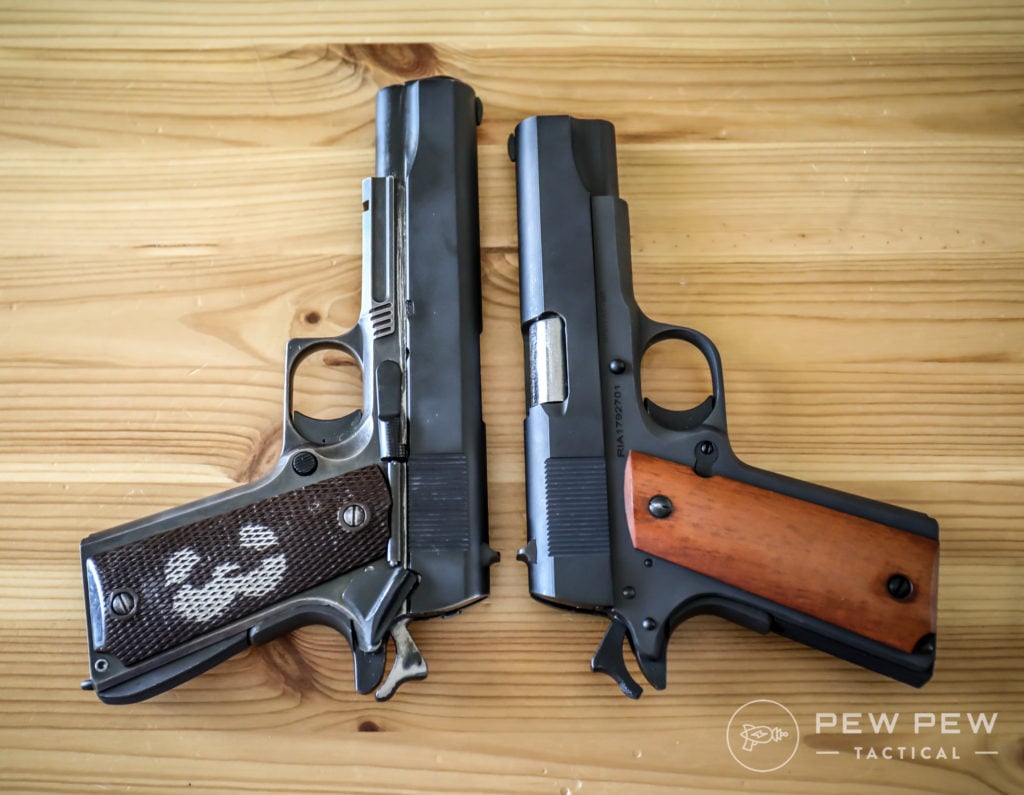 At some point in the early 80's, someone said: "You know, this is an awesome gun and all but I want something a bit smaller so I can hide it in my waistband."
Colt was like "good idea, Slappy, we'll get right on it" and released the .380 Government model.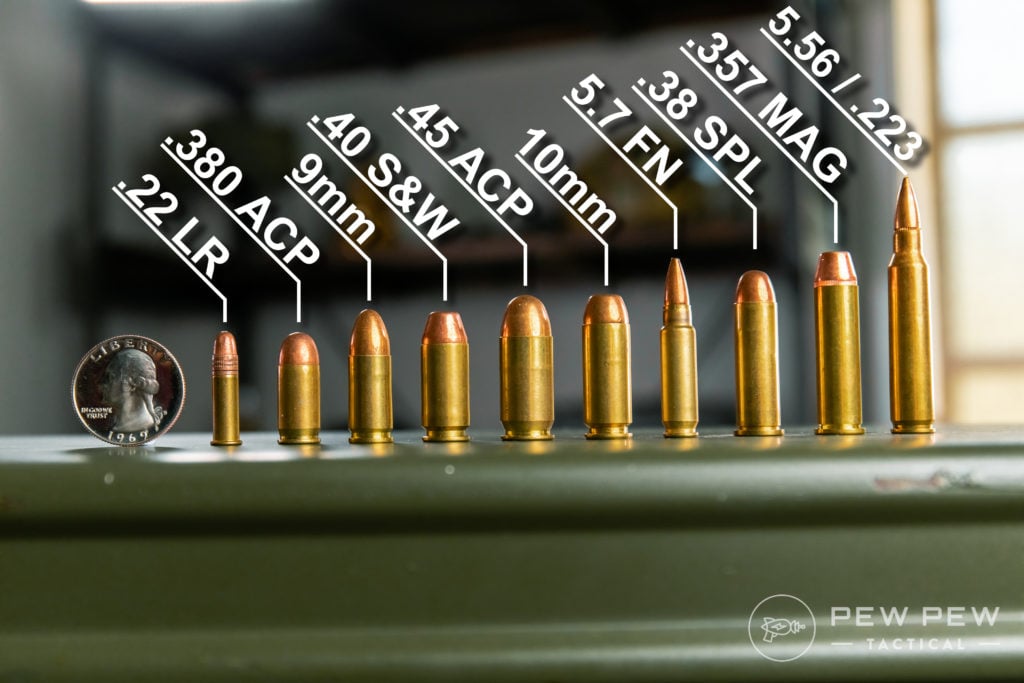 It was essentially a scaled down 1911 with all the features removed that were too hard to fit into a smaller gun (like the grip safety and such).
Then someone said: "I love this .380 Government Model but do you have anything I can carry in my pocket?"
As a response to that guy, Colt released a gun called the "Mustang" in 1986. This was an even smaller and lighter pistol than the GM and had even fewer moving parts. This was a popular little gun but, for whatever reason, Colt stopped making it (until recently).
But that's not what I'm here to talk about…
There's this company called SIG Sauer that makes guns.
They make good ones, I might add. They bought the rights to the Colt Mustang, made a couple of modifications and released it to the world as the SIG P238.
It's a tiny 1911 that's chambered in .380 ACP. Like the 1911, it's a single action, semi-auto pistol with a manual safety and slide release lever. SIG also ships them with their glow in the dark night sights.
This pistol can fit into pockets easily and, being an all metal gun, feels a bit sturdier than some of the polymer offerings of the P238's competitors. Even though it's all metal, there isn't a noticeable weight gain to it as compared to the other polymer pocket pistols either. The thumb safety is stiff but easily disengaged when you want it off.
33
at GunMag Warehouse
Prices accurate at time of writing
Prices accurate at time of writing
But that's not…wait…yes! This is what I'm here to talk about! Let's get to it!
By The Numbers…
Ease of Breakdown 4/5
It breaks down similar to a 1911…kind of. Actually, it breaks down almost exactly like my LC9.
Move the slide back until a couple of indentations line up, pull out the slide release lever, push the slide forward, pull out the spring and then the barrel. When you reassemble, you have to push the ejector down in order to get the slide back onto the frame.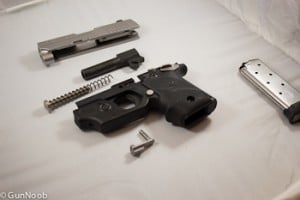 If you don't, you can destroy the ejector. It's a little detail but I don't like the delicateness of that particular step. Otherwise, it's pretty easy to pull apart. Just freaking be careful.
For that little "oops, I just broke my gun" potential, the P238 gets a 4 out of 5.
Maintenance 5/5
Once you do have it broken down, there's not much to clean. It's got a tiny barrel. There isn't much in the way of surface area to scrub. I was able to scrub it completely spotless in just a couple of minutes. If you do pocket carry, you'll want to give special attention to the hammer area with some compressed air. You don't want a massive amount of lint building up there.
I like a gun that's simple to clean. 5 out of 5.
Reliability 5/5
Pocket pistols are notoriously finicky.
In many cases, there are warnings in manuals about "only use X grain ammo in this gun" or people on forums saying "only use Winchester ammo in a ______ pistol". This gun, however, was solid. Not a single malfunction with my lovely cheapskate range candy. Face it, when you're carrying a pocket pistol, you're carrying it for one reason only: to protect yourself. Anything less than a perfect score in reliability is inexcusable.
That being said, this gun gets a 5 out of 5.
Safety 5/5
Keep in mind, this is a tiny 1911. If you're carrying in Condition 1 (cocked & locked), the hammer is going to be cocked.
This might make some people, especially those new to carrying, a bit squeamish.
Not to worry, SIG has you covered with a laundry list of safety features. There is a manual safety on this gun. I know there are some that don't like a manual safety on a carry pistol but as long as you properly train yourself to disengage that safety on the draw it won't be a problem.
There is also a firing pin safety block, hammer safety, and a disconnector that keeps it from being able to fire if the slide isn't locked into the correct position. All in all, like most new guns, this thing isn't going to just "go off".
Considering where I'd be carrying it, my Jimmies are happy to know that they're safe. 5 out 5
Poor Technique 5/5
I mentioned before that pocket pistols are notoriously finicky. They're also notoriously unforgiving. There are tight tolerances and not much room for error. The slightest limp wrist can cause slide bite or smoke stacks with many of them.
I'm happy to say that's not the case with this gun. Try as I might, I could not get this thing to malfunction.
Pocket pistols are also known for being a bit snappy. When you have a very light gun with a very short barrel, the muzzle flip can be surprising. In some cases, it can be almost as bad (if not worse) than larger caliber pistols.
The P238, on the other hand, had an amazingly light recoil. If I stop and say "wow" after the first shot, that usually means it's a winner.
The lighter recoil makes this easy to aim and easy to get back on target. It also makes it easier to practice with frequently.
I have no complaints in this area. Definitely a 5 out of 5.
Starter Kit 2/5
Oh Siggy, you had a good streak going there. In your kit, you get a plastic case and a single 6 round magazine.
In the case of this particular model, it also came with a laser sight. That's it. Nothing special here. On the bright side, the plastic case is at least decent quality.
Other than that, nothing here is really blowing my skirt up. 2 out of 5
Accessories & Upgrades 3.5/5
The problem with pocket pistols is there isn't much room to play with. There are a variety of laser sights made specifically for this pistol by multiple manufacturers. Extra magazines for it are surprisingly expensive.
290
at Brownells
Prices accurate at time of writing
Prices accurate at time of writing
The grips, however, are removable and there are lots of really cool options in that department. You can put different sights on it also but the ones that come with it are so good, I can't imagine why you'd want to.
40
at Amazon
Prices accurate at time of writing
Prices accurate at time of writing
Overall 4/5
Conclusion
The SIG P238 gives you the classic styling and function of a 1911, with the convenience and size of a pocket pistol. It's a serious joy to carry and shoot. The starter kit is rather sparse, but the quality of this little pistol makes up for it.
This gun was a delight to shoot and carry. So much so that I'm seriously considering trading in my LC9 for one.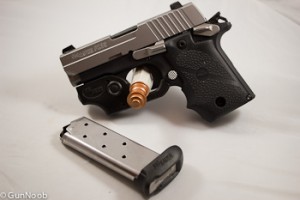 The LC9 isn't much bigger but it's big enough that I can't pocket carry it in all my pants. I couldn't find any that the P238 wouldn't fit into.
While I never recommend buying your daily carry as your first and primary pistol, if you're going to get a tiny gun as your first, you really can't go wrong here.
16
at Lucky Gunner
Prices accurate at time of writing
Prices accurate at time of writing
In the end, SIG Sauer's P238 gets a solid 4 out of 5. Check out our other choices for Best .380 Pistol.
Got a SIG P238? Carry a different pocket pistol? Let us know in the comments!