Let's face it, .380 ACP pistols often get a bad rep, or at the very least, are overlooked in favor of their 9mm and .45 ACP counterparts.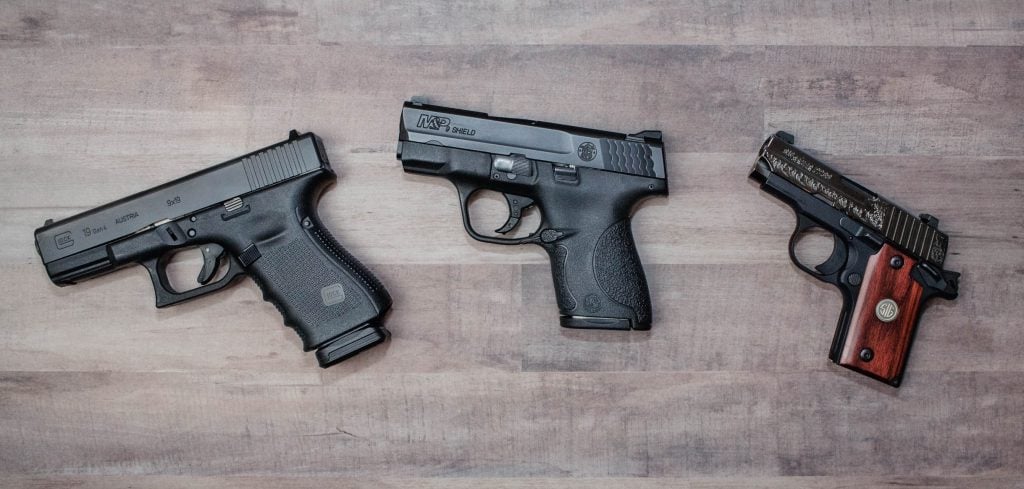 But the micro-compact .380 can serve a purpose – mainly as a gateway gun to gun ownership, a backup gun for when SHTF, or as an alternative when fashion dictates a teeny-tiny gun.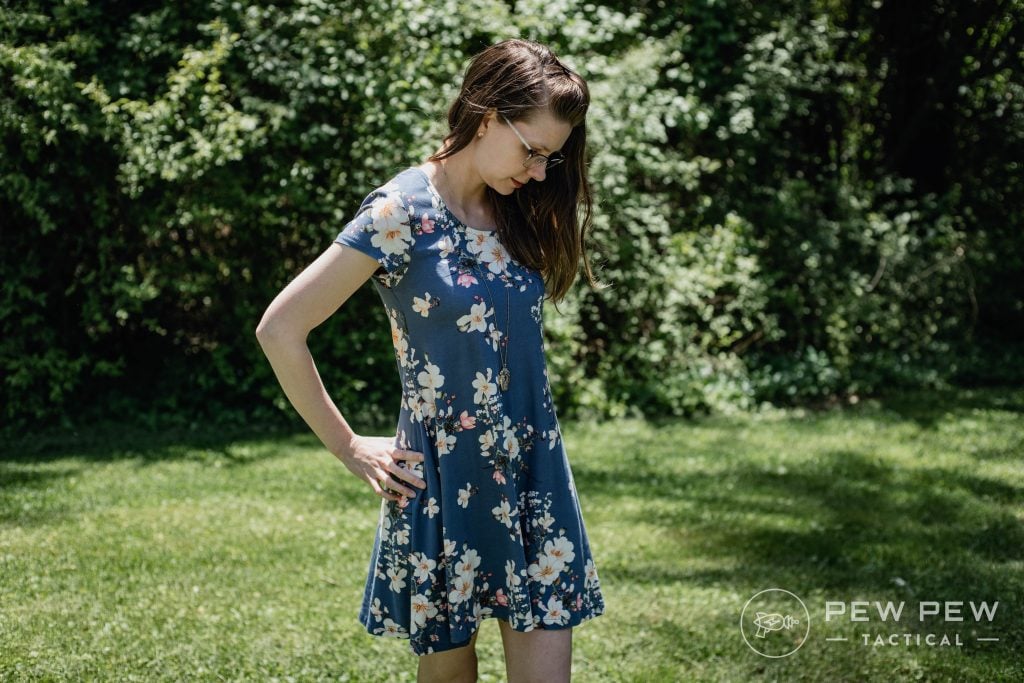 And today, we're going to talk about one of my favorite .380s…the Sig Sauer P238.
Hitting the scene in 2009, this micro pistol delivers a 1911 vibe but in the tiniest form. That said, can it really compete in a market full of striker-fired 9mms?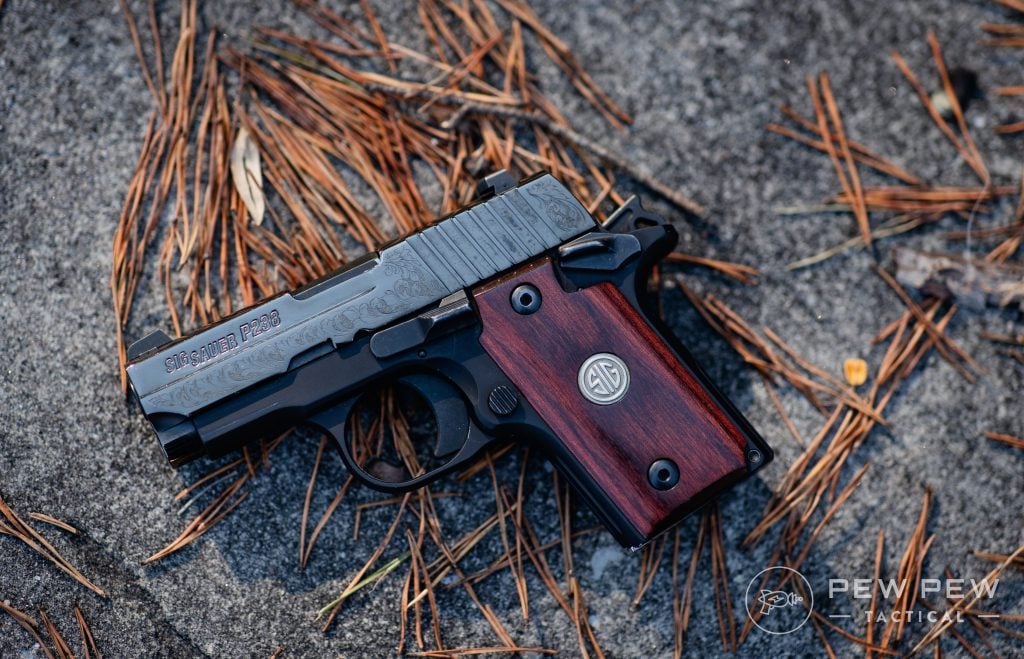 We're going to find out.
So, let's run through the specs, talk about some features, hit the range, and ultimately decide if it deserves a space in the concealed carry sphere.
If you've thought about grabbing this tiny .380 ACP, you'll want to keep reading…
Table of Contents
Loading...
Sig Sauer P238 Specs & Features
As I mentioned earlier, the Sig Sauer P238 is a 1911 inspired .380 ACP micro-compact pistol. One look at this gun, and you're instantly going to think Colt Mustang…I mean, it's hard not to. Just look at it.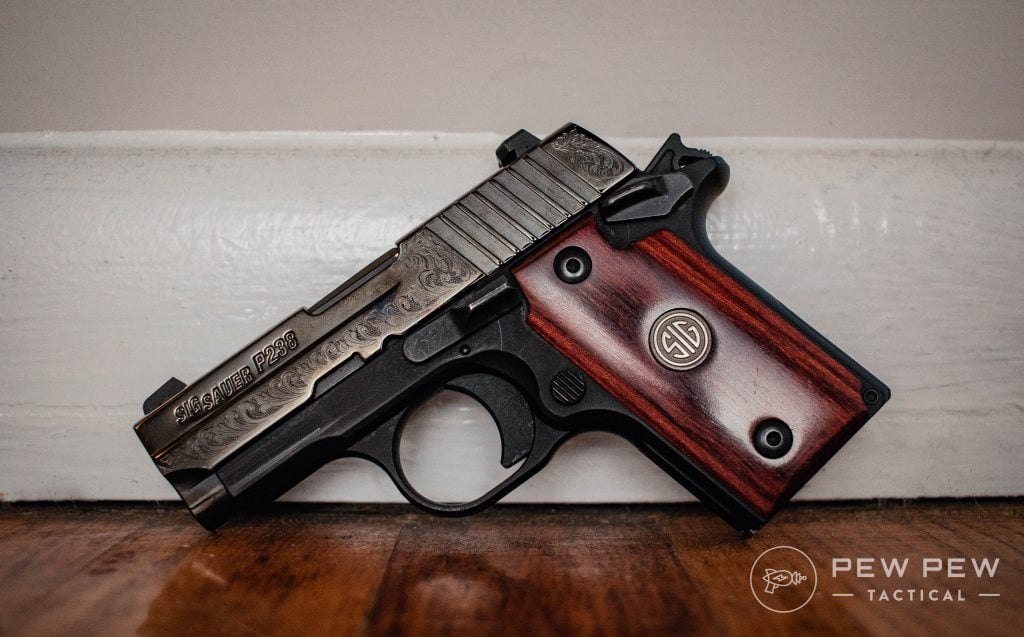 But what that means is you get a tiny pistol that isn't going to bog you down. In fact, weighing in at 15-ish ounces means you can barely feel it while carrying – but more on that in a minute.
Lengthwise it measures 5.5 inches with a 2.7-inch barrel.
Best Looking .380
618
at GrabAGun
Prices accurate at time of writing
Prices accurate at time of writing
This single-action-only handgun sports a magazine capacity of 6+1 or 7+1 depending on your mag. But it's a micro-compact, so is it a surprise that capacity suffers here? The answer to that is no.
Sig offers a few models in the P238 family — some more basic than others. My particular version brings rosewood grips and an engraved Nitron stainless steel slide.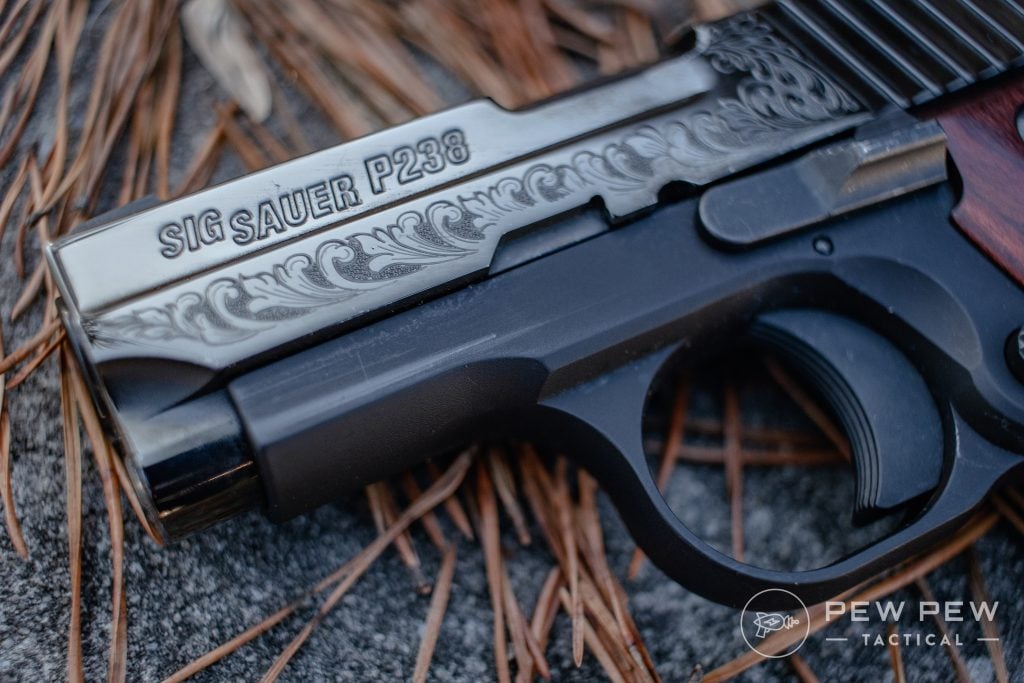 While I usually don't prioritize aesthetics when buying guns, I admit this variant is gorgeous. The engravings class this joint up, and it tends to turn heads at the range.
To say she's a looker is an understatement.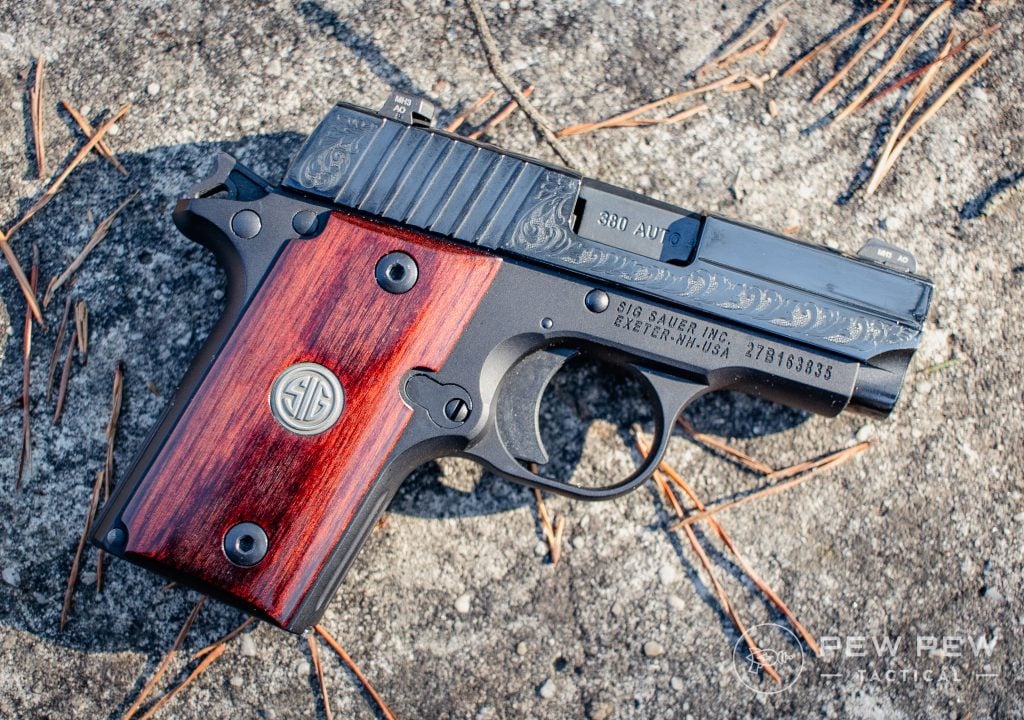 Topping off some of its more notable features are SigLite Night Sights.
Standard white sights are annoying, so having a front sight post that stands out is a huge blessing on the range.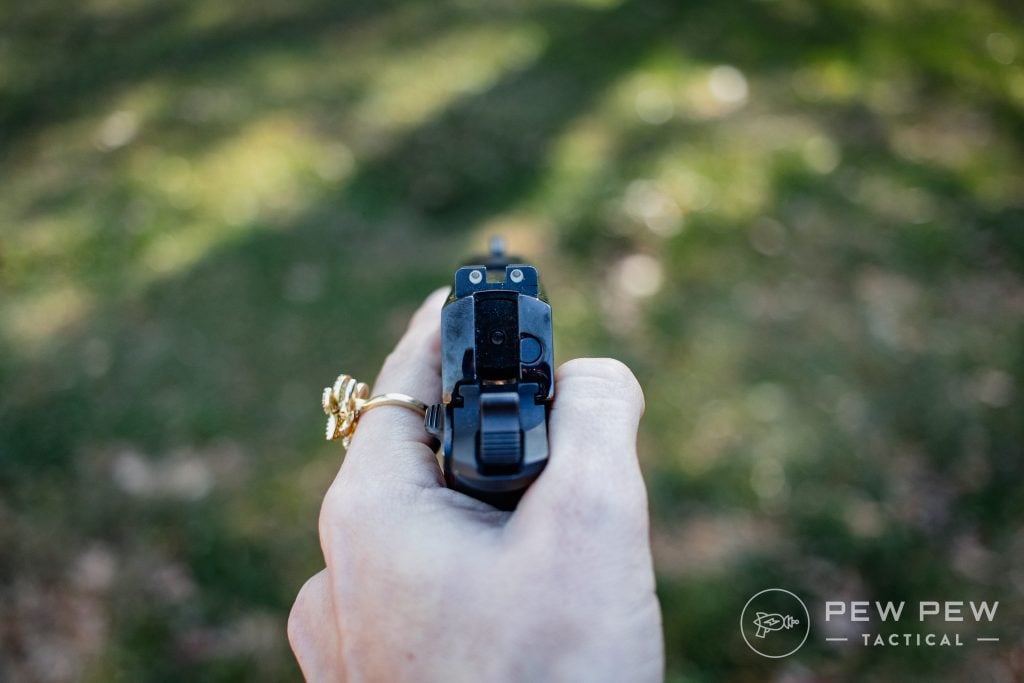 Finally, the P238 ships with a manual safety.
If you're used to 1911s, you're likely not shocked by this addition. But if you're not accustomed to working a safety, you're going to want to put in the practice to become proficient.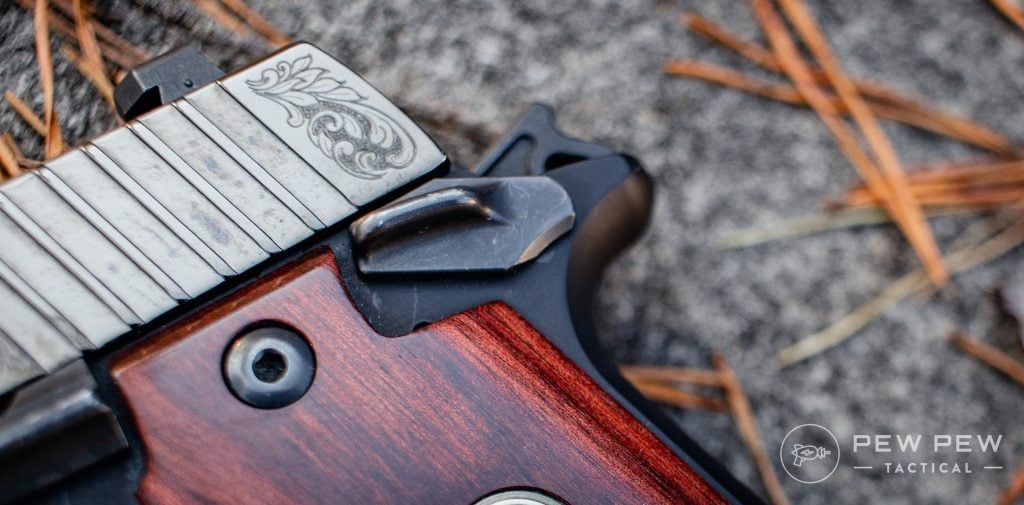 As someone who carries a striker-fired pistol 90% of the time, there's a learning curve here – which is why I relegate this gun to my special circumstances carry pile.
But if you love that 1911 vibe and are comfy with operating a manual safety, you'll be fine.
I will note, the safety felt stiff initially. So, you might have to work it in a little to get it to the point that it feels comfortable.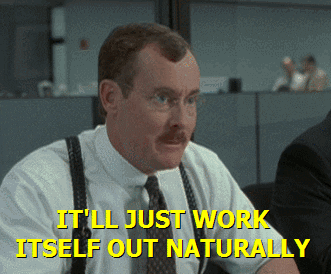 But that's a minor detail that will likely resolve over time and use.
The frame itself is hard coat anodized and feels pretty sturdy. This gun has been shoved into a few different carry situations with me and has proved durable during its time in my service.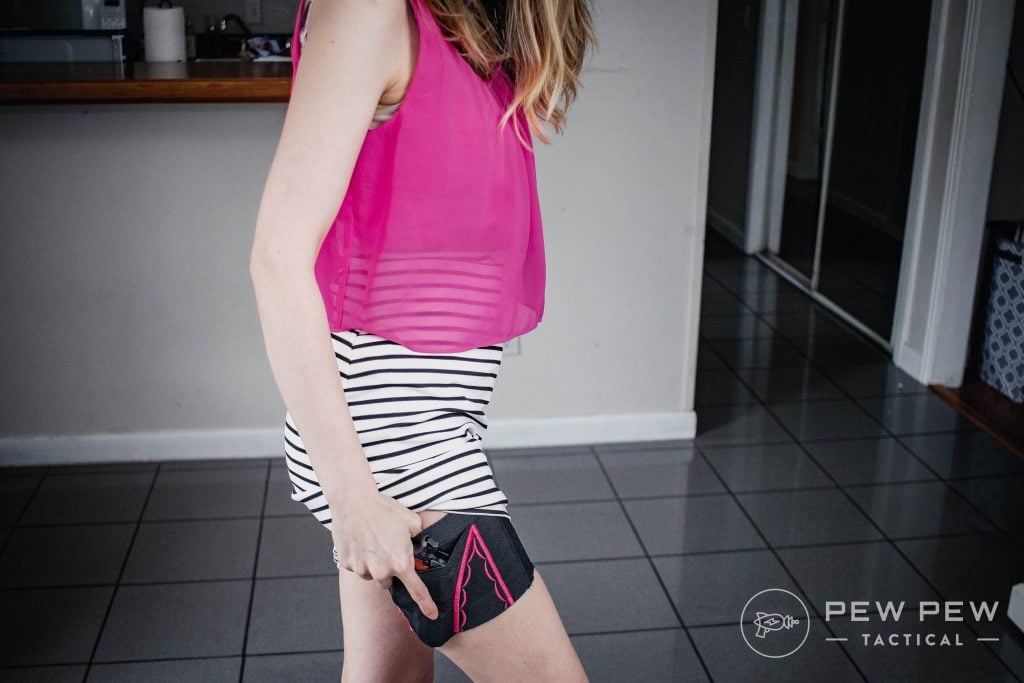 Now with the specifics out of the way, let's talk about range performance.
To the Range!
In truth, I've owned this P238 for over two years, and it's held up.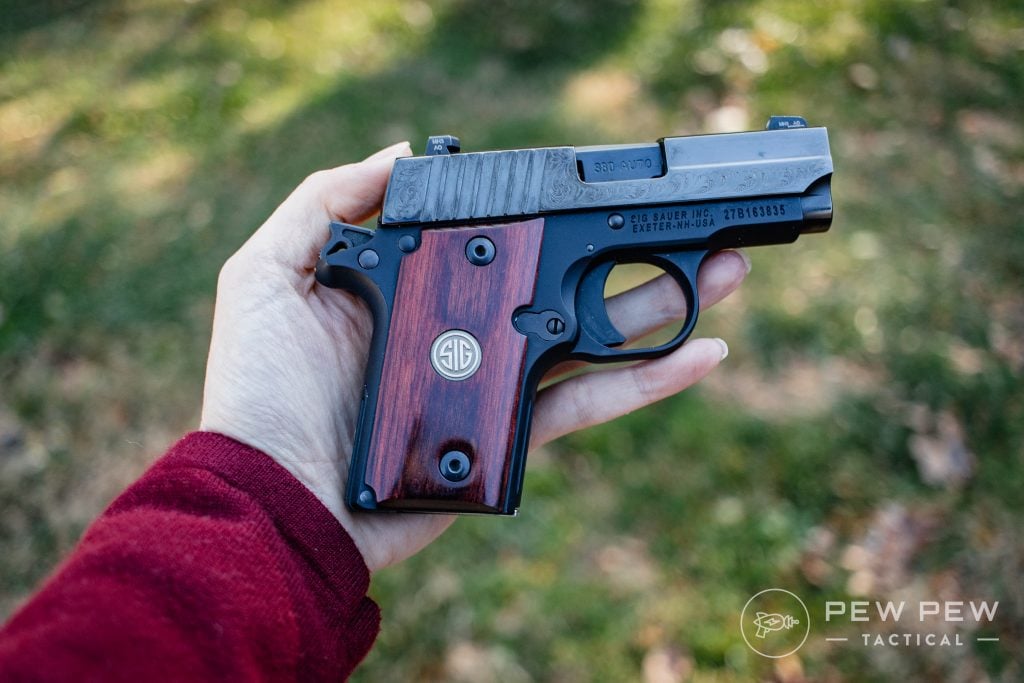 It's seen well over 1,000 rounds through it, and it just keeps going. In my experience, .380s can sometimes be particular with ammo, but that's not the case here.
I have used high-quality ammo and dirty brass, and the P238 takes both like a champ.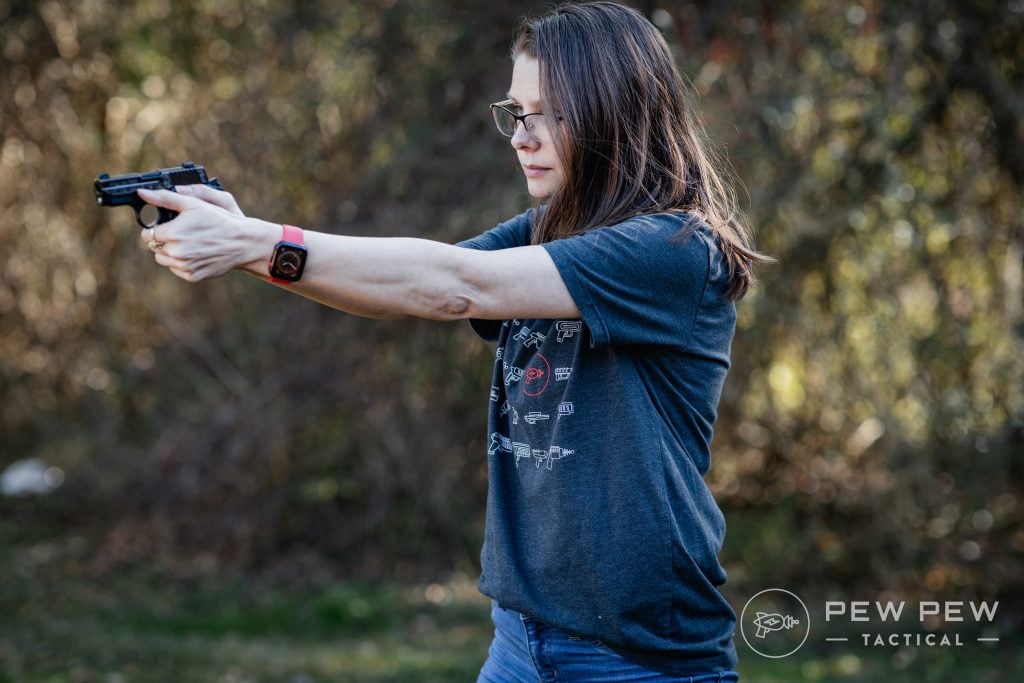 Not to mention, it's a very smooth shooting pistol. Tiny guns can sometimes be difficult to control because, let's face it; there's not a lot to grab here.
But that's the beauty of the .380 pairing. .380 ACP is a mild round, so it works well in this micro-compact.
Recoil is minor and controllable, and it's a pleasant gun to plink with – easily one you can shoot for a while without getting sick and tired of.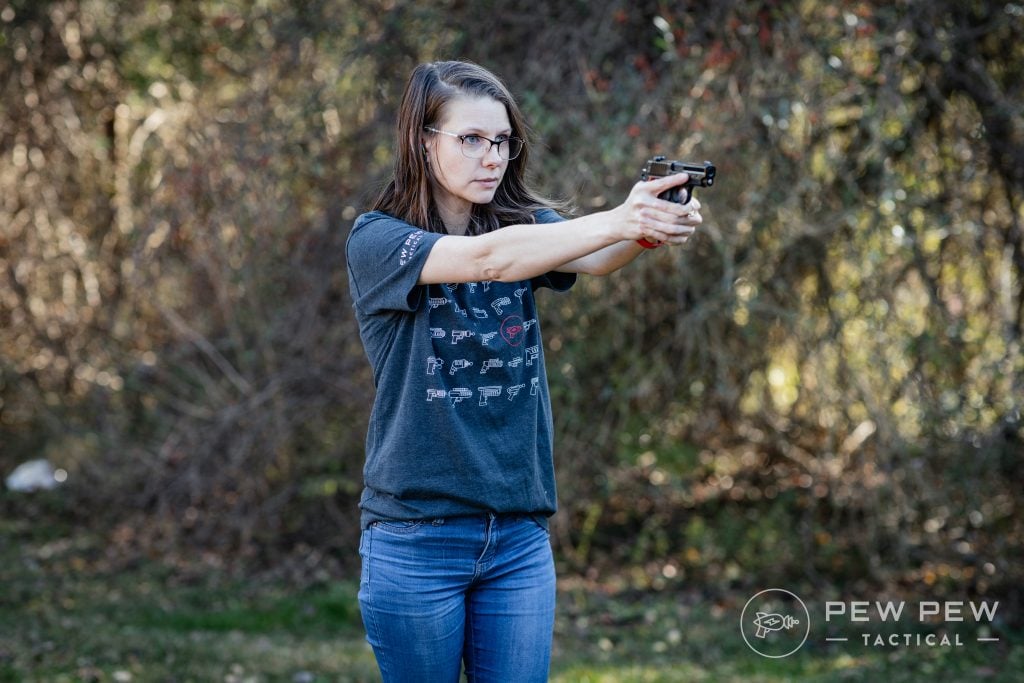 But – because there's always a but — I could see where shooters with larger hands might struggle. It's so tiny that large hands would likely engulf the pea shooter, making it hard to get a satisfying grip on.
So, I would caution those with larger hands to try this gun out before buying – lest you walk away with buyer's remorse.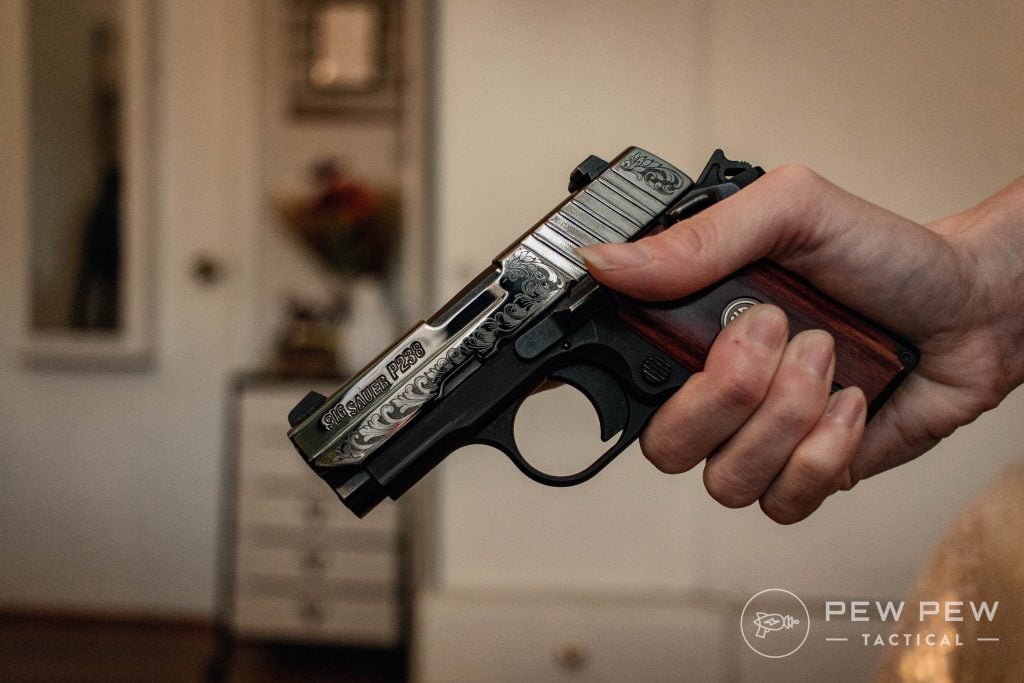 If, however, you are on the petite side as I am, the P238 shouldn't be a problem to grip. In fact, it's pretty darn comfortable.
While shooting, it becomes pretty evident how useful those SigLite sights are. Against targets, they stand out well enough to grab your eyes and bring them where they need to be.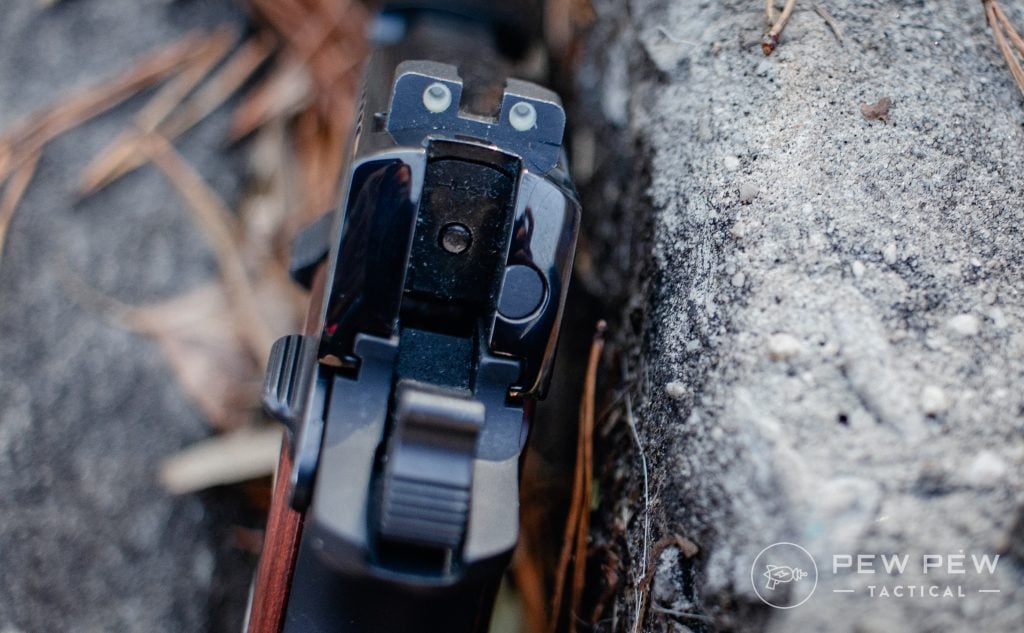 All in all, I've been really pleased with the Sig's performance.
It seems reliable, holds up at the range, and is a fun one to plink with – assuming you have the money and time to source ammo during these trying times.
How Does it Carry?
I originally bought the Sig P238 because I needed a micro-compact when my usual EDC, a Shadow Systems MR920, wouldn't work.
For me, that means going out on dates or to events where I might be in dresses or skirts.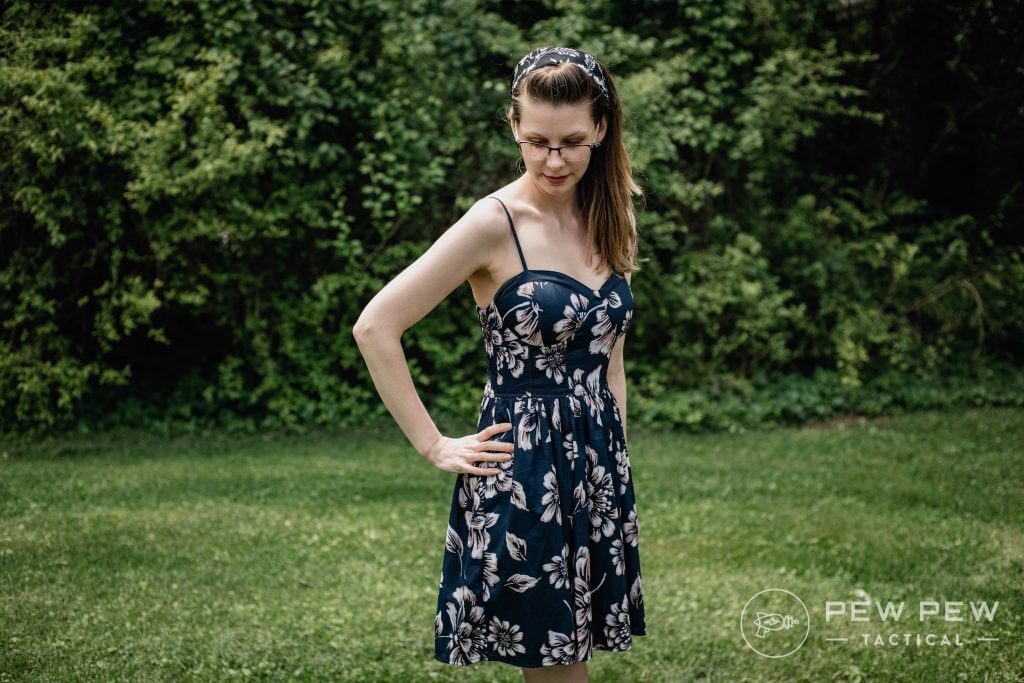 Though I prefer to step down to a Smith & Wesson Shield to keep with a striker-fired 9mm platform, I sometimes find myself in clothes that require something smaller and lighter.
And the P238 fits the bill.
I can easily slip this gun into a Can Can Concealment Garter Holster under shorter dresses or skirts.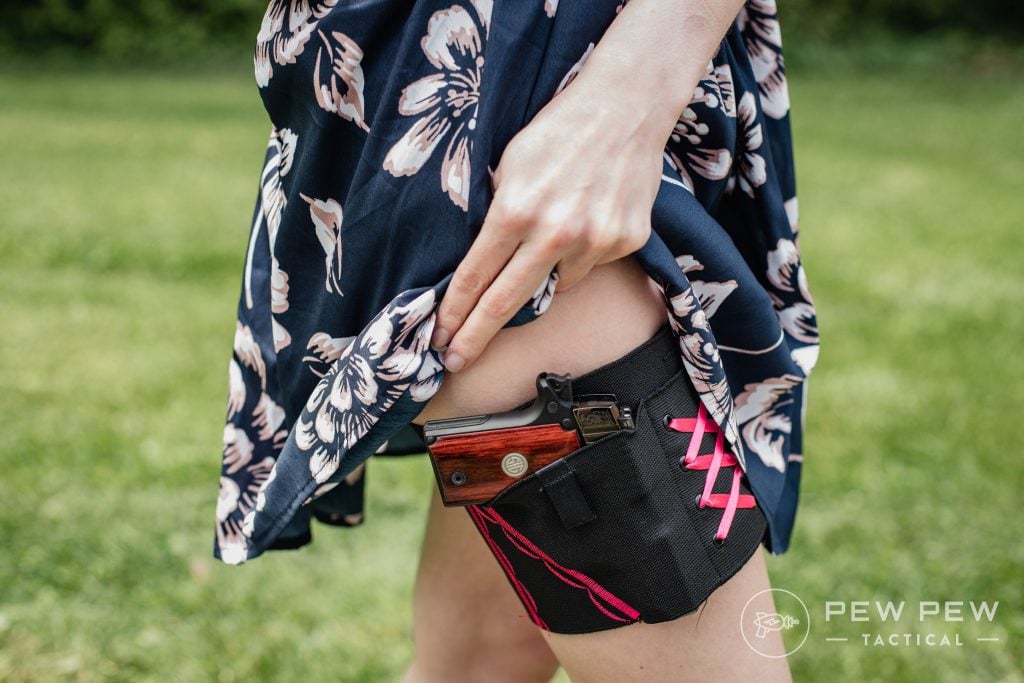 It also nestles into an ankle holster pretty well – though I don't find myself carrying this way often.
And, when I grace the soccer or football fields with my kids, I can tuck it into the Alexo Athletica shorts, skirt, or yoga pants.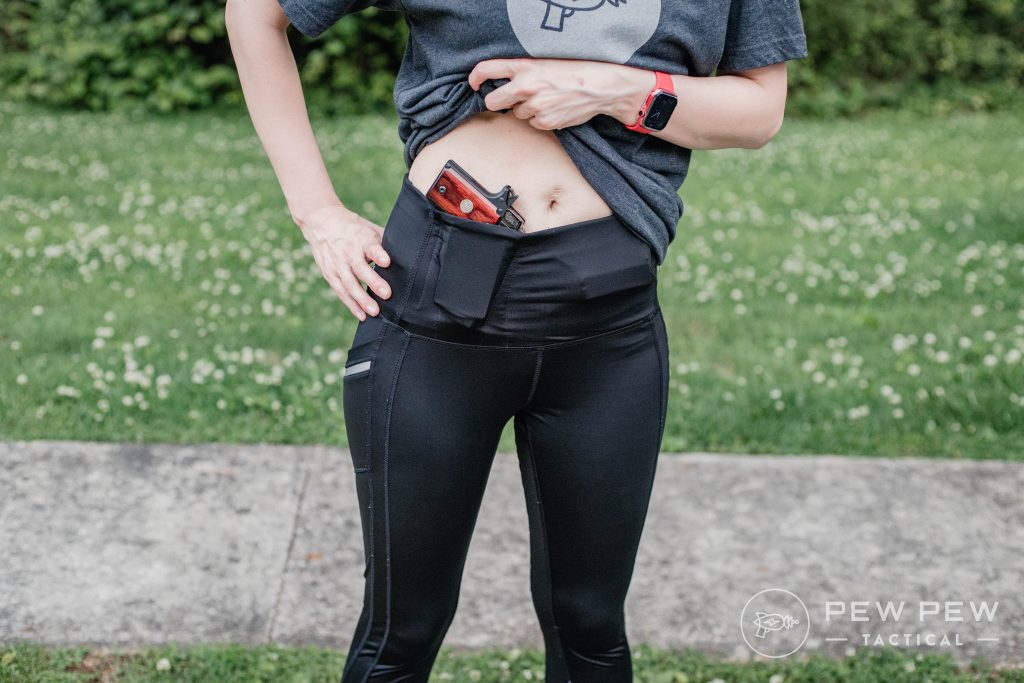 It simply disappears underneath clothes, and no one is the wiser.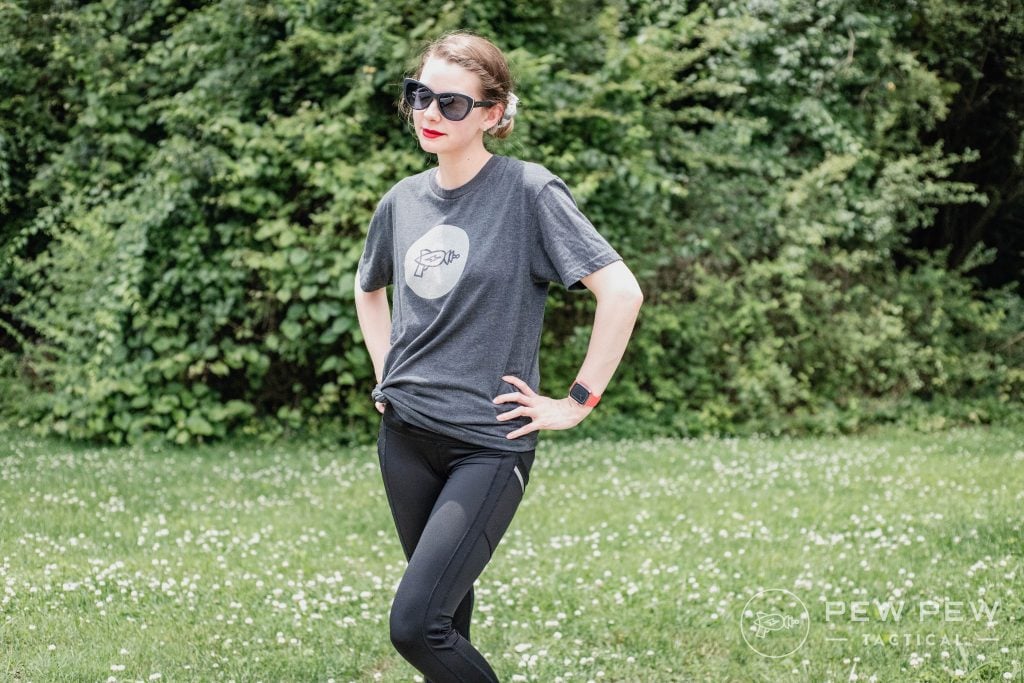 Now, you are stuck with a 6+1/7+1 capacity. In a world of midsize and compact guns sporting 10 or 15+ rounds, that feels a little lackluster.
That is until you remember the gun's purpose.
This isn't your heavy-hitting zombie apocalypse gun. Instead, this is your last resort BUG or the gun you have when you can't carry anything else.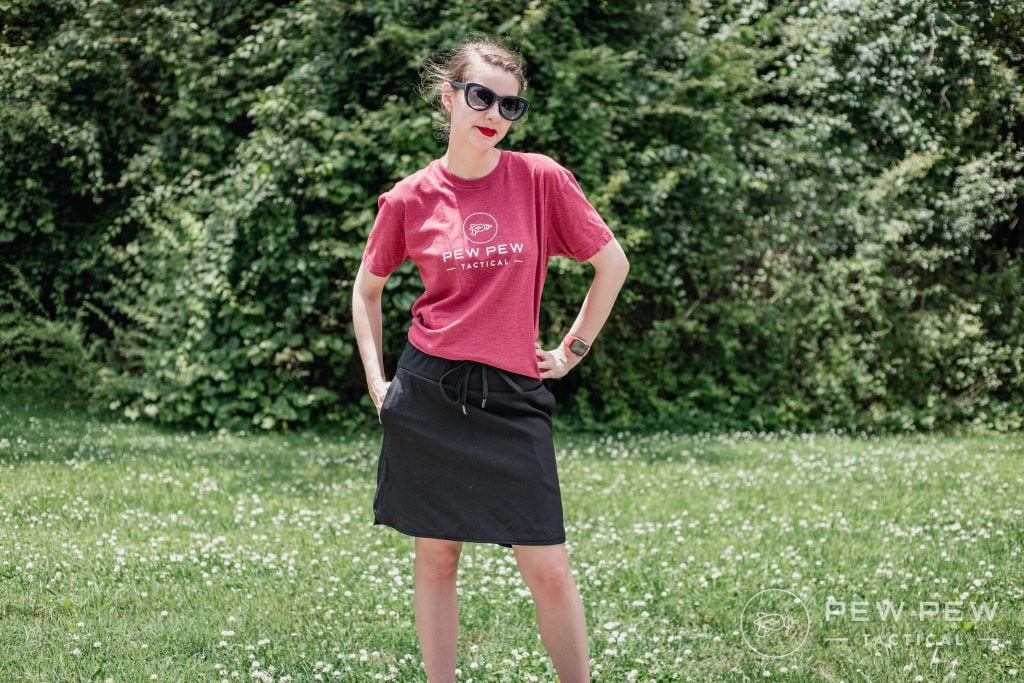 In short, it's better than nothing. But I do recommend you grab an extra mag and take it along on your adventures.
33
at GunMag Warehouse
Prices accurate at time of writing
Prices accurate at time of writing
Finally, let's address the elephant in the room…it's a .380, so it lacks the same oomph as 9mm and .45 ACP.
Is that a dealbreaker?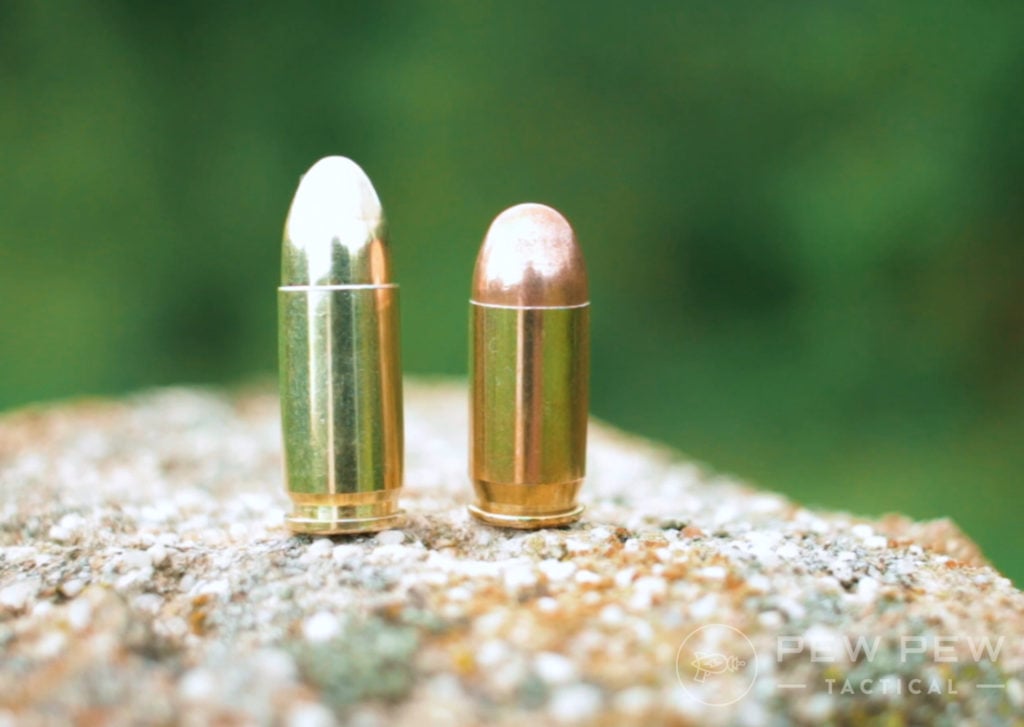 Not really, so long as you take that into consideration as you carry. Shot placement is key here, folks.
While I prefer 9mm for carry, newer shooters intimidated by 9mm would likely feel very comfortable with this gun.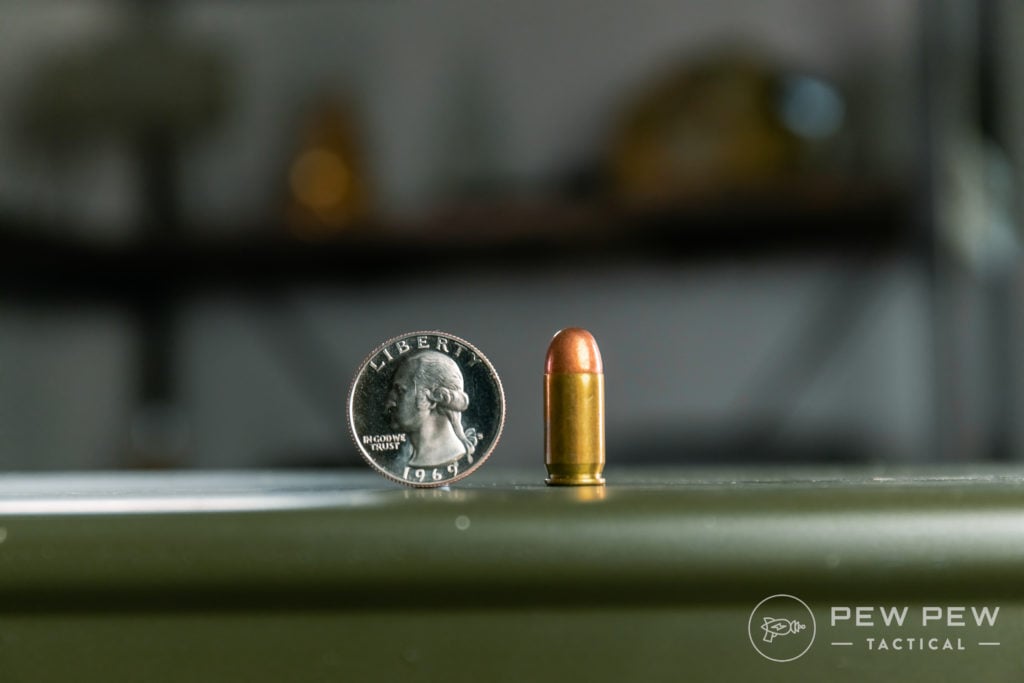 And if a .380 will get you to carry and practice, then, by all means, use a .380. No judgment here.
Not to mention, the manual safety offers that extra layer of security most new shooters prefer.
Want to know what the PPT crew carries? Check out our article here!
By the Numbers
Ergonomics: 4/5
It's a micro-compact, so it might be an issue for meatier hands. For me, though, it works.
Reliability: 4/5
I've had this gun for over two years, and it's still going with no stoppages in sight.
Customization: 4/5
While it's no Glock, there are upgrades you can make including new grips, sights, and even a laser if you're so inclined.
Value: 3.5/5
Depending on which model you spring for, it can be pricey, especially compared to the Ruger LCP. But if you want something reminiscent of a 1911 and you don't mind paying a little more, you can't go wrong with the P238.
Best Looking .380
618
at GrabAGun
Prices accurate at time of writing
Prices accurate at time of writing
Overall: 4/5
It's a soft shooting .380 ACP with a nice aesthetic and reliable nature — the perfect companion when it comes to situations that require ultra-concealment.
Conclusion
For newcomers to concealed carry or shooting in general, the mild .380 paired with Sig's 1911-esque design works well as an entry-level pistol.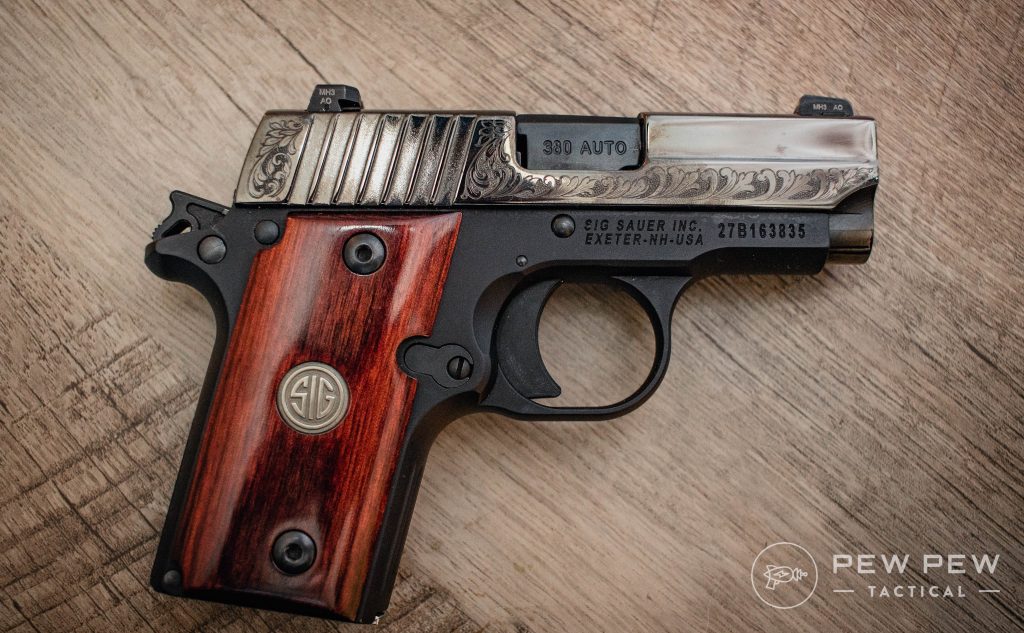 Alternatively, seasoned shooters looking for a backup gun or micro-compact for concealed carry will also be pleased with what the P238 offers.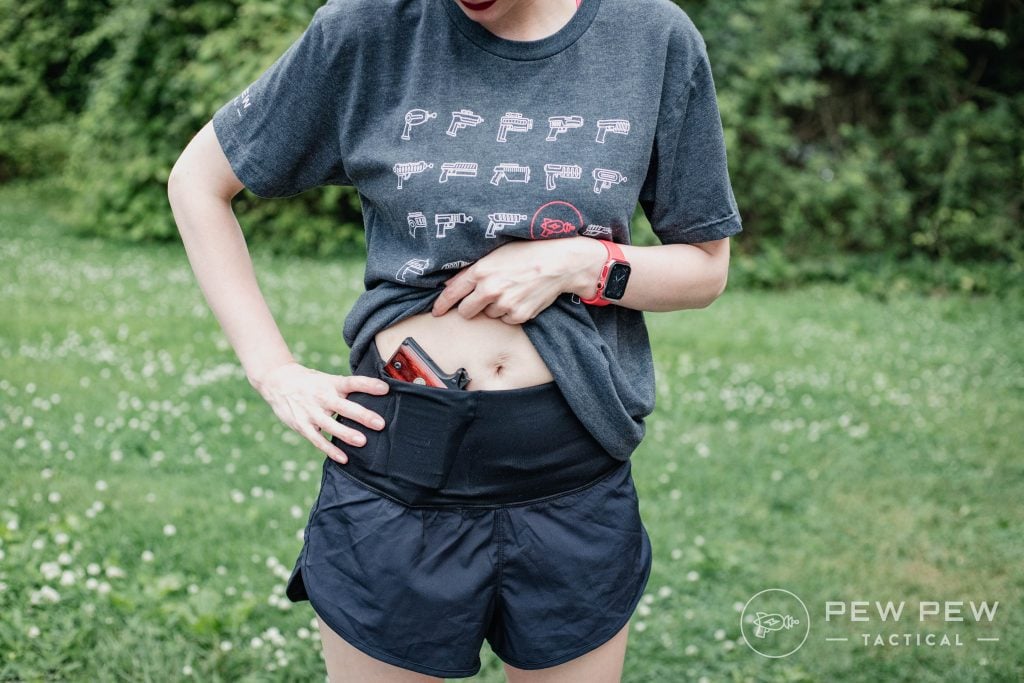 For me, it's for special occasions and outfits that prevent me from carrying the S&W Shield or MR920. And it would serve you well under the same conditions, as a BUG, or as a first-time purchase.
Sig Sauer P238 Gun Deals
Palmetto State Armory
Save $100
What do you think of the Sig Sauer P238? Let me know in the comments below. Want to know what other .380s are out there? Check out our guide to the Best .380 Pistols.