It's no secret that the Sig Sauer P365 is one of our favorite concealed carry guns.
Our legendary love affair with this 9mm micro-compact pistol sparked at the SHOT Show in 2018 and has been burning brightly ever since.
The Sig Sauer P365 lives in our hearts, but not rent-free.
Love at first sight only goes so far, and Cinderella had to be put through her paces at the range before earning that #2 ranking on our 9 Best Concealed Carry Guns (2020).
But earn her crown she did: The tiny P365 is fun to shoot, delivers top-notch accuracy, receives an A in ergonomics, and is so comfortable as a carry option that you'll forget it's attached to your waistband (safety first, please use a holster).
Hold up. Let's talk about holsters.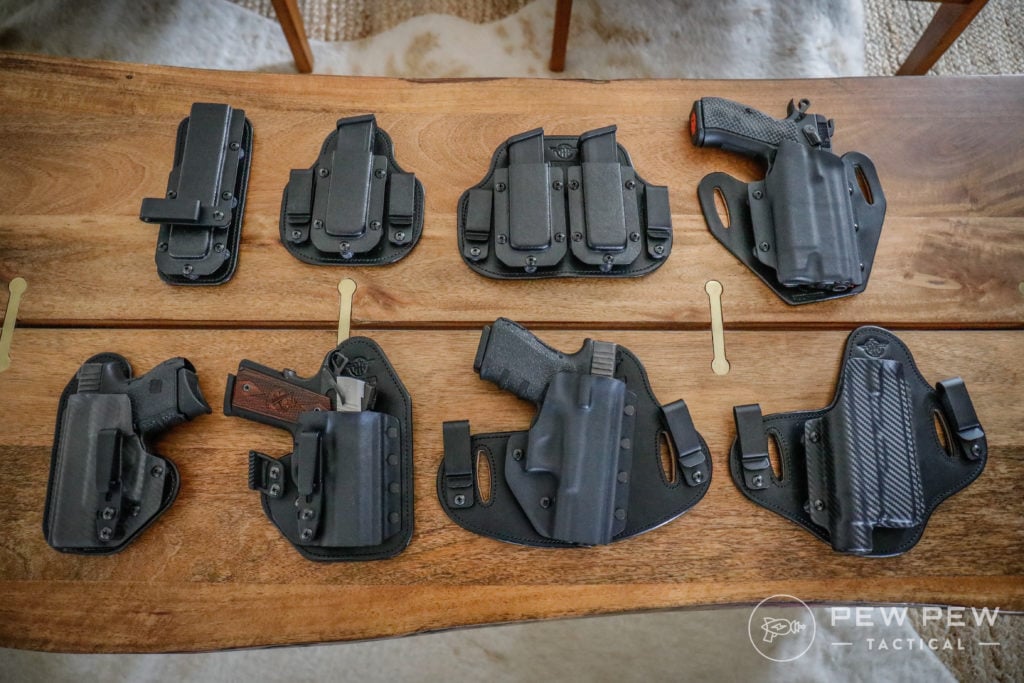 We've completed detailed reviews of our favorite upgrades and accessories for the P365, but what's a concealed carry gun without a reliable holster?
Today, we're going to discuss and evaluate the eight best holsters for the P365, including IWB, OWB, and some high-quality randos.
Of course, everyone has their favorites, so please share yours in the comments section if they don't make the list!
And if you want to learn about the specific functions and features that make a great holster, check out Best Concealed Carry Holsters [2020 Hands-On Tested].
Best Sig Sauer P365 Holsters
Inside Waistband (IWB) Holsters
1. Concealment Express IWB Kydex Holster
Let's kick things off with the Concealment Express IWB Kydex Holster, one of the best-selling and most widely recommended holsters on the market.
This holster boasts a minimalist design and is made of durable .08" Kydex.
When equipped, you can adjust the cant between -5 to 20° for comfort and to ensure concealability. It's suitable for a variety of concealed carry positions, including appendix, hip, back, strong side, and cross draw carry.
It's also manufactured with an adjustable "posi-click" retention feature. If you hear a satisfying and audible click, then you know your gun has been properly holstered.
Here's another fun little detail: This lightweight and low-profile holster weighs in at just 3 ounces. No joke. A deck of cards weighs more than this holster.
The Concealment Express IWB Kydex Holster has an undercut trigger guard for total trigger coverage and easy drawing. It's also designed with an overcut open face to allow for threaded barrels and suppressor height sights.
And I can't forget to mention the full-length sweat guard with a rear sight shield. After all, it's the combination of all these little details that make this holster so great.
This IWB holster is available with a black or carbon finish and has black oxide steel hardware.
The company sells separate versions for left- and right-handed gun enthusiasts, so pay attention at checkout to make sure you're purchasing the correct model.
If you're still on the fence, keep in mind that it's American-made and comes with a lifetime warranty!
But what if you're going for maximum concealability?
Well, you're in luck! You can reduce printing with the Concealment Express Claw Kit.
How does it work? The reversible claw attaches to your holster and pushes against the waistband to force the butt of your gun toward your body.
Concealment Express's kit contains all the hardware you need and works with both right- and left-handed holsters.
2. Bravo Concealment Torsion 3.0
The Bravo Concealment Torsion 3.0 is one of the most concealable Kydex IWB holsters currently available for the P365.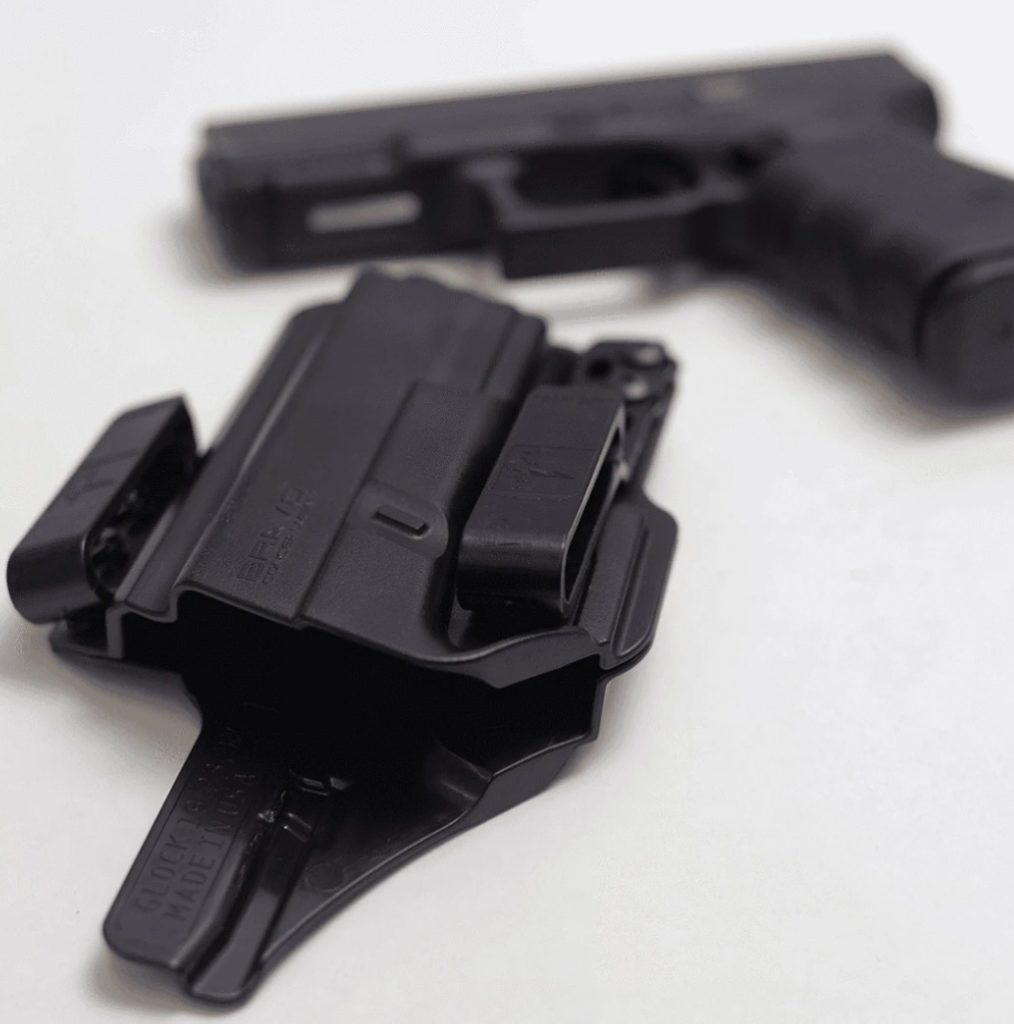 This holster is an excellent option even for people with small frames or thin clothes. It's lightweight, comfortable to wear, and achieves optimum concealability without any extra attachments or accessories.
Pretty nifty, right? Trust me, the "how" is even more impressive in its simplicity.
It's all comes down to design: The Bravo Concealment Torsion 3.0 has adjustable cant and retention, and the rigid material makes it easy to holster your weapon.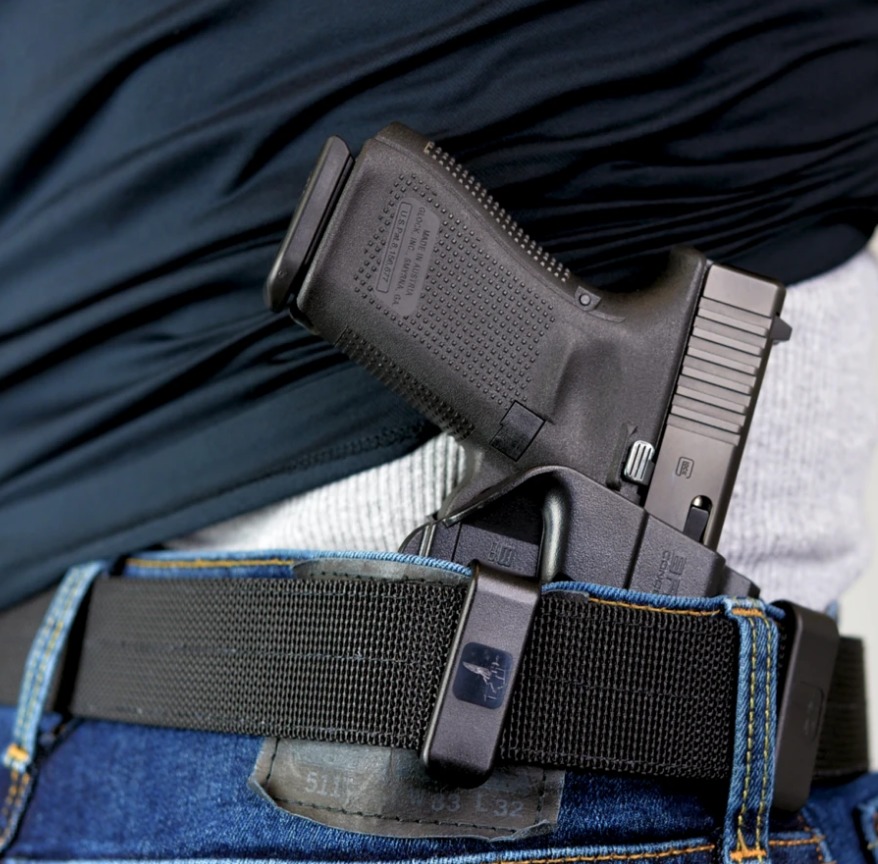 The holster comes with two 1.5" belt clips, but you can easily remove one for single clip use.
And that's a big deal! There are many benefits to utilizing a single clip configuration; for example, you can tuck your shirt over the gun for better concealment.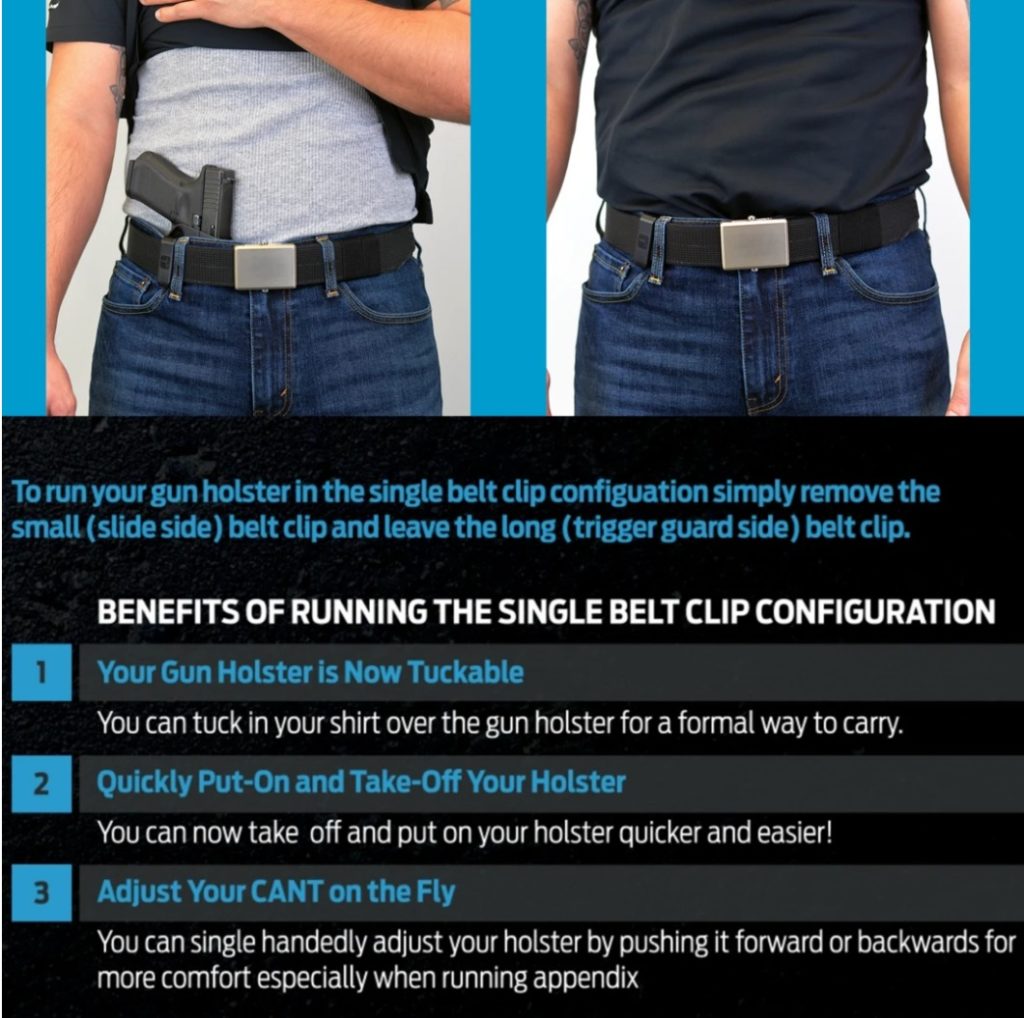 The Bravo Concealment Torsion 3.0 has tall sight clearance and accommodates red dot sights and threaded barrels (but not compensators).
Unfortunately, this holster is not for the ambidextrous and only comes in a right-handed configuration.
But I still say give it a try if you're right-handed and looking for a reliable holster. The company offers a 30-day money-back guarantee on top of a lifetime warranty.
You didn't think we would complete a list without including our favorite P365 options from Hidden Hybrid Holsters, did you?
For shame.
We're long-time fans of this company and could probably write a detailed review dedicated to their holsters. Oh wait, we did: Hidden Hybrid Holsters: Current Favorite.
And when we say "favorite," we mean favorite.
Hidden Hybrid Holsters are stylish, comfortable, and constructed with .093" Kydex and Amish leather (thanks, bros) to ensure a lifetime of secure retention and durability.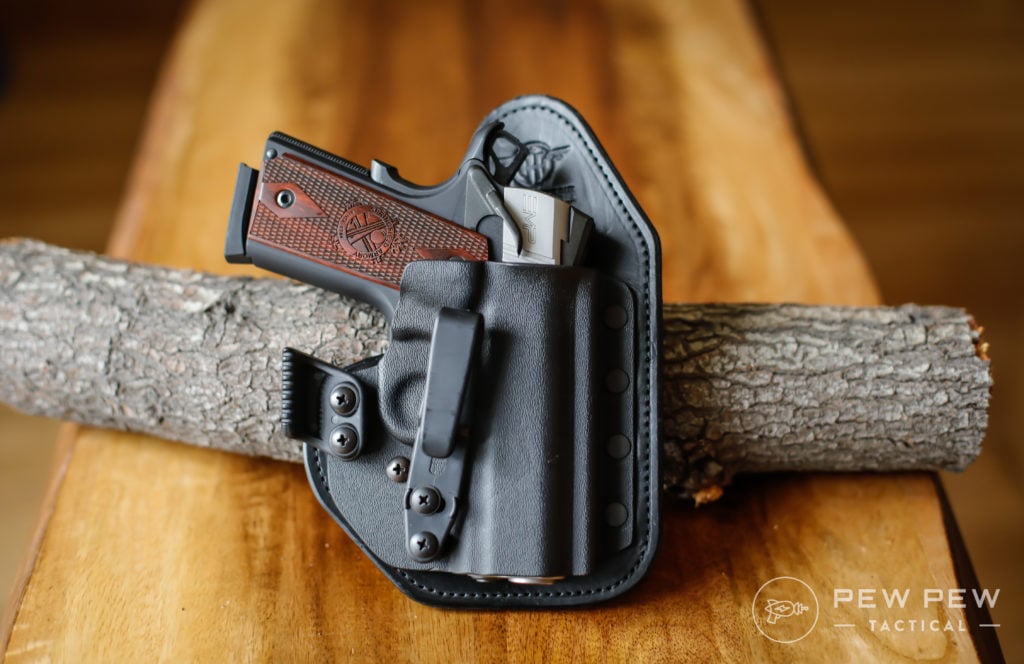 The company sells an excellent concealed carry option for the P365, the Sig Sauer P365 and SAS Appendix Carry.
This comes in as a little pricey, but totally worth the hole in your wallet. You can adjust for height, retentions, cant, and all that important stuff that turns a functional holster into an effective and reliable holster.
And yes, we know the name isn't very creative, but you'll always know what you're buying. Literally.
The combination of Kydex and Amish leather results in a holster that is borderline unbreakable but still molds to your body to achieve optimal concealability.
On that note, we recommend adding the "Claw Concealment" option when you place your order. It pushes the grip of the gun closer to your body and eliminates any noticeable printing. It's also easy to remove if you don't end up loving it.
The leather backer is specifically cut to facilitate a proper full grip when drawing your P365.
Although it's sold for both right- and left-handed shooters, it's not for the ambidextrous—you'll have to purchase two if you want to arm both your hips.
You also need to decide if you want to include a 1.5" or 1.75" belt clip before checking out. It's a critical part of the holster that allows you to tuck in your shirt while staying armed, stealthy, and awesome.
This holster incorporates a covered magazine release to give you extra security while you're carrying.
It also comes with a Kydex "RMR Guard" to protect your optic devices if you go that option.
Want something a little more "you?" You can personalize your holster by selecting different Kydex colors, including black carbon fiber, flat dark earth, storm gray carbon fiber, and more.
What's your take on the HHH P365 Appendix holster?
If the Sig Sauer P365 and SAS AIWB isn't quite what you're looking for, the company also sells an OWB option, holsters for the P365 XL, and an IWB & OWB Double Clip combo for the P365.
All of these share nearly identical features to the P365 holster, including the claw option, but the Sig Sauer P365 and SAS IWB & OWB-Double Clip lets you carry inside the waistband with clips, or outside the waistband by your belt loop.
Outside Waistband (OWB) Holsters
4. Cytac Sig P365 OWB Holster with 360° Adjustable Paddle
Are you looking for a simple, budget-friendly OWB holster for your P365? Congrats, you've found it.
The Cytac Sig P365 OWB Holster is a paddle holster made out of lightweight polymer.
It doesn't require a belt, but there are little notches on the paddle that fit a 1.5" to 2" belt should you choose to wear one. Otherwise, you can just secure it to your pants.
Cytac is another example of a company taking extra steps during the design process.
Because it's made from polymer, this holster is durable, water-and-wear-resistant, and extremely easy to clean.
The paddle design naturally distributes the weight of your holstered gun, so you shouldn't feel that awkward tug at your waistband.
While many IWB and OWB holsters use a friction fit for retention, this model employs an active retention system that initiates with a press of the index (trigger) finger on the release button.
Active retention systems often come with the downside of a much slower draw, but no worries, here!
You shouldn't have any problems performing a quick draw with the Cytac Sig P365 OWB Holster. Pressing the button as you draw from this holster feels very natural and intuitive.
Plus, the retention system automatically activates upon holstering, so you don't have to remember to use it like you would a holster with a strap.
The only downside? This is another holster that's only manufactured in a right-handed configuration.
Southpaws, check out my next pick instead!
5. Crossbreed DropSlide OWB Holster
The Crossbreed DropSlide OWB Holster is a high-quality, customizable hybrid holster for the P365.
True, it's a more expensive option, but this company specializes in hybrid holsters and accessories that are a cut above the rest.
In an emergency situation, there can be no greater ally than the P365 hidden at your hip. The goal of concealed carry is to keep your firearm out of sight and out of mind until that emergency, so it's no wonder that printing is one of the most common complaints with OWB holsters.
Fortunately, that isn't an issue with the DropSlide.
It has two 1.75" slots to accommodate belts that are between 1.25" and 1.5." The leather backer is specifically cut to keep the holster flush against your body, ensuring a comfortable concealed carry without any chafing.
Based on its design, you shouldn't have any trouble getting a good grip when drawing your P365, even if you're a larger handed shooter.
Another bonus? The gun pocket is made from Kydex, so you can trust that your firearm is safe and protected when holstered.
The Crossbreed DropSlide OWB Holster is customizable as hell, and I love it.
Aside from the standard P365 configuration, you can also purchase models that come with lights, lasers, and micro red dots with suppressor height sights.
Did my heart just skip a beat?
This holster is available in black, flat dark earth, sniper grey, od green, or Tiffany blue Kydex and natural cowhide, black cowhide, founder's, or horsehide leather.
You can even mix and match the Kydex and leather for a truly personalized holster.
Although the holster is not ambidextrous, all of these configurations are available for both left- and right-handed shooters. Finally, a win for the Southpaws!
There are no disadvantages to giving this holster a chance. Crossbreed offers a lifetime warranty and a "Two Week, Try it Free" guarantee.
Pocket Holster
6. DeSantis Nemesis Pocket Holster
The DeSantis Nemesis Pocket Holster is a great pocket holster that comes with all the features you need—including a great price!
The outside has a grippy texture that clings to the inside of your pocket to keep the holster securely in place, no matter how vigorously you move throughout the day.
Work, play, shopping, intentional or accidental exercise—sometimes you just need to move, and you don't want to worry about your pocketed friend jostling around or making an inconvenient escape.
The inside of the holster is lined with a soft Slick Pack Cloth for a smooth, low-friction draw. Foam padding rests between the two linings to break up the outline of the firearm, preventing an obvious print.
This holster is slim, flexible, low profile, and sweatproof, making it both concealable and comfortable to equip.
Common Sense Warning: Some factors can impact how effective this holster is, including the type of clothes you're wearing. Don't expect a perfect fit if your pants or jacket have unusually spacious or tight-to-body pockets.
Sorry, ladies. One day, designers will learn the joys of functional pockets.
DeSantis also sells pocket holsters for other Sig Sauer P365 models, including the P365 SAS, the P365 XL, and even a P365 equipped with a FoxTrot 365 light.
Want more good news? The DeSantis Nemesis Pocket Holster is totally ambidextrous, and you can buy the DeSantis Mag Packer to keep a spare magazine handy in your other pocket.
Ankle Holster
7. DeSantis Die Hard Ankle Rig
Not a carry method we typically recommend, but if you need to ankle carry our recommendation for the P365 is the DeSantis Die Hard Ankle Rig.
It's a simple ankle holster that consists of a top grain saddle leather gun pocket attached to a neoprene band. The gun pocket also has a conventional thumb break for retention.
But don't let the simplicity of this design fool you. This ankle holster was originally manufactured for federal law enforcement agencies, and the combination of materials prioritizes performance and longevity.
The DeSantis Die Hard Ankle Rig is treated with an abrasion-resistant PU coating to ensure durability.
The leather lining preserves the gun's finish and allows for a smooth, quick draw. Likewise, the band is foam-padded with sheepskin along the inside of the holster to deliver a comfortable concealed carry experience.
It's intended to be worn on the inside of your ankle and opposite of your strong hand. For example, a left-handed shooter will purchase a left-handed holster for the right ankle and vice versa.
You can always affix a calf strap to the DeSantis Die Hard Ankle Rig, should you find yourself needing the extra support.
However, slipping usually isn't an issue once you master how to properly position the holster—no judgment, trial and error is just part of the learning process!
Modular Holster System
8. Alien Gear ShapeShift Modular Holster System
The Alien Gear ShapeShift Modular Holster System is the Optimus Prime of the holster world.
I mean, what else do you expect from a company called Alien Gear Holsters?
This wonderfully nerdy holster allows you to utilize four different carry positions thanks to a removable shell that can be attached to various mounts and holster types.
I recommend trying the ShapeShift Core Carry Pack.
It's a good starting foundation for the system and comes with an IWB holster, appendix carry holster, OWB paddle holster, OWB belt slide holster, and a mount for affixing your shell to a variety of surfaces.
And the best part is the price tag. You get all that holster goodness for little more than you'd pay for two rival options.
Alien Gear's ShapeShift platform also encompasses pocket holsters, shoulder holsters, drop leg holsters, ankle holsters, car seats, MOLLE loops, and mounts for backpack straps (which also work on many other bags).
You can purchase these holsters with shells or in separate expansion packs. It's a practical move by Alien Gear Holsters since you probably don't need a new shell with every order.
That would completely defeat the point of the modular system, right?
But there's a very cool reason why Alien Gear Holsters gives you so many opportunities to collect shells. I mean, the company even sells them individually, and not just as a replacement part.
You can use the same holsters and mounts for different guns just by swapping out the shells.
If that sparks joy (how could it not?), then the more shells, the merrier!
The shells sold by Alien Gear Holsters are slim and discreet to fulfill all your concealed carry needs.
They're manufactured with an adjustable retention feature that allows you to maintain your preferred holster and mount settings. The shell will click once the gun is holstered properly and the retention system is engaged.
The shells, holsters, and mounts are primarily made from polymer for durability and resistance to heat and abrasion. All parts come with Alien Gear's 30-Day Test Drive and Forever Warranty.
If you'd like to have multiple holster options available for your P365, or don't want to have to buy the same type of holster for your firearms, then the Alien Gear ShapeShift Modular Holster System is for you.
It's a great way to maximize the value of your dollar and makes switching between holsters as easy as one-two-three. Or four, if you're aiming for the Core Carry Pack.
Parting Shots
That wraps up our list of the top eight holsters for the Sig Sauer P365!
Hopefully, this guide can help you pinpoint the best holster for your daily needs. Or maybe it gave you a list of new toys to try.
We get it; we also love shopping for new gear.
Really.
As always, we stand by our recommendations, but also recognize that this is by no means a comprehensive list of the world's greatest P365 holsters. There are other amazing holsters out there, and we'd love to hear your stories in the comments!
Did any of the holsters on this list catch your eye? What other P365 holsters do you like? Do you have questions about choosing a holster for the P365? Let us know in the comment section below.
For even more recommendations, be sure to skim through our many holster reviews. And for other accessories to go with your Sig Sauer P365, be sure to check out our Best P365 Upgrades [Hands-On] list.