Shotguns…trusty, great for hunting and home defense, and practically impossible to miss a target with…or are they?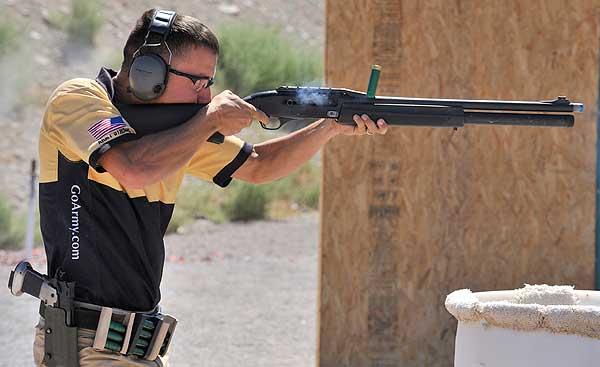 Shotguns are pretty good at hitting things with only a general sense of aim, but if you want to hit things consistently (or hit the right things), it doesn't hurt to have a little extra help in the aim department.
I've been a huge fan of shotguns for years, and one thing I have learned is that the sights on your shotgun are more important than you think.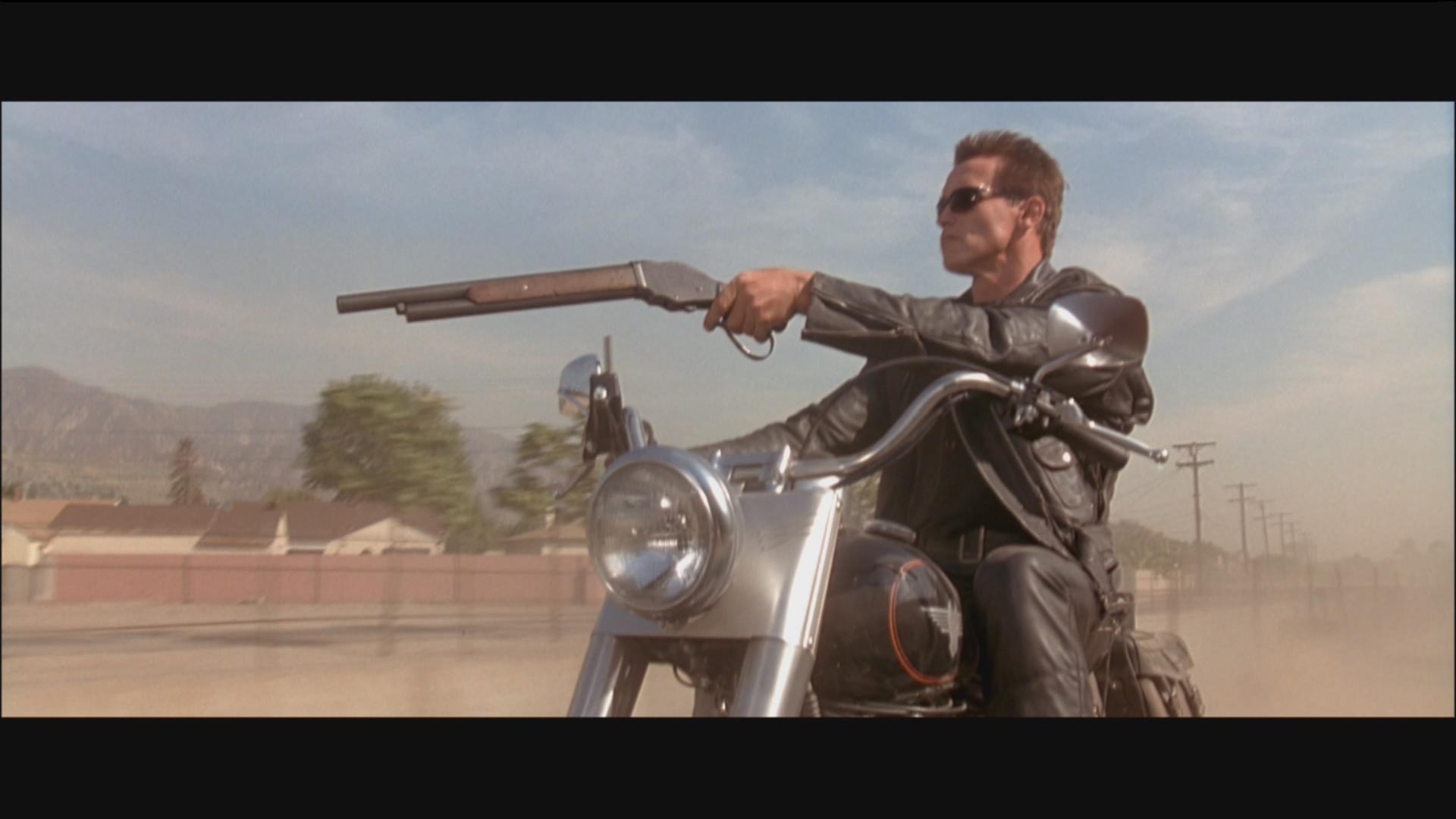 Let's talk about that, as well as go over a multitude of the best options for shotgun sights.
Table of Contents
Loading...
Why Do I Need Shotgun Sights?
Modern shotgun ammo holds together well.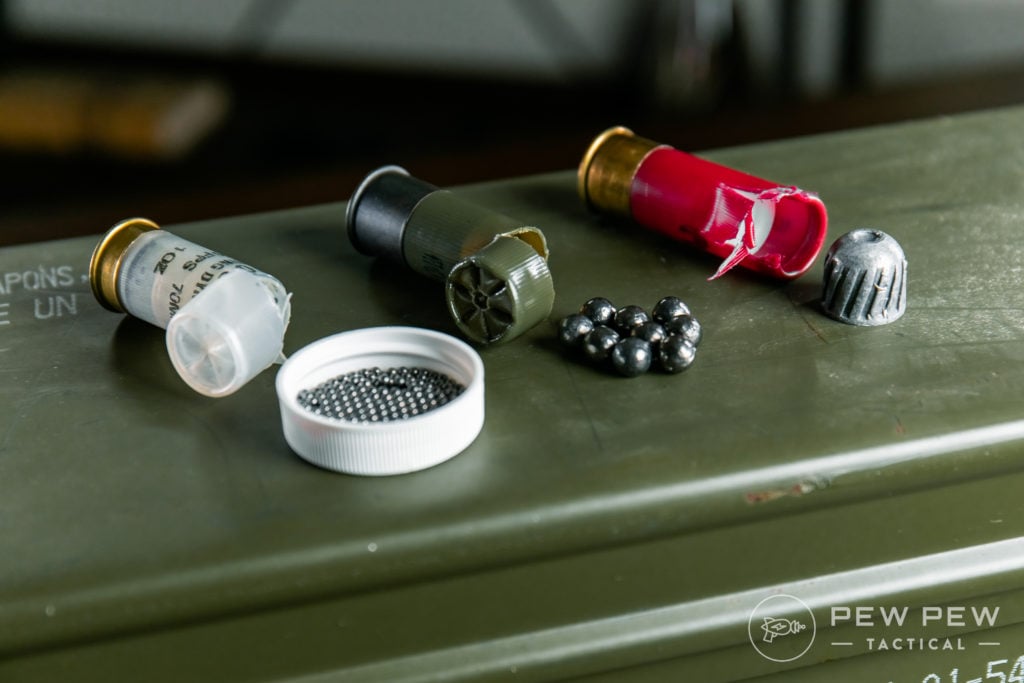 The idea that you can't miss with a shotgun is one of the big myths about this weapon and it makes me cringe whenever I hear it. You got to aim the gun like any other, and that means using the sights.
Most shotguns come with a simple bead sight. In general, there is nothing wrong with a bead sight. It works fine for buck/birdshot and out to 100 yards, it's effective for slugs. It's not perfect though.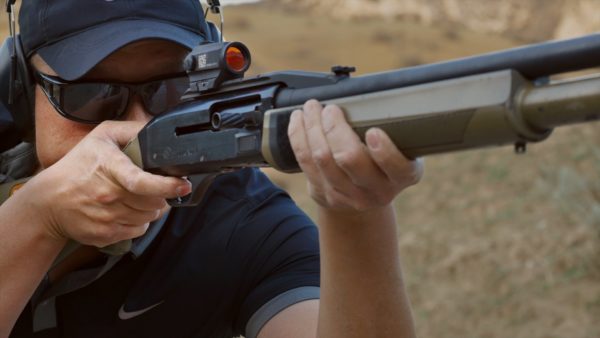 Beads are often quite small, and they can be difficult to see, especially in low light, or if you are in a hurry the bead can work, but they are not the end all be all for shotguns.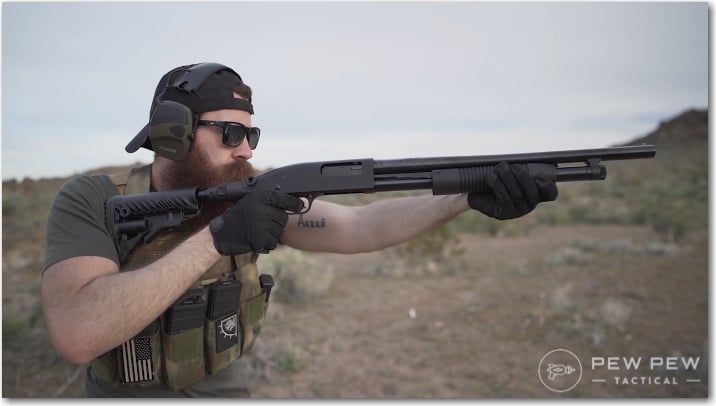 The majority of weapons can benefit from upgraded sights and the shotgun is no different.
I've gathered a variety of both optics and sights that are well suited for shotguns of all types. I wanted to cover sporting use as well as defensive use. I also tried to accommodate a wide variety of different budgets.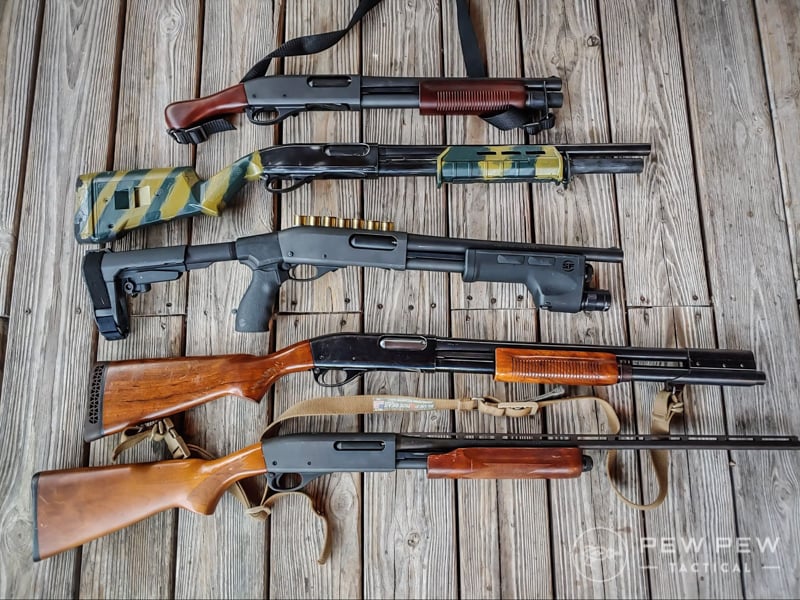 On top of that, I've also included options for the most popular styles of shotguns, as well as some that are a little more universal. I think there's something for just about everyone here, so let's get to it!
Best Shotgun Sights
Iron Sights
The cool thing about shotguns is that iron sights are still a very valid way to use these guns. Optics are cool, but shotguns really don't need them for the tasks most of us use a shotgun for. There are several shotgun sights out there that are much better than your standard bead sight.
For shotguns, iron sights come in beads, open sights and ghost ring sights. Bead and open sights are easy and quick to use with shot. Ghost rings can be used with shot effectively but aren't typically as fast but work well for slugs.
Open sights are often a compromise that works okay with both.
1.
Hi-Viz Snap-on Sight
If you want an incredibly cheap and easy way to upgrade your shotgun's bead is the Hi-Viz snap-on fiber optic front sight. There is no gunsmithing required to install this little device. It just snaps on the barrel and you are ready to roll.
This Snap-On sight provides a very high visibility green or red fiber optic front sight. It's much easier to pick up the front sight in all light conditions and allows you to quickly pick the dot up and put it on target.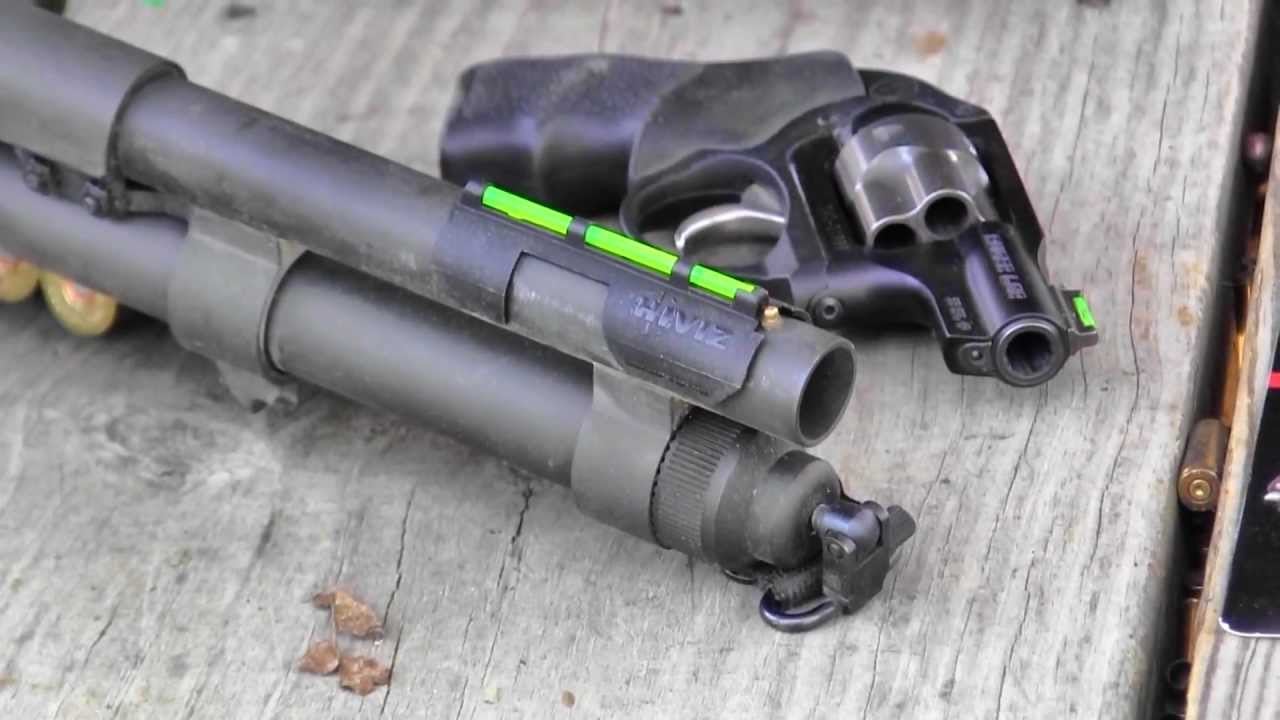 A design like this isn't designed for high volume shooting. Shotgun barrels get hot and this may cause the polymer to heat up and stretch which may compromise its hold on the barrel. This is still a good choice for hunting and even home defense.
Shotguns are not high-volume weapons and this issue is unlikely to come up in a standard home defense situation or when hunting deer, turkey, hogs, etc. Bird hunting may be another situation where you are shooting a ton of rounds at one time and this might be an issue.
18
at Amazon
Prices accurate at time of writing
Prices accurate at time of writing
At this low cost, it's a simple solution to a simple platform. Perfect for those on a tight budget using the always great Maverick 88 or 870 Express. This is a sight designed for 12, 20, and 16-gauge shotguns and it will only work with bare barrels. No vent ribs.
2.
XS Big Dot Front Sight
XS sights are well known for their big front sights designed for handguns. The idea is to improve your speed by providing you a much bigger, and much easier to see bead that just so happens to glow when the lights get low. XS took that same idea and applied it to shotguns.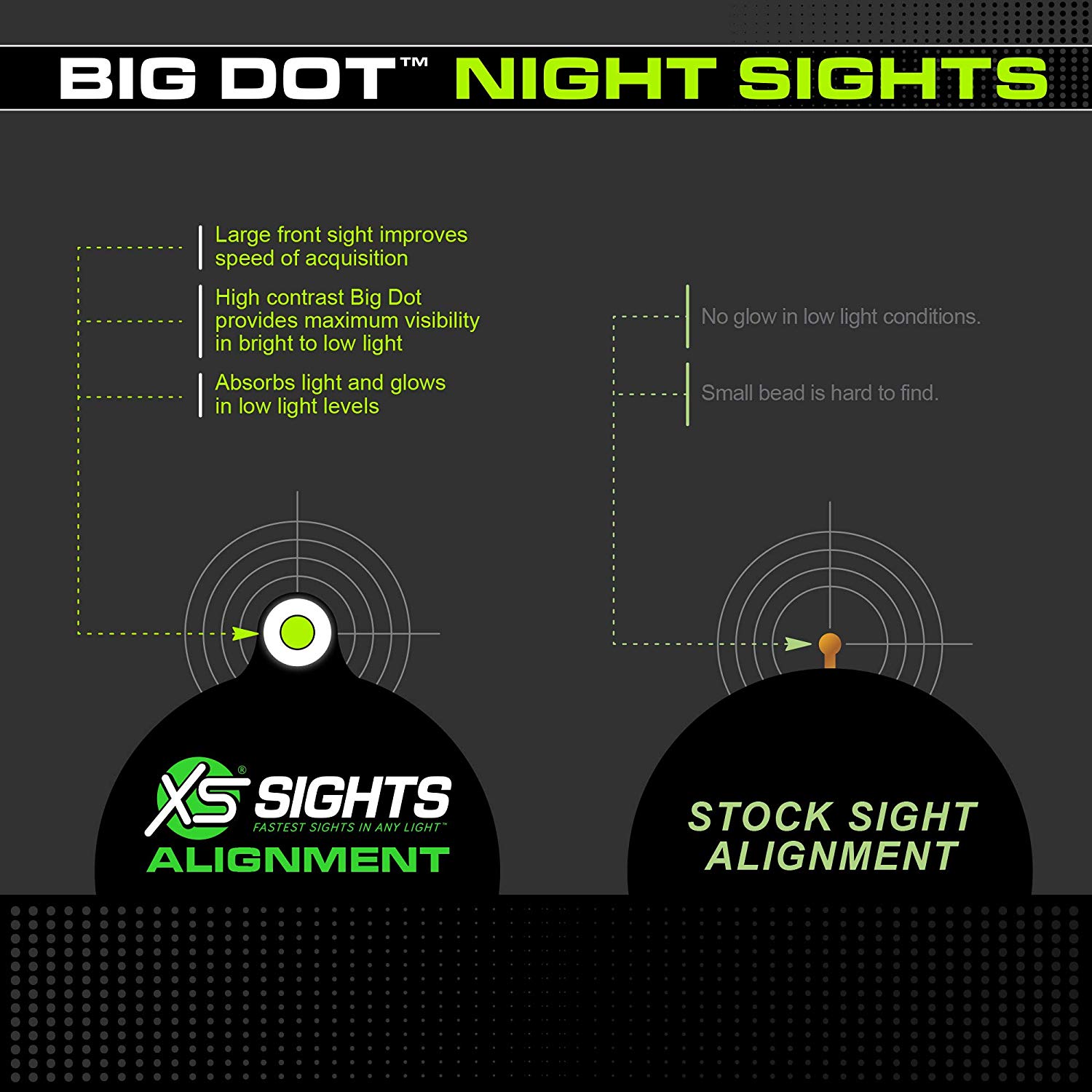 This single dot replaces your bead by being inserted over the bead. This system will work with some beads but includes a bead to replace yours if yours is too big or too small. The difficulty of installing will vary on your gun and the ability to remove the bead.
With a Mossberg 590, I had zero issues unscrewing the front bead and installing this system. It has been on my gun for over a year without any issue. The XS sight is very easy to see and your eye will pick it up extremely fast.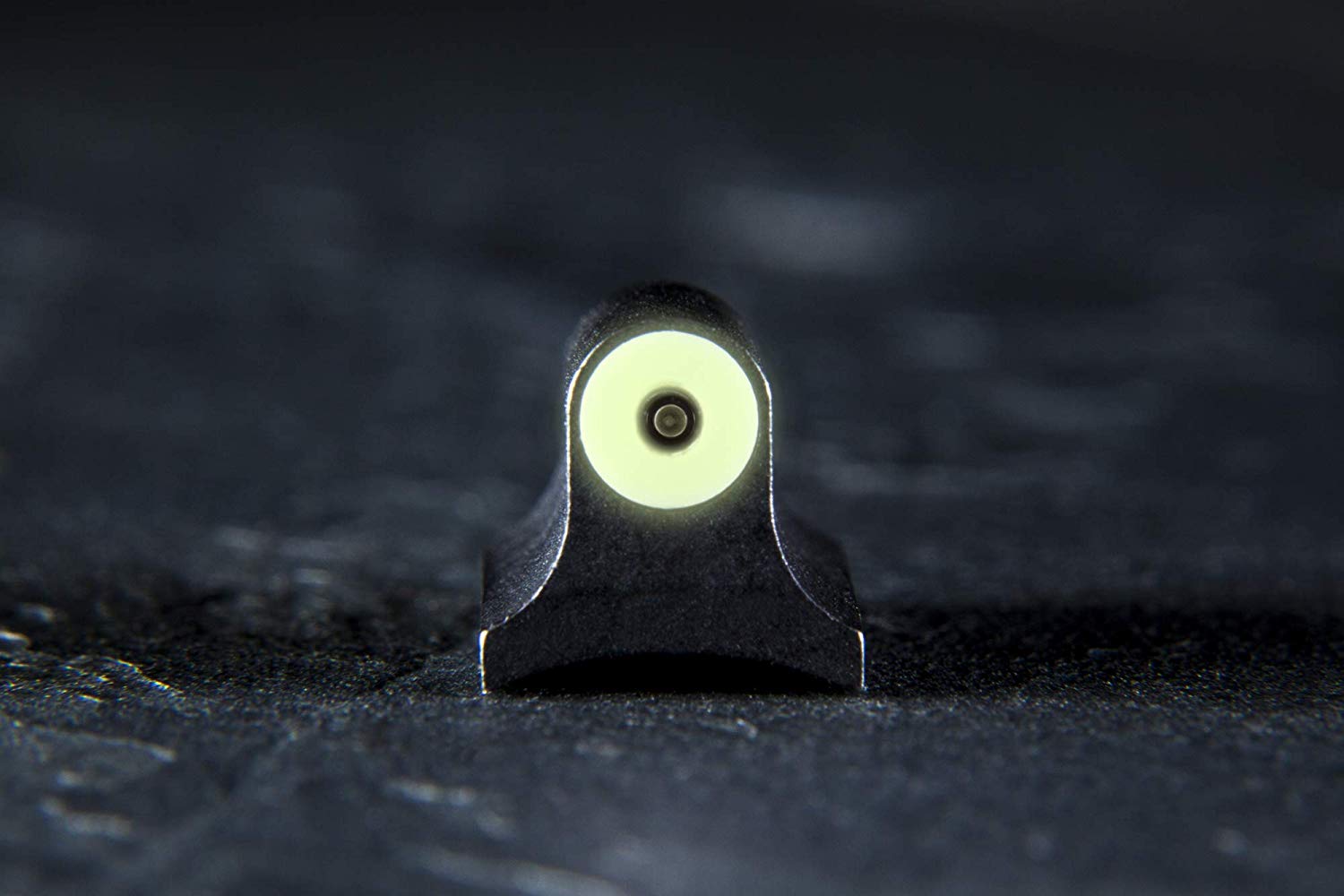 The XS Big Dot Sight has a tritium vial in the middle that glows very brightly and it's easy to see in low light. The white ring is also easy on the eyes and works great for both low light and normal daylight conditions.
It's a solid front sight that acts like a bead on steroids. It's affordable and will fit a variety of shotguns. Certainly, double-check the XS website and ensure your gun is covered. It's a great investment for a home defense shotgun.
60
at Amazon
Prices accurate at time of writing
Prices accurate at time of writing
It is better suited for using shot than slugs. At long ranges, the large size of this front sight is going to make it hard to shoot slugs at smaller targets.
3.
Williams Gun Sight Fire Sight Ghost Ring
I didn't want to leave my hunters behind and I know most sporting shotguns come with a ribbed barrel. That ribbed barrel just so happens to be an excellent base for sights. The Williams Gun Sight Fire Sights are a very handy set of sights if you have a vent rib shotgun.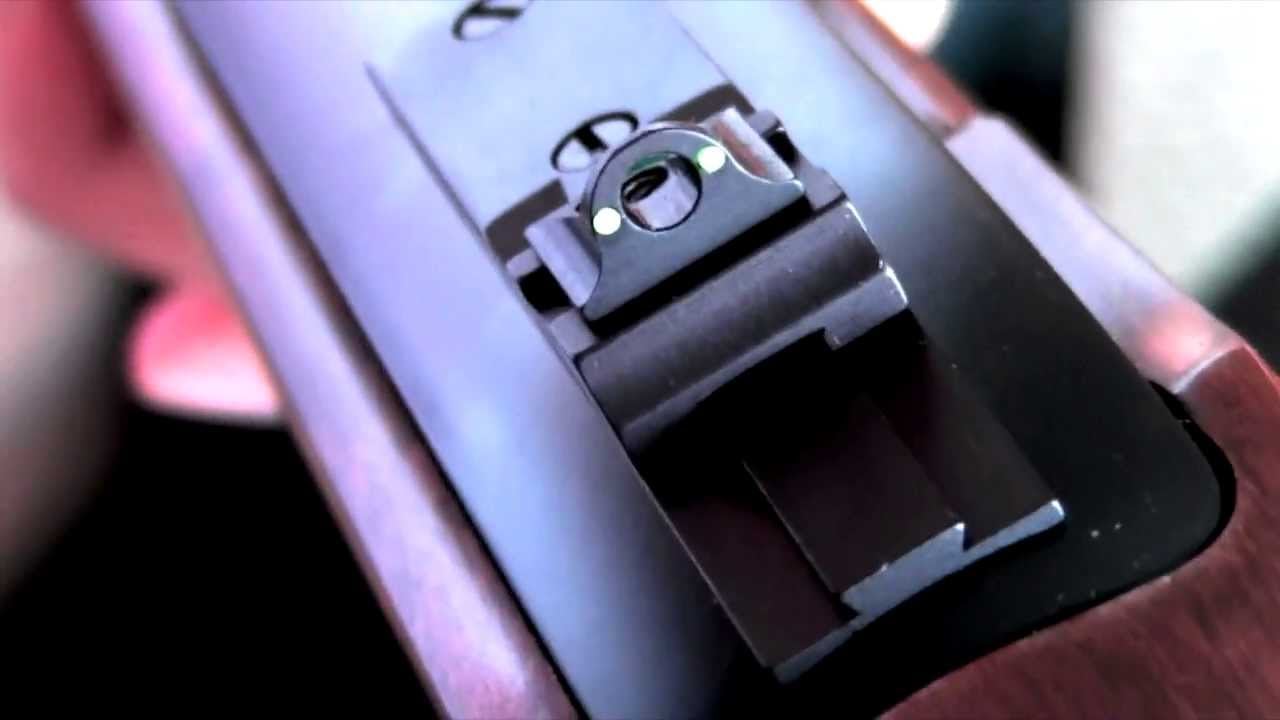 These sights attach to the vent rib and they work for most shotguns.
Best of all they require zero gunsmithing to install. The front sight sits right behind your traditional bead and provides you a high visibility orange front sight.
The rear sight is a ghost ring model that is flanked by two glowing green orbs for low light shootings. These sights are quick and easy to acquire and well suited for hunting deer, hogs, turkey, etc.
15
at Amazon
Prices accurate at time of writing
Prices accurate at time of writing
They are an excellent choice for slug guns and because they are easy to install and remove you can easily switch from deer season to bird season. Also, they are affordably priced.
4. Trijicon Night Sights
Trijicon is the name in duty grade night sights, and duty optics, and basically anything that glows in the dark. Trijicon night sights are also made for shotguns! Well, they are made for Remington shotguns to include the 870, 1100, and 1187.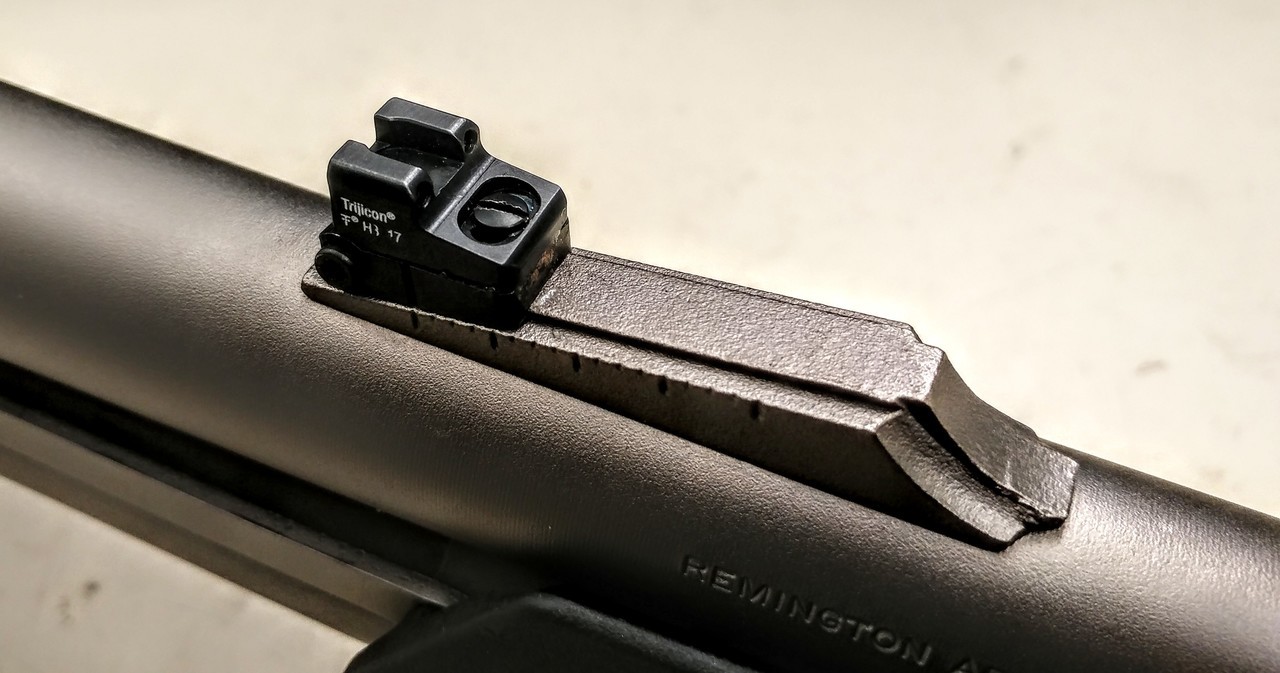 These sights are not for everyone, and not for every 870. You'll have to take it to a gunsmith for install. The receiver needs to be tapped for a rear sight and installed and the barrel will need to bead removed and the front sight permanently attached via welding.
These sights are outstanding for long-range slug work, and precision buckshot work. The tritium vials glow brightly, and one is placed in the front sight and one on each side of the ghost ring. It's perfect for home defense, including night time work.
These sights are explicitly made for defensive and duty use and are duty grade sights. Trijicon is the professional's choice for a reason. These are serious sights for serious work, and I'll say it again aren't for everyone.
94
at Amazon
Prices accurate at time of writing
Prices accurate at time of writing
However, if you want a bombproof, well-proven design for defensive and combative use these sights are an excellent go-to option.
5.
XS Ghost Rings
If you like the idea of XS sights, but what something more precise, then they have you covered–at least the Remington 870 and Mossberg 500. The XS Ghost Ring sights are unique because they allow you to add a standard front sight and rear ghost ring relatively easily. It's most easy on the Mossberg 500 and 590.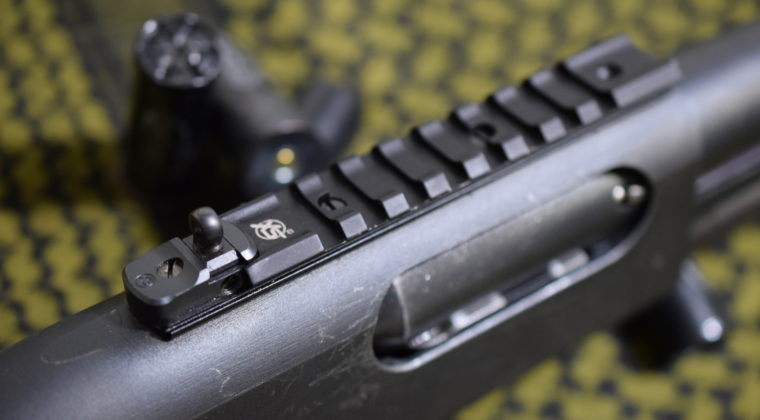 The Mossberg 500 series come tapped from the factory and this makes it easy to install the rear sight. Remington 870s are not tapped in most models and must be tapped to install the rear rail and sight. The front sight clamps to the end of the barrel and is tightened via a set of screws.
182
at Amazon
Prices accurate at time of writing
Prices accurate at time of writing
As long as your receiver is tapped you can install this system at home with ease. These sights make reaching out with slugs more precise than a standard shotgun bead. What I also like is the fact that the rear ghost sight is very wide.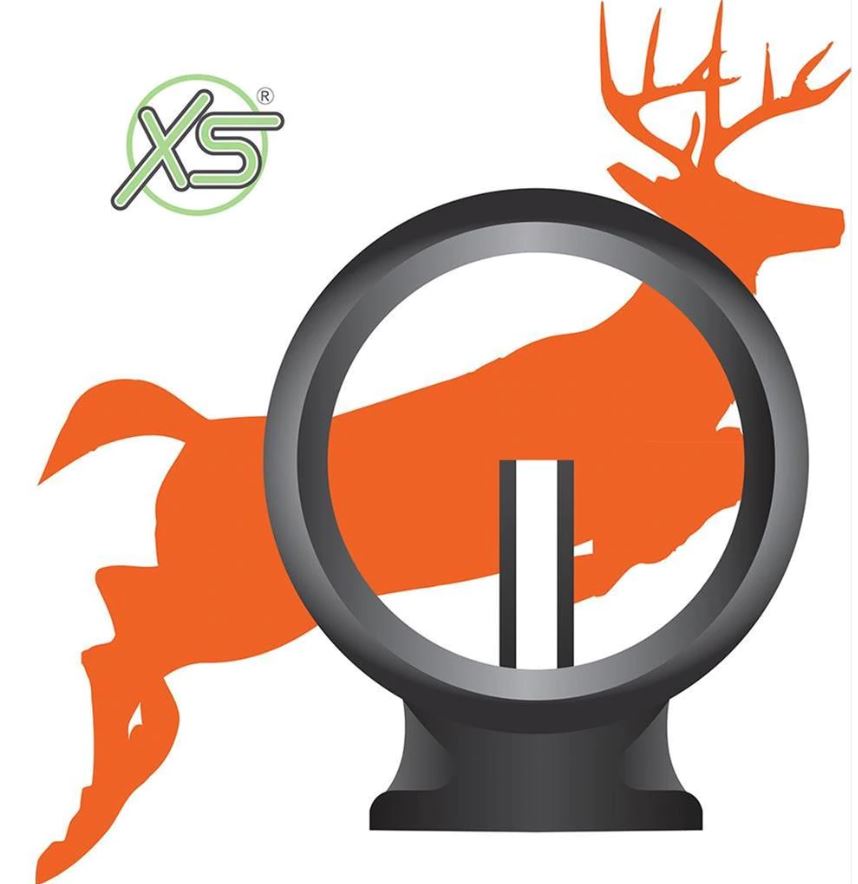 This allows you to keep a wide field of view and still quickly acquire a target and disperse with standard buckshot–which means a shotgun remains a shotgun. Because this system is from XS you can assume that the front sight is easy to see and is a night sight.
The front sight has a white strip and in the center is a tritium vial that glows for low light performance. The entire site system is made from aluminum and is matte black. The entire system is well thought out and well-executed.
182
at Amazon
Prices accurate at time of writing
Prices accurate at time of writing
I love the fact you can install these sights at home and get a set of Ghost ring sights on your shotgun. They are admittedly expensive, but they are a high-quality set of shotgun sights.   What's your take?
Red Dots
As close-range weapons, shotguns can be easily equipped with a red dot and be ultra-effective. Red dots are not necessary on shotguns but can make you faster and would allow you to easily use both slugs and shot.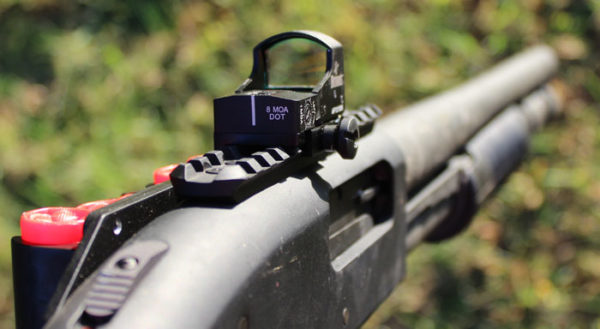 They aren't limited to a load. If you are going to be using both slugs and shot, then you should zero the dot to slugs. Your use of shot at close range will still be incredibly effective. The dot will be zeroed enough for dropping buckshot into a target accurately enough to take it down.
Red dots are slick and fast and there are two I like for shotguns.
6.
Burris FastFire 3
The Burris FastFire 3 is a great mini red dot for a few reasons and is great on shotguns for a number of other reasons. First, it is small and light and easy to use. It's rugged, dependable, and affordable for what you are getting.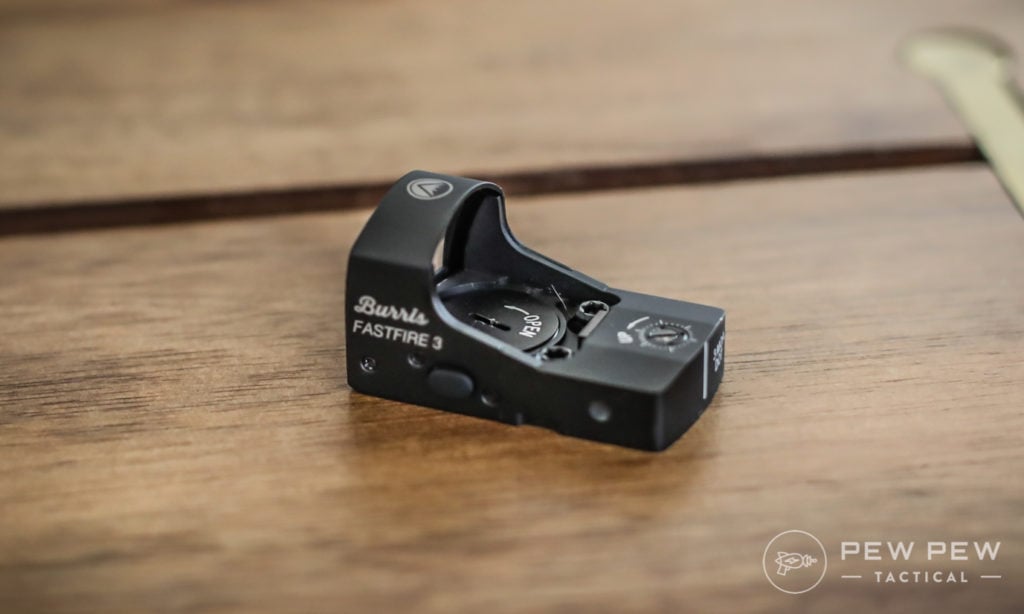 This red dot has three intensity settings and an auto setting that will adapt the reticle to the light around you. The auto setting is legit and does adapt quickly to the light around you.
It's also a pretty solid unit and mine has been banged around a lot and it still keeps going. The FastFire 3 comes in 3 or 8 MOA, and to me, the 8 MOA is better for shotguns, but the 3 itself isn't bad either.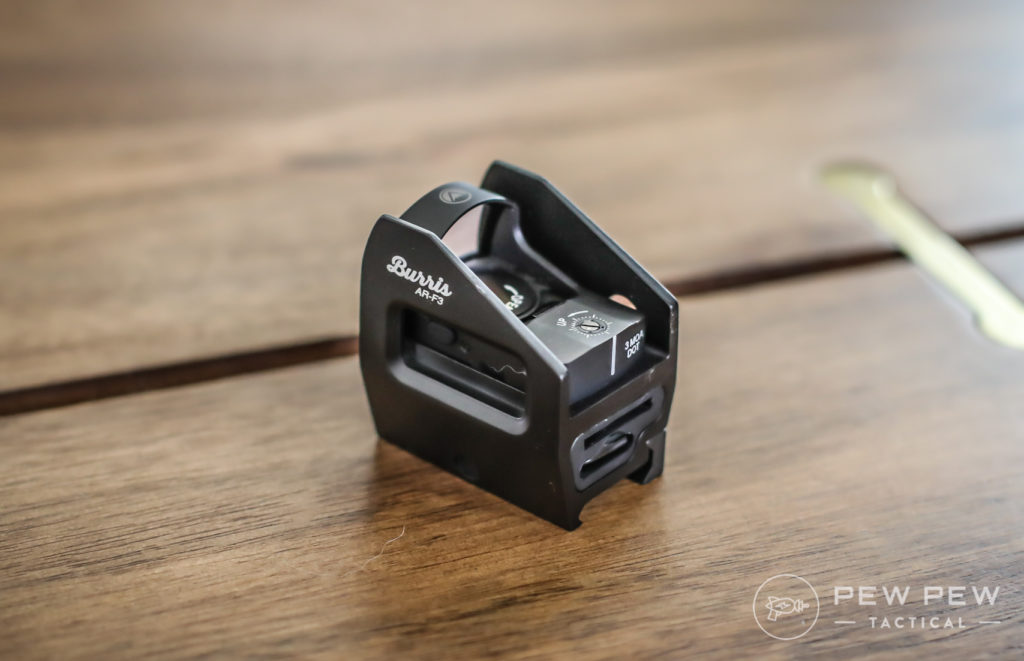 You can find it with a Picatinny mount as well as a hood to protect the optic. It's got a top-loading battery, one-button controls, and is very lightweight.
A big reason I love it is the Speed Bead mounting system. This mounts between the stock and the receiver and the red dot replaces your bead. This also allows you to mount the optic to guns without needing to tap them for an optics rail.
219
at Amazon
Prices accurate at time of writing
Prices accurate at time of writing
It also positions the optic far enough down that it is super low profile and easy to use with a traditional shotgun sight.
7.
Eotech EXPS2
The Eotech offers shotguns a very interesting design for shotguns, I specifically like the Eotech EXPS2 for shotguns. Eotech optics provide a combination of features that compliment shotguns very well. Let's explain some of these features.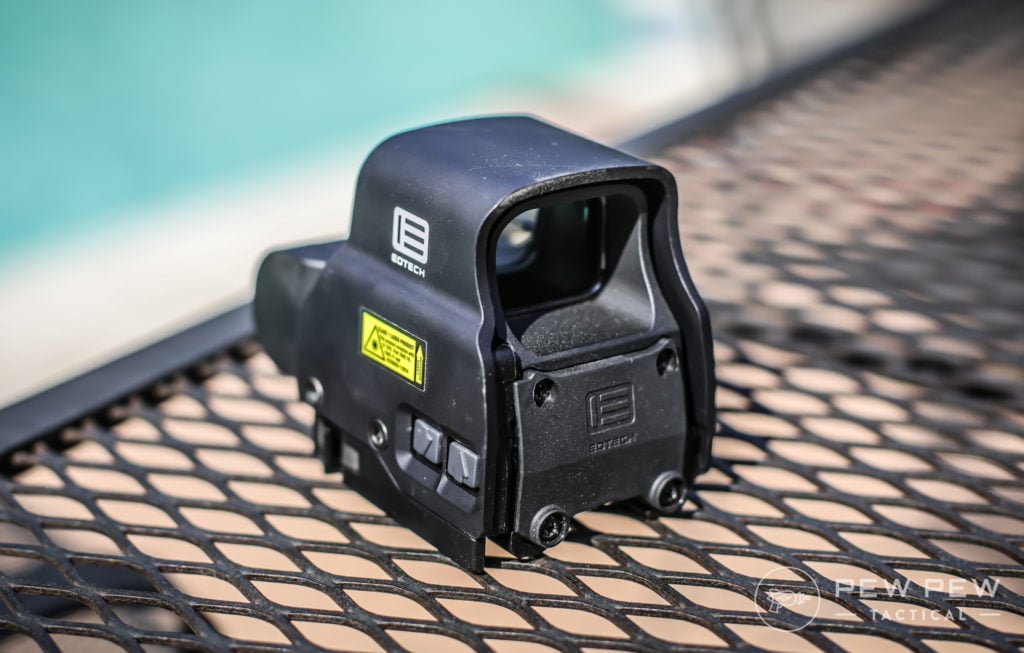 First, the square-shaped design encourages two eyes opened shooting, which is perfect for a shotgun. It gives you a wide field of view that is a must for close-quarters shooting. You have time to miss seeing your target.
Next, the traditional reticle is perfect for shotguns and works well for both slugs and buckshot. The 68 MOA ring and 1 MOA red dot combination are very versatile. You should pattern your shotgun for different distances and you should know the distance you can engage with a shotgun.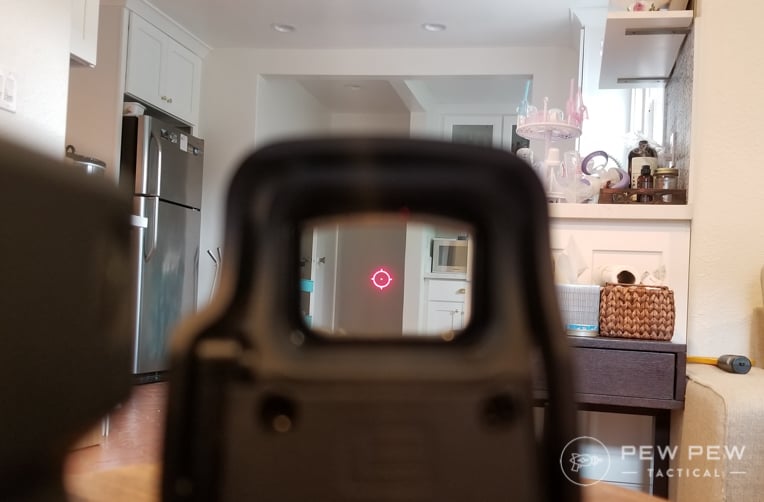 With that in mind, the shotgun rules in close quarters use and the big red 68 MOA circle makes it easy to put that big circle on the target and pull the trigger. When it comes down to speed the big circle makes a big difference.
The 1 MOA dot can be zeroed for slugs and be quite precise for hunting or just long-range engagements in general. This combination is an excellent choice if you want an optic that can do a little bit of it all.
519
at Amazon
Prices accurate at time of writing
Prices accurate at time of writing
The EXPS2 model is smaller, lighter, and needs only 1 inch of rail to mount. It has 20 brightness settings and a 10-year warranty. Plus, it handles shotgun recoil very well.
8. Crimson Trace Laser Saddle
One of the most fun I've had at SHOT shows range day was at the Crimson Trace booth. Their new optics were outstanding, but the reason I had so much fun at the booth was the Laser Saddle for shotguns. They had one mounted on a Shockwave and it was a literal blast.
The Laser Saddle fits on the receiver of a Mossberg 500 or 590 series shotgun and gives you an ultra-bright laser sight that allows you to fire from the hip accurately. Its absurdly low profile and very bright. This was 11 Am in the desert on a cloudless day, it was bright outside, but I can still see and use the laser.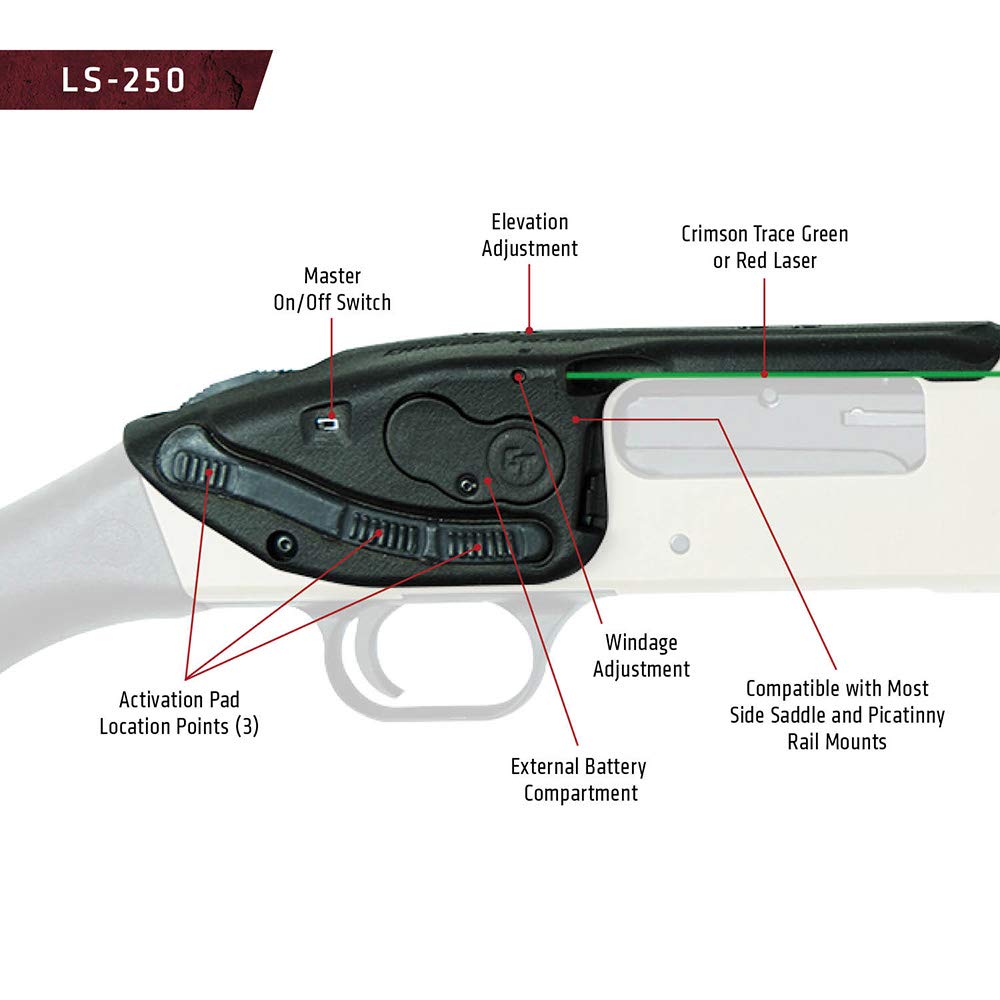 This red dot has ambidextrous on-off switches, as well as a master switch to shut it down. It's a shotgun designed laser that I love. Especially for those non-NFA firearms like the Shockwave and TAC-14.
159
at Brownells
Prices accurate at time of writing
Prices accurate at time of writing
It adds hardly any bulk to the design and is easy to use in a firing position without compromising your positioning. Not to mention, it's ultra-bright and gives you a sure shot and a solid idea of where you are aiming.
Variable Slug Scope
Slug guns are quite popular in states where it's very flat and rifles are prohibited. A slug gun is technically a shotgun but is designed with a rifled barrel to accurately shoot a slug. These guns shoot pretty far so a variable scope is a great addition to a slug gun.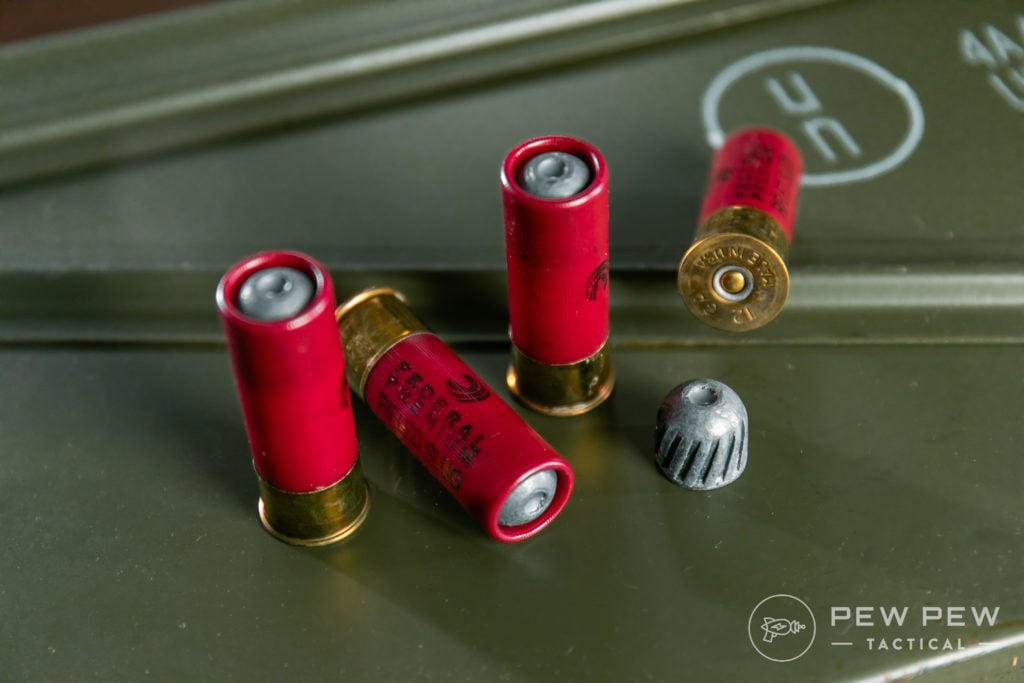 9.
Bushnell Trophy Shotgun Scope
Bushnell makes affordable optics that often punch above their weight when it comes to quality. Slug guns offer more range than shotguns, but not much beyond 200 yards. You won't need a crazy level of magnification, and the Bushnell Trophy Shotgun Scope is a 1.75-4x power compact optic designed for slug guns.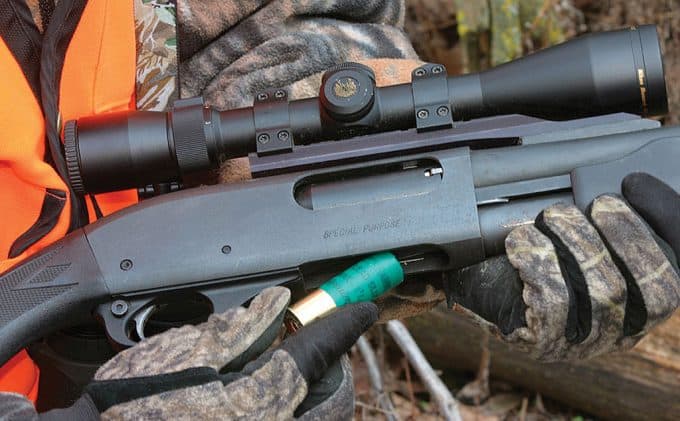 The Trophy Shotgun scope has their rain guard HD which makes it easy to aim in wet conditions. The Scope uses a simple circle X reticle that is far from complicated and well suited for short-range slug gun shooting.
The Shotgun scope has a fast-focus eyepiece, and this makes it quick to go from shoulder to shoot. The Shotgun scope features fully-multicoated optics, ¼ MOA adjustments, and its backed with a Lifetime Warranty.
130
at Amazon
Prices accurate at time of writing
Prices accurate at time of writing
This is a purpose-built scope and that's why I appreciate it for a slug gun. Plus, the low price and excellent warranty are great selling points.
Parting Shots
Never underestimate the need to aim with a shotgun and the need for good sights.
With that being said let me know what you like and what kind of shotgun sight you use? Did your favorites make our list? Tell us all about it in the comments below! While you're here, why not check out the Best Shotguns for Home Defense?