Crimson Trace has long been the king of the visible laser. Like them or not, they've ruled well with a wide variety of products and have recently extended into the world of shotguns. 
Today it's all about shotgun lasers, specifically the Crimson Trace Laser Saddle.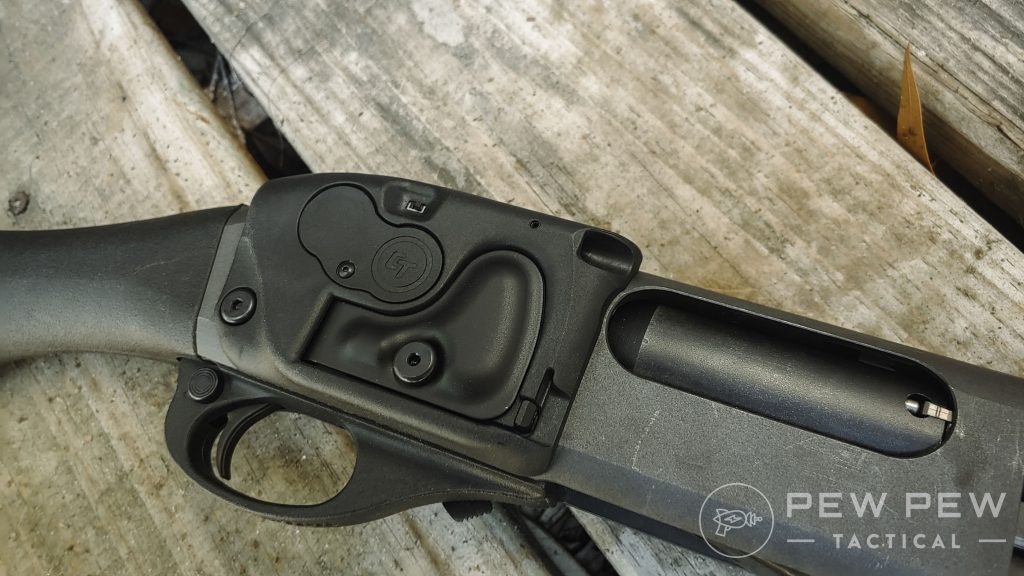 But Crimson Trace already has an assortment of rail-mounted lasers…what's wrong with attaching one of those many lasers to a shotgun?
Well, there are a few problems. 
First, mounting it to the pump can be tricky. Pumps have a fair amount of wiggle room to them. Even tighter actions like the 870 still have a significant wiggle. That wiggle can mess your zero up, and at close range, that zero will matter with a shotgun.
If you mount it ahead of the pump, how do you plan to control it when handling the pump?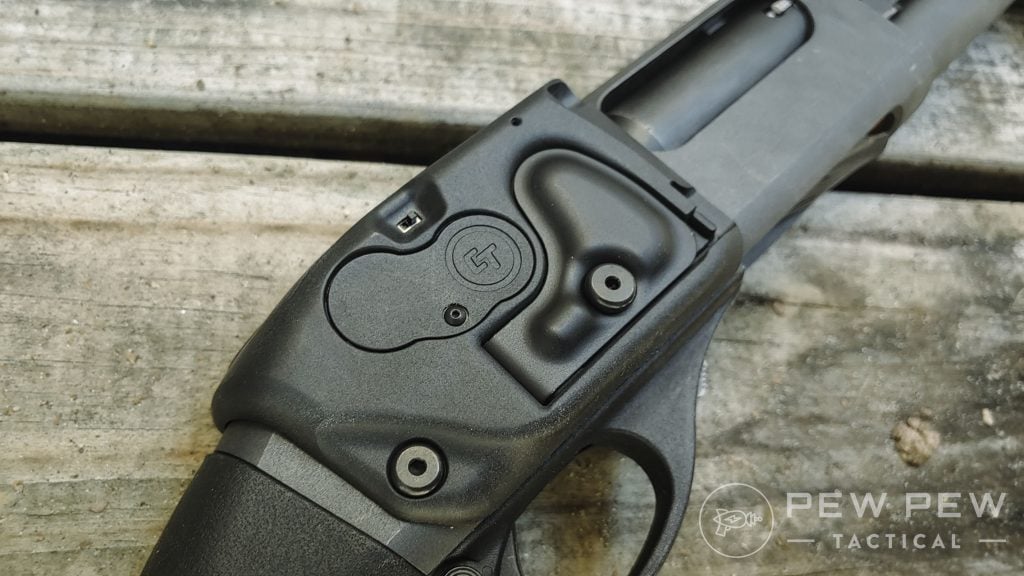 Semi-autos present a slightly more accessible option to deal with a laser, but even they can be tricky. Especially if your only mounting space is a barrel clamp design.
Crimson Trace saw the problem and created the Laser Saddle. This saddle attaches to the receiver of the shotgun and provides quick and easy controls and a stable mounting platform.
The laser emits right behind the ejection port and can be easily aligned with the bead or front sight of your shotgun.
Table of Contents
Loading...
Crimson Trace Laser Saddle Review at a Glance
Pros
Easy installation
Very reliable
Holds a zero well
Red and green options are available
Speeds target acquisition significantly over iron sights
Cons
Can interrupt some other accessories
Fairly pricey
Limited range, especially in bright daylight, but that's what a shotgun is best at anyway
The Bottom Line
The Laser Saddle by Crimson Trace provides an easy and convenient solution to the laser problem on shotguns.
179
at Brownells
Prices accurate at time of writing
Prices accurate at time of writing
Specs & Features
Specs
Activation Location: Side activation
Activation Type: Instant activation
Laser Color: Red and green available
Beam Intensity: 5MW peak
Dot Size: ~0.5" at 50 feet
Battery Life: 4 hours
Battery Type: 2 CR2032
Material: Polymer
Features
Available in the LS-870 for Remington 879 and Tac-14 12 gauge shotguns, as well as the LS-250 for Mossberg 500, 590, and 590 Shockwave shotguns in 12 and 20 gauge
Adjustable windage and elevation
Can be used with most side saddles and top rails
Red and green options are available
Intuitive operation
Background
There is a lot of debate about the usefulness of visible lasers.
However, from my perspective, the home defense shotgun does offer a unique platform for laser use. For home defense, it will likely be used indoors, and visibility in bright sunlight won't be an issue.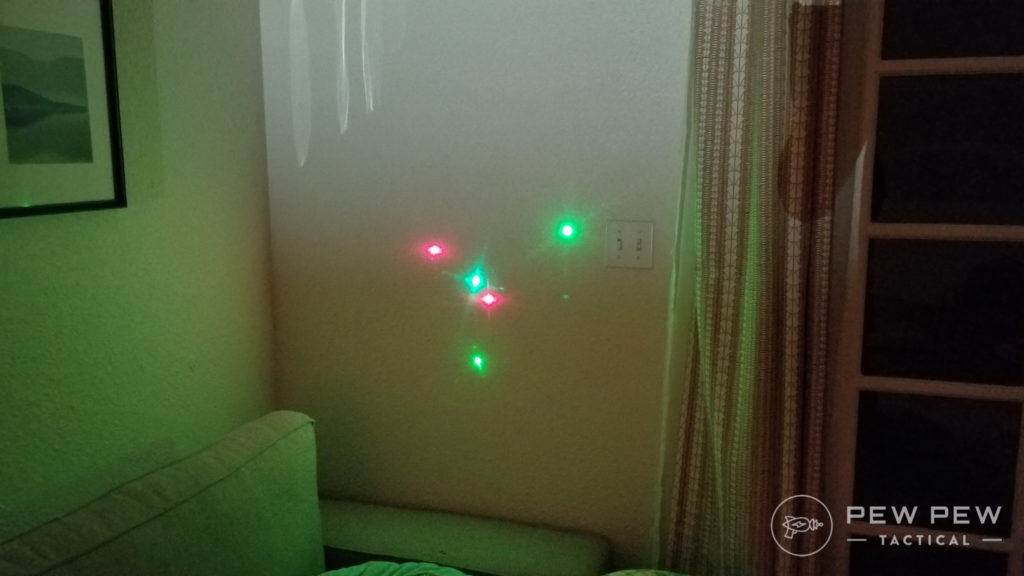 Second, it's a close-range weapon, so finding the dot isn't difficult. I'd still prefer to aim with a red dot optic, but the laser doesn't seem much of a hindrance.
To me, the Laser Saddle is also the perfect option for a 12-gauge firearm.
You know those pistol grip-only guns that aren't technically shotguns? Mossberg's Shockwave got the ball rolling, and just about everyone else in the world followed up. 
360
at Brownells
Prices accurate at time of writing
Prices accurate at time of writing
These guns are tough to aim without stocks, and a laser makes them a lot easier and a ton of fun to shoot.
My Laser Saddle fits on my Remington 870 TAC-14, and I've found it to be one helluva companion. 
Who Is It For?
The Laser Saddle comes in four different configurations.
First, it comes available for America's favorite shotguns — the Mossberg 500 series and the Remington 870 series.
Second, it comes in either red or green lasers. 
The variant we used for this review is the red one. Green variants seem to be slightly more expensive for the 870 and, for some reason, over $50 more for the Mossberg model.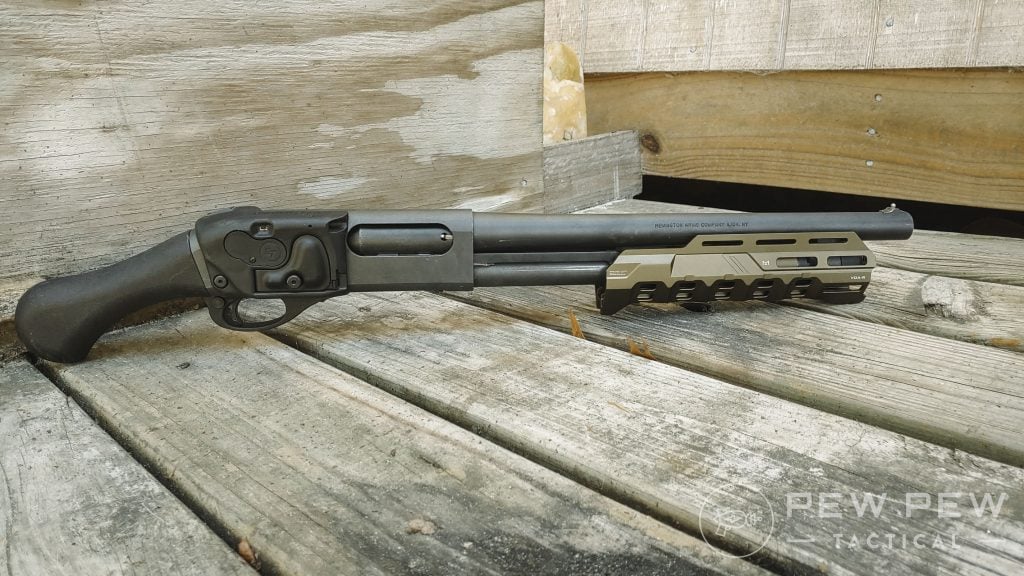 The Mossberg variant will fit the 12- and 20-gauge Mossberg 500 and 590 series shotguns. 
The 870 Laser Saddle will only fit the 12-gauge models.
I looked to see if the Laser Saddle would fit the Maverick 88. Unfortunately, this doesn't seem to be the case due to how the Mossberg model mounts to the 500 series shotguns. 
Installation of the 500 series uses the drilled and tapped receiver. It mounts to where you'd normally mount an optic and at the trigger housing pen point.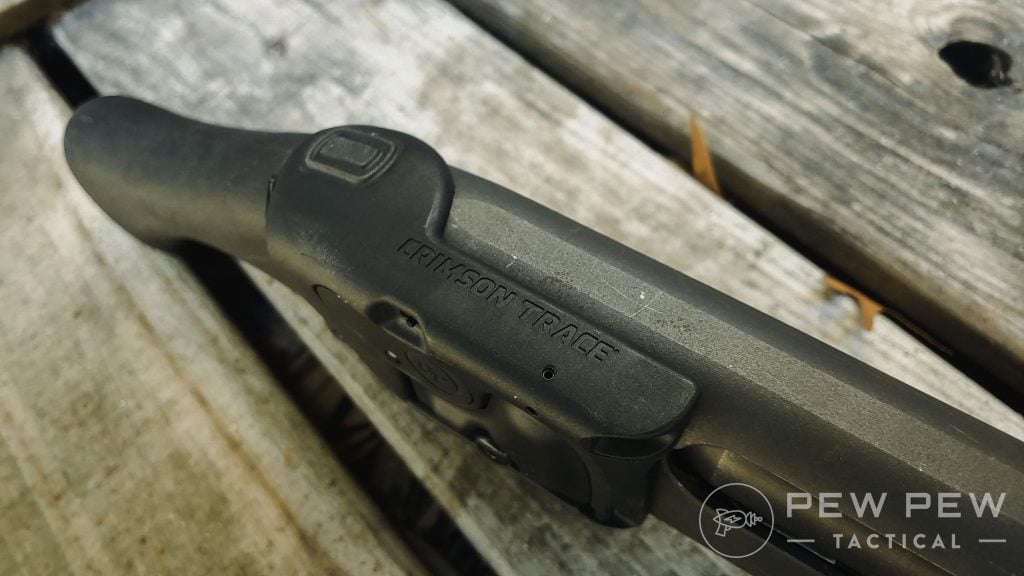 Don't worry too much since you can still mount an optic rail to the top with slightly longer screws. 
On the 870, the Laser Saddle mounts via the two pins that hold the trigger group inside the receiver.
Even so, installation took no time at all, and I was up and running in about five minutes. The Laser Saddle includes the two CR2031 batteries you'll need, so it's out of the box, ready to rock.
Fit & Feel
The Laser Saddle adds about 2 ounces of weight to your gun, so hardly any at all. It's a few inches long and adds just a hair of width to your shotgun.
Not enough to matter, and overall it's an impressive design that blends in well with your shotgun. 
You have two controls. The main is a button that activates the laser. On the 870 models, it's a button at the top of the receiver mounted exactly where Mossberg mounts their safety.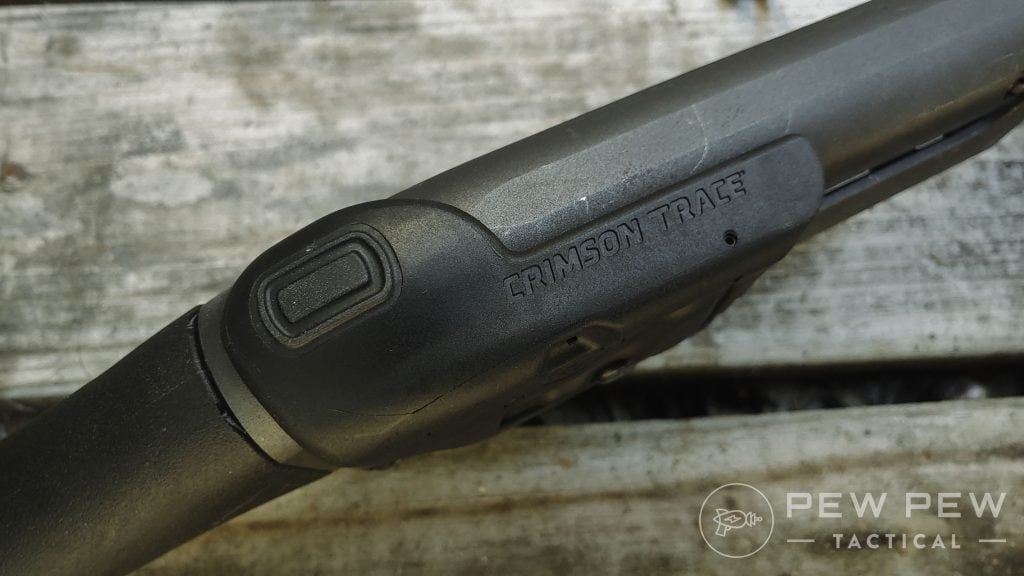 It's super easy to engage and can be controlled via the thumb with either hand.
Since Mossberg has the safety there, they have to rethink their activation position. Instead, they have a button with three pressure points that make the laser easy to activate for right or left-handed shooters.
The second control on the Laser Saddle is the master on and off switch. This tiny little tab allows you to shut the laser off and shut the activation button off regardless of whether the button is pressed.
Pretty handy for traveling purposes.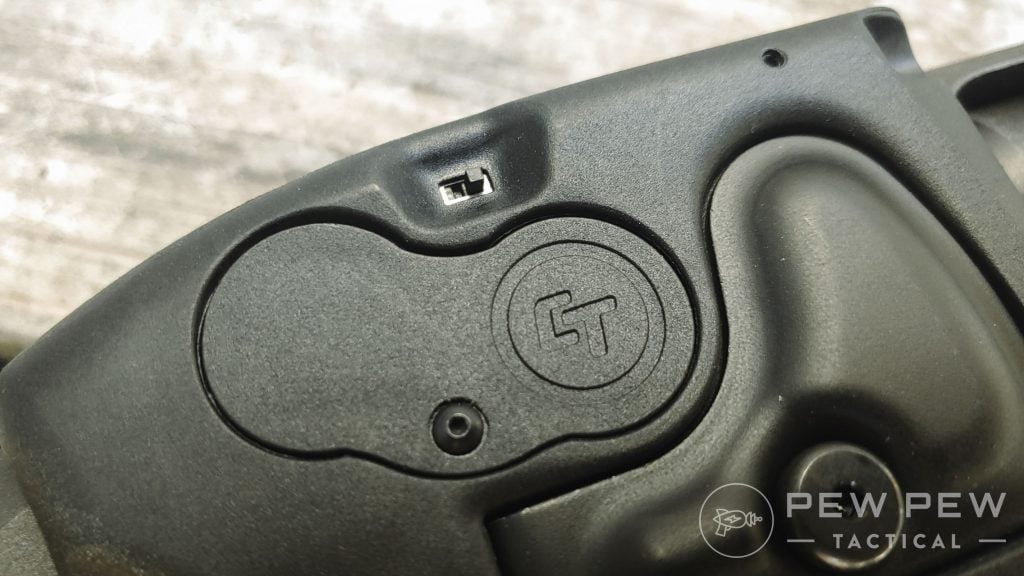 Making Adjustments with the Laser Saddle
An elevation and windage knob cemented deep into the Laser Saddle makes adjustments quick and easy. I sighted the dot to the bead and confirmed with a round of low recoil buckshot.
Pretty easy, and at 10 yards, it's not tough to quickly zero any gun. 
The dot from the Laser Saddle is nice and bright. It shines bright enough to be seen within 10 yards on an orange clay pigeon in the middle of the day. That's not bad for a visible red laser.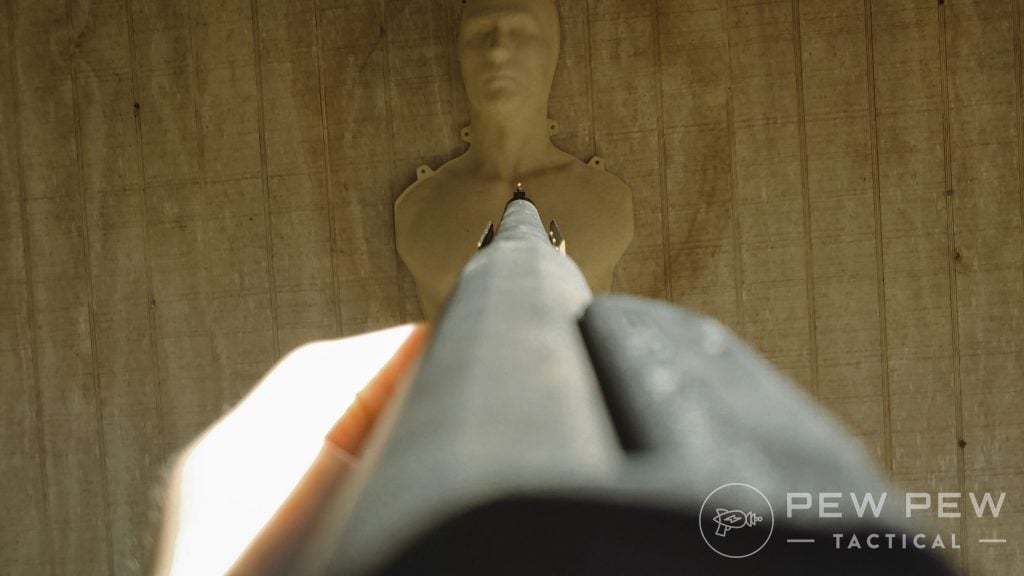 Compared to other pistol lasers, the dot seems super bright and rather large. It stands out very well against a multitude of targets.
As long as you aren't shooting something painted Coca-Cola red, then you'll see the dot…at least within 10 yards. 
Beyond that, the dot gets tougher to see outdoors in bright sunlight. A little overcast helps, a little shade helps, and indoors it works perfectly.
Bright enough to see with the kitchen lights on and bright enough to see against 600 lumens of Surefire light. 
How Does It Shoot?
That big bright dot makes it super easy to put buckshot exactly where I want it. At 10 yards, the illuminated dot leads the way and what follows next is a load of buckshot.
One of the big benefits of using a red dot sight is the ability to focus on the target. Target focus makes it easy to both track and engage your target.
Target focus allows you to watch the threat; instead of focusing on your front sight, you can focus on a potential bad guy.
With this laser, you can also focus on the target and keep that focus. In fact, you have to!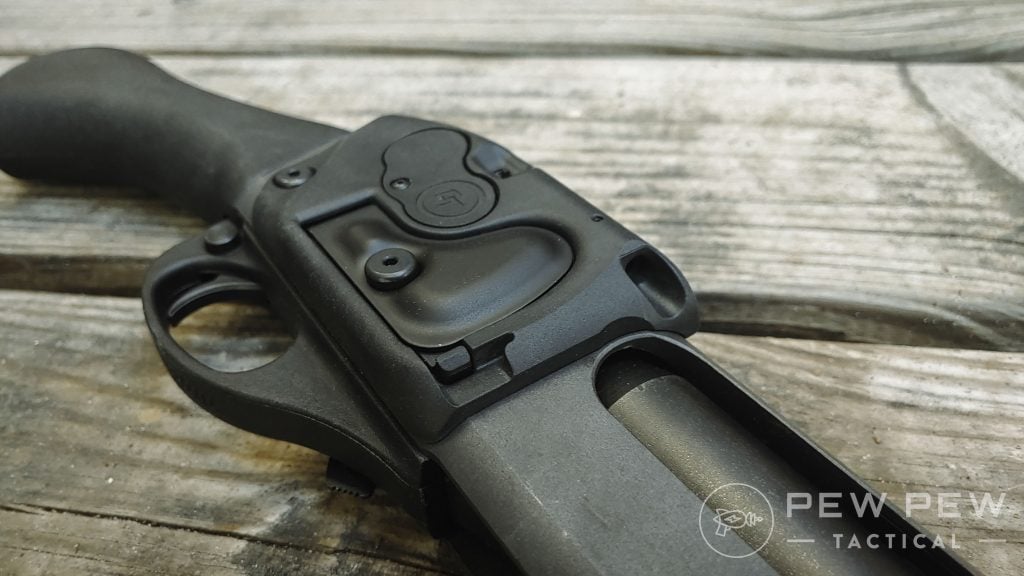 A shotgun excels at close range, and at close range, the dot works best, and so does target focus. Admittedly the use of the laser trims your range down to about 10 yards in bright daylight. 
Keep sharp on using your sights if you plan to use this outdoors. In my shooting, I found the Laser Saddle to be best used for snapshots from the low ready on a super close target.
It's fast and quick to land that sub-one-second snapshot with the Laser Saddle onto a portion of the target that matters.
I'm talking perfect chest shots in less than a second with a round of buckshot. Pretty handy, especially on a pistol grip-only weapon.
Can you do that without a laser? Maybe, but what about follow-up shots?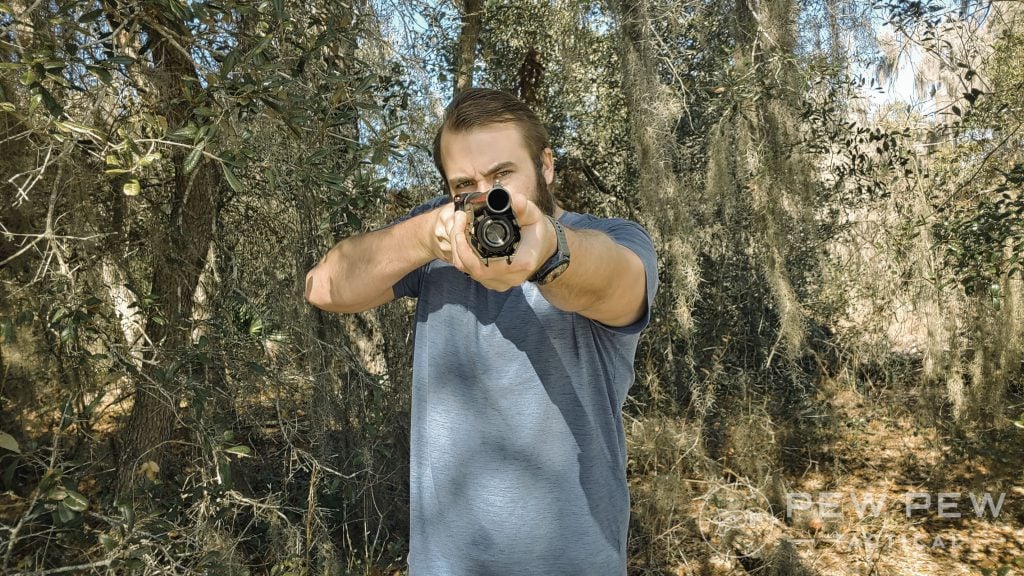 On a weapon like the TAC-14, the range is already limited well below that of a normal shotgun, and it's a bit tougher to handle. I can tuck the TAC-14 into my body and exert better control over the gun while still aiming it with ease.
This makes it much easier to fire the TAC-14 on a single target or multiple targets. In fact, I'd go as far as to say the TAC-14 gets tamed by the Laser Saddle. The Laser Saddle makes it much easier to aim and control the weapon.
Hitting a man-sized target at these ranges is plenty easy, and so is hitting small targets. Destroying those clay pigeons is a ton of fun.
Without the Laser Saddle, it takes upwards of five seconds to hit three clay pigeons. With the Laser Saddle, I can trim up to a second and second and a half of my time.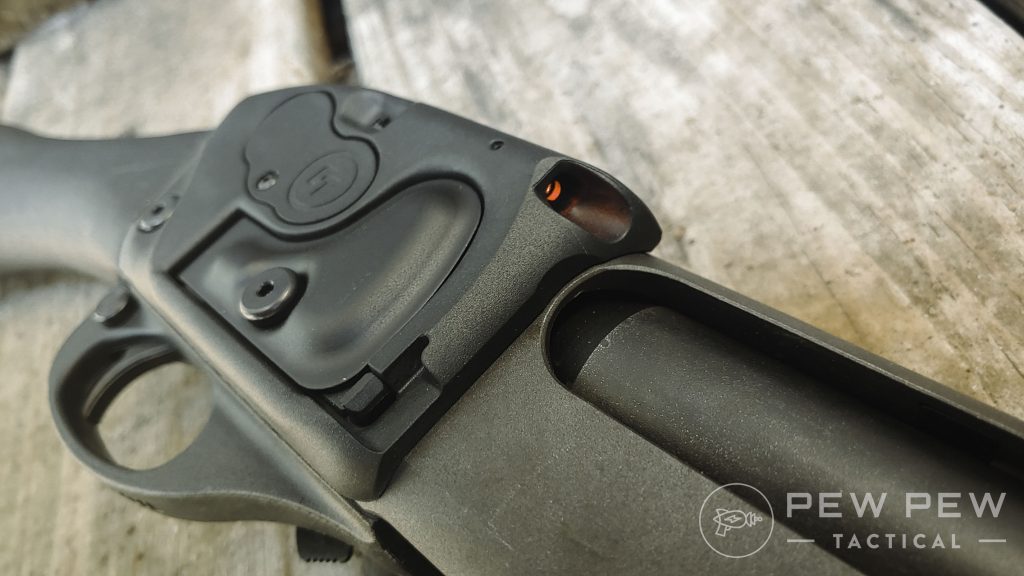 Crimson Trace's Laser Saddle has remained zeroed after tons of ammo. Lots of buckshot, birdshot, and even a couple of low recoil slugs. No issues.
It's never flickered, fluttered, or shut off in use.
By the Numbers
Reliability: 5/5 
The Crimson Trace Laser Saddle never faltered, never flickered, and never shut off, regardless of the recoil it faced. It held zero and held up to whatever I tossed at it. 
Ergonomics: 5/5 
The controls are ergonomic, ambidextrous, and easy to manipulate. It's lightweight and doesn't add much bulk to your gun. 
Looks: 3/5 
It's a chunk of black polymer. Not much to brag about, but it doesn't look silly or stupid by any means.
Value: 3/5 
At around $200 for the base red model, it's not exactly cheap, especially for a fun gun. However, you do get a well-made laser that solves the ergonomic concerns of mounting a laser to a shotgun. 
Overall: 4/5
179
at Brownells
Prices accurate at time of writing
Prices accurate at time of writing
Accessory Issues
It bears mentioning that the Laser Saddle can interrupt with some accessories. First, mounting other ammunition side saddles can be tricky. If you want to use one that mounts with the receiver trigger pack pins, then you're out of luck.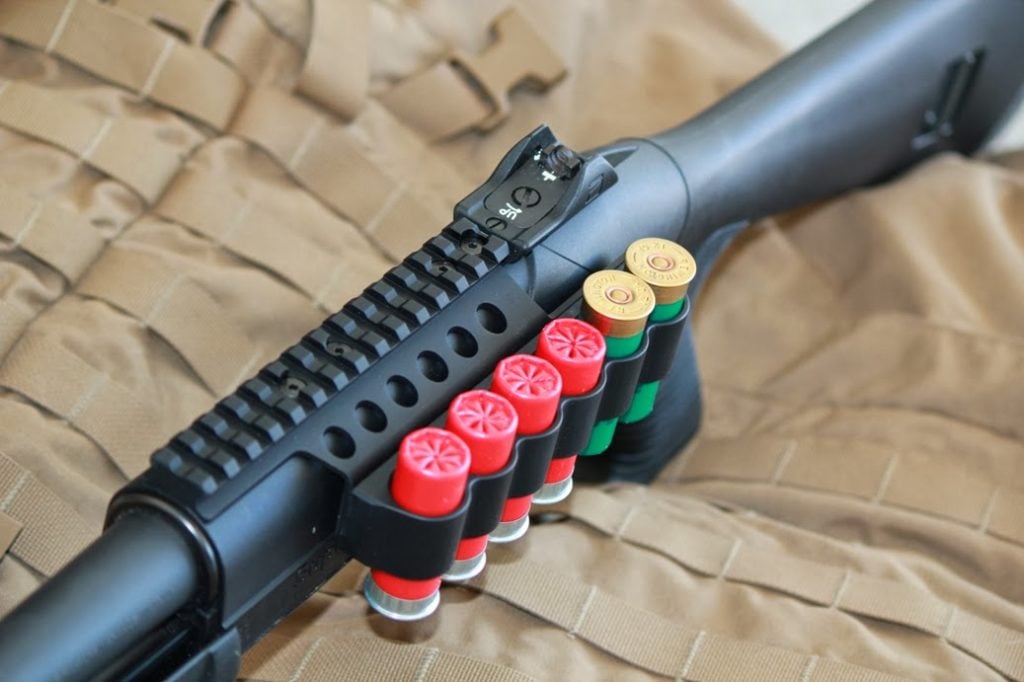 If you want to use the elastic side saddle cards backed by velcro, then you're good to go.
Using optics can be trickier.
On the Mossberg, you're good to go. If you've had your 870 drilled and tapped, then it's going to be tricky, and you can't use the Burris Spead Bead with the Laser Saddle. 
Final Verdict
Overall, the Laser Saddle is a great piece of gear, especially on a pistol grip-only firearm. It tames the beast and makes it much easier to handle while staying accurate and aiming true.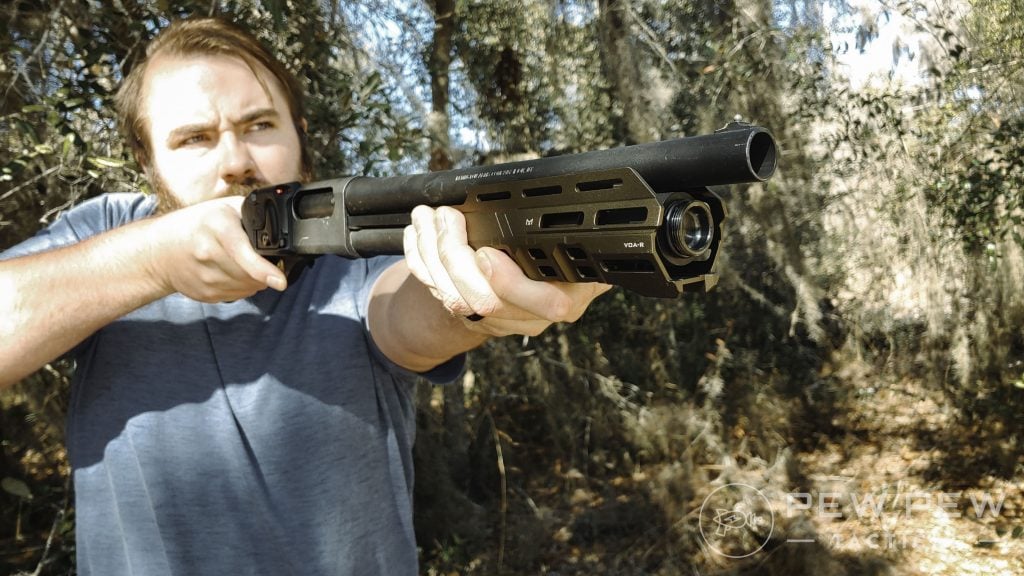 If you want to maximize the efficiency of your pistol grip firearm or add a secondary or tertiary aiming option to your shotgun, then the Laser Saddle has you covered. 
What do you think of the Laser Saddle? Let us know in the comments below. Need more upgrades? Check out our list of the Best Home Defense Shotgun Upgrades.