No IFAK, Go Bag, or Range Bag is complete without a tourniquet.
Period.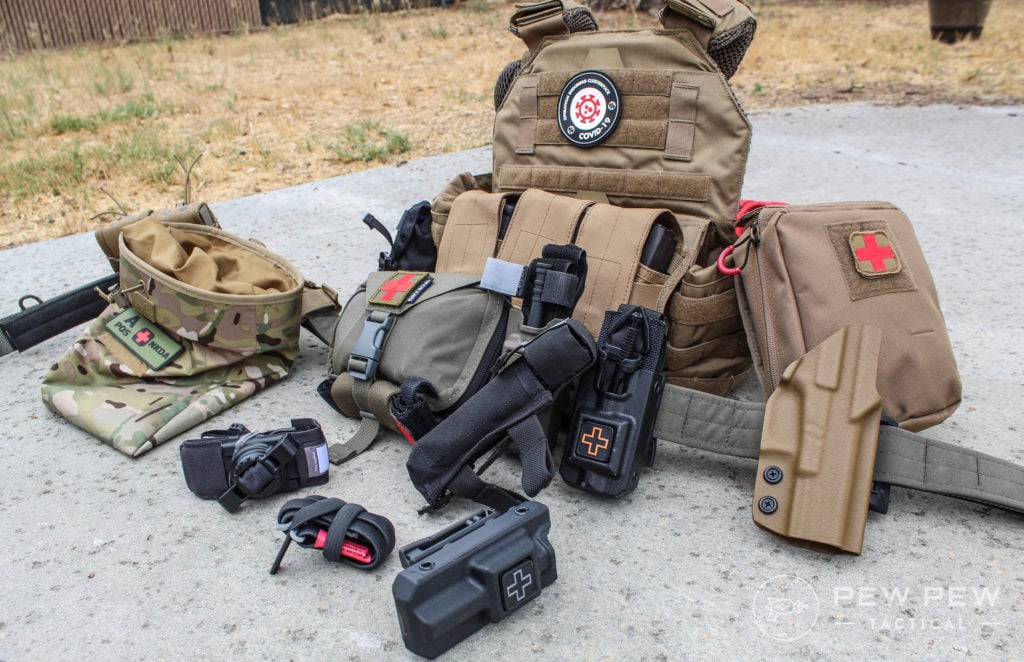 Whether you're prepping for when SHTF, or simply looking to build a comprehensive first-aid kit for your home, you'll need tourniquets.But which tourniquet type and model is right for you?
It's hard to make a confident (and potentially pricey) decision when there are so many options out there. And that's why we're going to take a hard look at tourniquets today!
Today, we're going to set the record straight on tourniquet risks and explain what you need to know about this handy, life-saving tool.
Table of Contents
Loading...
Are Tourniquets Dangerous?
It's a common myth that tourniquets are unsafe to use. The truth is—no, a modern tourniquet is very safe to use, so long as it's applied correctly.
And yes, we have paid attention to the ongoing debates regarding nerve damage and tourniquets.
To be blunt, if you're suffering an injury that necessitates a tourniquet, nerve damage is probably one of the last things you're worried about.
Someone dying from blood loss likely won't mind some minor nerve damage if it means surviving. 
The only way a TQ is dangerous is if you tie it around someone's neck to stem the bleeding of a head wound. For obvious reasons, this will lead to other significant complications, like asphyxiation.
The Big Two TQs
Tourniquets have been around for hundreds of years, and they've evolved considerably from the sticks and bandages used by early battlefield surgeons.
While most people are familiar with the old belt-and-stick survivalist-type of tourniquet, many are unaware that professional-grade TQs are both available and convenient to carry.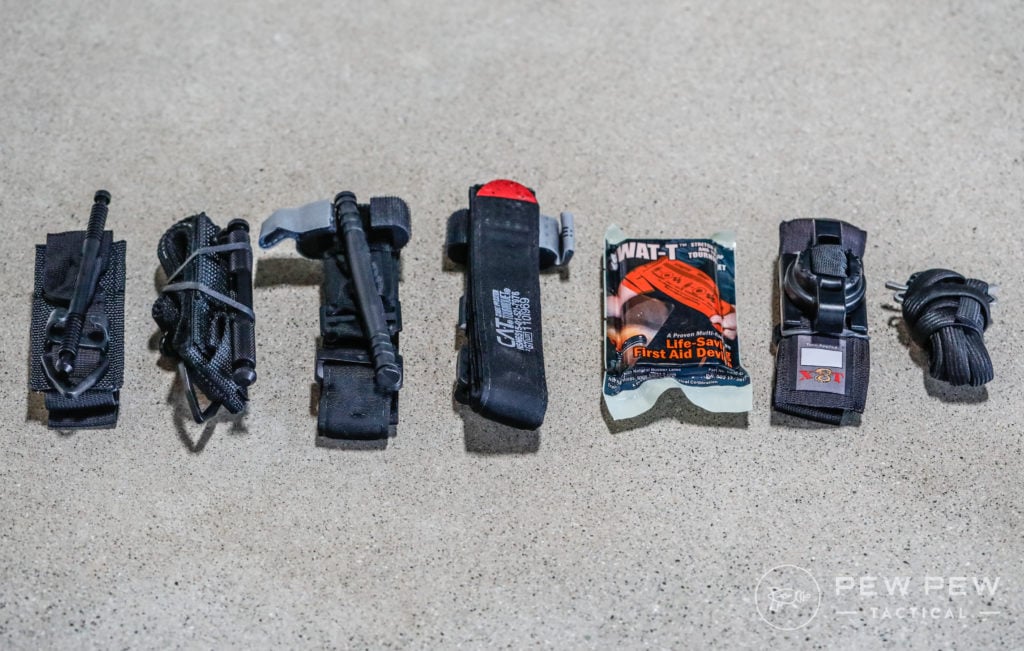 Now the trick is to find which tourniquet is the right one for you.
If you want what the experts recommend, refer to the Committee on Tactical Combat Casualty Care (CoTCCC, spoken as "Tee-Cee-Three").
The CoTCCC was established by the US Special Operations Command in the early 00s and is now the leading study group for prehospital combat care.
Basically, these are the people studying and using data to produce the best practices and operating procedures to keep combat casualties alive long enough to get to a hospital.
Until recently, the only windlass tourniquets they recommended were the CAT-6 and -7 and the SOFTT-W. However, in May of 2019, they released new recommendations and expanded that list to include several others.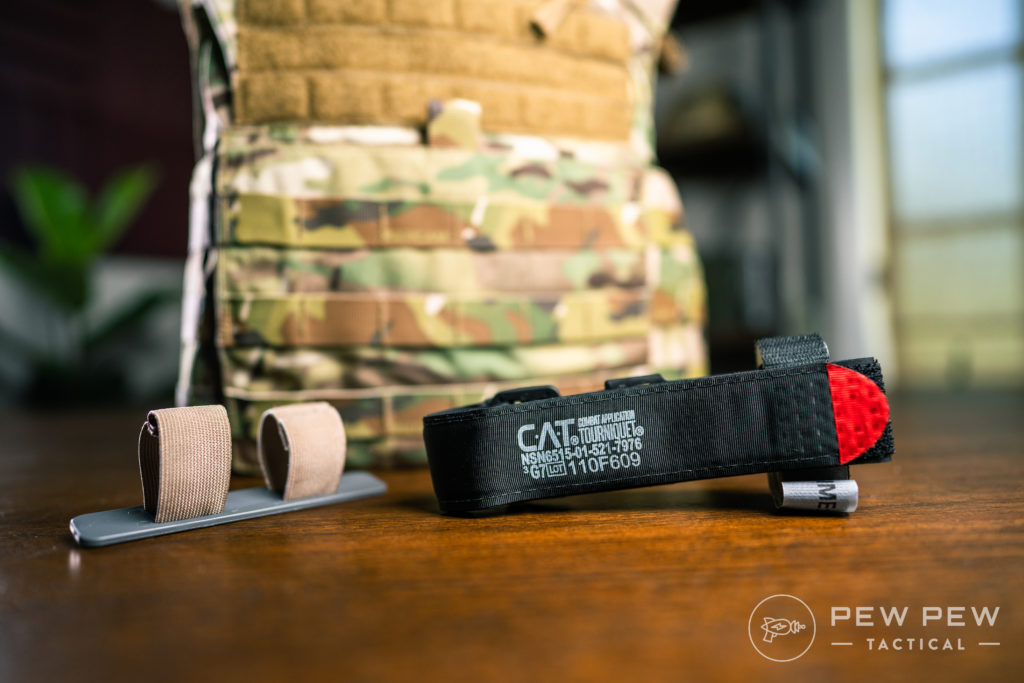 But… the CoTCCC is interested in slightly different standards than what you and I might need.
There are also other designs on the market that, while they don't fit the requirements of the CoTCCC, do work and work well.
We wanted to take a look at a whole bunch of tourniquets on the market, and LAPG helped us out by sending a big ole' box of them for us to review!
Best Tourniquets
1. CAT Gen 7
The CAT, which stands for "Combat Application Tourniquet," is, by far, one of the most popular tourniquets on the market.
It's also the gold standard TQ that all others are measured against.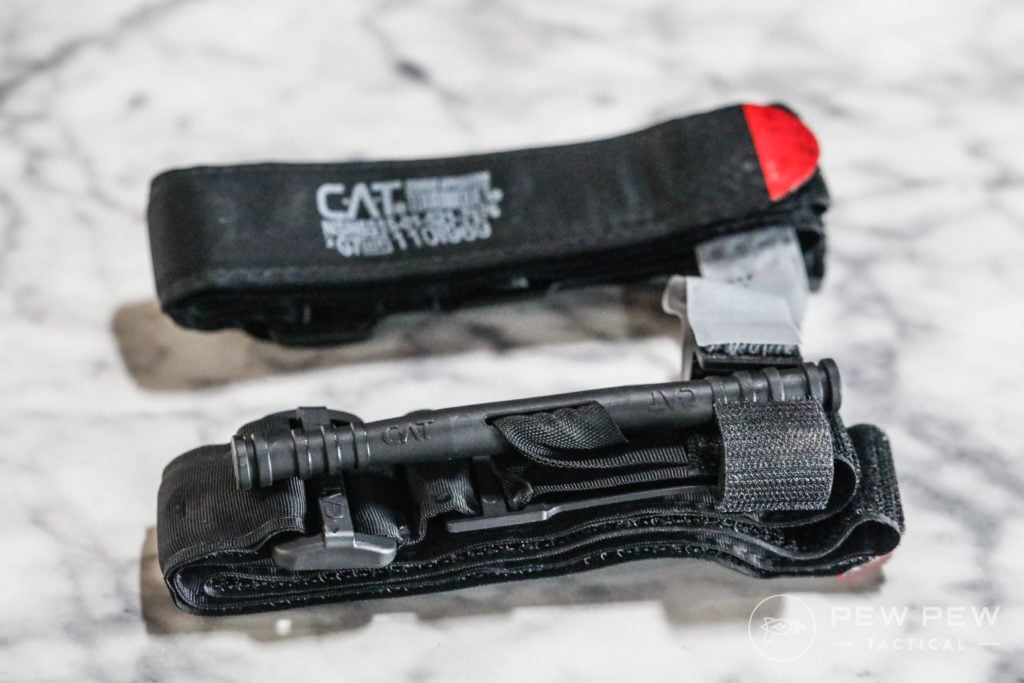 The CAT utilizes an adjustable strap that latches down and is secured by plenty of Velcro. It also has a plastic windlass that is easy to rotate, allowing you to tighten the TQ and stop the bleeding.
This type of tourniquet also features a red tip to make the end of the Velcro strap easy to find.
The white Velcro strap serves double duty to secure the windlass and provides a place to write down what time the tourniquet was applied. 
Writing the application time directly on the TQ allows hospitals to identify how long the tourniquet has been in place and encourages staffers to prioritize treatment.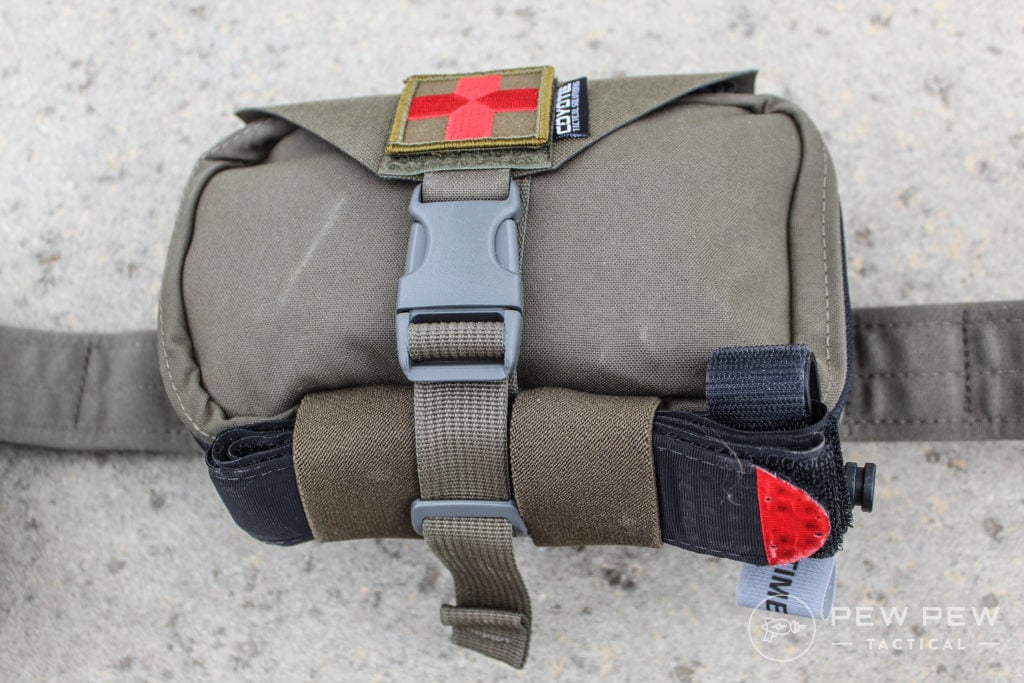 The windlass locks into one of two hooks on the side of the TQ, which is then secured by the white strap.
CAT tourniquets are compact, foldable, and easy to apply to yourself or another person with only one hand. For this reason, they're incredibly popular with civilian first-aid kits, emergency medical staff, and the military.
Personally, this TQ is my standard go-to. I have over a dozen and keep at least one in every IFAK and medical bag I own, plus two on my battle belt and a bunch of other places.
Paranoid? Not really, I just don't want to be without a TQ should something ever go horribly wrong.
EDITOR'S PICK
29
at LAPG
Prices accurate at time of writing
Prices accurate at time of writing
What's your take on the CAT?
2. SOFTT And SOFTT-Wide
If you're looking for an alternative to the CAT, the SOFTT by Tactical Medical Solutions is a great option. It's very similar to the CAT in the sense that it can be applied with one hand.
There are two types of SOFTT on the market, the normal one and the -W or -Wide model. The Wide model is included in the official CoTCCC list, while the normal one is not.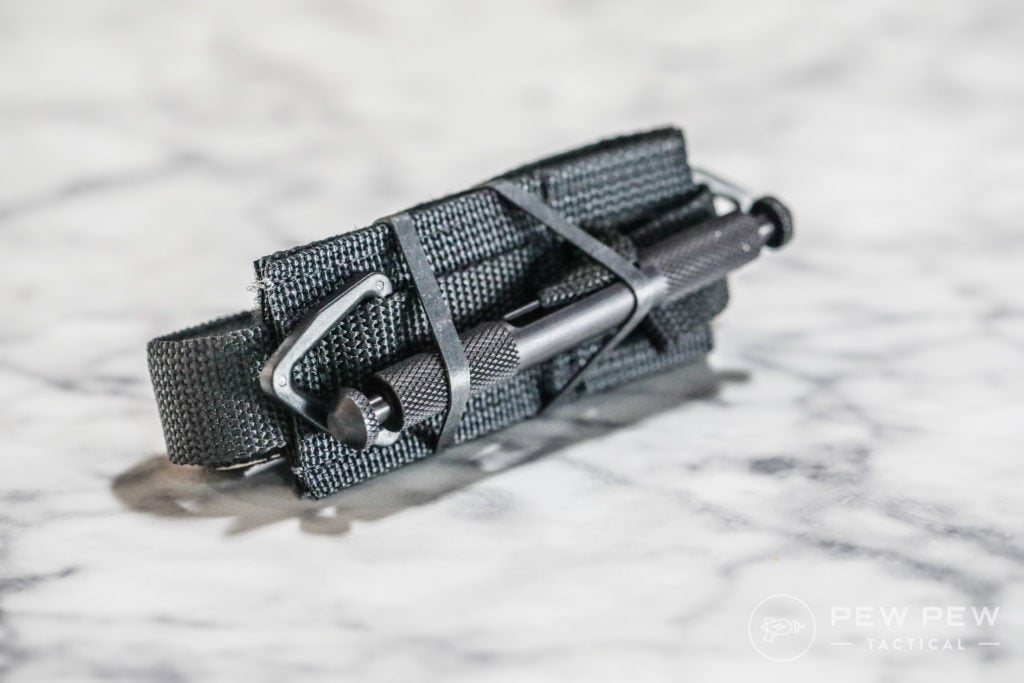 Unlike the CAT, the SOFTT uses a metal windlass that is heavily textured. A metal windlass is able to stand up to more abuse than a plastic windlass, so it's a great choice if you want a durable TQ.
The heavily textured handle is also beneficial if you're wearing gloves or, in a worst-case scenario, are covered in blood.
Another perk to the SOFTT is the metal latch on the strap. With this clever design choice, you shouldn't have any trouble opening the strap and placing it around a trapped arm or leg.
This tourniquet also features an adjusting strap with a friction buckle that prevents the strap from loosening—which would obviously defeat the point of a TQ.
The SOFTT-W also has a safety set screw that allows the user to lock the windlass down completely. This keeps the TQ from becoming loose when moving the patient.
All in all, this is an excellent tourniquet that is gaining ground in the tactical medicine world.
If you get the standard SOFTT, it's roughly the same price as a CAT-7. But the -Wide it is about $10-15 bucks more than a CAT-7. If you need one or two, the price is worth it.
But if you want to stock one or two in every first-aid or IFAK you have, this might become cost-prohibitive fast. I know first-hand since I have 15+ TQs shared between ten or so IFAKs and first-aid kits…
27
at LAPG
Prices accurate at time of writing
Prices accurate at time of writing
The SOFTT can also be found in a combo pack that includes a holder with a Molle attachment.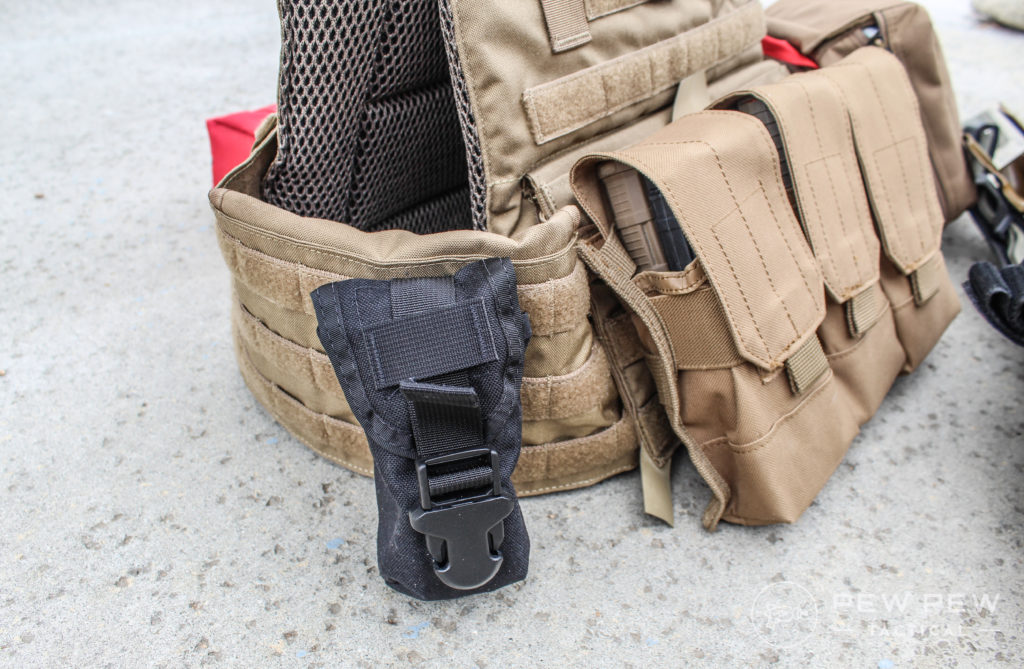 However, I can't recommend this set.
The holder is fine, but only just; in fact, it's a bit on the cheap side in terms of construction. But my main issue is that nothing about the holster hints that it's for carrying a tourniquet. 
I don't just carry TQs for any emergency I happen to come across. If I go down, I want someone else to use it on me. As such, I need a holder that is clearly marked as medical gear.
As it is, the bag that comes with the SOFTT could be anything: snack pack, flashlight, dice bag, monocular, anything.
47
at LAPG
Prices accurate at time of writing
Prices accurate at time of writing
That's a pass for me. I want my medical gear to be in bright red, have a box medical cross on it, or clearly state "TQ" in a large font—any type of symbol that could save my life.
Not CoTCCC Approved TQs
3. RCR Medical X8T
While not on the "approved" list, the RCR X8T is a solid option with some notable features.
This tourniquet has some similarities to the SOFTT or CAT but ultimately stands apart for its differences. For example, the X8T's design does not incorporate a windlass.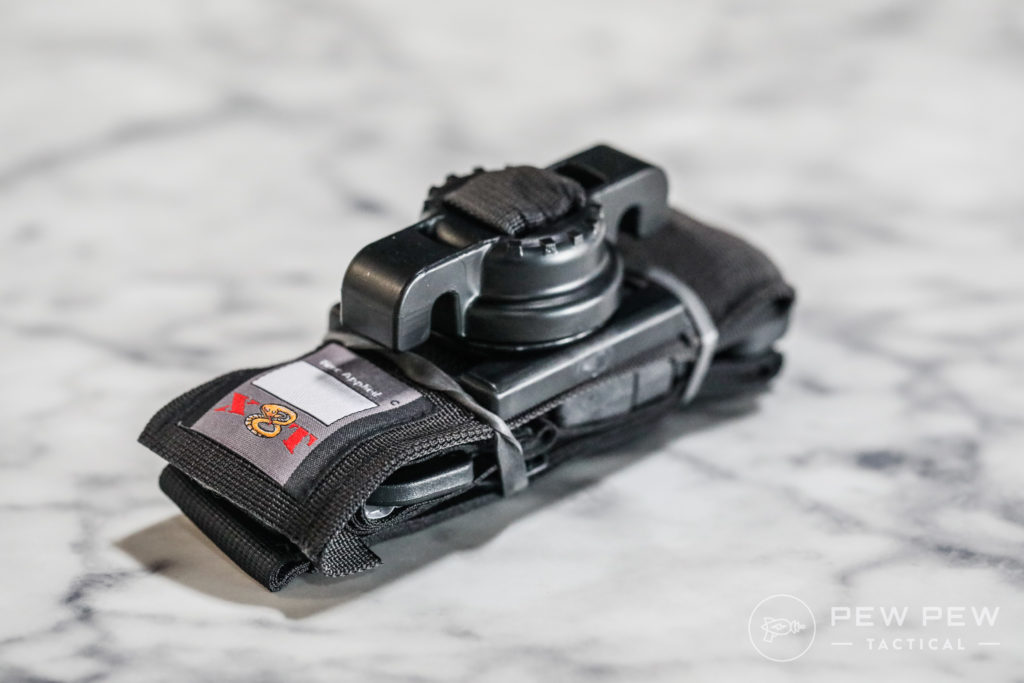 Instead, the X8T uses a ratcheting dial to twist and apply tension on the inner strap. It also uses a plastic buckle to attach the two ends.
Otherwise, it's the same idea as the big dogs.
I like the X8T—it is very easy to apply one-handed, and the ratcheting dial is pretty idiot-proof, which is what you want in an emergency.
However, this tourniquet may not be perfect for someone with a weak pinching grip. The dial is a little small and lacks texture, so the TQ requires a firm pinch to really crank down.
If you have a strong grip, you'll likely be fine. But if you're injured enough that you need a tourniquet…do you really want to rely on your grip to save your life?
At the same time, there is an upside to that ratchet. Even someone who doesn't know what they are doing can easily use it.
30
at LAPG
Prices accurate at time of writing
Prices accurate at time of writing
With the CAT-7 or SOFTT, you need to know to hook the windlass to lock it. The X8T just ratchets and holds. No second step is needed.
4. R.A.T.S (Rapid Application Tourniquet System)
If you ever want to start a fight among gear guys, tacticools, or survival medics — ask them why the RATS is the best choice. Heads will explode.
Here is the short rundown:
The RATS has issues, but it's also great for a couple of reasons.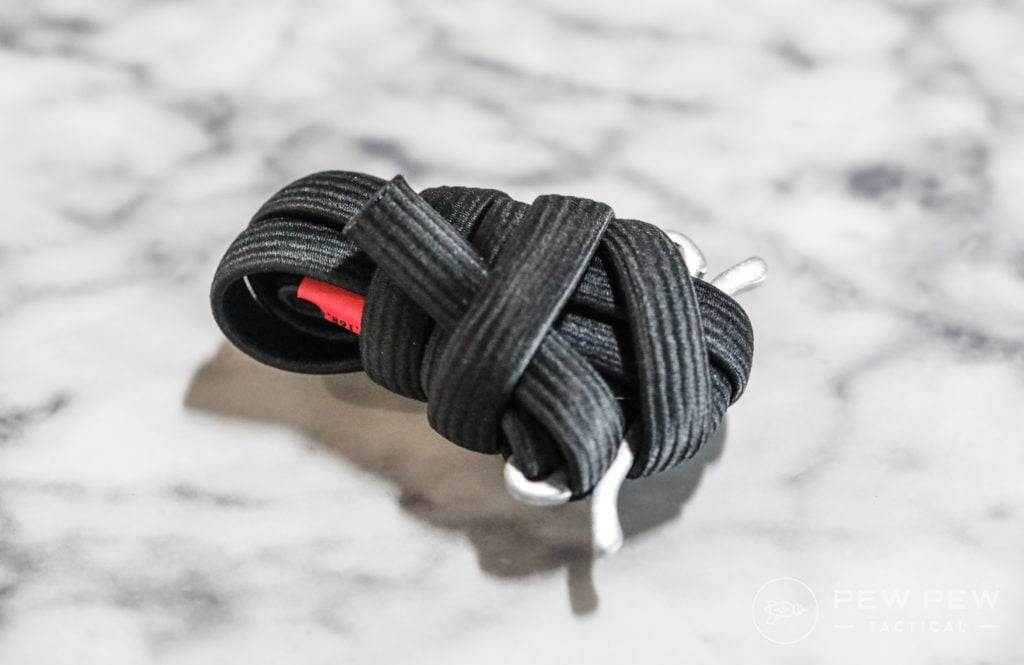 One of the major considerations with modern tourniquets is that they need to be wide enough.
Too narrow and they may cut into the skin—that's bad. And thin TQs have a much higher rate of nerve damage—also bad.
Training with them is also miserable because the things HURT when you strap 'em on.
Since the RATS is basically a medical bungee cord with a buckle, it is way too thin to get CoTCCC approval.
While it might seem that this design would be more difficult to use one-handed, it's actually very simple and fast to use — so long as you know what you're doing. If you just try to pick one up and use it, you might have a problem.
Oh, and it hurts. No TQ is comfortable–if it is then you're using it wrong, but the RATS hurts. Period.
But a big selling point of the RATS is that it's cheap; about half the price of the CAT-7 or SOFTT.
It's also lighter weight, making it great for backpacking.
20
at MyMedic
Prices accurate at time of writing
Prices accurate at time of writing
I own and carry a few RATS in different bags, primarily in my general first-aid bag and in my Boy Scout gear, just in case a child needs a TQ.
5. SWAT-T
For humans, I really don't find much redeeming value in the SWAT-T.
Where the RATS is a big bungee, the SWAT-T is a huge rubber band that someone snipped. That's it, that is all it is. No buckle, no locking device, just a big rubber band.
It has some upsides, though, in that it is lightweight, very compact, and cheap.
The SWAT-T is also kind of easy to use, as it has instructions printed right on it and even a handy way of seeing if it is tight enough.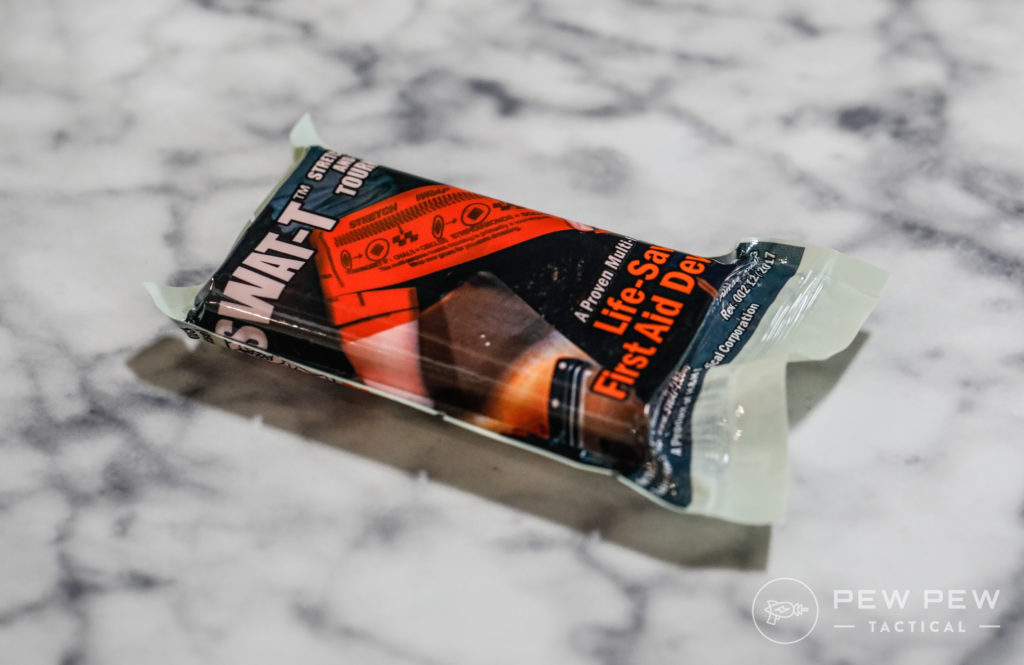 Watch for the squares to become diamonds; if they shift into the new shape, then it is tight enough.
That's all good but actually using this thing is a pain. It's REALLY hard to use one-handed on yourself, and in the demo video put out by SWAT-T, you can see the guy struggling—and he is a healthy dude.
Using your teeth to keep it tight is part of the official instructions.
The good news is that it works on small limbs, like the RATS, and you can use it for other applications, such as a pressure dressing. It's also very wide, so the risk of nerve damage is lower.
But I'm not a fan. Unless we're talking about dogs.
Because of how bendy it is, the SWAT-T is great for K9s and some of their strangely-shaped bones.
12
at LAPG
Prices accurate at time of writing
Prices accurate at time of writing
So, while I don't keep any SWAT-Ts in my bag, I do keep one in my dog's bug out bag.
Beware of Frauds
As with any popular product, there are knockoffs of the leading TQ brands, which can look more appealing than they really are.
Let's face it—when your life is on the line, you don't want to see your cheap TQ fail. There's a reason to invest in getting the real thing.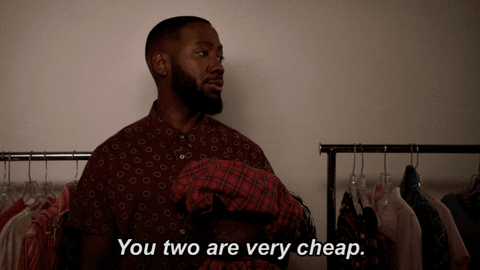 Unfortunately, the internet is full of fake and low-quality tourniquets, especially when it comes to the CAT's design.
If you're checking out your favorite online mega-retailer for a TQ, be sure to check the prices. A $14 "CAT" tourniquet is a dead giveaway that you're looking at a fake.
Don't forget to take a look at the manufacturer, as well.
North American Rescue makes CAT tourniquets, and Tactical Medical Solutions is the favorite maker of SOFTT tourniquets.
Both brands will cost at least $25 per TQ, which is well worth the price if it means surviving a life or death situation.
Amazon
If you're like me, one of your first stops for just about anything is Amazon. That Prime shipping is nice!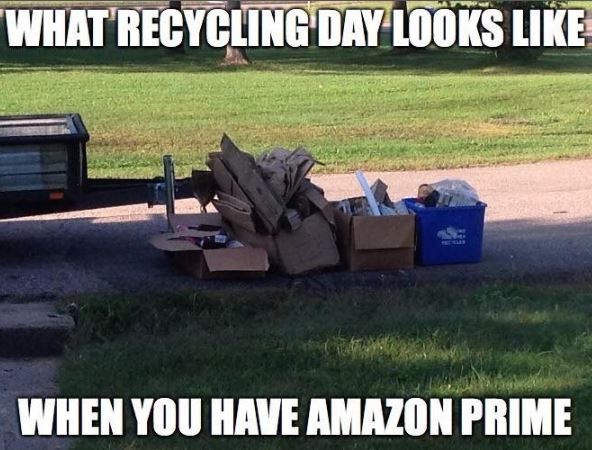 And Amazon does indeed carry real TQs, the quality ones that you can trust. BUT they also carry a lot of fakes.
There is also a disturbing amount of reports that Amazon doesn't always keep the fakes and the real products separate.
So even though you order a CAT-7 sold by NAR on Amazon, you might end up receiving a fake because Amazon just throws them all in one big box.
For that reason, I strongly recommend looking at a more secure supply chain. You can go directly to NAR or TMS for your TQ or buy it from a highly reputable retailer, such as LAPG.
As for myself, all of my TQs were purchased directly from NAR or LAPG. I put my money where my mouth is.
How To Use One
Before you can save a life with your tourniquet, you have to learn to use it! Here's a video from Mass General Hospital showing how you can apply a tourniquet to a limb.
While you can learn how to use a tourniquet from a video, nothing beats hands-on instruction.
If you're interested in learning how to apply tourniquets and perform other life-saving emergency first-aid, it's well worth the investment to take a class.
Check out the Red Cross training site to see what first-aid classes are offered in your area!
Practice Applying your TQ
Once you've learned how to apply a tourniquet, it's important to continue to practice the technique. If a tourniquet is needed, you have a matter of seconds to act, so you need to keep your skills sharp.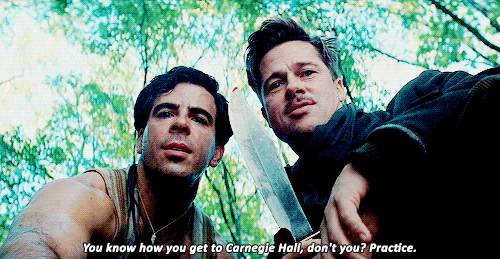 While you can train with your emergency TQ, you might want to get one specifically for practice.
Repeated use of your tourniquet can wear it out, and you want your tourniquet to be in great condition and ready to use whenever you need it.
There are purpose-built training TQs, but you also can use a cheap knock off to practice. Just don't forget to mark it in some way, so you know which is which at a glance.
Best Tourniquet Holders
Carrying a TQ as part of your EDC is pretty easy. Unlike a gun or even a knife, you don't have to conceal it. It doesn't matter if someone sees your TQ.
You can shove one in your pocket, but a belt pouch is likely the better choice.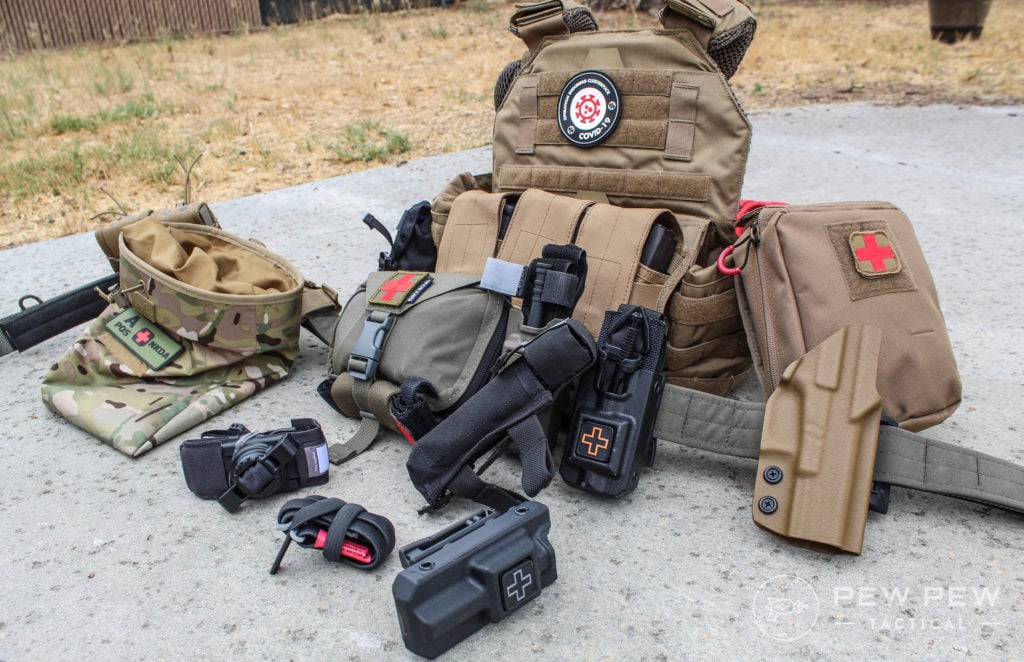 Wherever you choose to carry your tourniquet, be sure you can access it very quickly. It doesn't do you any good if you need to dig around just to find the thing.
Here are a few different TQ carriers to keep your tourniquet accessible and ready to rock when you need it.
1. Blue Force Gear Tourniquet Now! Strap
A convenient, simple method is to attach your tourniquet to a MOLLE system. And that brings us to the BFG Tourniquet NOW!
It's designed to work with CAT and SOFTT tourniquets and can be attached to the top of the Blue Force Gear IFAK kits.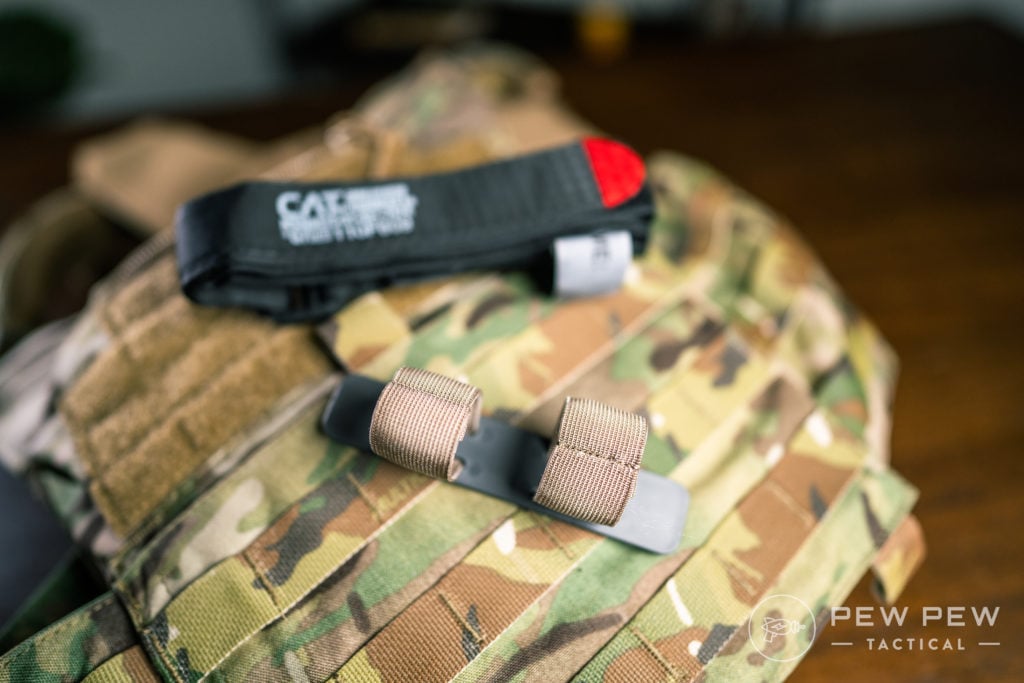 It's light, easy to use, and very simple. And it's pretty cheap, so that's a nice plus.
The downside is that it isn't the fastest option. And in my case, I tend to get tangled up a little. Getting a TQ out blind, such as when it's attached out of your line of sight, can take longer than I would like.
15
at Amazon
Prices accurate at time of writing
Prices accurate at time of writing
2. NAR CAT-7 Tourniquet Holder
I really like this holster. It's designed solely for the CAT-7, so if that's your TQ of choice, this is a great option for a soft holder.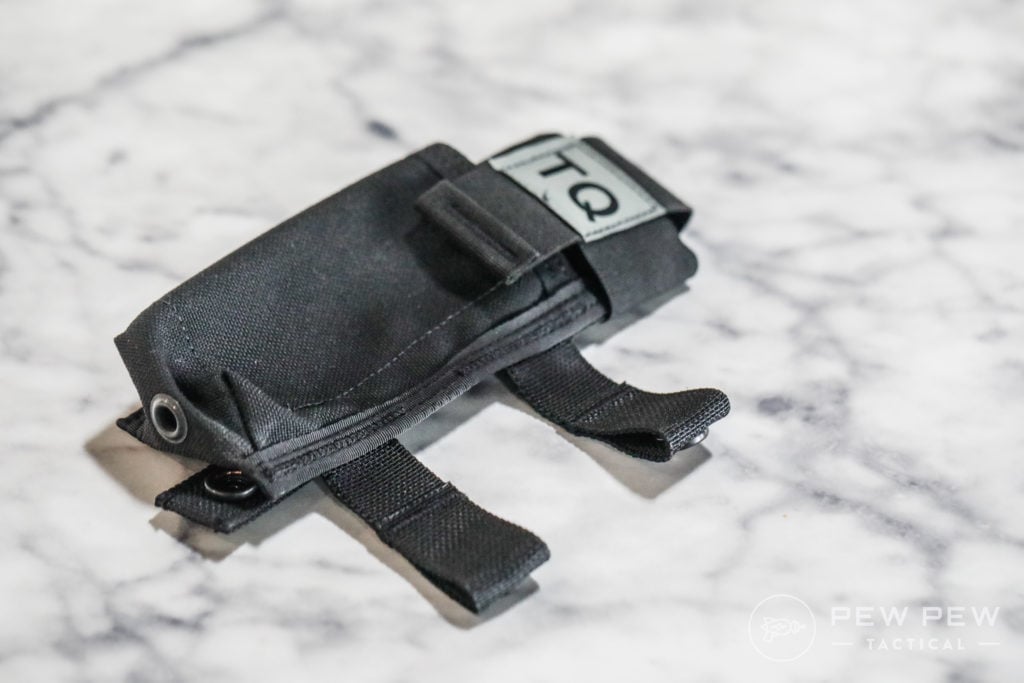 It's simple, it's easy, and the Molle attachment is great and can also be used as a belt attachment…if you don't mind it being a little loose, that is.
The large "TQ" is permanently stitched on the holder and easy to read.
To me, this is an important detail because I want people to know what and where my TQ is–and quickly, at that. If I can't use my own TQ, I want to make sure the person helping me can find it.
An elastic hood wraps around the top of the CAT-7 to keep it firmly in place. Fortunately, it's easy to remove and you'll have no trouble getting the TQ out in a pinch.
16
at LAPG
Prices accurate at time of writing
Prices accurate at time of writing
Finally, it's not too expensive, so getting a few of them won't be as painful to your wallet.
3. Eleven 10 Rigid TQ Case
The Eleven 10 TQ Case is basically a Kydex holster for your SOFTT, SOFTT-W, and CAT-7 tourniquets. It's also hands-down the fastest TQ holder on the market.
I'm not sure if it's actually
made
of Kydex, but it is a strong plastic, so you get the idea.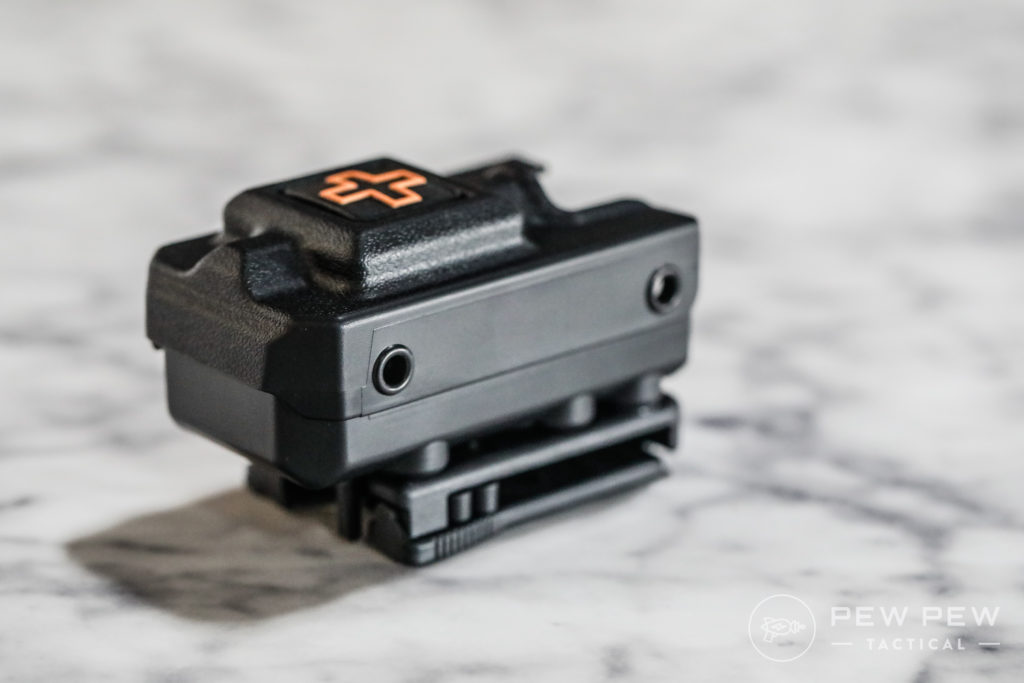 Honestly, what's not to love?
You get a wide range of color options to look your best, a nice little hook and loop area for a medical patch to quickly ID it as a TQ holder, and either a belt or Molle attachment system that is, simply put, outstanding.
The passive retention is strong enough to keep your TQ in place while doing anything, even hanging upside down, but not so strong that it's overly difficult to pull the TQ out when you need it.
I normally keep mine mounted at the small of my back on my battle belt. So far, I've had zero issues pulling my CAT-7 out, even with my weak hand.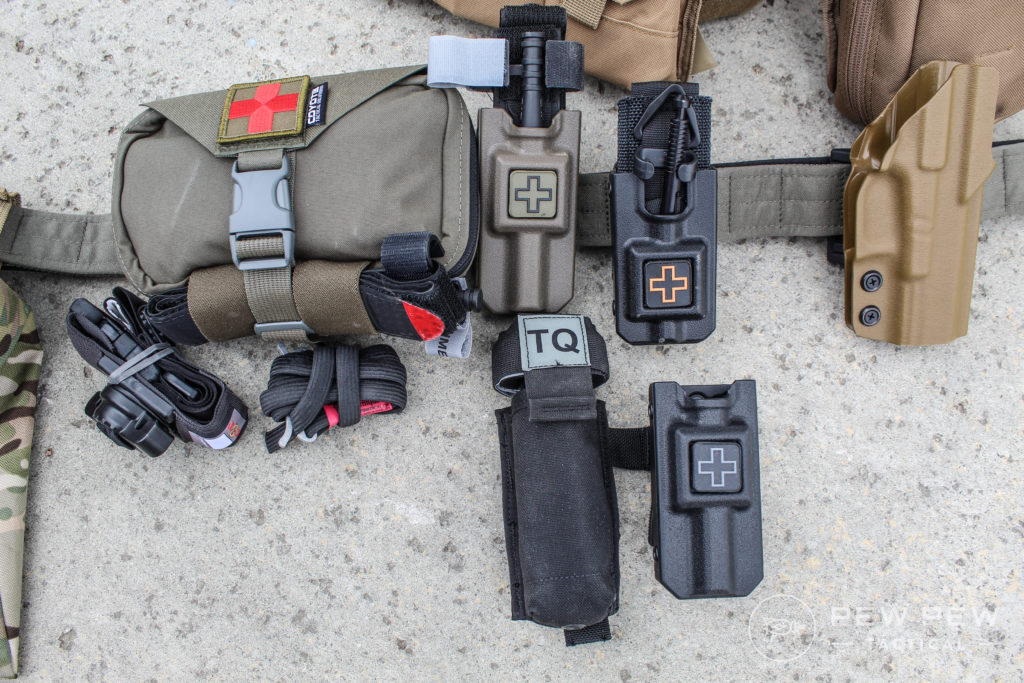 I have Eleven 10 TQ Cases in both belt and Molle mounting configurations.
While I like both, I do think that the belt mounting is the better option. It features a very strong locking system that is easy to install, and it comes with spacers so you can get a nice, tight fit to your belt.
However, I use the Molle version on my battle belt because my G-Code belt has a Molle attachment, and that's the only version of the Eleven 10 in OD green that was in stock at the time I ordered.
38
at LAPG
Prices accurate at time of writing
Prices accurate at time of writing
38
at LAPG
Prices accurate at time of writing
Prices accurate at time of writing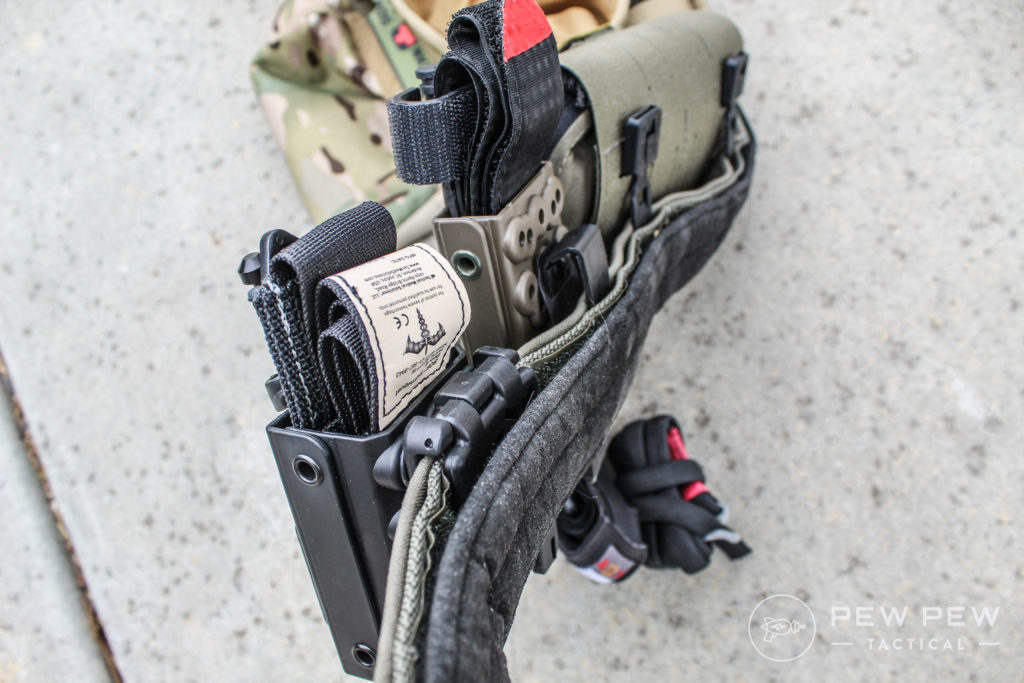 But for my other shooting belts, I use the belt mounting.
4. LA Police Gear Medical Pouch
You can stuff a TQ in here, but it isn't specifically a TQ holder. The LA Police Gear Medical Pouch is meant to hold a complete IFAK, plus a little more.
I've been using mine for well over a year now, and it's one of my favorite IFAK pouches. It's a little on the large side for an IFAK, but I like that.
I normally keep this attached to my range gear so that it's close by and filled with all the medical stuff I might need.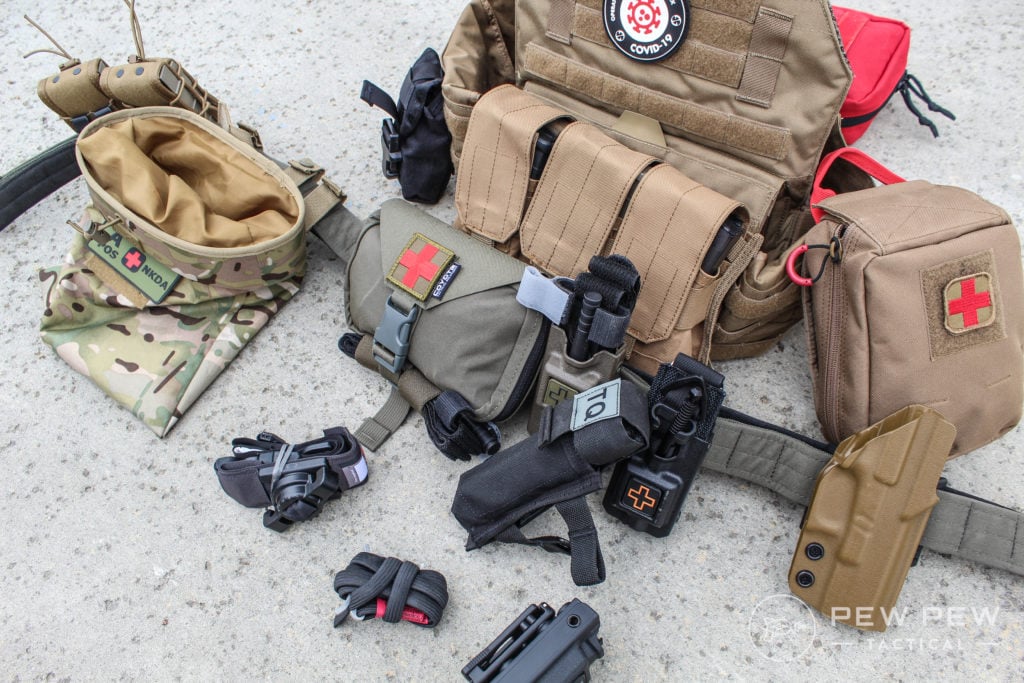 The bag comes equipped with a hook & loop tear-off backing.
This is a really cool feature because you can detach the bag (which is connected by Velcro) from the Molle backer, which stays attached to the mount.
For me, that design choice is a must-have in any IFAK or med pouch.
I want to be able to mount my bag, but also get it off for use whenever I need it; not fish around with it attached to something.
It also has a hook & loop on the front for a medical patch. That's another thing I always require of my medical gear: clear labeling.
Bags like these tend to be annoyingly expensive. One reason I like the LAPG pouch is that it's reasonably priced but still very well made.
18
at LAPG
Prices accurate at time of writing
Prices accurate at time of writing
After getting one of these, I'll never get another $50+ IFAK bag again.
Wrapping It All Up
Are tourniquets a must-have? I think so.
About 50% of combat deaths were due to blood loss in wars past, and I would hazard a guess that too many people in the civilian world have died due to a preventable hemorrhage.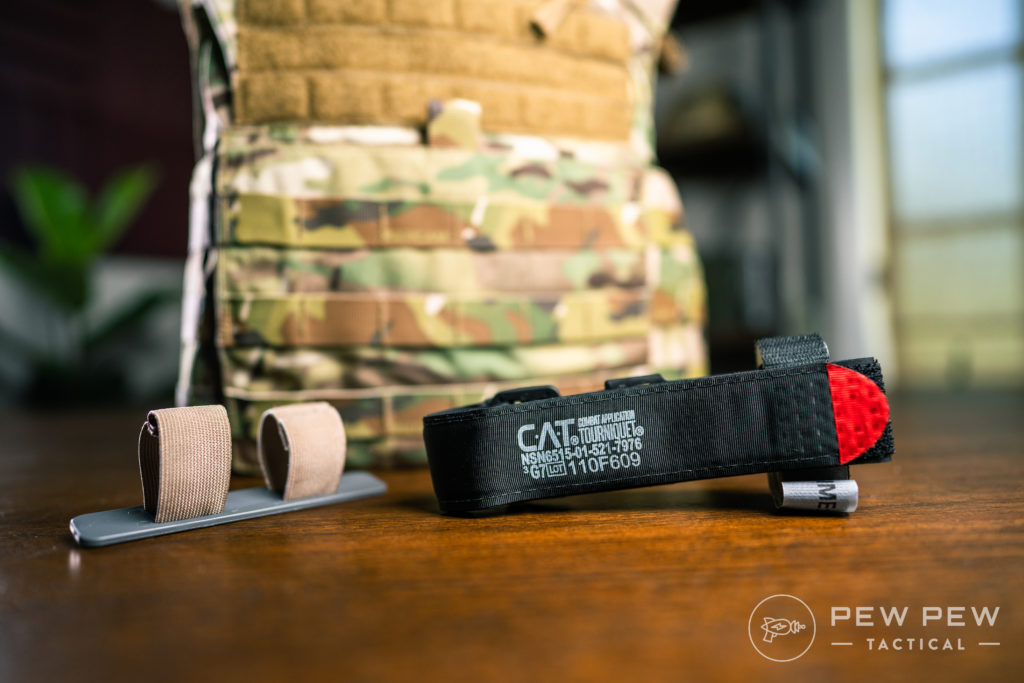 A TQ is a very cheap investment, and for less than $50, you have a potentially life-saving tool. Of course, it's useless if you don't learn how to use it.
Our go-to is the CAT…
EDITOR'S PICK
29
at LAPG
Prices accurate at time of writing
Prices accurate at time of writing
with the Blue Force Gear strap.
13
at Amazon
Prices accurate at time of writing
Prices accurate at time of writing
Brushing up on your emergency first-aid knowledge with a class can be a little costly, but if it means you have the knowledge and practice to save your own life or the life of another, it's well worth the price.
What are your experiences with tourniquets? Do you feel like the RATs or the ratcheting tourniquets are good to go? If so, let us know below. Don't forget to check our reviews of the best IFAK kits out there to keep building your emergency medical kit.