A big part of modern firearm ownership is customizing the firearm for the end-user.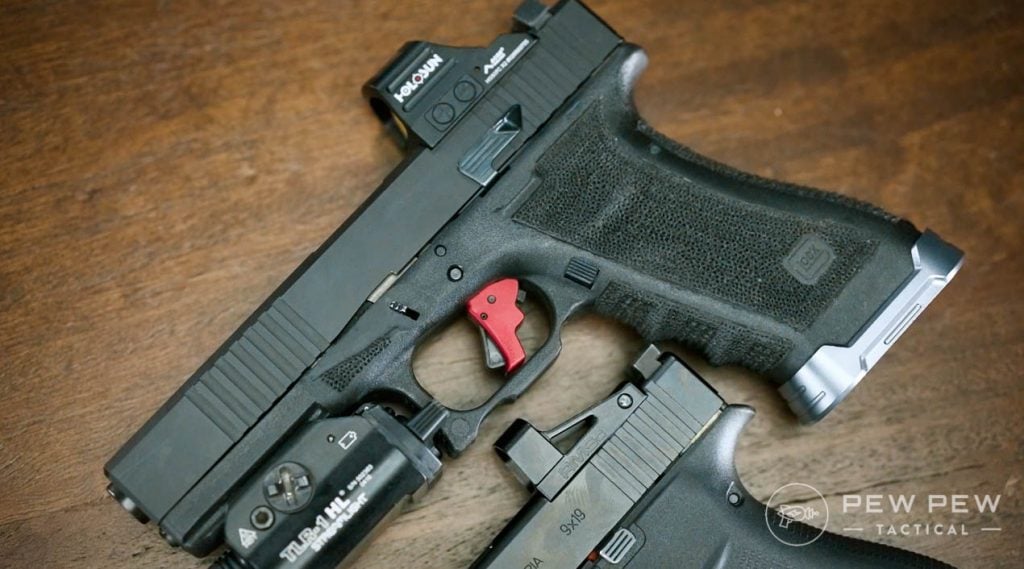 Now more than ever, companies offer you a ton of options when it comes to customizing your firearms. Some upgrades are functional like lights, while others are all about looks.
A little company called GunSkins does a bit of both. Not only do they provide functional upgrades, but they also allow you to be vain about it.
67
at GunSkins
Prices accurate at time of writing
Prices accurate at time of writing
I got my hands on some GunSkins in a Tiger Stripe pattern to see how it would work on my AR-15. In short, it looks pretty rad and I intend to add it to a few more things laying around my gun safe.
But let's walk through what GunSkins are, why they are pretty cool, and how you can add them to your guns and gear.
Plus…use code PEWPEW10 for 10% off your purchase.
Table of Contents
Loading...
What Are GunSkins
At their core, GunSkins are vinyl wraps that allow you to provide a protective layer to your firearms and more.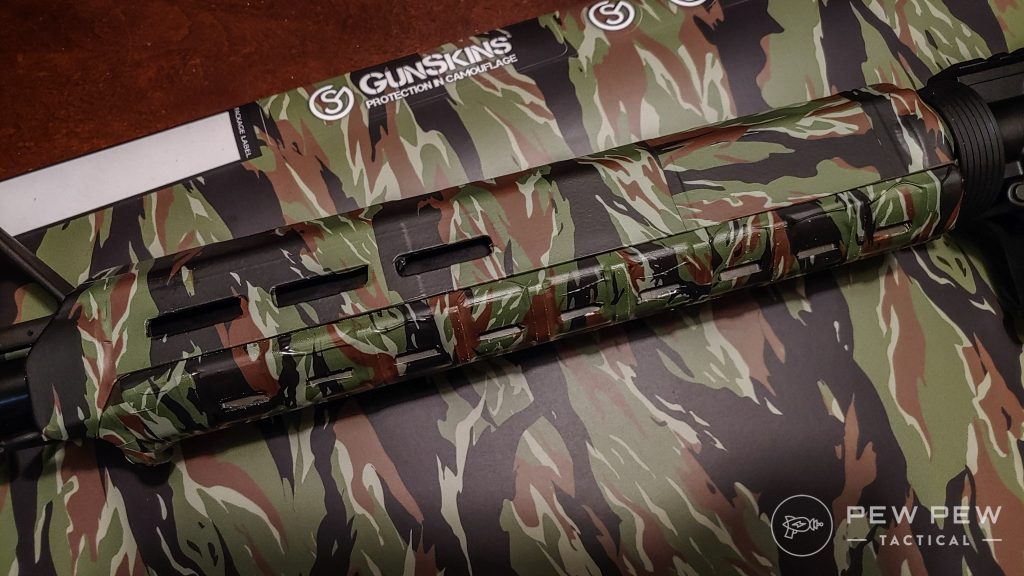 Obviously, with the name GunSkins, firearms are the main target. However, they are far from the only things you can vinyl wrap. You can wrap gear — like binoculars, optics, firearm furniture, knives — and even freakin' boat paddles.
In terms of firearms, GunSkins produces pre-cut rifle skin sets. You can order an AR-15 specific GunSkin to ensure you have enough vinyl wrap to cover your entire gun. The same goes for shotguns, AKs, and more.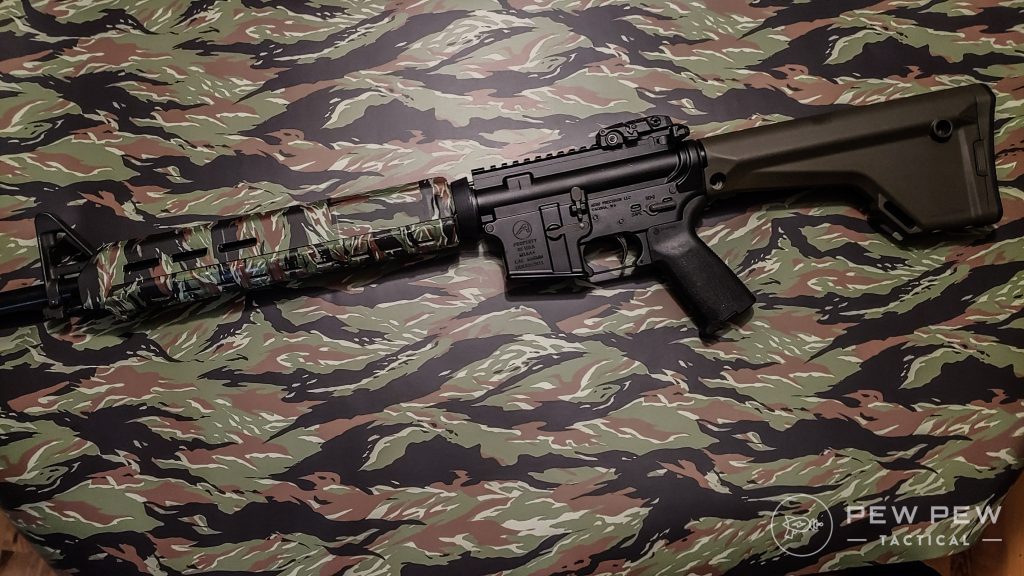 If your firearm isn't listed, you can purchase just a large section of the material for application on any firearm. GunSkins sells magazine wraps as well to add some spicey goodness to your P-MAG.
14
at GunSkins
Prices accurate at time of writing
Prices accurate at time of writing
Why GunSkins?
Well, obviously, providing a protective layer to your firearm can be quite handy. You can protect your firearm from dings, falls, scratches, rust, and more. The material is 100% waterproof and seals directly to the gun.
If you even choose to remove the Gunskin, it's actually not hard to do — heat it up and peel it off.
As long as you use heat, it won't leave a sticky material behind on your gun. It's much easier to remove than spray paint.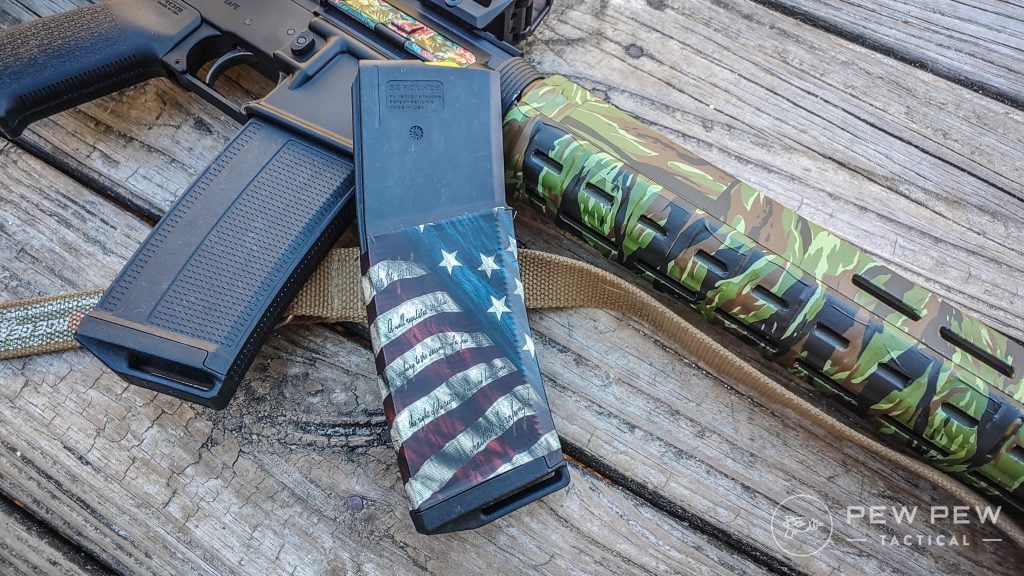 Beyond adding a protective coating, we have the practical use of camouflaging your gun. Camo can be valuable for hunters, especially those chasing birds.
Birds see notoriously well, and most successful duck and turkey hunters master camouflage for a reason.
Guns in a duck blind see their fair share of water, and combining a means to camo your weapon seems like a win to me. Plus, if it gets beat up, just strip it and reapply.
GunSkins are reasonably cheap, and I can coat an entire sporting shotgun for $55 or so.
Finally, aesthetics. Or, as the firearm industry calls it, customization.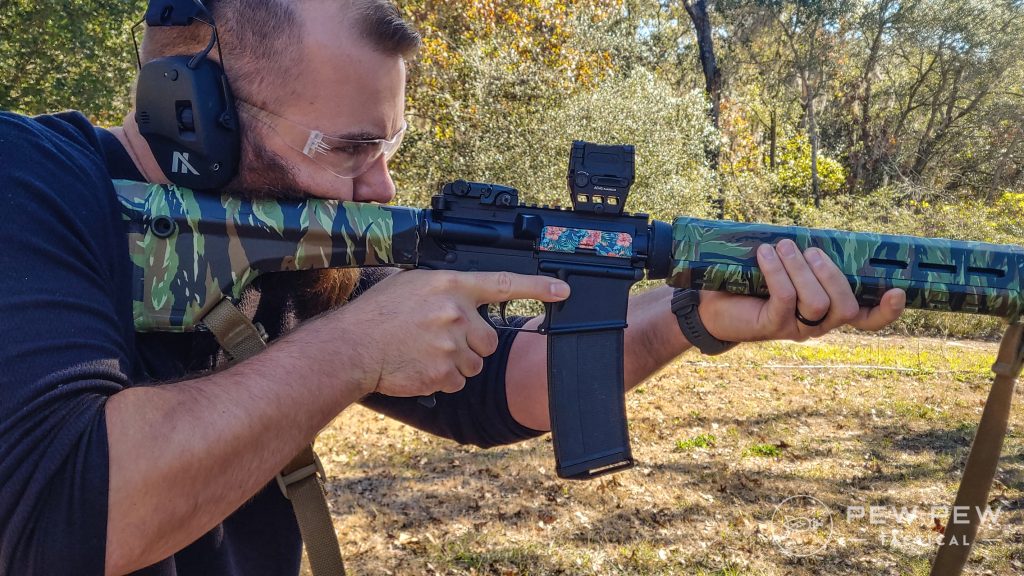 You can make your gun look the way you want it with 53 different Gunskin patterns and a few dozen more for magazines. This includes officially licensed modern camouflage patterns like Multicam, Kryptek, and Prym1 camo.
There are also designs that are clearly just for looks.
The pattern I chose, Vietnam Tiger Stripe, falls into that category. Tiger Stripe has a different kind of drip to it, and I had the perfect rifle for it in my Magpul-equipped fixed stock AR-15 with a rifle upper.
Installing The GunSkin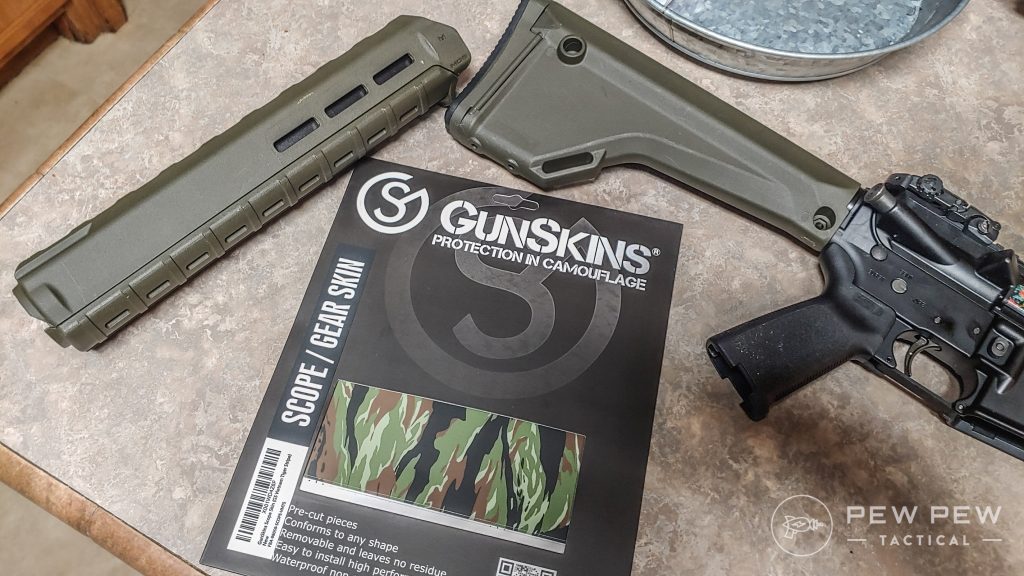 I have come to realize a few things — I don't have the aptitude or patience for any kind of vinyl application or artwork and applying GunSkins isn't hard to get started, but it's tough to master.
I used the large gear set, so it wasn't pre-cut.
Applying the pre-cut magazine versions was an absolute breeze because, well, I didn't have to cut and fit the parts and pieces. I have a few bubbles, a few seams, but if you don't look super close, it looks damn nice.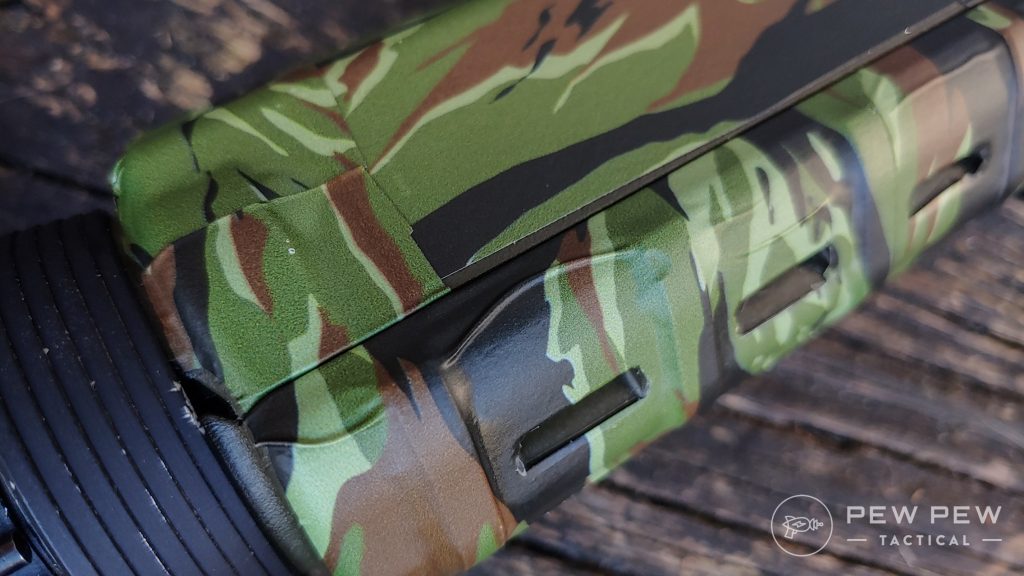 Proper application requires prep.
Step one, clean and degrease the dang thing. I got the Install Bundle which comes with a heat gun, an Exacto knife, and a hand squeegee. It sets you up for success.
50
at GunSkins
Prices accurate at time of writing
Prices accurate at time of writing
What I'd make sure you grab is a pair of scissors and a Sharpie on top of the Install Bundle. I found both handy.
Anyway, I used the Froglide and a rag to degrease and clean up.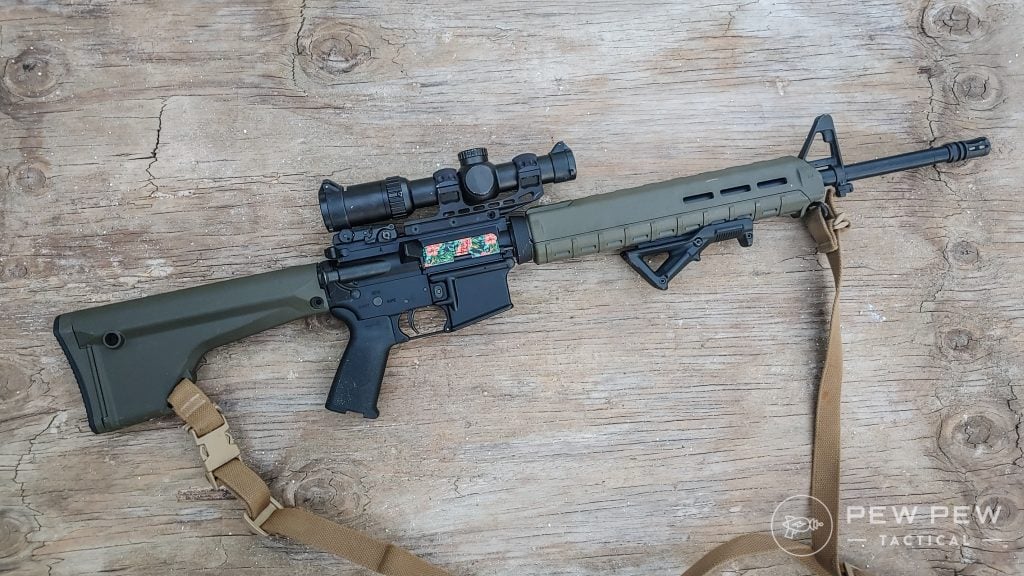 This is critical to correctly applying the Gunskin.
After that, what I found best — after failing a few times — was to trace the item onto the back of the vinyl wrap and then cut them out as you go.
Especially when I started working on the stock and all its odd angles.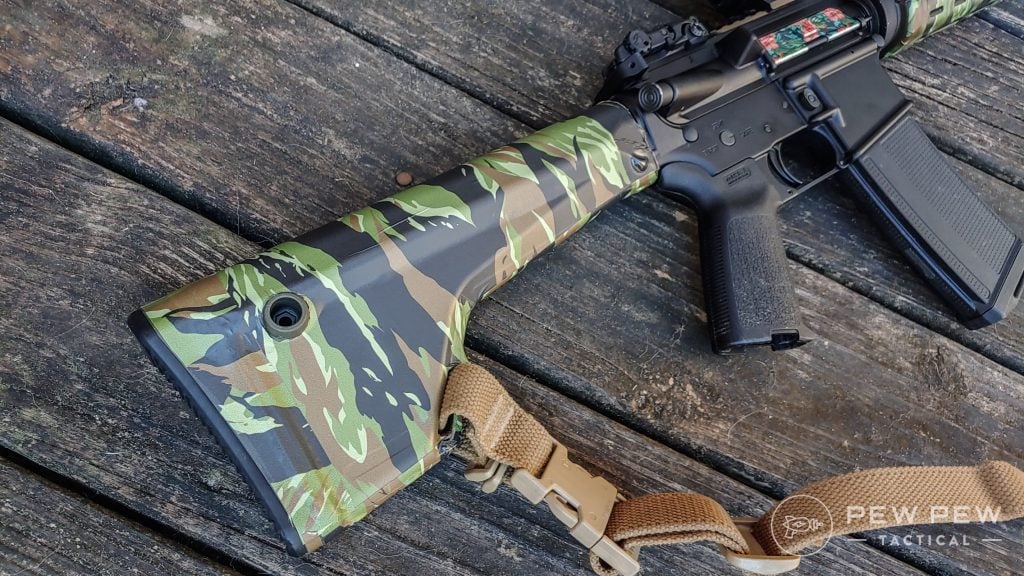 I applied one portion and anchored it to one point. I then used the Hand squeegee to slowly smooth it out — this helped eliminate bubbles.
Patience is vital when it comes to applying vinyl, so take it slow. I rushed and had some bubbles I regret.
When in doubt, cut the vinyl a little bigger. It's easier to trim the material than stretch it.
Once it's fitted and lacks bubbles apply the heat!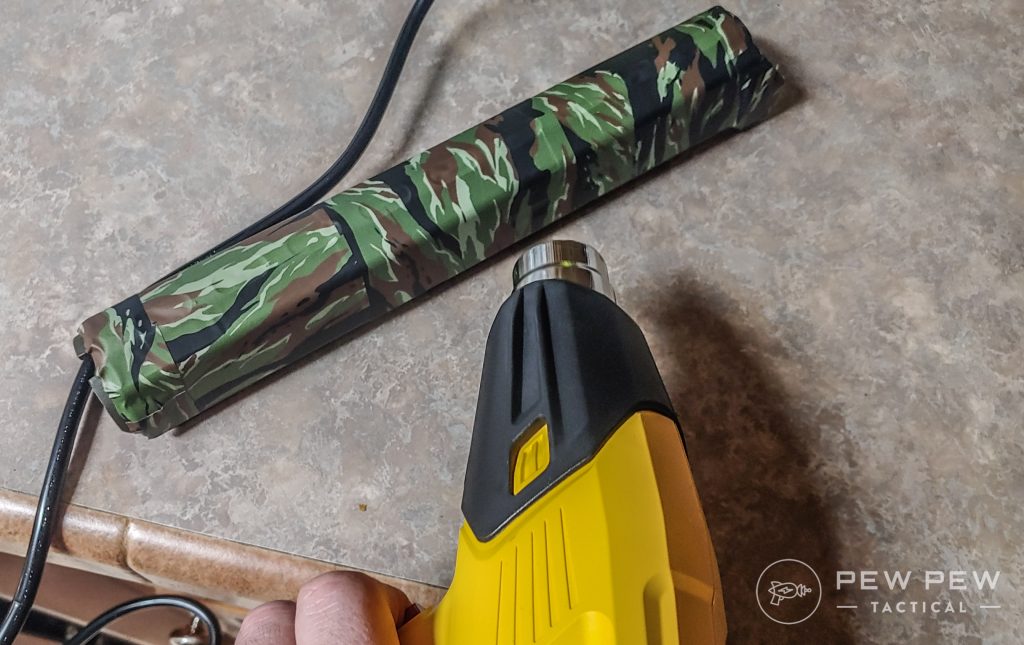 Go slow, move the heat gun. Even a little too much time will cause it to melt and burn. This causes bubbles. I know because I burned a few spots on my first go-around.
Once applied, cut and trim where need be. I had to cut out M-LOK slots, QD points for slings, and more. Exacto knife comes in real handy during this step.
After that, it's just rinse-and-repeat until the gun, knife, magazine, binos, or whatever else is fully covered.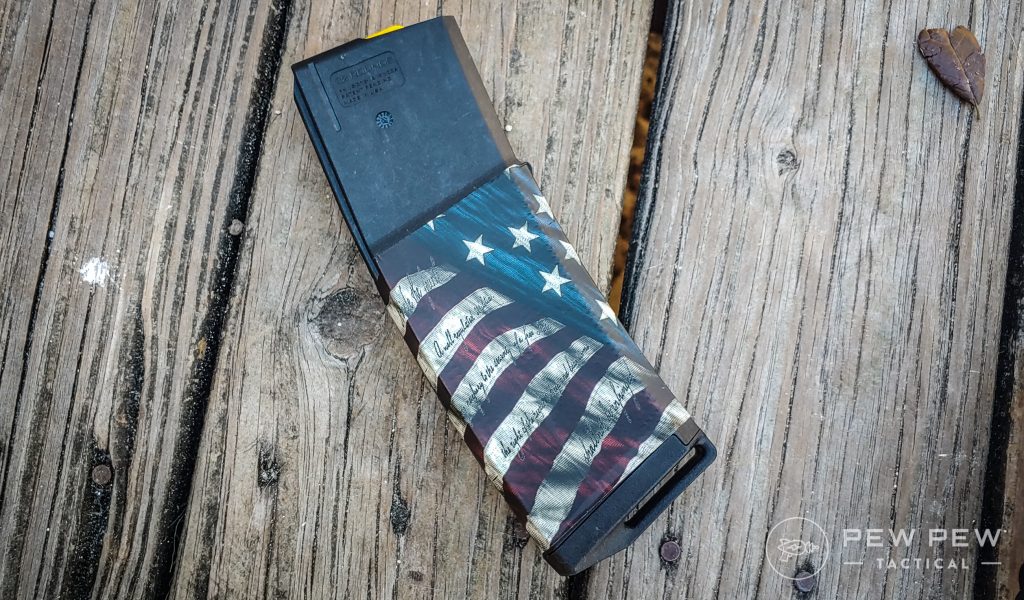 Ready and Willing
Once applied, I didn't have any issues at the range. I know what you're thinking. If I apply this to the barrel of a gun or another heat-generating part, will it be an issue?
According to GunSkins, no, no, it won't. The vinyl is heat-activated and resistant.
I wouldn't suggest attaching it to a machine gun or a suppressor, but to a semi-auto rifle, then it's good to go.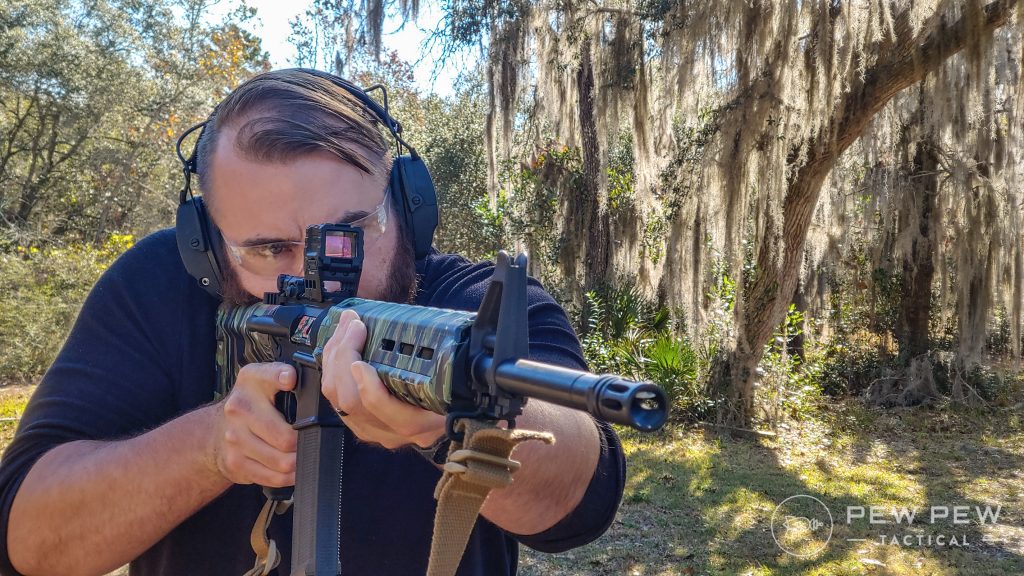 On the handguard, it didn't have any issues resisting the heat generated by dumping a few magazines into a couple of targets. In fact, it's survived pretty well in a gun safe that's far too full.
Conclusion
I approached Gunskins without much excitement as I'm not the crafty type and doubted my abilities. But I was pleasantly surprised.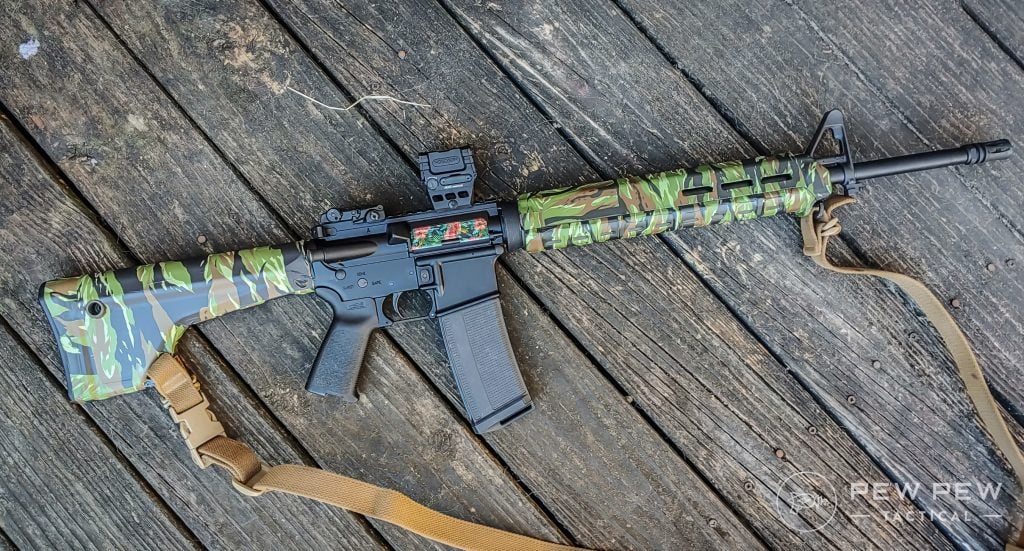 Without a doubt, I made a few mistakes along the way, and my application isn't perfect, but it still looks pretty dang decent for my first time. 
They also hooked up Pew Pew Tactical readers with 10% off with code PEWPEW10.
67
at GunSkins
Prices accurate at time of writing
Prices accurate at time of writing
Are Gunskins for you? Let me know what you think in the comments below. Ready to upgrade your AR-15 more? Check out our list of the Best Upgrades.