Pistol caliber carbines are more popular than ever.
At the same time, more and more gun owners are custom building their own ARs or looking to upgrade or convert.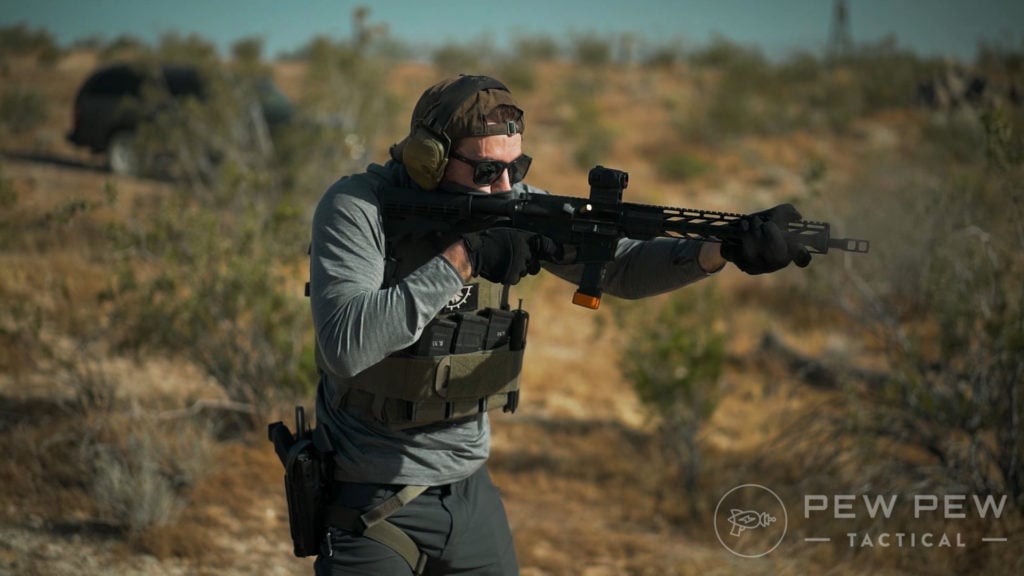 So, it's no surprise that there's a growing market for 9mm lowers and other PCC parts.
Choosing a 9mm lower can be tricky if you're not familiar with lowers. Even if you know your stuff, the sheer number of options can seem daunting.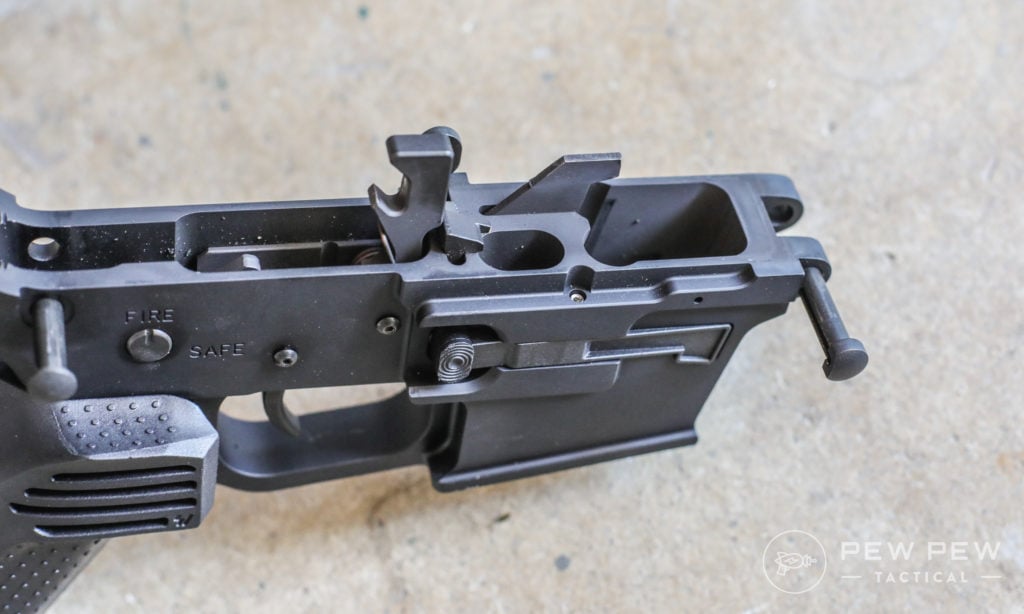 Fortunately, you've got us and we love to help!
We've used tons of different 9mm lowers over time and this list encompasses some of our favorites.
But before we jump into the best 9mm lowers, let's go over what you need to know about these parts in general.
The Low-Down on Lowers: 9mm Style
First let's talk about how a 9mm lower is different than a standard 5.56/.223 model.
For one, 9mm setups use a blow-back system, rather than a gas system like you find on a standard AR-15.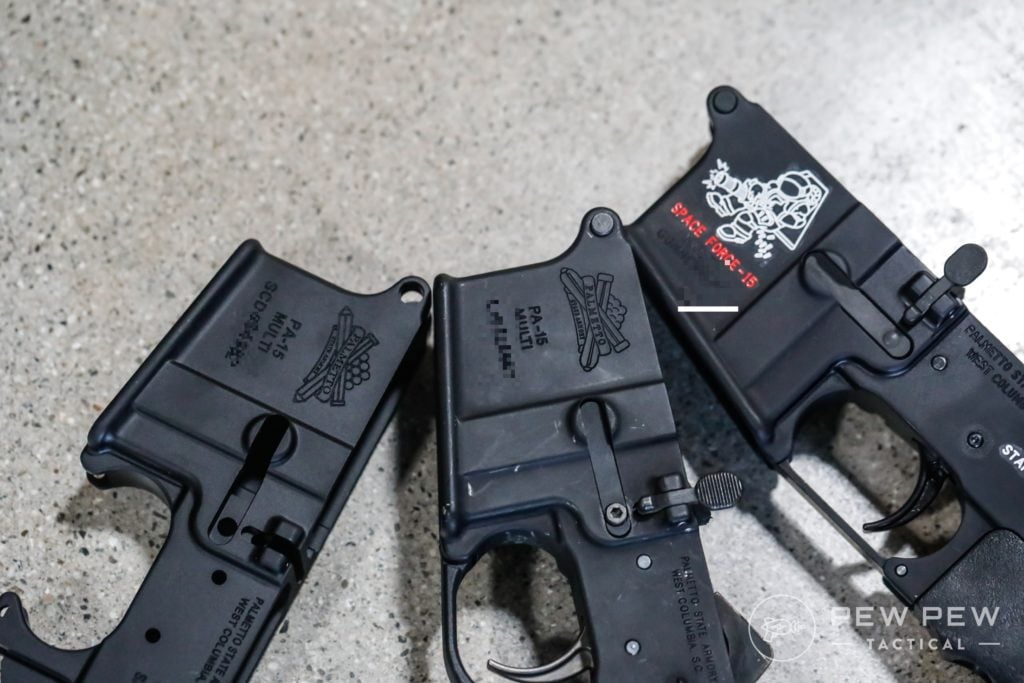 Because of this, 9mm lowers come with a pre-installed ejector since they require a smaller fire control group. It's that fin-looking thing below.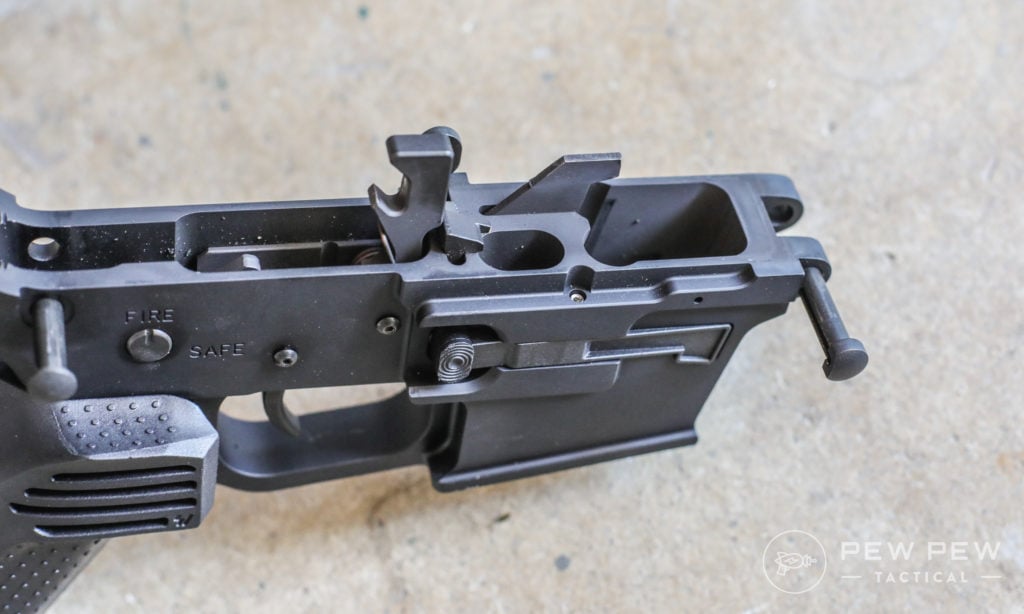 The other major difference is that 9mm lowers feature a different magazine well and mag catch/release – either Colt or Glock style.
When selecting a 9mm lower, you'll want to be aware of which you prefer and choose your lower to match Colt mags or Glock mags.
There are a couple of other things to keep in mind when choosing a 9mm lower.
Lowers can be either come stripped or fully assembled.
A stripped lower includes the receiver itself and minimal or no other parts and hardware. You'll need to buy the rest of the lower assembly parts individually or as a lower parts kit (LPK).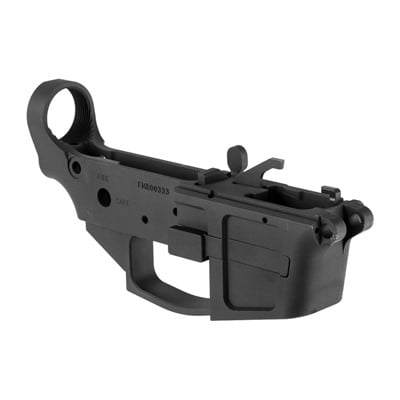 But don't worry…the ejector and mag release are almost always installed already.
Stripped receivers give you the room to hand-pick every single part of your lower assembly for the ultimate custom feel. Check out our Guide to Assembling a Lower.
A fully assembled (or complete) lower will come ready to shoot as soon as it's attached to a complete upper assembly with everything installed.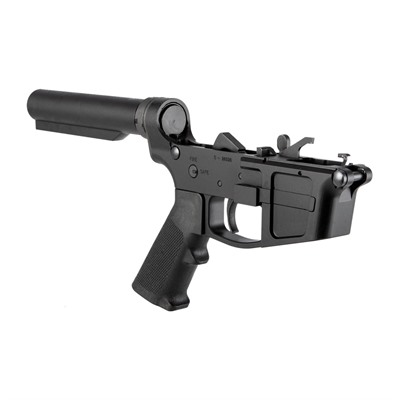 Fully assembled lowers require less work and typically cost less than buying parts individually. On the other hand, don't expect them to include high-end parts.
One thing you don't typically need to consider is material.
Most lowers use 7075 aluminum, a durable and lightweight metal.

Many of the receivers on this list opt for 7075 and also all have a black hard coat anodized finish.
This coating makes the surface aluminum harder and more resistant to corrosion and wear.
Word of warning: lower receivers, whether stripped or complete, are considered firearms.
So, you'll have to have them delivered to an FFL and go through the normal transfer process.
If you haven't bought a gun online before, don't worry.
It's super straightforward and your FFL will be able to help you get the info you need, but you can also check out How to Buy A Gun Online to get up to speed.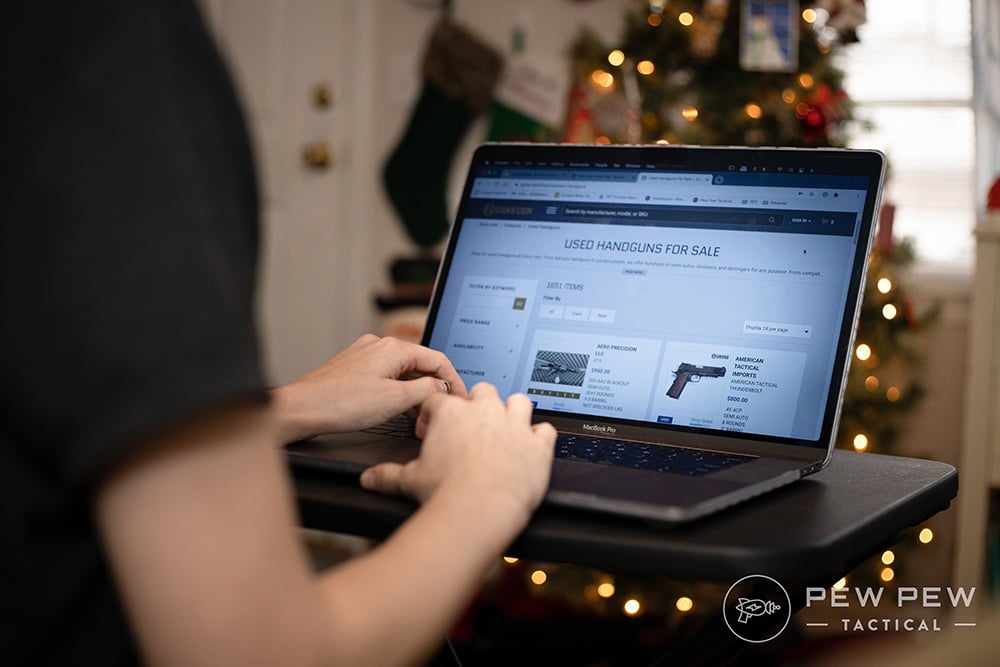 Now that you know what a 9mm lower is and how it differs from a standard AR-15 receiver, let's talk about our favorites.
Best 9mm AR Lowers
1. PSA 9mm Classic Colt-Style Pistol Lower
First up is the Palmetto State Armory 9mm Classic Colt-Style Lower Receiver.
It's a fully assembled lower receiver that, as you can probably guess based on the name, accepts Colt-style magazines.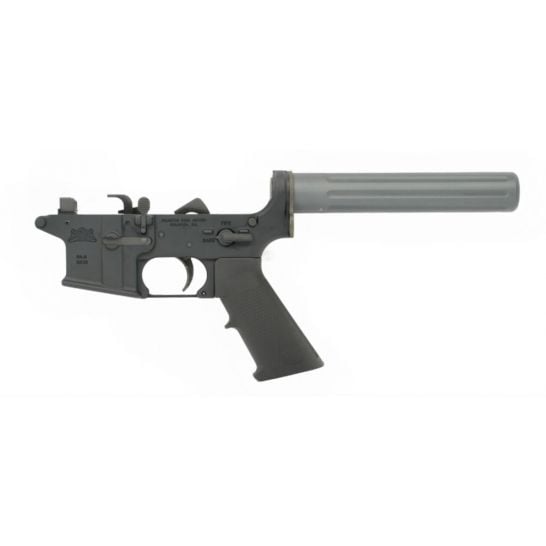 Designed to pair with a PSA Hybrid 9mm Upper, this does limit your upper receiver options.
But the PSA uppers are good too, so it's not a big deal.
This complete lower is available in two versions.
One has a PSA Pistol lower build kit with an A2 grip, sling loop latch plane, and 7075 T6 aluminum pistol buffer tube.
The other has a PSA lower build kit with an A2 grip, 6-position buffer tube, and M4 style stock.
2. PSA PX-9 Forged Complete Glock-Style MOE Lower
If you'd rather use Glock mags, PSA has a complete lower receiver for that too.
And it's our current favorite entry-level lower.
Like the first PSA option, this lower is designed to pair with a PSA Hybrid 9mm Upper.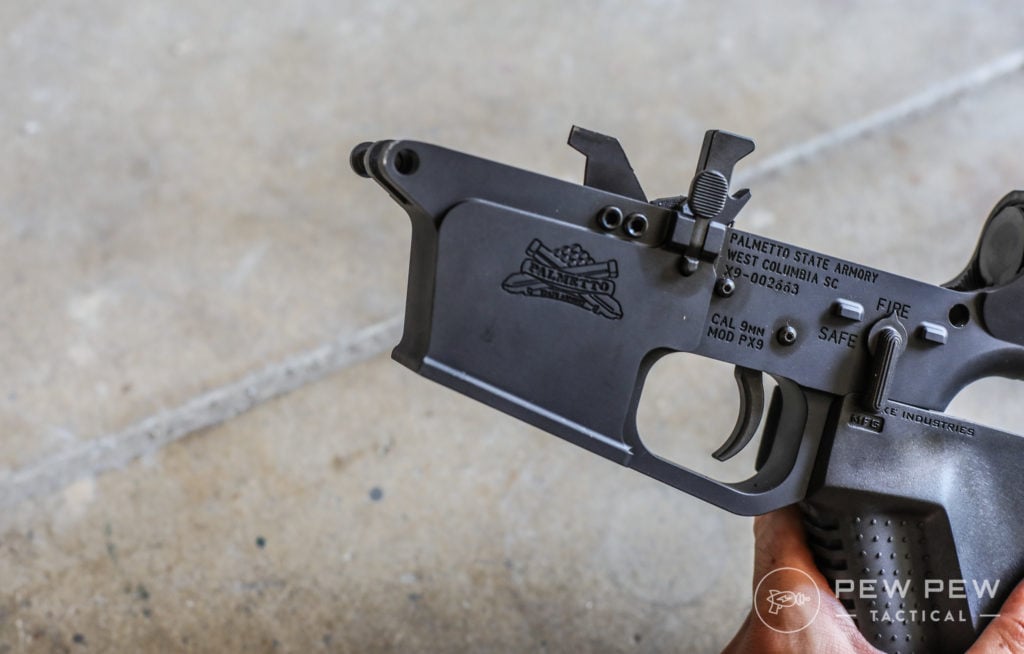 Unfortunately, it doesn't feature last round bolt hold open capability (LRBHO). What that means is when your mag is dry it won't automatically lock the bolt open.
You'll probably not know and press the trigger to hear a *click*, then have to drop the mag, insert a new mag, and rack the bolt.
That's what puts in an "entry-level" category. But if you run 33-round Glock mags you'll seldom run out!
There are three versions of the lower you can choose.
The first has a pistol grip and stock from the ever-popular Magpul MOE line, a PSA Single Stage AR-15 trigger group, and a PSA 7075 6-position adjustable buffer tube.
A second version has all of these but uses an Enhanced Polished Trigger (EPT) instead.
The third version is the same as the first, but with a Magpul STR stock instead of the Magpul MOE stock.
Whichever one you go with…you can't go wrong with the price.
Or go with a stripped version and build it yourself!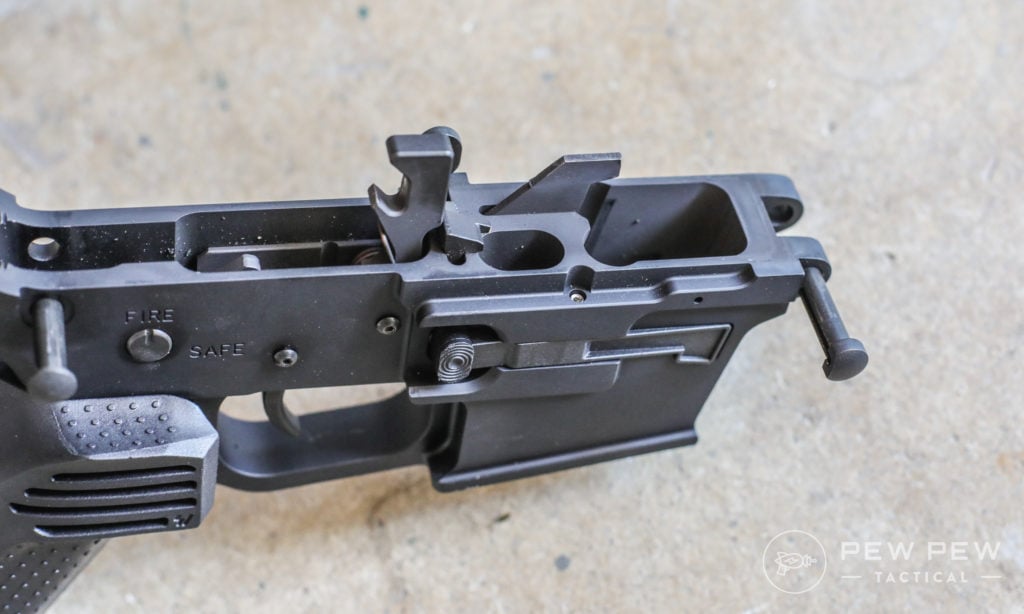 See our review of the PSA PX-9 complete gun and a quick vid of one of our editors in action:
What's your take on the PX-9 for an entry-level 9mm AR lower?
3. CMMG AR-15 9mm Dedicated Lower Receiver
The CMMG AR-15 9mm Dedicated Lower Receiver…
Like our others, it's made from forged 7075 T6 aluminum and hard coat anodized. However, CMMG takes it a step further by also adding a Teflon coat after the anodization.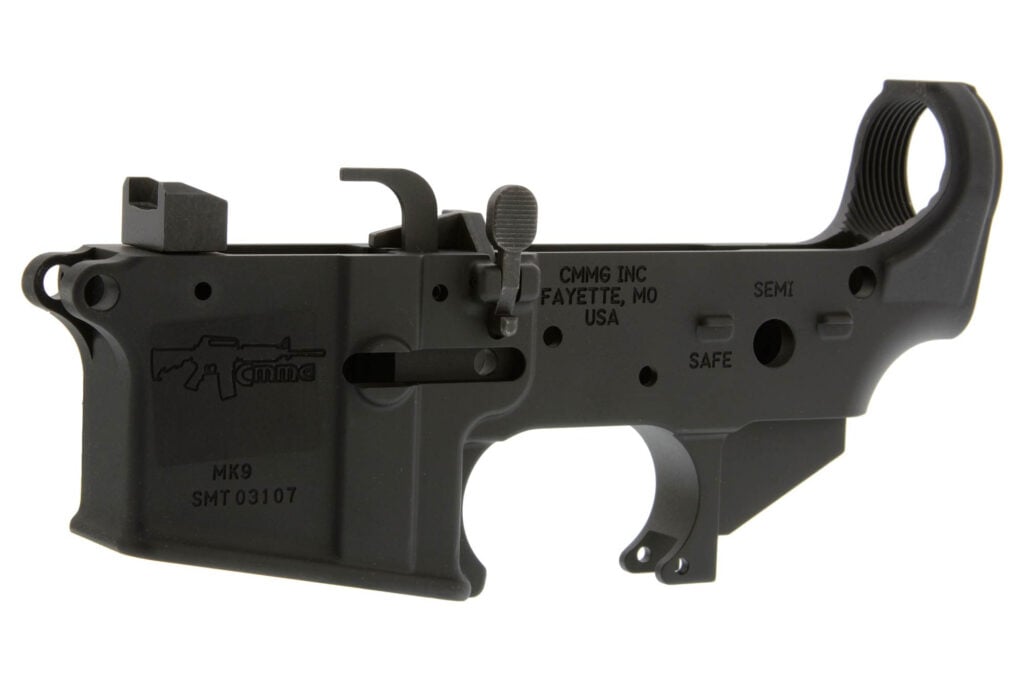 What does this achieve? Basically, it resists scuffs, scratches, and discoloration.
This stripped lower uses Colt pattern magazines.
It comes with the feed ramp, ejector, and bolt catch pre-installed and you can add whatever trigger group, buttstock, and buffer system you prefer.
4. Foxtrot Mike Products FM-9 Billet Lower Receiver
Next up is the Foxtrot Mike Products FM-9 Billet Lower Receiver.
This lower comes in both complete and stripped versions (the complete lower is a Brownells exclusive).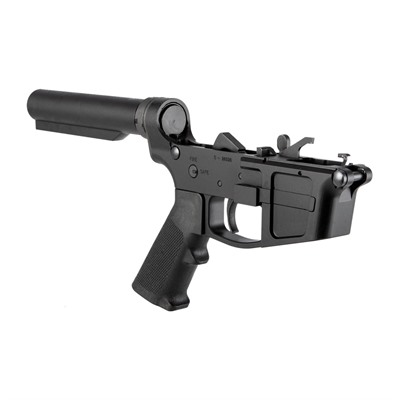 The receiver itself is compatible with mil-spec AR-15 components and Glock-style magazines.
Also worth mentioning, it offers last round bolt hold open.
A mag release and bolt release come pre-installed on the stripped receiver.
The complete lower comes with a lower parts kit which includes a 6.5-ounce heavy buffer, mil-spec 6-position carbine buffer tube, GI Trigger Group, and .308 carbine recoil spring.
Side note: there's no stock.
Also, for all your Californians — this receiver is not California legal.
Bummer.
5. Angstadt Arms 0940 AR-15 Lower Receiver
The Angstadt Arms 0940 AR-15 Lower Receiver for Glock is another great stripped lower.
As the name implies, it takes Glock mags and does so using a flared magwell. We love a flared magwell as it makes for easier magazine insertion.
Bonus to this platform?
The Angstadt accepts 9mm, .40 S&W, and .357 SIG, so you could also use this receiver for other PCC builds. (Though it only accepts aftermarket Glock 9mm double-stack mags.)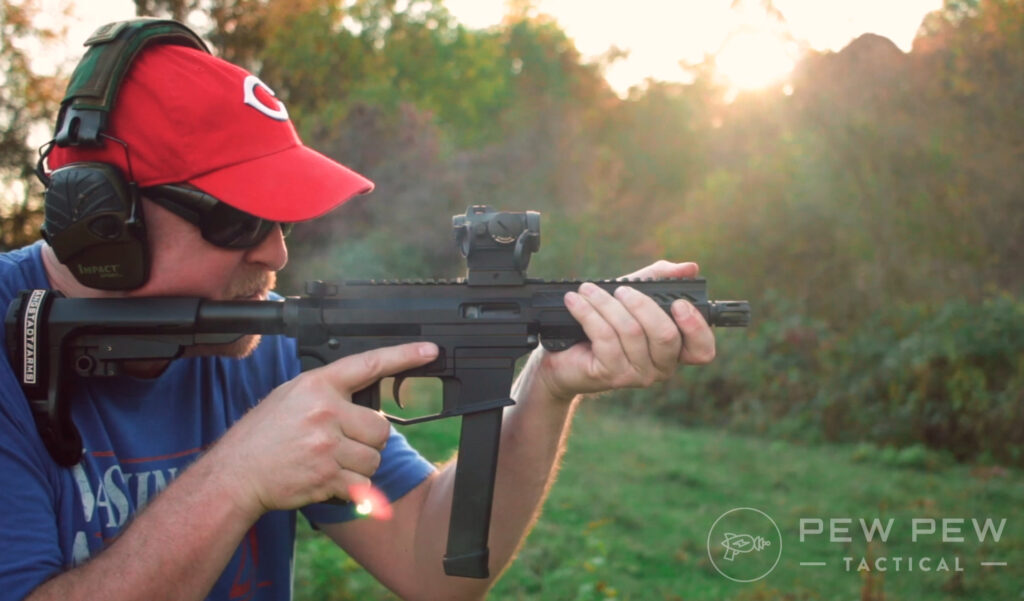 More bang for the buck? Sign me up!
Like the rest of these lowers, it uses 7075-T6 aluminum and a matte black hard coat anodized finish. Weighing 10-ounces, this one is pretty lightweight relative to other lowers.
Rounding out the features: last round bolt hold open, an oversized trigger guard, and a threaded bolt catch screw.
It also works with any mil-spec upper, a 9mm bolt carrier assembly, and a standard AR-15 hammer.
Check out our video+review of the lower in the complete UDP-9 gun.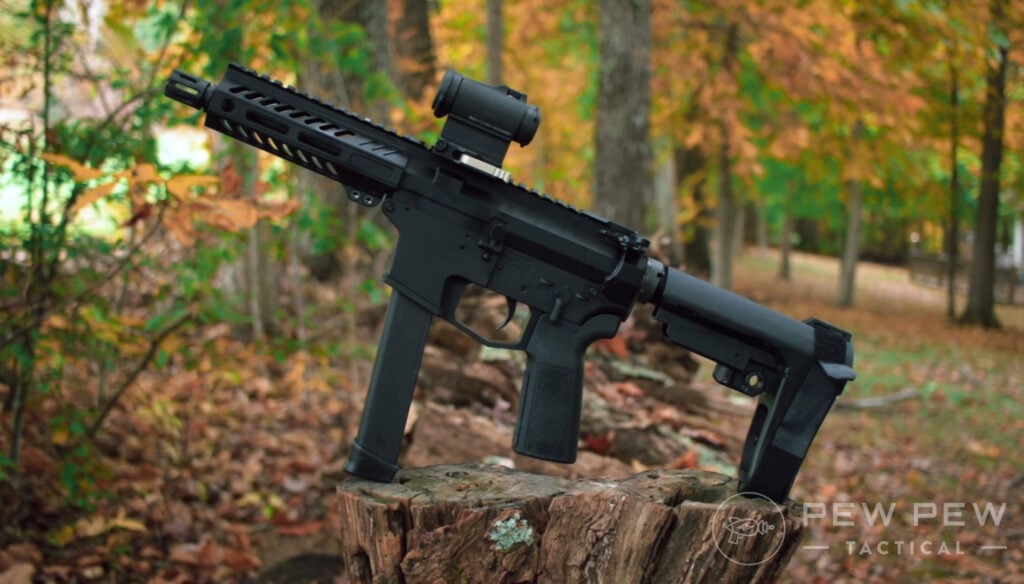 6. Rainier Arms 9mm Billet Receiver Set
Our next option, the Rainier Arms 9mm Billet Receiver Set, includes both upper and lower receivers to give you a head start on your PCC build.
Both lowers are proprietary Rainier Arms designs, so you can't mix and match them with other uppers and lowers.
But that's probably not what you're opting for with a set, is it?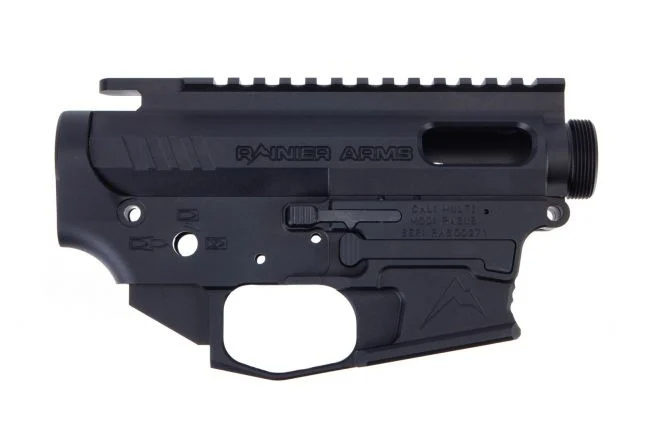 The set comes with a tensioning screw to help you ensure the perfect fit between the upper and lower.
Like the Angstadt Arms lower, this one accepts 9mm, .40 S&W and .357 SIG factory Glock magazines, as well as aftermarket Glock 9mm double stack mags.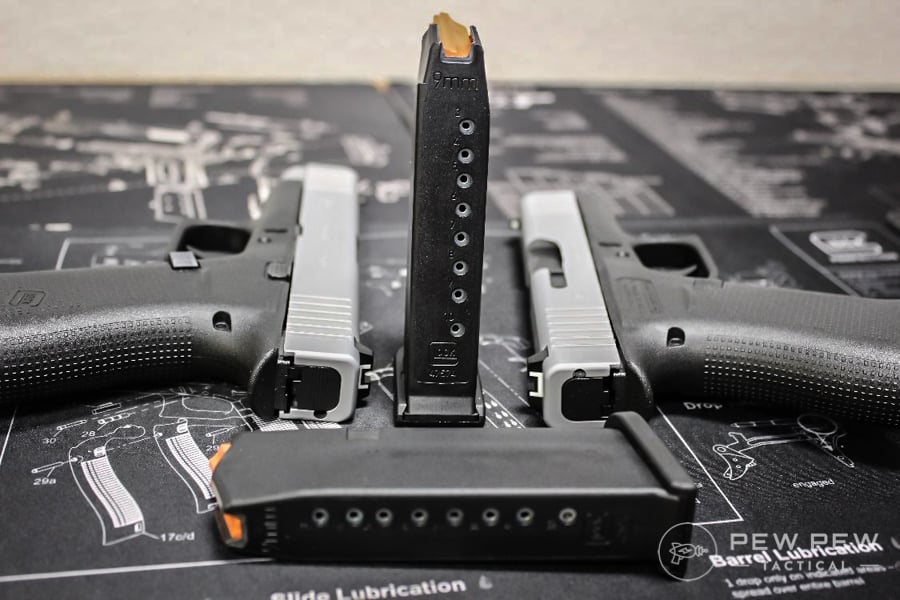 It also uses a flared magwell and threaded bolt catch screw. Oh, and you also get last round bolt hold open for empty magazines.
The upper has A4 feed ramps, an ambidextrous bolt release, and a spacious ejection port.
Other notable features include the threaded retainer screw for the takedown pin, zinc-plated extractor, and compatibility with a short throw safety selector.
7. New Frontier Armory C-9 Billet Lower Receiver
Last up is the New Frontier Armory C-9 Billet Lower Receiver — an incredibly versatile lower that's one of our favorites.
This is a multi-caliber lower that can be paired with 9mm, .40 S&W, .357 SIG, and other small frame caliber upper receivers.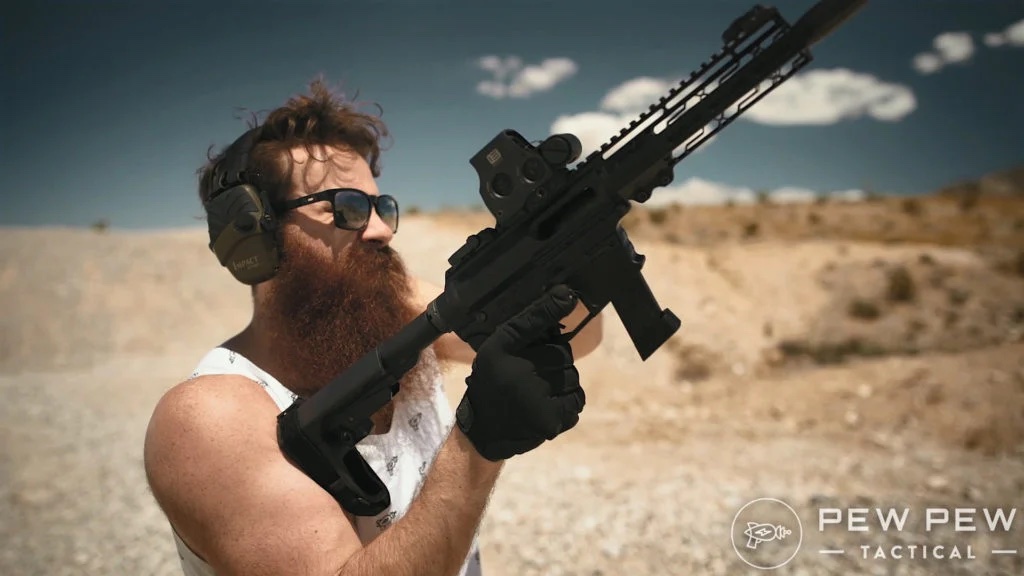 It accepts Glock style magazines in those calibers, including both factory Glock mags and aftermarket magazines.
To make loading magazines faster and easier, the precision-machined magwell has a beveled feed lip.
It uses a proprietary magazine catch assembly with a factory-installed ejector.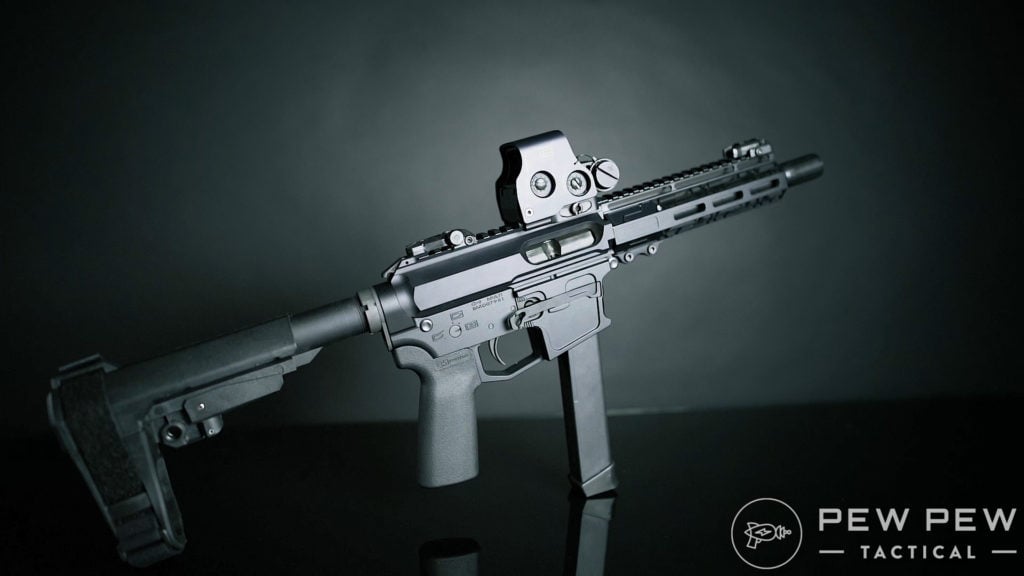 Since it's made to mil-spec standards, the C-9 Billet Lower also doesn't limit your options for other components too much.
The platform offers compatibility with most standard and aftermarket AR-15 components in addition to 45- and 60-degree short throw fire control selectors.
The takedown pin spring and detent hole and bolt catch pin hole are both threaded and come with the necessary hardware.
An upper tension screw is also included to help you get a neat fit with whichever upper you choose.
It has an oversized "winter" style trigger guard and ambidextrous trigger finger rests.
Finally, the New Frontier Armory C-9 Billet Lower Receiver comes in stripped and complete options.
(Psst…watch the video below to see it in action.)
The complete version comes with a factory-installed LPK, standard carbine buffer, buffer spacer, and stock kit, including a B5 Bravo collapsible stock.
You can find out more about this great lower and New Frontier Armory's corresponding upper by reading our more comprehensive review.
8. 80% Arms AR-9 80% Lower Receiver
If you're looking for an 80% lower, 80% Arms as your back with their AR-9 80% Lower Receiver.
Since it's an 80% lower, it can be legally shipped to your home, no FFL needed. However, that also means you'll need to finish machining the receiver yourself.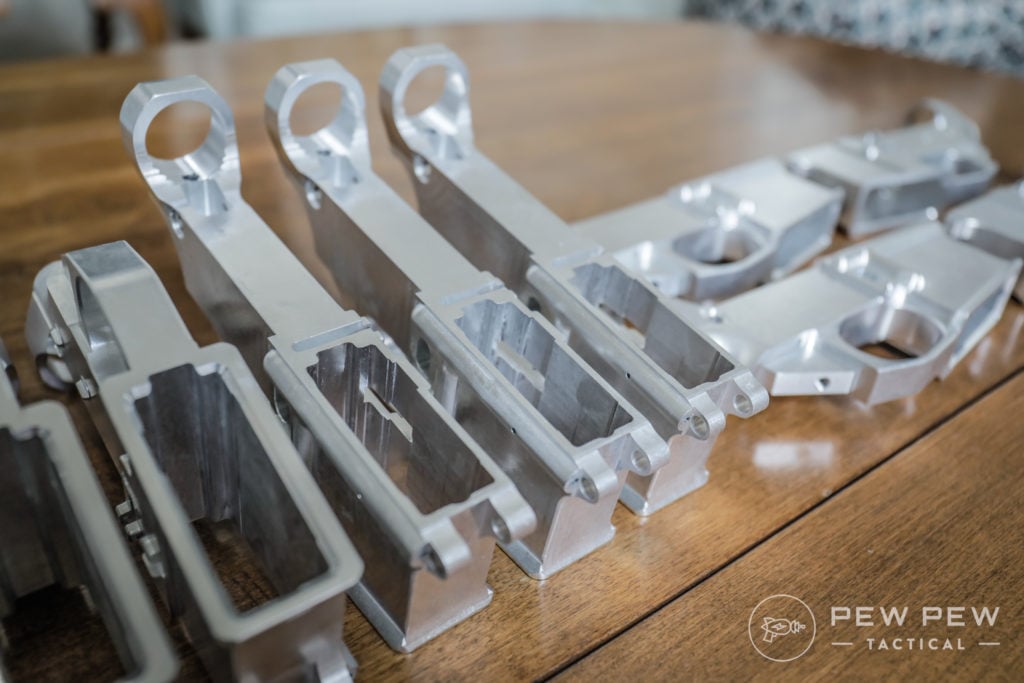 That, in turn, means that you have to have the equipment to do so. Fortunately, that's just a router and a power drill.
You'll also want to pick up a jig to help you with hole placement. Fortunately, we've already put together a list of jigs that we recommend.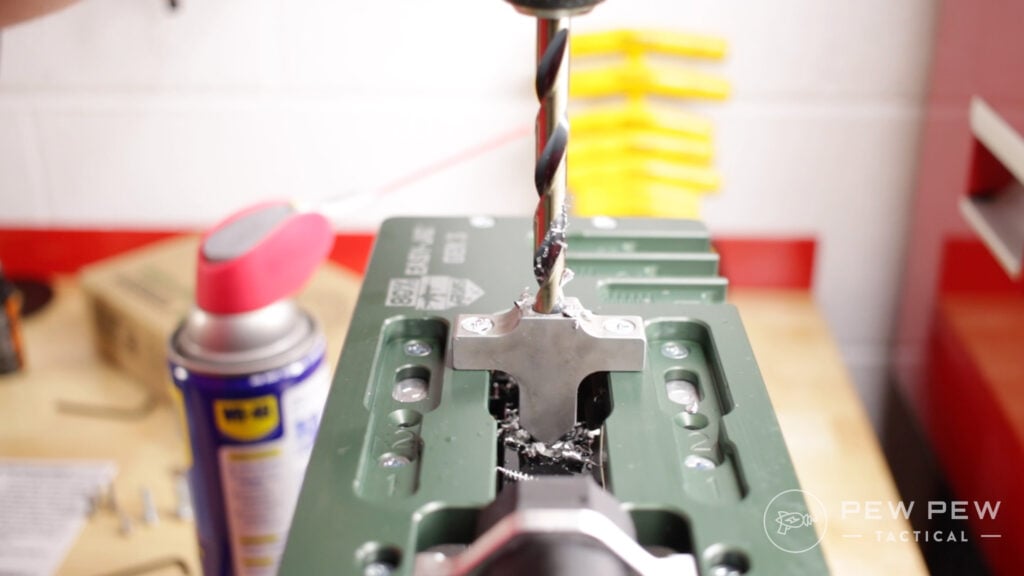 Anyway, back to the receiver itself. It's CNC machined from a solid piece of aircraft-grade billet aluminum for durability and strength. You can get the receiver with Black, FDE, Bead Blasted, and Raw finishes over the aluminum to fit your build.
The lower is Glock magazine compatible and has a flared magwell for quicker, easier loading. An oversized trigger guard provides plenty of room for use with gloves.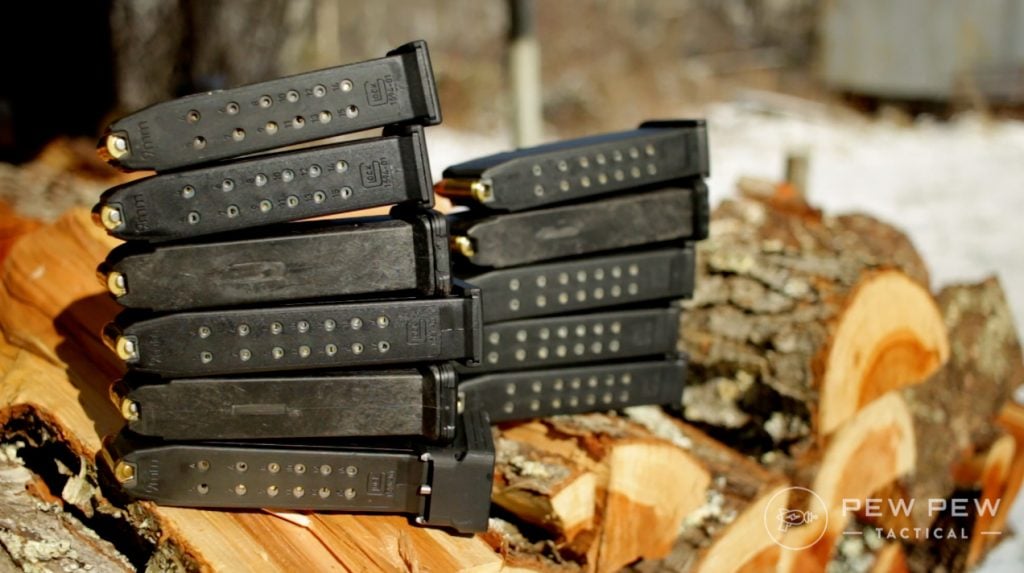 The rear takedown lug pocket is already completed and the lower is designed for mil-spec compatibility. And the bolt catch hole and hole for upper receiver tension adjustment are both threaded.
These features combine to make finishing both the receiver and your overall build a little bit easier.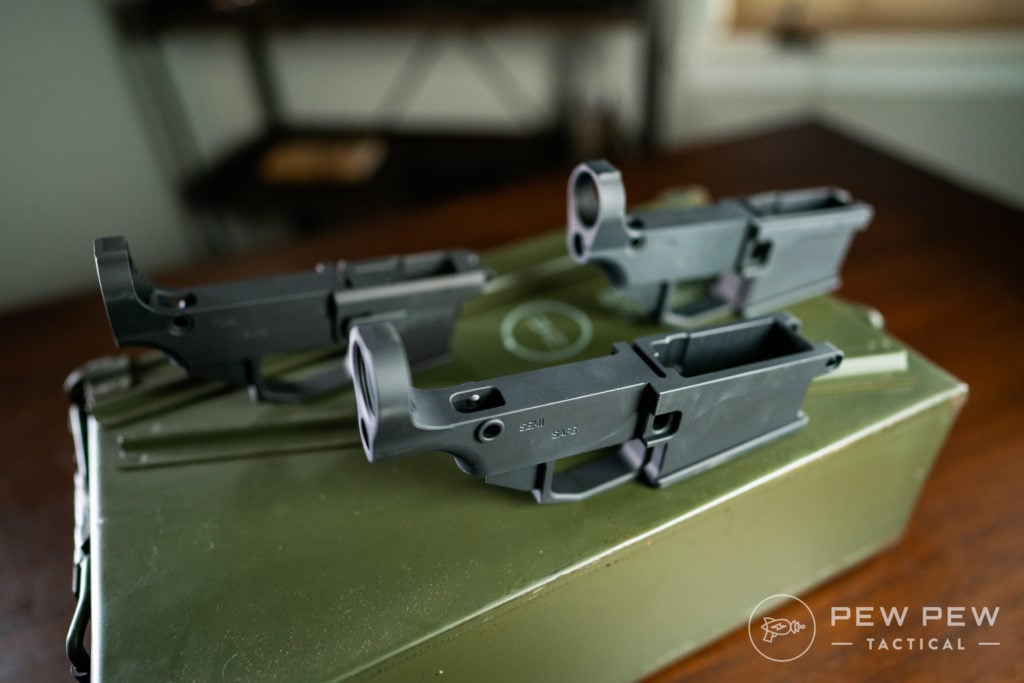 Other features worth noting include that Fire Safe/Safe markings are already engraved and that the lower is designed to work with an upper receiver that features last round bolt hold open.
Finally, the 80% Arms AR-9 80% Lower Receiver comes with a lifetime warranty.
Be sure to see Johnny's thoughts on the 80% Arms set-up in the full video review below.
9. Aero Precision EPC-9 Lower Receiver
Aero Precision is well known for its high-quality AR parts and its EPC-9 platform is no exception.
This line includes all kinds of AR-9 parts, but here we're obviously talking about the Aero Precision EPC-9 Lower Receiver specifically.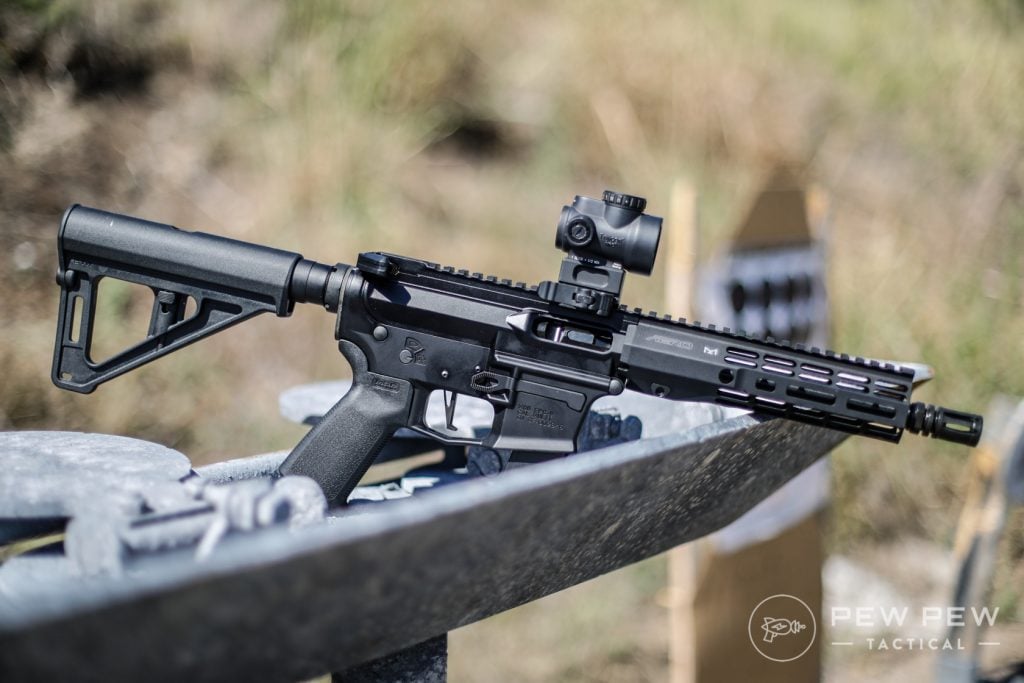 It's a multi-caliber lower, accepting 9mm and .40 S&W. It also takes standard frame Glock magazines via the flared magazine well.
To make installation easier, the lower uses a standard AR-15 pin lug pattern, and has a threaded bolt catch pin and threaded takedown pin detent recess.
It's machined from 7075-T6 aluminum and has an enlarged trigger guard.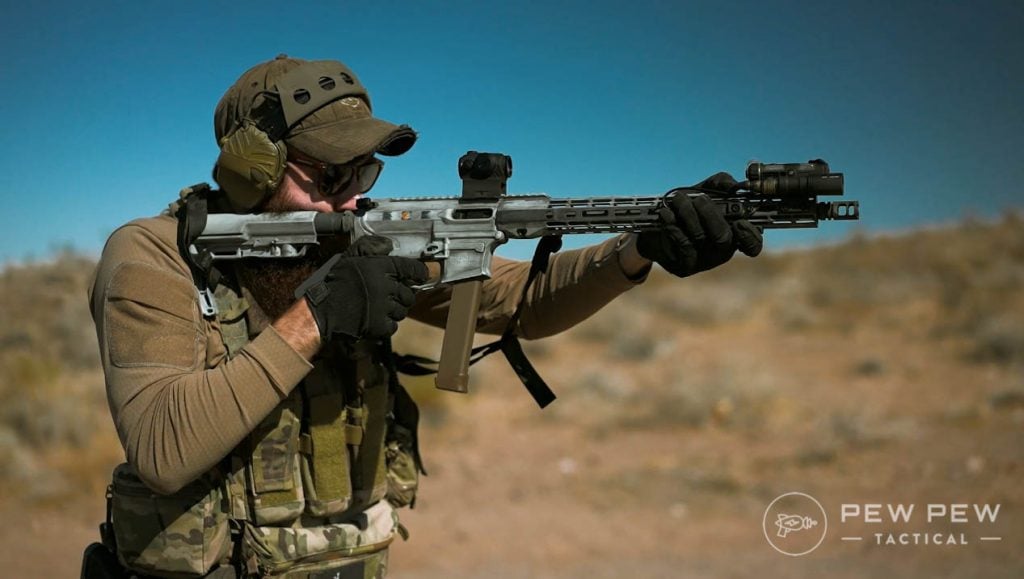 Weighing 12.8 ounces, the Aero Precision EPC-9 lower receiver is pretty lightweight.
The lower receiver comes in anodized black and FDE Cerakote finishes, so you can pick the finishes that best fit the overall vibes of your AR-9 build.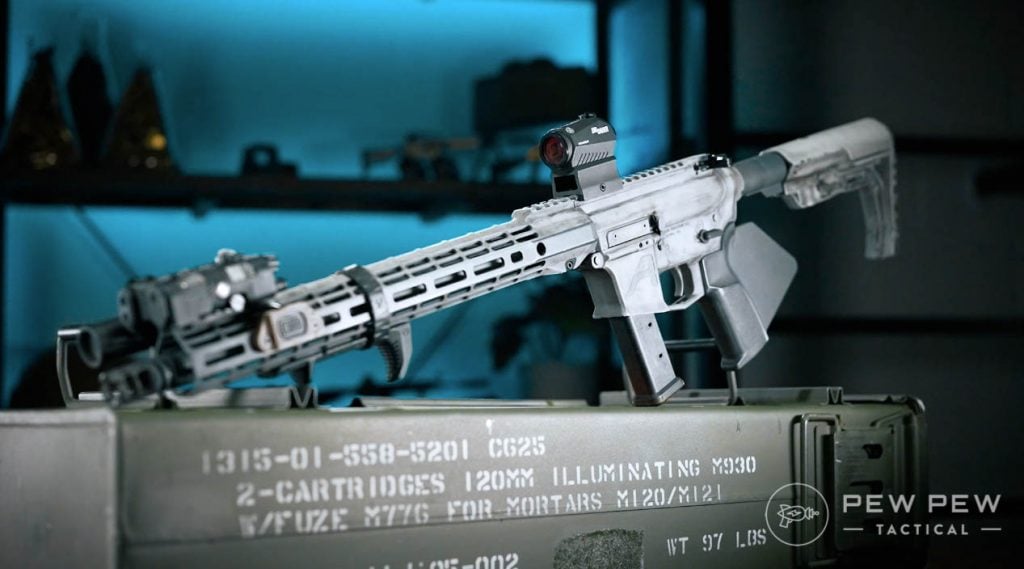 In addition to just the stripped receiver, you also have the option of a variety of complete lower configurations with different stocks and pistol grips.
Make sure to check out John's full review on the Aero Precision EPC-9 Build here or watch the video review below.
Conclusion
While our list by no means covers all 9mm lowers on the market, these are some of our favorites with a wide range of price points and degrees of completion.
With a little help from one of the 9mm lowers on this list, you're just steps away from completing the PCC of your dreams.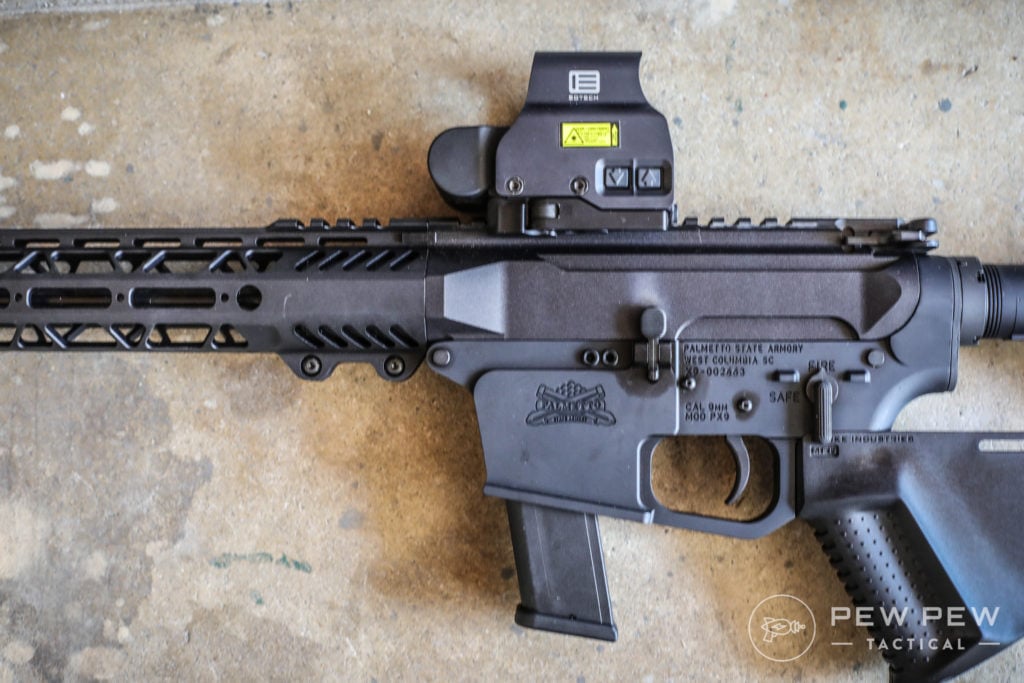 As for choosing parts themselves, to find an upper to go with one of the lowers here, be sure to check out the Best 9mm Uppers.
If you opt to go with a stripped upper, you'll also want to click on over to the Best 9mm AR-15 Barrels and the Best Pistol Caliber Carbine Barrels.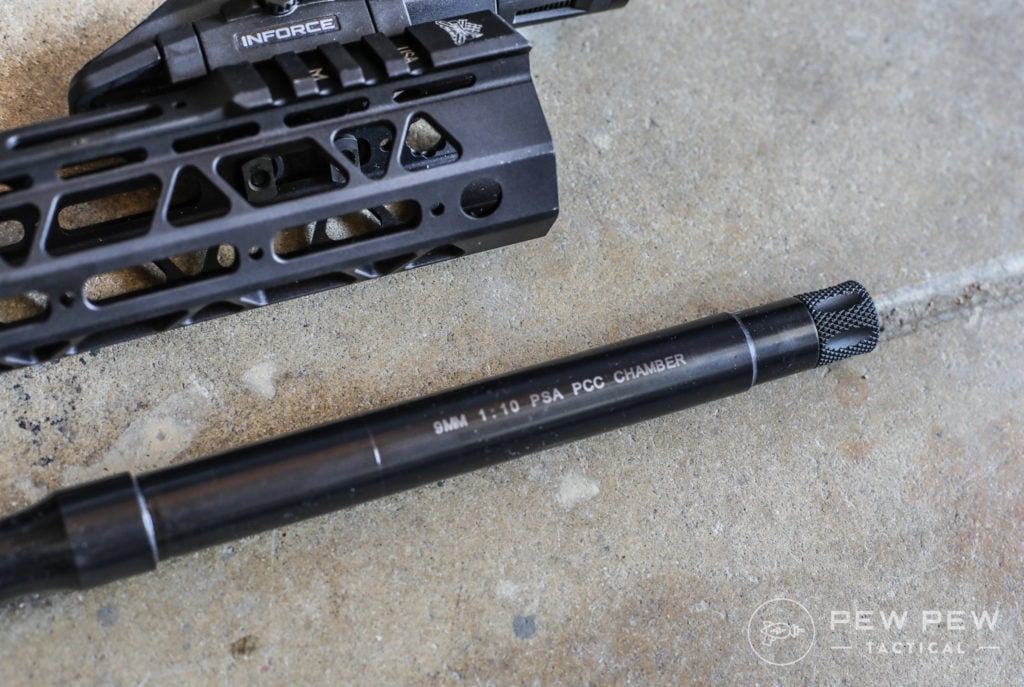 And if you went with a stripped lower, you'll benefit from taking a look at the Best Pistol Caliber Carbine Triggers.
Now tell us more about your 9mm setup in the comments below. Also, don't forget to take advantage of our other resources. We have visual guides for assembling lower and upper receivers, as well as a Complete AR-15 Parts List to help you make sure you've got everything you need.