Something has clicked where the whole industry has agreed that .22 and rimfires are cool again, and everyone's racing to get the latest rimfire on the market.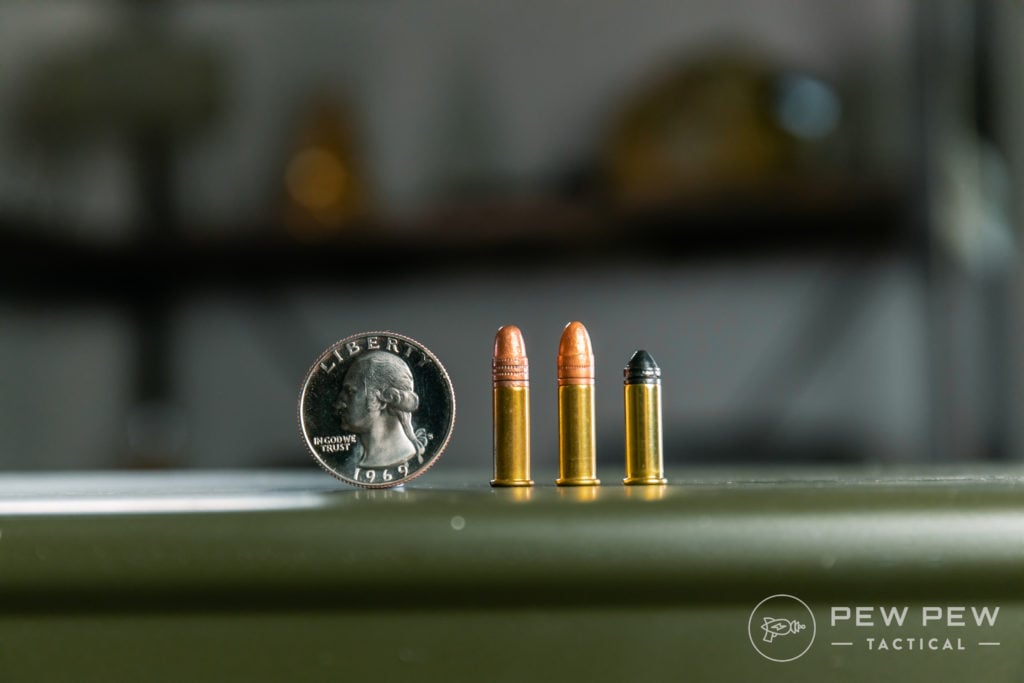 But why have rimfires seen a resurgence?
It's tough to say for sure, but I think I know a few reasons…
Summary of Our Top Picks
Table of Contents
Loading...
Why You Should Trust Us
Before becoming an NRA-certified instructor and concealed carry trainer out of Florida, I was a Marine infantryman. So, I know my way around guns.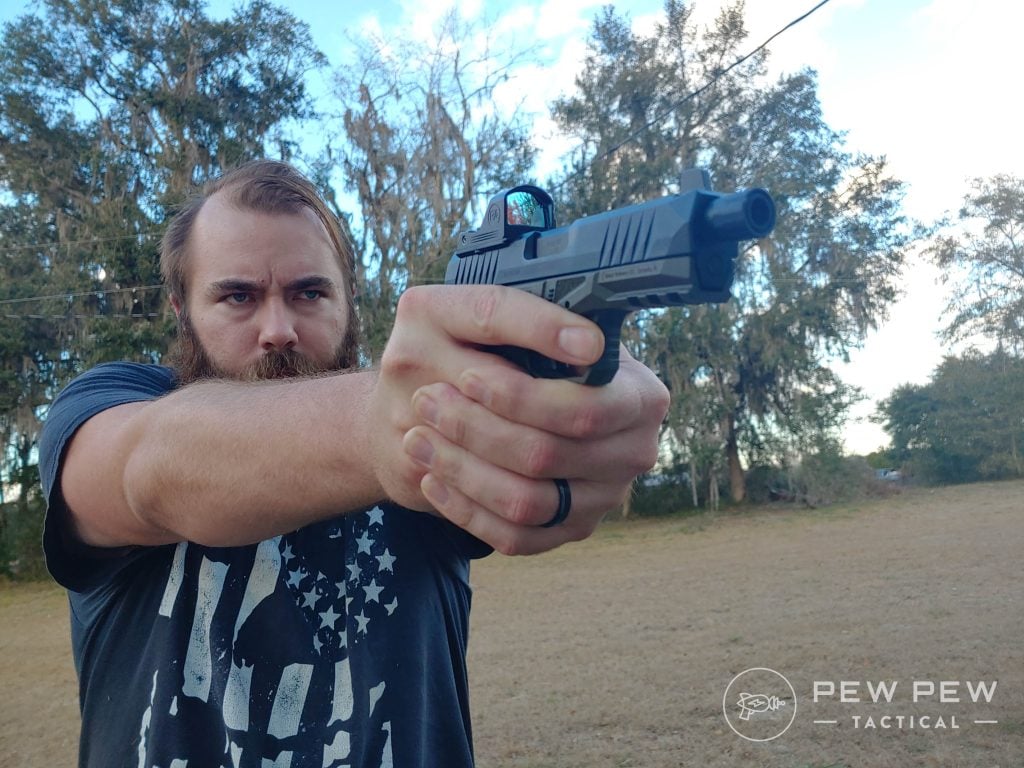 Today, I use my knowledge to test and review guns for several publications, including Pew Pew Tactical. At my home range, I spend countless hours analyzing, researching, and putting guns and gear to the test to bring you the best recommendations and most accurate reviews.
Best Rimfire Semi-Auto Pistols
1. Sig Sauer P322
My favorite new .22 comes from Sig Sauer and isn't just an adaption of a Sig pistol into a .22 LR.
Instead, it's built from the ground up to innovate and impress with several features at an awesome price point.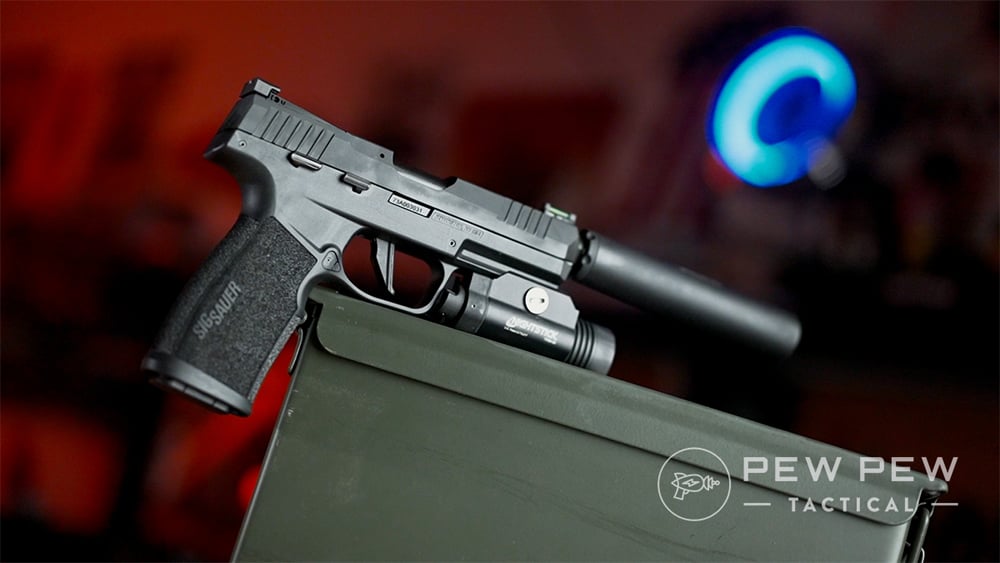 Like every other modern gun design in the last few years, the P322 comes optics-ready and can attach a Shield RMSc footprint optic. Personally, I'm a fan of the Holosun 507K.
Best Micro Pistol Red Dot
295
at OpticsPlanet
Prices accurate at time of writing
Prices accurate at time of writing
Sig also threaded the barrel, and the included adaptor allows you to toss a suppressor on the gun. Finally, the company even includes both a curved and straight trigger.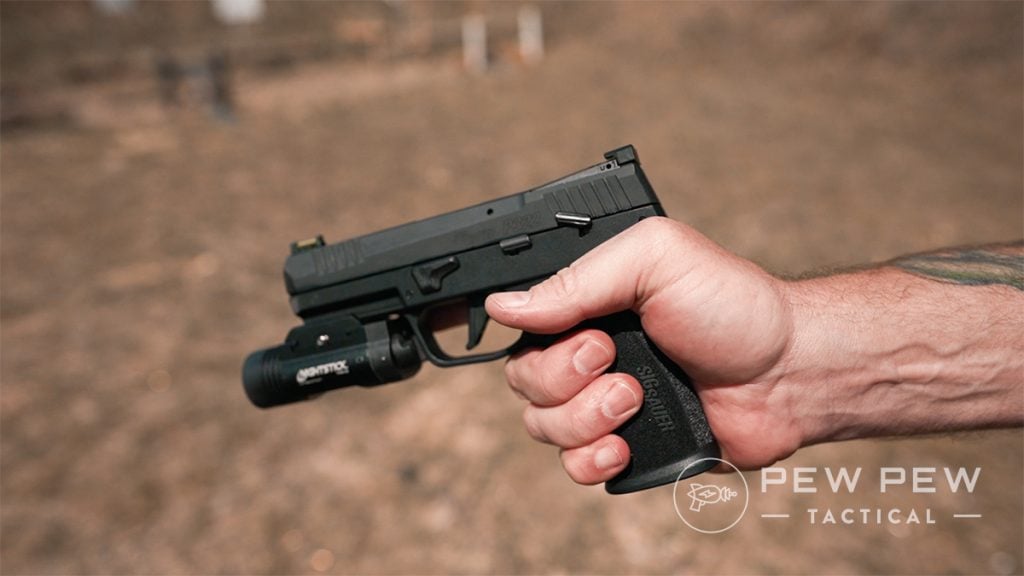 The primary appeal of the P322 is the magazine size. It uses a magazine roughly the same size as a Glock 17 mag but with the capacity of 20 rounds, with the mag sitting flush in the grip.
Most .22 LR mags are single-stack, 10 round-magazines, so Sig breaks the mold with these 20-round mags.
Highest Capacity Pistol
399
at Kygunco
Prices accurate at time of writing
Prices accurate at time of writing
Sig gives you two of them and a magazine loader to make life easy.
Not to mention, the gun sports ambidextrous controls, reversible magazine release, high visibility adjustable sights, and fantastic reliability.
If I had to complain about the P322, it'd be the trigger. It's a bit spongy and feels like plastic rubbing on plastic.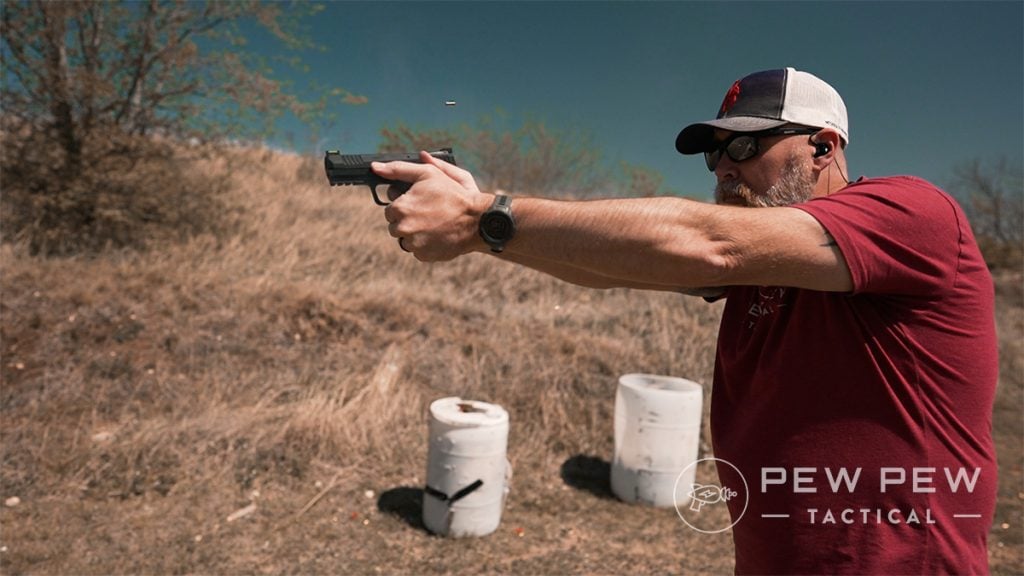 Besides that, I think the P322 offers you the most fun you can get for $400.
Interested in the P322? Check out our video review below or the full written article.
2. FN 502
Before the P322 hit the market, FN entered the .22 LR trainer game with the FN 502.
The FN 502 is a .22 LR variant of the 509, well, kind of. It's not a striker-fired pistol but an SAO gun with an exposed hammer. It's also blowback, like basically all .22 LR pistols.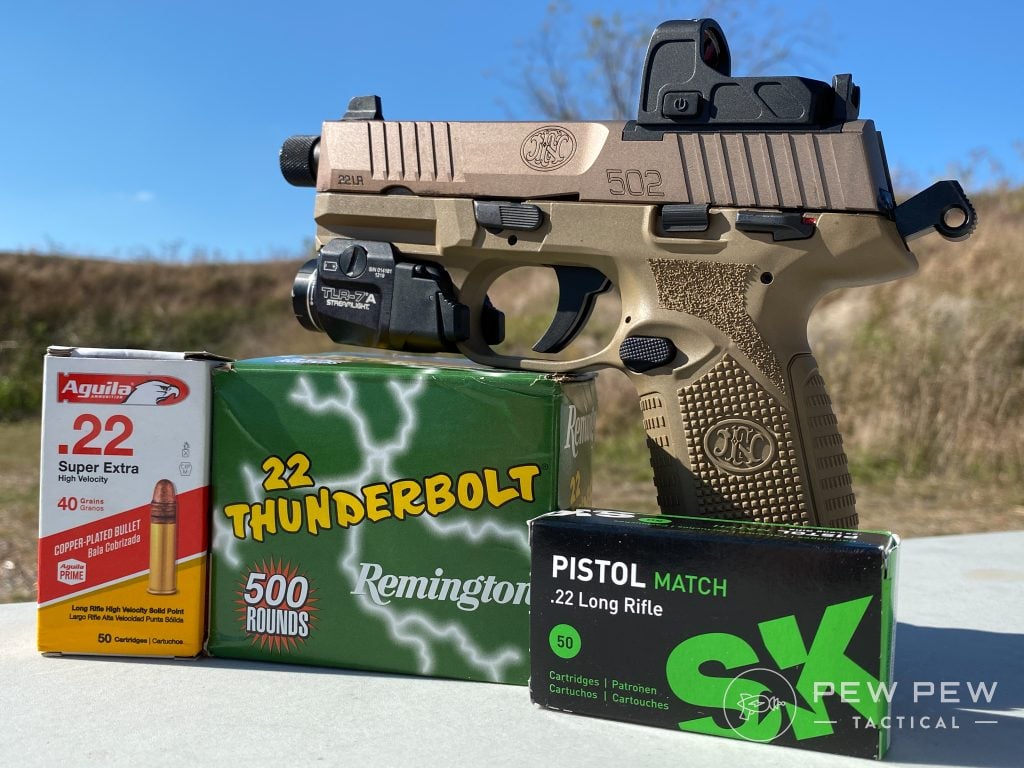 FN also took the featured-filled route and hit us with an optics-ready slide, suppressor height sights, a threaded barrel, and ambi controls.
The wee little 502 only has 10-round flush-fitting mags or 15-round slightly extended mags.
Best .22 LR Training Pistol
503
at Kygunco
Prices accurate at time of writing
Prices accurate at time of writing
Sadly, it can't reach P322 levels but does a fairly good job in every other department. The exposed hammer is a great touch when it comes to the unreliability of .22LR.
Should a round fail to ignite, the user can grab the hammer and re-cock the pistol to try one more time.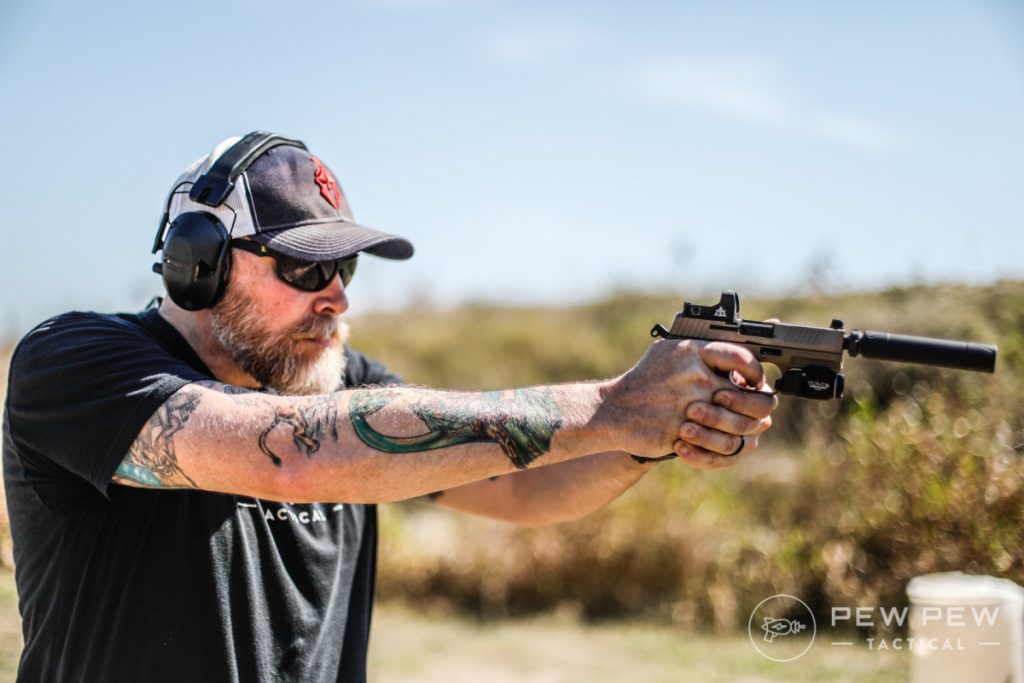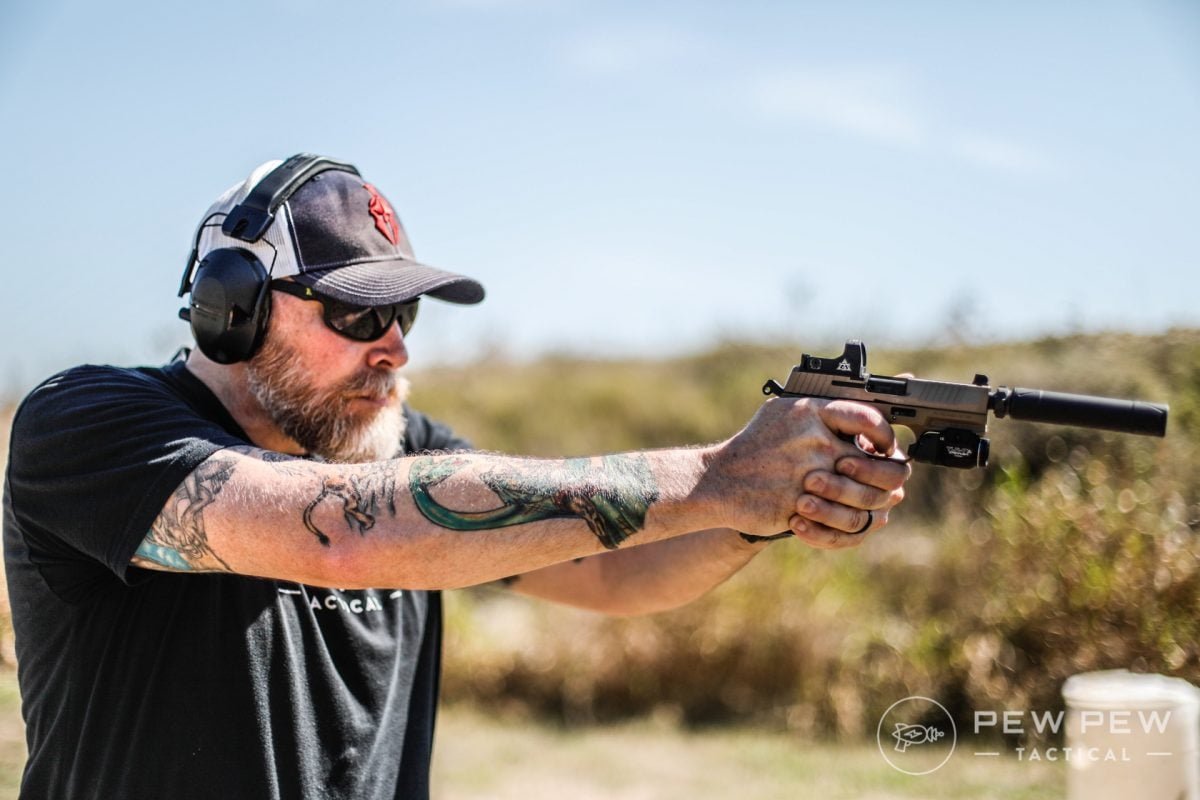 Surprisingly enough, the 502 works with full-sized red dots, so embrace your RMRs, SROs, and similar big-boy optics.
Its trigger is also slightly better and bears mentioning as one of the better .22 LR triggers on the market.
Best Pistol Red Dot
454
at Amazon
Prices accurate at time of writing
Prices accurate at time of writing
FN has been killing it with its latest handguns and has finally gotten the world to acknowledge them beyond their awesome rifles, machine guns, and more.
Don't sleep on FN, folks. They make great handguns.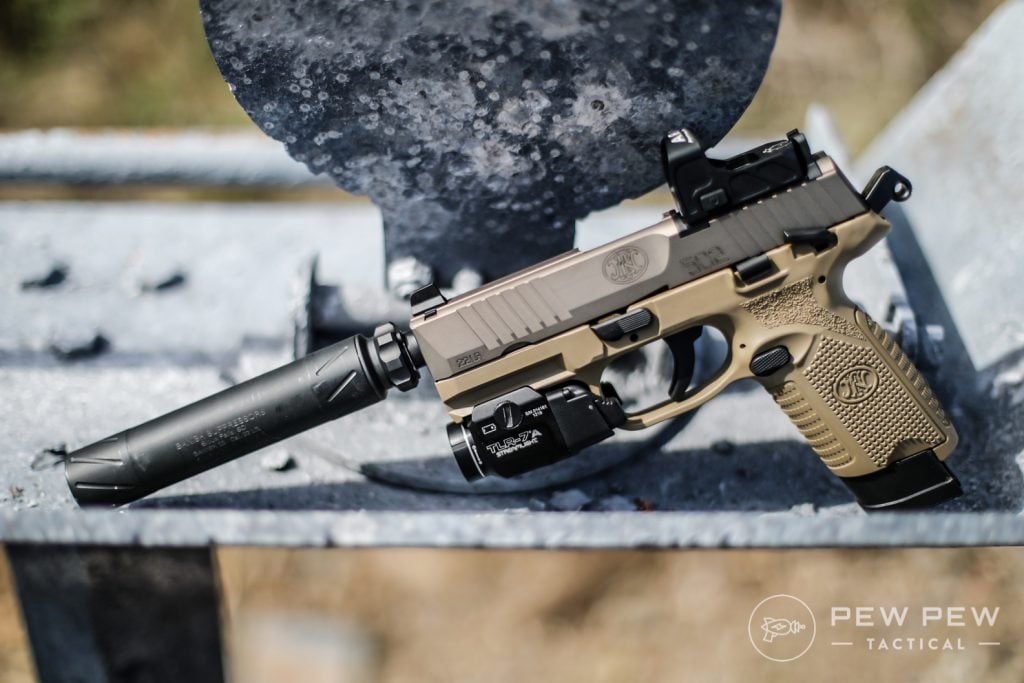 Want to learn more? Read up on our FN 502 review here!
3. Walther WMP in .22 WMR
Walther has had the P22 for decades as well as .22 LR variants of the PPQ and PPK, so it's not a huge departure for them to embrace the rimfire world. However, the way they did it is quite interesting.
The Walther WMP, or Walther Magnum Pistol, goes the .22 WMR route.

As far as I can tell, this is their first .22 Magnum pistol, and it's more or less its own gun.
There are certainly some PPQ/PDP influences, but the WMP is a rock-solid pistol by itself.
The .22 Magnum chambering means it could be used for plinking, hunting, and in some cases, self-defense.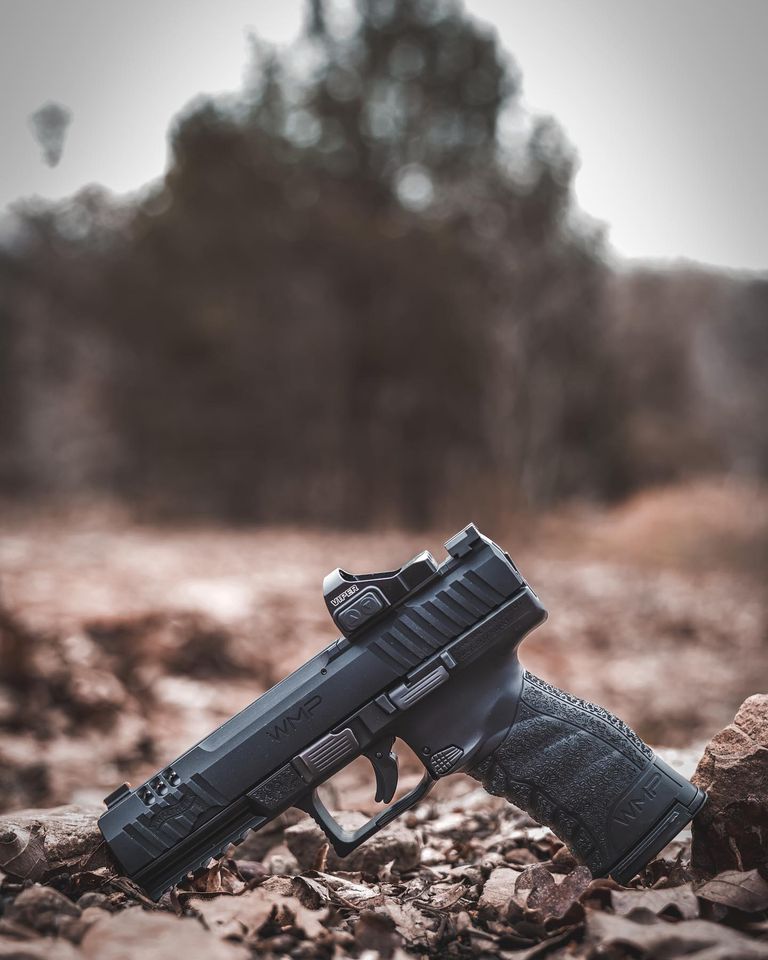 It's an optics-ready pistol, and I'm so glad I can say that about most of the guns on this list. It's time to embrace the dot.
Walther shoved 15 rounds of .22 Magnum in the gun, and you have many options to release that magazine.
What do I mean?
Well, Walther installed what they call the quad release on the gun. You have two ambidextrous buttons and a mounted trigger guard magazine release.
Best .22 WMR Option
499
at Palmetto State Armory
Prices accurate at time of writing
Prices accurate at time of writing
Why do you need these options? I'm not sure, but I appreciate the Euro trigger guard mag release.
The trigger is great for a rimfire. Rimfire triggers are always heavy to ensure reliability — heavier than centerfire triggers, but Walther smoothed things out.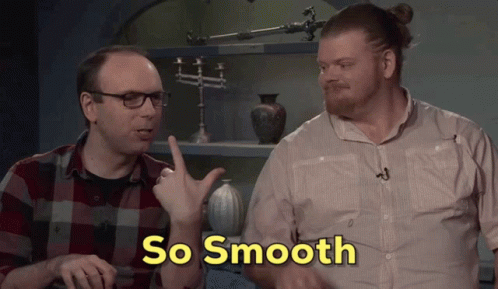 On top of the optics, we get adjustable, high visibility sights and a Picatinny rail for accessories.
The stepped chamber ensures reliability even when its rimfire is filthy. Of all the guns on this list, I'd choose the WMP for self-defense beyond the other choices.
Best Rimfire Rifles
4. HK MP5 in .22 LR
I guess I should say Umarex's new MP5s, but HK and Umarex teamed up to produce licensed and authentic variants of the MP5…but in .22 LR.
Of course, these are much simpler with a direct blowback design, but they retain the features, ergonomics, looks, and feel of the famed MP5.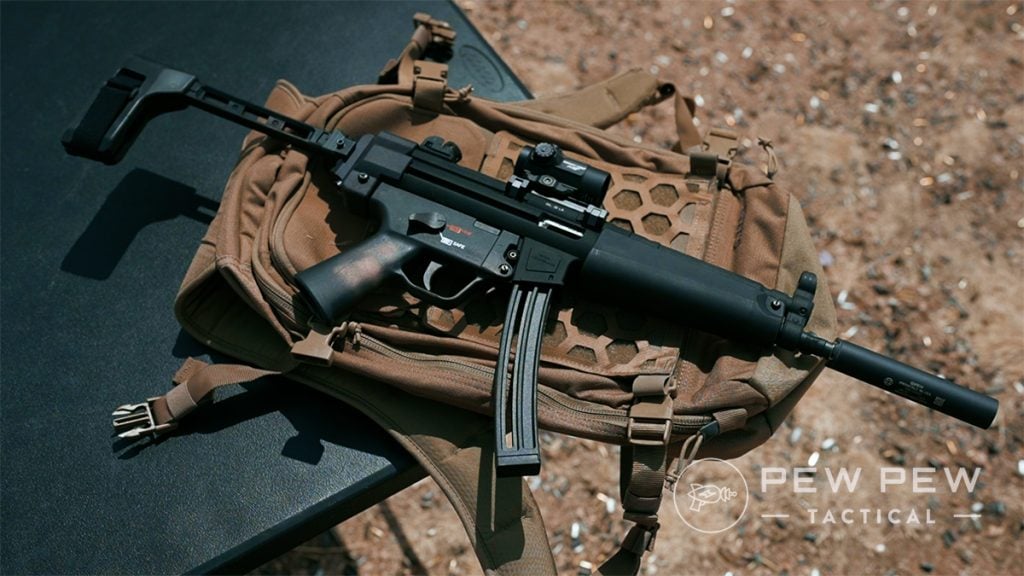 The MP5 has been made in .22 LR for years by numerous companies, and HK released numerous variants of the MP5 in .22 LR.
For 2022, the guns are in new configurations — rifle and pistol — at a very low price point; both models have an MSRP of $479.
The rifle variant is a mock-up of the MP5SD and uses the suppressor to cover up the dinky long 16-inch barrel.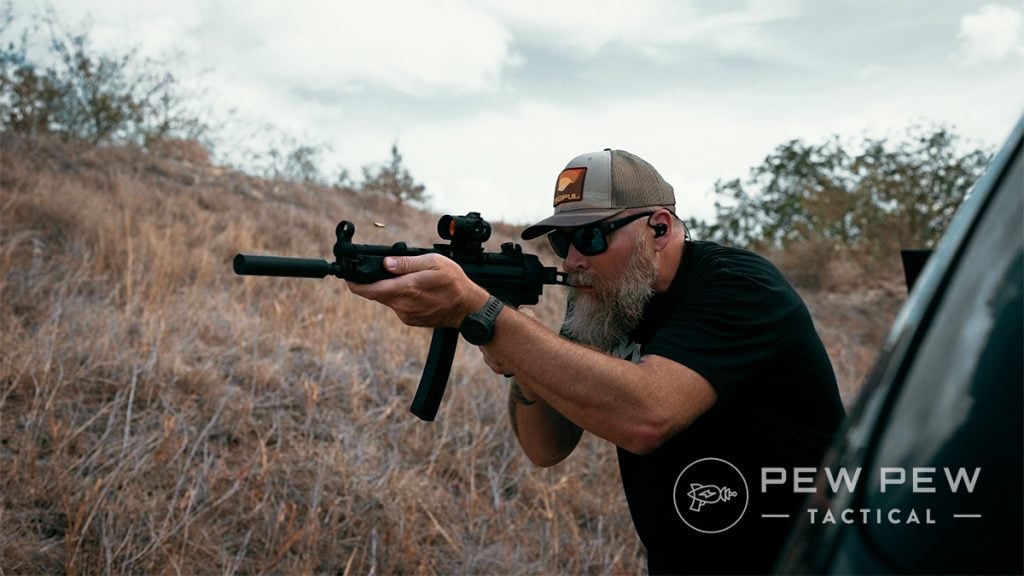 It looks fantastic and features a telescoping stock to make things look rather nice.
Across the top, we got the drum sights, but sadly no means for easy optic mounting.
The magazine release and safety are all MP5 and the gun is a blast to shoot. It's a great option for capturing the imaginations of new shooters and introducing them to a fun, accurate, and reliable carbine.
Best for Fun
449
at Palmetto State Armory
Prices accurate at time of writing
Prices accurate at time of writing
On the flip side, the HK MP5 .22 LR pistol offers an 8.5-inch barrel and polymer handguards. It really has that classic MP5 look, minus the stock.
Everything else is all MP5.
This is the route to take if you want to play Die Hard on the cheap.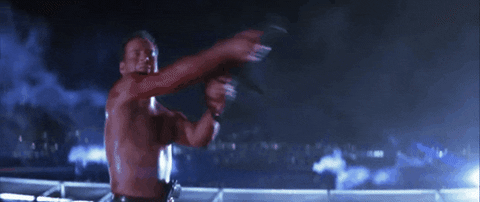 However, there doesn't seem to be a means to SBR or add a brace to the gun. That's a sad state of affairs because plenty of great MP5 braces exist.
Even so, it's a fun, light, although fairly useless, fun gun for the range.
Want to see it in action? Peep the full video review below or read up on the article.
What do you think of the HK MP5? Rate it below!
5. Savage Arms 64 Precision
Savage Arms has been knocking it out of the park in the last few years, and the 64 Precision takes the cake for those looking for rimfire precision.
With an MSRP of only $299, the 64 Precision offers an affordable precision rifle for hunting, precise plinking, or even competition like NRL or Steel Challenge.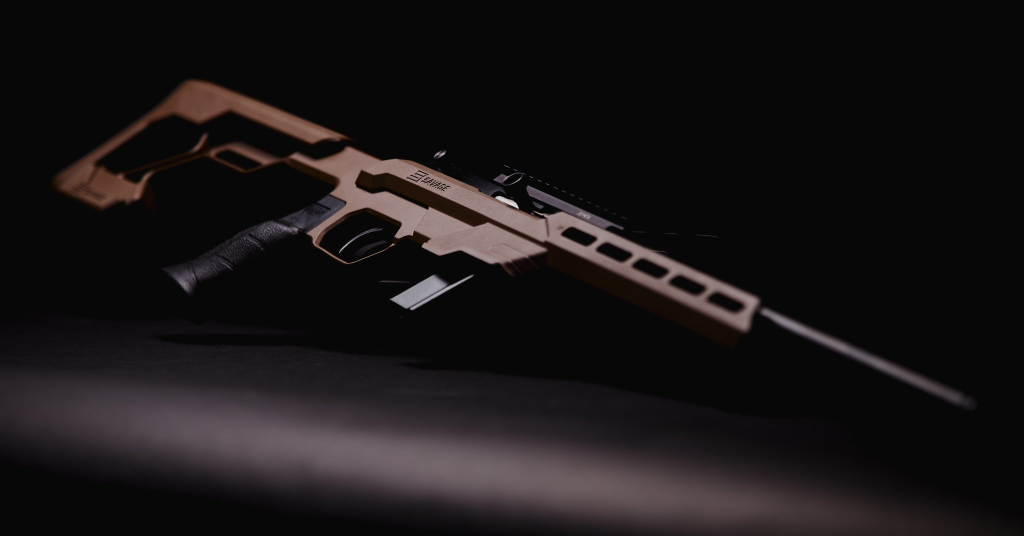 The Savage 64 is well made and proven in its various configurations, but the Precision steps it up with a synthetic chassis system. It comes complete with M-LOK slots and an AR-15 compatible pistol grip.
To drive accuracy forward, the gun comes with a heavy barrel that's also threaded for adding a can.
Best Budget-Friendly Precision Rimfire
249
at Kygunco
Prices accurate at time of writing
Prices accurate at time of writing
The stock offers great support and a great cheek weld to allow you to get up and behind your optic with ease. It also comes with a scope rail installed and is tapped for you to swap it out if you choose to.
This is a semi-automatic platform that comes with a 20-round magazine with numerous capacities available for the gun.
As far as precision rimfire guns go, this is the one you want if you don't want to spend all your cash.
Best Rimfire Revolvers
6. Colt King Cobra Target .22 LR
In keeping with Colt's bringing back of the snake guns, they've recently released the Colt King Cobra, including a .22 LR target version.
This isn't to be confused with the modern Cobras in .357 Magnum. Colt used to call their rimfire the Diamondback, but this one wears the King Cobra name for one reason or another.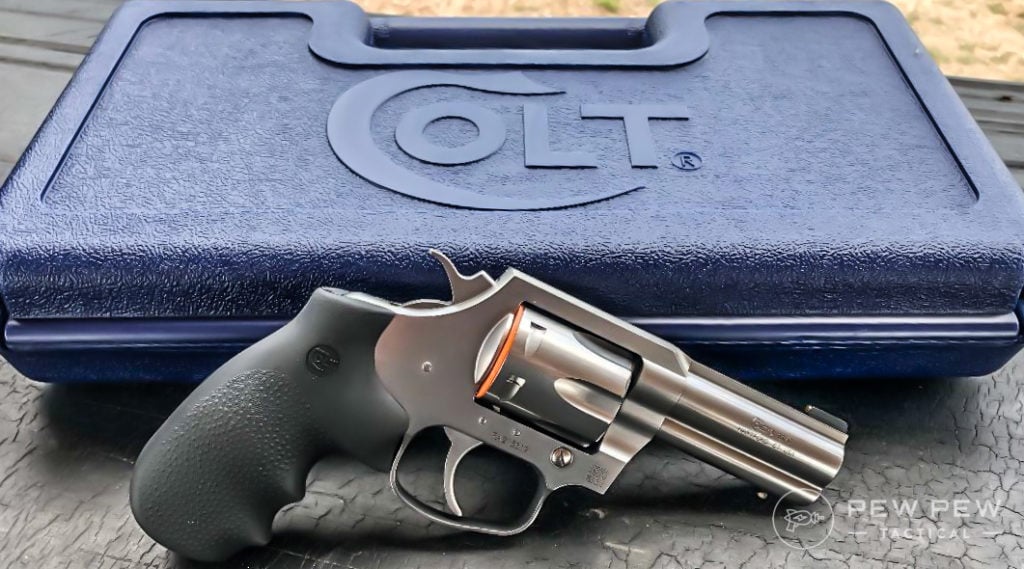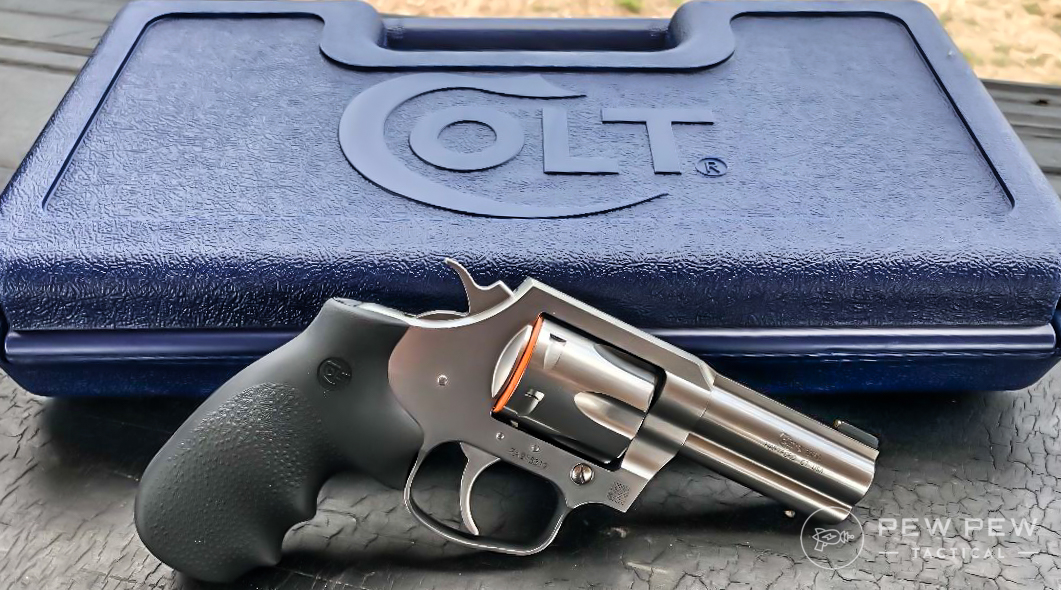 What makes the King Cobra Target stand out in a field full of .22 LR revolvers?
First, it's a Colt snake gun, so it's absolutely gorgeous and a beautiful example of American engineering.
Second, it holds 10 rounds of .22 LR, which is fairly impressive.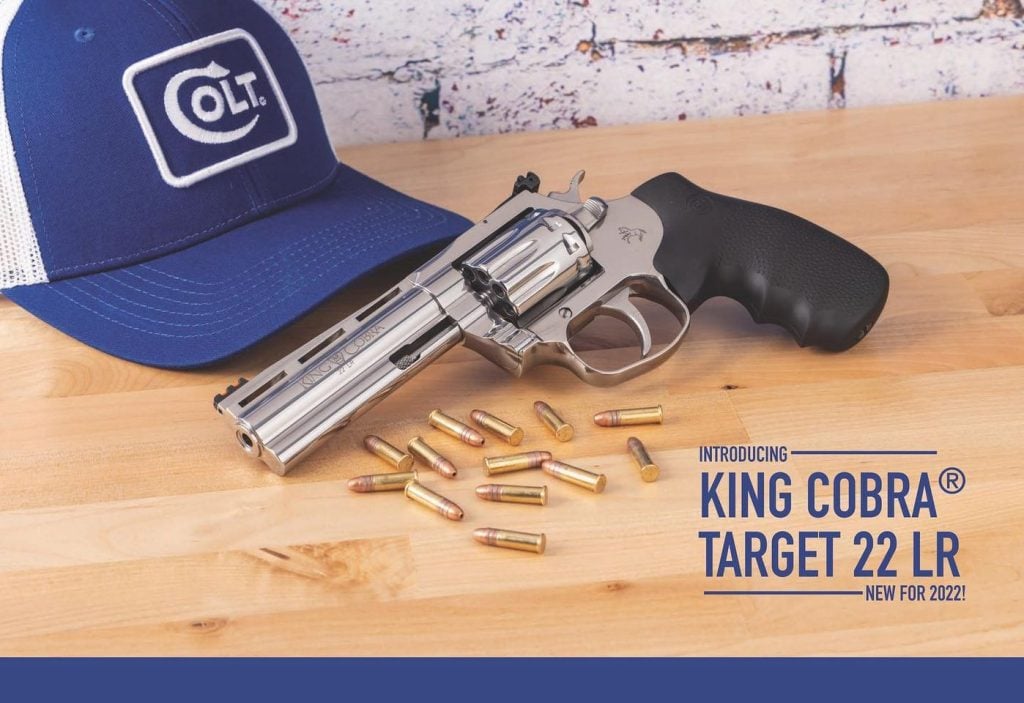 Of course, the price also stands out…very rarely will someone spend the $999 price tag the King Cobra Target commands. It's not cheap, but it's a made-in-the-USA Colt through and through.
We get adjustable sights, the option of a 4.25 or 6-inch barrel, the vent rib across the barrel, and a great trigger setup. Colt tossed the same trigger setup from their standard King Cobra into the Target model, so it's smooth, light, and consistent.
Best .22 LR Revolver
999
at Sportsman's Warehouse
Prices accurate at time of writing
Prices accurate at time of writing
Its chromed-out finish certainly catches the eye, and upon further inspection, a one-piece barrel and steel frame will capture your heart.
A Colt revolver in .22 LR, with a 10-round cylinder, is certainly something new. Although I would have named it the Baby Cobra, that's just me.
7. Heritage Manufacturing Tactical Cowboy and Boot
The Tactical Cowboy and Boot from Heritage Manufacturing are almost complete opposites but also super similar.
Both guns are single-action revolvers produced from the Rough Rider platform. Both are .22 LRs but can use .22 Magnum cylinders.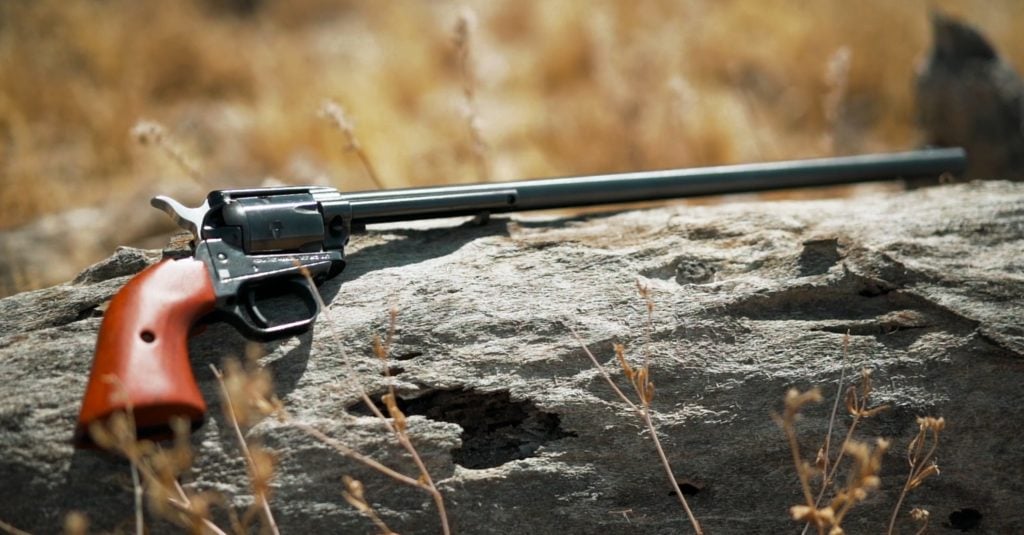 The first is the uber silly Boot. It features a big grip and frame with a short 1-inch barrel. There are no sights on the gun, and really, it's just a plinker with no practical use to it. However, it's a ton of fun to shoot.
This gun is loud and a real smoke wagon. Not to mention, it's cheap and an easy buy.
122
at BattleHawk Armory
Prices accurate at time of writing
Prices accurate at time of writing
On the other hand, the Tactical Cowboy wears a 6.5-inch barrel, a set of space-age grips, and is optics-ready.
It's not the usual fair for Heritage Manufacturing, but it's plenty useful.
148
at BattleHawk Armory
Prices accurate at time of writing
Prices accurate at time of writing
Any handgun can benefit from optics, and this variant of the Rough Rider goes beyond plinking. Shooters looking for a small game gun would be well served with the Tactical Cowboy.
Swap out the .22 WMR cylinder, and you can take pest and slightly bigger game.
It's an easy option for hunting, snake defense, and other tasks rimfire excels at. It's also just plain fun to shoot gongs at 50 yards with a red dot-equipped handgun.
Why .22?
First, there are tons of new shooters on the market…something like over 8 million new gun owners, according to the NSSF.
The rimfire market is perfect for new shooters.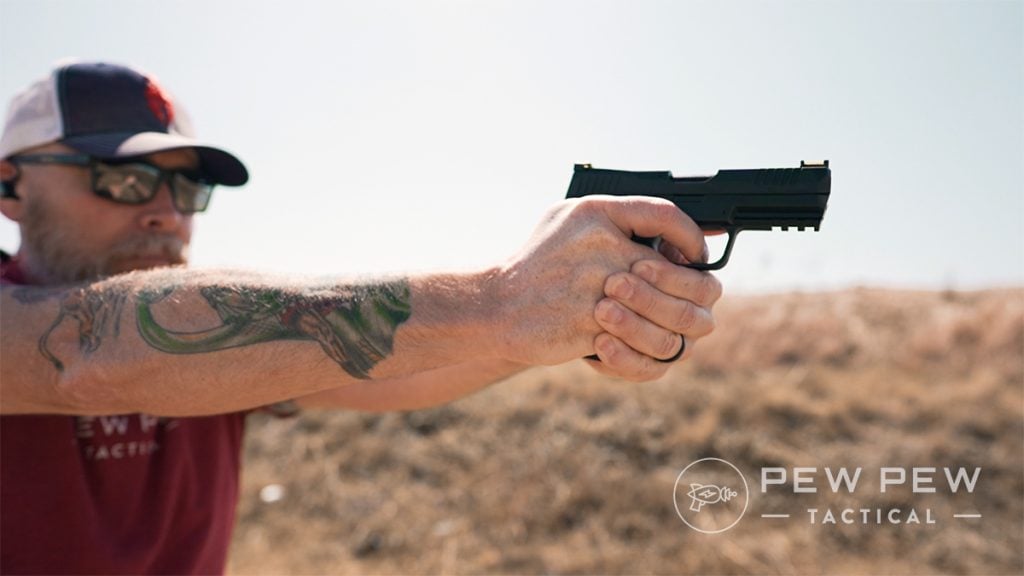 Rimfire guns are easy to handle with low recoil and muzzle rise. They present a ton of fun to shooters of all ages, skill levels, and at most budgets.
On top of that, experienced shooters are feeling the crunch of constantly rising ammo prices.
Yet, .22 LR remains affordable and (mostly) available on store shelves.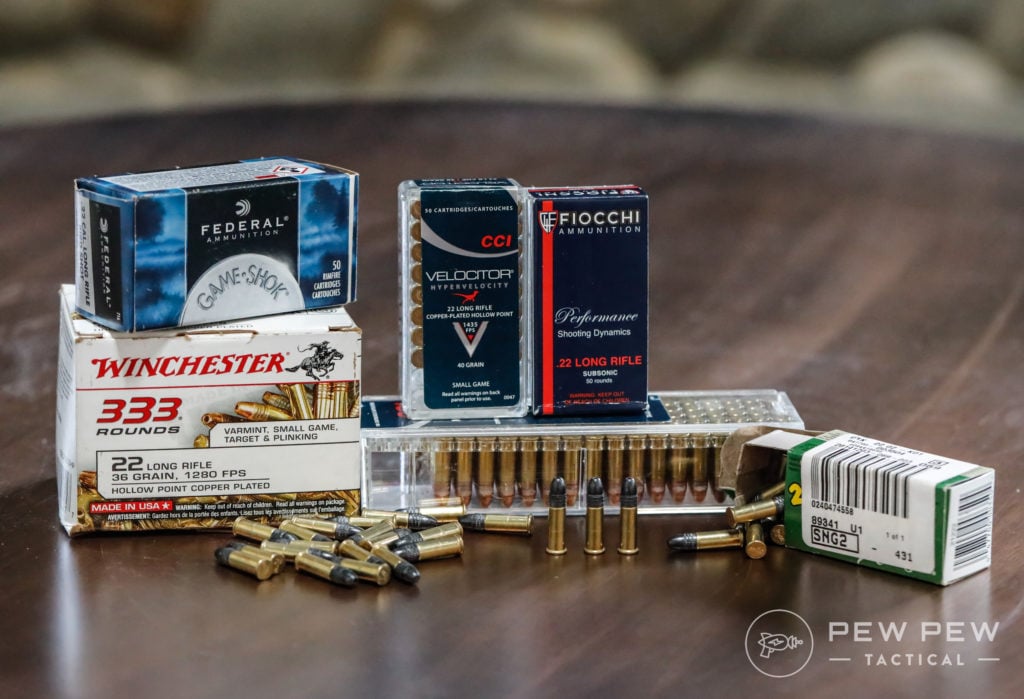 Final Thoughts
My only fear about the rise of .22 LR and Magnum guns is that all the ammo will dry up! It's a real possibility, so I'll just keep my tradition of buying a box every paycheck.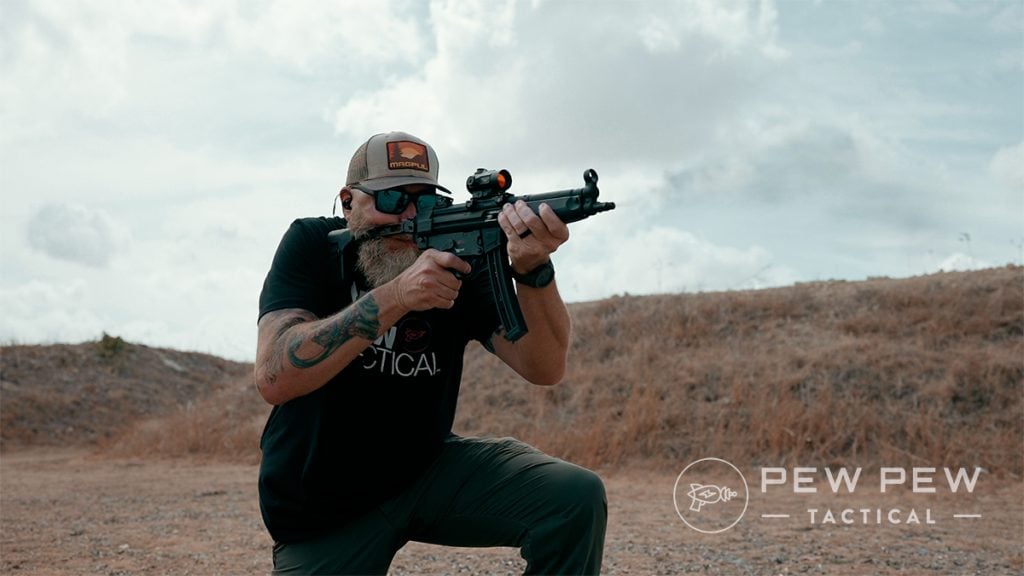 A little .22 can go a long way, and it's neat to see the little rimfire calibers being so widely embraced.
Did you buy a .22 in 2022? If so, let us know below which one you picked! Need to grab some ammo?Check out our article on the Best .22 Rimfire Ammo!