Adams Arms is probably best known for its AR offerings, but now the company has dived into the polymer pistol platform.
The AA19 — a striker-fired, compact-sized 9mm pistol — is Adams Arms' take on the Glock G19.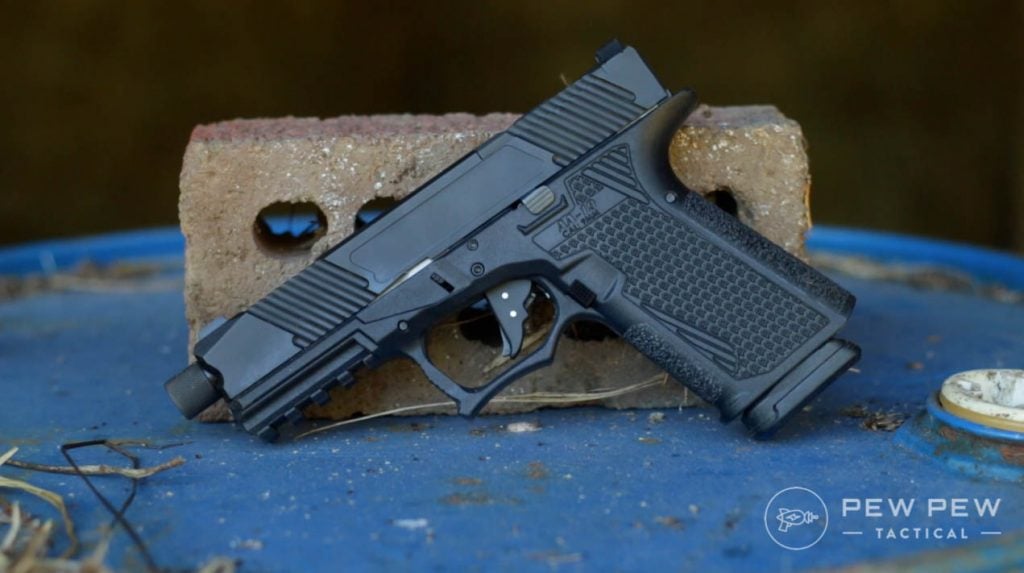 Glock clones are all the rage these days, so it's no surprise yet another company looks to put a twist on the Glock style.
But does it work, and is it worth the $999 price tag?
You know I had to find out. So, I got my hands on the Adams Arms AA19 and took it to the range to see how well it holds up.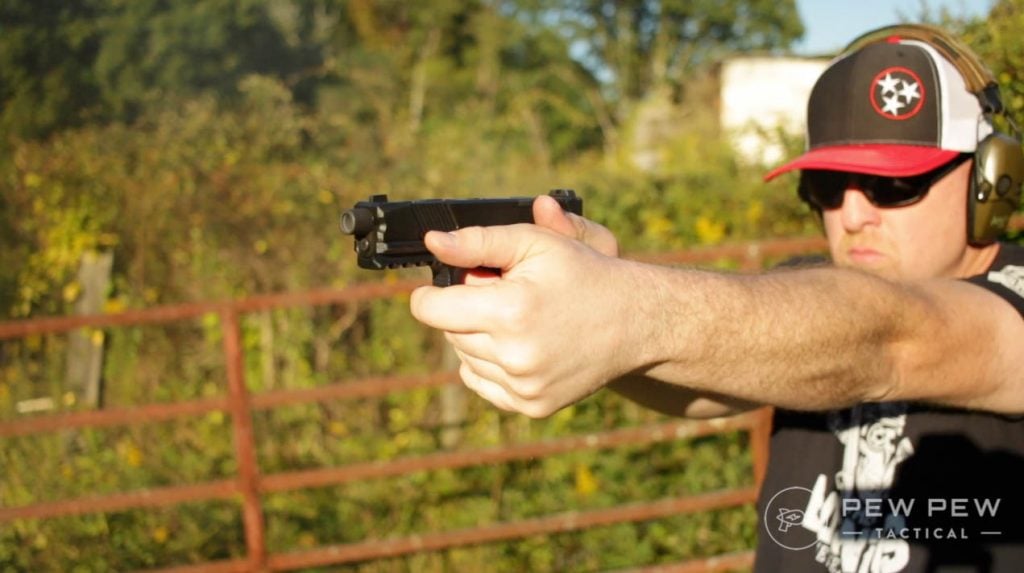 I'll run you through the specs, some pros/cons, and give you a full range report so you can decide if this Glock clone is right for you.
If you prefer to see it in action, check out my full video review below.
As always, head over to Pew Pew Tactical on YouTube to see more videos on guns and gear.
Table of Contents
Loading...
Adams Arms AA19: What Is It?
As I mentioned, the AA19 is a Glock clone featuring a polymer frame and a 9mm chambering.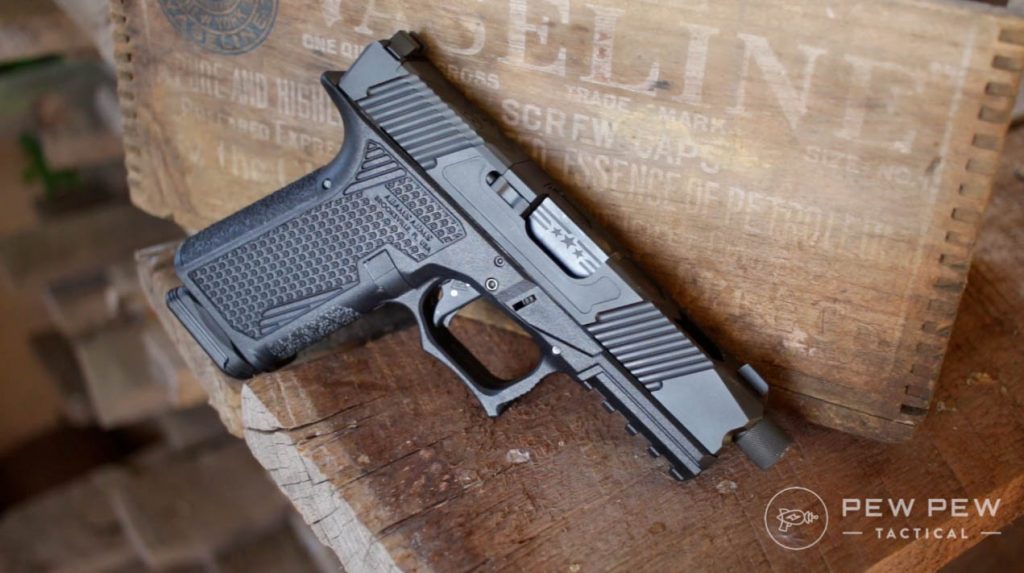 The slide is made from stainless steel machined from a 416 billet, and it's topped off with a black nitride coating.
It offers a 15+1 capacity and a whole lot of elevated features that look to kick the build up a notch.
999
at Adams Arms
Prices accurate at time of writing
Prices accurate at time of writing
Some notable attributes include a match-grade threaded barrel with 1/2×28 thread pitch, Picatinny accessory rail, Tango Down Vickers Tactical Carry Trigger, and a slide cut for optics with mounting plates that work alongside most major pistol red dots.
(Need some red dot recommendations? Check out our guide on the Best Pistol Red Dots.)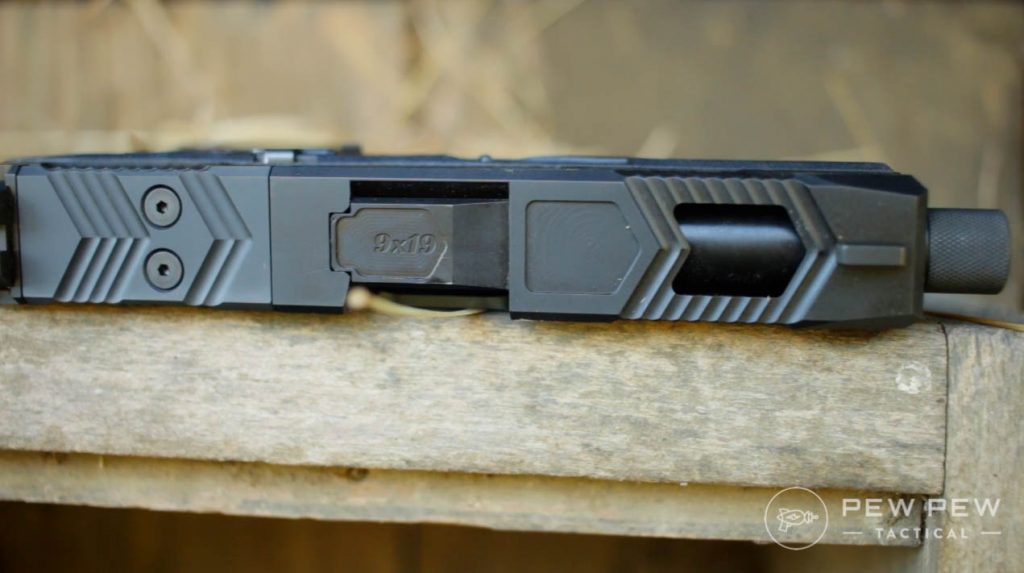 Overall, it comes in at 7.6-inches in total length and a weight hovering around 20-ounces.
And before you ask…yes, it takes Glock mags. More on that in a minute…
25
at Gunmag Warehouse
Prices accurate at time of writing
Prices accurate at time of writing
Aesthetics & Features
Now that we have the boring stuff out of the way let's get into what sets this gun apart from a regular ole G19.
First, the AA19 sports a really nice aggressive grip texture that allows you to get a firm grip on the gun while firing.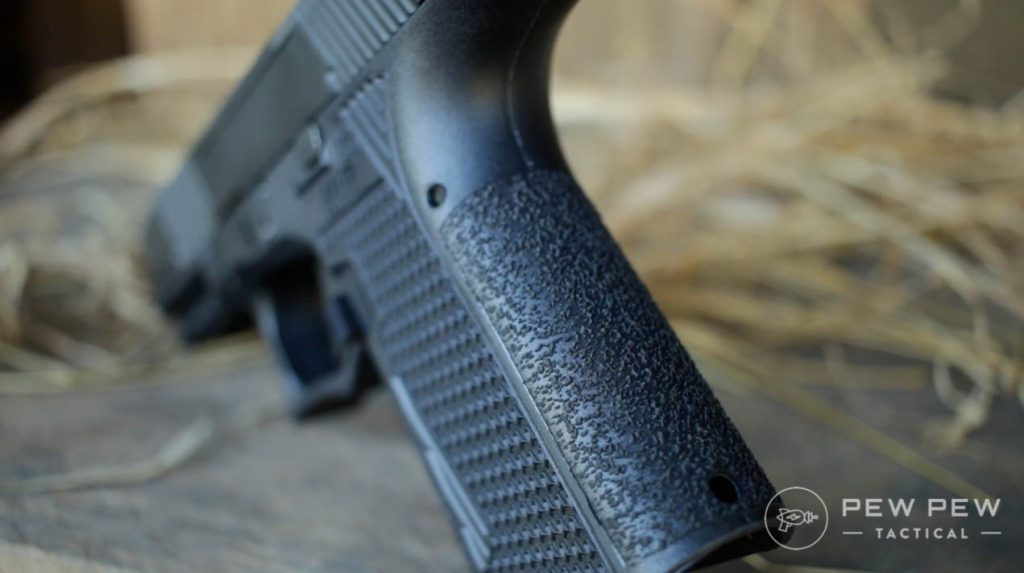 Y'all know I sweat it up in the Tennessee hills during testing, and I was still able to fire this without it slip-sliding around.
The trigger offers a double undercut which is a nice addition to the overall package. It means you don't have to send this in to get any stippling stuff done.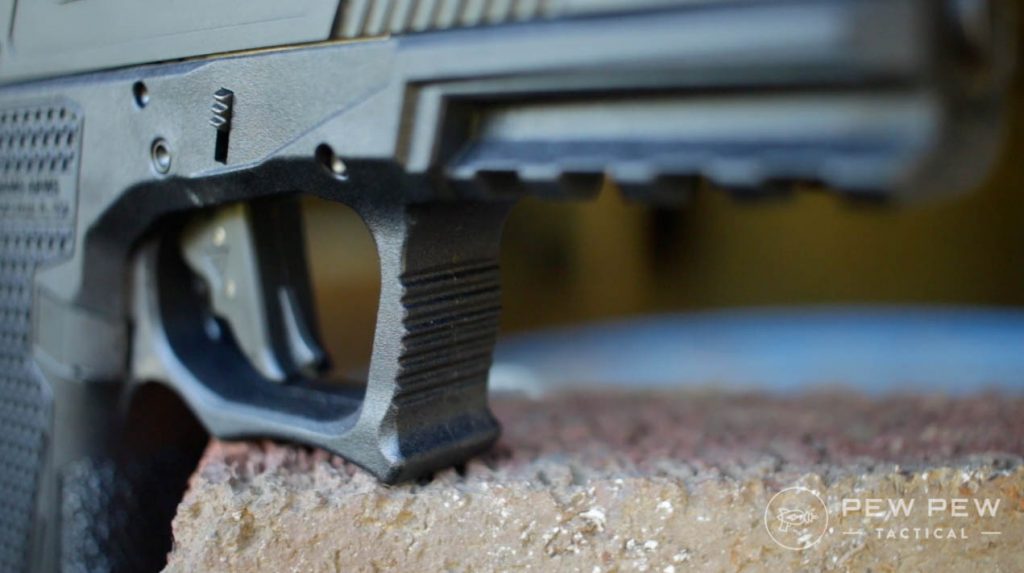 Up front, the gun brings a Picatinny rail for accessories like lights.
Seeing as how weapon-mounted lights are very popular these days, especially on home defense and carry guns, the addition of a rail makes this feel very modern.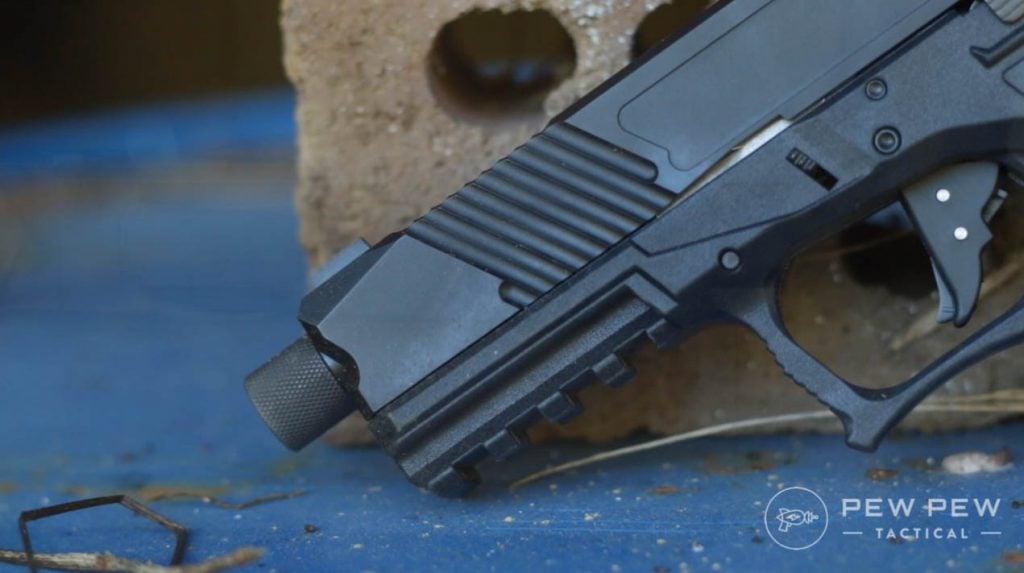 And, of course, if you need recommendations on what light to toss on the AA19, we have an entire article dedicated to the Best Pistol Lights.
As I mentioned earlier, you also get a slide cut for optics with various mounting plates.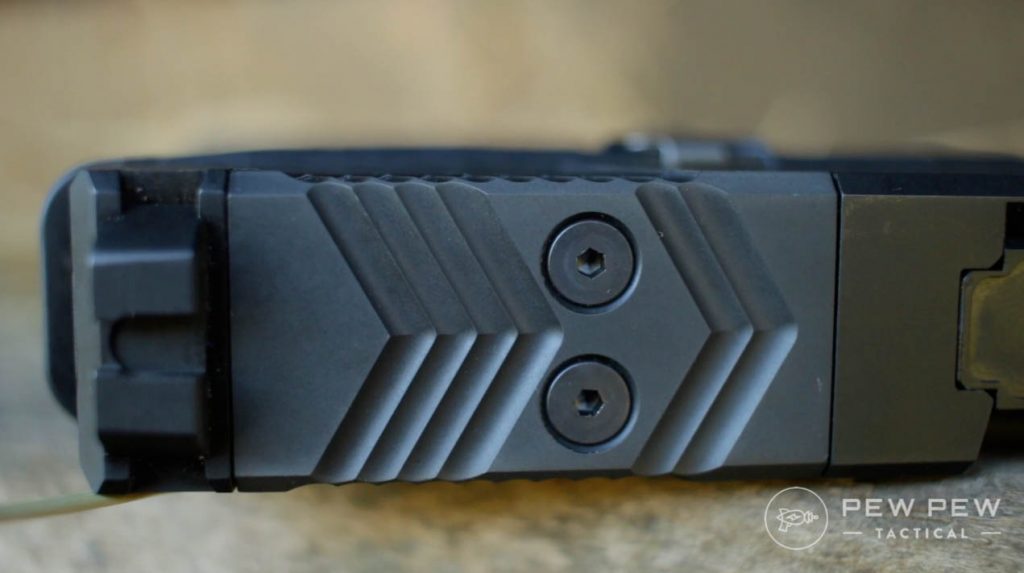 Adams Arms says the AA19 works with red dots like the Trijicon RMR; Leupold Deltapoint Pro; Burris Fastfire 3; Vortex Venom, Viper, and Razor; C-More STS; Shield RMS; and Holosun 407 and 507.
Speaking of cool accessories, that threaded barrel means you can toss on a suppressor if you're into that sort of thing. (Psst…I am, so go check out my review on the Banish 45 from Silencer Central.)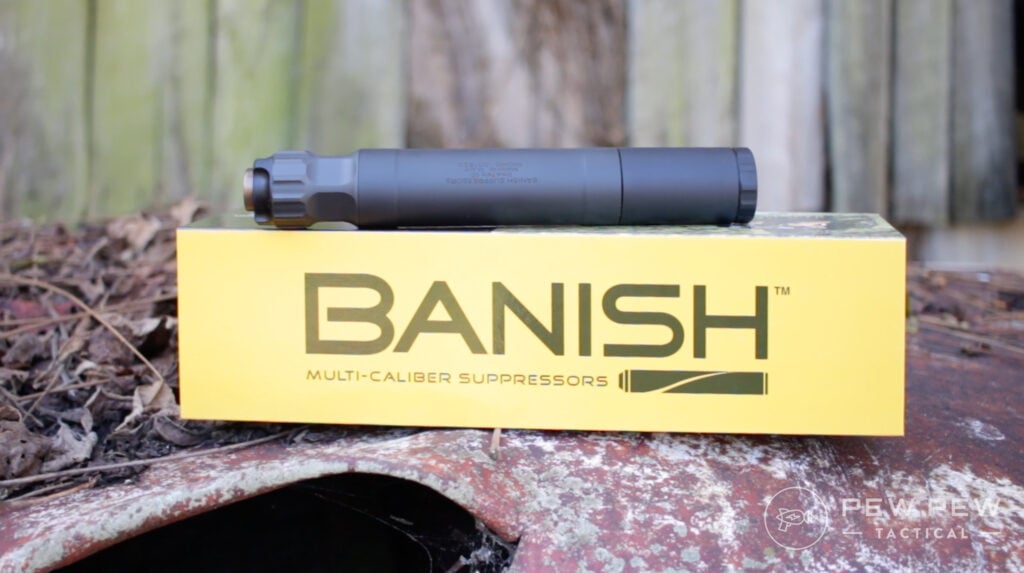 Rounding out the features are some pretty standard box sights, but they are steel – a huge upgrade over Glock plastic sights.
I don't really like the black-on-black look of the sights as it's hard to see in low light.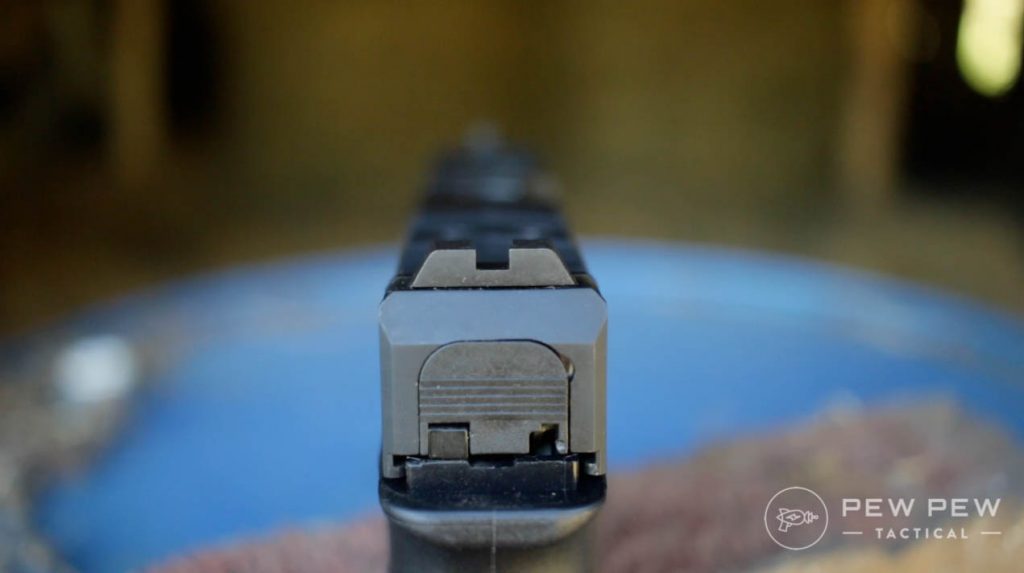 BUT, you can always fix that with a little bit of white or glow-in-the-dark fingernail polish on the front sight.
The pistol ships inside a plastic box and with two PMAG magazines. You guys know I'm a big fan of companies that don't skimp on the packaging or the mags.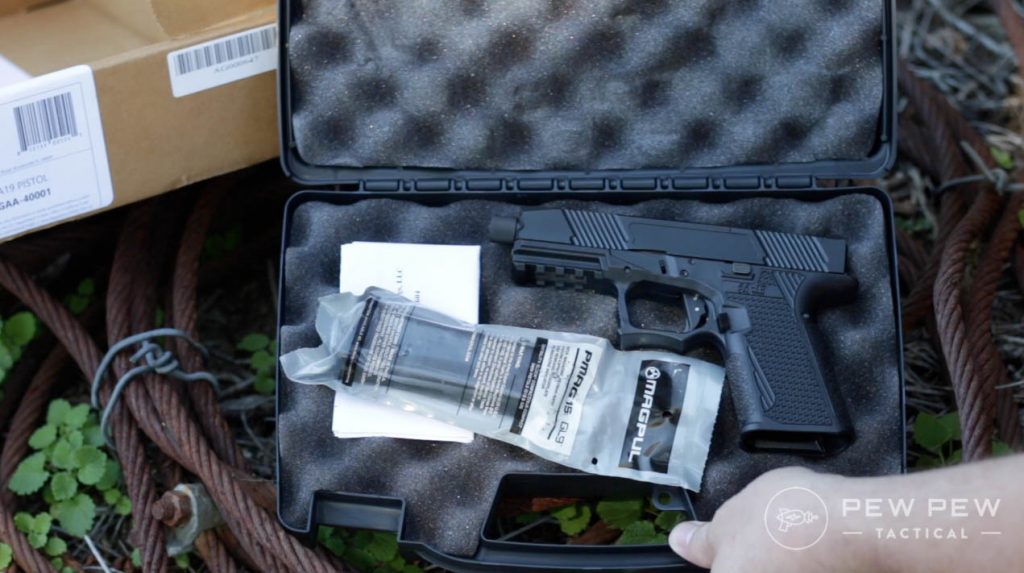 MSRP right now sits at $999, which is on par for a fancy Glock clone. And the gun is made in the U.S. with a lifetime warranty from Adams Arms.
But How Does It Shoot?
You all know that a gun can be a looker but a terrible shooter, so aesthetics aside…how did it do at the range?
Ergonomically, the grip angle feels like a typical Glock. The AA19 offers a beavertail, which is a nice addition, but it didn't protect my giant hands at all.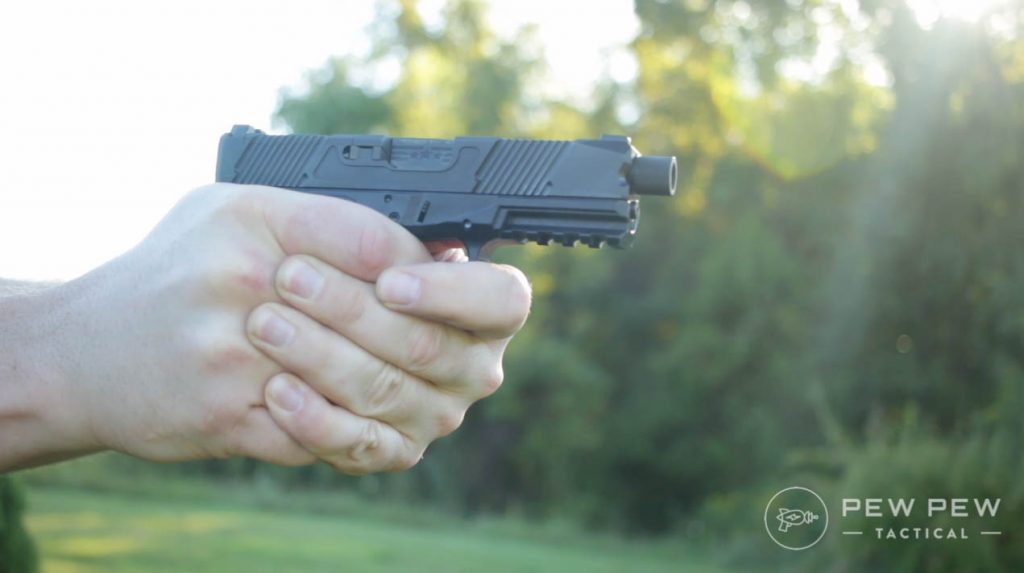 That said, normal human hands will probably be fine with the grip and beavertail as is.
Shooting-wise, it shoots…and well. It managed to keep up with my range shenanigans as I stacked rounds on my paper targets.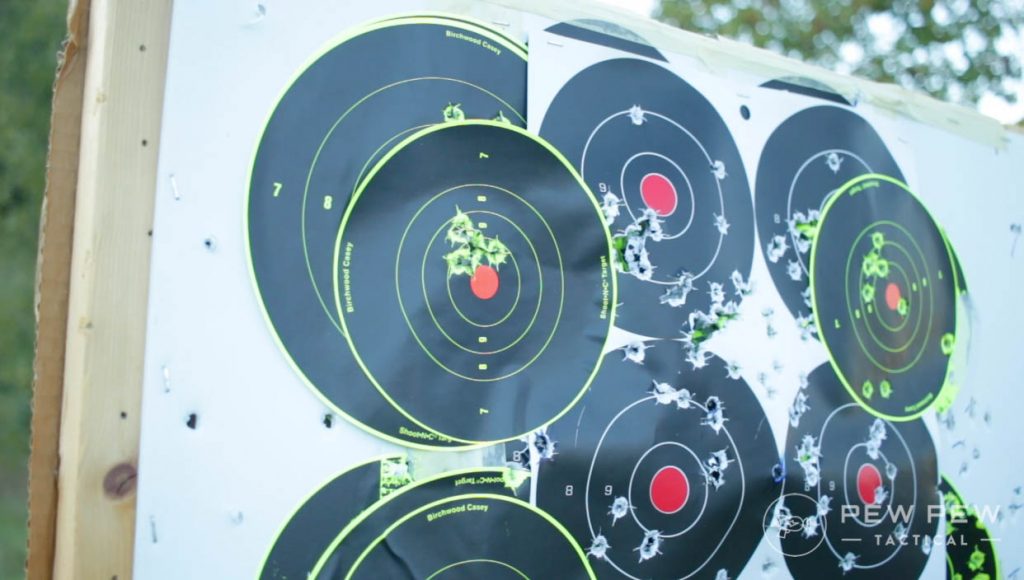 I stayed within normal defensive distances, but that match-grade barrel drilled targets all day.
It ran great out of the box – feeding, firing, and ejecting like a pro!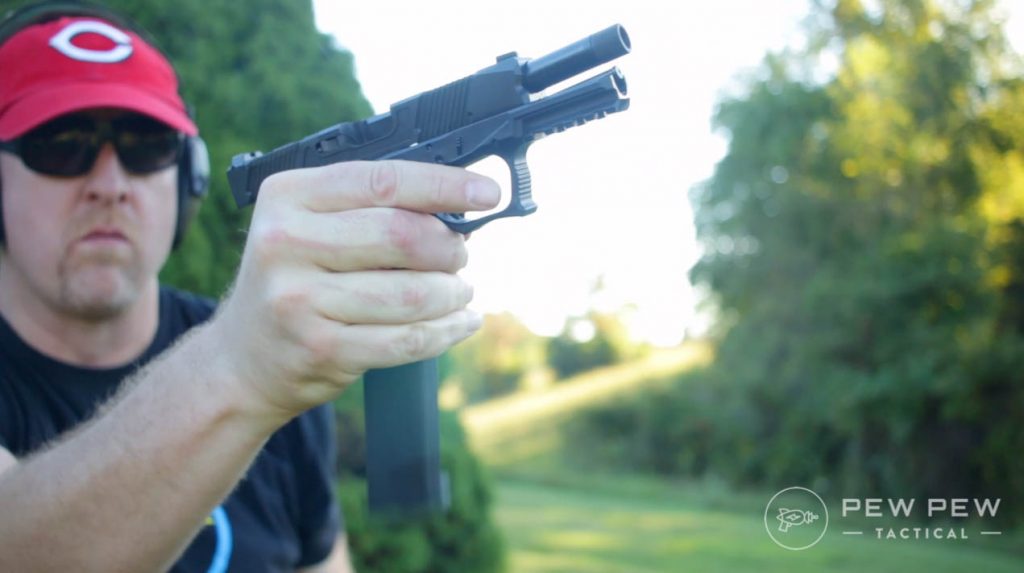 The slide rails were super dry when I started, which made the slide feel tight. I oiled the rails up, though, and after that, it felt great.
Moral of the story, you might want to invest in a little gun oil prior to your range day with this gun.
10
at Brownells
Prices accurate at time of writing
Prices accurate at time of writing
Only other issue I ran into at the range was with one of the PMAGs…it just wouldn't run right. It refused to feed correctly and so the gun wouldn't go into battery.
All my other mags ran perfectly, though, so I'll chalk this one up to one problematic PMAG and not the pistol.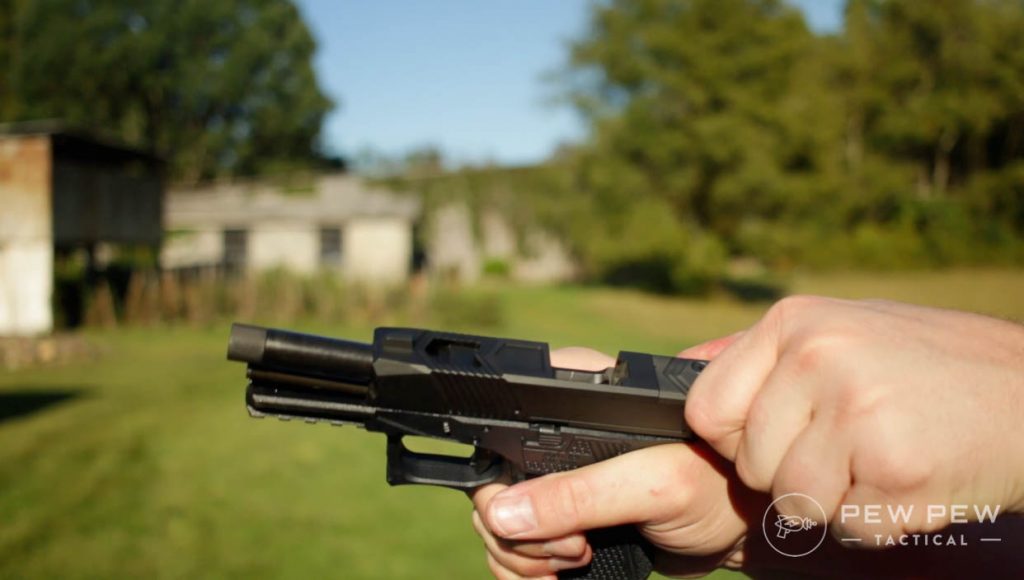 (I've always thought that genuine Glock mags run a little better than PMAGs anyway, so I wasn't super surprised at the hang-up.)
The biggest winner of my day at the range, though, is that trigger. Tango Down Vickers Tactical Carry Trigger feels so smooth!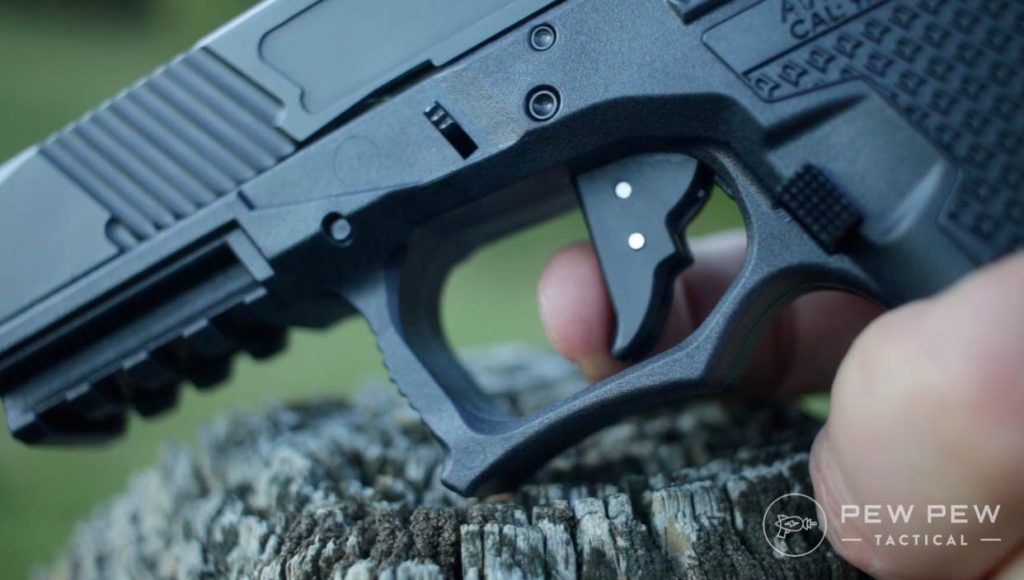 It's clean and is certainly an upgrade from a lot of the Glock-style triggers on the market. In short, I really liked it!
The only other issue I experienced on the range was how tight the slide release and mag release felt.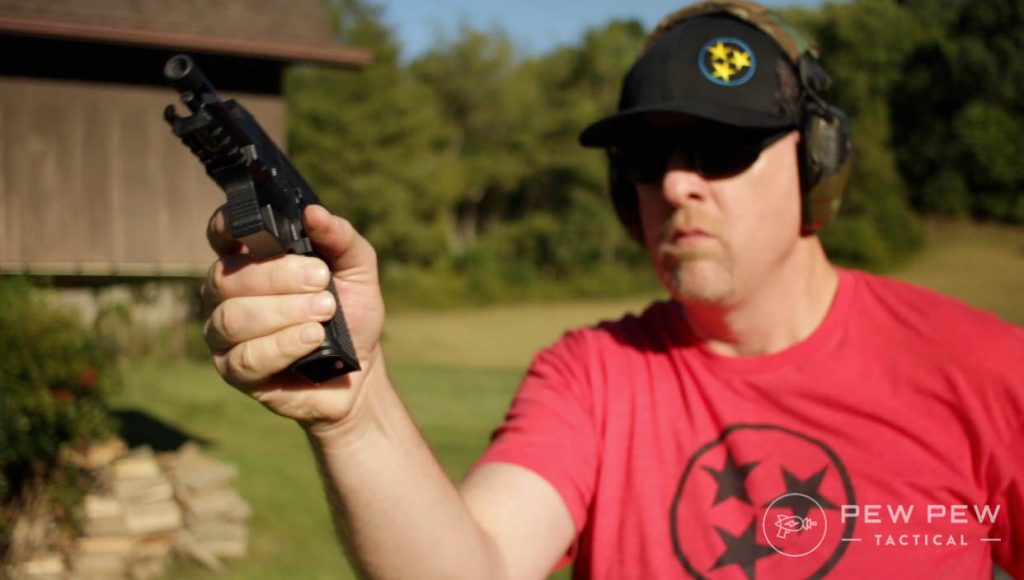 It was a little annoying to manipulate those, but those things tend to work themselves out over time and use.
By the Numbers
Reliability: 5/5
My only problem was with that one PMAG. Again, I'm going to put the fault on the magazine, not the AA19. No problems otherwise.
Ergonomics: 4/5
Not much to get excited about. All the controls are where they're supposed to be. Great grip texture. But it's still like holding a chunk of plastic.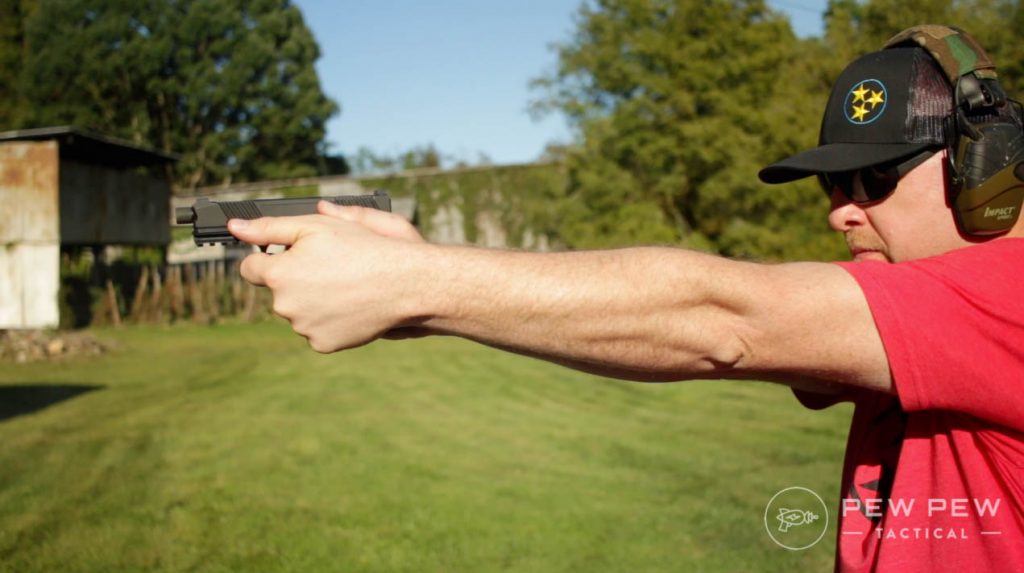 Accuracy: 5/5
No complaints. For a compact pistol at defensive distances, you'll drive nails.
Customization: 5/5
The market is robust for Glock G19 type add-ons. Have yourself a good time.
Value: 4/5
Even though you get a lot for the money, that $999 price tag is a wiggle much to swallow for what is essentially an upgraded G19.
999
at Adams Arms
Prices accurate at time of writing
Prices accurate at time of writing
Overall: 4.5/5
The AA19 looks great and comes with all the bells and whistles. Not to mention, it runs well! Genuinely a great pistol.
Field Strip & Reassembly
We made our own short video to help you field strip and reassemble the AA19.
Conclusion
If you want a Glock-style pistol that skirts that blocky, sometimes blah look that is an actual Glock, then the Adams Arms AA19 might be what you're looking for.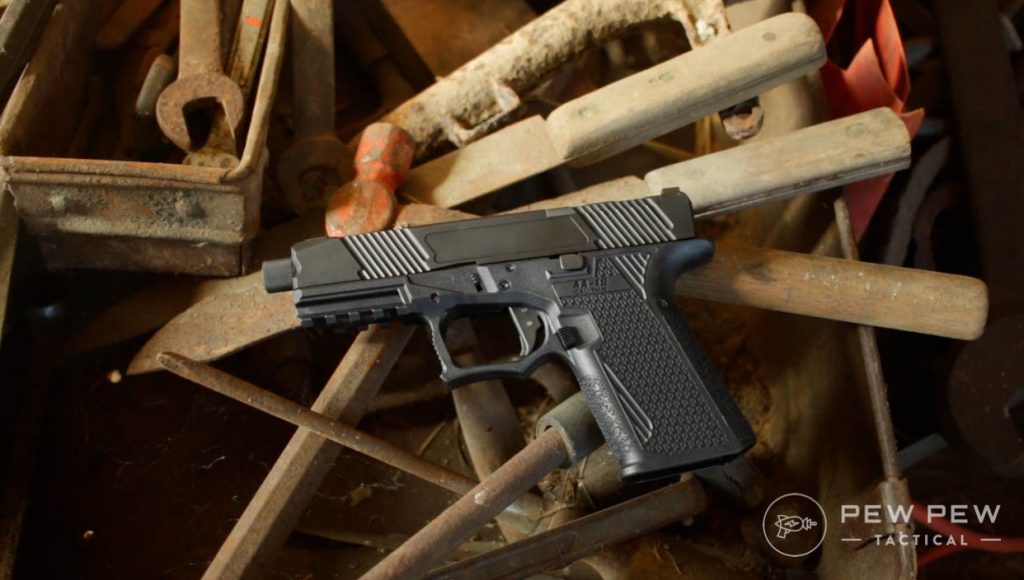 With a polymer build and enough add-ons to keep things interesting (red dot compatibility, anyone?!), the AA19 stands out as a winner.
999
at Adams Arms
Prices accurate at time of writing
Prices accurate at time of writing
It looks great, runs well, and, in my hands, felt reliable and accurate.
Again, take a look at my full video review below to see the AA19 in action.
What do you think of the Adams Arms AA19? Sound off in the comments below. And for more Glock alternatives, a.k.a. Glock clones, check out the Best Custom Glock Clones.