Integral suppression isn't anything new in the world of long arms, but when it comes to handguns, your options are vanishingly limited.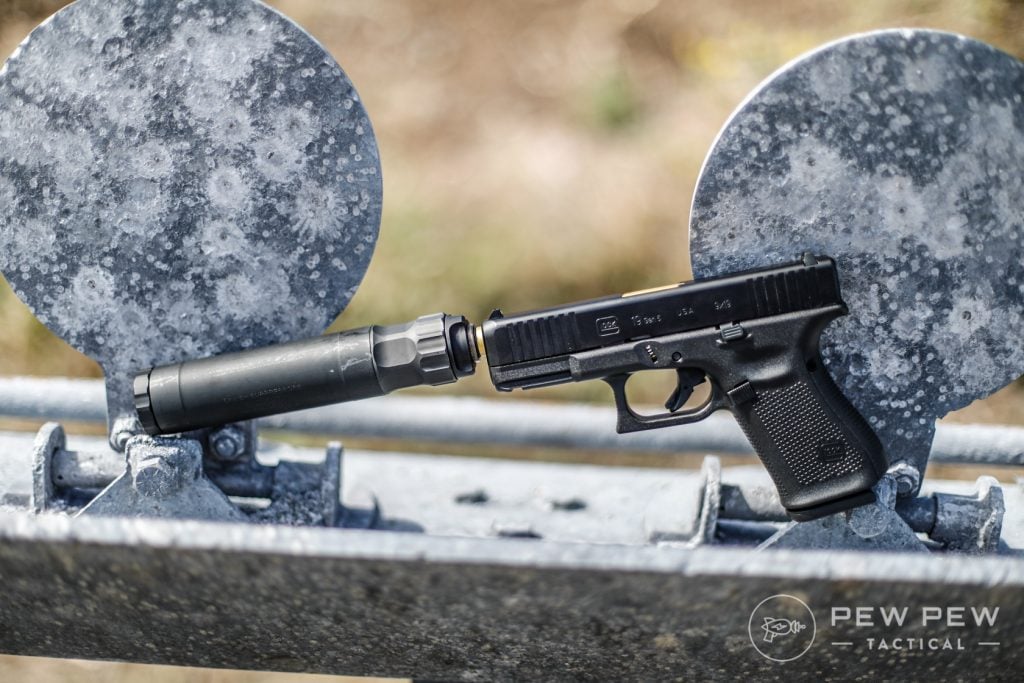 While various .22 pistols with integral cans have been kicking around for years, SilencerCo's Maxim 9 represents the only time integral suppression entered the market in a 9mm platform.
In fact, the entire system that supports the Maxim 9's integral suppression is equally unique.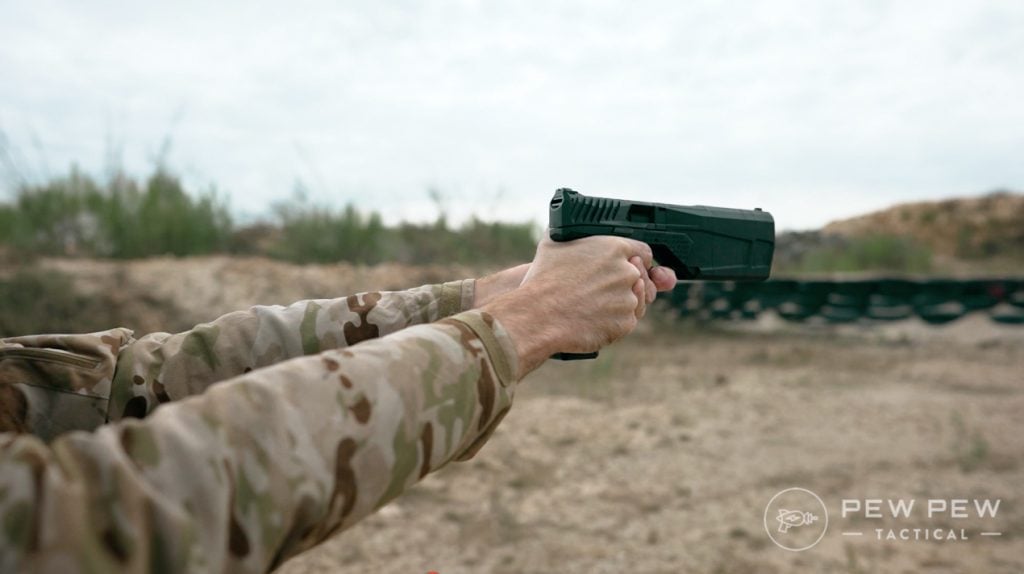 And today, we're going to talk about why. So, join me as I walk you through the pros and cons of the SilencerCo Maxim, dive into its specs, and let you know whether this innovative design is worth picking up and taking home.
Quick shoutout as well to Silencer Shop for hooking us up with the Maxim 9 to test out!
1300
at Silencer Shop
Prices accurate at time of writing
Prices accurate at time of writing
If you prefer to see it in action, be sure to peep the full video review below.
As always, be sure to check out Pew Pew Tactical on YouTube for more guns and gear.
Table of Contents
Loading...
What is the Maxim 9?
SilencerCo's Maxim 9 brings a 9mm pistol platform with an integrated silencer to those of us who want a little of both in our lives.
The Maxim 9 features a fixed 4.3-inch barrel with a reciprocating rear slide portion that rides along two guide rod recoil springs.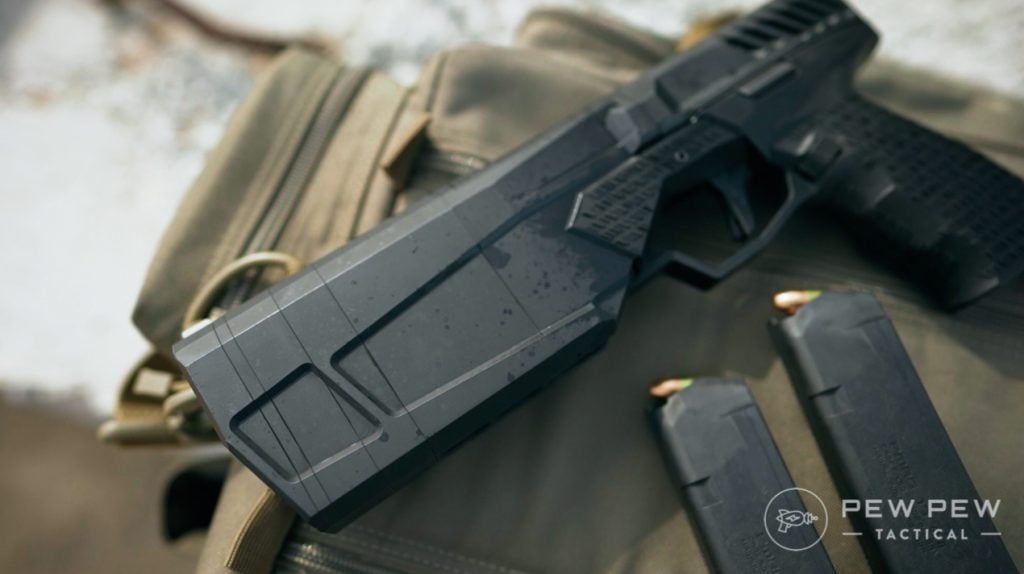 Utilizing a roller-delayed blowback system to cycle the gun reliably, the suppressor itself is secured to the gun via two Allen screws. These screws run the entire length of the can back to the chamber block.
Interestingly, the suppressor comes configurable for desired overall length.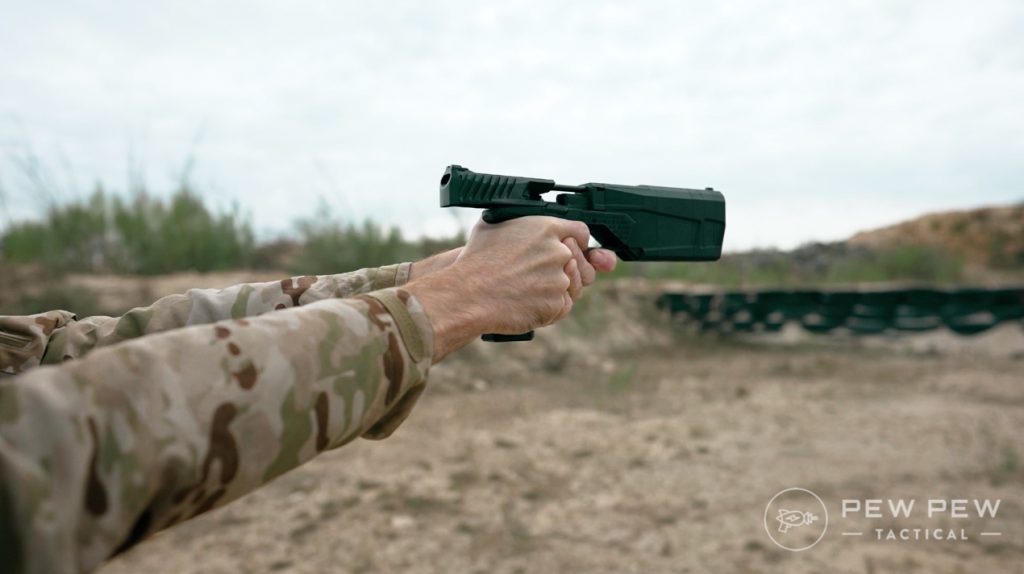 Out of the box, it ships in a 10-inch configuration.
But removing the two long Allen screw rods, ditching baffles two and three, and reinstalling the components with the included shorter rods, the Maxim 9 can be brought down to a slightly more manageable length of 9 inches.
This is all the while remaining relatively ear safe with most ammunition types.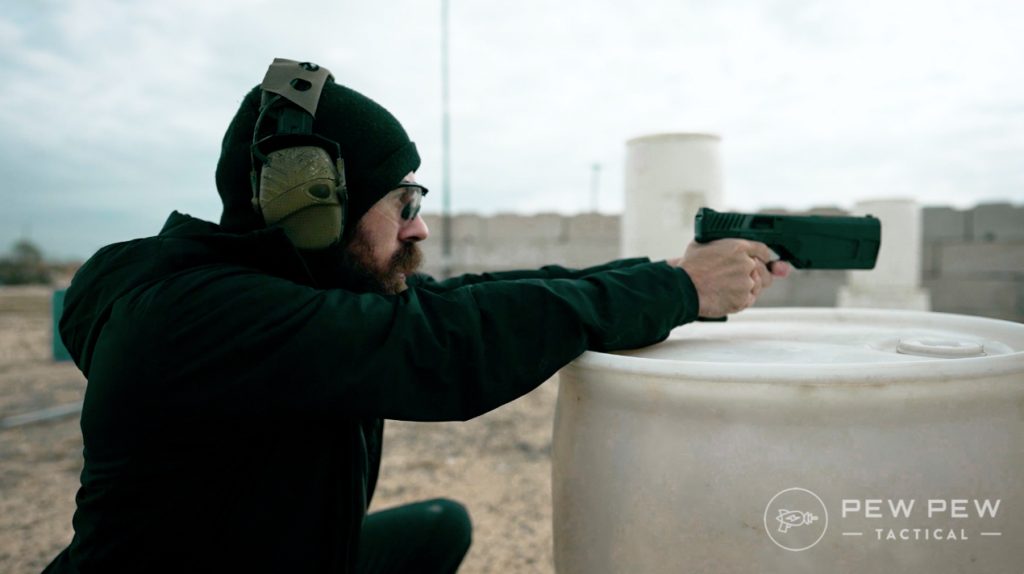 And, considering that the suppressor comes integrated into the barrel assembly, you're also much less likely to get baffle strikes.
Additionally, as the barrel doesn't move during operation, that means the MOS optics mount that sits right above it is stationary as well.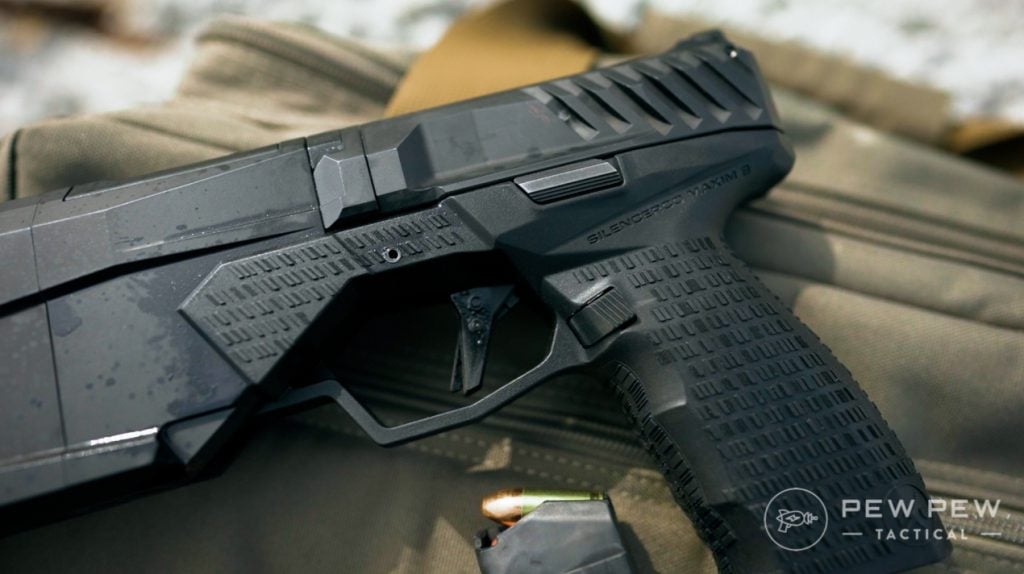 This allows the end-user to slave the optic directly to the barrel itself rather than to the rear of the slide, like you'd find on most handguns that accept red dots.
Maxim 9 Specs & Features
Obviously, you've got the sleek integrated suppressor up front. It's home to your tritium front sight and features KeyMod slots on the bottom to add an intermediary Pic rail if you need a light or laser.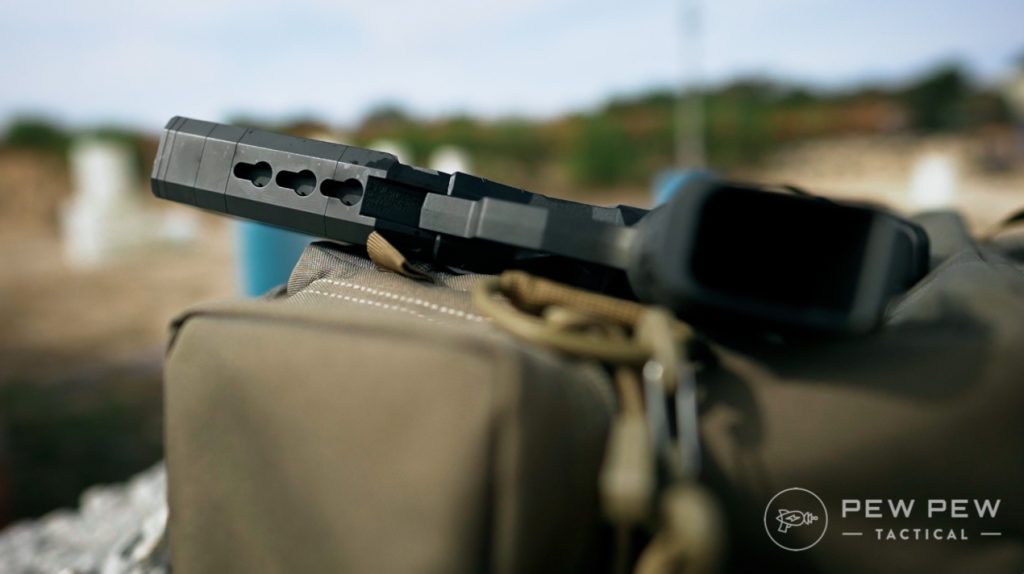 The Maxim 9's frame itself is texturized in all of the right places, with grip-enhancing slashes found on the forward area above the trigger guard.
As a cool little easter egg, I believe the various slash marks on the grip texture also spell out SilencerCo's signature "fight the noise" slogan in morse code.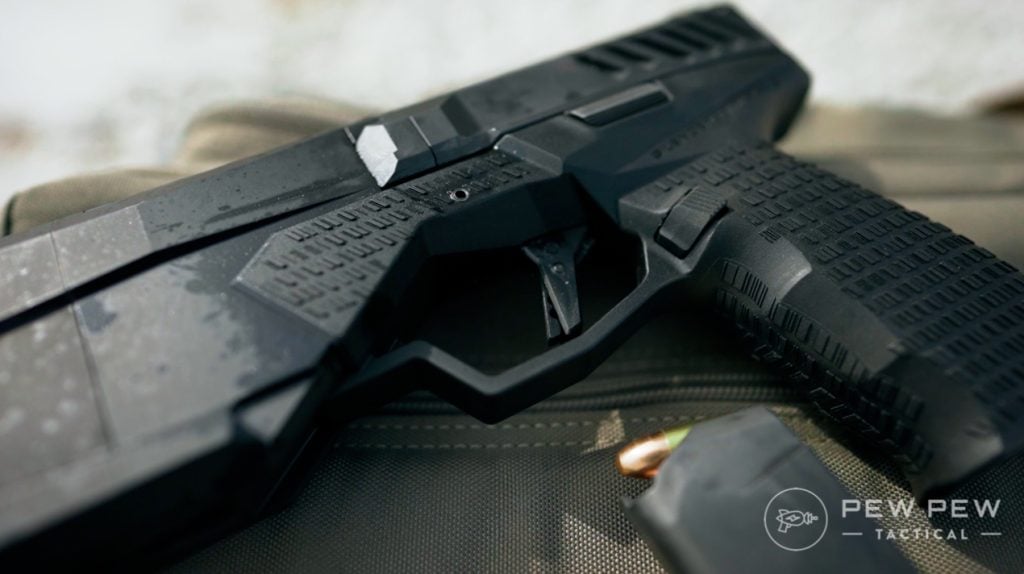 Trigger
The trigger guard is quite generous with a diagonal slant that allows you to get a real solid wrap around it with a few fingers of your support hand.
It's not quite what I'm used to with my Glock's double undercut, but it's quite comfy once you get the hang of it.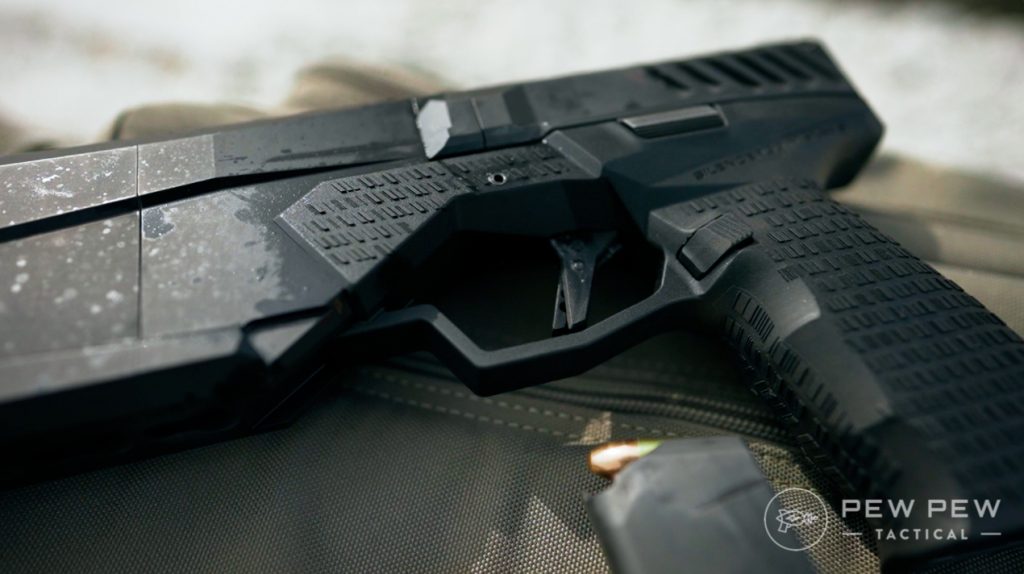 Speaking of the trigger, it feels relatively crisp considering the gun's polymer striker fire construction.
It's certainly not the twitchiest thing in the world, but it's also not quite as stiff as a stock 5-pound Glock trigger. Honestly, it's somewhere between that and my upgraded 3.5-pound Apex trigger.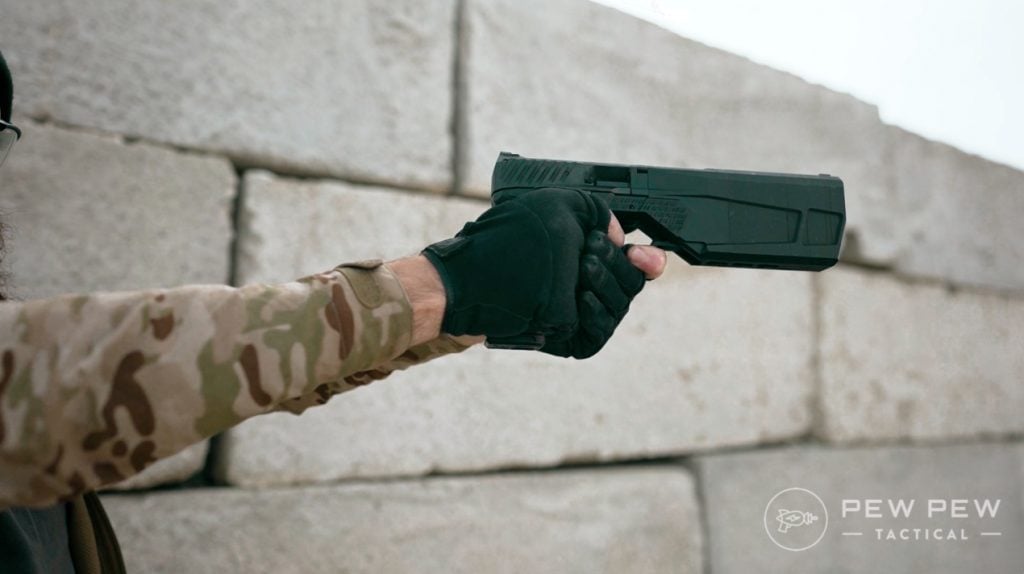 That said, I enjoyed the trigger's obvious take-up and clean breaking point after a few mags of acclimation.
Slide
Your slide release is ambidextrous, and much like a Glock, the mag release can be swapped to either side depending on user preference.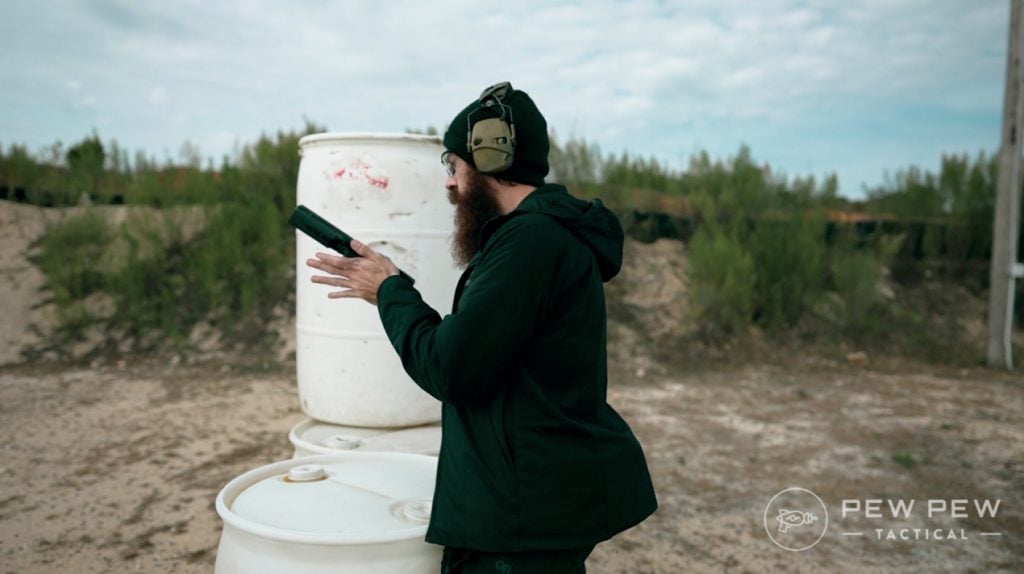 The rear portion of the slide is heavily serrated. This ensures you've got positive retention on it even in bad conditions.
The Maxim 9 ships with two 17-round Magpul Glock PMAGs, but should be compatible with all Glock 17 mags on the market.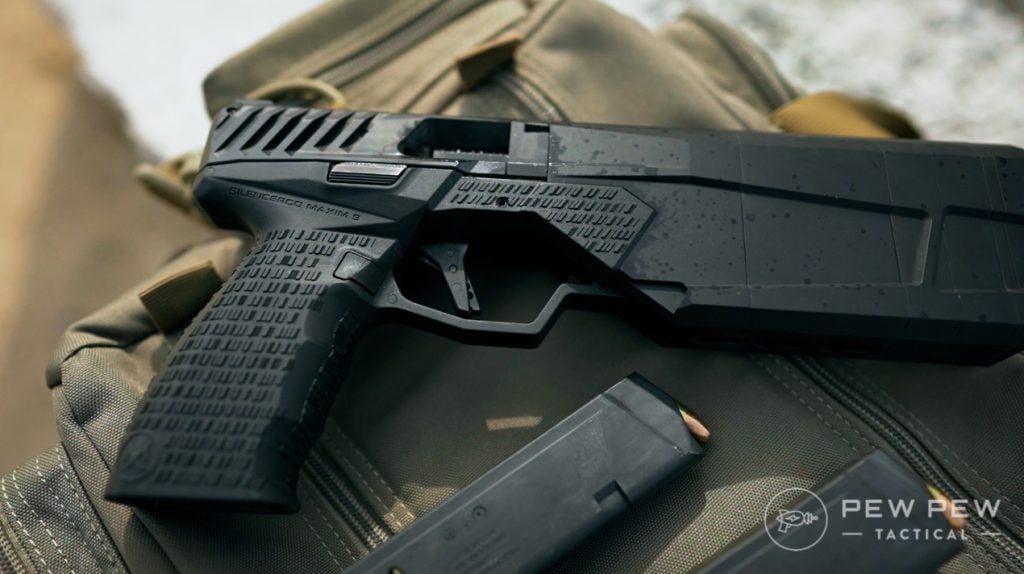 To the Range!
Out at the range, your first impressions are probably that it appears a little front-heavy. And yeah, it is.
But after a few warmup reps, the Maxim 9 is pretty comfortable — especially considering that it's not too much larger than a standard handgun.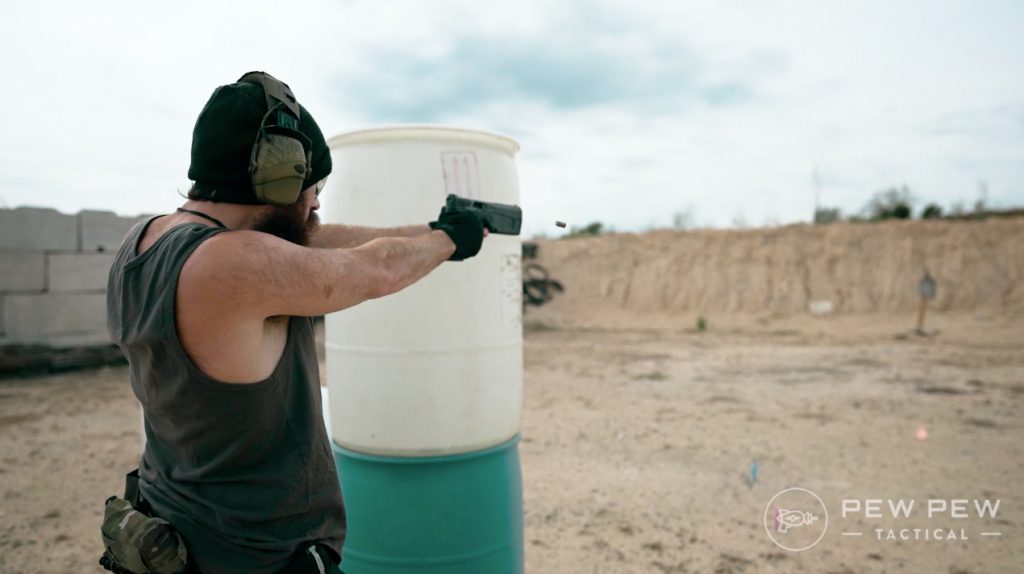 It's certainly more maneuverable than a standard handgun with a suppressor.
I'll be the first to tell you guys that handguns are not quite my strong suit.
I'm proficient with my own, but transitioning to a new platform often leaves me feeling not quite as confident as I would be transitioning between rifle platforms. But this wasn't really the case with the Maxim 9.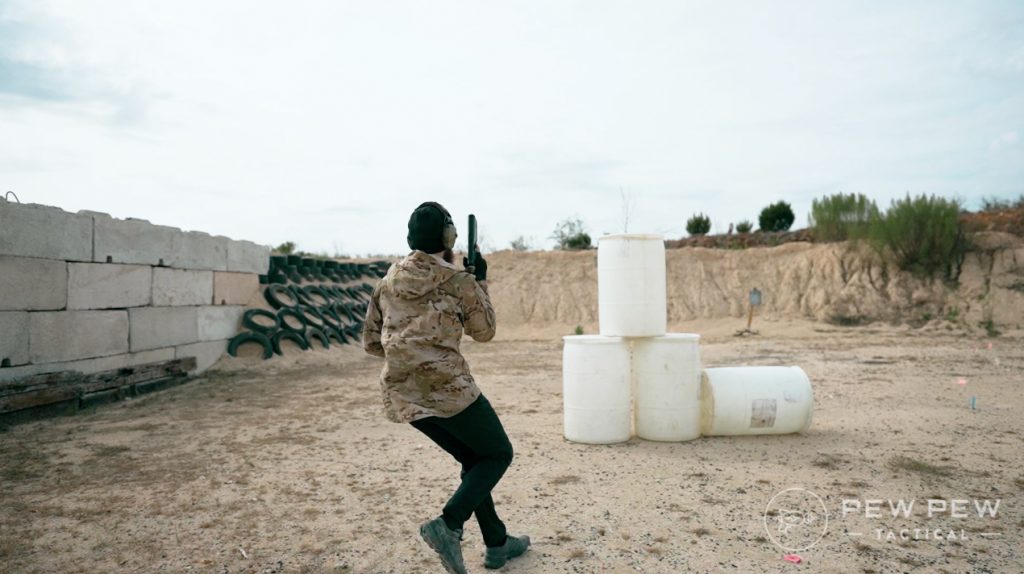 Perhaps that's because it's similar to the muscle memory I've already built elsewhere. I'm not sure, but I definitely felt a bit more capable of running different courses than I generally do with other handguns.
The Maxim 9's recoil is soft — probably owed in equal parts to the roller-delayed action and the fact that you've got a relatively large non-reciprocating mass up front.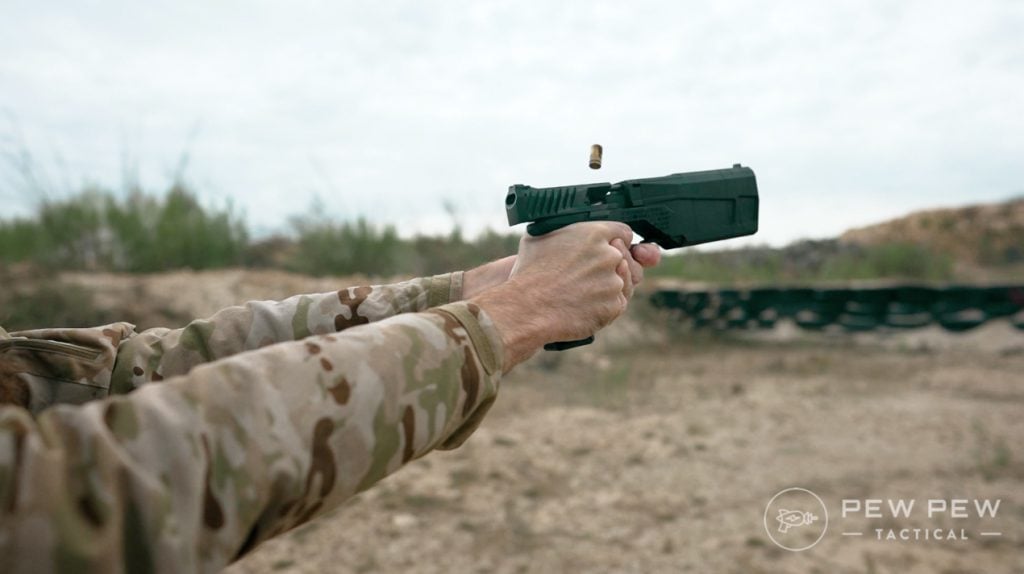 Word of caution, this gun does have a habit of getting quite hot. Despite my dislike for shooting gloves, I felt it necessary to don some at one point.
It's not unmanageable and only really occurred after running a few mags back to back to back, but it's something to be aware of nonetheless.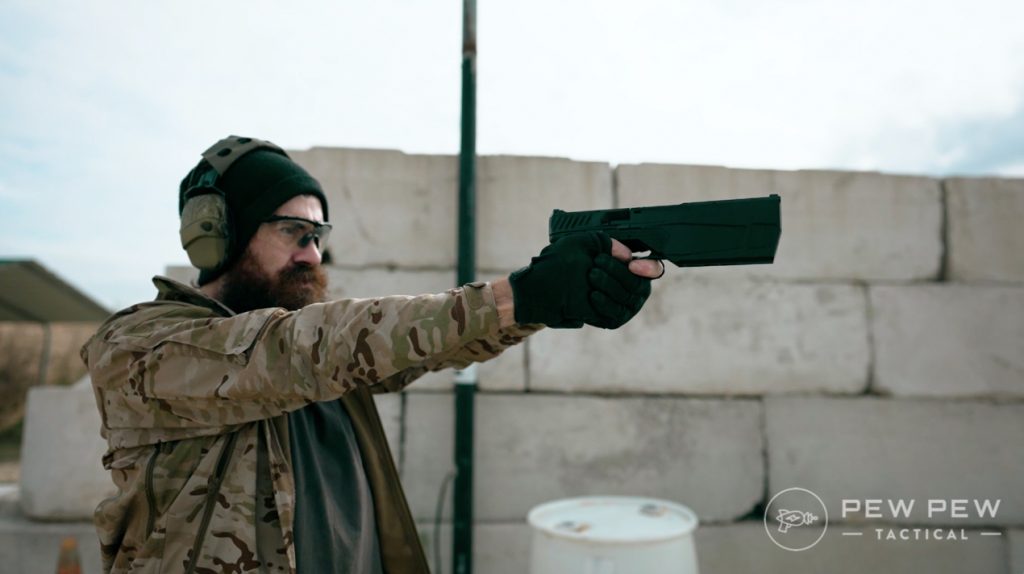 After some range time with the Maxim 9, my big takeaway is that this is of those handguns that stands out as actually being fun to shoot.
Shhhh
As we're talking about an integrally suppressed gun, you might ask…is it quiet?
And the answer is…yes.
The gun sounds quiet even with standard ball ammunition producing a soft thud that's sometimes difficult to disentangle from the mechanical action of the slide cycling itself.
This is even more pronounced shooting subsonic ammunition.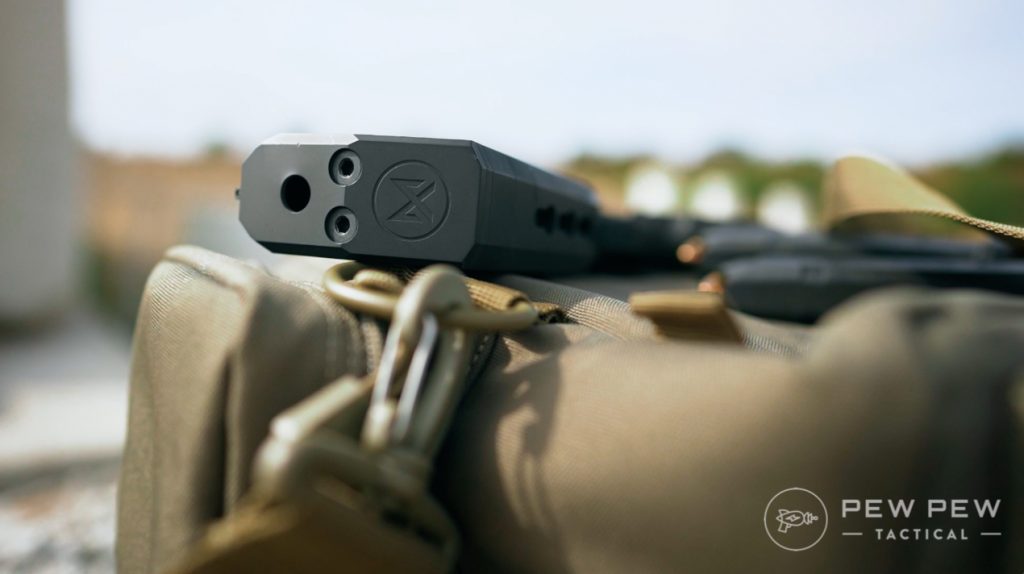 While we didn't get the chance to bust out a decibel meter, Military Arms Channels offers a fantastic video for more data-oriented testing. So check that out if you live and breath numbers.
Additionally, as you might expect, this thing spews a pretty good amount of carbon right into the chamber area.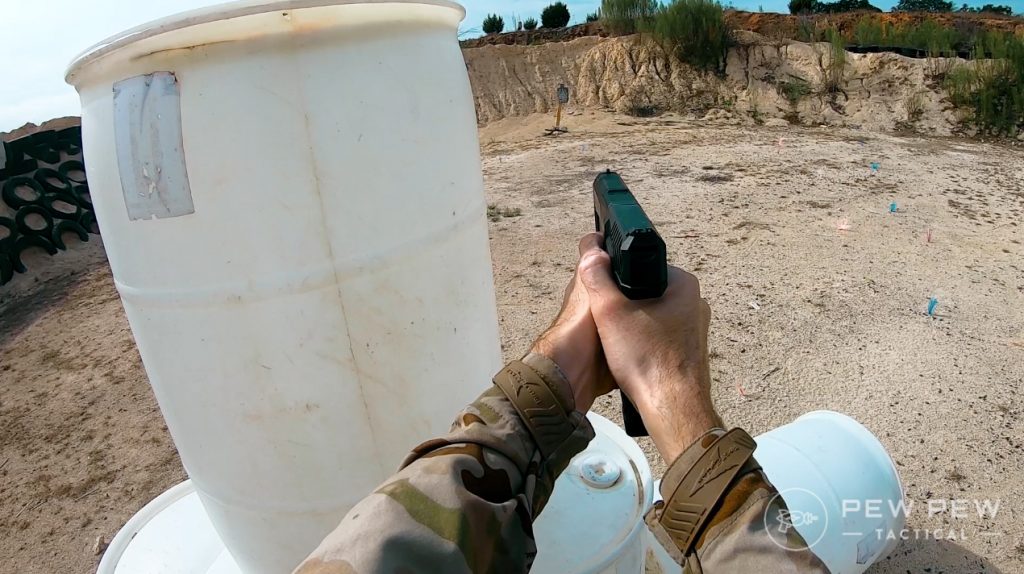 But that just comes with the territory considering what the Maxim 9 is.
In the couple hundred rounds of normal 9mm ball and subs, we ran through the gun; the fouling didn't induce any issues that we noticed.
By the Numbers
Ergonomics: 4/5
Surprisingly, the Maxim 9 feels pretty comfortable. The added weight up front means a softer shooting experience, while the design just feels good in the hand. Only issue we had was that it runs a little hot.
Accuracy: 5/5
The gun ran well and hit target after target.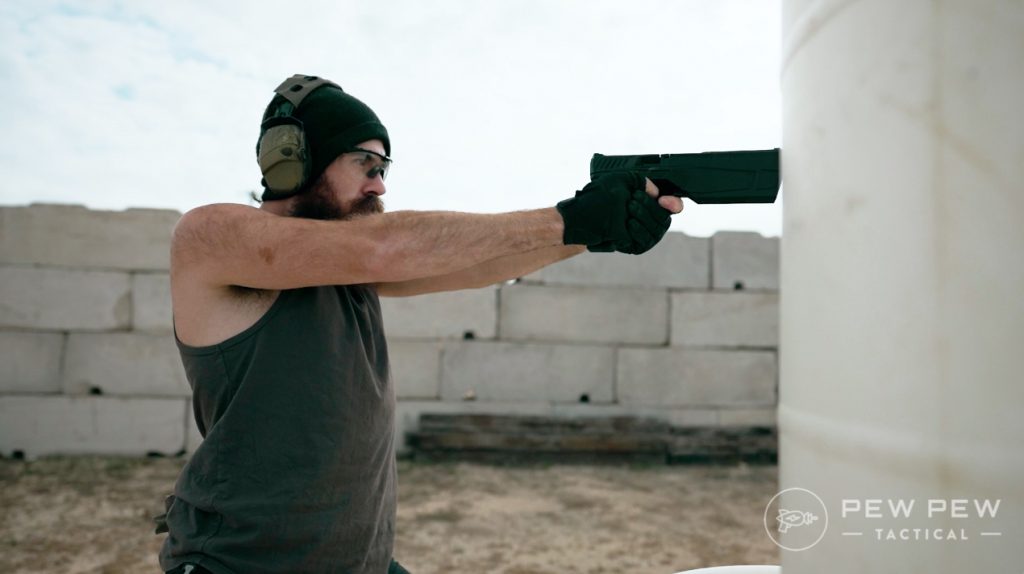 Reliability: 5/5
We had no issues with reliability on the range with standard ball ammo and subsonic.
Value: 4.5/5
Initially, you might balk at the idea of a $1,400 gun BUT grabbing a pistol and suppressor separately would most certainly put you over that price point. (Unless you're suppressing a Hi-Point.) So, to get both in one package at that price…we call that a deal.
1300
at Silencer Shop
Prices accurate at time of writing
Prices accurate at time of writing
Overall: 4.5/5
If you want a suppressed gun and like digging into innovative products that skirt the norm, go with the Maxim 9. You won't be disappointed.
Conclusion
If you're thinking about snagging a handgun to play host to a suppressor for any reason, the SilencerCo Maxim 9 is certainly worth looking at.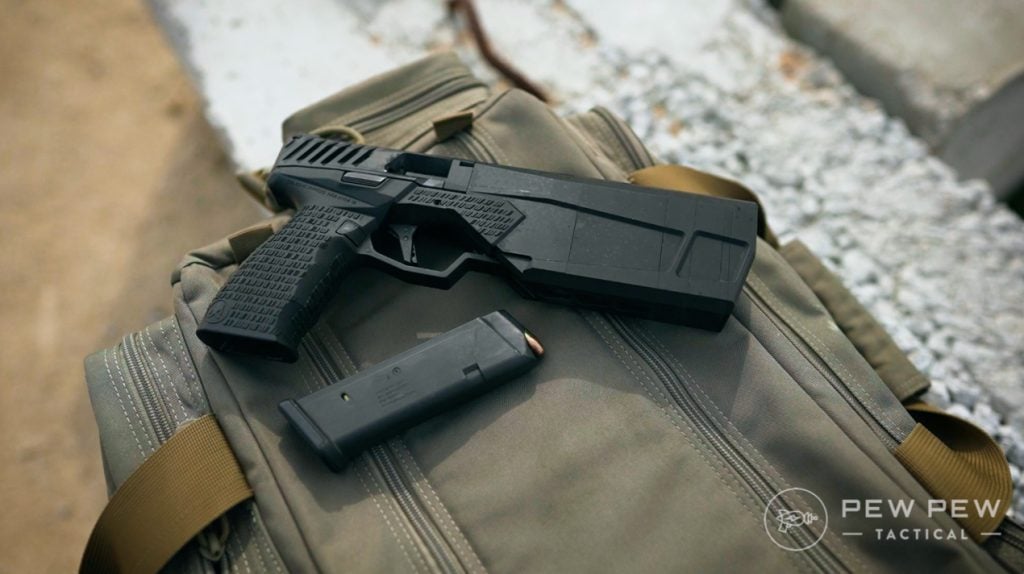 With an MSRP between $1,300 and $1,400, it's reasonably competitive to the price of acquiring both a gun and suppressor separately.
As I mentioned earlier, it's really cool to play with products that are actually innovative – and this, to me, feels like a fantastic example of just that.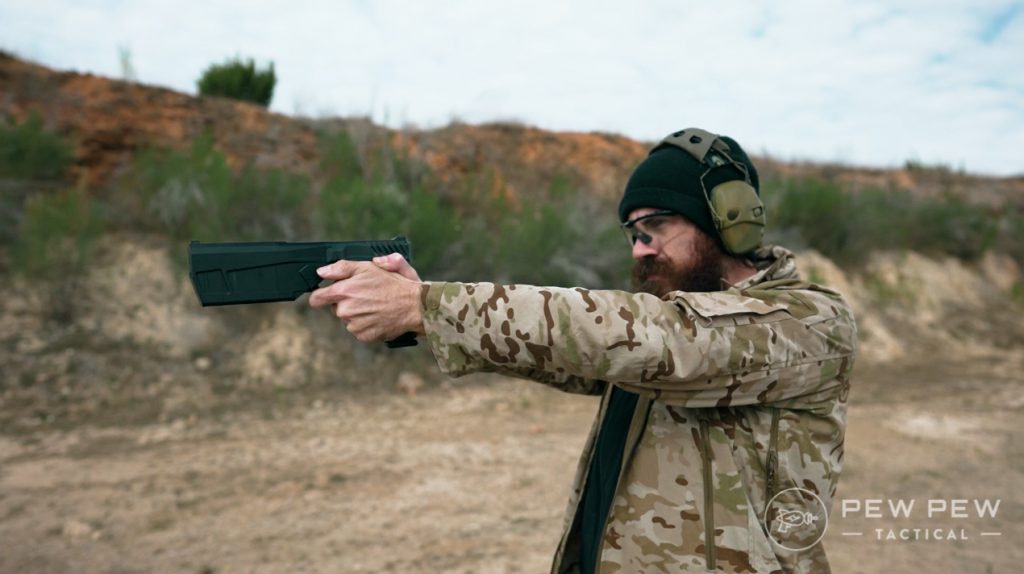 While the Maxim 9 isn't new, and we're admittedly a little late in our coverage of it, I still had an absolute blast with the gun!
It's refreshing to see a company roll the dice on a completely new design and have it not come off as gimmicky.
For that, SilencerCo deserves ample credit.
1300
at Silencer Shop
Prices accurate at time of writing
Prices accurate at time of writing
If you prefer to see the Maxim 9 on the range, see the full video review below.
What do you think of SilencerCo's Maxim 9? Let us know in the comments below. Already have a pistol but need a can to go with it? Check out our top recommendations for the Best 9mm & .45 ACP Suppressors.