The women's concealment market has boomed as more women enter the shooting sports.
That means a lot more women's centric gear and guns. From purses to leggings, several new gear makers have sprung up to address the women's market and provide more options to ladies.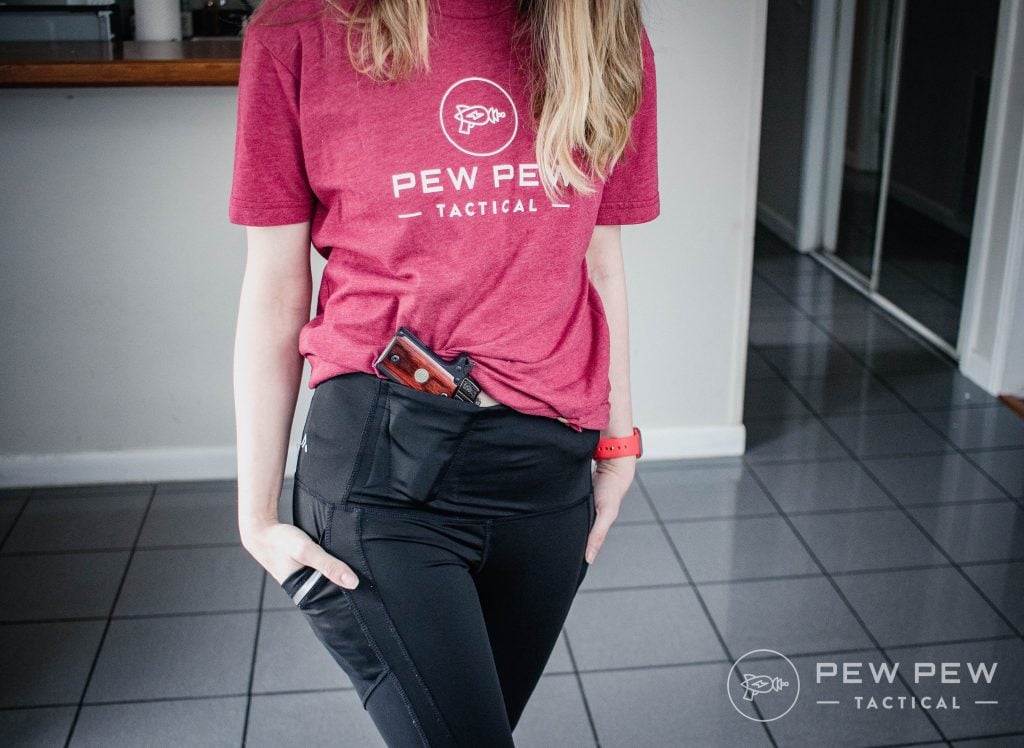 Alexo Athletica is one such company. Aimed at women who want to mesh their sporty side with concealment, Alexo brings a handful of apparel to ladies who carry (and even some general apparel for those that don't).
With a few concealed carry specific items as well as some general workout wear, the company is poised to offer women plenty of options when it comes to activewear.
As a woman who CCWs on the regular, I was curious whether the concealment clothing actually did the job.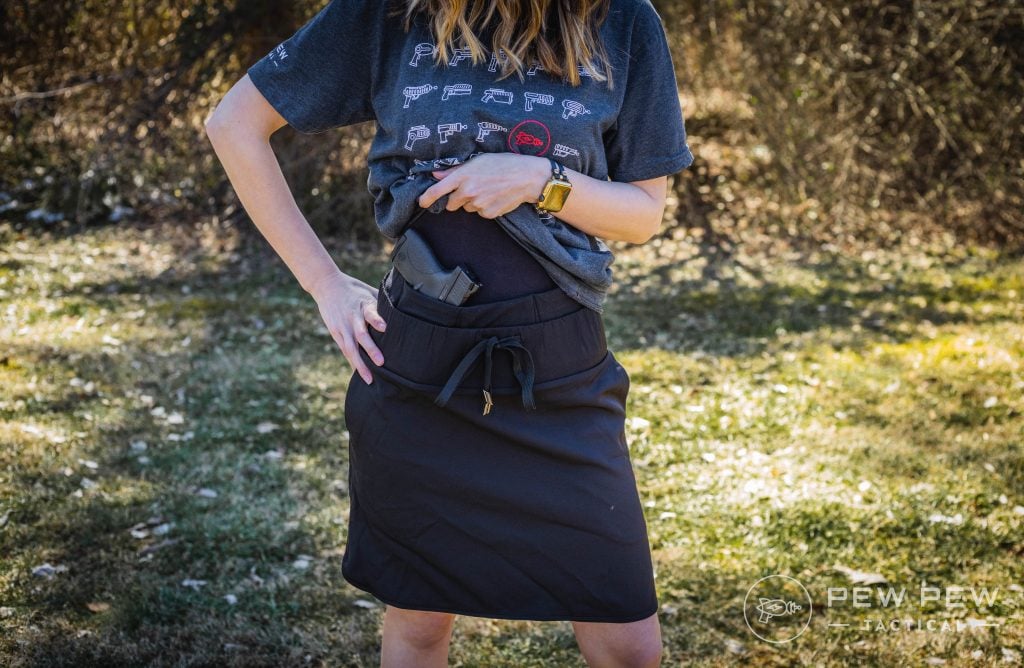 To find out, I tried my hand at three pieces of Alexo Athletica apparel – the Signature Concealed Carry Leggings, Carry Runners, and Tuck & Carry Skirt.
Keep reading to see how each faired…
Table of Contents
Loading...
Who Is Alexo Athletica?
Founded by Amy Robbins, Alexo Athletica looks to provide fashionable, comfortable leisurewear for ladies.
What started with some concealed carry leggings grew into a whole line of athletic wear centered on concealed carry.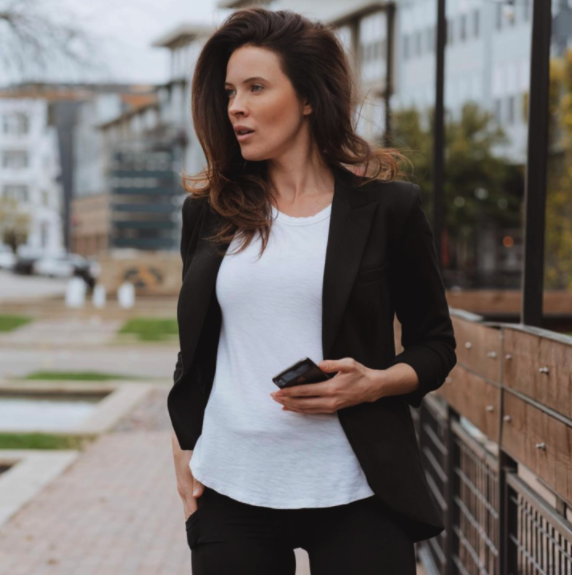 From carry skirts and shorts to tops that work with concealment, not against it, Robbins has grown the brand into a veritable powerhouse of athletic fashion.
Introducing new items regularly, you can expect to see this company continue to grow in the women's arena.
(Read more about Alexo and other women's brands in the firearms community in our look at the Best Female-Friendly Firearms Brands.)
Sizing
Alexo Athletica offers pretty decent sizing options starting at XS and ending at XXL. I really appreciate the company's commitment of sizing for multiple body types — not just small people.
It really speaks to how well Alexo has researched and tailored their line to what women want.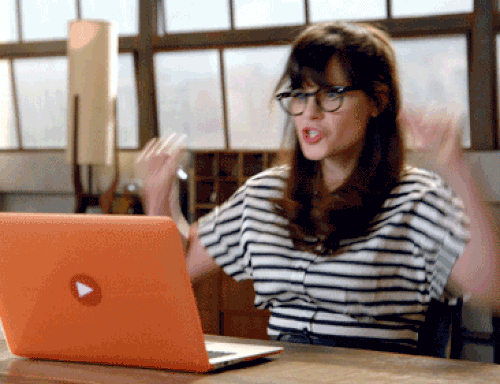 That said, figuring out what size to order is always tough when shopping online. I think it's important to establish some sizing upfront as apparel is very dependent on body type.
So, to help out, let's talk about what I ordered and how that stacks up against my measurements.
For reference, I am 5-foot-2-inches and weigh around 100 to 105-pounds with a 26-inch waist, and 29-inch hips.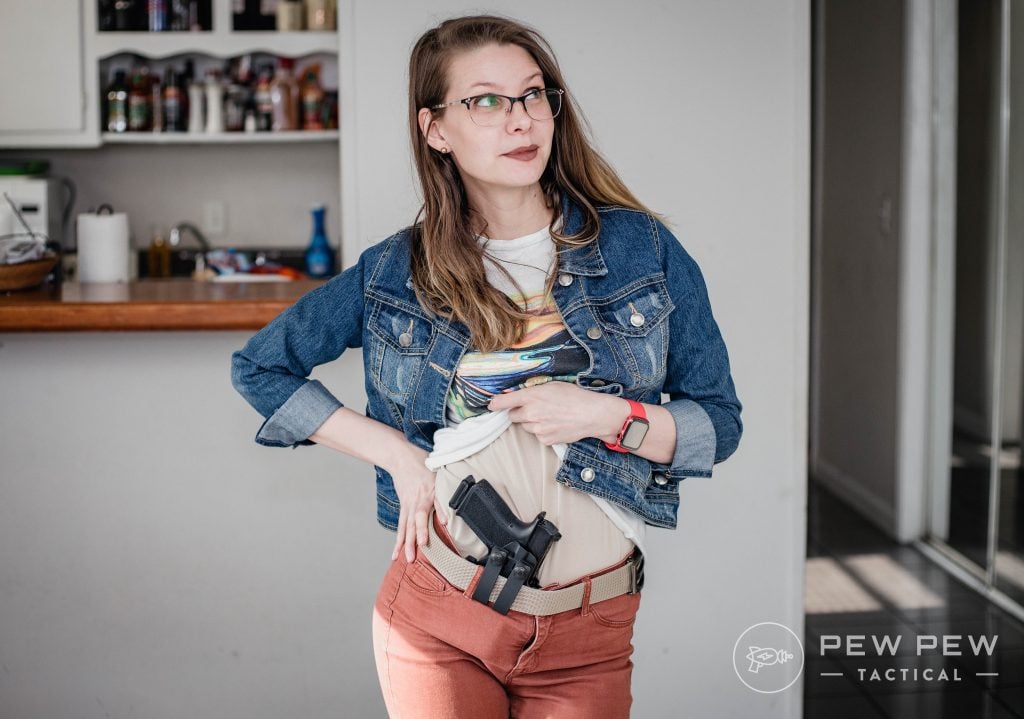 Typically, this equates to a size small to medium in pants and leggings.
I ordered a small in all of the Alexo Athletica goodies I tested. Aside from the skirt, everything fit perfectly, if not a tad snug — but I like my workout gear a little more fitted.
The skirt felt a little big on my waist and I had to cinch it down to keep it up, but it wasn't unwearable.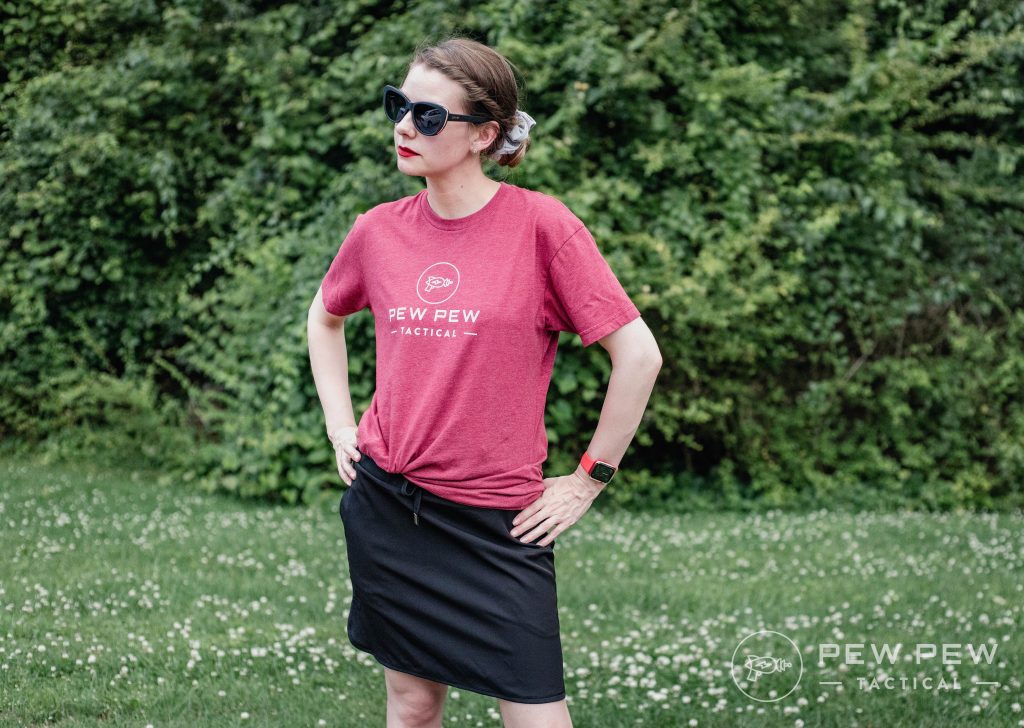 So, other than the Carry Skirt, I would say order your usual size if you want a more fitted appearance and a size up if you prefer looser clothes.
Your mileage may vary depending on your body shape, but hopefully, this gives you a starting point.
59
at Primary Arms
Prices accurate at time of writing
Prices accurate at time of writing
Signature Concealed Carry Leggings
I feel like concealment leggings are all the rage right now. UnderTech UnderCover started the trend a few years ago, and multiple companies have jumped onto the bandwagon in various forms since.
Alexo's Concealment Leggings come in a few styles, but I chose the Signature Concealed Carry Leggings, which offers a full-length design.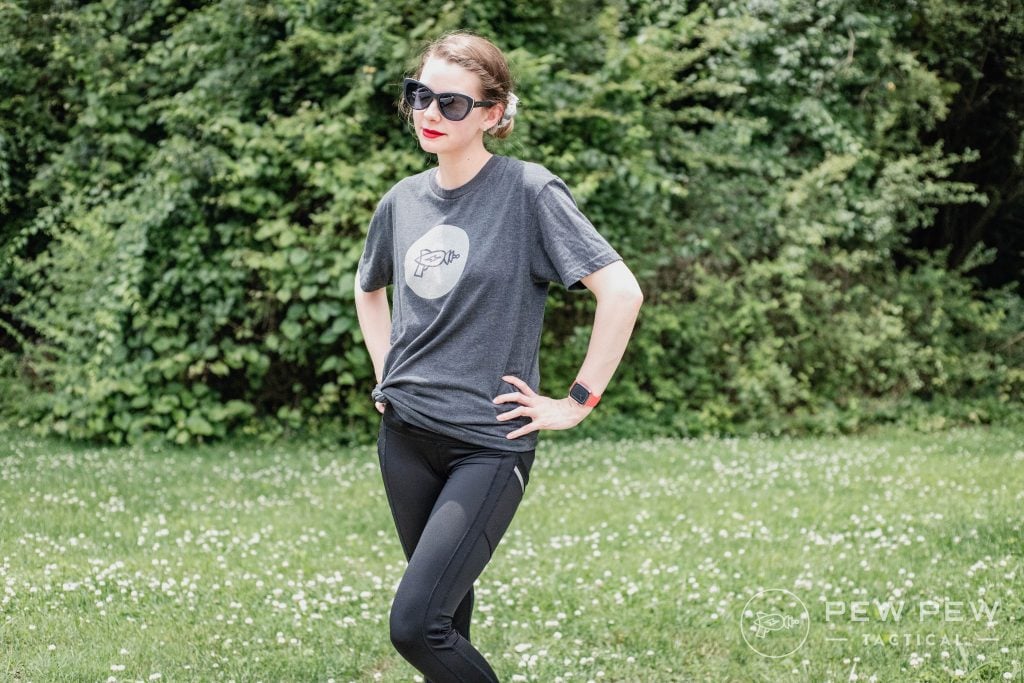 As I'm on the shorter side (thanks, Mom), these tend to bunch up the bottom.
After years of either rolling my pants or just living with bunched jeans, this doesn't phase me, but it's worth noting if you also happen to be fun-sized.
Alexo uses a silky nylon/Spandex combo that feels super nice. That's my favorite part of this style – it's comfort.
In fact, when traveling, I wear these because they are perfect for long car or plane rides. And they don't look frumpy like sweatpants.
Plus…you get pockets! And as any woman will tell you, we live for pockets!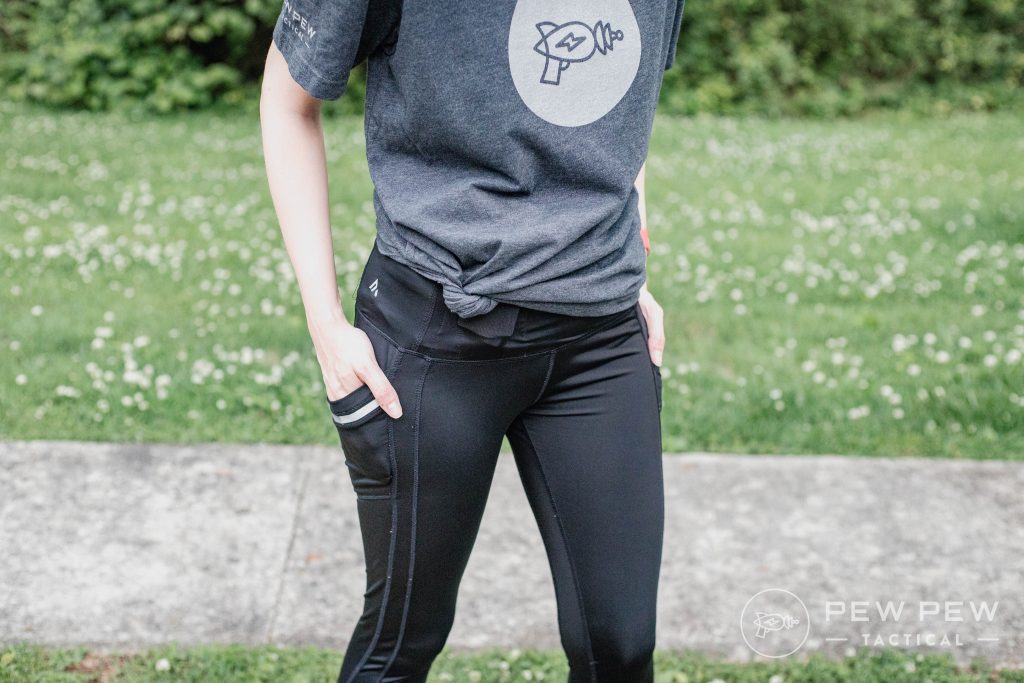 The leggings contain two side pockets large enough to fit my iPhone 11 Pro Max without issue.
In addition to the side pockets, you get two carry pockets upfront – on the left and right – as well as a protective pocket ahead of each…more on that in a minute.
Finally, there are two pockets on the left and right sides in the kidney carry position.
Again, for travel, these are perfection. You can easily carry a phone, headphones, chapstick, and passport/ID/cash, which is great when navigating airports.
99
at Primary Arms
Prices accurate at time of writing
Prices accurate at time of writing
Concealment & Draw
Concealment-wise, the leggings do the job…so long as you stick with a micro-sized gun.
There's no way my Shadow Systems (a Glock G19-sized pistol) would fit in the holster pocket.
So, I stepped down…way down, to the Sig Sauer P238.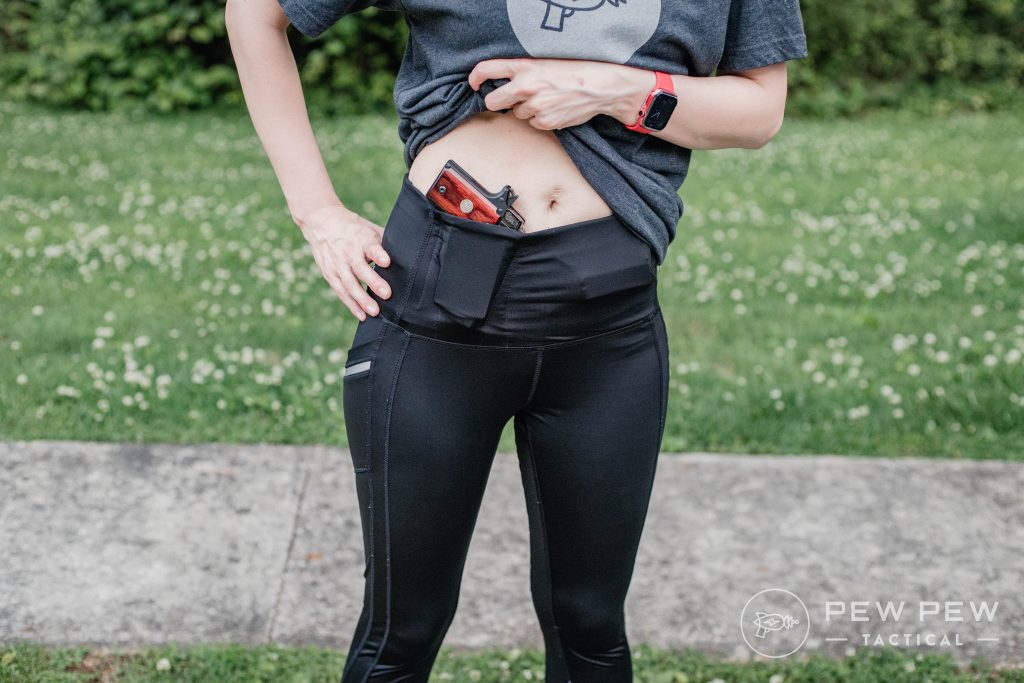 The Smith & Wesson Shield also works, but I find the weight of the P238 is perfect for this stretchy material.
Since I normally carry in the appendix position (you can read more about that here), I opted for that here.
Honestly, I appreciate that Alexo gives wearers the option of either behind the hip IWB or AIWB.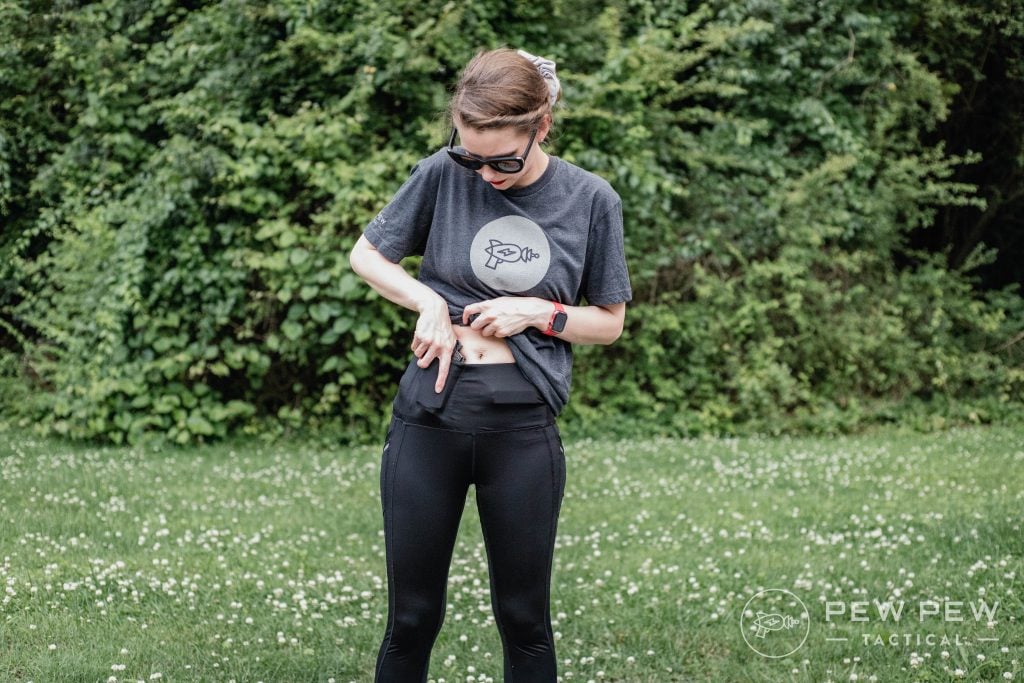 Remember those tiny pockets ahead of the carry pocket I mentioned earlier?
They come into play here. The carry pocket uses a fabric design, so it doesn't sport a molded holster or trigger guard.
Truthfully, I've never been a fan of fabric holsters for this reason. There's often very little retention and the unguarded trigger opens up the door to the possibility of accidents.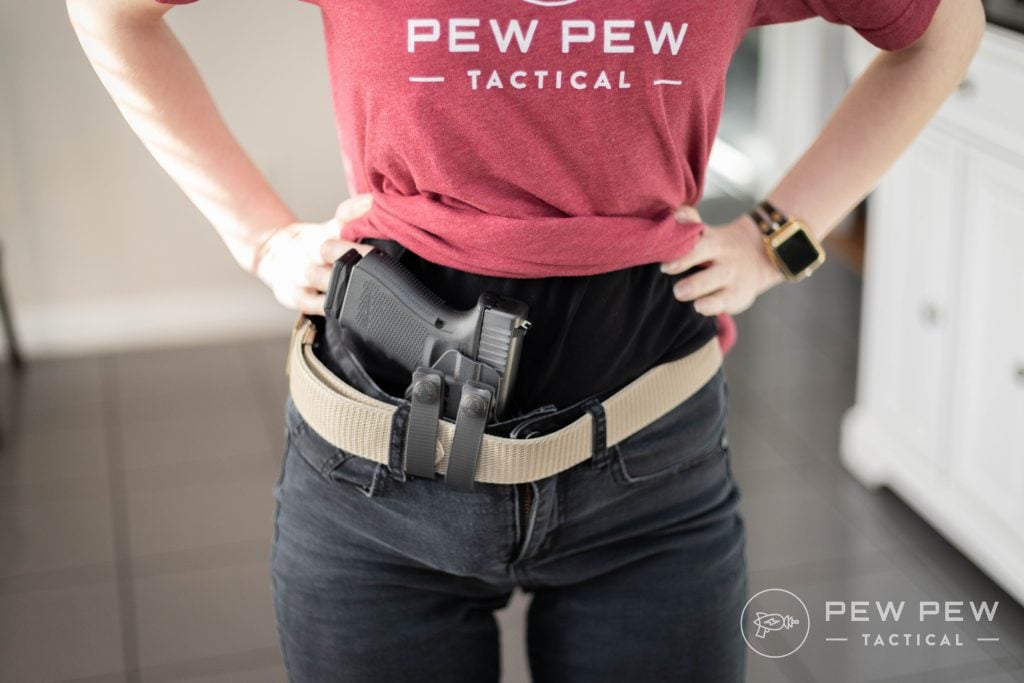 To remedy this, Alexo Athletica uses elastic style fabric to bring greater retention to the pocket and keep the gun in place. I was able to jog and the Sig didn't go anywhere.
As for the trigger situation, Alexo suggests using the pockets forward of the carry pocket as a makeshift trigger guard.
Basically, a rectangular piece of plastic, like a CCW permit or driver's license, can slip into that pocket and serve as a trigger guard. With something in that spot, the trigger cannot be engaged.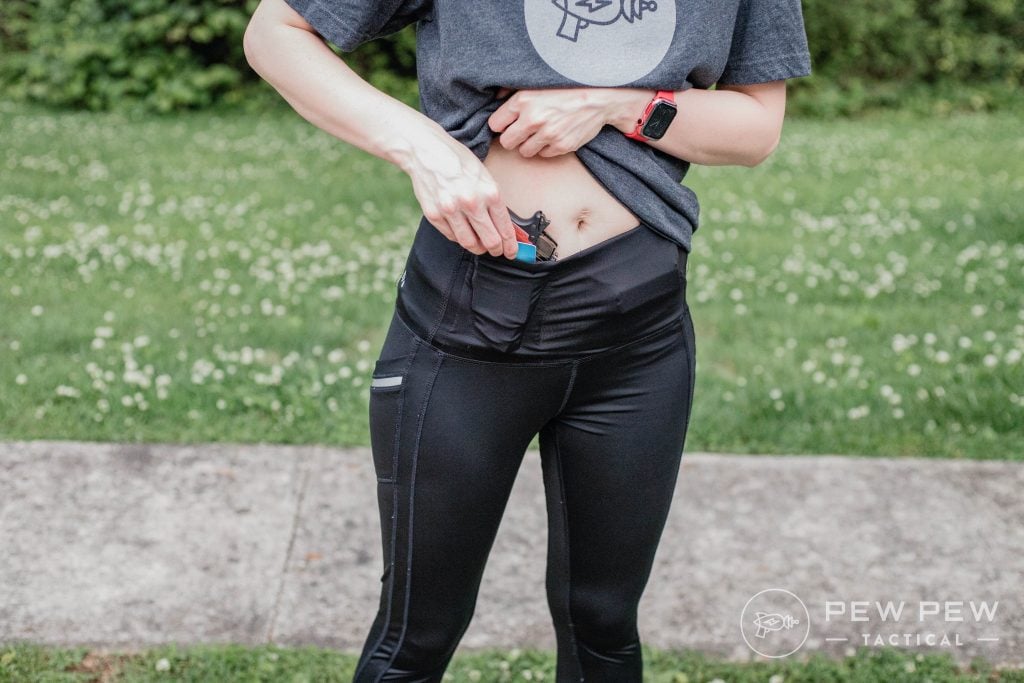 Keep in mind that when you go to wash these, you'll want to remove that card…especially if it's something important like a CCW permit or driver's license.
Drawing
While I get a cleaner draw off a Kydex holster, the draw from the leggings isn't terrible. I can get a good enough purchase on the pistol to bring it up and out on target.
Reholstering…that's a different story. It can be a little tough to get the gun back in the pocket without muzzling your fingers.
But that's the flaw in any collapsible fabric holster, so it's not limited to just the Alexo leggings.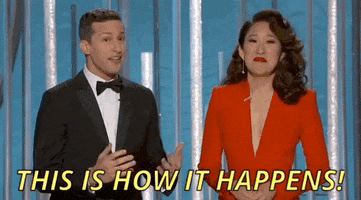 Bottom Line
For times when I don't want to wear jeans or can't use my regular holster, the Alexo leggings work.
As the mom of kiddos involved in hiking and sports, I find these leggings a nice compromise between comfort, sportiness, and concealment.
And, as I mentioned, they are the perfect travel legging — comfy-cozy with plenty of pockets to stick passports, chapstick, phone, etc.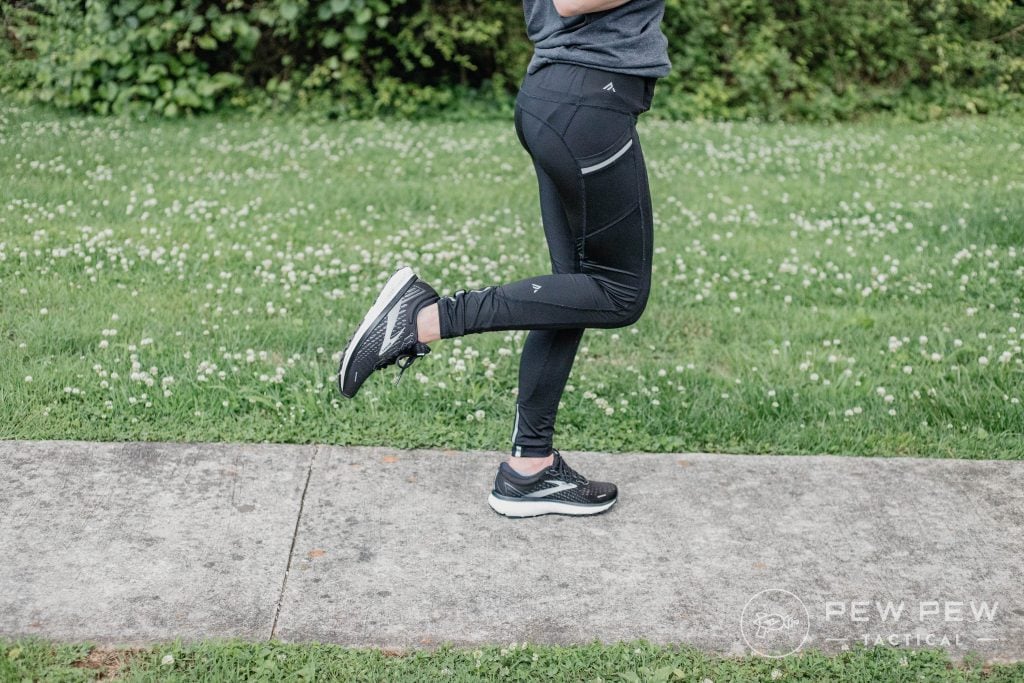 Carry Runners Shorts
The Carry Runners are Alexo's take on a running short, but with the ability to concealed carry.
As someone who walks and jogs with my dog at random times, sometimes at night/early morning, the ability to carry is a must.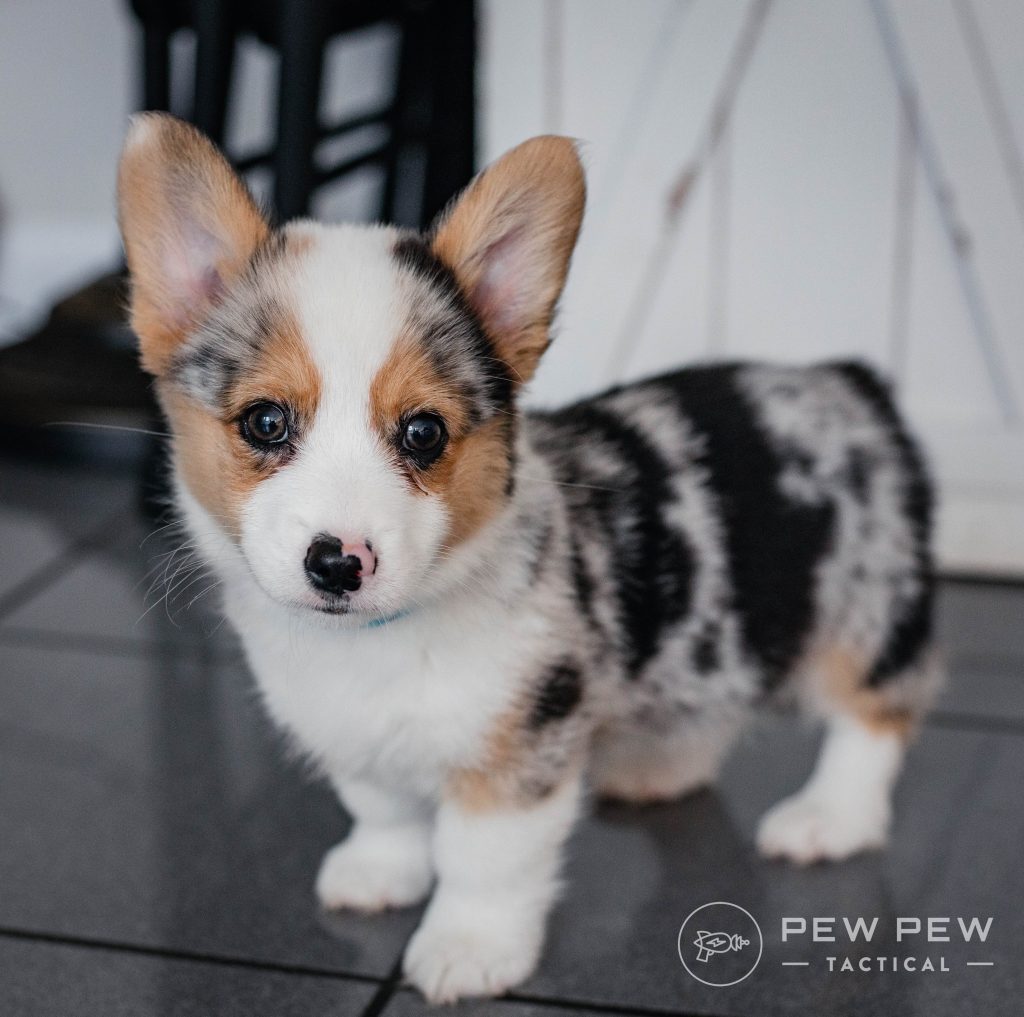 But sometimes, in the 95-degree heat and 100% humidity of Tennessee summers, I don't want to throw on jeans to carry with my regular EDC.
For those occasions, the Carry Runners prove useful.
Like the leggings, these work best with a smaller gun – so to the Sig P238 we go!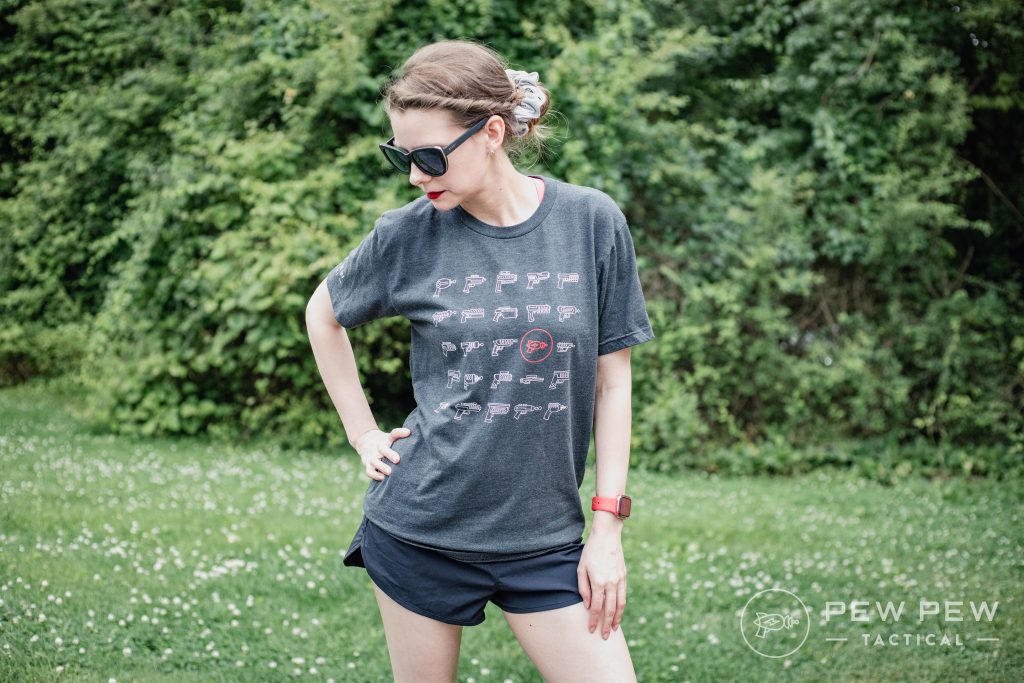 The Carry Runners adopt a more minimalist style with a single AIWB pocket in the front and two rear pockets – one on the right and one on the left.
Finally, you get a single horizontal pocket in the front for a phone or spare mag. (Though my iPhone 11 Pro Max was a tad too big to sit comfortably here.)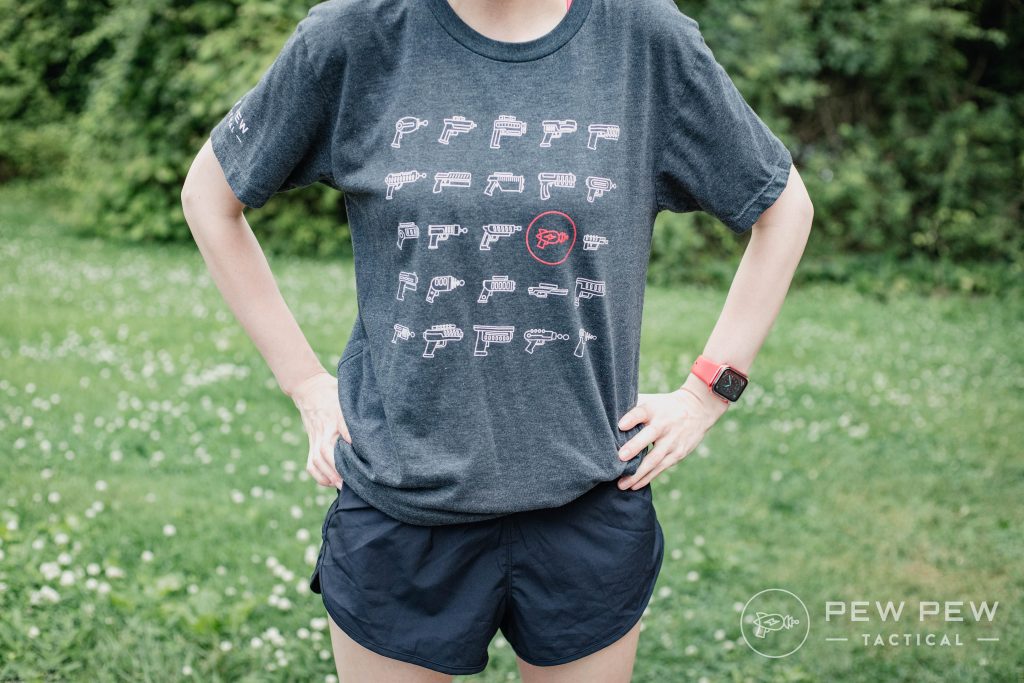 The fabric on the shorts themselves is 100% polyester, but the high-rise fabric around the waist is made of Nylon/Spandex.
This helps keep things nice and tight around your abdomen for retention while allowing the shorts to remain breathable.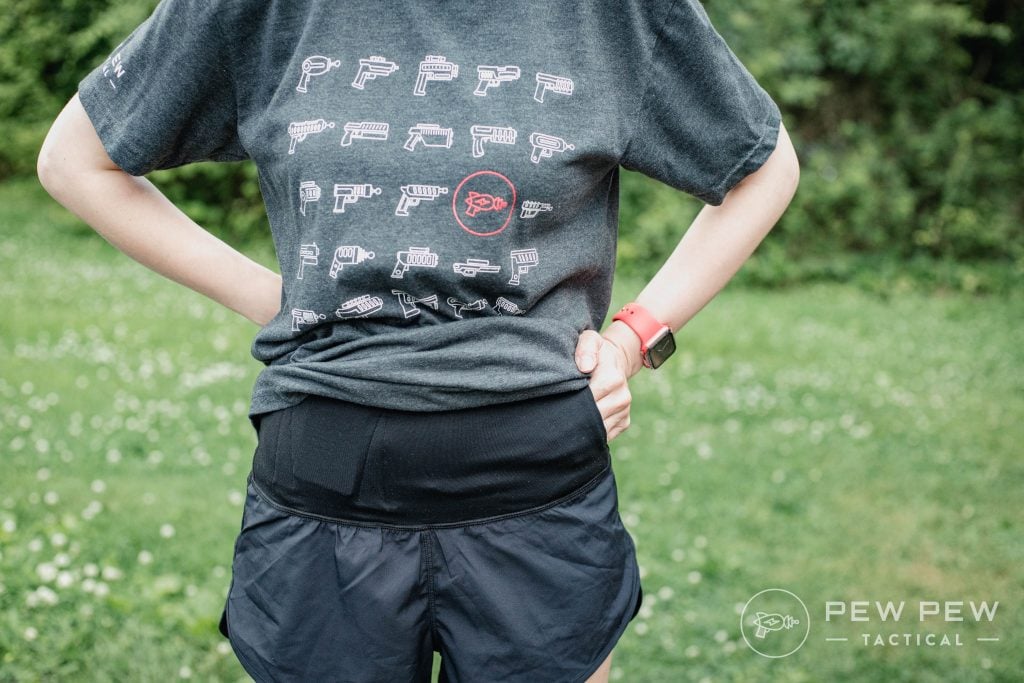 Again, the carry pocket sees a forward pocket for that handy ID to slip into as a trigger guard. So, it's nice to see that consistency carrying throughout the fashion line.
The shorts are a tad shorter than I like, but that's a personal preference and not a deal-breaker.
72
at Primary Arms
Prices accurate at time of writing
Prices accurate at time of writing
Concealment & Draw
Again, the carry setup feels quite similar to the leggings. Nothing much changes unless you're a lefty.
In that case, you lose that left AIWB pocket. That's a bummer, but you still get a left rear pocket in the kidney position, so at least that.
The shorts also do a pretty good of retaining the handgun on runs and jogs.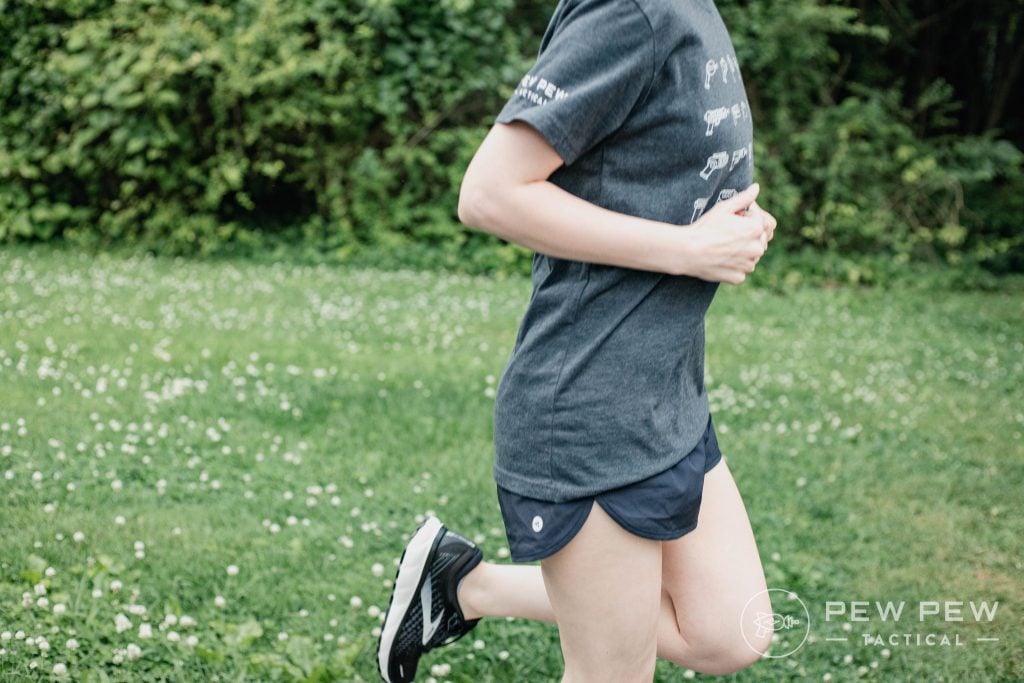 Drawing
As for the draw, it was a little more awkward than the leggings.
These fit a bit higher and tighter than my leggings. So, it took me a few tries to figure out how to dig my hand in between the shorts and my tummy.
But, eventually, I got it worked out.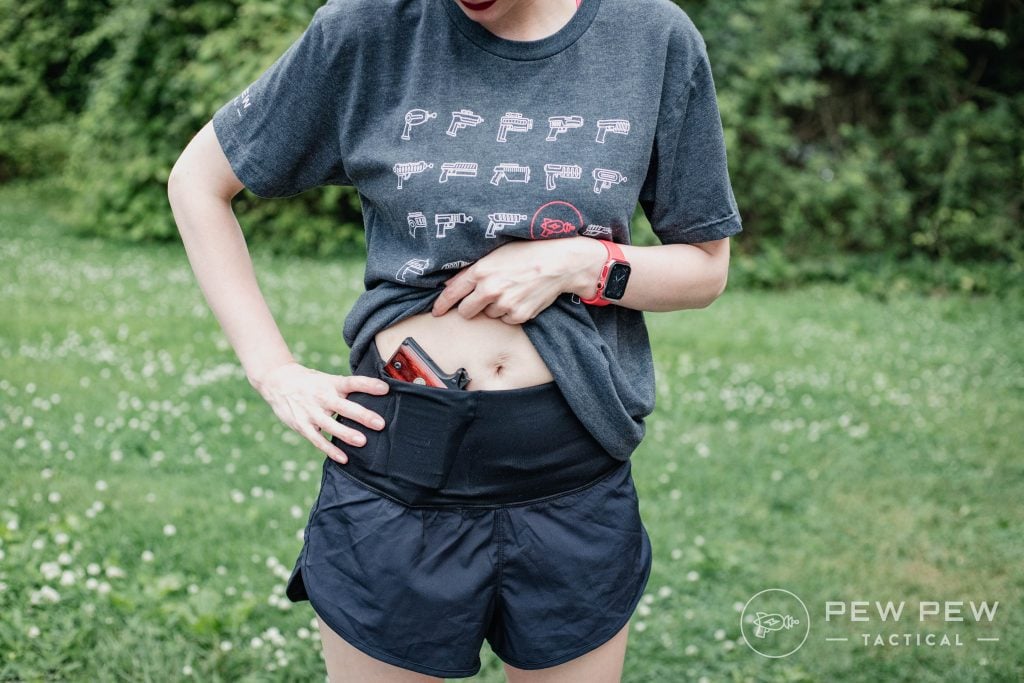 In short, practice before you carry to see if any adjustments need to be made.
Again, reholstering is kind of tricky. You'll want to watch your fingers, but as long as you pay attention, you should be okay.
Bottom Line
I would say if you regularly walk, run, or jog and need an option to carry on the go…this provides a method to stay safe.
Retention is decent for a fabric holster designed for running. Plus, you get enough pockets to carry a gun, smaller phone, and ID/cash.
Tuck & Carry Skirt
If you like sporty attire but aren't into leggings or shorts, Alexo also offers the Tuck & Carry Skirt.
This hi-lo skirt dresses up or down and could easily move from a casual day at the office to the soccer field with your kids.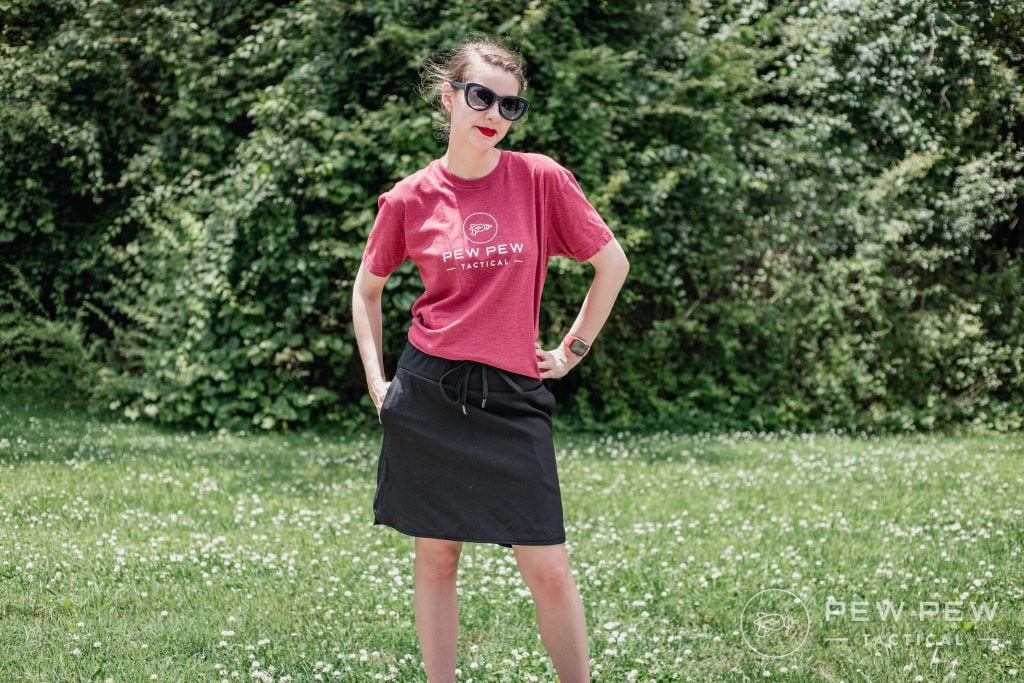 You get two side pockets capable of fitting a iPhone 11 Pro Max pretty comfortably.
The skirt also brings back the ambidextrous AIWB pockets up front and pockets in the back.
What makes this style unique is that shirts can tuck into the skirt for a dressier or more fashionable look.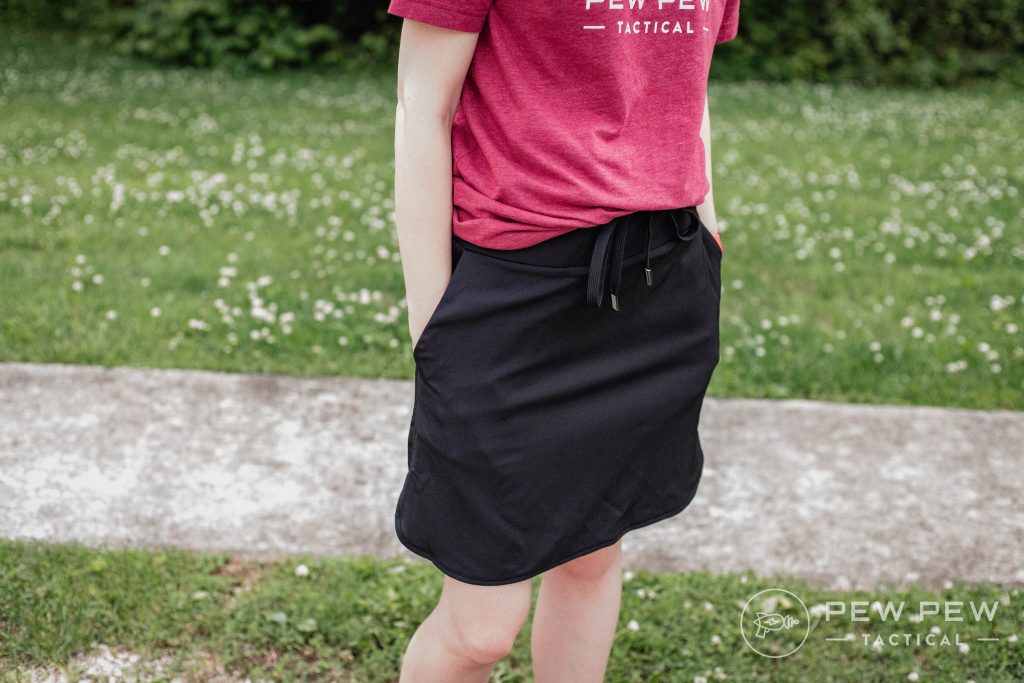 Using a double layer of fabric with a spandex/nylon waistband and polyester skirt shell, wearers can tuck a blouse or shirt into the polyester shell portion without the gun showing.
With the popularity of French Tucking, the tucking ability is pretty cool.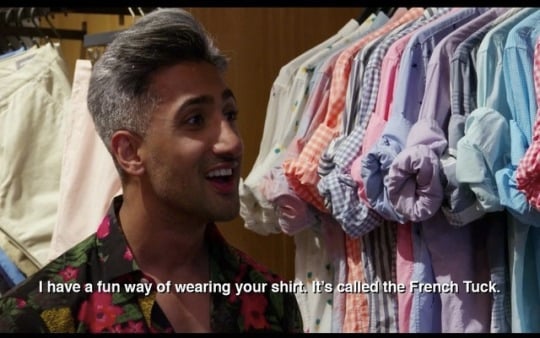 A drawstring pulls it all together with a little bit of pizazz and added retention.
Personally, the drawstring was a must as the skirt ended up a tad bigger than the other pieces. So, cinching down the waist with the drawstring proved very useful.
50
at Primary Arms
Prices accurate at time of writing
Prices accurate at time of writing
Concealment
Does this work for concealment?
Yep! It looks like a sporty skirt and doesn't scream "gun" at all.
I wore a few different blouses and shirts with it and experienced no issues – even got some compliments.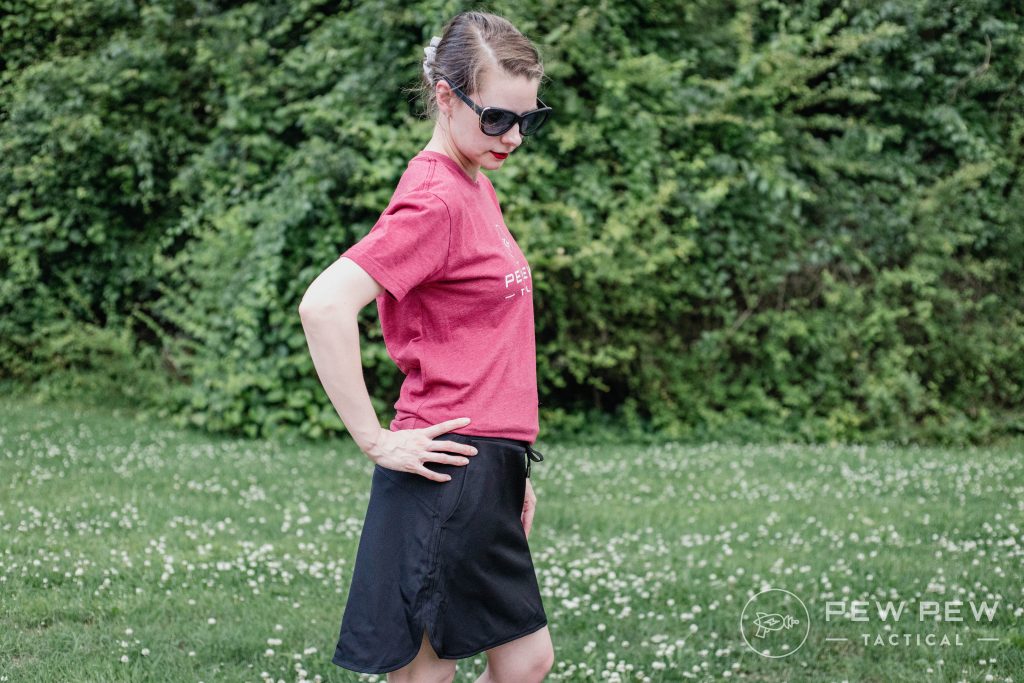 The draw is, again, very similar to the above models but easier than the Runners.
Because my skirt was a little looser, that allowed me to dig into the gun a little easier.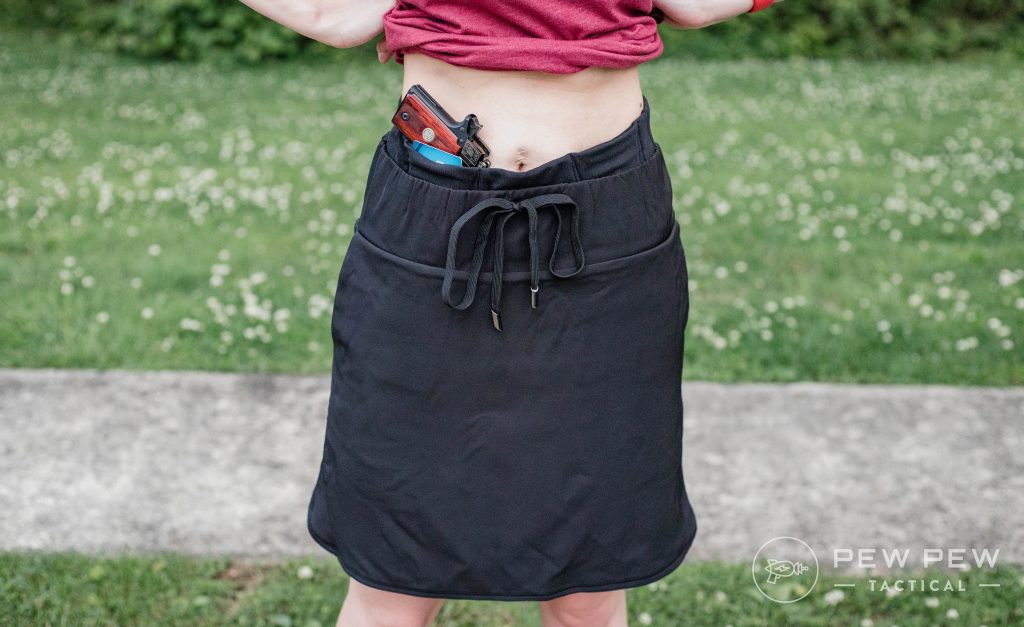 As I stated before, reholstering…yeah, you need to be careful here.
Without a pull tab or anything to open the pocket, you've got to delicately balance separating the fabric to slip the gun in while not muzzling your fingers.
Just pay attention to what you're doing and keep your finger off the trigger.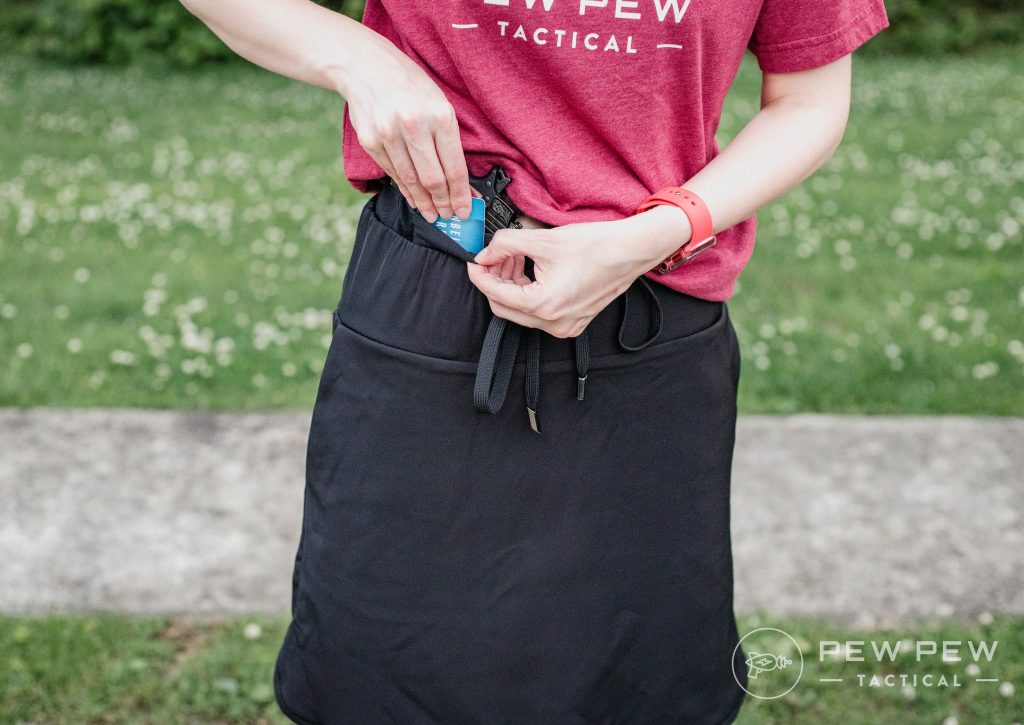 Bottom Line
I wore the Tuck & Carry Skirt the least out of the styles, but I'm not much of a skirt gal.
That said, if you find yourself in skirts more often than not, this is a decent option for a sporty look with the added bonus of concealment.
Plus you get nice big pockets capable of holding your phone!
By the Numbers
Comfort: 5/5
All three pieces felt super comfy. You can easily wear these all day with no issues.
Concealment: 4/5
The pieces aided in concealment and allow you to carry while exercising. That said, the lack of a dedicated trigger guard and some sort of reholster tab means you have to do the work to protect the trigger and not muzzle yourself.
Looks: 4.5/5
It's sporty yet fashionable and fits the current obsession with athleisure wear.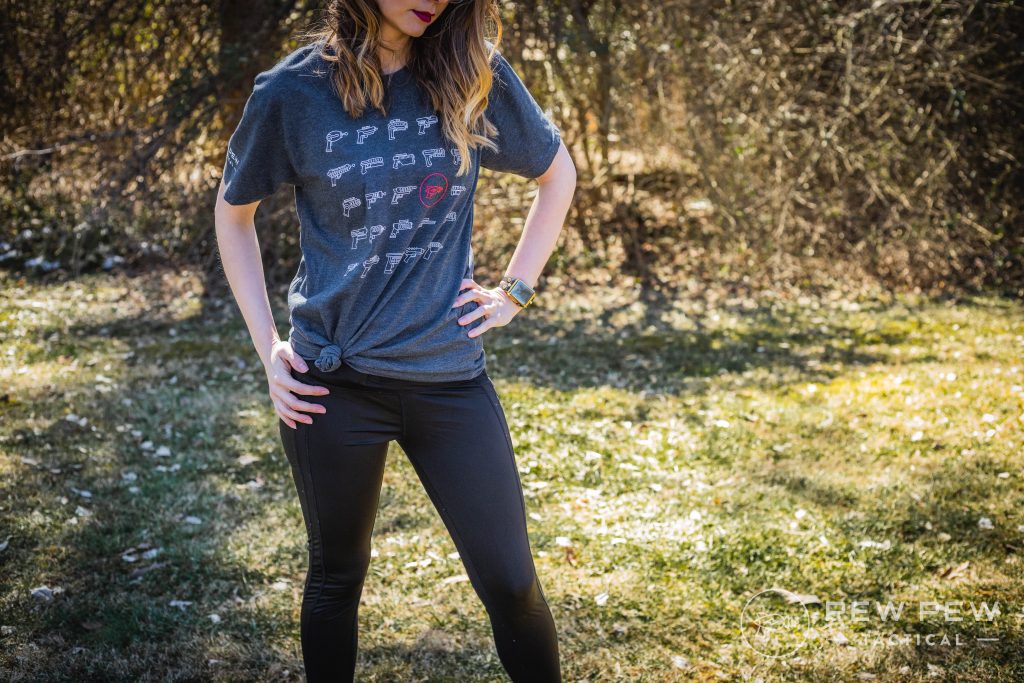 Function: 4.5/5
As a sports mom who hits the field with her kids, Alexo Athletica offers me a look that blends in and allows me to continue to carry. Not to mention, the leggings are fantastic for travel!
Value: 3.5/5
So, we haven't really touched on this but these are pricey. You're paying as much if not more than a dedicated holster.
While I love the ingenuity, $100 for leggings may be too steep for some…especially for fabric that will likely wear out before a Kydex holster would.
59
at Primary Arms
Prices accurate at time of writing
Prices accurate at time of writing
Overall: 4/5
While these are a tad expensive, Alexo's gear offers a unique take on the athleisure movement, blending concealment, comfort, and sport. I appreciated the quality fabrics, loads of pockets, and sleek look.
Conclusion
I'm not trading in my PHLster or Dark Star Gear holster as an EDC, but when times call for thinking outside the box, Alexo Athletica's Signature Leggings, Carry Runners, and Tuck & Carry Skirt get the job done.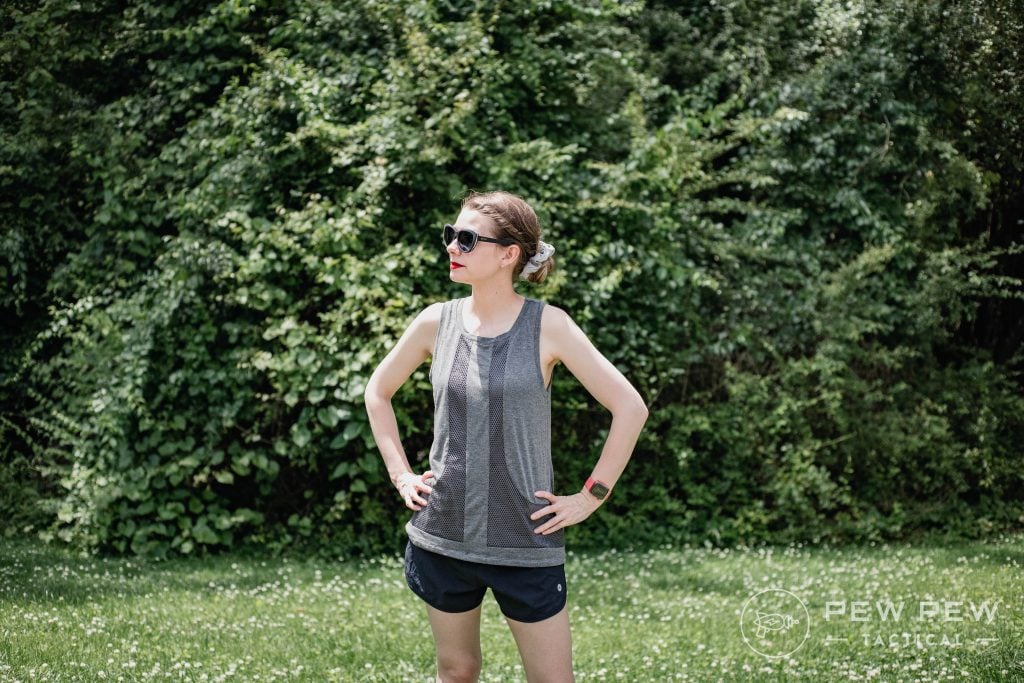 The Signature Concealed Carry Leggings are amazing for travel or errands around town, while the Carry Runner shorts are a solid running/dog walking partner.
And the Tuck & Carry Skirt round out this trio with a fun take on skirts.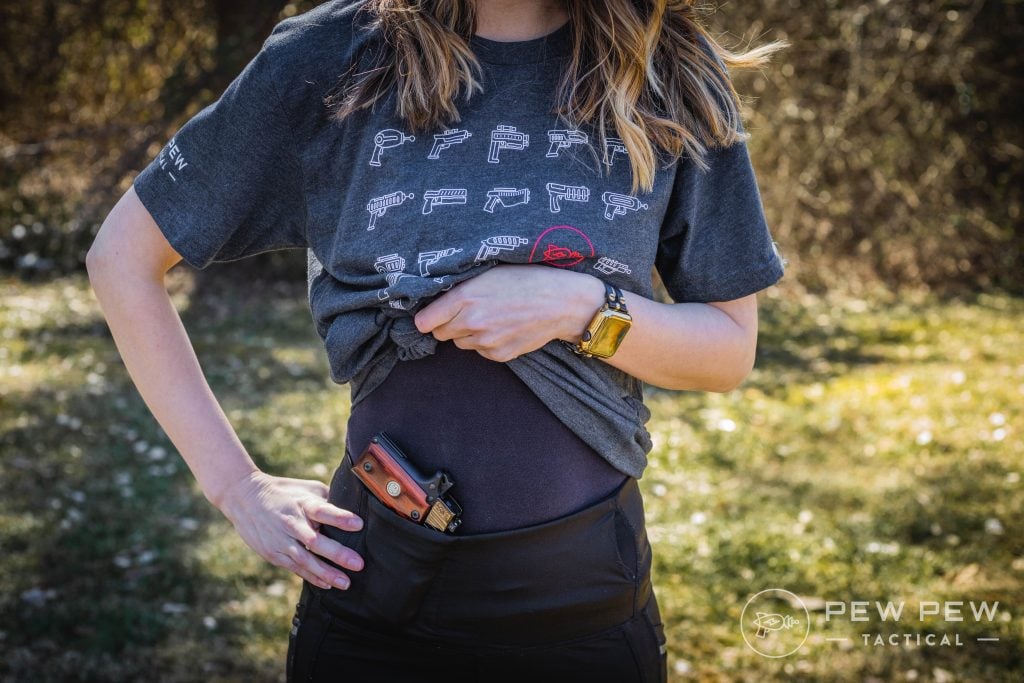 I would prefer something a little more rigid for the holster to prevent trigger engagement, but so long as you remember a card in the front pocket, you should be okay.
For those that want to blend concealment with a sporty vibe, Alexo Athletica has you covered.
59
at Primary Arms
Prices accurate at time of writing
Prices accurate at time of writing
Have you tried Alexo Athletica? If so, let us know your thoughts below. Looking for more CCW guidance for women? Take a look at our guide on Best Way to Concealed Carry as a Woman.