Believe it or not, I'm a bit slow on gun trends.
For the most part, I have what I need when it comes to firearms. People will be running around with this barrel, that new caliber, or some other geejaw for years.
Occasionally though, a trusted name will pop up with something I've been interested in checking out, and I'll bite.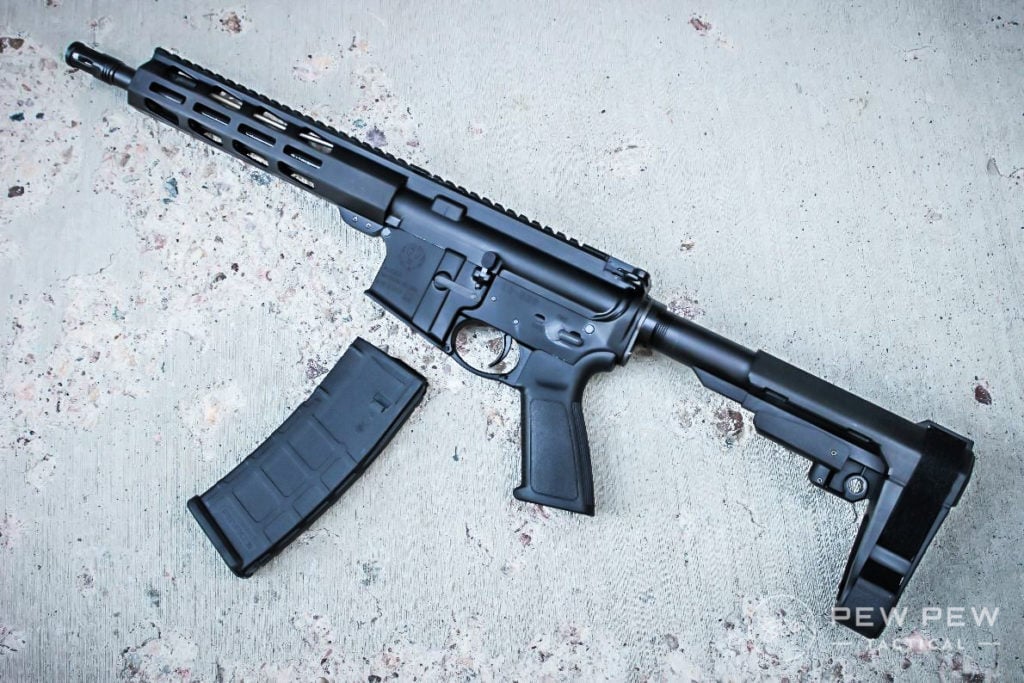 So it was with AR pistols. I know, people have been using them for a long time now!
When I saw Ruger recently entered the foray with a pistol version of their AR-556 platform, I decided to find out what this AR pistol business was all about.
The Ruger AR-556 series has been around a while and they have built a reputation as a solid, entry-level AR-15 that is affordable. You can find them out there for $500 or less, on the regular.
While they may not have a lot of bells and whistles, they are solid and you can set them up however you like. When the pistol version recently came out, I thought it would be an economical way to explore the concept of an AR pistol.
685
at Guns.com
Prices accurate at time of writing
Prices accurate at time of writing
What Is It?
The Ruger AR-556 Pistol has a 10.5-inch barrel that is cold hammer-forged of 4140 chrome-moly.
The 9-inch, free-floated, handguard offers MLOK on the sides and bottom, with a traditional Picatinny rail running down the top.
The gas system is direct impingement and takes advantage of the entire length of the handguard as a "carbine-length".
The upper enjoys traditional features like a brass deflector and a forward assist, as well as a dust cover. The configuration is slick top and has no BUIS.
It does come with a 30-round Magpul PMAG and also has an SB Tactical, SBA3 Brace on the end that can be adjusted to various positions for different lengths of pull.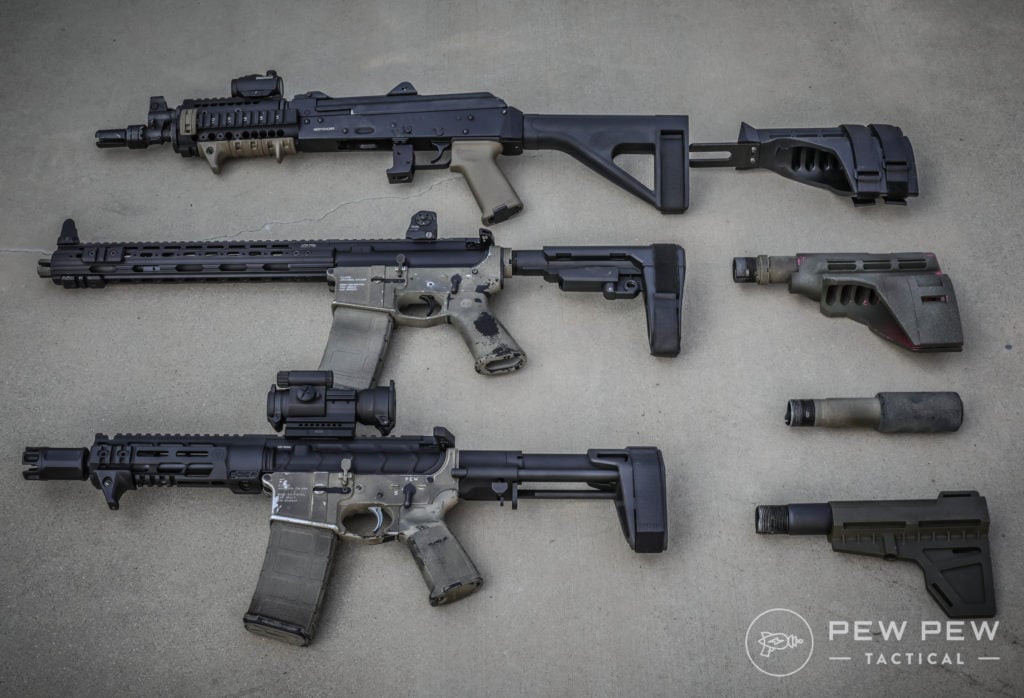 All the controls are normal AR-15 standard (not ambidextrous), though the grip appears to be unique to Ruger.
The trigger feels mil-spec and is all business, coming in at 7 pounds, 2.3 ounces on my Lyman Digital Scale.
However, it is solid and only pulls back about 1.5mm before breaking. Reset is tactile and audible. There is also a slightly bowed trigger guard to accommodate a gloved trigger-finger.
Let's Go Shooting!
I took the Ruger AR-556 Pistol out to the range for the first time after I had mounted a Vortex Diamondback Tactical 4-12×40 scope on a cantilevered mount.
290
at Amazon
Prices accurate at time of writing
Prices accurate at time of writing
It looked completely ridiculous with the scope being nearly as long as the weapon, but I wanted to test the accuracy of the platform.
I set up at 50 yards and loaded up some magazines with the Aguila Party Pack I was using for the test. This box of ammo consists of 300 rounds of 55-grain 5.56 that won't break the bank.
Using a Foam Action Sports rest, I shot 5-round groups at 50-yards. Granted, I know the pistol is chambered in 5.56 but I felt 50 yards was a good gauge to check accuracy.
While the results varied, they were all really tight with the best group coming in at around a half-inch.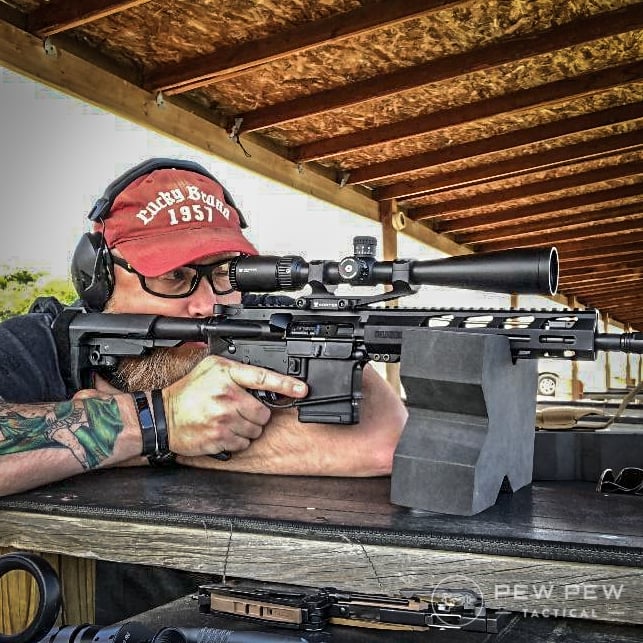 During testing, I experienced one malfunction but it was a good one. A round jammed into the feed ramp hard enough that I had to mortar the pistol to get it to disengage—nothing else would clear it.
The side of the neck of the casing was a bit marred but once ejected, I continued shooting with no other issues. I learned the 556 Pistol was accurate.
Transform
At last I began to see the potential of the small (but otherwise erstwhile) AR-15. Here was an accurate package that was small enough to conceal in a truck, but could deliver accurate fire and other than one mishap, was reliable to boot.
I began to imagine the possibilities and thought how I might dress the pistol out.
I got a folding stock adapter from Law Tactical because I really wanted to double down on the concealability of this small but potent package.
When it arrived, I spent a short while reviewing videos before installing the unit on the Ruger.
230
at Brownells
Prices accurate at time of writing
Prices accurate at time of writing
It went smoothly and operated just as advertised, folding the pistol down to a compact 21 inches. Next, I installed a Vortex SPARC AR. This is one of my favorite red dot sights for the AR for a few reasons.
It's no-frills, simplistic, has a keeper for the lens covers, and does exactly what I need it to do.
199
at Amazon
Prices accurate at time of writing
Prices accurate at time of writing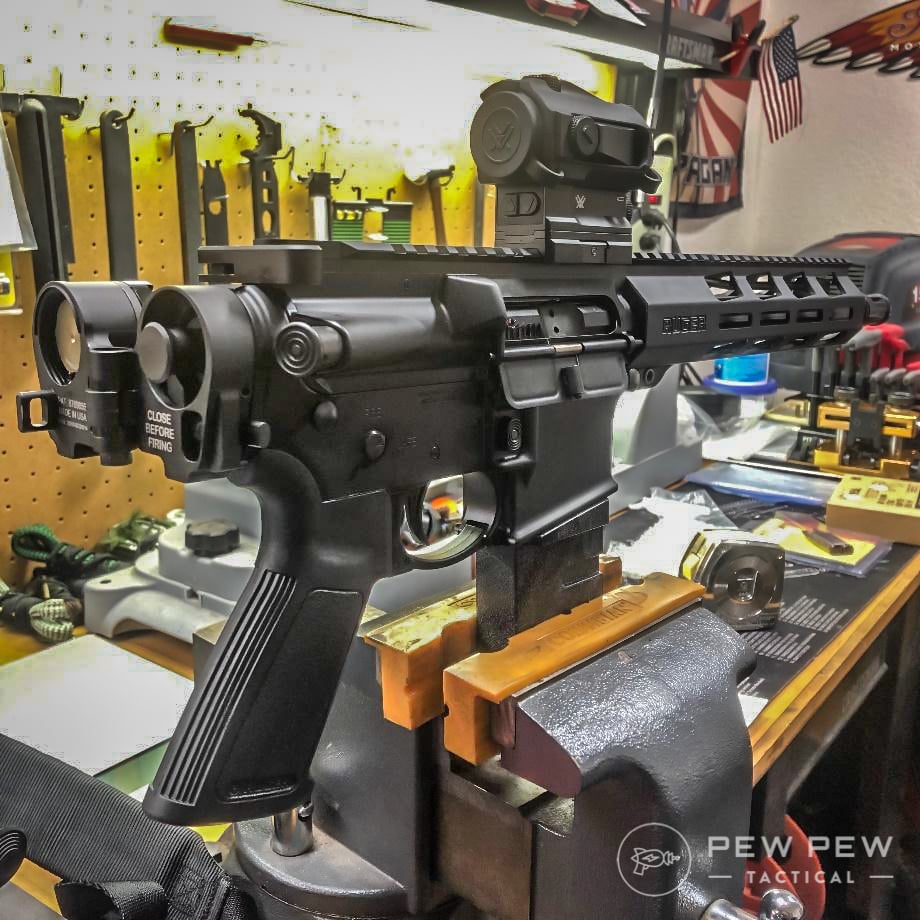 With the installs done, I had to head back out to the range to try out the pistol again. The Law Tactical Folder uses a small plug at the end of the BCG to serve as a connector to the buffer spring when the stock is closed.
Since this changed (to a minor degree) the function of the pistol, I had to check reliability.
"Have more than you show, speak less than you know"
Shakespeare's words could well be the theme for this review. The Ruger AR-556 Pistol, combined with the Vortex red dot, and the Law Tactical Folder stowed up nicely in a backpack, but with a few swift movements, was all the AR-15 goodness I might need in a pinch.
I felt comfortable engaging out to 100 yards but anything 50 and in was easy money. I took the pistol back out to the range a number of times, deploying it and running it through its paces.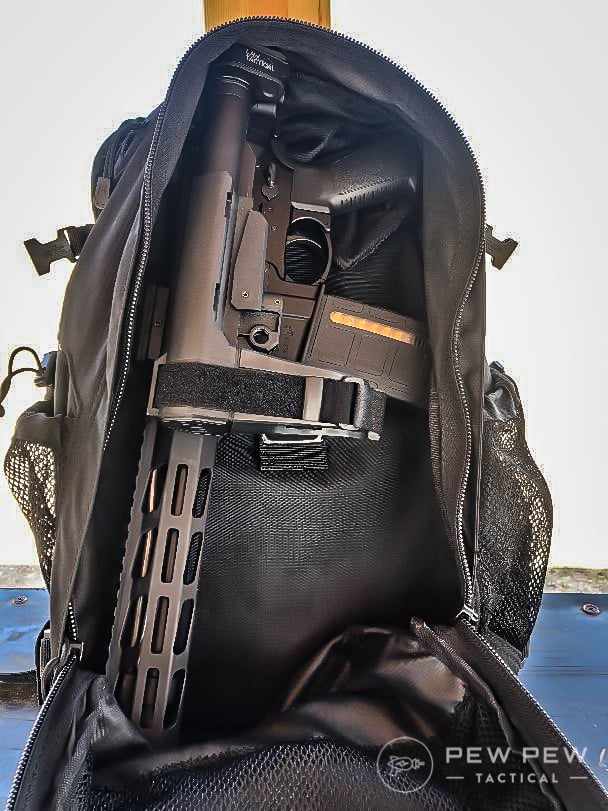 I had one more failure with the Aguila 5.56 that needed to be mortared out. I had a hard time diagnosing this and ran the ammo through an AR with zero errors. I also ran Winchester, Tul Ammo, and Hornady through the Ruger and had no more problems.
5.95
at Lucky Gunner
Prices accurate at time of writing
Prices accurate at time of writing
All in I passed about 500 rounds through the gun and found it performed wonderfully. Shouldering the brace does not work as well as a traditional buttstock, it slides around a little.
But it can be done to deliver accurate fire. The brace is also great if you want to strap it to your wrist as intended by the manufacturer.
By The Numbers
Reliability 4/5
While I struggled to understand what had occurred with the Aguila ammo in the Ruger, the jams only happened twice out of 300 rounds. The gun ran fine on everything else I fed it. Notably, the Aguila used in an AR rifle did not produce the same jam.
Ergonomics 4/5
I am very comfortable with the AR platform and Ruger's version does not disappoint. The grip is fine and so is the handguard. It is small enough to add accessories, such as a light, and still be easy to grip.
Accuracy 4/5
I was a bit surprised at this, but the pistol's accuracy was much better than I had anticipated with a 10.5-inch barrel. You do tend to suffer with extra loudness with a barrel that short, but the accuracy obviously did not suffer.
I like to think of firearms as having a median, optimal range and this one excels from zero to 50 yards, with 100 not being out of reach.
Customization 5/5
Ruger did not miss any styling cues in this inexpensive offering. You can add just about anything you want with the MLOK and Picatinny rail. On top of that, I wound consider a trigger replacement, though the one it comes with is more than serviceable.
Additionally, I would replace the charging handle with one more suited to a one-sided pull (simply a training preference).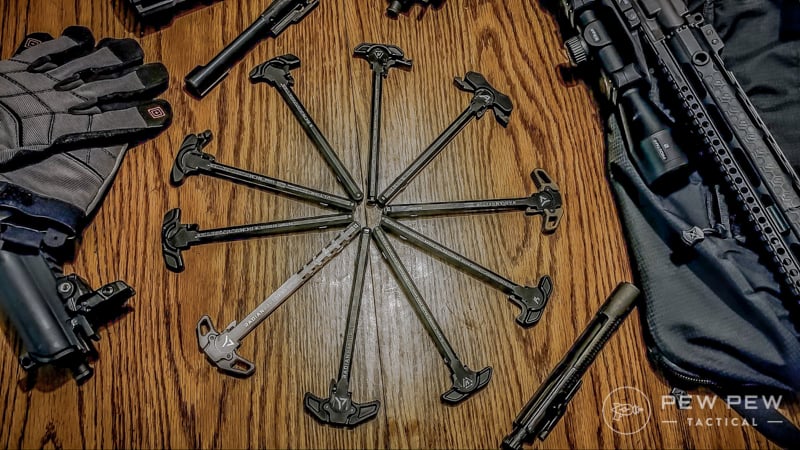 Finally, one item I would like to add is a horizontal (not vertical dear readers!) grip to give me some assurance that I'm not getting my support hand too close to the muzzle. I have long arms and tend to stretch out, testing that real estate.
Value 4/5
Given the street price we're seeing for the Ruger AR-556 Pistol, I feel the Ruger is an outstanding value for the price.
It is accurate, reliable, compact, and can be readily customized into whatever configuration you want. Backpack gun? Truck/trunk gun? You got it.
An AR-15 pistol that is this inexpensive while maintaining good quality has been the long-term key to Sturm Ruger's success.
Overall 4/5
Parting Shots
So. What's this AR pistol stuff all about? I'll tell you my friend. For me, it was a journey that led to a discovery.
With the AR pistol, I can take all the proven capability of the AR-15 platform and shrink it down to a lightweight, compact, concealable package I can take with me just about anywhere.
685
at Guns.com
Prices accurate at time of writing
Prices accurate at time of writing
While it certainly isn't something I'm going to wear in the waistband, it is some extra firepower I can discretely stow or tote for those "just in case" scenarios.
Ruger's AR pistol is an outstanding value, and a great way to explore this platform for yourself!
What AR Pistol do you like best? Did you make your own or go with an established brand? Let us know in the comments! If you're ready for some upgrades, take a look at the Best AR-15 Upgrades!