Are y'all ready to talk about another AR-15?
Because that's what I'm about to do, but fear not, today we're looking at Foxtrot Mike's FM-15.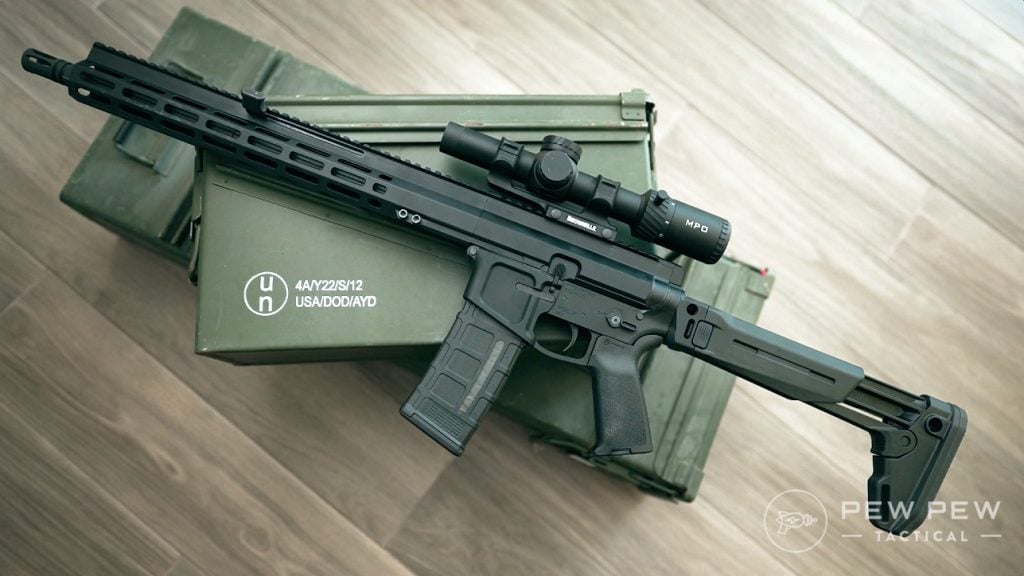 While normally, I give you a big spiel about how most AR-15s are quite similar, the FM-15 offers enough cool features to keep things interesting.
So, let's dive into the FM-15, talk about what sets it apart and why you might want to consider adding it to your AR-15 stash.
If you want to see this gun in action, be sure to check out my full video review below.
As usual, be sure to head over to Pew Pew Tactical's YouTube channel to see more guns and gear.
Table of Contents
Loading...
Foxtrot Mike FM-15: Regular AR or More?
The FM-15 utilizes a unique side-charging mechanism upfront that eliminates the need for a buffer tube and spring assembly.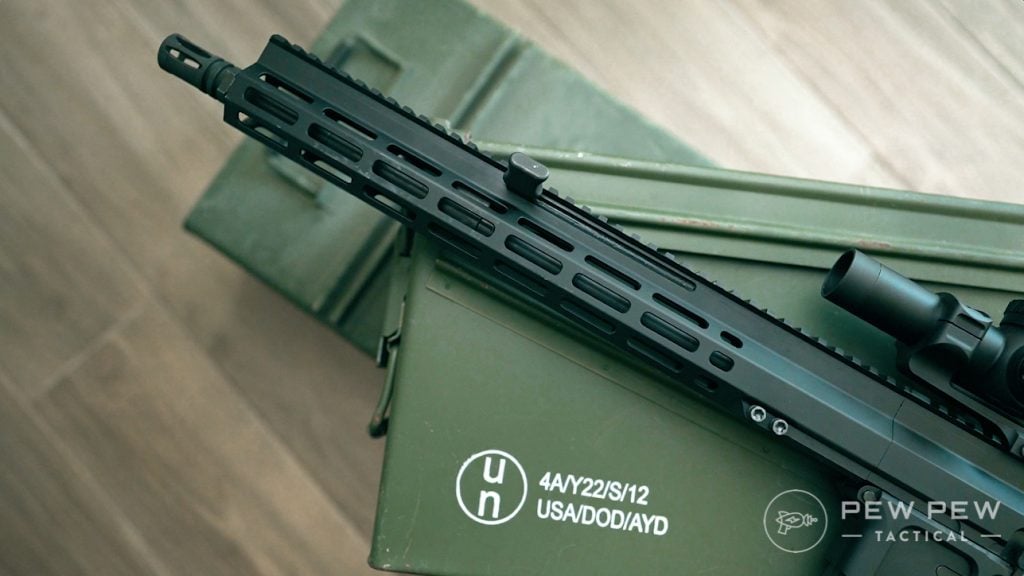 This is all while still being a direct impingement-driven rifle.
Its build means that the rifle can be fitted with a folding stock, and it allows the user to fire said rifle with the stock folded.
999
at Brownells
Prices accurate at time of writing
Prices accurate at time of writing
Foxtrot Mike achieves this through the FM-15's unique lightweight bolt carrier, which reciprocates on a dual-nested recoil spring housed entirely in the upper receiver.
It interfaces with the forward charging handle via a raised portion on the gas key of the carrier.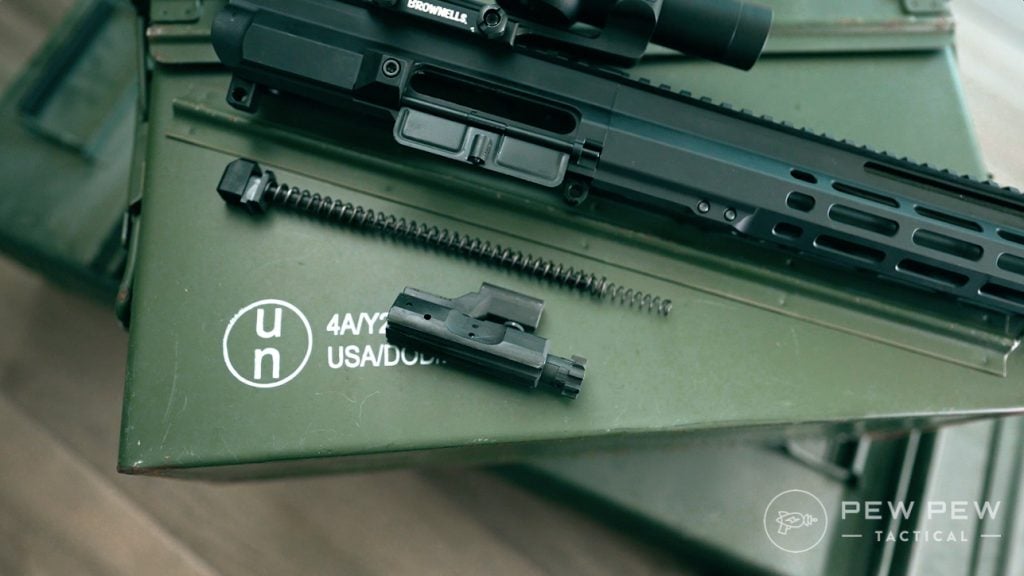 The charging handle itself sits above a direct impingement gas system, very similar to what you'll find on other ARs.
The result, at least in theory, is the recoil reduction generally found on piston-driven rifles but in a DI platform.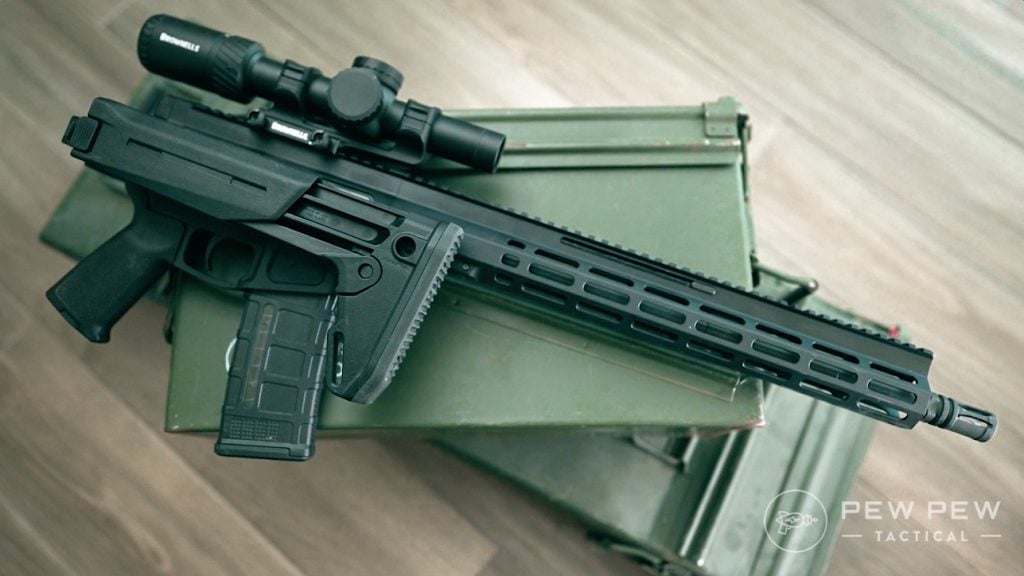 FM-15 Specs & Features
From front to back, the FM-15 utilizes a 16-inch nitride barrel chambered in .223 Wylde, which guarantees function with both 5.56 NATO and .223 Remington cartridges.
It comes capped with your standard A2 birdcage flash hider — nothing fancy there.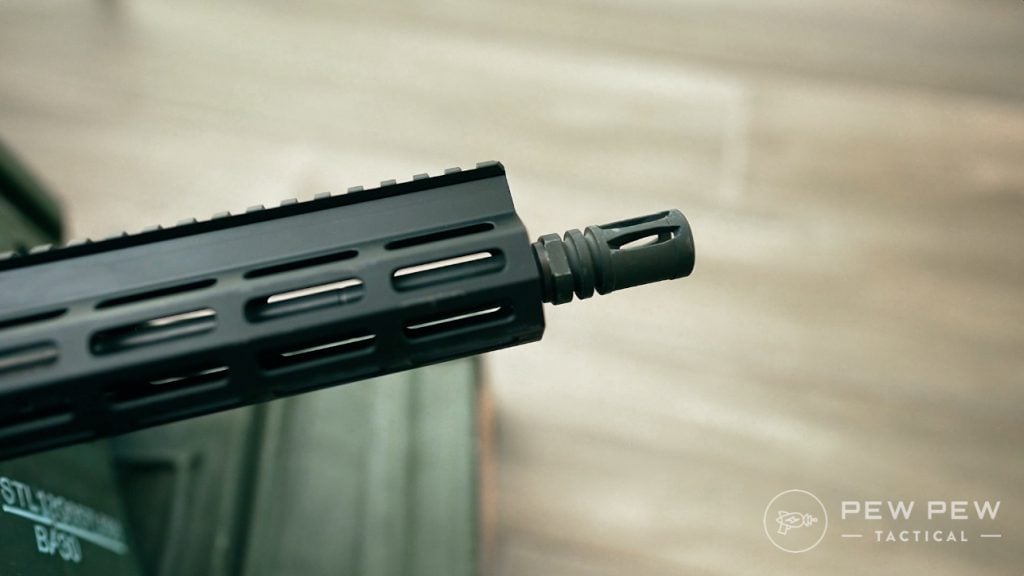 The handguard is free-floating, extending the full 15-inches to the muzzle device, and contains six M-LOK slots and a Picatinny optics rail up-top.
Due to the side-charging feature, that Pic rail is just a tiny bit higher above the handguard than you may be used to.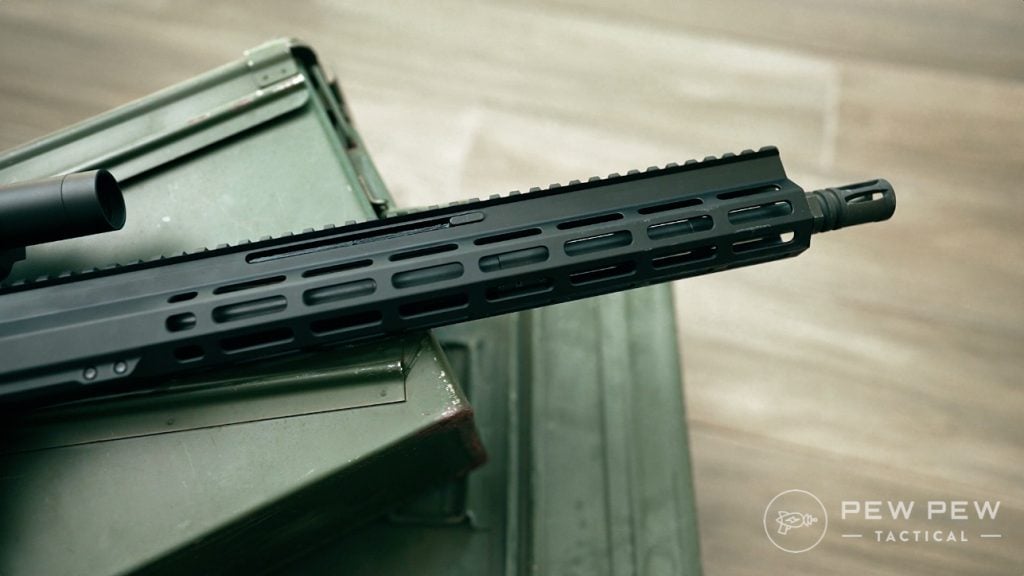 As a quick aside, I'm thankful that even smaller manufacturers have begun utilizing handguards that feature 45-degree M-LOK slots as standard.
Thankfully, the charging handle upfront is non-reciprocating, which means you aren't going to sprain your ham-shaped thumbs if you tend to c-clamp the rifle as I do.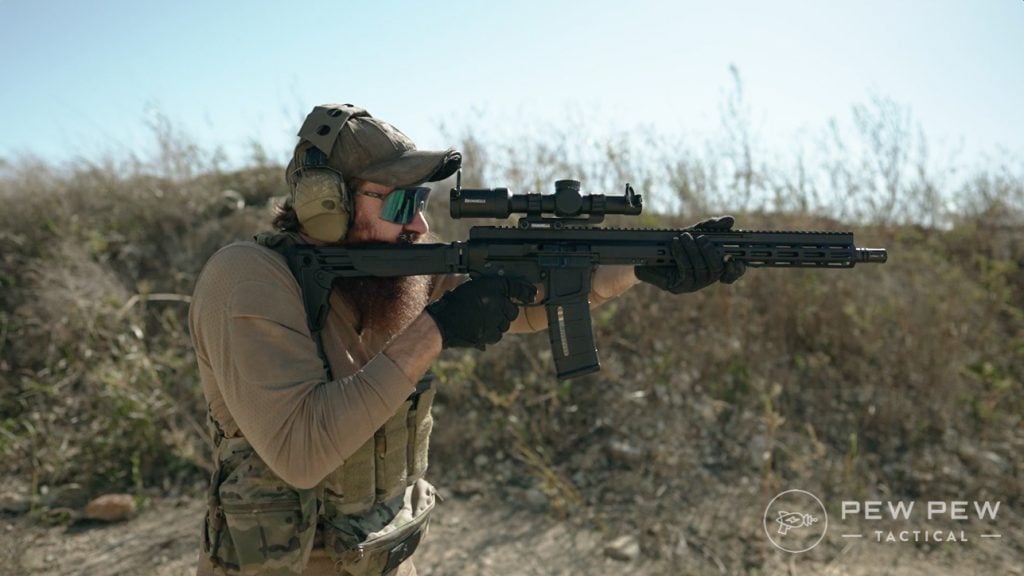 I have some thoughts on the charging handle itself and the user experience of manipulating it thereof, but I'll get into that in a sec…
Receiver and Controls
The FM-15's receiver is sleek and modern-looking.
It features ambidextrous fire controls with a shortened fire selector on the right-hand side of the rifle.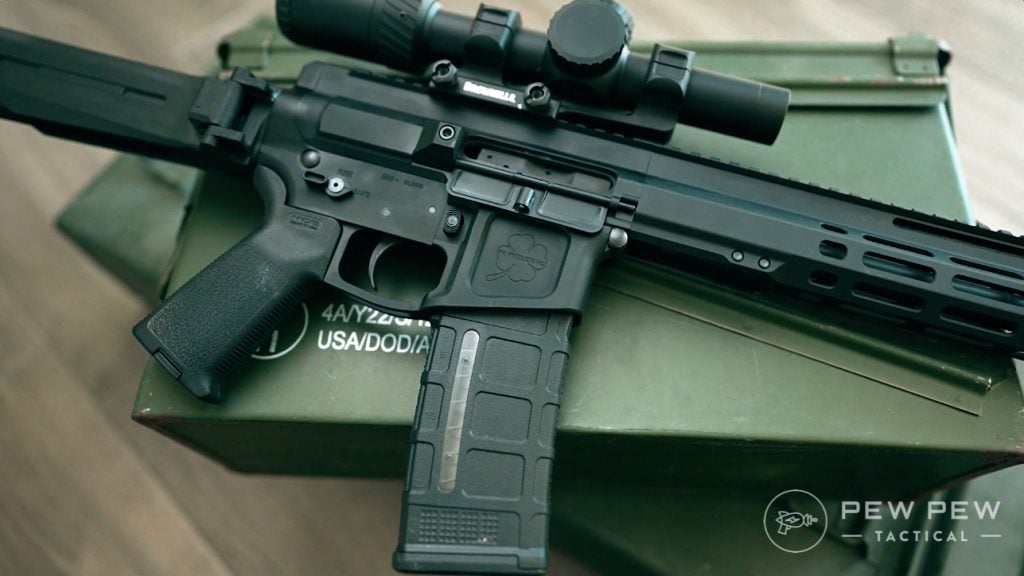 I find this feature quite useful for using my thumb to disengage the safety and my index finger's knuckle for throwing it back on.
You've got a Magpul MOE pistol grip in the back and a Magpul Zhukov stock fixed to an adapter all the way aft.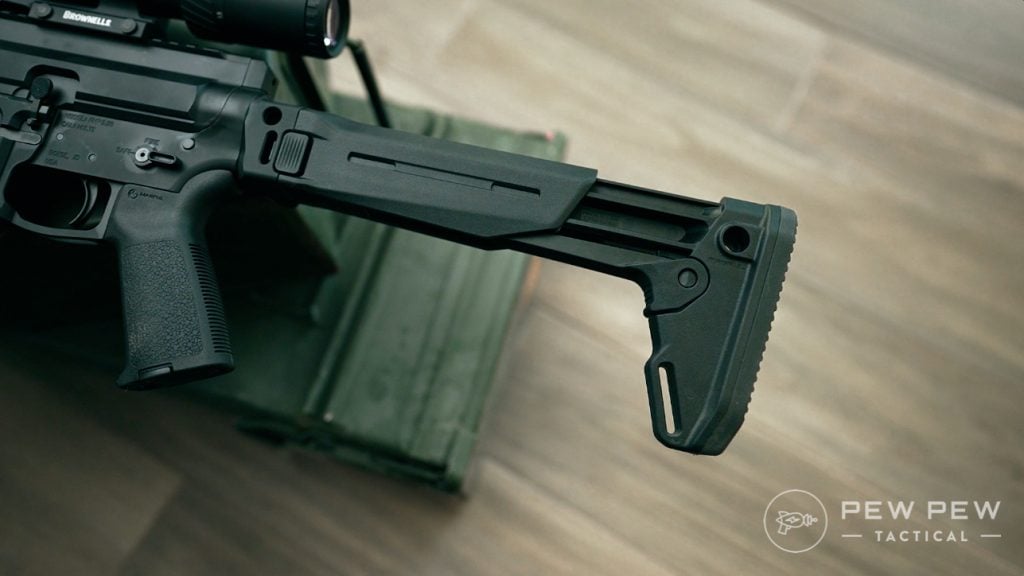 Originally designed for AK series rifles, the Zhukov is visually strange on an AR. But the look has grown on me over time.
Looks aside, I'm sure you're wondering, at this point, how it performs. So, let's talk about my experiences at the range.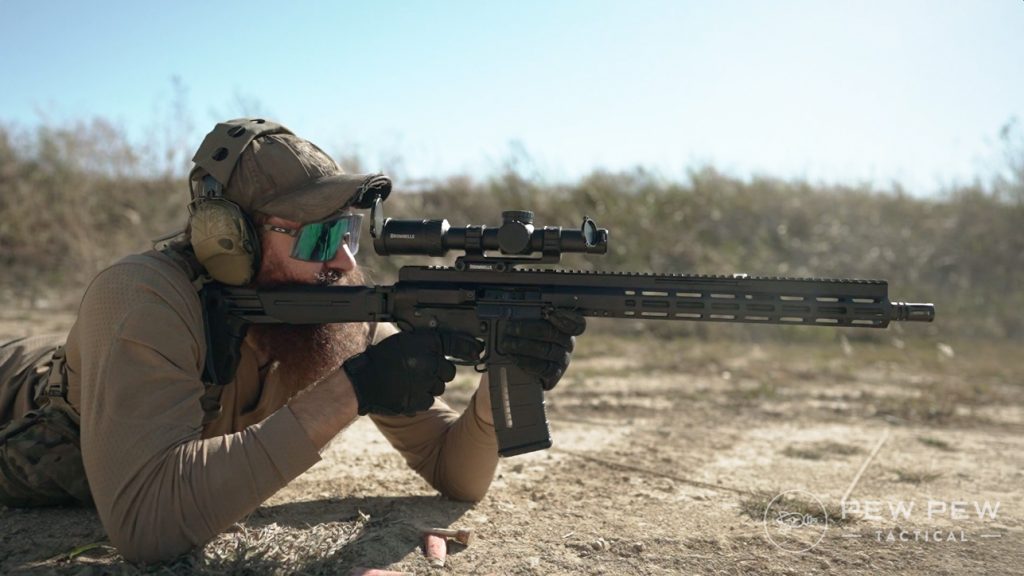 Let's Head to the Range
First impressions at the range are pretty stellar — even though my opinion was likely skewed by the several hundred rounds of 7.62×39 I had been firing through a pair of AKs immediately prior.
Recoil felt considerably less "sharp" than one might normally expect for an AR with a birdcage flash hider.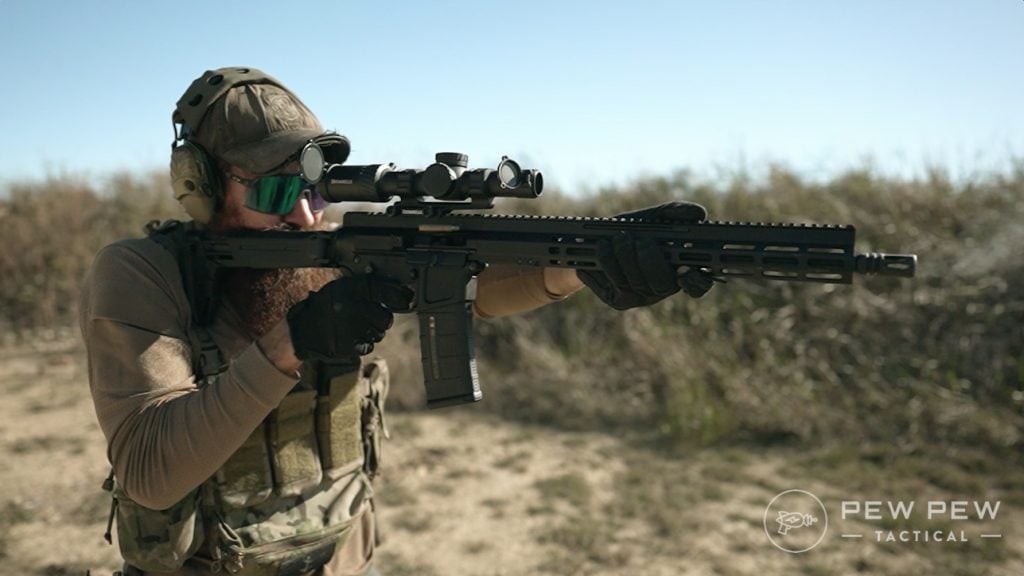 Because I know there will inevitably be an angry comment that I'm talking about what AR recoil feels like at all…yes, .223 is by no means a chunky round. But there's certainly a difference between firing an AR with a birdcage and one with a muzzle brake.
To me, the FM-15 feels much closer to a braked AR than anything else — even with its stock muzzle device on there.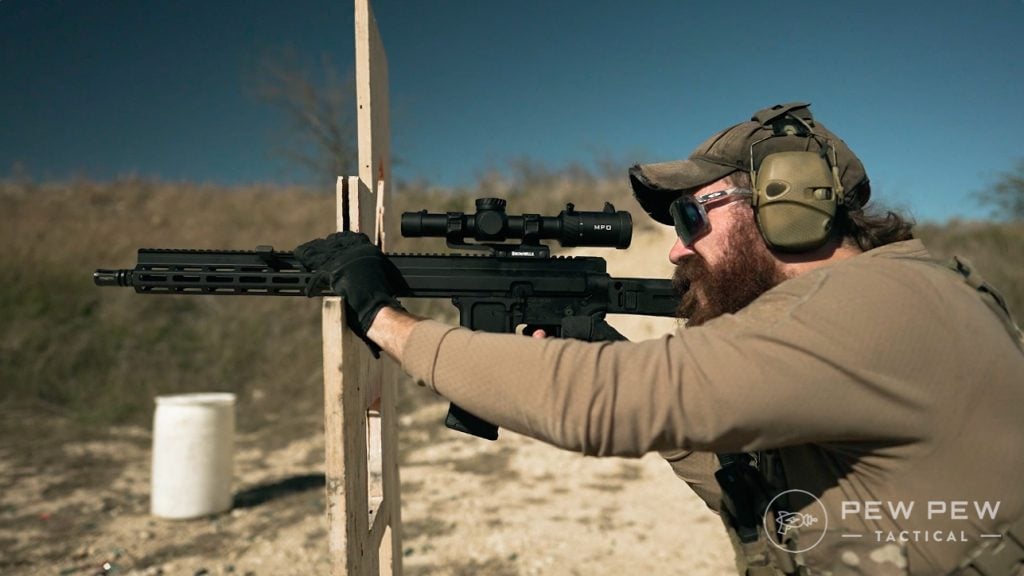 At 6.5-pounds, the rifle feels substantial without being burdensome.
Though the Zhukov stock kind of threw me off at first, ultimately, I dialed the manipulation of it in. Once you get used to it, the system works decently overall.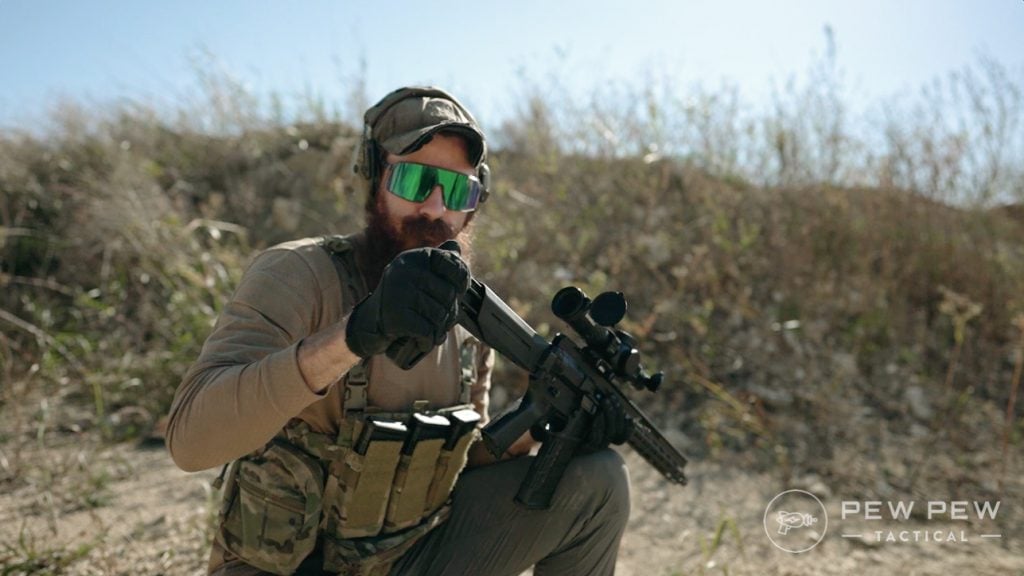 We managed to get probably ~600 rounds or so through the rifle in a day's worth of shooting. It suffered no malfunctions to speak of…however…
I managed to induce several failures to fire while running drills on a barricade.
This occurred when I inadvertently put just enough pressure on the charging handle to take the gun just enough out of battery not to fire.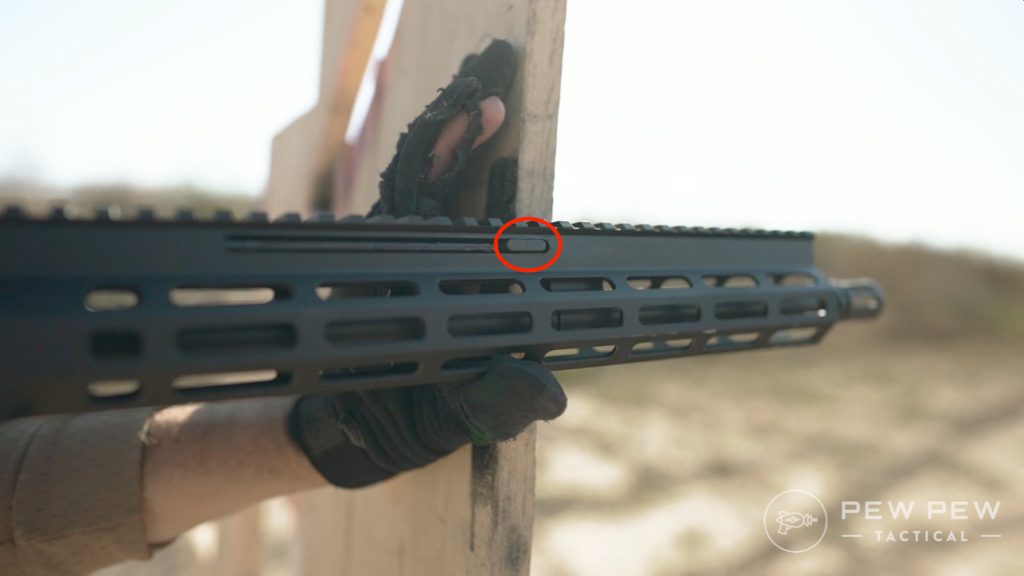 But I'm willing to put most of the blame there on me.
Once I readjusted my grip to stabilize the rifle in front of the charging handle, it ran just fine.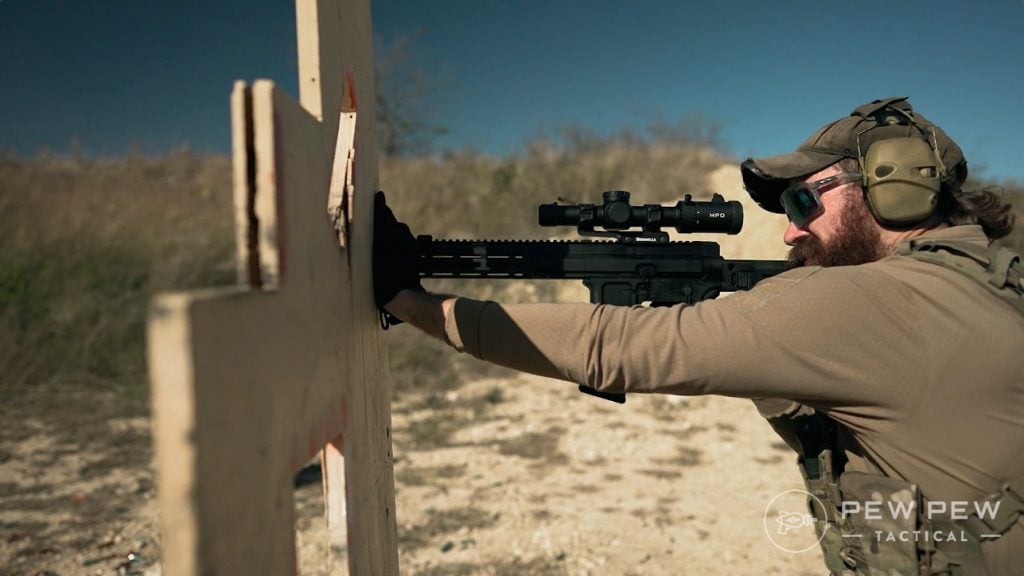 Let's Talk Charging Handles…
Speaking of, "fine" is probably an adequate descriptor for my feelings on the charging handle as well.
It's certainly adequate and does the job, but manipulating it doesn't exactly feel smooth.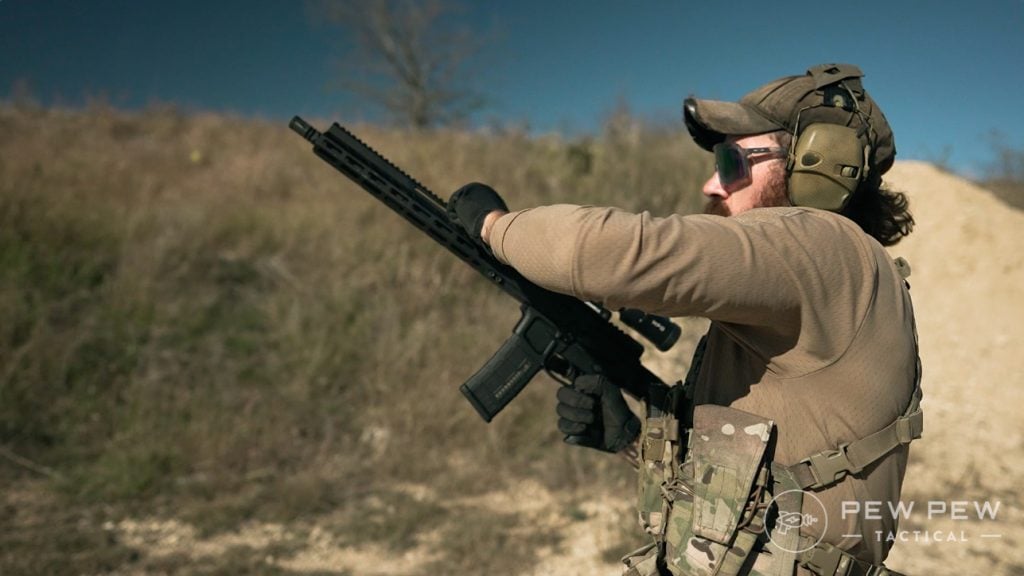 I'm not sure if it's the charging handle spring itself or the tandem springs the bolt carrier rides on, but this thing sure does feel a bit crunchy when you're driving the handle home.
It takes a good amount of force to get completely rearward as well.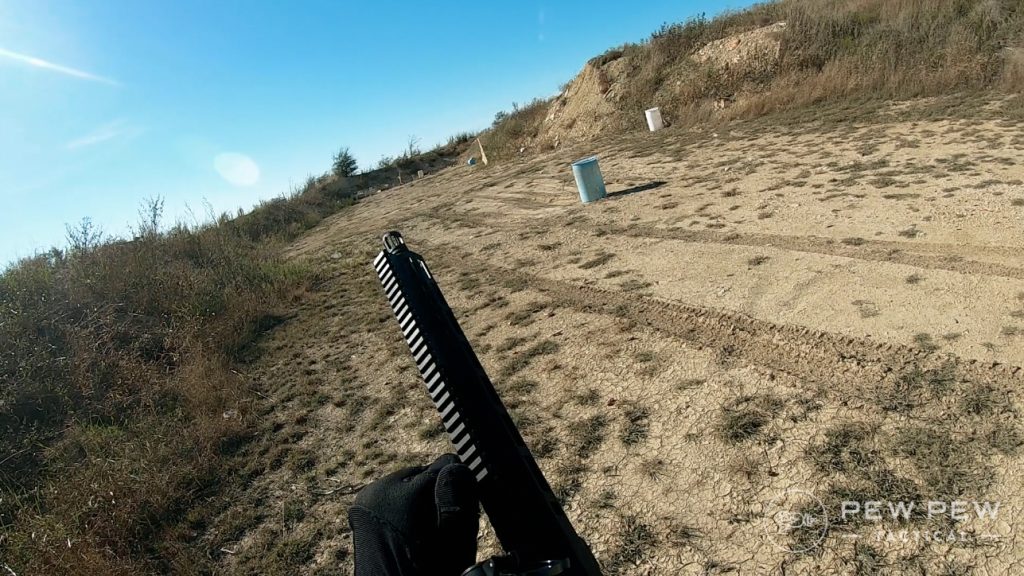 Did it sour the experience for me? Not at all. I eventually learned to work around it, but just be aware, an AK bolt, this is not.
It's also worth mentioning that the charging handle can be repositioned so the handle faces downwards or can be flipped onto the other side of the rifle entirely.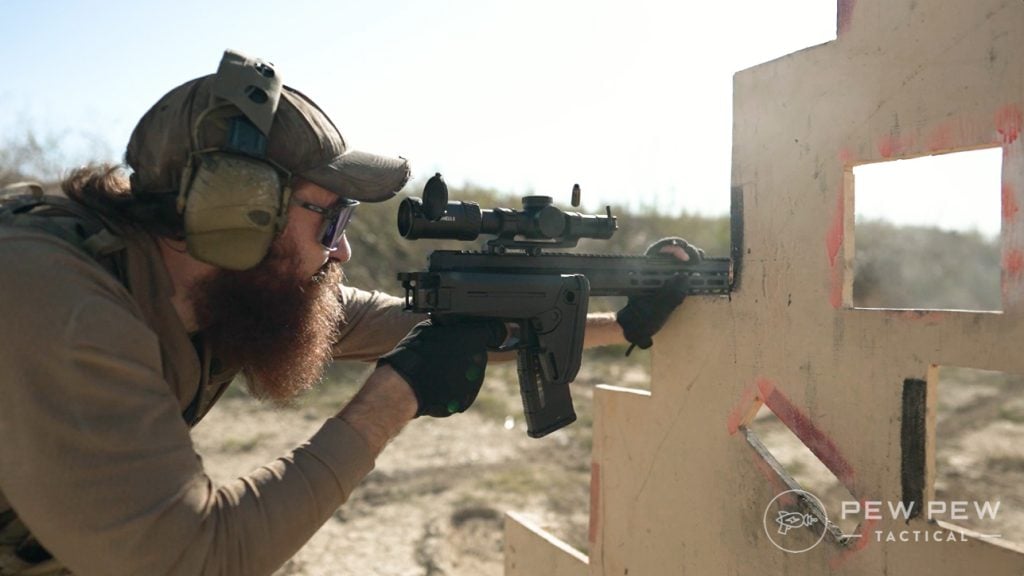 But I found the stock position reasonably adequate, so I didn't test the alternatives.
As mentioned, the rifle can be fired with the Zhukov folded. And it does indeed ride at an angle that gives it just enough clearance to not obstruct your brass as they're ejecting.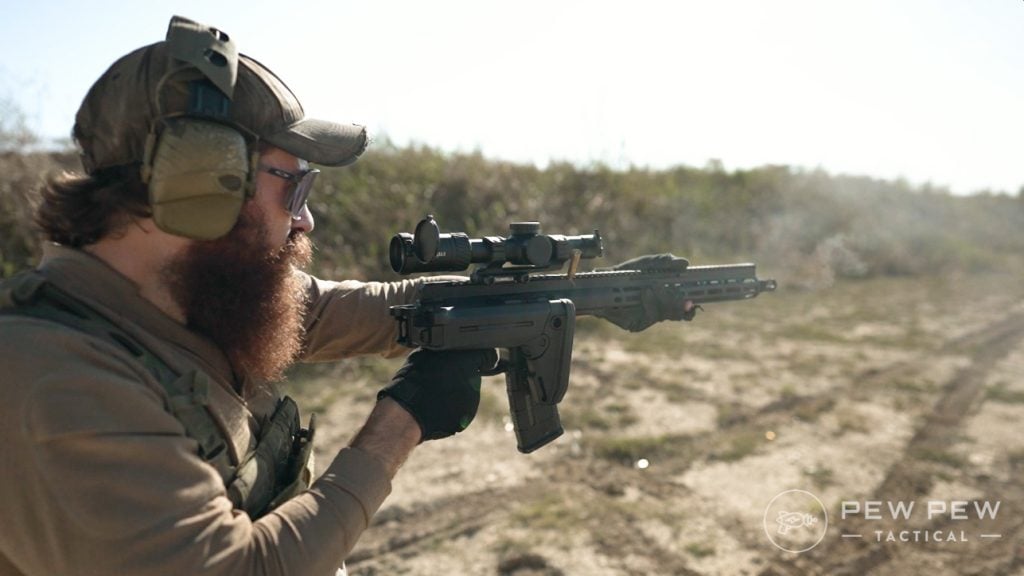 We tossed a Silencer Central Banish 30 on the gun just for funsies, and it managed to tear through a couple of mags with no issues to speak of.
999
at Silencer Central
Prices accurate at time of writing
Prices accurate at time of writing
Obviously, a .30 cal can isn't going to have an enormous impact on your muzzle report; but it's worth noting, this thing gets downright gassy when suppressed.
So, keep that in mind if you're thinking of going the tax stamp route with it.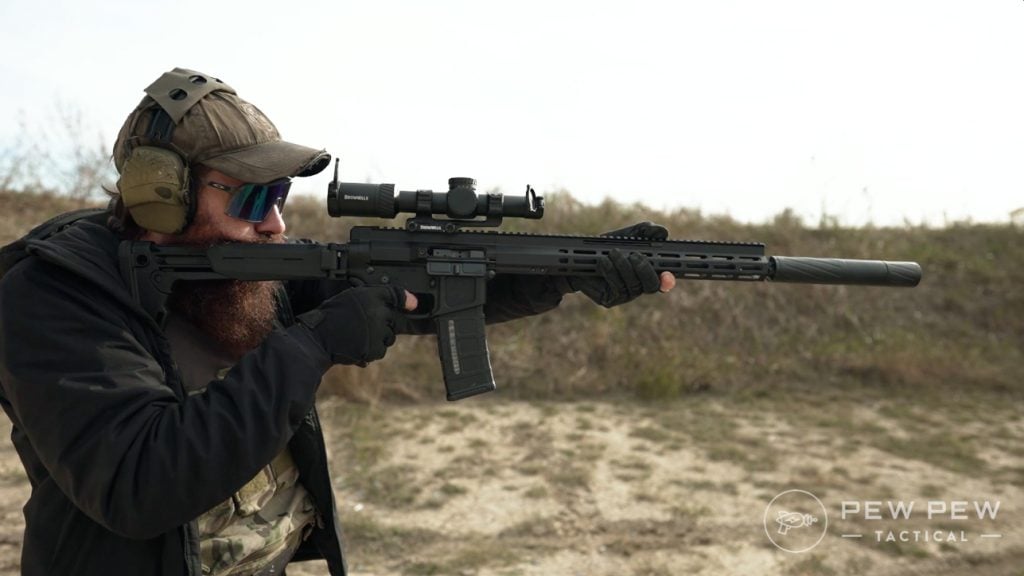 By the Numbers
Ergonomics:4/5
The stock and higher mounted Pic rail took some getting used to, but with enough time, the setup starts to feel more comfortable.
Reliability: 4.5/5
We had a small hiccup at the range when shooting around barriers, but I'm chalking that up to user error more than the gun.
Customization: 4.5/5
With M-LOK and a Pic rail, you definitely have options when it comes to mounting whatever accessories you want.
Value: 5/5
As a Brownell's exclusive, you're looking at a sticker price of a little over $1,000 for the full rifle – which is certainly cheaper than most piston-driven options floating around out there
999
at Brownells
Prices accurate at time of writing
Prices accurate at time of writing
Overall: 4.5/5
In short, I had fun with it. And you might, too, if you want a gun that kind of feels like MK16 and an AK did the fusion dance.
Conclusion
I think the FM-15 is pretty cool for what it is — even if it feels like a lot of effort to wind up with a gun that you can shoot with a folded stock.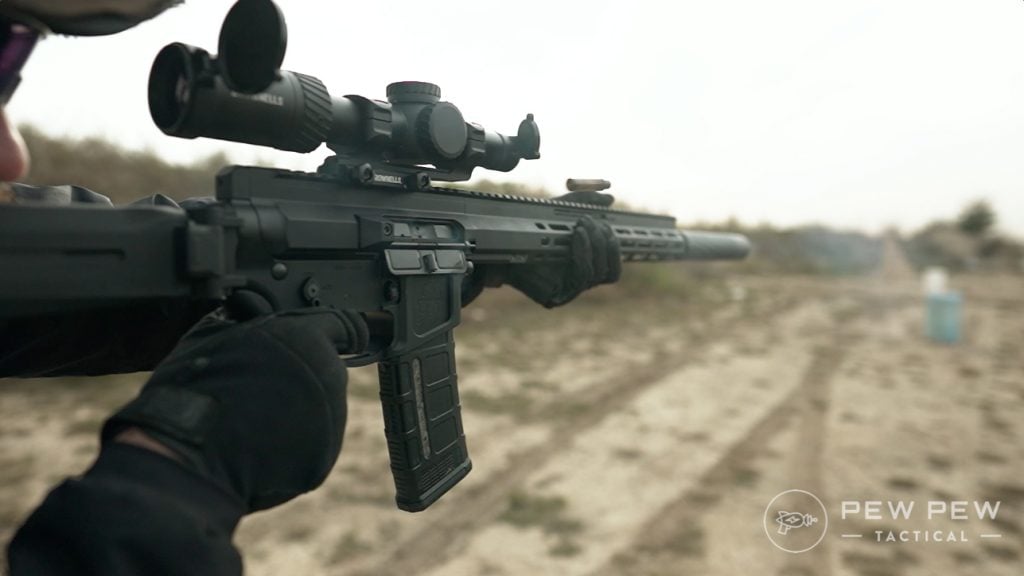 It does the job well in a manner that's both sleek and functional and sports all the modern features you'd expect from a reasonably mid-grade AR-15 right now.
Perhaps, best of all, it's still pretty damn cheap. Can't beat that.
999
at Brownells
Prices accurate at time of writing
Prices accurate at time of writing
Again, you can catch the FM-15 at the range by watching the full review below.
What do you think of the FM-15? Drop your thoughts in the comments below. Need help outfitting your AR-15 with accessories? We got you! Check out our recommendations on optics, lights, flash hiders, and even suppressors.