Your car, truck, or SUV is a place you spend a lot of time.
So, it's likely you could run into an emergency situation in your vehicle.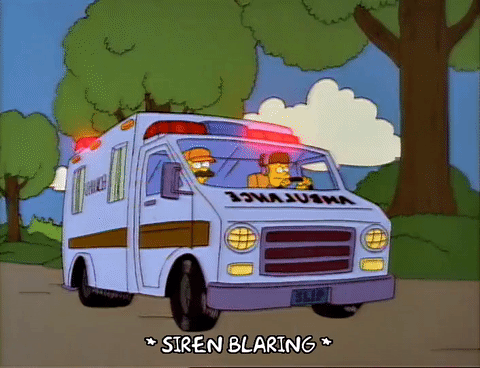 It could be as dramatic as a car crash, wildfire, or flash flood, or as mundane and annoying as a flat tire or dead battery.
Regardless of the situation, you want the ability to get your vehicle up and running as fast as possible.
In most cases, your car is the ticket to safety, escape, or help.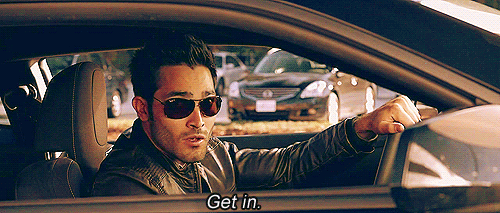 With that in mind, we perused, browsed, and put our minds together to form what we think is the ultimate car survival kit.
We'll cover everything from the tools you need to fix a flat all the way to essential first aid gear to help you if a medical emergency arises.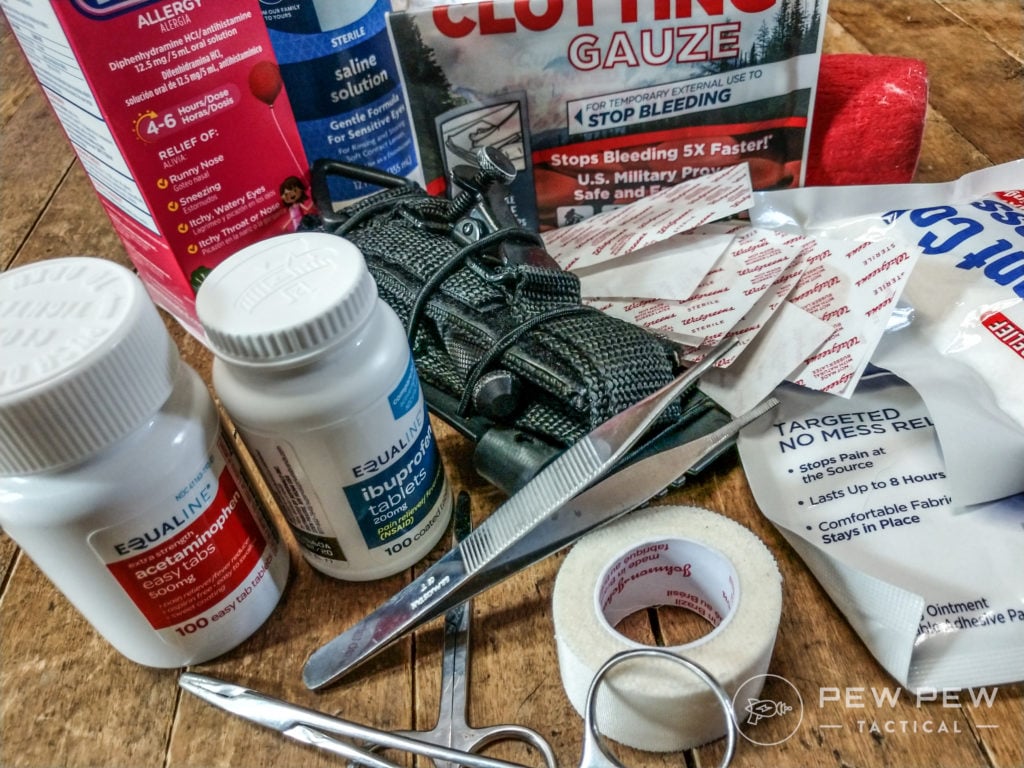 Read on to make sure you're prepared.
Basic Breakdown Kit
The most common bad situation in your car…it stops working.
You don't have to be a mechanic to fix most issues, but you do need a robust car kit to get back on the road.
A good car kit prevents a bad situation from becoming worse.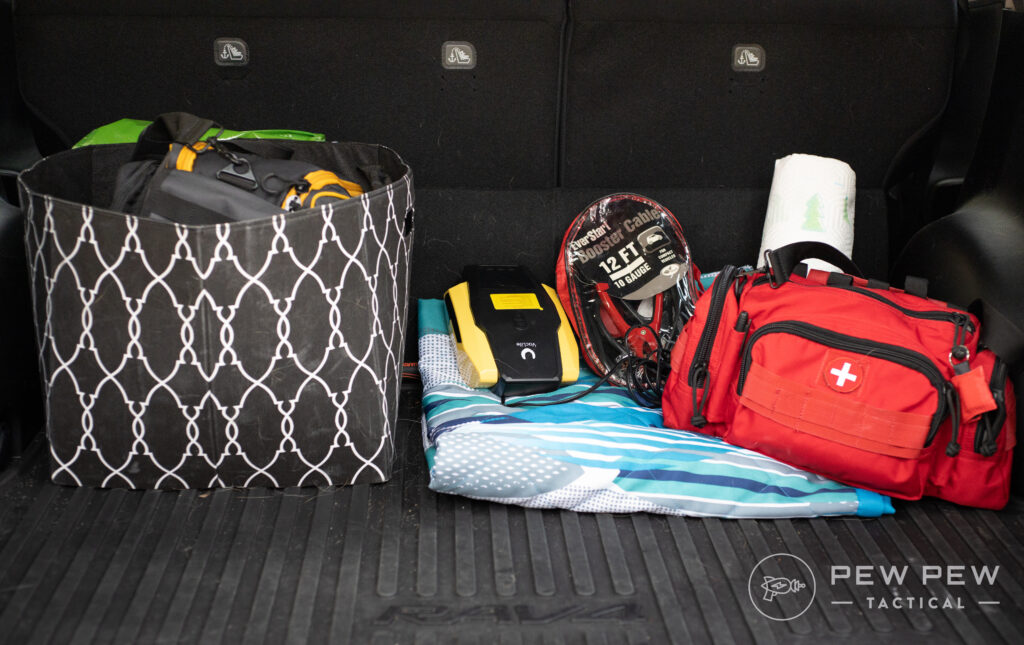 Your car likely comes with a few tools to change a tire. But you should upgrade and add to whatever kit the dealership gave you.
Let's dive into what a robust car kit entails…
Bottle Jack
That scissor jack that came with your car works okay in the best of conditions. On crappy roads, bad environments, or uneven ground, they're terrible.
Taking forever to get your car up, they also aren't too stable.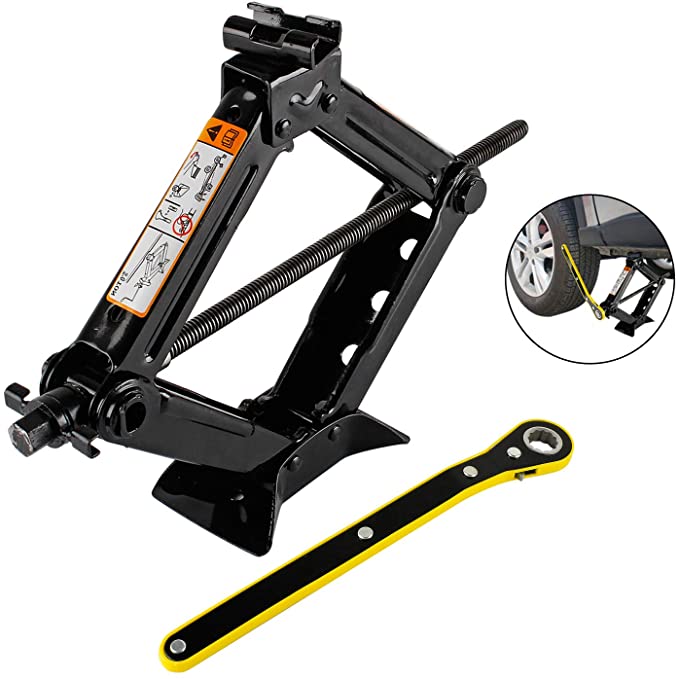 Toss the scissor jack out and get yourself a bottle jack.
A bottle jack is easier to use, faster, and more suited for uneven terrain. A bottle jack cuts the time it takes to change a tire in half.
Before ordering one, make sure you know your vehicle weight. Bottle jacks come in every size you could need, from 2 to 20 tons.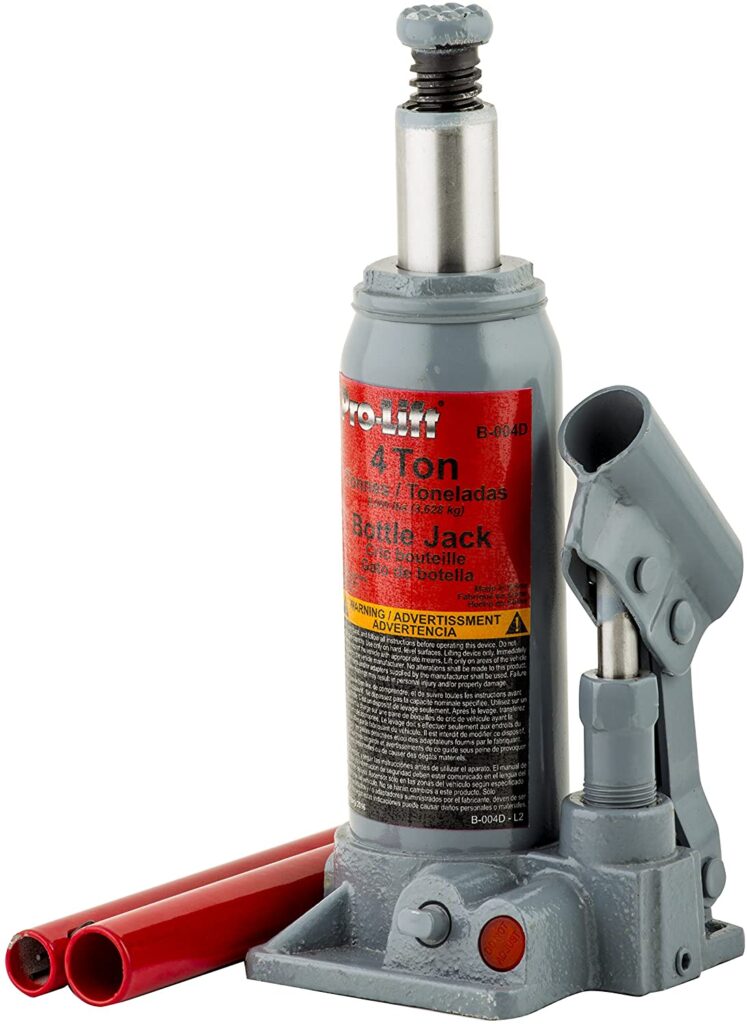 I use a Pro-Lift model, and it worked well the time I popped a tire. Trust me; I loved having the bottle jack over the scissor jack!
If you leave with nothing else, let it be a bottle jack. You'll thank me later.
Breaker Bar
Another tool likely stowed in the car already is some sort of device to remove lug nuts. This handy tool is called a lug wrench.
Small and lightweight, they are great for small trunks…but not so wonderful if a lug nut happens to be stuck or overtightened.
Because I've run into a stuck lug nut more than once, I keep an improvised breaker bar in my trunk as well.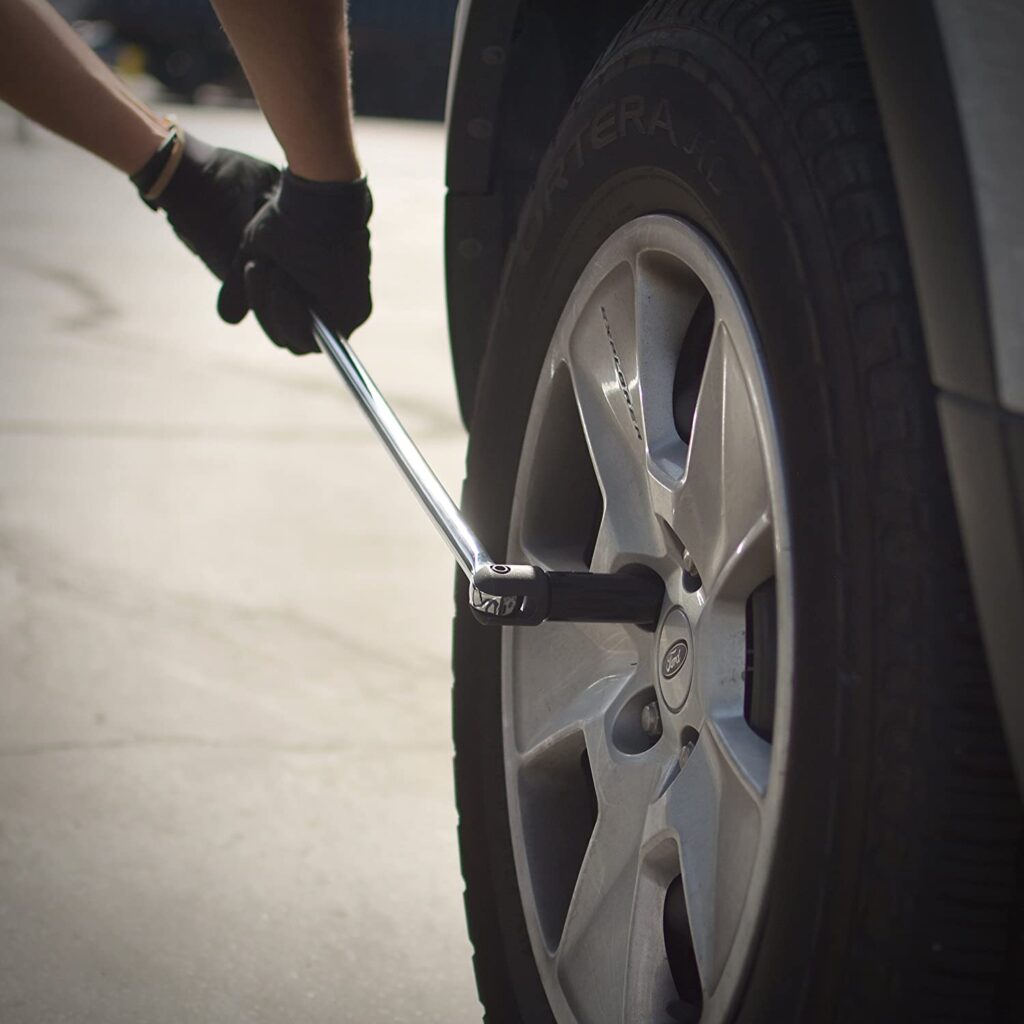 It's a short piece of metal pipe, maybe 20-inches long, that fits over my lug wrench. This adds extra length and size.
The added measurements make the lug wrench easier to grip and adds more leverage, making short work of stuck lug nuts.
It's not fancy, but again, I've used it more than once for myself and others. I've come to really appreciate it.
Fix-A-Flat
Getting a flat tire sucks, but it doesn't mean you have to change your tire right then and there. Sometimes, the car can limp along until you can find a garage and get a proper replacement.
In slow leak situations, Fix-A-Flat is the best solution! I highly recommend keeping a can in the car.
Fix-A-Flat fills up your tire, applying a goo to the leak, and buying you some time to find a tire shop.
While this isn't a permanent fix, it's quicker and easier than tossing a spare on. Not to mention, it'll preserve that spare for a little longer.
Jumper Cables
Walking to your car to find a dead battery makes for a bad day, but it's an easy enough fix if you have jumper cables.
They're simple and easy to keep in the car.
Oh, and they'll get your vehicle up and running in no time, assuming you find a good Samaritan to help you out. (There's usually plenty of good guys and gals around ready to help out.)
Skip the cheap pairs, though, and go for a quality model.
Mini Car Powered Air Compressor + Battery Jumper
A low tire wears quickly and increases fatigue on your car, so avoid a bad situation by having a mini air compressor stored in your vehicle.
A model that plugs into your car allows you to quickly top off a tire and go on with your day.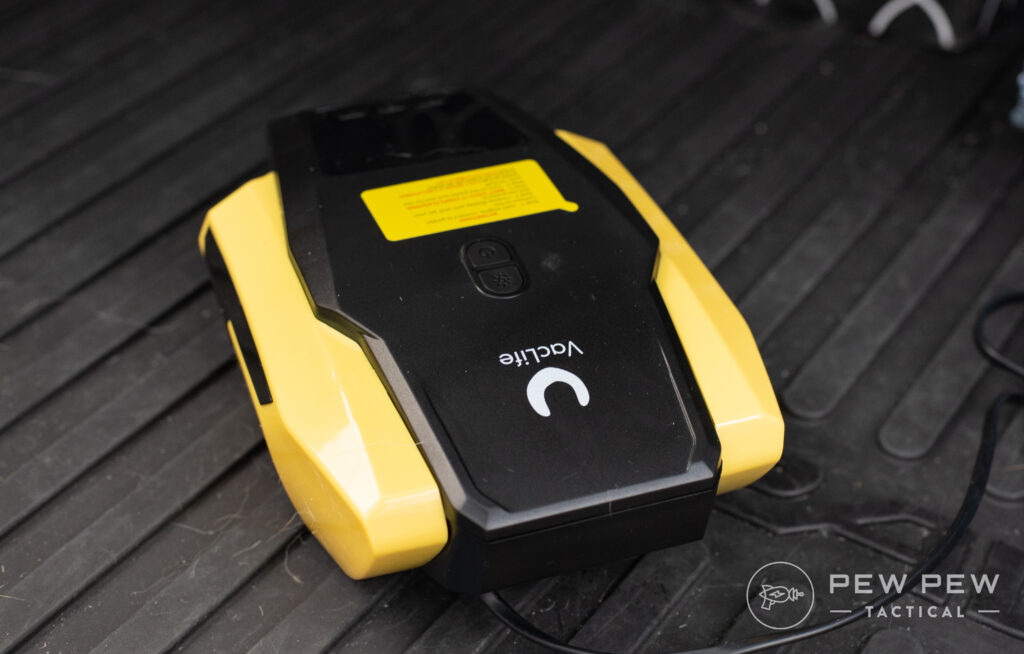 If you're in the market for a new mini air compressor, go ahead and spend a little extra money to get one with a battery jumper. Might as well save space and double the usefulness of an item.
A combination battery jumper and air compressor bring the power of two tools in one.
But remember, different vehicles need different amps, so pair the right one with your car.
The Stanley Fatmax is a handy option. It acts as both an air compressor and a battery jumper AND packs a flashlight and three USB ports for charging phones or whatever else you may need.
It even offers a reverse polarity alarm in case you get an improper connection.
Fair warning, the Fatmax and others like it are basically a giant battery. Like any battery, you need to keep it charged. So, once a month, inspect and recharge it.
LED Flares
Flares mark your location if a break-down occurs on a dark road, keeping you safe from oncoming traffic.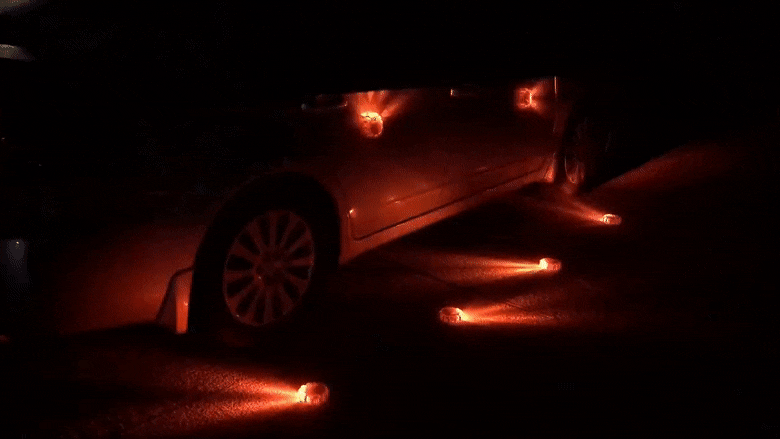 While regular flares do the trick, they aren't reusable, and they can cause fires.
On the other hand, LED flares are a simpler option that is safe, reusable, and effective.
Small Gas Can
As a teenager, I ran out of gas more times than I want to admit.
Afterward, I stumbled into gas stations looking for a gas can, but, alas, many didn't have any on-hand.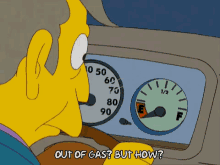 I learned my lesson eventually, and now, mature and wiser, I keep a gallon-sized gas can in my car if I find myself on empty.
Word of caution, don't keep it full of gas because, you know, fumes and fire and such.
A Robust Car Kit for Everything Else
The above break-down kit is useful for all life's basic car issues, but there are a few extras to have on hand for other emergencies you might stumble upon.
So, let's add a few more things to our list of car must-haves.
Ztylus Stinger
Okay, to be fair, I don't own this just yet but found it while researching this article.
The Ztylus Stinger is a multi-use device designed to look and function as a phone/electronics charger. It plugs into your car outlet and offers a normal dual USB design.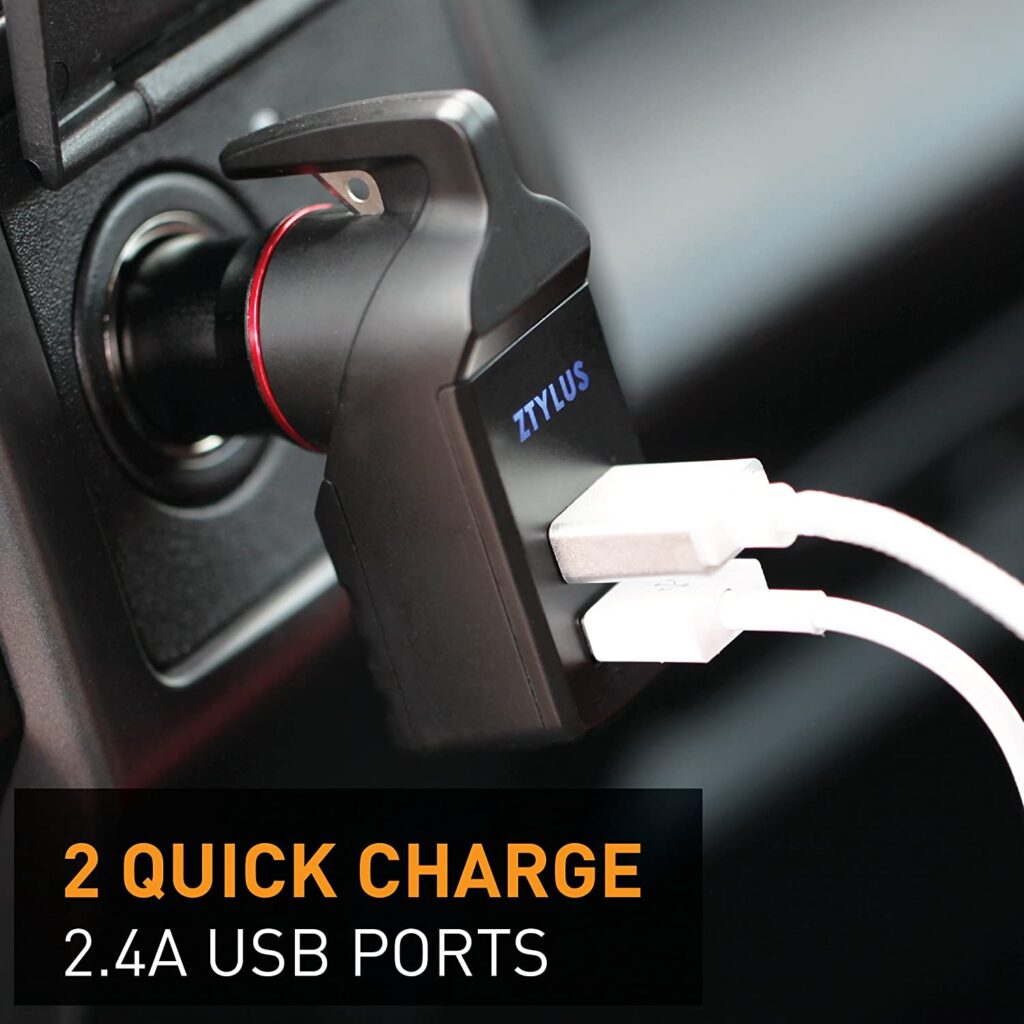 Right off the bat, the Ztylus is something you can use daily if you're someone who regularly runs around with 1% battery.
Outside of keeping your phone charged, the Stinger also comes with a seat belt cutter and a spring-loaded glass breaker.
The spring-loaded glass breaker doesn't require a lot of force to use. Push it against the glass, and it will do its own thing.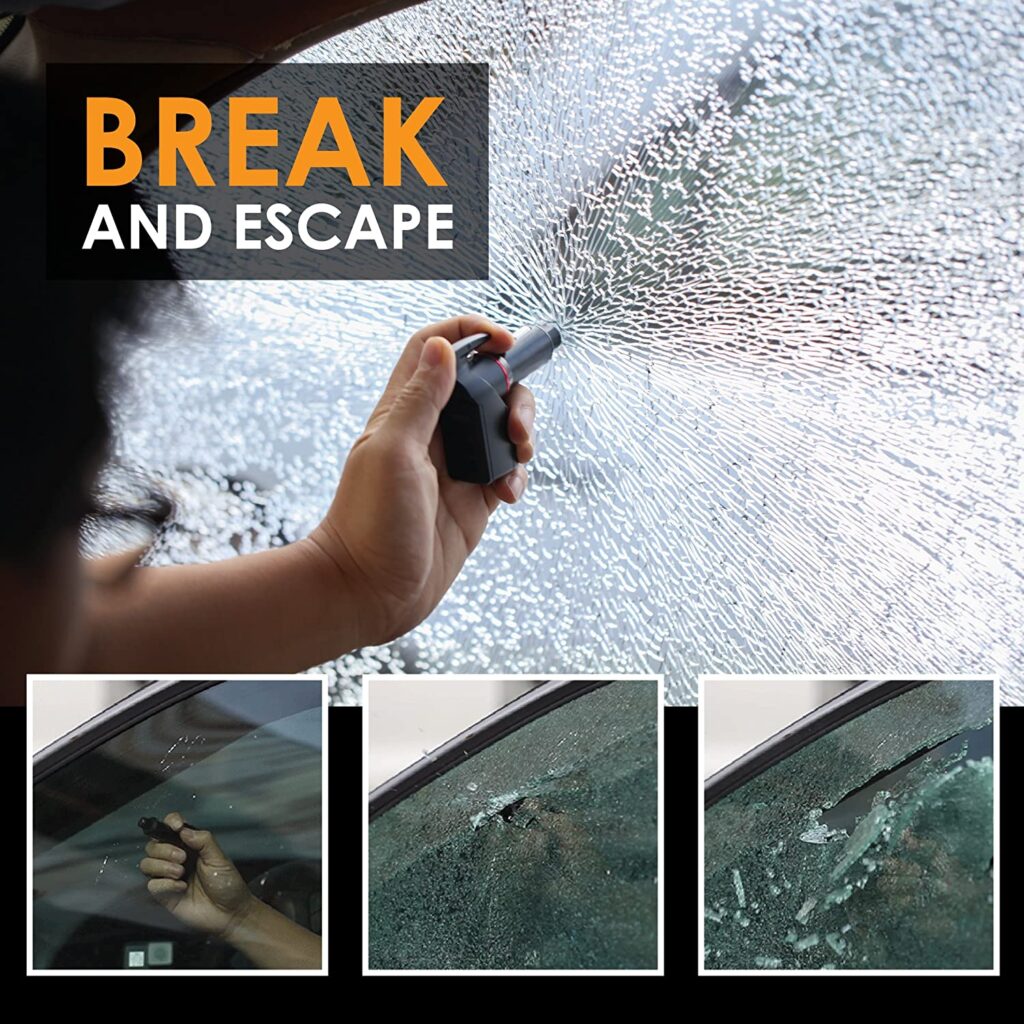 If something happens to your seat belt and you need out of the car quickly, you can use the seat belt cutter.
It's a razor blade that is protected and comes in great in a pinch.
Keep the Stinger in an easy to reach location should it be needed in an emergency.
Flashlight
Tactical flashlights are great for tactical applications. A blinding white light of 1,000-lumens is awesome when searching for bad guys, or during a rescue, etc.
The hour-long run time stinks, though.
So, a flashlight with a long battery life is better suited for an emergency car kit.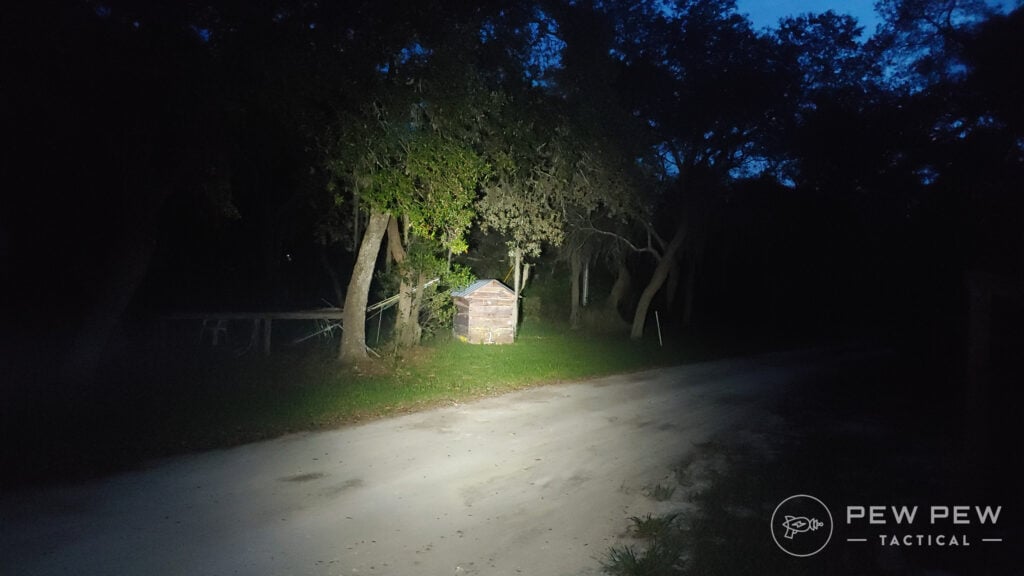 My favorite is the Streamlight Sidewinder.
The Sidewinder is a square-shaped flashlight that offers multiple color lights and a swiveling head. Its square bottom allows the light to be rested for a hands-free design.
Streamlight's Sidewinder also benefits from a massive clip. Attach it to a shirt for a hands-free experience.
The flashlight offers an ultra-strong light that can take tons of abuse.
I carried one for two deployments in some of the world's worst environments. It's super handy and an awesome tool to have for most uses.
Power Bank
The last thing you want in an emergency situation is a dead phone battery.
You could be buried in snow, lost in the woods, or just broken down without the means to charge your phone.
Being able to call for help, get directions, and or even keep little kids entertained is a must on the road!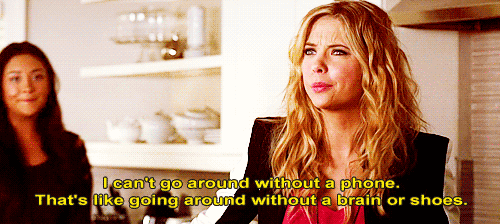 Enter a power bank — a true must-have!
There are lots of options out there, and plenty will serve you well. But I trust Anker with my power needs.
True, it does cost a little more, but Anker is well worth the investment.
Work Gloves
When it comes to hot parts of a car, broken glass, and all the fun things that could happen in a car accident or survival scenario, protect your hands while you work!
The last thing you want is wounded hands in a survival situation.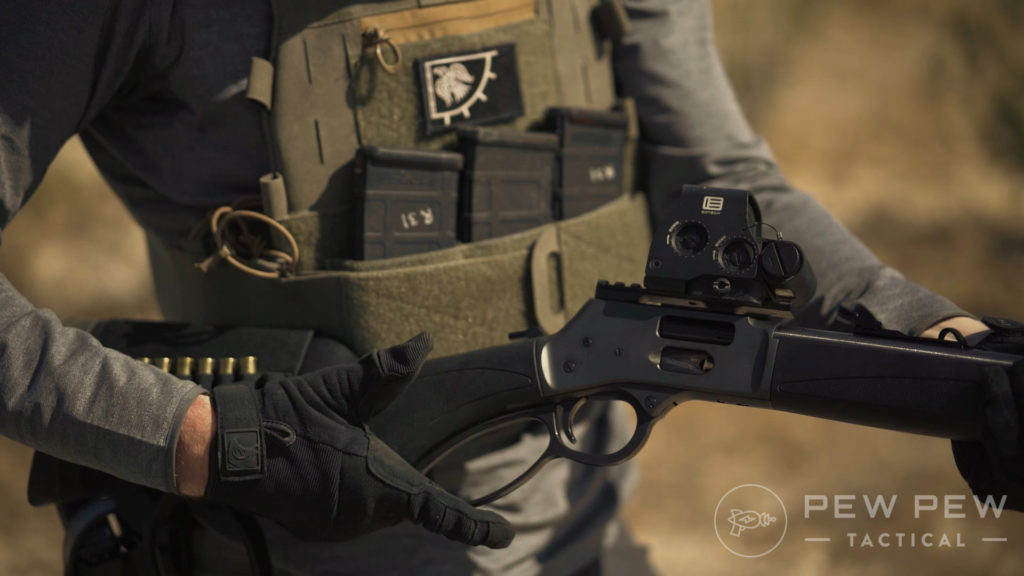 Mechanix gloves are well-made with an awesome reputation for a reason.
They are strong and, most importantly, made to protect hands in the very situations you are facing in a survival scenario.
Some Small Must-Haves
Some of the following items are going to seem…a little odd but trust me when I say you will be happy to have these when you need them.
Toilet Paper – Just trust me. It's better to have it and not need it than need it and not have it.
Roll of Duct Tape – From improvising bandages to repairing a broken window, having a roll is super handy.
Maps – Phones die. GPS dies. A road atlas of your area is forever!
Ice Scraper – I live in Florida, so not a must-have for me, but for poor souls further north, a scraper proves useful.
Weather Appropriate Wear
I really love the remote startup on my car. It gets the heat going well before I slide into it.
But what happens if I am stranded and can't take advantage of that nifty feature?
That's when I turn to weather-appropriate gear.
Poncho
As a Floridian, I deal with rain a lot. So, I keep some simple, one-time-use ponchos packed away in my vehicle.
They are small enough to carry in a pocket and will surely be helpful if you have to ditch your car in a rainstorm or change a tire in a downpour.
Blanket
Even though I live in Florida, that doesn't mean I get a pass on having a blanket in my car.
Once, my alternator went out when it was 30-degrees outside. I couldn't fire up my car to run the heat, and I nearly froze, waiting for a tow truck.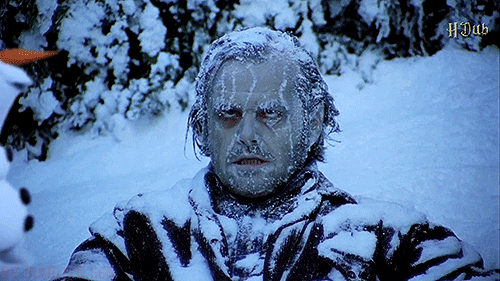 Since then, I've kept a poncho liner in my car.
Poncho liners are the lord's gift to the infantry! They are ultra-warm but also ultralight and easy to pack.
I use them for everything from camping to emergency uses. Stick one in your car to keep you warm should things get frigid.
Warm Gloves
Wait, didn't you already mention gloves earlier?
Yes, working gloves, but now we're talking about warming gloves. Gloves for warmth are different than gloves for work.
If you have to work on your car, you'll need dexterity, and dexterity abandons cold hands.
But what if you need both?
I suggest Mechanix Cold Protection Gloves. They are tough, warm, and capable of anything you throw at them.
Closed-Toed Shoes and Spare Socks
To me, flip-flops are only to be used for the beach and public showers; but I recognize that fashion flip-flops are a thing.
If you are a flip-flop wearer, keep a pair of closed-toed shoes and socks in the car in case you need to bail.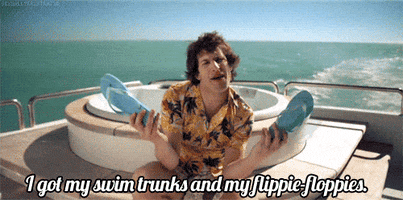 Walking along the side of the road, down a dirt road, or through the woods is not a task for flip-flops.
An old pair of sneakers and some socks, on the other hand, will do just fine if you find yourself leaving the car behind.
Food and Water
Your local McDonald's won't be ready to serve an influx of people looking for food in a true disaster.
So, it's important to keep some essentials on hand in case things go south, like survival/camping food and water pouches.
They are compact, easy to store, and have a long shelf life.
Perfect for emergencies!
The bagged water comes in 4-ounce compartments, while the food rations offer 3,600 calories per food bar — both last five years.
Honestly, the bars are not exactly tasty, but they'll fill you up. And that's what matters.
We took an in-depth look at the 7 Best Survival & Camping Food Brands & Kits — including SOS — so be sure to check that out.
Medical Kit
From car accidents to adventuring to bugging-out, a medical kit is a must-have for any vehicle.
Building your own means you can really cater your kit to you and your family's needs, but if you're new to first aid or prepping, it might be easier to go with something pre-built.
My recommendation is the My Medic Range Medic. It may be small, but it's a sweet medical kit.
Most of the components come from North American Rescue, and they make quality gear.
You get enough first aid material to treat most wounds – both traumatic and basic.
This kit would be even better if a CAT Tourniquet came with it, but instead, they provide the RATs tourniquet.
I suggest ditching the unproven, glorified tie-down strap (aka the RATS) in favor of the CAT.
No gear is a substitute for actual training, so check out our list of the Best First Aid Classes.
Conclusion
A car-based survival kit's focus is getting the vehicle back on the road. Because let's face it, your best chance at survival rests in your ability to travel.
With that in mind, building a survival kit that incorporates the car's needs and human needs is a great idea.
What are some of your favorite things to keep in your car for survival? Let us know in the comments. Also, be sure to check out our guide on the Ultimate Bug Out List for all the essentials you need. And if you have Fido with you, it might be worth reading up on the Best Dog Bug Out Bags.