Check out our video review of some of these sodium-laden, heat-and-go meals, or keep reading for our full review.
---
In a survival situation, you might not be all that picky about what you eat.
But if you're preparing for the apocalypse (or, y'know, a camping trip), you've got options…so why not choose the best and tastiest?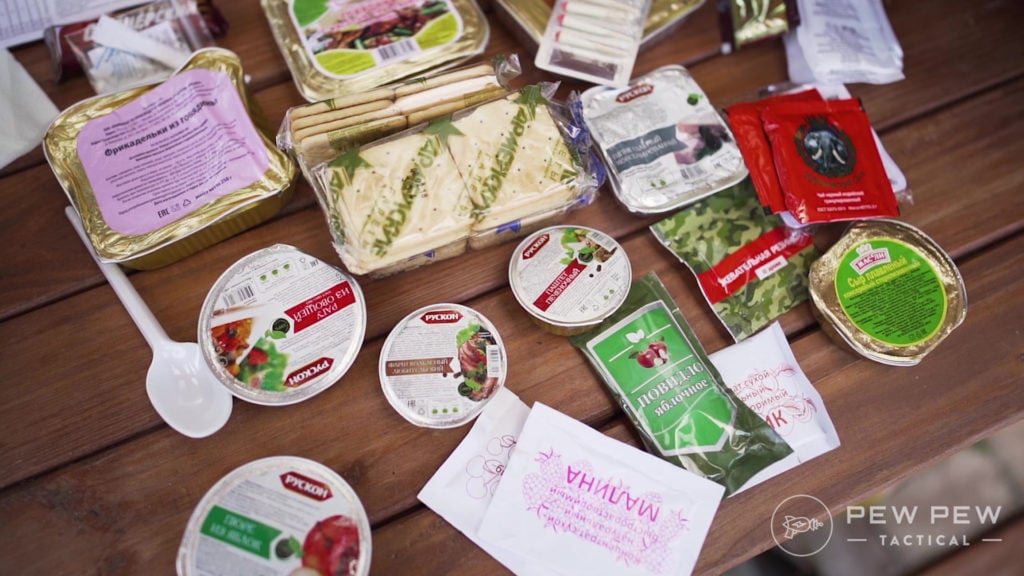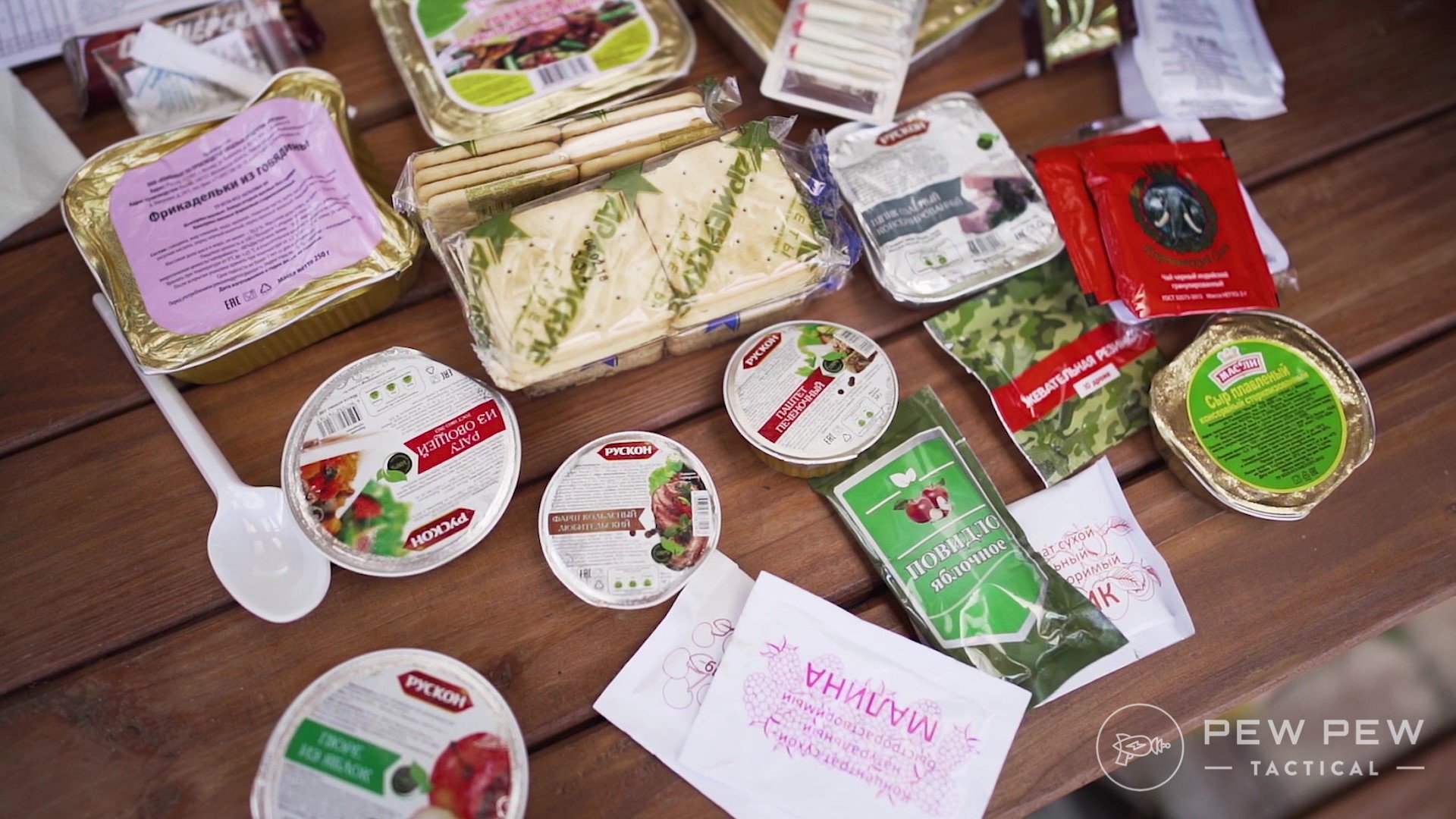 Rather than leaving you to face endless mystery MRE menus on your own, we've gathered some popular emergency and camping foods and put them to the test–the taste test that is!
Summary of Our Top Picks
Table of Contents
Loading...
What Types of Food Do I Need in a Survival Situation?
Honestly, that depends on you.
If you're on the move, and need something light or something that doesn't need preparation, your emergency rations are going to look a little different than someone who is sheltering in place with a supply of camp fuel and a stove.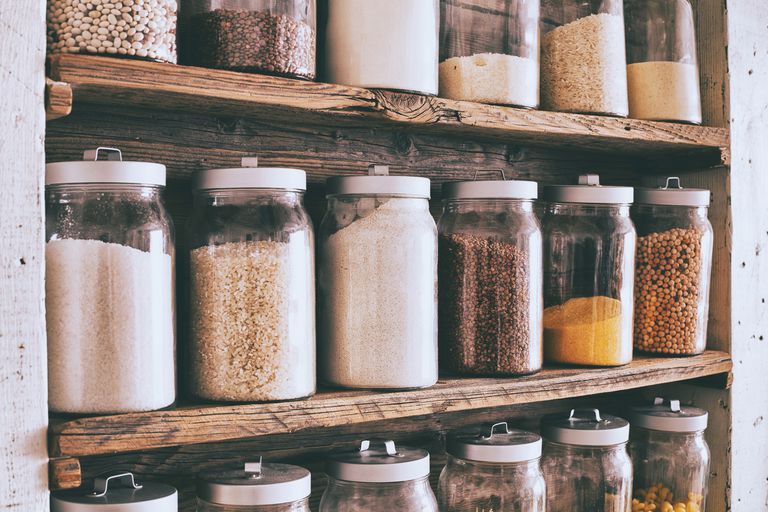 Because there's a lot of answers to this question, we tried to sample something from some of the most popular types of long-term shelf-stable foods, including freeze-dried meals, MREs, preparedness food kits, and ration bars. We picked out the most popular brands in each category of survival food we sampled and taste tested. Here's the list of categories (4) of survival food we sampled:
MREs
Backpacking/Camping Meals
Emergency Food Bars
Emergency Food Buckets
Ready to dig in?
We've tried our hand at preparing and taste-testing some of the more popular survival and camping food selections out there, and we've formed a few opinions on the matter.
Let's talk about it!
MREs
Now, when you think prepping, do you think MRE…or "meals ready to eat?"
After all, these ready-to-eat meals are quintessential features of any well-stocked fallout shelter or zombie apocalypse bunker.
They're self-heating, sealed, and pretty portable, though, as you can imagine, military rations are a bit lacking on quality and flavor.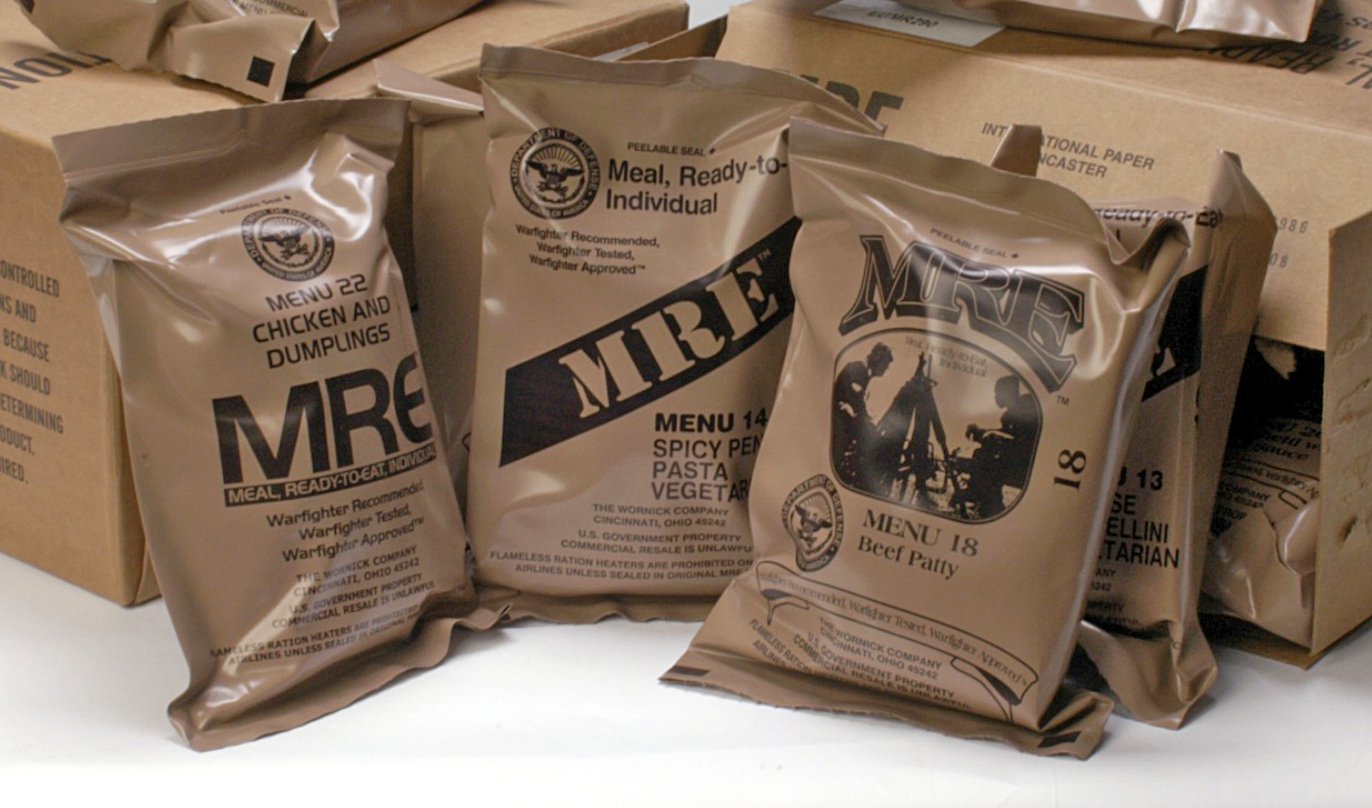 No offense, warfighters, but seeing my choice for a last-resort food branded as "Warfighter Recommended, Warfighter Tested, Warfighter Approved" doesn't inspire confidence in its craveability.
However, MREs are pretty easy to find, pretty easy to use, and, if we're being honest, have a pretty wide variety of high-calorie meals–not too bad when food is fuel to survive.
List of Best Survival Foods – All Types
1. Mil-Surp MREs
We tried Menu 1: Chili with Beans, which was our assorted mystery MRE that we ordered from Amazon.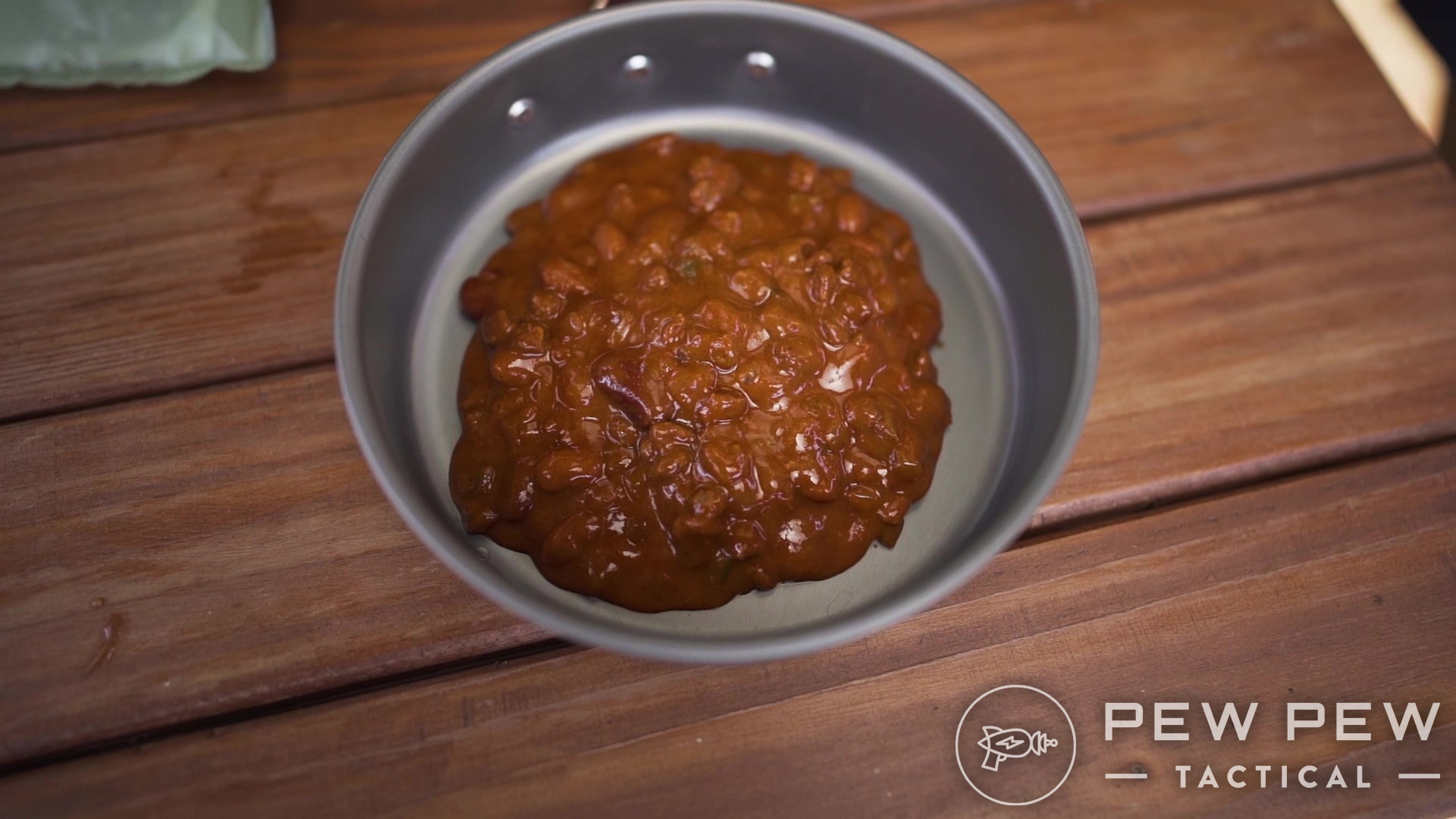 Included in the packet was said chili, as well as cornbread, cheddar cheese spread, vegetable crackers, "Pepperoni Pizza Cheese Filled Crackers," Lemon Lime beverage powder (carb fortified!), and Accessory Packet A, which contained wipes, cutlery, hot sauce, and the like.
Flavorwise, it wasn't that inspiring. It was on par with Dinty Moore canned chili, in our opinion. Definitely edible, but probably not going to win any cook-offs.
What is important is that an MRE averages 1,250 calories per meal, so you get plenty of nutrition and calories to fuel your day, whether you're hiking, surviving, or camping.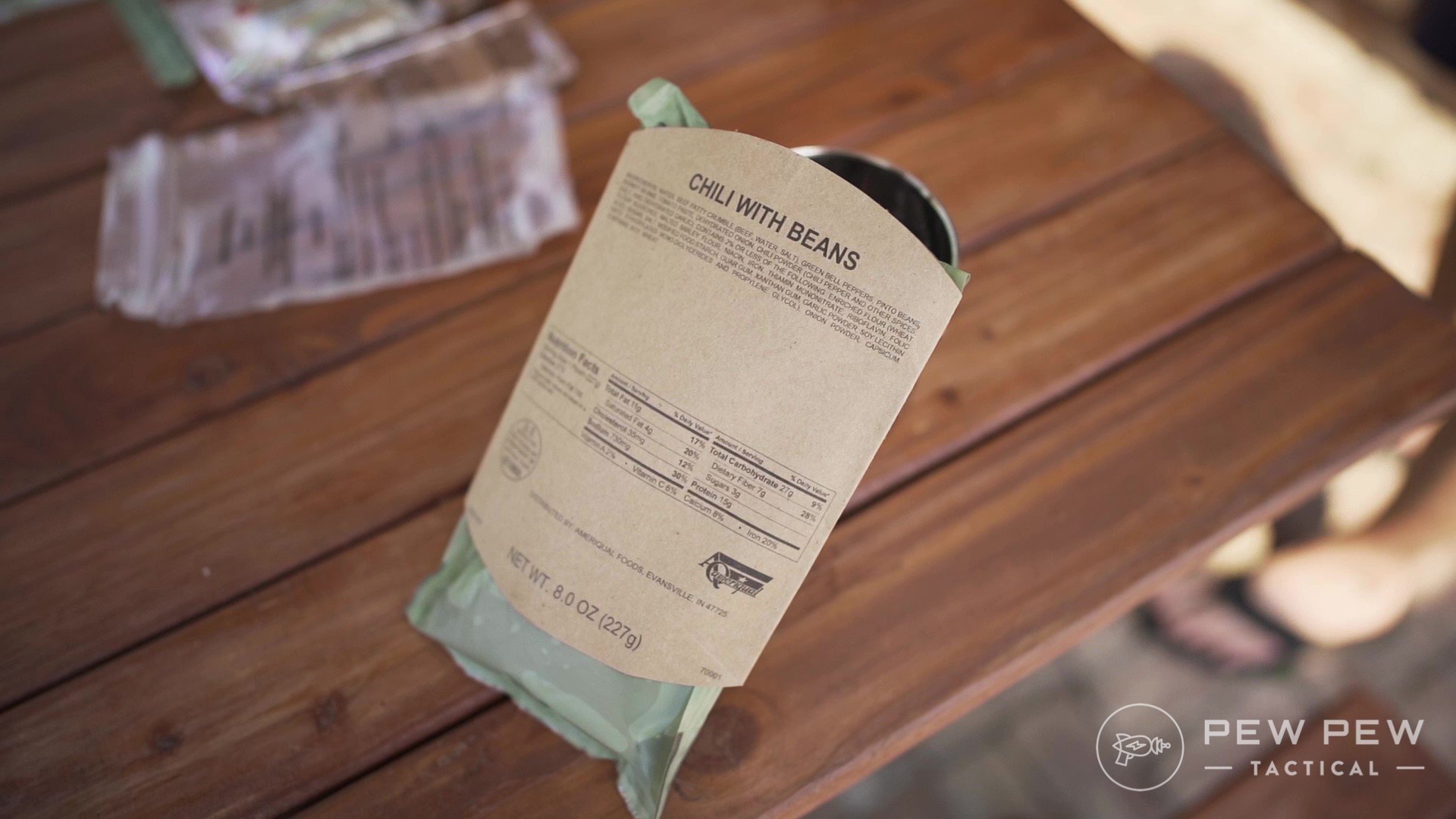 Each packet also includes an FRH, or flameless ration heater, so you'll always have a way of cooking these.
What we didn't like, especially for a camping or hiking situation where pack it in, pack it out applies (though it should always apply) is the number of individual wrappers an MRE contains.
It generates a lot of trash for a single meal.
15
at Amazon
Prices accurate at time of writing
Prices accurate at time of writing
2. Russian MRE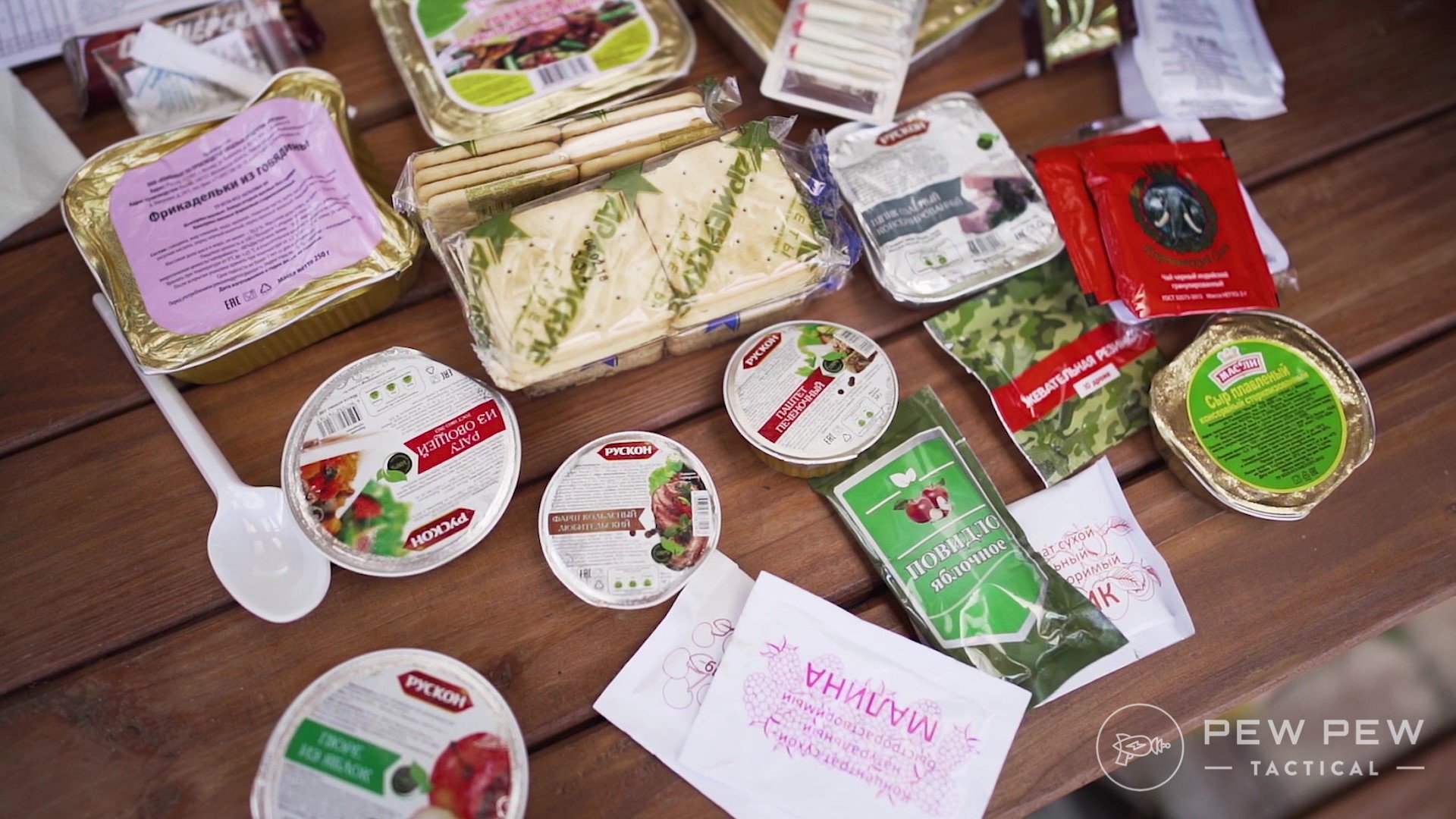 Our resident Russian geek and social media guru, John, is no stranger to Russian MREs, but I sure was, and paired with our complete inability to read Cyrillic, I knew a culinary adventure awaited.
It's worth noting that Russians do military food a bit differently than Americans. While we do individual meals in our MREs, Russians prefer the 24-hour approach.
This box included breakfast, lunch, and dinner, as well as plenty of assorted snacks to get you through your day wrestling bears and recording meteors on your dashcam.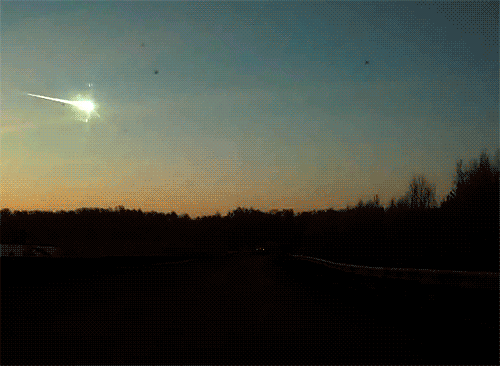 We're pretty adventurous eaters, but even we had to pause after peeling back the Cyrillic-covered foil lids and seeing just how much the contents resembled Fancy Feast.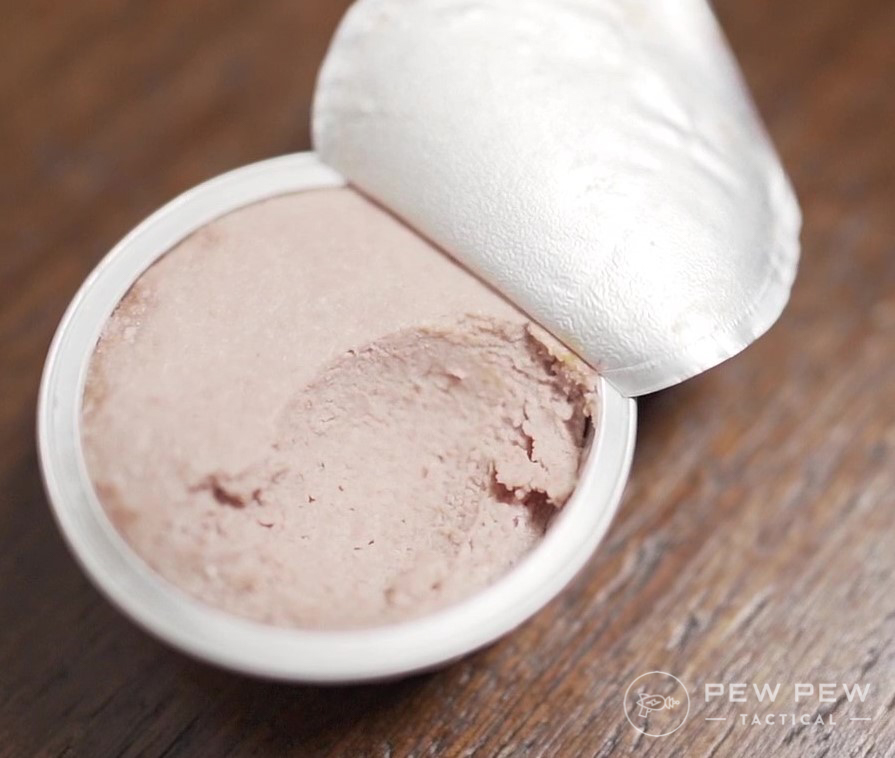 But still, we had a duty to our readers and viewers, so we threw caution (and calorie counts) to the wind and sampled everything in the kit, instead of just the main entree. Yeah, we definitely opened everything for your benefit, and not because we couldn't find the main entrees to sample. That's it.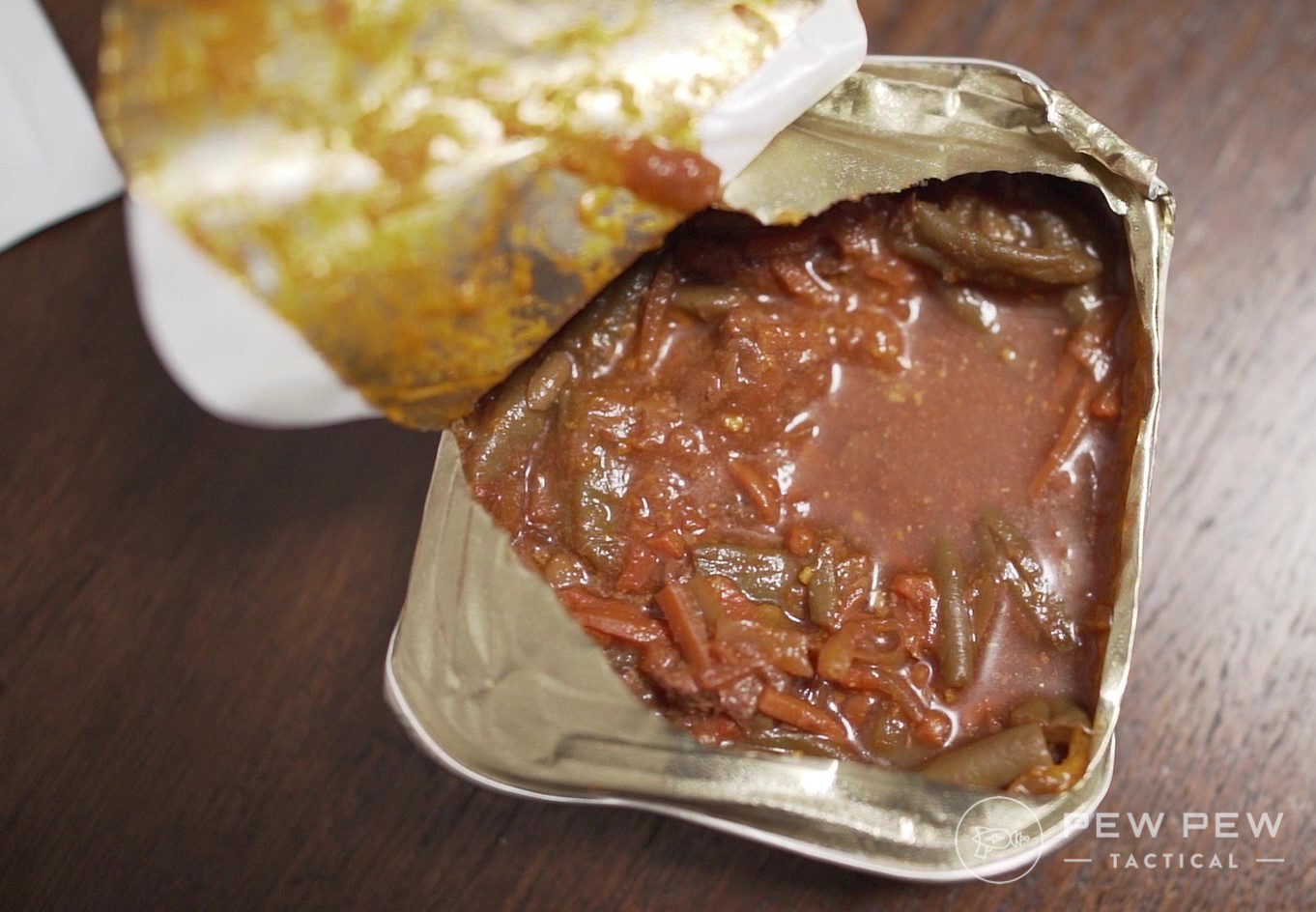 The end result was… surprising. As you can see in our video review, everything tasted significantly better than it looked–or smelled. They'd probably have been even better if heated up, which we did not do.
This particular Russian MRE contained several varieties of canned meat paté, a stew-type dish, something resembling meatballs in tomato sauce, crackers, spreads, a Russian boiled grain dish called kasha, and assorted supplies.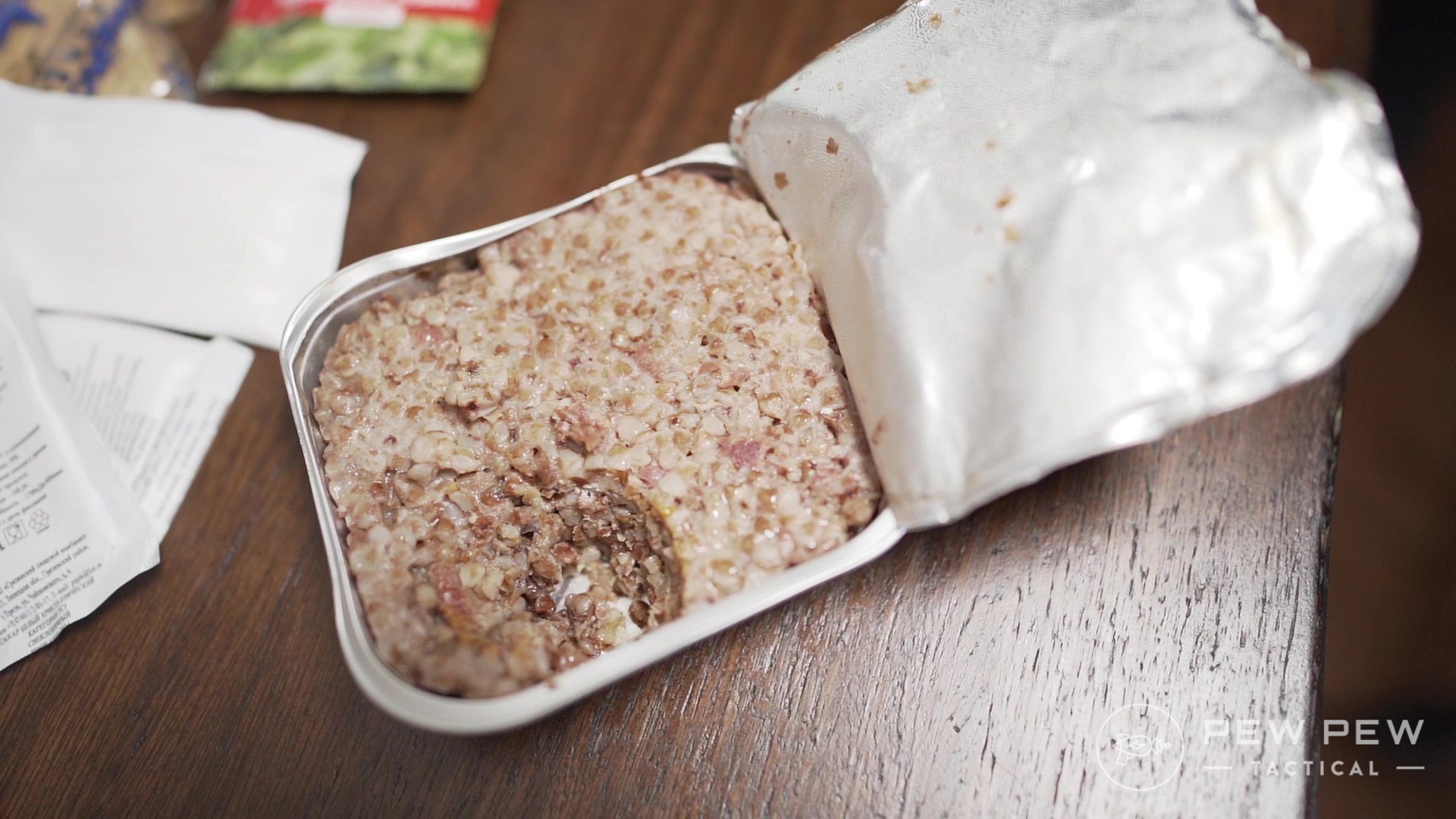 And in case you thought the Amazon description would fill you in on what was in the box, let me assure you–it does not. Some dishes listed include "small loafs wallpaper," "canned food meat," and "paste of gentle."
… Yum.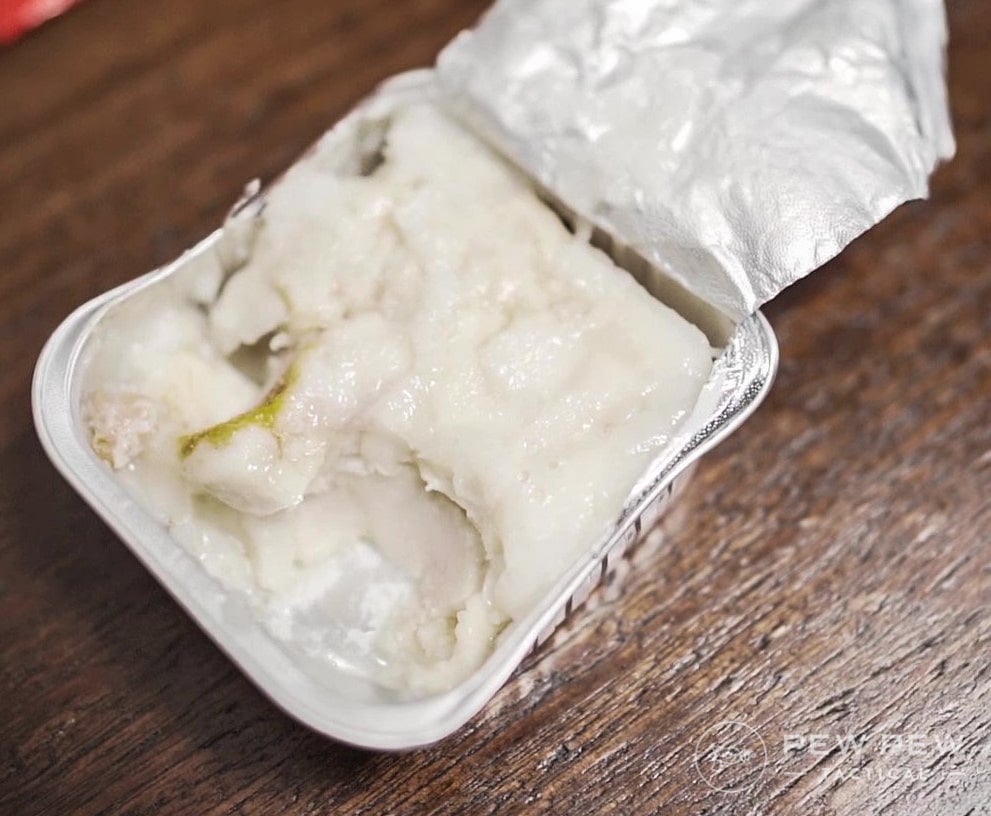 Anyways, for a survival shelter, Russian MREs are a pretty decent option, especially if you're not squeamish about texture.
Otherwise, the weight and sheer volume of trash these things generate make them less than ideal for any situation in which disposing of them or carrying them relies on your back.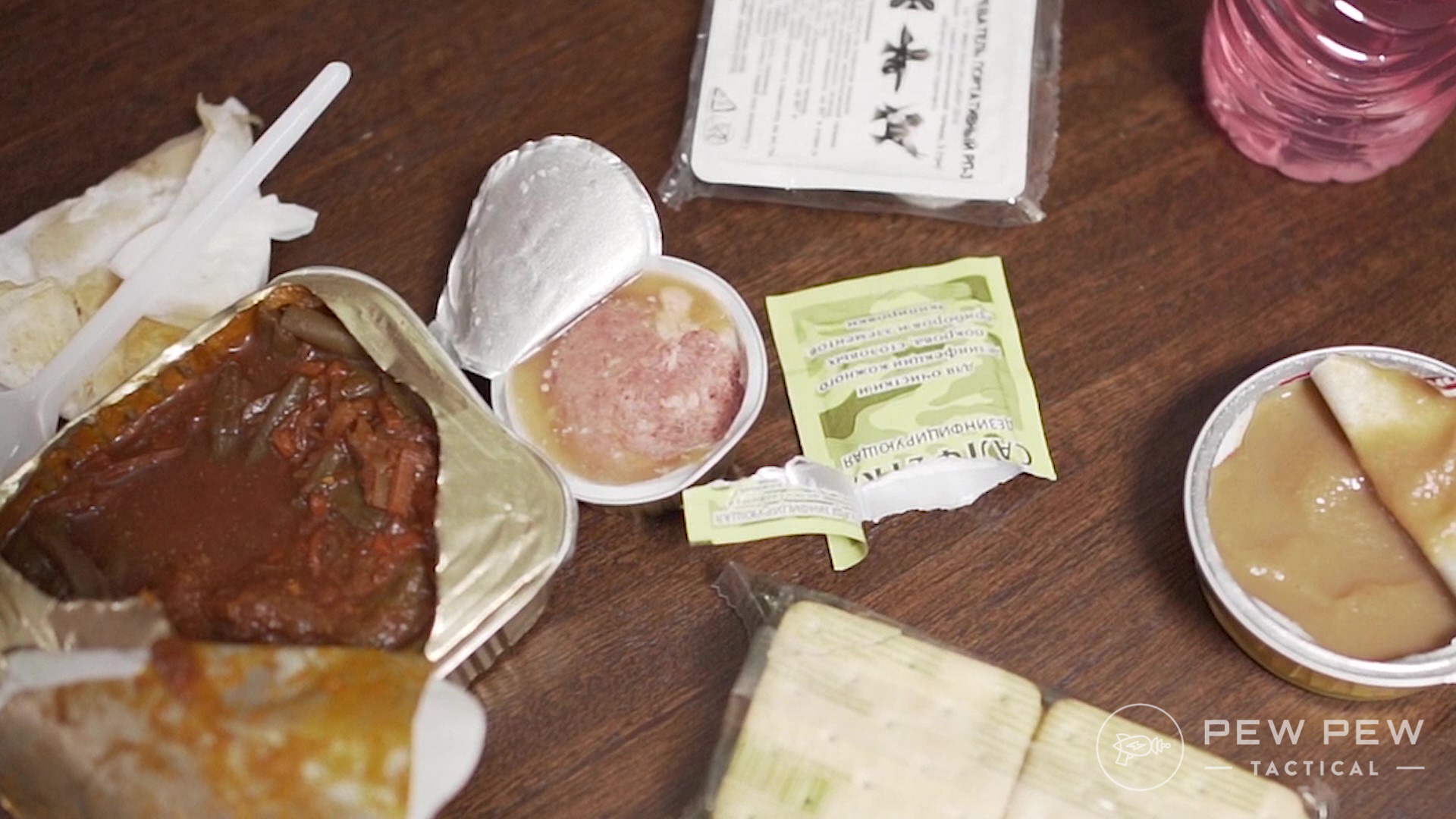 If you want them for yourself…or as a gag gift…
BEST 24-HOUR MEAL
65
at Amazon
Prices accurate at time of writing
Prices accurate at time of writing
What's next?
Backpacking/Camping Meals
If you're looking for meals to go with you in an adventure, freeze-dried is the way to go. Low weight, less space taken up in your bag, and less trash generated are all defining features of a good backpacking meal.
What's that? The taste?
Well, yeah, I guess that's important, too. Let's talk about it.
3. Mountain House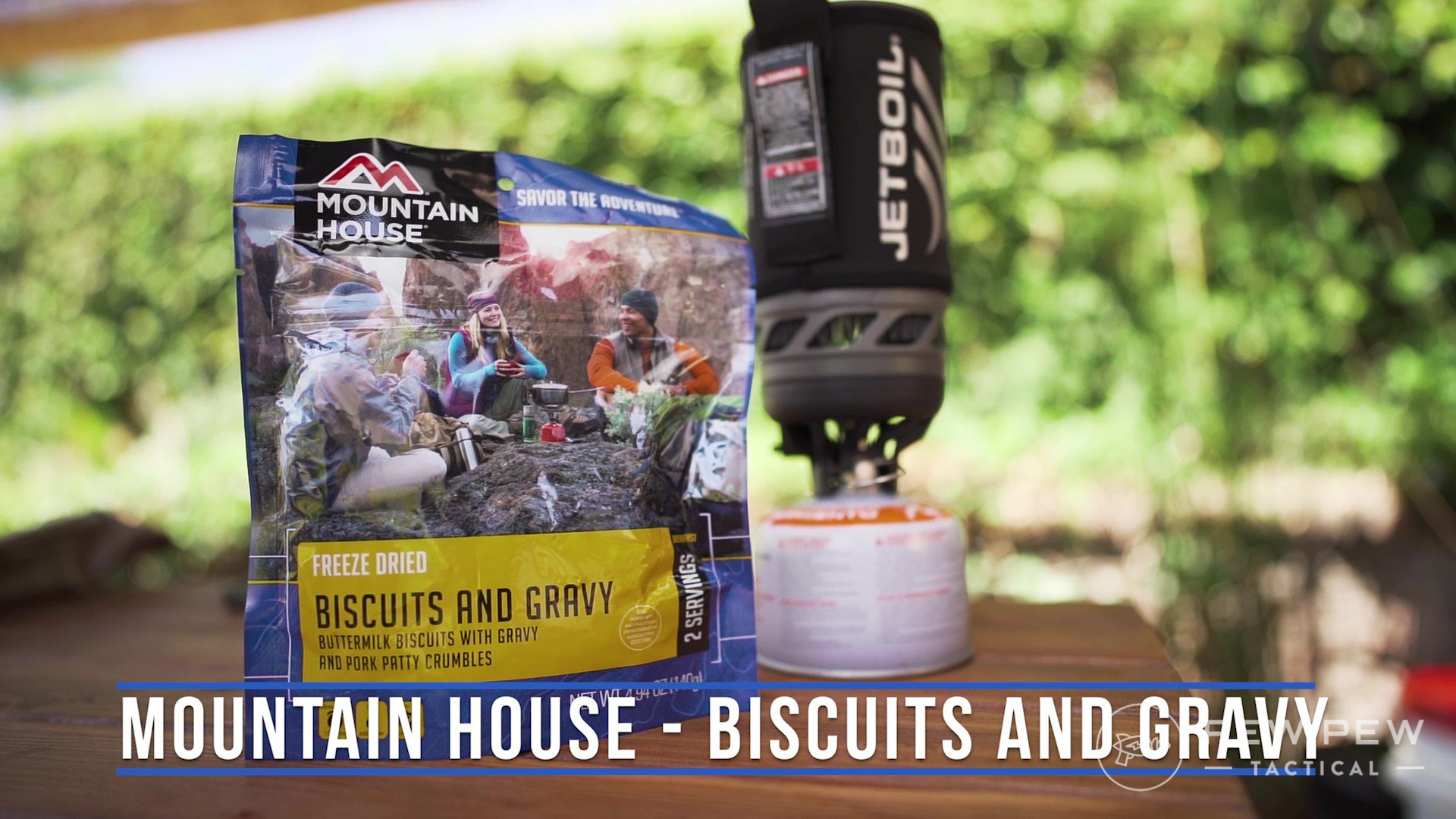 Is there really any other? Mountain House has a cult following amongst the outdoorsy crowd, and for a good reason–they're super easy to prepare and taste well… maybe not as good as Grandma's but definitely better than military surplus MREs.
It's a little hard to lump freeze-dried entrees into the same category as other survival foods, considering they're not intended for survival, but we figured we'd cover all our bases with them. After all, they can be used for survival, just as MREs can be used for camping–they're just not great at it.
We personally sampled the Biscuits and Gravy pack, but it seems that there's plenty of other flavors out there that are great, such as the fan-favorite Beef Stroganoff.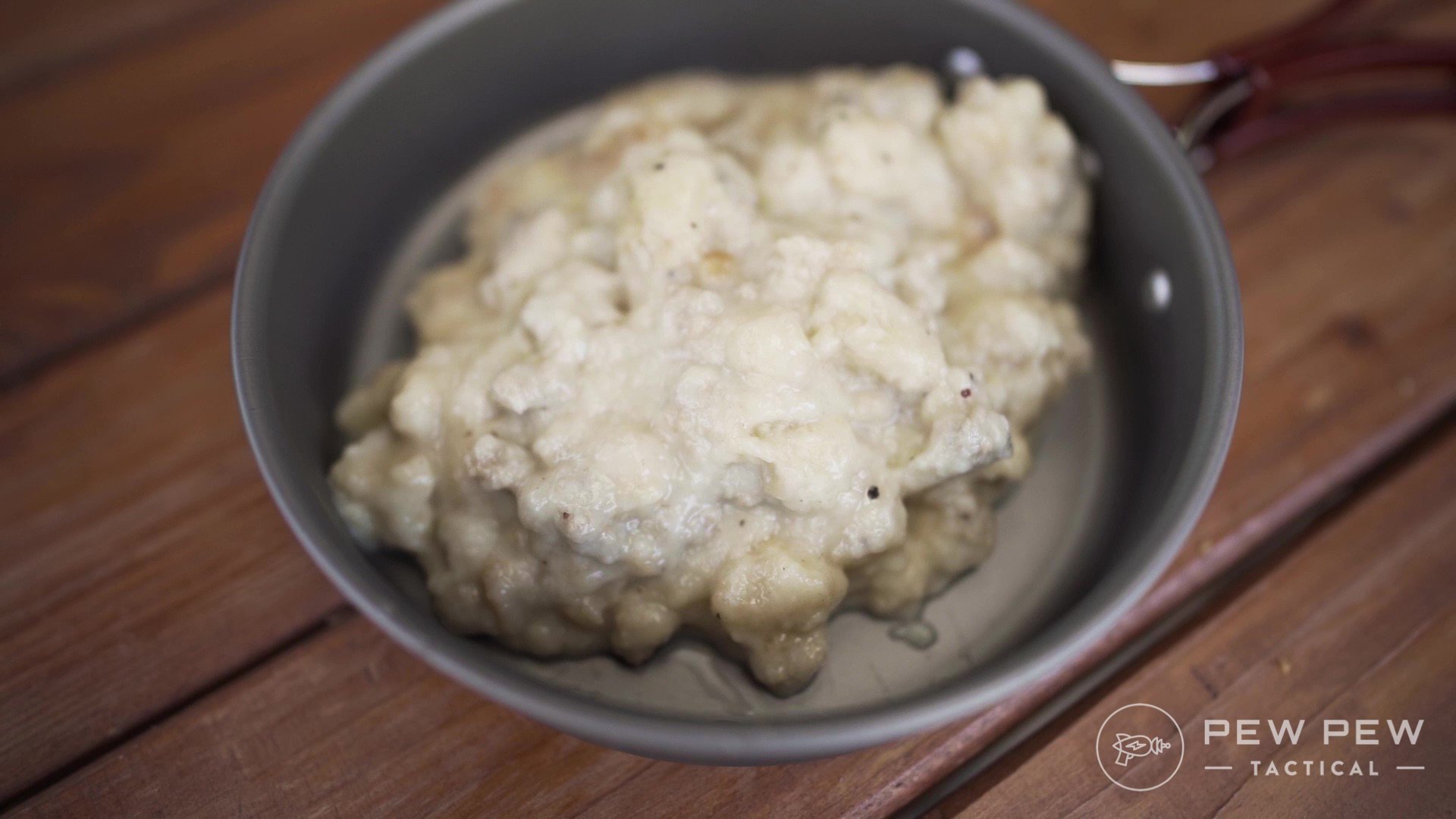 Preparing a Mountain House pouch is easy–simply remove the oxygen-absorbing packet, pour in the prescribed amount of boiling water, stir, seal, and wait. These meals rehydrate in less than 10 minutes and can be eaten straight from the bag, so clean up is pretty easy.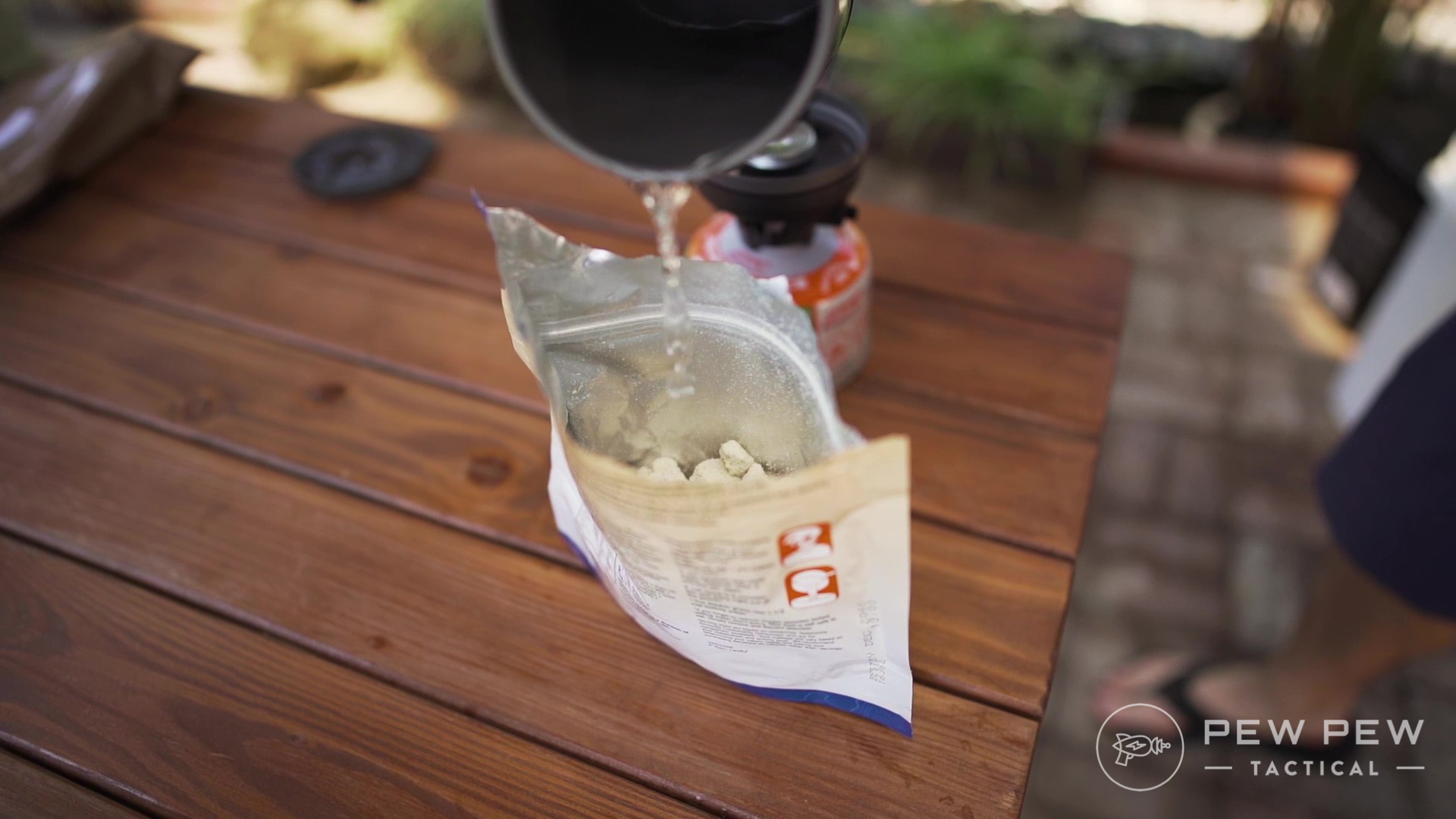 In a pouch, there are two servings of the meal. Biscuits and Gravy will run you about 310 calories for a meal, or 620 for the pouch. They're also good for 30 years, apparently.
Compared to the calorie-dense MREs, Mountain House meals are actually a little skimpy. They're definitely better suited to occasional adventuring trips, not life-or-death survival.
Mountain House does also make many of their most popular meals available in multiple-serving cans, which can be stocked up as an emergency food supply.
BEST TASTING
8
at Amazon
Prices accurate at time of writing
Prices accurate at time of writing
What's your take on Mountain House?
Moving on…
Emergency Food Bars
If you're prepping in a small space or want something that doesn't require any preparation, emergency food bars are probably your best bet. These don't take up too much space in your bunker, but they're probably heavier than you want to carry.
They taste can be a bit wanting, but if you're in it for the calories more than the flavor, these can power you to keep walking for a long time.
4. S.O.S Emergency Ration Bars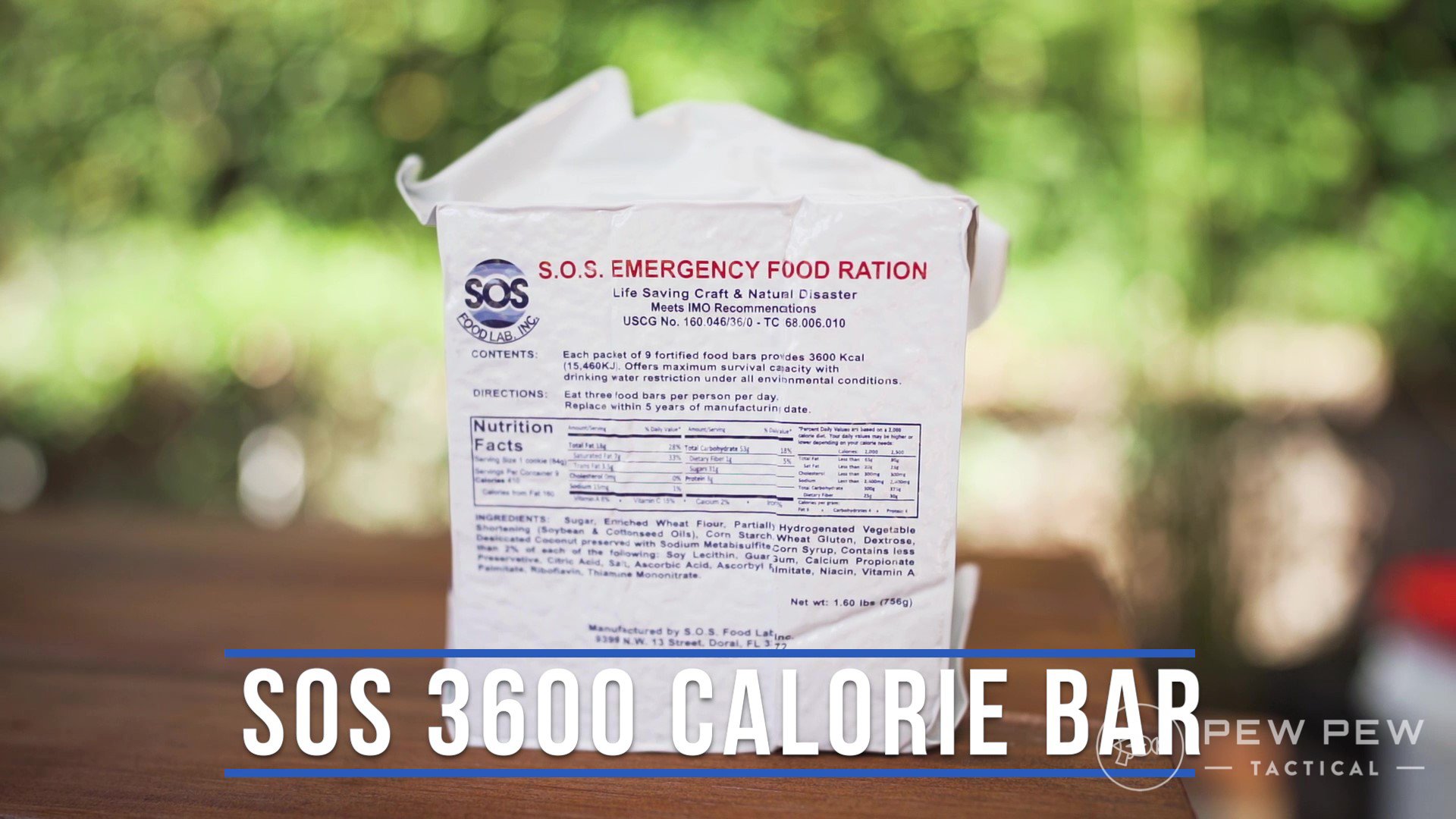 The stark white vacuum pack with the crisp blue lettering may look like something FEMA distributes, but we were pleasantly surprised that these cookie-like S.O.S. Emergency Ration Bars were kind of… cookie-like.
The flavor could be described as aggressively vanilla/graham cracker, but at least they were pleasantly sweet. We found them to be a lot on the dry and crumbly side, which doesn't make for neat eating.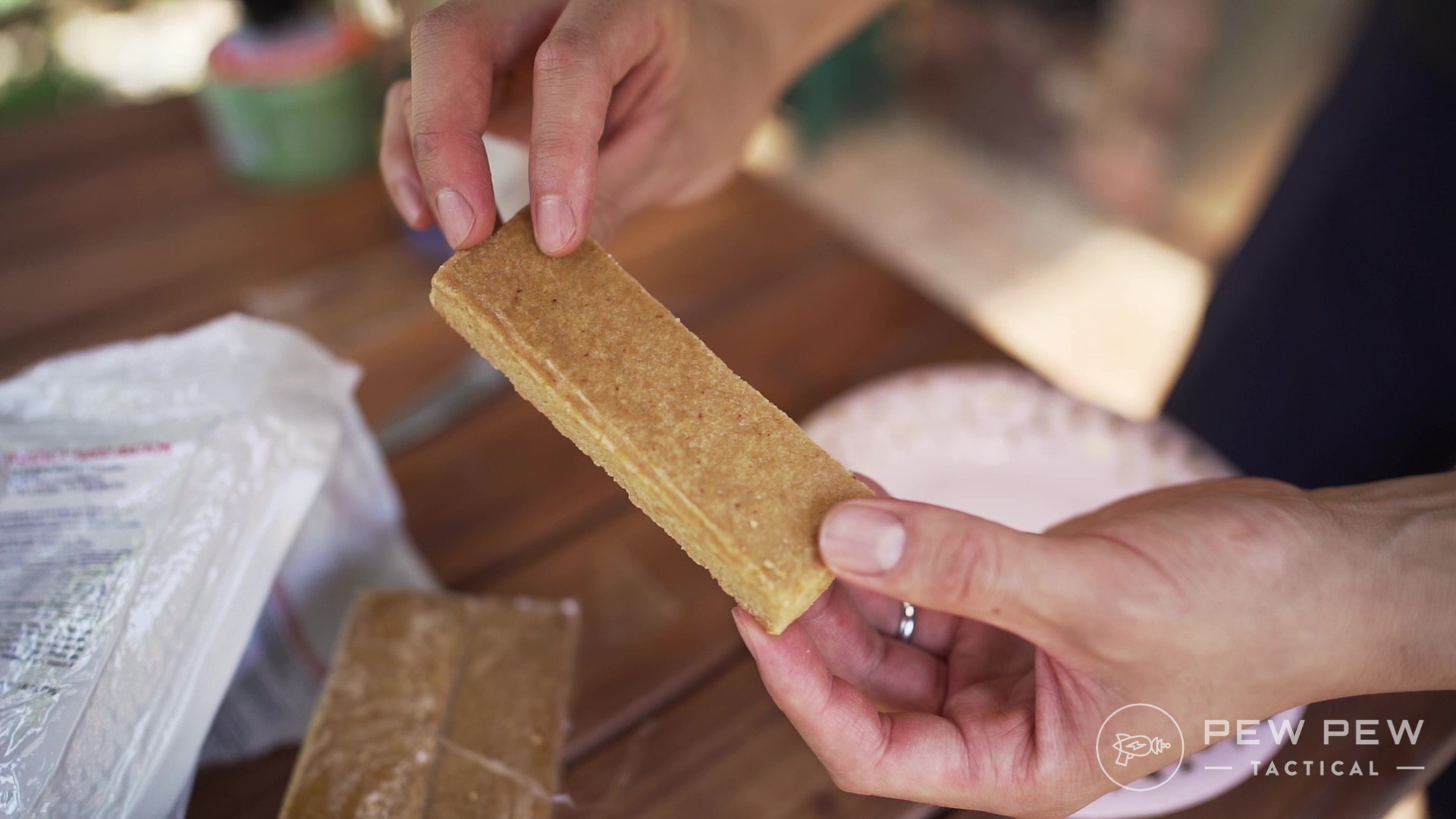 In the apocalypse, maybe it's not a big deal. For munching on because my car broke down and AAA Roadside Assistance will be here in a day or so… it kinda is.
These packs are good for up to 5 years when they're sealed, and each pack contains 3,600 calories worth of bars, which is intended to last for 72-hours.
BEST EMERGENCY FOOD BAR
9
at Amazon
Prices accurate at time of writing
Prices accurate at time of writing
5. Grizzly Gear Emergency Food Rations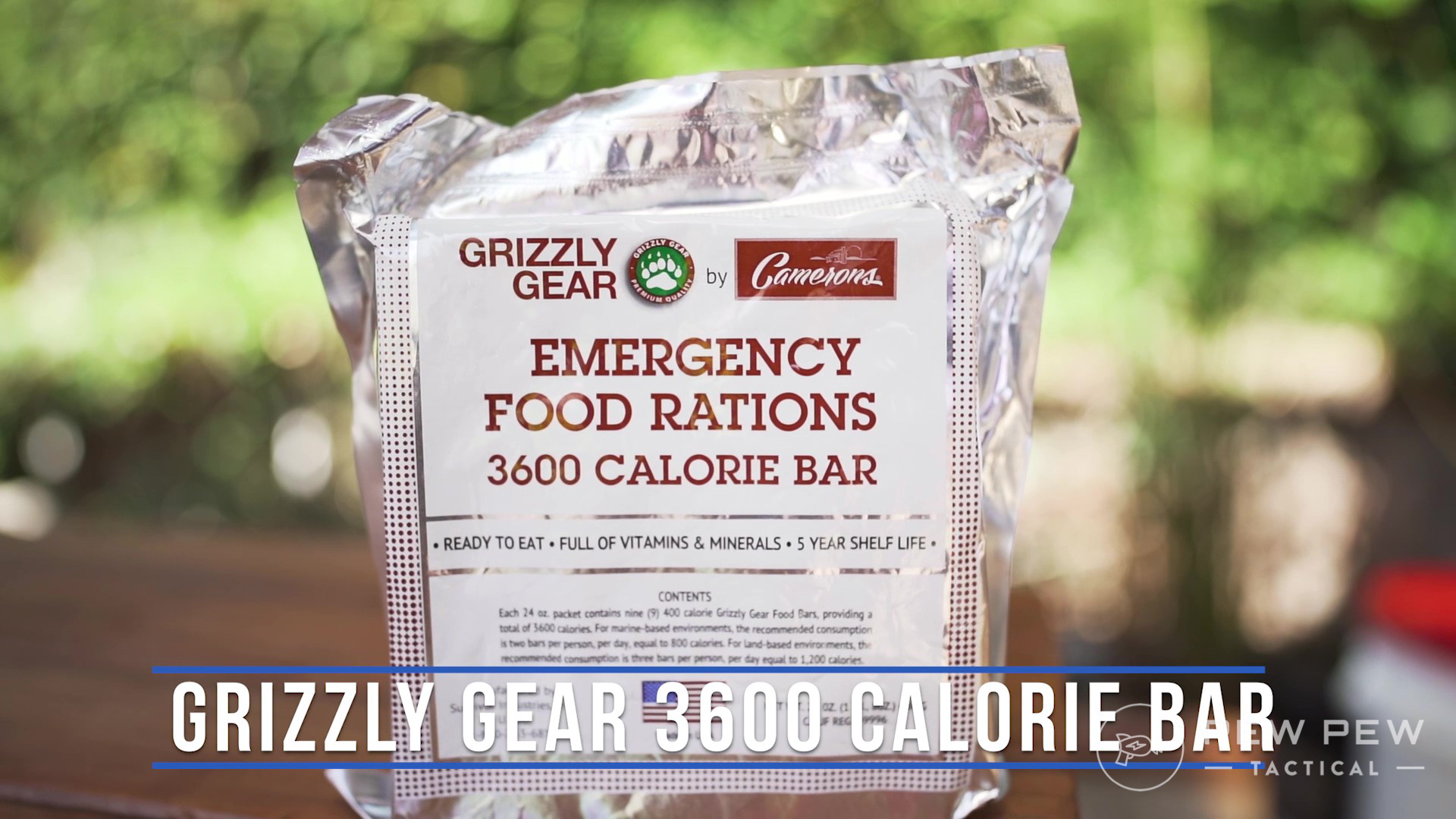 These are a similar concept to the S.O.S. bars above, but the Grizzly Gear Emergency Rations weren't our favorite. They're a lot less sweet, which might be a benefit, but they also taste very floury and dry.
They're supposedly lemon-flavored, which is not at all what I would have guessed. The texture is a lot more crumbly than the S.O.S. bars, which means they're likely to break up if you have them rattling around in your trunk for a few years.
Like other similar ration bars, the package is 3,600 calories in total, and has a 5-year shelf life. Grizzly Gear bars are also Halal and Kosher compliant!
As with any sealed food–shelf life is dependent on the seal. If the packaging becomes torn or has a hole poked in it, your rations will be compromised.
Pack them carefully to prevent damage.
KOSHER & HALAL OPTION
15
at Amazon
Prices accurate at time of writing
Prices accurate at time of writing
Last but not least…
Emergency Food Supply Buckets
Looking to stock up for an emergency?
Many preparedness companies sell handy sealed buckets of preserved meals, with shelf lives spanning 5, 10, and even up to 30 years.
You'll get an assortment of individually packed meals in a handy bucket–perfect for stashing in the garage or basement.
6. Ready Wise Food Storage 60 Entree Bucket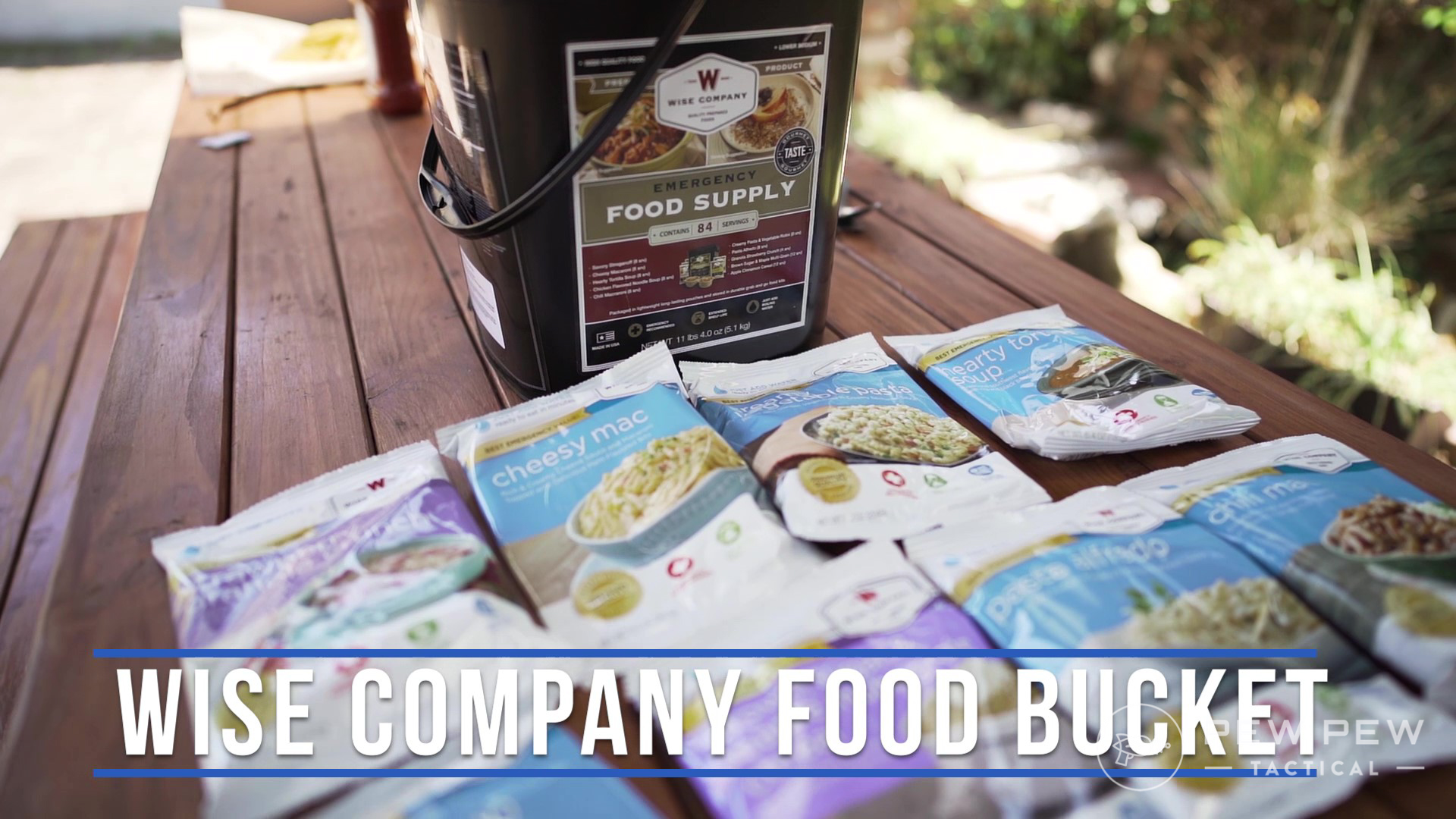 One of the bigger names in emergency preparedness foods, Ready Wise Food Storage makes a pretty big array of shelf-stable meals and ingredients. You can find bulk cans, individually packed entrees, and a variety of emergency food buckets, which are good for 25 years.
We liberated one of my buckets from the corner of my garage for this experiment, and I'm sad to report that this bucket will definitely have to wait for the next big California earthquake before I touch it again.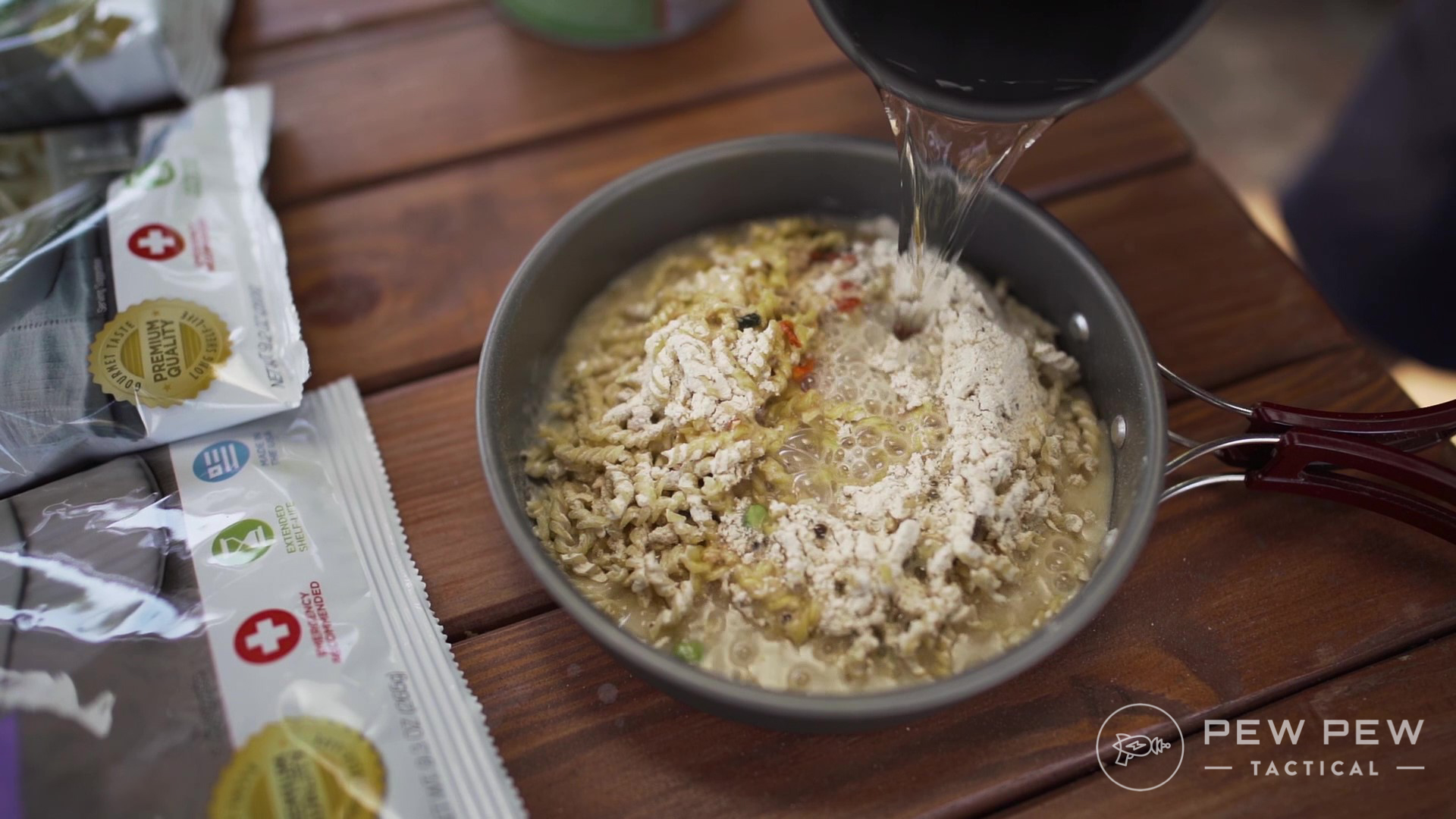 Neither of our tasters was a fan of the Creamy Pasta and Vegetable Rotini dish that Eric chose from the bucket. It might have been made with a little too much water, since it was soupy, and it probably could have used a little more time to rehydrate before we got to it.
Still-dehydrated peas aside, the flavor was bland. The texture was passable, but, as mentioned, some of the dehydrated ingredients weren't fully softened.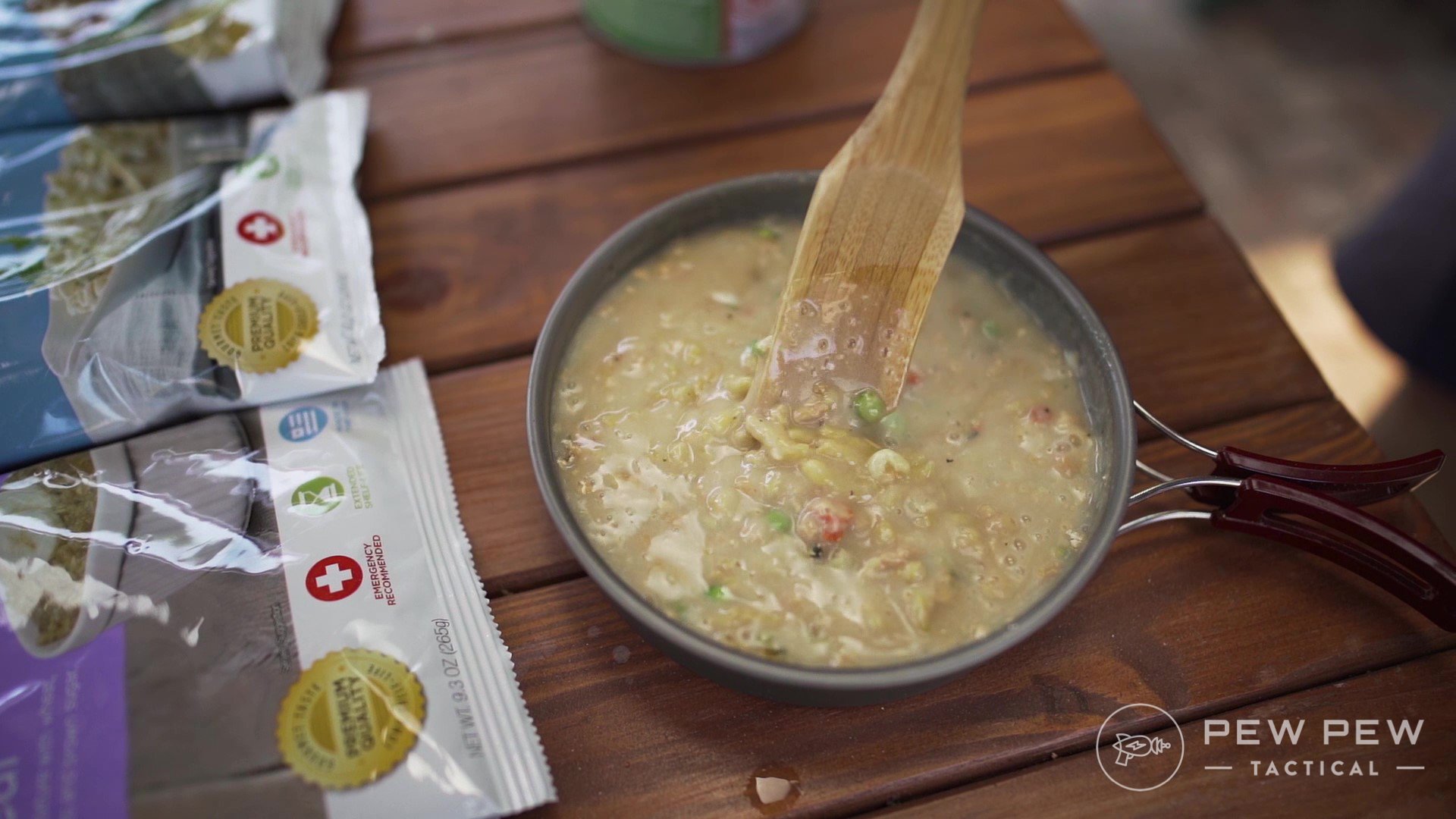 One packet contains four servings, at 200 calories per serving. This dish is pretty carb- and sodium-heavy, though, so if you're aiming for a nutritious apocalypse dinner, this probably isn't it.
It will feed you though, and in the end, that's all that counts.
BEST FOOD STORAGE OPTION
81
at Amazon
Prices accurate at time of writing
Prices accurate at time of writing
7. Augason Farms 30-Day Emergency Food Supply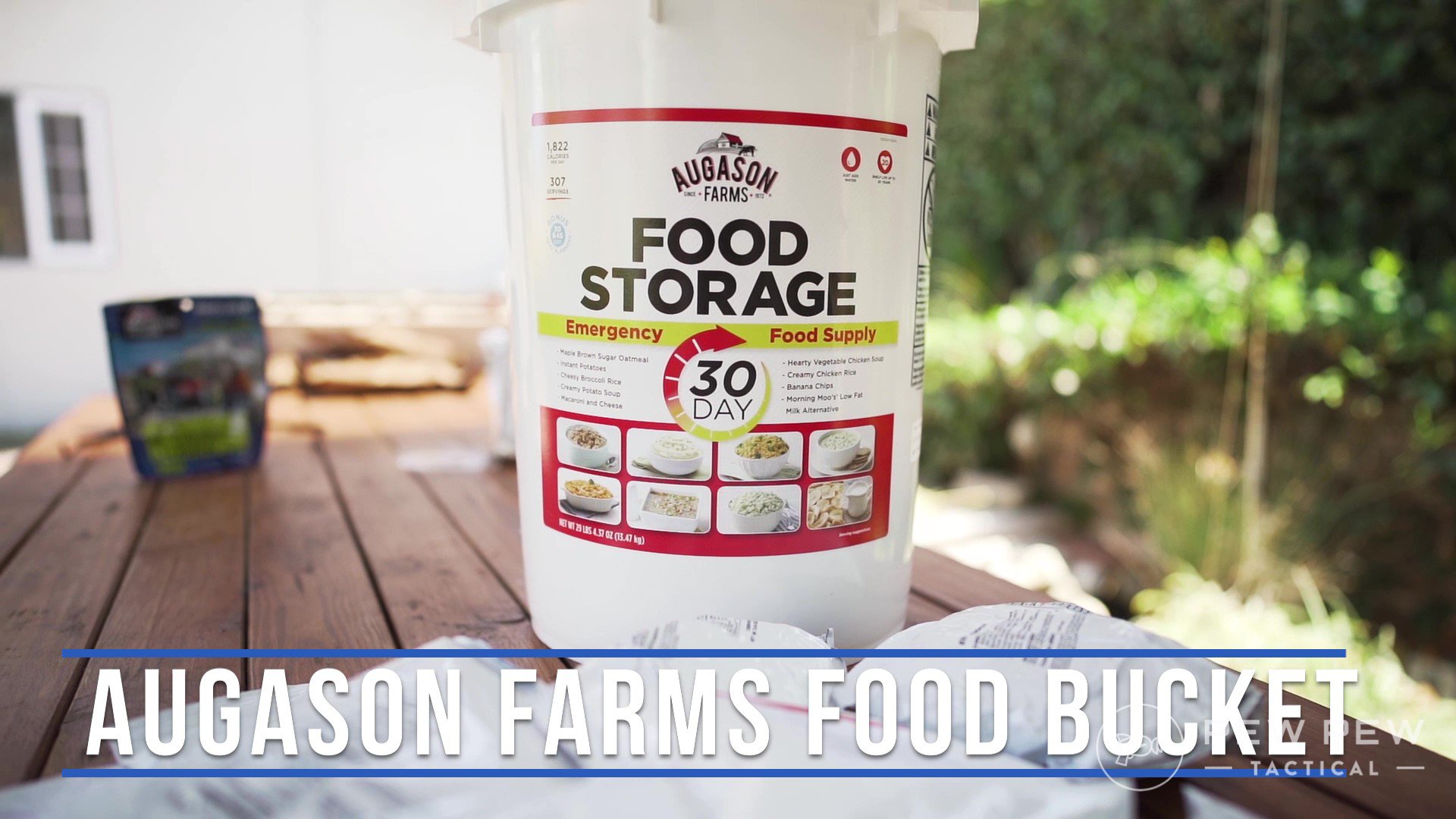 A similar concept to Wise Food Storage buckets, the Augason Farms Emergency Food Supply buckets pack a bunch of freeze-dried entrees into a bucket and, seal the whole thing up.
It's good for 20 years, which is a pretty dang long time.
Eric picked out the Creamy Potato Soup for our blind taste test.
Again, it was on the bland, vaguely cheesy side of things, but pretty basic. I'm pretty sure it would be a great ingredient for some apocalypse haute cuisine, but we weren't a fan of the soup on its own.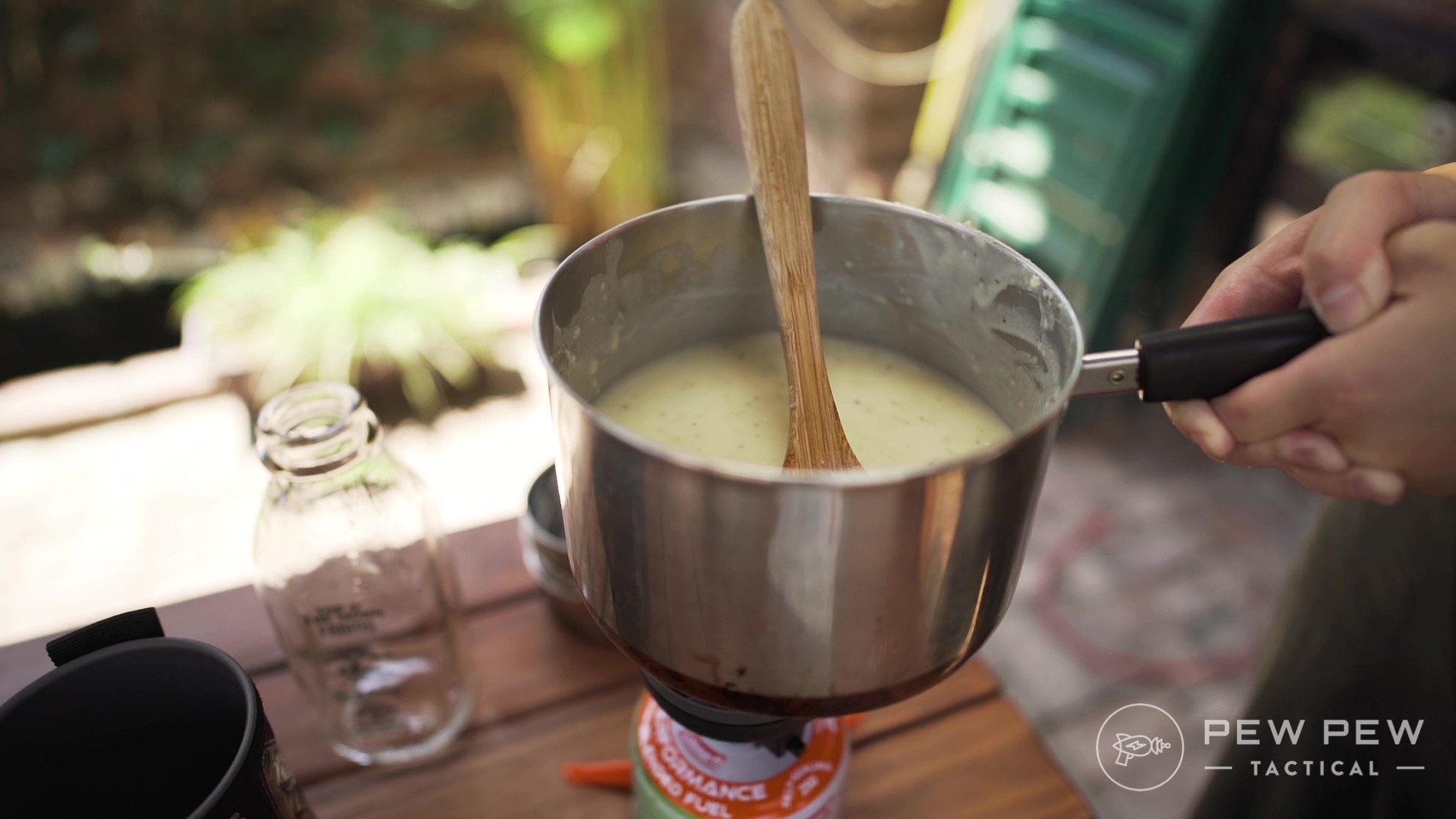 These meals apparently were a pain to access, and required our dedicated team of chefs to open multiple packages to access the soup pack.
Unlike most of the other foods on our list, that didn't require more cooking than heating water to boiling, the potato soup needed to be simmered on low for 10-15 minutes before serving. It's a little more labor-intensive, and the flavor wasn't exactly a payoff.
RUNNER UP FOR SUPPLY BUCKETS
120
at Amazon
Prices accurate at time of writing
Prices accurate at time of writing
The creamy potato soup comes in 8-serving packets, at 220 calories per serving. Augason Farms designs their 30-day kits to supply about 1,800 calories a day for one person, so be sure you have an appropriate amount of food for your household.
Parting Thoughts
So, why do you need to know all this? Well, choosing food for your next adventure, your bug-out bag, or emergency supplies means that you need to know what's out there–and how it tastes.
(Don't forget to subscribe to our YouTube channel for weekly videos!)
We covered a lot of different kinds of foods in our testing, which all shine for different purposes. For those looking to carry lightweight meals on their next backpacking trek, we like Mountain House meals.
For short-term survival, try the S.O.S. Emergency Ration Bars. If you're stocking your home up with long-term food solutions, both Wise Food Storage and Augason Farms have you covered.
And finally, for you adventurous eaters, why not give Russian MREs a try? You won't regret it… probably.
That's it for us! We're going to go nap off this food coma, but let us know about your favorite food for survival and camping below. Don't forget to stock up on the best essential SHTF gear, too!