We all want to be prepared to take care of our loved ones in an emergency situation. But what if your loved one has four paws, fur, and puppy dog eyes?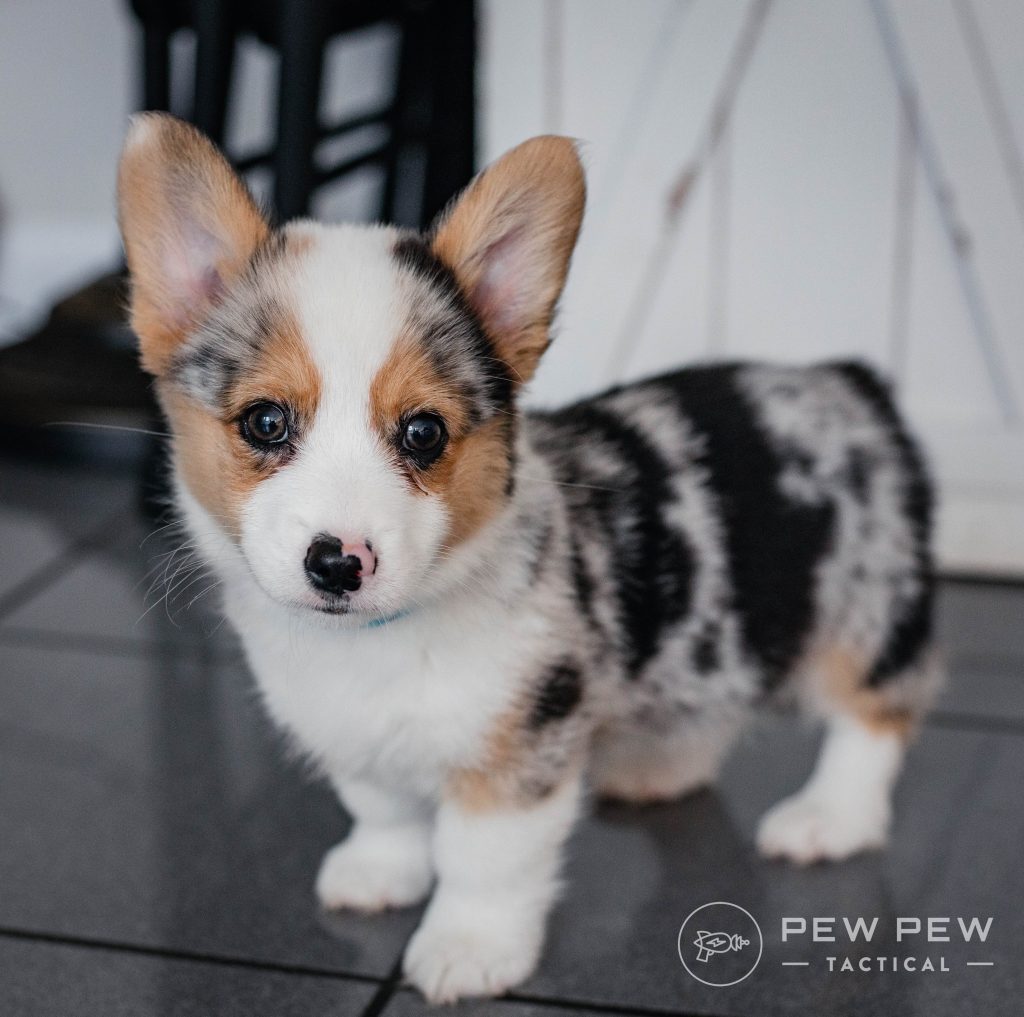 Most dog owners wouldn't dream of abandoning man's best friend, whether they need to evacuate for a natural disaster, societal collapse, zombies, or the next big pandemic.
We're going to walk you through everything you need to know about bugging out with your best bud, so you'll both be ready when the proverbial dog poop hits the fan.
Why Fido Needs a Bug-Out Bag
Because zombies.
While I'm definitely keeping my fingers crossed for zombies (Please let them be the Walking Dead kind and NOT the World War Z variety), the reality is far less exciting.
Unfortunately, we are much more likely to need a bug-out bag for quick evacuation due to a natural disaster than we are for the zombie apocalypse (or even a Red Dawn-style Russian/North Korean invasion).
Leaving Fido at home to fend for himself in the face of a wildfire, hurricane, tornado, volcanic eruption, or swarming zombie horde isn't a good idea, even if you think you'll just come back for him in a few days.
Dogs weren't born with opposable thumbs. That means most of them can't open doors or windows.
They can't work the can opener or feed themselves (although mine does a pretty impressive job of opening the treat bag).
Our dogs are completely reliant on us to keep them safe, healthy, and fed. It's the price they paid when that first wolf ancestor cozied up to the fire with early humans, and both decided domestication was a fine idea.
It's not a bad arrangement for either of us, really. Fido gets a warm place to sleep, belly rubs galore, and the occasional bite of your sandwich. We get undying loyalty and faithful companionship.
Don't tell Fido, but we totally got the sweeter end of the deal.
Hard Lessons from Actual Disasters
When Hurricane Katrina hit New Orleans in 2005, more than 60,000 pets were killed or stranded. As harsh winds, rain, and rising tides barreled down on Louisiana, many people evacuated, leaving their pets behind.
Most thought they would be able to return after the storm passed over. However, Katrina's storm surge caused several breaches in crucial flood protection structures. As a result, more than 80 percent of the city ended up underwater — for two and a half weeks.
Many of the abandoned animals were locked in their homes, waiting for their owners to come home. Without the opposable thumbs they needed to escape, most of those pets succumbed to the floodwaters.
If they were somehow able to survive drowning, they got the consolation prize of a prolonged death due to dehydration and starvation.
Any animals left alive after the waters receded faced an even harsher reality. Since New Orleans was completely deserted, there wasn't even garbage for them to scavenge.
The moral of the story is this: Disaster situations are unpredictable. You never know what conditions could develop that would prevent you from returning home, where Fido is patiently waiting for a bite of your sandwich and a belly rub.
Domesticated canines depend on their human companions to meet their most basic needs. Most of the survival instincts their wolf ancestors relied on to survive have been dulled by centuries of domestication. That's what makes them good pets.
Leaving your dog to face a long and painful death alone is both cruel and irresponsible. The responsible and humane thing to do is take Fido with you if you need to bug-out.
Why You Need to Bug Out With Your Dog
Maybe you think Fido will be too big a hassle in a bug-out situation.
If you still aren't convinced that you need to bring Fido along, here are a few benefits that go beyond the guilt you should feel about leaving him behind.
Companionship
Having a friend with you, especially if you need to bug-out alone, can seriously save your sanity. Remember Tom Hanks and his best buddy Wilson? Fido can be your Wilson, only he isn't a volleyball, and you won't look quite as crazy.
If you need to bug-out as a family, Fido can be a therapy dog for your kids, providing a much-needed boost to morale and reducing stress.
Warmth
Normal body temperature for dogs runs between 101 and 102.5 degrees Fahrenheit. Since dogs are virtual heaters, sleeping next to your canine buddy can help keep you warm when outdoor temperatures drop.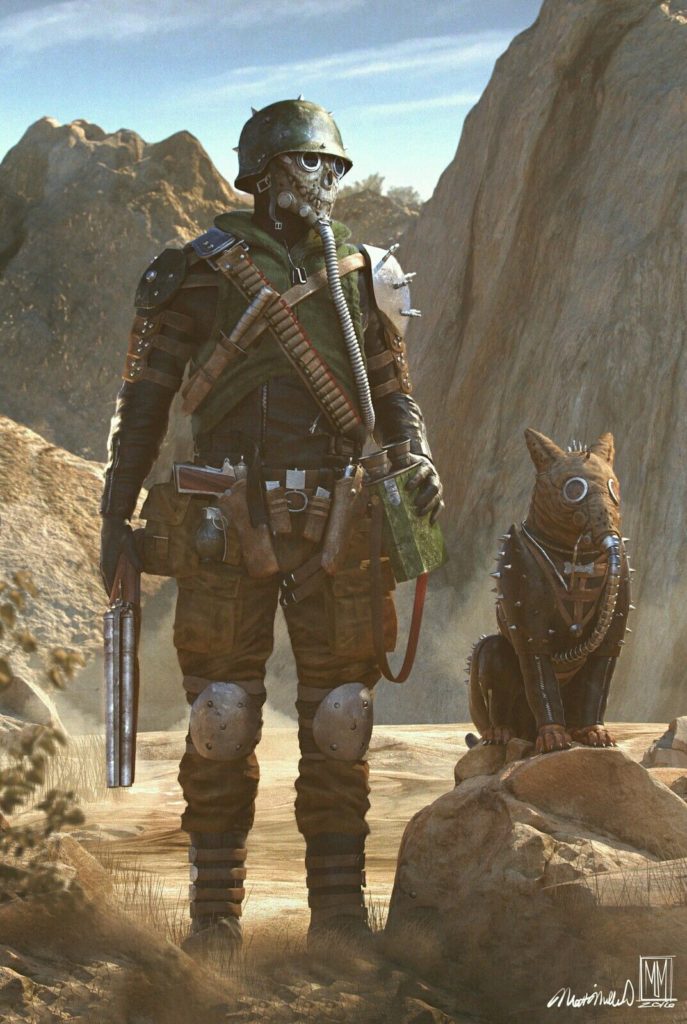 Security
The average canine has much keener senses than the average human. Even pugs can see, hear, and smell better than we can. A growl, bark, whine, or even just a perking of the ears could provide an early warning of possible danger, giving you time to prepare for a threat.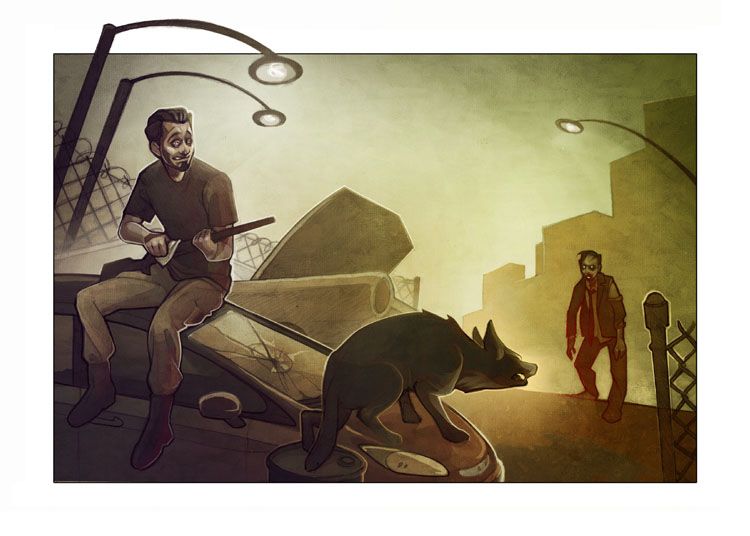 Defense
A barking dog can be a pretty convincing deterrent to anyone or anything that threatens to attack you. Even if you know Fido wouldn't hurt a fly, if he barks, he looks threatening. (Unless Fido is a pug. Then he definitely won't look threatening. He may, however, create a distraction as your would-be attacker rolls around on the ground laughing at your sorry excuse for a dog).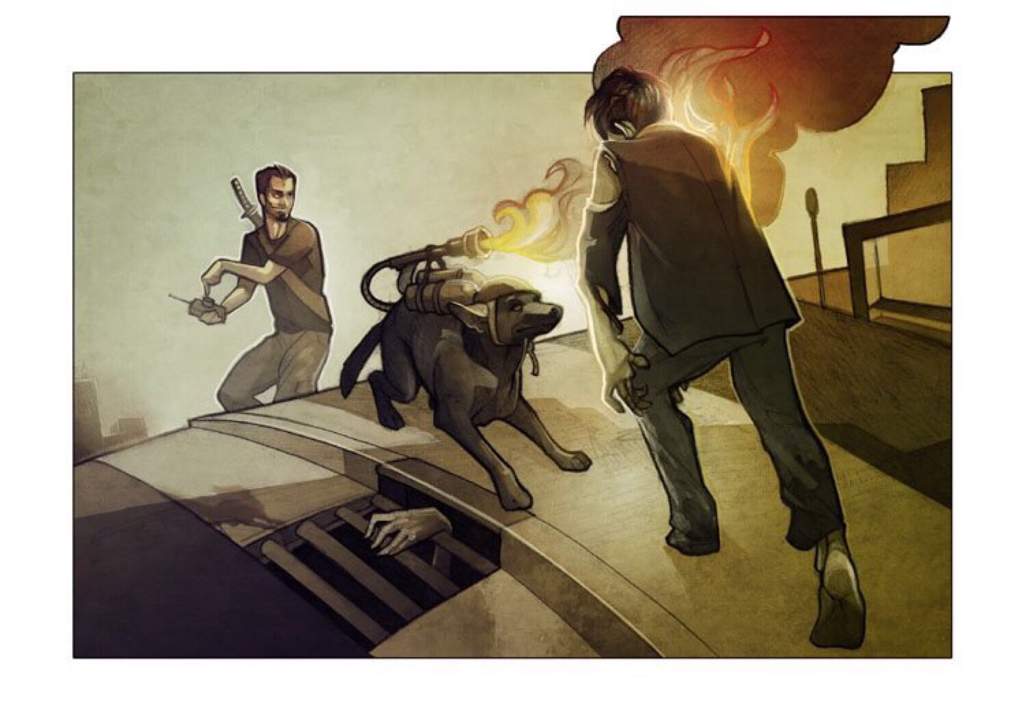 Depending on the dog, Fido may also come in handy if you find yourself in a scuffle. Even the gentlest of dogs may jump into a fight to help out a master in trouble.
Finding the Right Dog Bug-Out Bag
Dog bug-out bags (also known as K9 bug-out bags or go-bags) should fill the same needs that your bug-out bag does: food, water, medicine, comfort, and important paperwork. No matter what bag you use, it also should fit your dog well for their safety and give you enough space to pack all their supplies.
Bugging out with a canine buddy requires extra supplies than simply evacuating solo. Because Fido's supplies require more space and add extra weight to your bug-out gear, it's just common sense to make him do his part.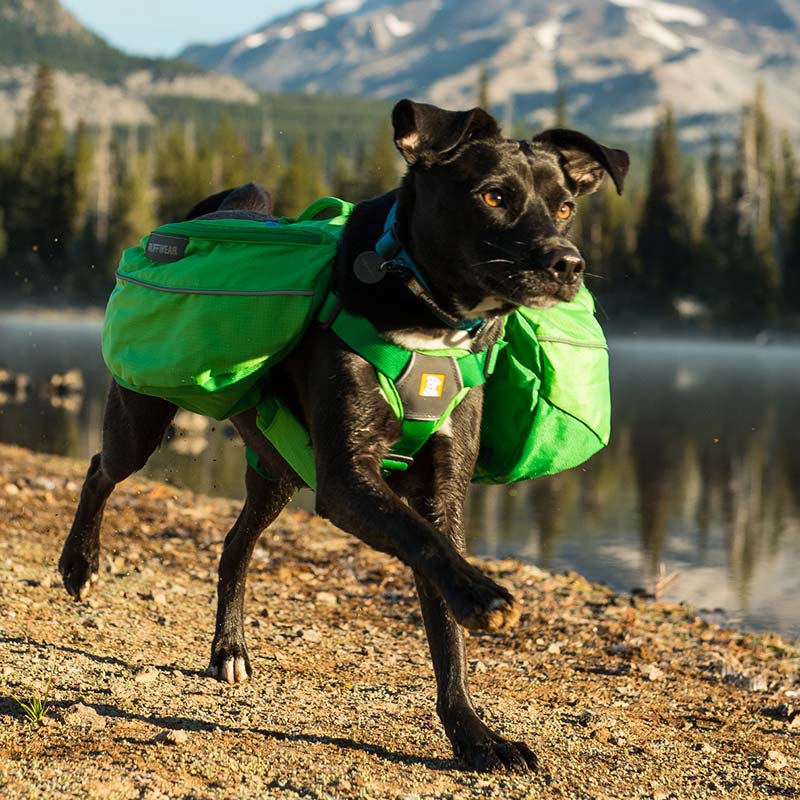 Unless your dog is small or frail, a canine saddlebag is a perfect foundation for building Fido's very own bug-out bag.
Doggie saddlebags are commonly used for recreational hiking, although they also make stylish appearances at urban dog parks. They come in a variety of sizes and are engineered to evenly distribute the pack's weight to prevent injury and fatigue.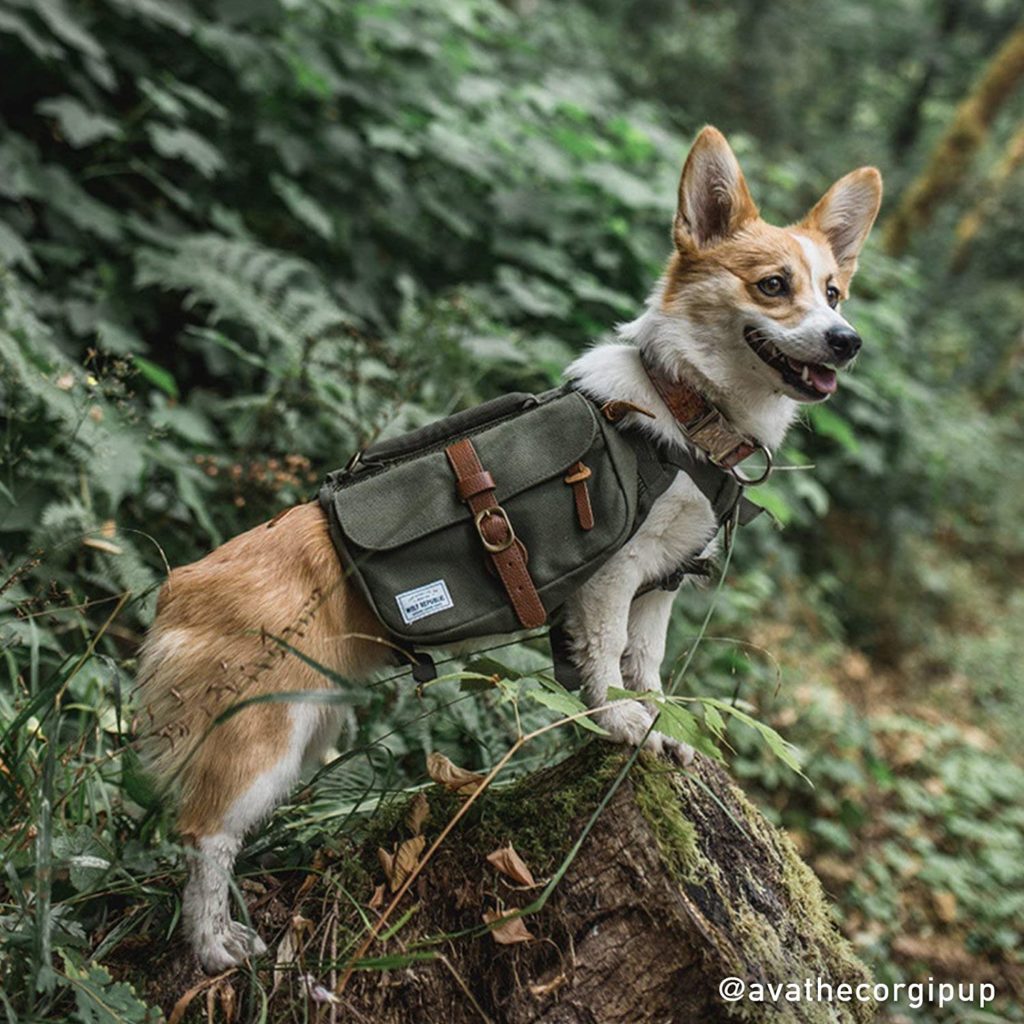 However, just like in the world of human bug-out bags, not all doggie backpacks are created equal.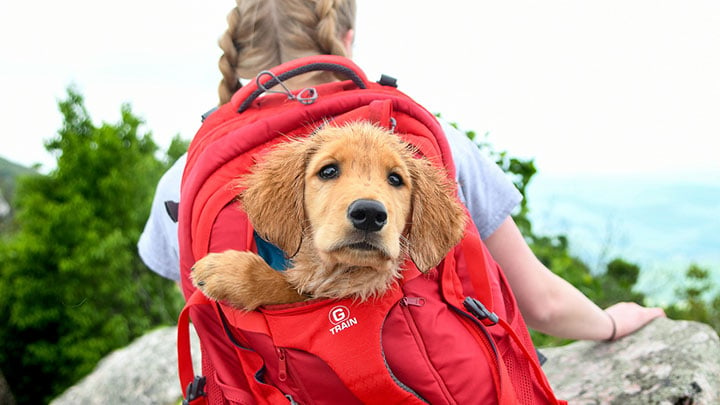 The qualities you want in your own bug-out bag are the same ones Fido will need. An ergonomic design, balanced weight distribution, quality stitching, reinforced areas, and smooth zippers are all key features for any bug-out bag, whether intended for canine or human use.
Many saddlebags are made from waterproof fabric to help protect Fido from the elements.
Some tactical versions come with MOLLE strips, so Fido can look as tacticool as you. Plus, you can attach and detach utility pouches and other gear and swap them between your bag and his.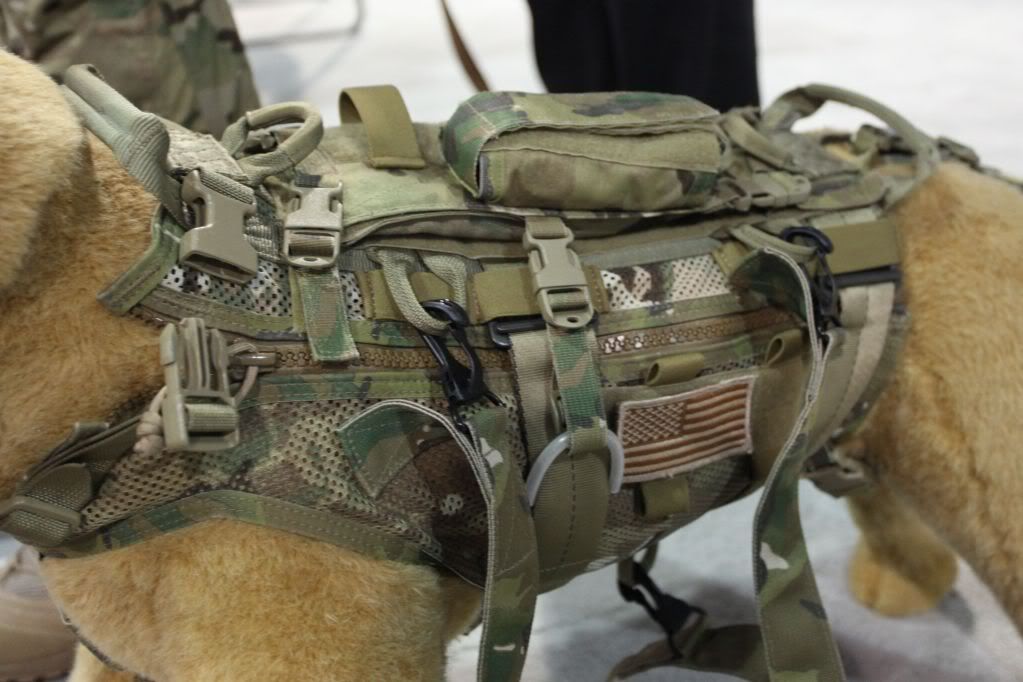 There are plenty of options to choose from. Here are a few of our favorites.
Best Dog Backpacks
Saddlebags for Hiking
Millennials love both the outdoors and their dogs, which has fueled the popularity of canine gear targeted for the trail. Fortunately for those who like to be prepared, hiking saddlebags also make great doggie bug-out bags.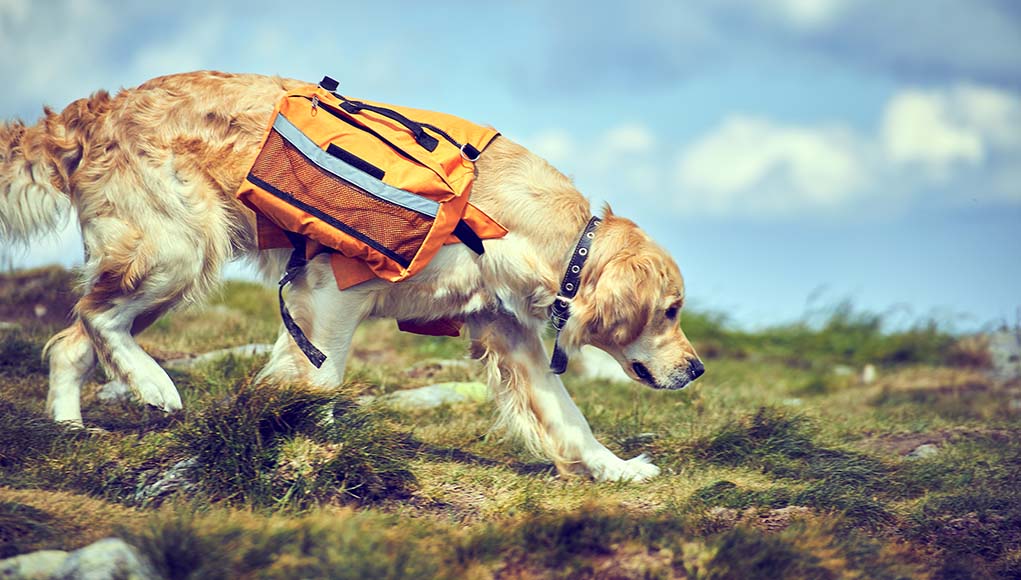 My dog, Seamus, wears a hiking saddlebag we picked up some time ago at a local pet store. Seamus is 12 and falls into the "senior" category. Since he has bad hips, he doesn't need to carry heavy gear long distances. However, comfort is extra important since he's kind of a grumpy old man.
However, he still gets a puppy twinkle in his eyes when we strap on his saddlebag because he knows it means adventure. And it's the perfect size for him to carry 24 hours' worth of puppy survival supplies.
1. RUFFWEAR
RUFFWEAR makes some seriously durable multi-day hiking backpacks for dogs. They feature padded support straps to keep Fido comfortable, even when he's lugging his gear long distances.
These multi-day packs also have spacious compartments, so you can easily fit in all of Fido's necessary gear and still have room left over for his favorite pull toy.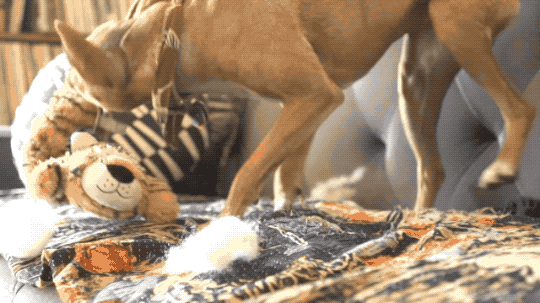 One cool feature of RUFFWEAR's dog packs is the padded handle and non-slip girth straps. This is a handy feature that allows you to lift Fido by the handle if you need to help him over obstacles or rough terrain. It could also help you keep hold of him when crossing deep water.
Designed for high visibility on the trail, all RUFFWEAR dog packs come in bright, vibrant colors with reflective trim. This certainly makes Fido easy to spot, which could be a good thing or a bad thing, depending on your situation.
The RUFFWEAR Palisades Dog Pack makes a perfect 72-hour bag. It even comes with two one-liter collapsible hydration bladders and features a cross-load compression system to help evenly distribute the weight of that water.
For half the price of the Palisades, you can outfit Fido with the RUFFWEAR Approach Dog Pack. This model is closer to the pack we use for my dog. It has roomy compartments, convenient quick-access stash pockets, and it's made of lightweight nylon fabric.
2. Kurgo
Kurgo is another company that makes simple, durable hiking packs for dogs. Their Baxter Hiking Backpack has convenient detachable saddlebags that are super roomy and allow you to adjust the carry height to fit your dog's build.
The pouches on the Big Baxter (designed for large dogs between 50 and 110 pounds) have a whopping 7.5 liters of gear space.
3. Outward Hound
The Outward Hound focuses on all things canine, not just outdoor gear. The Outward Hound Daypack makes a suitable no-frills 24-hour canine bug-out bag.
For an extended bug-out scenario, the company's Crest Stone Explore Pack is the better option. It has more comfort features for Fido, like compression saddlebags and adjustable webbed straps.
Both models come in super vibrant colors, so be prepared to be seen.
"Tactical" Saddlebags
What? You don't want Fido to look like he just stepped out of a brightly colored Patagonia ad when the SHTF?
4. OneTigris
OneTigris makes some awesome, highly durable dog packs with a more tactical look and feel.
The compartments may not be quite as roomy as some of the hiking brands, but when it comes to durability, these guys know a thing or two.
The OneTigris Mammoth Dog Pack gets high marks from both dogs and their owners. This model has two side pouches, each with cross bungee cords for water bottles or extra gear.
It also features loop panels for cool morale patches and a breathable mesh lining to help keep Fido cool and comfortable.
If you want to go completely customizable, the OneTigris Tactical Harness is a MOLLE dog vest that comes with three detachable pouches. You can also purchase extra pouches for extra gear; just make sure the weight is evenly distributed to both sides of the vest to prevent fatigue or injury.
Dog Bug Out Bag Checklist
What should you put in Fido's bug-out bag? That depends.
The contents of your personal bug-out bag are probably different from what I have in mine. While we both (hopefully) have all the basics covered, deciding which specific supplies to pack is a highly personal decision.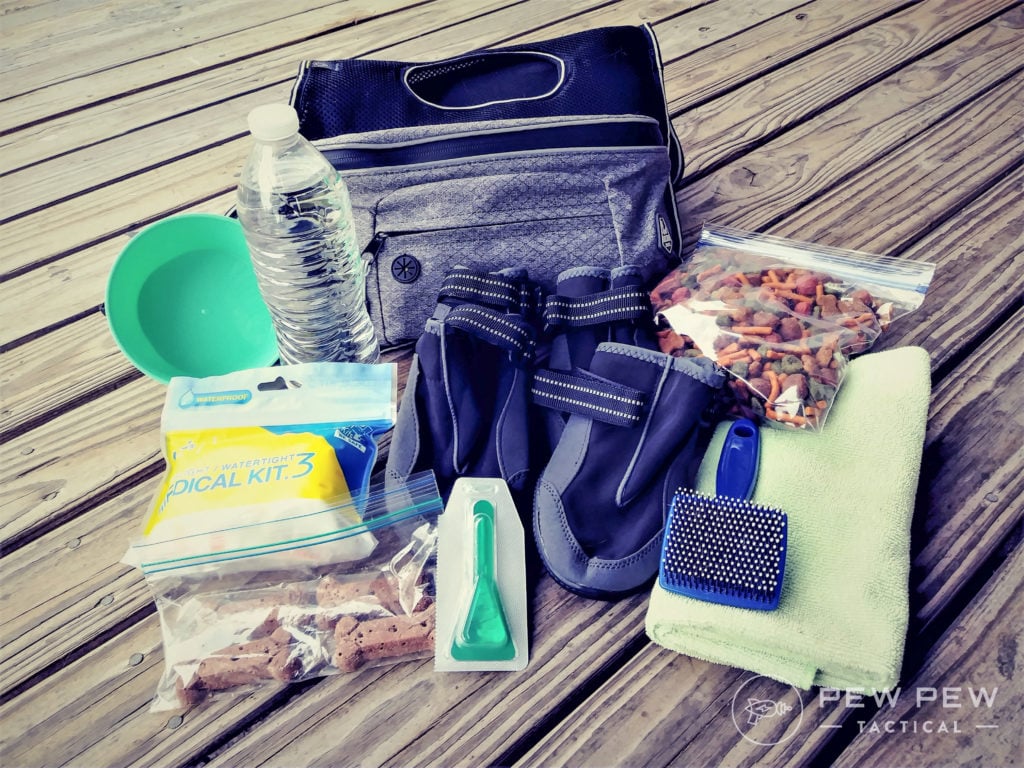 We go waaaaay into this in our Bug Out Bag Item List article.
Canine bug-out bags are the same. What you need to pack depends on the physical (and emotional) needs of your dog.
Here is a packing list to get you started. You may not need to pack everything on the list, and in some cases, you may need items we haven't thought to include.
Ultimately, you know your dog much better than we do, so feel free to customize the list as you see fit.
Water
The average canine will drink between 1-2 ounces of water for each pound of body weight per day. Plan on needing at least a half-gallon of water daily for the standard golden retriever.
Since water is pretty weighty (about 8 pounds per gallon) and Fido won't be able to use a LifeStraw, you'll need a plan for his daily water intake.
Although Fido might not mind lapping water from the nearest mud puddle or mountain stream, dogs are just as susceptible to dangerous waterborne pathogens as humans. It's a smart idea to pack some water purification tablets for both of you.
You may also want to add a collapsible dog bowl to Fido's pack. Or you can always share your own. We won't judge you.
Food and Dog Treats
Keeping Fido on his standard, everyday kibble when you bug-out can help prevent uncomfortable digestive issues.
Skip the canned dog food. It's too heavy to be practical.
Since dogs can burn up to twice as many calories on the trail as they do lounging around the living room, you may need to ration some extra dog food to meet Fido's needs.
You can also slip some high-calorie treats into Fido's bug-out bag. Although these are designed to help undernourished dogs gain weight, they can provide some extra calories for physically demanding bug-out situations.
If you're concerned about keeping the weight of Fido's pack manageable, freeze-dried kibble packs a ton of calories and nutrition per pound. Fido can eat it straight out of the bag, or you can mix it with water if he prefers a more palatable texture.
Just like you may need to replenish your energy with a protein bar, Fido may need a little extra energy boost, too. A high-energy bar formulated to give a quick boost of energy may be exactly what he needs in a survival situation.
First Aid
First aid supplies are an essential element of any bug-out bag, whether for canine or human use.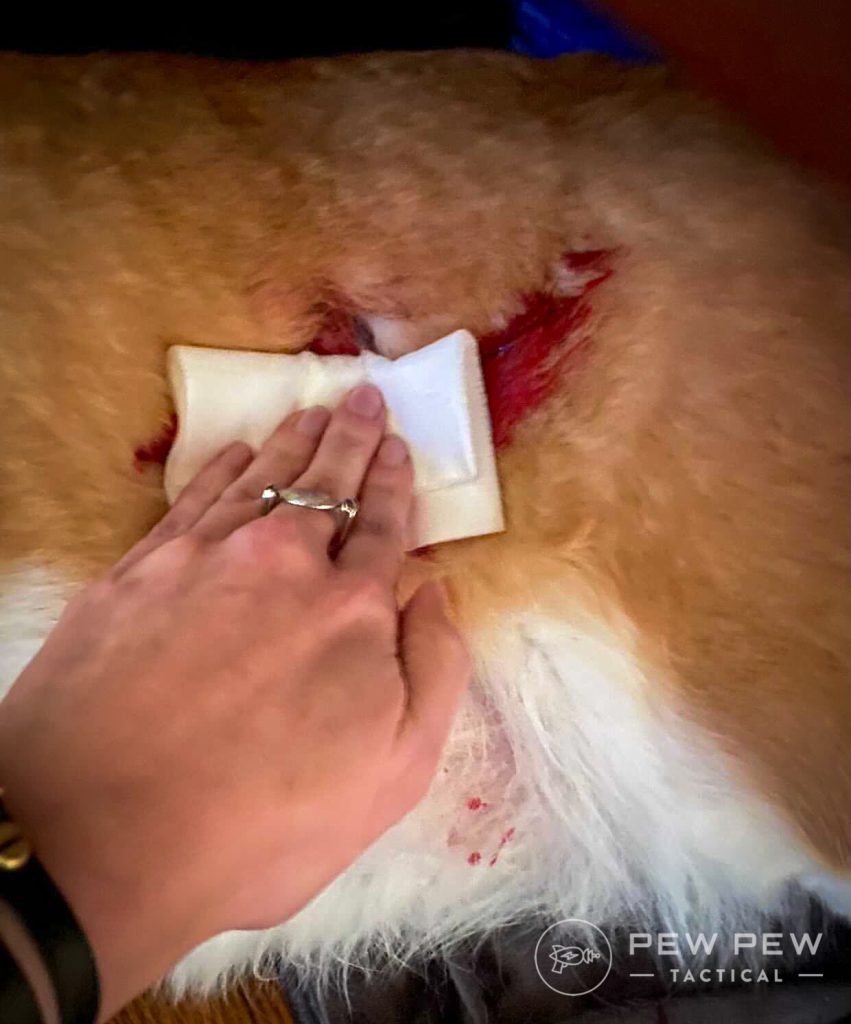 Although most of the supplies you have in your IFAK can be used for Fido, it's still a smart idea for him to have his own. As a bonus, you can use Fido's IFAK as a back-up for humans in your group.
At the very least, Fido needs his own "boo-boo" kit with band-aids, alcohol wipes, and antibiotic cream.
Here are a few other items Fido should consider keeping in his first aid kit.
Blood clotting agent: Because dogs are smaller than humans, a serious injury can cause them to bleed out fast.
Trail Tweezers: These are handy for pulling ticks as well as splinters.
Diphenhydramine (Benadryl): This antihistamine is a must for allergic reactions to insect bites or bee stings and can be used by both you and Fido.
Electrolyte tablets: Fido is susceptible to dehydration, too.
Sulfadene: This doggie ointment is perfect for treating abrasions or chafing caused by Fido's bug-out bag. It's also safe to use on humans!
Hydrogen Peroxide: Although hydrogen peroxide is best known for cleaning wounds, it can also be used to induce vomiting. It could literally be a lifesaver if Fido ingests something poisonous.
Any prescription medication your dog may need (including heartworm preventative and monthly flea and tick treatment).
Be sure to pack a copy of Fido's vet records and vaccinations. The paperwork won't take up much space and could be valuable if you need to group up with other humans and/or dogs.
If you can find one, take a canine first aid course BEFORE you and Fido wind up in an emergency situation when you can't just dial up the vet if he becomes sick or injured.
Knowledge is power, and knowing how to deal with canine injuries and illnesses is a valuable skill set to have in a bug-out situation.
For your own booboos…check out our Best IFAK (Individual First Aid Kits) article.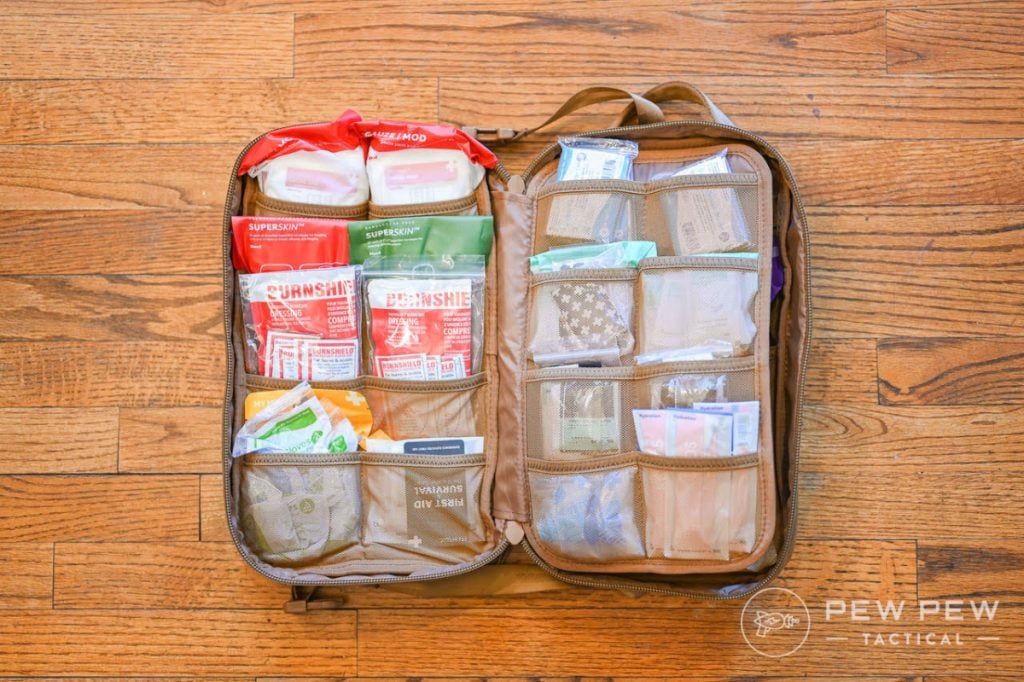 Miscellaneous Items
Now that we have the basics, here are some other things to consider packing in Fido's bug-out bag.
Back-up collar and leash: Although you should choose sturdy designs for your dog's primary leash and collar, you should pack spares in case they break. A second leash could also be handy if you need some extra length for tethering.
Dog Brush: Even if you have a short-haired dog, a brush can come in handy for removing burrs and caked-on dirt.
Dog booties: These non-slip dog shoes help protect your pooch's paws from cold ice, extreme heat, or sharp, rocky terrain.
Poop bags: Poop bags may seem like something you only need when you take Fido to an urban dog park. However, you never know what you may encounter during the apocalypse.
If you don't need them to scoop poop, these versatile little plastic bags have plenty of other uses.
Muzzle: Even if Fido is a gentle soul, stressful situations often bring out the worst in people AND animals. Not only may Fido need to wear a muzzle if you encounter other people, but it could also be helpful if he is injured.
A dog in pain is more likely to bite, and you don't want Fido to chomp on you while you are stitching up a gash.
Towels: Although any towel will do, microfiber towels don't weigh much and are perfect for drying a wet dog.
Doggie clothes: Not all breeds will need a jacket, and certainly not in hot weather. However, sometimes even our furry friends need an extra layer of insulation.
Personally, I love the Carhartt Chore Coat. It's warm, tough, and water-repellent. Plus, you and Fido can take on zombies in matching Carhartt.
Comfort items: Fido's favorite toy or a familiar blanket could be just the thing he needs to calm him in a stressful situation.
Also, don't underestimate the value of a sturdy chew toy. For dogs, chewing alleviates anxiety. It also helps keep their teeth clean. Chew toys are particularly important for puppies who are still cutting teeth.
Finding the Right Fit
Since Fido may need to spend considerable time wearing his bug-out bag, finding the proper fit is key to keeping him comfortable.
Not every company sizes their packs the same way. Your pooch may need a large in one brand but only a medium in another.
Many brands also size their packs according to the dog's weight. Since dogs come in all shapes, sizing by body weight can be problematic.
The average 70-pound Greyhound has a vastly different body structure than the typical 70-pound German Shepherd.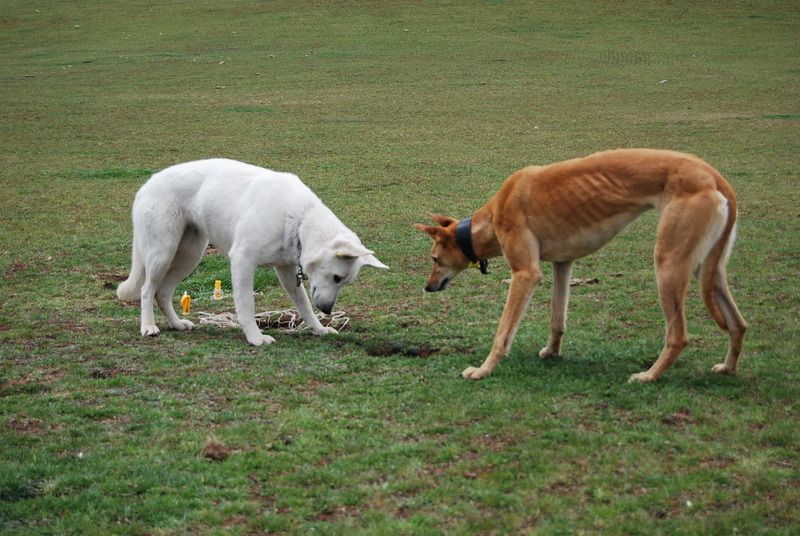 While chest circumference is the best way to size your canine pack, the only way to be certain it will fit is to have Fido try it on for size.
To try on your pup's new pack, first, position the empty pack on his back. Once in place, fasten the straps around and across the chest, and then adjust the straps until you get a comfortable fit.
The straps on Fido's pack should be loose enough to be comfortable yet tight enough to keep the pack in place.
A pack that is too loose will rub as Fido moves and could cause painful chafing. If his bug-out bag is too tight, it could be difficult for Fido to breathe.
Dog Training for Bugging Out
Strapping a new pack on your pooch's back without any warning could cause him some stress. If possible, start conditioning Fido when he's still a puppy.
Even if you're starting with an older dog, let him wear his empty bag on walks, jaunts at the dog park, or even just around the house.
To build Fido's strength and endurance, gradually add weight to the pack and length to your walks (You can do the same with your own bug-out gear. Humans also need to build strength and endurance over time.).
If you can, take Fido on some overnight camping/hiking trips to get him used to sleeping away from the comfort of his doggie bed.
Training
Just like we shouldn't neglect our own tactical and survival training, we shouldn't overlook Fido's training, either.
Not only does a well-trained dog make a much better companion when life is normal, but his training could also save your life in a survival situation.
Take the time to teach your dog basic commands before you're stuck in an SHTF situation. He should be able to stay quiet on command in order to avoid detection.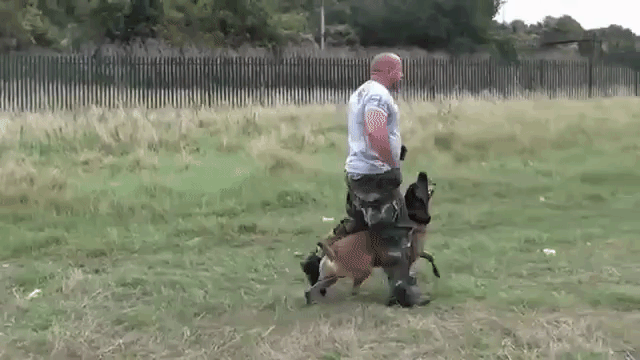 Make sure Fido at least knows how to stay when told and come when called. These two basic commands could save you precious time and energy chasing or searching for him.
How Much Should My Dog Carry?
As a general rule, you want to plan to pack enough supplies for 24 to 72 hours. What that entails will differ depending on your dog.
Dogs were not domesticated as pack animals, so we shouldn't expect them to carry gear like a pack mule.
The amount Fido can safely carry depends on several factors, including his breed, fitness level, and the expected length of the journey.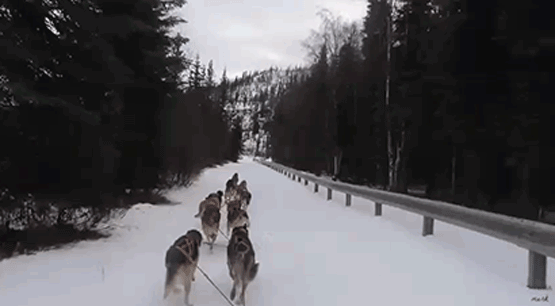 Remember our Greyhound/German Shepherd comparison? Greyhounds were built for speed, not strength.
You can look at the two dogs and easily see that the average 70-pound Greyhound isn't going to handle nearly as much weight as the typical 70-pound German Shepherd.
Some dogs happily handle a heftier load. Others might crumble under the weight of a sparkly hair bow. If your dog falls into that last category, you'll need to make some extra space in your own pack for his supplies.
The trick is to know your dog. If you aren't sure how much weight your dog can handle, consult your vet.
Final Thoughts
Dogs didn't earn the title of "Man's Best Friend" for nothing.
Most of us view our dogs as full-fledged members of the family, so it only makes sense to include Fido in our bug-out plans.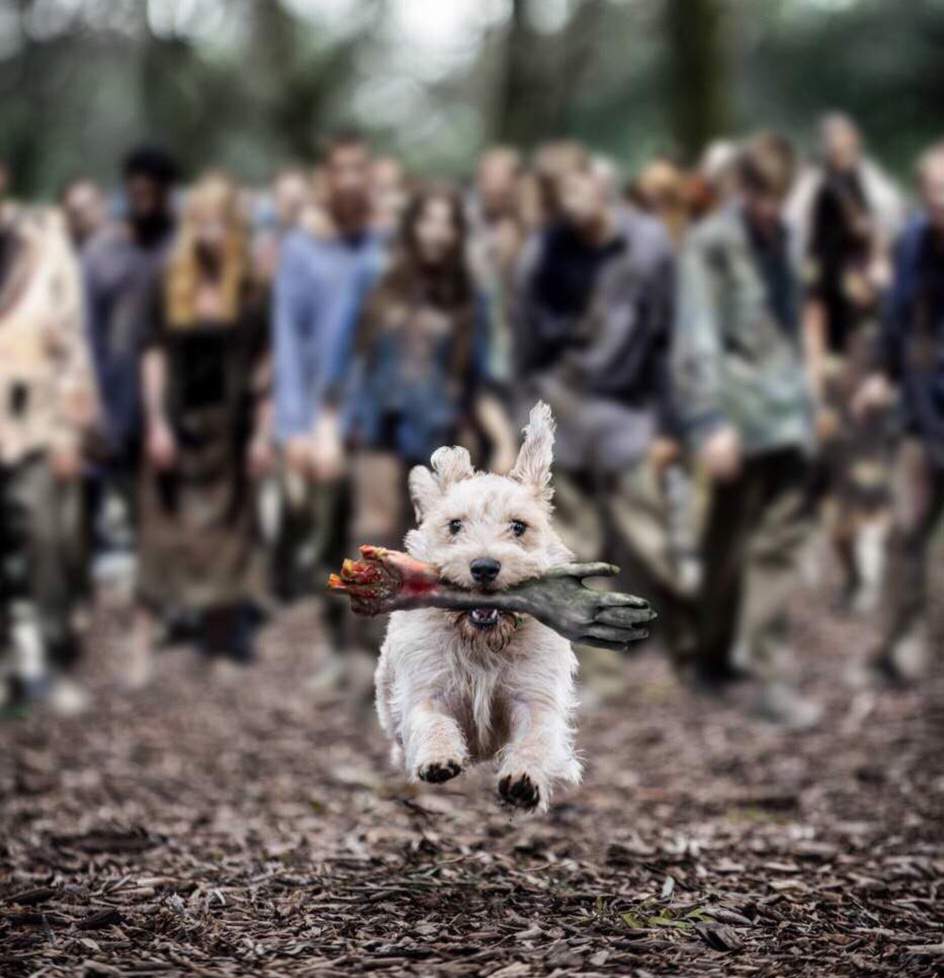 Do you have any special plans for bugging out with your dog? Have you ever had to evacuate with your pet? Let us know in the comments. If you still need to build your own human bug-out bag, check out our Ultimate Bug-Out Bag List, or bug-in with our Prepping 101 Guide. On the go? Check out the Must-Have Gear for Your Car Survival Kit.