Oh boy, it's getting chilly, lights are going up, and some of you are seeing snowfall, so what holiday are we looking forward to?
Christmas, of course! With that in mind, today, we are looking at the 12 Guns of Christmas.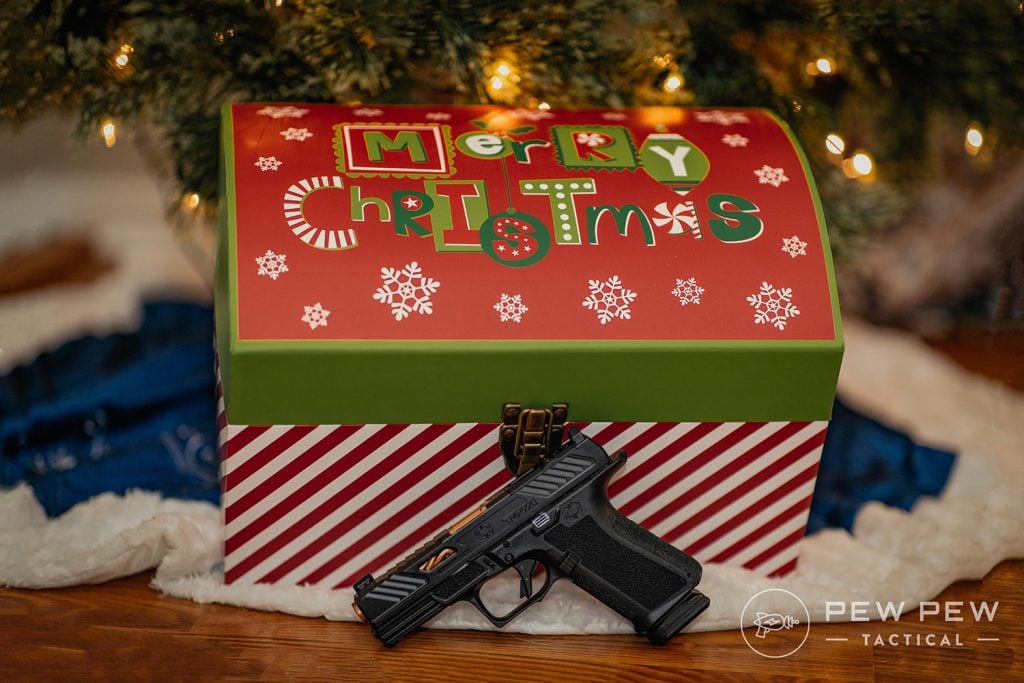 There are tons of great guns out there, and a lot of people already have defensive weapons, hunting rifles, and trap shotguns in their possession. But what about fun guns – guns that are a blast to take to the range?
With that in mind, I put together this list to help you and your loved ones have the most fun at the range this holiday season.
Summary of Our Top Picks
12 Guns of Christmas: Best Guns for the Holiday Season
1. Ruger 10/22
The Ruger 10/22 tops the list because it's the premier plinker. With millions produced, sold, and fielded by generations of shooters, it's earned that title.
It's the AR-15 of rimfire guns in terms of customization and models produced too.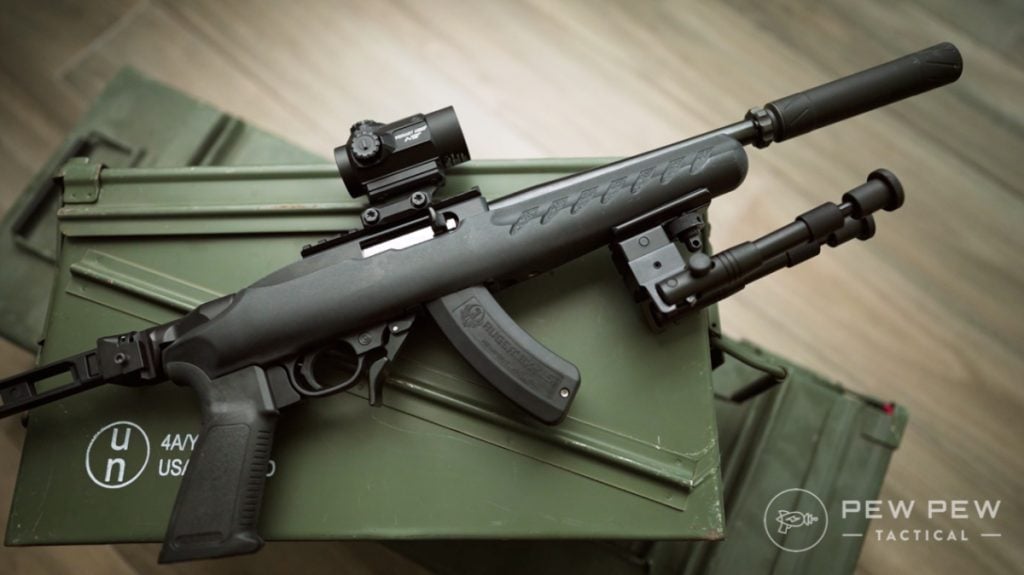 You get a rifle, a carbine, or heck, the Charger variant as a pistol. You can get classic variants with wood stocks and iron sights, competition models with bull barrels meant for optics, and tactical models with fancy black stocks and M-LOK. Not to mention the take-down models that allow you to break the gun down.
Then we dive into the aftermarket that lets you make it a bullpup or fit with an M4 style stock and so much more.
Best .22 LR Rifle
289
at Kygunco
Prices accurate at time of writing
Prices accurate at time of writing
Ruger's 10/22 series of rifles dominate because they are reliable, easy to shoot, and accurate. Oh yeah, and they happen to be affordable.
I learned to shoot on a Ruger 10/22, and that same Ruger has been around long enough to teach my son how to shoot.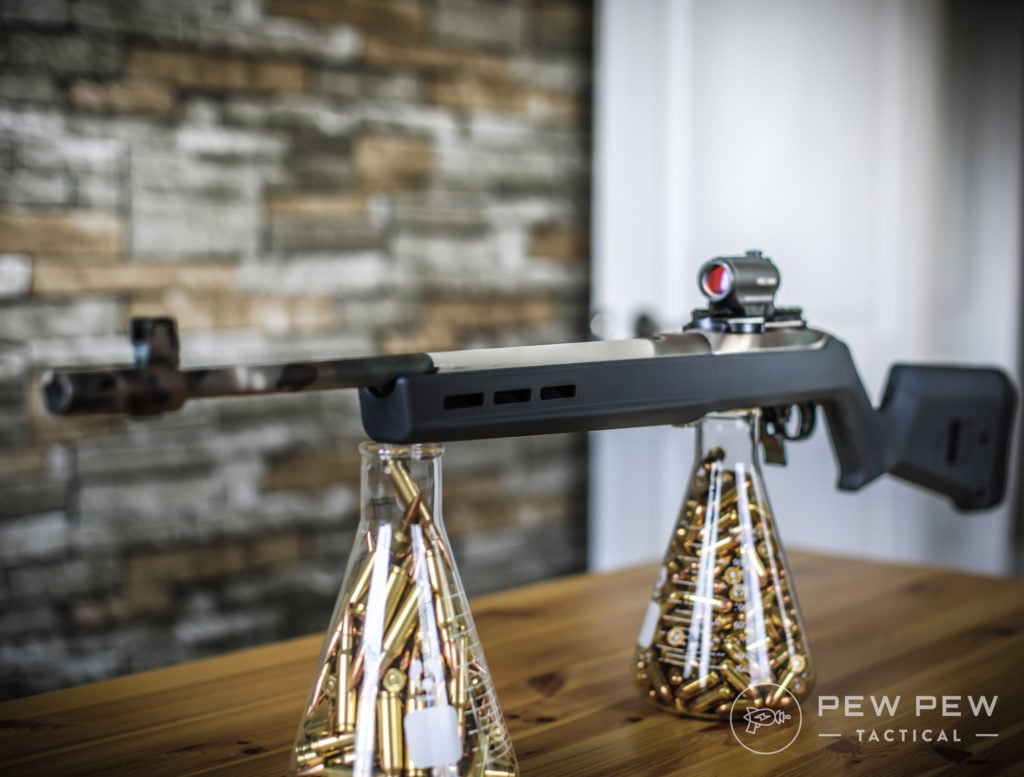 If you are looking for a great firearm to pass down the tradition of gun ownership to your kids, then the Ruger 10/22 is the way to go.
Kids get a fun and frustration-free experience with an easy shooting platform. Plus, over time, they can apply upgrades and alter the gun how they see fit.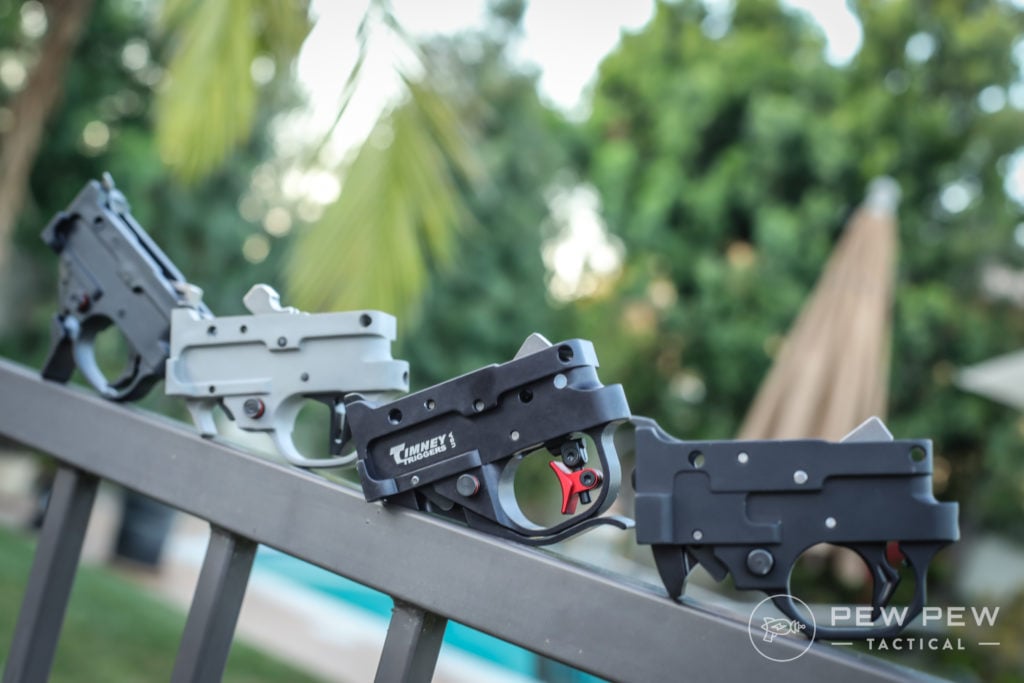 2. Mossberg 940 Tactical
The Mossberg 940 series builds on the 930 series of shotguns and embraces what worked while eliminating what didn't. This means the gun runs better, cleaner, and is less maintenance than the older 930 series.
But why does the tactical model make the list?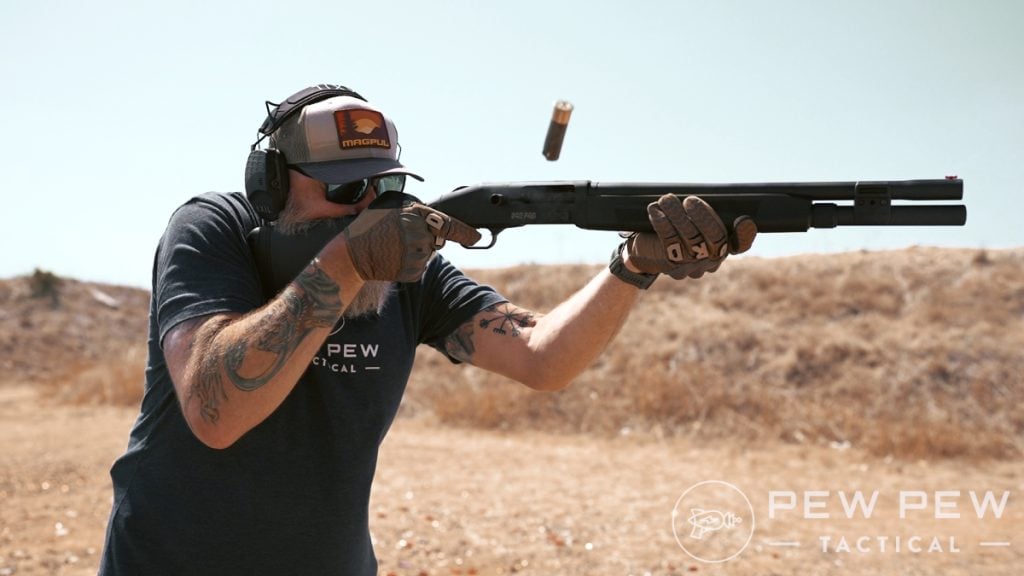 Well, I recently received one, and while I'm still in the early parts of testing the gun, I see an opportunity for America to catch up with Italy on the shotgun front finally.
Mossberg's 940 Tactical comes with tons of features you'd often have to buy separately. This includes massive controls and the best bolt release I've ever used on a stock shotgun.
Best Defensive Shotgun
1274
at Guns.com
Prices accurate at time of writing
Prices accurate at time of writing
On top of that, it comes red dot ready with a direct mounting option for Shield RMSc pattern optics. Of course, you can always add an optics rail and more optics.
Shooters get a smooth gun with a good bit of the recoil cut out from the design to form a nice, easy shotgun.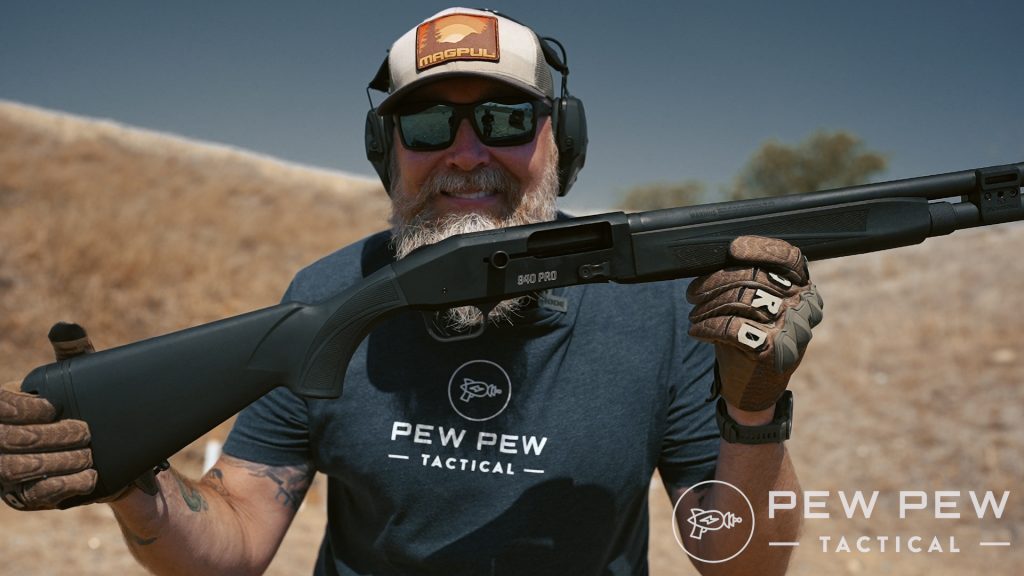 If you need a good scattergun this Christmas, you now have a quality American option with more features than I could ever list here.
We had the chance to review the Mossberg 940 Tactical Pro, so head to the written review or peep the video below for our experience.
3. Sig Sauer P322
Who doesn't love a good plinking pistol? The market already has guns like the Ruger Mark series, Browning Buckmark, and Smith & Wesson Victory.
What about a gun that looks and feels like a modern tactical pistol?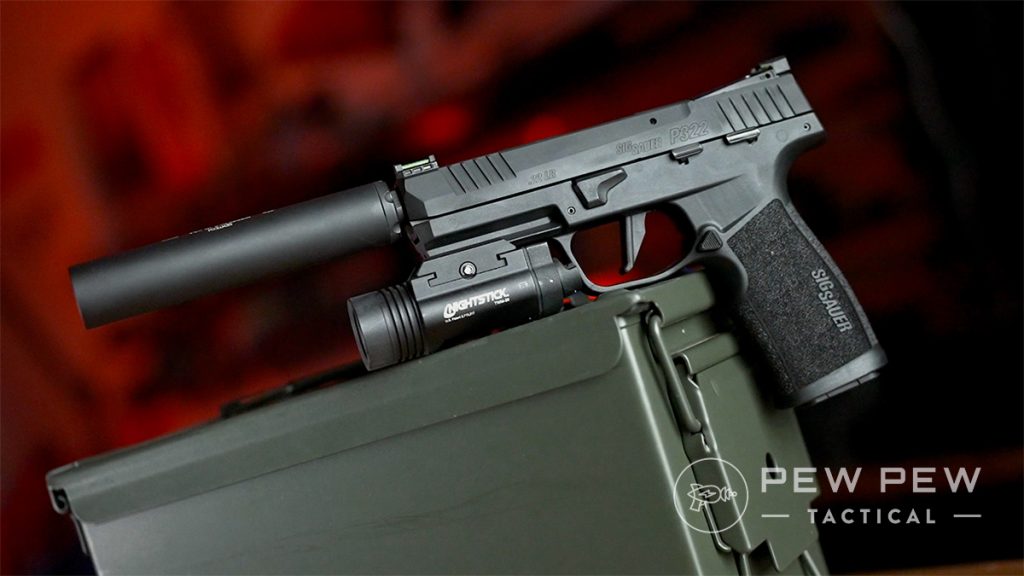 Welcome to the Sig Sauer P322. Sig used a familiar direct blowback design with a single-action hammer concealed within the weapon.
Outside of that, it's a good deal different from the standard .22 LR handgun flair.
It offers a polymer frame outfitted with a Picatinny rail for all your needs. It's cut at the rear for an optic and has adjustable high-visibility sights. The magazine packs 20 rounds of .22 LR in a flush-fitting magazine design, and they work!
Best .22 LR Pistol
399
at Kygunco
Prices accurate at time of writing
Prices accurate at time of writing
In fact, the gun works exceptionally well. It's accurate, reliable, and easy to shoot.
My son passed the NRA Pistol Qualification with a P322, and it's slowly becoming more his gun than mine.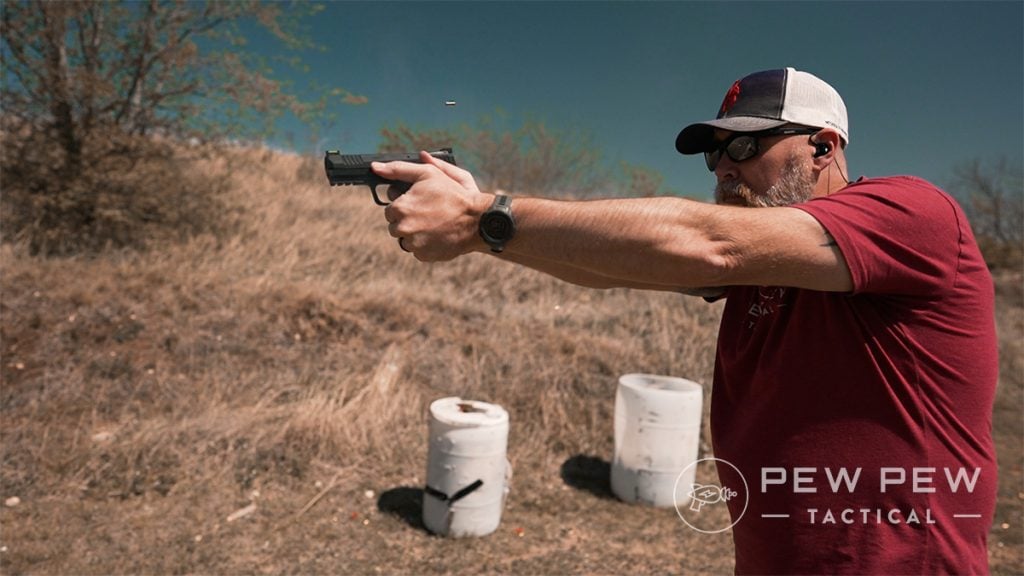 It's the right size to fit a majority of shooters, and it's also a suppressor ready to take some sting out of the bang for new shooters.
We took this one out to the range, so be sure to watch the video below or read the article for all the deets.
What do you think of the Sig P322? Rate it below!
4. CMMG Resolute MkGs
When it comes to PCCs, the CMMG brand of Banshee and now the Resolute series has gripped me.
I love the rotary delayed blowback design, and it absolutely takes the recoil out of a standard direct blowback gun.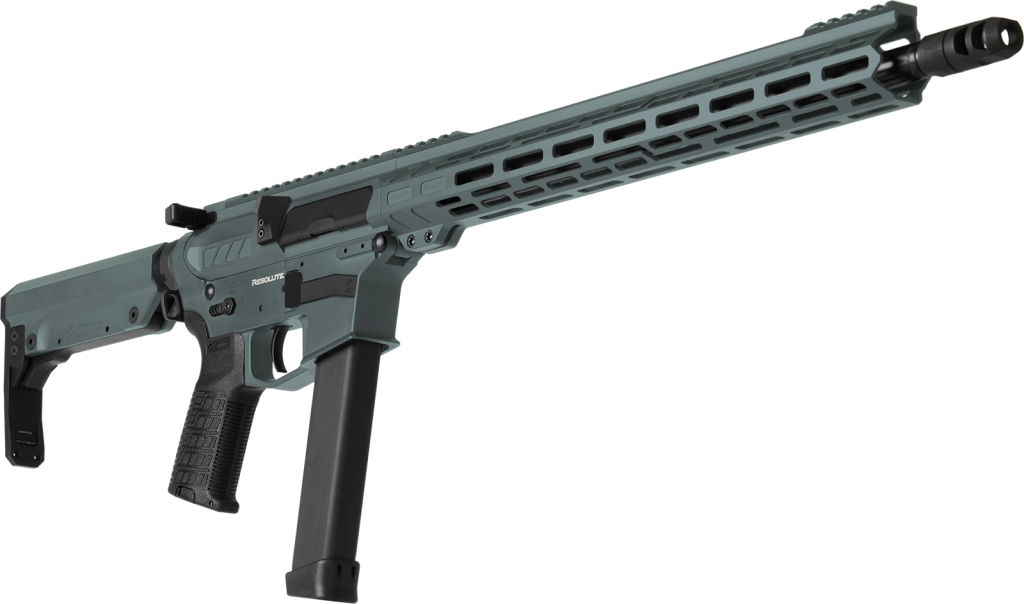 I'm really trying to break into competition shooting, specifically, the PCC division, and I recently got a Resolute MkGs to do so. I have fallen in love with this gun.
The Resolute series are full-sized rifles with 16.1-inch barrels. The MkGs means the gun uses Glock mags, and as you and I know, Glock mags are available in abundance.
1532
at Kygunco
Prices accurate at time of writing
Prices accurate at time of writing
From an accuracy standpoint, the gun is ridiculous. It drops 9mm pills right where I want them to be, and I can stack rounds into one hole at 25 yards with the cheapest 9mm I have on hand.
Outside of being accurate and easily handled, it's decked out with tons of features. It's crazy ergonomic and provides lightweight, easy-handling rifles with lots of bells and maybe even more whistles.
When it comes time to open that big box under the tree, the MkGs is a great option for both experienced and newer shooters.
5. CZ 600 Lux
Alex C. at TFB once said, "CZ, come for the pistols. Stay for the rifles." That's the truest statement I've ever heard. CZ rifles are very underappreciated and underrated.
The new CZ 600 series delivers shooters with a wide variety of great rifles, but the Lux stands out.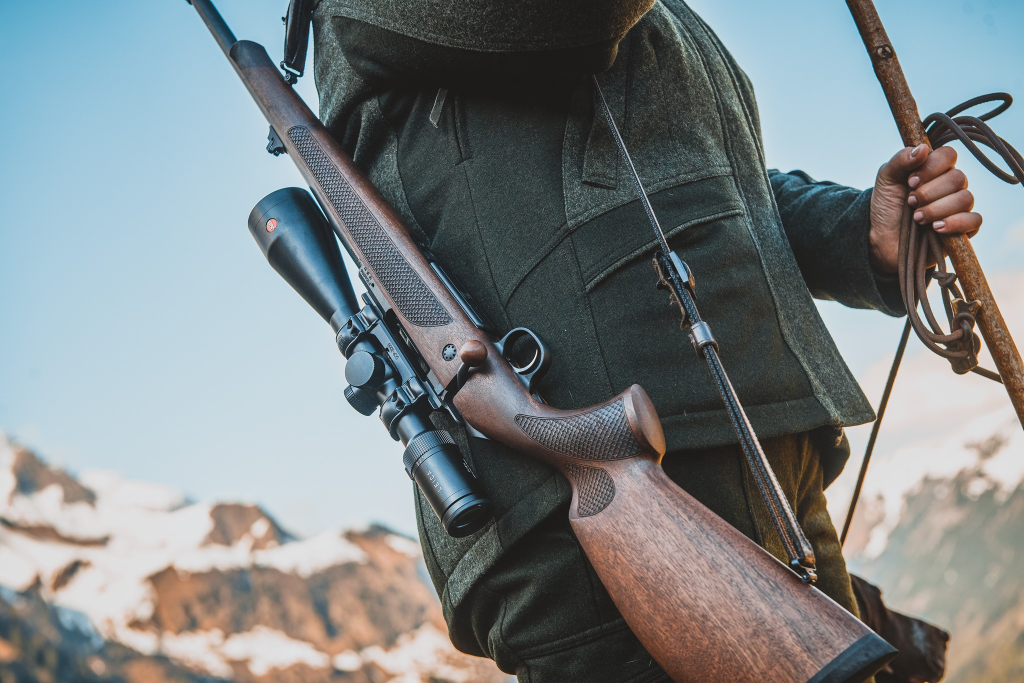 It's a wood stock, bolt-action rifle that is to die for. They come in various calibers, from the little .223 Remington to the big and mean .300 Winchester Magnum.
These rifles offer you a sub-MOA guarantee. With their cold hammer-forged barrels and adjustable triggers, it's easy to see why they make that claim.
Best Bolt-Action
801
at GrabAGun
Prices accurate at time of writing
Prices accurate at time of writing
On the outside, it's a beautiful gun, but the inside matches it in terms of function. It brings a tang-style safety, a controlled feed design, and a removable or lockable magazine.
The Lux models feature a set of iron sights but can use Remington 700 series scope mounts.
It's a wonderful series of rifles, and I might have asked Santa for one in .30-06.
6. Rossi Gallery Gun
The term "Gallery Gun" used to be applied to rimfire rifles, commonly pump actions, that were used in shooting galleries that became popular in a post-World War I America.
These guns were always built for fun, and Rossi has brought them back.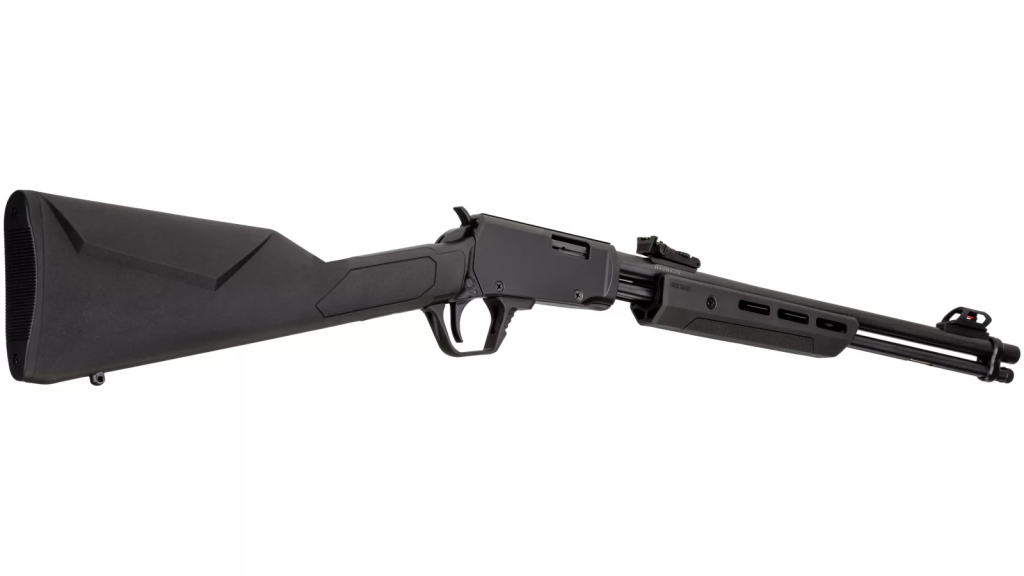 The Rossi Gallery Gun gives you a pump action .22 LR rifle with a tube magazine that holds 15 rounds of America's favorite rimfire cartridge. Rossi's throwback Gallery Gun includes the exposed hammer and iron sights.
272
at Kygunco
Prices accurate at time of writing
Prices accurate at time of writing
They make a standard model with classic wood furniture, as well as an oddly tactical model with an M-LOK pump and polymer furniture.
Either way, it's a lightweight little gun that is fun and fast to shoot with the pump action. At the same time, the single-shot, manual action design makes it safe for new shooters who might need trigger discipline lessons.
The Rossi Gallery Gun is a great Christmas present for when it's time to upgrade from the Red Ryder.
48
at Amazon
Prices accurate at time of writing
Prices accurate at time of writing
7. Ruger LC Carbine
Ruger has been knocking it out of the park lately. The PC Carbine series delivered an awesome rifle, and the LC Carbine is building on that success but taking it in a different direction.
With the LC Carbine, we change things up a bit.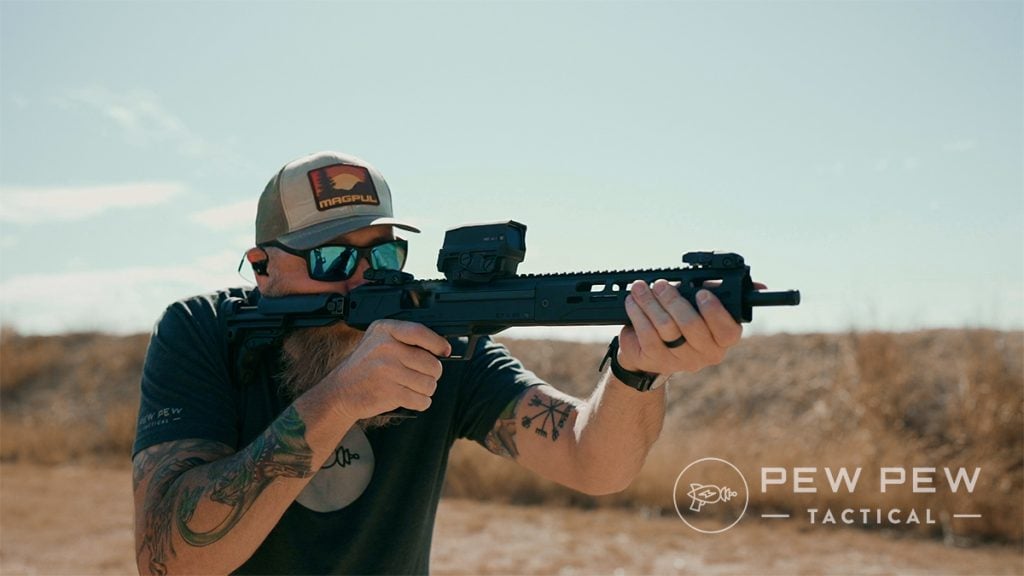 This gun fires the 5.7x28mm round and uses the Ruger 57 magazines as its base. The magazines sit in the pistol grip, which creates a small overall platform.
Using the 5.7x28mm round creates a very light recoiling design that's flat, shooting well beyond your average pistol caliber.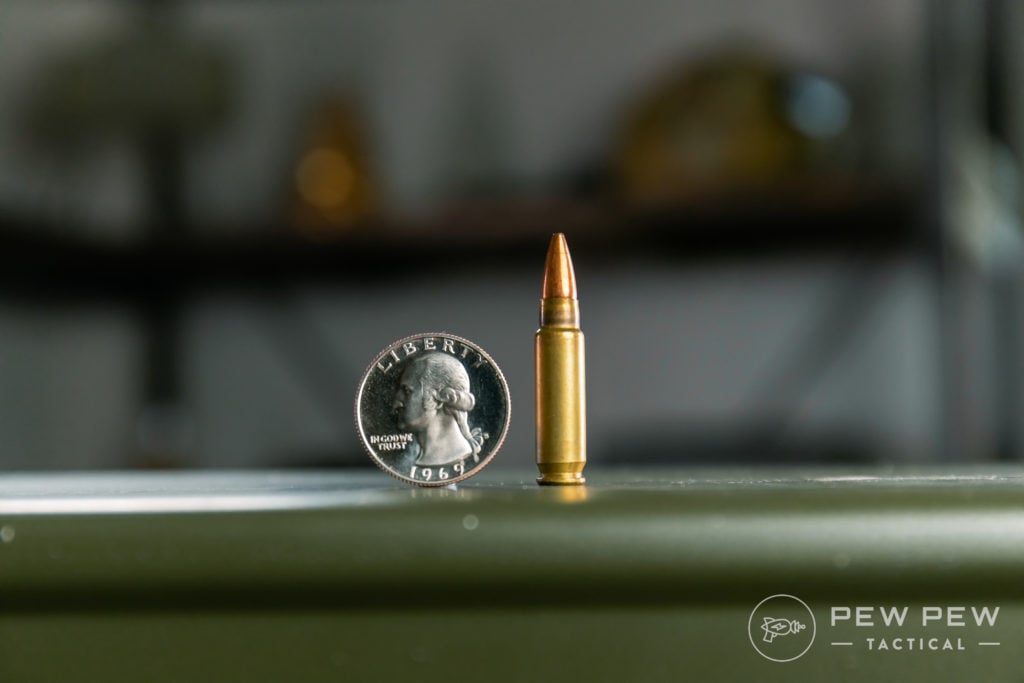 Ruger's LC Carbine comes with a modern M-LOK handguard, a folding stock that also collapses, and a massive 1911-like safety.
It's very modern with a unique take on the rifle. It's not normal, and that's perfectly fine with me.
Best Modern Rifle
729
at Firearms Depot
Prices accurate at time of writing
Prices accurate at time of writing
Sometimes the AR and AK platforms just get boring, and if you feel that sense of listlessness this Christmas, the LC Carbine delivers something different.
The Ruger LC is light, compact, easy to shoot, and crazy accurate. What's not to love?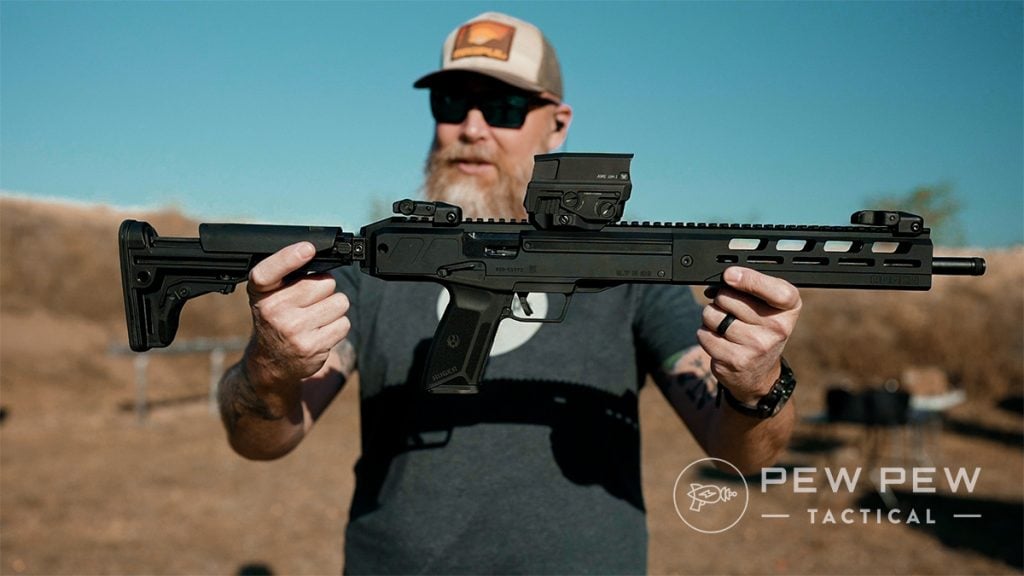 We reviewed the Ruger LC Carbine, so be sure to read the article or check out the video review below.
8. Arex Delta Tactical
The Arex Delta Tactical comes in hot out of Slovenia for this holiday season to give you a pistol so tactical it hurts. What makes this pistol oh so tactical?
It's feature-filled with a threaded, suppressor-ready barrel backed by suppressor height sights.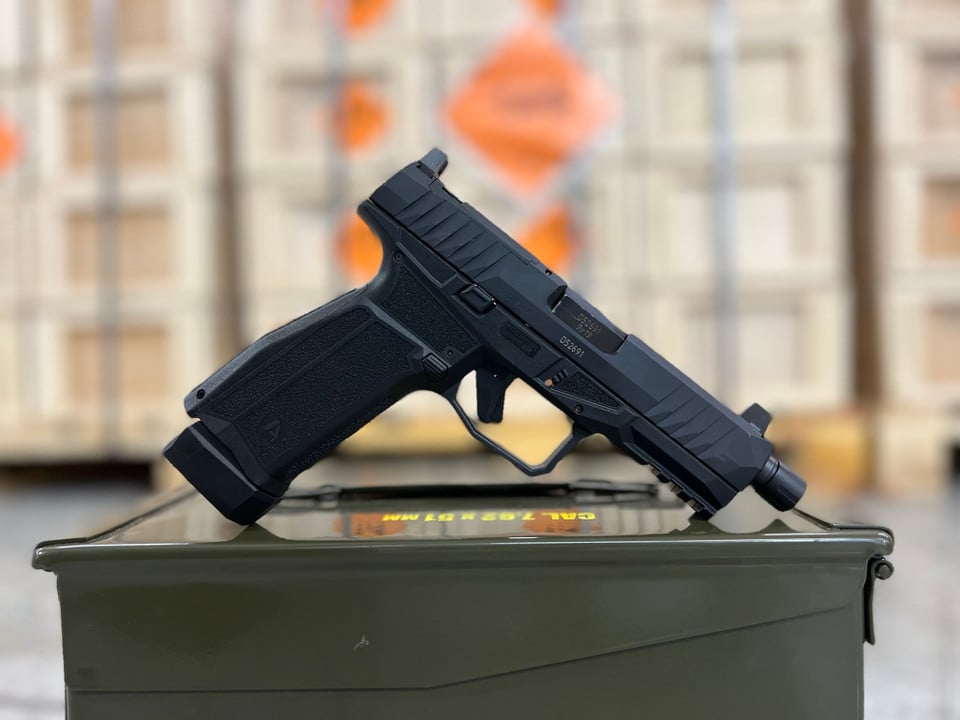 Don't forget its optic's ready, and it comes with ambidextrous controls. Shooters get both a 15-round flush-fitting magazine and a 17-round magazine with a baseplate…all for a price of around $550.
It's not just a cheap gun with basic features. It's a very nice and well-made gun with an excellent trigger, a surprisingly thin grip module, and excellent ergonomics.
564
at Kygunco
Prices accurate at time of writing
Prices accurate at time of writing
I predict the Arex Delta Gen.2 series will blow up quite nicely this year.
With Christmas around the corner, the Arex Delta Tactical is the perfect time to jump on them before the world figures out how great they are and eats them up.
9. Rock Island Armory TPAS
If you need a budget-friendly but fun-oriented firearm this Christmas, then the Rock Island Armory TPAS shotguns are for you.
These budget-friendly guns take a trench gun-like approach to their shotgun, specifically an Ithaca 37 series gun.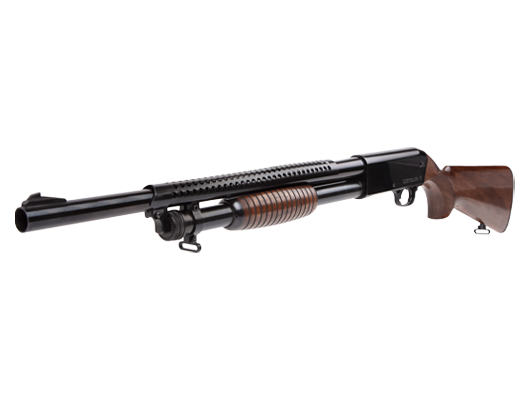 Getting an affordable Ithaca 37 these days isn't easy, and getting one in a trench-style configuration isn't going to happen affordably, either. The TPAS offers you a budget-friendly trench-gun-style Ithaca 37 clone that is a ton of fun to shoot.
Don't let the budget fool you. It's affordable, but it doesn't suck. The action is crazy smooth, reliable, and outfitted with good-looking wood furniture. It's deceptively nice for its low price point.
489
at GrabAGun
Prices accurate at time of writing
Prices accurate at time of writing
It's a pure range toy, and range toys aren't bad. In fact, my favorite guns are range toys. The only downside the gun has is that it doesn't have a bayonet lug.
10. Henry Axe .410
Oh boy, when it comes to having fun, it's tough to beat a lever gun, especially when that lever gun is a "firearm."
By firearm, I mean a pistol grip-only weapon with a smooth bore that fires shotshells. Lever actions and these PGO firearms top the list of fun guns to me, so combining the two only makes sense.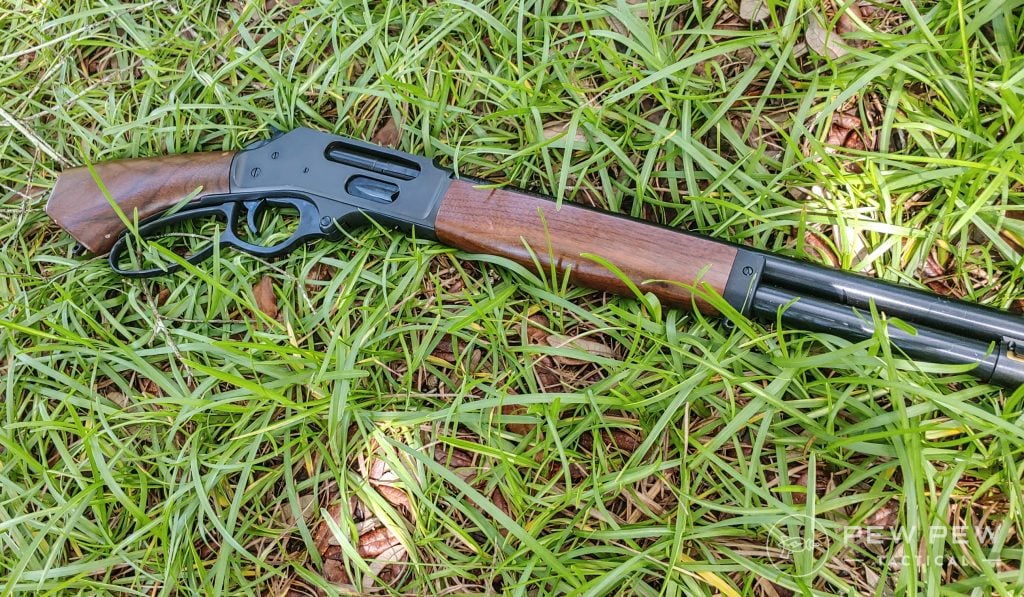 The Henry Axe .410 offers very little recoil, a rare feature of shotshell firing PGO weapons. It's a total blast to blaze through half a dozen .410 shells as fast as you can work that lever.
You get something truly magical when you combine light recoil and shotgun shells.
Making a Caldwell Duramax ball jump and jive or crushing clay pigeons deliver a snicker-inducing experience. It's mostly designed to be silly but a fun gun.
876
at Kygunco
Prices accurate at time of writing
Prices accurate at time of writing
It can be a fairly formidable weapon loaded with buckshot, although not optimum compared to other shotgun options.
I enjoy hunting small game, and I enjoy a challenge. The Axe allows me to do both at the same time.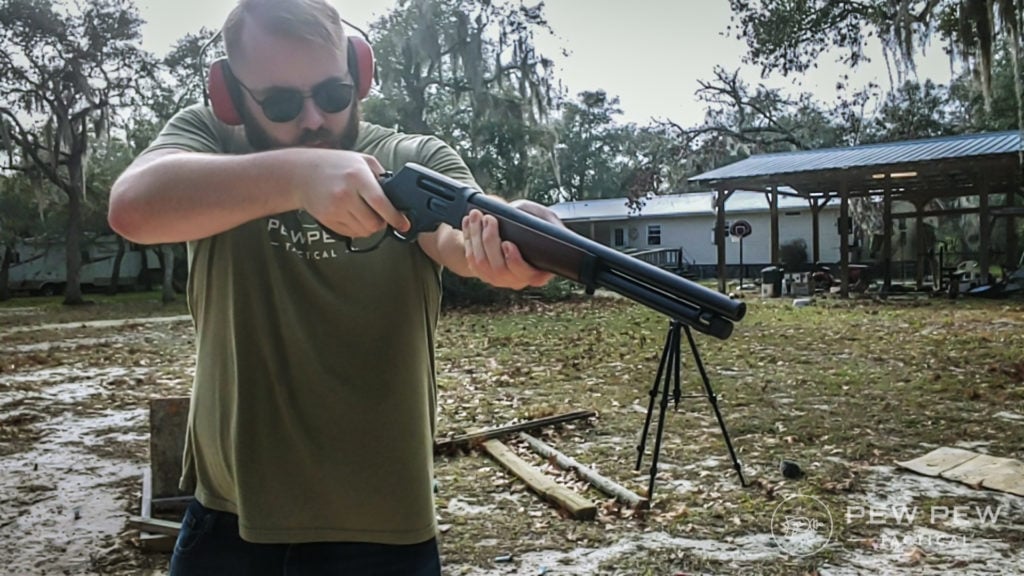 Christmas is a time for family, and the Axe provides an option for shooters, both big and small. My 11-year-old son can handle it just fine, and has cost me a lot in .410 shells.
It's unconventional but has that Henry quality you can't help but love and adore.
We have a full rundown of the Henry Axe here!
11. Taylor Firearms TC9 1873 SA
Taylor Firearms makes old west guns, and old west guns are always cool. Who doesn't love a lever gun, a six-shooter, or a coach gun?
The real downside to most cowboy guns is that they chamber calibers like .45 Colt, which while great, tends to be fairly pricey.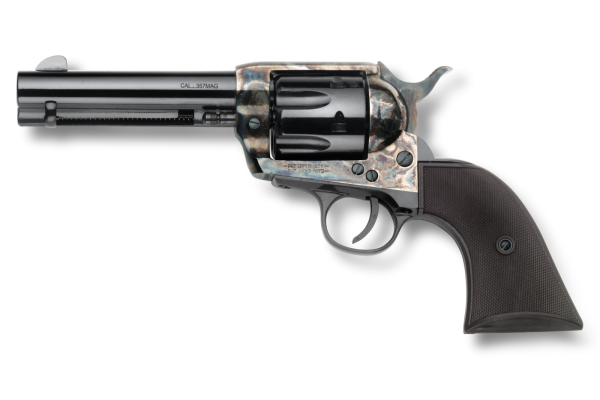 That is until Taylor Firearms seemingly recognized the problem and brought forth the TC9 1873 SA. This gun gives you that single-action army feeling without the attached expensive ammunition.
It fires the 9mm round, and 9mm is super cheap…and cheap ammo means more shooting. It's not accurate to the era, and some would say that it's cheesing the cowboy experience.
To them, I say nothing because I can't hear them over all the 9mm I'm shooting through a single-action cowboy gun.
588
at Taylor's Firearms
Prices accurate at time of writing
Prices accurate at time of writing
To go along with the affordable ammo, you have an affordable revolver that starts at a little more than $600.
SASS might frown on them, but they are a great way to get the cowboy experience without the cowboy price tag.
12. PSA AK-47 GF3
I wish Palmetto State Armory would be a little more specific with their weapons' names. The AK series, for example, has dozens of different entries with just AK-47 GF3 and then a list of features.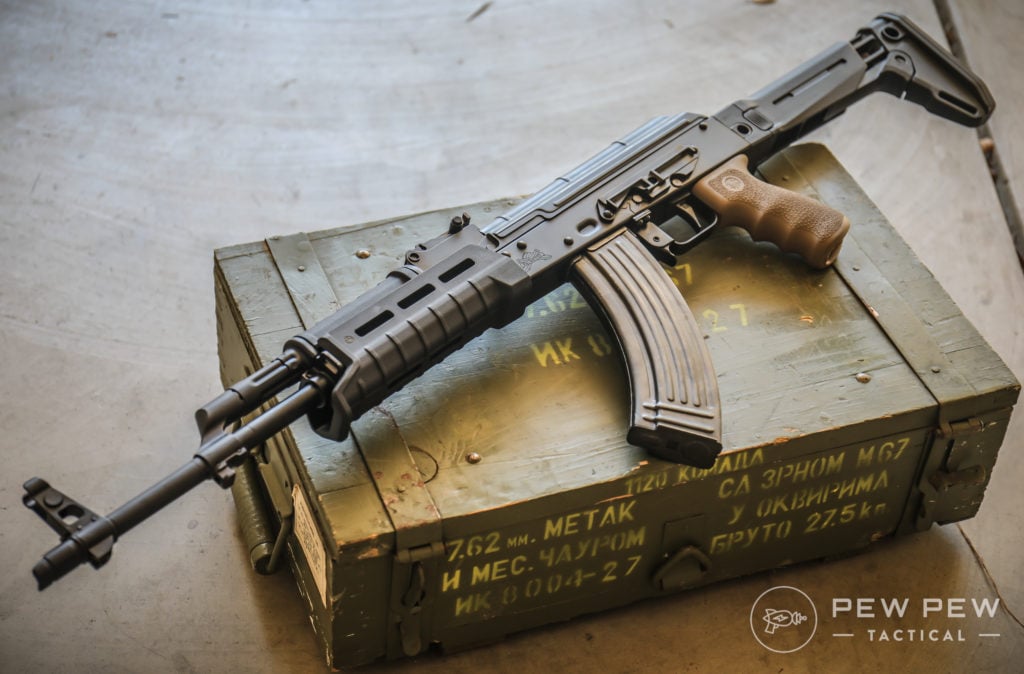 My pick is specifically the PSA AK-47 GF3 with a 14.7-inch barrel pin and well, ALG Trigger, and JMAC Keymount Brake.
Yep, it's a long name, but it's one of the cooler AKs on the market and my personal favorite from PSA.
It's fancy from the ground up. As the name implies, it's also nice and short with a pinned and welded muzzle device. This means you can't swap the device, but you won't need to.
Best AK
599
at Palmetto State Armory
Prices accurate at time of writing
Prices accurate at time of writing
It's a muzzle brake designed to help cut recoil through four large ports. The device eats up recoil, although if you thought a Krink was loud, you ain't seen anything yet. If you ever want to attach a can, then have no fear. You can.
This muzzle device is designed to work with the Sandman series of suppressors from Dead Air.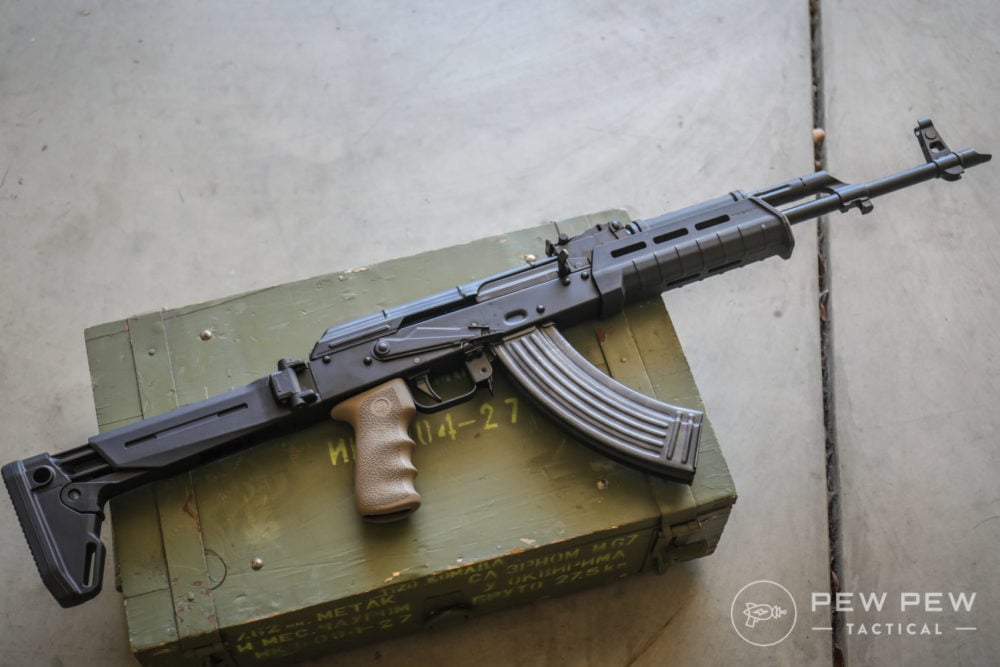 On top of that, we get a wonderful ALG trigger than cleans the Commie right out of the gun. For accessory attachment, we have a JL Billet extended M-LOK handguard that's metal and is mounted to be rock solid.
The Magpul stock and pistol grip set it all off. You get a factory-ready modern AK platform designed to perform and melt a little snow this Christmas.
You guessed it; we have a review of the PSA AK-47 GF3 right here!
Final Thoughts
Maybe you're hoping for a white Christmas, but I'm hoping for a brass-colored Christmas. If you are a regular reader of Pew Pew Tactical, I'm betting you want the same.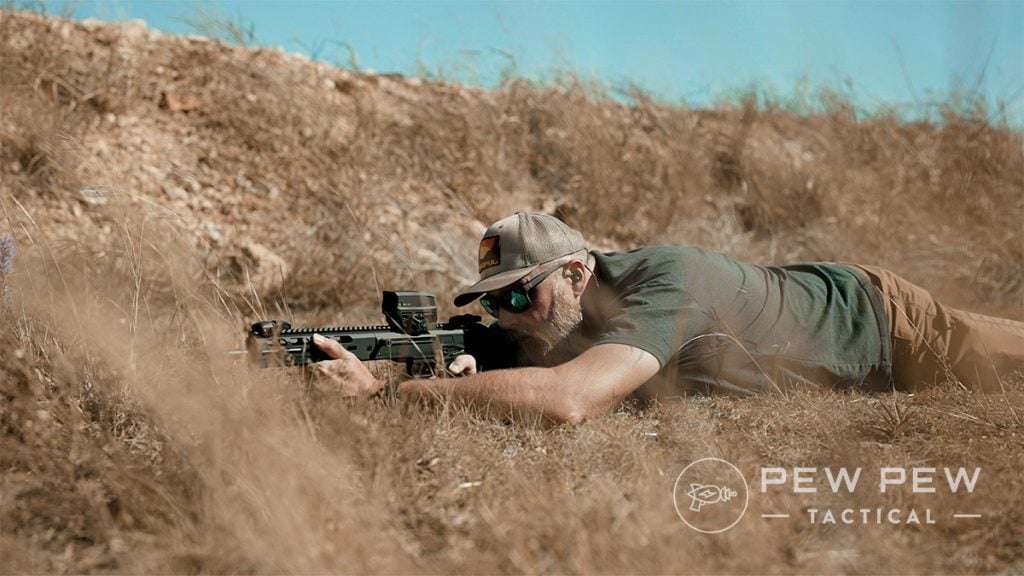 And you're bound to have a happy holiday season with any of the guns listed!
These are my 12 guns of Christmas. What are yours? Share your favorites in the comments below. For more gift guides, check out our picks for the Best Gifts for Gun Lovers [$25, $50, $100+], or if you have a survivalist in your life, check out the Best Gifts for Preppers.