What is the best way to celebrate the New Year?
With a fun gun.
Not just a standard fun gun, but an exceptionally fun gun.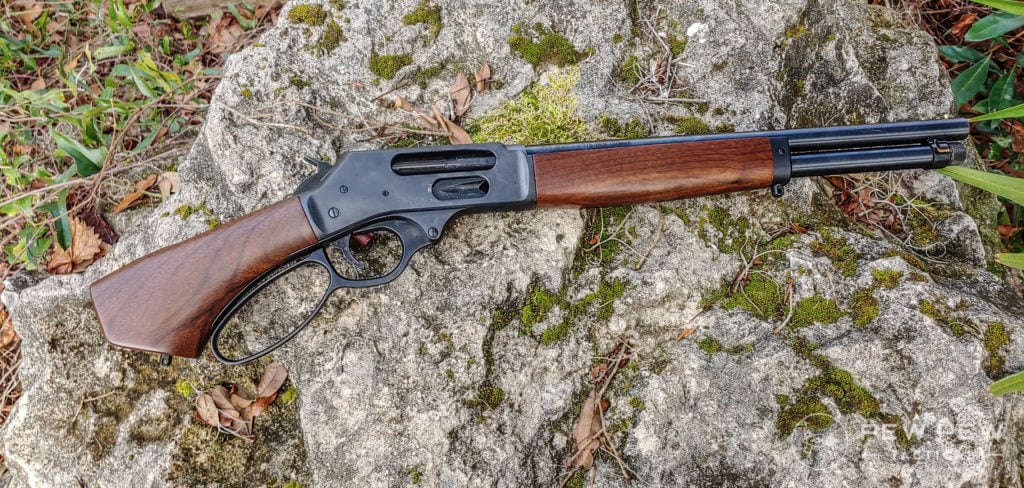 That fun gun for me has been Henry's entry into the popular totally not a shotgun realm with the Lever Action Axe .410.
Let's see how it performs and if it's right for you.
Table of Contents
Loading...
Not a Shotgun?
I call them not shotguns, but they are typically known as other firearms.
These guns have smoothbores, are chambered in traditional shotshell calibers, and they are stockless. These guns aren't only stockless but have never had stocks in the first place. If they ever get a stock, they are shotguns and always will be.
These guns also have to remain 26-inches overall or longer. If not, they become AOWs, which is another NFA categorized weapon.
The Mossberg Shockwave popularized these guns, and they are some of my absolute favorite fun guns.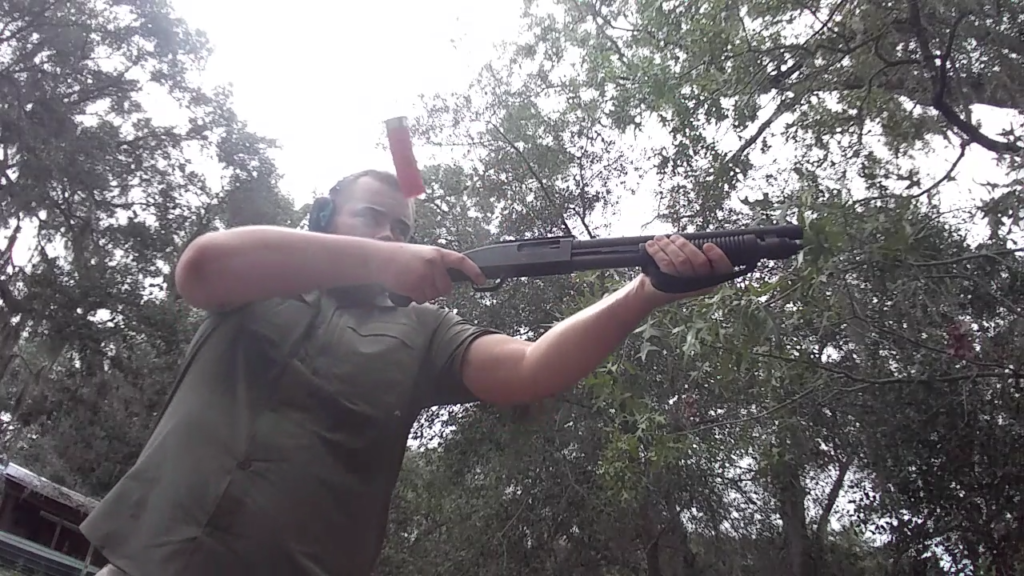 However, the Henry Lever Action Axe .410 takes the cake as far as fun guns go. The Axe Handle is a .410, as I mentioned, but that's not what's unique about it.
This is a lever-action .410. Henry is famed for their lever actions, and I've owned a lever-action .22 LR for well over a decade, and it's never failed me.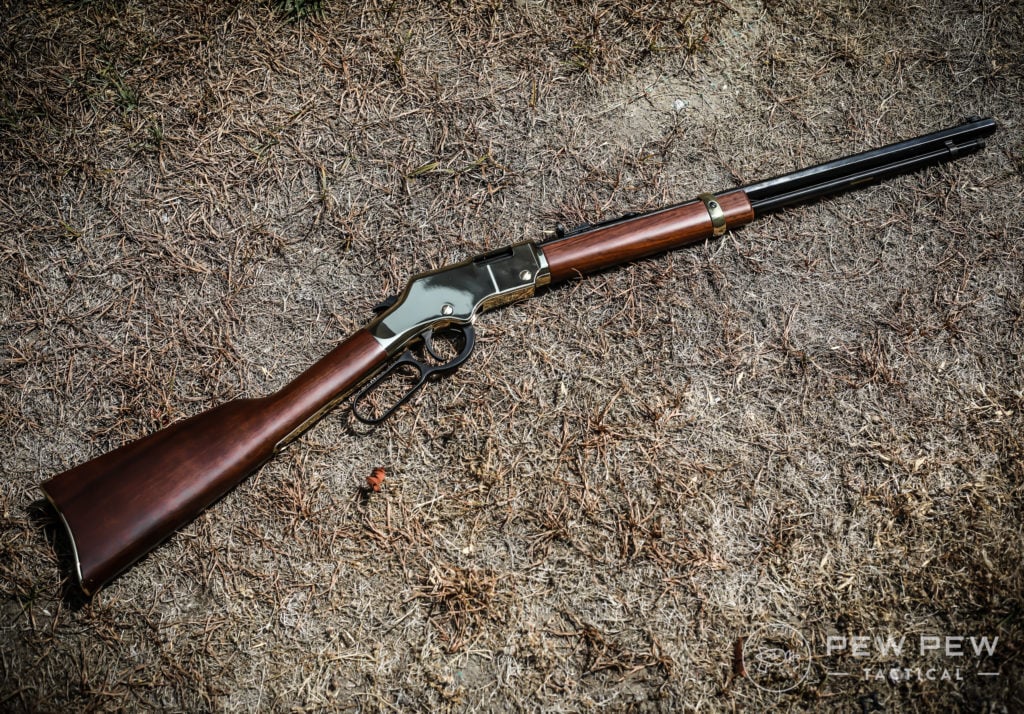 Henry also makes a lever .410 as a proper shotgun, so any kinks or bugs with a lever-action .410 have been worked out well before the Axe came to be.
876
at Kygunco
Prices accurate at time of writing
Prices accurate at time of writing
The Axe gets its name from the pistol grip. Like the Shockwave Raptor grip, it's more horizontal than vertical, and this adds the necessary length to keep things at a compact and reasonable 26.4 inches.
It's shaped and feels like an Axe Handle. Kind of.
Speaking of Numbers
Let's break down the specs of this beautiful and fun gun. The overall length is 26.4 inches, and the gun weighs a hefty 5.75 pounds. To keep that in perspective, the 12 gauge Shockwave weighs half a pound less at 5.25 pounds.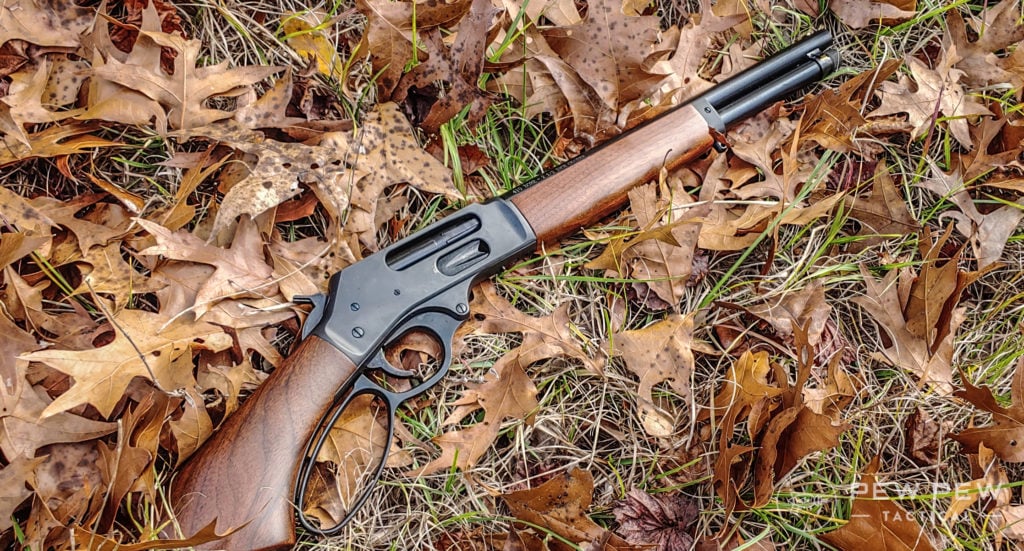 The Axe has a 2.5-inch chamber and will hold 5 rounds in the tube and rocks a barrel that is 15.14 inches long. A very handy feature is the Axe uses Invector chokes, sports a simple brass bead as a front sight, and those nice fellas at Henry even tossed on sling swivels for you.
The pistol grip and forend are made from a gorgeous American Walnut that's super smooth and great looking.
A barrel and receiver that are blued, and the gun retains that classic western look. The Axe is a gorgeous looking gun.
Henry is well known for making good looking guns, and the Axe .410 is no different.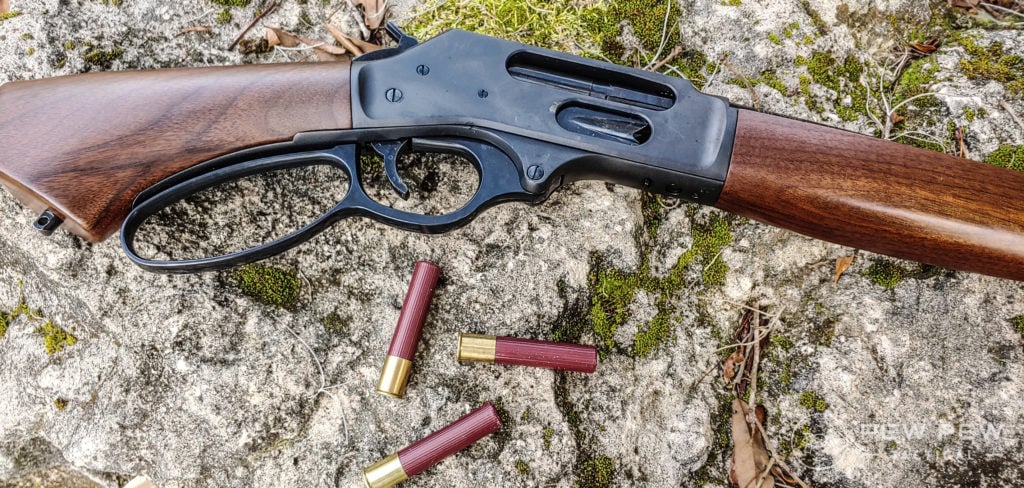 This is a purely American lever-action gun chambered in a strictly American round. It's also the most fun gun I've taken to the range in a long time.
What's It Good For?
It's easy to ask what's the point of a lever-action gun in a shotgun caliber without a stock? Well, admittedly, the usefulness of the weapon is limited. The lever-action Axe is mostly designed to be a plinker.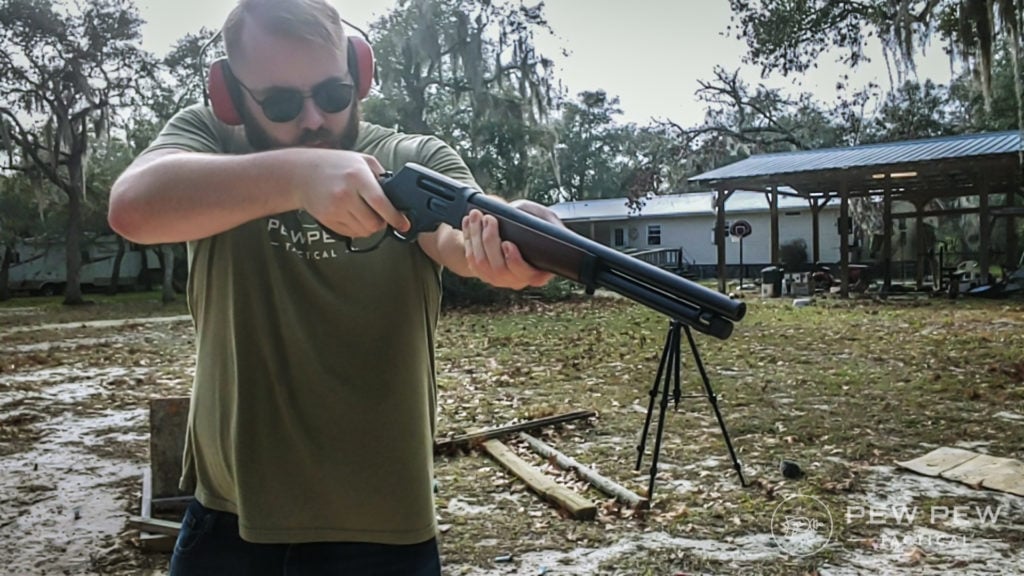 Even Henry lists the primary use of the gun as a plinker and for target shooting. In that role, it's perfect. It's a comfortable shooting and fun in a relatively common caliber.
Utility wise I could see this being a short and handy snake or pest gun. Loaded with a heavy birdshot load, you won't have issues dispatching pests and dangerous snakes. Think of it as the manliest garden gun on the market.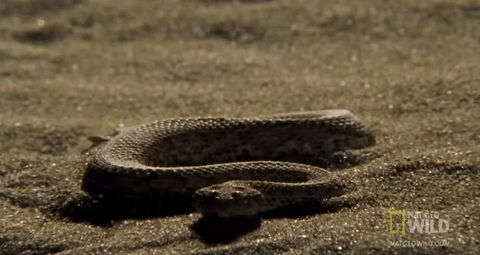 I might get wrapped around the wheel on venomous snakes since I live in the southeast, and I also live in the middle of nowhere. A .410 has always been a low recoiling and lightweight option for dispatching pests.
A common hobby here is to go for walks or rides on ATVs, Side by side, horses, and more.
If along the way you run into an aggressive moccasin, a blast of shot usually ends his day quickly. At the same time, you can swap in a round of .410 buckshot and kill small hogs as well as coyotes.
11.50
at Palmetto State Armory
Prices accurate at time of writing
Prices accurate at time of writing
I also enjoy small game hunting, and as redneck as this makes me sound, squirrel over yellow rice is fantastic. Rabbit stew is equally soul-warming on cold winter nights.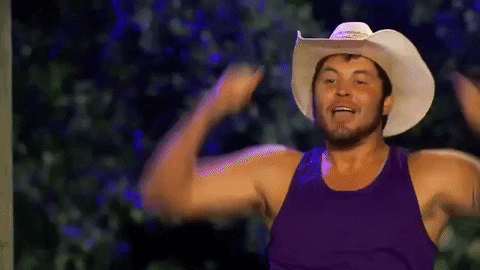 This gun would make those tasks a little challenging, but the natural pointable nature of this little gun makes it perfect for swinging on target.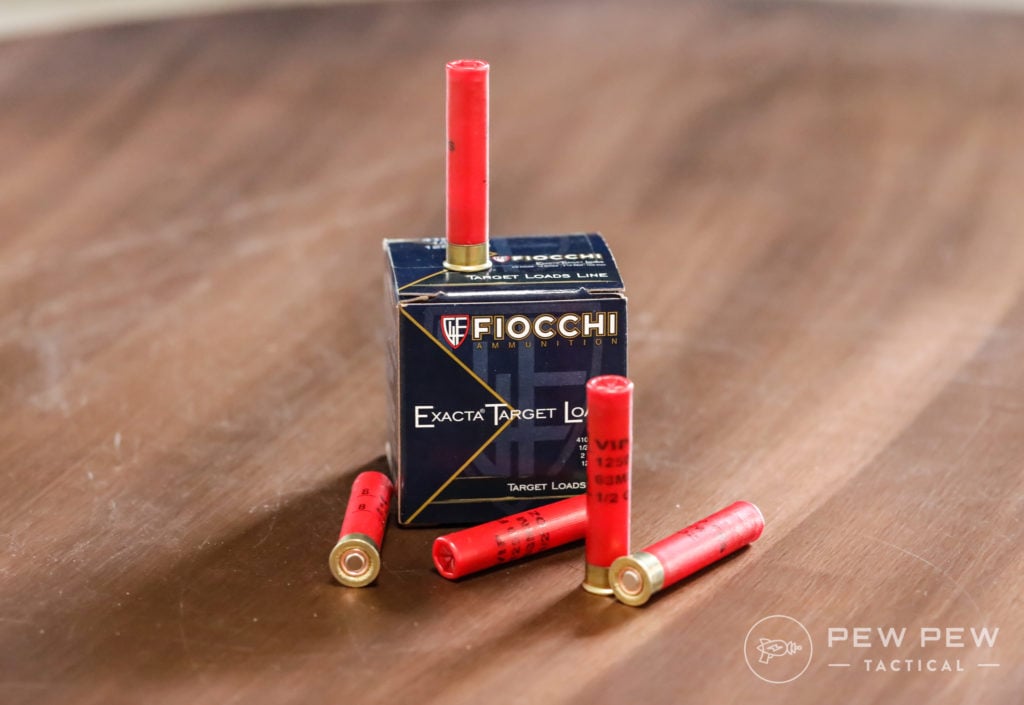 Range Time
Pistol grip only shotguns are notoriously hard to control. Admittedly they can be a handful, but the horizontal style pistol grips are a bit better at displacing painful recoil.
They are still tricky to control, but the Axe is an exception.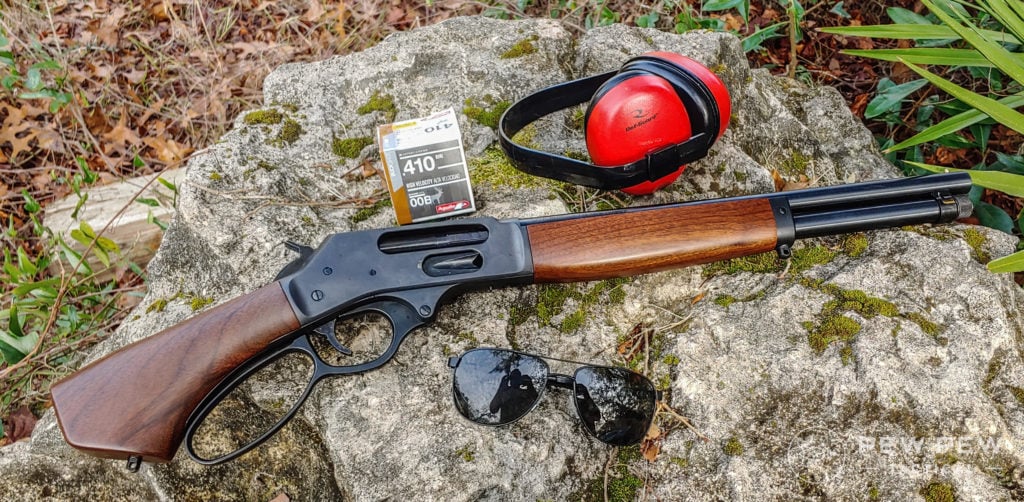 Part of this exception is the fact the gun is in .410. .410 is a mild shotgun round, and as far as shotgun rounds go, we can best describe the .410 as soft.
Add on the fact the Henry Axe weighs more than a 12 gauge, and you get an ultra-mild and comfortable handling firearm.
The Henry Axe .410 isn't just easy for my 6'4″ 280-pound frame. My girlfriend weighs 110 pounds soaking wet, and she handles the Henry Axe without any problem. She had no problem holding it up at eye level and letting it rip.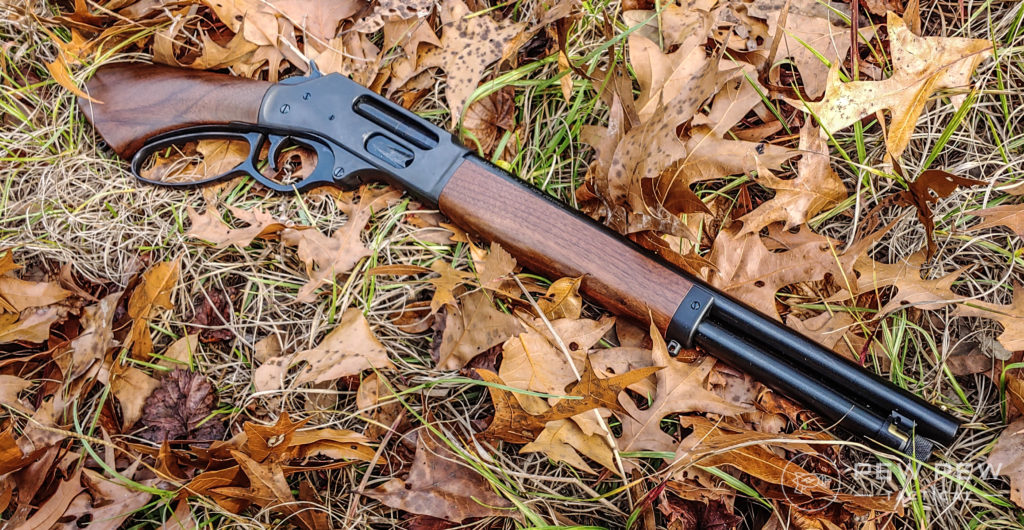 Even with buckshot, this gun is plenty comfortable with nearly no recoil. It's is quite easy to blast a man-sized target with a blast of buckshot from 15 yards and still score perfect headshots.
Hitting The Ball
Shotguns are designed to be used with a stock, and the bead on the Axe is designed to be used with a stock. This can make it a little tricky. A lot of people who are new to these guns tend to aim low.
You have to learn how to balance the bead, and it'll take some practice in getting level enough to make it work. The good news is shotguns tend to be a bit more forgiving. Once you learn it just right, you'll be blasting cans or playing soccer quite quickly.
17
at Amazon
Prices accurate at time of writing
Prices accurate at time of writing
Soccer is a game we played with a Caldwell Duramax ball target. We set up a cardboard box at the end of the range and started blasting the ball, trying to get it into the box.
The winner was whoever did it in the least amount of shots. It's a fun, and challenging game, and the Axe was the perfect gun for it.
From the Hip
If you safely can firing the Axe from the hip was a joy. It's silly, but fun to see if you can hit a soda can from the hip. This requires a big berm and a target located low to the ground.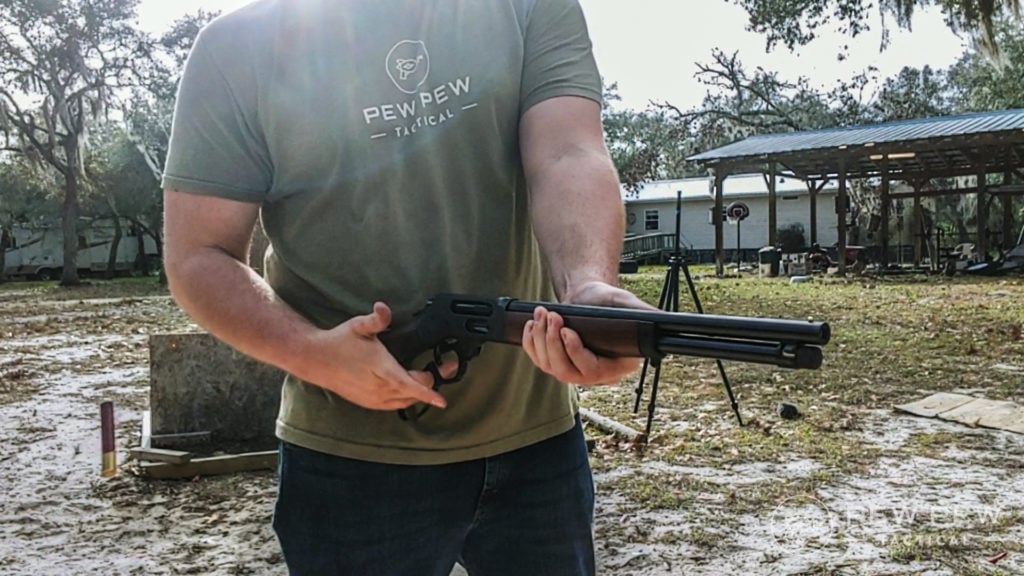 It's also a bit easier to fire rapidly from the hip. Not because of recoil, but because of the lever-action design. If you've ever seen the show the Rifleman, you know how quick and easy it is to work a lever-action from the hip.
Blasting off five rounds of 8.5 birdshot from the hip as fast as possible is smile-inducing.
Ergonomics
Lever guns are relatively easy on ergonomics. Henry doesn't get nuts with it, and they don't try to reinvent a system that already works. There are no silly manual safeties and no crazy buttons or devices.
The gun's controls consist of a lever, a hammer, and a trigger. The lever action is very smooth, and the loop adequate for my oh so large hands. It takes minimal effort to work the action, and I imagine shooters of all sizes won't have issues doing so.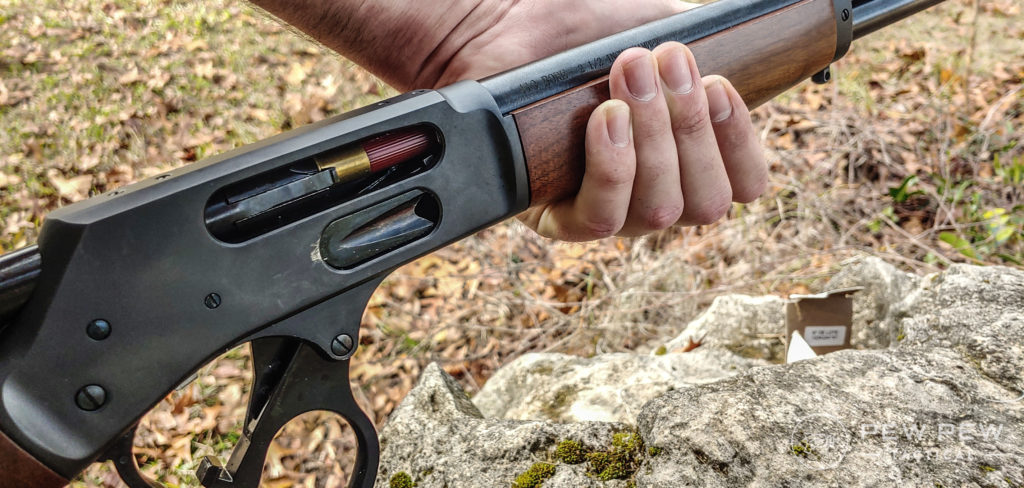 The hammer is easy to cock as well as decock manually. It is textured and sticks to your thumb when gripped. The trigger is also very nice.
Shotguns and guns that aren't technically shotguns aren't known for having excellent triggers. A side effect of Henry being a rifle company more or less means you get an excellent rifle trigger. It's a little spongier, but short and light.
One fear I had was the loop size and the recoil of the gun. My hands fit into the loop, but I was worried about recoiling, making the loop pound into my hand.
Fortunately, the recoil was so mild and timid this wasn't an issue.
Lever action weapons are meant to be rifles, so cocking them with a pistol grip only is a little awkward. More so when the gun is held to eye level and fired. The shoulder's third point of contact gives some resistance to the lever being pulled down.
With the Axe .410, no such stock exists, so it's a bit clumsy to cock the weapon from eye level. It's better to lower the gun a bit, work the action, and continue to shoot.
If this was a defensive weapon, I'd have an issue with this. However, the Axe .410 is a plinker and fun gun, so it's not a concern.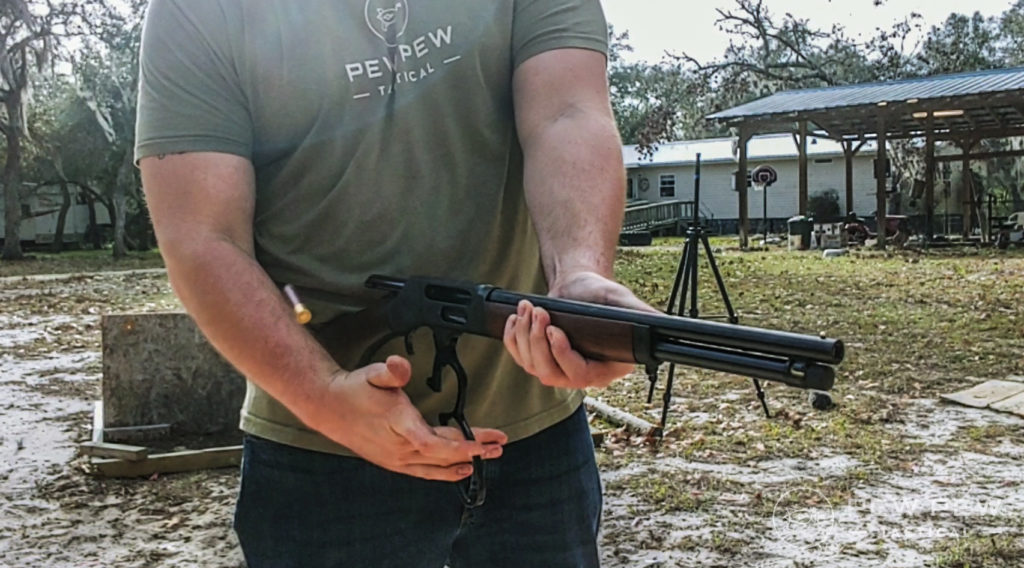 What's nice is that you can load the gun via a loading gate on the side, or remove the top of the tube and just dump the ammo in. I typically loaded it by dumping ammo in and topping off through the loading gate.
The loading gate will give you a little pinch if you push your thumb too far in, but it's more like a Granny pinch than an alcoholic aunt pinch.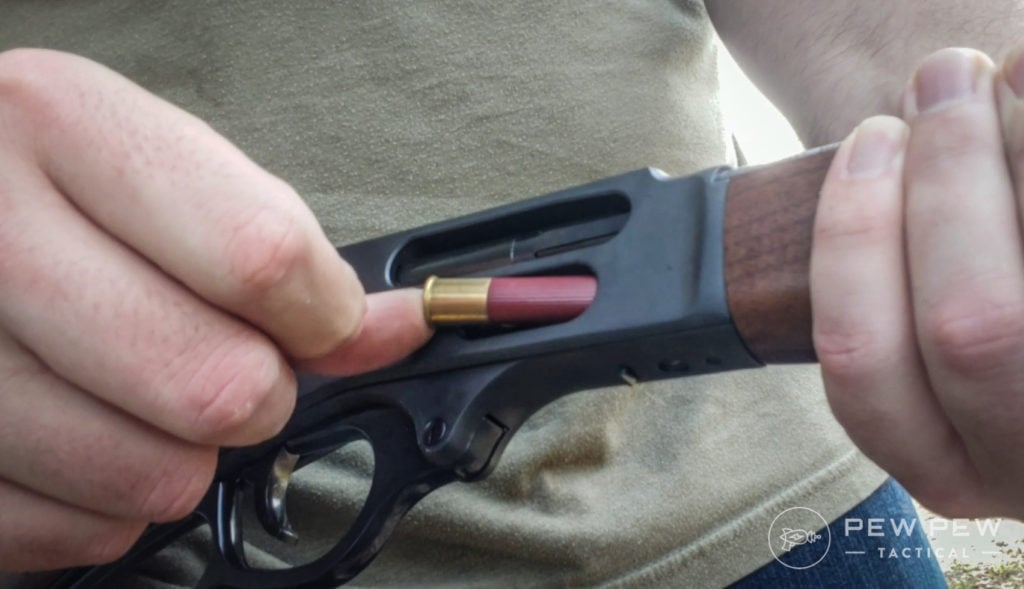 The Axe handle pistol grip is also plenty comfortable. It makes it easy to aim and to hold. Even when you want to fire with one hand. I wouldn't recommend trying to flip cock this thing. That near six pounds of steel and wood will get away from you quickly.
What Makes It So Much Fun?
I can't exactly pin down why this is more fun than a Shockwave. It's even more fun than the .410 Shockwave, which is as equally soft shooting. I think it has to do with the ergonomics mostly.
The lever action is a very tactilely satisfying design, and it delivers a bit of a dopamine dump every time I work the action.
It goes beyond the satisfaction of a Swiss K31 bolt, or a Colt SAA hammer being cocked.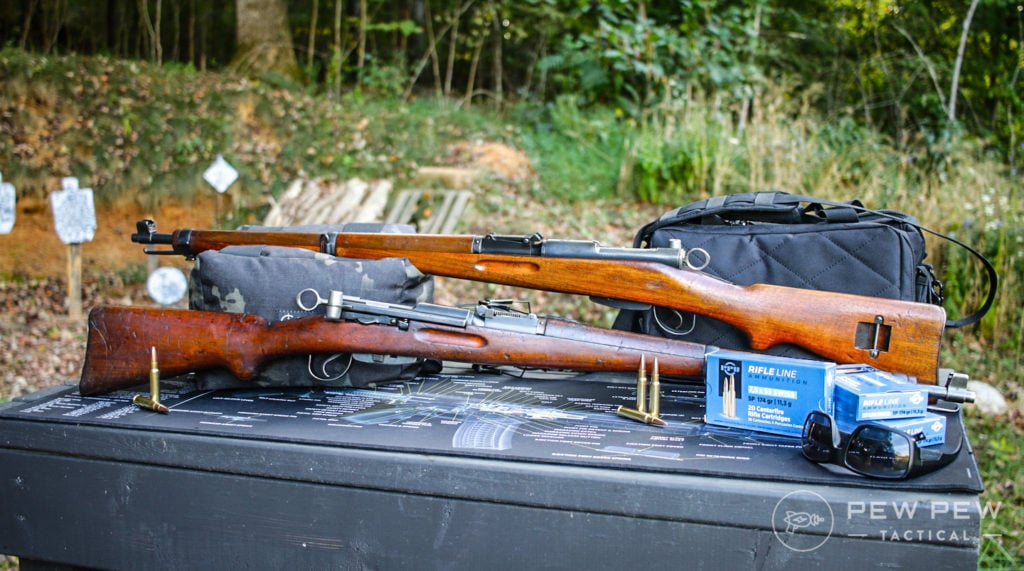 If you add in that with the low recoil, but relatively devastating effect .410 has on plinking targets, and you get a real winner. It's such a fun and easy shooting gun that anyone can pick it up and safely shoot it.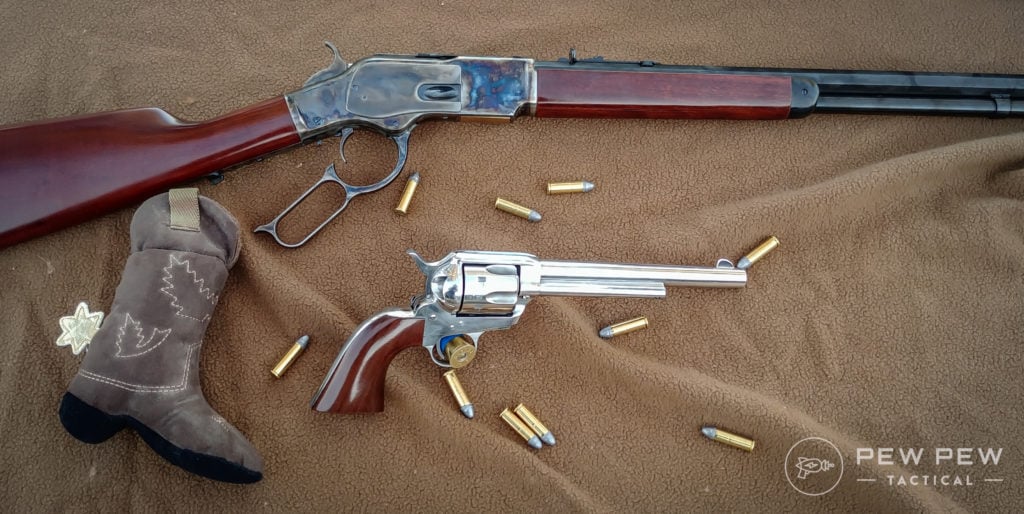 Everything about the gun also reeks of high quality. It looks fantastic, it feels fantastic, and it works fantastically.
By the Numbers
Looks 5/5
I mean, look at it, it looks great. Henry made a beautiful and even stylish gun. The Axe is a fascinating mix of wood and steel.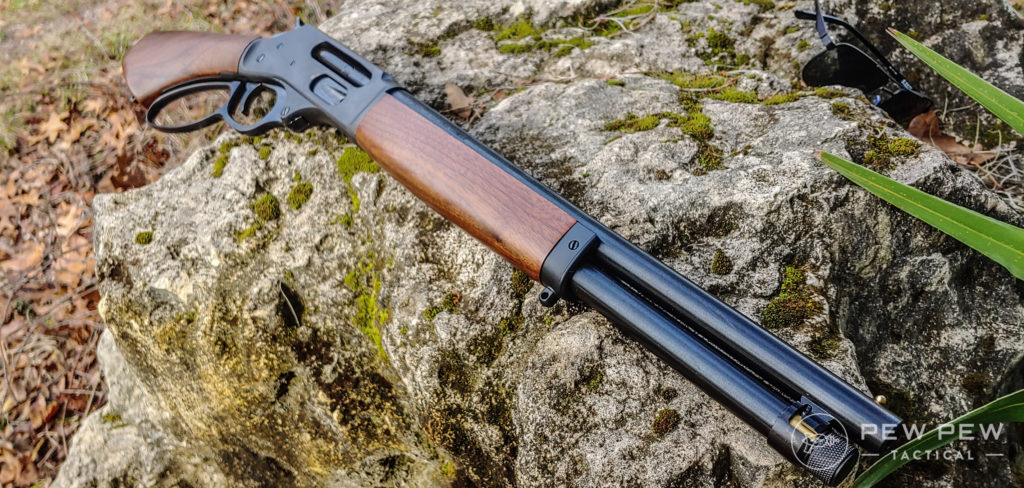 Ergonomics 4/5
Overall this is a simple gun. It's a little heavy, and the only reason I knocked a point off is for the lever-action design with a PGO only weapon. It's slightly awkward.
Reliability 5/5
It's a well-made weapon, and it could be a disaster. Plastic shells can be finicky with different weapon systems. However, Henry made it work with the Axe and made it work well. I've used shotshells from Federal, Winchester, and Aguila, and they've all loaded, gone bang, and ejected without issue.
Customizability 1/5
Uhm… You can add a sling. Other than that, it looks short. The top of the receiver appears to be tapped, and Picatinny rail scope mounts exist for the .410 Henry shotguns, but the website does say 20-inch barrel only. So who knows.
Bang for Your Buck: 3/5
It's a steep priced other firearm with a street price in the 700s. This is a very well made firearm, so the price makes sense, however, it's limited usefulness can make it a tough buy.
876
at Kygunco
Prices accurate at time of writing
Prices accurate at time of writing
Overall Score: 4/5
Conclusion
The Henry Axe .410 is a super fun plinker and target shooter. Don't mistake it for anything else and you'll love the looks, quality, and reliability. However, quality comes at a cost and the design leaves little for upgrades.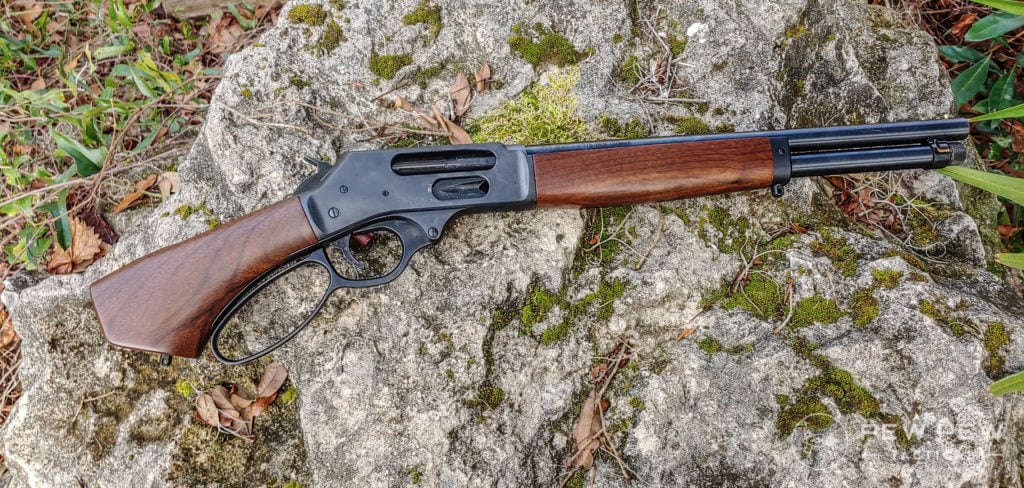 It's the most fun I've had in a long time. If you get a chance, at least ask to see it in the gun store and work that action a few times.
So what do you fine folks think? I'm an apparent fan of the gun, but are you? Let us know below. Then heck out another favorite "not a shotgun" with the Tac-14 or venture into our Best Tactical Shotguns.