Before carrying concealed, I hadn't worn a belt in over a decade. The thought of wearing a stiff gun belt made me cringe, and I tried to get away without it for a while.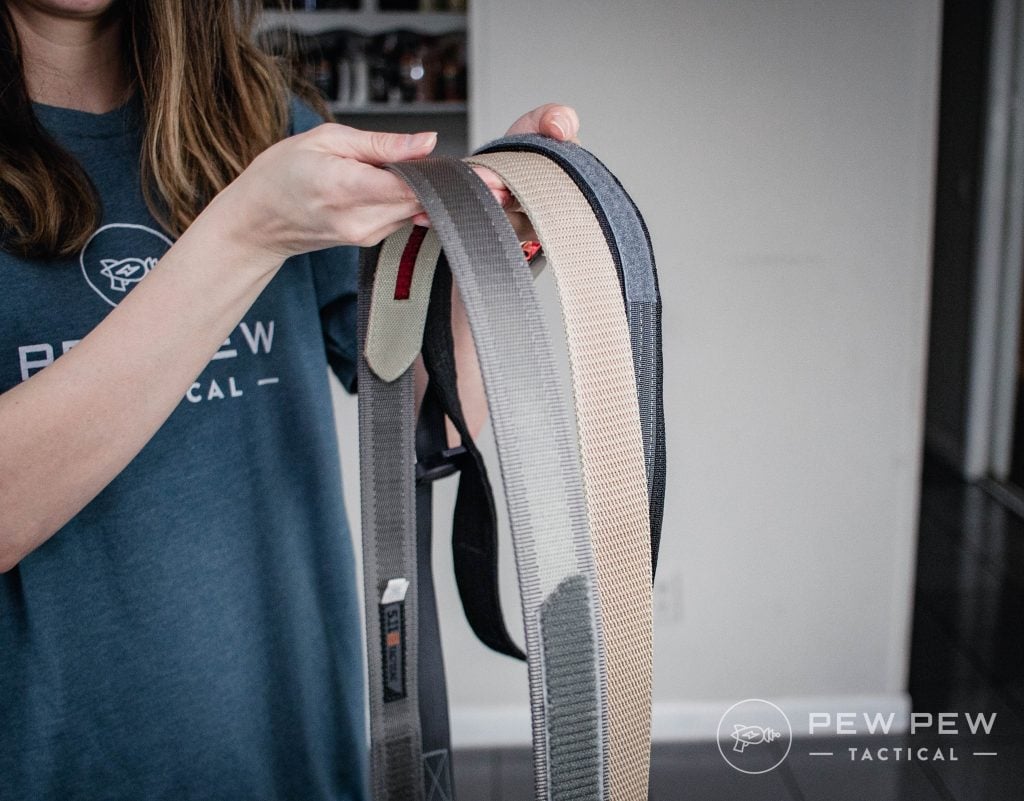 Ultimately, I learned that a good belt makes all the difference in concealment, and I went on the hunt for female-friendly options.
Today, we're going to dive into gun belts, talk about why you need one, and then run through some of our favorite models for concealed carry and the range.
Keep reading!
Summary of Our Top Picks
Table of Contents
Loading...
Why You Should Trust Us
Elizabeth Bienas is a freelance writer who creates social media and blog content focused on women's concealed carry. She has been shooting for 15 years and concealed carrying for nearly 10.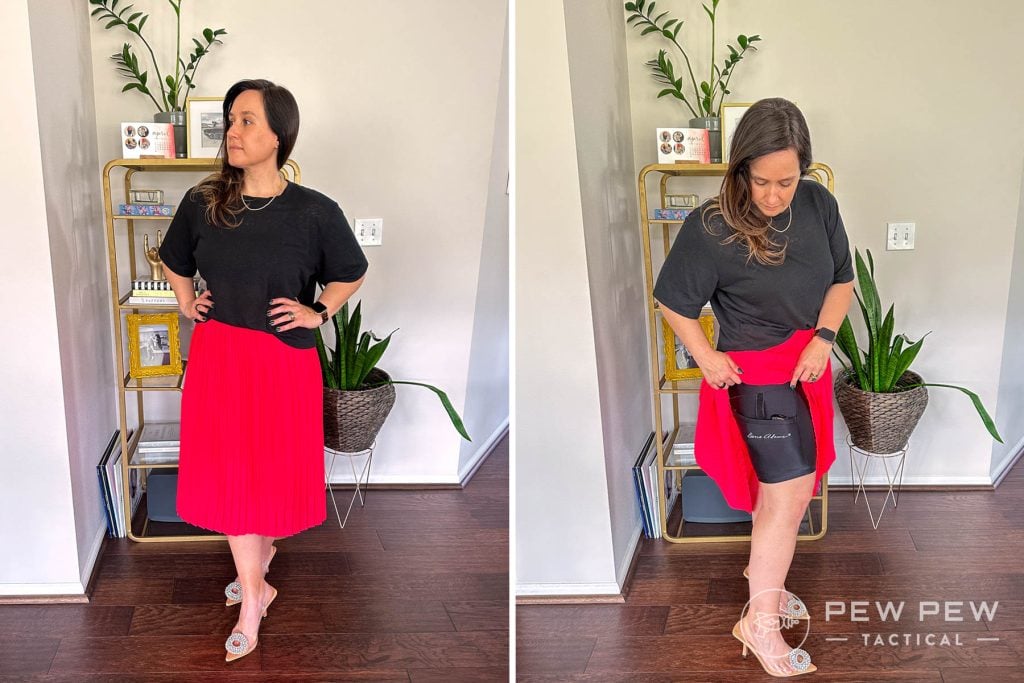 Elizabeth uses her experiences to create content designed to help women find what works best for them for defense.
Why You Need a Gun Belt
Regular belts have only one job: to hold up your pants. Gun belts need to hold up your pants, plus a holster, gun, and maybe an extra magazine or two.
That's a lot of added weight, depending on your setup.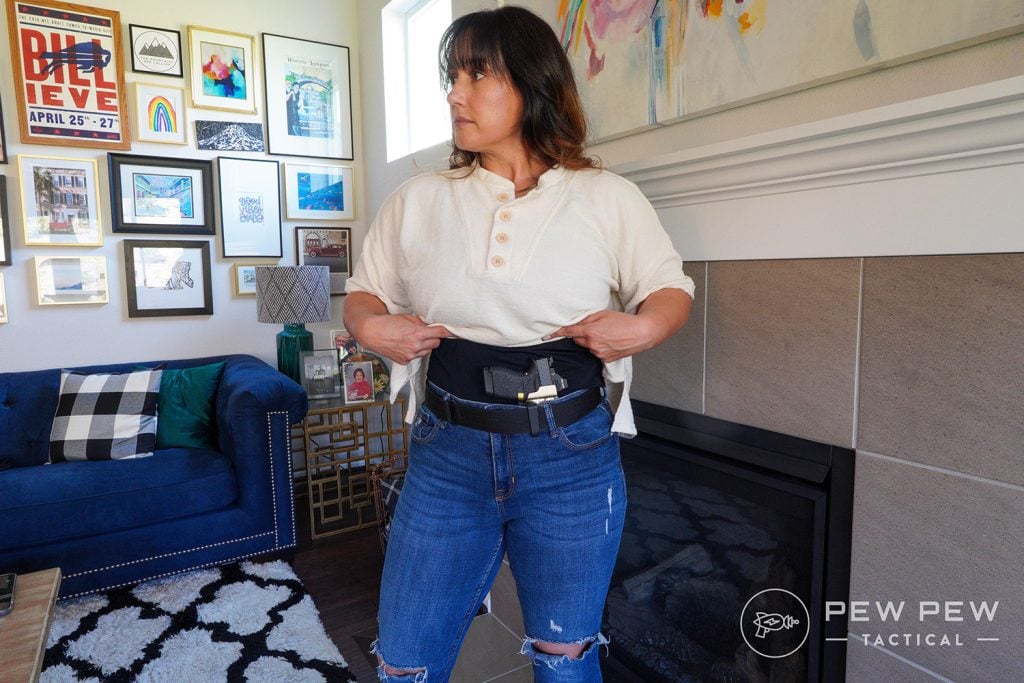 Because of the extra weight, gun belts are much sturdier than regular belts. They're usually reinforced throughout the middle, so they don't bend, warp, or stretch over time.
The structure of a gun belt also keeps your holster and firearm tight to your body which is essential for concealment and drawing. You don't want anything that allows your setup to sag or tilt away from your body.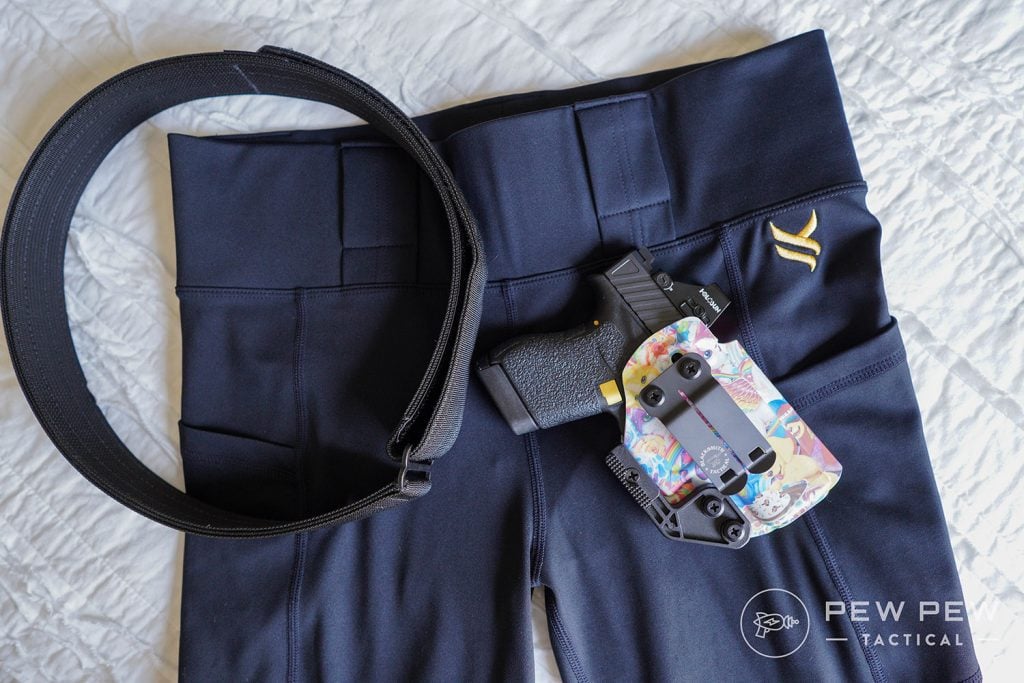 My criteria for a gun belt is to be as light and thin as possible while still sturdy. I want the material to hold up my gun but also flex and fit my body — and bonus points if it's cute.
Let's look at some gun belts that work for a woman's figure and lifestyle.
Best Concealed Carry Belts for Women
1. Crossbreed Ladies Reversible Carry Belt
The Ladies Reversible Belt from Crossbreed Holsters is a great choice because it looks like something you'd buy at the mall.
Plus, it has a brown and black side so you can wear it with many outfits.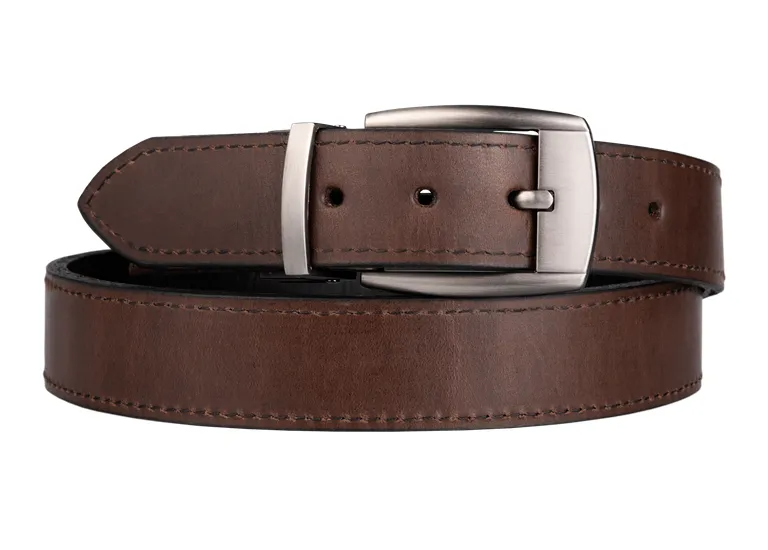 It's made of top-grade leather that's fully lined, so it won't stretch out or bend like typical leather belts. The buckle is low profile and doesn't give the dreaded "buckle bulge." Crossbreed also spaced the holes ¾ inches apart to make the sizing more female-friendly.
The only downside is that it's a 1.25 inches width belt, and the standard holster clip is 1.5 inches, so there may be some wiggle room.
Overall, this style is a step from the tactical-looking nylon belts.
Best Leather CCW Belt
55
at Crossbreed Holsters
Prices accurate at time of writing
Prices accurate at time of writing
2. Mastermind Tactics Specialist Belt
The Mastermind Tactics Specialist Belt has been my everyday belt for the past three years. It's lightweight, which matters if you're not used to wearing belts.
The material is rigid but flexible, so it sits tightly to your body and doesn't create the gaps that many overly stiff gun belts do.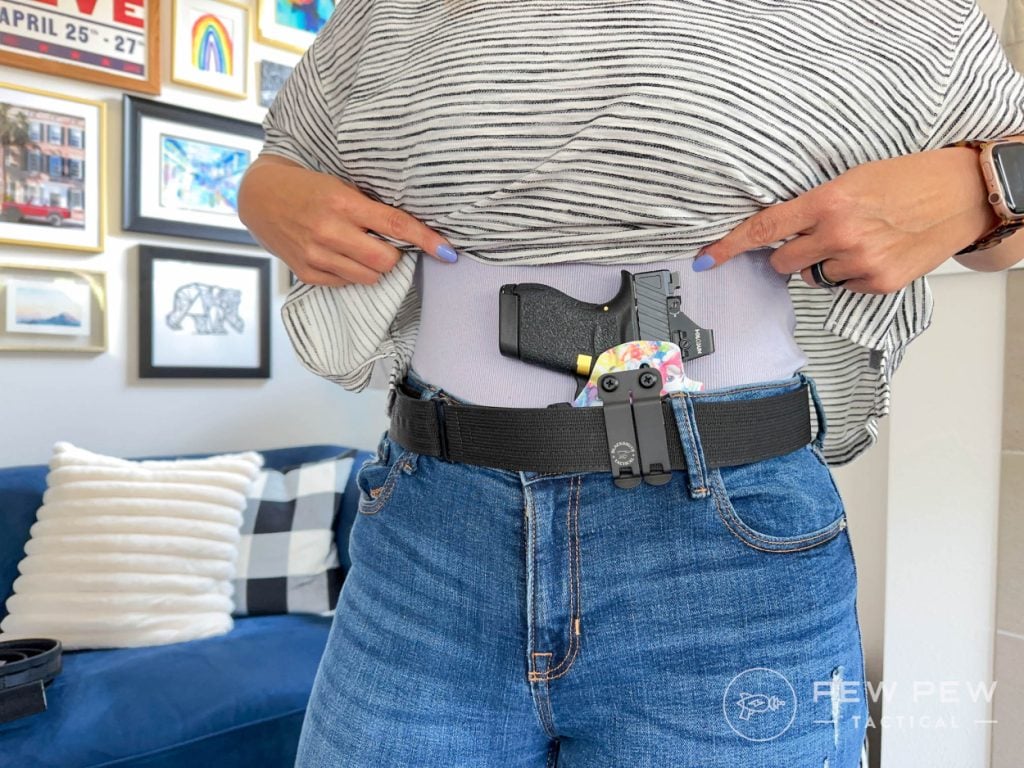 My favorite part is the low-profile buckle. It's solid steel, so it holds up over time, but it's almost non-existent. The buckle is light and doesn't get in the way of your holster clips.
The Velcro closures make it easy to adjust on the fly. One of the cons of Velcro is that it tends to wear out, but Mastermind Tactics uses a high lifecycle loop. After three years of regular use, mine is still in great shape.
This is truly a no-frills belt, but it works. It's not cute, so I only wear it when I know it will stay covered. Nylon gun belts are a dead giveaway that you're carrying, and I prefer to fly under the radar.
34
at Mastermind Tactics
Prices accurate at time of writing
Prices accurate at time of writing
3. Kore Essentials X8 Tactical Gun Belt
The Kore Essentials X8 Tactical Gun Belt is a nylon belt with a bit of flair. It has a modern-looking buckle and could pass for a regular belt if you prefer to tuck your shirt in.
If tactical chic is a thing, the X8 fits right in.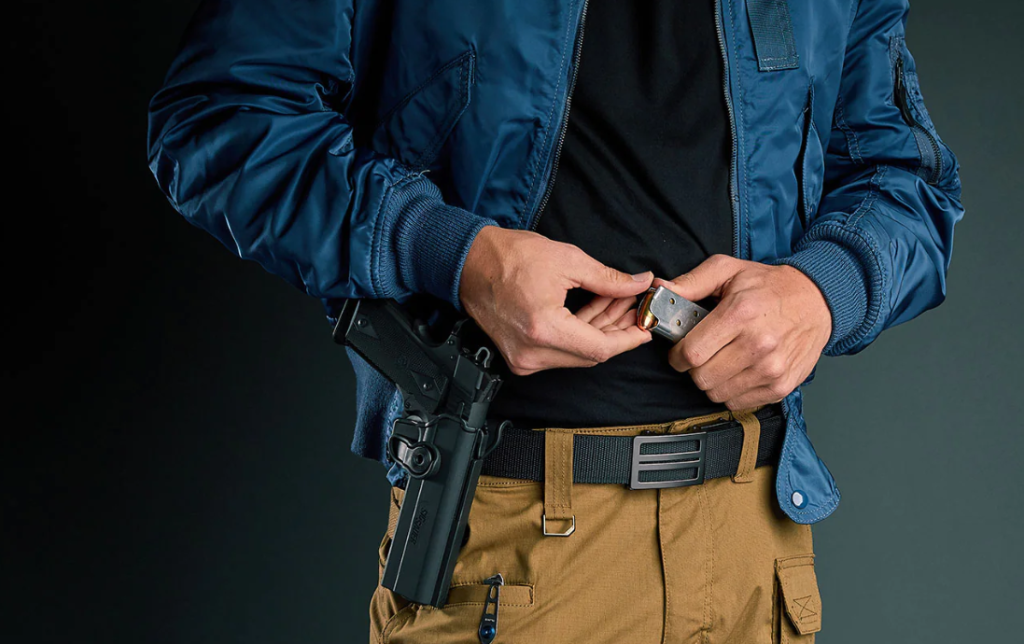 The X8 uses Kore's easy-to-adjust ratcheting system. You can get over 40 sizing positions in increments of ¼ inch.
It's really nice to be able to adjust your belt while sitting, driving, and moving around.
Kore offers several buckle options in different finishes that can easily be swapped.
They also make nice leather belts in several different finishes depending on your style.
Pew Pew Tactical readers get 10% off at Kor with code PEWPEWTACTICAL.
59
at Kor
Prices accurate at time of writing
Prices accurate at time of writing
What do you think of Kor? Rate them below!
4. NexBelt Frances EDC Belt
The Frances by NexBelt is perfect for the office or any event where you need to dress up a bit.
It comes in black or brown leather and has a nice-looking buckle. The inside of this belt is nylon, so sweat won't penetrate through and damage the leather.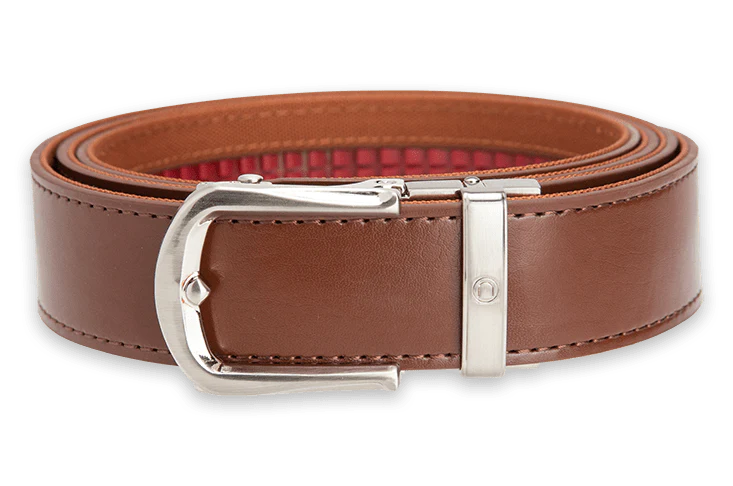 NexBelt uses a ratcheting closure system that comes in handy for things like using public restrooms.
You never have to undo your belt completely. Just let out the slack enough to lower your pants, and your holster stays in place.
71
at NexBelt
Prices accurate at time of writing
Prices accurate at time of writing
Best Range & Training Belts for Women
5. NexBelt Supreme Appendix
While technically an appendix belt, the Supreme can also be used with outside-the-waistband (OWB) holsters.
It's very rigid and sturdy, holding your holster, firearm, and a few extra magazines.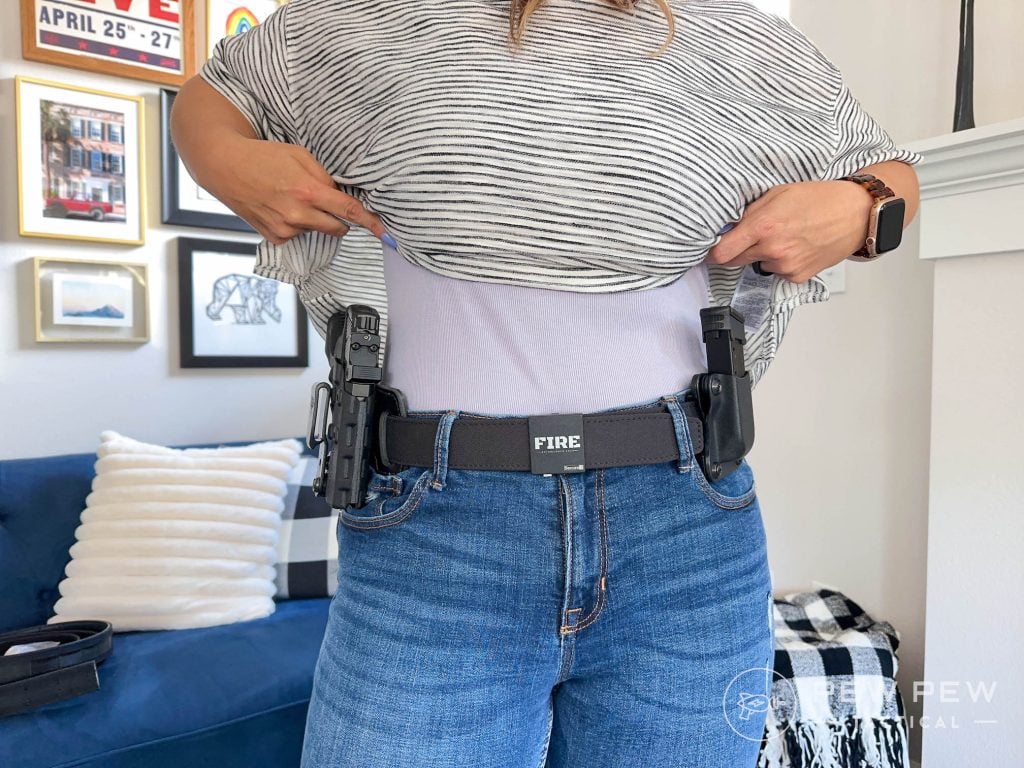 This option is great for a very minimal range setup, whether training IWB or OWB.
Try a battle belt if you want to carry more gear on your belt, like extra ammo and a medical kit.
61
at Nexbelt
Prices accurate at time of writing
Prices accurate at time of writing
6. Kore Essentials B1 Battle Belt
If you train at an outdoor range, having a battle belt is nice because you can carry many things.
The B1 Battle Belt can accommodate up to 20 pounds of gear, so you can load it up with dump pouches, magazine carriers, and more.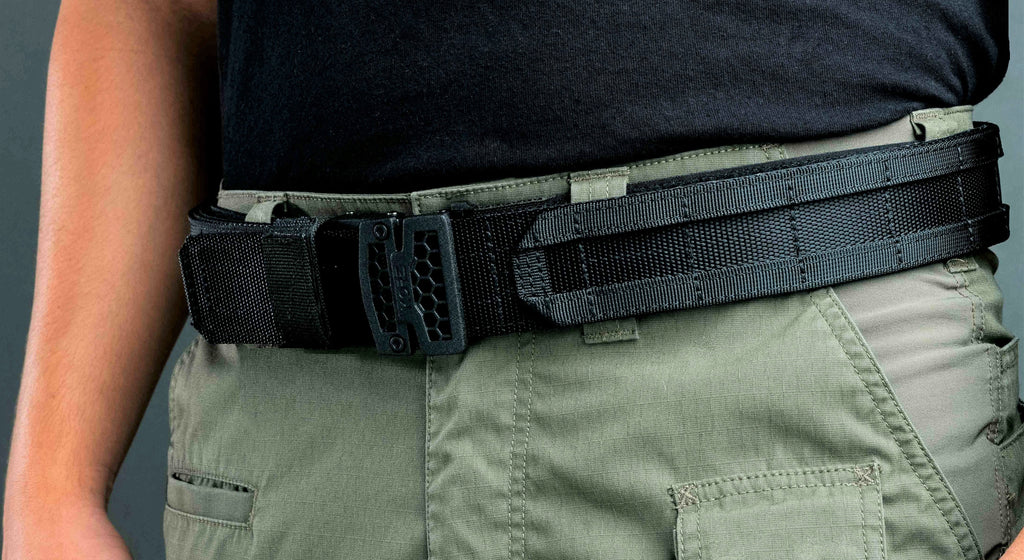 Battle belts have a Velcro-faced inner belt that feeds through your belt loops. The outer belt attaches to the Velcro, making it easy to take on and off.
This one by Kore uses a micro-ratcheting system that's female-friendly and easy to adjust.
Remember, Pew Pew Tactical readers get 10% off at Kor with code PEWPEWTACTICAL.
Best Battle Belt
139
at Kore
Prices accurate at time of writing
Prices accurate at time of writing
Final Thoughts
A good gun belt makes all the difference for concealed carry and training. If you're struggling with printing or comfort, try one of the belts suggested above.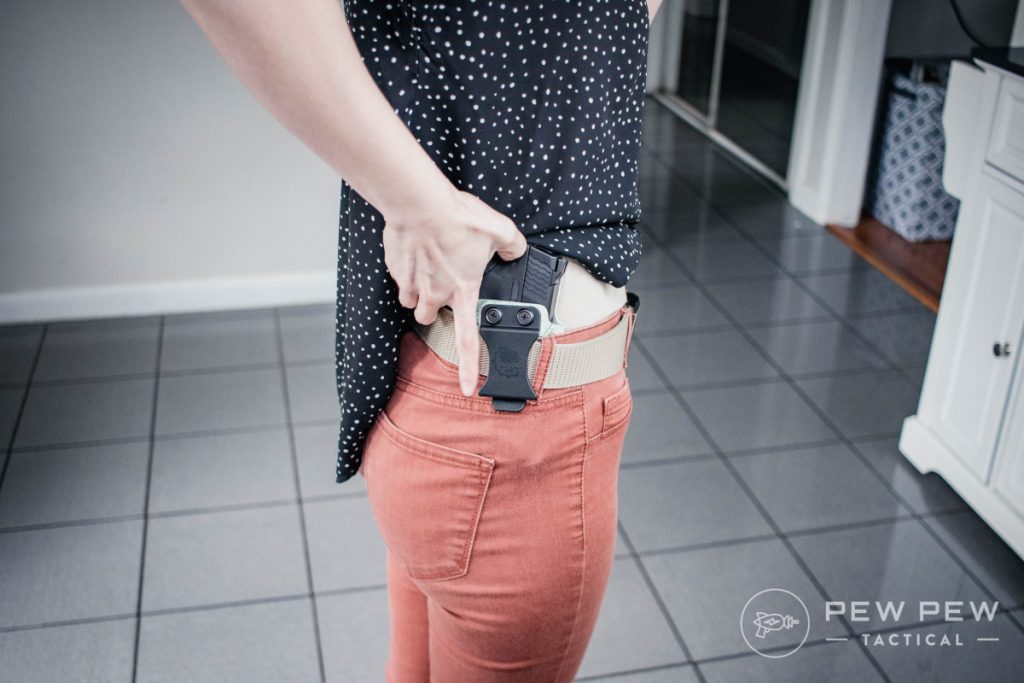 And don't forget; you might need a few options for different types of outfits.
What's your go-to gun belt? Let us know in the comments below! For more on female-specific concealed carry, check out the Best Carry Gear for Women, or head over to our Women's Guide to Guns!