What's the best way to carry your fighting load? You know, your mags, handgun, IFAK, multitool, knife, etc.?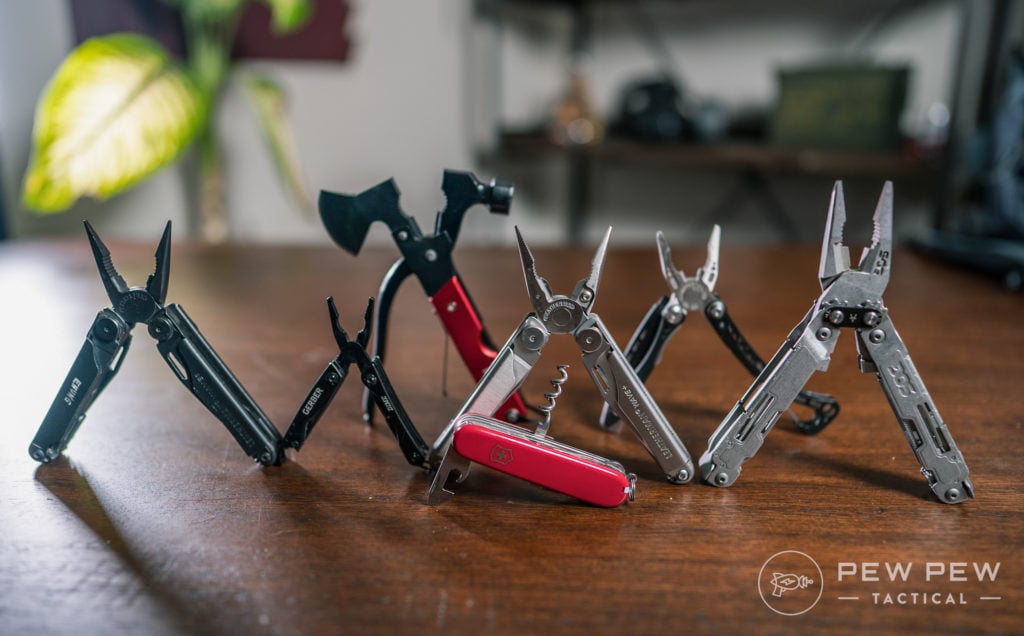 There are certainly plenty of options — plate carriers, chest rigs, and of course, battle belts.
Today we are going to talk about battle belts. Battle belts go by many names, including the dramatic war belt, gear belt, and when I was in the Marine Corps, Batman belts.
In 2009, I was in Afghanistan. Our deployment was done almost entirely on foot, and no roads meant nothing but foot patrols for seven months.
Along the way, a lot of the guys realized that moving some gear to the belt made a lot of sense.
Moving gear from the carrier to the belt sometimes made it easier to access. It took a weight off our shoulders and put it on our hips.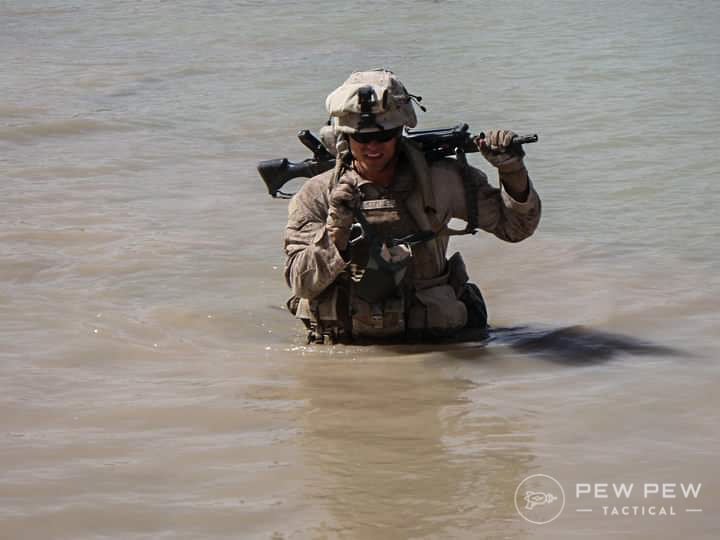 We also crossed rivers and lakes all the time, and being able to pop the belts off and put them around our shoulders was a handy feature.
We didn't have access to the modern battle belts, internet, or any kind of postal service to order one, but these days, you got options…lots of options.
To help navigate the choices, I've gathered some of the best battle belts on the market.
Summary of Our Top Picks
Table of Contents
Loading...
Why Do I Need a Battle Belt?
Well, I already listed a few reasons, but they bear repeating.
First, they take the weight off your shoulders and allow you to transition it to your hip. Dropping a few magazines, tools, and your IFAK make sense.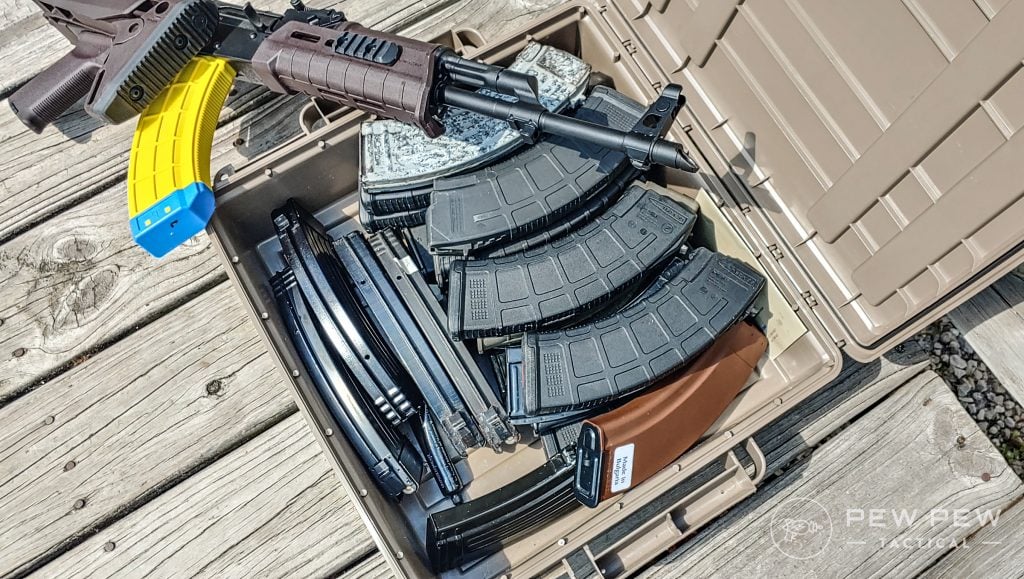 You already need a belt for your pistol, and a battle belt can help you there as well. Battle belts allow you to spread out your loadout.
In a situation where a plate carrier isn't accessible, and you have to immediately jump in the fight, it can take no time to don a battle belt.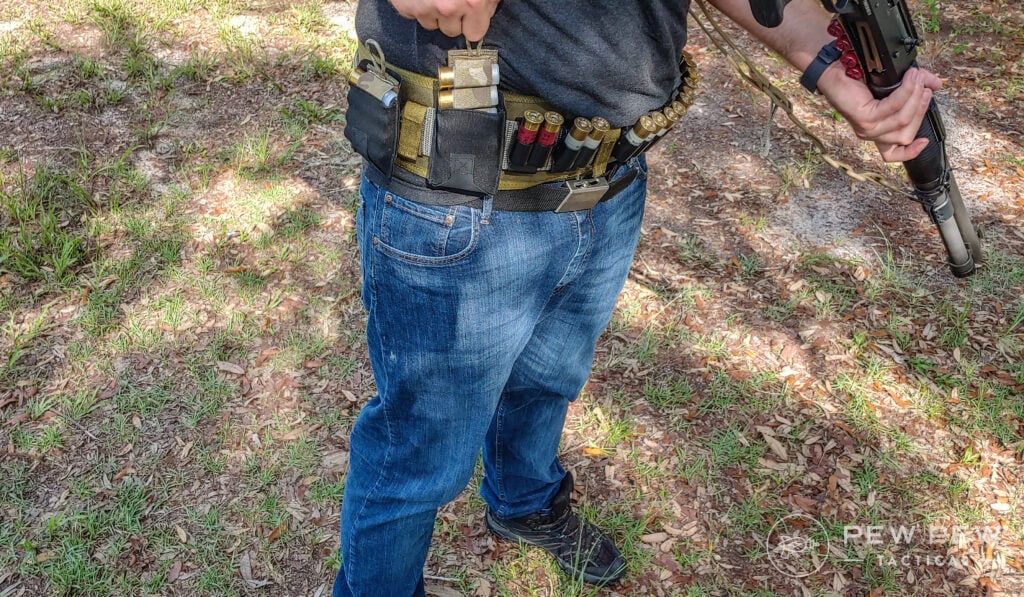 A plate carrier is hefty, huge, and acts like a sweater. Wanting to dump it as soon as possible makes sense. You can dump your carrier, but rock and roll with your belt.
Belts can be removed quickly without compromising armor too.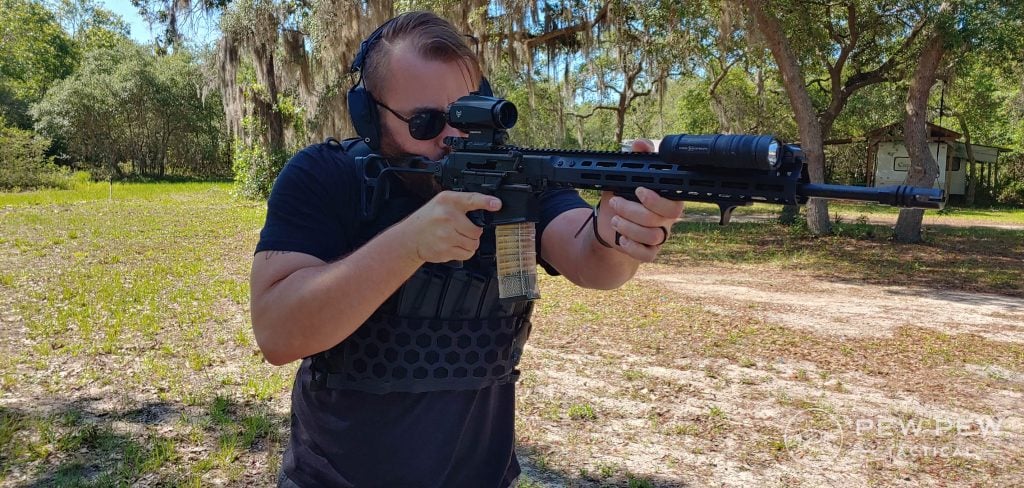 If you get a serious arm or hand-wound, you can remove the belt, access the entirety of your IFAK, and have it right where you need it.
Not to mention, battle belts are just a convenient platform to shoot and train from.
Best Battle Belts
1. Sentry Gunnar
The Sentry Gunnar put the low in low profile operator belt. It's close to the size of a regular hold-your-pants-up belt. It's 1.75 inches wide and made of high-strength nylon webbing.
A Cobra buckle holds it all together, and the buckle is incredibly strong.

On the inside sits the loop part of hook and loop. An internal belt wraps around your waist and secures your pants, and offers the hook portion. Combine the two belts, and the Sentry Gunnar stays put.
The belt features a row of vertical MOLLE panels laser cut and tightly fit. You can loop in all your basic gear with ease.
Best Basic Option
111
at OpticsPlanet
Prices accurate at time of writing
Prices accurate at time of writing
At the front of the belt sits a portion of MOLLE that's horizontal to mount goods you don't want to hang over your leg. It's a perfect little section to mount a multitool tool pouch or flashlight pouch.
The Gunnar belt is a minimalist design perfect for mounting basic gear like mags, a pistol, small tools, and an IFAK.
2. Wilder Tactical Minimalist Belt Pad
The Wilder Tactical Minimalist Belt Pad eschews MOLLE and similar designs for a belt inside belt pad design made to mount gear with belt clips.
Its belt pad allows you to flow the belt through several slots to secure your gear. The result is a very stable way to mount gear made for traditional belts.
Throwing a mag pouch on your pants belt isn't a big deal, but throwing on multiple mag pouches, handgun pouches, a handgun, flashlight TQ, and more starts to weigh you down. Tossing it on the Wilder Tactical setup allows for stable, consistent mounting of a ton of gear.
You're not constrained to just MOLLE-equipped gear, and the setup works with various belt pouches. The inside of the belt looks to run an internal belt through to secure the belt to your body.
Best Budget Pick
59
at LA Police Gear
Prices accurate at time of writing
Prices accurate at time of writing
Wilder Tactical sells complete packages that combine the belt, belt pad, and a few pouches for a plug-and-play design that keeps things simple.
Without MOLLE panels to constrain gear placement, you can be very picky about placing the gear right where you want it.
3. Grey Ghost Gear UGF Battle Belt
Grey Ghost Gear kicked off the minimalist belt system with the UGF. They were the first to really simplify battle belts and shrink them down to a relatively small platform.
This minimalist setup uses two belts, and you get both belts.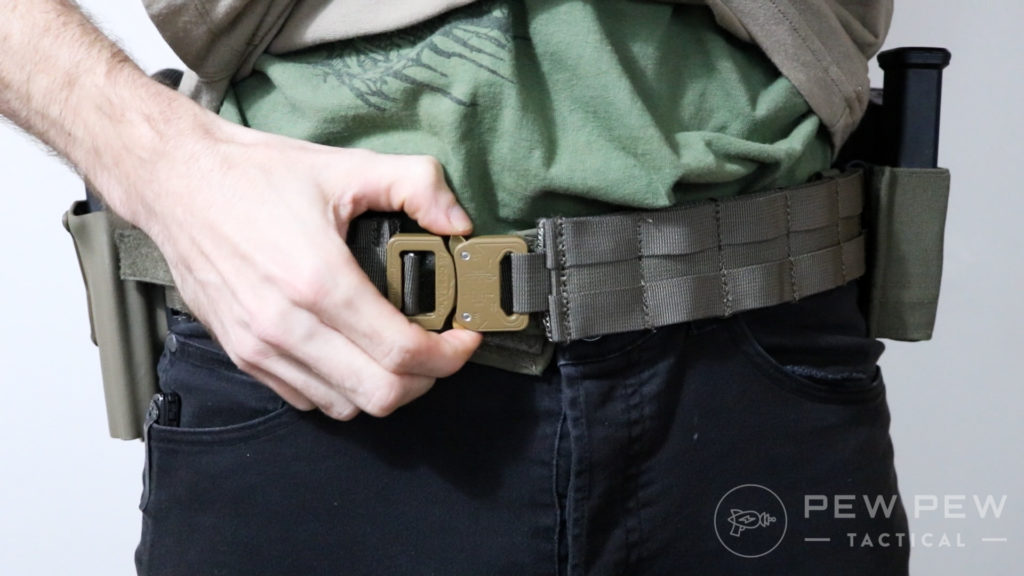 The 1.5-inch inner belt glides through your belt loops and is equipped with loop material. Its 2-inch padded outer belt comes with the hook portion that wraps about the setup for max stability if you prefer suspenders. That is an option with 3-point loops that work with the UGF suspenders.
Two ladders provide you room to mount all your goodies.
Best Minimalist Option
107
at Amazon
Prices accurate at time of writing
Prices accurate at time of writing
These MOLLE slots are cut to utilize Malice-style clips and are quite tight for traditional webbing. However, it's not impossible to use standard webbing; just a little frustrating at times.
This 2-inch-wide belt provides a great degree of support while remaining rather minimalist.
These days smaller options exist, but the UGF Battle Belt provides enough room and support to carry dang near a full load versus other minimalist options constrained to the basics.
4. Crye Precision AVS Low Profile Belt
Crye does Crye things, and those things often make the best gear on the planet or close to it.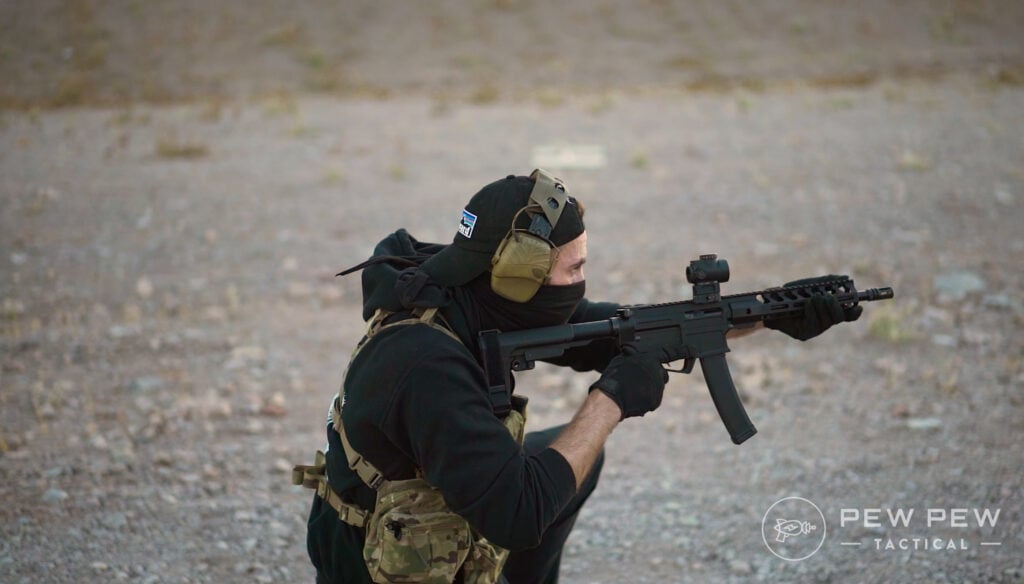 The Crye Precision AVS Low Profile Belt isn't low-profile like some of the minimalistic options out there. It's low profile compared to the other Crye options, though.
Crye's non-up-armored belt provides a very capable and not very low-profile carriage for your gear.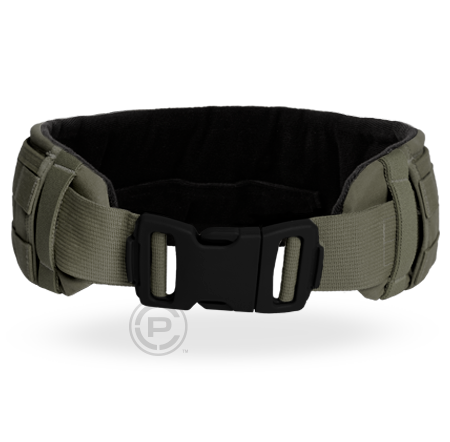 It's made for a full combat load of mags, IFAK, lights, grenades, tools, holster, handgun, and more.
The Low-Profile Belt aims to provide a comfy means to carry gear in addition to offering lumbar support, moving a little weight to the hips.
Best High-End Option
399
at Amazon
Prices accurate at time of writing
Prices accurate at time of writing
This belt works with both suspenders and the STKSS to connect it to your armor. The inside is heavily padded, providing bang-up support to your hips and waist.
Big belts like this provide a lot of comfort when you start carrying a weighty loadout. Plus, it's Crye, so it will damn near last forever, and you'll get major cool points on Reddit.
What do you think of the Crye belt? Let us know by rating it below!
5. Viking Tactics Raze Belt
Viking Tactics comes from the mind of Kyle Lamb, former Delta Force dude and all-around cool guy.
He now trains, consults, and produces rock-solid gear for the shooting community. The Raze belt is a no-frills, simple battle belt option.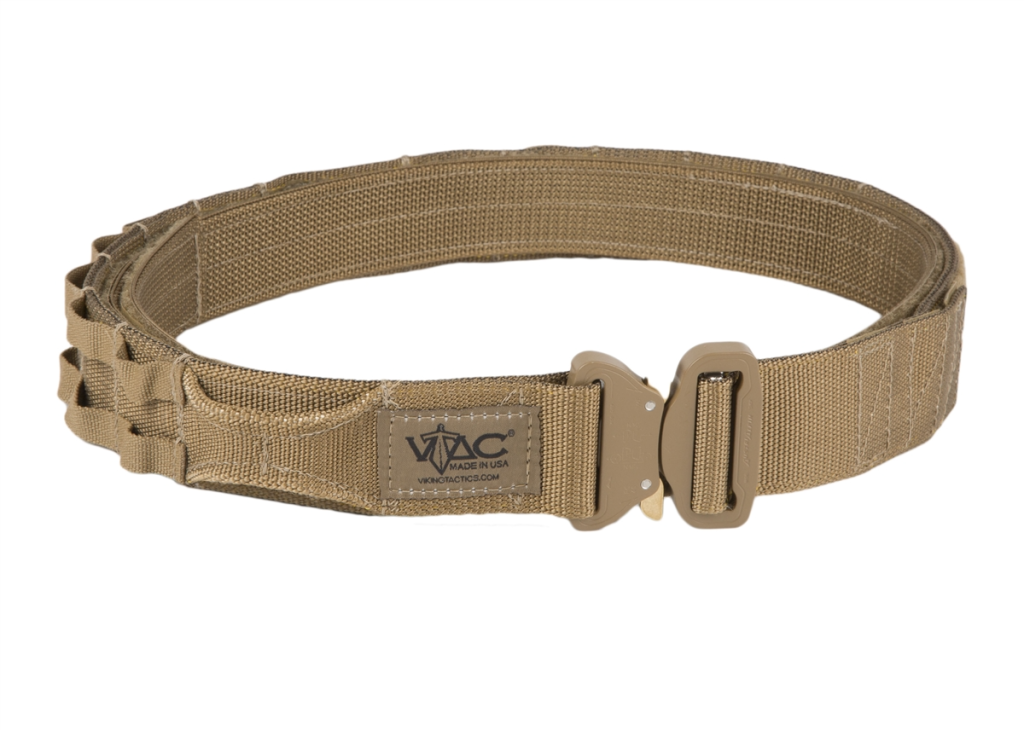 The inner belt goes through your belt loops, and the outer belt wraps around them for total security.
This belt provides generous MOLLE panels for attaching gear with fuss or muss. Its offhand side leaves a section clear, so mounting a handgun holster is equally drama free.
Best Lightweight Option
99
at Amazon
Prices accurate at time of writing
Prices accurate at time of writing
Heck, there is even an integrated retention loop for safety lanyards for our airborne guys and gals.
A Cobra buckle holds it all together. This isn't built for a raid laid but for someone who wants to be fast and light with a simple, low-profile belt.
6. Tactical Tailor Fight Light Battle Belt
For a soft goods OG, look no further than Tactical Tailor.
Tactical Tailor's Fight Light Battle Belt forms the basis for a very capable and heavy-duty battle belt. This isn't a low-profile minimalist rig but a behemoth ready for your loadout.
Best for Full Loadouts
140
at OpticsPlanet
Prices accurate at time of writing
Prices accurate at time of writing
The Fight Light name comes from Tactical Tailor's weight reduction techniques and materials. This is still a padded battle belt designed for uniformed work. It's large and in charge, and shooters can run the belt of their choice through the pad, be it a Cobra or rigger's design.
The big, padded design provides comfort and support for your loadout, with multiple points that allow you to attach suspenders for the long hall — although the suspenders aren't needed.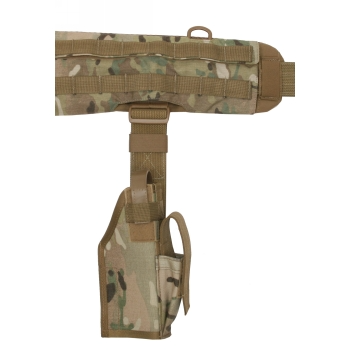 The belt features slots for leg rigs and holsters on top of all the MOLLE support.
Tactical Tailor's belt offers articulation for easy movement and a dense, tough pad for a naturally supportive design.
7. Raptor Tactical Odin Belt Mark VI
The Raptor Tactical Odin Belt Mark VI sounds like something Iron Man wears, but fear not, you don't need a billionaire's suit of armor to don the Odin Belt Mark VI.
This belt combines a MOLLE sleeve, a duty belt, and an internal belt for stability.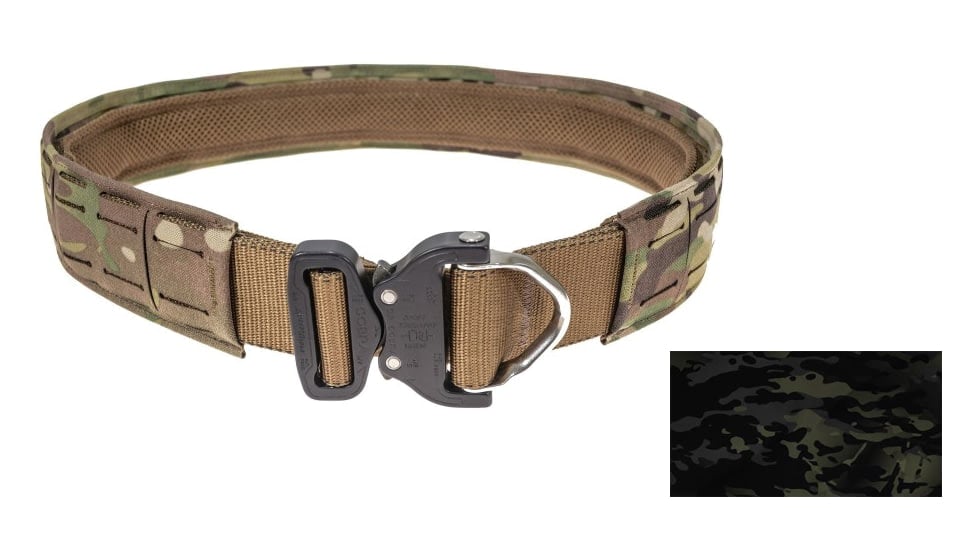 You can save some money if you already have a 1.75-inch belt you prefer, but you can include your own on-demand as well.
The MOLLE sleeve features MOLLE slots cut around the entire belt for adding whatever you need wherever you need it.
On top of that, vertical slits allow you to run your outer belt through. This allows you to use MOLLE-compatible gear nearly anywhere on the belt.
Best Modular Belt
104
at OpticsPlanet
Prices accurate at time of writing
Prices accurate at time of writing
All in, this makes it easy to add holsters, knives, or your favorite belt-compatible piece of gear to your MOLLE setup.
It's a handy system that excels in modularity regardless of your chosen gear.
Final Thoughts
Battle belts are comfy and easy to toss on; bonus, they don't bring the heat and discomfort that plate carriers do!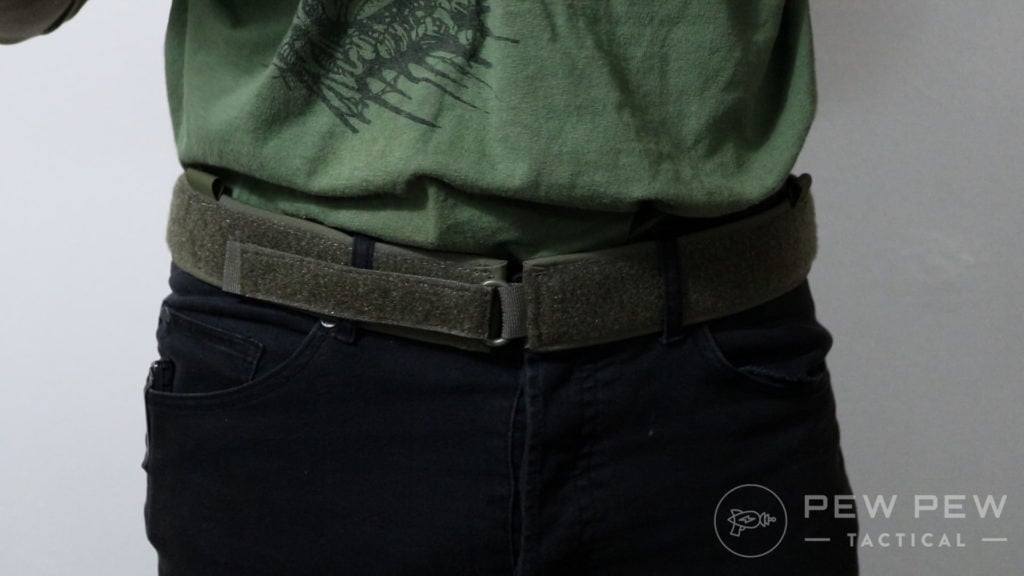 I love a good battle belt…so much that I have three different setups currently — one for my AR, one for my subguns, and one for my shotguns.
What about you? Do you run a battle belt? Let's talk about it below. To get all your gear set up, hop on over to our [How-To] Set Up the Best Battle Belt & Plate Carrier article.