I don't think it's too much to ask to look cute while carrying a gun.
No, I'm not talking about looking nice at the range, though that can be nice too.
Rather, I'm just really tired of concealed carry advice for women that basically just recommends wearing a sack to hide your firearm or shell out a ton of money for a concealed carry purse that's probably impractical, hideous, or both.
You shouldn't have to give up on looking good if you want to conceal a firearm.
This isn't intended to be a how-to guide for women who want to concealed carry (though we have one of those too), but rather a round-up of the sort of gear and attire that makes concealed carry for easier for women.
I'll mention a few tips and tricks, but I'm going to assume for the most part that you're familiar with the basics and have a gun you like to carry.
So let's get to it!
Holsters
For the most part, I don't think women necessarily need holsters that are specifically designed for women. There are plenty of unisex options that work just fine, but there are also some pretty awesome holsters designed specifically for women.
For some good unisex options and a few women-specific holster recommendations, you can read over out our Best Concealed Carry Holsters guide, but I'm going to go ahead and go over a few holsters designed with ladies in mind here.
Shoulder & Bra Holsters
Most shoulder holsters are not designed for anyone with breasts.
Fortunately, the KCarry Women's Holster was designed by a woman for women.
It's made of soft, durable, and breathable microfiber that's stretch and stain-resistant. It's also super adjustable, can be worn with two shoulder straps or halter style, and is available in two sizes to fit just about any woman's body perfectly.
It's fitted and low profile to leave your range of motion unimpaired and make the holster easy to conceal. It does have a band around your torso under your bust, though, so this isn't the choice if you want something concealed by a jacket.
Or, since you're probably already wearing a rig around your chest, go with a Flashbang.
The original Flashbang just loops around the gore of your bra (the part of the band between the cups) and tucks under your underwire. It holds your gun clamshell-style, keeping the trigger covered and the sharp and pokey bits of the gun off your skin.
When you're ready to draw, just reach up underneath your shirt and firmly tug your gun downward.
If your bra band feels too tight with the holster tucked underneath, just pick up a band extender. This set includes two, three, and four eye width options, each in black, white, and nude for just a few bucks.
Flashbang also makes the Marilyn, which attaches to your bra's band in the same position of most shoulder rigs and is intended to be drawn from through your neckline, and the Rosie, a spare mag holster that can be clipped to your bra band, your pocket, or your waistband.
Speaking of which…
IWB & OWB Holsters
Even though most waistband holsters are considered unisex, they can be a little bit bulky for small frames or might be less than comfortable on curvier waists and hips.
In addition to their bra holsters, Flashbang also makes some solid waistband holsters.
Their Betty holster is a minimalistic hard IWB holster, perfect for subcompacts, that clips onto your waistband so you don't need a belt.
If worn with jeans or a similarly hefty material, it would probably be fine for most compact handguns, but if you want to carry it with leggings or thin skirts, the Ava, which is broader and has two clips, will spread the weight better.
Both of those holsters have multiple attachment points for each clip, allowing you to adjust the angle of your sidearm.
For a very low profile OWB holster, check out the Sophia. Unfortunately, it has to be worn with a belt.
Corset Holsters & Belly Bands
I generally prefer corset holsters and belly bands to waistband holsters, though, since I find them more comfortable and discrete. They also tend to work better with skirts than waistband holsters.
My favorite specifically designed for women is the Can Can Concealment Hip Hugger. It can hold up to three guns, plus three extra mags, but you can also use that space for other stuff like cards, lipstick, or a flashlight.
The Can Can Concealment Sport Belt and the Brave Response Belly Band Holster are technically unisex, but also great options.
Garter Holsters
I'm of the opinion that thigh carry under a dress or skirt is actually dramatically underrated.
A thigh holster is easier to conceal on a small frame, they're often easier to access from a variety of positions, they make it easy to discreetly grab your gun while sitting, and they're more comfortable in most positions. Plus you feel like an action heroine when you wear them.
There are a lot of junk garter holsters, though, that slip or don't provide sufficient trigger coverage.
The Can Can Concealment Garter Holster is not one of them. It's high capacity, but also adjustable and grippy and Can Can Concealment even makes a garter belt that you can use with it for extra support.
Ankle Holsters
Full disclosure: I hate ankle holsters. They just don't have any benefits for me that I can't also get from a different kind of holster that puts my gun in a more accessible and easier to conceal location.
Plus, my pants are pretty much exclusively skinny jeans or leggings, so not ideal for an ankle holster.
I know some ladies love them though, so for you, I suggest Femme Fatale SoxXx.
Despite the name, it's not so much a sock as it is a band that you slip over your ankle. They're comfortable, breathable, and not even remotely bulky. And they come in black, white, and nude, so they blend well with a variety of clothing.
I'm also going to go over some clothing with built-in holsters in a minute, so sit tight for that, but first, let's take a sec to talk about concealed carry purses.
Bags
I don't like most purses designed for concealed carry. For the most part, they're hideous, cost way more than I'm going to spend on a bag that will inevitably get placed on the floor (I'm more of a Target purse kind of girl), or both.
Also, the concealed carry fanny pack is far superior to the concealed carry purse. Laugh if you must, but I'm so happy fanny packs are popular again.
They position your weapon more easily accessible than most purses, they're hands-free most of the time, and they're much harder to accidentally leave somewhere out of your control.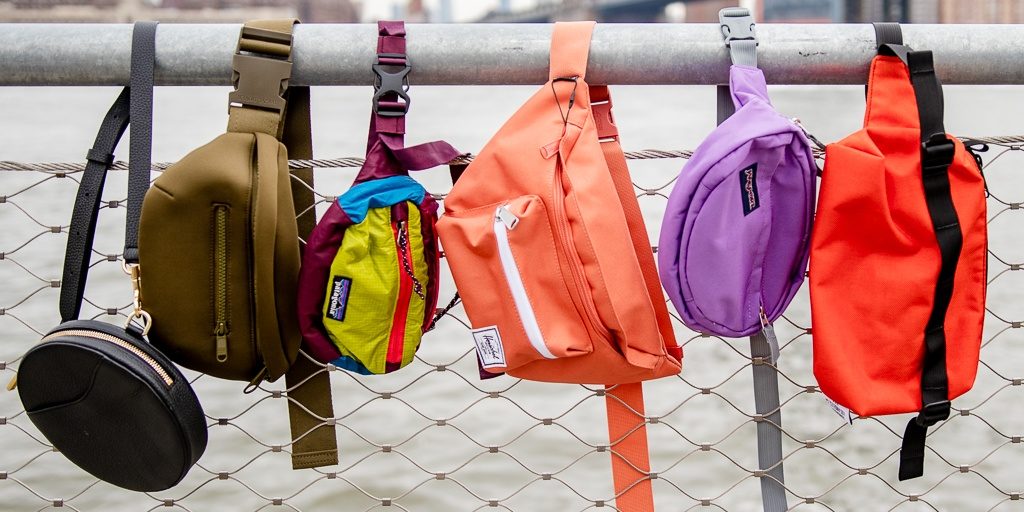 Our friends over at The Well Armed Woman make an awesome one.
If you do want a more traditional concealed carry bag, 5.11 Tactical makes some good quality ones that are pretty understated. The Sarah Satchel 2.0 and Tiffany Tote are good for ladies who like bags big enough to fit a small toddler.
For the smaller bag crowd, the Charlotte Leather Crossbody Bag is relatively petite, but still actually fits your other essentials along with your gun.
With that said, when it comes to bag carry, I preach for the church of the Crossbreed Purse Defender.
It's not a concealed carry purse per se. Rather, it's a holster that converts just about any bag to a concealed carry bag, all while offering more protection, both from scuffs and from accidental discharge, than many purses with built-in holsters.
General Concealed Carry Clothing
There are several companies that make clothing specifically designed to hide your holster.
Alexo Athletica and Tactica Fashion, in addition to their holstered garments, make clothing like this.
Neither company has a ton of options, but Alexo Athletica's Mesh Cupro Tank and Hi Lo Sweater are cute and breezy.
Tactica's Concealed Carry Sweater and Tactica Flight Jacket are both on my personal "must buy" list.
KCarry makes tops specifically to go over their shoulder holster layered over a tank top, but they'd also work just fine with a tee or tank from UnderTech Undercover. They're not really my individual style, but if you like the way they look, I'm sure you'd rock them.
5.11 Tactical also has some clothing designed with concealed carry in mind. A lot of it's a little more "adventurey" than I want out of my daily attire, but they also have options like the Femme Fatale Long Sleeve Shirt and Willow Henley that are cute and leave plenty of room to mask a holster and handgun.
And the Audrey Coverup is just a gorgeous piece of outwear whether you're packing or not.
But you don't need apparel designed for concealed carry. Most of my favorites weren't.
It's more about just knowing the right styles and fits. What those vary from person to person based on your holster, firearm, and body, so if you're not sure, take some time to play around with what's already in your closet to figure out what works and what doesn't.
It may take some trial and error in front of your mirror, but at least you won't waste money on clothes that don't work.
For specific outfit ideas, check out Style Me Tactical, a fantastic lifestyle blog like no other that blends style and concealed carry. It's one of my favorite sources of concealed carry outfit inspiration.
Conclusion
For too long, women (and men, too!) have been told that we have to sacrifice our personal style to carry a weapon.
But while it's true that you can't wear just anything that you would like and still expect to hide your gun—let's face it: the logistics of concealed carry in a bikini just don't work out—in the vast majority of situations, with the right gear and apparel, you don't have to choose between protecting yourself and dressing the way that you like.
That's about all I have for you for now, but be sure that you also have a secure, reliable gun safe in which to store your gun. And if you're looking to learn more about concealed carry in general, we have plenty of info on that as well.
Now let's hear from you! Do you have any other gear recommendations for women who concealed carry? Let me know in the comments below, then share this guide with the other women in your life. Don't forget to check out the Best Handguns for Women!