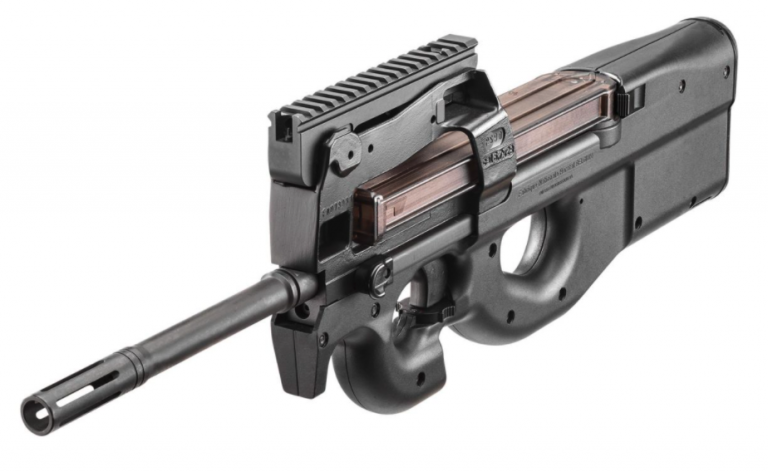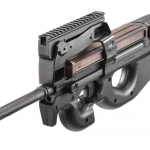 50-round capacity

Compact package

Low recoil

Fully Ambidextrous

Ballistic performance
Mediocre trigger

Factory optics mounting is too high

MSRP
Editor's Note:
Whether it's video games, Stargate, or crazy-looking space guns, everyone can find a reason they want a PS90. FN designed the PS90 around the 5.7x28mm cartridge to create a carbine that offers a lot of firepower in a small package. While they can't sell the original short 10.5-inch barreled model over the counter, the 16-inch PS90 is the next best thing. Although it looks strange, the gun is oddly ergonomic and is 100 percent ambidextrous — it even ejects downwards. Even though it is a direct-blowback gun, the 5.7x28mm cartridge is so light recoiling that your trigger finger will get tired running through the 50-round magazines before your shoulder does. The factory options for mounting optics leave much to be desired, but luckily the aftermarket has you covered. If you can stomach the cost of the gun and the ammo, then you will end up with a gun that is nearly unmatched in firepower for its size and weight.
Read full review
Product Description
The FN PS90 is a direct-blowback carbine chambered in 5.7x28mm. It sports a 16″ cold hammer-forged barrel, fully ambidextrous controls, downward ejection, and comes in at 6.2 pounds. While it comes standard with 30-round magazines, the factory 50-round magazines that are the same size are widely available and unlock the true potential of this gun. The flat shooting trajectory of the 5.7x28mm round combined with the ultra-high capacity and low recoil of the PS90 make this gun supremely fun and easy to shoot.
FN PS90 For Sale - Compare Prices
FN PS90 Specs
Magazine Included
1 x 30-Round / 2 x 10-Round
FN PS90 Features

50-round capacity

Fully ambidextrous controls and ejection

Light recoiling cartridge
By The Numbers - FN PS90
Accuracy
It isn't a sniper rifle, but it will put them pretty darn close.
Reliability
Its global military and law enforcement track record should leave nothing to doubt.
Customization
There are some cool customization options out there, but they are going to cost you.
Ergonomics
You either love it or you hate it, but it is fully ambidextrous and oddly more comfortable than it looks.
Overall
Hands-On Reviews & Related Post
final verdict
FN threw the gun world a curveball when they designed the P90. While we can't get the ultra-cool short-barreled original version, we can get the next best thing, the 16″ PS90. Yes, it's expensive. Yes, the ammo costs more than your standard calibers. But yes, it is cool as hell. Rattling off low-recoil, flat-shooting rounds from a seemingly bottomless 50-round magazine is an experience that few guns can replicate. Every time someone comes over and looks at my guns, the PS90 is always a topic of conversation. If you pick one up, your wallet may not love you, but all of your friends will. These things are as neat as neat gets.
Community reviews
There are no reviews for this product yet.
Add your own rating and help other Pew Pew users pick the right guns