Big bore pistols and revolvers are a great option for hunting and bear protection, but they're also just plain fun, right?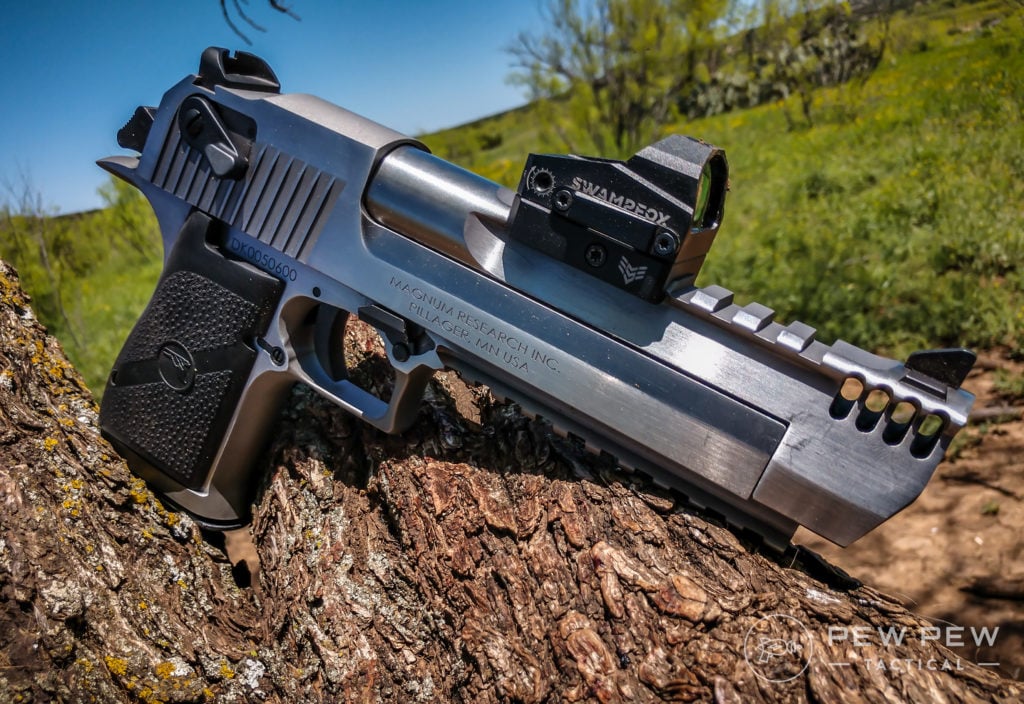 We love big bore stuff here, and we know you do too, so we wanted to talk more about these hard-hitting calibers, particularly the big bore handguns that are out there.
We're going to look at the best big bore pistols and revolvers on the market today, as well as go over a little bit about how to choose the best one for your specific needs.
Summary of Our Top Picks
Table of Contents
Loading...
Defining "Big Bore"
First up, let's talk about exactly what we mean when we say, "big bore." This term isn't very strictly defined, but we're going to call it anything around .40 caliber and above for our purposes.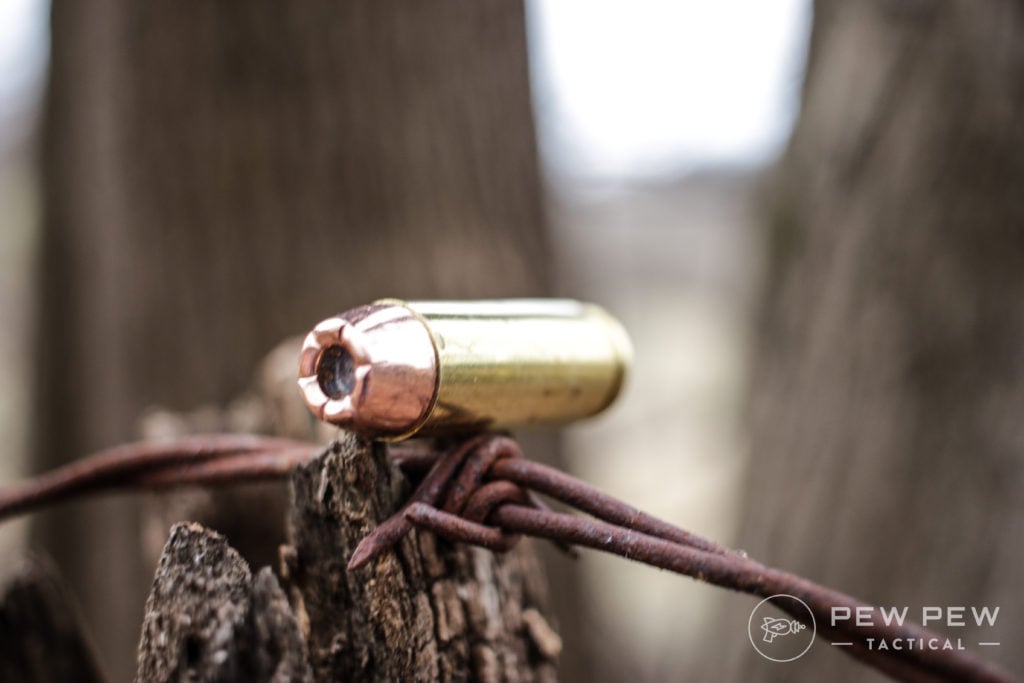 Some of the most popular big bore handgun rounds include:
10mm
.44 Special
.44 Magnum
.45 Colt
.454 Casull
.475 Linebaugh
.460 S&W
.50 AE
.500 S&W
You may have noticed there's no .45 ACP on that list. Don't panic, but we're taking the .45 ACP out of the running here. We're doing this because it's such a common caliber that this list would be all the 1911s you've seen before if we did include it.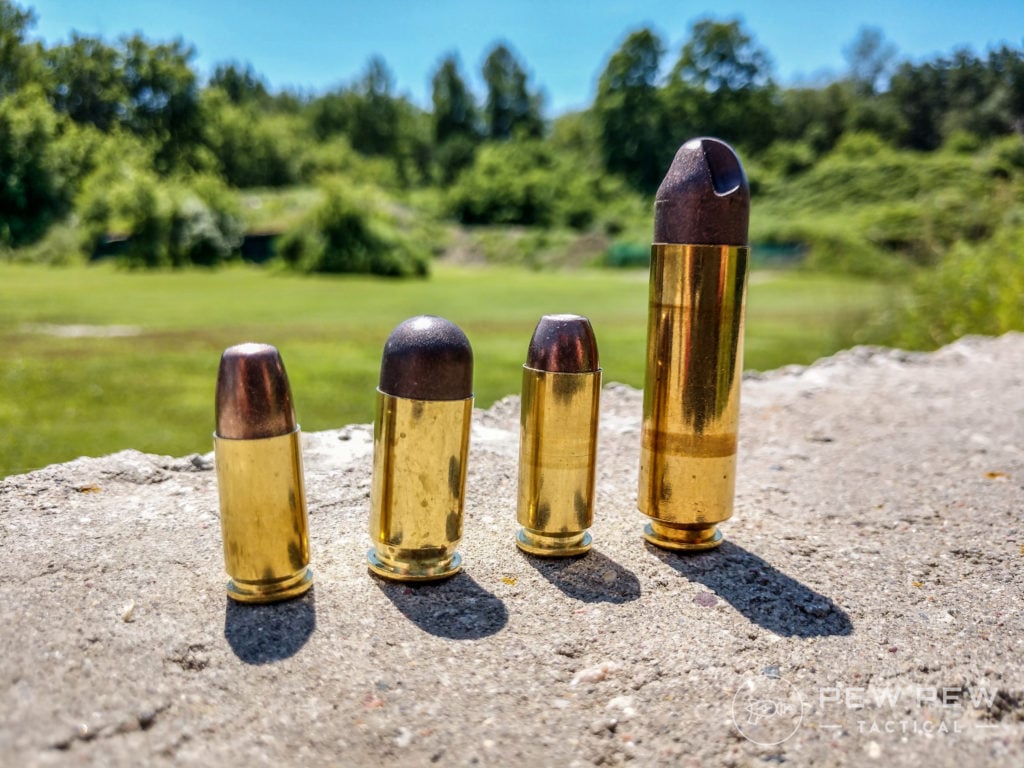 If you're interested in .45 ACP stuff, you can check out our reviews of the best 1911s or our list of the best .45 ACP guns that aren't 1911s.
Some other options in this space are traditionally what we would call rifle cartridges, also known as the "wait, they put that in a revolver?" category. These include:
Best Big Bore Revolvers & Semi-Autos
1. Smith & Wesson Performance Center Model 629
First up…a high-performance offering from Smith & Wesson's Performance Center line, the Model 629.
The 629 is a versatile option for everything from bear defense to deer hunting, and it's got a phenomenal trigger in it, as you'd probably expect.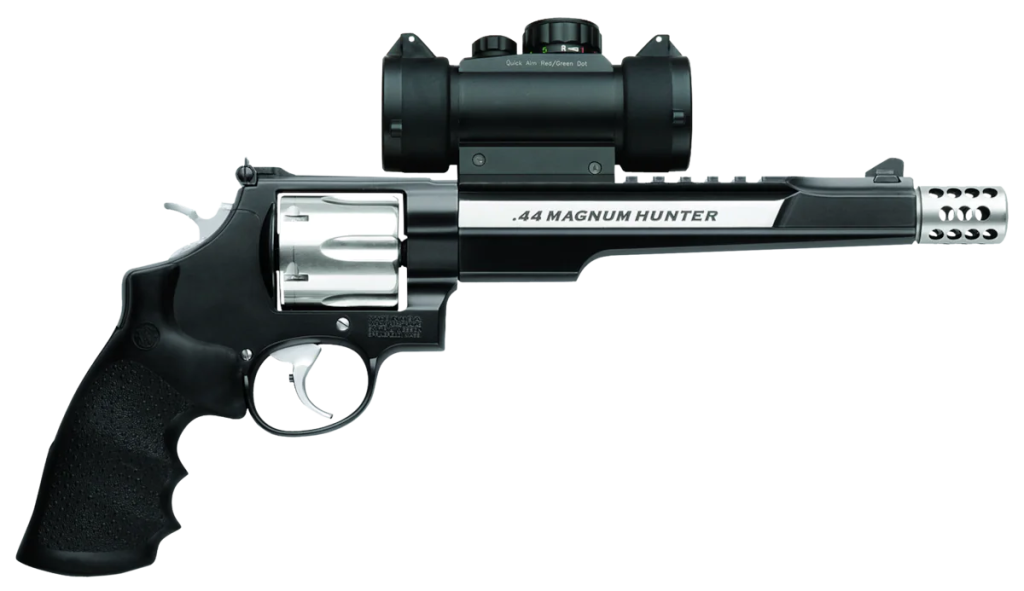 It's available in three different barrel lengths, 2.65, 6, and 7.5 inches, so you can get something to meet any need (even concealed carry, I guess).
The .44-magnum chambering is large without being too difficult to control, and while it's no longer the "most powerful handgun in the world," it certainly packs a punch.
Most Versatile
1685
at Guns.com
Prices accurate at time of writing
Prices accurate at time of writing
2. Freedom Arms Model 83
I get it; .44 Magnum isn't big enough. I agree, and so do the folks at Freedom Arms. Their Model 83 is available in seven different chamberings, and all but one of them classify as big bore.
The first is .22 LR, which sounds silly to even mention in a list like this until you realize how expensive shooting something like .475 Linebaugh on the regular is.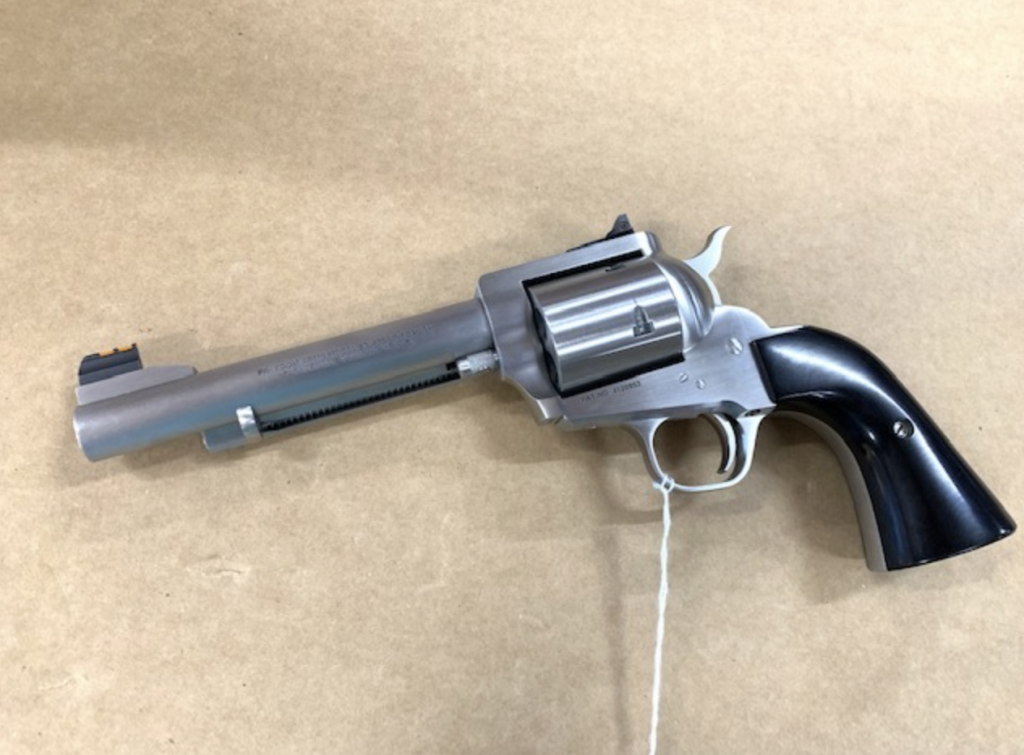 Still, if you're looking for the big stuff, you've got the following options: .357 Magnum, .41 Rem Mag, .44 Rem Mag, .454 Casull, .475 Linebaugh, and .500 Wyoming Express.
Everything on that list will do for bear and other large game, though maybe leave the .357 at home if you're in brown bear country.
Still, it's nice to have options. And whichever one you go with, you get a superbly machined single-action revolver with an excellent trigger and a manual sliding bar safety.
Most Calibers
1772
at Guns.com
Prices accurate at time of writing
Prices accurate at time of writing
3. Smith & Wesson 500
Of course, S&W also has some bigger options out there, particularly their Model S&W500 chambered in, you guessed it, S&W 500.
This is one of the names you've probably seen brought up a lot in the big bore world, and with good reason. It is arguably the most powerful production handgun available today, and S&W claims exactly that on its website.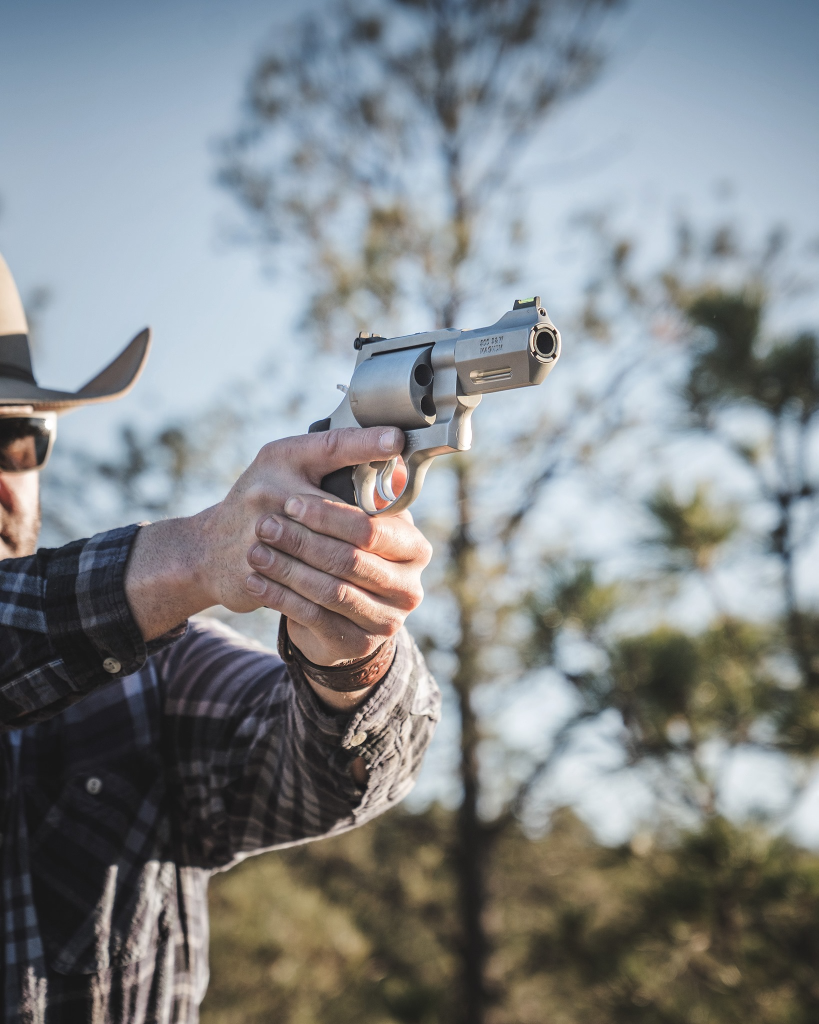 You could maybe argue that another S&W option takes that prize, and we'll get to that later, but the S&W500 is still an absolute monster that can sling a .440-grain bullet at 1,325 fps.
That's enough energy to take down any game animal that walks the earth, and it'll certainly do for something like a bear or mountain lion.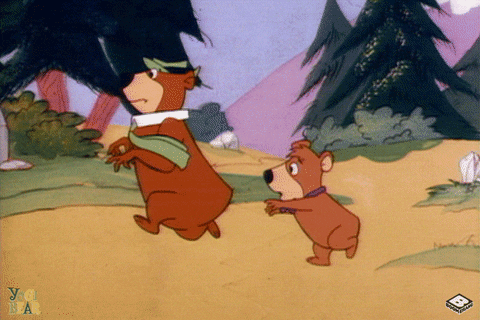 Also, it's an S&W revolver, which means it's as reliable as a Swiss Watch and won't let you down when you really need it.
It'll also have you grinning from ear to ear at the range (provided you have a good, firm grip before you squeeze that trigger).
Most Reliable
1359
at Brownells
Prices accurate at time of writing
Prices accurate at time of writing
4. Magnum Research BFR
Next, we have my personal favorite, the Magnum Research BFR. Magnum Research swears that "BFR" stands for "Biggest Finest Revolver." While I can't legally dispute that, I'm sure you can think of something else that acronym could stand for.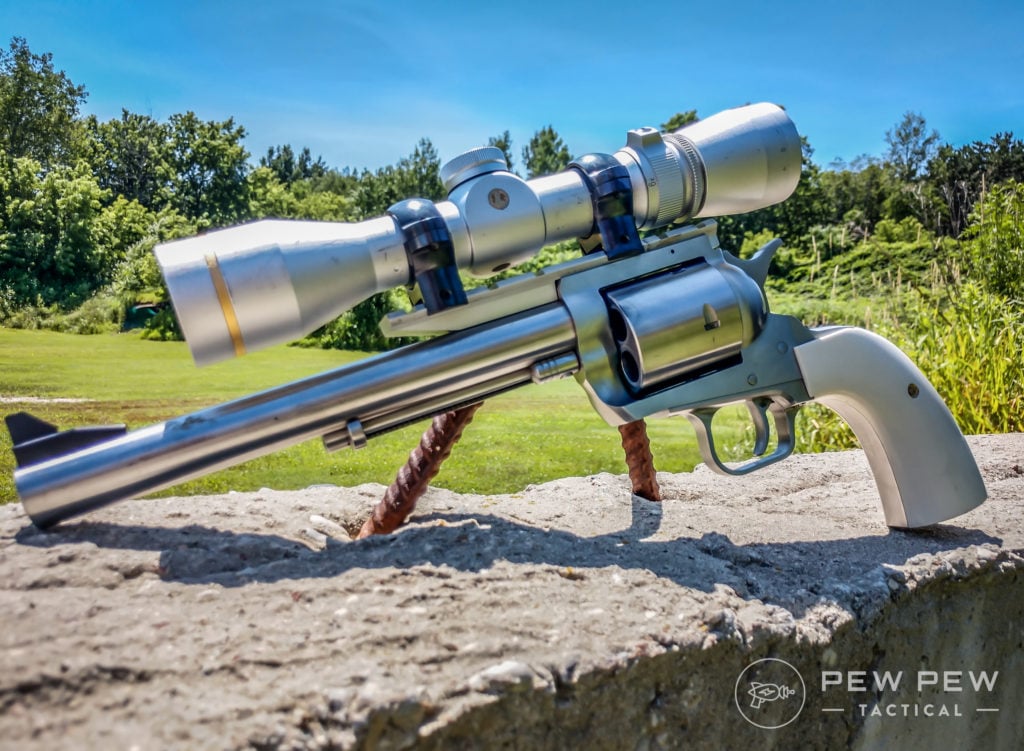 Still, the Biggest Finest Revolver does live up to its name. This is an absolute monster and comes in around 5 pounds unloaded on the long cylinder models.
And that's because the long cylinder model comes chambered in totally sane and reasonable things like .500 S&W, .30/30 Winchester, .450 Marlin, and .45-70 Gov't.
You read that correctly. They built a revolver that shoots .45-70 Govt. This thing needs to be heavy to deal with that recoil.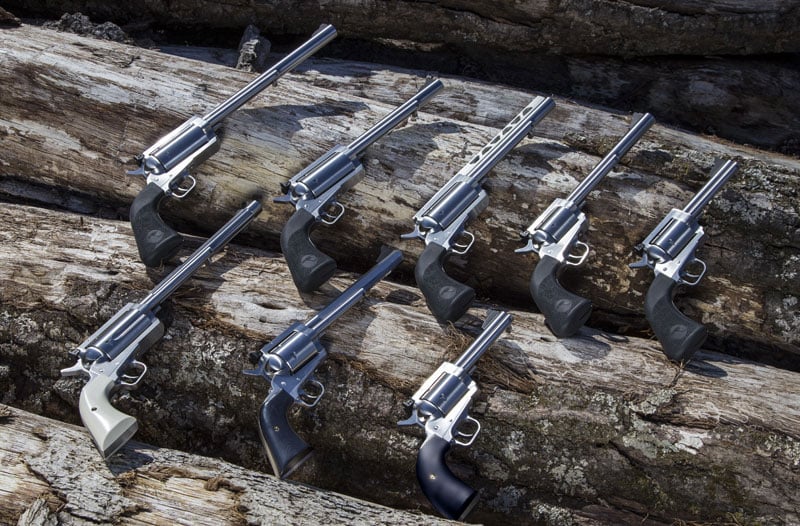 But if you're looking for the biggest option, this is the one.
What else do you expect from the people that gave us the Desert Eagle?
Best for Bigger Rounds
1130
at Palmetto State Armory
Prices accurate at time of writing
Prices accurate at time of writing
5. Magnum Research Desert Eagle
Speaking of, let's talk about the Desert Eagle.
This has been one of the most iconic big bore guns on the planet for years thanks to being featured in all sorts of media (Call of Duty, Boondock Saints, Snatch, John Wick, etc.), and it's a huge part of the gun community now.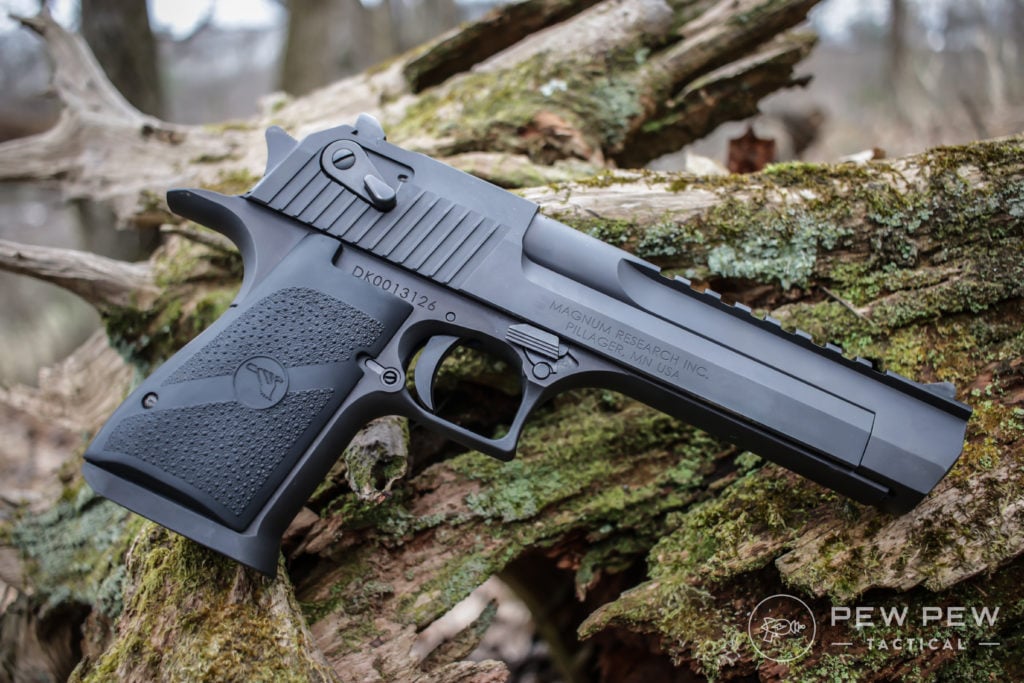 But is it just a meme? A fun, silly gun to own as a status symbol?
No.
It is those things, but it's also a very reliable, hard-hitting semi-auto that you can get in .357, .44, or the big .50 AE.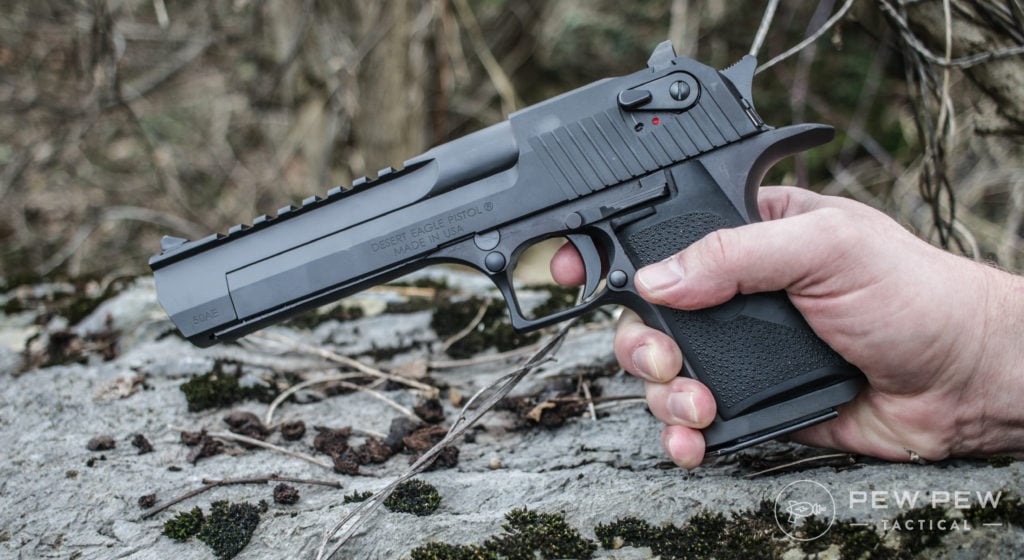 And it'll stop a bear or put a smile on your face at the range all day long. Oh, and it's made right here in America, so what's not love?
The OG Classic
849
at Palmetto State Armory
Prices accurate at time of writing
Prices accurate at time of writing
Check out Johnny's full review of the Desert Eagle!
6. Glock G29
Let's slip one more semi-auto in here with the Glock G29. This 10mm is actually the smallest chambering on our list, but it's still an incredibly popular big bore option, particularly for a lightweight bear defense gun.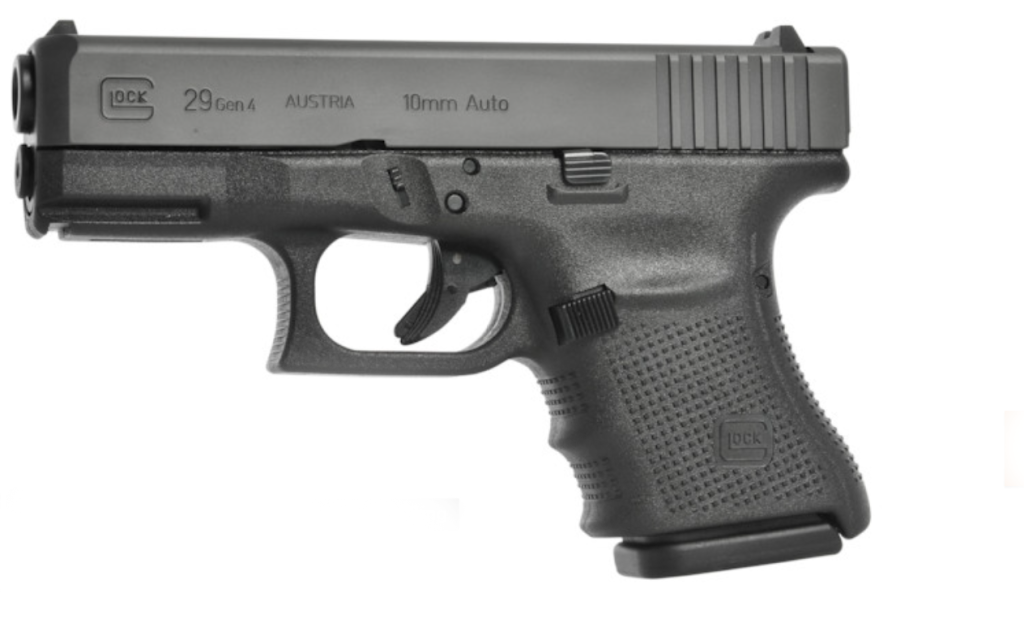 The 10mm is a very hard-hitting and flat shooting round, making it a good choice for a carry gun in any area where large, dangerous wildlife is a concern.
It wouldn't be my first choice for stopping a brown bear. That said, I always advocate that the gun you have on you is way better than the gun you left in the truck because it's too heavy, and you're "just gonna be a minute."
For something that you can comfortably carry concealed so you don't freak out another hiker, but you can still comfortably defend yourself with, this is a great option.
Best 10mm
454
at Kygunco
Prices accurate at time of writing
Prices accurate at time of writing
What do you think of the Glock G29? Rate it below!
7. Ruger Super Redhawk
The Ruger Super Redhawk is another legendary big bore with a passionate fan base and a history of reliability.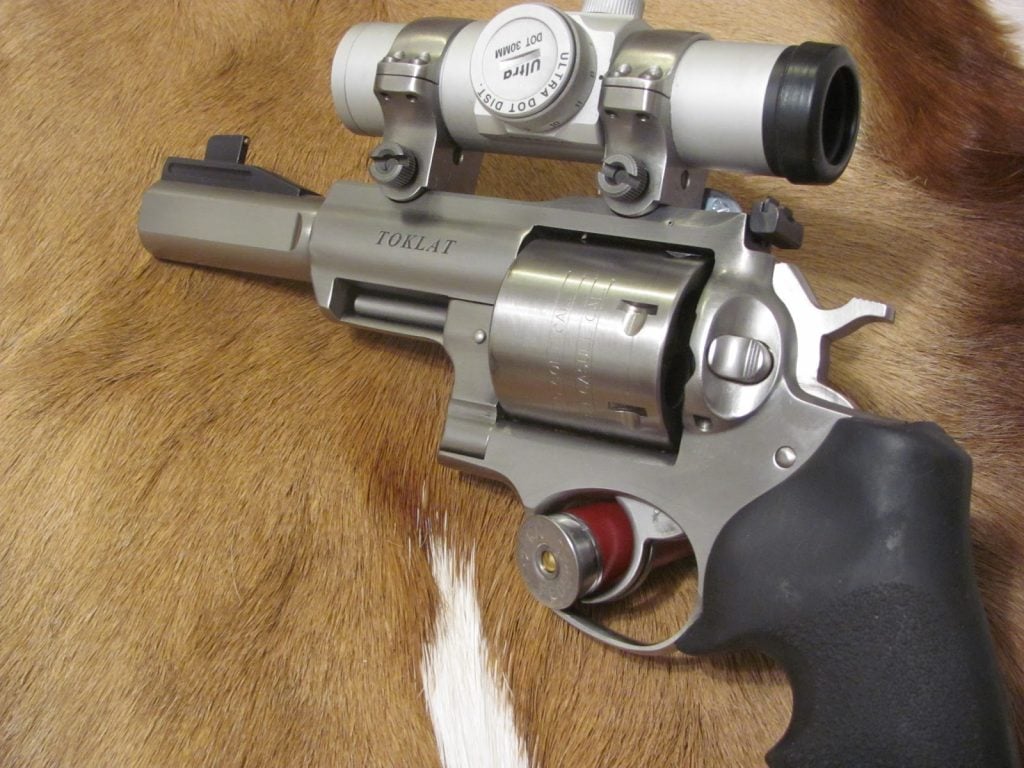 The .454 Casull chambering is my personal favorite and has been used to take every single big game animal on the planet, including brown bear, cape buffalo, and more. And the Super Redhawk platform is absolutely perfect for it.
It's a surprisingly lightweight gun for its size, and the balance is just about as good as you can ask for, which helps keep the recoil manageable even with relatively rapid shooting.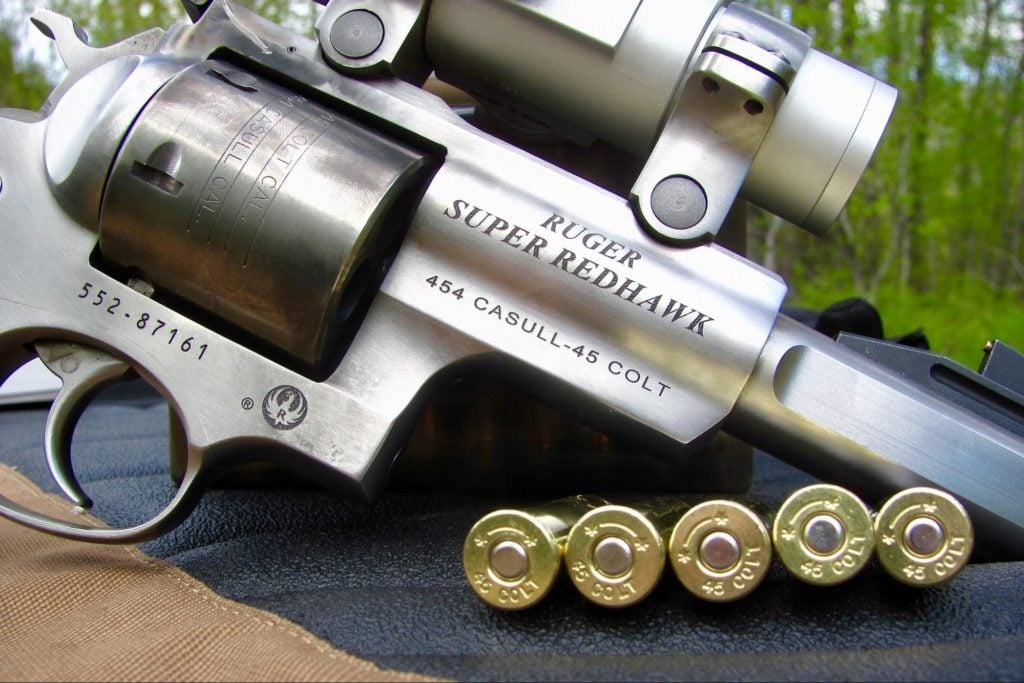 Don't get me wrong; this is still a very hot cartridge (one of the two highest-pressure revolver rounds of all time). The recoil is pretty snappy, but the Super Redhawk tames it admirably.
Best Big Game Handgun
1150
at Brownells
Prices accurate at time of writing
Prices accurate at time of writing
Want more deets on the Ruger Super Redhawk? Check out our review here.
8. Ruger Super Alaskan
Finally, the Ruger Super Redhawk Alaskan is another purpose-built bear gun in .480 Ruger.
This one once held the "largest handgun cartridge" title, and while it's been supplanted by the .500 S&W, it's by no means a slouch in any regard.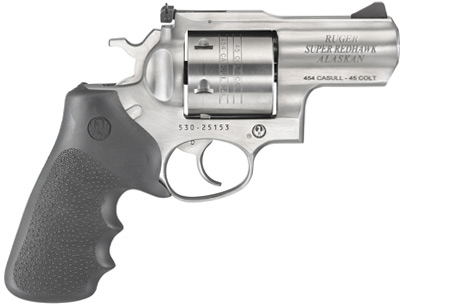 This is a great option for self-defense in bear country, and the 2.5-inch barrel makes it very easy to carry without weighing your belt down all day.
Even with the short barrel, it still generates about 15% more energy than a .44 Magnum, and of course, you're slinging a slightly larger bullet as well.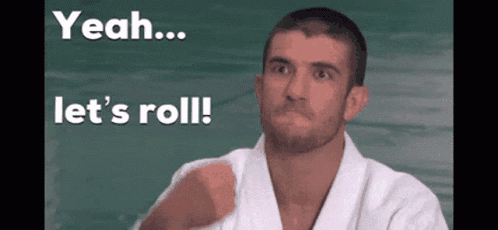 Recoil is also not terrible. Don't get me wrong, you're gonna feel it, but it's not so stiff that you have to worry about the gun flying out of wet hands. The grip is excellent and absorbs and redirects a good portion of that intense force.
All in all, it's a great hiking companion in the bear-y parts of the world.
1019
at Sportsman's Warehouse
Prices accurate at time of writing
Prices accurate at time of writing
What Are Big Bore Revolvers and Semi-Autos Used For?
Putting big holes in stuff. Next question.
Alright, not just that, though the top use for big bore handguns is for hunting or defense from large animals. They're very popular for hunting thin-skinned game such as whitetail deer.
Slapping a scope on top of a Ruger Blackhawk may look a little silly if you aren't used to a scoped revolver, but such a setup has put an awful lot of meat in the freezer, particularly in the South, where hunting in thick cover is popular.
Big bore handguns are also very popular with people in bear country, particularly with campers and hikers that don't want to lug around a rifle or shotgun.
You can check out our full list of the best firearms for bear defense if you're interested in some bear-specific options, but basically, all of the options on this list will also get the job done.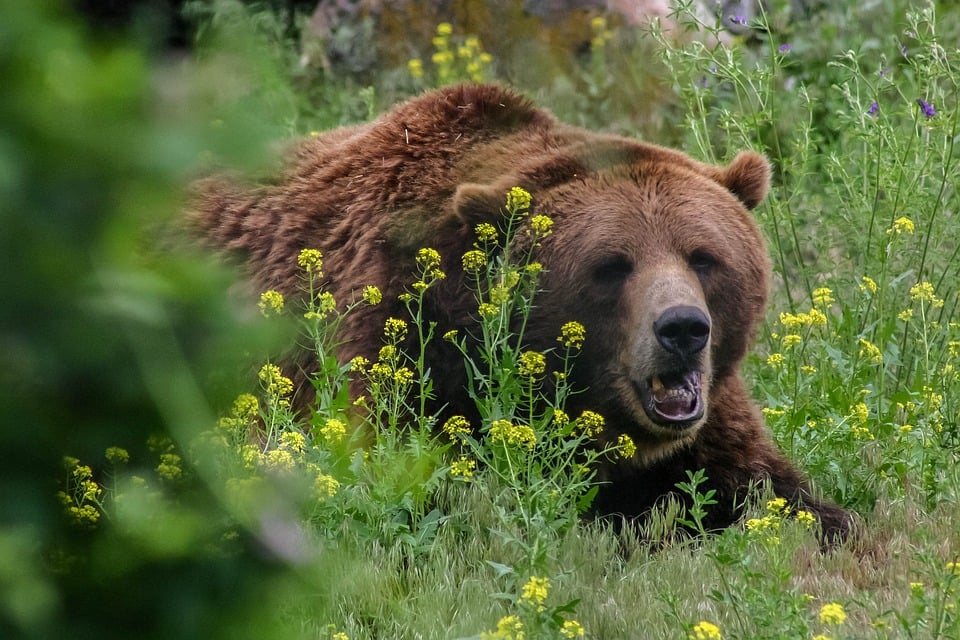 Dangers of a Big Bore Handgun.
Before we leave you, we want to cover one last thing…safety.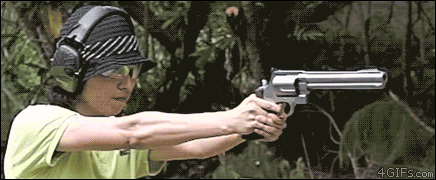 Some of the guns on this list, particularly the revolvers, can have some incredibly stout recoil, and while they aren't inherently unsafe, it is a little easier to lose your grip. That can have some disastrous consequences if you aren't ready.
You can check out this video of How NOT to Shoot an S&W 500 to see what I'm talking about. Don't worry; he only almost ends up with the gun pointed directly at his forehead.
Be safe out there, kids, and don't just hand one of these to a new shooter. Maybe only have one round in the gun for that first shot, just in case.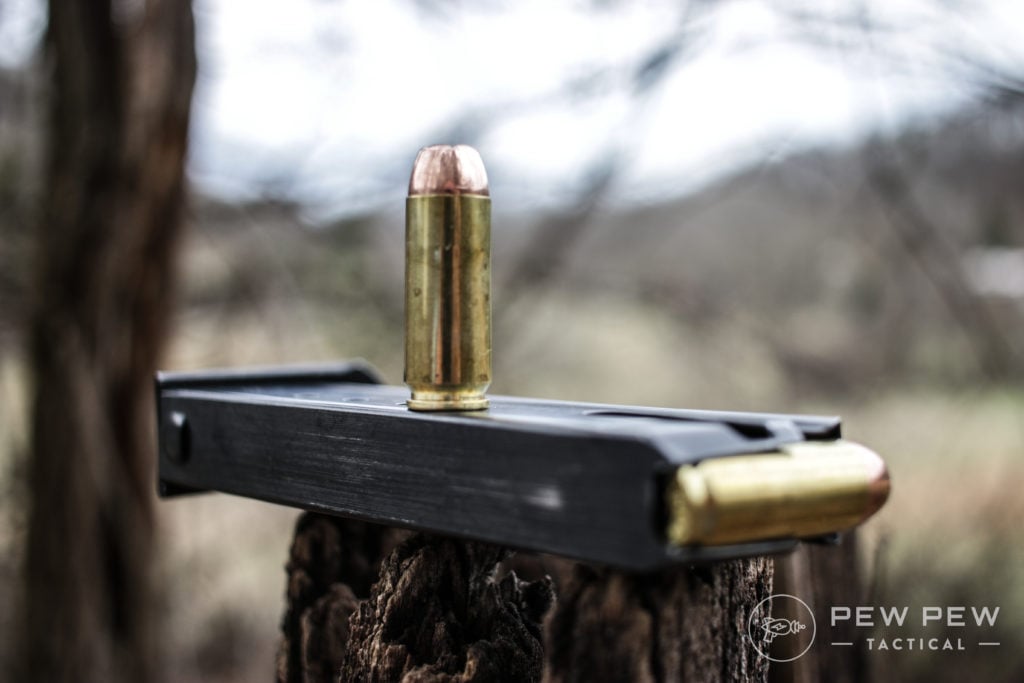 Full respect for leaving this up and using it as a teachable moment and not just burying the footage, though.
Alright, enough Safety Sally stuff, let's look at the list.
Conclusion
Big bore handguns are a lot of fun and offer a lot of value as well. If you've ever thought about hunting with a handgun, or you're worried about safety in bear country, then one of these options is definitely the way to go.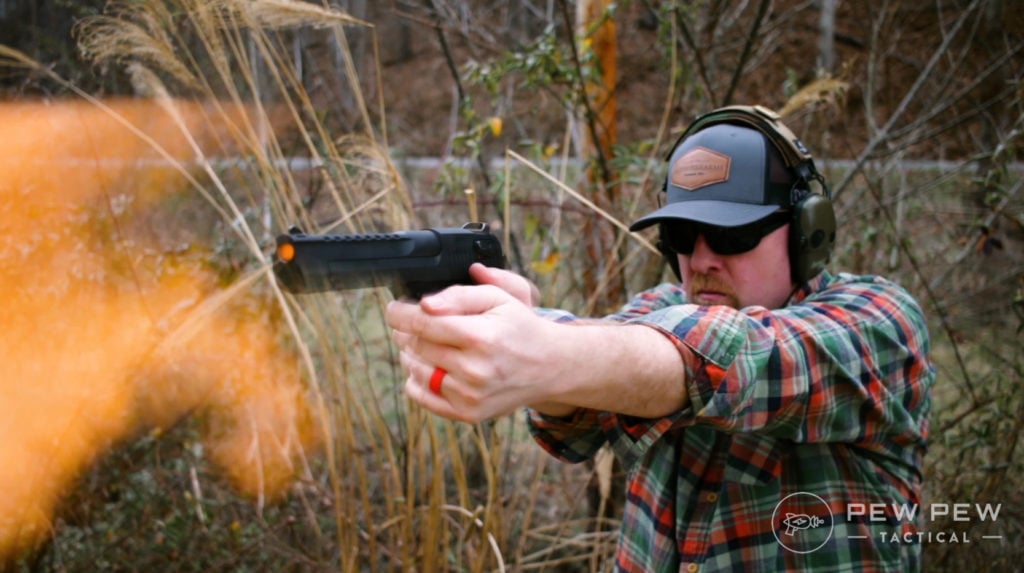 Yes, they're expensive and have a lot of recoil. But they're absolutely worth it.
What do you think of these big bore handguns? Let me hear from you in the comments! Need more on Big Bore? Check out our guide on the Best Big Bore Hunting Rifles!