You ever get low-key jealous of a superhero's gear loadout? Grappling hooks, batarangs, utility belts…all part of a super load out.
We may not all have Batman's bankroll, but what we can do is set ourselves up for success just like the Caped Crusader did.
Understanding how to set up a battle belt and plate carrier kit properly is precisely that — making sure you have everything you need to come out ahead while not bogging yourself down with unnecessary items.
The key will be figuring out what you need to accomplish before you set out…as cliché as it sounds, missions dictate load-outs!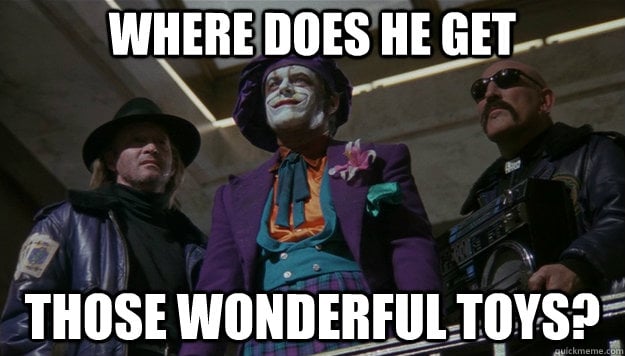 If you've fallen down the rabbit hole of accessories and kits, you've probably felt the anxiety of being so overwhelmed you have no idea where to start.
Yeah, we've all been there, my friend. So, we're keeping you off the anti-anxiety meds and bringing all the good stuff right to you.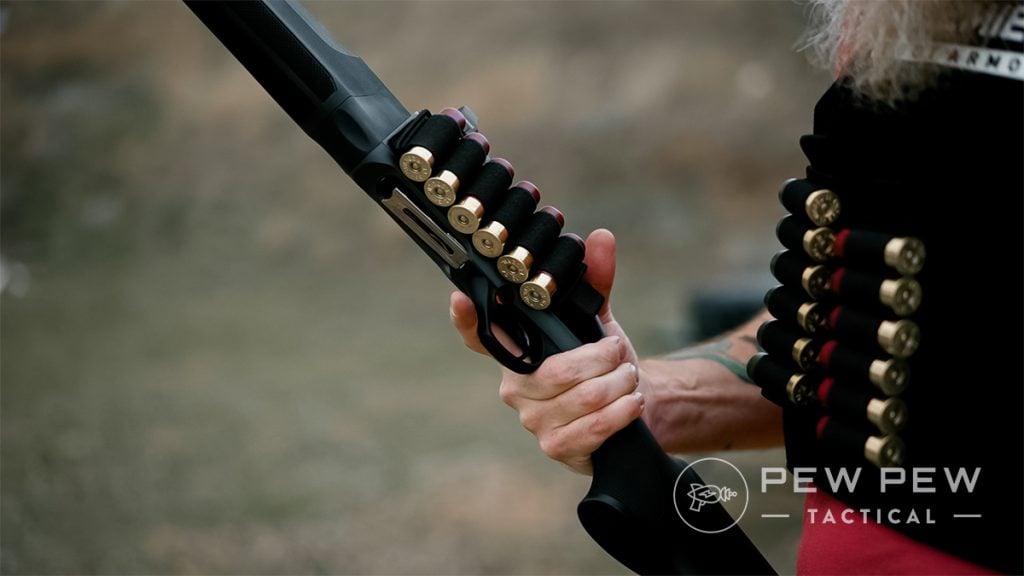 In this article, we're talking about why you want a kickass battled belt/plate carrier and what you can use it for — we'll even recommend some things you might want on it.
So let's get started!
Why Do I Need a Plate Carrier & Belt?
As stated, your mission dictates your loadout, so what constitutes a mission?
Some common missions for the everyday gun owner are easy.
First, you have your range time. A trip to the range, magazines, ammo, and a firearm can make for a wonderful time. Adding some pieces of a kit can make it not only fun but a start to developing into a gunfighter.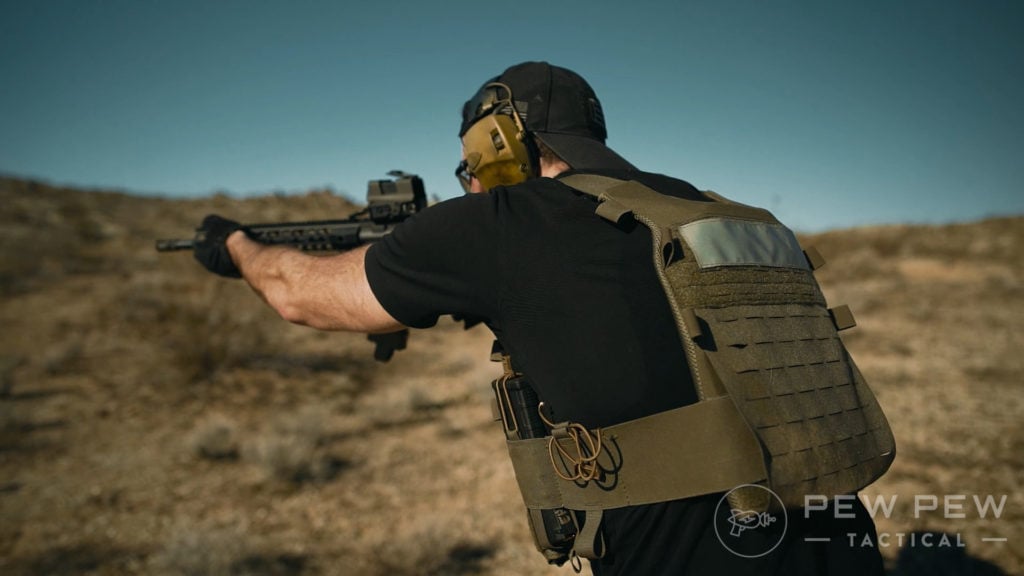 Live-action role-playing isn't just for the sci-fi and fantasy crowd anymore. Call it goofy, but clearing my house in full kit is another drill I do to try and stay sharp.
Sure, I may get surprised looks from the mailman when I open the door with a plate carrier and helmet on, and my wife has burned some calories laughing at me…but that's ok.
There is a point to doing this besides looking good on Instagram.
Simply put, wearing plates changes things. Unless you get comfortable and adjust to those changes, it may be a bad day if you ever need them.
Belts, chest rigs — and in some cases, plate carriers — are also great for competition shooting and hunting.
Being able to store more ammo, utility pouches, or a place to stash spent magazines securely is terrific.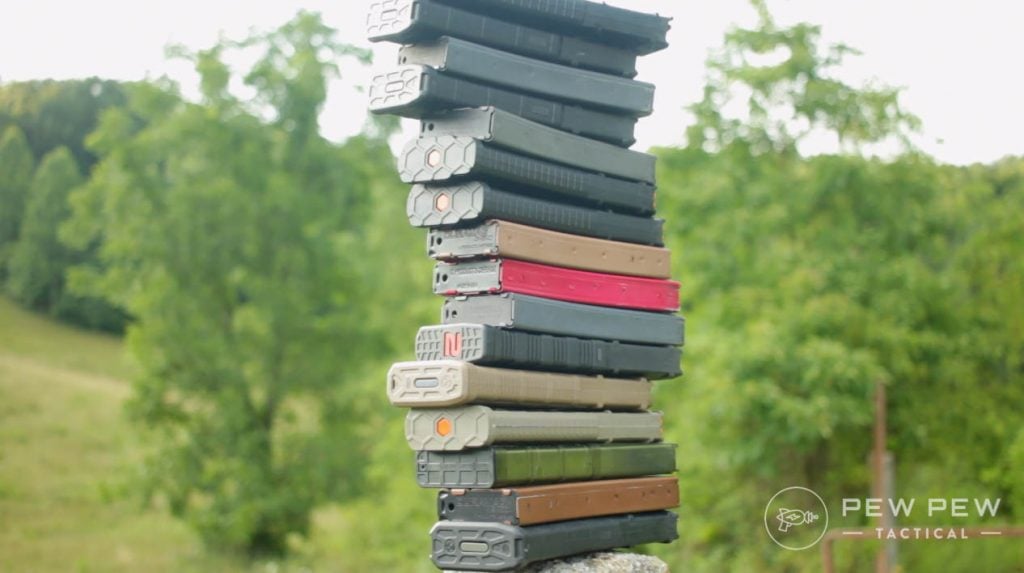 Minimizing extra movement, finding that economy of motion, and focusing on getting your gun running quickly are things that can drop split times.
They can also mean the difference between taking home some meat on a hunt or not.
Battle Belts: Not Just a Fashionable Accessory
Everyone wears belts, so we may as well start here.
In terms of "battle belts,'' there are two main types: single belts and multi-belt systems.
Both styles have some great offerings, so it boils down to which will be right for you.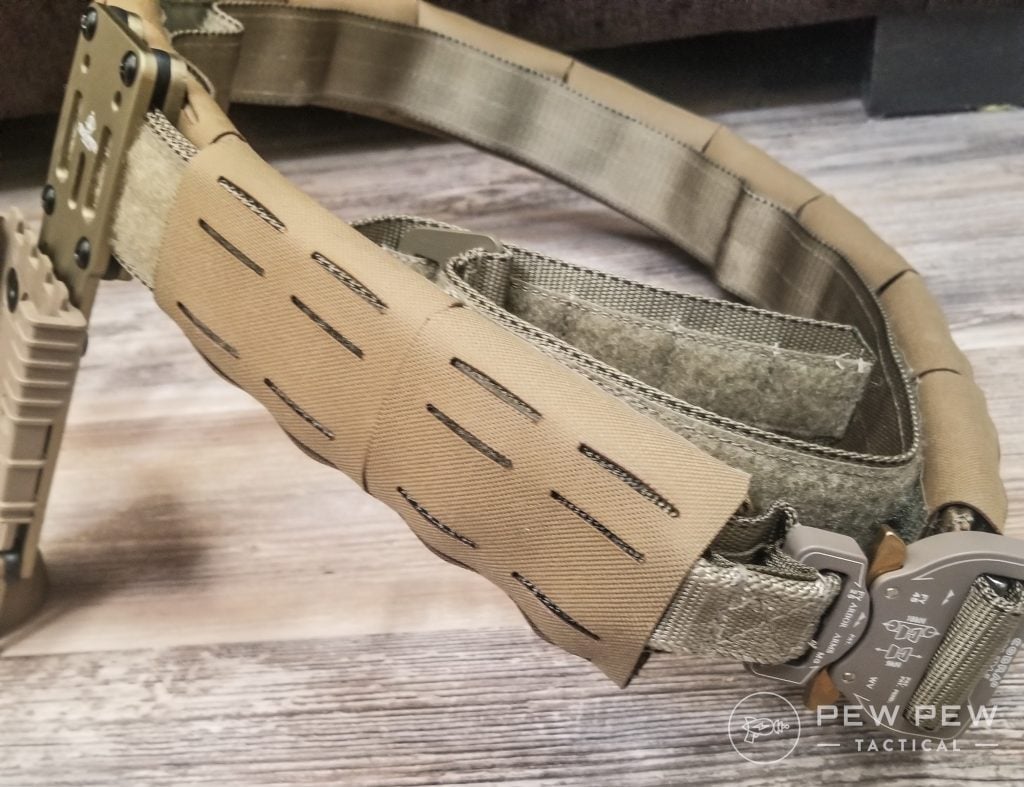 Single Belts
Single belts, with or without a padded sleeve, are easier to set up. They also are widely popular and great for tossing on in a hurry.
Belts, such as High Speed Gear, are great examples of single-belt setups.
Just keep in mind that if your body size changes drastically (gaining or losing weight), you will have to replace the entire belt with single-bet rigs.
If you have plans to lose 15 pounds (or 20…30…we don't judge), you might want to do it before you drop big bucks on a single-belt setup.
Multi-Belts
Multi-belt systems add more than just layers. With multi-belt systems, you gain the ability to doff outer belts in a pinch, swap to different setups in a hurry, and have better weight distribution across the belt.
You'll feel like you've got some serious bat-bucks backing you as you switch and swap around your outer belts to meet your needs.
Three belts worth checking out are the Ferro Concepts Bison Belt, The Blue Force Gear CHLK Belt, and the Arbor Arms Salt Belt (available padded or unpadded).
All three utilize some form of inner belt, woven between the belt loops of your pants, then an outer belt (sometimes with a third belt inside the molle belt for more rigidity) that attaches to the inner.
What do you think of Blue Force Gear's CHLK Belt? Rate it below!
While not as fast to initially get on as a single-belt system, multi-belts allow for rapid transition from one outer belt to another if set up beforehand.
A great example of this is on the range.
If you shoot multiple guns and stage outer belts with loaded mags. That way, you can swap from one to another. It's as easy as pulling the outer belt off and attaching the new one.
Pimp Your Waistline
The big reason to run a battle belt is the ability to customize your loadout to meet your end goal.
As each person's desired outcome is different, I can't write out what you "should" have on your belt, as things may or more not work for you.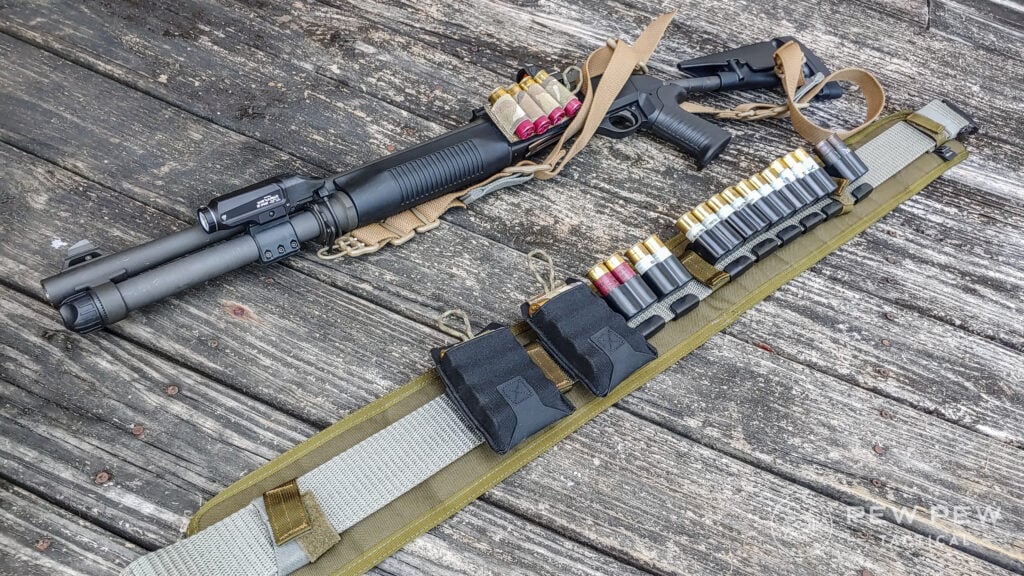 What I can do is talk about components, functions, and when you might find a use for them.
One quick note: I am a right-handed shooter, so my layout will be from that perspective.
If you are a lefty, swap everything to the opposite position, and cry for the state of your wallet.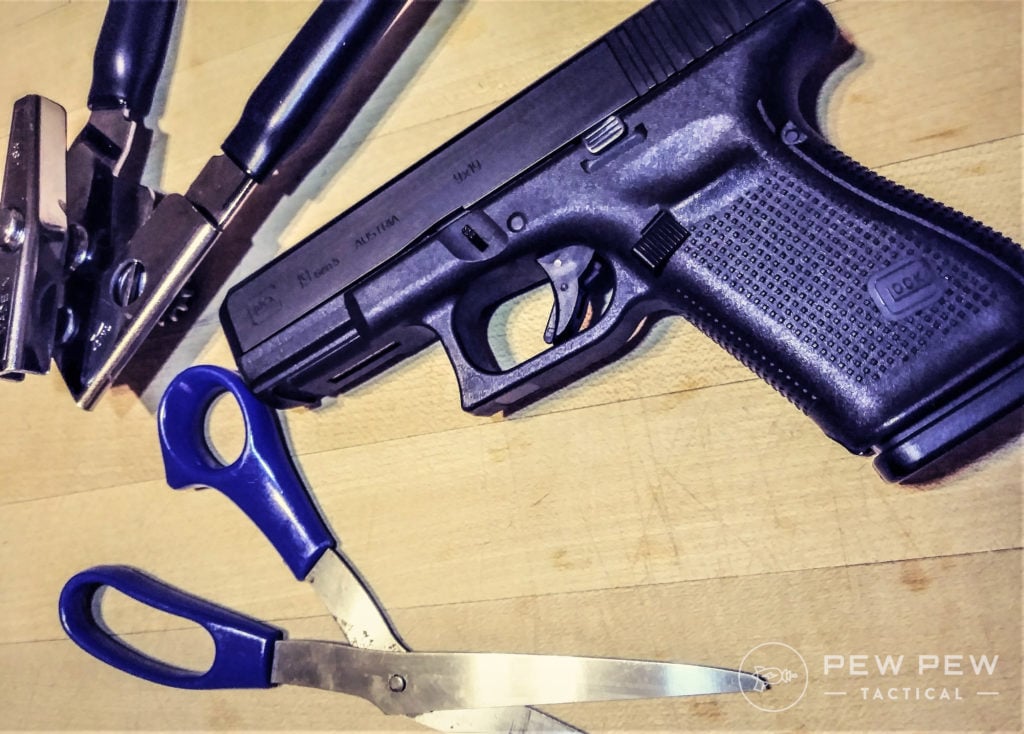 Holster
We are gun owners, so no belt is going to be set up without a holster of some sort.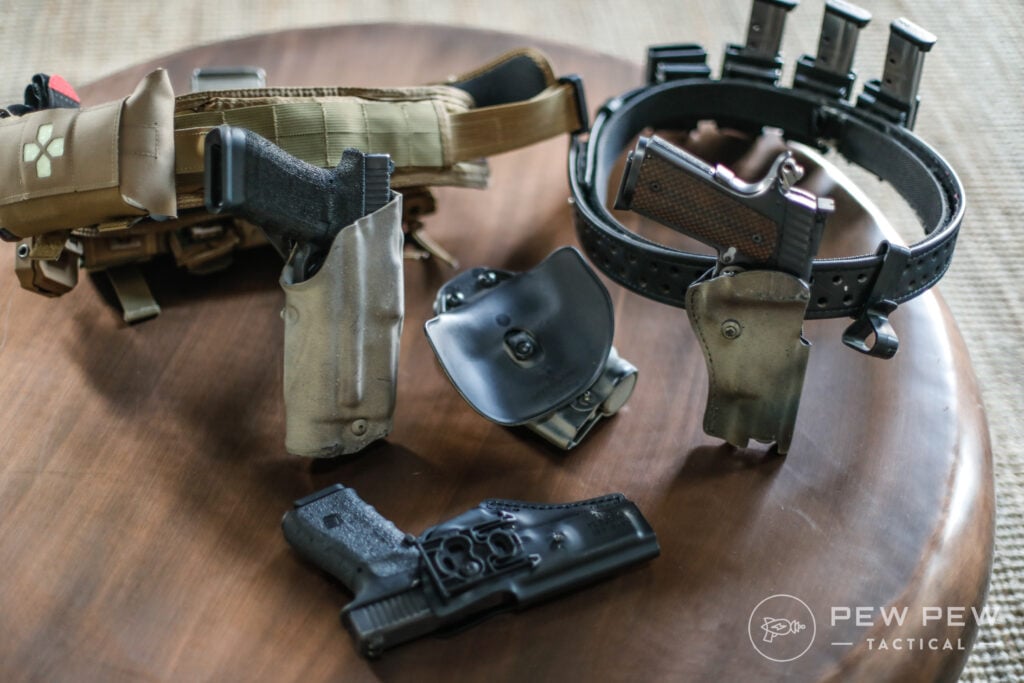 The most popular battle belts on the market come from Safariland and G-Code.
There are a ton of other options out there, so find a quality Kydex holster that fits your belt — some might require MOLLE attachments, while others can fit on an inner belt.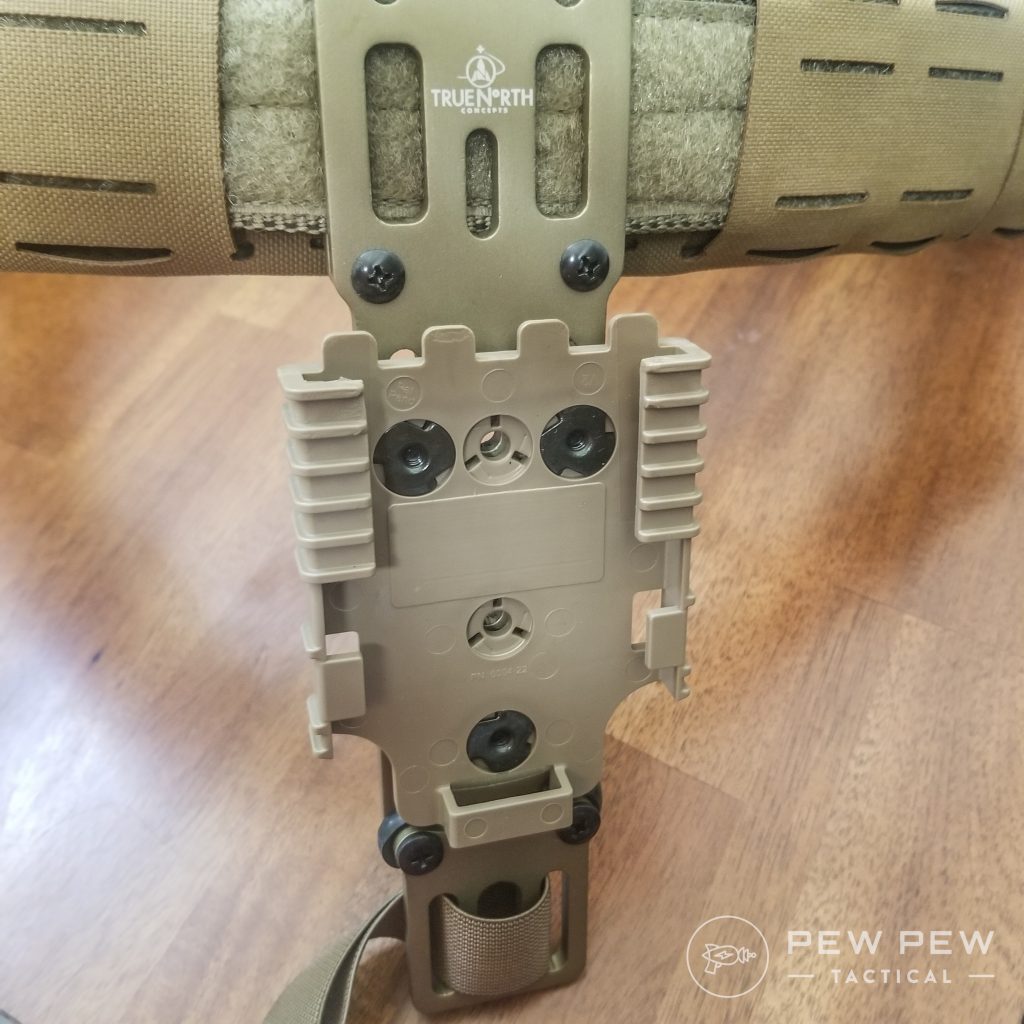 If you are looking for modularity, I cannot recommend the True North Concepts Modular Holster Adapter (MHA) enough.
It is a noticeable improvement in terms of rigidity over Safariland or G-Code and can work with either.
I run this just slightly forward of my right hip, just shy of 3 o'clock, with True North's MHA leg strap kit to prevent movement while running around.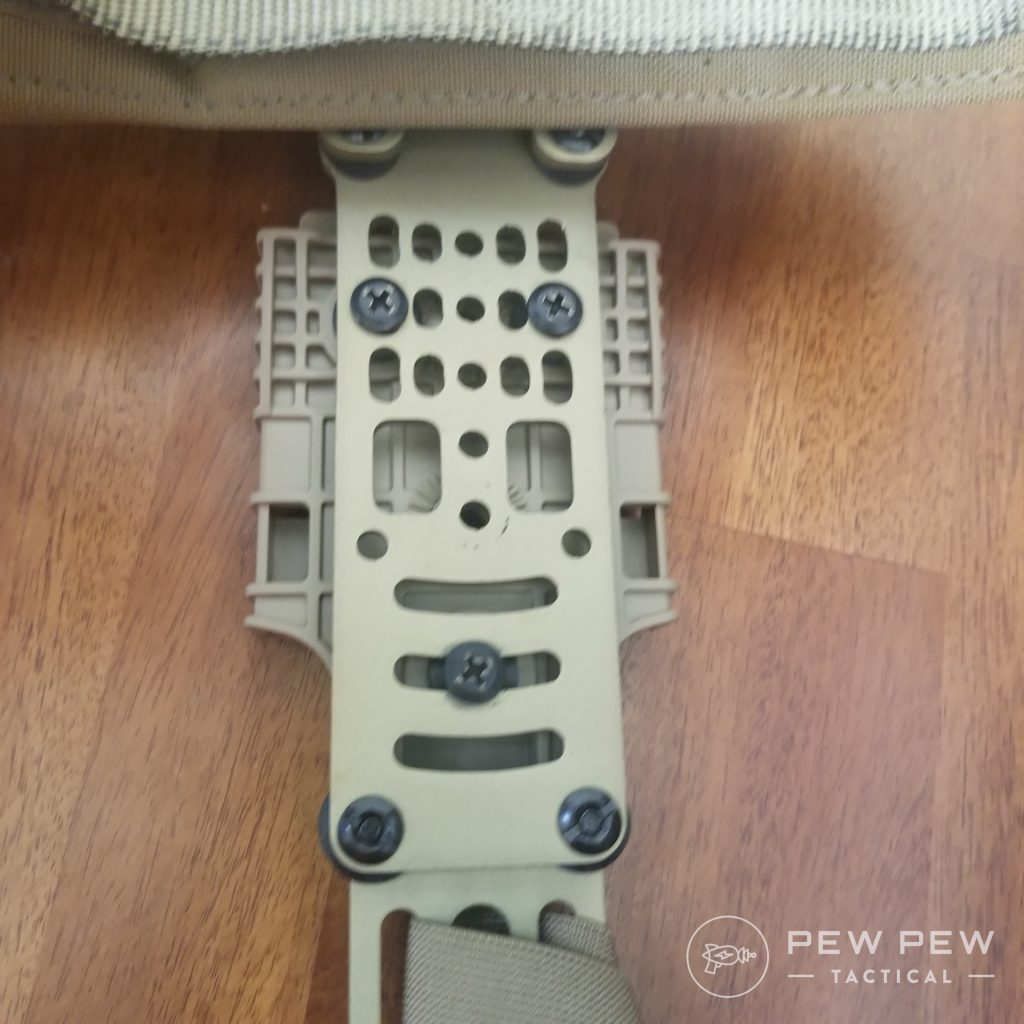 Mag Pouches
Your gun is no good if it runs out of ammo.
Carrying spare magazines on your belt will be almost mandatory in any situation.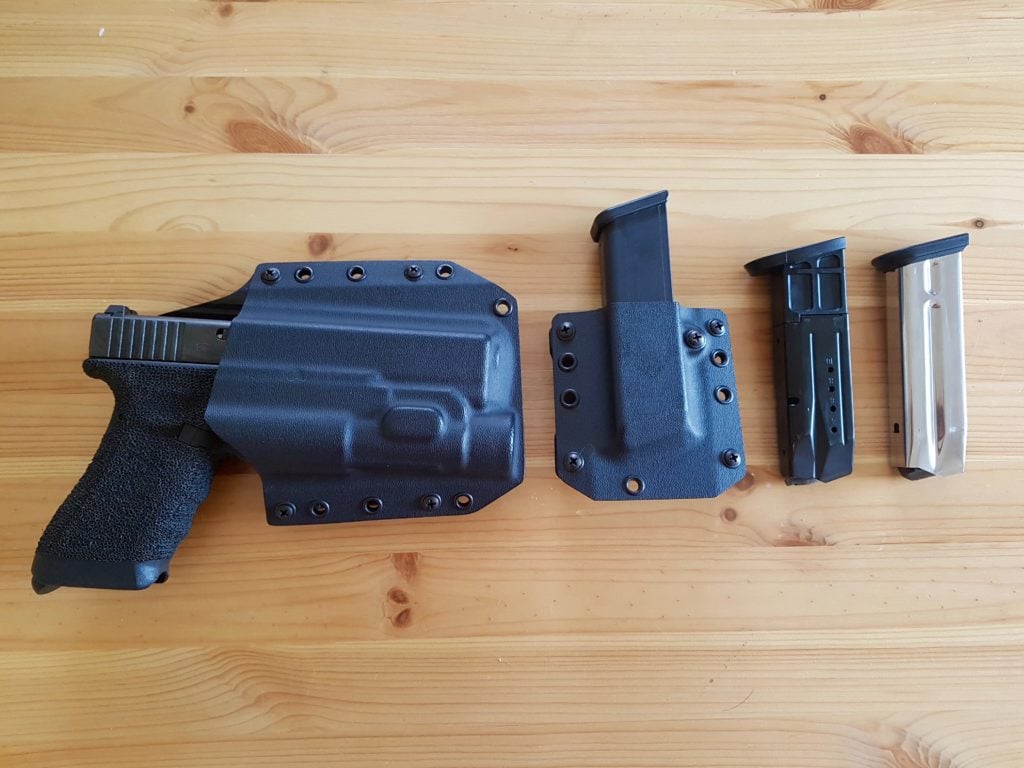 Some people like to run only pistol magazines on their belts, while others like a mix of pistol and rifle magazines.
I generally run two pistol magazines and one rifle magazine on my belt, but you will have to determine your needs.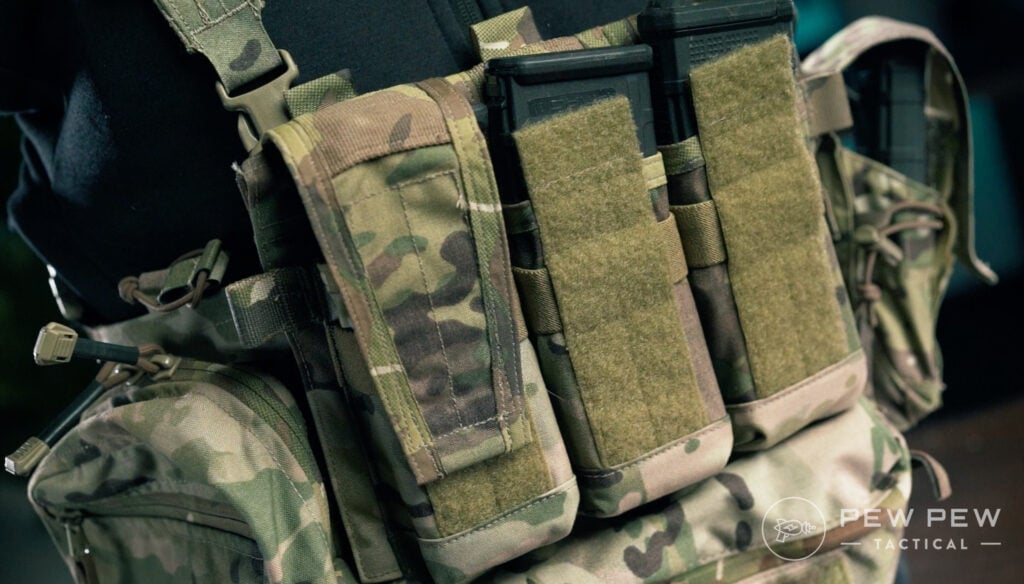 There are two main concerns with magazine pouches: retention and accessibility.
You want the pouch to hold your magazines snugly, so they don't fly out while you move. By that same token, you don't want them to have such a vice grip that you cannot easily pull things out to use them.
The two products I've seen check both these boxes consistently are the Esstac KYWI which is available in a huge number of configurations, and the High Speed Gear Taco Pouches.
Whatever you choose, run it on the opposite side as your firearm so your support hand can easily access your magazines.
Dump Pouch
Dump pouches may not be used in every setup, but they're worth mentioning.
They are designed as a bag to hold empty magazines or other gear you need to "dump" so it isn't in the way.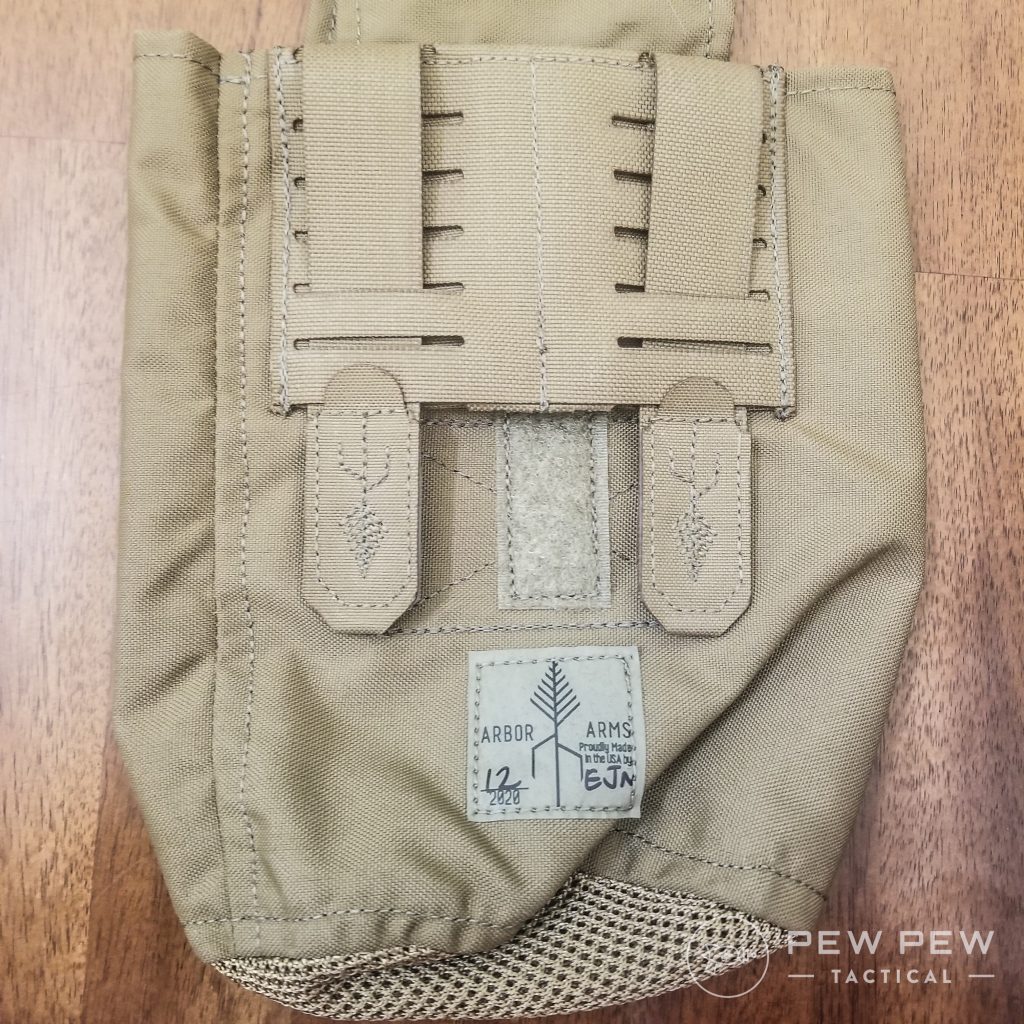 An ideal dump pouch should be able to roll up or fold up to minimize its space when not in use.
Great examples come from companies like Tactical Tailor, Blue Force Gear, and Arbor Arms.
This will typically be run above your support hand butt cheek, but move it around and find someplace comfortable for you.
Med Kit
A med kit is probably the most important piece of gear you can own, as it is useful in more situations than anything else.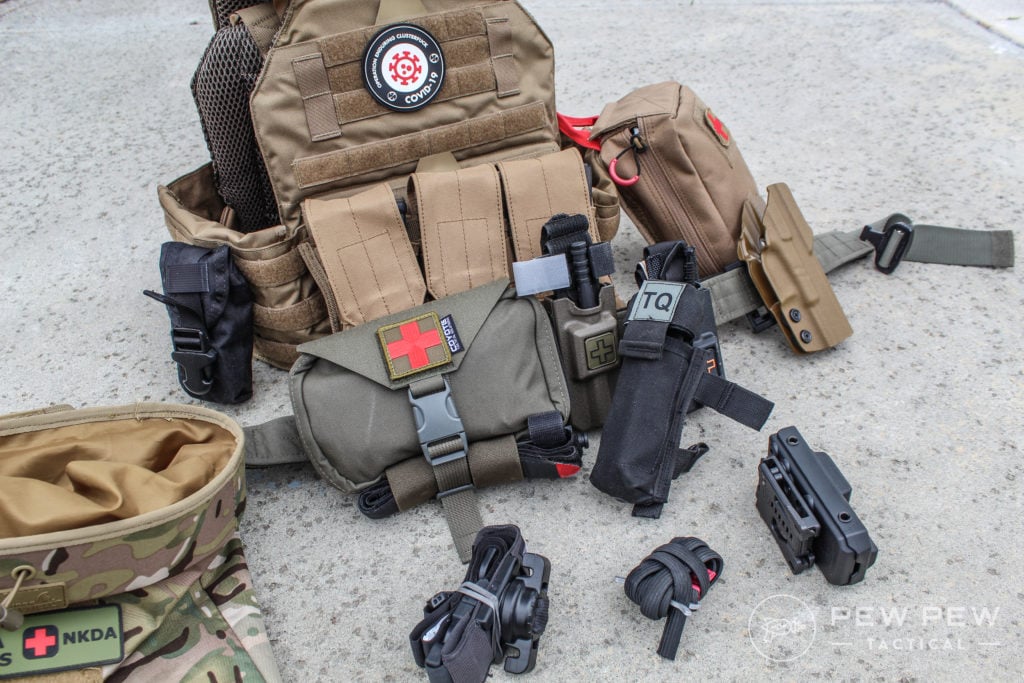 Your med kit should have a tourniquet, a chest seal, some sort of wound-packing gauze, and some shears, at the very least.
You should honestly have much more but know your skill limits. (If you need to get spun up on training, check out Best First Aid Classes: Beginner & Intermediate.)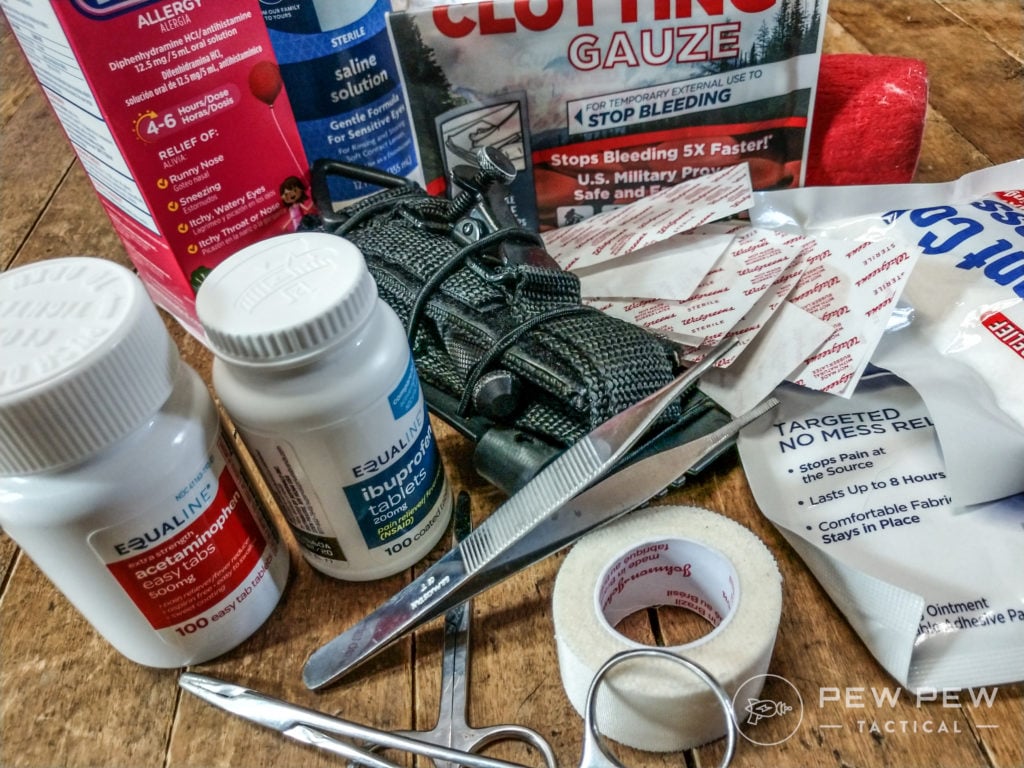 Some people run their med kits mounted to their belts; I prefer to use a fanny pack style. There are benefits and drawbacks to both.
If you go belt mounted, make sure it has some sort of feature to allow quick access or detachment.
Great examples of this are the Coyote Tactical S.T.O.M.P., the Raptor Tactical MIFAK, or the Cro Medical Tear-Away Hybrid.
For fanny pack-style medkits, make sure they have some method of detaching the strap quickly or, if possible, a second way to attach the kit to you.
Two of the best examples of fanny pack-style kits are the Cro Medical Hybrid IFAK and the Arbor Arms Medical Nut Ruck.
With regards to tourniquets, carry as many as possible without negatively impacting movement.
Have your tourniquets staged and ready for deployment — not in a jumbled mess.
Neat, folded, tucked into a holder or a pocket where you can get at it easily.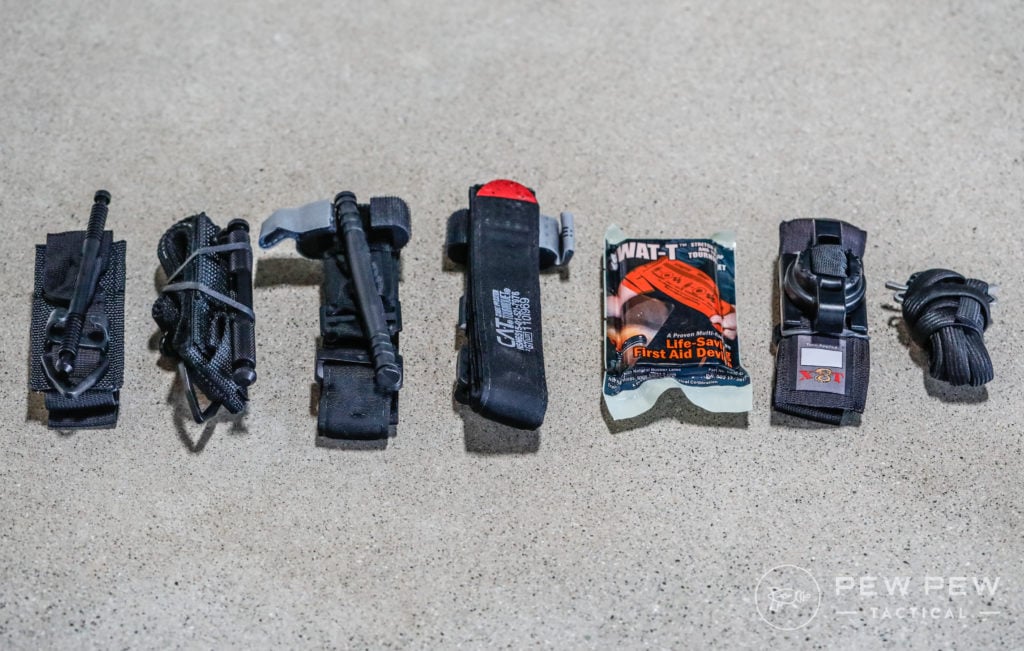 To that effect, a tourniquet holder mounted to your belt is a great addition.
I prefer the horizontal mounts, so they don't snag on things or jab you while you're moving around.
Great examples to check out are the Soileater BMTH or the Blue Force Tourniquet NOW! Strap.
Other Odds and Ends
This is by no means an all-encompassing list of things to throw on your belt, but rather the more necessary ones that will fit most purposes.
Other things to consider throwing on a belt include a knife, utility clip for holding gloves or hearing protection, more magazine pouches, or any specific items you need for a job (a breacher's pouch, more med gear, etc.).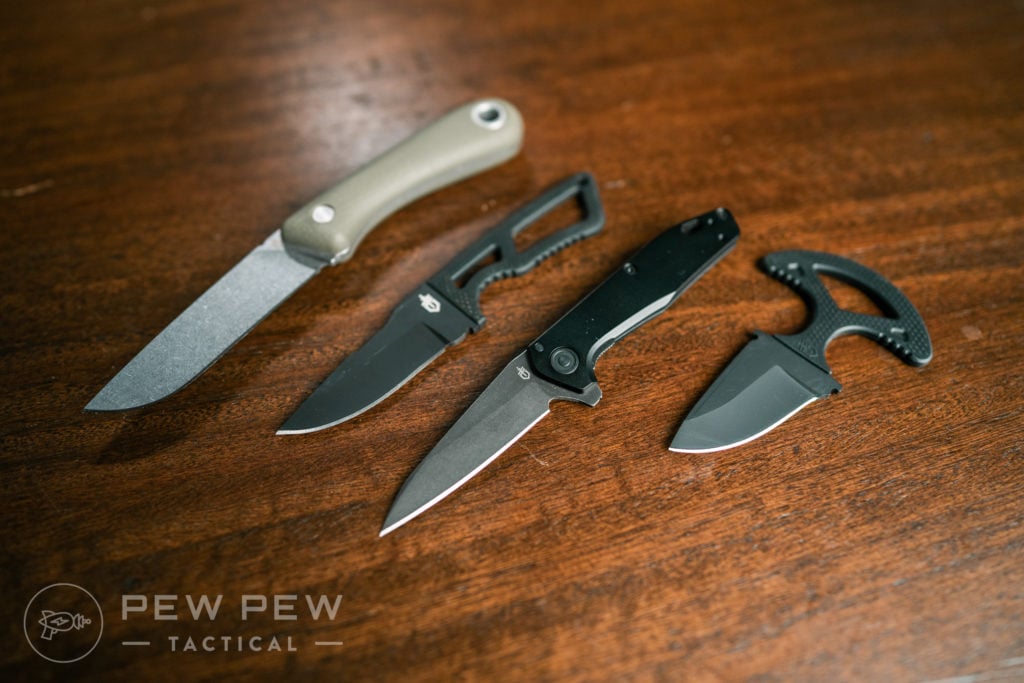 Nalgene bottle holders and canteens are also gaining popularity in belt-mounted holders.
You'll have to take a hard look at what you think you'll need and then figure out how to make it work.
Plates Aren't Just for Holding Food
The second major part of your kit is going to be a plate carrier of some sort.
The most popular ones on the market today offer a high degree of modularity to allow the end-user to configure them to meet the needs of the job at hand.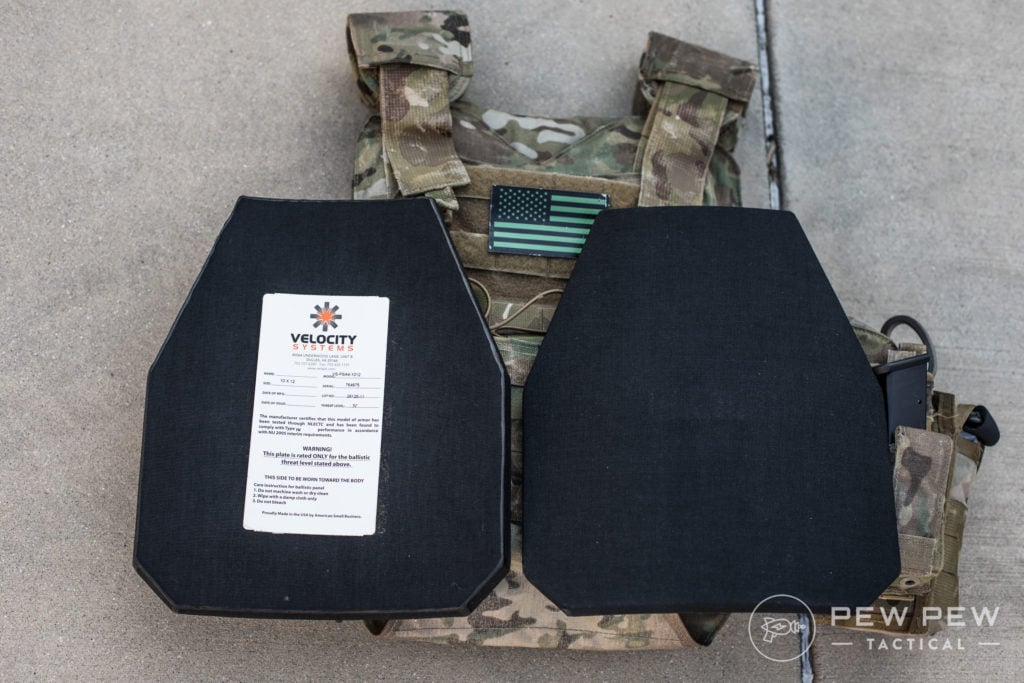 Look for carriers that will fit the size plates you need, which will depend on your body shape and size. Also, opt for ones that are easily customized and durable.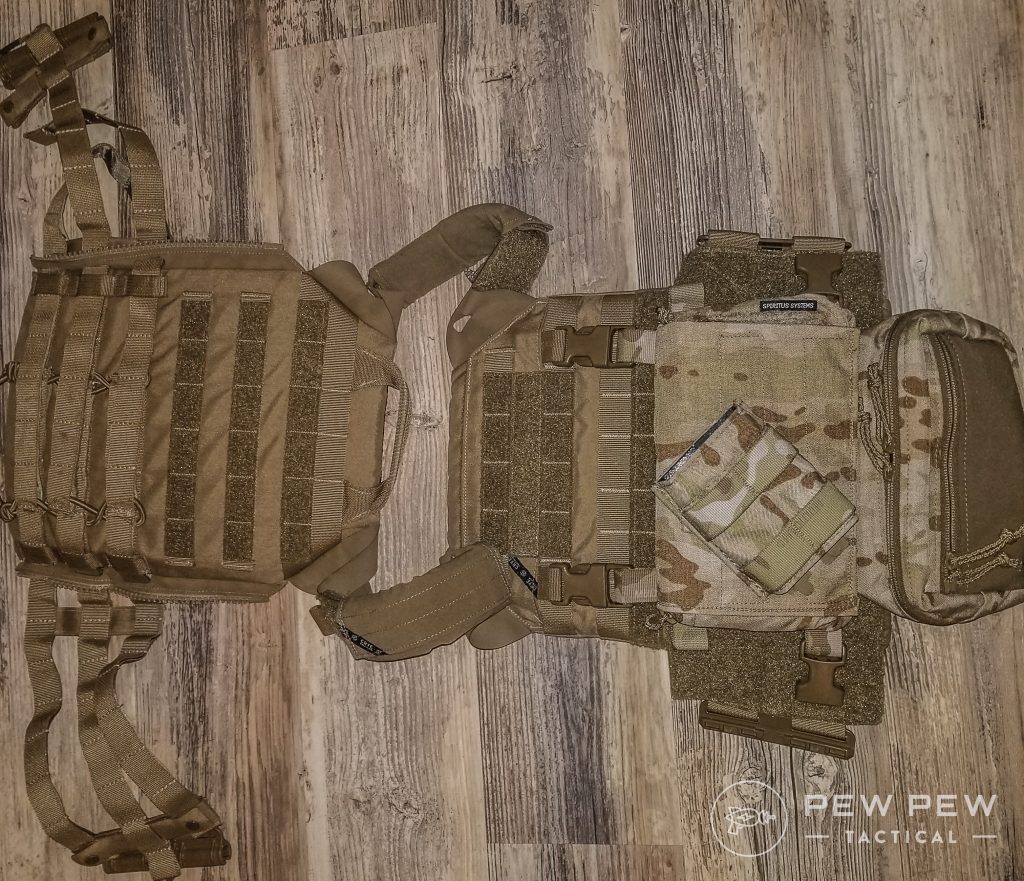 Some popular options include the Crye JPC 2.0, the Ferro Concepts Slickster, and the Tactical Tailor Rogue.
For the folks out there who want something a little more price-friendly while still being able to do the job in a pinch, the Arbor Arms Minuteman is worth considering.
It is worth noting that it lacks some of the options the other offerings on the list will get you.
As with the belt build-out section, there are too many options to cover in one article when it comes to mounting things to your carrier.
I will again include some basics to look at where they might be positioned, but it is up to you to decide what you need.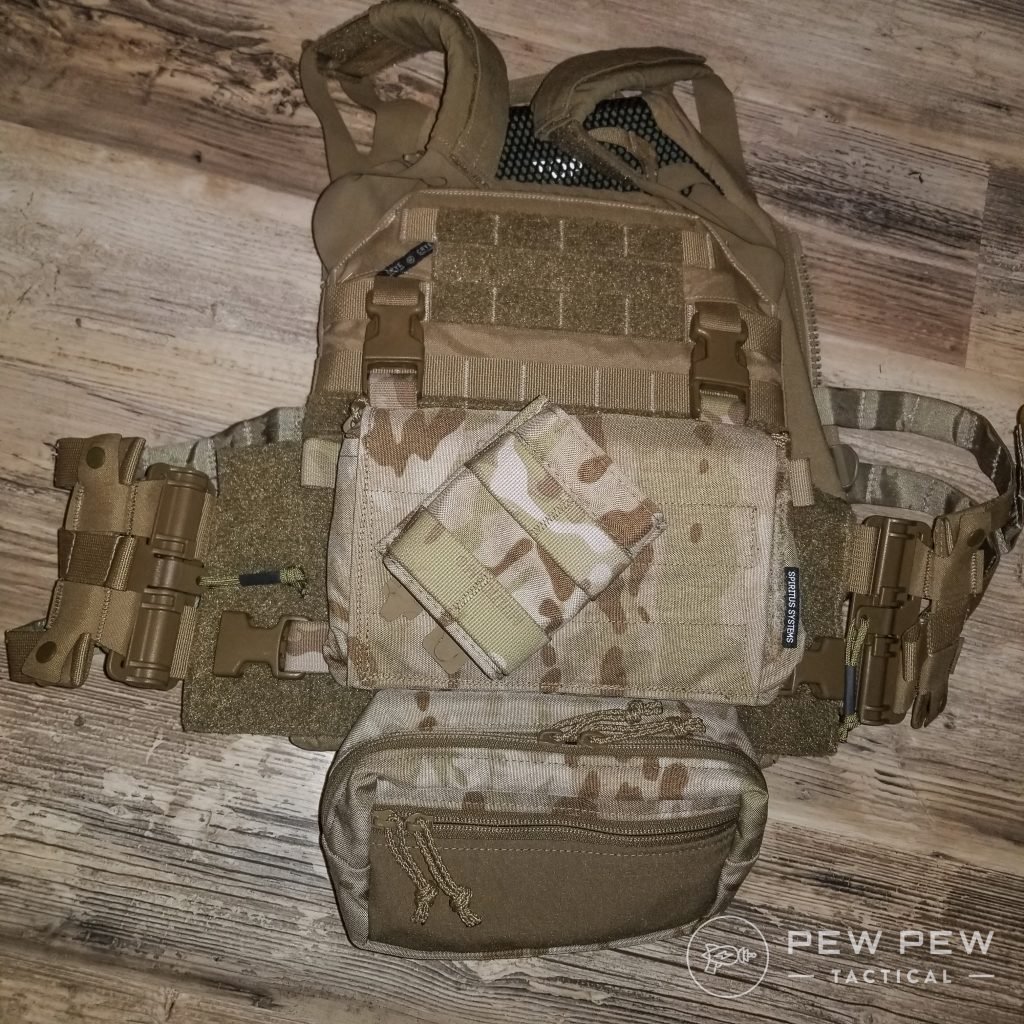 Plates
The term plate carrier isn't just a catchy name; they are made to hold armor plates.
If you don't think you will be wearing plates, a chest rig is likely better suited for you.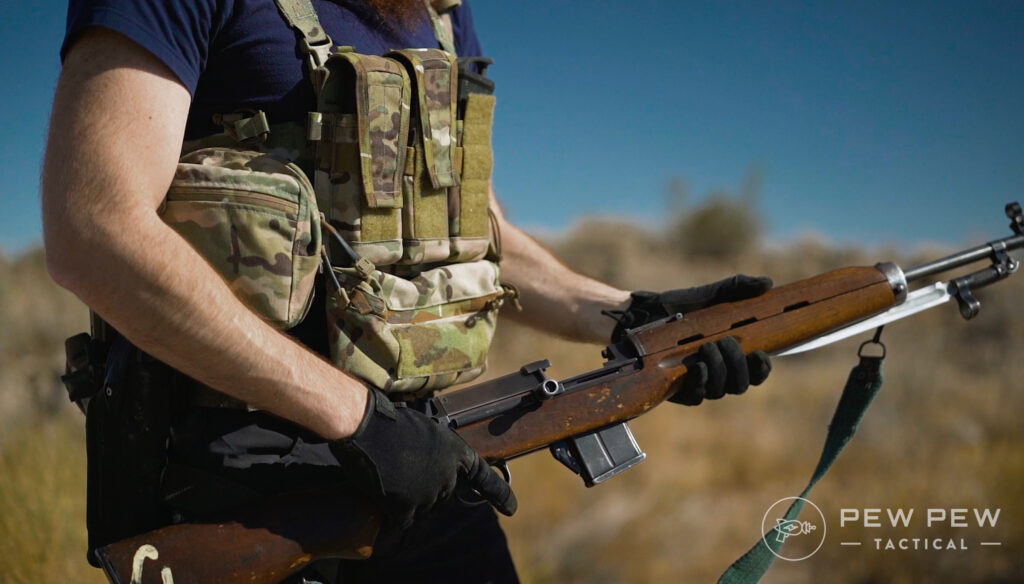 Plates come in different ratings (NIJ-certified plates) and special threat levels.
(See our hands-on body armor testing to learn more!)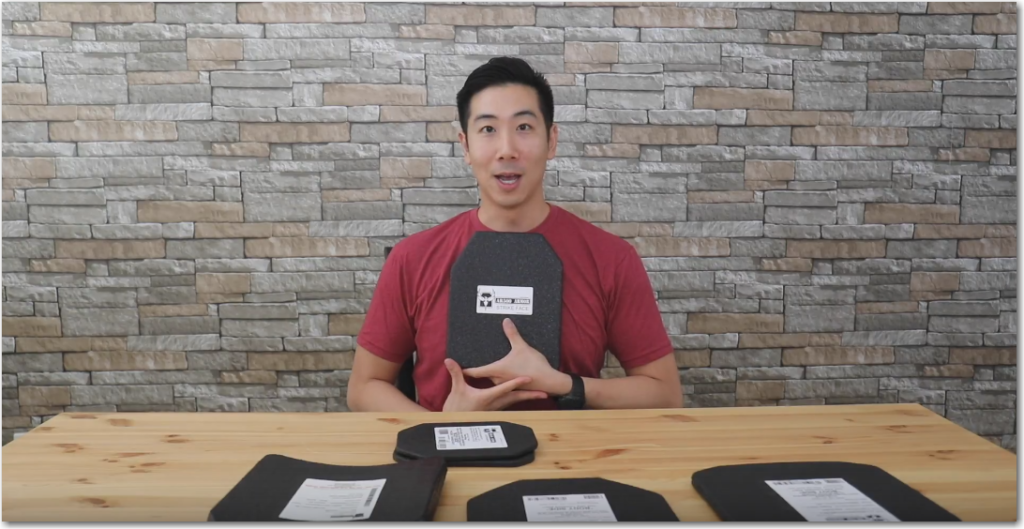 Special threat armor is rated for specific rounds, for example, 5.56, .308, and 7.62×39 but may not stop 30-06 like level IV armor.
The draw with these plates is stopping the most common rounds without going overboard.
Steel plates are not only heavy but often have some pretty harsh repercussions that are just as bad as being shot without armor. Like spalling. Ouch.
So, ceramic plates are the current go-to.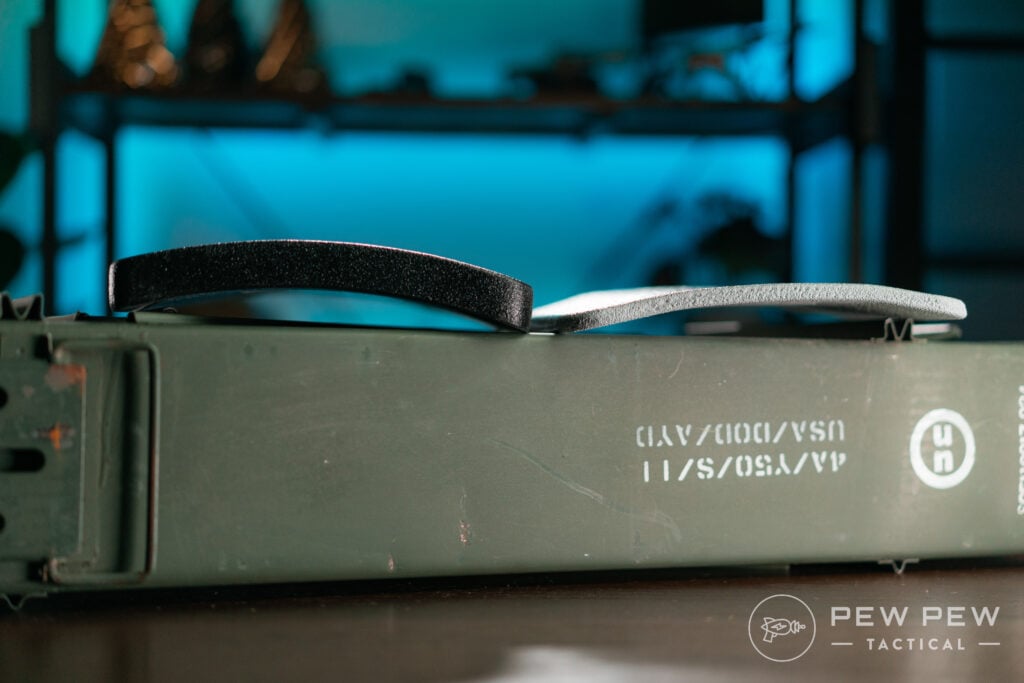 Both Hesco and Hoplite offer some truly outstanding plates in various ratings and configurations.
If you are tighter on cash, AT Armor also offers a bit of saving without sacrificing quality.
Front Panels
Most carriers you will come across leave the front left bare to allow for loadout-specific panels or placards.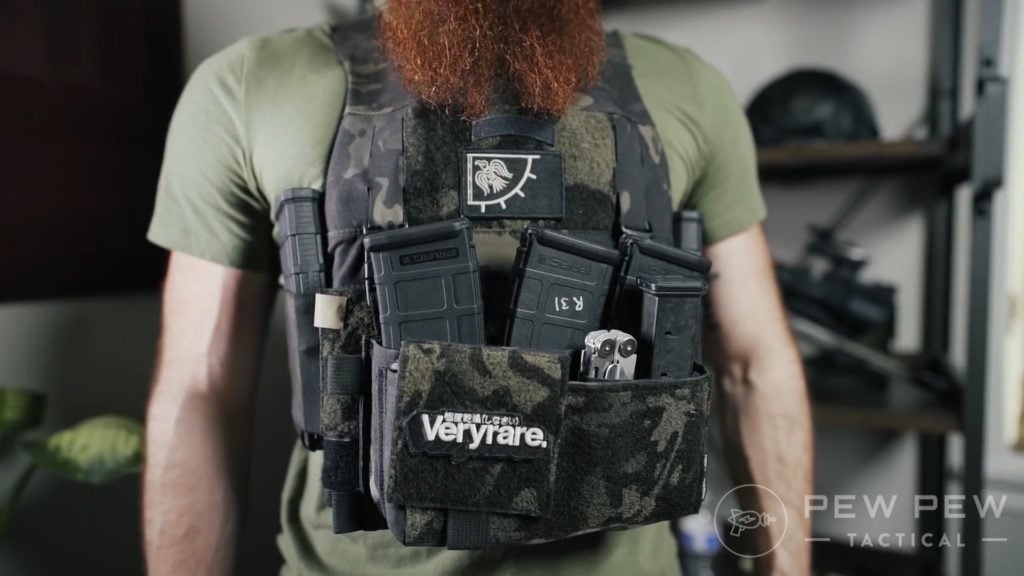 For range work, training classes, or fighting off the zombie hordes, you'll want some sort of ability to mount magazine pouches.
One option is to use a MOLLE panel like Crye offers for their JPC carriers, which allows you to mount any pouches you like.
Once again, Esstac is a great option to mount to MOLLE panels.
Another option is to get a placard to mount to your carrier.
Items like the Spiritus Mk4 Micro Fight allow a combination of magazine pouches, an admin pouch, and potentially more to be mounted all in one spot.
These placards will often have their own magazine pouches to run with them or require aftermarket products to make others work.
A great example of that is the RASP by Scissor Runner Solutions. This custom front flap panel (similar to what Spiritus offers for their Mk4) features an angled molle webbing to attach a mag pouch for quick and easy reloads.
Side Panels
Some form of side pouch to hold smaller plates will be available for most carriers on the market.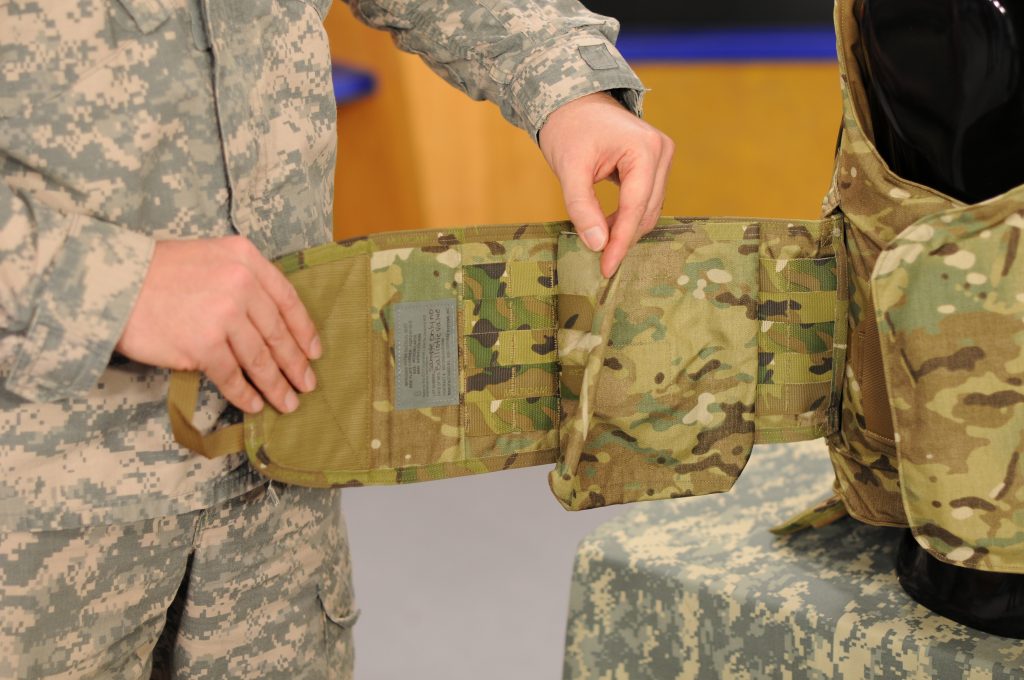 Whether or not you need side plates is a personal decision. They add weight and bulk but may be necessary depending on the task.
The other option: add pouches or items on the sides of your carrier, attaching directly to the cummerbund.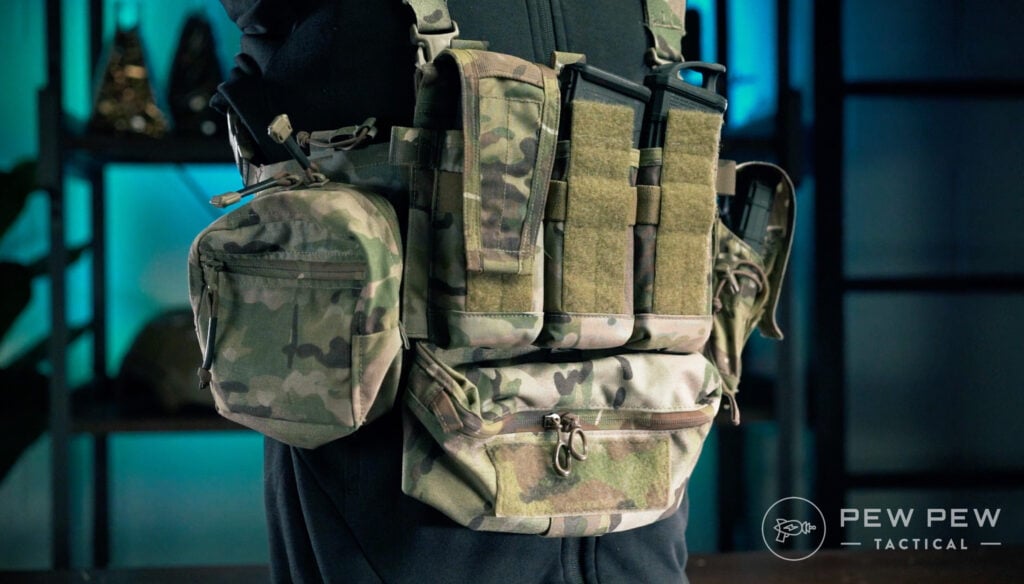 One thing to bear in mind if you are a right-handed shooter. You will need to leave enough space on your right side.
Why? To allow your pistol to clear the carrier when you draw.
Don't bog down your right side and inhibit the use of your sidearm.
On your non-pistol side, you might consider a radio pouch, knife sheaths, admin pouches, or pouches to hold specific rounds (like adding shotgun shell holders).
Honestly, the options are pretty much endless, so have fun with it.
Radio pouches, like Crye and Blue Force, accommodate a variety of radios while mounting securely.
If you plan to run a radio, consider adding a push to talk. Pair that with a holder and mount it near the top of your chest for easy use. *chhck* Over.
On your pistol side, you may want to leave the area blank. If you choose to run something, a soft and collapsible pouch similar to the Blue Force Ten Speed is a great option.
One of these means you can stage magazines without compromising your pistol draw.
Back Panel
Anything you attach to your back on your plate carrier is for use by others.
I've seen guys load up back panels with items they needed to use frequently, only to realize they must remove their carriers to reach things. Whoops…
Rather than attaching it directly to your carrier, consider something like a Haley FlatPack or the Twin Needle Mini MAP. These packs allow for items easy access.
They are also small enough that a full-size rucksack/large bag can still be worn over them.
Whether you run an actual back panel or a pack, hydration is typically carried on your back in some sort of pocket or panel.
The IcePlate Curve, as well as the Camelbak Reservoir, are amongst the most popular options for this.
If you plan on being out for extended periods or in direct heat, hydration is something that cannot be skipped.
Many people also run a secondary med kit on their back.
This serves two purposes: first, if the person carrying it is injured, it allows someone else to access items quickly.
Second, if running in a team or group, it allows for a medic to grab a kit and use it as needed.
Remember that bulk on your back can make sitting against a seat or terrain uncomfortable. So, you want something that will be flat when packed.
The Blue Force Trauma Kit Now is a great example of a minimal footprint while securing everything you need.
What Else Do You Need?
There are still many options you can toss on a plate carrier that serve functions other than looking cool.
Running a radio with a push to talk? Why not use a PTT leash to keep it on your kit?
What about a phone, GPS, or other electronic navigating system…but want to make it hands-free? Try a Thyrm Darkvault or Kagwerks Nav Board Kit.
Need more tourniquets (hint: you do)…check out the different ways to mount them with our best tourniquet holder list!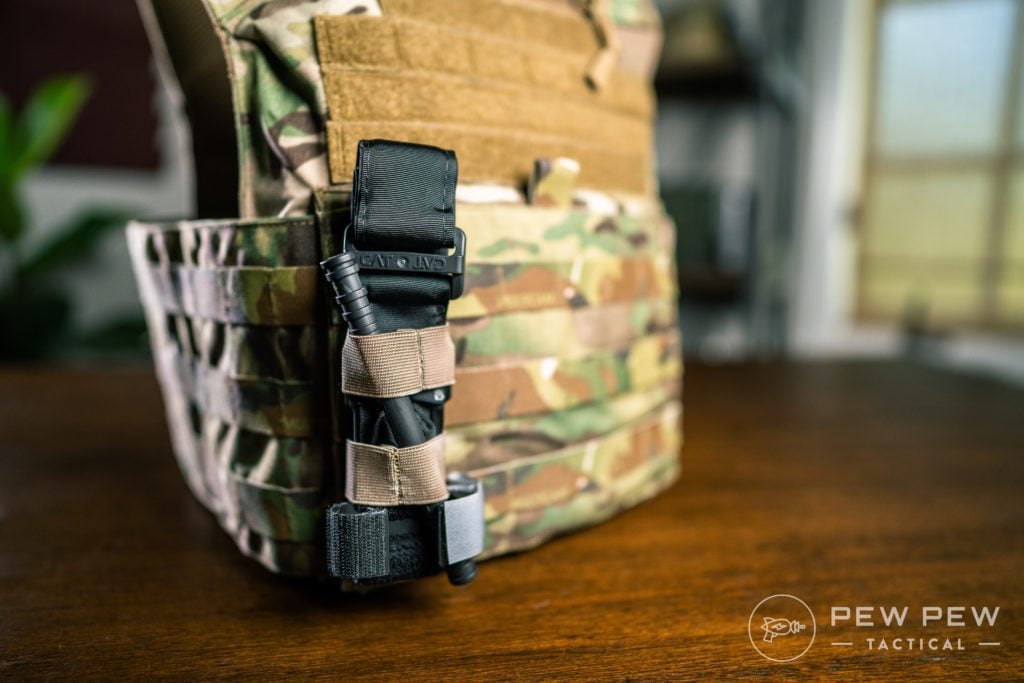 Not interested in running a front placard with an admin pouch?
A host of companies make danglers that you can Velcro or clip onto your front panel. These just hang…or dangle…just in front of and below your carrier.
If you can think it up, chances are there is a product out there to help you with it!
Final Thoughts
There are a variety of reasons to own a battle kit setup. From more efficient range trips to tactical training, we can't think of a single good reason to avoid a belt and carrier in your life.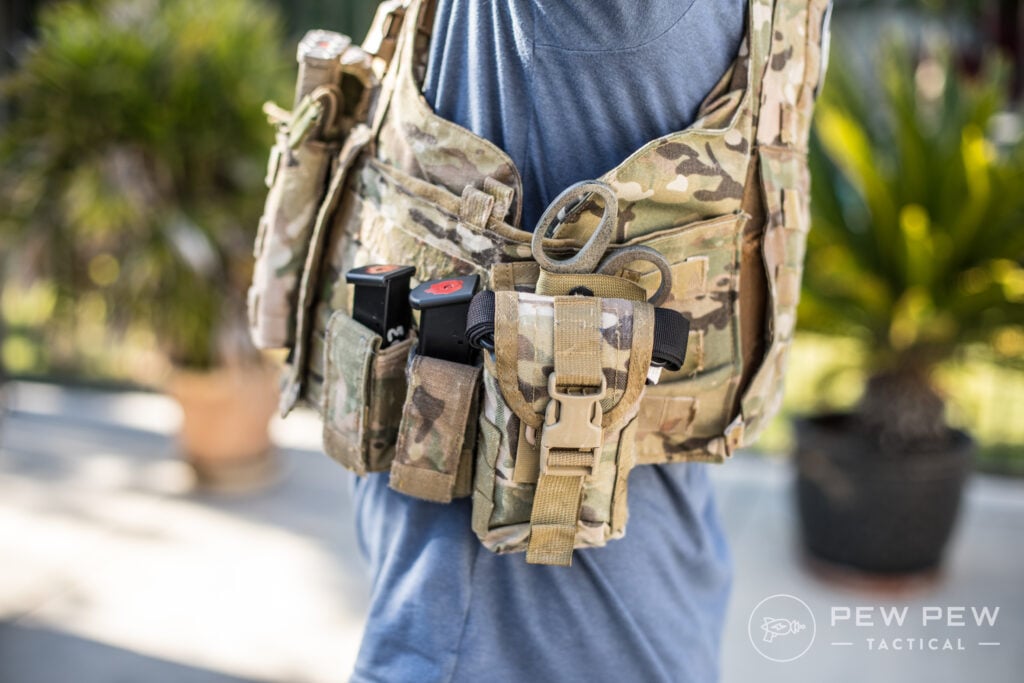 The key is to figure out what configuration will best suit your needs and train in it.
Prioritize the essentials and fill out the rest of your kit as time and money allow.
Don't get overwhelmed, but be sure to do your homework before diving into the deep end of products you aren't familiar with. Double and triple-check all sources!
And know your resident PPT gun buddies will help when we can in the comments below.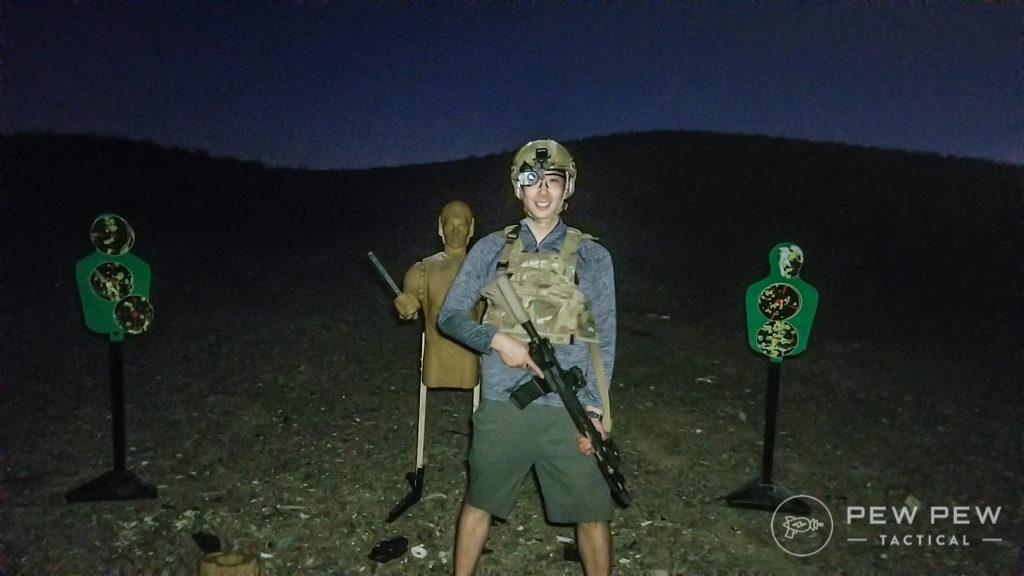 So what do you run on your battle belt or tactical loadout? What are your favorite pieces? Let's chat about it in the comments! Check out some other essential articles, like the Best IFAKs and the Best Body Armor!