Lightweight, convertible, placard-driven chest rigs have seen their time in the limelight within the past few years.
And for good reason.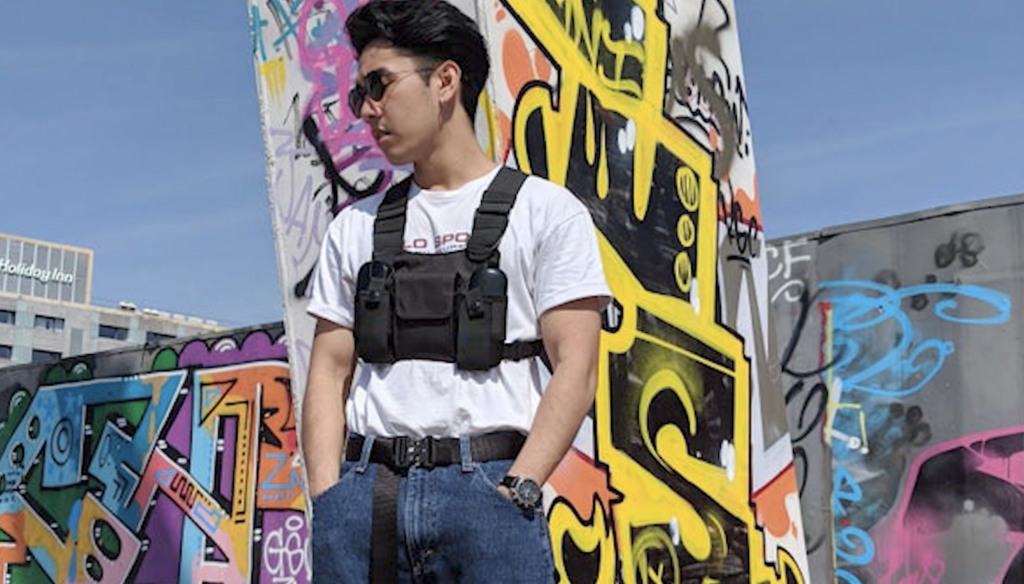 These chest rigs meet varying purposes.
Not to mention, carrying three to four mags tops offers a more streamlined appearance.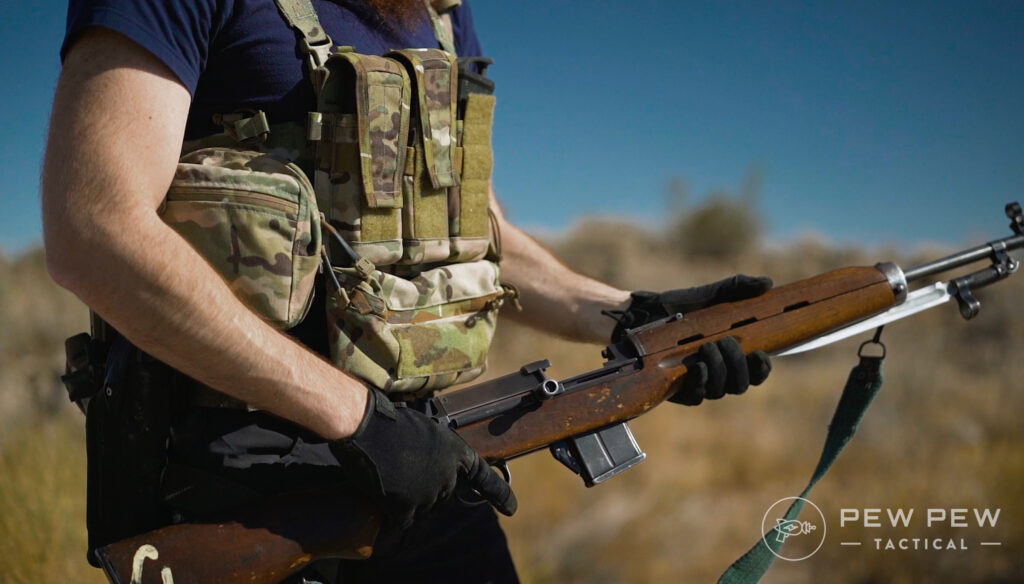 From Spiritus Systems to Hayley Strategic to Ferro and Perroz, manufacturers all have their own selling points that may or may not work.
Sometimes it takes a while to really get your rig where you want it.
That said, I feel like I've finally got a setup dialed in that really works well for when I'm doing shooty stuff where armor isn't a concern.
So, what am I running?
The Crye Precision AirLite Convertible Chest Rig.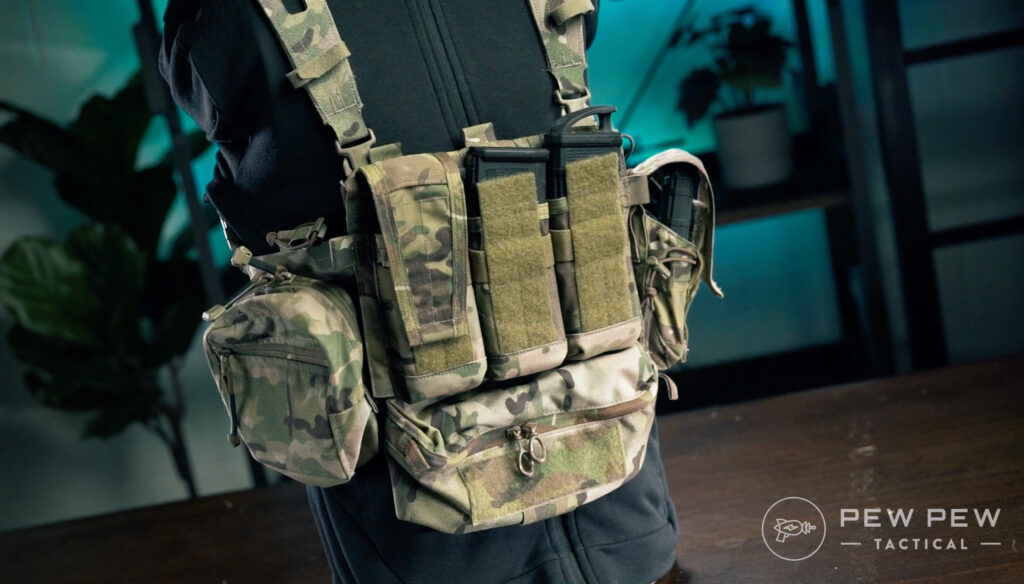 We're going to take a tour of this Crye setup, talk about some good things and some less desirable stuff, and, in the end, help you decide if it's worth your hard-earned cash. ($198, to be precise…)
Don't forget to check out the full video review below to watch the AirLite put through its paces.
And, as always, check out more videos over on Pew Pew Tactical's YouTube channel.
Table of Contents
Loading...
What is the AirLite Convertible Chest Rig?
Coming from Crye Precision, the AirLite is billed as a multi-functional chest rig that also happens to be lightweight.
Tipping scales at less than 1-pound, it uses a strong yet breathable AirLite laminate.
The hook to this system is really in the adjustability.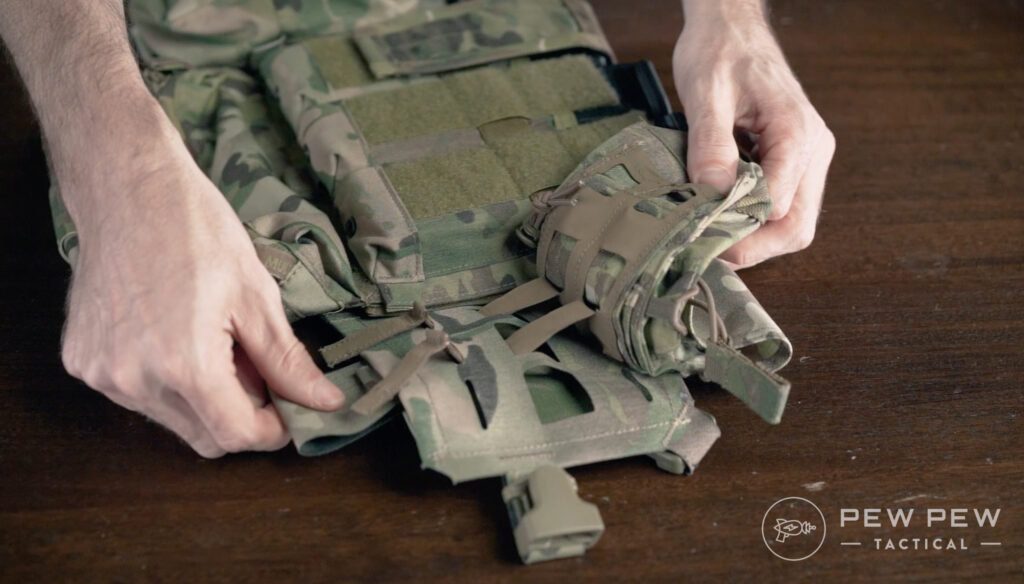 Crye offers plenty of adjustment points, so you can really tailor this to your needs. But..more on that in a minute.
It's available in four different colors to include Multicam, Coyote, Green, and Black.
Previously, I was running a Spiritus MicroFight for situations like this. And though it worked out just fine, the setup left a little bit to be desired once I stopped using the MicroFight placard on my plate carrier.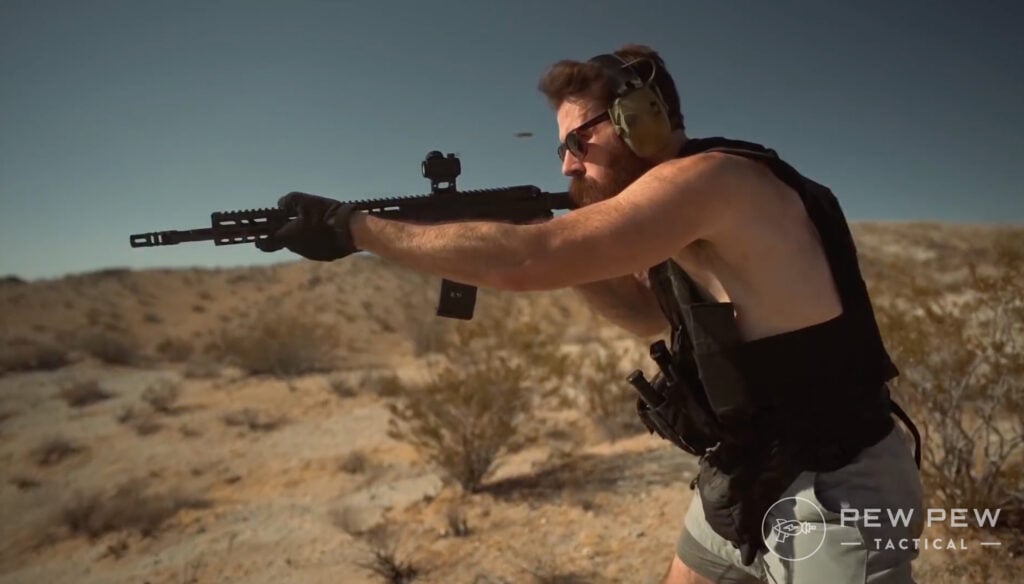 What's that old saying about a jack of all trades, ace of none?
While having a convertible chest rig that can be thrown on a plate carrier is nice, it also requires me to constantly move pouches, straps, and buckles, depending on what I'm doing.
At a certain point, it just makes more sense to have separate, dedicated setups.
Otherwise, I'm stuck with a million pieces that mostly just wind up getting lost in the Velcro pile in my closet.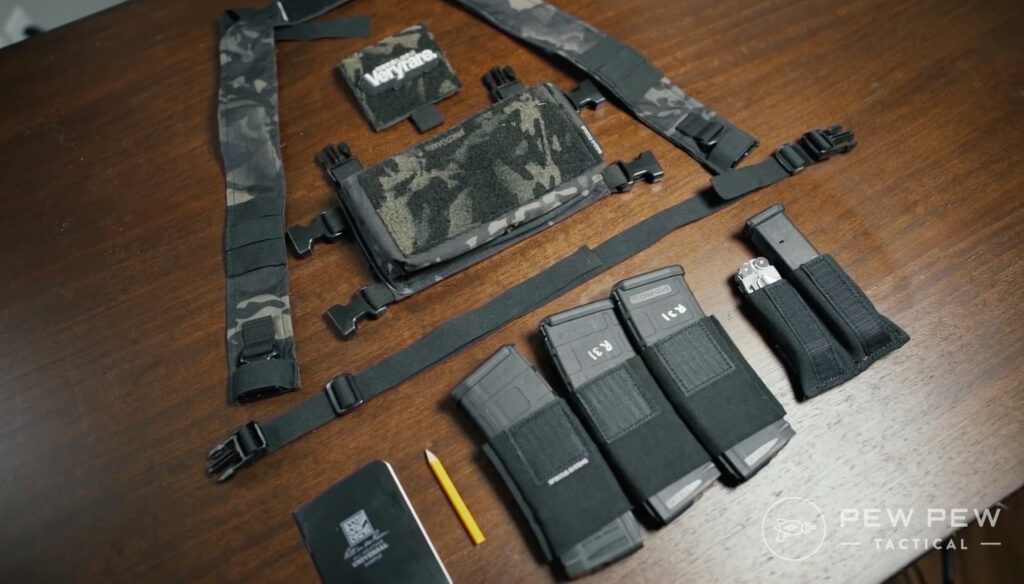 I stumbled upon photos of Crye Precision's AirLite Convertible Chest Rig a while back and immediately began nerding out.
From the get-go, I could tell this thing appeared to address several of my existing gripes with standard chest rig layouts.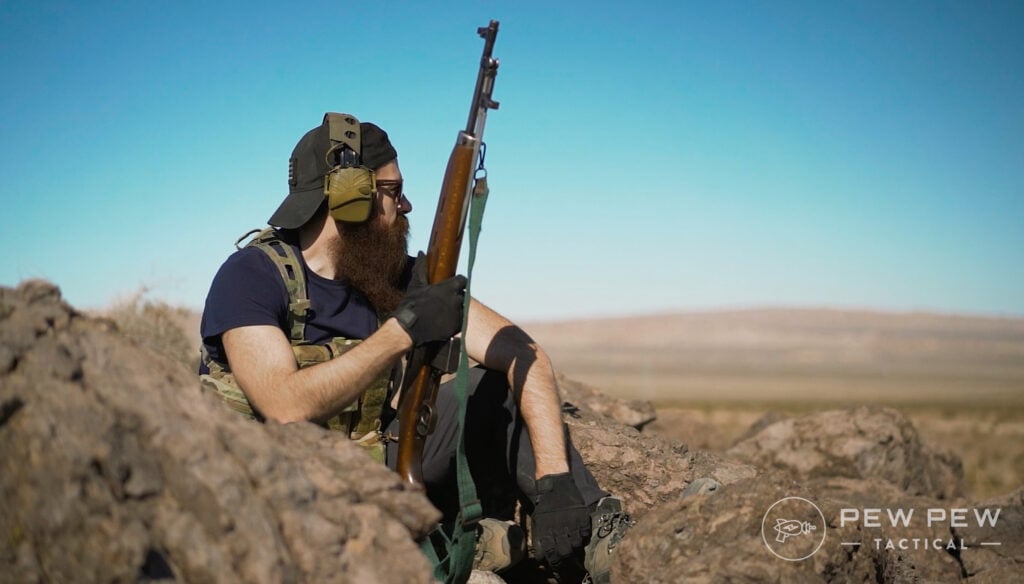 Floppy, No More
I've always kind of felt that chest rigs tend to become floppy over time. Of course, it depends on how well it's adjusted.
This can depend on what exactly you're carrying, the bulk of the clothing you're wearing, weather, so on and so forth.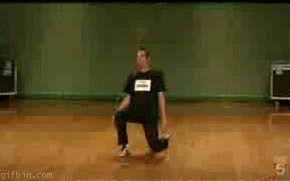 I distinctly recall feeling pretty good about my Spiritus Setup with the fat straps, dialing in all the cinches and taping the excess…
Only to get it out to the range to discover that it was either too constricting or moved around too much.
Probably the coolest feature of the AirLite Chest Rig is the shoulder harness.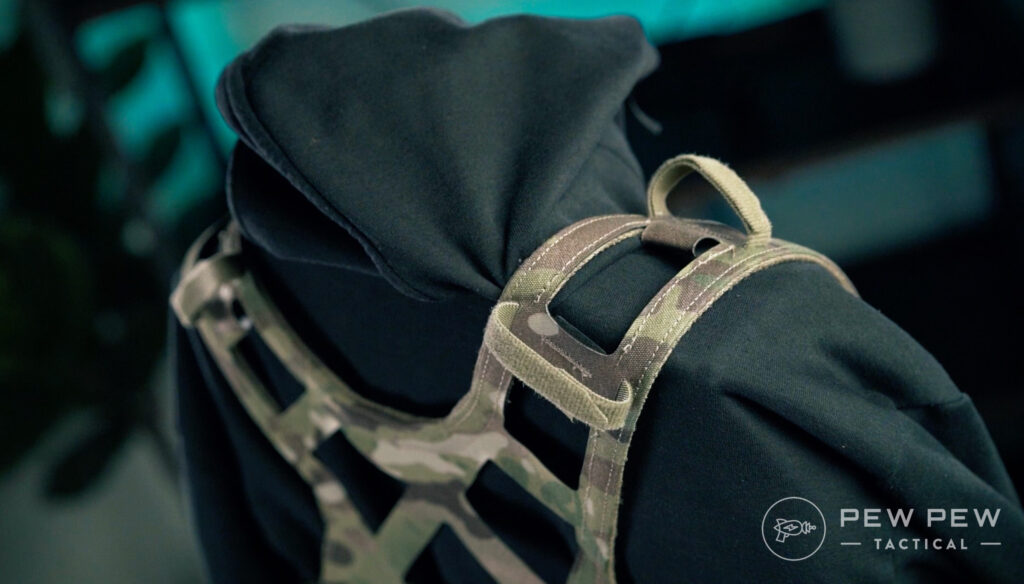 It combats these specific floppy issues using a really cool mixture of laser-cut laminate, closed-cell foam, and intelligently sewn elastic.
All this works in combination to provide a semi-rigid shoulder harness that stabilizes the body of the chest rig itself while also expanding and contracting as you move due to elastic at the articulation points.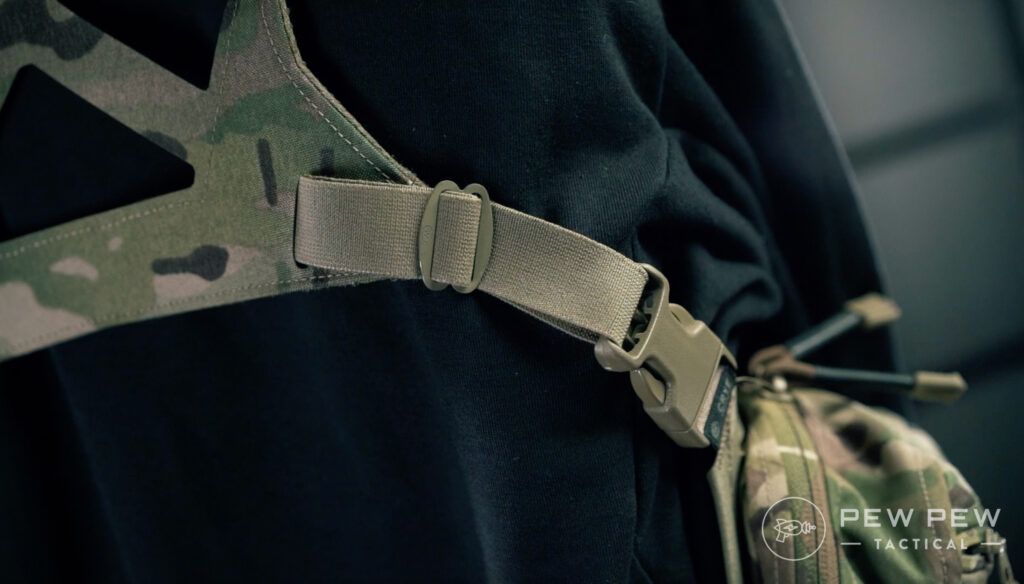 To put it in a less fancy way, the rig actually moves with you.
Feeling the elastic do its thing and remain close to your body throughout is such a nice change of pace.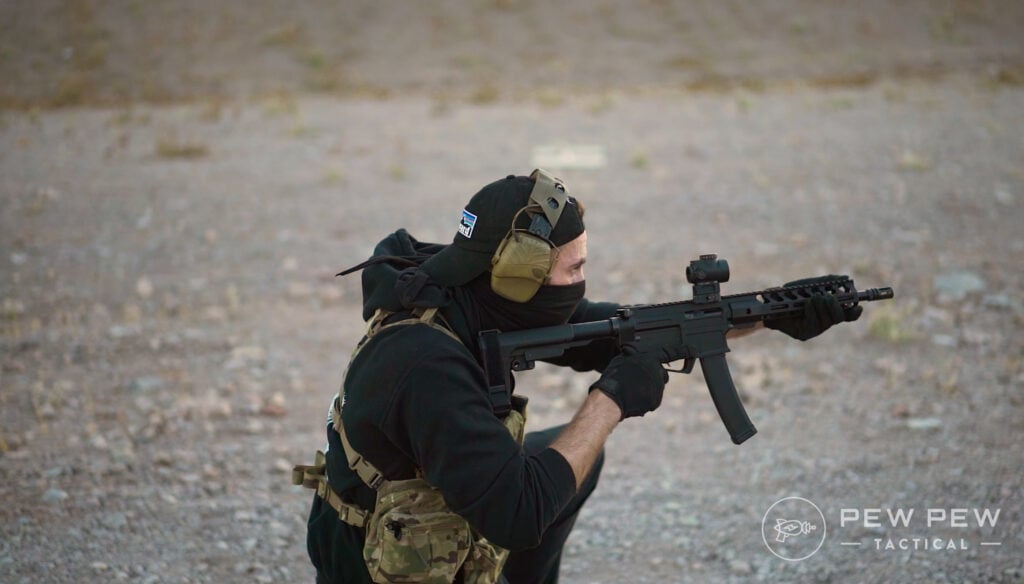 Let's be real; no one enjoys feeling like you have to mummify yourself with webbing to get your gear to stay in place while you move.
MOLLE…But Make It Cooler
The rig's main body uses Crye's standard AirLite approach to MOLLE webbing, which is itself pretty interesting.
Compared to older MOLLE setups where the webbing was sewn onto a Cordura backer, the AirLite approach uses a laser cutter to create a pattern for weaving pouches directly onto the stiffened material.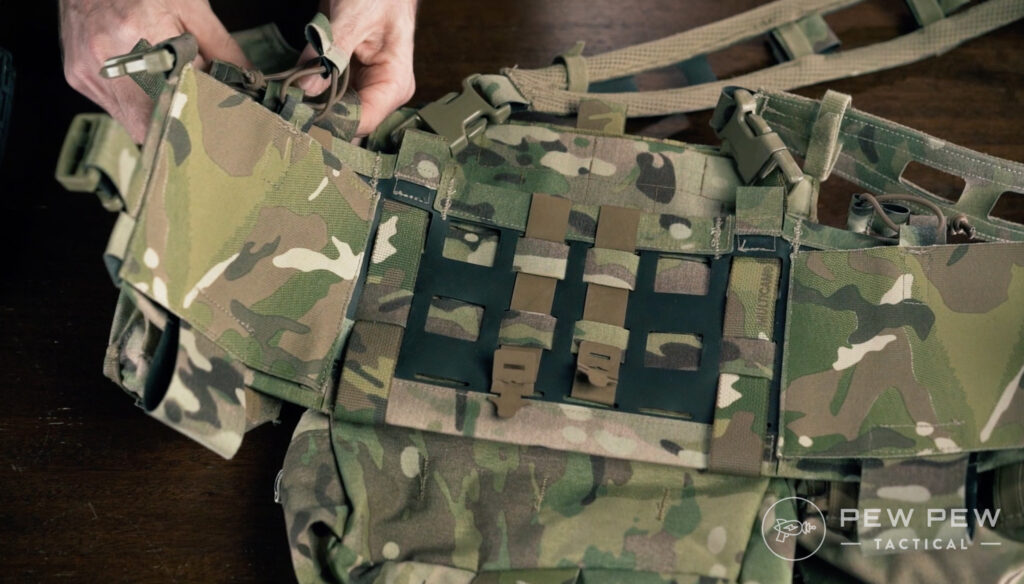 This makes the once-grueling process of weaving your pouches on both faster and less-finger destroying.
(C'mon, no one likes using needle-nose pliers to get stiff MOLLE tabs through the webbing on older plate carrier and chest rig setups.)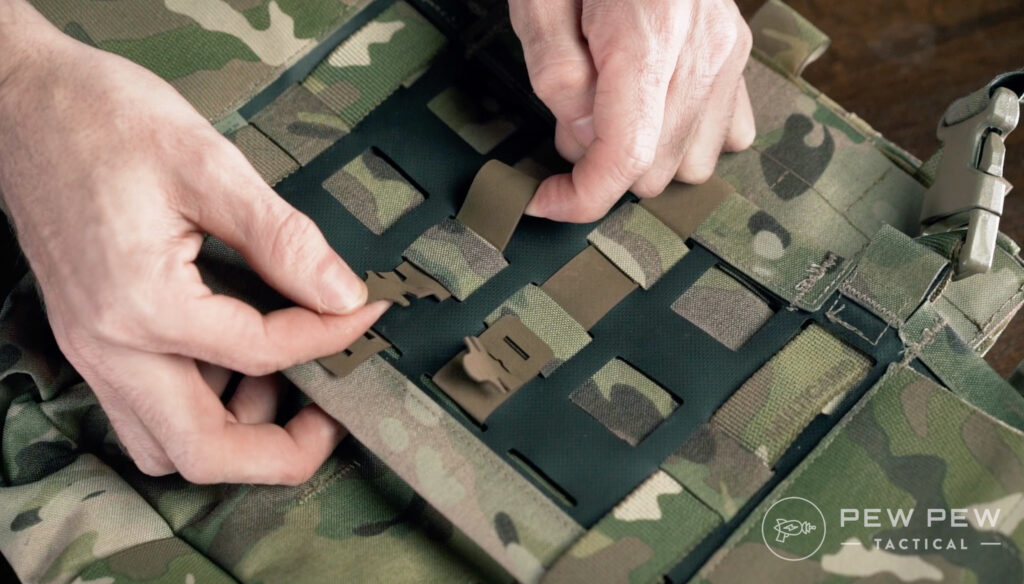 Crye also gives you access to the 'backside' of the attachment space.
Although I haven't been able to come up with an amazing way to execute the concept yet, this actually allows you to run multiple pouches through the same MOLLE slots.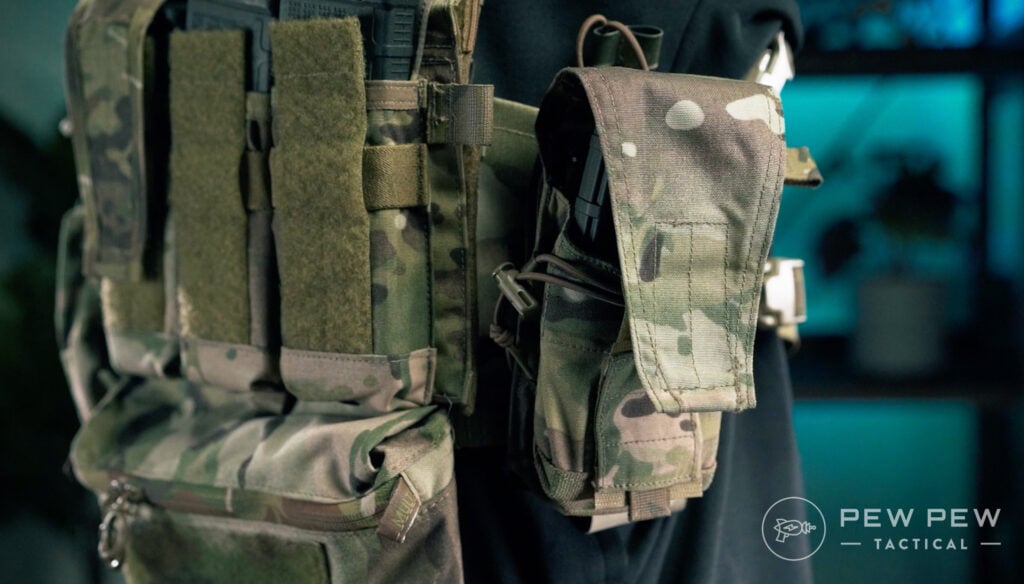 For a while, I had a Blue Force Gear Ten-Speed Dump Pouch occupying the same space as the water bottle pouch on the left side of the rig.
It works pretty well if you need to do that for whatever reason.
40
at Amazon
Prices accurate at time of writing
Prices accurate at time of writing
While the MOLLE on the body of the rig is cool, it presented a problem with magazines. Which mag pouches could I use that would fit the rest of the rig's minimalist design.
And here's where things get a little bit silly…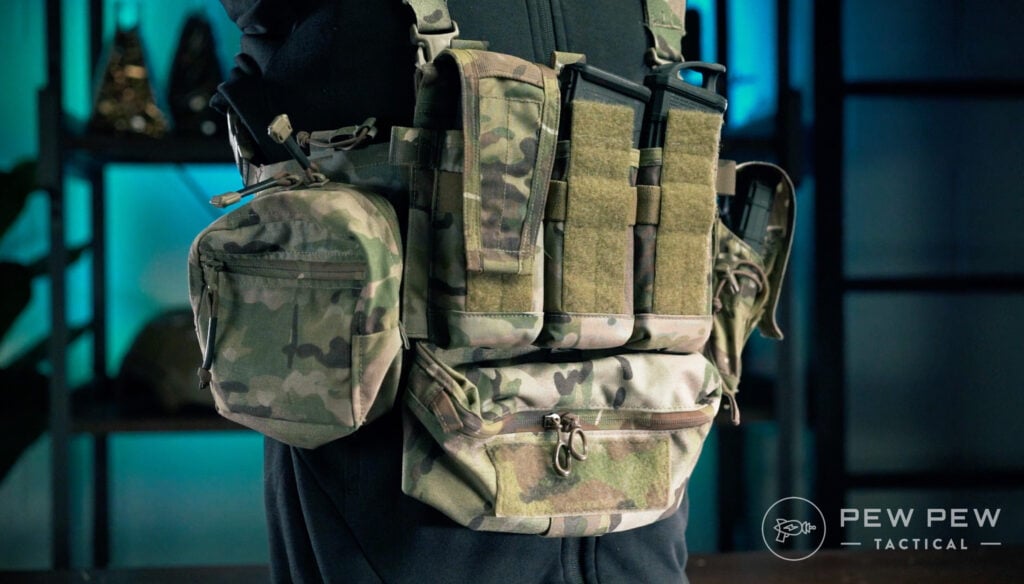 Getting Creative
After searching around, I couldn't find anything in the way of a super-simple 3-mag setup that felt like it sat at the right height on the chest rig skeleton.
With the rig adjusted to a point that felt natural, all of the pouch options I entertained felt like they either had reloads coming from my navel or from right beneath my chin with absolutely no in-between.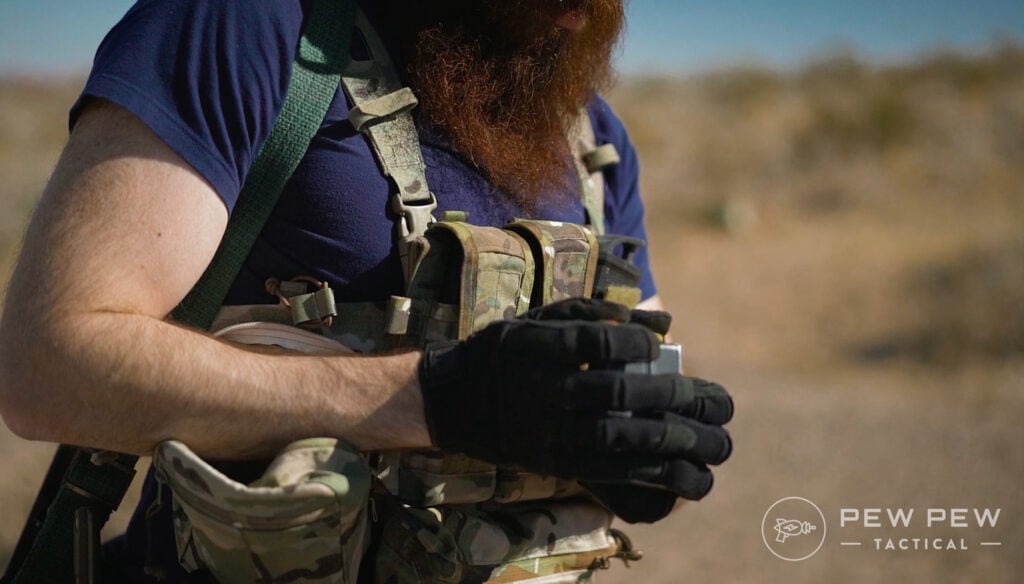 After some digging, though, I found that I wasn't the only person to encounter this issue.
Taking inspiration from The Reptile House gear blog, I found a small sewing operation based out of the UK that makes MOLLE AVS adapters specifically for this conundrum!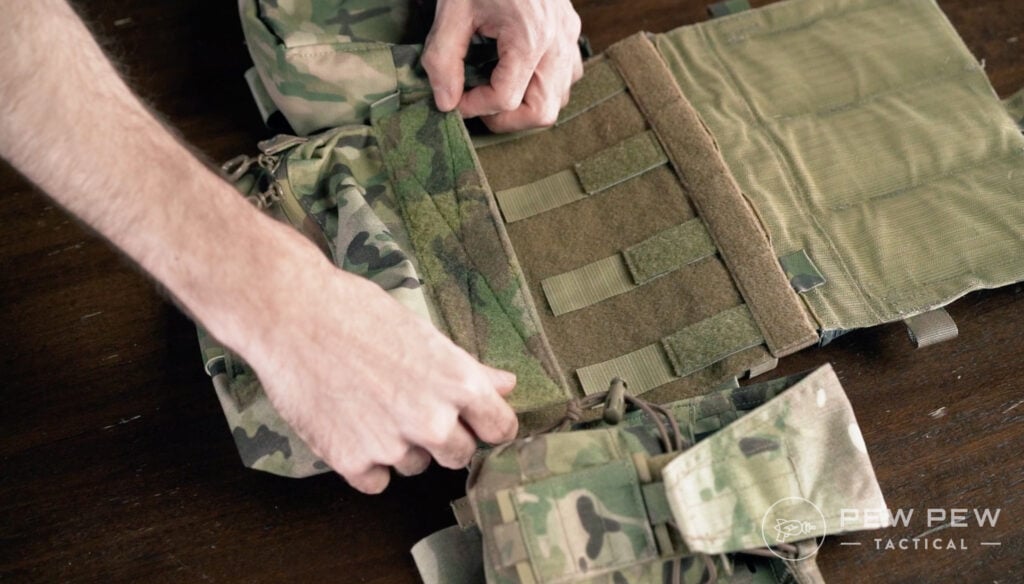 The TacBelts UK adapters weave onto the existing AirLite webbing and give you a full Velcro panel compatible with Crye's other attachment method — AVS — which bypasses the need for MOLLE webbing.
I also snagged a couple of WTFix Straps to keep this sort of roundabout setup as streamlined as possible. They're quite nice!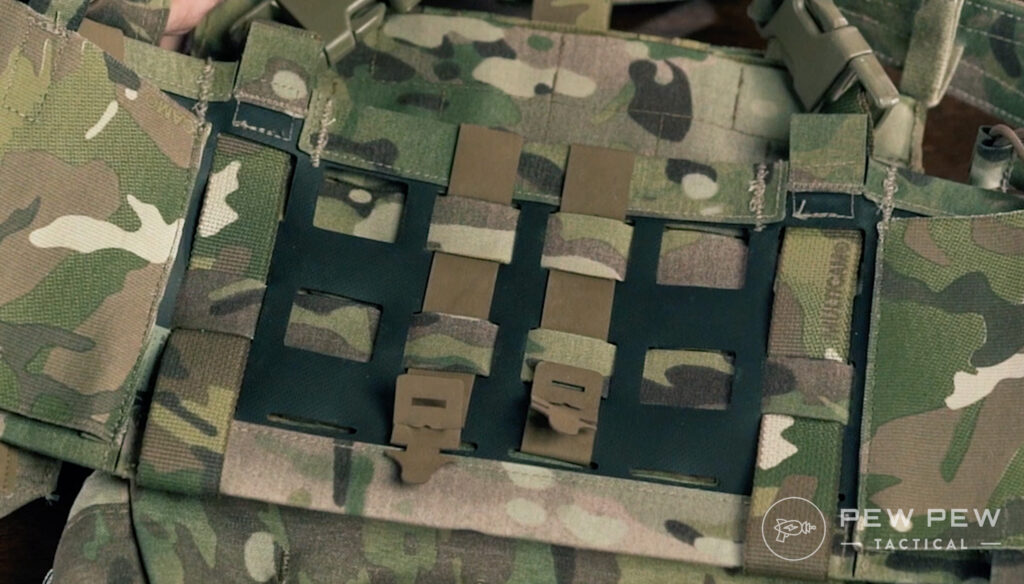 The WTFix Straps are a rubbery, almost Hypalon-esque material that's got a bit of stretch and give while remaining completely secure when pulled taught against themselves.
It's a serious, if small, upgrade from traditional polymer MALICE clips.
Affixing the adapter to the Crye rig allowed me to throw a Crye AVS on the front. I'm happy with it so far.
75
at Amazon
Prices accurate at time of writing
Prices accurate at time of writing
It's a pretty snug fit for AR magazines due to the elastic cinches.
But that, in turn, means I can run the mag pouches open-top with the flaps tucked in — without fear of them coming loose when moving around.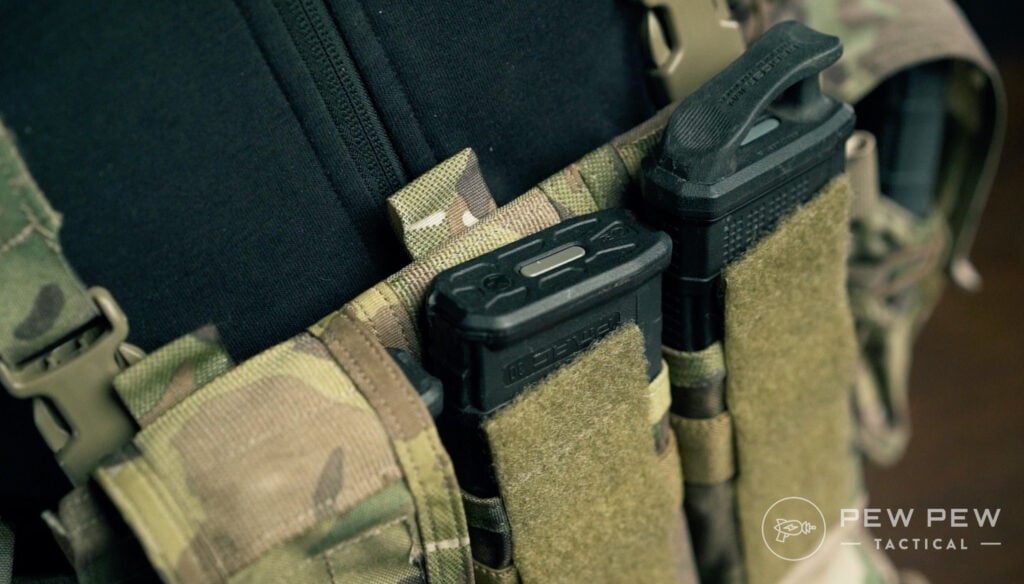 They also fit thicker subgun magazines like the CZ Scorpion quite well to boot!
Can't be mad about that!
30
at Brownells
Prices accurate at time of writing
Prices accurate at time of writing
More Accessories
Off to either "wing" of the chest rig, you've got a dense elastic backer similar to the one found on Blue Force Gear's Ten-Speed Pouches.
There's also another stiffer laminate loop at the bottom.
40
at Amazon
Prices accurate at time of writing
Prices accurate at time of writing
I admittedly haven't played around with these a ton.
But they're intended to allow you to carry something around the size of a radio or another spare mag if you cinch the elastic shock cord down a bit.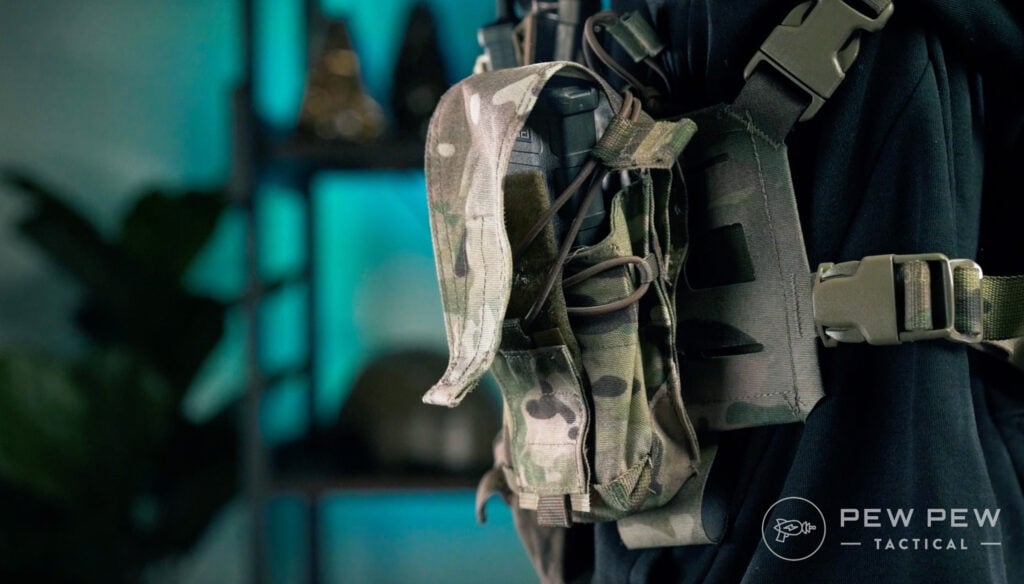 I've added a Crye Water Bottle Pouch on the left-wing of the chest rig.
Despite its name, the water bottle pouch can hold anything from standard AR mags to AR-10 mags, to, well, water bottles.
And it does its job admirably.
60
at Amazon
Prices accurate at time of writing
Prices accurate at time of writing
On the flip side, I've got a Crye 6×3 GP Pouch for added modular storage space of small bits and bobs.
I like that the pouch tucks down to be pretty slim. (If I don't have a lot of stuff in it.)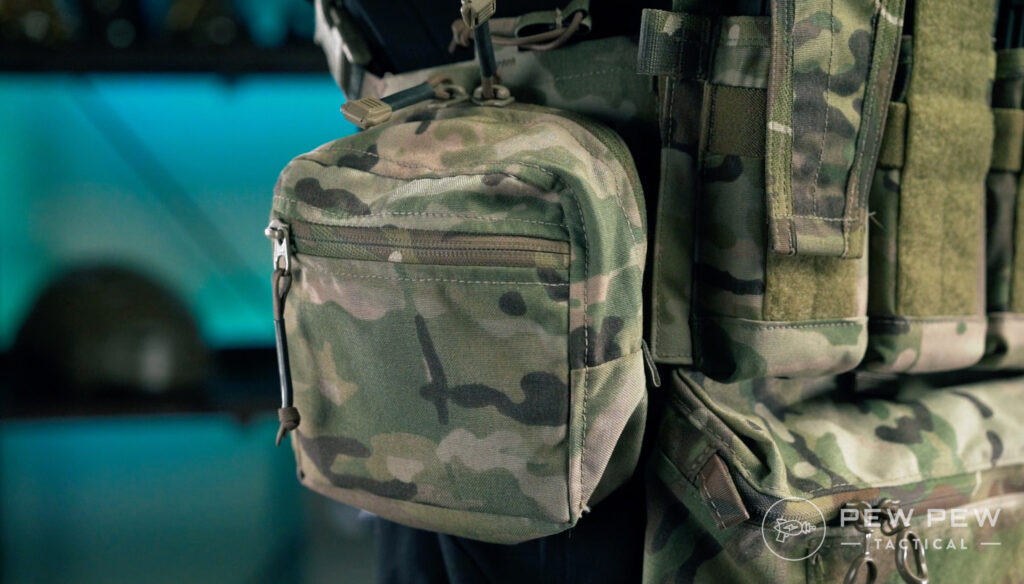 Lastly, the addition of that same Velcro panel the AVS pouch attaches also allows for a Ferro Concepts Mini Dangler.
Again, just some nice extra carrying capacity.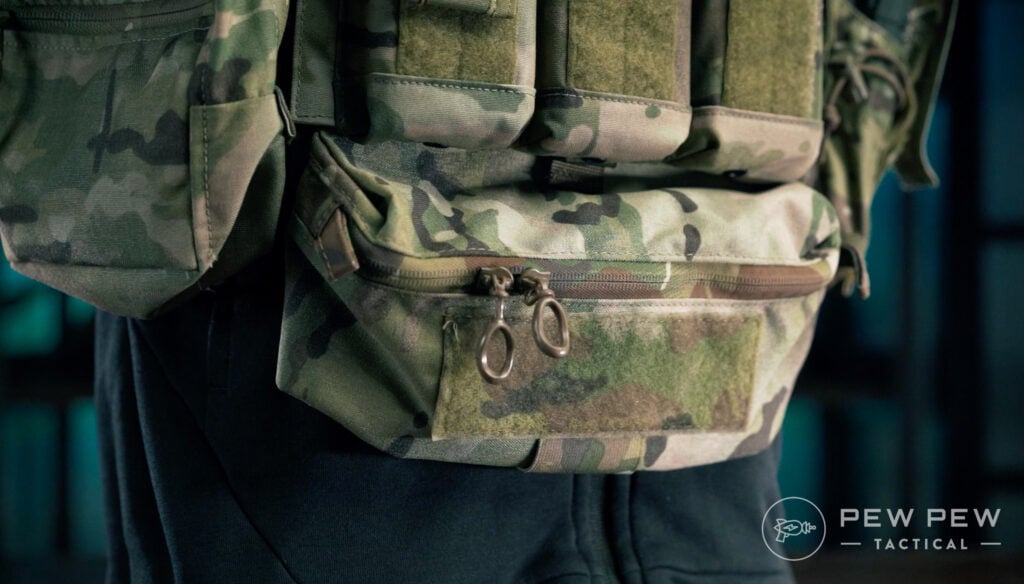 My use-case on that one varies.
But I've found it's a great option for carrying IFAK supplies, tourniquets, or whatever else I don't feel like having on my belt.
EDITOR'S PICK
29
at LAPG
Prices accurate at time of writing
Prices accurate at time of writing
It's worth mentioning, the rig's main chest panel can indeed be freed of the harness and used as a standalone placard. It can mount to a plate carrier via swift clips.
That said, I haven't played around with this feature at all yet. To be frank, I likely won't.
It exists, though.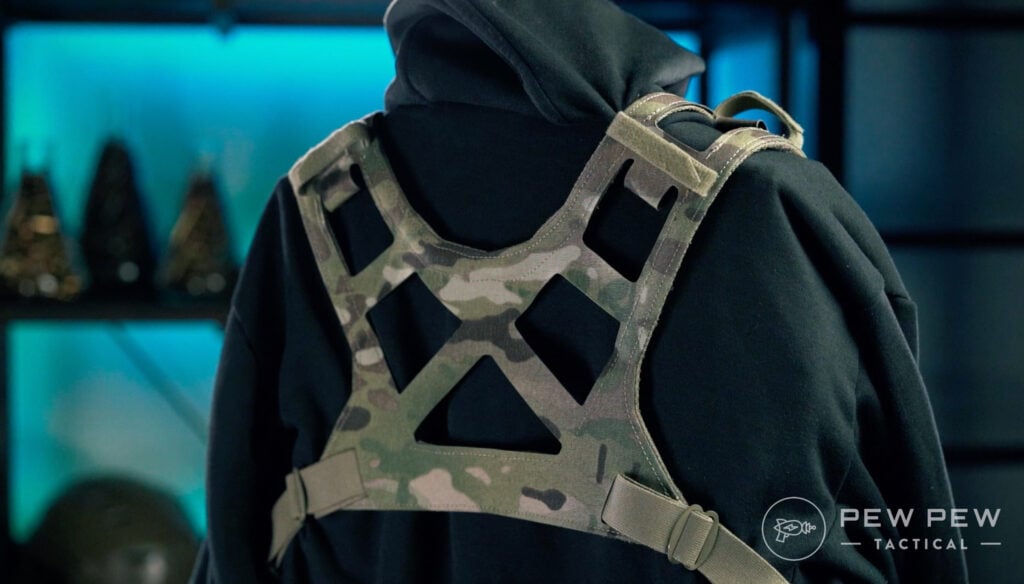 By the Numbers
Ergonomics: 4/5
Initially, I had some issues getting everything situated. But after some research, I found a MOLLE AVS adapter that resolved my problem.
Fit & Feel: 4.5/5
There's no floppiness here, and that's a win! A shoulder harness keeps things riding as they should without restricting movement. So, the Crye is a pretty comfy setup.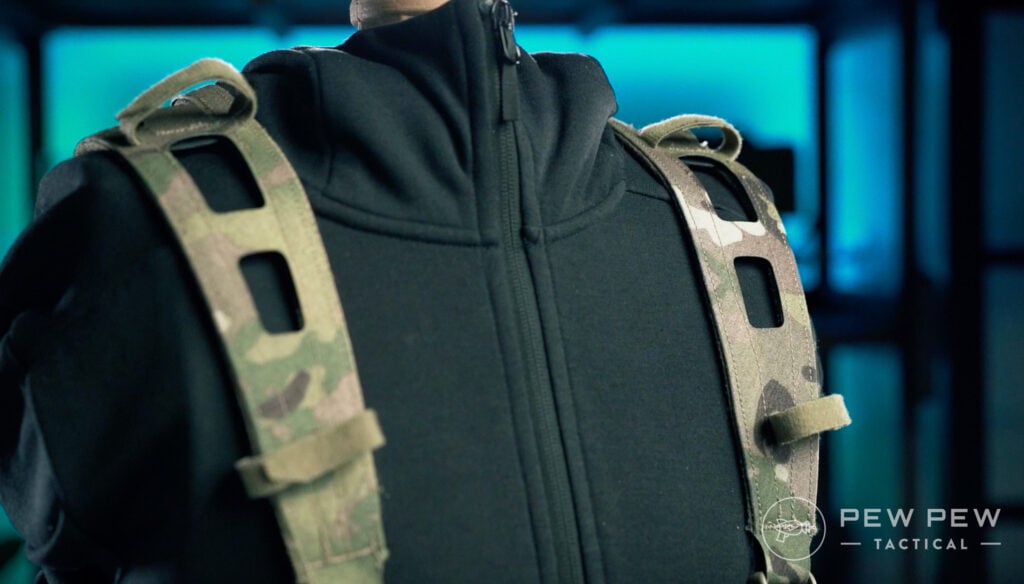 Value: 4/5
Let's be real, it's Crye. Crye stuff is expensive. But all things considered, it roughly costs the same as similar low-profile chest rigs on the market right now.
Overall: 4.5/5
I'm super happy with the AirLite. Again, I can't stress enough just how rad the entire semi-rigid shoulder harness setup is.
Conclusion
The Crye AirLite Convertible Chest Rig is perfect for those, like me, that have been mildly dissatisfied with other chest rig options out there. With this rig, you can tailor it and transform it to fit your exact purposes.
Caution: the Crye rigs are rare to find in-stock at the usual retailers these days. BUT if you do track one down, give it a whirl and tell me it isn't the comfiest chest rig setup you've ever used.
Like what you read? Make sure you check out the full video below to see the Crye AirLite Convertible Chest Rig in action.
Have you tried Crye's AirLite? What are your thoughts? Sound off below. Need more chest rigs in your life? Also, make sure to catch our thoughts on the Ferro Concepts & Spiritus Systems Rigs.