Looking for a match grade Glock slide/barrel combo that looks AND shoots great?
Grey Ghost Precision might be the answer…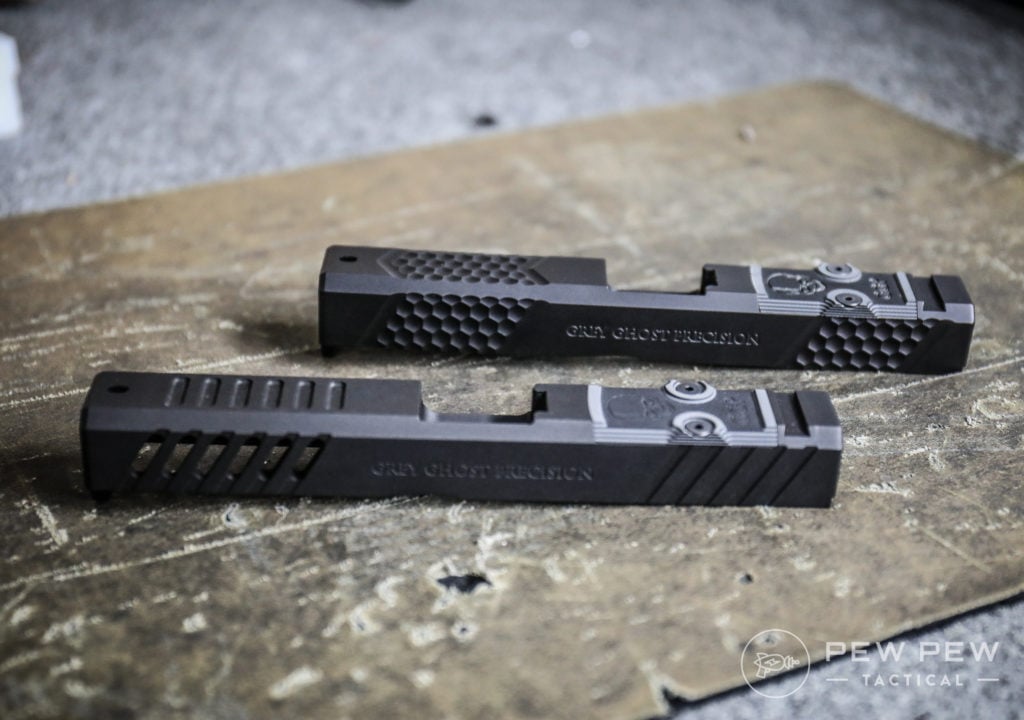 I try out their V1 and V2 designs in both G17 (full-size 9mm) and G19 (full-size 9mm) models.  Covering accuracy, fit/feel, and how they shoot with standard sights and RMR red dots.
If you can't wait to check all the slide and barrel combos…
Best Overall Upgrade
449
at Brownells
Prices accurate at time of writing
Prices accurate at time of writing
About GGP Glock Slides
These Grey Ghost Precision (GGP) Glock slides are a collaboration with Aero Precision.  Aero sent these to me for an unbiased review.
I was looking for these slides to fulfill several roles:
Complete my Polymer80 G19 frame project
Accurize my stock G17
Test out my Trijicon RMR Type 2 red dot, since GGP slides have the option to be RMR cut
550
at Brownells
Prices accurate at time of writing
Prices accurate at time of writing
Fit & Feel
These slides definitely look great.
V1 has the lightening cuts which reduces the front weight a little while V2 has "Geo Scales" which look cool and provide very positive grip.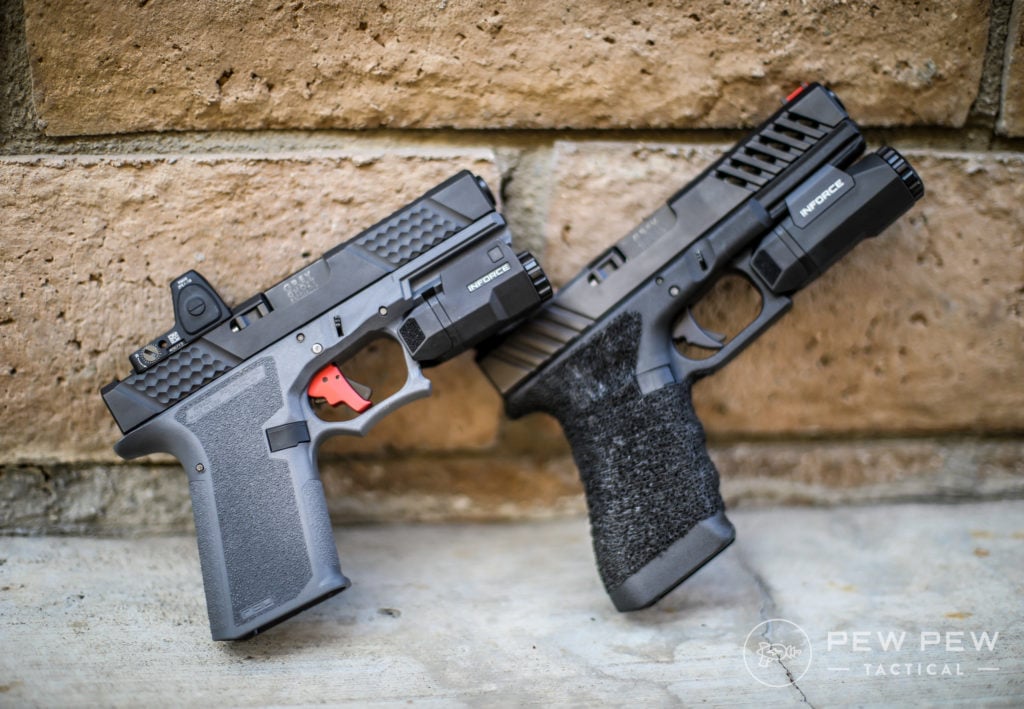 If I had to choose a favorite it would be the V1 since it felt like it balanced the gun by reducing some muzzle weight.  Plus I like the more aggressive look.
Tolerance
These slides have some TIGHT tolerances.  I had some trouble putting them on my stock Glock frames.
And with the Polymer80 frame…I had to put in some lapping compound to make it work.  Felt like I was fitting a 1911 slide.
But once they were on, lubricated, and had 50 rounds through them…they were buttery smooth.
RMR Cut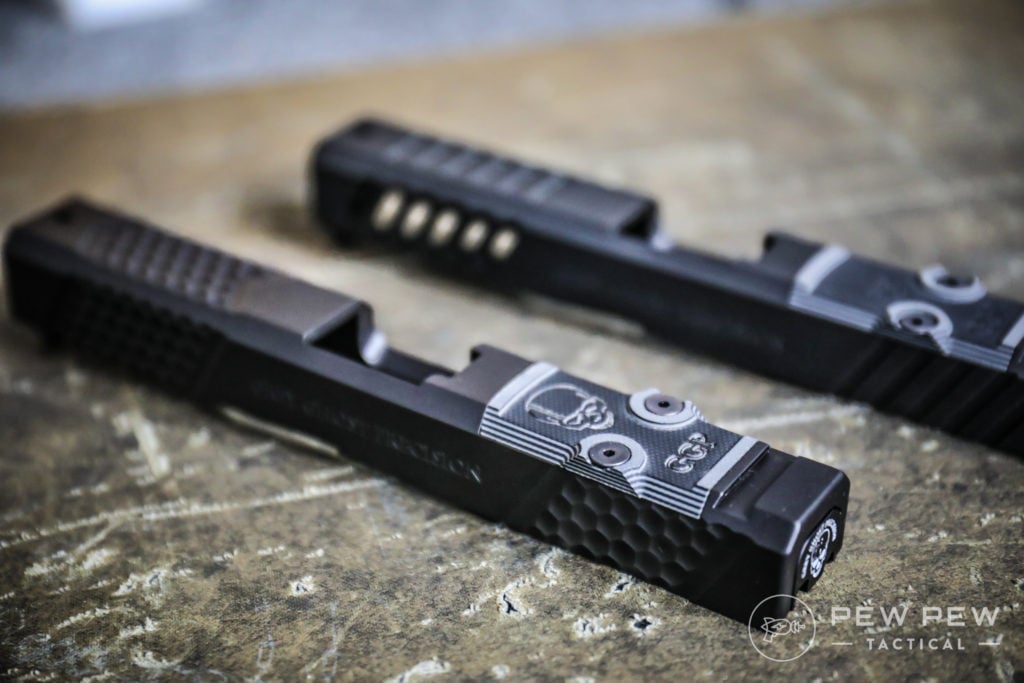 One of the great things is that you can order them already cut for Trijicon's RMR.  I went with the new Type 2.
Again it was very tight tolerance but once I tapped it in…I knew it wasn't going anywhere.  And note…use GGP's screws…not Trijicon's.  Learn from my initial fail!
I also opted for a Trijicon Sealing Plate since there was some bits of the RMR exposed and I didn't want to take the chance of water getting in there.
The RMR fit on both slides but I decided to leave it on the G19 Polymer 80.
How Does It Shoot?
I went to the range and set up a 10 yard target with some targets.
I also chose a variety of 9mm plinking ammo (115 gr and 124 gr) plus my USPSA 147 gr custom load at around 130 power factor.  Check out our Best 9mm Ammo Guide.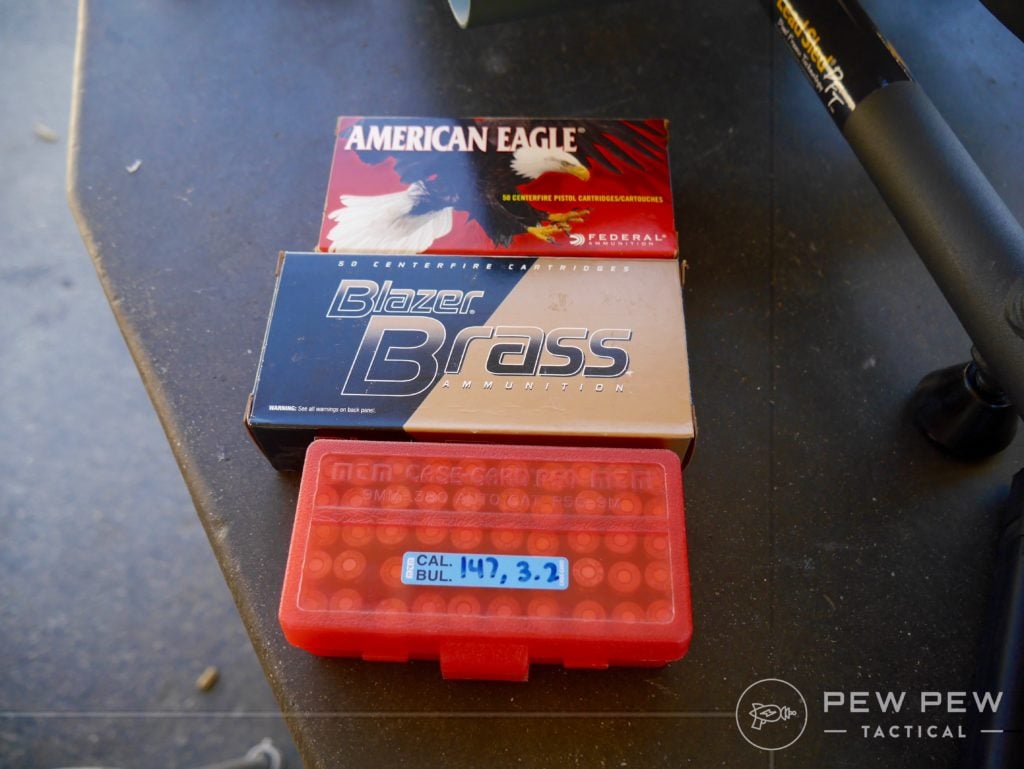 Accuracy: GGP G17 V1
I first shot using my self-stippled Glock G17 frame with stock slide and night sights against the GGP G17 V1 with Ameriglo fiber optic sights.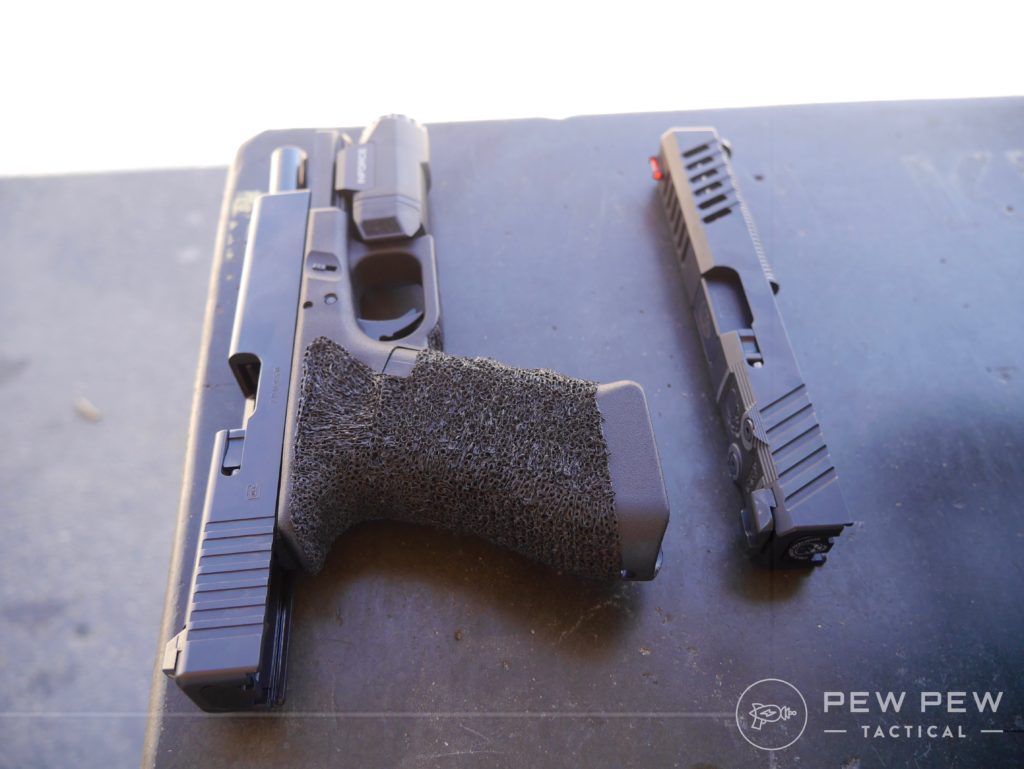 The frame did have a modified trigger which I absolutely love…the Zev Fulcrum Ultimate…which is cleanly breaking around 3 lbs.  Check out our other Best Glock Triggers.
Best Trigger
250
at Brownells
Prices accurate at time of writing
Prices accurate at time of writing
Here are the results with shooting at 10 yards, slow fire, while sitting down.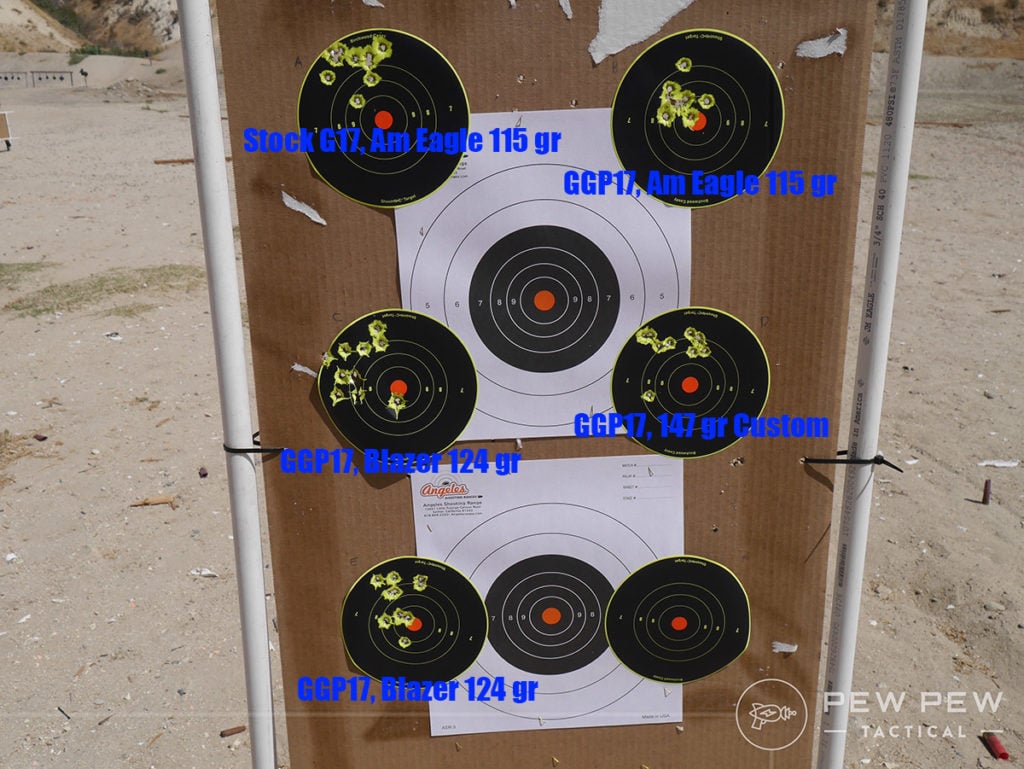 Stock G17 Frame with American Eagle 115 gr: shot high but group is not great
GGP G17 with American Eagle 115 gr:

on target and much smaller group

GGP G17 with Blazer 124 gr: terrible group..made me think I was doing something wrong
GGP G17 with Custom 147 gr: two clumps of decent groupings and a flyer
GGP G17 again with Blazer 124 gr: double-checking that the G17 just didn't like Blazer or 124 gr…confirmed
Conclusion: Group with American Eagle 115gr was definitely better than the stock slide.  The GGP also didn't seem to like my 124 and 147 gr loads.
Accuracy: GGP G19 V2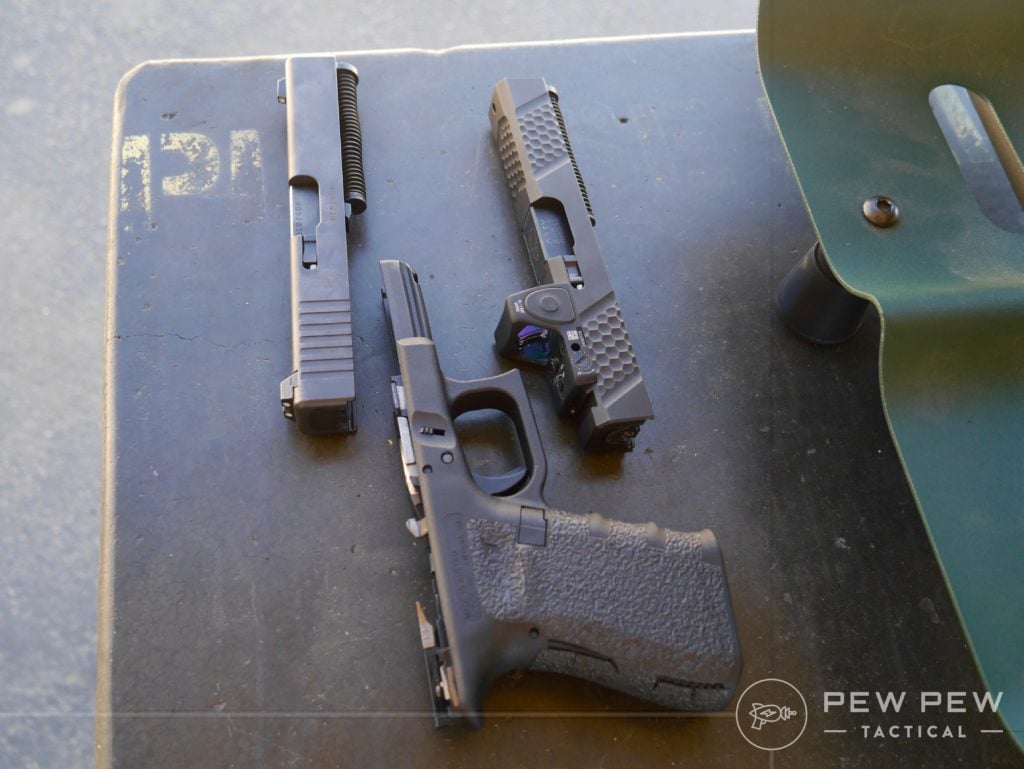 This one was a stock G19 frame (didn't use the Polymer80 for testing) and a stock G19 slide with night sights.  Against the RMR Type 2.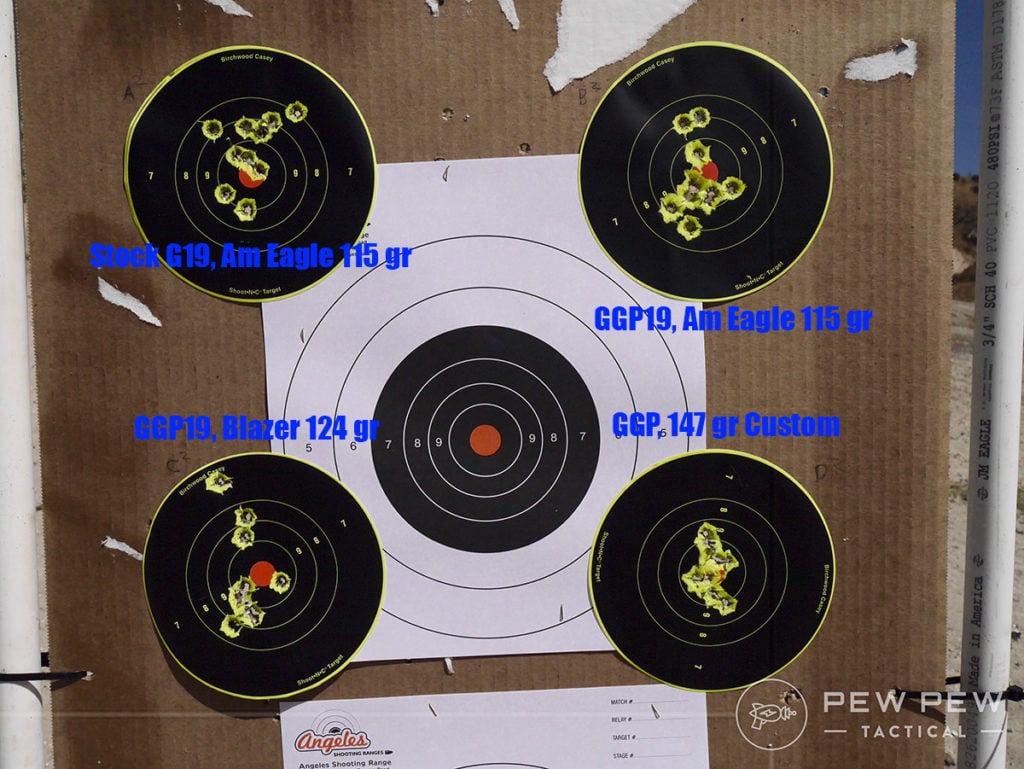 Stock G19 Frame with American Eagle 115 gr: on target but not a great group
GGP G19 with American Eagle 115 gr: on target and smaller group
GGP G19 with Blazer 124 gr: terrible group…again
GGP G19 with Custom 147 gr: best group of the day
Conclusion: Better accuracy when compared with the stock G19 with 115 gr.  Terrible again with 124 gr.  And best group with 147 gr here.  Also it felt so much more accurate with a red dot when compared with regular night sights or even the fiber optic sight I used on the GGP G17.
Specifications:
Not too much here…17-4 Billet Stainless Steel and match grade barrel.  I know it's cliche…but it's one of those things that shoot much better than I ever could.
By The Numbers:
Reliability: 4.5/5
Very tight tolerance that probably lends itself well to accuracy.  But I felt like it needed some break-in.  Some extraction failures in the first 50 rounds but flawless afterwards.
Accuracy: 5/5
Beats the stock slides/barrels in my limited test.  Seems to hate 124 gr Blazer Brass and likes 115 gr American Eagle.
Ergonomics: 5/5
The V1 with the lightening cuts really does feel better when shooting.
Looks: 5/5
Beauty is in the eye of the beholder…and to me it's purrrrty.
Customization: 4/5
You can get it for the RMR cut which I highly recommend.  Otherwise it's a slide/barrel so there's only so much you can customize…maybe some other kinds of sights and lighter springs.  You can also get it with a threaded barrel for some suppressor goodness.
Bang for the Buck: 3/5
The main drawback for me…since the slides start at $369.  But once you research some more…such as with our Best Glock Slides…you start to see that the GGP sits in the middle-zone.  Slides start around $200 and can even go up to $800…so the GGP isn't that expensive comparatively for the machining and accuracy.
With the barrel you jump up to around $700 which is again…on par with nice match accuracy barrels (Best Glock Barrels).
Overall Rating: 4/5
Conclusion
You can't go wrong with Grey Ghost Precision's Glock slide and barrel offerings.  They look awesome, the V1 gives better balance, they shoot more accurately, and the price is reasonable (comparatively).
Best Overall Upgrade
449
at Brownells
Prices accurate at time of writing
Prices accurate at time of writing
Doesn't it look dead sexy with my Gucci glock?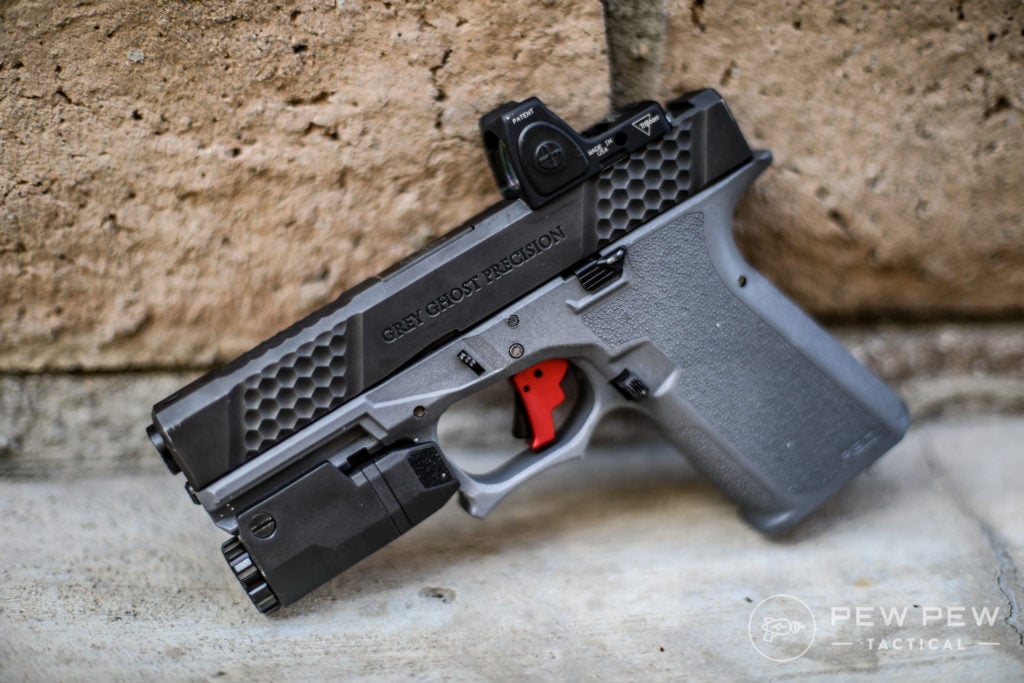 What do you think…are you going GGP?  Or do you already have a sweet Glock slide and frame?  Let us know in the comments!