Johnny took his personal CZ Shadow 2 out to the range for a hands-on video review, so take a look at that! If you dig that sort of content, don't forget to subscribe to the Pew Pew Tactical YouTube Channel!
---
CZ is well known for their awesome pistols. From the old days of military surplus to the ultra-slick competition-oriented Shadow 2 line, CZ is a name that has it all and does nothing half-assed.
But with a price tag of $1,200+, is this pistol really all that it's cracked up to be? Well, if you're looking for a top-shelf home defense or competition gun, then the answer is YES!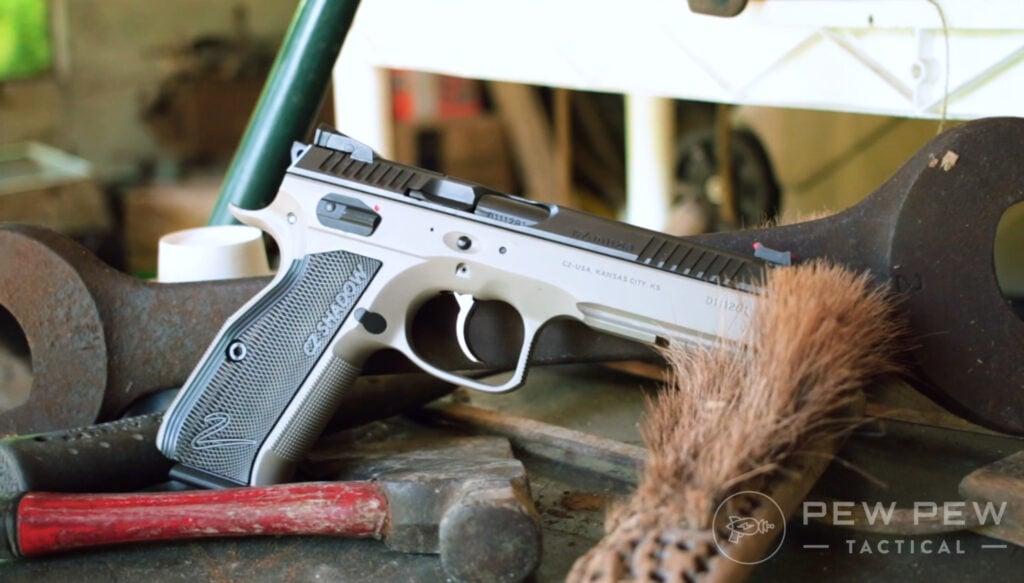 Table of Contents
Loading...
Basic Stats
On the surface, the CZ Shadow 2 will be very familiar to anyone who's used a CZ-75 or the SP-01.
This is a 9mm, Double-action/Single-action, full-sized, steel-framed handgun that tips the scales at just under 3 pounds.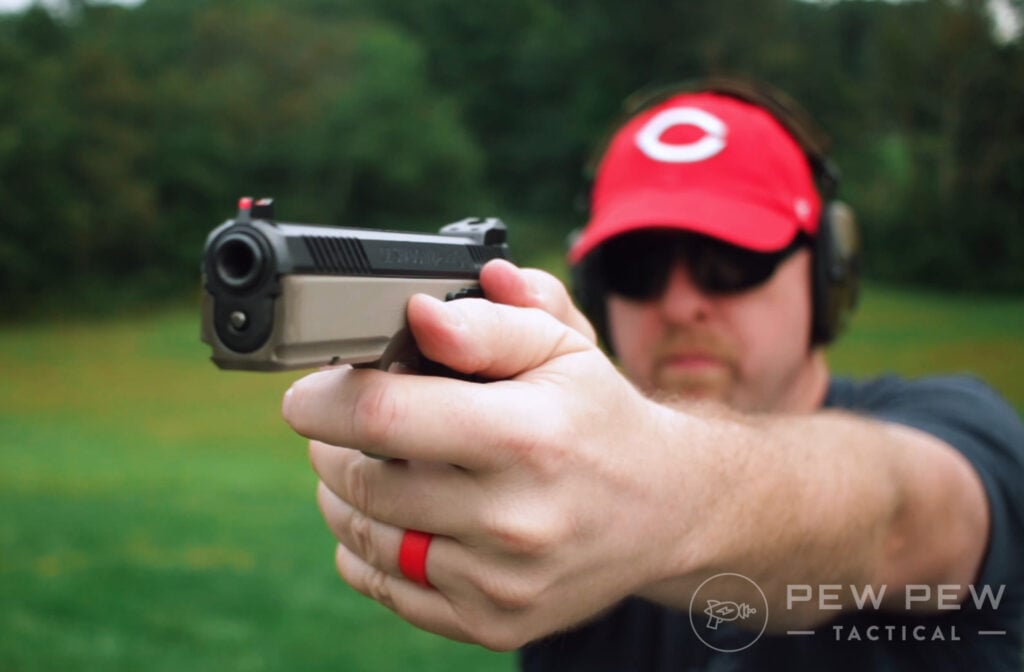 Loaded up with 17 round magazines plus 1 in the chamber, it can get heavy in the hand, even with 115gr ammo.
Everything about the Shadow 2 is designed to be ergonomic and perfect: ambidextrous safety, fiber option front sight, HAJO rear sight, and a 4.89" cold hammer forged barrel for incredible accuracy.
979
at GrabAGun
Prices accurate at time of writing
Prices accurate at time of writing
Range Report
Right out of the box, you get THREE magazines — perfect for taking straight to some local competition or out to the range for a ton of shooting.
At the range, the Shadow 2 is a racehorse. While heavy, the gun is overall very slim and feels great in your hands.
That sense of comfort and surety can also be attributed to the anodized aluminum grips, which provide a lot of gripping surface.
Racking the slide takes some getting used to, but that's not unexpected – most CZs share the common design trait of having a really low bore-axis.
This is great for eating recoil and getting back on target fast, but it does mean you have a bit less meat to grab onto when charging that slide.
A feature that elevates the Shadow 2 into a whole new class of pistol is the trigger. Normally, you would expect a DA/SA gun to have a fairly mushy and long trigger.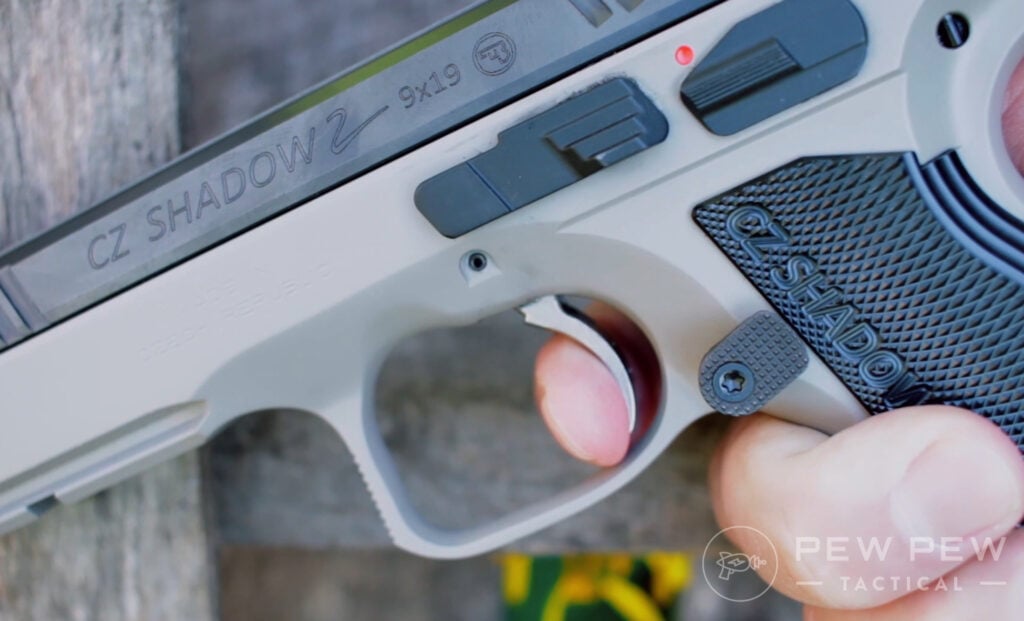 Even in SA mode, you'll normally have at least some take-up before the break.
Not so, with the Shadow 2! While it isn't 1911 crisp, it's really close.
Sights are also really improved over the SP-01 and other CZ options. The fiber optic front sight is bright and does a great job of popping out at you.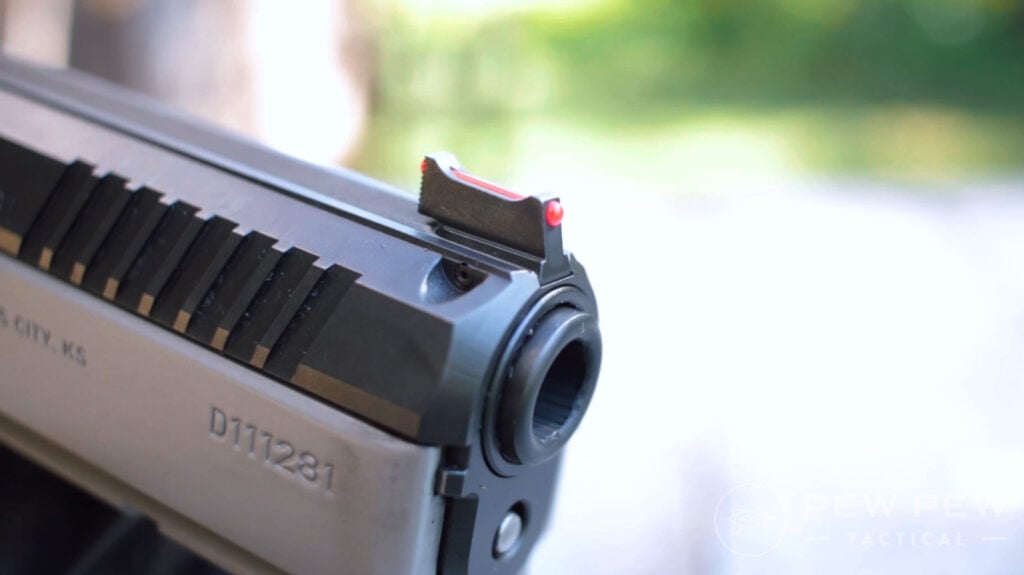 The rear sight probably isn't one you're used to; instead of markings, it only has a U notch cut into it.
Lately, this handgun has been very popular with competition shooters.
But a minor word of caution to anyone looking for a home defense gun: the design doesn't lend itself to low-light scenarios, so you might want to test that out before you need to rely on it in an emergency.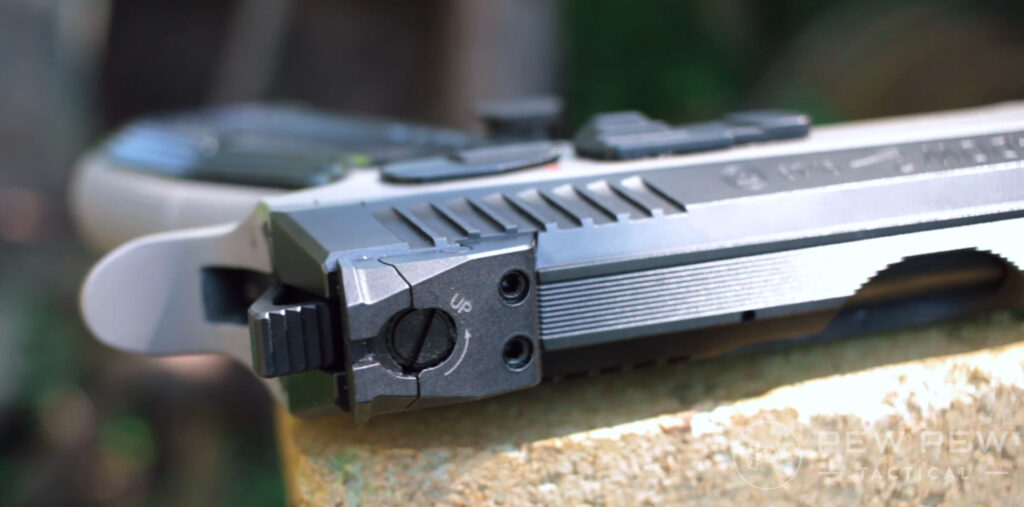 Good news is that the fancy rear sight is click adjustable for elevation and drift adjustable for windage.
Perfect for precisely tuning it for your chosen ammo load!
Speaking of tuning, the raw accuracy of this gun is simply outstanding. Jaw-dropping even.
High-end build quality, cold hammer forged barrel, classic CZ design and fitment – this gun is built to shoot. Even Johnny was able to make a nice group!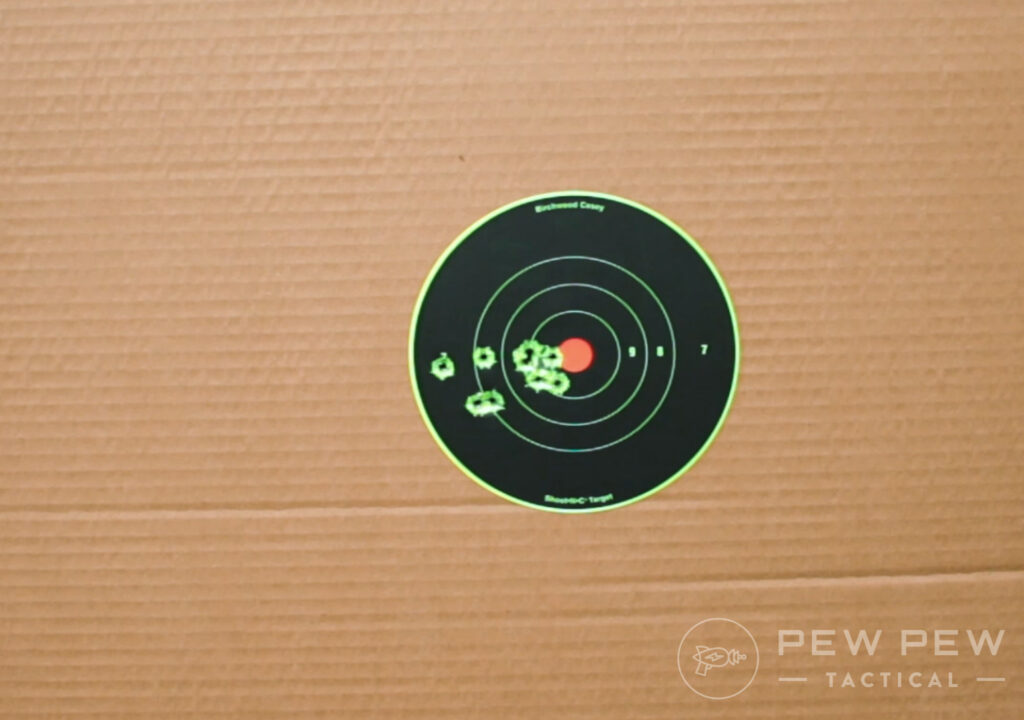 Holsters and More!
If you want to go big, grab something like the Black Scorpion Competition Holster!
Designed to have almost as many features and options as the Shadow 2 itself, you can't go wrong with it.
87
at Amazon
Prices accurate at time of writing
Prices accurate at time of writing
USPSA, IPSC, and 3-Gun Nation approved!
Should you want to carry it concealed for… reasons, take a look at CrossBreed for all of their IWB options.
50
at Crossbreed
Prices accurate at time of writing
Prices accurate at time of writing
Three magazines not enough? Skip the 17 rounders and pick up some 19-round extended mags to really go to town!
45
at Gun Mag Warehouse
Prices accurate at time of writing
Prices accurate at time of writing
By The Numbers
Reliability: 5/5
The CZ Shadow II is of the slickest running guns we have ever tested.
Ergonomics: 4.5/5
If you are OK with a super heavy piece, it feels great in the hands. Best mag release in the game.
Accuracy: 6/5
Seriously.
Customization: 5/5
There are a few solid companies that offer aftermarket parts, our favorite being Cajun Gun Works.
So, you have a boatload of tuning options and can honestly change or add almost anything you can think of. This includes optic cuts, charging hooks, gas pedals, and a lot more!
Value: 4.5/5
It's high, but you don't have to do anything else to it. It's good, but at this price it had better be good.
Overall: 4.5/5
It's a solid entry into the competition world, but a lot of folks will enjoy this as a top-shelf range and home defense pistol. It runs like crazy, looks great, and is stupid accurate. We love it.
979
at GrabAGun
Prices accurate at time of writing
Prices accurate at time of writing
Parting Shots
The CZ Shadow 2 is one of the best starting high-end competition guns on the market. Ready to start getting real about your IPSC or USPSA shooting? This stellar handgun is primed to become your new best friend. Reliable, ergonomic, endless customization, and a certified tack-driver.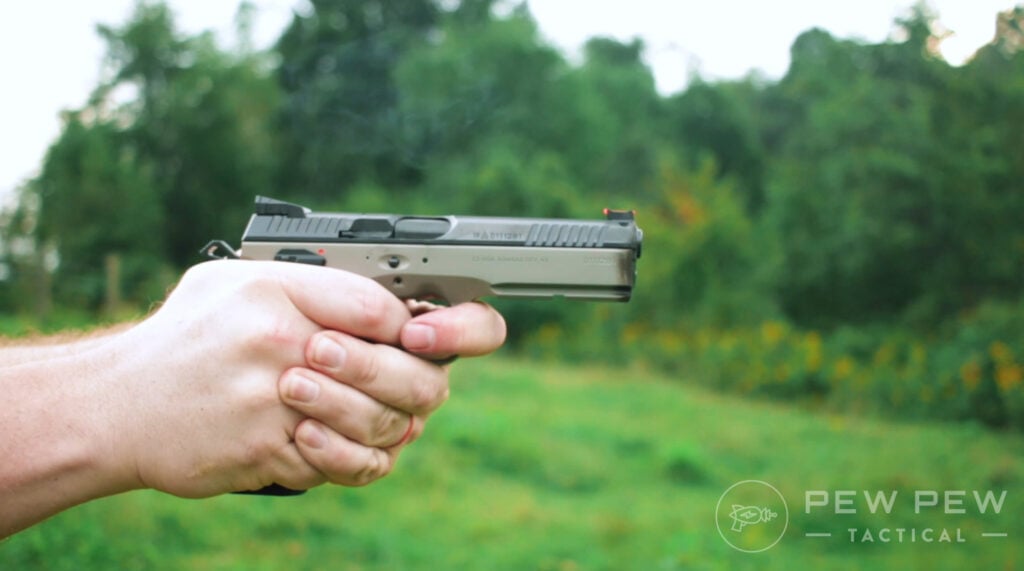 It's also just a great gun, though. It has a rail for a weapon light, parts are easy to get, and the reliability is legendary. Perfect for a self-defense gun, even if it is a bit hefty.
While the price will give you pause, it really does live up to the hype and is worth every penny.
What do you think of the CZ Shadow 2? What is your USPSA/IPSC gun of choice? Let us know in the comments! Need a light for that front rail? Take a look at the Best Pistol Lights!