What the heck is a target pistol? Can't every pistol be a target pistol?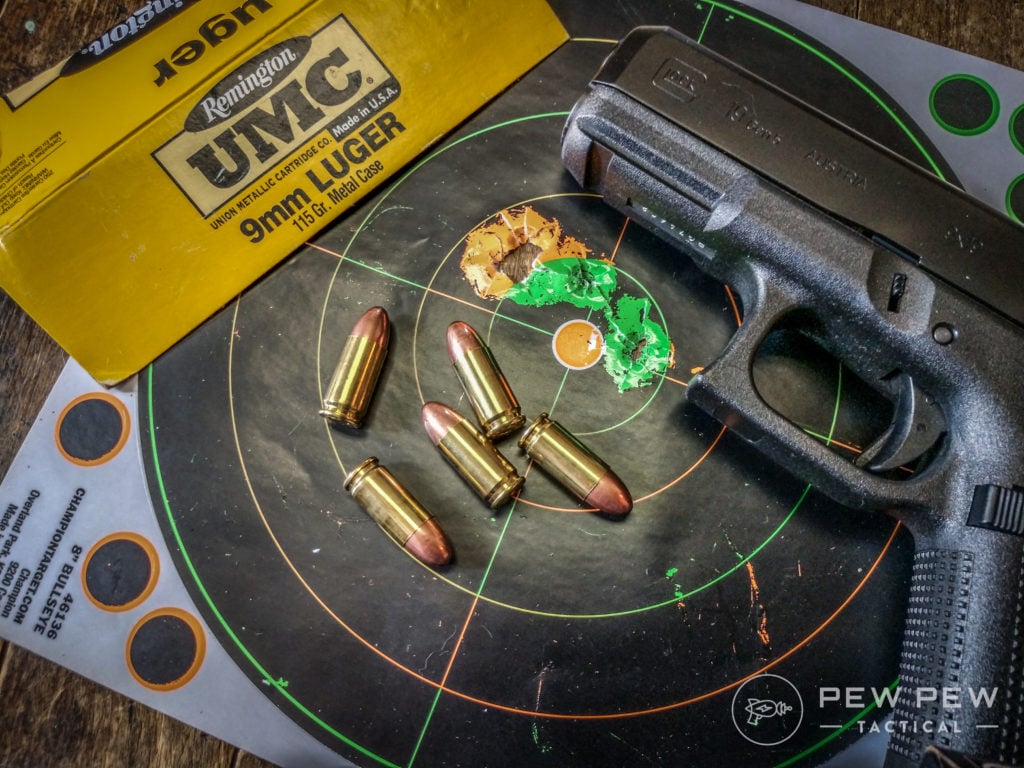 A target pistol is one of those terms, like a hunting rifle, that carries a specific idea and look to it.
When I say hunting rifle, you likely picture a wood-stocked bolt-action rifle with a 3-9X scope and simple sling.
But I hunt with an AR-15 — a bit different than the hunting rifle you likely picture in your head.
The same idea applies to target pistols.
A target pistol is a gun specifically designed to punch paper.
While, yes, a Glock 19 definitely punches paper, that's not necessarily the gun's intended role.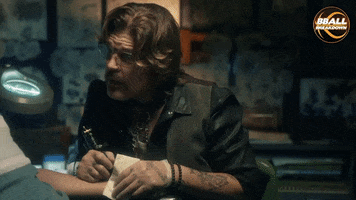 For that reason, we're going to explore the concept of target pistols. We'll look at what they are and the best models you should consider if a target pistol is on your wish list.
Table of Contents
Loading...
What's a Target Pistol?
A target pistol is designed from the ground up to precisely and consistently hit targets.
They range greatly in both design and price.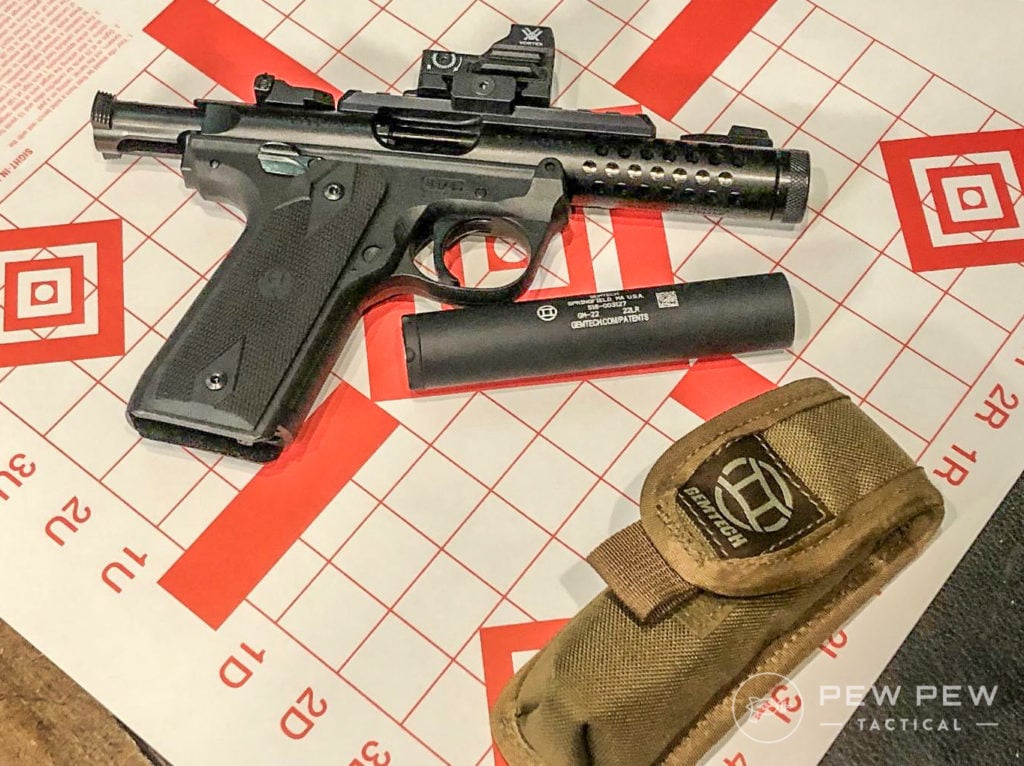 Prices range from several hundred to several thousand dollars, depending on the style.
The intention of a target pistol is to make the gun as accurate and controllable as possible.
These firearms fit inside painfully enforced rules that require conforming. Common restrictions include caliber, ammunition power, barrel length, magazine size, sighting systems, and so many other rules.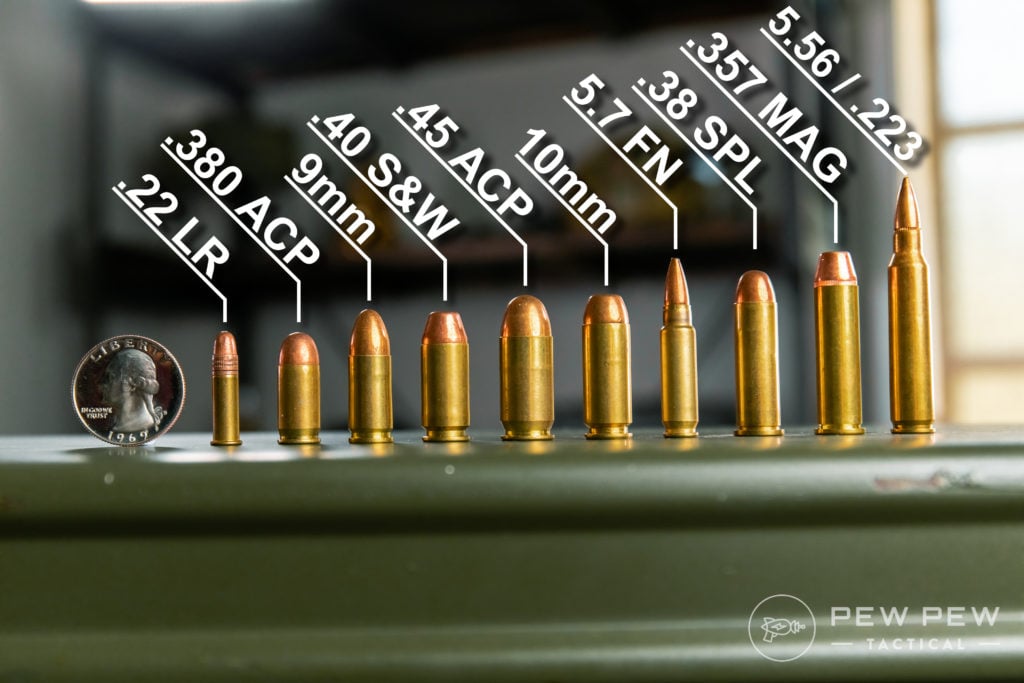 Though most target pistols conjure up images of competition, that's not always the case.
You'll find target pistols used in Olympic shooting sports, plinking or more casual competition, and even action shooting sports.
On the subject of action shooting, you'll often see practical pistols repurposed. Yes, those technically count as target pistols, but they're not quite the same as dedicated models.
What Are the Different Styles of Target Shooting?
Olympic Pistols
Olympic pistols are often painfully constructed and built for extreme accuracy.
These often small-bore pistols may feature a magazine forward of the trigger, tuned triggers, and compensators.
When you say target pistol, this is what most people picture.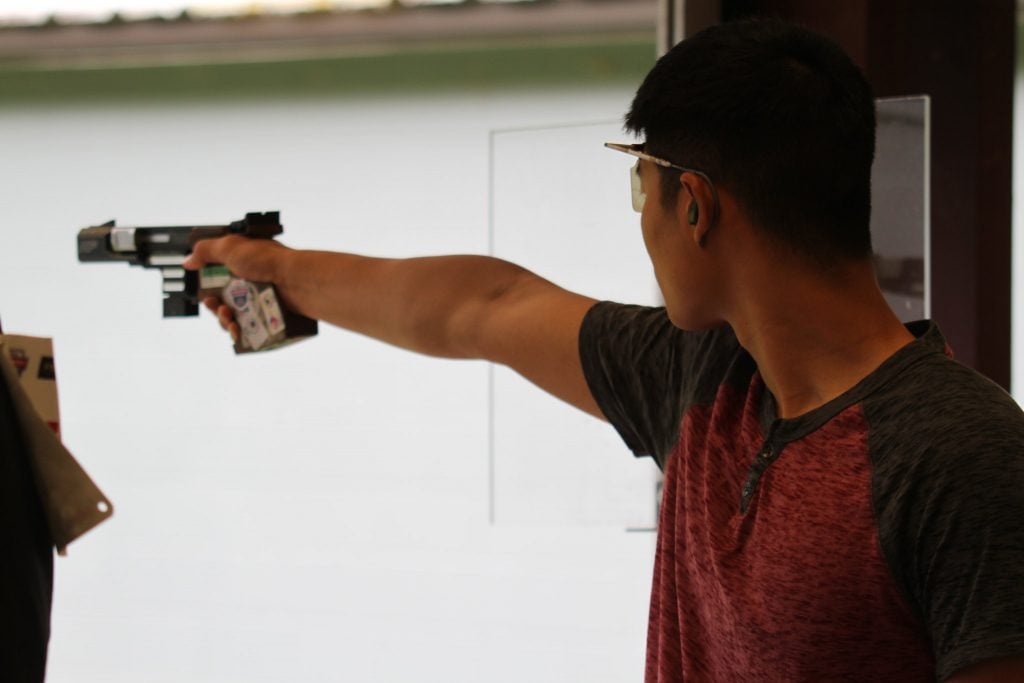 Olympic pistols are easy to spot by their large grips. Grips like this are made for one-handed shooting and come customized for an individual's grip.
These guns rarely occupy gun stores and are often bought and sold by specialized dealers.
Informal Plinking Pistols
Informal competition pistols are often what we call plinkers.
You'll usually see them pop up at local bullseye competitions, bowling pins, and various other informal matches.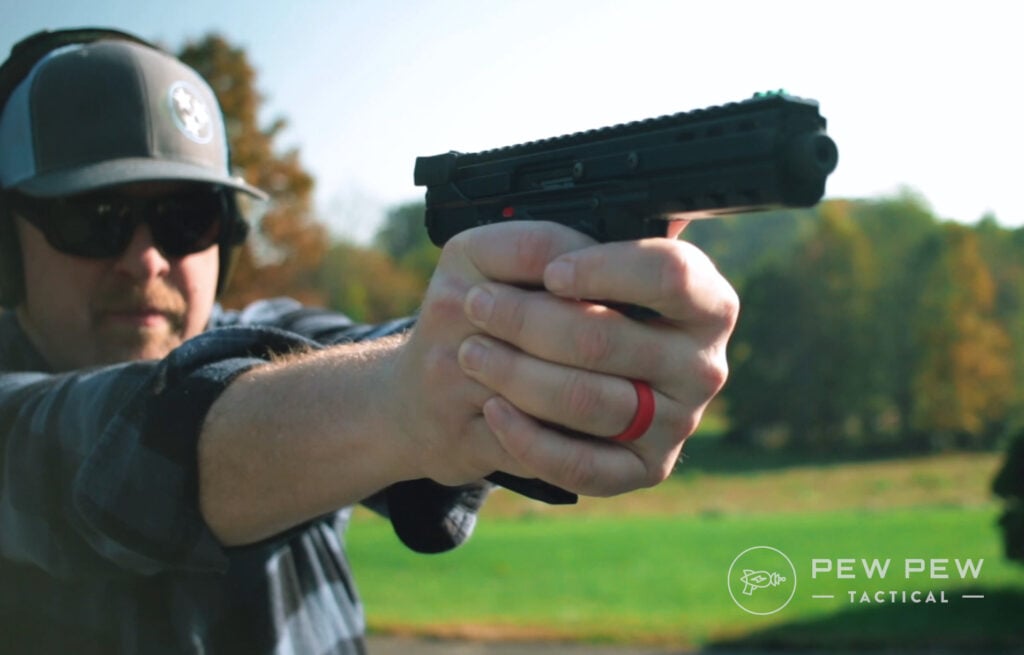 These are often small-caliber semi-autos with an affordable price point and quasi-conventional stylings.
Action Shooting Pistols
Most forms of action shooting sports have what's known as an open category. This category shuns practicality like I would a red-headed child.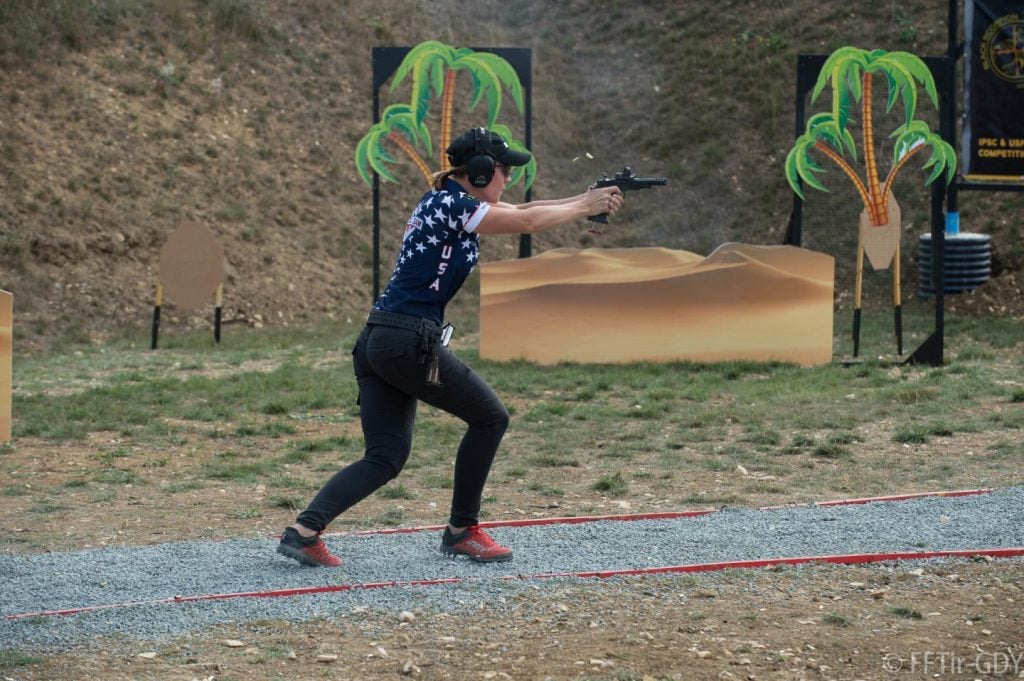 Adorned with various feature enhancements, these guns perform at a crazy degree of controllability and accuracy.
Action shooting handguns are far from practical but do wring out high levels of performance in match conditions.
The Best Target Pistols
Isn't this what you crazy kids came here for?
Well, good, because I've gathered a wide variety of Target Pistols designed for various roles, competitions, and different price points.
As fun as it would be to fill this list with out-of-production uber-expensive pistols that are rare as hen's teeth, I resisted the urge.
The pistols on this list are still in production or relatively easy to find on the used market.
1. Ruger MK IV
Ruger is the all-American manufacturer of rimfire target pistols, producing the Mark series since 1949.
The MK IV is the latest in this fine line of precision-made, competition target pistols.
Even new shooters will find themselves creating teeny tiny groups with a Ruger MK IV.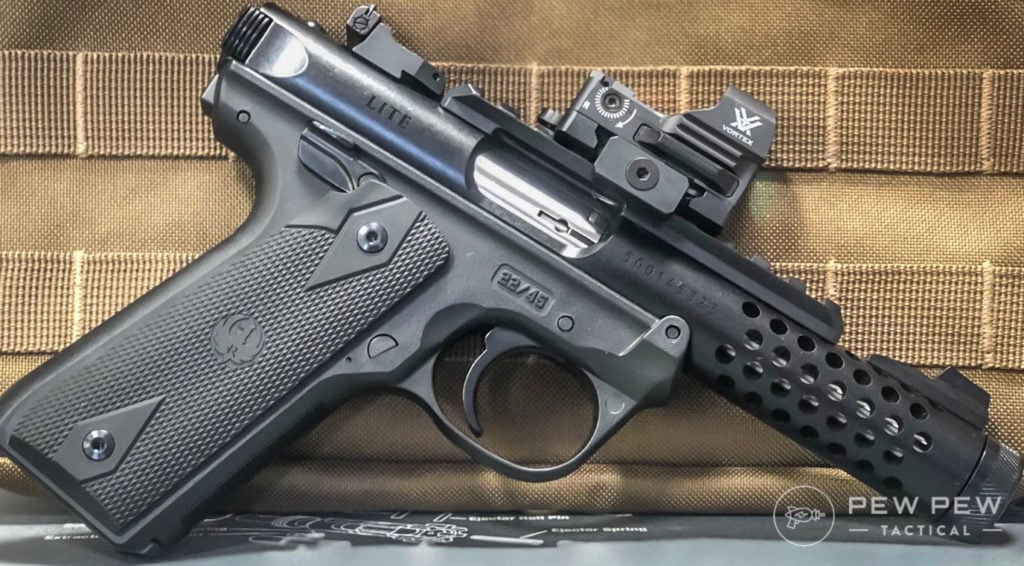 A fixed barrel, an outstanding trigger, nonmoving sights, and the tiny recoil created by the .22 LR round results in a gun everyone loves.
I remember shooting at some local bowling pin contests and getting whipped by the guys and dolls armed with MK series Rugers.
The MK IV follows in that fine tradition, and unlike previous MK series guns, this one is easy to take apart and field strip.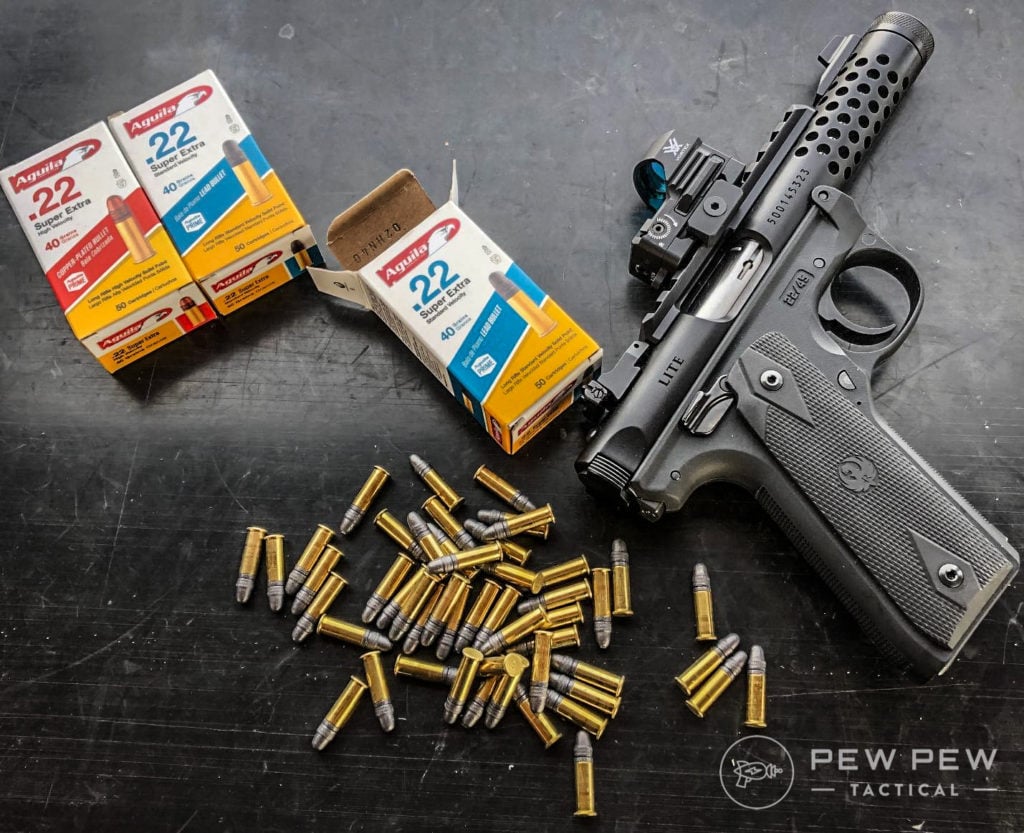 There are several incarnations with various barrel lengths, accessory rails, and frame types. The Competition model sports a 6.88-inch length barrel and wears adjustable sights.
Those sights do not move since the action does not use a typical slide and frame design.
Instead, all the action occurs inside the frame as the result of the cylindrical bolt.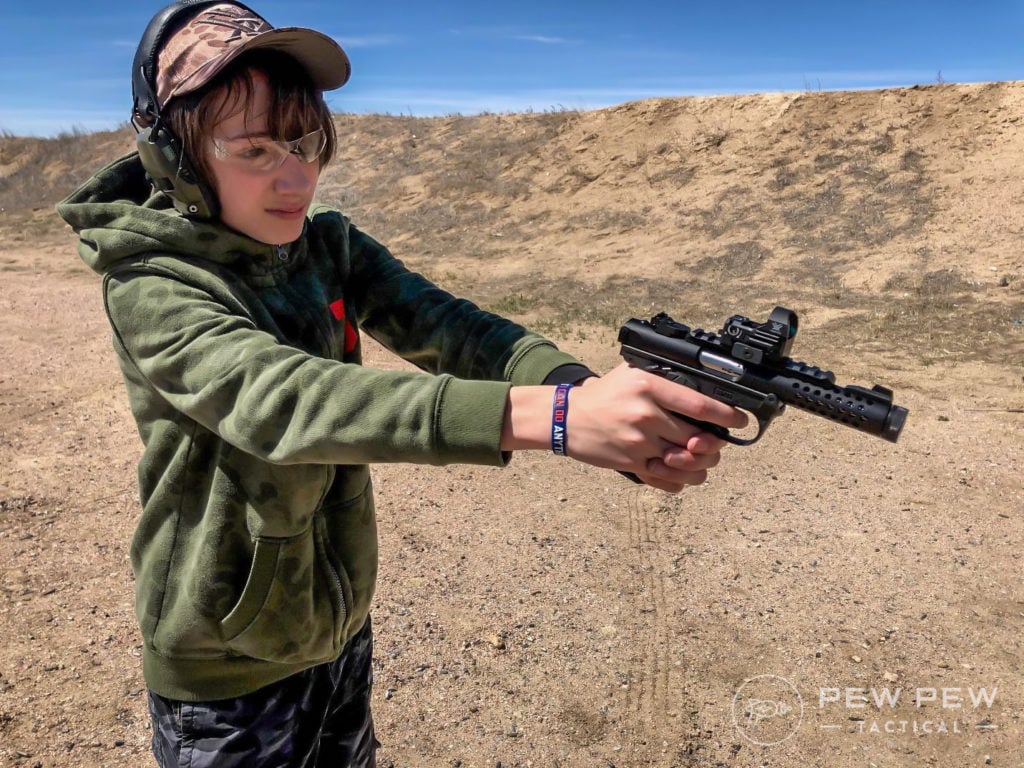 Users can also add an optics rail and their choice of red dot or long eye relief scope. Either optic will increase accuracy, speed, and effective range, making this target pistol quite efficient.
The Mark IV is a popular pistol at an affordable price point from a company that knows its rimfire pistols.
Best .22 LR Semi-Auto
419
at Kygunco
Prices accurate at time of writing
Prices accurate at time of writing
2. Beretta 87 Target
Behind the Beretta 87 Target's futuristic appeal lies a very competent and capable rimfire target pistol from our favorite Italian firearms juggernaut.
If you're like me and want something that looks like Robocop would use it, then the 87 Target is for you.
The Beretta 87 Target pistol wears the stylings of other Beretta designs, including an ergonomic grip akin to the 92 series but much thinner.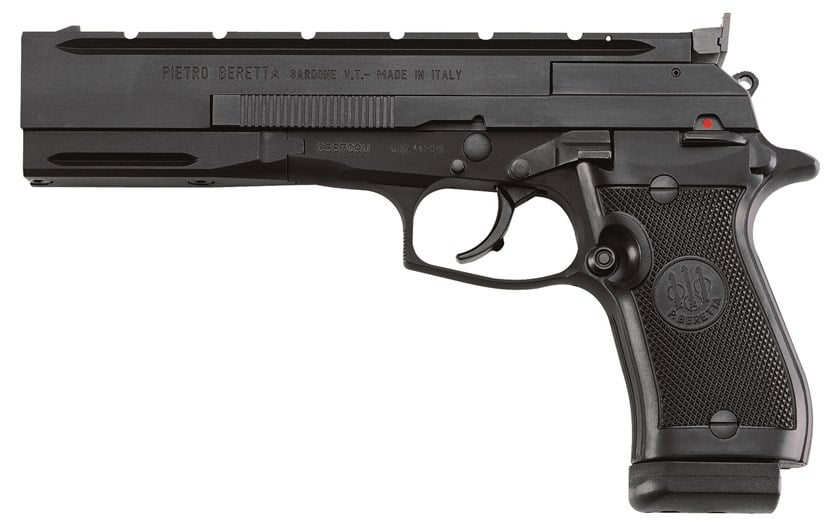 Shooters may miss the stylish open-top slide design, but the included mass over the barrel keeps things controllable and adds a platform for optics.
That enclosed portion over the barrel does not move when the weapon cycles, so your sights remain still during firing. Tracking sights and keeping your sight picture has never been easier.
Trigger pull comes in an exacting 3-pounds, and Beretta's standard for accuracy is intense.
A single-action-only design most certainly keeps the trigger crisp and light.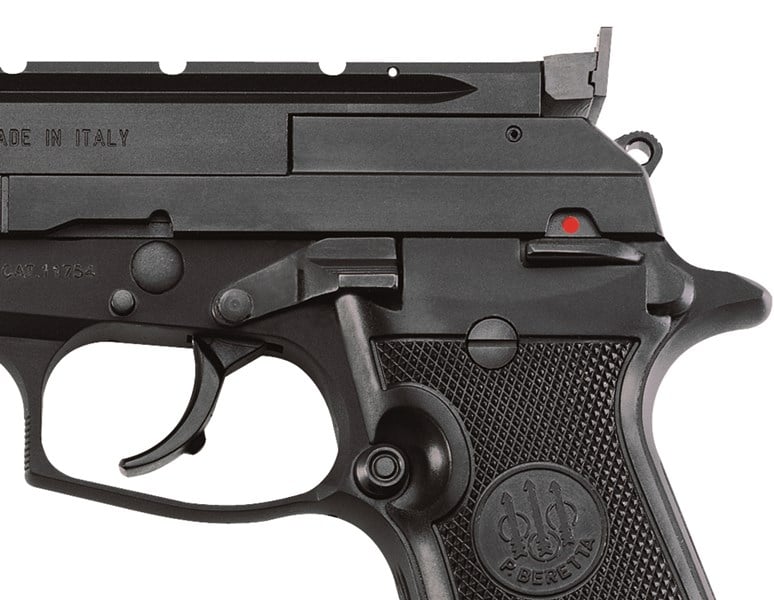 The full-sized frame accommodates adult shooters, with grips that swap to make the area a little thinner or thicker.
This kind of gun will allow you to make a teeny tiny group or do that awesome smiley face on a target from Lethal Weapon.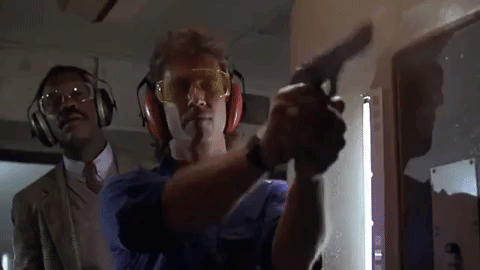 Beretta makes finely tuned firearms, and the Model 87 Target proves no different.
1138
at Guns.com
Prices accurate at time of writing
Prices accurate at time of writing
3. KelTec CP33
KelTec's engineers are my all-time favorite madmen when it comes to gun design.
They make fun stuff, and the CP33 is one of the more unique designs.
A semi-auto .22 LR, it utilizes a quad stacked magazine to hold 33-rounds — certainly unique!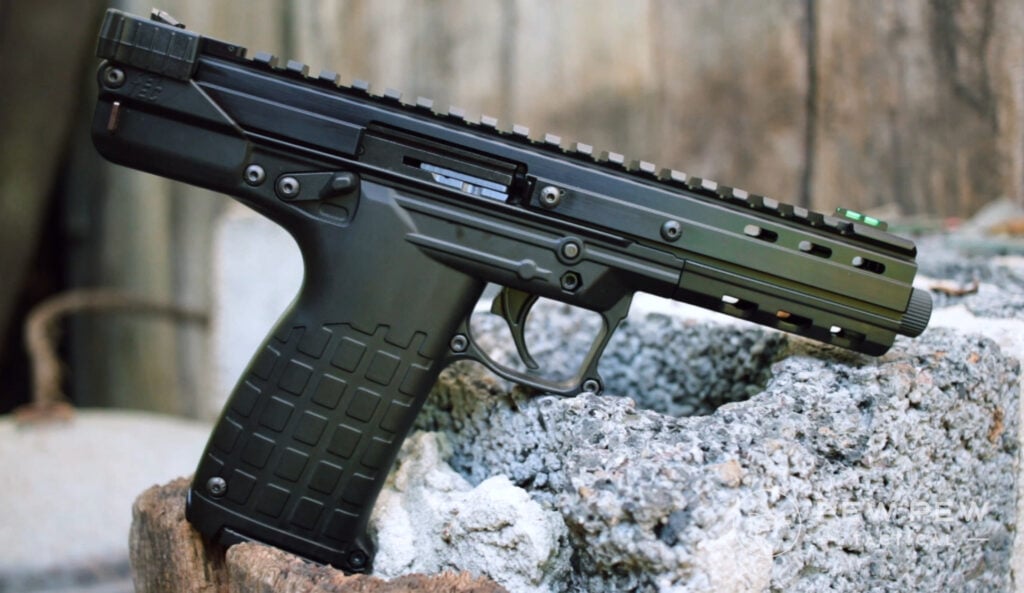 Conformity is not why people choose the CP33.
It's one of the coolest target pistols on the market, designed specifically for rimfire competition.
CP stands for Competition Pistol, and while not your everyday competition pistol, it fits the bill.
Like the previous two models, the slide and sights stay put for easy sight tracking and fast follow-up shots.
A green high-visibility front sight is nice and easy to see, and the adjustable sights make precision easy without the ole Kentucky windage.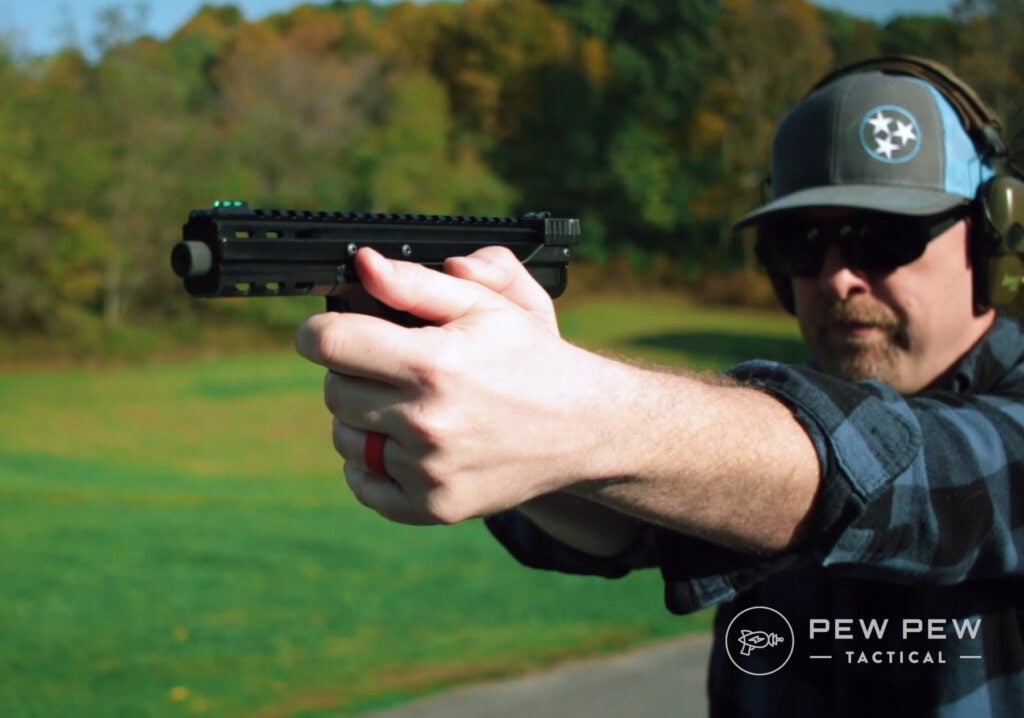 KelTec also includes a close to full-length Picatinny rail across the top for easy optic attachment.
The barrel comes threaded for muzzle devices, and the handguard features M-LOK slots for additional accessories.
Lots of modularity here for those who like to tinker.
Accuracy is impressive, and for the price, it's probably the best bang for your buck.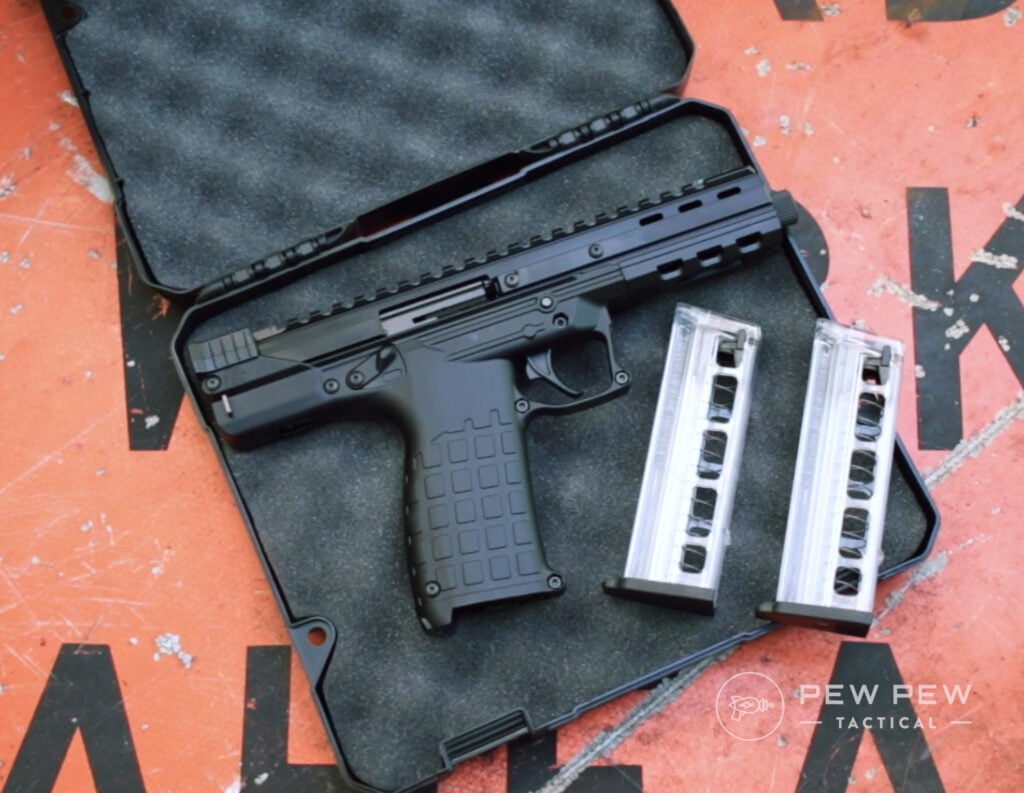 That said, the trigger feels a little rougher than most, but not bad by any means.
Newer to the market, the CP33 doesn't have tons of aftermarket support like trigger or barrel upgrades but give it time.
A space-age blaster like this performs better than you'd expect with a relatively small price tag.
To dive more into the KelTec CP33 design, check out our full video and review here.
599
at Palmetto State Armory
Prices accurate at time of writing
Prices accurate at time of writing
4. Sig Sauer P320MAX
The Sig Sauer P320 certainly got its hands in the military and police market, and now it's spilling into the target pistol competition market with the P320MAX.
Sig collaborated with Max Michel, Captain of the Sig Shooting Team, to develop a pistol for the Carry Optics divisions of competitive shooting.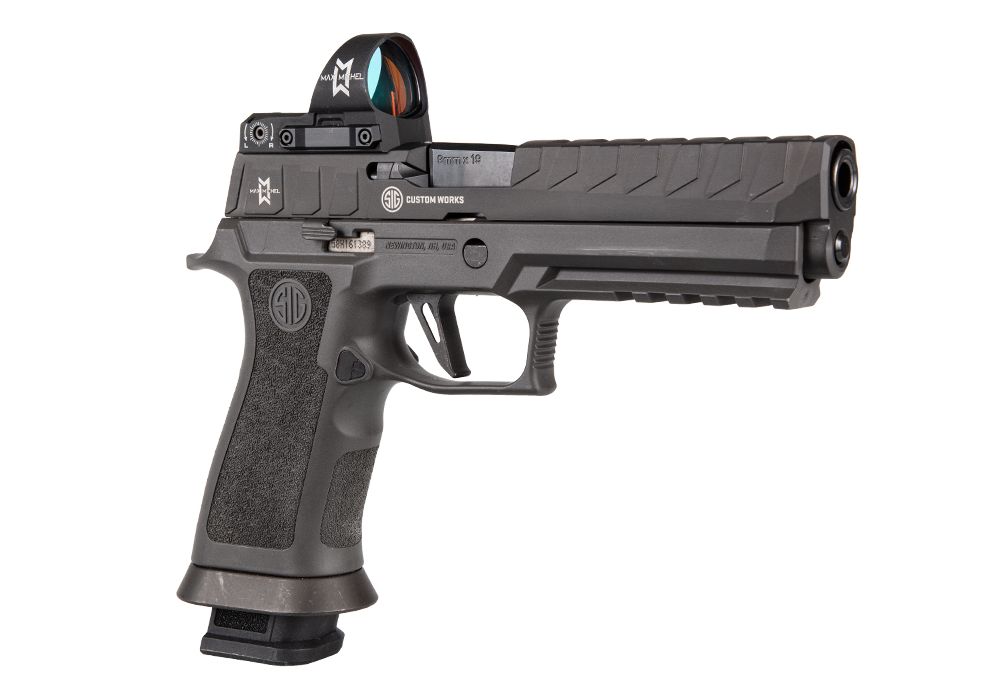 Built on the P320, this 9mm pistol comes equipped with the Romeo3MAX mini red dot. Noticeably missing…any sort of iron sight.
Optics only is the name of the game here.
While iron sights are practical for a self-defense pistol, they tend to obscure the sight picture in the competitive target shooting realm. No lives on the line, so no iron sights are required.
At the heart of the P320 is the grip module. And this gun uses the X5 Tungsten-infused version.
It offers a heavy-duty grip module that adds some weight to fight recoil but maintains the flexibility and recoil absorption of a polymer grip module.
A 5-inch match-grade bull barrel allows the gun to step up its accuracy game and grant you a little more weight and a lot more precision for target shooting.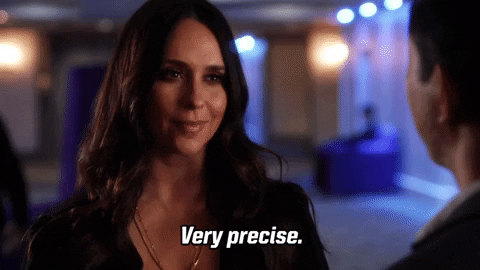 One big departure from the standard P320 is the 1911-like recoil springs and guide rod. The P320MAX includes both a 12- and 14-pound recoil spring for tuning your gun to your load.
This reduces recoil and ensures reliability and safe operation.
The P320MAX is an oddball in the P320 family, but it's nice to see a practical pistol turned into a target pistol so successfully.
1600
at Palmetto State Armory
Prices accurate at time of writing
Prices accurate at time of writing
What do you think of the Sig Sauer P320MAX? Rate it below!
5. Pardini HP/HPE
Now we climb our way into the world of extremely accurate precision pistols designed for Olympic-style shooting sports.
The Pardini HP/HPE is a very popular pistol with those in Olympic sports, a well-known brand in those circles producing some outstanding target pistols.
Bizarre guns come in quasi bizarre calibers, and the HP/HPE proves no different. It ships in .32 S&W.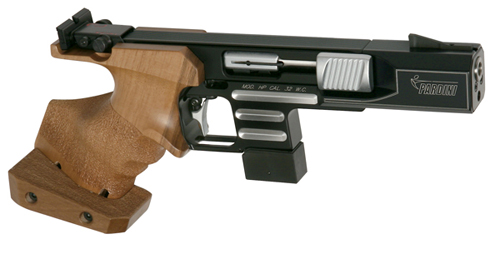 However, rimfire .22 LR variants are available under the SP/SP RF banner.
Fun fact, this is one of the few target pistols that can be considered an assault weapon.
To preserve the extremely ergonomic grip, the magazine sits forward of the trigger. Some states use that feature as a qualifier for assault weapons.
Combined with a centerfire cartridge, and this is apparently a scary assault weapon.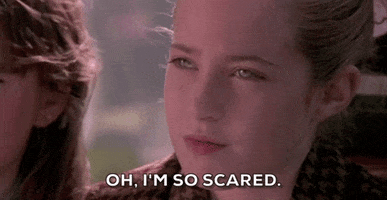 Accuracy and low recoil are the primary traits of these pistols; both are readily available here.
Olympic shooters hit a target the size of the period at the end of this sentence. They can't use a weapon that compromises accuracy.
The operation does not involve a traditional slide, and the action does move the slide or sights.
Worth noting, its grip is interchangeable with models made for various hand sizes. You may also choose to go the customized grips route, opting for ones made to fit your hand.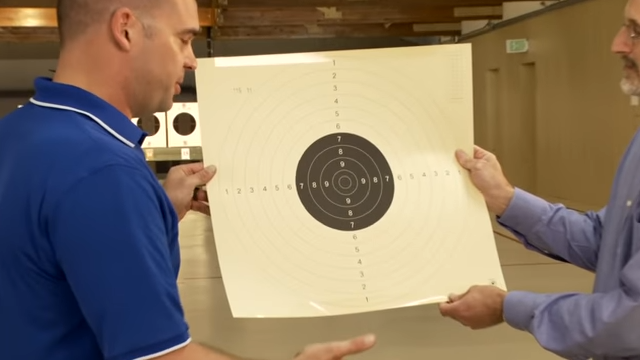 A multi-weight system cuts recoil, and shooters can utilize up to six weights to get the right balance for them.
The Pardini HP/HPE exemplifies individualism to the extreme.
2650
at Pardini
Prices accurate at time of writing
Prices accurate at time of writing
6. Walther GSP .22 Expert
As far as semi-auto Olympic-style pistols go, the Walther GSP .22 Expert provides an excellent entry-level gun.
Rimfire guns are often exempt from assault weapons bans, and the GSP .22 Expert is almost always a named exception. Like the previous Paridnini, the magazine exists in front of the trigger to preserve the ergonomic and supportive single hand grip.
The magazine included is a 5-rounder, but the worldwide web shows 10-rounders available as well.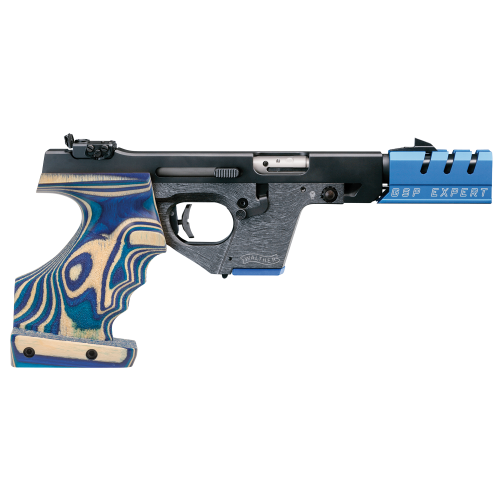 Its action keeps the sights still for enhanced accuracy and rapid but accurate follow-up shots.
Worth noting, this gun is all about iron sights, and optics aren't an option.
Pistols like this are made for very specific disciplines, and that limits some customization options.
Shooters tune the GSP .22 Expert to increase accuracy, minimize recoil, and ensure complete reliability with .22 LR rounds.
This certainly seems like a gun that's likely not made for bulk packs but rather for precision and high-quality .22 LR rounds.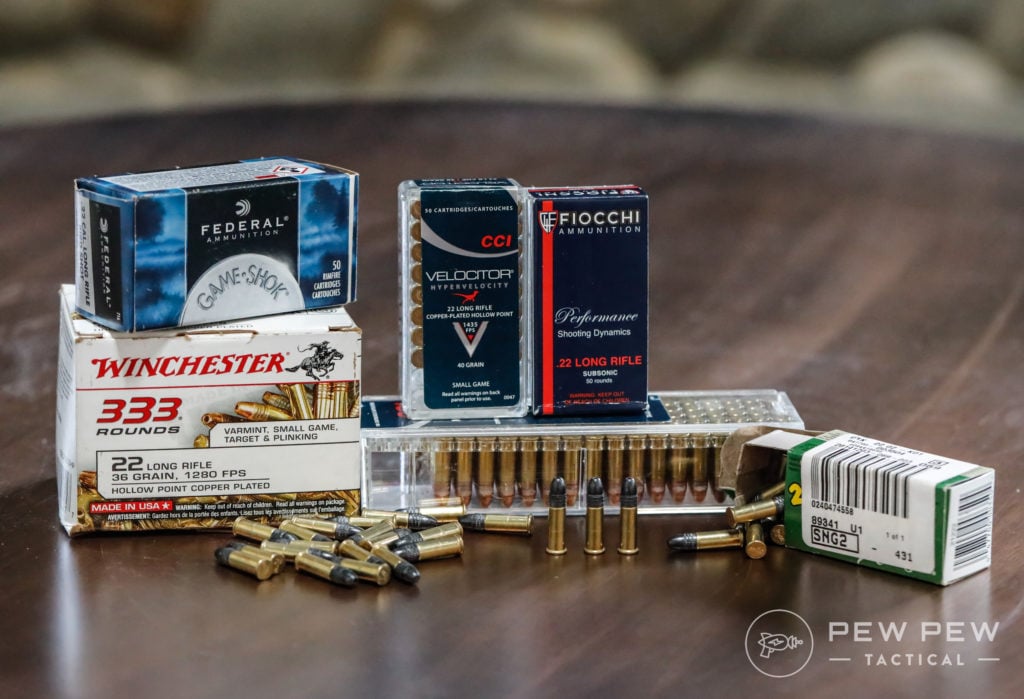 Shooters can adjust the trigger in grams to get the most precise pull possible.
And the trigger can be as light as 1,000-grams, which is roughly 2.2-pounds.
If the wind blows hard enough, it might pull the trigger, so make sure you follow the four rules.
1850
at Champion's Choice
Prices accurate at time of writing
Prices accurate at time of writing
7. TOZ 35 Free Pistol
Our last pistol is my wildcard…mostly because I'm defying my own rules and because it's a weird gun.
The TOZ 35 is a Russian pistol that's not in production but seems to pop up every now and then.
A free pistol is one often rarely limited by the rules. No optics allowed, and no grip beyond the wrist is about it.
These guns often cost several thousand dollars. However, Century often imports these, selling them for around $500.
Boasting a .22 LR design, these guns offer an extremely accurate design, with some very optimistic iron sights.
The grips come molded to the end-users hand, so get to carving! Although, you can also buy pre-made grips if you're not a primadonna about the whole thing.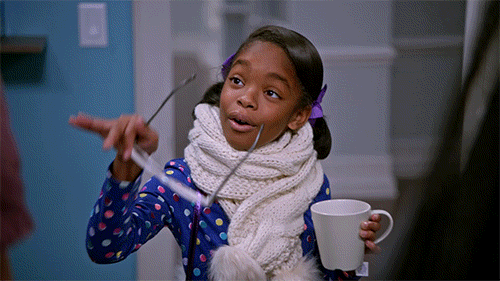 As far as Olympic-grade pistols go, the TOZ 35 is easily the most accessible and affordable option on the market.
Conclusion
Target pistols are a broad category of guns but also one that is surprisingly specific. Price, performance, and design range widely, making them a very interesting group of firearms.
From Olympic level shooting down to bowling pin competitions, the above models have you covered.
What is your preferred target pistol? Let us know in the comments below. Want some more competition shooting in your life? Check out our Competition Shooting Guide for all the deets.