What makes grown men giggle like school girls?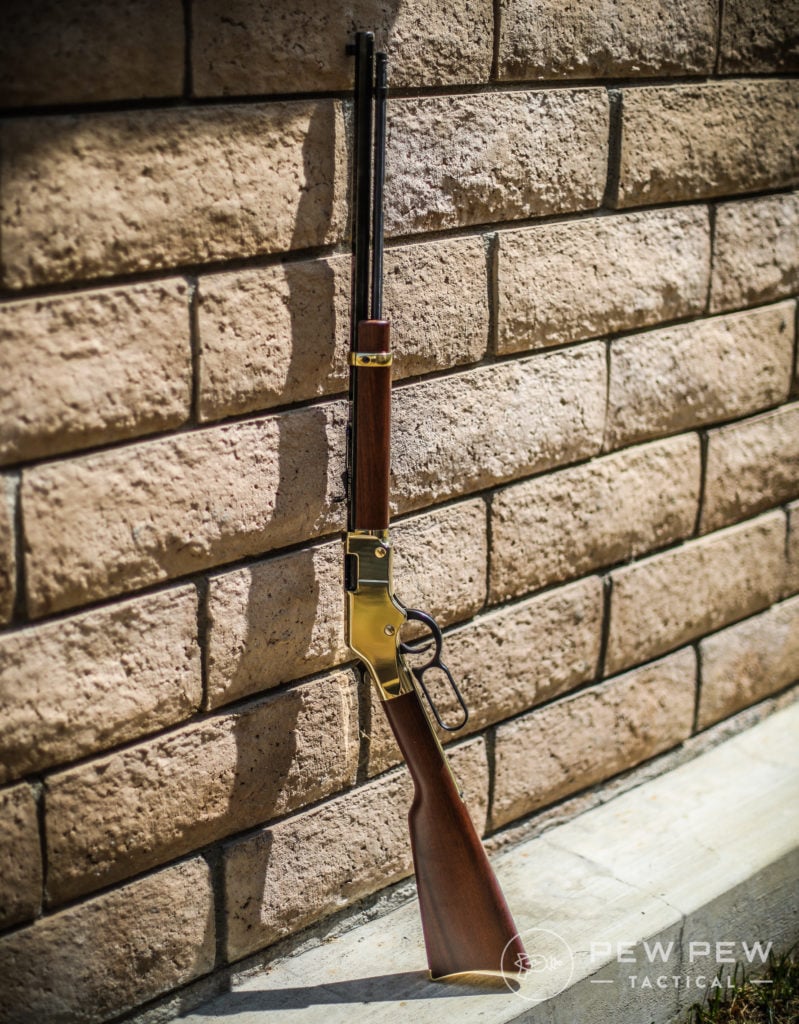 The Henry Golden Boy .22LR that's what!
I've always wanted one and was so glad I got the chance to test one out.
Seemed like I wasn't the only one since everyone at the range flocked over asking for a chance too.
Check out how we rate this awesome .22LR lever action down below.
About
The current Henry Repeating Arms as we know it bought the rights to the historical firearms name "Henry" and started manufacturing faithful Henry rifles in 1997.  Currently they manufacture in New Jersey and have the motto "Made in America or Not Made at All."
They specialize in lever action rifles and now even have some lever action shotguns that I really want to try out one day.

Note: Henry sent me the Golden Boy for an unbiased review.
Who Is It For?
I really want to say everyone…since who doesn't want a brass lever action .22LR?
But it especially excels for beginner shooters (both children and adults) who start with rimfire calibers for its almost nonexistent recoil.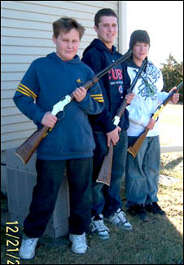 PLUS…you get to feel like a cowboy in the Old West.
The sights are simple, it doesn't take too much hand strength to load and manipulate the lever, and it's heavy enough that there's truly almost no recoil.
Fit & Feel
It feels quality.
And is heavier than you think it should be (almost 7 pounds) that is front heavy…but that's because of the barrel.
I love the brass/gold shininess coupled with the wood grain.
But yes…if you're standing and trying to make a farther shot…the brass on the butt can slip a little off your shoulders.
All that goes away when you start using the lever action.  It's silky smooth and better than Marlin lever actions.  I'm sure the more I shoot the better it will get too.
Which brings us to…
How Does It Shoot?
I brought it out to a couple range sessions where it performed admirably.  And on the last session I started to shoot groups.
Accuracy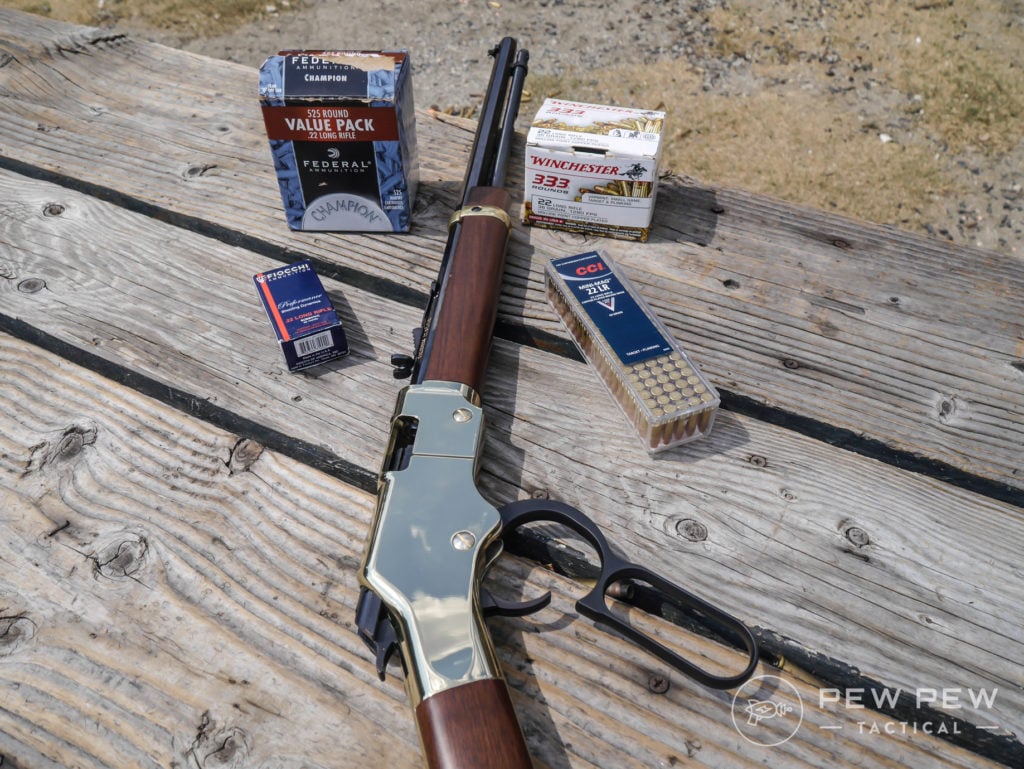 I chose four of my favorite .22LR ammo I had on hand (Best .22LR Ammo for Plinking & Hunting).  And set up 25 yards away with a benchrest.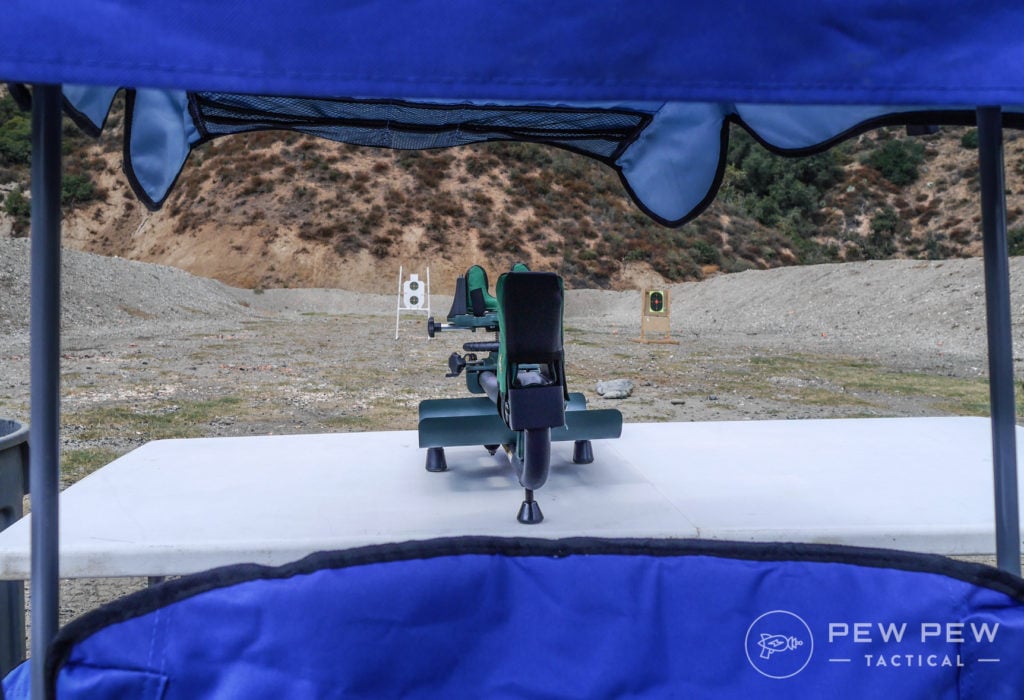 First up was the bulk Federal .22LR.  I'd give a little elevation miscalculation since I had the front sight a little higher.  But still…a couple inch group.  I shot at a normal pace of one shot every ~5 seconds.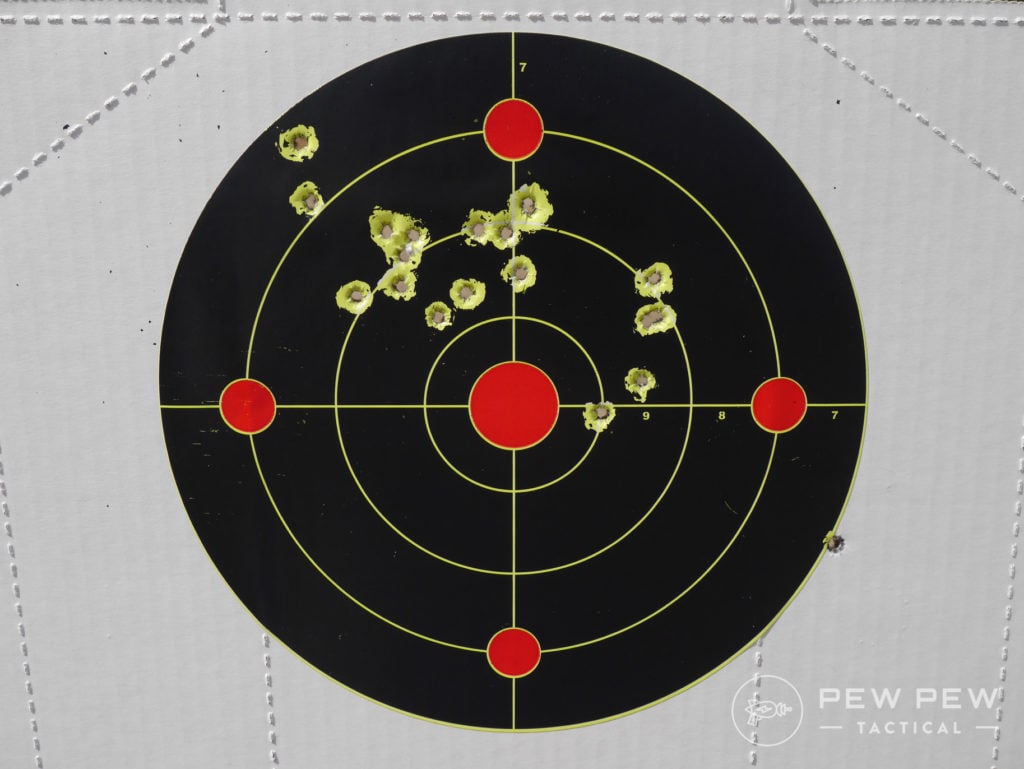 Then up next was the Winchester .22LR which was a little tighter: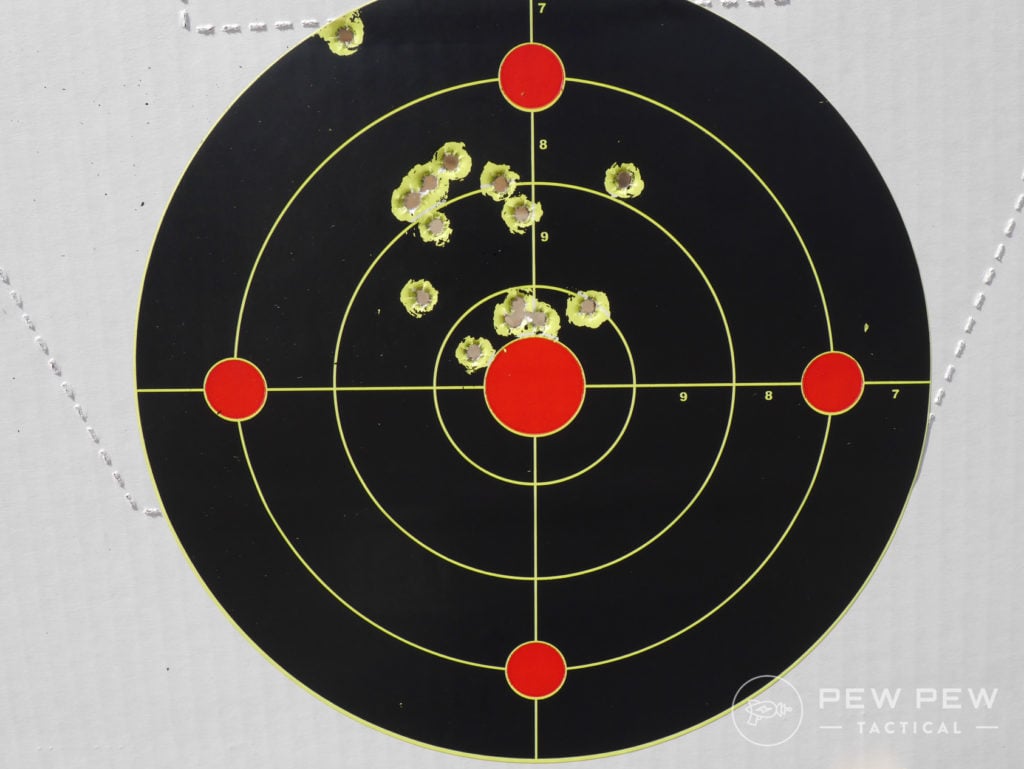 Followed up by my favorite CCI Minimag which yielded the best groups: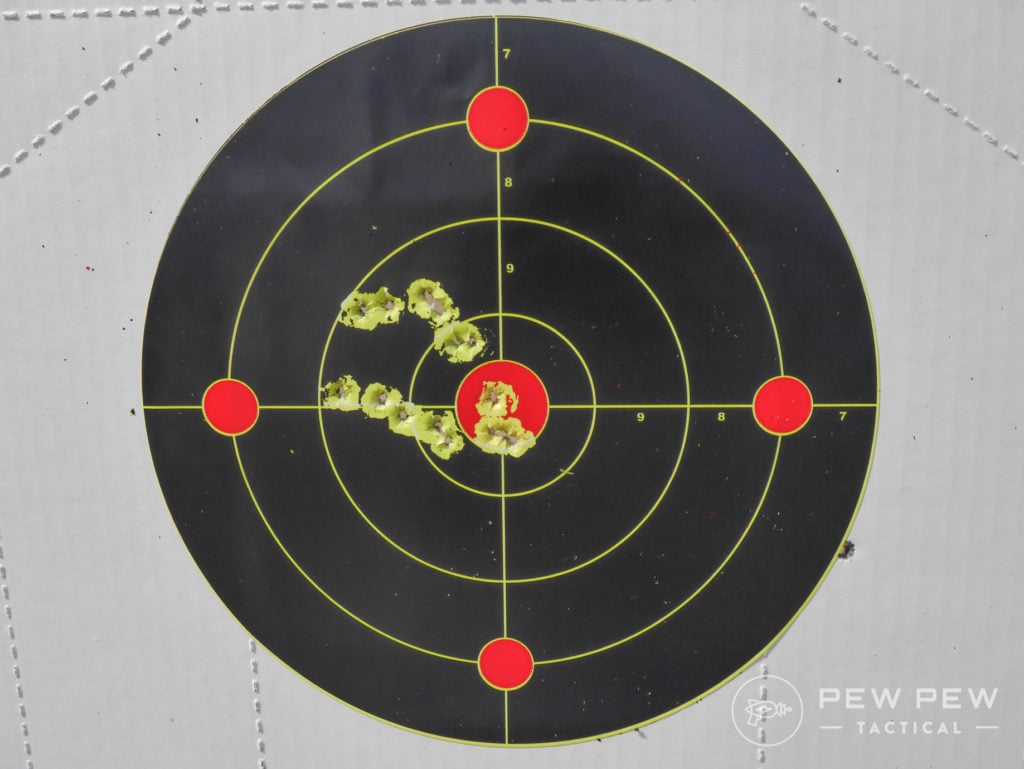 And just for fun…subsonic Fiocchi: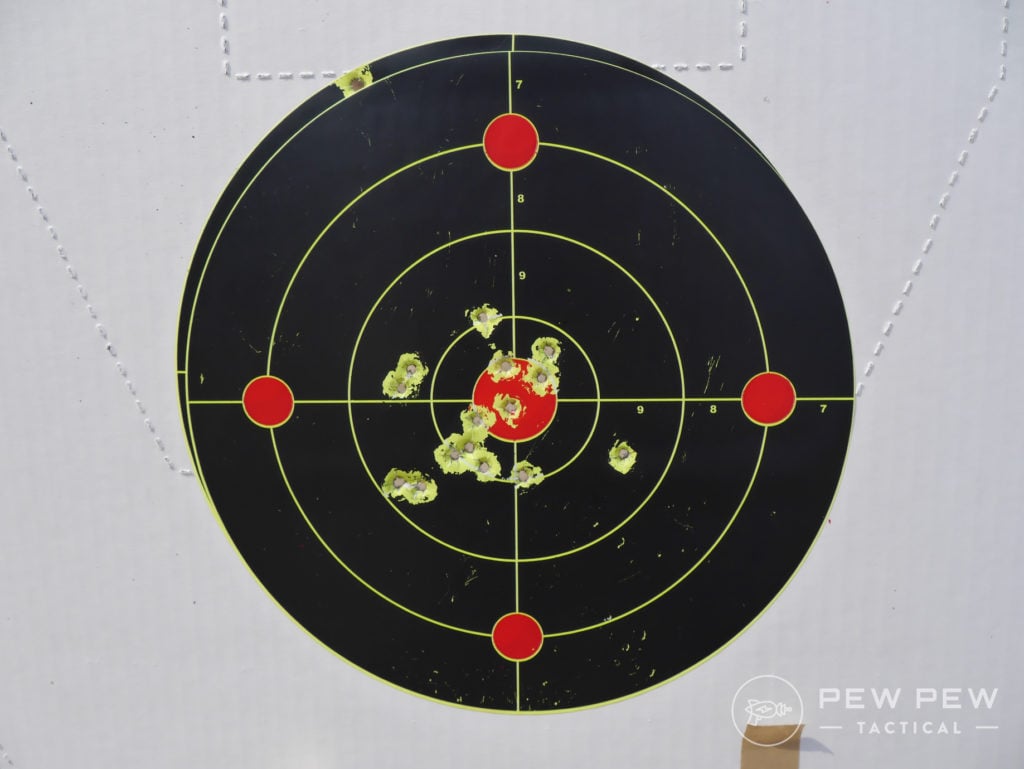 All in all…very accurate if you do your part.  The sights could be a little better but it's probably due to it trying to be historically accurate.  My tip is to figure out where to place the front sight to hit your target distance.
Recoil/Shootability
Recoil…what recoil?
It's heavy rifle and the .22LR is a wimpy round.  You're not going to feel anything.
How about shootability?
It's super fun once you get past the slow reloading which requires you to remove a rod, drop in 16 or so rounds into the ammo tube, and reinstall the rod.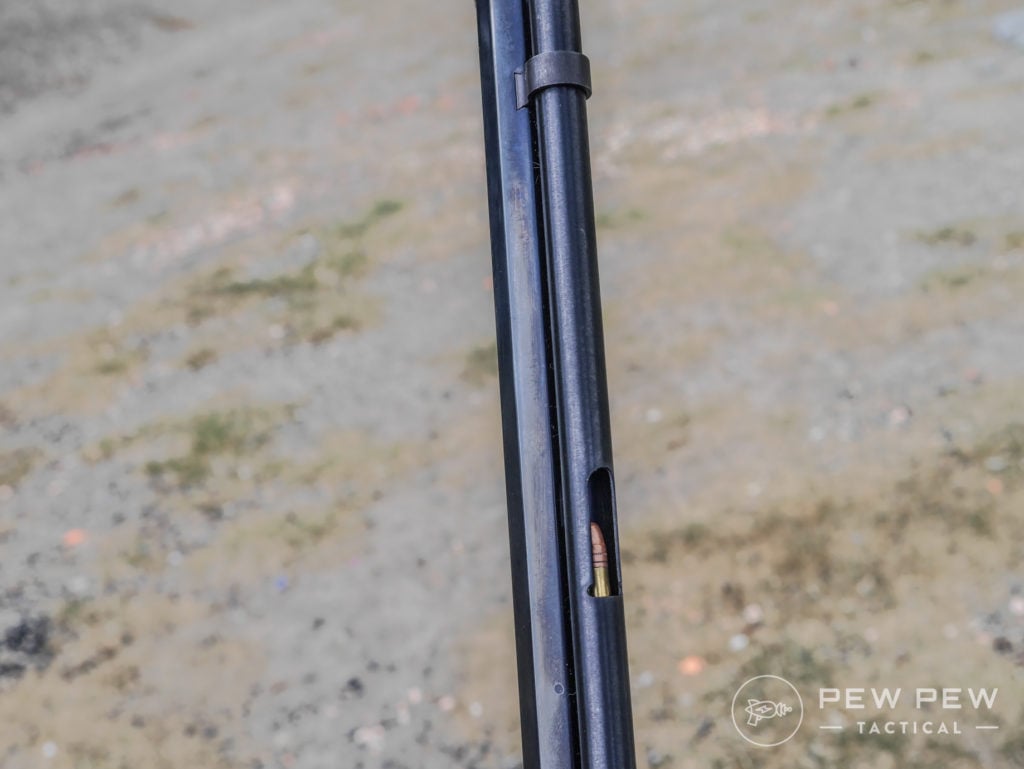 And since it's a rimfire with a tube…you should be good to go even in states with restricted magazine sizes.
After it's loaded up…crank that smooth lever and you're good to go.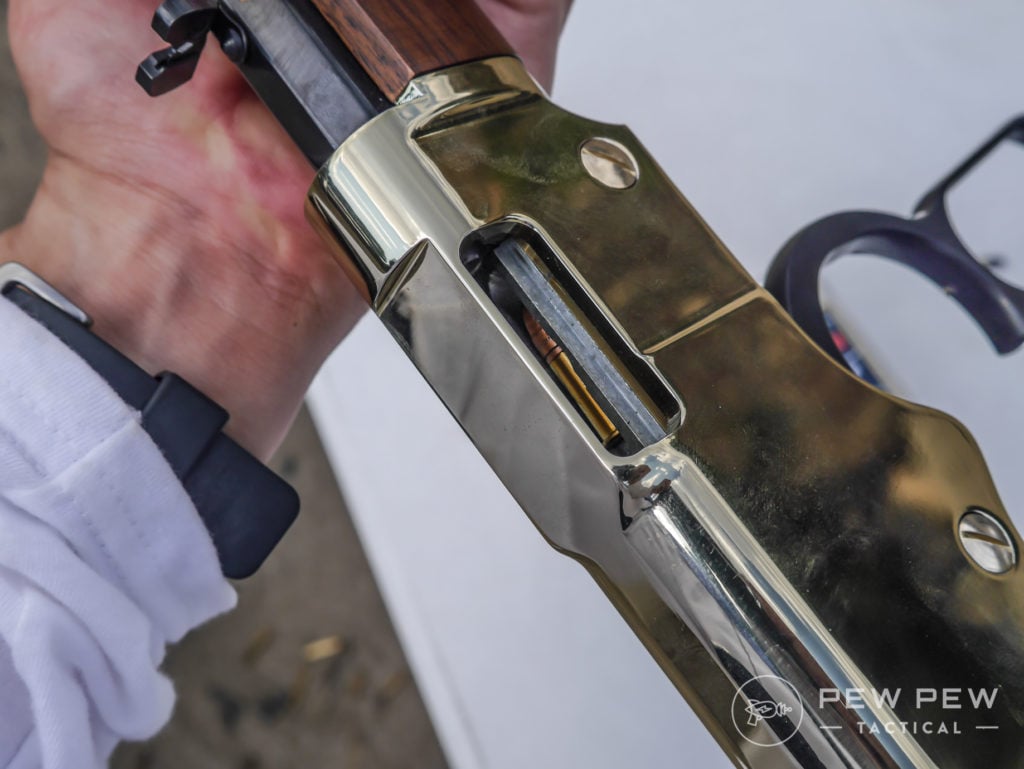 All that is good and dandy…but a video makes it all better.  Here I'm alternating between CCI Minimag and Fiocchi subsonics.  You can definitely tell the difference in decibels.
Mods
Henry also sent along a rail adapter to mount optics.  The installation of it was very easy.  But it took two tries to find the proper scope mount.  Eventually the Simmons 4x Rimfire Scope ($29) and its included rings fit the bill.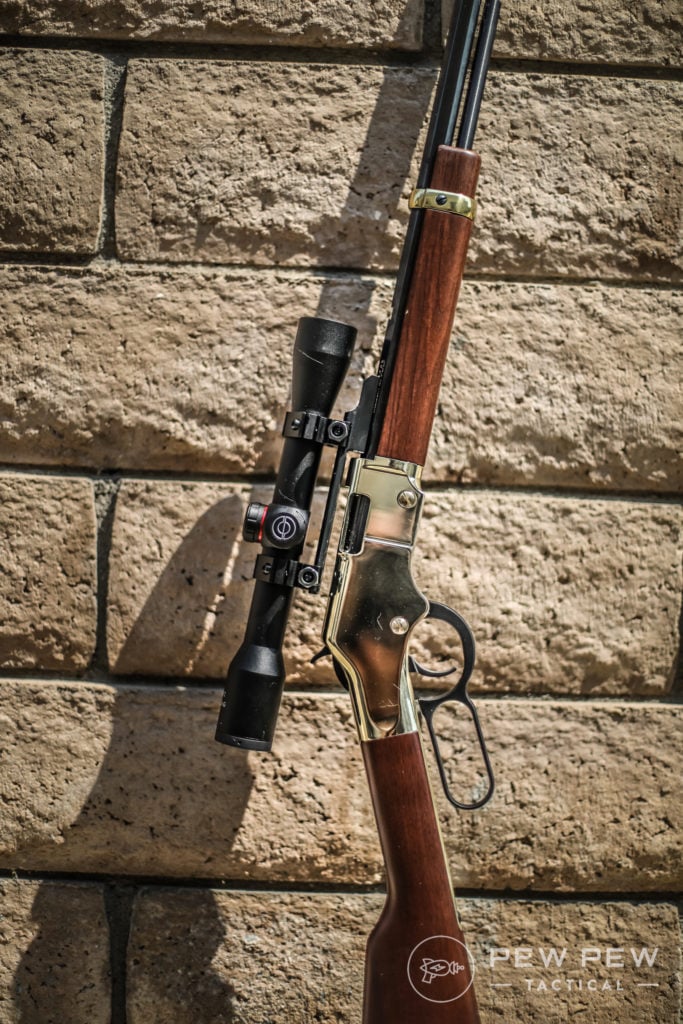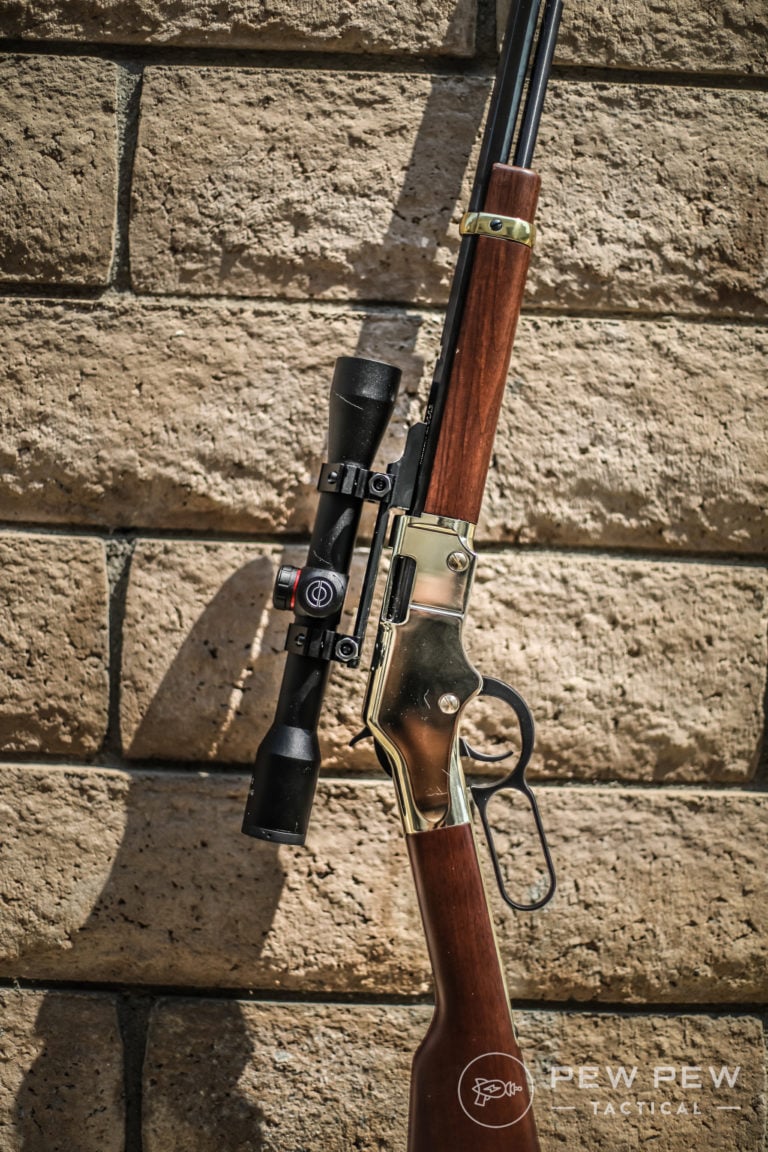 But my advice is…to NOT DO IT.
Or at least know that the scope will be much higher than the cheekweld on the regular stock.  You're going to have to get some saddle riser or make your own.
Plus…it looks kind of weird to have a modern-ish scope on an old school gun.
Specifications
Straight from the horses mouth…the Henry Golden Boy in .22LR.
Action Type: Lever Action
Barrel Length: 20″
Capacity: 16+1-Round
Cartridge: 22 Long Rifle
Finish: Blue
Front Sight: Fixed
Length: 38.5″
Magazine Included: Tubular Magazine
Magazine Type: Fixed
Muzzle: Plain
Rear Sight: Adjustable
Stock Material: Wood
Weight: 6.75 lbs
By the Numbers
Reliability: 5/5
No failures to fire in the ~300 rounds I've fired across a couple of brands.  Plus you're GTG with subsonic ammo since it is lever action.
Accuracy: 4.5/5
It'll do its job with regular plinking ammo once you figure out where to place the front sight.
Ergonomics: 4.5/5
A little front heavy and a little slippage from the brass plate on your shoulder.  But otherwise the trigger and lever are easily accessible for a wide variety of hands.
Looks: 5/5
Love the brass/gold and wood look.
Customization: 2/5
There's not that much you can do…nor is it something you should do.  Keep it old school!
Bang for the Buck: 4/5
Sure…you can get a .22LR rifle for much cheaper.  But is it this cool and fun?
Overall Rating: 5/5
Conclusion
The Henry Golden Boy .22LR ($449) was so much fun to shoot!
It ate all the ammo, didn't have a hiccup, and brought all the boys to the yard.
Looking for other calibers?  There's a couple more models in rimfire and common revolver loads.
I am definitely keeping this puppy around.
How about you…are you going to get a Henry Golden Boy?  Or do you already have one of their other varieties?