The AR-15 is already one of the lightest modern rifles ever created – but what if you need something even lighter?
Enter the Battle Arms Development OIP – an AR-15 style rifle that comes in at just 3.8 lbs, or approximately half the weight of your standard AR.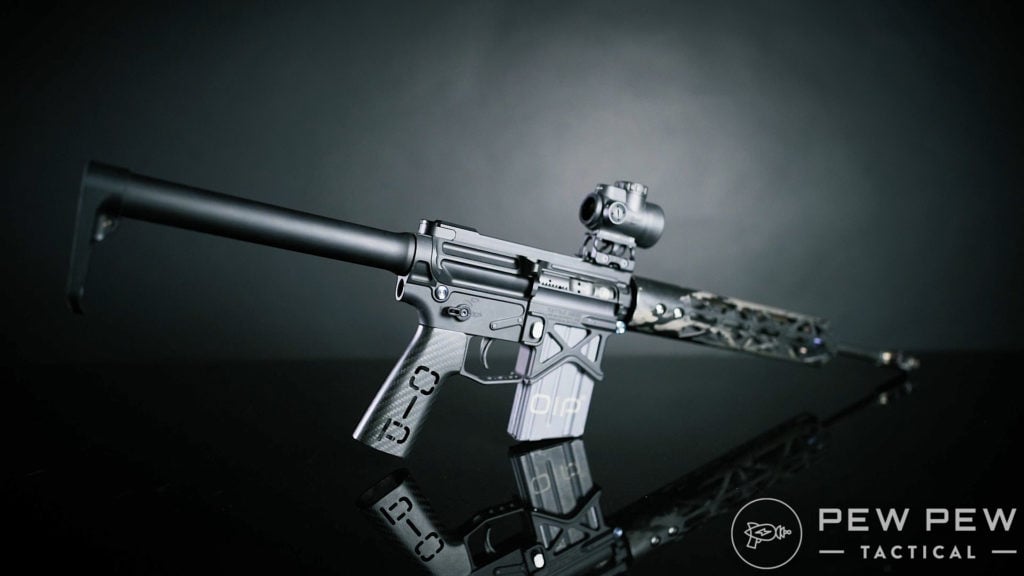 And the OIP? It stands for "Ounces is Pounds."
Check it out in action in our full video review:
If that was awesome…we upload new content every week so be sure to subscribe to our YouTube Channel.
Now onto the written review!
Who Is It For?
What's the point of such a light rifle, you might ask?
Originally, we had thought the gun was geared primarily for competitions, as you can definitely move quite fast with the gun if you're at all physically fit. Ahem.
However, Battle Arms has informed us that the rifle is intended more for survival purposes than anything else, which we can definitely see as well. If you're in an absolute worst-case scenario situation, lugging around any kind of extra weight will eventually take its toll.
Ounces equal pounds, and pounds equal pain, after all.
The Pew Pew

We were fortunate enough to link up with Battle Arms out at Gunship Gun Range – who normally specialize in letting tourists pop off rounds from an M249 mounted on the side of a helicopter, but were kind enough to let us plink with the OIP on their range between flights.
First things first – this gun is light. Obviously, right? But the noticeable lack of heft actually throws you off for a bit until you get used to it. Not that I'm a great shooter by any means, but I actually had a bit of trouble with overshooting targets when running plate racks, as it doesn't take anywhere near as much effort to move the barrel around as you'd think coming from other AR-15s.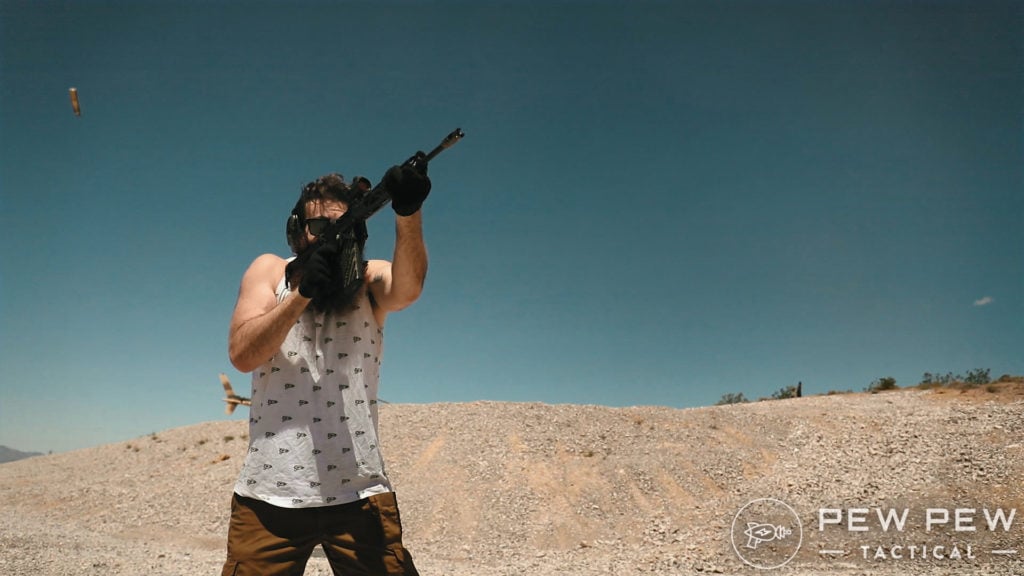 I got used to the rifle's maneuverability within a few magazines and was able to comfortably speed up my runs from there on out.
The gun sports a titanium muzzle brake that cuts down on a significant amount of felt recoil, which is obviously crucial considering the gun's featherweight status.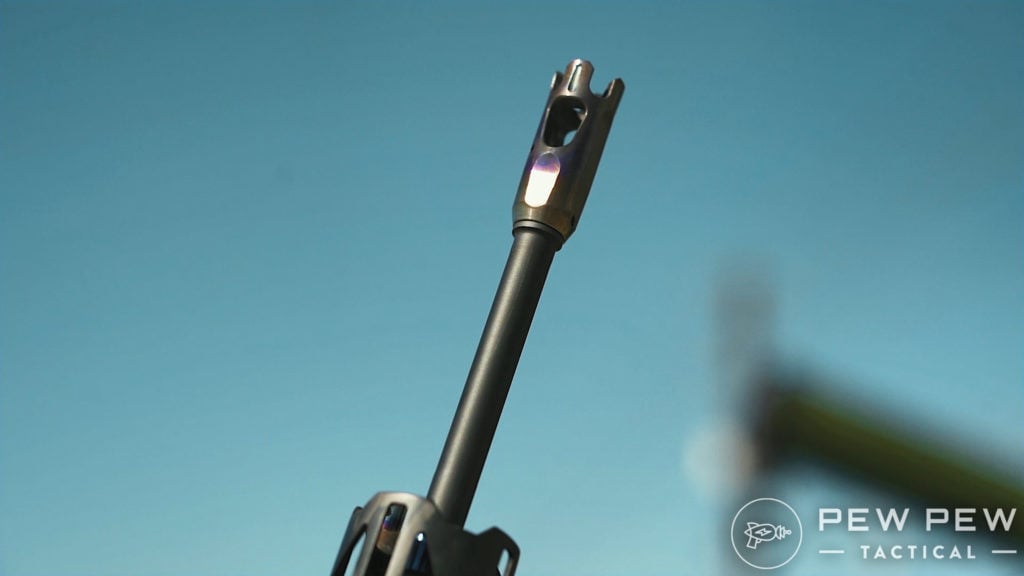 Rest assured, however, that this brake is pretty gnarly to be around if you're not actually behind the rifle.
As with most muzzle brakes, you're going to be venting a ton of gas out to the sides of your barrel – which is particularly unpleasant if you're running line drills with buddies or if you're a Pew Pew Tactical videographer (RIP).
All of this lightweight maneuverability does come at a cost, however.
At the time of this writing, the OIP can be had for about $3200 dollars or so.
That being said, it ran absolutely fine on several hundred rounds worth of the low-tier Serbian PPU M193 that we fed it, with no jams, FTFs, or other malfunctions to speak of.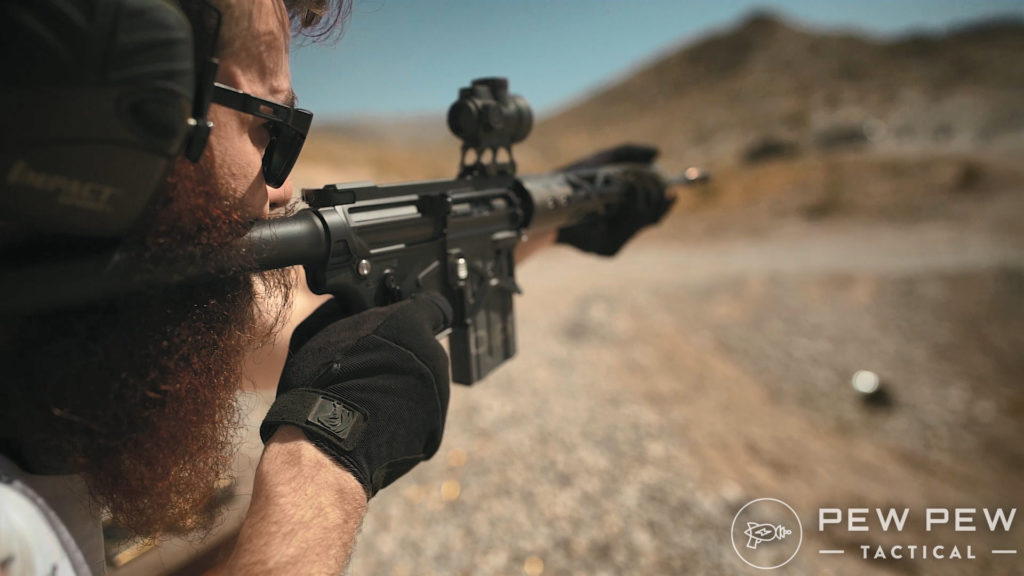 How Is It So Light?
The gun's got the weight-saving cuts you'd expect, including up front on the carbon fiber MLOK style handguard, magazine well, and carbon fiber pistol grip.
To keep it really lightweight, the buffer tube is made out of aluminum and features a small, simple metal butt plate.
Length of pull on the rifle was just about perfect for me, which is fantastic considering the stock is non-adjustable, and I normally run adjustable carbine stocks almost maxed out.
Finally, the pencil profile 14.7″ barrel with a pinned and welded muzzle brake, combined with various titanium components such as the bolt carrier group, all cut down on a significant amount of weight throughout the rifle.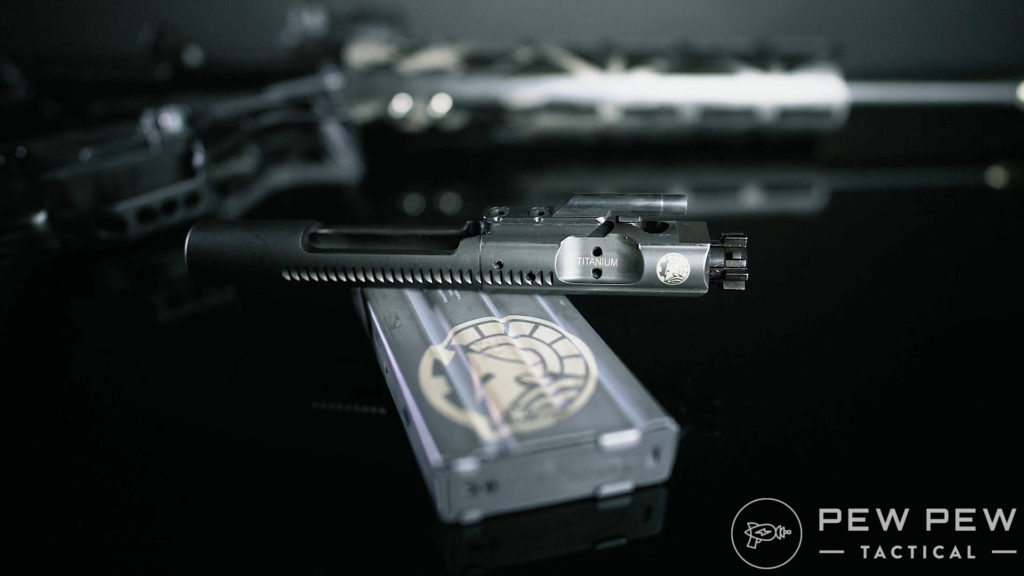 Although the stock doesn't look like the comfiest thing in the world, it's fine. I had spent the previous weekend shooting large caliber rifles up in Wyoming, and my strong shoulder was still a little bit tender from the .458 SOCOM AR that was present.
Even still, I ran the rifle through its paces in a tanktop with negligible discomfort.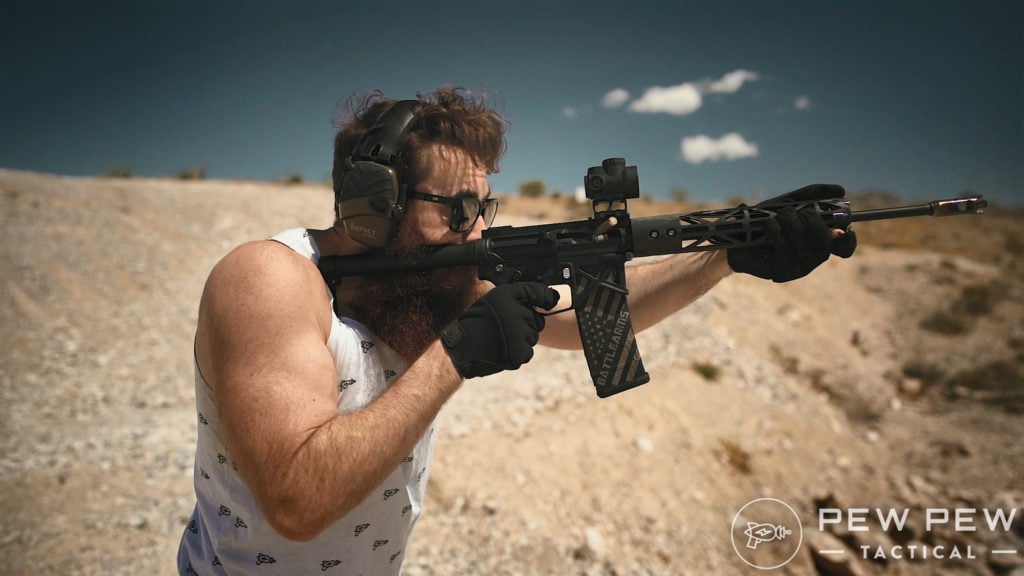 Features & Gripe
The rifle's only option for mounting optics is a small section of Picatinny rail on the front of the receiver, just behind the handguard. Though this obviously limits your options to smaller optics like the Trijicon MRO or Aimpoint Micro, etc, this isn't really a hindrance as the gun's not designed to be loaded down with an enormous rifle scope.
Due to a time constraint involving the helicopter going out on another chalk, we weren't able to shoot 100-yard groups with the rifle. However, we were consistently nailing steel targets at that range with no issues using the mounted MRO, and are confident the OIP could be pushed well past that if you absolutely needed to.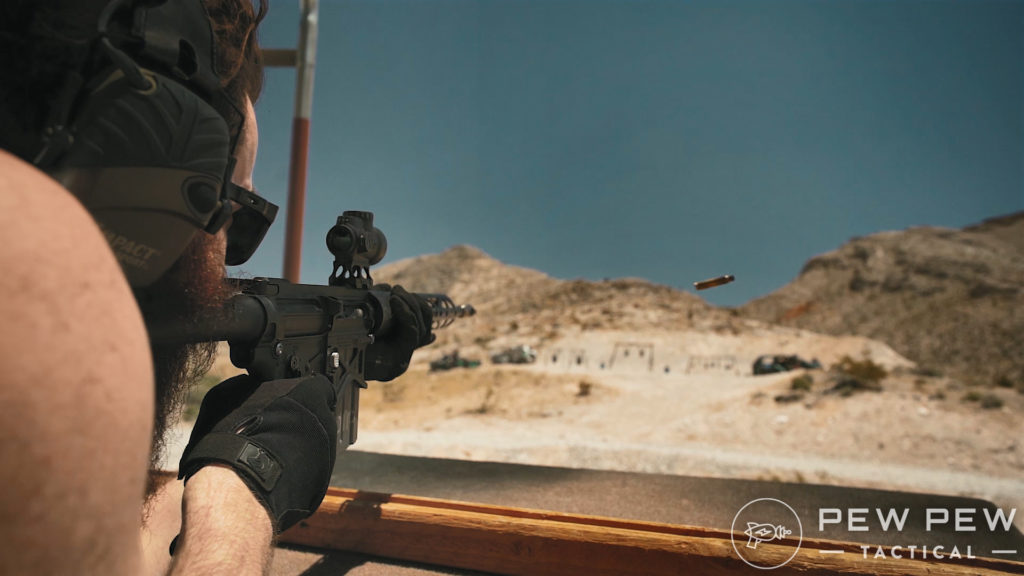 The fire controls are about what you'd expect, but I really do enjoy rifles that feature ambidextrous safety levers. Again, not that I'm the best shooter around, but being able to engage the safety with my strong hand without coming out of having the rifle shouldered before moving just feels great.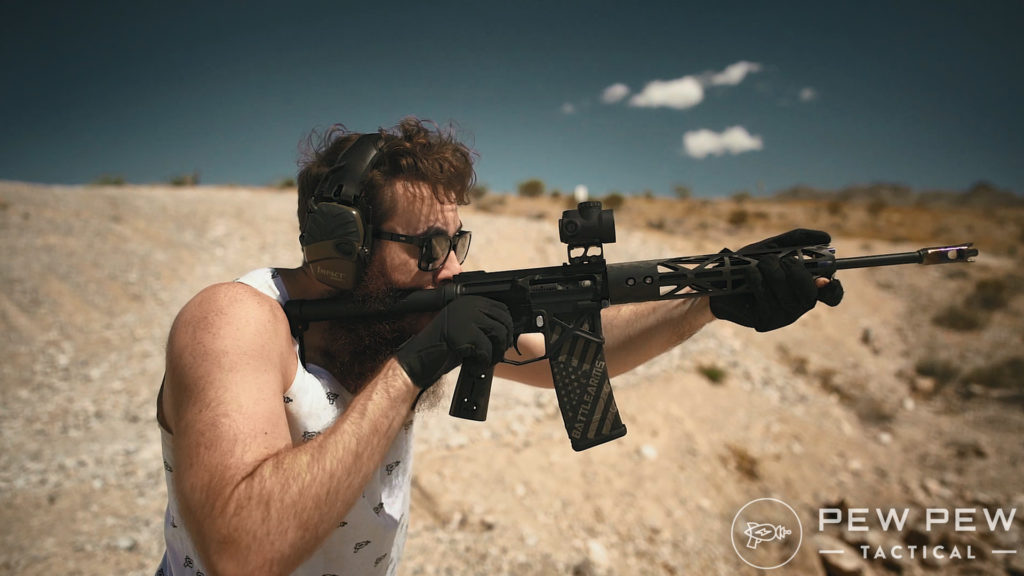 Additionally, the Rock River Arms 2-Stage National Match trigger feels crisp, breaks nicely, and resets audibly. A pretty big improvement over the gross sponge-y feeling found in most Milspec triggers.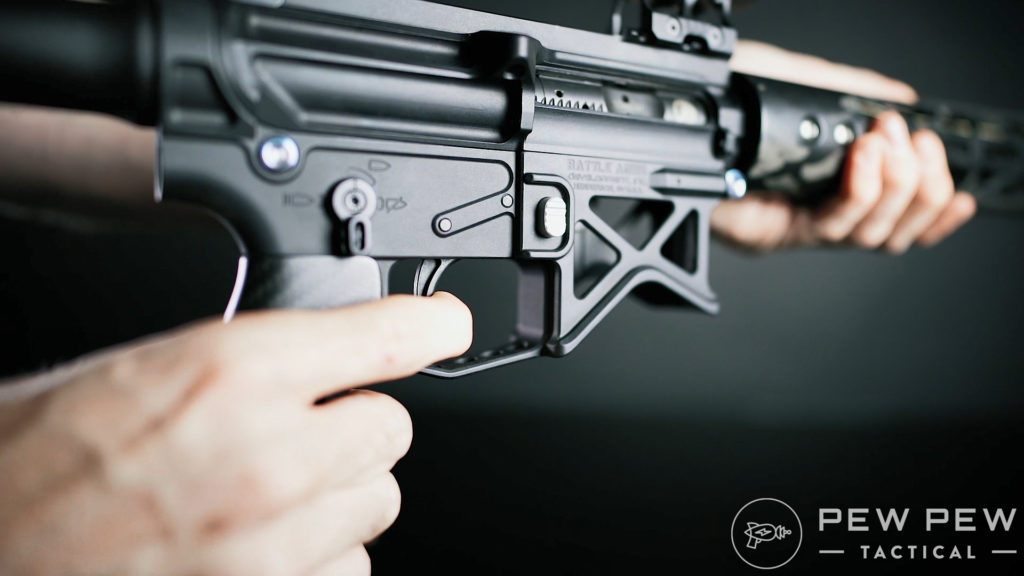 Maybe the only gripe we had was the charging handle's occasional habit of extending outwards and tapping you on the nose once the bolt locks to the rear on an empty magazine, but it's really more of an odd sensation than anything else. If your biggest gripe with a rifle is that minuscule, suffice to say that you're on pretty solid footing.
By The Numbers
Reliability: 5/5
We ran approximately 600 rounds of bargain bin Serbian M193 through the OIP with nary a malfunction. Good to go!
Accuracy: 4/5
We didn't actually get a chance to shoot actual groups with the rifle, but considering you can't really mount a magnified optic on it, it performed admirably against the ~100 yard steel we shot at.
Ergonomics: 4/5
Simple, clean, effective. We have no gripes with the streamlined design of the gun, but there are no frills here either.
Looks: 4/5
The gun is definitely visually striking! Its combination of lightening cuts and carbon fiber components make the gun look fast.
Customization: 4/5
It's an AR-15 platform, so the world is very much your oyster, outside of the limited options for attaching optics.
Bang for the Buck: 3.5/5
The rifle's price tag is insanely hefty. All in all, we would have much preferred to see a way better trigger setup for a gun coming in at just over $3,000.
Overall Rating: 4/5
Parting Shots
Overall, is the Battle Arms Development OIP worth the price tag? Well, that probably depends a lot on you. The gun is an absolute pleasure to fire and ran flawlessly, and running around the range like a dork feeling totally unencumbered was a blast.
Remember when you were a kid, and trying on a new pair of shoes made you feel like you could run faster? Shooting courses with the OIP is a lot like that.
However, that price tag is no joke at just north of $3k – but if you're in the market for the most ridiculously light AR-15 in town, you just might want to check out the BAD OIP.
3290
at Battle Arms Development
Prices accurate at time of writing
Prices accurate at time of writing
Do you have an ultralight rifle? Why? Why not? Let us know in the comments! And for a more average job kind of rifles, take a look at the Complete AR-15 Buyer's Guide