Whether you are a DIY person, a hobbyist, or just want to keep what you own private from the powers that be, building an 80% firearm can be a great choice.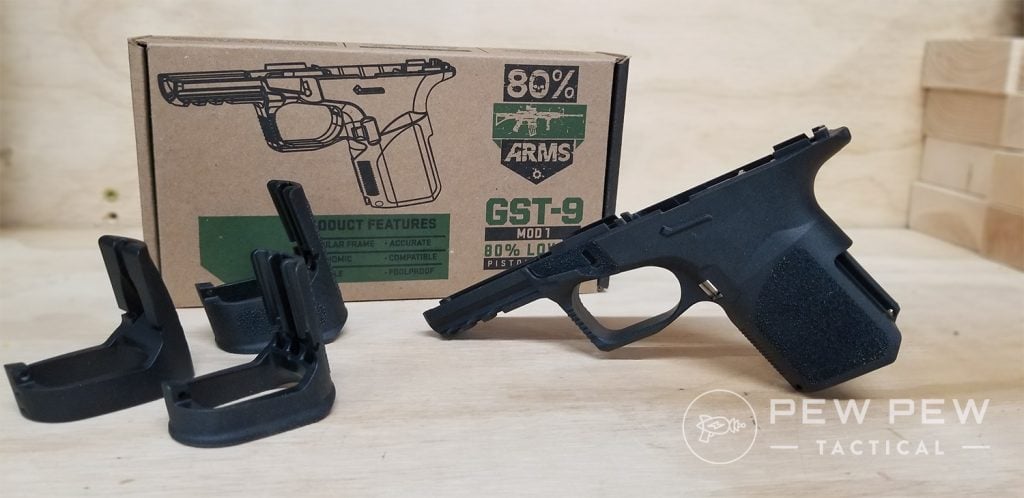 But with all of the ATF and court kerfluffle, many manufacturers that sell 80% parts are disappearing or being forced to stop selling certain items.
Luckily, 80% Arms is not only surviving but bringing new products to market to ensure customers get a quality product that lasts.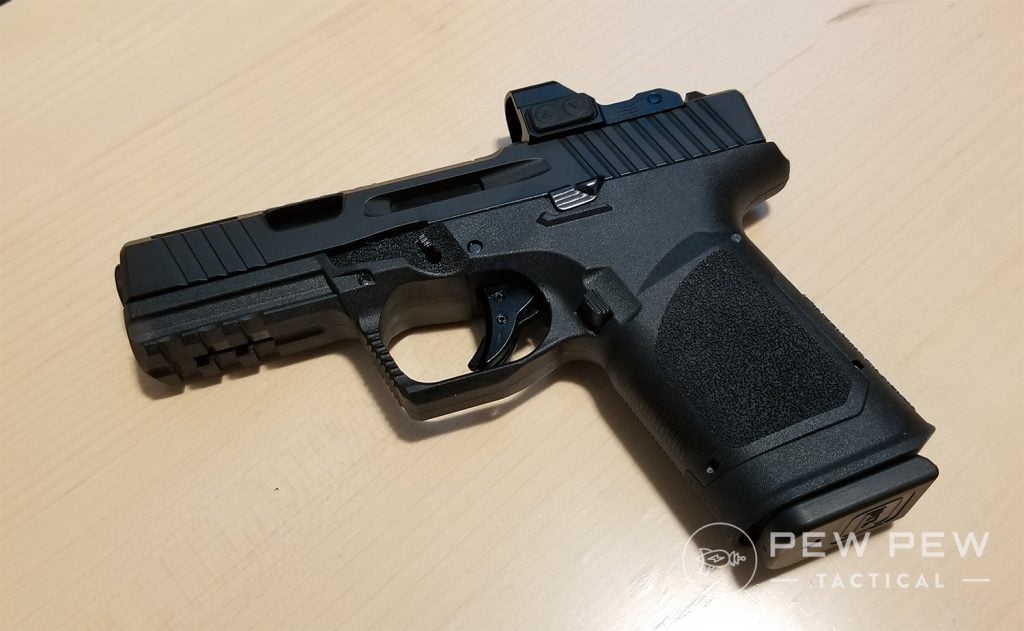 Today we will be looking at their newest arrival, the GST-9 Infinity Jig. We'll break down what the Infinity Jig is and why it might help your future builds.
So, if you're interested in future-proofing your gun-building adventures, keep reading!
Disclaimer: We're not lawyers, and you should check with your local, state, and federal laws regarding 80% receivers.
Table of Contents
Loading...
What Is an 80% Gun?
Many of you may be familiar with the concept of 80% firearms, but here is a little crash course for the uninitiated.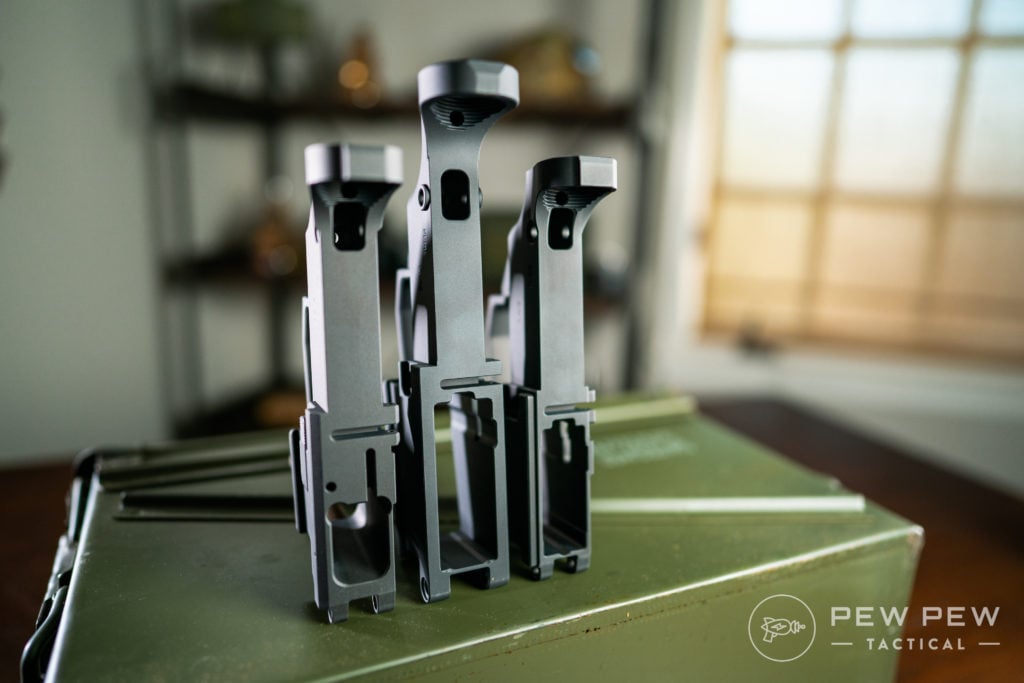 An 80% frame or receiver is industry jargon for a piece of metal or plastic that has the general shape of the gun but isn't ready to be assembled — it's only 80% of the way ready.
This means some parts need to be milled out or shaved off, and holes need to be drilled to "complete" the receiver/frame.
129
at 80% Arms
Prices accurate at time of writing
Prices accurate at time of writing
Since these are not complete firearms, they aren't considered guns. That means they can be shipped straight to your house and require no serialization or paperwork (in most states).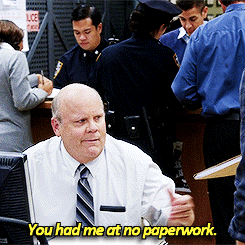 The catch? It can be tricky to drill and cut everything correctly — but 80% jigs help ensure that everything goes smoothly and you don't end up with a block of plastic or metal that looks like Swiss cheese.
Who Is 80% Arms? (A Little Background)
80% Arms has been in the game since 2013 and has produced some revolutionary products that have made the building process for 80% AR-15s and Glocks much easier.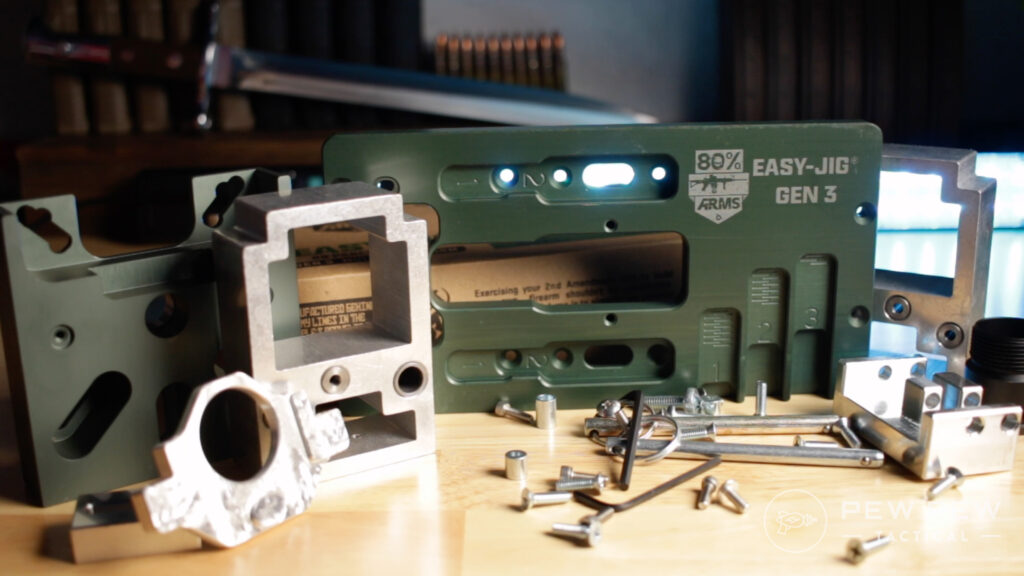 They recently moved to Texas from California (three guesses as to why) and have expanded their facility and their lineup.
More importantly, Last November, 80% Arms won a preliminary injunction in a federal court. This makes their company the only retail site where you can get jigs, 80% lowers, and pistol frames all in one place.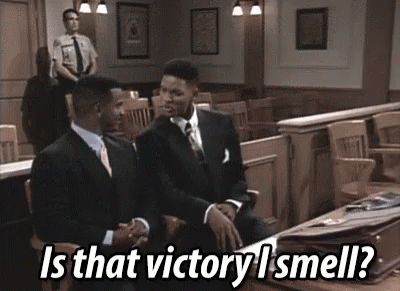 This means ATF can't enforce their 2021R-05F rule on the company, so products are easier to get for the consumer.
GST-9 Infinity Jig: What Sets It Apart?
In the past, 80% Arms and most other manufacturers have used jigs made of polymer for the completion of their Glock-style frames.
Repeated clamping and drilling around plastic will eventually result in unintended wear or damage in many cases.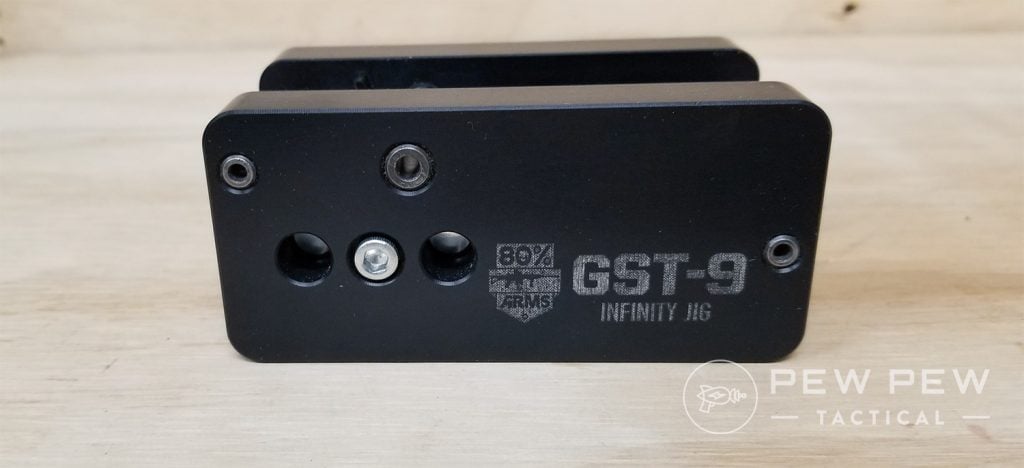 Their all-new Infinity Jig is made of high-end billet aluminum and features heat-treated hardened bushings to ensure that durability is never an issue.
Thanks to their recent injunction and some clever design choices, the Inifity Jig is also immune to any future policy changes or shenanigans from the ATF.
99
at 80% Arms
Prices accurate at time of writing
Prices accurate at time of writing
You end up with a jig built to last both physically and legally for indefinite future use, hence the name — Infinity.
Its all-billet design has allowed for a more compact, secure mounting solution that is easier to secure into the frame.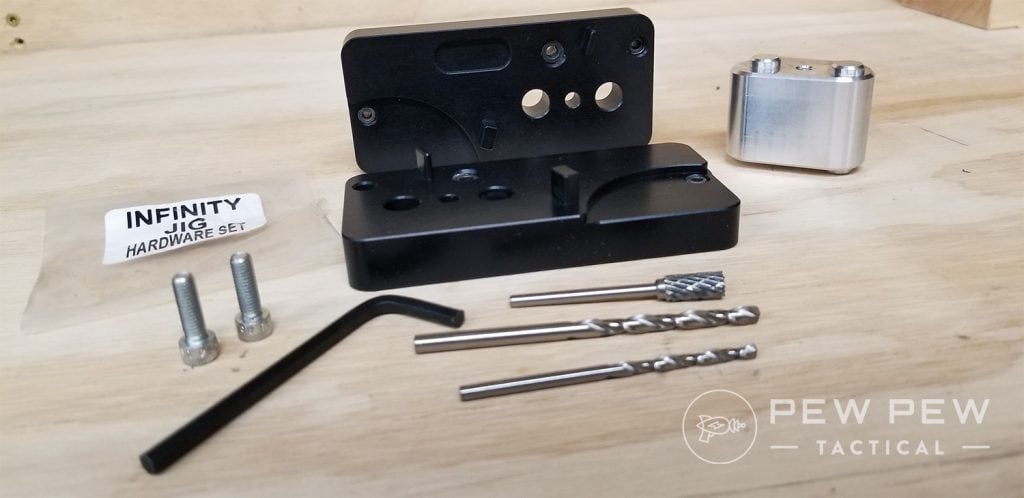 A nice bonus is the completely flat outer surfaces of the jig that allow for everything to be perfectly level prior to drilling.
How to Build an 80% Pistol With the Infinity Jig
I have a lot of guns, but I have never built an 80% Glock clone from scratch before.
With the Infinity Jig, a GST-9 build kit in hand, and a bit of nervousness, I was ready to start.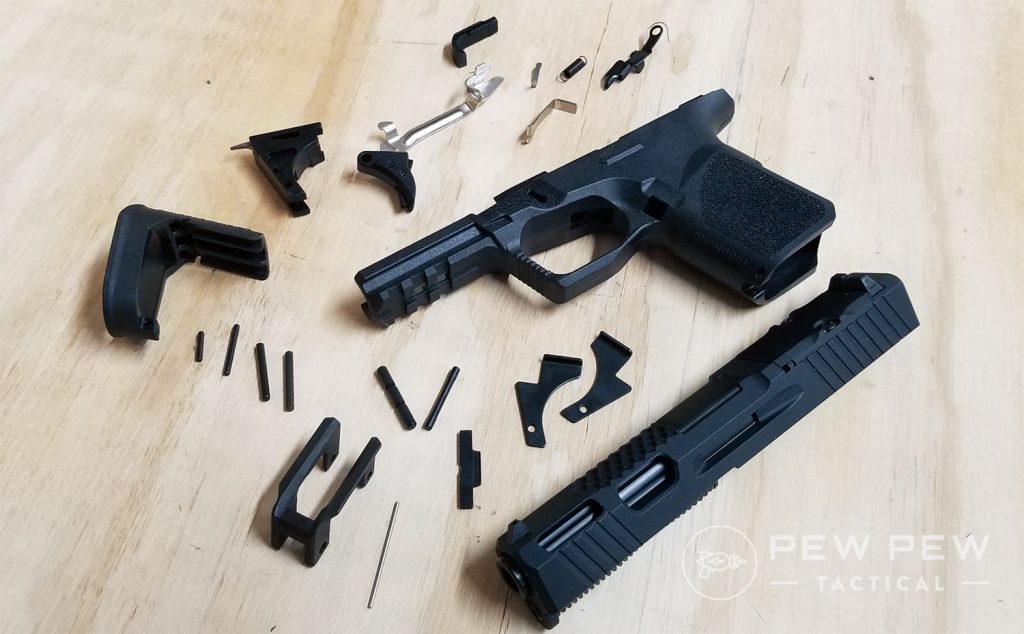 Luckily the instructions are step-by-step with clear illustrations. It is literally a single page front and back (take that, IKEA).
Assembling the Jig
This part is ridiculously easy.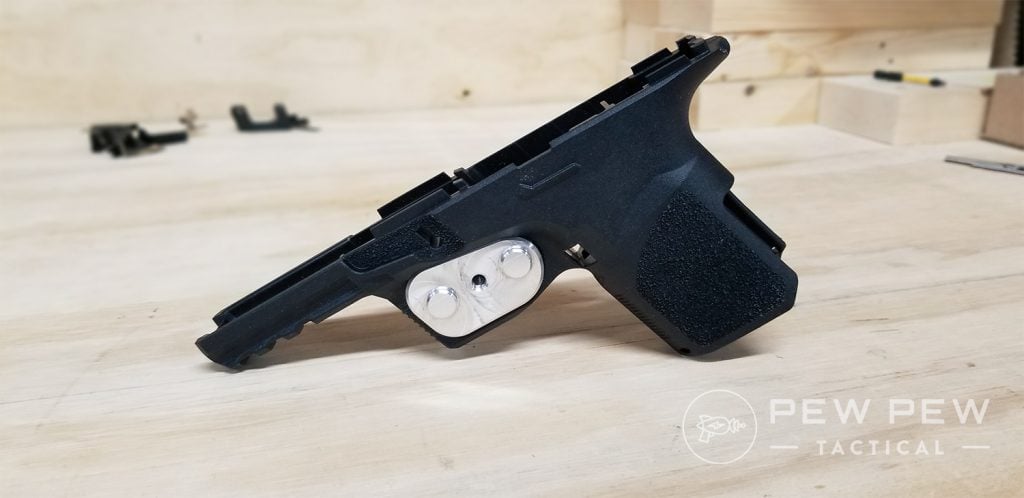 Place the trigger guard insert into the GST-9 frame, screw in one flat side of the jig, then do the same on the other side.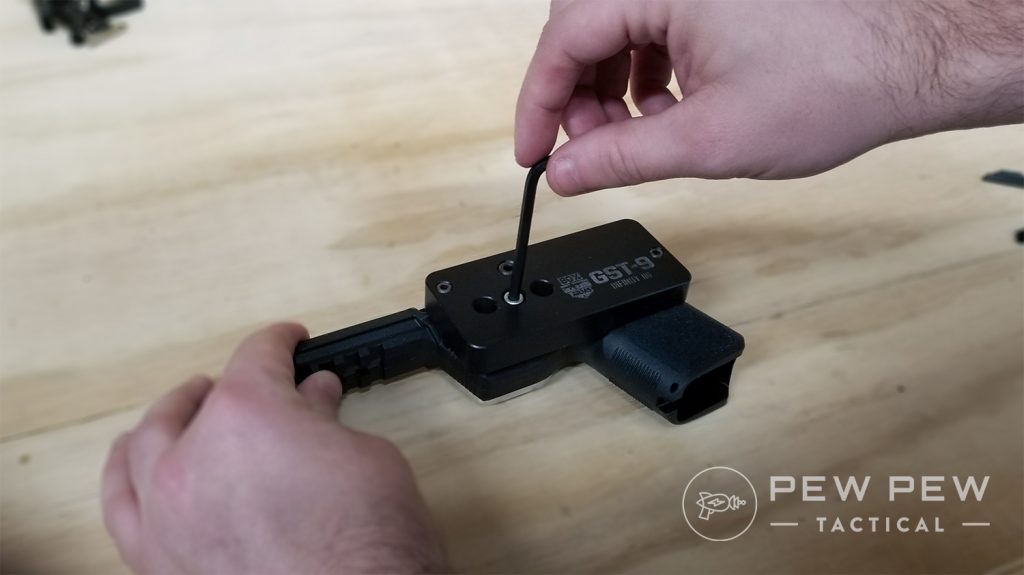 The end result should be your frame sandwiched between both firmly seated sides of the jig.
With everything in place, the frame is now lined up and ready for you to drill your pin holes.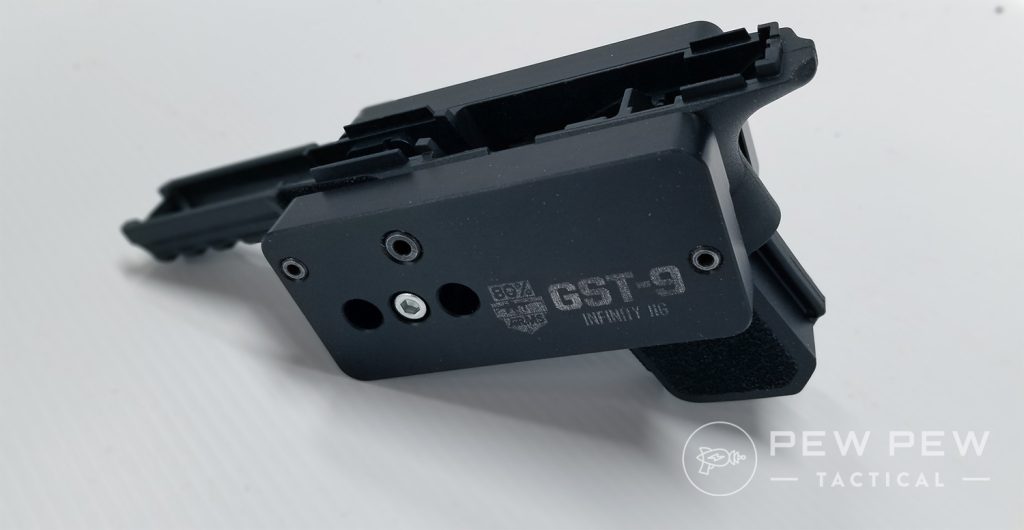 Drilling
Although this entire process can be done with a hand drill, 80% Arms recommends using a drill press and a vise. I elected to take the recommended route here.
I already had a drill press and some vises and clamps on hand, but I decided to buy a cross-slide (X-Y) vise at Harbor Freight.
86
at Amazon
Prices accurate at time of writing
Prices accurate at time of writing
This type of vise allows you to clamp something down and has two spinning knobs that enable you to move the clamped object both forward and backward and left and right.
Having one of these isn't required, but it makes centering the drill bit over the jig hole so easy. It also allows for a bit of milling (more on that later).
Using the provided drill bit of the correct size, I set my drill press to the appropriate speed, lined up the hole, and sent it.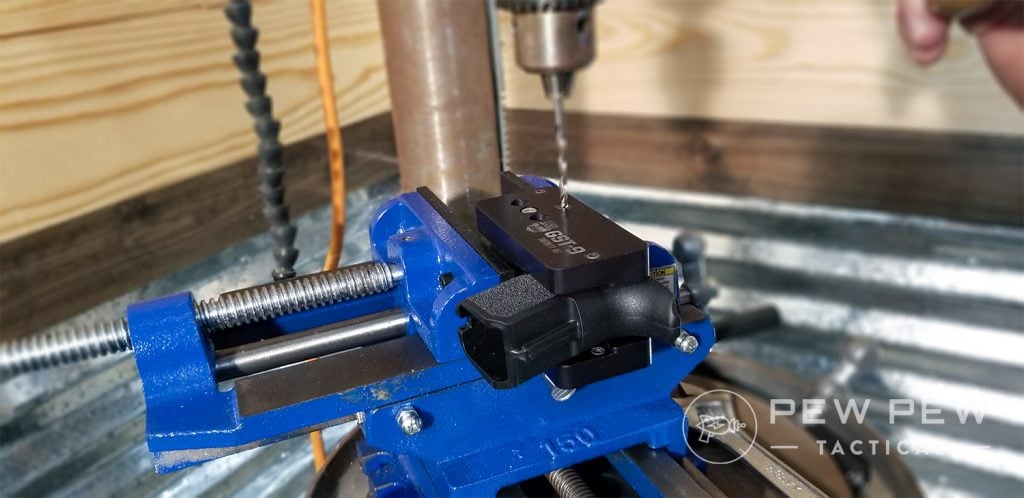 Per the instructions, you drill the hole through one side but avoid drilling all the way through the other side of the frame.
The Infinity Jig kept the gun secure and flat in the vise, and I had zero problems drilling the first trigger pinhole.
Flip the jig around, and drill the same hole on the other side. Presto!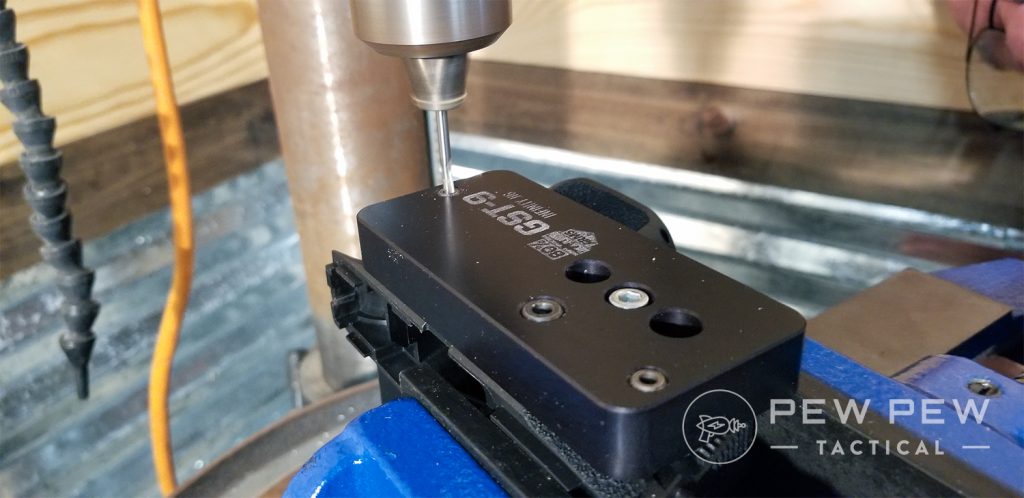 I changed the drill bit to the right size for the remaining holes, lined everything up with the vise — and bada bing; 10 minutes later, I had the entire drilling portion done.
Cutting
With all of the holes drilled, it was time to remove the wings on the top of the frame to make way for the front and rear slide rails that are included with the Infinity Jig.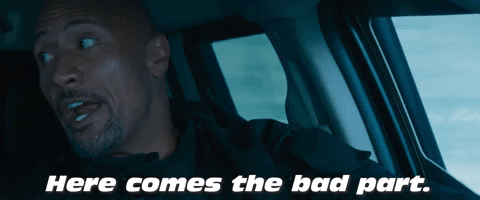 You're supposed to use the provided cutting bit to remove the specified material down close to the frame and then finish it off by hand-sanding it until the top of the frame is flat.
I decided to forgo the use of a Dremel here. Instead, I took the jig, clamped it vertically, and adjusted the height on my drill press deck until the bit was just above the frame itself.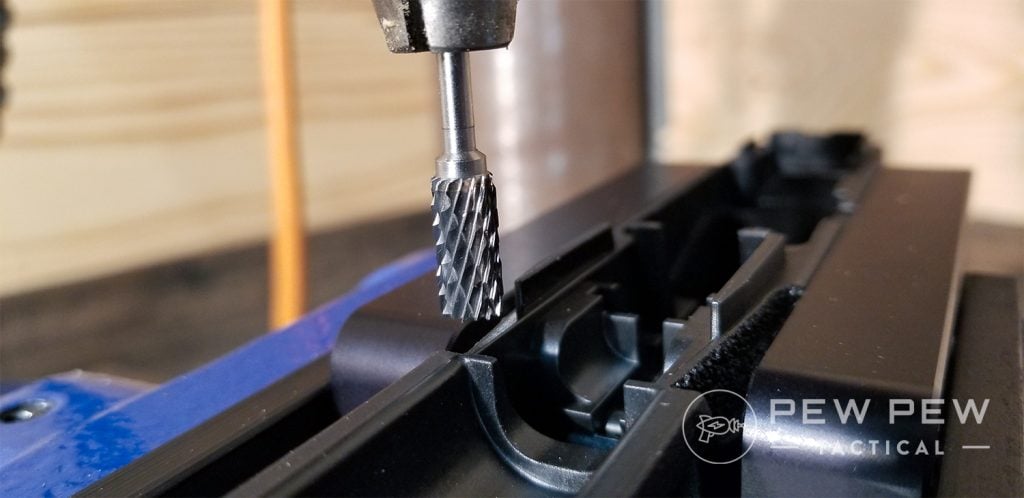 This is where the cross-plane vise really came in handy.
With everything lined up, I turned the drill press on and simply turned the knob on the vise to move to slowly move the gun along its axis as the bit removed material.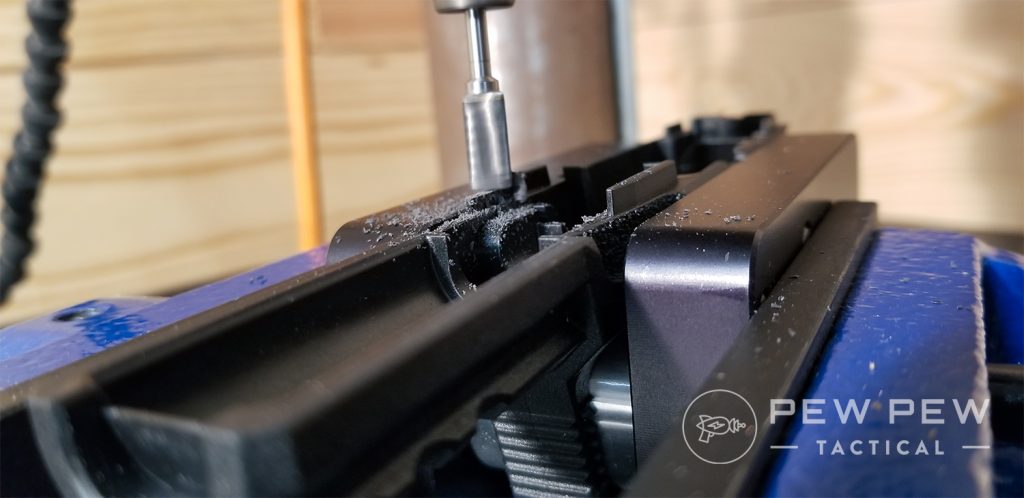 It might be a redneck way of milling, but it worked great. I was too chicken to mill it exactly even with the frame, so even after a few passes, I left a bit of material to be sanded down by hand.
I repeated this process to remove the rear wings as well.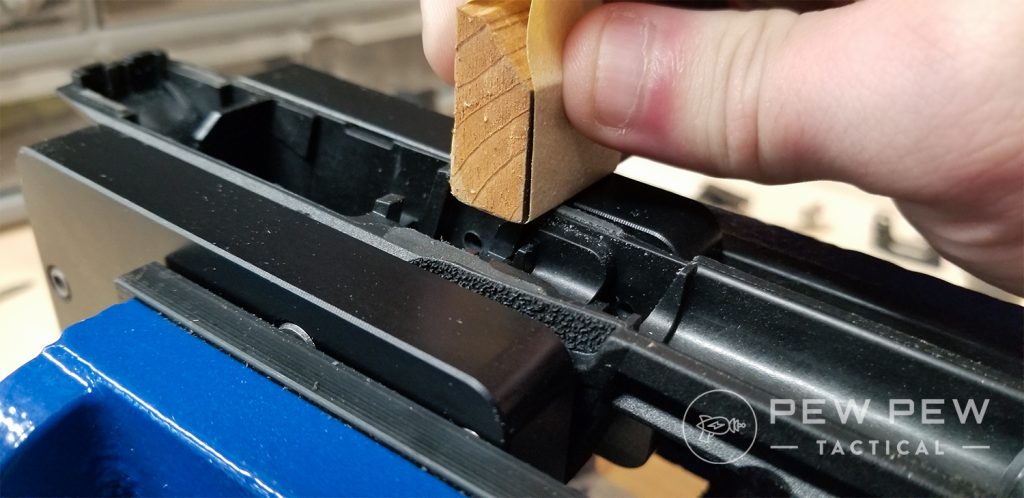 The last step was to cut out the plastic material at the nose of the frame to make way for the guide rod assembly.
Unfortunately, I couldn't cheat my way out of this one and had to whip out the old Dremel tool. I chucked up the cutting bit and went to work removing the specified material.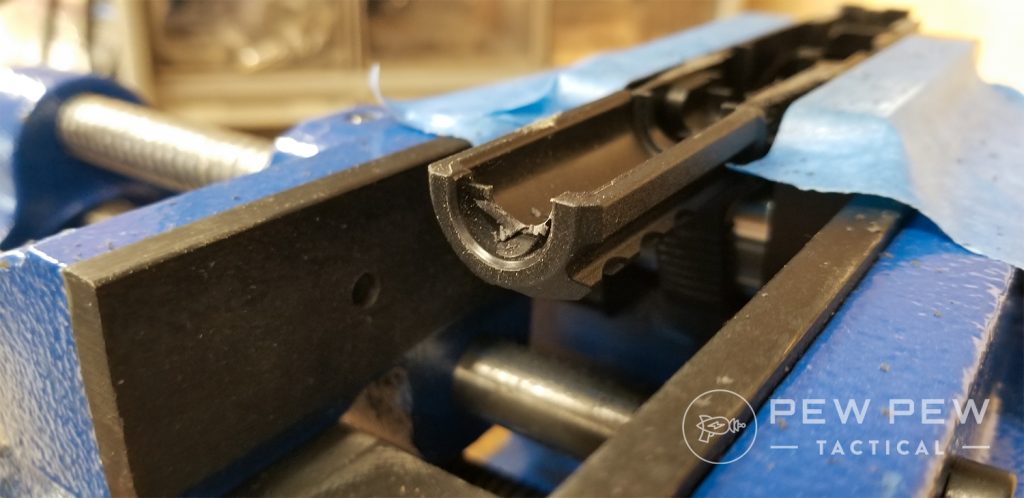 After I was satisfied with how much material I removed. I used some fine grit sandpaper to smooth everything up.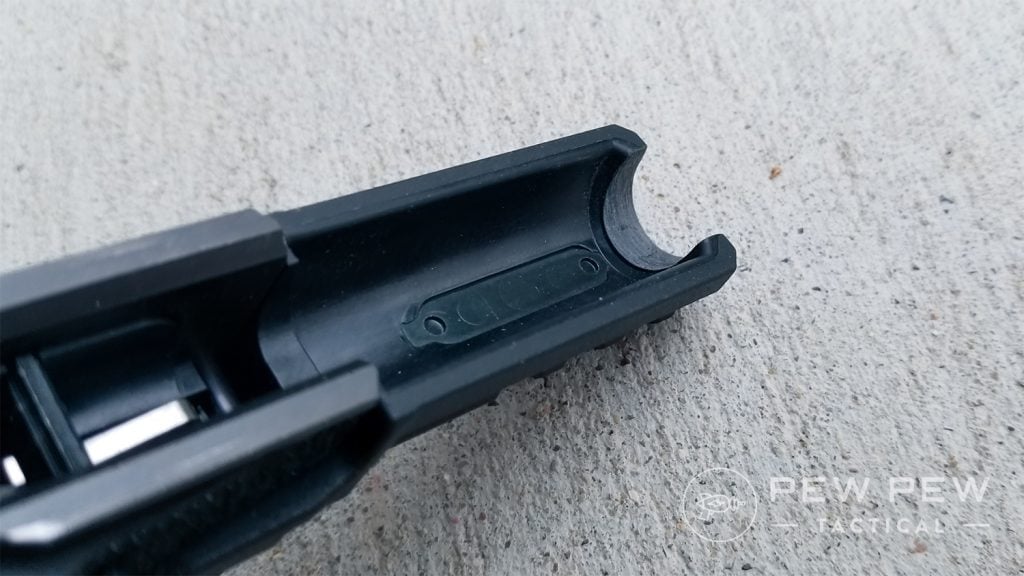 The Finished Product
About an hour or so later, I had what appeared to be a GST-9 frame that was ready to have all of the internal parts installed.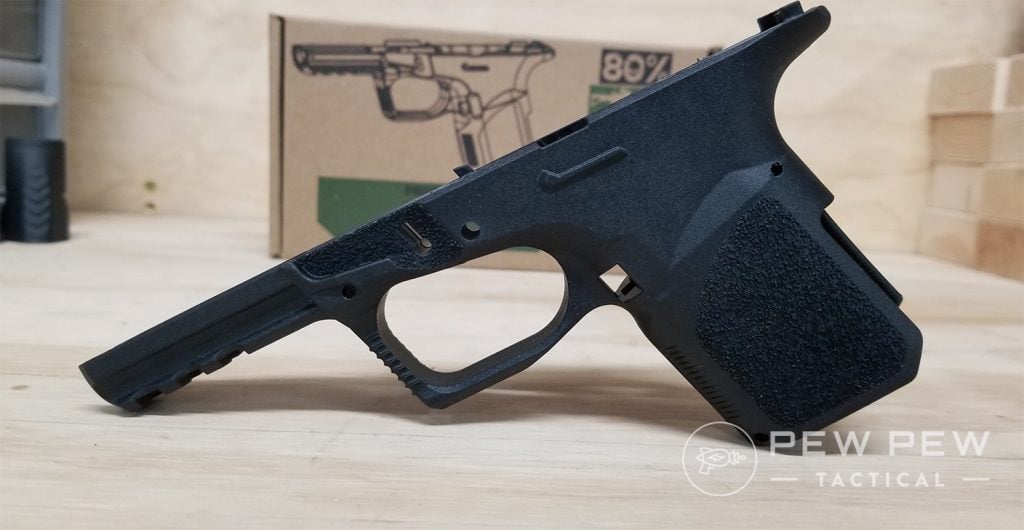 All of the holes were immaculate, and my only complaint was a bit of sloppy hand sanding on my part that had nothing to do with the jig.
I installed the parts included with the GST-9 build kit, installed a Primary Arms Classic Mini, and assembled the gun.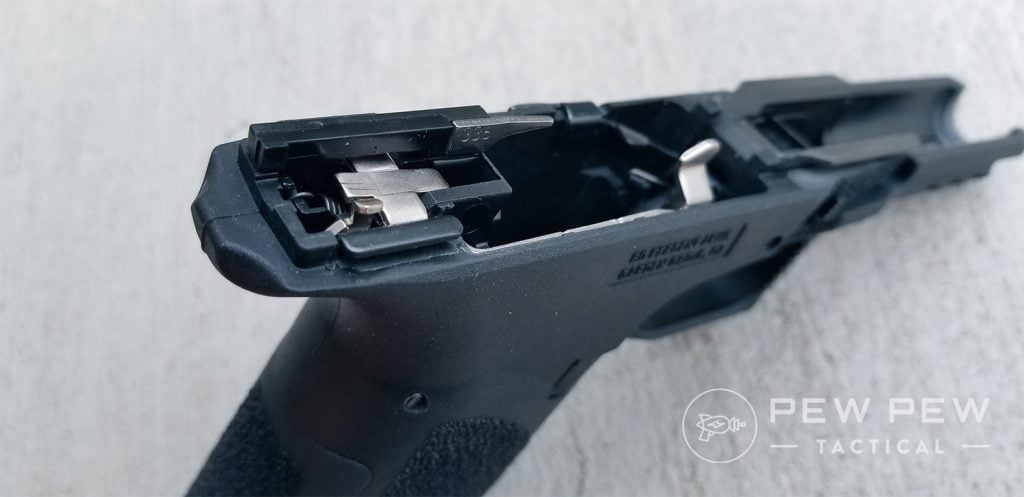 For a first-time builder, I was surprised that all of the pins fit, everything went in correctly, and the gun appeared to function.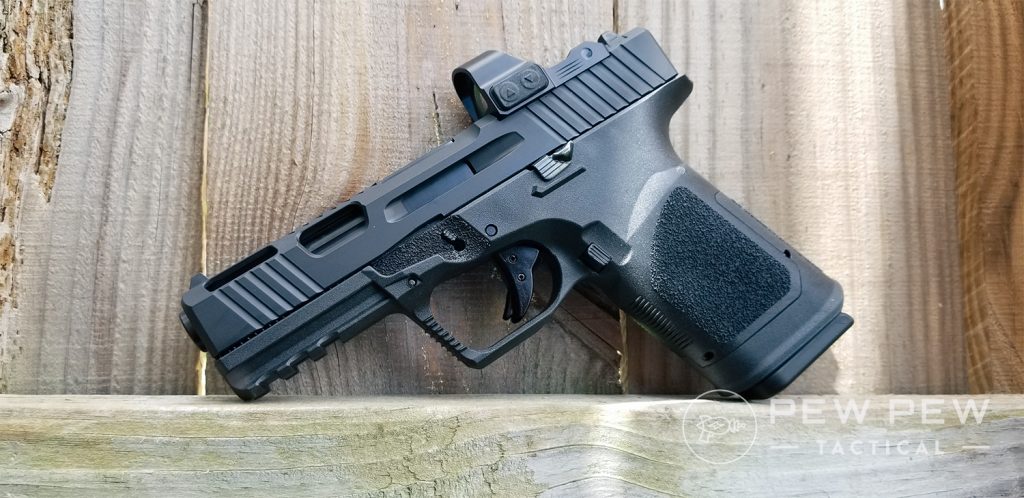 Beginner's doubt aside, there should have been no shock, as the entire package made this build easy from start to finish.
How Did the GST-9 Shoot?
While we have a complete review of the GST-9 already, I had to test my first personal attempt to see if it ran as well as it looked.
Suffice it to say; it shot pretty well.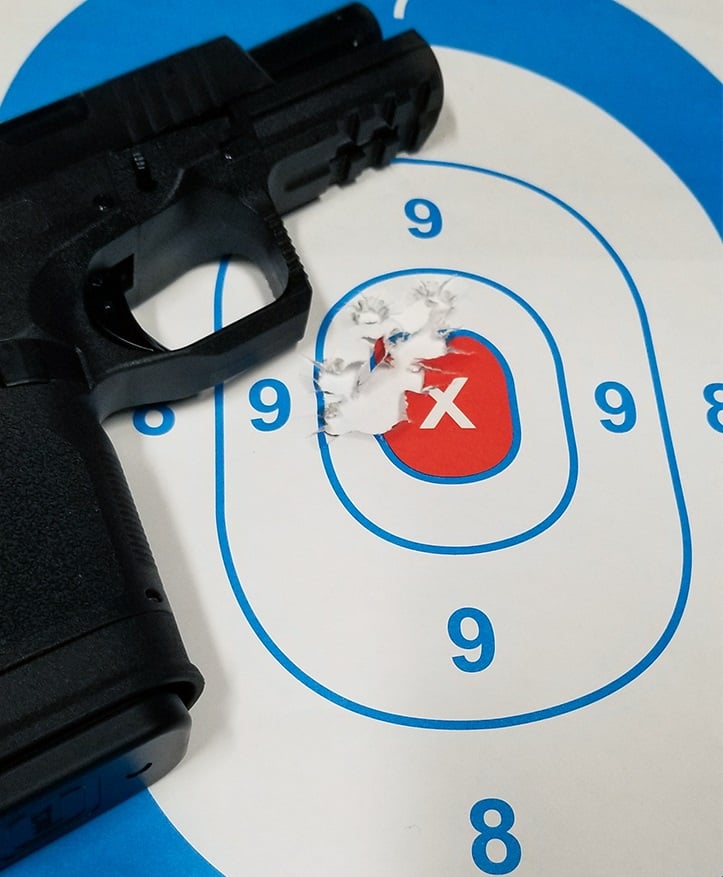 As with most 80% builds, there is a little bit of a break-in period. But after the first two mags, everything smoothed itself out, and I was left with a pretty sexy gun — at least as far as Glock clones are concerned.
Is the Infinity Jig Worth It?
When any new product comes to market, the question is — is it hype, or is it real?
For me, the answer is yes, this thing is real.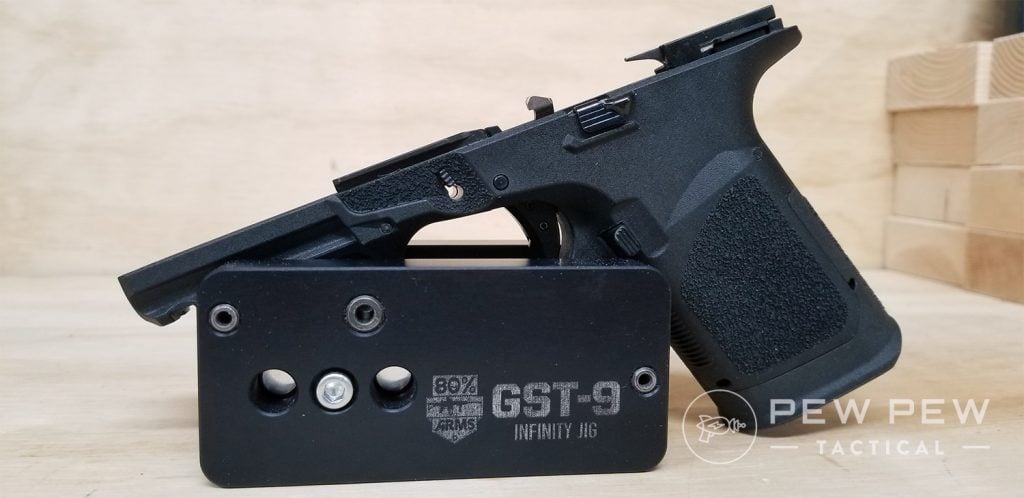 The compact size and flat surfaces of the Infinity Jig made it extremely easy to clamp down and avoid screwing up the drilling process.
Concise directions and the provided bits made removing the rest of the material very straightforward.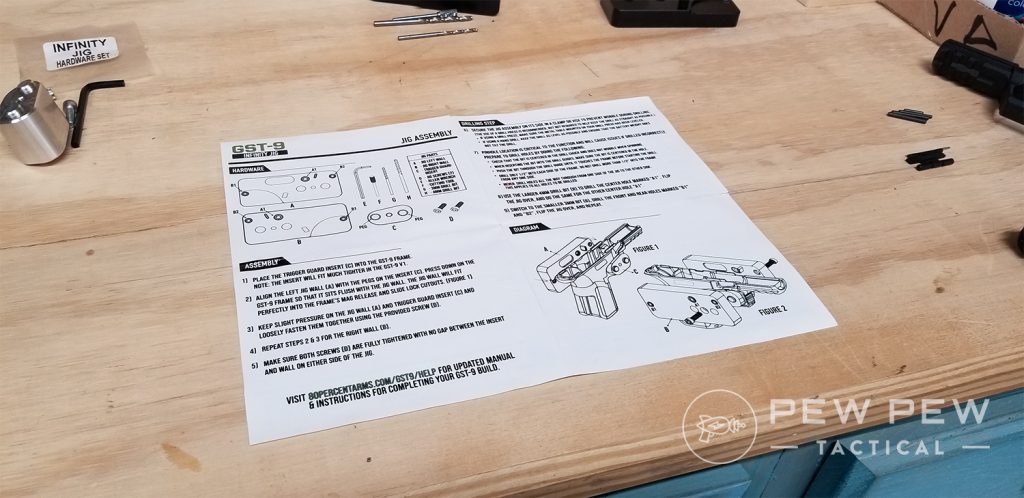 To top off ease of use, the Infinity Jig is durable and can't be outlawed in the foreseeable future.
If you plan on building multiple 80% Gock clones, this is definitely the tool for the job. And if you are just making a one-off, the peace of mind and simple setup are still hard to beat.
Final Thoughts
As a first-time 80% Glock builder, I approached the Inifinity Jig from 80% Arms with very little frame of reference.
I was pleased to find it easy to use and that it produced a high-quality functioning product.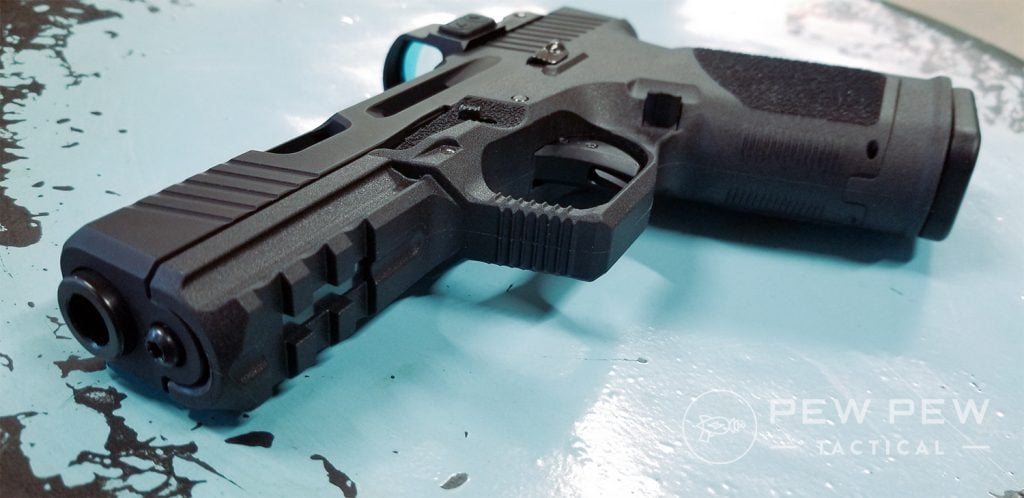 While I may not be chomping at the bit to build another 80% gun, knowing that the product is future-proof and that 80% Arms stands behind their product and their customers makes me feel good about owning the Infinity Jig.
99
at 80% Arms
Prices accurate at time of writing
Prices accurate at time of writing
What are your thoughts on the GST-9 Infinity Jig? Let us know in the comments below! Interested in other 80% AR builds? Check out our article on the 80% Arms Easy Jig Gen 3!