As a female shooter, do you know what's better than a robin's egg blue Sig? Tactical pants cut for thicc thighs. 
Sure a ton of companies have figured out that tactical gals exist, but to be honest, not too many figured out that we're not shaped like the guys.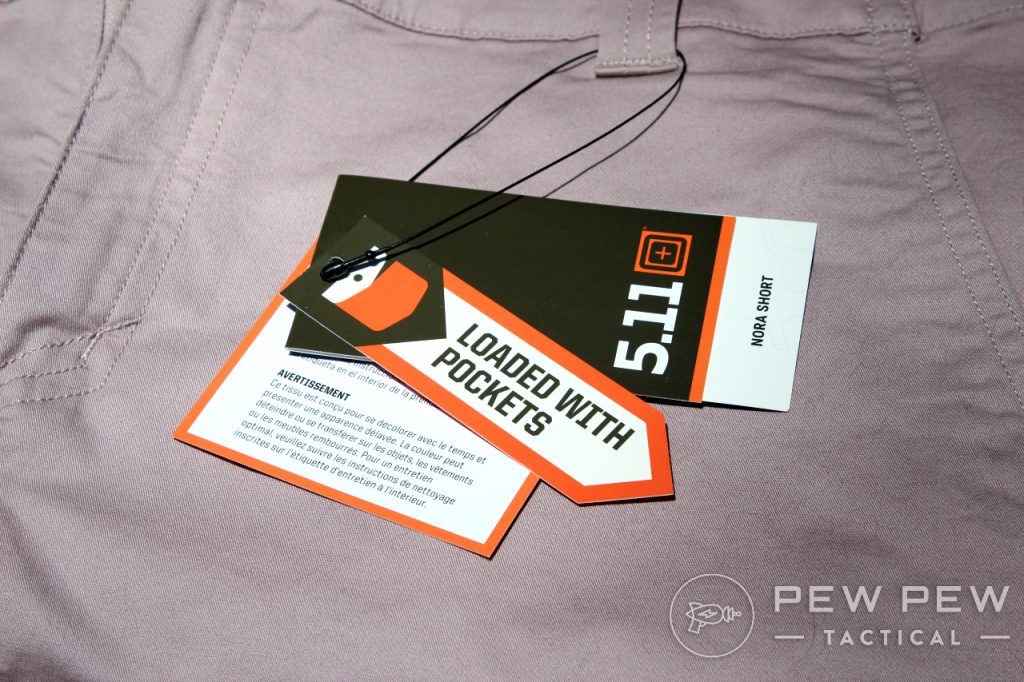 Finding comfortable, tactical clothing can be a struggle…and honestly, they're just not that cute.
One of my favorite brands for cute, practical, tactical gear is *drumroll*…5.11 Tactical!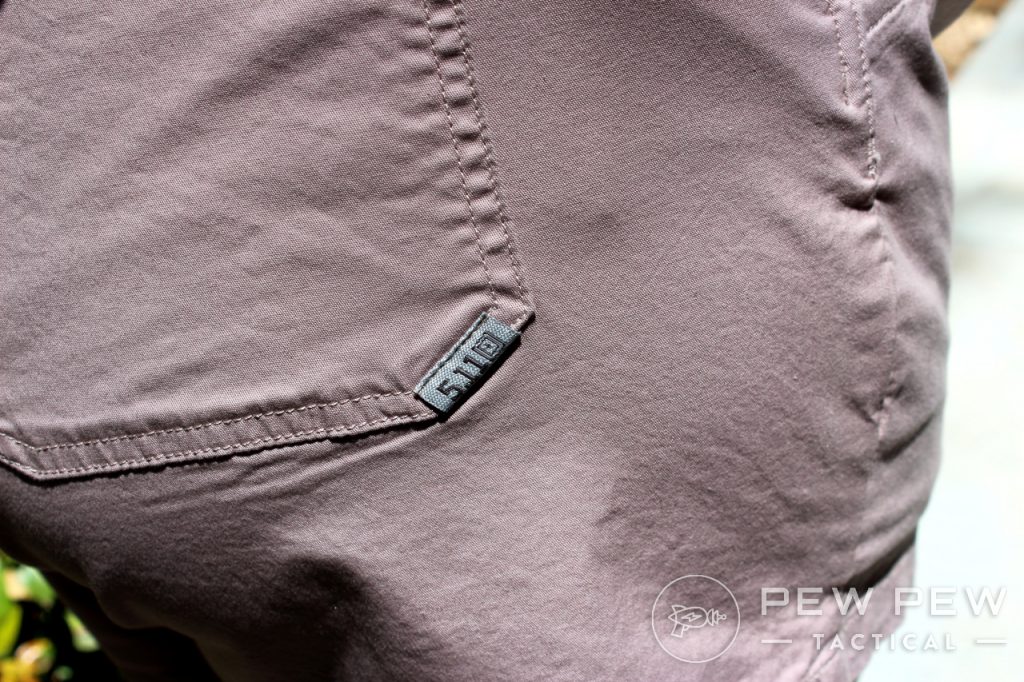 I seriously can't get enough of their lady's lines! Their bags, backpacks, and that super-cool Hex Grid car system are all office favorites.
It's a little embarrassing how much 5.11 gear we all have around here.
But while we give them a lot of love for their other products, one thing we don't give enough attention to is their women's line!
With their new offerings for 2021 coming out (and like, the potential for needing to wear pants again in the near future), I wanted to take some time to highlight a few pieces from their collection that are worth finding space for in your closet.
Here are my favorites!
Best of the 2021 5.11 Women's Line
1. Tessa Jacket
There are two styles of Tessa jacket: the full-zip and the quarter-zip. Personally, I'm more of a full-zip kinda girl, so that is the one I got my little paws on.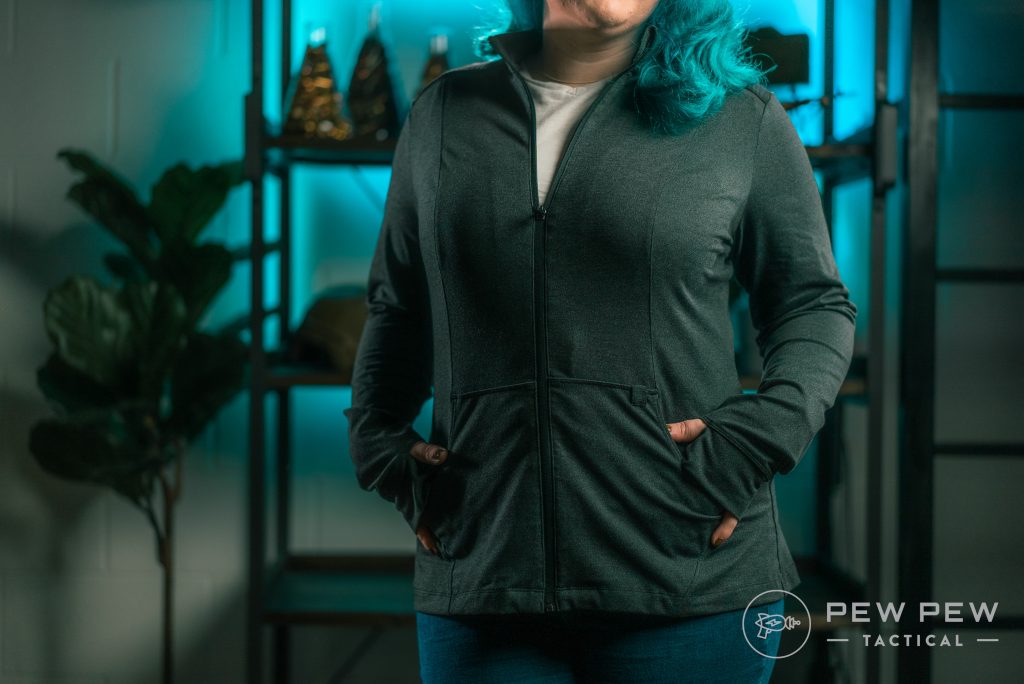 The only real difference between the two styles is that the full-zip has a pocket on each side, and the quarter-zip has a single pass-through pocket. And, I mean…the zipper.
But the pockets are interesting since they're lined with mesh and feature a smaller mesh pocket inside.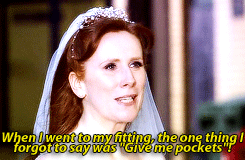 On the full-zip, it doesn't mean too much — just that each pocket is actually two pockets. For the quarter-zip, though, I imagine that mesh pocket comes in handy for stashing things that escape kangaroo pockets easily, like keys.
Anyways, this jacket is a perfectly sporty outer layer ideal to slip on for running errands, taking a jog, or lounging around the house because you haven't gotten dressed in eight months.
Each shoulder features a thin stripe of reflective material to help you stand out in the dark, but other than that, the Tessa doesn't scream "sweats."
It also doesn't scream "I have a gun in my pants." which, y'know, is cool. A lot of tactical brands haven't quite learned the balance of fashion and function there, yet.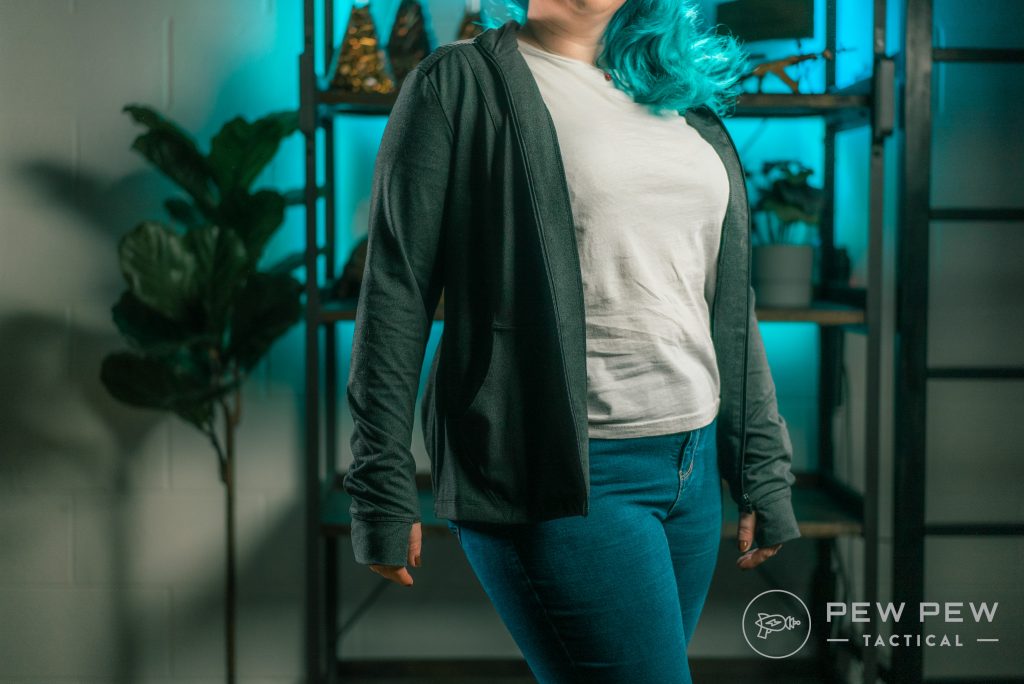 While I don't conceal carry (California native), I don't think I'd have any problems avoiding printing or sweeping my jacket out of the way to reach for my theoretical gun.
Tessa is definitely a lightweight option (fleece-lined Tessa, 5.11?) but I find her cozy enough for most of the weather I face in sunny Southern California.
In addition to the mock turtleneck collar, Tessa also features thumbhole sleeves so you can let your inner emo shine.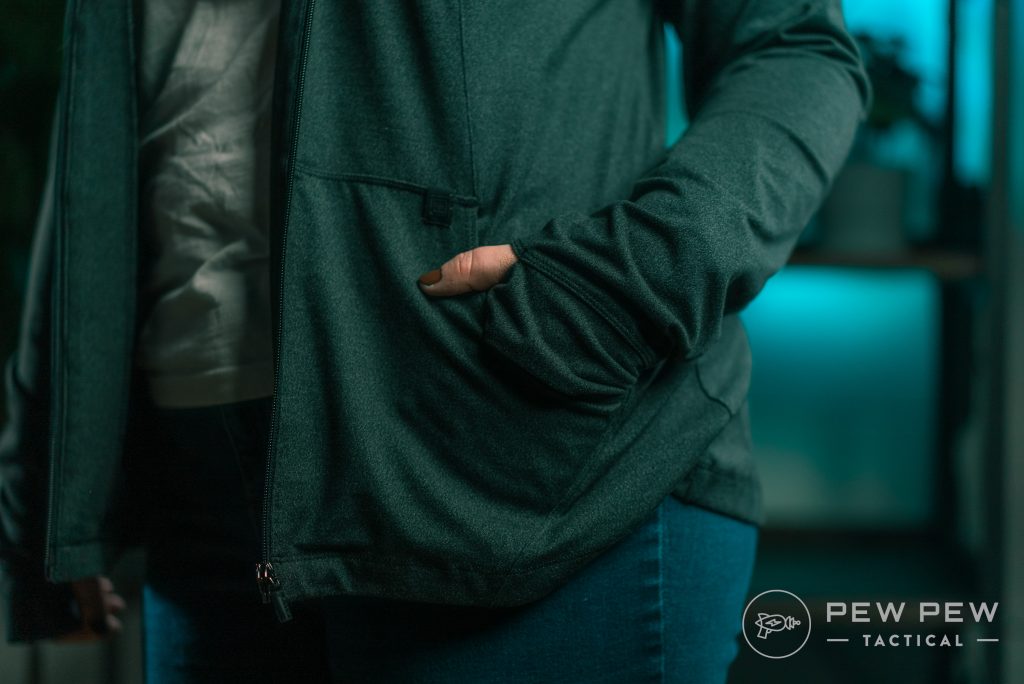 Personally, I love this type of sleeve because I don't really enjoy wearing gloves, especially when shooting, but I do like a little protection for my hands.
Finally, the Tessa is flattering.
It's princess-seamed through the waist for a little bit of fittedness, but again — it's not so snug that everything underneath it is clearly outlined.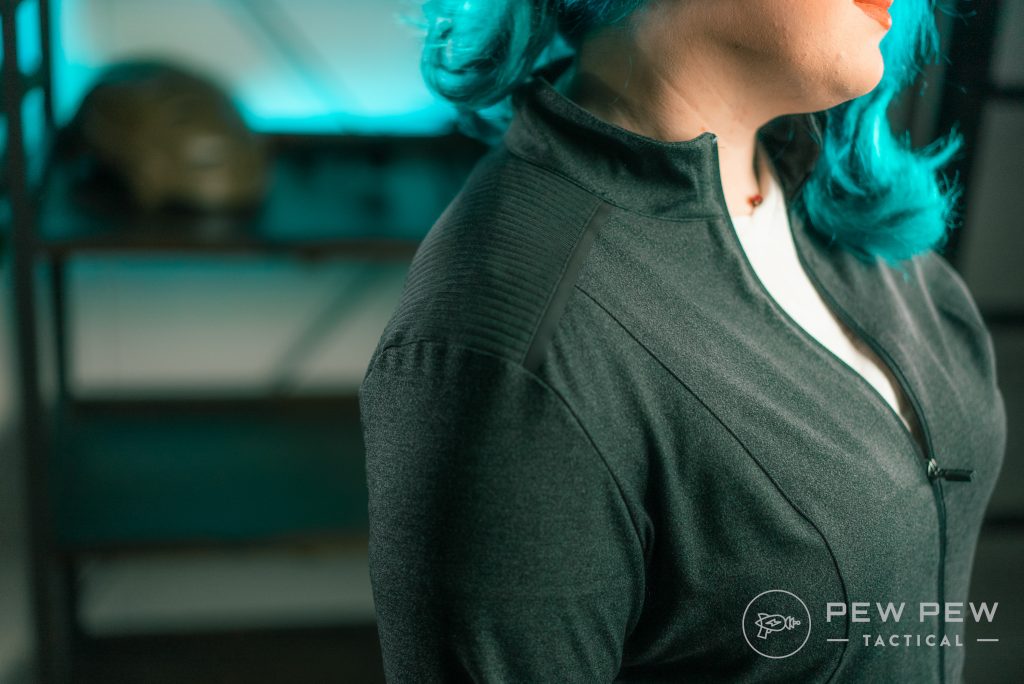 The quilted shoulders are a nice, upscale touch, too. 
I feel a little less schlubby as I wander my local grocery store aisle in Tessa.
70
at 5.11 Tactical
Prices accurate at time of writing
Prices accurate at time of writing
2. Eleanor Jacket
Like I'd said earlier, 5.11 rocks it when it comes to making tactically useful clothing that doesn't look like it.
The Eleanor jacket is right in line with that.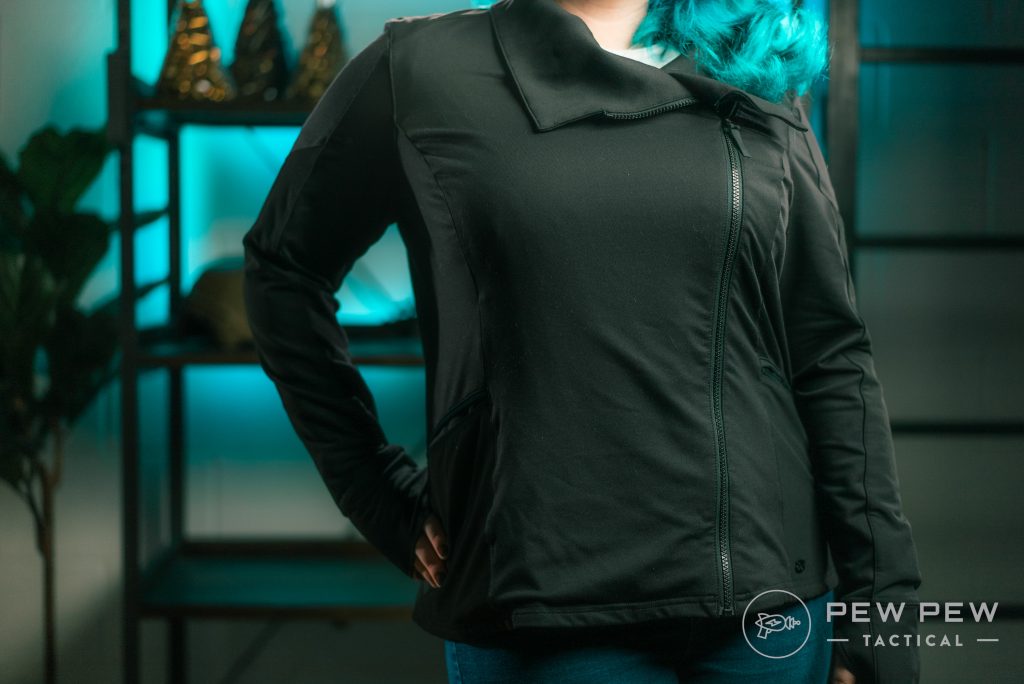 It comes in somewhere between the Tessa and the blazer I last wore when interviewing with PPT. And honestly, I think Eleanor would have carried me through that interview just as impressively.
The asymmetrical front zip and wide lapels add a little bit of edgy moto style to it, which I love.
You can zip the collar all the way up for a cozy funnel collar, or leave it partially zipped and with the collar folded over for a little extra flair.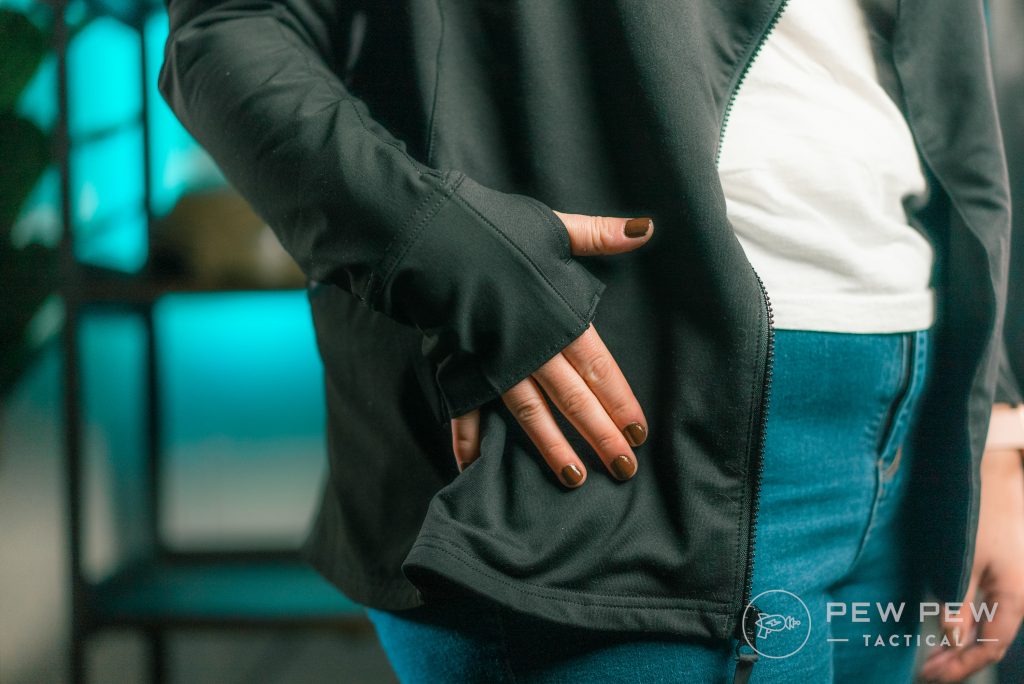 Like the Tessa, Eleanor has thumbholes. I'm seriously 15 again, but I didn't have to rip these myself.
Now, let's talk about pockets.
Girls love pockets. Girl clothing manufacturers refuse to give us pockets.
5.11 comes to the rescue, though, as Eleanor comes with two enormous, zippered hip pockets.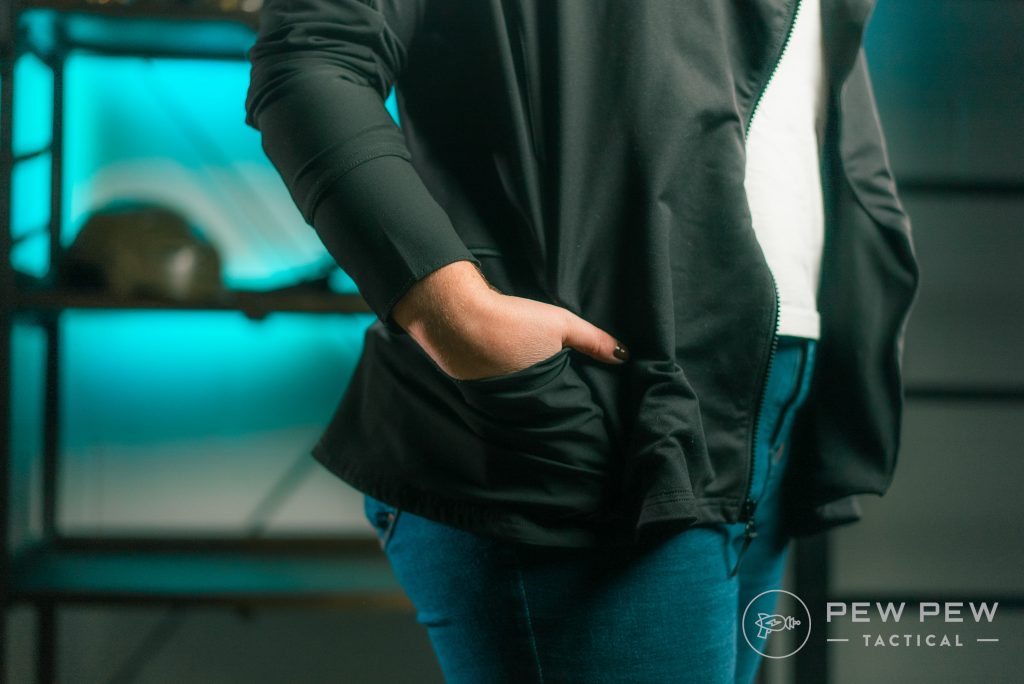 They're impressive and wrap from the front of your hip, around the side, and to the back — full 180 hip-pocket action.
You could almost stash a full-sized Glock in one. (Not that we necessarily recommend that…holsters are always the best way to go!)
Giant girl wallet? Check. Keyring from hell? Check. Phone that I can't fit in my skinny jeans? Check. Pocket knife? Psh, easy.
Boyfriend? Yeah, I could probably fit him in there too.
70
at 5.11 Tactical
Prices accurate at time of writing
Prices accurate at time of writing
3. Shella Pant
If you like the functionality of cargo pants, but not the bulky, oper8r look they give you…well, I present Shella.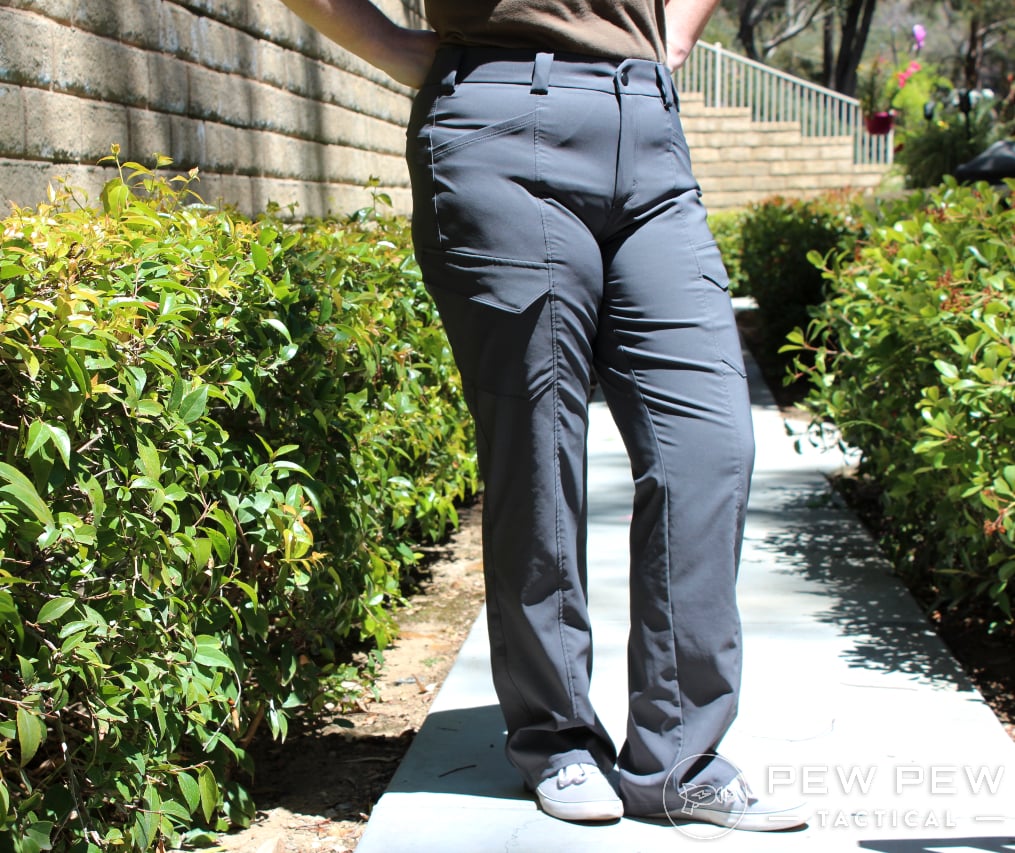 Instead of using stiff, uncomfy tactical-weave, Kevlar-reinforced, laser-evading Cordura (which is, to the best of my knowledge, what most tac pants seem to be made from), Shella features a polyester/elastane 4-way stretch double-weave fabric.
This makes them silky soft and breathable. They also dry pretty quickly too, which is always a plus.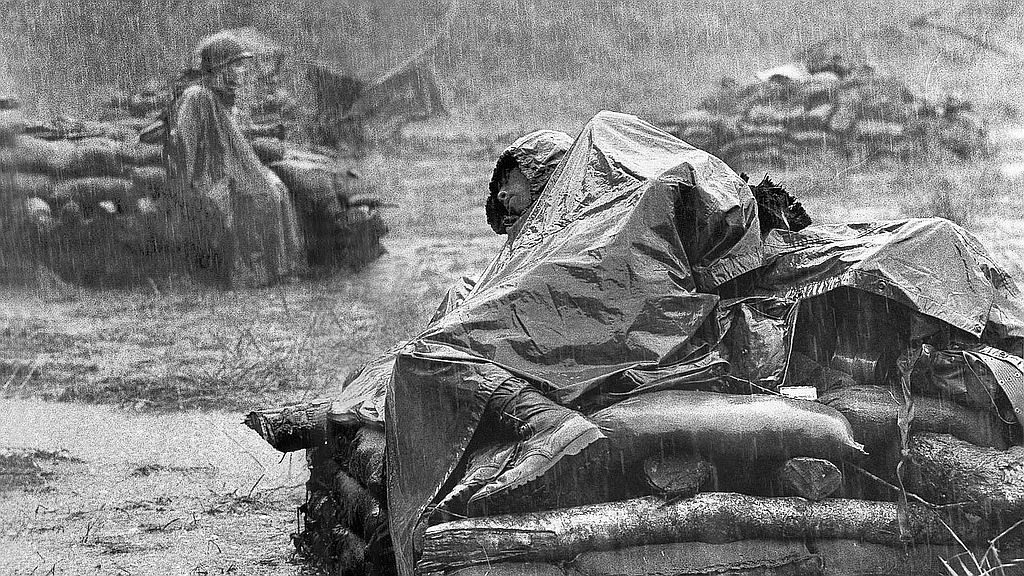 The stretch gives you a nice free range of motion, but the silhouette is still fitted and flattering.
Hey, a girl's gotta look good, right?
Honestly, you could almost get away with these as dress pants.
The cargo pockets are still a little too obvious, but they fit so nicely and look so normal that you won't immediately look like a tacticool gal.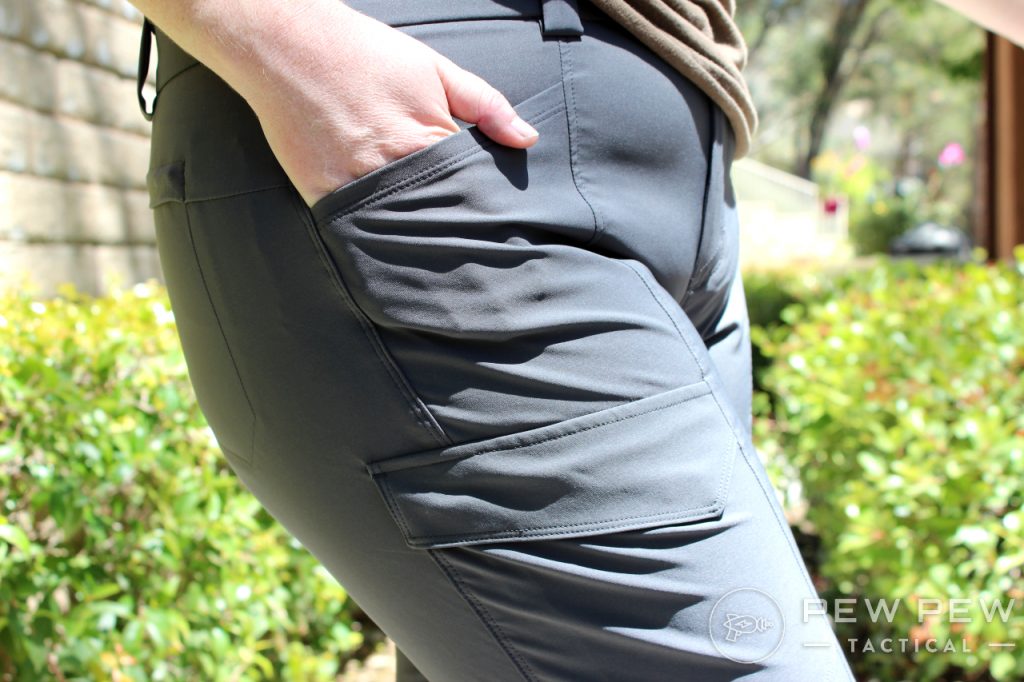 You sacrifice some pockets to pare down the shape of these pants, but unless you're adamant about carrying an entire range bag's worth of stuff in your pants, you won't miss it. 
Shella comes with two thigh cargo pockets with a velcro flap closure, two front pockets, and two rear pockets with a hidden zipper closure.
No more cell phones plunging to their doom when you squat or sit!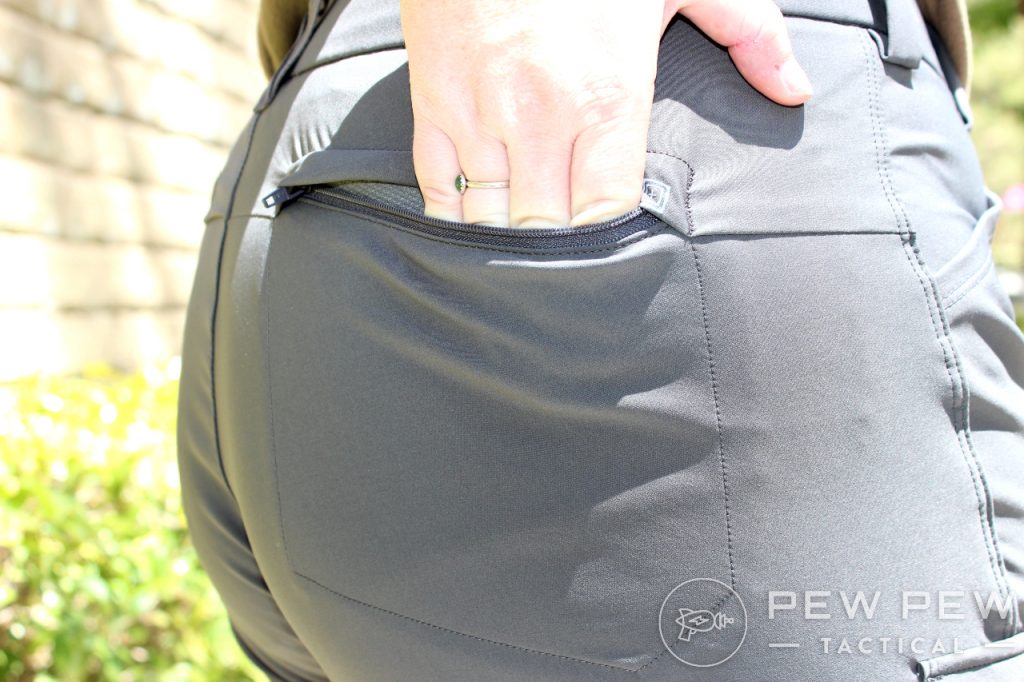 And it also doesn't hurt that Shella offers reinforced belt loops and a nice mid-rise fit, so they're great for concealed carrying!
Also, as many reviewers can confirm…they make da booty look good.
My only complaint is that they are long as heck on my short little legs.
And the silky fabric doesn't cuff well. If you're short, you may want to see about hemming them.
70
at 5.11 Tactical
Prices accurate at time of writing
Prices accurate at time of writing
4. Stryke Pant
Okay, so these aren't new. In fact, I got my pair back in 2020, when SHOT Show was a thing and we could see each other.
That doesn't make them any less noteworthy, and honestly, if you haven't check them out yet…do it.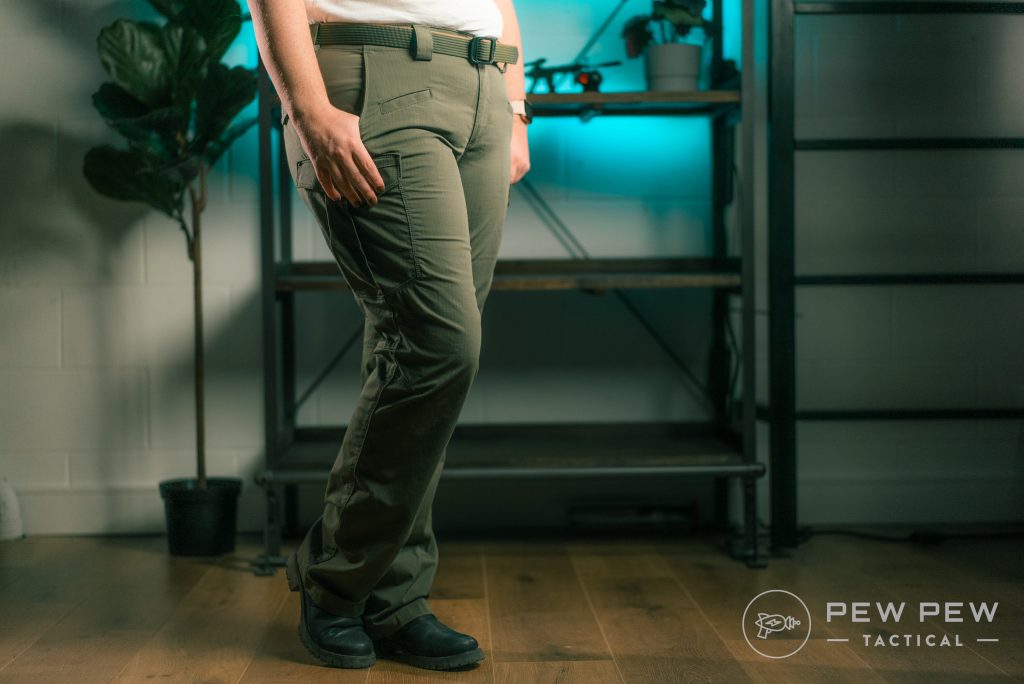 Even with the Quarantine-19 I've added on this year, my Strykes still fit, thanks to the 2-way mechanical stretch.
They have a gusseted crotch, too, so you can move around without fear of any indecent accidents.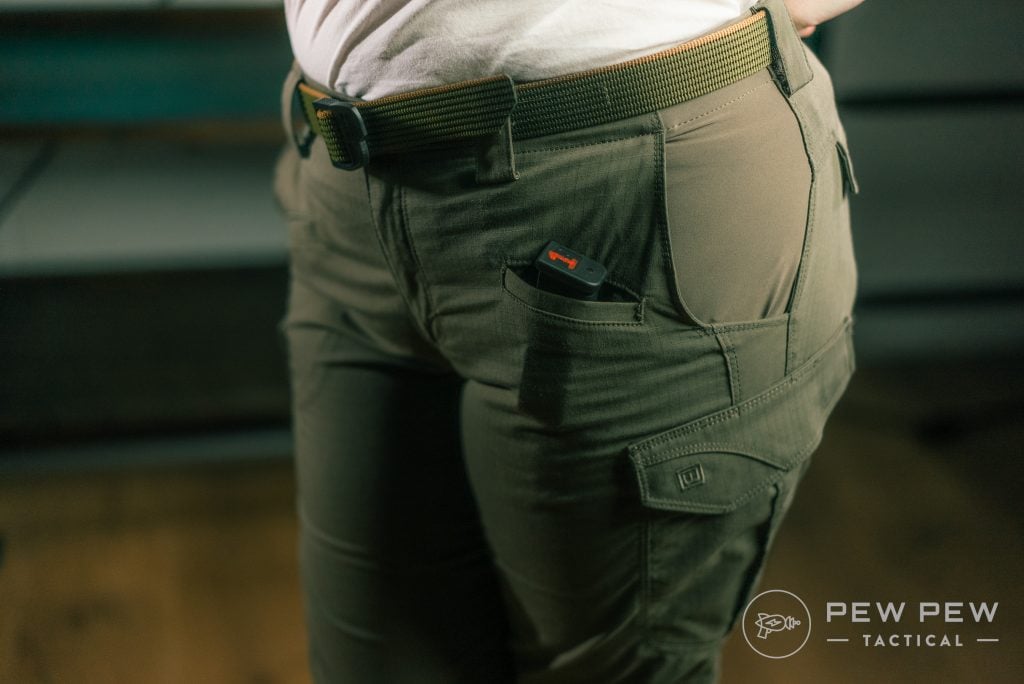 I know, it's a novel concept for tactical pants to, in fact, be tactical, but…the trash bag full of tragically blown-out "tactical" pants I have says differently. 
As with every 5.11 product, you get pockets galore!
There are two front pockets, two rear pockets with flaps, two front mag pockets, two cargo pockets, and four internal mag pockets…all for a total of 12 (yes, 12!) pockets.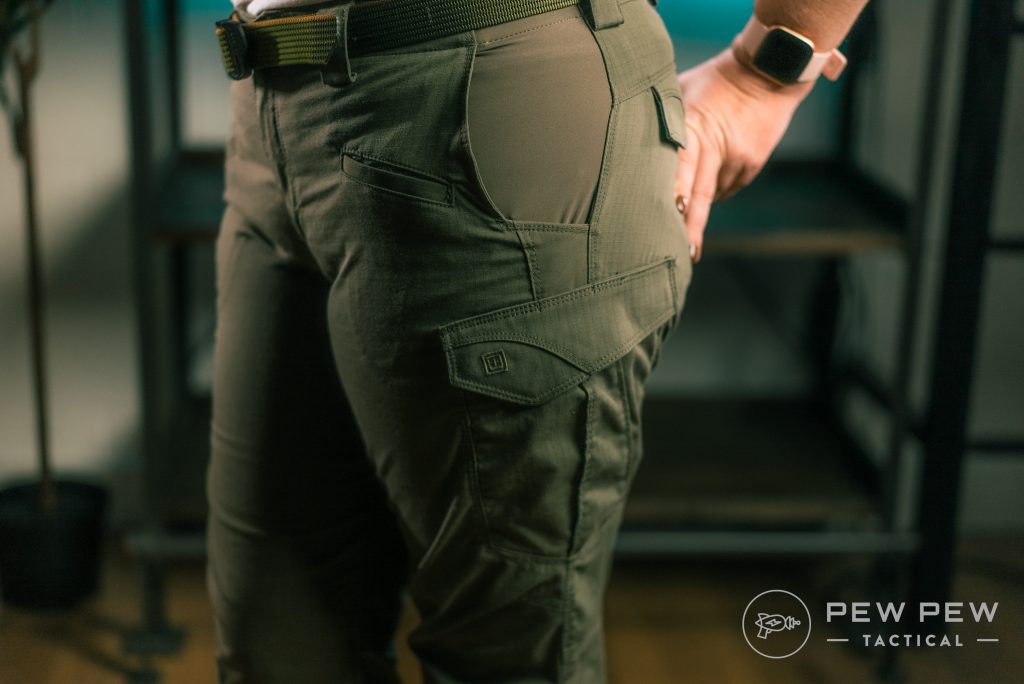 I'm also in love with the Teflon-coated fabric, which helps avoid stains and sheds water quickly.
Even muddy range days don't have to be miserable ones!
75
at 5.11 Tactical
Prices accurate at time of writing
Prices accurate at time of writing
Have you tried 5.11's Stryke pant? Like it? Hate it? Rate it below!
5. Nora Short
I snagged the Nora shorts because honestly, they kinda had Dr. Ellie Sattler vibes and I'm a '90s kid.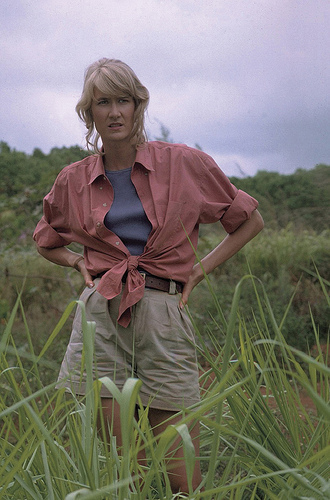 While I'm too old to be cool, TikTok-ing Gen Z kids have told me that mom jeans are in. It seems 5.11 got the notice.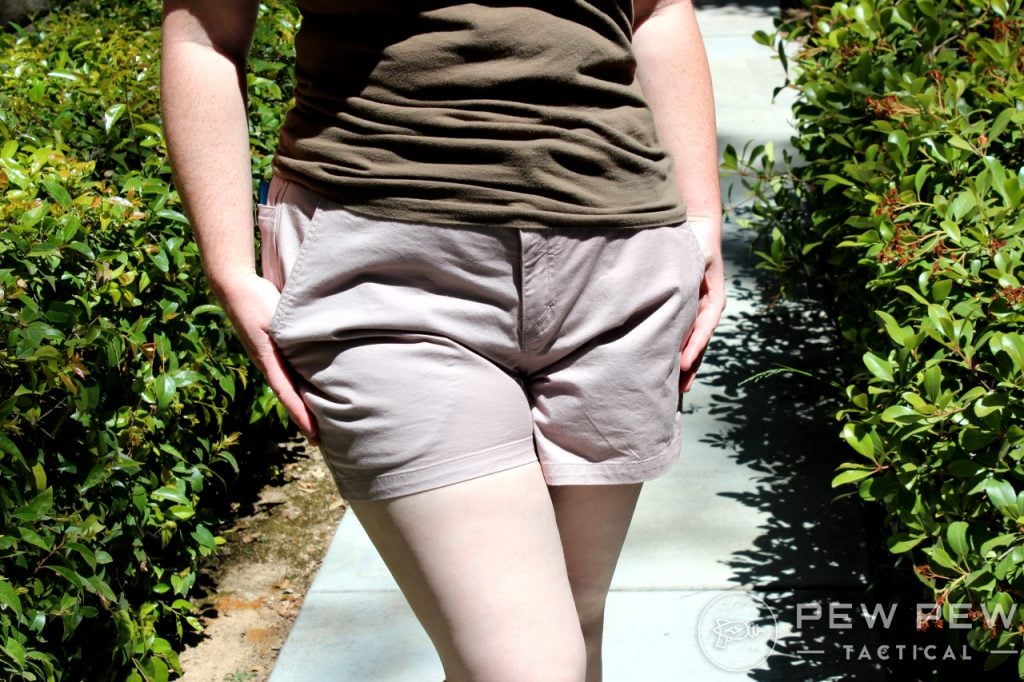 While I'm not sold on the assessment that the '90s are cool again, I do have to admit that the Nora shorts are actually very functional.
I could definitely fit a Nokia 3310 in these pockets…and my GameBoy…and my Walkman….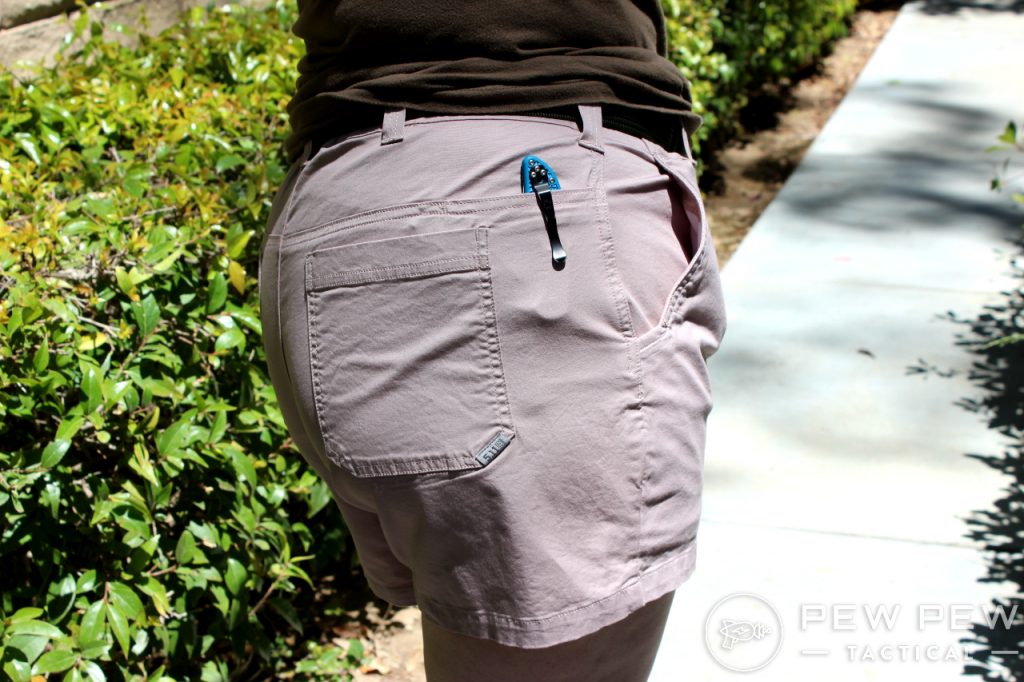 Nora features two man-sized front pockets (man-sized because they definitely are the size of men's clothing pockets), two rear patch pockets, and two slim, hidden pockets at the 4 o'clock and 8 o'clock positions.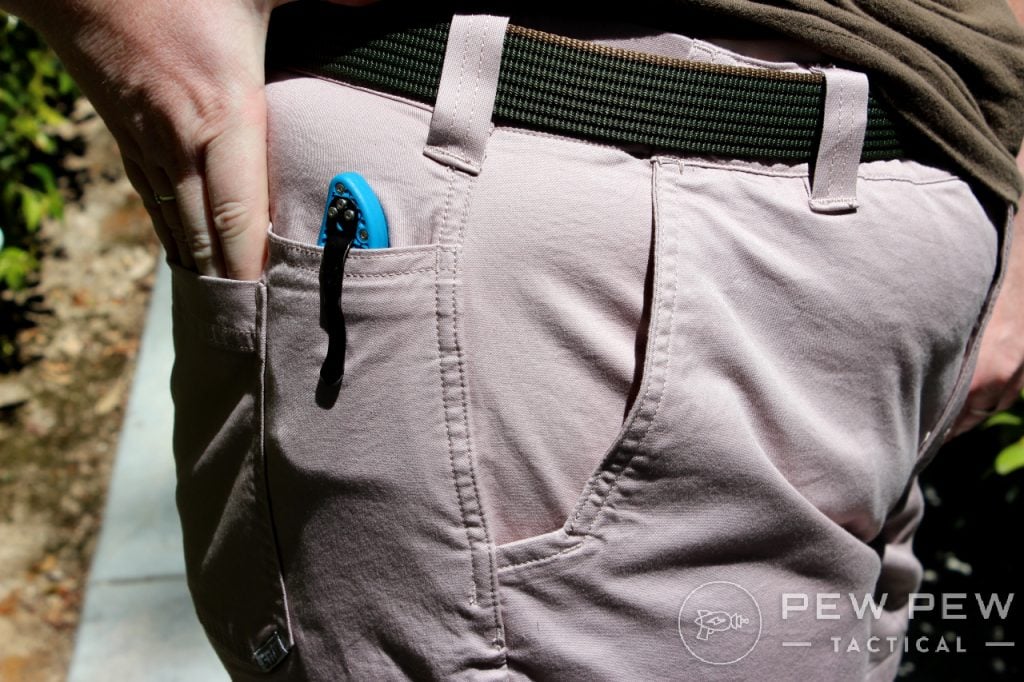 Those are actually one of my favorite features that 5.11 sometimes includes.
They're a perfect spot to tuck a pocket knife or a flashlight without having to sit on them or them jabbing into your squishy bits.
I do also appreciate shorts long enough to cover certain, ahem, assets. It definitely feels like I can move around freely without flashing someone.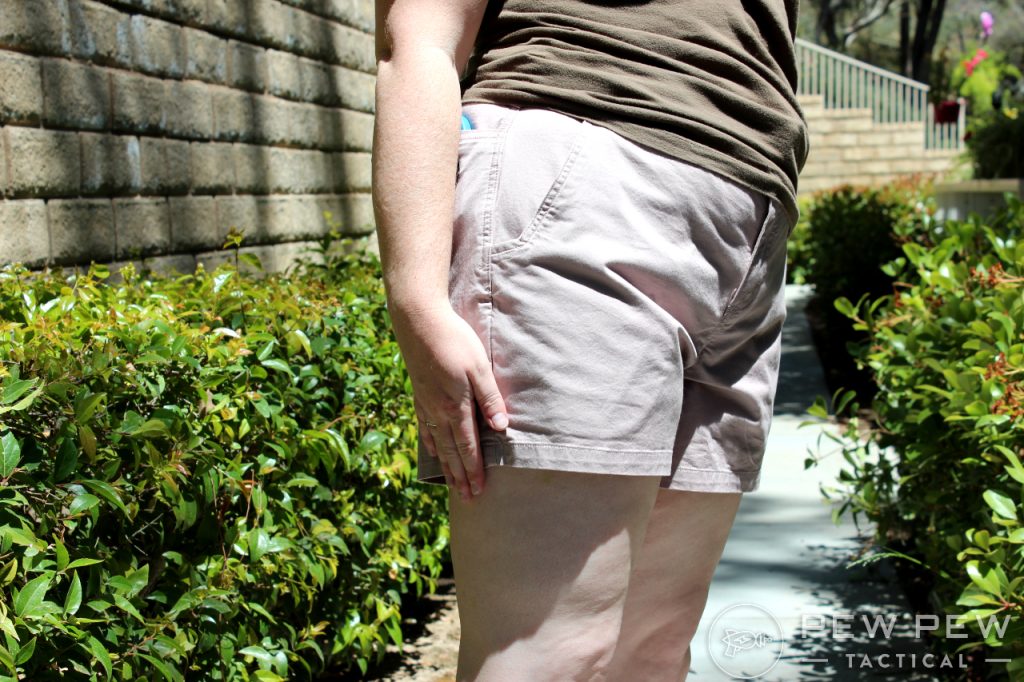 They seem like fantastic shorts for hiking or adventuring. Though, I'm sure you're going to catch me wearing them to the grocery store this summer, too!
50
at 5.11 Tactical
Prices accurate at time of writing
Prices accurate at time of writing
6. Kaia Tight
After my beloved, sweet Harper tights were discontinued, I resigned myself to Amazon yoga pants. So long good pockets.
Of course, I was excited to see that 5.11 was bringing out a new tight!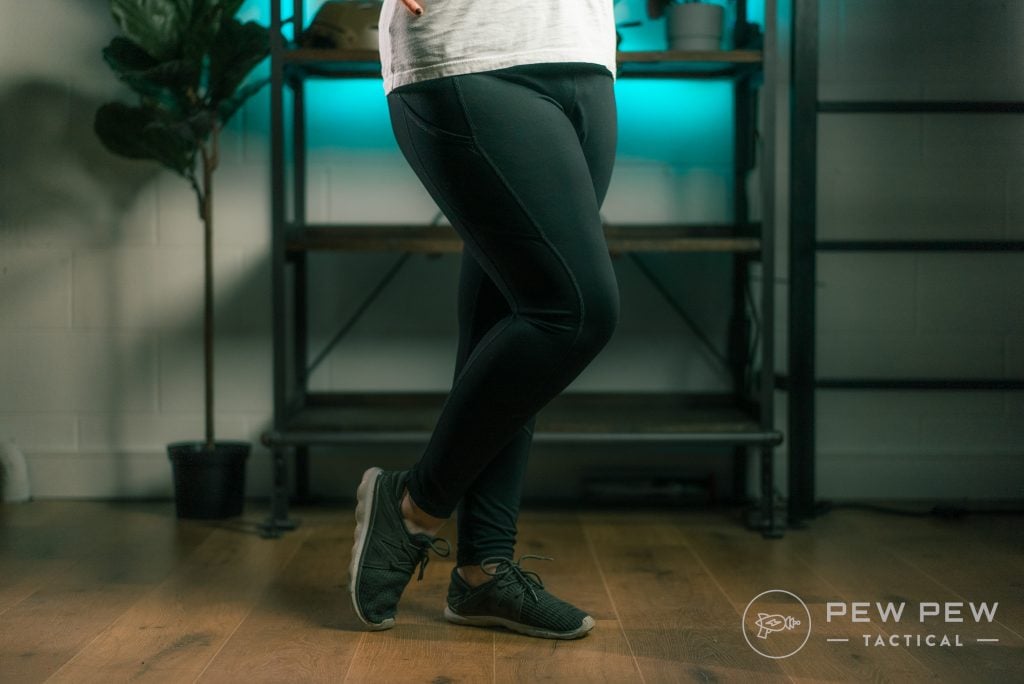 The Kaia Tight doesn't take after most of 5.11's previous tight offerings, and I'm kinda sad about it.
You do get pockets — one on each thigh and a teeny hidden one in the waistband — but I seriously miss the zippered pockets of the Harper.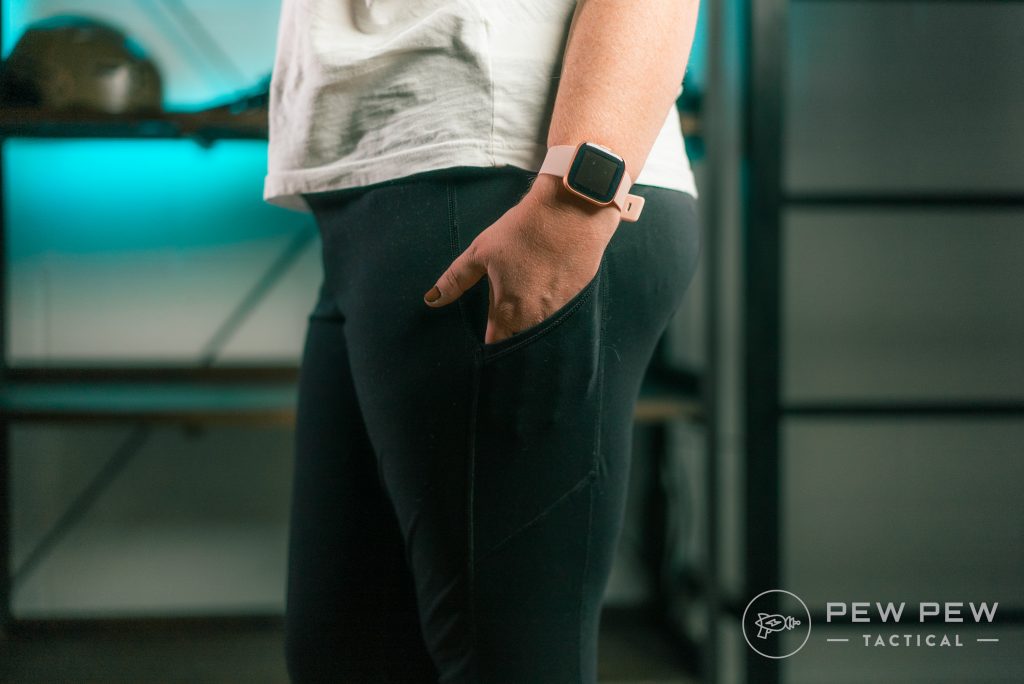 I'm not super impressed with the fit on me, either. But these are some seriously soft pants.
They sit a little low on my waist, lower than I like for athletic pants. And they have a tendency to slide down my butt when I'm moving, even though they fit everywhere else.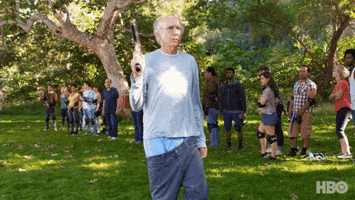 That could just be the way that I'm shaped, but I feel like I should have sized down to avoid the constant tug-o-war with my waistband.
I am also not sure if these are ankle-length or cropped. But considering my previous experiences with 5.11, I think they're meant to be capris and I'm just really short.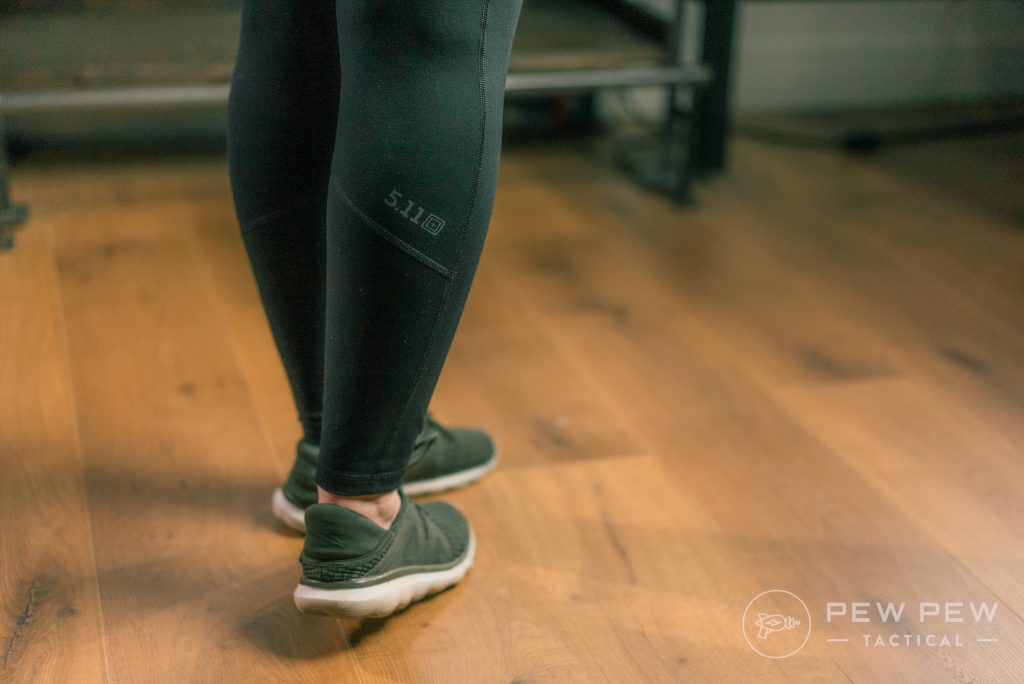 While I'm glad to see 5.11 branching out into activewear, I really miss the belt loops.
Sure, they're not traditional for yoga pants, but I want to be able to put a gun in my pants, and for that, I need belt loops.
If I were the type to drop $70 on some LuluLemons, I wouldn't bat an eye. But paying 5.11 money for pants that don't have 5.11 features stings a bit.
If their 2022 line includes some new reinvention of their range tights, though, I'll be singing a different song.
60
at 5.11 Tactical
Prices accurate at time of writing
Prices accurate at time of writing
Conclusion
I, for one, am happy to see 5.11's women's line coming back strong this year. The thoughtful details and comfy designs mean I almost always enjoy their gear. And this year's lineup was no exception — it was a hit!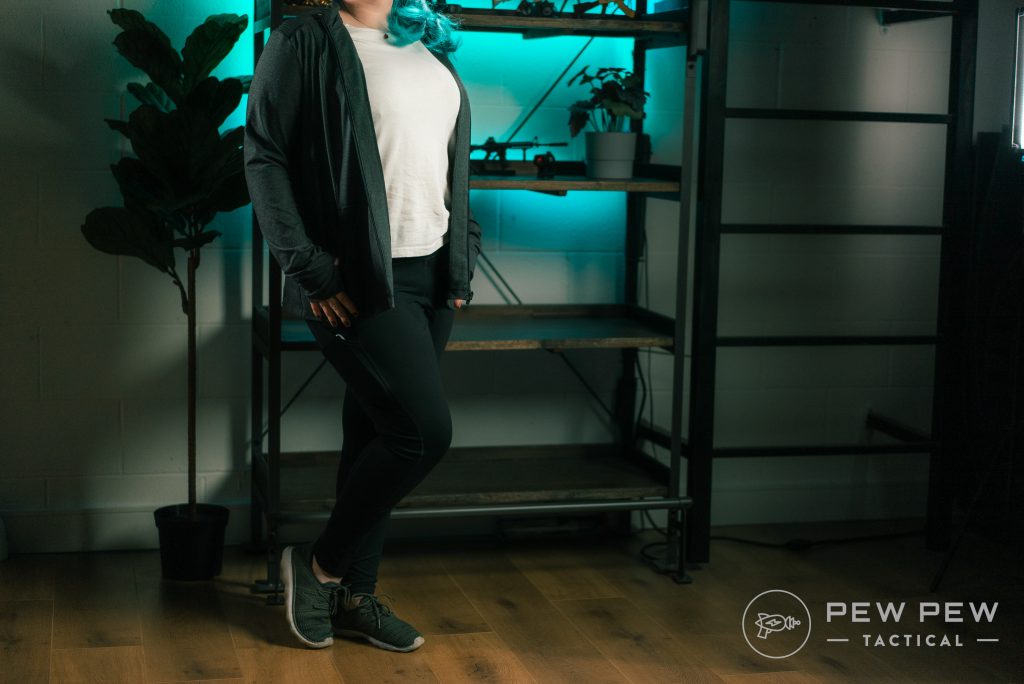 What's your favorite 5.11 piece from this year? Anything you wish they'd bring back? Let's chat in the comments! If you're looking for other ladies' options, check out our Favorite Women's Brands!