Flashbang has been around for over a decade, but don't feel bad if you've never heard of it. I find it doesn't get as much attention since it's a niche product for women.
So what is it?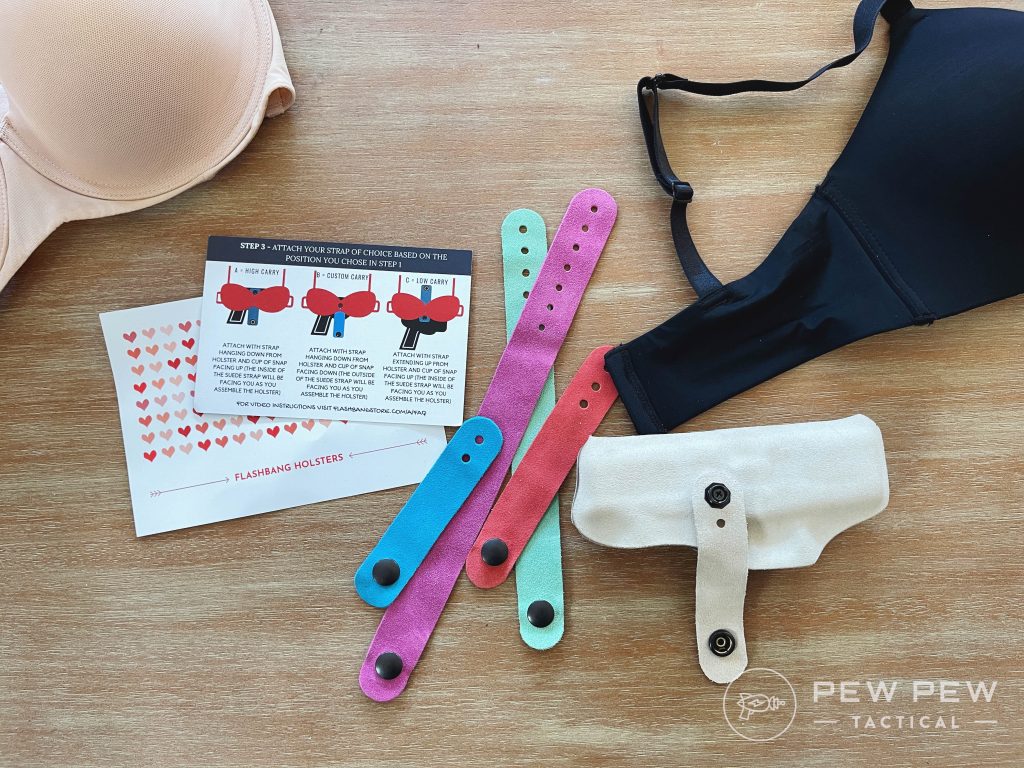 Flashbang is a holster specifically made for women, by women. It attaches to a bra with a strap and tucks underneath the band, making concealment easy. 
Though it promises deep concealment, this type of holster has also drawn controversy. So, is it safe to carry a gun attached to your bra?
PPT sent me one for review, and after a few weeks of carrying, I can say yes, it's a good option! Why? Keep reading to find out!
Table of Contents
Loading...
What's in the Box?
For this review, I tried out the Flashbang Teddy — Flashbang's flagship Kydex bra holster covered in suede.
I'm generally not sensitive to Kydex against my skin and don't wear undershirts when I conceal AIWB, but I'm glad I chose the Teddy for this type of holster. It feels great against the skin, so I suggest spending a few extra bucks for the Teddy.
Each Flashbang comes with three different strap lengths to accommodate bra band widths and carry positions. They also sent me a couple of extra to try.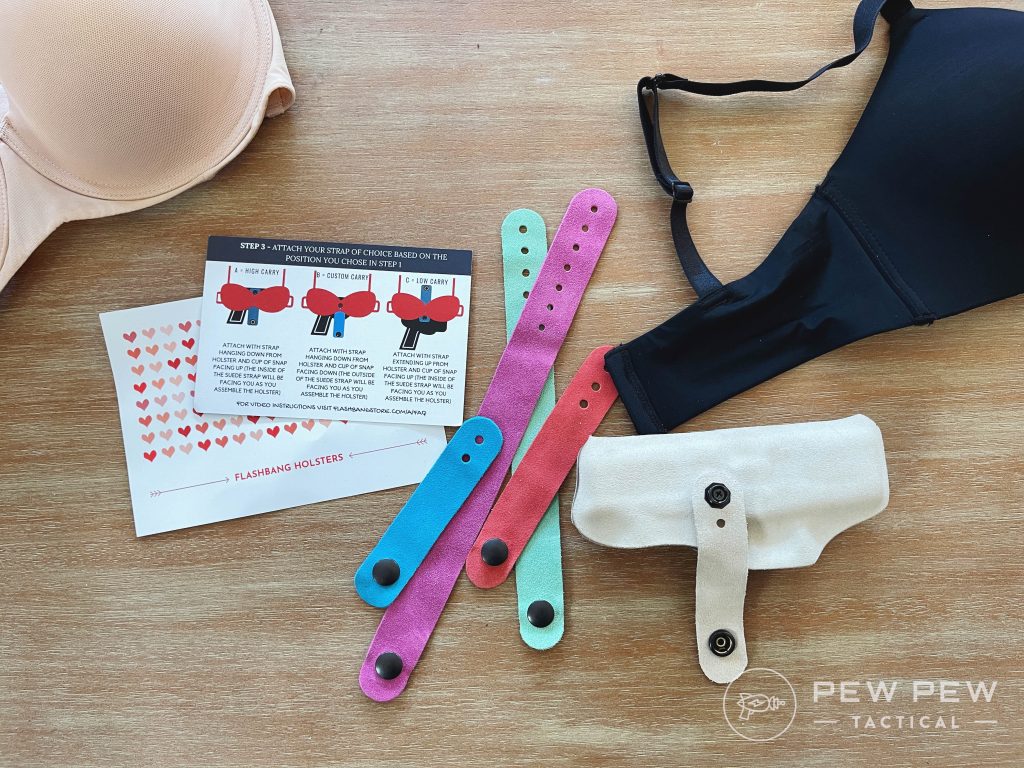 You'll need a screwdriver to change the loops, but it was straightforward even for my non-mechanically-inclined self.
The bands are made of the same suede material for ultimate comfort. I have to say, this is the nicest feeling holster I've ever tried, and that makes a difference for something that's going to sit against your boobs.
I really appreciated the instruction card they included too. It's a quick-start guide to getting your holster set up in one of the three positions they suggest.
89
at Flashbang Holsters
Prices accurate at time of writing
Prices accurate at time of writing
On the flip side, they've included QR codes for extremely helpful videos. I watched all the videos before I started; they are thorough and well-thought-out.
Getting Started with the Flashbang
You want to sort out a few things before you start, like what type of bra you'll wear and which position you'll carry in. All of this and more are covered in the instructional videos, so I highly suggest watching them before you start. 
The first thing I learned is that the retention comes from the bra band, not the holster or strap, so I knew that would be an important part.
Most women can probably use a current bra, but I haven't worn an underwire in years. The bras I usually wear have a soft band which I knew wouldn't work.
My first step was a quick trip to Target. If you've shopped for bras lately, you know how overwhelming it is. So many choices! I grabbed a traditional underwire, a few wire-free options, and a sports bra.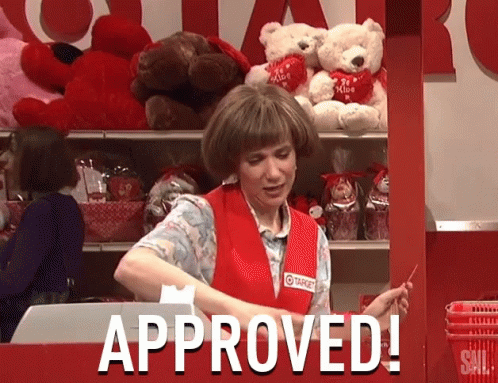 Once I had the bras, I had to figure out which position to carry in–high, low, or custom. The position will be based on what's comfortable for you and the width of your bra band.
I also feel the shape and size of your breasts play a part. I'm a 36DD with teardrop-shaped boobs, so I carry the weight at the bottom.
Some positions felt like the holster was being pushed down out of the band or printed through the bra cups. I like that the holster can be carried in different positions depending on various factors.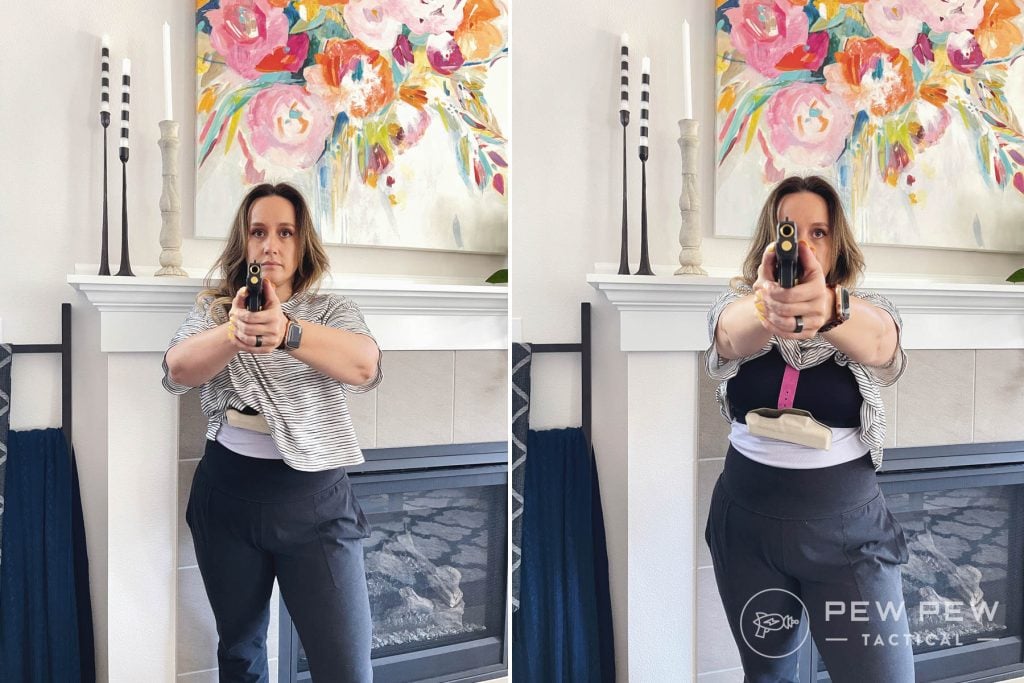 I tried high carry first, and it wasn't comfortable for me. Too much of the grip was covered by my bra to get a clean draw. Low carry also didn't feel good. The grip flared out from my body and caused a lot of printing.
Custom carry, or right in the middle, was the most comfortable, concealable, and easiest to draw for me.
I want to note a snag I ran into while learning to put my firearm into the holster. I grabbed my Glock 43 and realized this holster wouldn't accommodate the red dot optic.
Ultra Reliable Single-Stock CCW
449
at Palmetto State Armory
Prices accurate at time of writing
Prices accurate at time of writing
Luckily my husband was home, and he removed it quickly for me because he's much faster at using tools.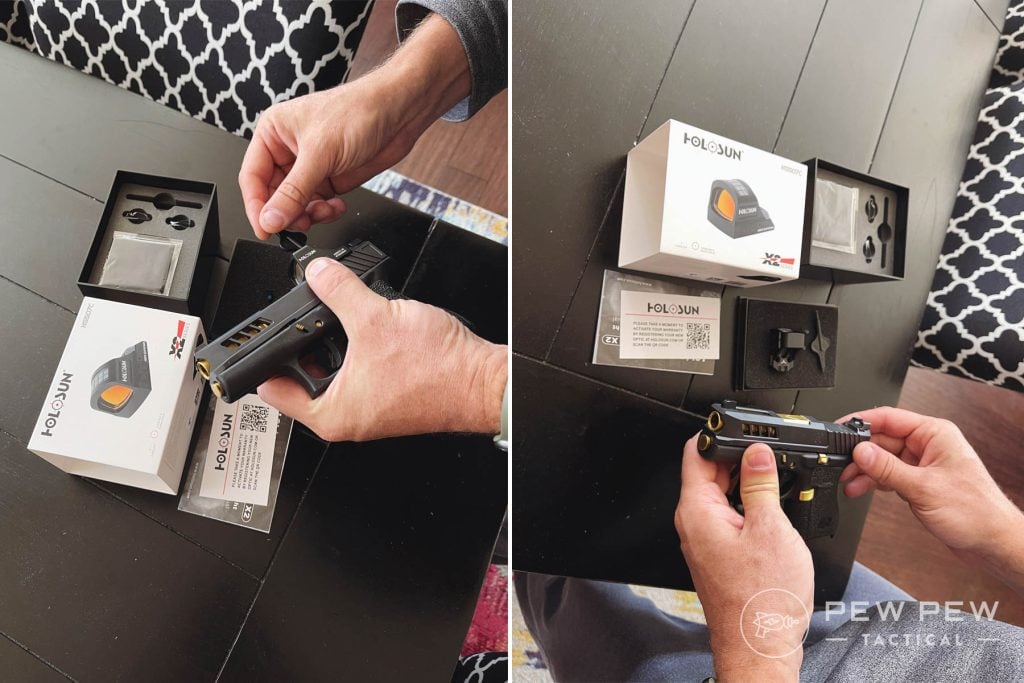 Types of Bras: What Works & What Doesn't
I tried the molded, wire-free bra first because, outside of a sports bra, that's the type I'm most likely to wear.
The main issue I ran into is that while moving around was that my boobs pushed the holster down below the band in both custom and low carry. I'm guessing that this happened because the bra band wasn't as stiff or tight as it needed to be.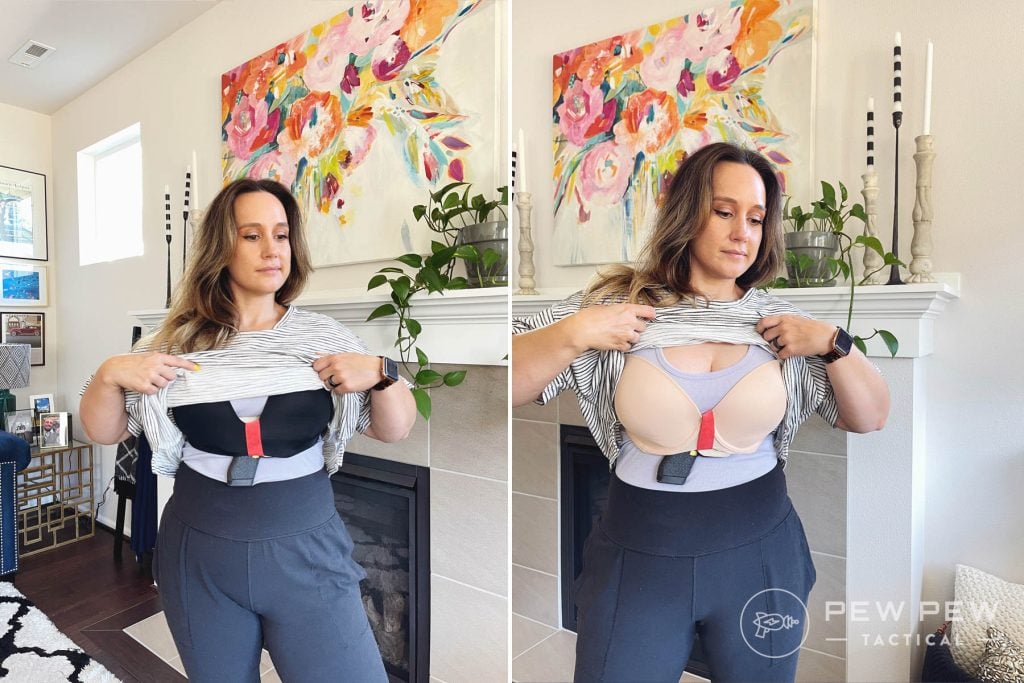 Second, I tried the traditional underwire bra. Immediately, I could see what they meant about the retention coming from the band and not the attachment strap.
The material on this underwire wasn't stretchy like the other bra, so it really held everything in there. So much so that I couldn't draw my pistol! There is a definite learning curve here, but I was yanking down hard, and it wouldn't budge.
I loosened up the band of the bra and was able to draw easily. I guess there's such a thing as "too tight" for this type of carry.
Lastly, I tried the sports bra. The new one I bought has about 20 slight adjustment points on the band to make it looser or tighter.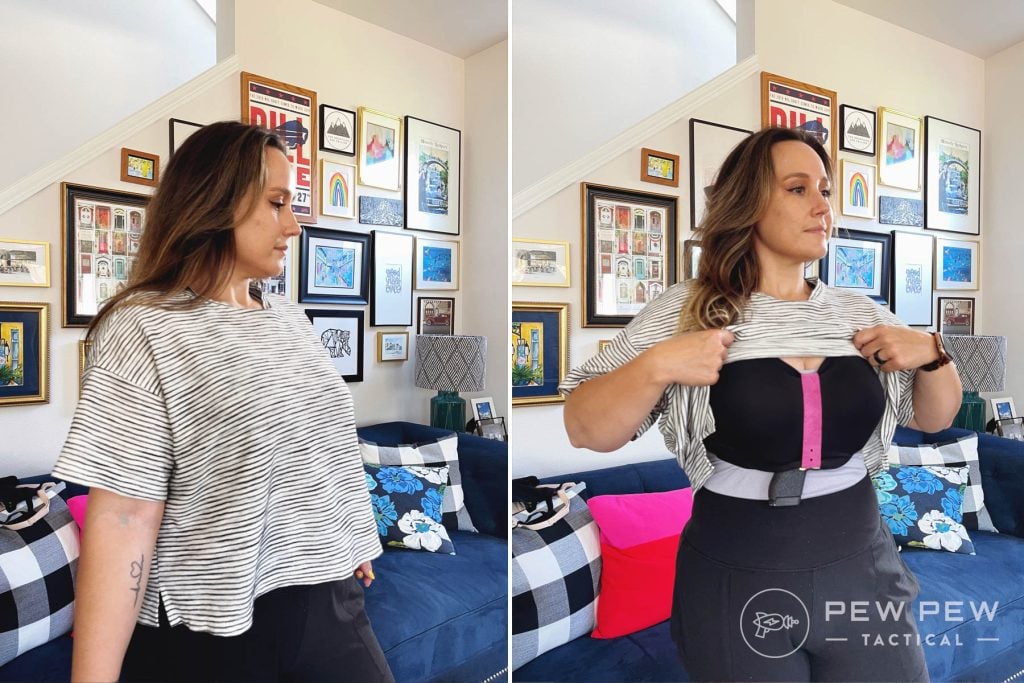 When I saw it at Target, I felt it would be perfect for this type of holster. It has a sturdy band which is a must for the Flashbang. And I was able to conceal it in the custom carry position easily. 
Overall, I liked the sports bra best because it felt the most comfortable, and well, I'm just a sports bra girl.
I wear athleisure 90% of the time, and I can see where this holster would fit into my rotation. Soft-waisted pants like leggings and joggers paired with a cropped shirt is an outfit that came to mind first.
Is the Flashbang Bra Holster Safe or a Gimmick?
I want to address the safety aspect because it's the most important part of concealed carry, and this holster has been written off as a gimmick by many.
If I'm being honest, I was in that camp several years ago when I heard about the Flashbang. Getting hands-on experience and research has changed my mind.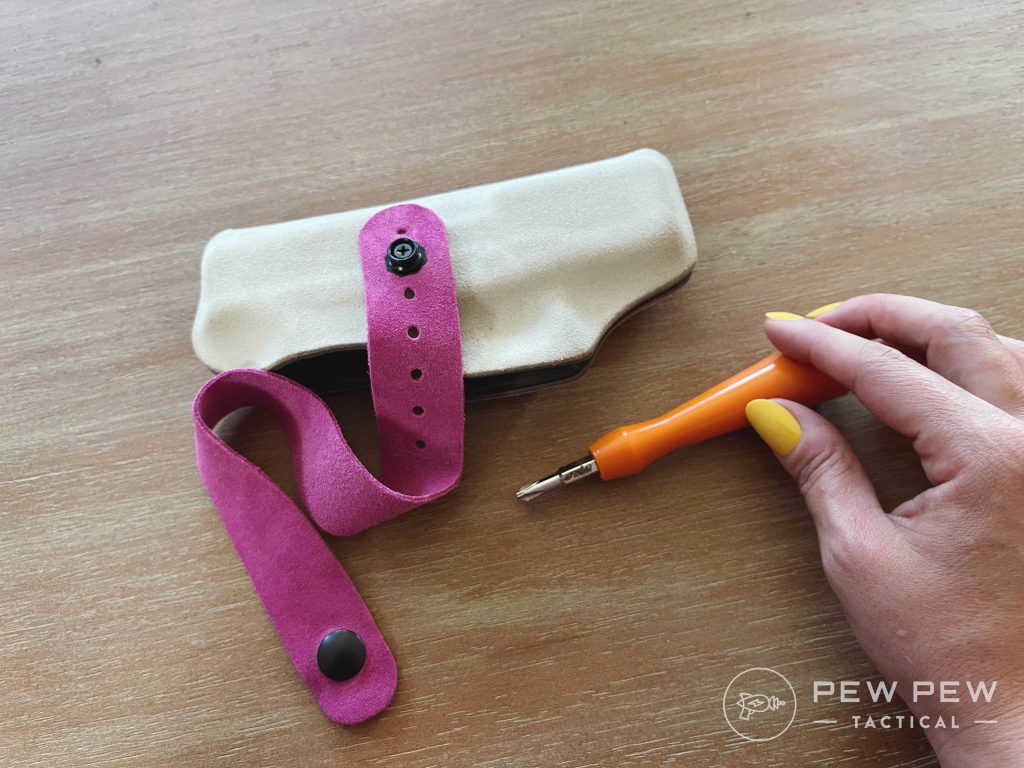 As I researched the Flashbang before mine arrived, I saw a few things writing it off as a gimmick. I wanted to dig in a little further because, admittedly, it wasn't on my radar, and I didn't know much about it.
I don't think it receives much attention because it's a female-specific holster. And spoiler alert: the gimmick talk was coming from men.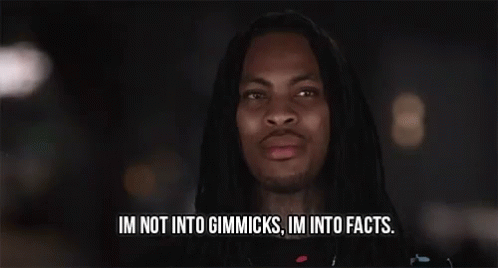 It's no secret that women are different from men. Our bodies are shaped differently.
We wear different types of clothes and often have a wider variety than men. While the basics of concealing and safety are the same, it's hard to deny that most choices available favor men. 
The holster is made of Kydex, like any other quality holster on the market today. It's molded to specific guns with full trigger protection, and the retention is excellent.
It takes some force to draw the gun, and after trying it, I can say there's no way your gun would ever just fall out. The snap for the strap is one-way and solid, so I can't see it coming off randomly.
But Flagging!
Before I tried the Flashbang, I thought I'd be flagging myself and everyone else when drawing, but that's not the case if you use it properly. And certainly not any more than any other type of on-body carry.
You'll need to draw and re-holster in a specific way, which, again, is not unlike AIWB carry.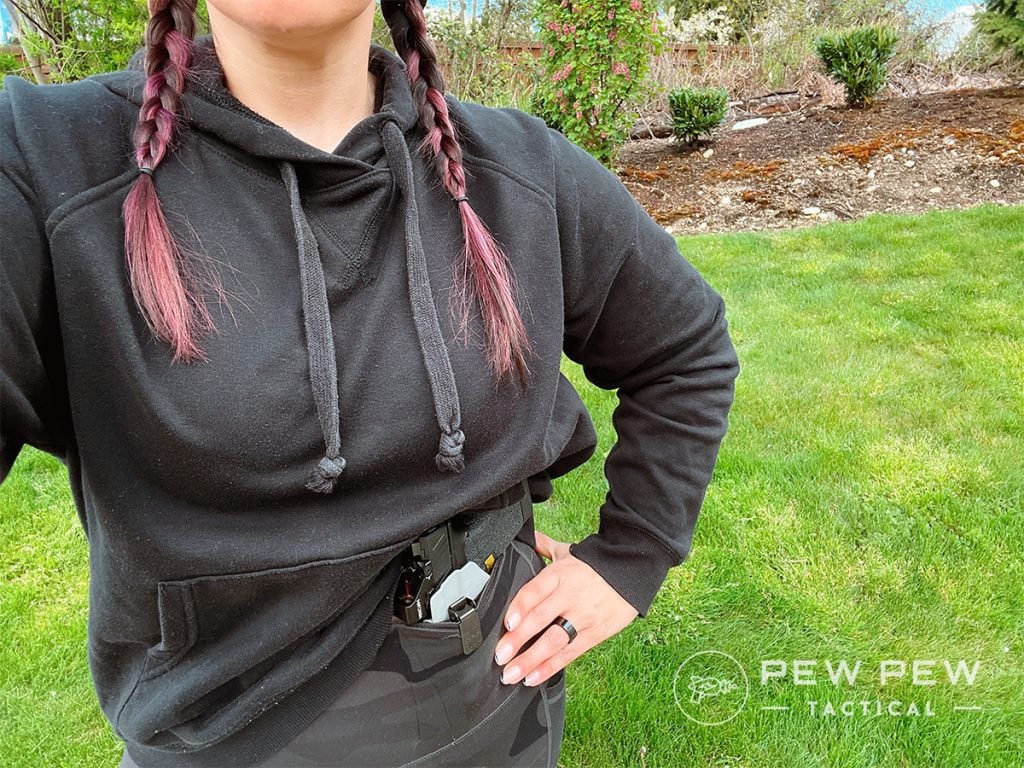 When you draw, lift your shirt and keep your non-dominant elbow high, so your arm is out of the way. Grab the grip of your gun with your dominant hand. It helps if you get your thumb between your body and the gun.
Then pull the gun straight down and turn it toward your threat. Ride your non-dominant hand along your body, as you would with AIWB, and marry your grip.
Because the gun is pointed across your body instead of straight down, you'll need to be aware of who's around you. You can twist your body and gun toward the threat before you start your draw to keep anyone around you safe.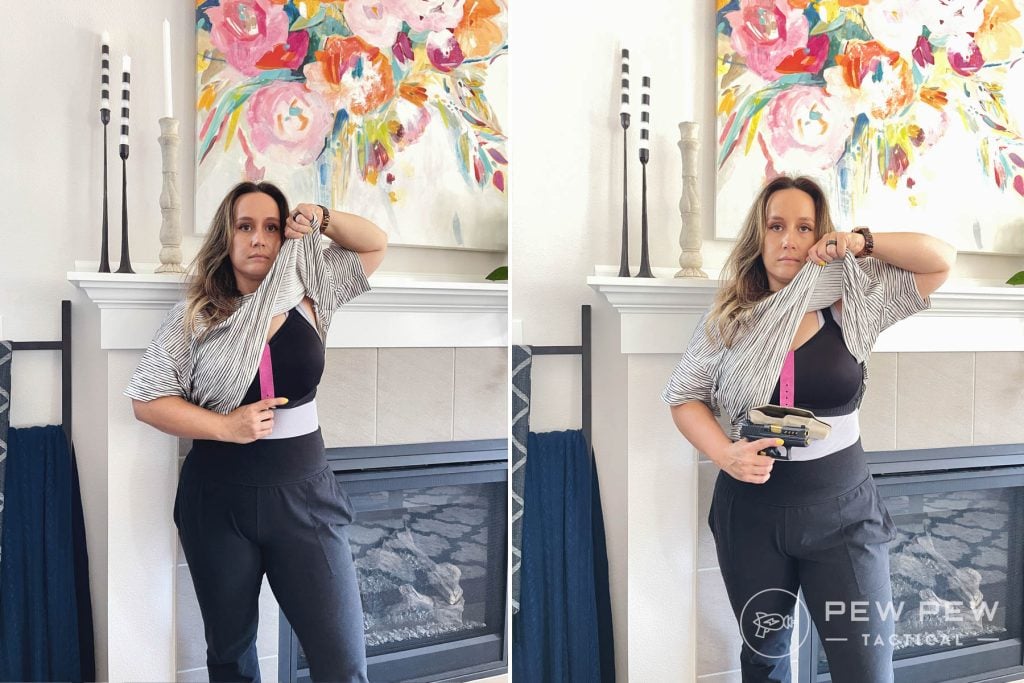 Then turn your body back, keeping your muzzle on the threat.
Re-holstering does take intentional practice, but with the process they teach, it's not hard to learn. It's easier explained and demonstrated in their videos, so give those a watch.
Close Quarters Fights
I've seen this argument many times, and it's valid. I personally haven't tried it in a close-quarters simulation because I don't have a dummy gun of the model I used for the review.
While researching, I found a great video from Annette Evans (On Her Own), who is well-respected in the concealed carry and self-defense space (and has also contributed to Pew Pew Tactical).
She used it in an Extreme Close Quarter Concepts class, and I highly suggest watching her assessment of how the holster held up in class.
Final Verdict
As I wore the Flashbang more, I started to see it as a solid addition to my concealed carry toolbox. I've been refining my concealed carry for years, and this was a good reminder to stay open to learning and experience options for myself.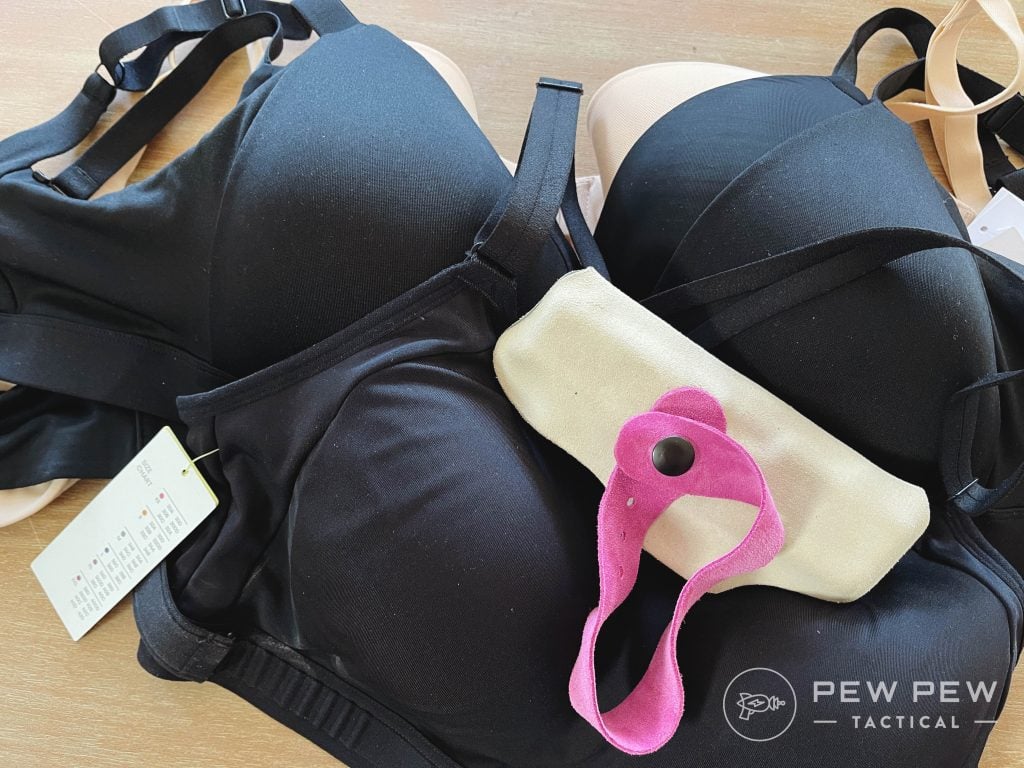 There is a definite learning curve, and for those of us who carry AIWB, it can feel steep, but it's not difficult to figure out. It's not as easy as saying, "I'll just strap a gun to my bra," and go about your day.
If you want to use this type of holster, you'll need to learn and practice, which is the same as any other method of carrying, in my opinion.
89
at Flashbang Holsters
Prices accurate at time of writing
Prices accurate at time of writing
What do you think of the Flashbang? Let us know in the comments below! For more on concealed carry for women, check out the Best Ways to Concealed Carry for Women.