I've been shooting pistols seriously for over 10 years, and when I first started, I hated Glocks.
I found them to be boxy and unappealing compared to the Walthers I was shooting, and didn't see the appeal.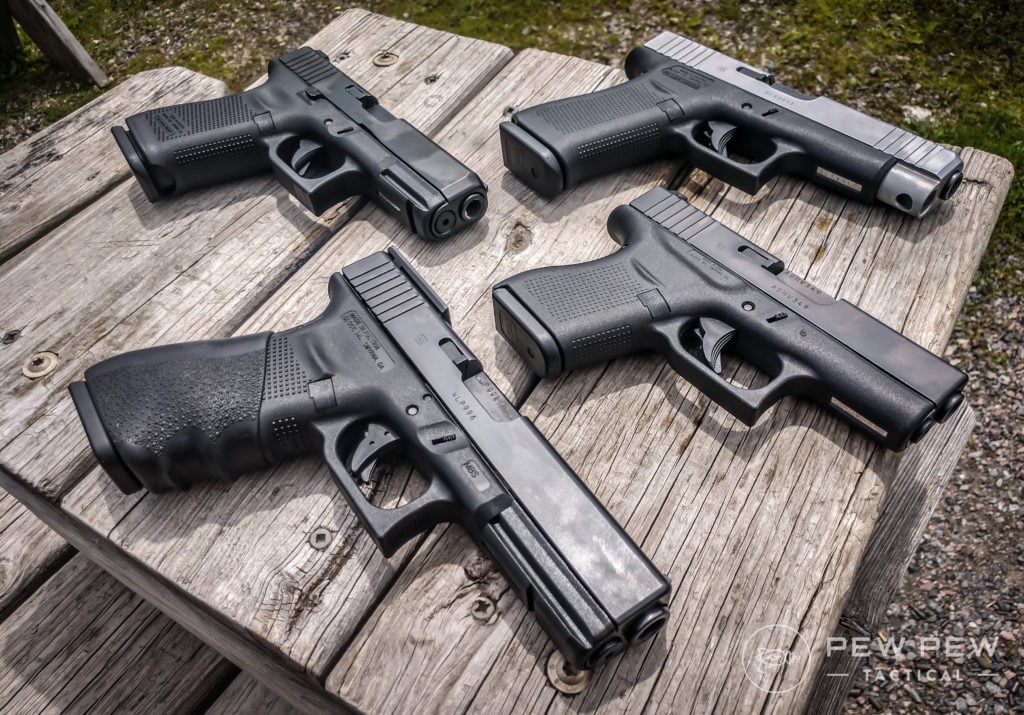 Then I started getting serious about concealed carry and was drawn back to giving Glocks another look.
At the time, the Glock 19 checked every box I needed, and up until the Glock 43x and Glock 48 were released in January 2019, it lived in my appendix holster. I was lucky enough to be working in a gun shop and range at the time and got to test both the G43x and G48 extensively to figure out what I liked and did not like.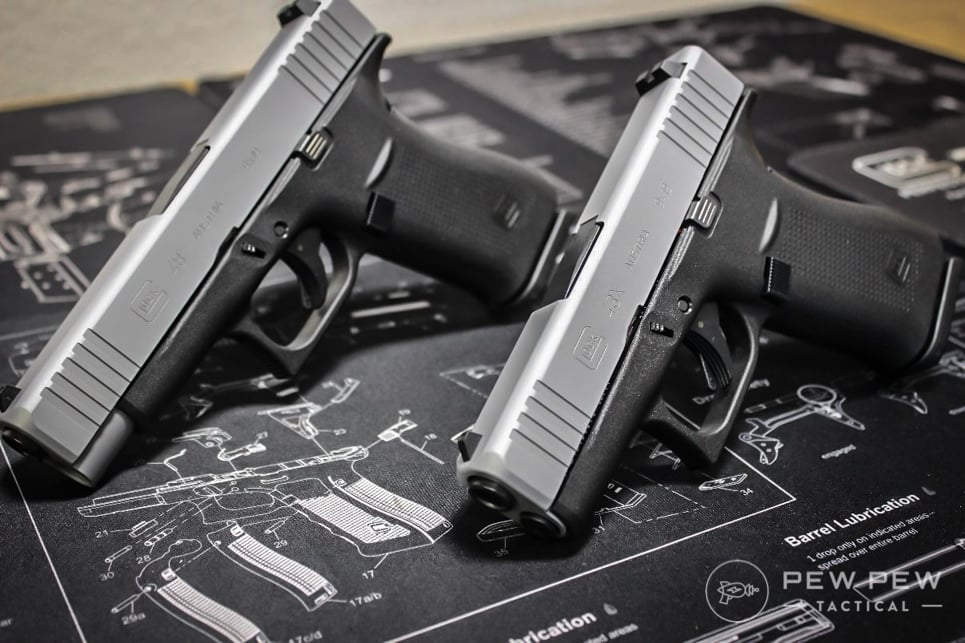 At their release, my major hesitation was downgrading how much ammo my gun would be holding, but that too would be addressed later that year, begging the question, why not thin out my gun and possibly be a bit more comfortable while concealing?
The rest, as they say, is history, as I've been carrying a 43x or a 48 ever since. Keep reading as we dive into the details and see if the Glock 48 is right for you!
Table of Contents
Loading...
Glock 48 Pros & Cons
Pros
Thinner footprint than a Glock 19

Longer grip than a Glock 43

Can accept micro red dots

Less snappy than the 43x

A significant number of aftermarket parts available
Cons
Mushy stock trigger

Subpar weapon-mounted light options

Length might not work for CCW for everyone

Underwhelming stock sights
The Bottom Line
The Glock 48 is a great concealed carry option, though it truly shines with some aftermarket support. Out of the box, the G48 is a perfectly useable firearm that only suffers from the standard Glock shortcomings like a mushy trigger and mediocre sights. With the addition of things some upgrades, though, the gun truly is one of the top-tier concealed carry guns on the market. With a multitude of parts and holsters available, it is a strong contender for the novice shooter up through those that carry for work.
480
at Brownells
Prices accurate at time of writing
Prices accurate at time of writing
Glock 48 Specs & Features
Specs
Weight
25.12oz (loaded factory magazine)
Capacity
10 rounds (standard magazine)
Features
Black nDLC finish (older models are available with a silver nPVD coated slide)
Reversible magazine catch
Shorter trigger distance (when compared to Gen 4 and older Glocks)
Frame has a built-in beavertail
Background
The Glock 48 was released on January 21, 2019, alongside the G43x. Both pistols were unique at their release as they were a different size and footprint than Glock had previously released.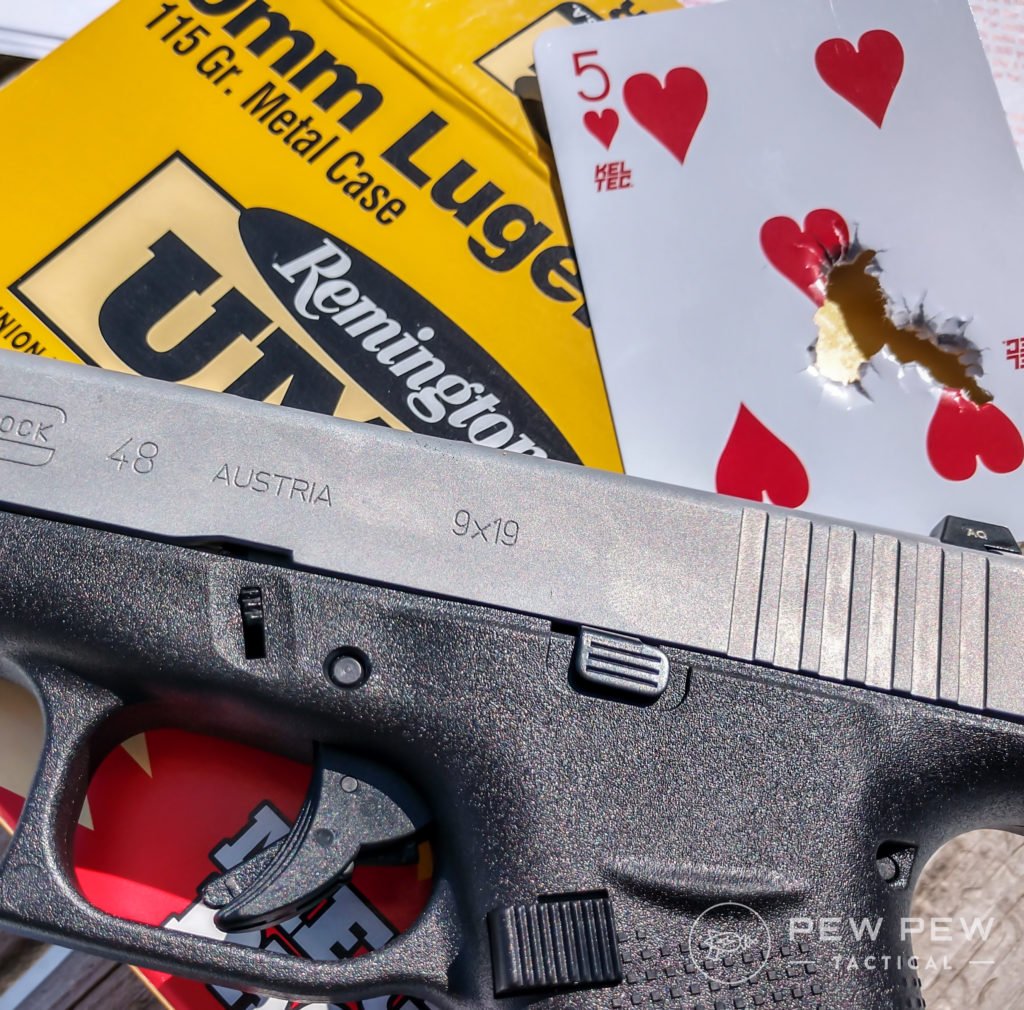 The G43x featured the barrel and slide length of the G43 but had the grip length of the G19 (though slimmer); the G48 was the same design but included the addition of ¾ of an inch in length. Glock classifies the G43x as a subcompact while the G48 is a compact due to the overall length of the gun.
In their initial release, both the G43x and G48 were only available with the silver nPVD-coated slides. This changed quickly, however, as customer outcry for all-black versions was immediate.
In July 2019, Glock released the MOS (modular optic system) version of both pistols, allowing for the immediate mounting of some micro red dots.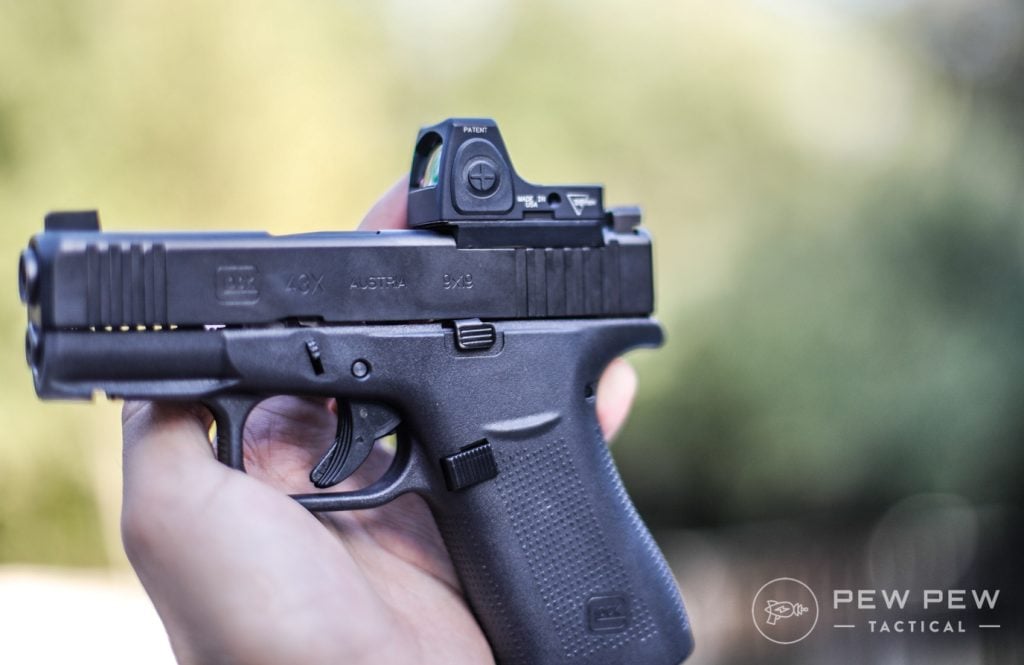 Who Is It For?
The Glock 48 is a concealed carry pistol through and through. Though it can function in some ways just as well as a G19, the 48's slimmer design was intended for ease and comfort of concealment.
Compared to the G43 and G43x, the G48 will feel like a more balanced gun to most shooters, as the extra weight is the on the muzzle end.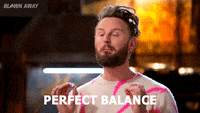 Not only does the extra length (where that extra weight comes from) help to balance the gun inside a holster when worn concealed with a belt, but it allows for a slightly longer sight radius and a slightly less snappy shooting.
These factors make it an ideal choice for any shooter from novice to pro. The G48 doesn't suffer the same learning curve as the G43 or G43x, as it isn't quite as harsh for people learning the basics of grip and follow through.
It's a slightly softer shooting gun, which will be more apparent to those that are newer at shooting altogether.
Fit & Feel
The G43x and G48 were game changers in regard to how they felt in the hand. Though they still suffer from "Glock hump" on the rear of the grip, the extended grip length over the G43 gave both pistols a much more comfortable feel to the hand.
This also allows many shooters to get a better grip on the pistol, thus allowing them more control and resulting in better shooting when compared to the G43.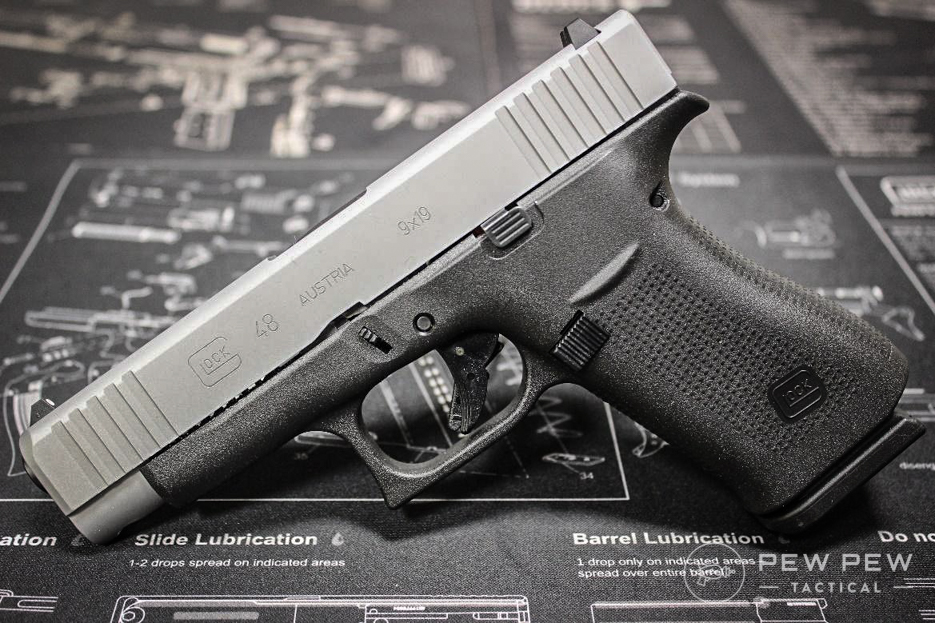 The stock trigger is on par with any other Glock factory trigger, it gets the job done though it does have room for improvement. Take-up is there, but the wall is a bit mushy. Overall, it is one of the only flaws in the pistol straight out of the box.
The other flaw is the stock sights. Glock sights leave a lot to be desired, as they are neither completely blacked out for use with an optic, nor are they great for sight picture/sight alignment on their own.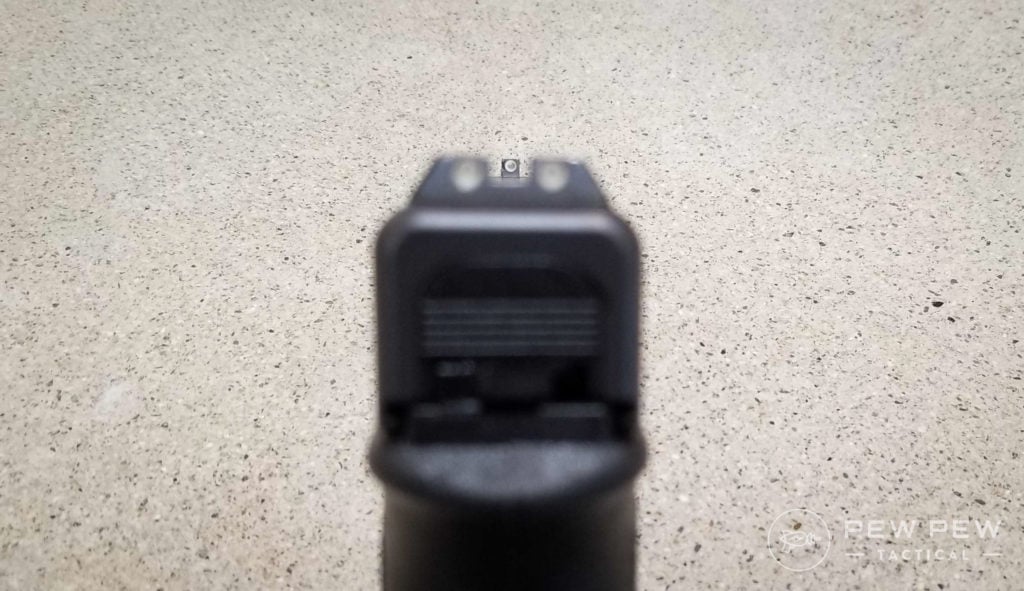 They can work, and I do know a few people that prefer them over other options, but in my opinion, they are one of the first things to upgrade on any Glock you purchase.
Factory magazines are unique to the G43x and G48, they are a different footprint than any other Glock on the market.
Dubbed "a stack and a half" the factory magazines sit somewhere between a single-stack and a true double-stack magazine, holding 10 rounds. They lock into the gun nicely and drop free with ease, and as far as factory offerings go, their capacity is their only shortcoming.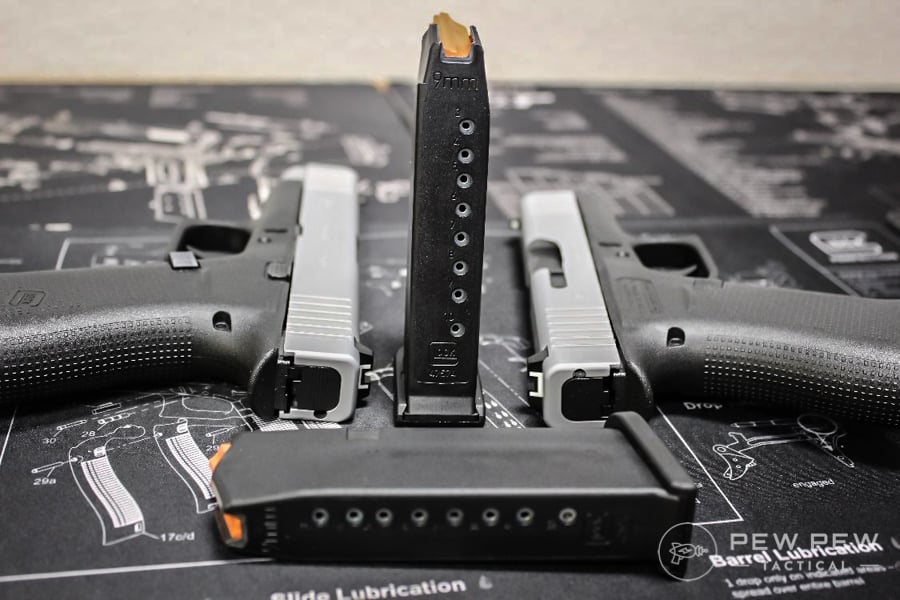 How Does It Shoot?
The G48 finds itself in a happy middle ground between the G43 and the G19 in terms of recoil. There is a bit of snap to the gun when fired, but it isn't as harsh as the subcompacts, which many shooters will find to be appealing.
The slimline design of the grip also allows shooters with smaller hands to control the gun better than thicker designed guns, making the action of shooting the G48 much more enjoyable and less strenuous on the fingers.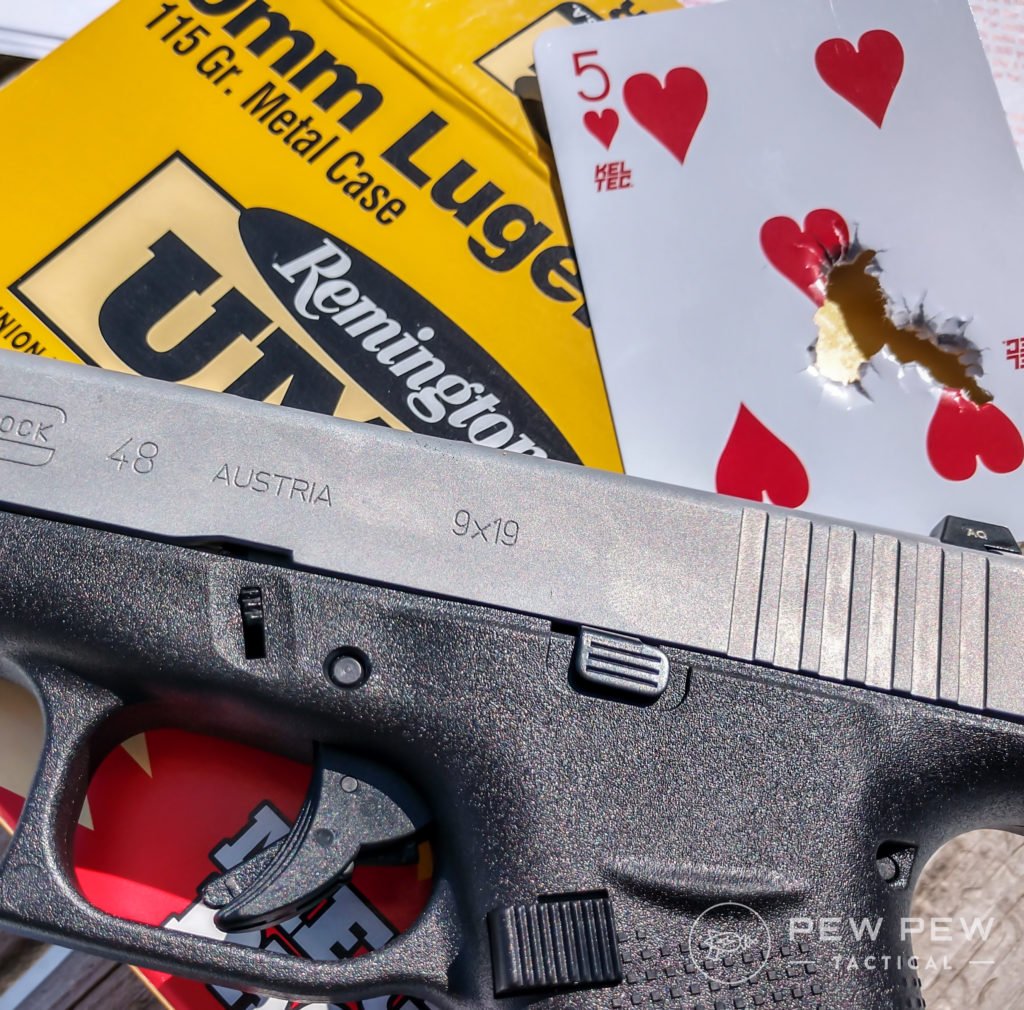 In terms of accuracy, the Glock Marksman Barrel provides an increase of 5-7% accuracy over the previous Gen 4 and older barrels (in controlled lab testing per Glock).
Is it as accurate as a KKM match barrel? No, but it also doesn't demand the premium price a KKM does. To put it bluntly, a Glock Marksman Barrel is likely going to be more accurate than most shooters using it need.
What Sets It Apart?
The Glock 48 is a concealed carry gun with a slim grip, is optic-ready (either through slide milling or the MOS model), and has a wide variety of accessories and aftermarket support to allow the end-user to tailor it to their preferences and needs.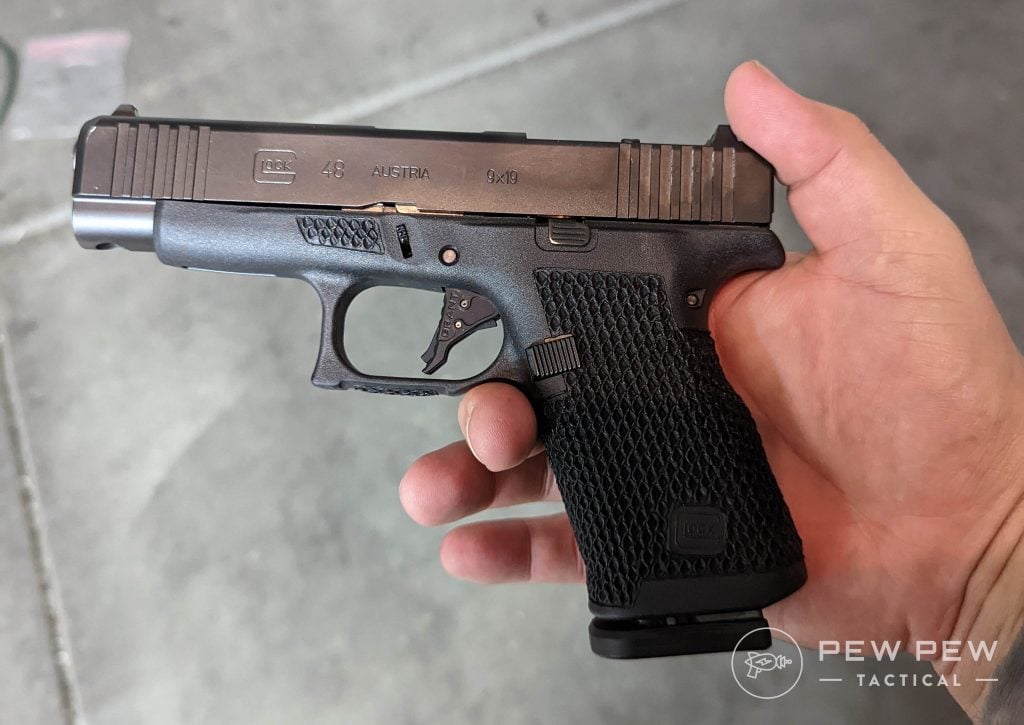 Compared to the other Glocks, the G48 offers some substantial benefits. The longer length helps it sit better on a belt when concealing. Its length also provides some weight in the muzzle, helping to balance out the typical top-heavy concealed carry gun.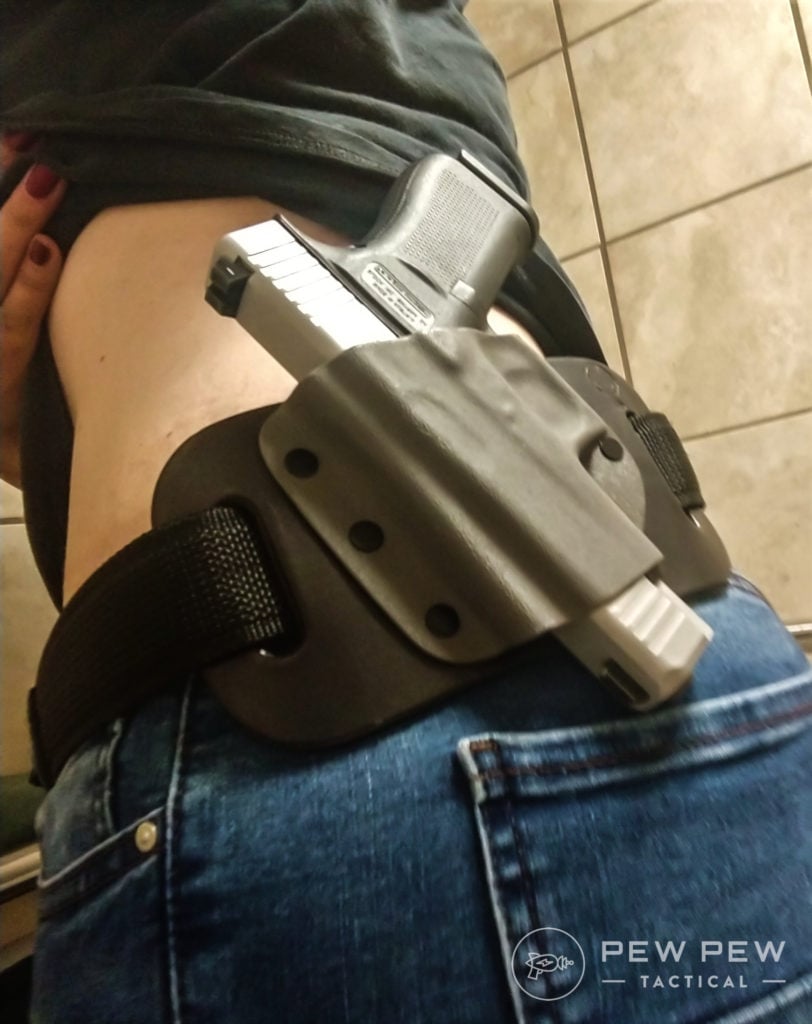 This gun will be a little softer shooting too, allowing people with less-than-ideal fundamentals to sharpen their skills without as much jolt.
More companies make parts for Glock pistols than any other brand out there. The G48 will have a multitude of quality parts across the entire platform.
Glock 48 By the Numbers
Accuracy
5/5
For a concealed carry gun, it's accurate.
Reliability
5/5
Glock is Glock for a reason. These things work.
Customization
5/5
Again, lots of support from triggers to sights to just about anything you can imagine.
Ergonomics
4/5
The G48 loses 1 point for the "Glock Hump, but that can be fixed with some aftermarket love.
Value
5/5
Another area Glock succeeds is price. It's fairly affordable for most people.
Overall
4.5/5
Upgrades for the Glock 48
Like most Glocks, the 48 has HEAVY aftermarket support.
Rather than go through the entire list, since you can customize it down to the pins, I'll list what I feel are the most crucial upgrades available. These upgrades are the ones that unlock every bit of potential in the Glock 48 and make it my personal choice for a concealed carry gun.
Glock 48 Upgrades & Accessories
Final Verdict
The Glock 48 is a gun that I've been waiting to come across for a long time. It took all of the things I loved about the Glock 19 and shoved it into a thinner, more comfortable gun.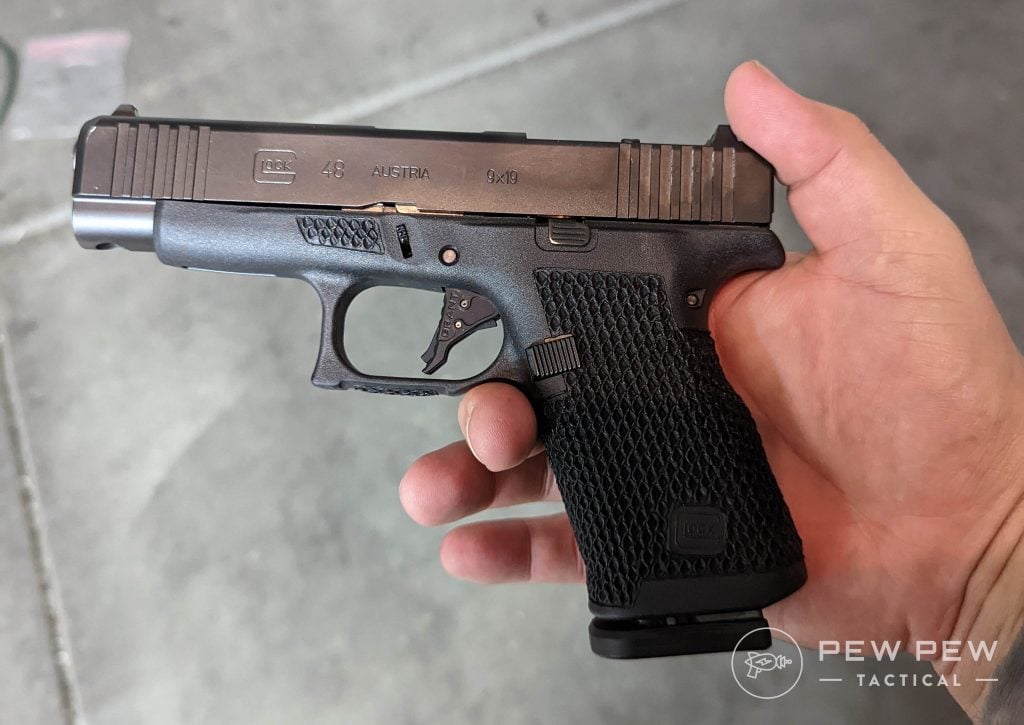 I've worn my G48 for up to 15 hours in a PHLster Pro holster mounted on a PHLster Enigma, and at the end of the day, I could have forgotten it was there.
The shape and design of the gun lend themselves to sitting well on the body when carried with a belt. Drawbacks are minimal and easy to overcome, and few options on the market come close to matching it in every category.
480
at Brownells
Prices accurate at time of writing
Prices accurate at time of writing
Whether you are new to carrying concealed or looking for something different to change up your EDC routine, the Glock 48 is a gun that sets itself apart from the rest of the pack and is very much worth considering.
What do you think of the Glock 48? Let us know in the comments below. Need more Glock? Check out our favorite models across all calibers and sizes!