If you're anything like me, you probably already have your favorite furniture picked out for your next AR.  
Once you start picking parts and get the base parts chosen (check our parts list if you think you might have missed something) the last step is to grab your stock, grip, handguard, and other accessories like slings and optics.
But there's another way to do it.  If you don't want to go through the hassle of building an AR-15, why not just buy one?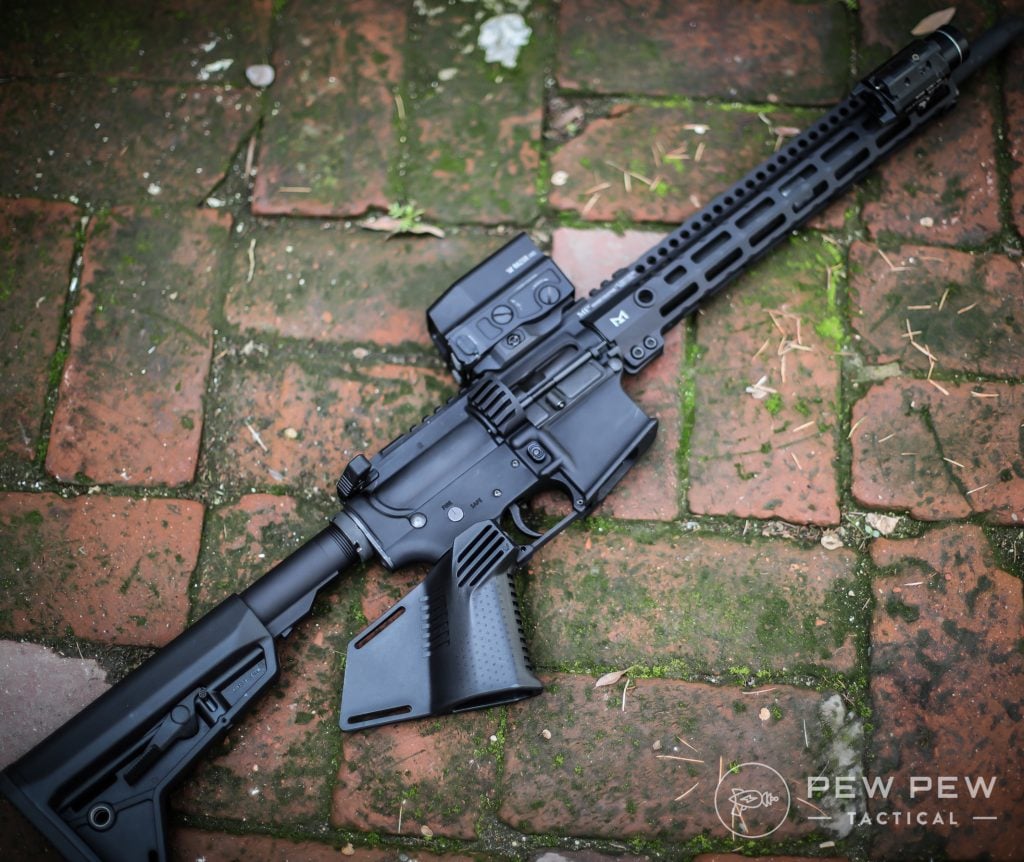 Well, there are some problems with that.
First, if you're buying a pre-built, you're probably not going to get exactly the furniture or sights you want.  Of course, you could make do with what you get, but half the fun of AR-15 ownership is dressing up your rifle with new parts, right?
So obviously you can swap those parts you don't want for ones you do want, but then you've paid for parts you aren't using.
What if there's a better way?
Come with me children as I lead you to the promised land, the land of the furniture-less, stripped AR.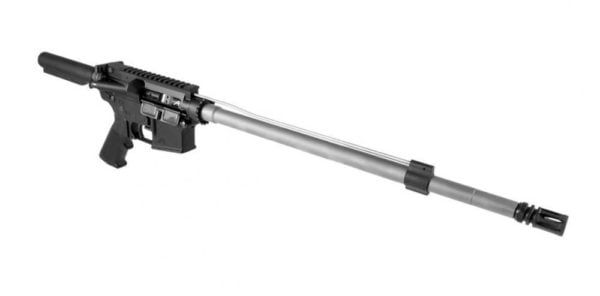 You can, in fact, buy ARs that comes with just the barrel, receivers, and gas system, and then slap the rest of your hand-picked parts on it.
Stoner be praised!  Doesn't that sound great?  
You pay less, only have to buy the parts you want, and still get to build an tinker without doing all the fiddly assembling of the upper and lower.
I'm going to show you everything you need to finish your furniture-less AR, and then we'll go over some of the best options out there to make sure you start with a good foundation that you can turn into an accurate, reliable gun.
What is a Furniture-Less or Nearly-Complete AR?
A furniture-less or nearly-complete rifle is one that comes with a barrel, gas block, and assembled uppers and lowers (meaning you get an installed upper and lower parts kit), meaning it just lacks a stock, handguard, and grip.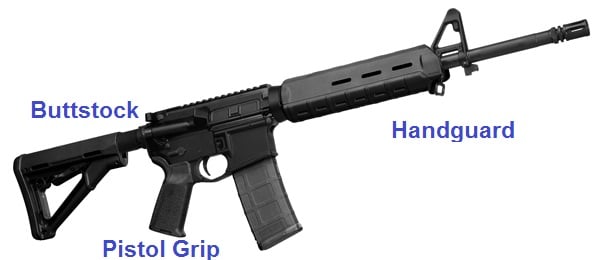 Why Buy One?
Well, with a nearly-complete rifle you get everything you need, and nothing you don't.  That means you can buy all your other parts separately to ensure you get exactly what you want without paying through the nose for them from a custom builder or paying for parts you're planning on swapping out anyway.
Now, you aren't getting a true custom build because you aren't starting from the ground up with an empty upper and lower, but you're getting something that you can be reasonably sure will work properly and with minimal effort on your part.
In fact, many of the manufacturers that sell these nearly-complete rifles do so because they're already making them for other "manufacturers that are just going to slap their furniture on it and call it a day.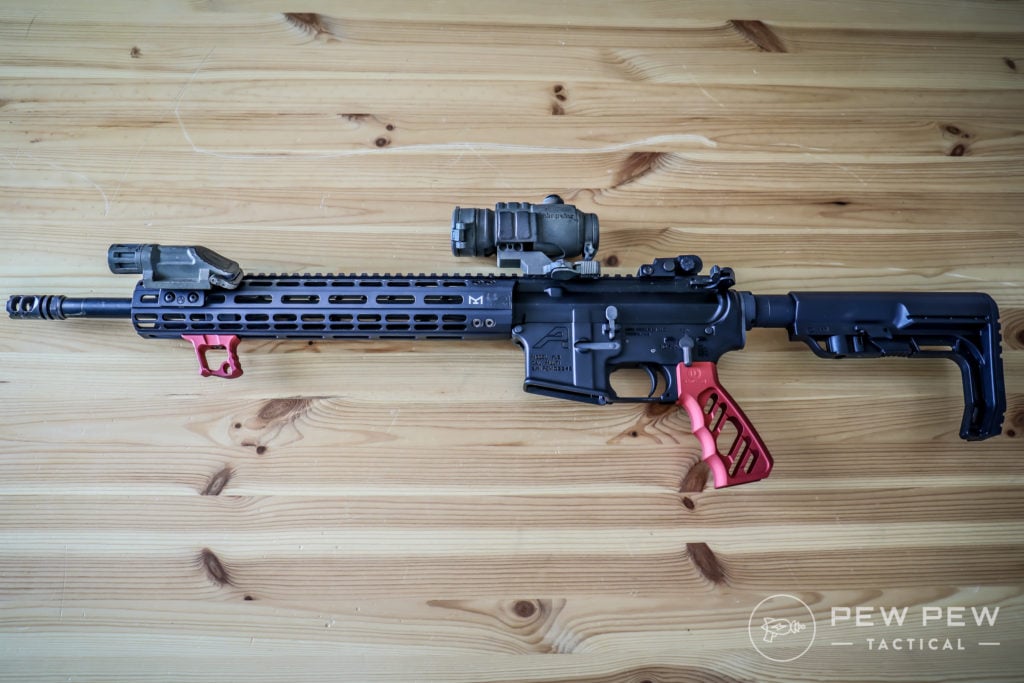 They're just making them available to you so you can do the same, and cut out the middleman (and the markup).
For me, none of my rifles are ever going to wear a basic A2 grip or sport a GI M4-style stock, so why would I buy a rifle that has those on it when I can get a rifle that's assembled and fitted by a professional that I can then slap my preferred stock and such on?
Granted, you don't get some of the benefits you do from just building a gun from the springs up, but if you aren't a hardcore builder and you just want to get a good gun without a lot of fuss and monetary investment, this is an awesome way to go.
In general, if you think you might want to start building rifles, or if this is your first attempt at doing so, this is a great way to start as the tools required to finish it are probably already lying around your home, and you don't have to do a lot of the tedious (or fun if you're weird like me) work of finishing the receivers.
Finishing Your Nearly-Complete Rifle
First, I'm going to recommend checking the sales listing for the nearly-complete you're planning on buying against our AR-15 parts list so you know exactly what you're getting and what you're going to have to buy after.
Generally, though, you're going to need the following to complete your rifle:
You may need other things like a gas tube or trigger, but those are, respectively, cheap and commonly replaced parts anyway so it shouldn't be a dealbreaker for you.  
I'd also advise you to make sure your nearly-complete rifle comes with a BCG (bolt carrier group) and a charging handle like all the ones listed in my recommendations at the end of this article.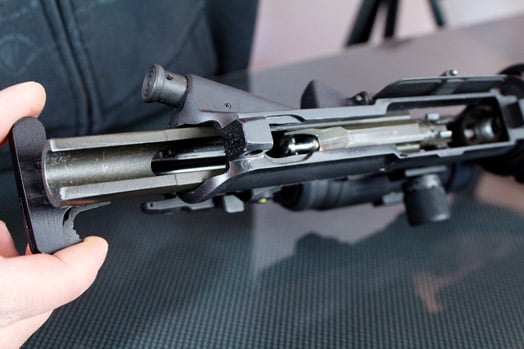 Nothing about building an AR is particularly difficult, but if you can turn a screwdriver, you can handle the grip, buttstock, and handguard installation, and installing and removing the BCG and charging handle are part of field stripping your rifle for cleaning anyway.
If you're still worried, check out our AR lower build guide for the grip and buttstock and the AR upper build guide for the handguard to make sure you understand what you're signing up for.
Most of these parts will come with their own installation guide though unless you're buying from a surplus bin at your local flea market.
Best Stripped, Furniture-Less, or Nearly-Complete AR
Alright, here's the fun part.  I've included recommendations for nearly-complete rifles from manufacturers that I trust (Anderson and Aero) so these rifles, and they are rifles that have to go through an FFL, will make a great base for you to start building on.
ANDERSON MANUFACTURING
–
AR-15 OEM 16″ RIFLE W/FRONT SIGHT BASE (
$419.99)
500
at Brownells
Prices accurate at time of writing
Prices accurate at time of writing
Anderson Manufacturing is one of the bigger names in AR-15 manufacturing, and with good reason.  They have a reputation for quality at an affordable price. My first rifle was built on an Anderson lower, and I never had a single issue with it that wasn't my own (at the time inexperienced) fault.
This particular nearly-complete rifle is set up to build a bog-standard, 5.56/.223-chambered A2-style rifle, so that's what I'd recommend doing if you're looking at going with this one.  I do love the classic A2 styling, and this rifle gives you the option to get one with or without the iconic front sight.  This is perfect for building an M16A2 Clone for that classic M16 look.

It includes a matched set of forged Anderson receivers made from 7075 T6 Aluminum, which is about as light and corrosion-resistant as it gets.  
The receivers are complete with all necessary parts including BCG and charging handle, so all you really need is an M4-style handguard, and the stock and grip of your choice and you're good to go.
AERO PRECISION
–
OEM MID-LENGTH 16″ RIFLE ($569.00)
Aero is, by far, my favorite manufacturer of quality AR receivers and handguards.  I've built maybe a thousand AR-pattern rifles (I used to work as a gunsmith) and they have the highest quality-to-cost ratio of any manufacturer I've worked with.
Their nearly-complete rifles are no exception to this standard of quality.  Of course, you'd be alright to just buy one of their complete rifles, but it's perfectly understandable if you still want to just go with a nearly-complete one and then add the other parts you want.
570
at Brownells
Prices accurate at time of writing
Prices accurate at time of writing
These rifles come with a high-pressure tested and MPI tested BCG, which basically means it's tested as much as they can test it to ensure reliable function under even the most adverse conditions.
The 5.56/.223 rifle has a barrel machined from 4150 Chrome Moly Vanadium steel to a Government, mid-length profile, then treated with a QPQ corrosion-resistant finish and capped with an A2 flash hider.  
It also comes with M4-style feed ramps that should function reliably with a wide variety of ammo.
AERO PRECISION
–
308 AR 18″ OEM RIFLE
"But Matt," I hear you say "What if I want to shoot long range/hunt/compete in heavy metal 3Gun comps?"
Worry not, dear reader, I've got you covered.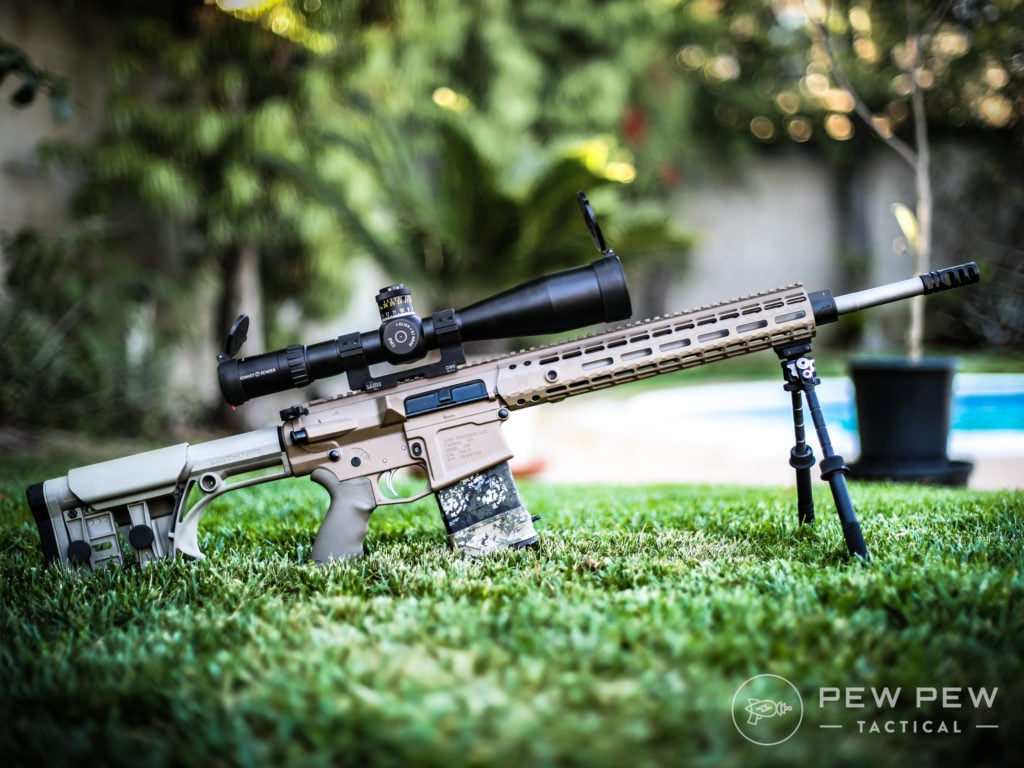 Aero's legendary M5E1 rifle is one of the best AR-10's around, and this nearly-complete rifle lets you get that awesome .308 performance coupled with all the furniture you want (a nice precision stock maybe?).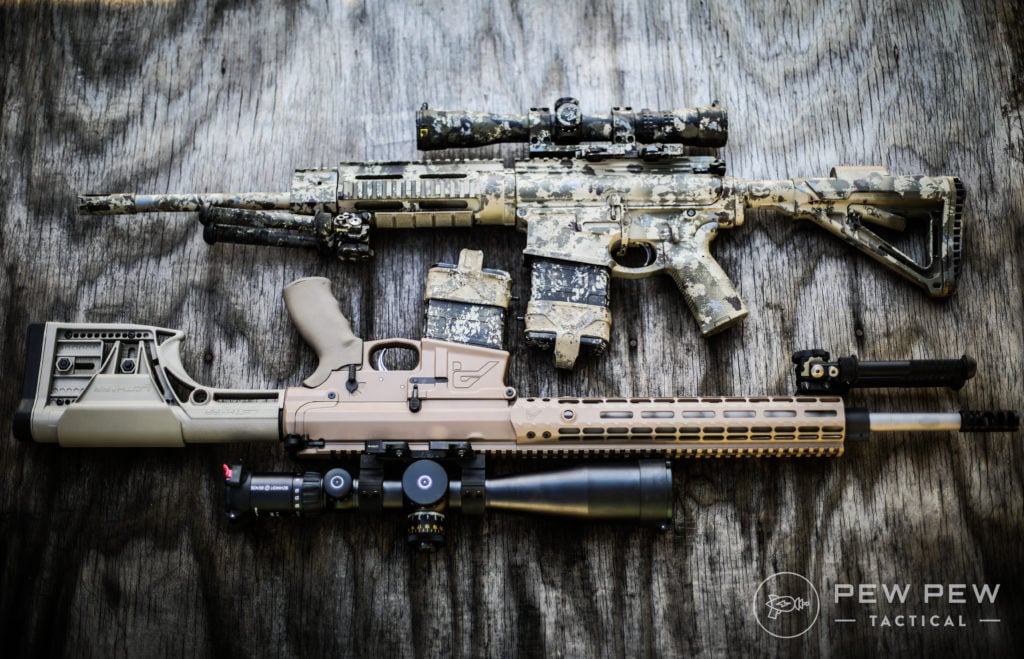 The 18" 308 Winchester, 1:10 Twist Barrel is machined from the same 4150 Chrome Moly Vanadium steel as their 5.56 offerings, and is finished with a tapered profile, before being treated with a QPQ corrosion-resistant finish and capped with a removable A2 flash hider over the 5/8-24 pitch threads that will allow you to attach whatever muzzle device you want.
This AR-10 accepts standard DPMS-style mags and accessories, so make sure you aren't trying to fit Armalite-style parts to it and you'll be good to go.
940
at Brownells
Prices accurate at time of writing
Prices accurate at time of writing
AERO PRECISION
–
6.5 CREEDMOOR AR 20″ OEM RIFLE
Finally, we have my personal favorite, something for the true long-range enthusiast out there.
If you're looking for something that can ring the gong at 1000 yards, this is a great place to start.  My next rifle is going to be built off this nearly-complete set because I'm going to be using all-Aero stuff anyway.
6.5 Creedmoor is a great cartridge, and it's already carved out space as one of the best AR-10 cartridges for when you really need to reach out and touch something from a long ways off.
1000
at Brownells
Prices accurate at time of writing
Prices accurate at time of writing
It's got all the same desirable features as the .308 version, but with an extra two inches of barrel (which can make all the difference, if you know what I mean) and it is of course chambered in 6.5 Creedmoor.
Overall, this is probably the best value on the list as a lot of 6.5 Creedmoor guns are typically more expensive than their .308 brethren, but if you're still going to replace parts with what you want (as most precision shooters are) then why not just go this route?
Parting Shots
That about does it for the nearly-complete ARs.  These guns are a great way to get into building or save a little money without having to invest in the time and tools needed to scratch-build a gun.
What do you think of these stripped, furniture-less ARs?  Are you interested in building a rifle with one? Check out our AR-15 Definitive Guide.  And let me know in the comments below.